Many papers today covered the comments made by the Leader of Iran's Islamic Revolution Ayatollah Seyyed Ali Khamenei in a meeting with a group of teenagers and young Iranians ahead of their visit to former war fronts in western and south-western Iran.
Also a top story was the recent attack on the Iranian embassy in London and the ensuing reactions, particularly Iran's criticism of the UK police's inaction amid the attack.
The upcoming impeachment of three ministers – Roads Minister Abbas Akhondi, Labour Minister Ali Rabi'ei, and Agriculture Minister Mahmoud Hojjati – also received great coverage today.
The above issues, as well as many more, are highlighted in the following headlines and top stories:
19 Dey:
Minister: Unblocking Twitter, YouTube Hinges on Decision of Gov't, Judiciary, Parliament
Gov't Spokesman: We'll Show Decisive Response to Attack on Our London Embassy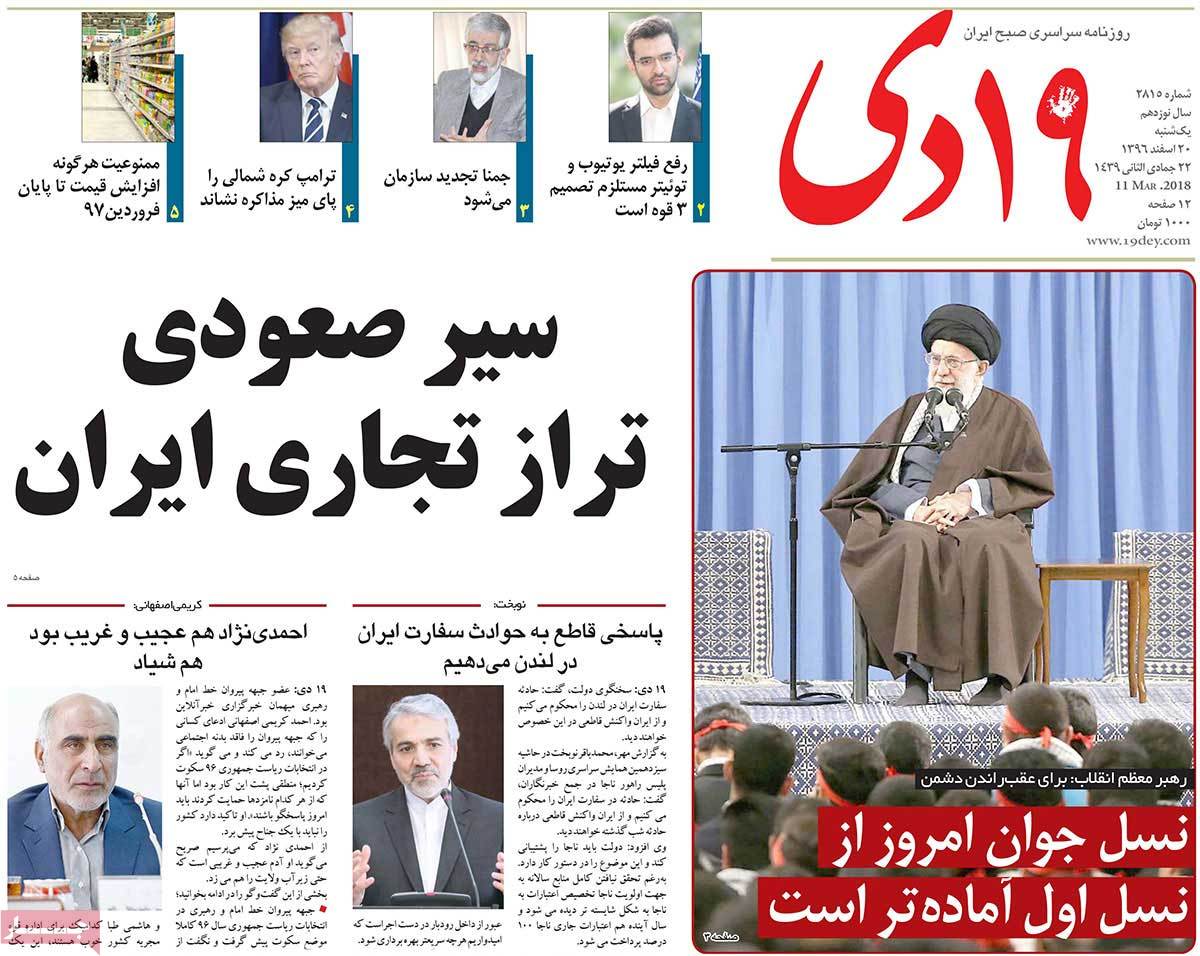 ---
Abrar:
Iran Leader: Today's Generation More Prepared than Previous Ones in Countering Enemies
Parliament Not to Change Its Mind on Impeachment of Labour Minister: MP
Iran Leader Agrees to New Conditions of Granting Clemency to Prisoners
Al-Monitor: US May Issue Permission for Plane Sales to Iran
Riyadh, London Issue Joint Statement against Iran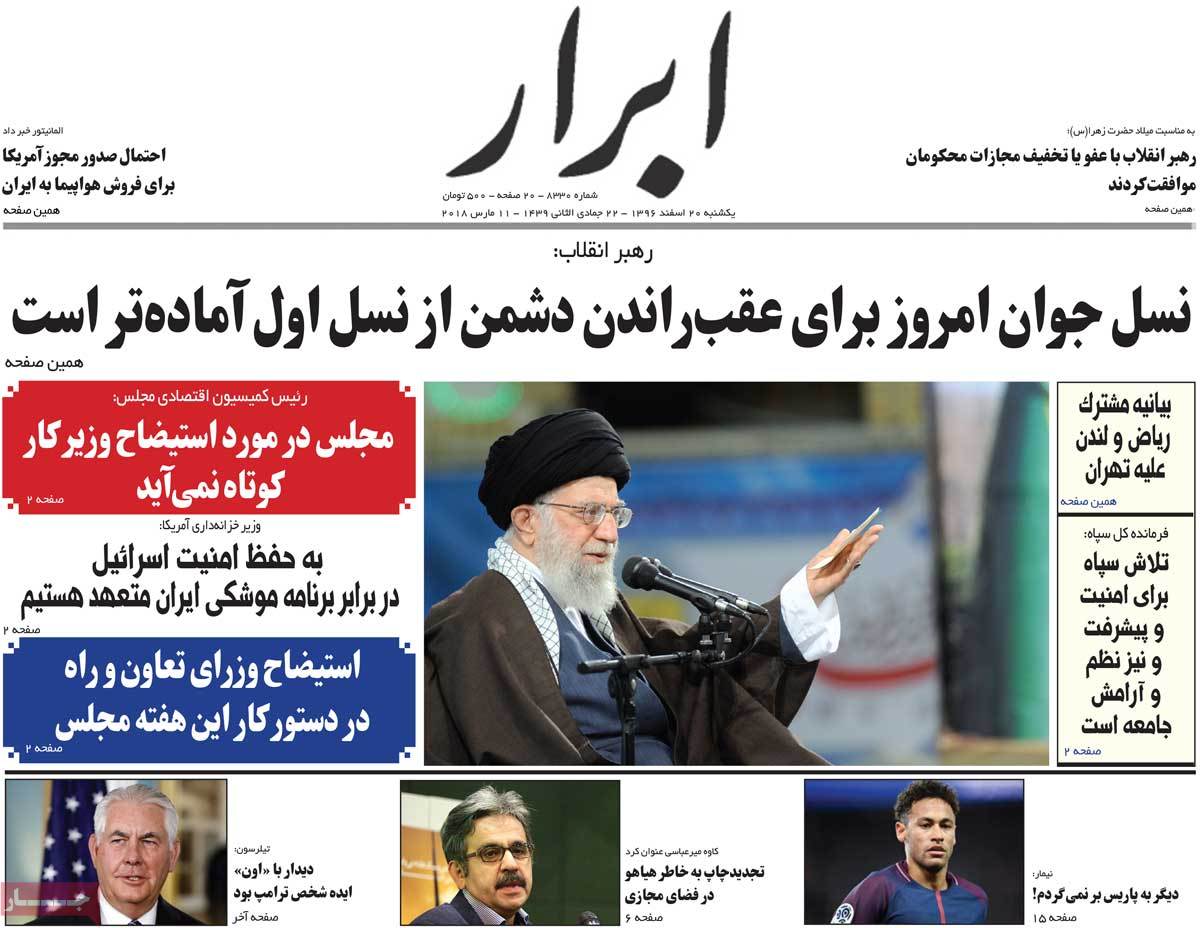 ---
Afkar:
Bitter Experience of Crescent Deal Shouldn't Be Repeated: Jalili
Chief-Commander: Officials Can Use IRGC's Capacities to Tackle Environmental Woes
Senior MP: Iran Foreign Ministry Must Summon UK Ambassador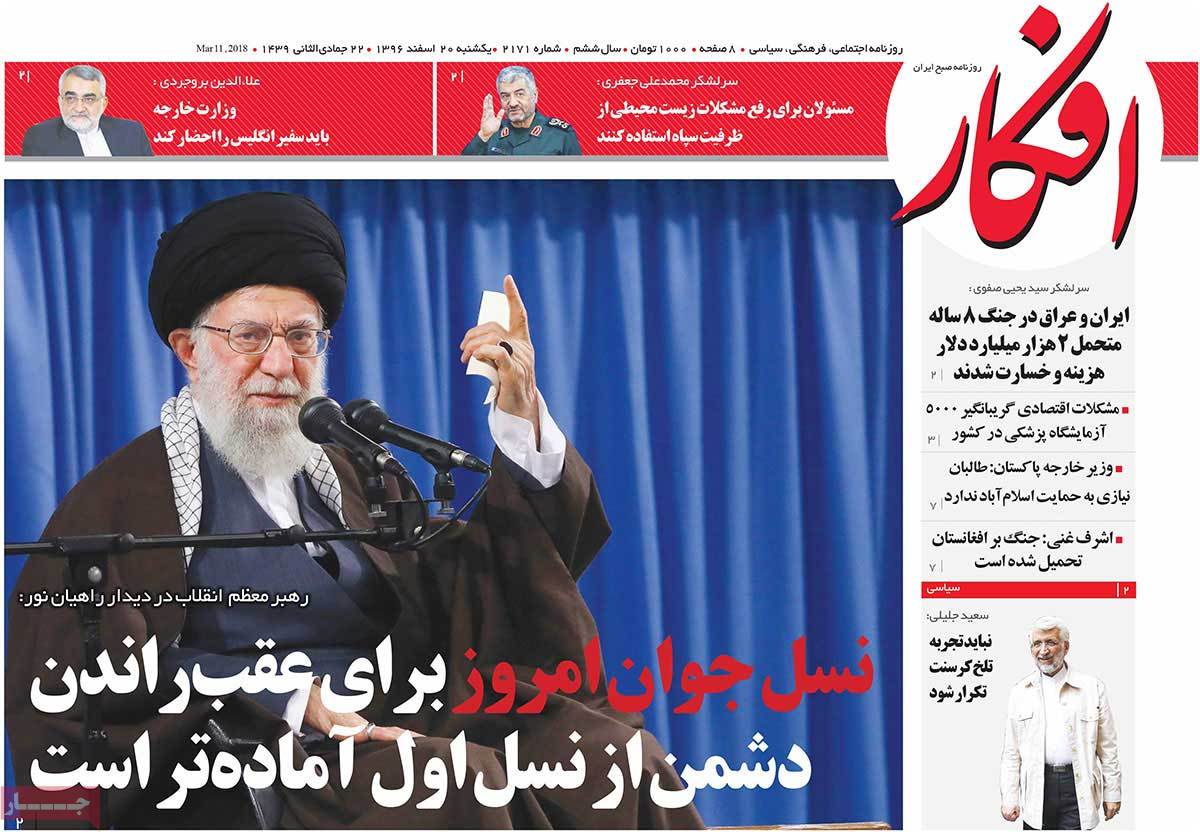 ---
Aftab-e Yazd:
Ahmadinejad Wants to Turn into Iran's Boris Yeltsin: Analyst
---
Arman-e Emrooz:
London's Excessive Tolerance towards British Shiites
Iran Summons UK Envoy over Embassy Attack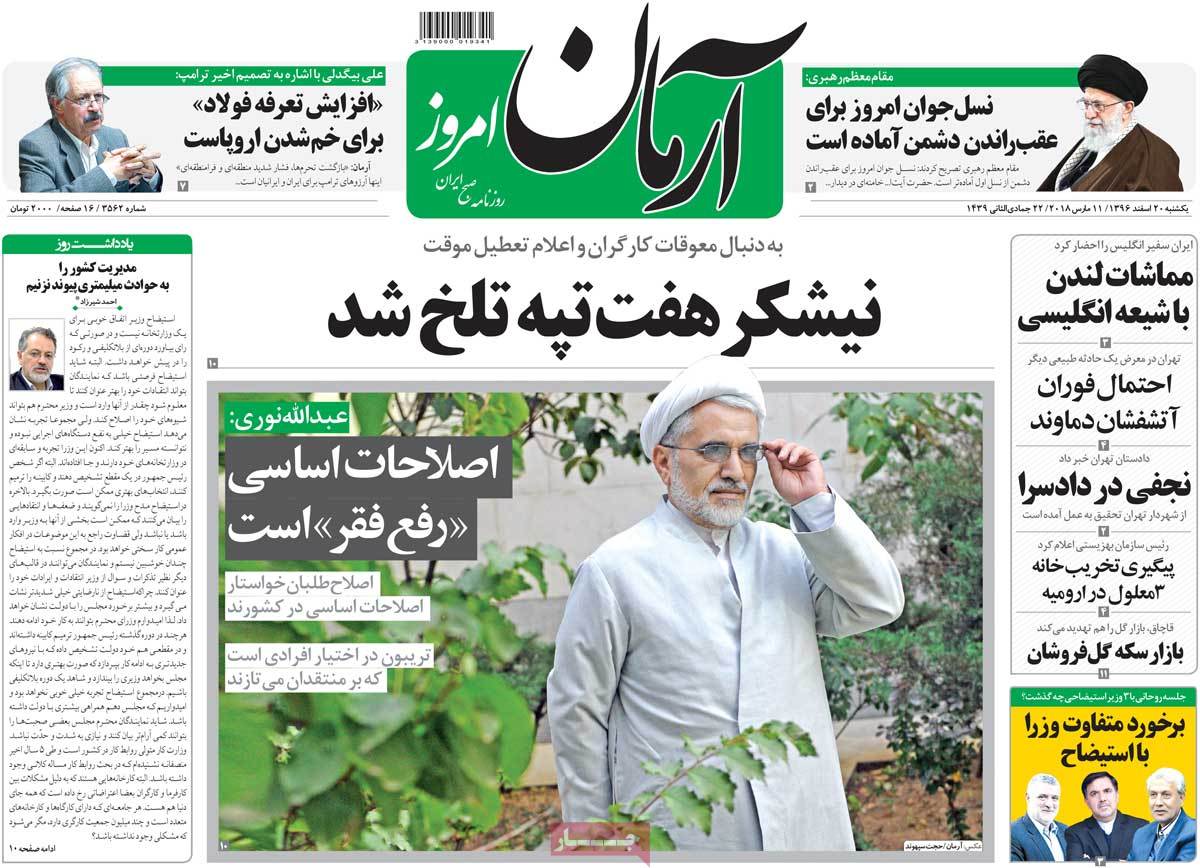 ---
Asrar:
Prosecutor: Tehran Mayor Summoned to Court after Controversial Dance of Kids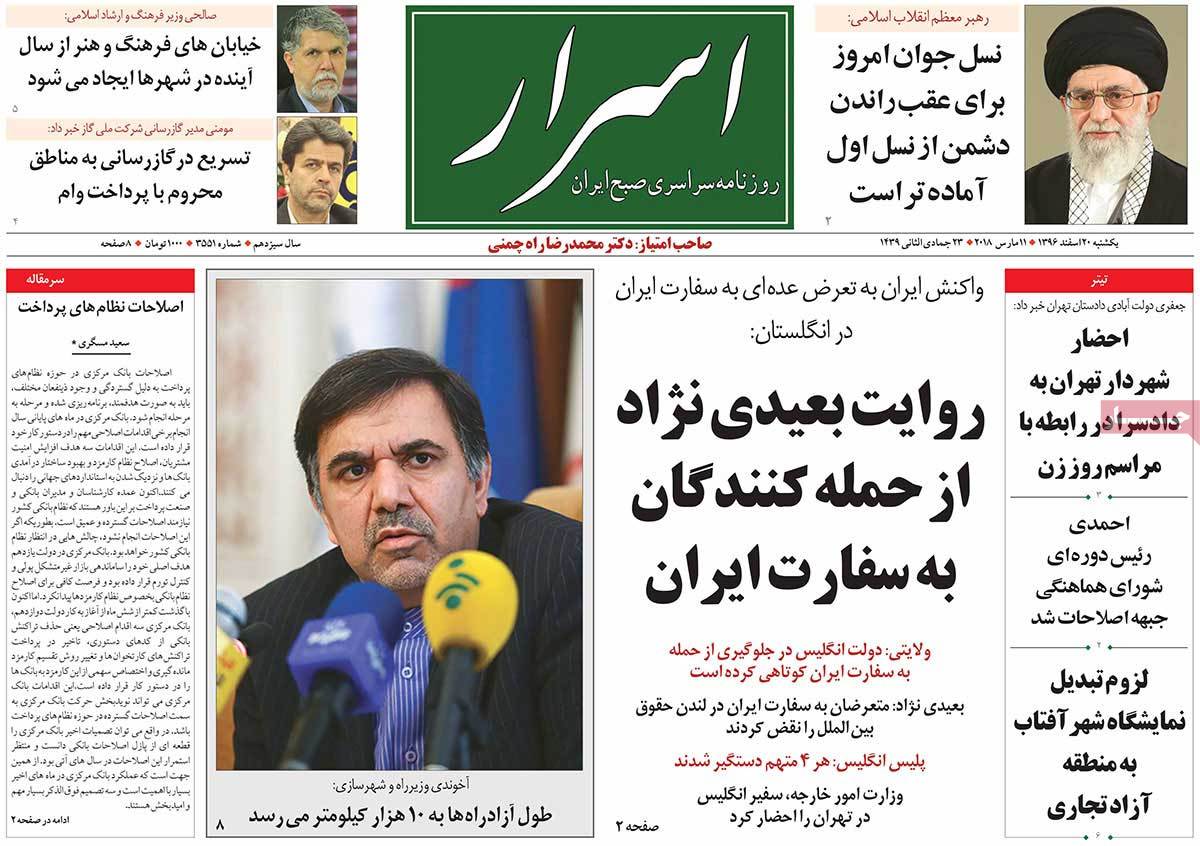 ---
Ebtekar:
Free Trade Shocked by Trump
A Report on Consequences of Increase in US Steel Tariffs
Domino of Water Crisis in East of Isfahan
Will Farmers Be Satisfied by Transfer of Koohrang Mountain's Water?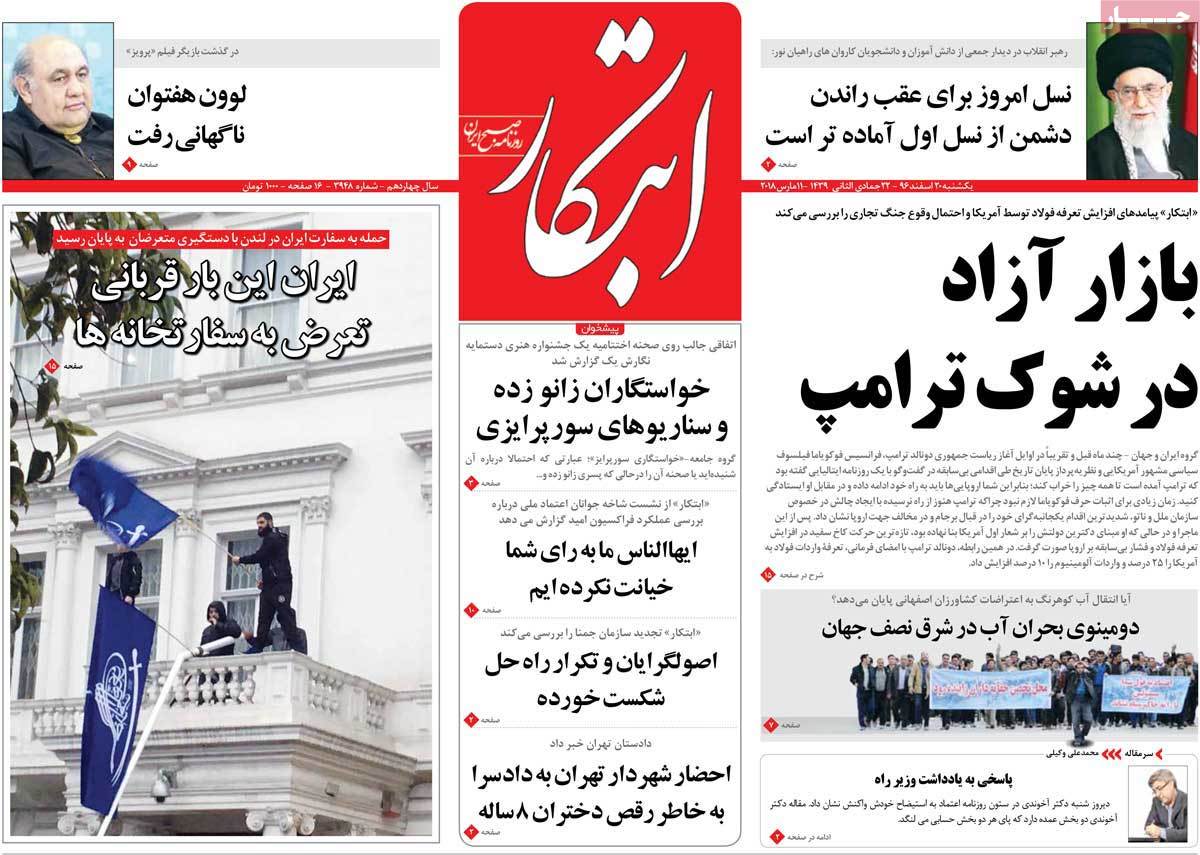 ---
Etemad:
Reformist Figure: No Reformist Seeks to Overthrow Establishment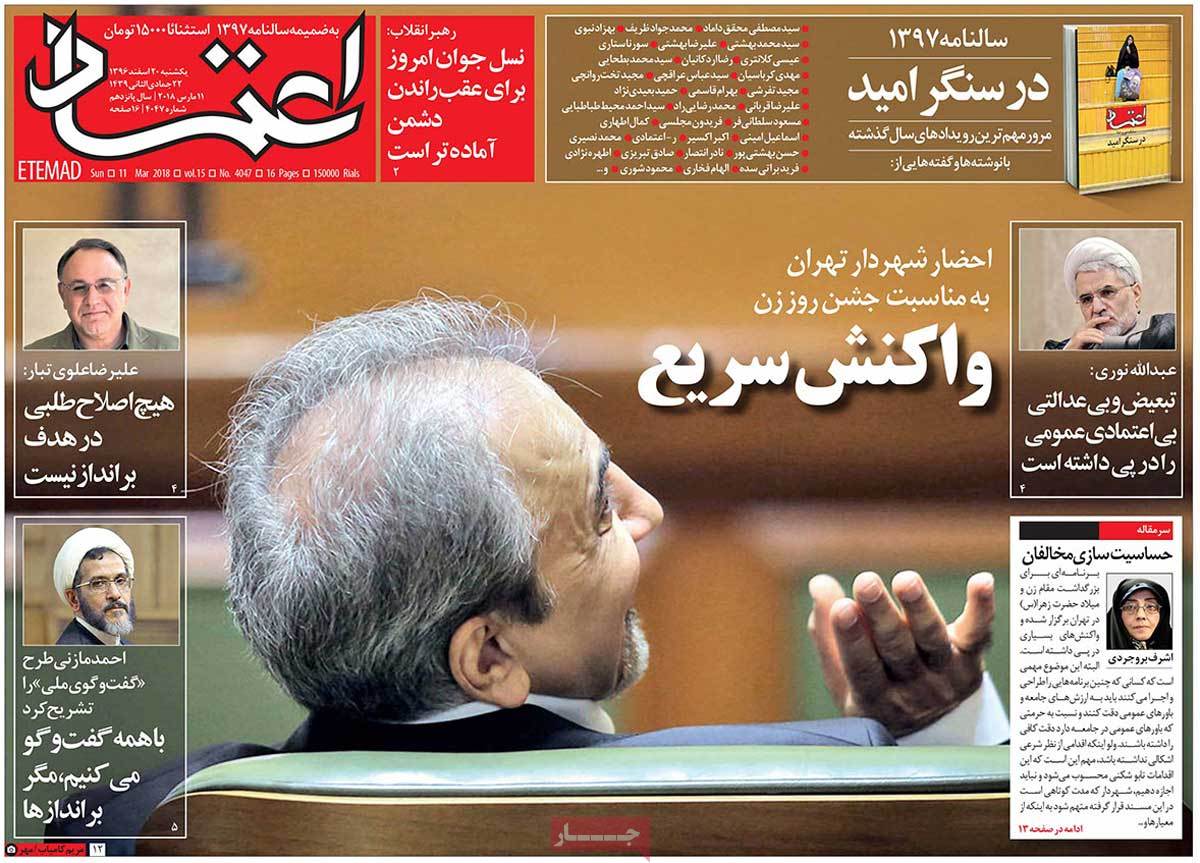 ---
Ettela'at:
Iran Leader: Sanctions, Propaganda Not to Hinder Nation's Great Movement
Trump: We'll Achieve Very Good Deal with N. Korea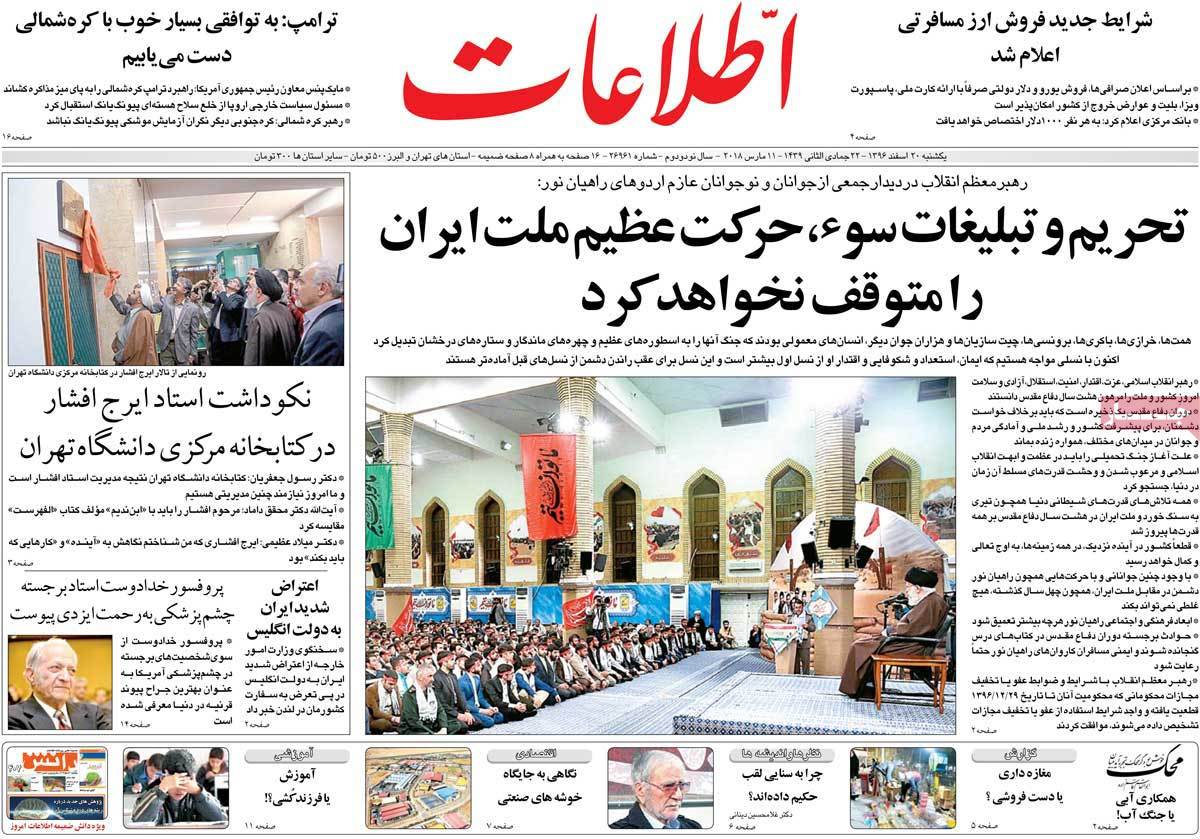 ---
Iran:
Sources: Rouhani Advised 3 Ministers to Strongly Defend Themselves in Parliament
Interior Minister Reveals Dark Side of Recent Nationwide Protests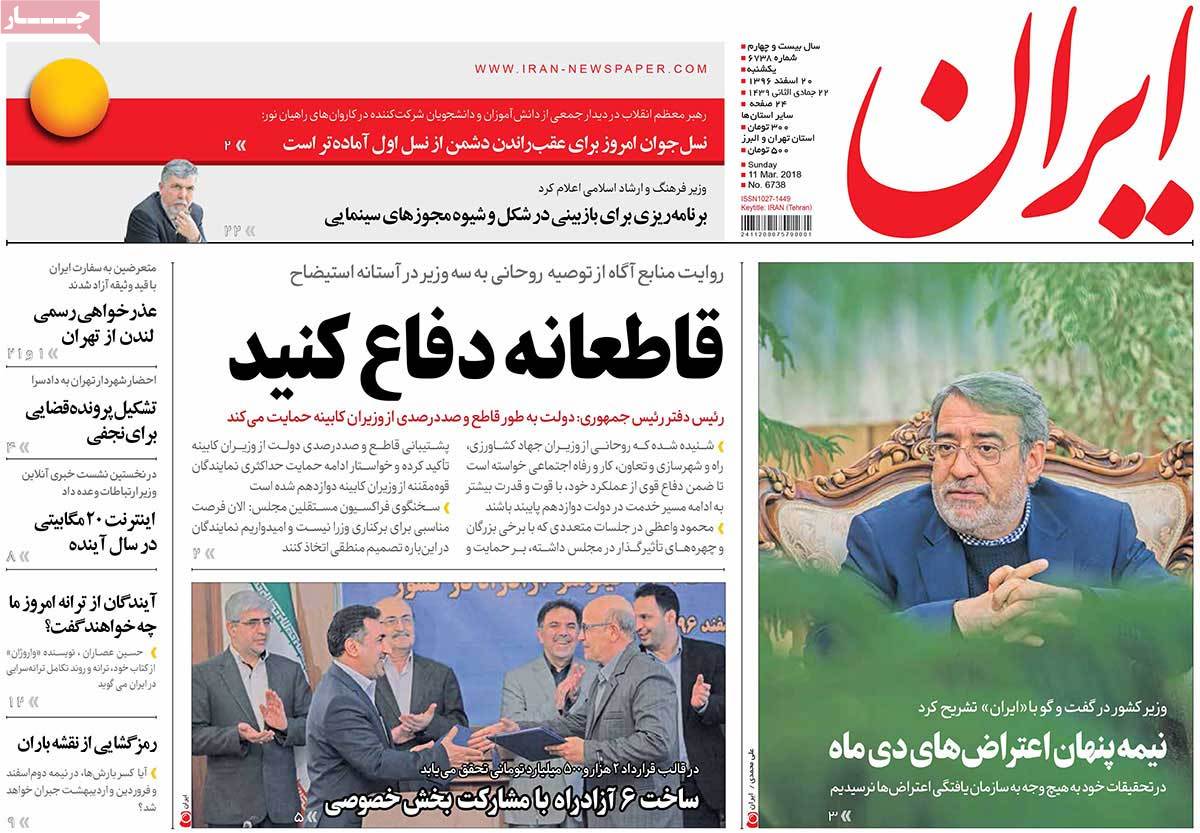 ---
Javan:
British Shiite Raises Its Flag in London!
Iranian Herbal Drug Completely Treats Migraine
Iranian Industrialist Slams Policies that Decreased Iran's Textile Exports to Zero
Turkey Destroying Iran's Textile Industry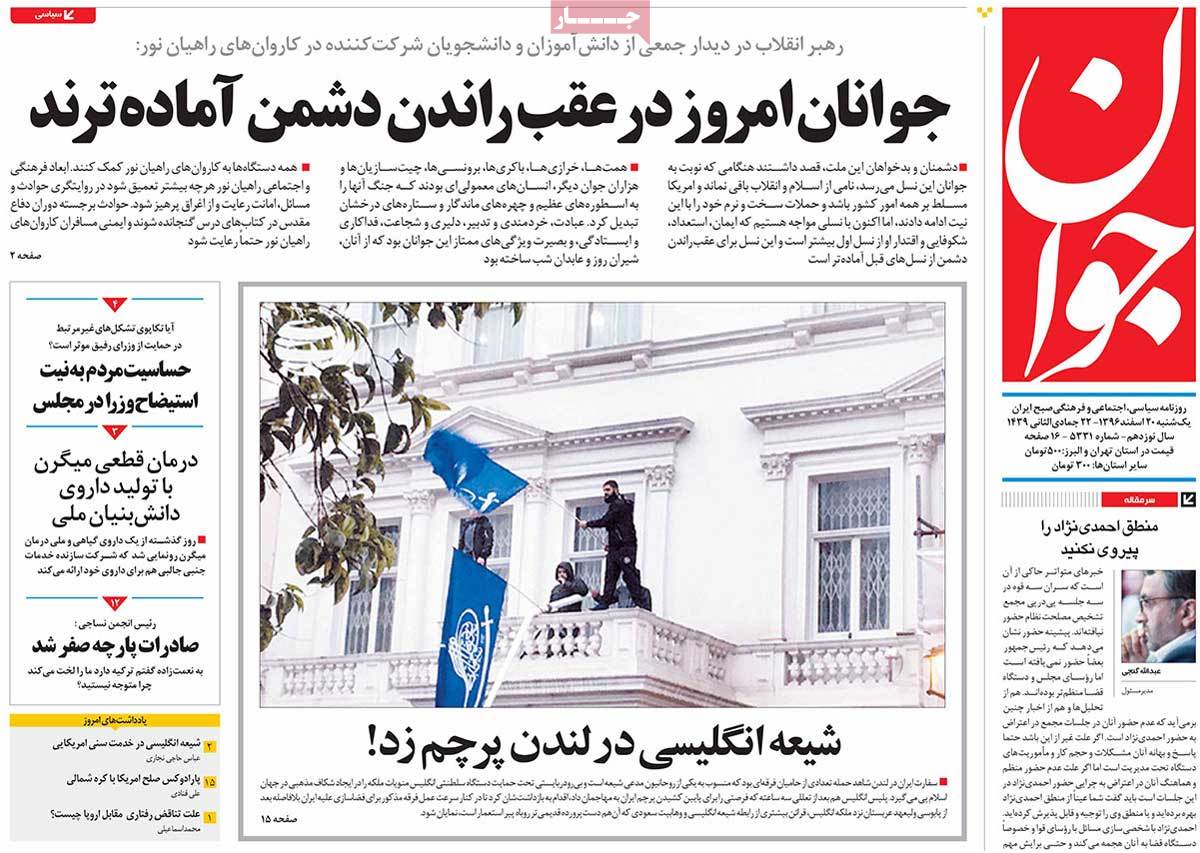 ---
Jomhouri Eslami:
Canadian Firm to Sell Planes to Iran
French President Warns Trump: We're All Losers in Trade War
Europe Opposes Israel Knesset's Bill on Deporting Palestinians from Quds
---
Kayhan:
10-Month Agricultural Exports Earn Iran $4.5 Billion
UN Ignoring 140 Letters by Syria on Terrorists' Use of Chemical Weapons
New Plot by British Gov't Using Flunkies of Shirazi Cult
Britain Starts Milking Saudis with $14-Billion Deal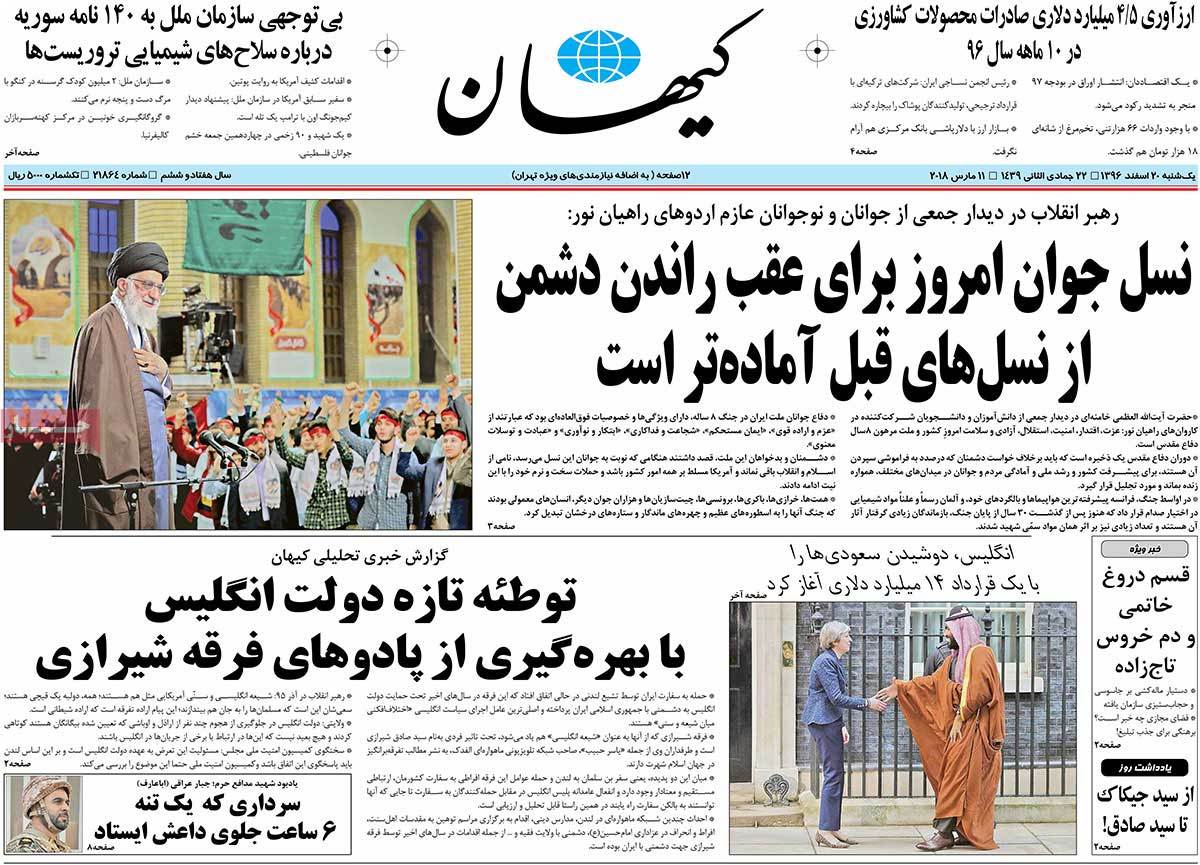 ---
Khorasan:
Iran Signs Deal for Construction of Mashhad-Chenaran-Quchan Highway
Injustice in Taxation: A Report on Obstacles to Economic Justice in Iran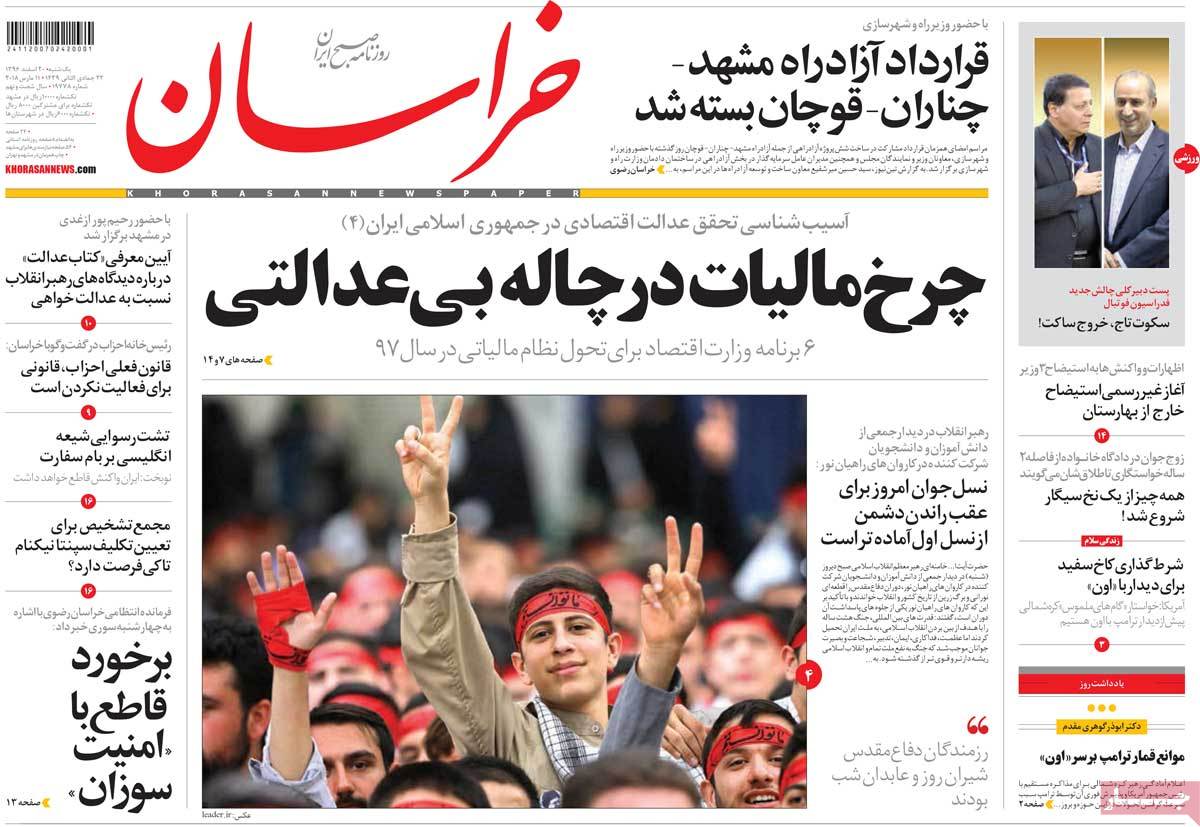 ---
Rah-e Mardom:
IRR 25 Billion Dedicated to Development of Roads
Development of Petchem Industry Has Increased GDP
---
Resalat:
Iran Leader: 1979 Revolution Shook Thrones of World Powers
Iran's Human Rights Chief: Islamic Republic Great Hub of Democracy in West Asia
Velayati Terms Britain as Declining Power that Serves as Broker of US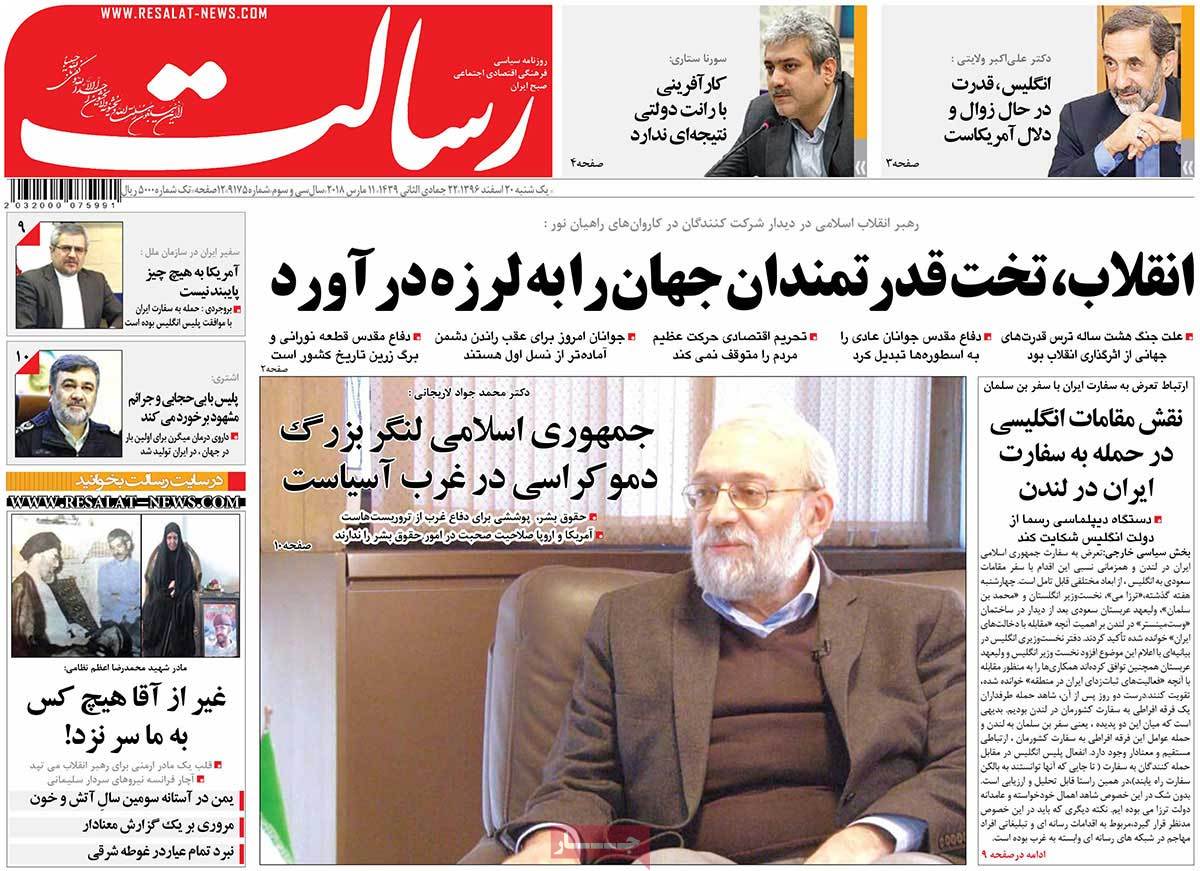 ---
Rooyesh-e Mellat
Velayati: British Government Must Be Accountable
Iraqi PM: Military Aspect of Terrorism in Iraq over; It's Time to Eradicate Its Ideology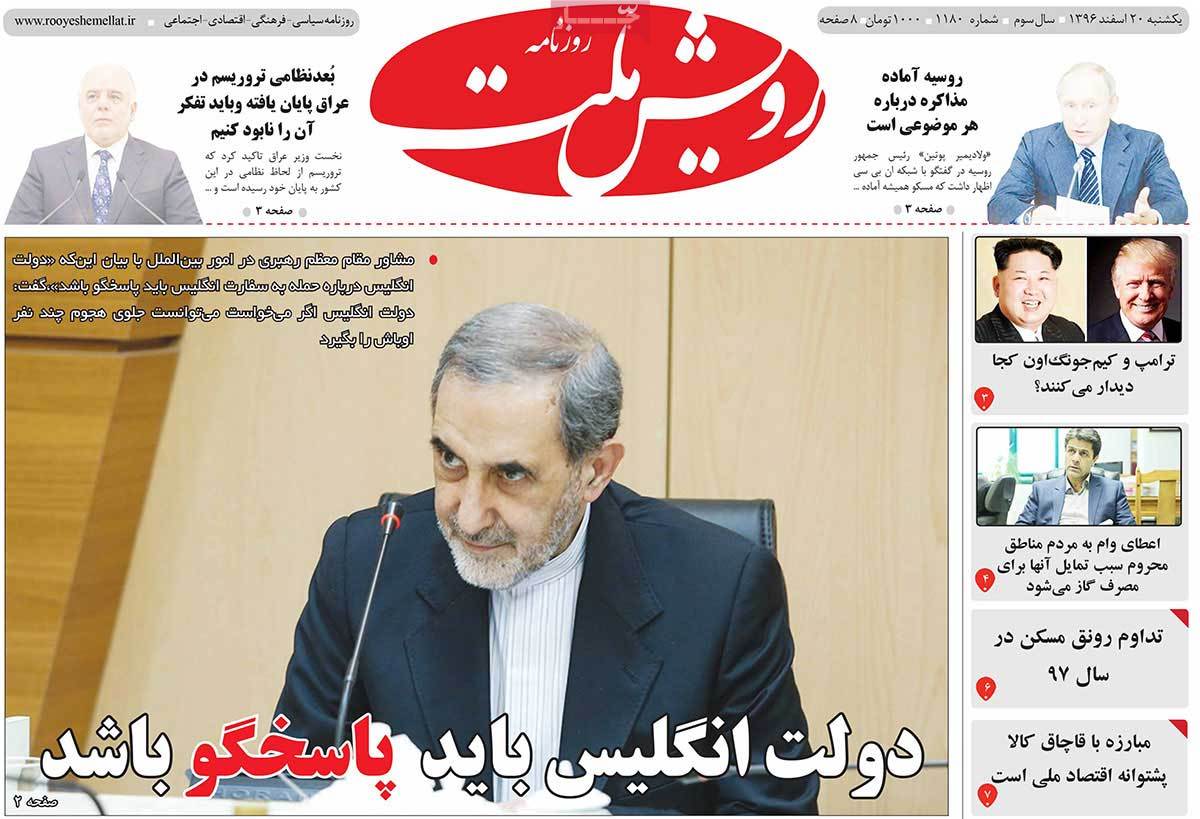 ---
Sayeh:
Al Khalifa Courts, Means for Suppressing Opponents
Clear Violation of Human Rights in Bahrain
---
Shahrvand:
Iran Red Crescent Chief, Int'l Red Cross President Meet in Tehran
Iran Mediator, Facilitator of Humanitarian Relations in Region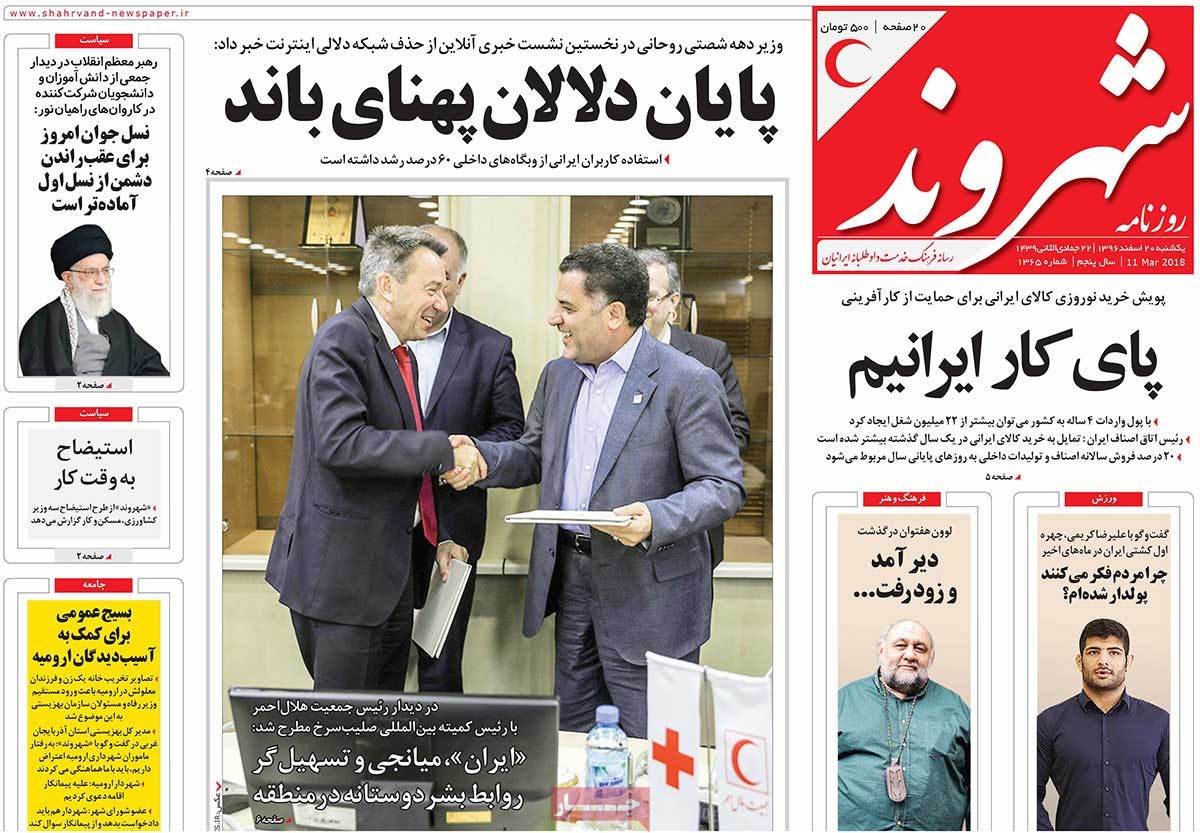 ---
Vatan-e Emrooz:
UK Police's Suspicious Tolerance towards Shirazi Cult
Balcony of Iran Embassy in London Occupied for 3 Hours
Iran Leader: Today's Honour, Power Indebted to Sacred Defence
Terrorists Call for Talks with Damascus
Resistance Forces Make Massive Progress in Eastern Ghouta