Abrar:
1.  Airstrike targets ISIS convoy near Bani Walid [in Libya]
2.  Egypt still seeking to lead Arab League
3.  Latest updates about vote counting in Tehran
4.  6 ISIS suicide bombers killed in Al-Anbar
5.  62% election turnout: Interior minister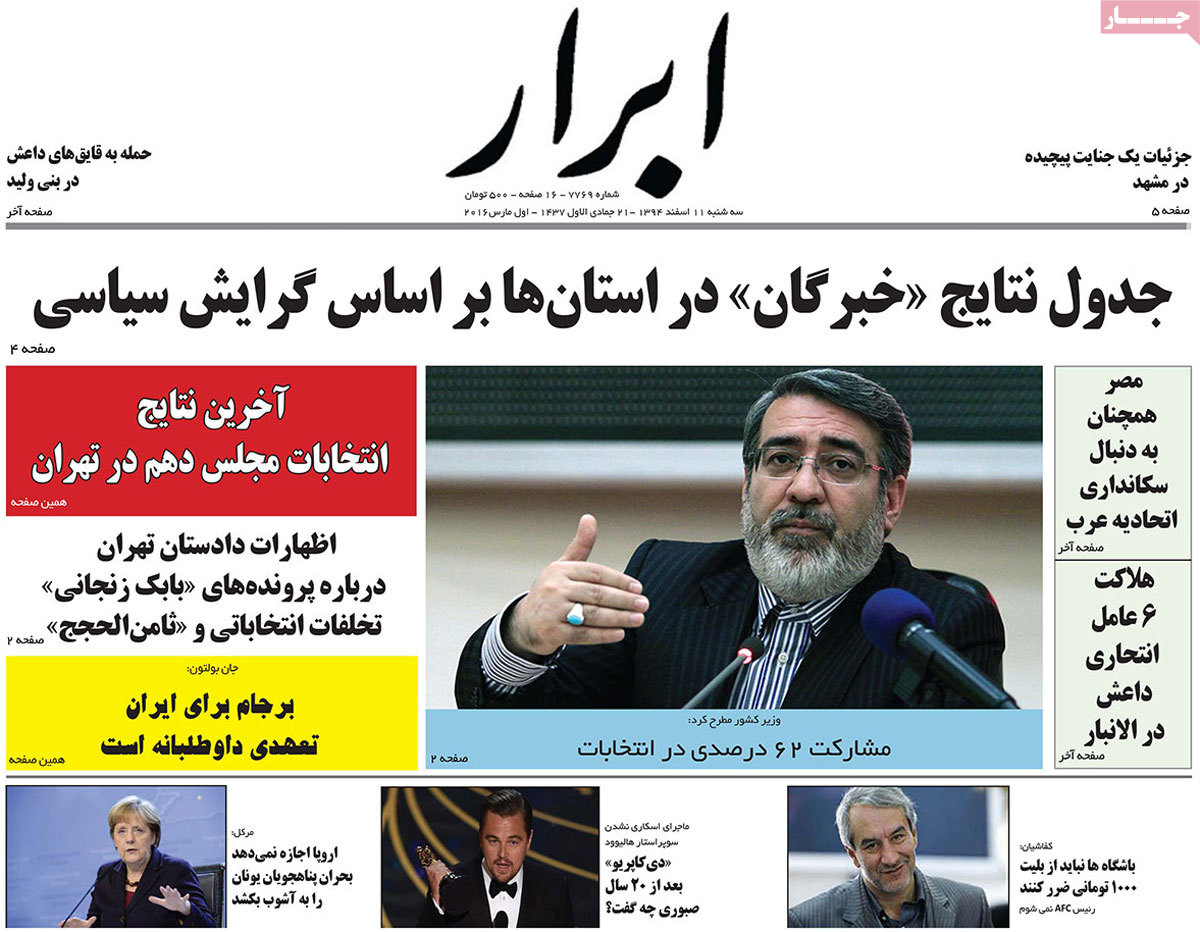 ---
Asrar:
1.  Smart global ties needed for securing country's independence: Official
2.  Iran crude oil exports cross 1.75mb/d
3.  Double-tier forex rate equals corruption
4.  US eyes "Big Tuesday"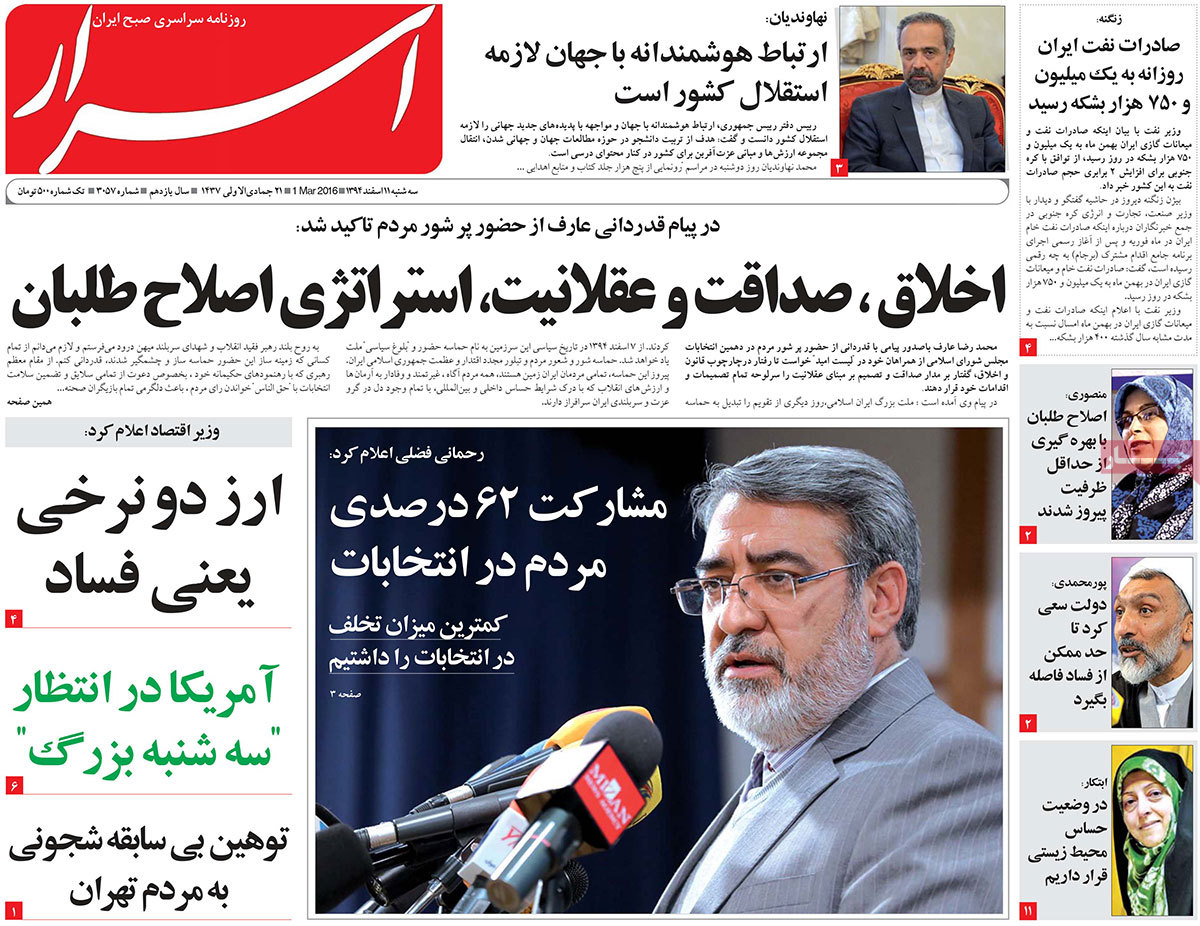 ---
Ebtekar:
1.  Post-sanctions motives of MPs
A report about what agendas parliament representatives will pursue in a ban-free Iran.
2.  The daily has published the finalized list of winning candidates in the parliament and Assembly of Experts elections in the capital
3.  DiCaprio finally at Oscars spotlight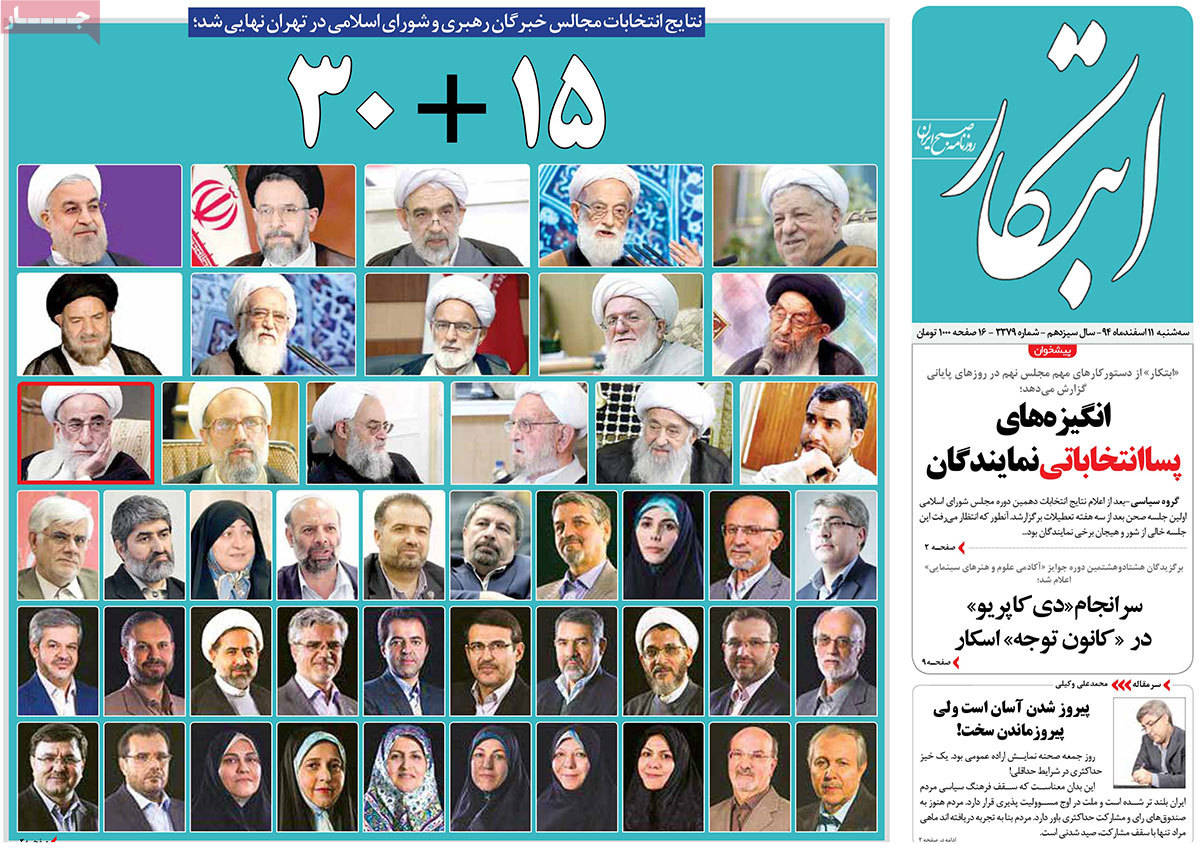 ---
Ettela'at:
1.  Leader calls on election winners to honestly serve the nation to be truly thankful to them
2.  Leading carmakers eye investments in Iran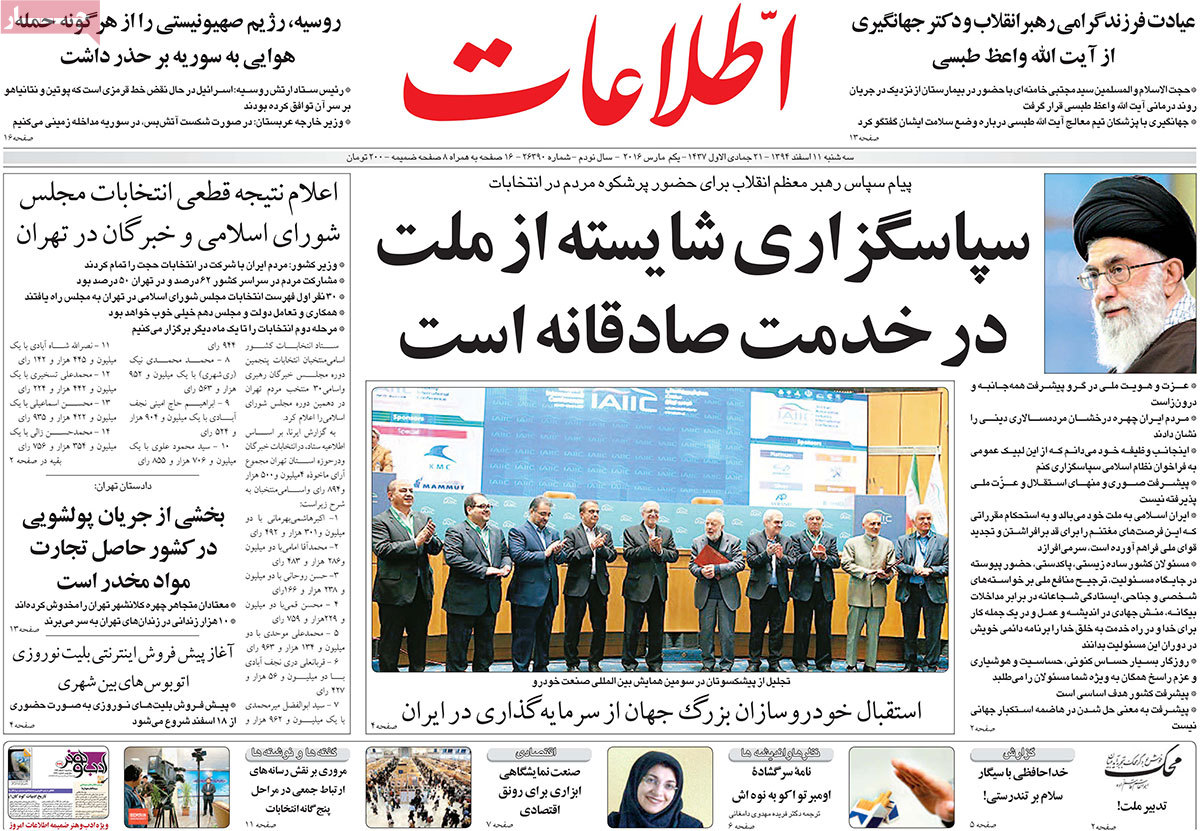 ---
Etemad:
1.  Lasting numbers of elections
35m election turnout
2.3m votes won by Hashemi Rafsanjani in Assembly of Experts election
Mohsen Esmaeili first non-cleric member of Assembly of Experts
1.6m votes won by Mohammad Reza Aref, lead parliament candidate
---
Afkar:
1.  World's second biggest liner en route to Iran
2.  Iran's objection to Saudi Arabia
3.  Migrant birds not to fly to Anzali lagoon
4.  Health ministry forms rare-diseases committee
5.  Iran, Singapore sign investment agreement
---
Emtiaz:
1.  Seoul to boost oil imports from Iran
2.  Iran to offer environmental loans to industries
3.  Iran opens 5th fashion festival
---
Iran:
1.  Report: Twin elections legal, healthy
2.  Iran opens environment expo with representatives of 20 countries, 304 companies
3.  100 gifted Iranian expatriates back home since JCPOA implementation
4.  First Visa Card in Iran by late March
5.  Iran to become ME's hub of car exports
---
Payam Zaman:
1.  Leader: Future parliament will have to shoulder heavy burden
2.  Korean, Japanese carmakers heading to Iran
3.  Two terrorists killed in western Iran
4.  Iran holds 5 major power bids
---
 Javan:
1.Principalist figures: We submit to nation's vote
2.Leader's instructions to 10th parliament
---
Jame-Jam
1.  Riyadh, Tel Aviv extend ties to open relations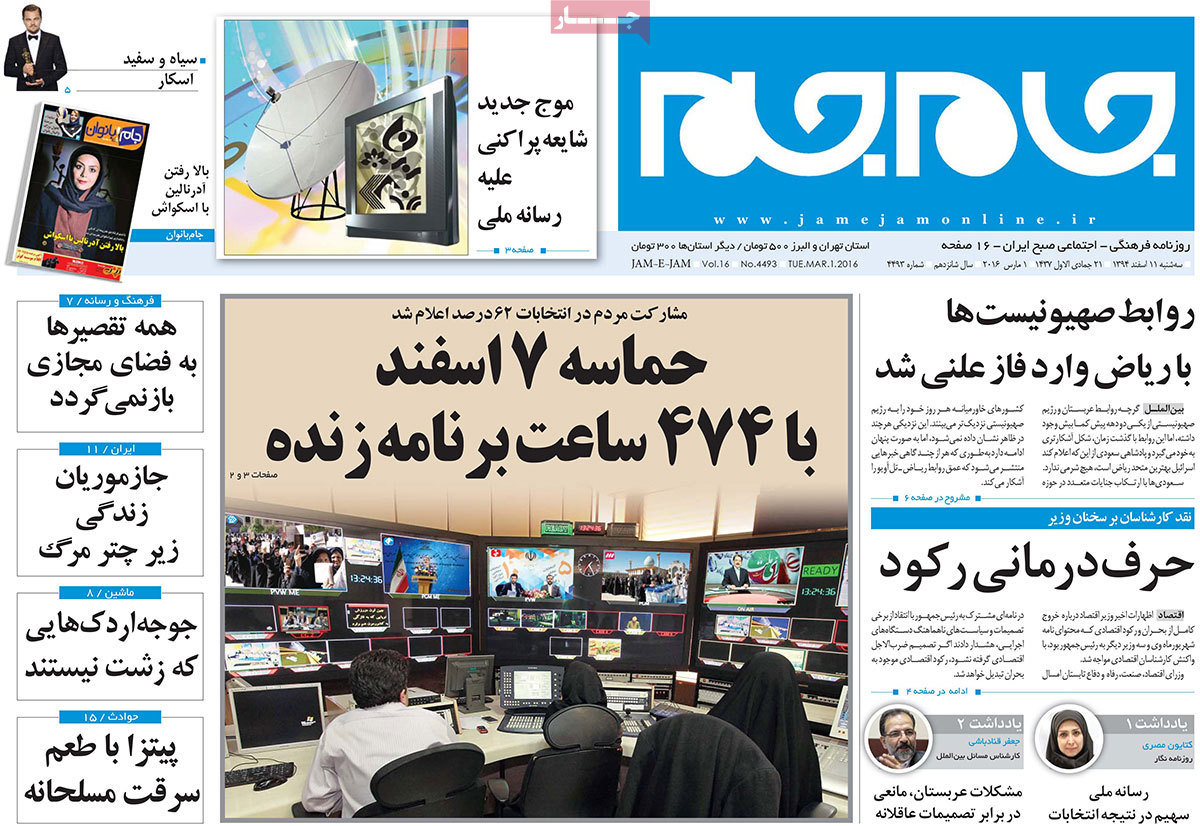 ---
Jomhouri Eslami:
1.  Iran oil exports at 1.75mb/d
2.  Parliament speaker: Nation's glorious election turnout lights country's path to reformism
3.  Saudi house calls for Israeli cooperation against Iran
4.  Iran unveiled 5 defense achievements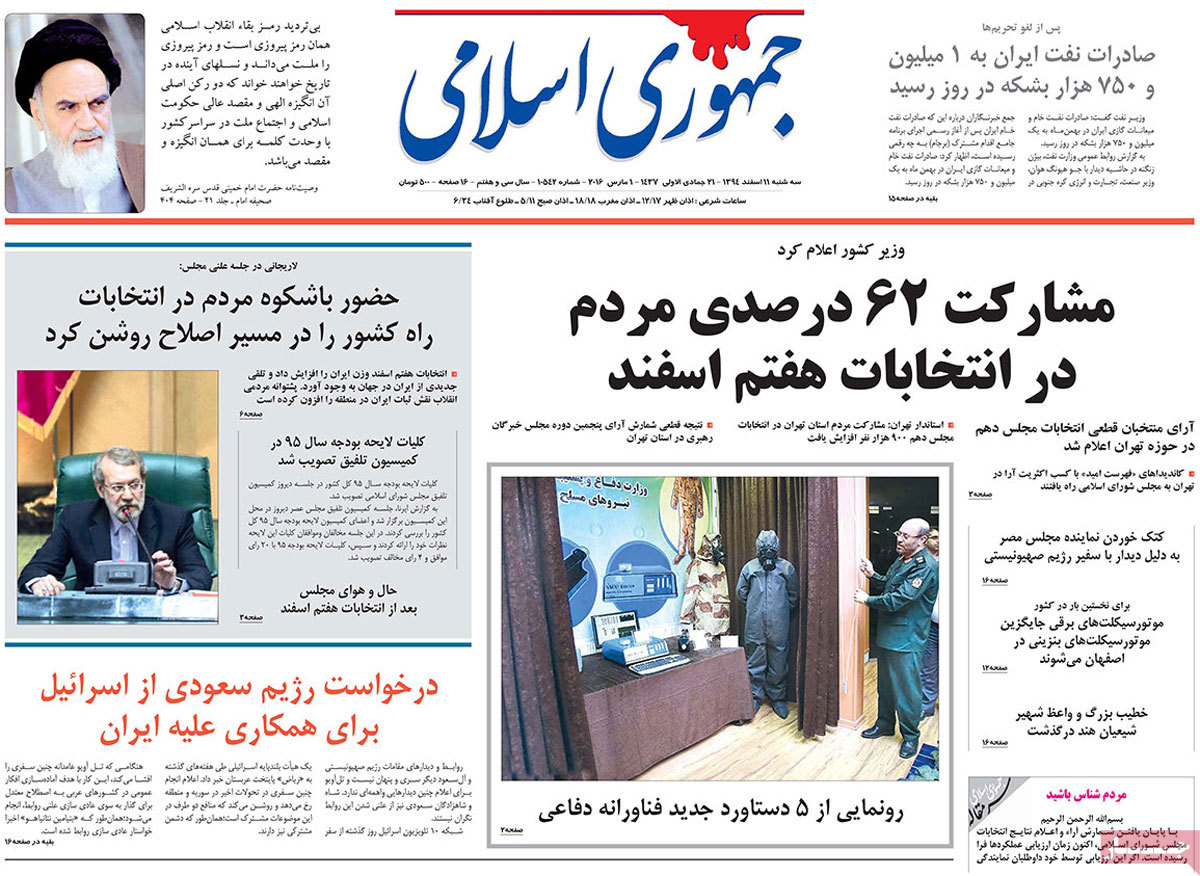 ---
 Hemayat:
1.Judiciary chief: Nation will not step back from revolution values
---
Kayhan:
1.End of vote counting; numbers, claims 


---
Khorasan: 
1.  Iranian parliament in post-sanctions setting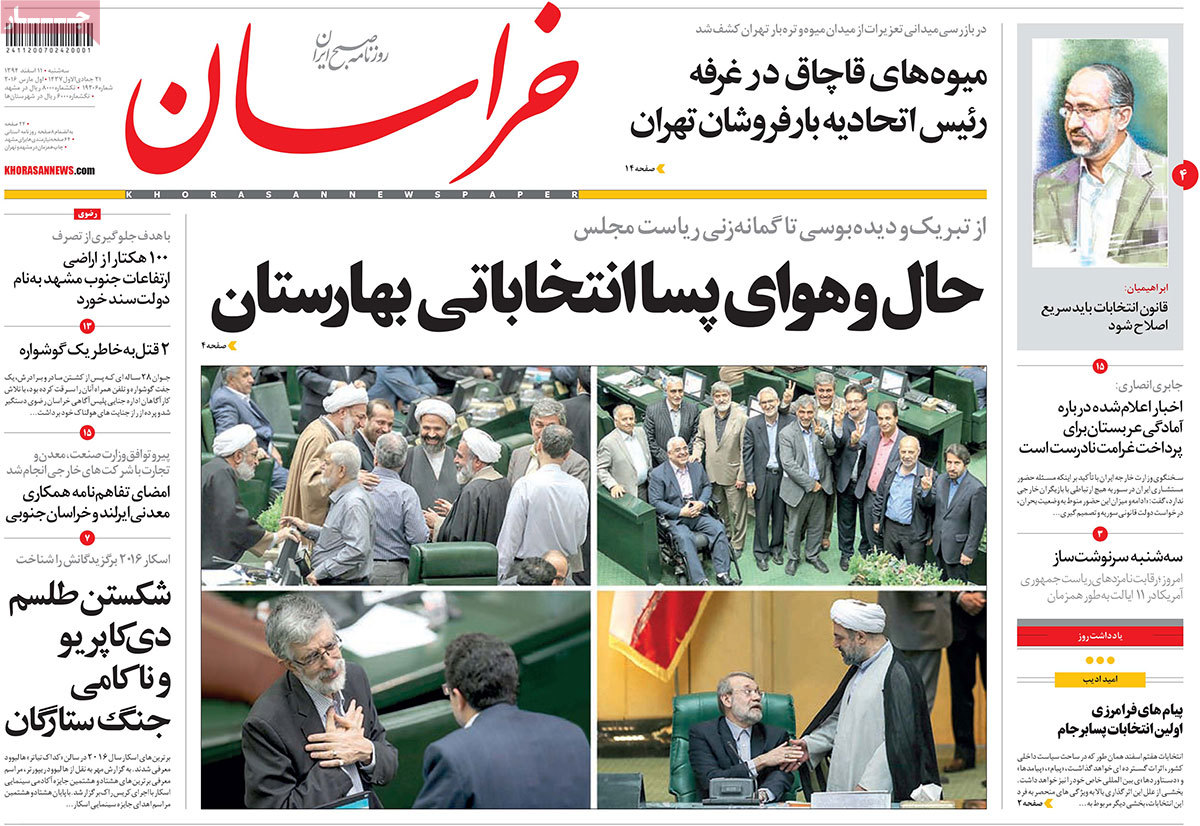 ---
Rah-e Mardom:
1.  Iranians call for -15,000$ cars
2.  Judiciary chef thanks Mazandaran people for high election turnout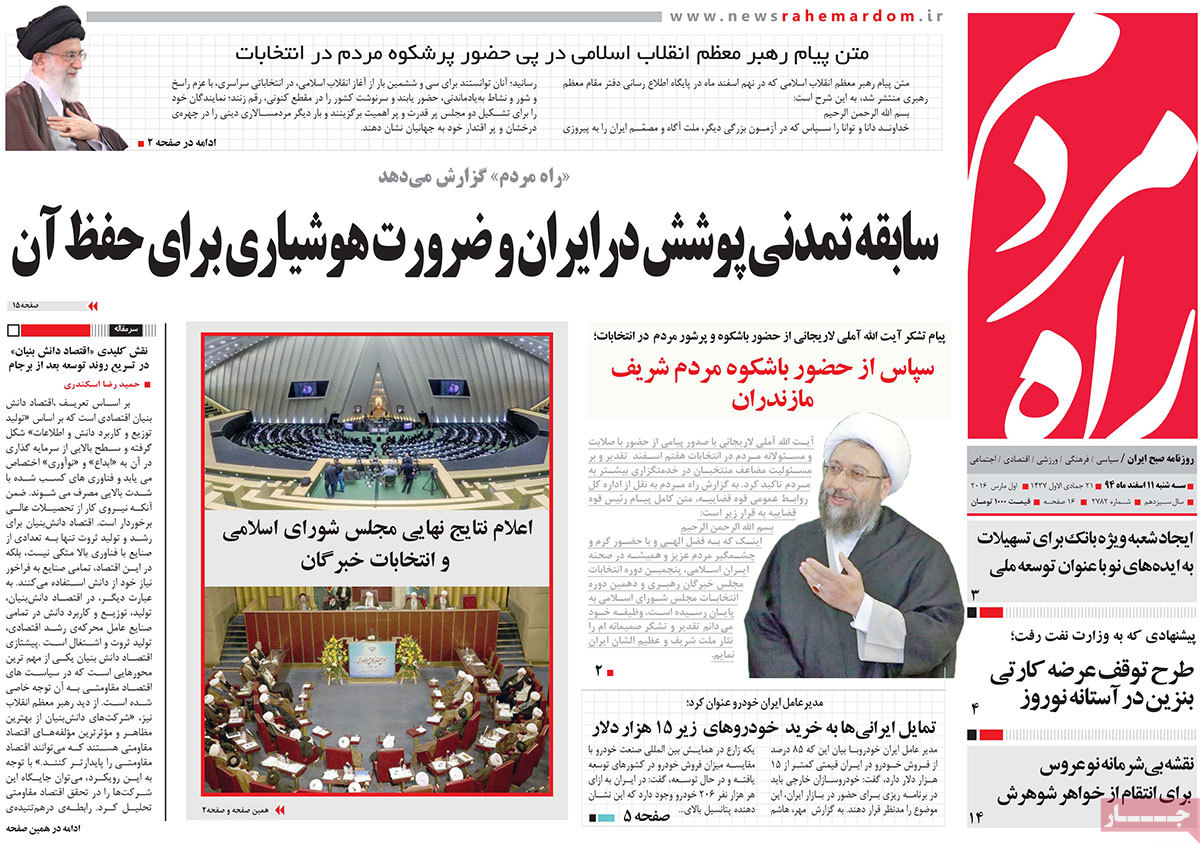 ---
Resalat:
1.  Feb 26 election promoted Iran's int'l status: Parliament speaker
2.  Iranian cinematic masterpiece on Quran
3.Feb 26 epic covered by 474 hours of live TV programs
4.Iran election turnout 62%; Tehran's 50%: Interior Minister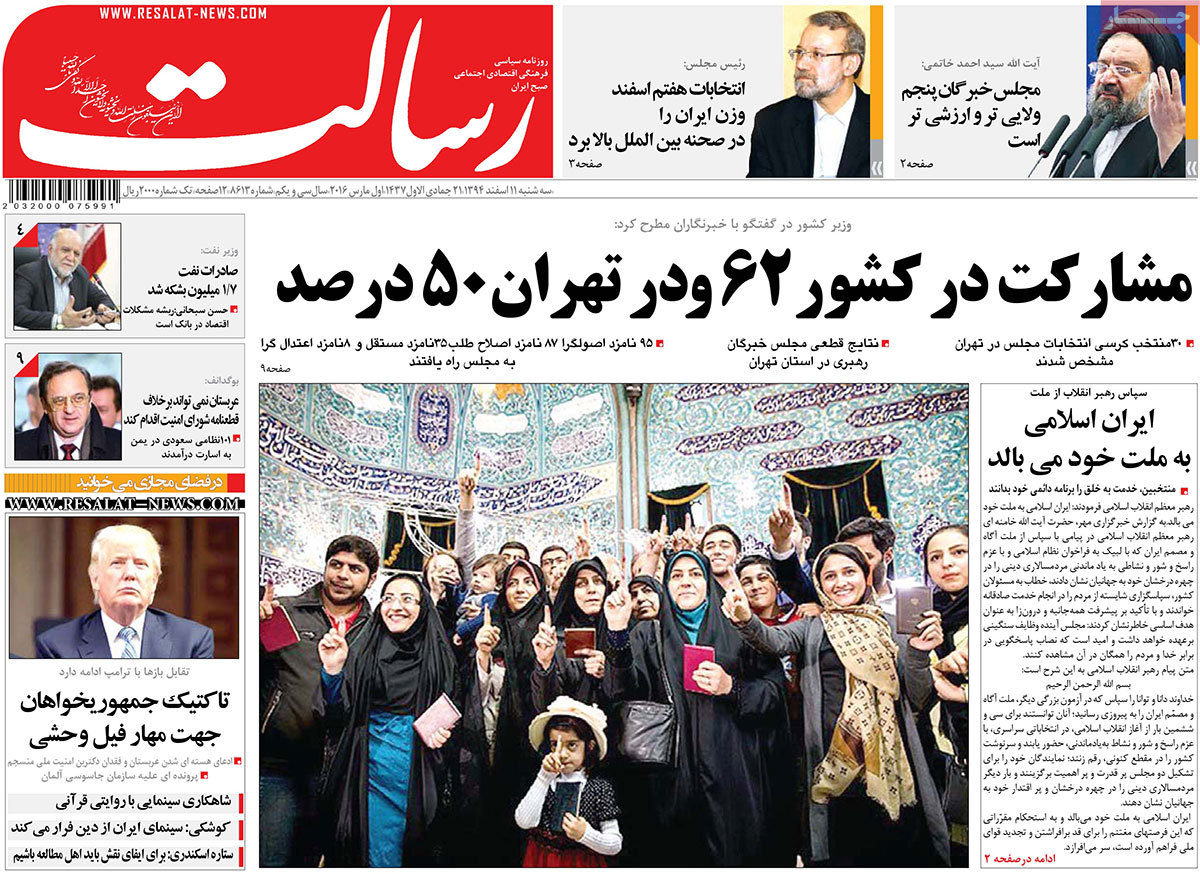 ---
Rooyesh Mellat:
1.  Turkey violates Syria truce as ISIS attacks
2.  Waste-to-energy power plant capacity grows to 7kt/d: Tehran mayor
---
Shargh:
1.  Director says would like to make movie about "worriers"
Worriers are a group of Iranian politicians who said were very much worried about the consequences of the nuclear deal Iran struck with world powers in July 2015.
2.  Reformist leader: Tehran select candidates remain committed to reformism ideals