Many newspapers on Tuesday covered a visit by Imam Khomeini's grandson Seyyed Hassan Khomeini to the Foreign Ministry, and his remarks in praise of Foreign Minister Mohammad Javad Zarif.
The controversies regarding master musician Mohammad Reza Shajarian and the efforts to bring him back also remain a top story in Iranian media. His new album has recently obtained a licence for release, and IRIB has yet to announce whether his Rabbana will be aired during Ramadan or not. Conservatives, however, are slamming the government and reformists for focusing on the Iranian singer, who is believed by hardliners to be an opposition figure.
Newspapers also paid great attention to the Interior Minister Abdolreza Rahmani Fazli's address to the Parliament, in which he briefed the MPs on the latest worrying statistics regarding social ills.
Abrar:
1- Hammond Supports Comprehensive Ceasefire in Syria during Ramadan
2- US and China to Stand against Pyongyang's Nuclear Adventure
3- Aref Most Appropriate for Presidency of Parliament Research Centre
4- No Official Talks between Iran and Saudi Arabia: Foreign Ministry Spokesman
5- Terrorist Groups to Be Destroyed This Year: Iraqi PM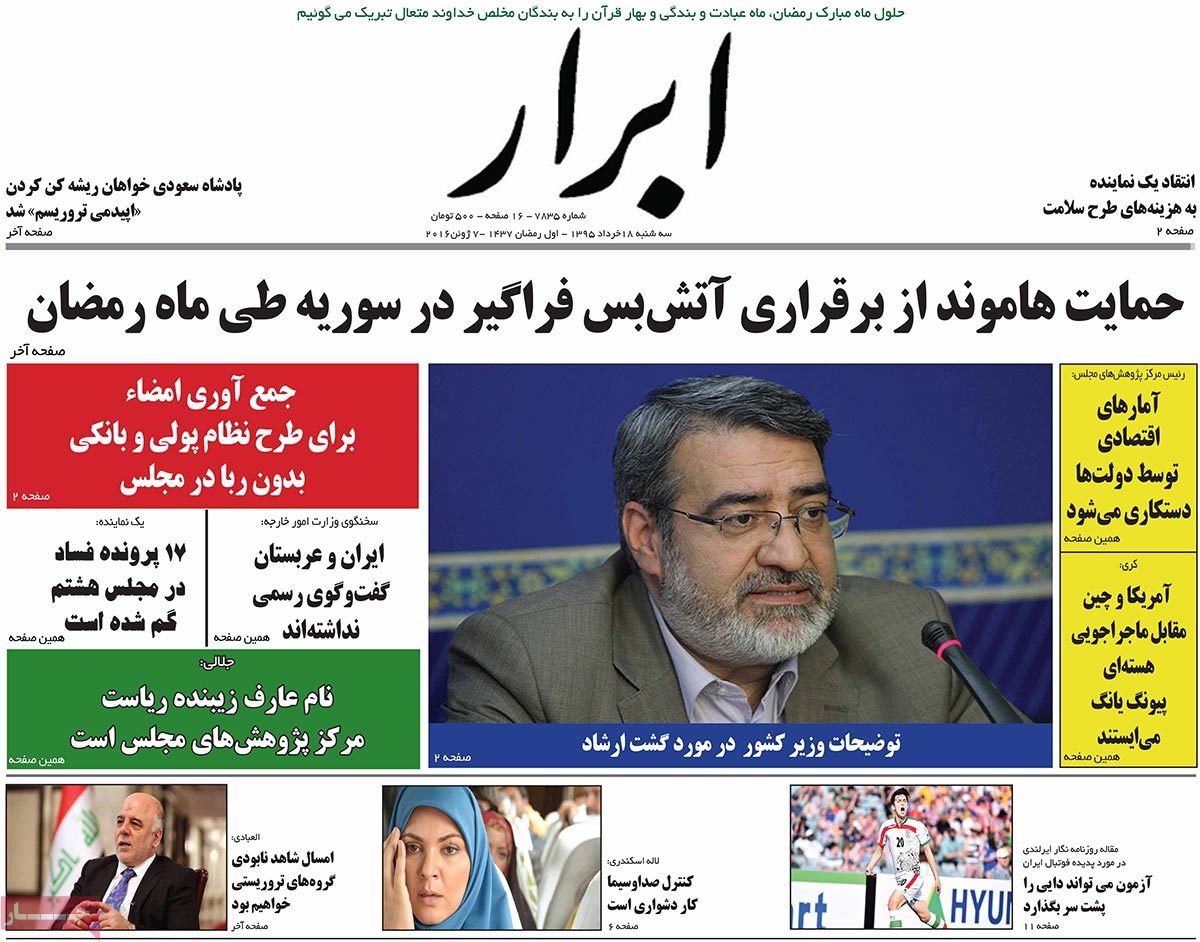 ---
Abrar-e Eqtesadi:
1- Iran and Japan in Talks to Develop Petchem Industry
2- Iran's Oil Sales to South Korea Break Records
3-Iranian Oil Transferred to Europe and Asia in 20 Super-Tankers
4- What Ahmadinejad Ruined in 8 Years Cannot Be Renovated in a Few Months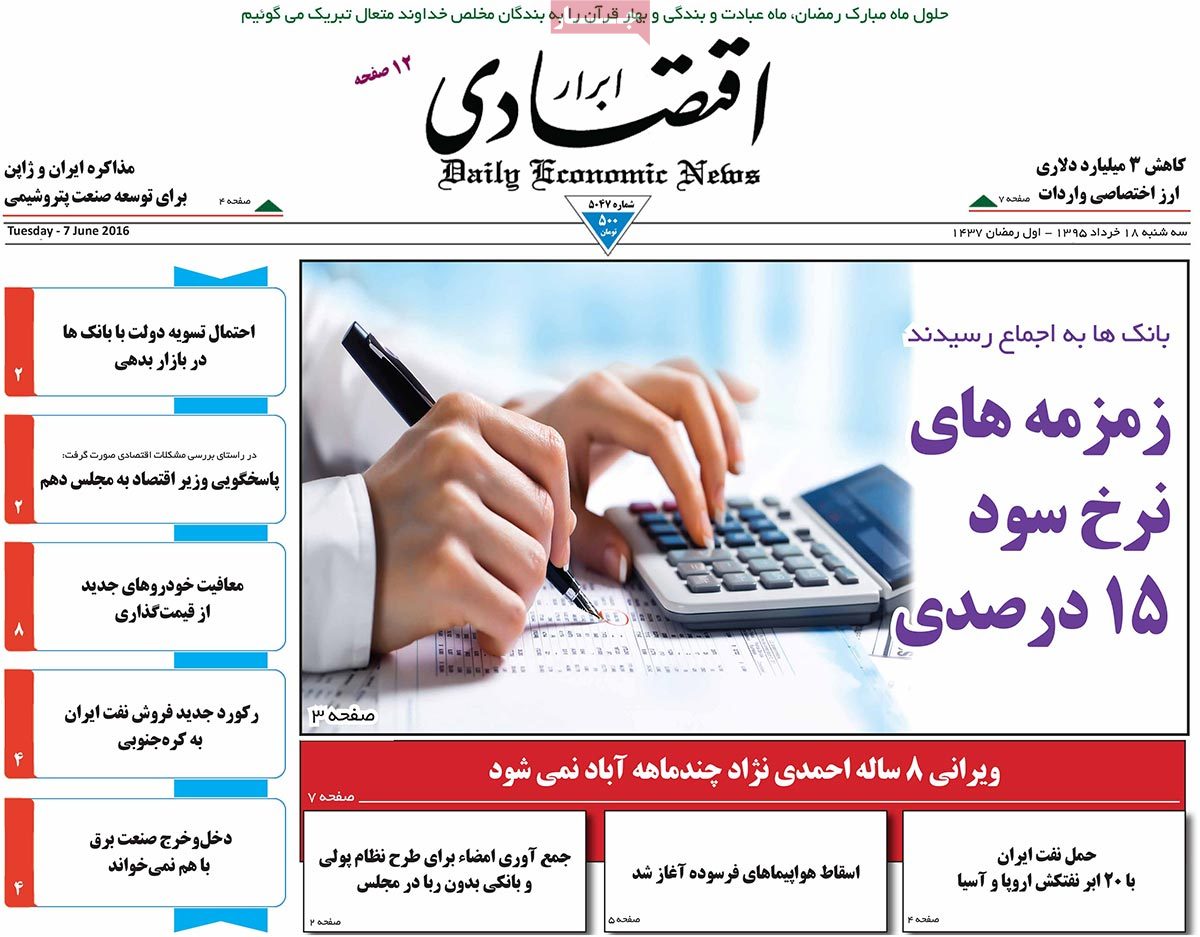 ---
Aftab-e Yazd:
1- 17 Corruption Cases Missing!
2- Loans and Foreign Trips Is Why MPs Are Interested in Joining Economic and Foreign Policy Commissions!
3- Similarities between Ahmadinejad and Chavez's Legacies: Iran Saved from Chavezism
4- Post-Development in Switzerland, Pre-Development in Iran [Editorial focused on recent referendum in Switzerland in which people said no to monthly income of some $2,500]
5- Why Swiss Said No to Cash Subsidies: Difference between Us and Swiss Population
6- Your Licence Will Be Nullified If Your Film Is Advertised on Satellite Channels: Culture Ministry Gives Ultimatum to Producers
---
Arman-e Emrooz:
1- You Can't Fool Everyone Forever: Imam Khomeini's Grandson in Meeting with Zarif
2- A Reformist Takes Presidency of Iran's Parliament after 12 Years [First Vice-Speaker Massoud Pezeshkian was the temporary Speaker on Monday in the absence of Ali Larijani]
3- Secret Meeting of Muhammad Ali with Hashemi Rafsanjani
4- Plan to Be Presented to Cabinet for Changing Weekend from Thurs-Fri to Fri-Sat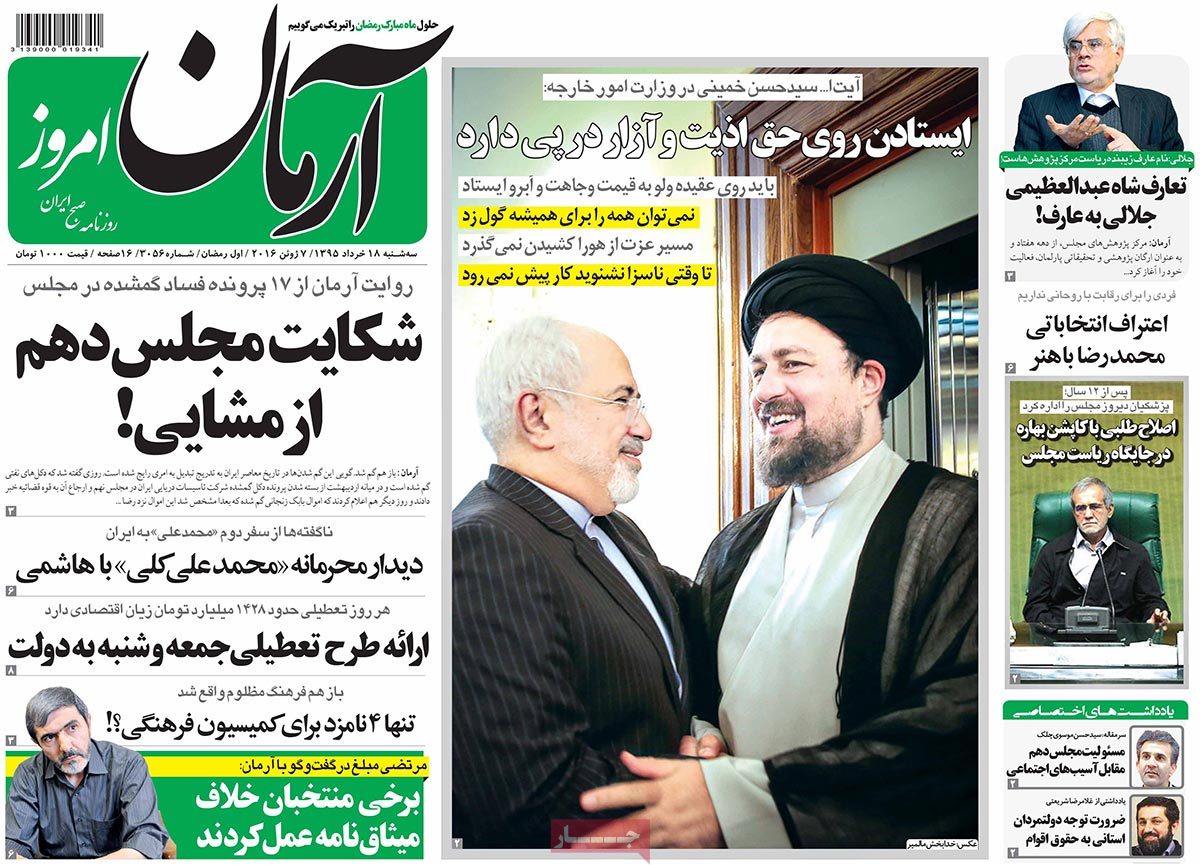 ---
Asrar:
1- Iranian Diplomats Are Trusted by People and Establishment: Imam Khomeini's Grandson
2- 5.5m Iranians Addicted to Illicit Drugs: Interior Minister
3- Oil Minister: Neighbouring Countries Scaring off Iran's Oil Customers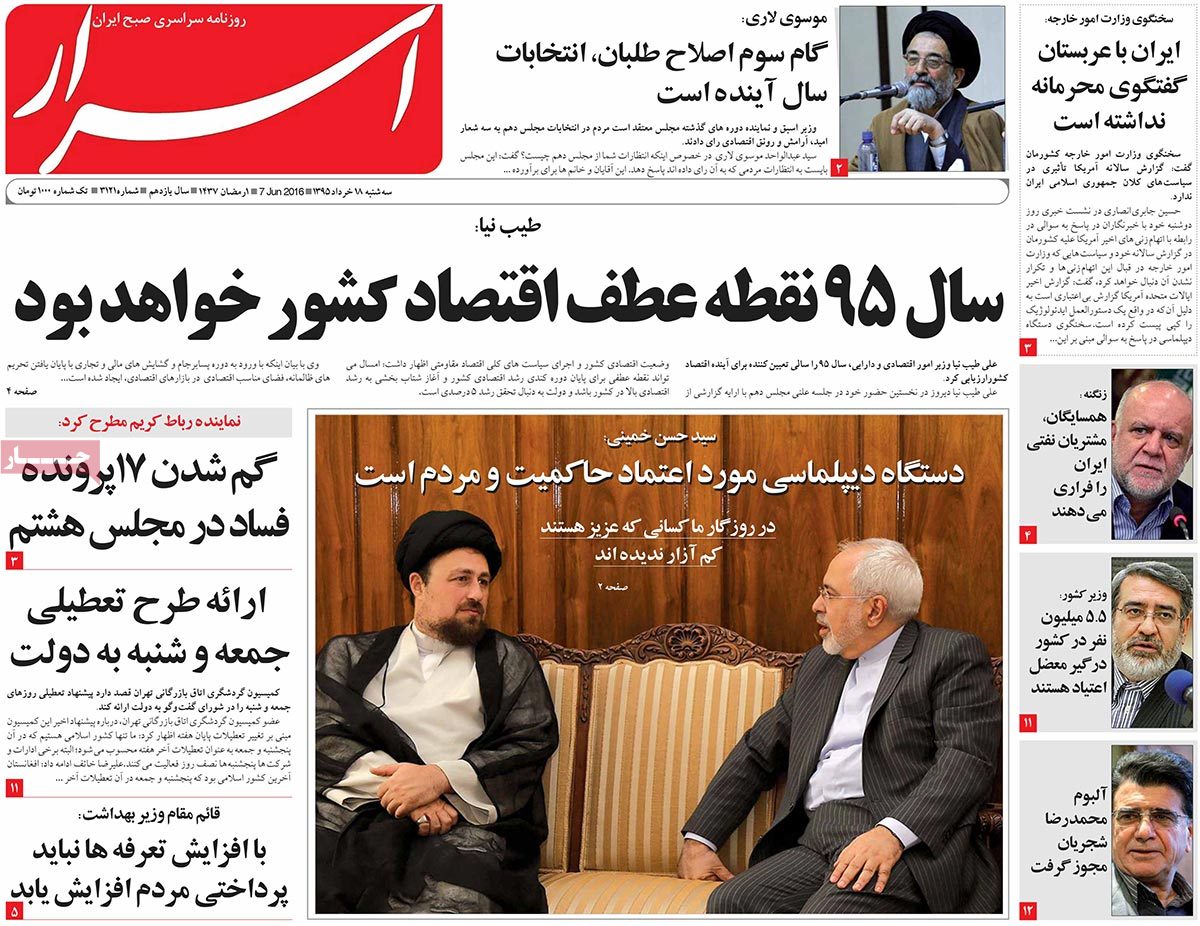 ---
Ebtekar:
1- Clash of Clans' War against Books: When Reading Loses out to Online Games in Absence of Planning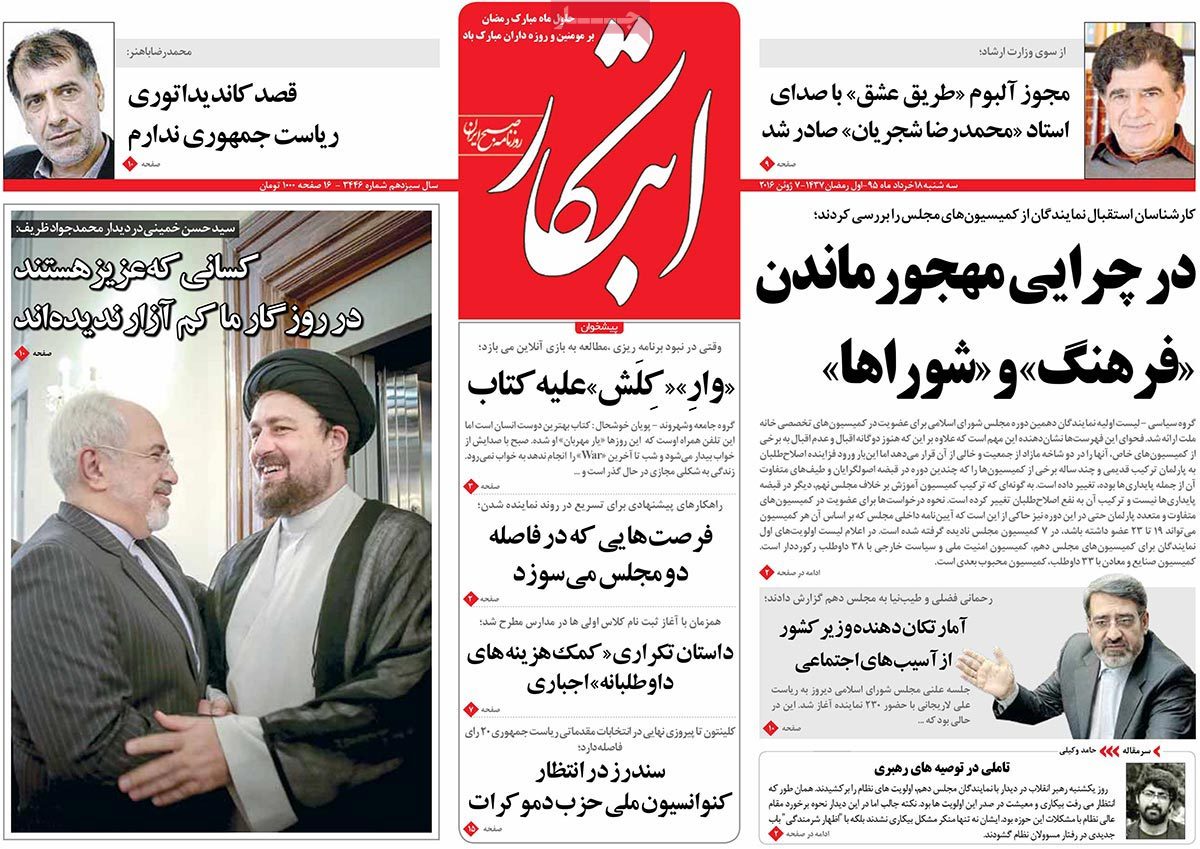 ---
Etemad:
1- We Still Have No Candidate to Compete with Rouhani: Conservative Figure Bahonar
2- Iran's Culture Ministry Issues Licence for Master Shajarian's New Album
3- Iranian Society Not Feeling Well [Op-ed on social ills]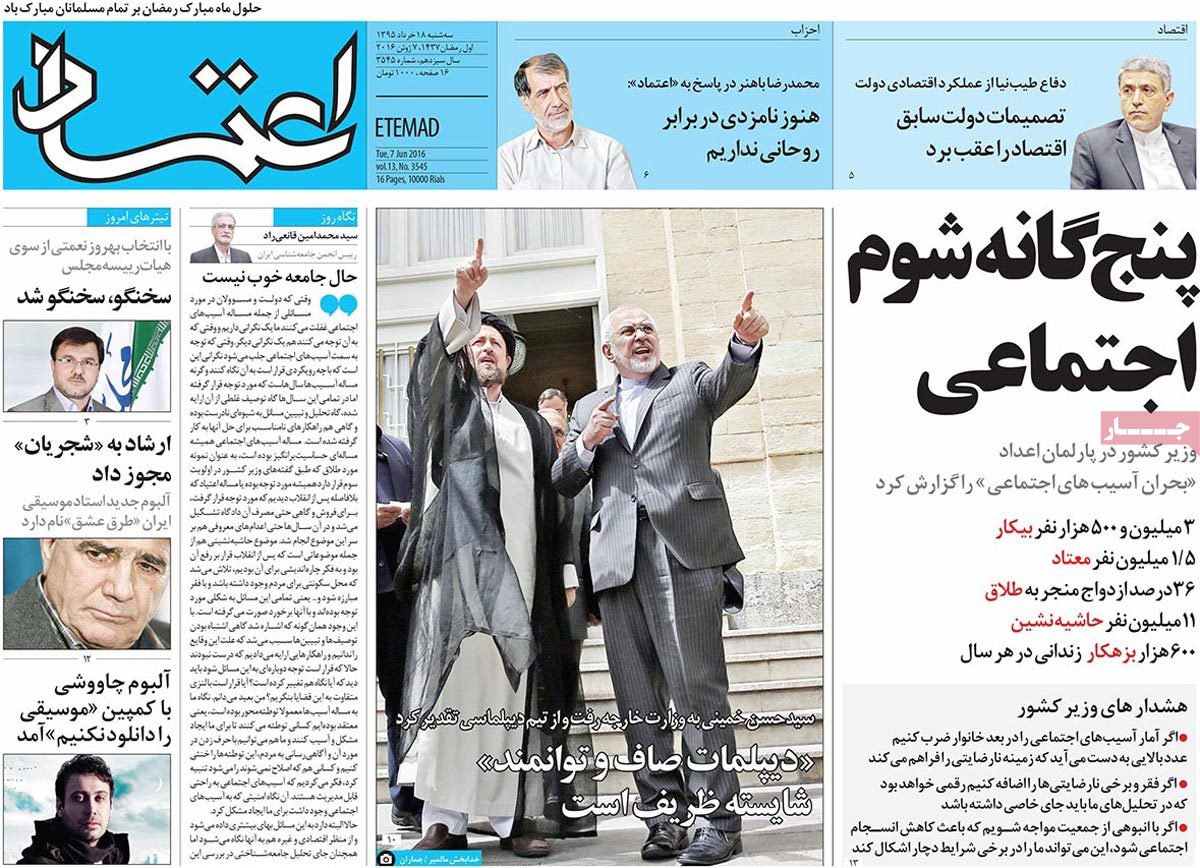 ---
Ettela'at:
1- Gary Sick Downplays BBC's Propaganda against Imam Khomeini
2- HRW Urges The Hague to Put Israeli Leaders on Trial
3- Leader Has Held 3 Meetings with Heads of Iran's Trio Powers in Past 6 Months
---
Ghanoon:
1- After 37 Years, Political Crime Law Is Approved and Communicated Ambiguously
2- Divisions Begin in Velayat Faction, the Conservatives in Parliament: End of a Faction's Dream
---
Haft-e Sobh:
1- Americans' New Claim: The Problem Is with Iranian Banks!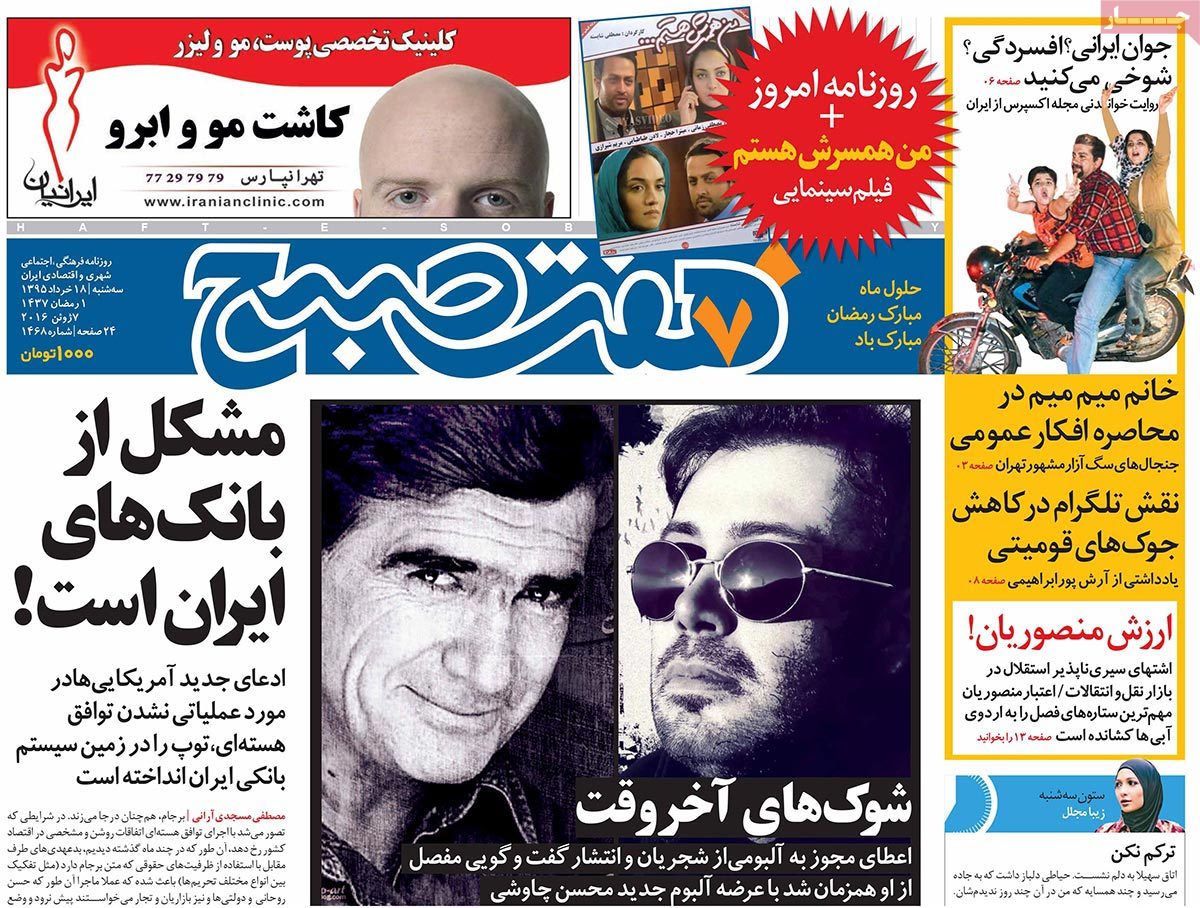 ---
Hemayat:
1- There Are 3.5m Unemployed People in Iran
2- Americans' Repeated Claims Show They Are Disappointed with Iran's Surrender: Judiciary Chief on USA's Post-JCPOA Approach
---
Iran:
1- Lessons that Can Be Learnt from Swiss People's No to Cash Subsidies
2- Death of 15-Year-Old Villager Saves Lives of Several People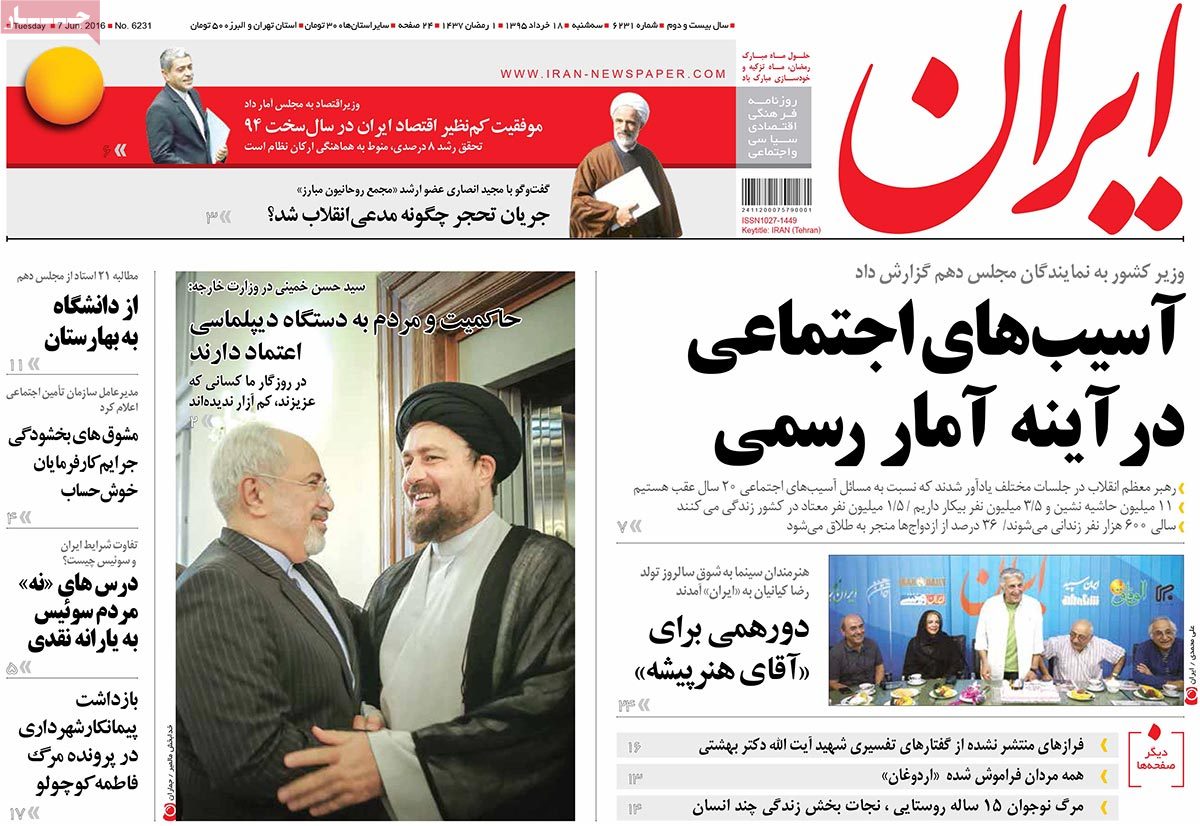 ---
Javan:
1- IAEA Has Had Access to Iran's Non-Nuclear Sites: Amano
2- Stolen Iranian Tiles Sold in London Auctions
---
Jomhouri Eslami:
1- Parliament Ready to Cooperate with Gov't: Larijani
2- In a Message on Ramadan, President Rouhani Urges Leaders of Islamic Countries to Take Steps towards World Against Violence and Extremism
3- Iran Is Middle East's Third Largest Centre in Attracting Foreign Investment
4- Amano: Iran Have Been Obeying UNSC Resolution and JCPOA
5- Iraqi Forces Liberate Refinery, Power Plant, and Dam of Fallujah
---
Kayhan:
1- Promises Forgotten amid Trivial Issues [Kayhan's top story lashes out at the government's efforts to bring back Master Mohammad Reza Shajarian, who is believed by Conservatives to be against Islam and Revolution, instead of focusing on people's real problems. In a rare move to prove Shajarian's alleged corruption, Kayhan published his photos with Los Angeles-based Iranian singer Googoosh and famous expatriate Iranian actor Behrooz Vosughi.]
2- Aristocrats Are USA's Tool to Create Crises in Other Countries: Brazilian Analyst
3- BBC's Game with Rafsanjani
4- Don't Turn Kindergartens into Centres for Alien Culture Infiltration
5- 600,000 Iranians Lost Their Jobs in Past 700 Days: Former Deputy Minister
---
Resalat:
1- US Anger at Saudi Arabia's Failure in Yemen: Why Does Washington Condemn Riyadh?
2- Security Council Is Where There Is No Security
3- US Enmity Increased after JCPOA: Amoli Larijani
---
Roozan:
1- Gov't Plans to Achieve 8% Economic Growth: Minister to MPs
2- Senior Conservative Figure Bahonar Supports Rouhani in 2017 Presidential Elections: Presidency in Iran Does Not End after 1 Term
3- White House Doors Open to Muslims: Obama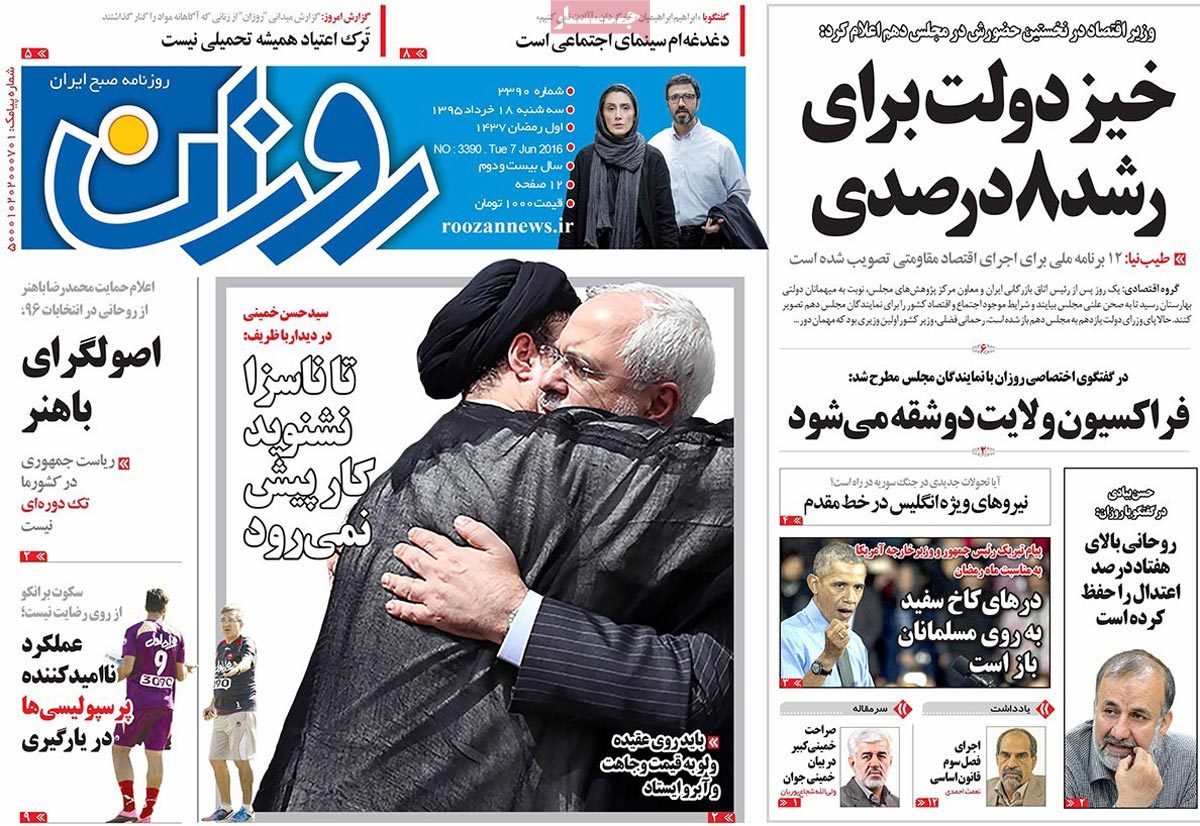 ---
Shahrvand:
1- How a Popular Telegram Campaign Gained Momentum at National Level: Car-Free Tuesdays
2- People Trust FM Zarif Highly: Hassan Khomeini
---
Shargh:
1- We Lag 20 Years behind in Dealing with Social Ills: Interior Minister
2- How Ahmadinejad Became Ahmadinejad: From Tehran Mayor to Iran's President
3- Even If the Symbol of Populism [Ahmadinejad] Runs for Presidency, Rouhani Has Highest Chance in Next Year's Presidential Elections: Politician
4- After 7 Years of Suspension, Shajarian's Album Obtains Release Licence
5- Shajarian Cannot Be Eliminated: Hossein Alizadeh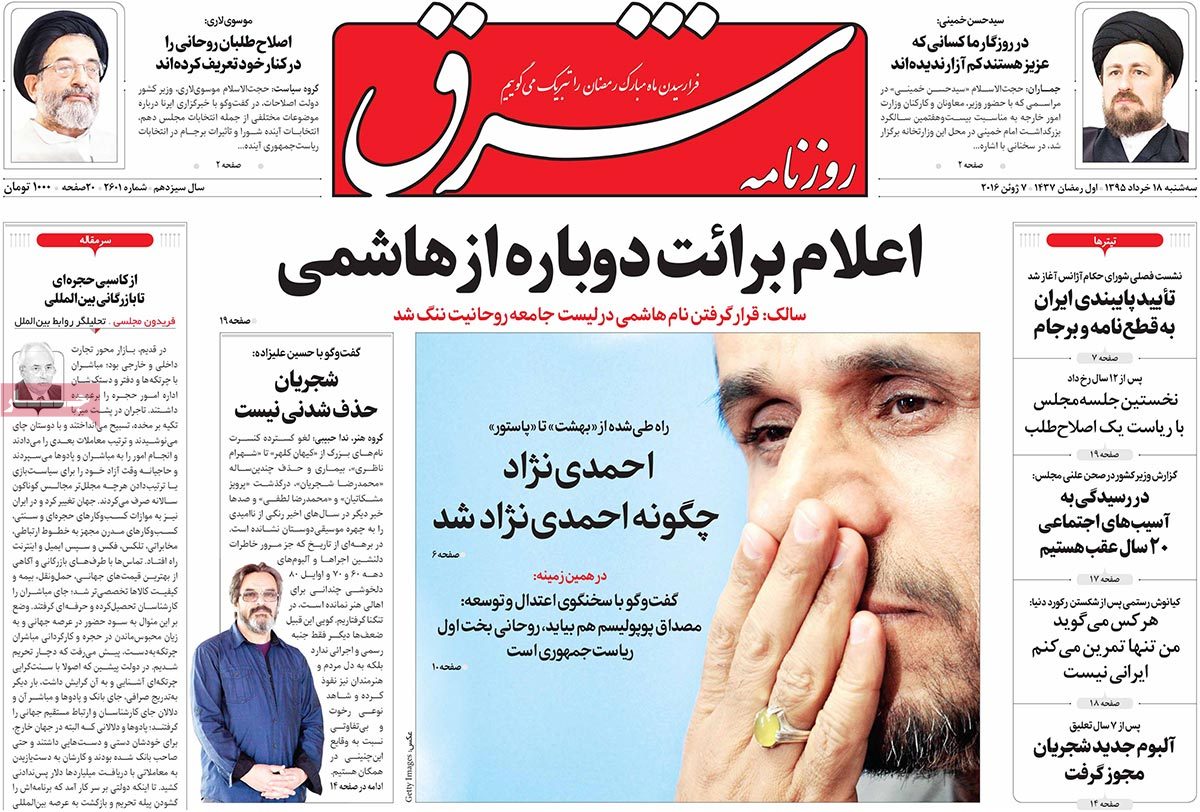 ---
Sobh-e Now:
1- Political Voices of Mr. Singer [Shajarian]: Story of Singing Master Looking for a Way to Return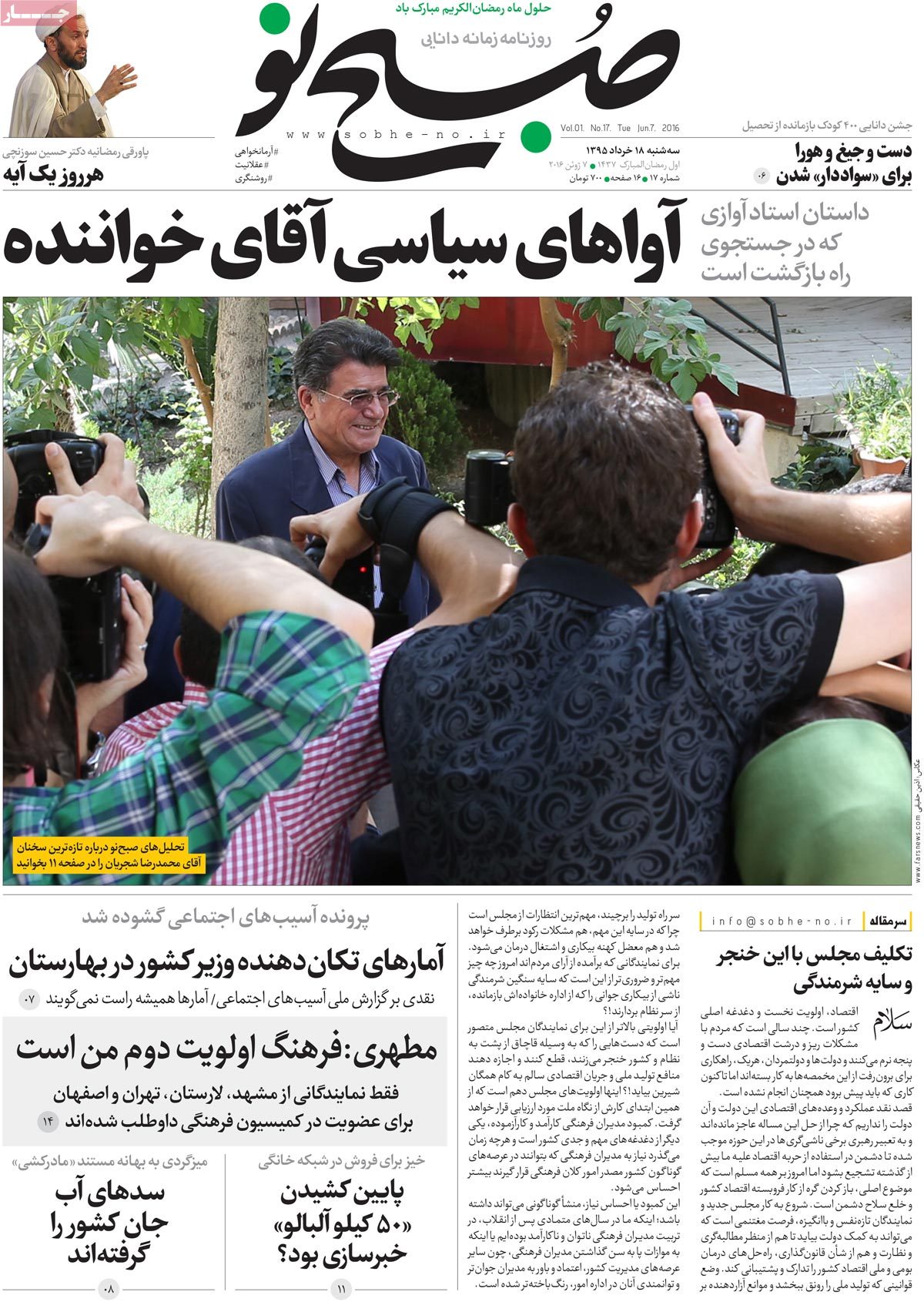 ---
Vaghaye Ettefaghieh:
1-Social Ills Getting Out of Hand: 600,000 Prisoners [per Year] and 60% of Unemployment in Certain Regions Complete Social Tsunami
2- Iran's Rivals Not Seeking Nuclear Bombs
3- We'll Have 5% Economic Growth This Year: Economy Minister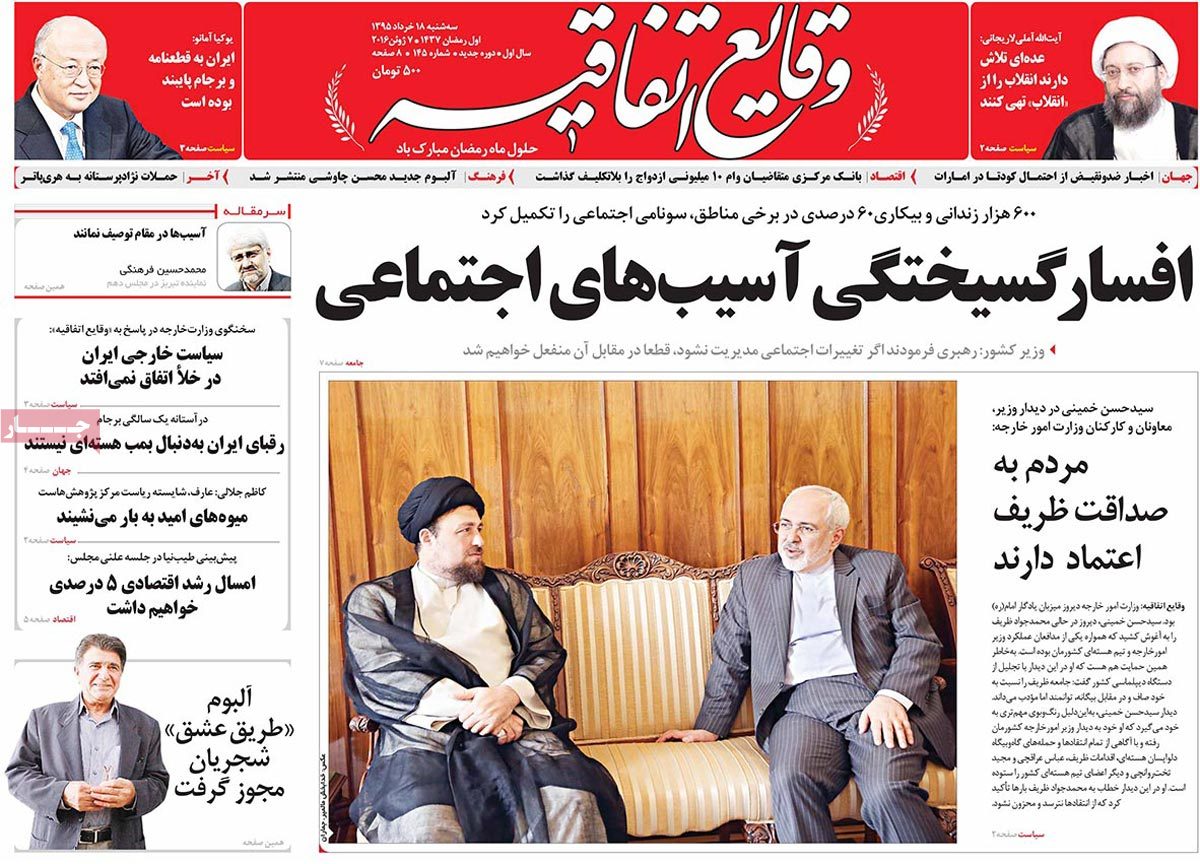 ---
Vatan-e Emrooz:
1- IRGC Navy Commander Criticizes Iranian Officials' Remarks that JCPOA Prevented a War: They'd Better Repent!
2- If They Had Any Documents, They Would Have Released It in 1979: Analyst on BBC's Claims against Imam Khomeini
3- Love Letters from King Salman to Netanyahu