Leader of the Islamic Revolution, Ayatollah Seyyed Ali Khamenei, held his first meeting with the members of Iran's new Parliament. During the session, which was widely covered by the Iranian press, the Leader urged the MPs to seriously pursue the improvement of the economy, and expressed embarrassment over the national unemployment rate.
A recent report by BBC about Imam Khomeini's alleged links with the US and the reactions to the claims remain a top story in many Iranian newspapers.
Papers also covered President Hassan Rouhani's communication of the "political crime" law, as well as the ongoing battles to retake the Iraqi city of Fallujah and the Syrian city of Raqqa.
Abrar-e Eqtesadi:
1- OFAC's Permission for Airbus Sale to Iran
2- Increase in Export of Iran's Hand-Woven Carpets to Global Markets
---
Aftab-e Yazd:
1- Increased Number of Public Suicides Has a Meaning: Female MP
2- One Task, 3 Claimants: Afghans Object to Iran and Turkey's Joint UNESCO Registration of Rumi's Masnavi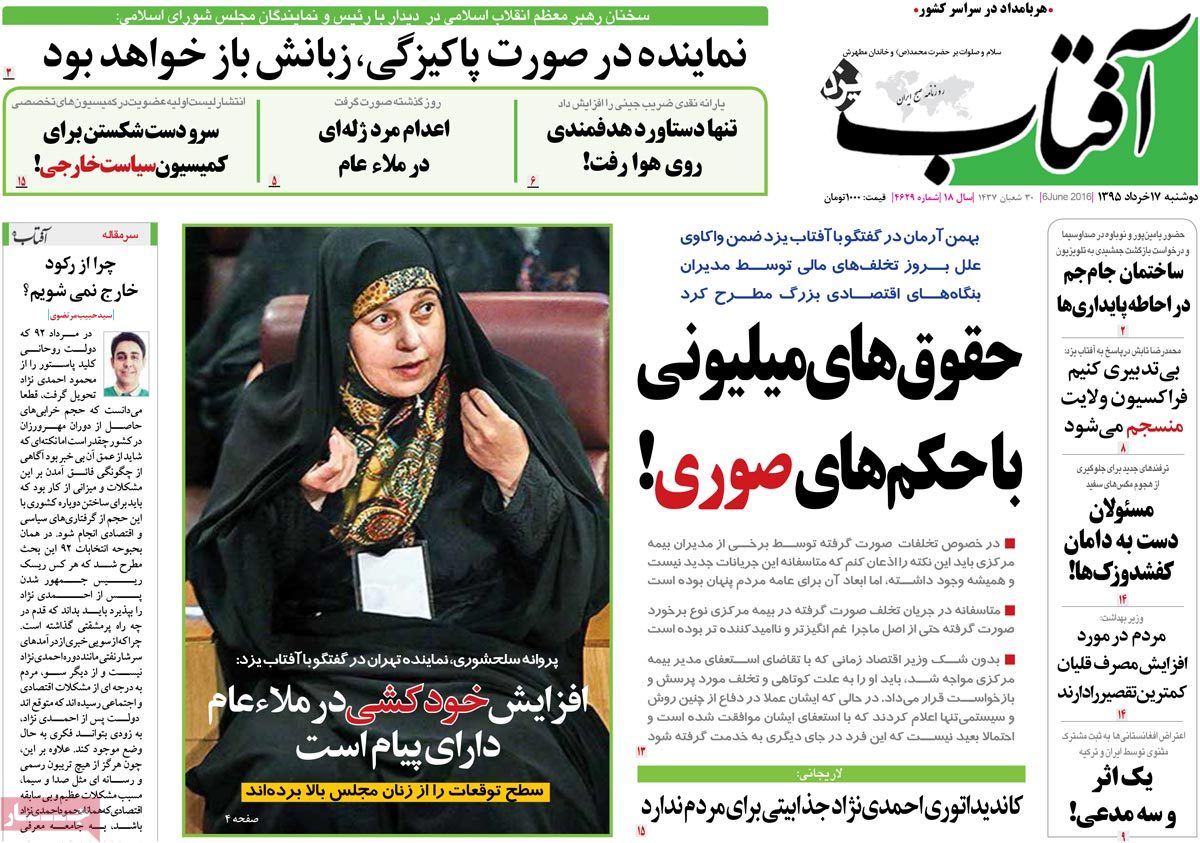 ---
Arman-e Emrooz:
1- Ahmadinejad's Candidacy [for next year's presidential elections] Uninteresting to People: Larijani
2- It's Unlikely that Rouhani Won't Be Re-Elected in Next Year's Elections: Larijani
3- President Rouhani Communicates "Political Crime" Law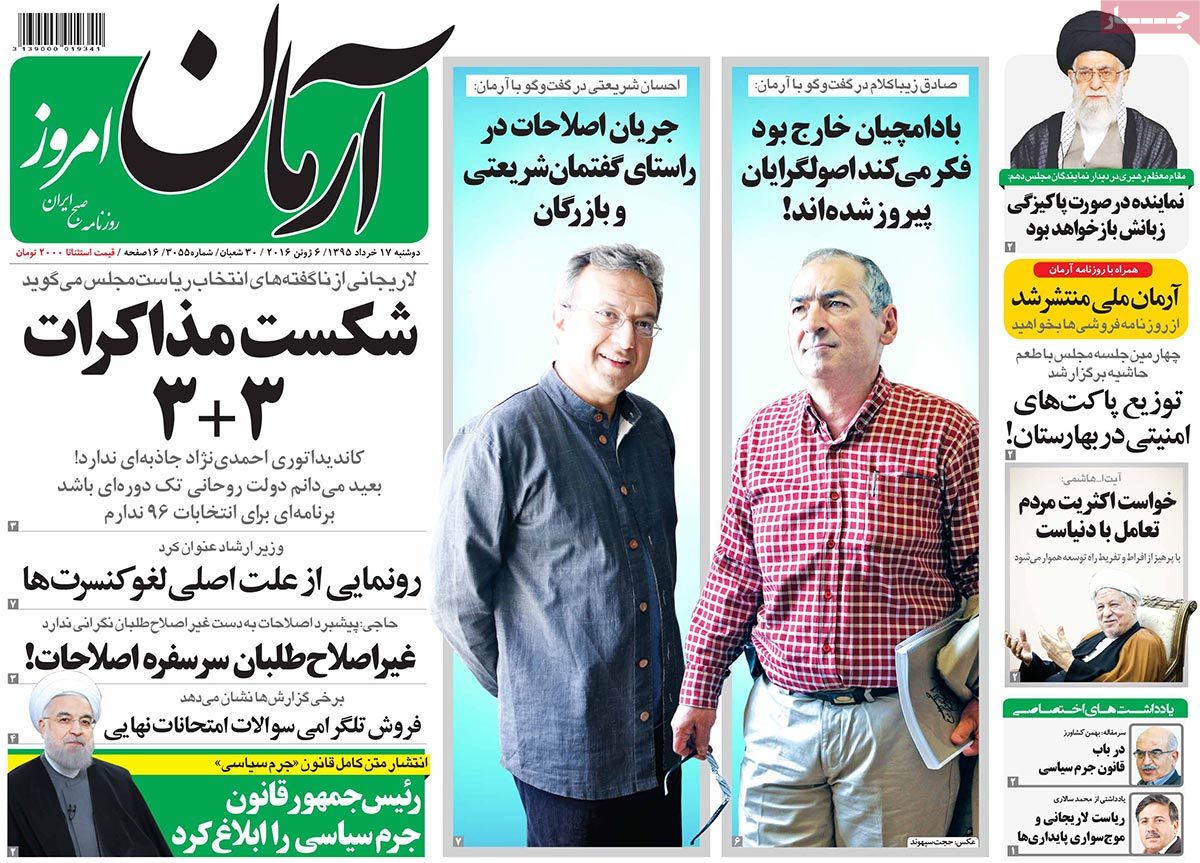 ---
Asia:
1- Iran Oil Minister Zanganeh Is Most Influential Person in OPEC: John Hall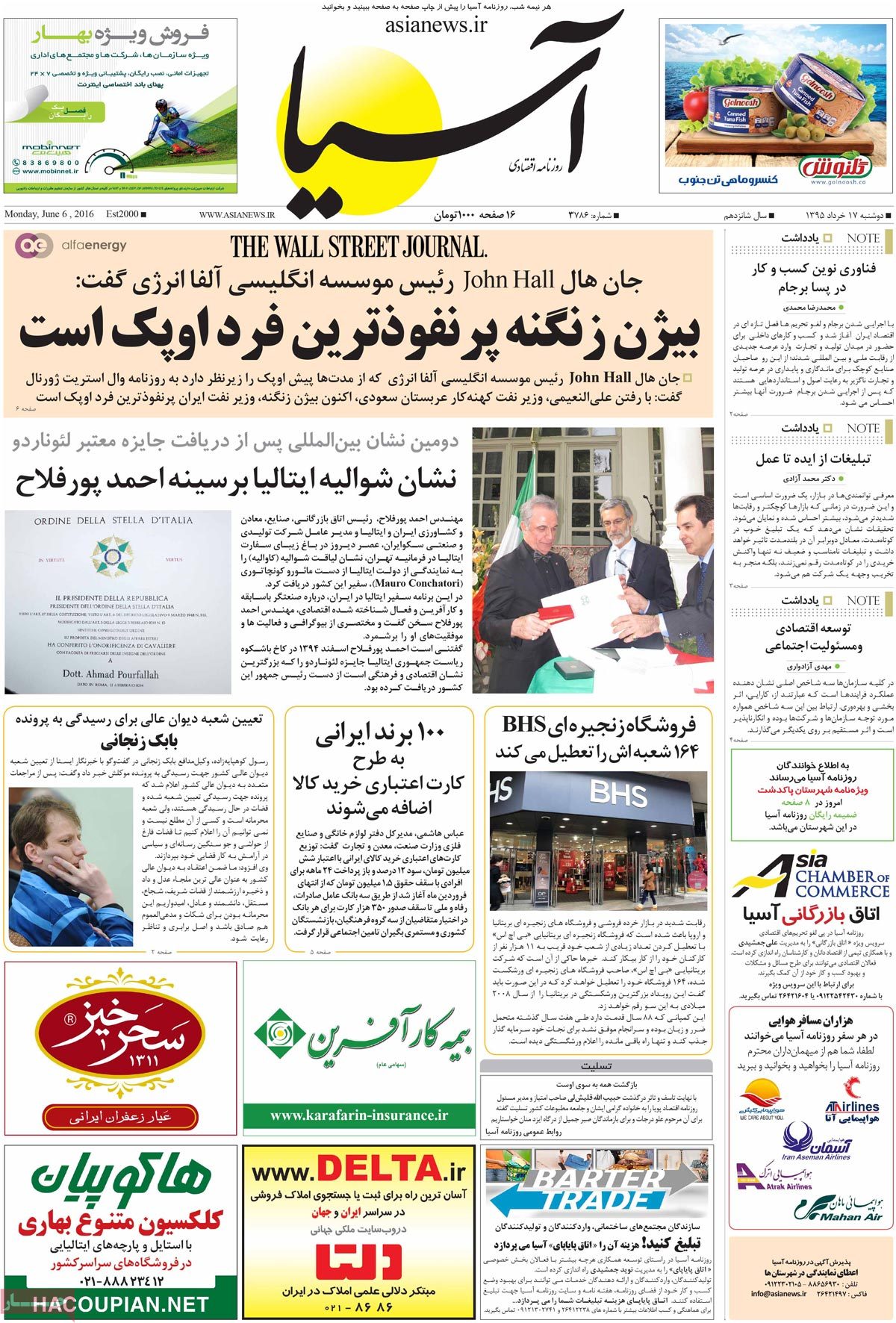 ---
Ebtekar:
1- Online Trade of Human Hair
2- A Feminine Faction: Why Should Men Help Female MPs Run the Faction of Women in Parliament?
---
Emtiaz:
1- Ban on Sale of Flavoured Hookah: Dangerous Substances Found in Tobacco
2- Oil Pipeline to Be Built between Iran and Iraq
3- 1m Tramadol Tablets Found in Imam Khomeini Airport
4- Night Tours of Tehran during Ramadan
5- UN and Interpol Warn against Increase in Environmental Crimes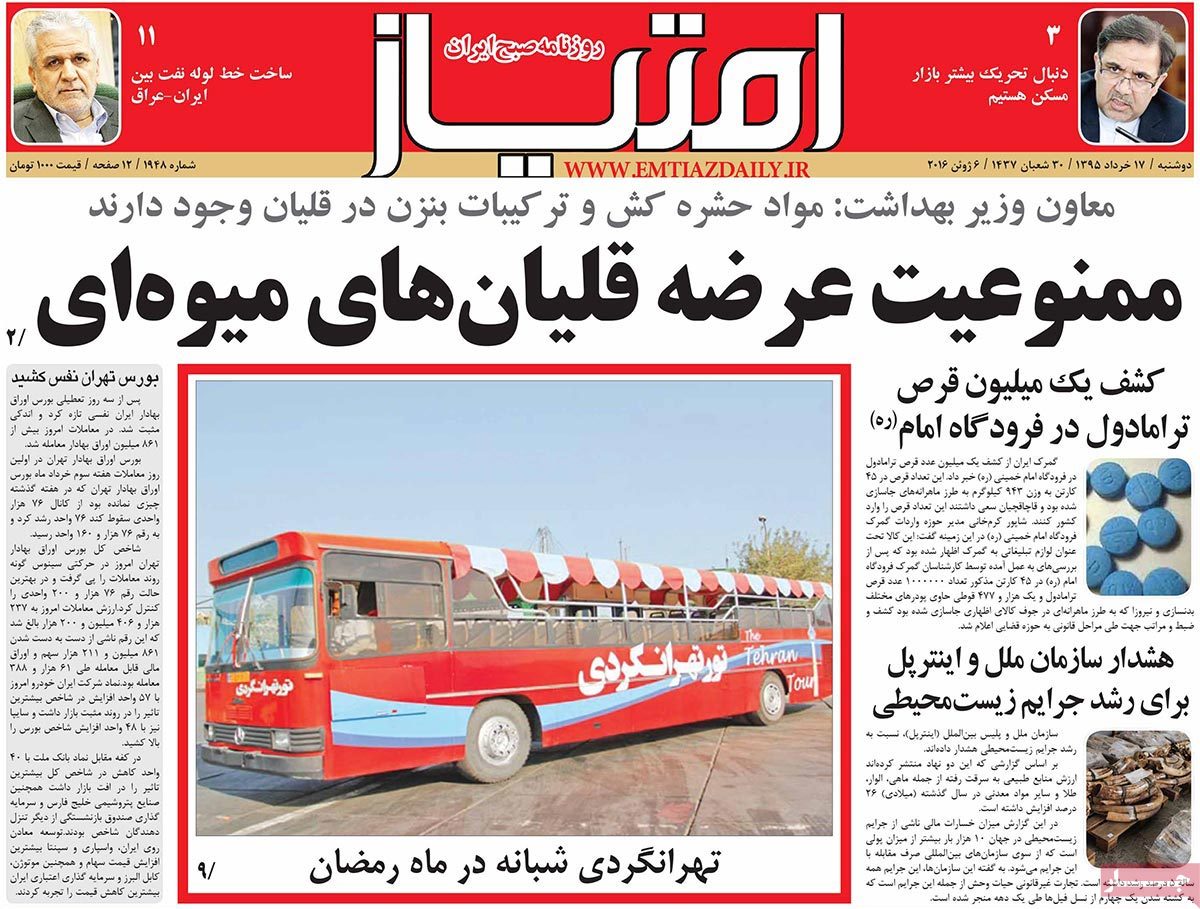 ---
Etemad:
1- Parliament Should "Really" Be on Top of Everything: Leader
2- Rivals of the Unrivalled President: Those Who May Run for Next Year's Presidential Elections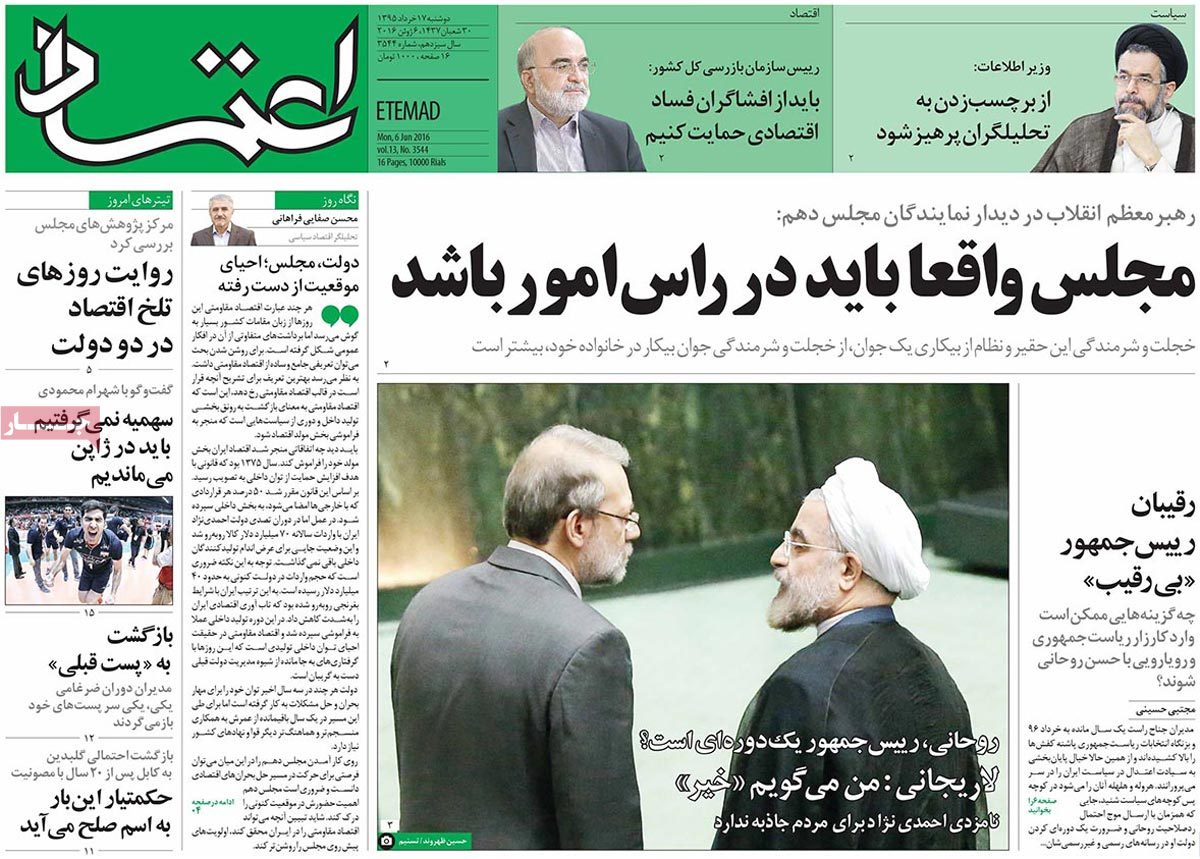 ---
Ettela'at:
1- Iran to Become Top Cigarette-Smoking Nation in 4 Years: Health Minister
2- Parliament's Duty Is to Pave the Way for Government's Actions: Leader
3- We Have Common Interests and Enemies with Israel: Saudi Official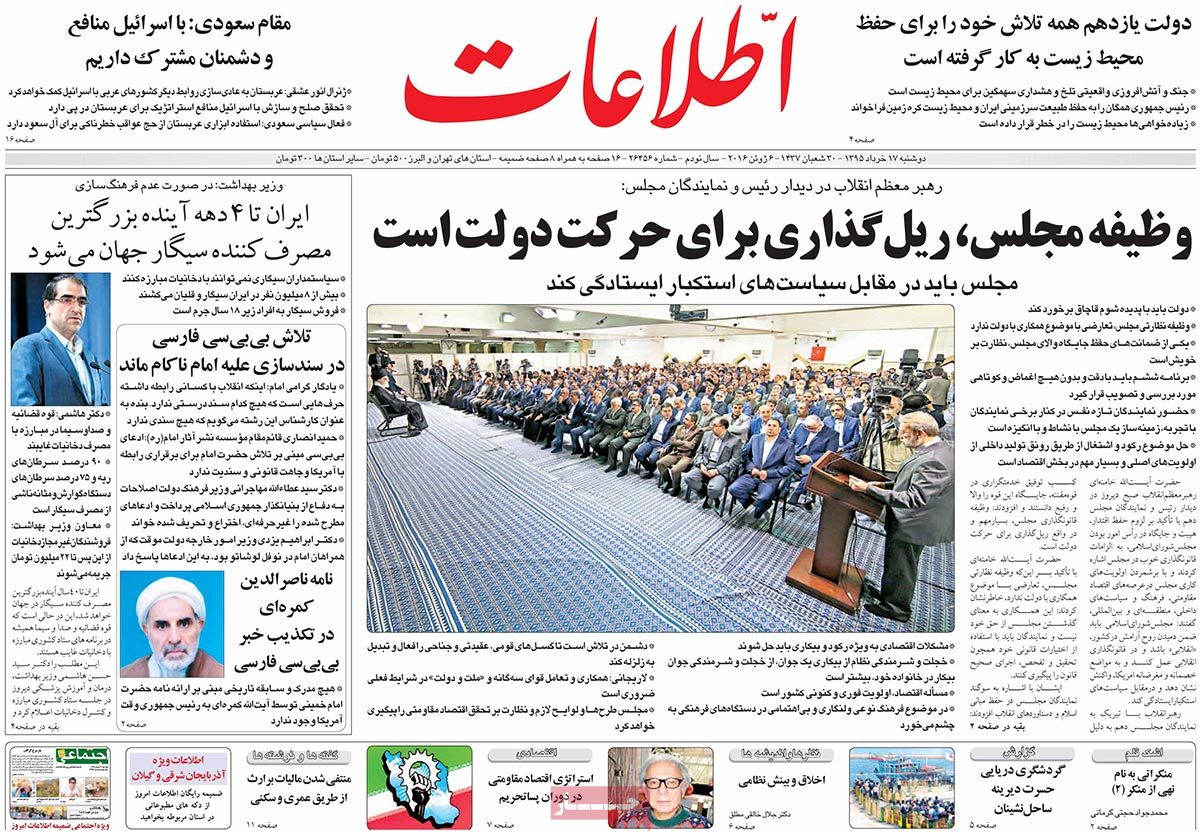 ---
Ghanoon:
1- 14-Year-Old Controversial Gas Contract with UAE, Crescent, under Investigation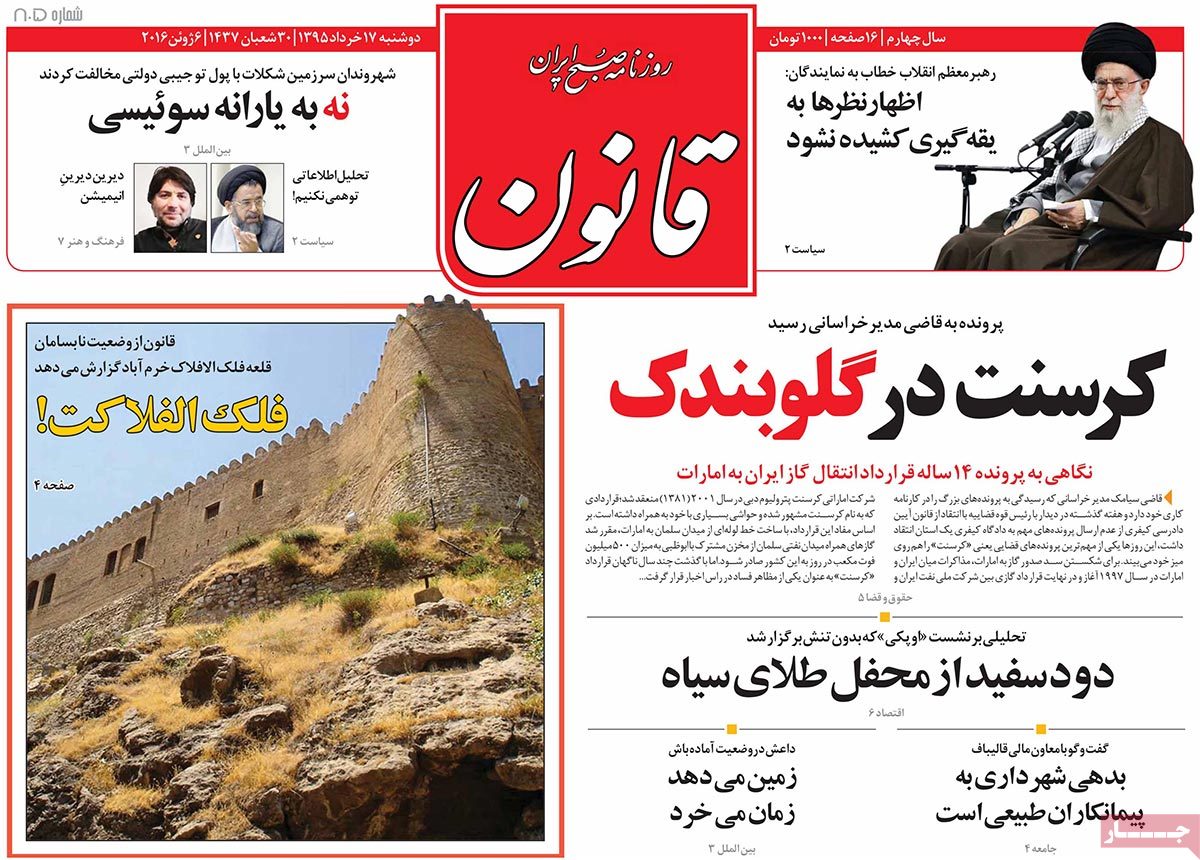 ---
Hamshahri:
1- Economy Is Iran's Immediate Priority: Leader
2- Social Media Users Rename BBC [British Broadcasting Corporation] to BPC [British Propaganda Corporation]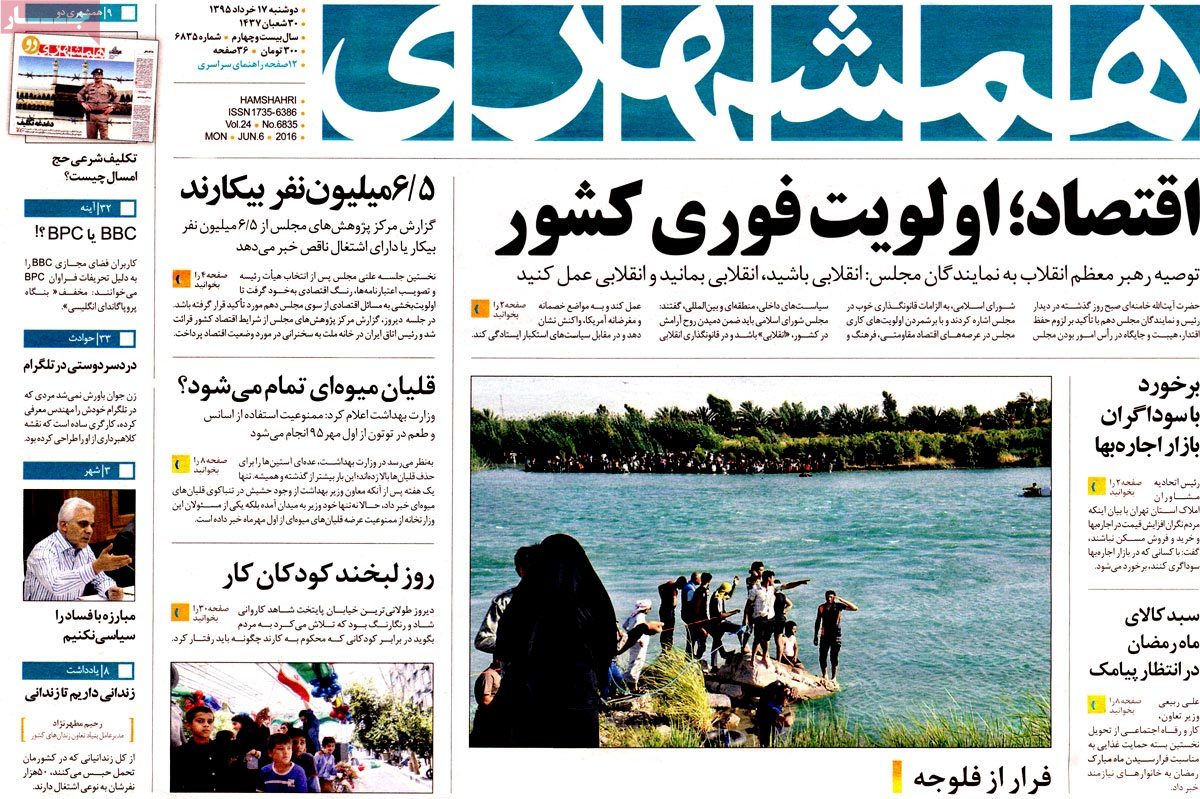 ---
Iran:
1- Previous Gov't Was Confused in Making Decisions: Larijani
2- Rabbana [a famous religious song banned by IRIB] Is Not Mine; It's Part of People's Lives and Feelings: Master Shajarian
---
Jame Jam:
1- Domestic Production Is the Remedy for [Economic] Downturn: Leader
2- Fallujah and Raqqa, the Middle East's Military Chess Match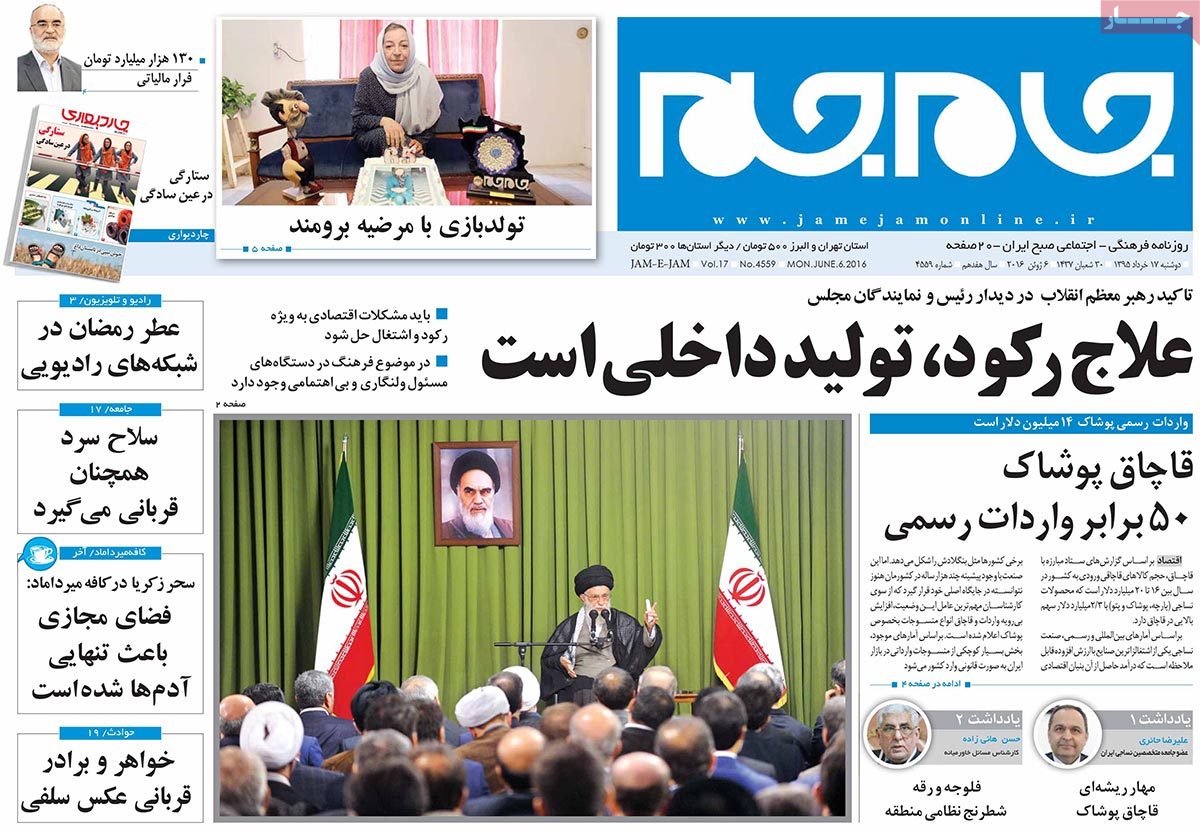 ---
Javan:
1- When I See Empty-Handed, Unemployed Youth, I Feel More Embarrassed than Them: Leader
2- Iraqi PM: We Won't Begin Campaign until Civilians Get Out of Fallujah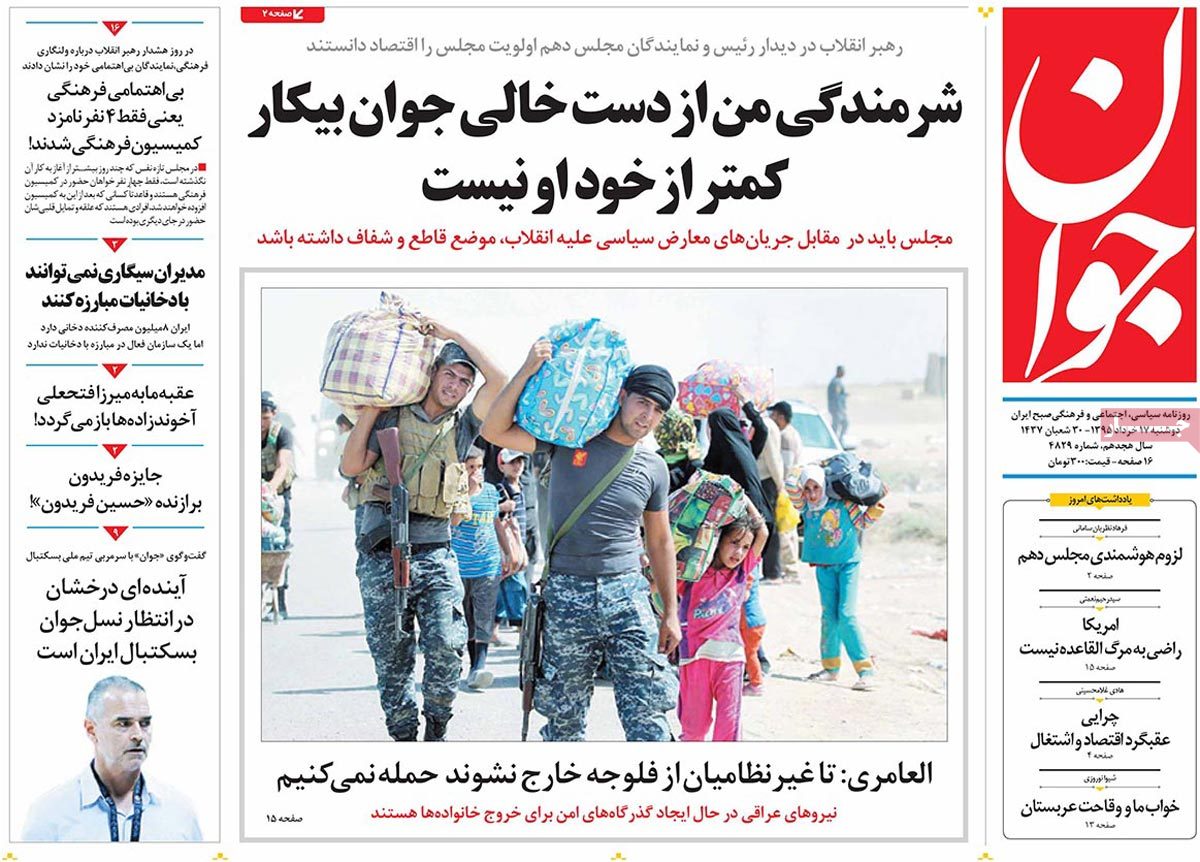 ---
Jomhouri Eslami:
1- Majority of People Demand Constructive Interaction and Relations with the World: Rafsanjani
2- Korea Doubled Oil Purchases from Iran
3- Gary Sick: BBC's Report on Imam Khomeini Was Unreal and Selective
4- Conflict between Mansour Hadi and Saudi Arabia
---
Kayhan:
1- Al Saud Revives Tradition of Killing Brothers: Ex-Emir of Qatar
2- Western Media Reports on Iraqi Popular Forces' Ethical Behaviour in Fallujah Battle
---
Khorasan:
1- Foreign Ministry Spokesman Rejects Mogherini's Secret Letter to Zarif
2- Afghanistan's Salma Dam to Send Doosti [Iran-Turkmenistan Friendship] Dam into a Coma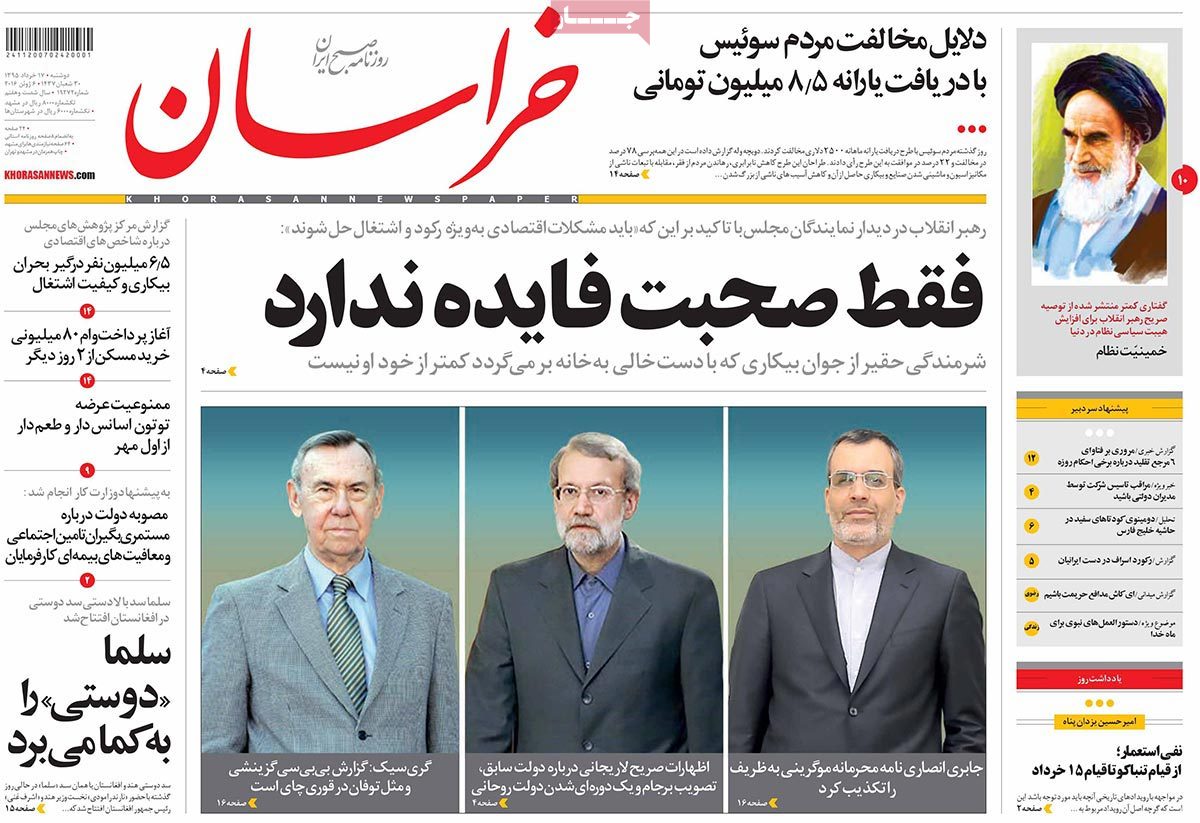 ---
Resalat:
1- Even Westerners Don't Buy Britain's Claims: Gary Sick Rejects BBC's Report on Imam Khomeini
2- Days of Rage and Protest in Europe
3- Air Defence Protects 3,700 Sensitive Spots in Iran
4- Leader Calls for Resolution of Downturn and Unemployment Problems
---
Roozan:
1- 100km to Liberation of Fallujah
2- Will Anyone Represent Iran at Muhammad Ali's Funeral?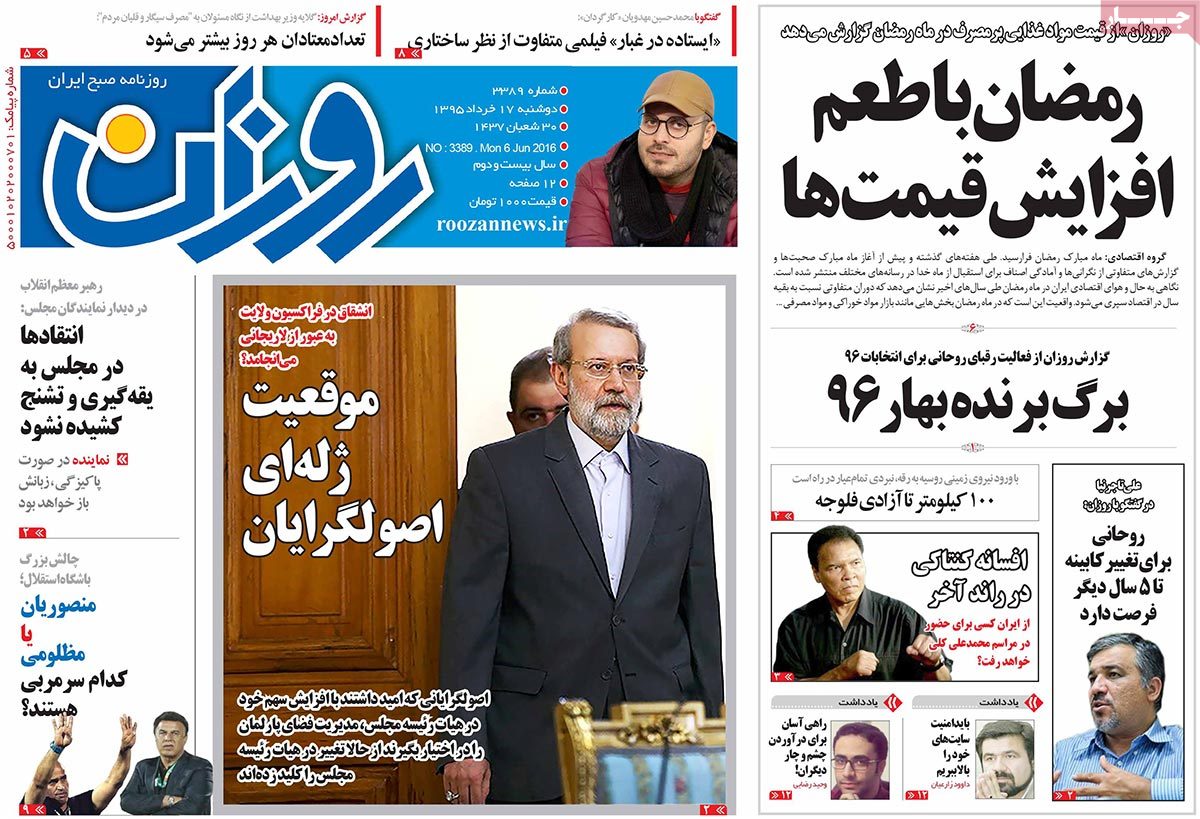 ---
Sayeh:
1- Netherlands to Cooperate in Construction of Gas Pipeline from Iran to Oman
---
Shahrvand:
1- 78% of Swiss People Say No to $2,500 Monthly Income
2- 6.5m Iranians Are Unemployed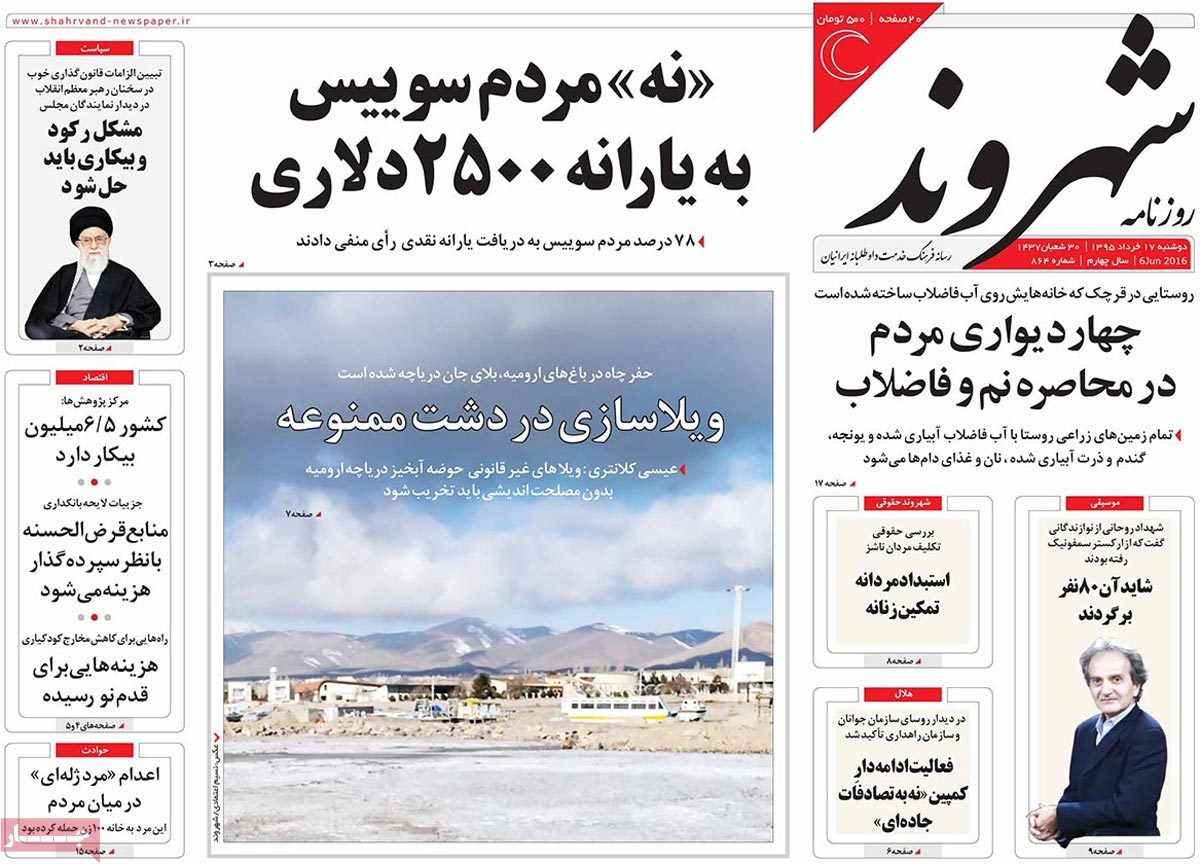 ---
Vaghaye Ettefaghieh:
1- "Political Crime" Law Finally Communicated after 100 Years: Political Prisoners Should Not Be Kept in Solitary Confinement
2- Trump or Clinton: Who Does Iran Prefer? They're Not Obama
3- 32 Tons of Iran's Heavy Water to Be Transferred to US in Coming Weeks: Salehi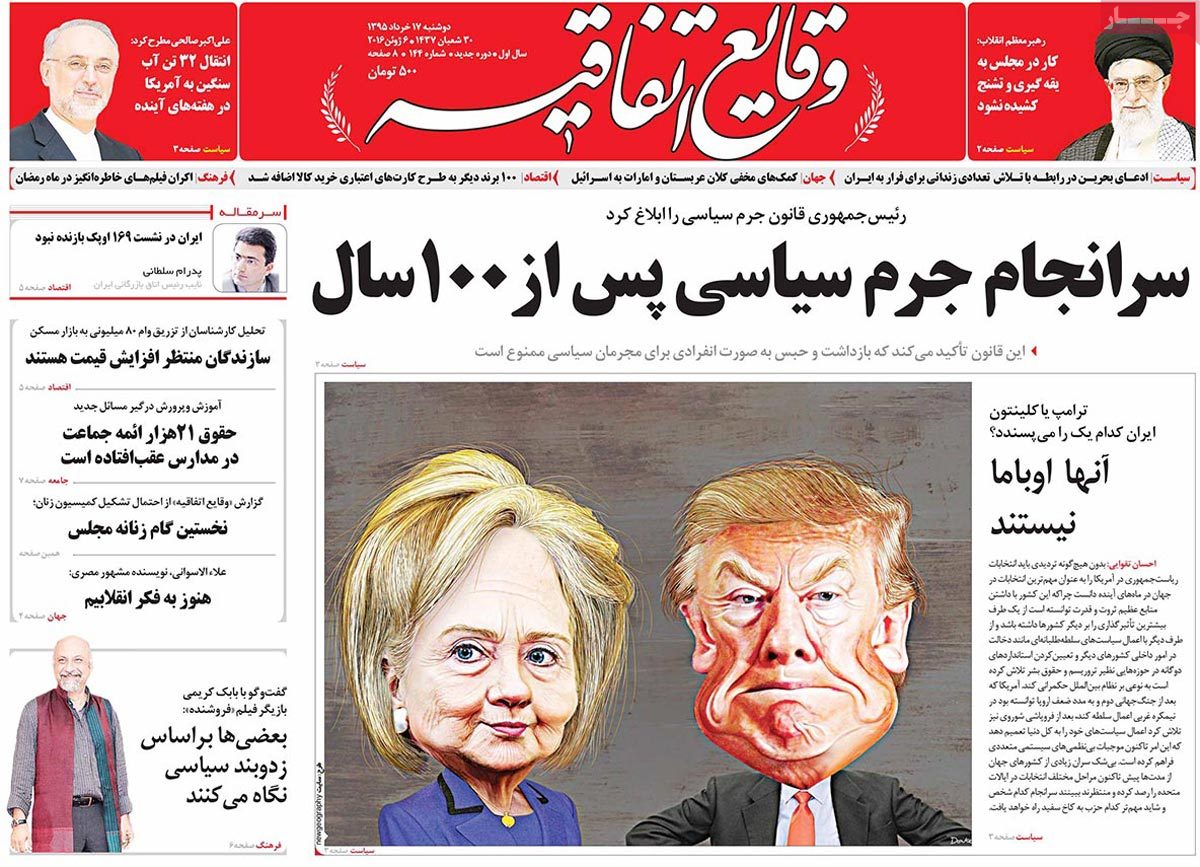 ---
Vatan-e Emrooz:
1- US: Don't Attack Al-Qaeda! They're with Us
2- [Solving] Downturn and Unemployment Should Be First Economic Priorities: Leader
3- Bin Zayed's Ambiguous Exit from UAE: Speculations about Coup in Sheikhdom