Newspapers on Sunday covered the developments of Friday and Saturday, which were holidays in Iran this week. They mainly focused on the speeches delivered by the Leader of the Islamic Revolution, Ayatollah Seyyed Ali Khamenei, and President Hassan Rouhani at the mausoleum of Imam Khomeini in Tehran on the occasion of the anniversary of the death of the late founder of the Islamic Republic Ayatollah Ruhollah Khomeini.
In his remarks, the Leader outlined the five principles of being a revolutionary, and stressed that following such principles is the only way to progress. Ayatollah Khamenei also discouraged any move which spoils the unity of the government and the Iranian nation.
The death of the legendary American boxer, Muhammad Ali, was also a top story in all papers today.
Iran's national volleyball team managed to book their spot at the Rio 2016 Olympics for the first time in 52 years, which was also heavily covered.
Abrar:
1- Rouhani Offers Congratulations on Volleyball Team's Advancement to Rio 2016 Olympics
2- Iran Following Text of Nuclear Deal: Amano
3- US Commitments on Purchase of Iran's Heavy Water Being Fulfilled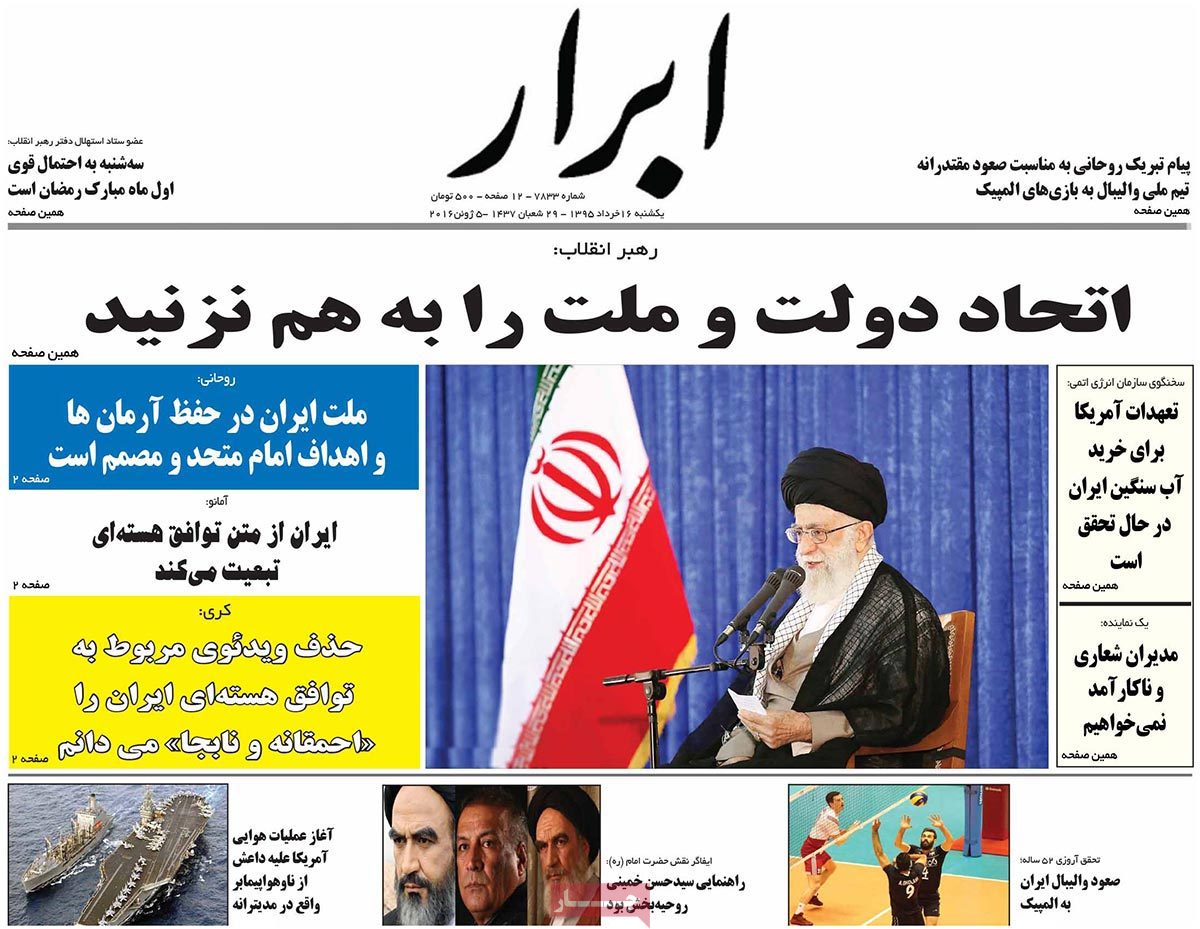 ---
Abrar-e Eqtesadi:
1- Iran's Economy Waiting for a Miracle
2- Sweden to Open Trade Council Office in Tehran
3- World's Major Banks Waiting for Positive Signals to Start Talks with Iran
4- Beginning of New Oil Talks with Russia and France
5- US Keen to Sell Helicopters to Iran
6- Turkey to Build New Power Plants in Iran with Total Capacity of 5,000MW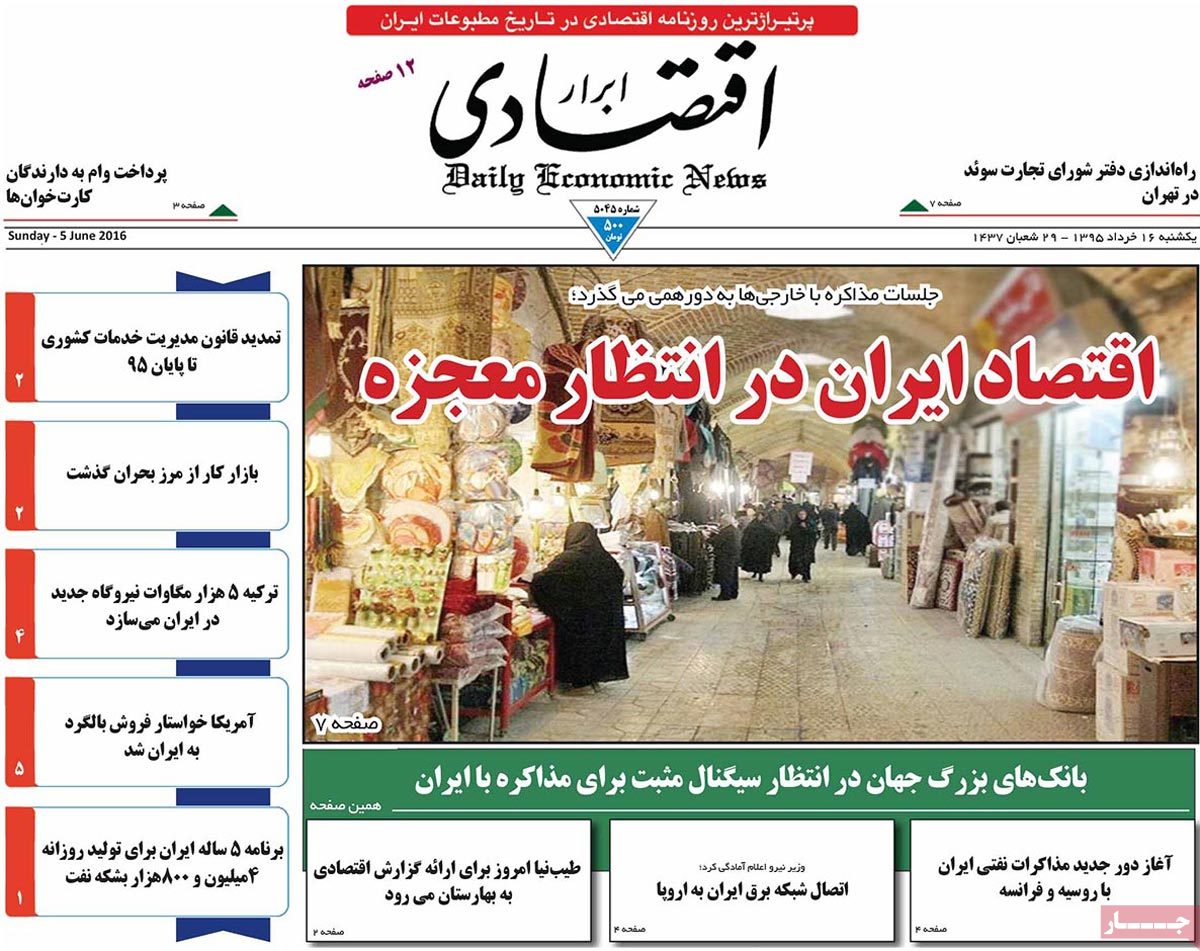 ---
Arman-e Emrooz:
1- Don't Spoil Unity between People and Gov't: Leader
2- There's No Divide between Iranian Authorities and the Leader: Rouhani
3- Radicals Once Again Disrupt Imam Khomeini's Grandson's Speech
4- It's Not Possible to Restrict Someone by Banning Him from Media: Hassan Khomeini
5- Motahari's Opinion about Return of Golshifteh Farahani [Iranian actress who left the country to act in foreign films]
6- People Opted for Reformist Presence: Politician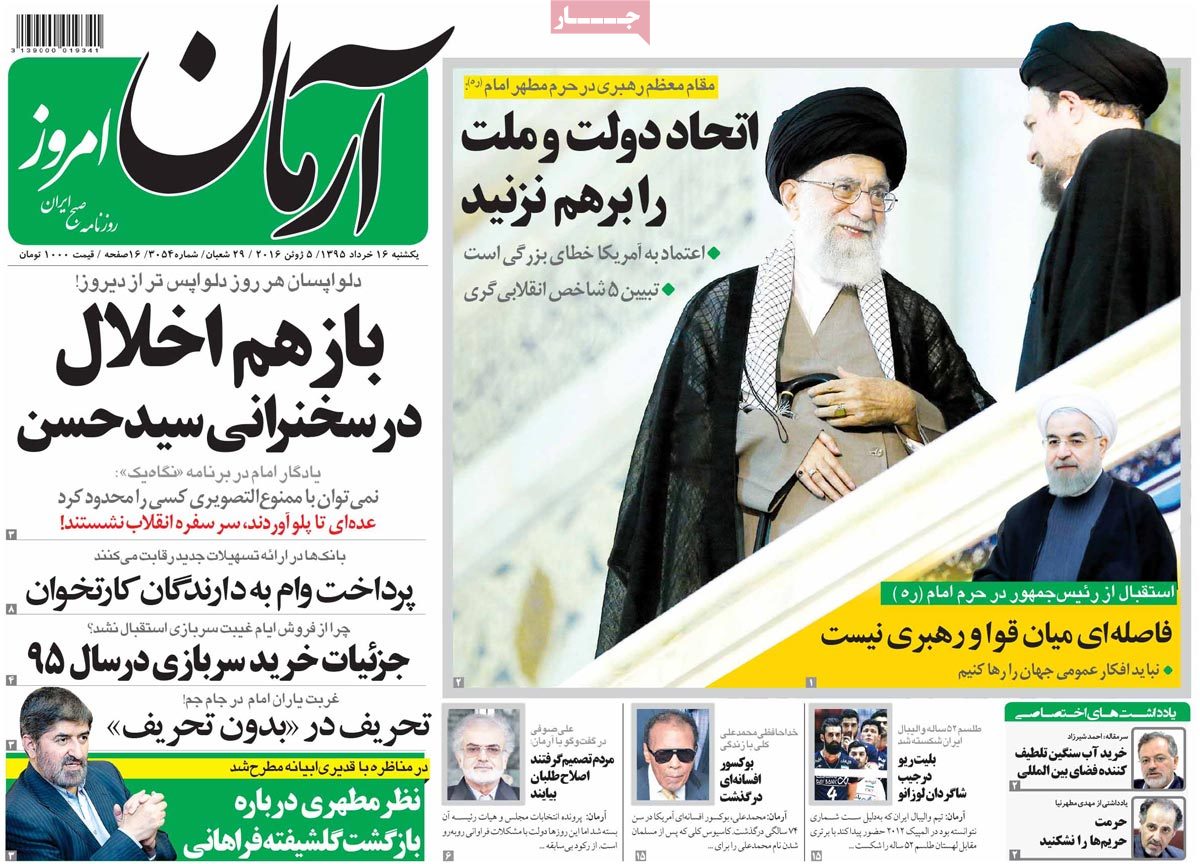 ---
Asia:
1- Next US President, Whoever He/She Is, Will Respect Nuclear Deal with Iran: Spokesman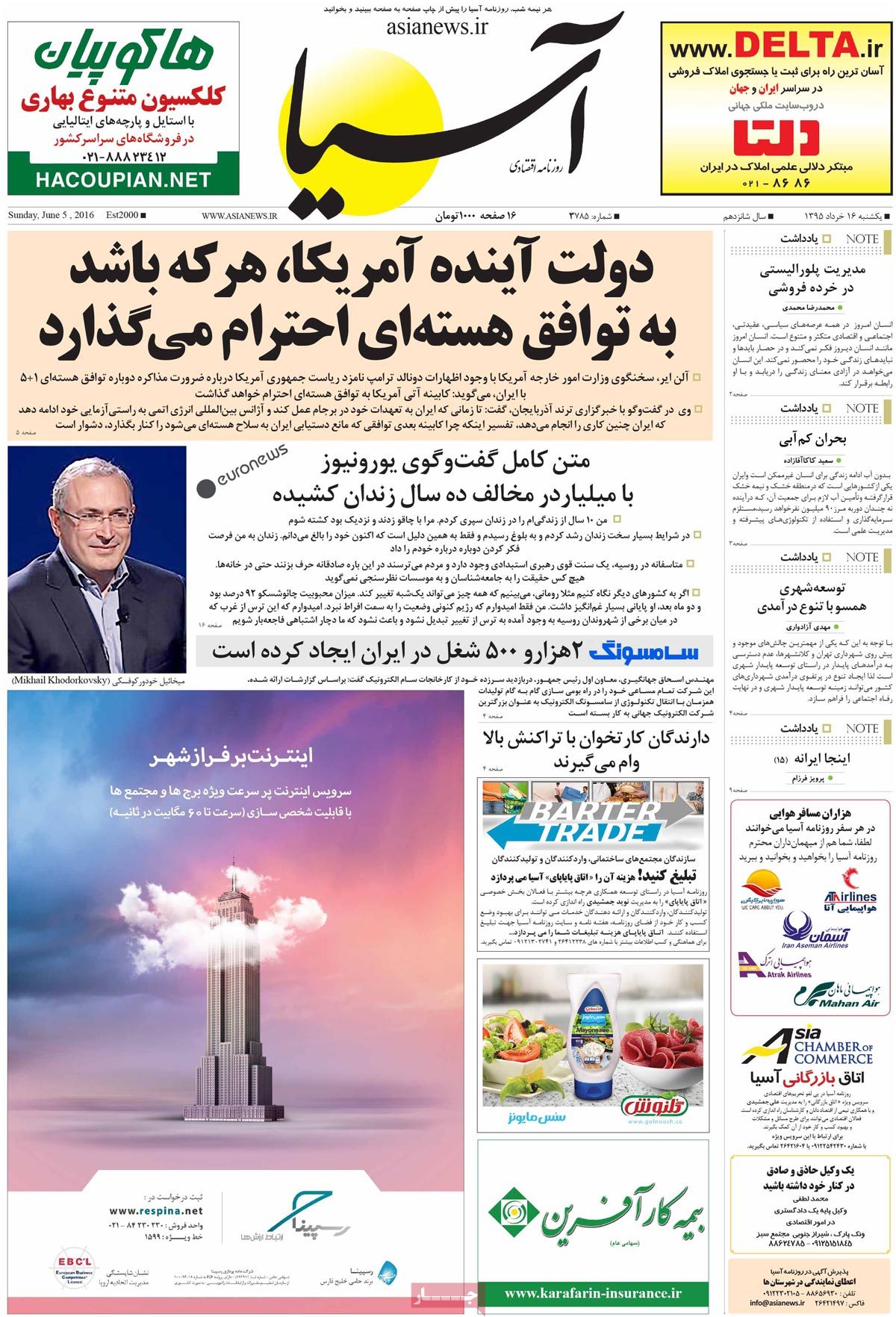 ---
Asrar:
1- Iran Ready to Be Connected to Europe's Electricity Network: Minister
2- Pre-Sanction OPEC Production and Supply Levels Should Be Restored: Oil Minister
3- Imam Khomeini Paved the Way for Wise Interaction with World: Rouhani
4- Penelope Cruz Hails Asghar Farhadi's Upcoming Project [She is set to play a main role]
5- We'll Take Action If Washington Violates [Its Commitments]: Larijani
---
Ebtekar:
1- ISIS Uses All Means for Infiltration and Terror in Iran: Minister
2- A Hashtag for Business! Online Campaign Launched to Attract Investment
3- Prison Officers Get Higher Salaries than Park Rangers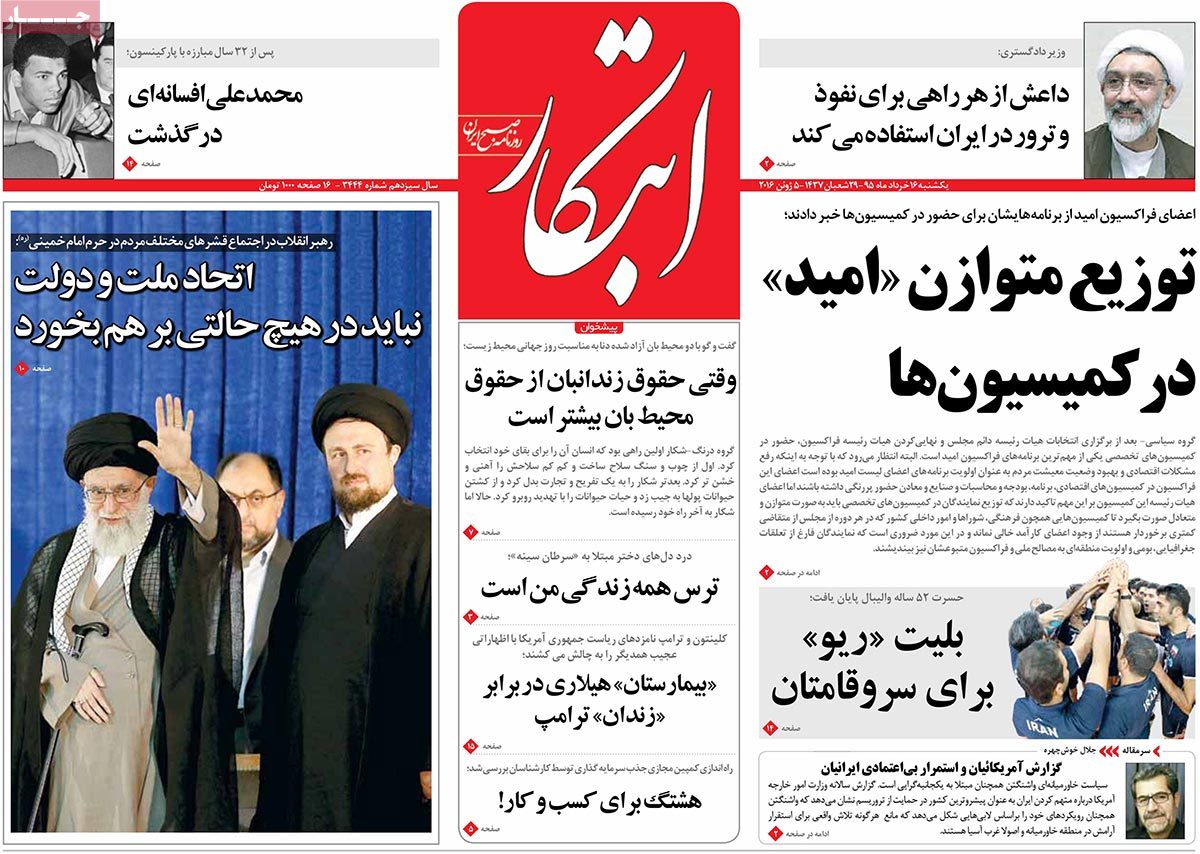 ---
Emtiaz:
1- Iranian Environment Not Doing Well: Official Warns
2- Visa-Free Travel between Iran and Armenia
3- Islamic Month of Ramadan to Start in Iran [most probably] on Tuesday
---
Etemad:
1- Iran's Return to Oil Game of the Great Players
2- [Reformist Politician] Mostafa Tajzadeh Freed from Prison [after 7 years]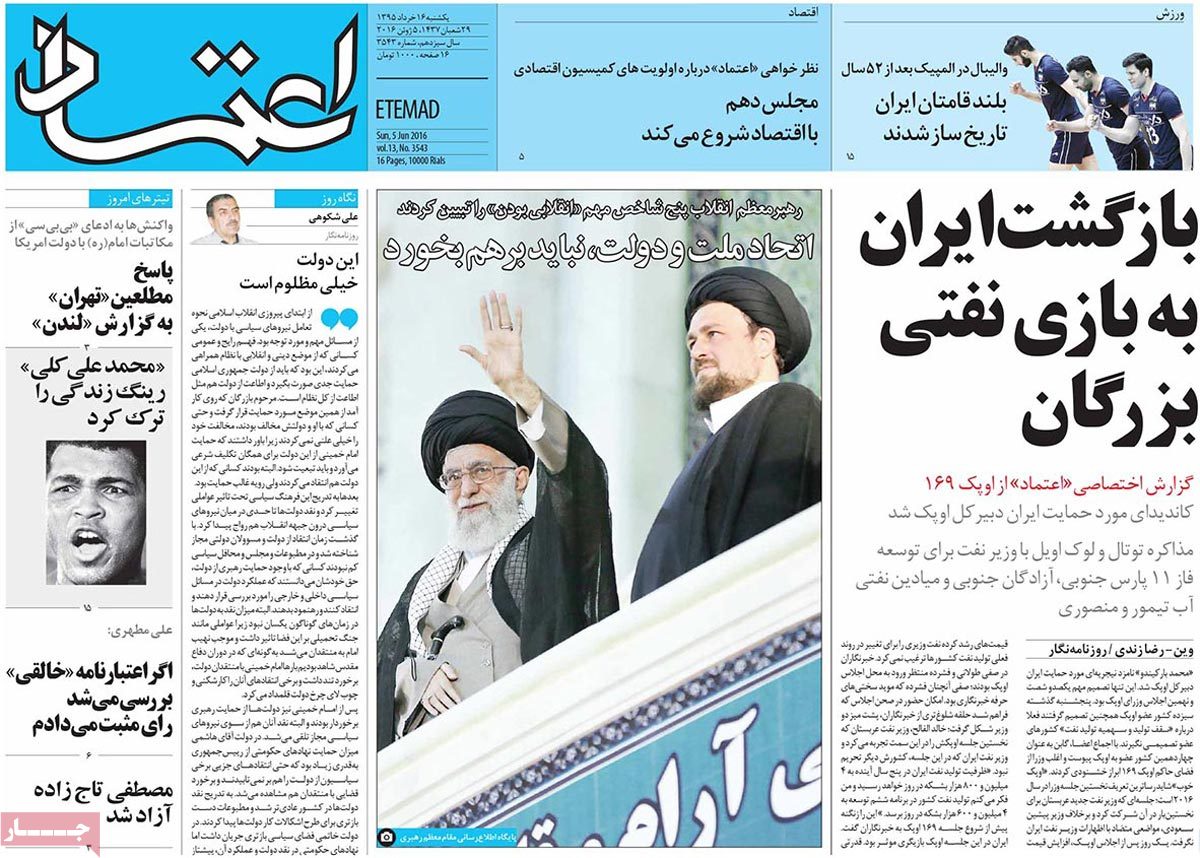 ---
Ettela'at:
1- Syrian Army Advances into Raqqa, ISIS Capital
2- People's Votes, Willpower, Objectives, and Interests Are Key in Islamic Establishment: Leader
3- Popular Forces Source of Pride for Iraq: Top Shiite Cleric Ayatollah Sistani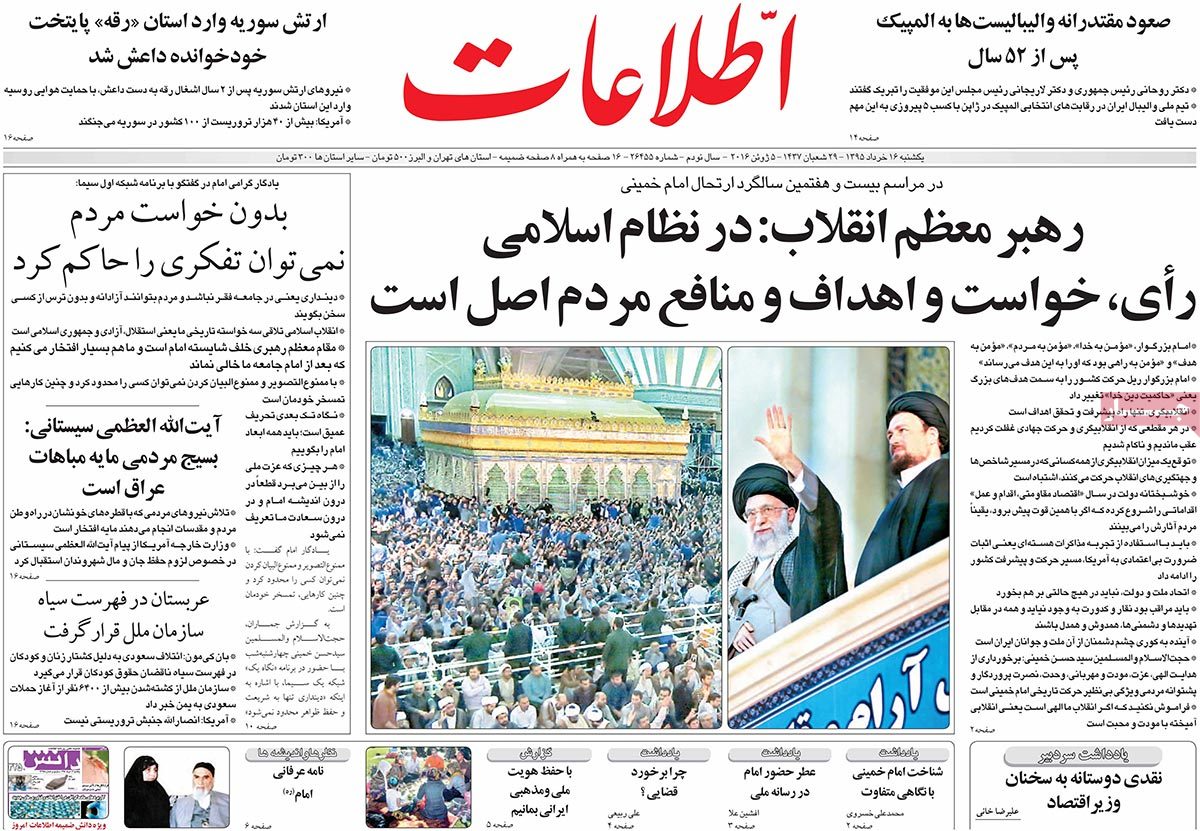 ---
Haft-e Sobh:
1- Why Did We Love Muhammad Ali, the Greatest Hero of the 20th Century?
2- A Report on BBC's Recent Amateurish Adventure and the Reactions to Its Claims [about Imam Khomeini]
---
Hamshahri:
1- Zionist [Israeli] Regime Angry at Vienna Mayor's Visit to Tehran
2- BBC Cites CIA as Source of Its Distorted Account of Imam Khomeini!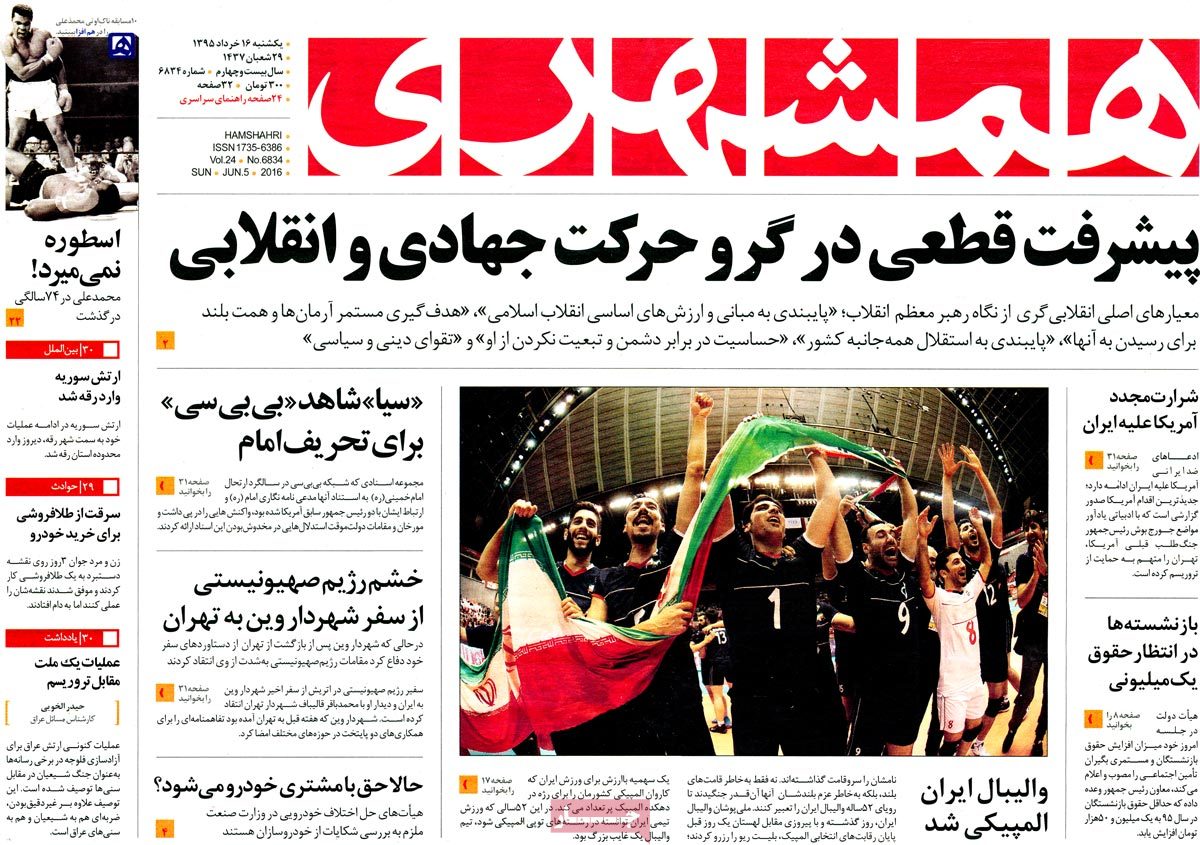 ---
Hemayat:
1- Prosecutor-General Stresses Necessity of Knowing Up-to-Date Enemy Tactics
2- US State Department: Iran Is Main Sponsor of Terrorism! Washington's Non-Nuclear Game in Post-JCPOA Era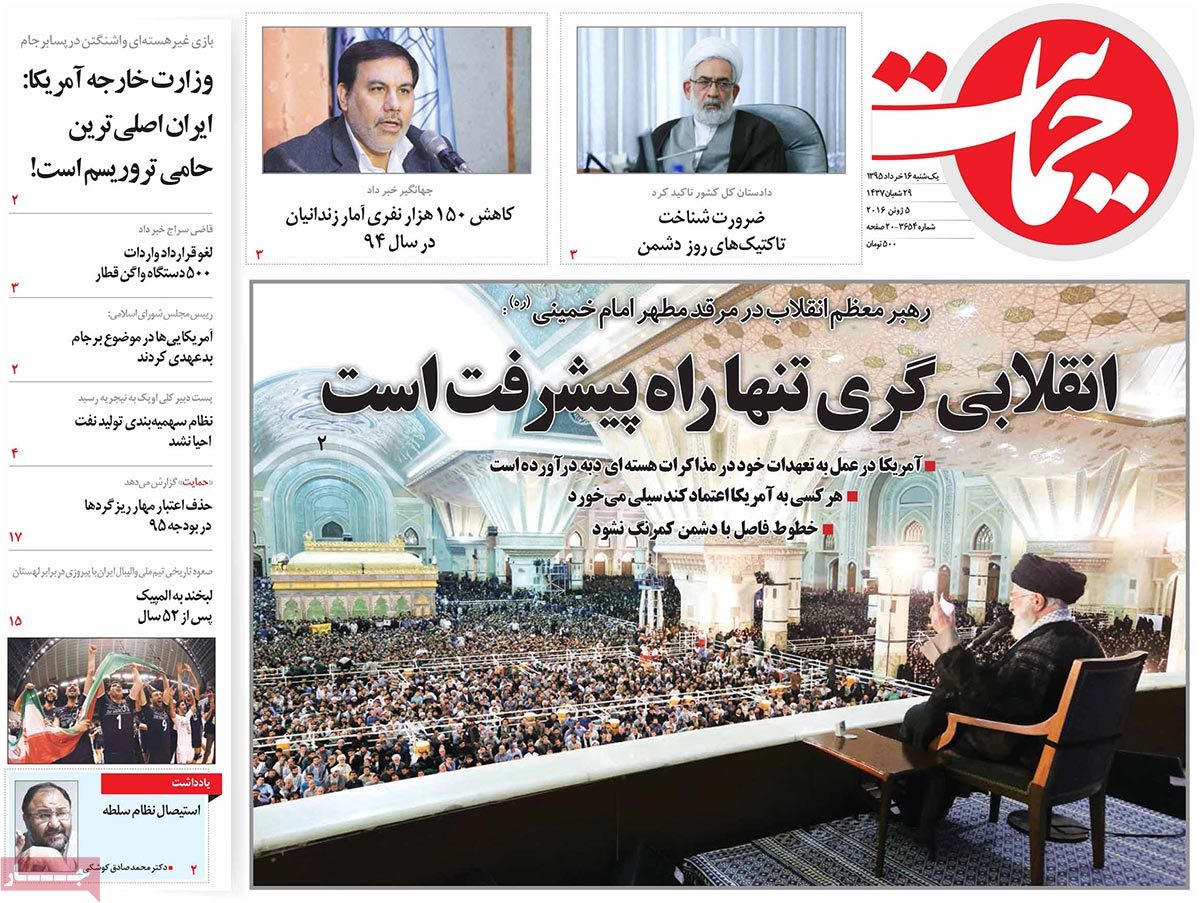 ---
Iran:
1- Iran Shows Off Its Power in OPEC
2- Alireza Ghorbani in People's Homes: First Online Concert Held in Iran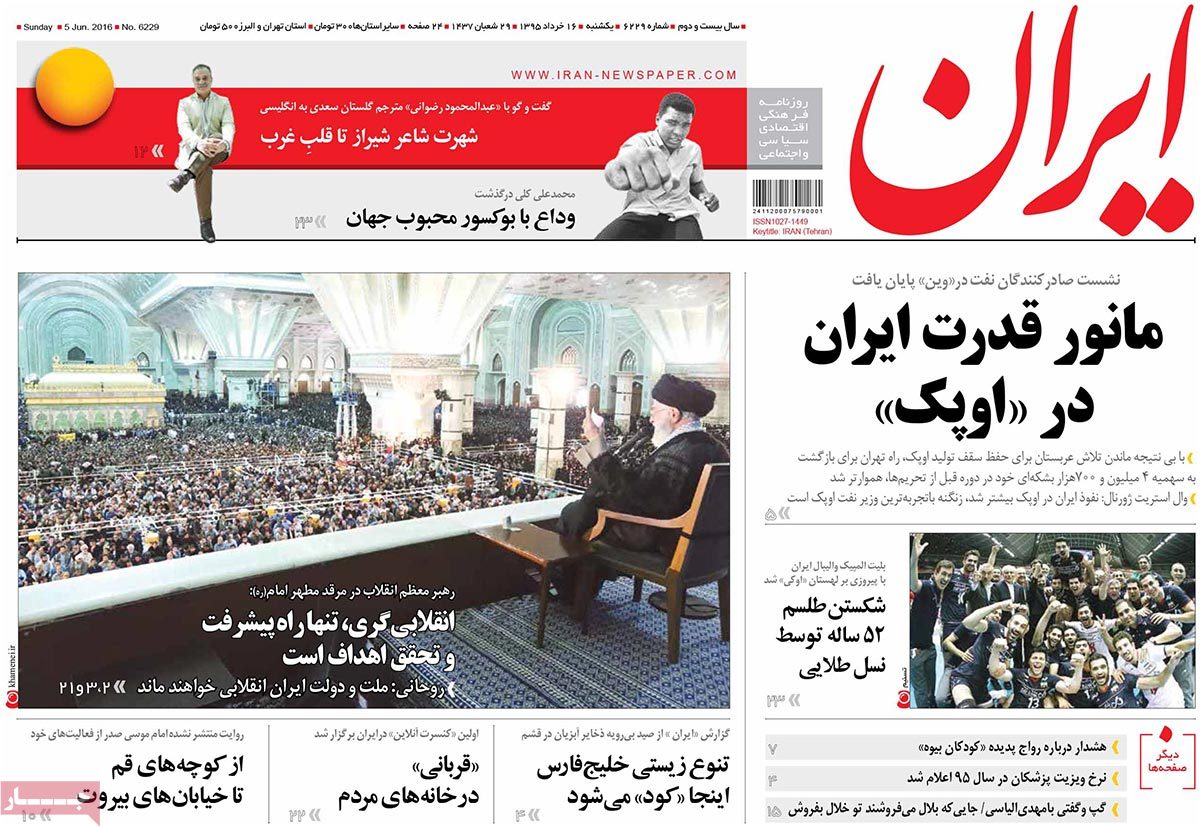 ---
Jame Jam:
1- Leader Outlines Five Features of a Revolutionary
2- Hello Olympics! [Iranian men's volleyball team qualifies for Rio 2016]
3- Saudi Arabia in UN's Blacklist
4- Influence of Cyberspace on Separation of Couples: 'This House is Cold'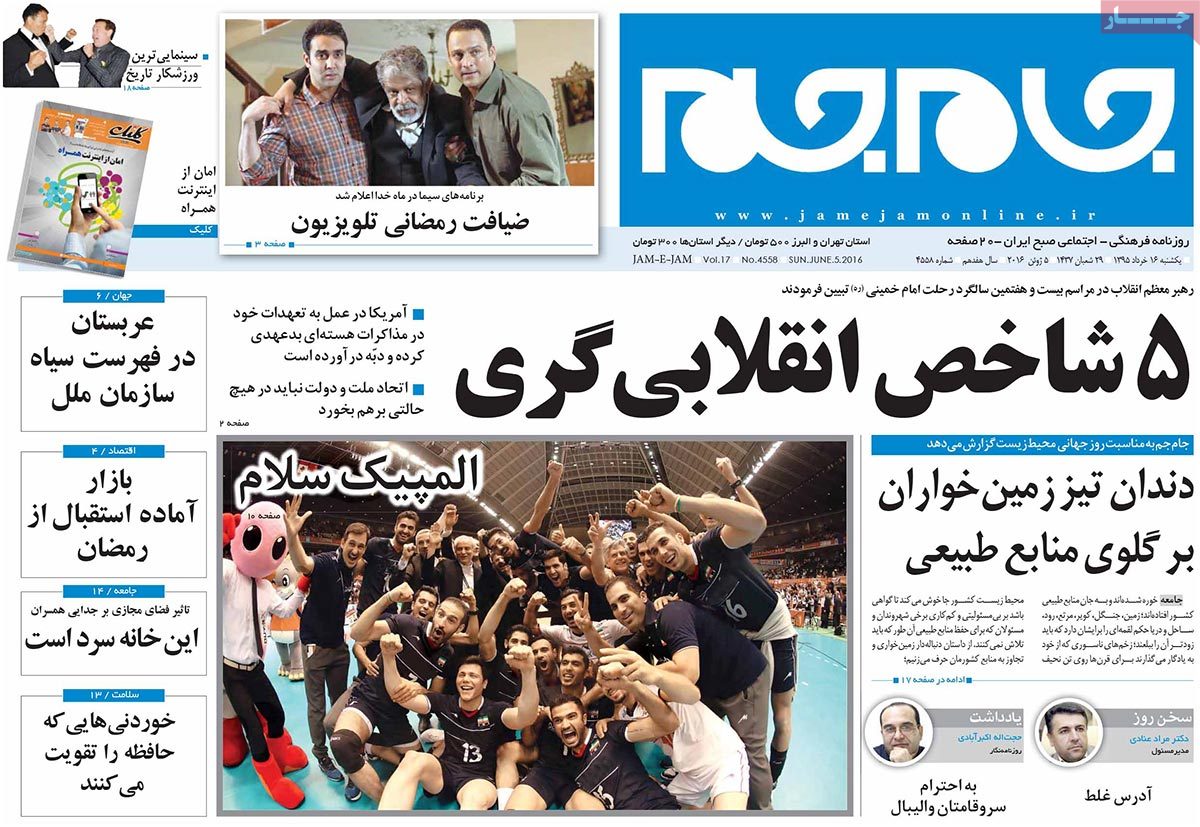 ---
Javan:
1- BBC's Fabricated Report about Imam Khomeini Was Booed Even by Opposition Figures in Iran and London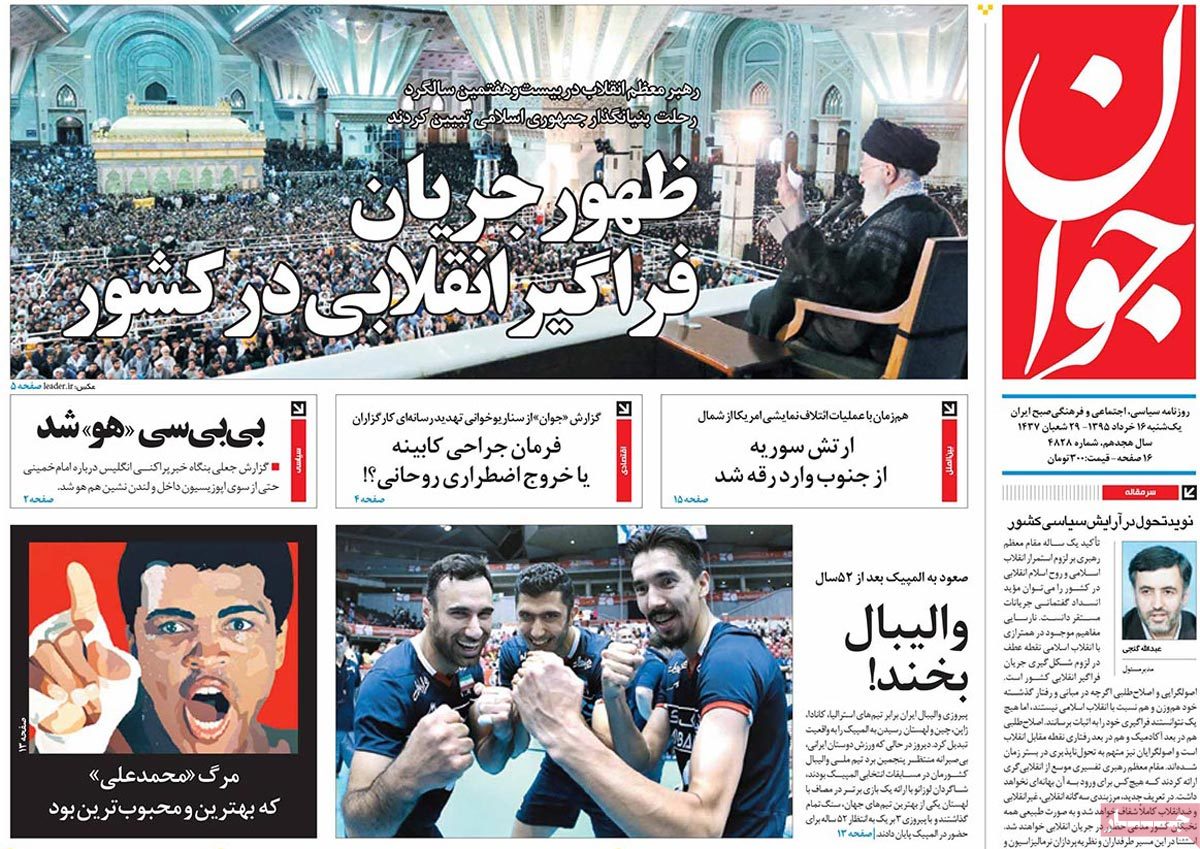 ---
Jomhouri Eslami:
1- We Failed in Yemen and Syria: Saudi Crown Prince
2- Zionist [Israeli] Regime Destroys 600 Houses in Palestine
3- Third Phase of Operation to Liberate Fallujah Begins
4- Failure of Britain's Propaganda Plot against Imam Khomeini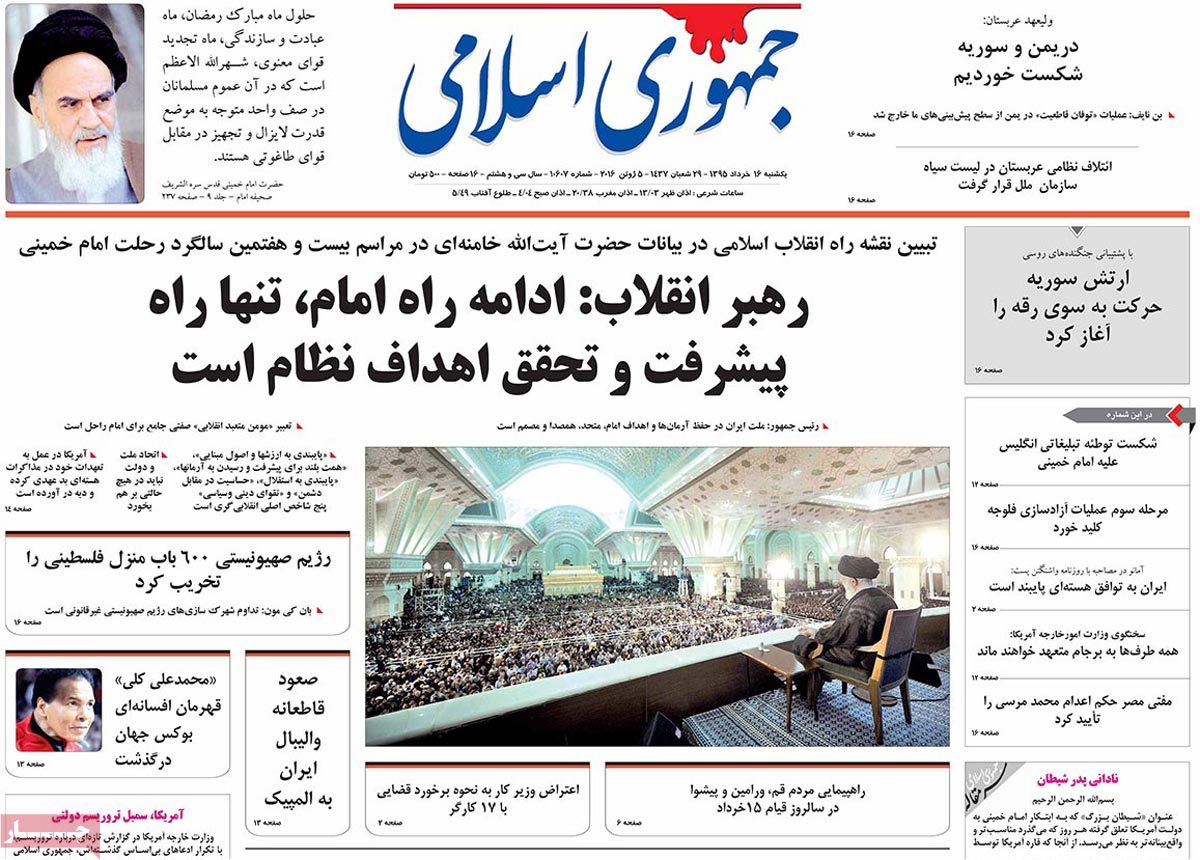 ---
Kayhan:
1- Whoever Trusts USA Will Be Slapped in the Face: Leader
2- 100 Audio and Video Files of US Police Brutality Leaked: Human Rights Shock to White House
3- Result of Trusting US: Morsi's Death Penalty Upheld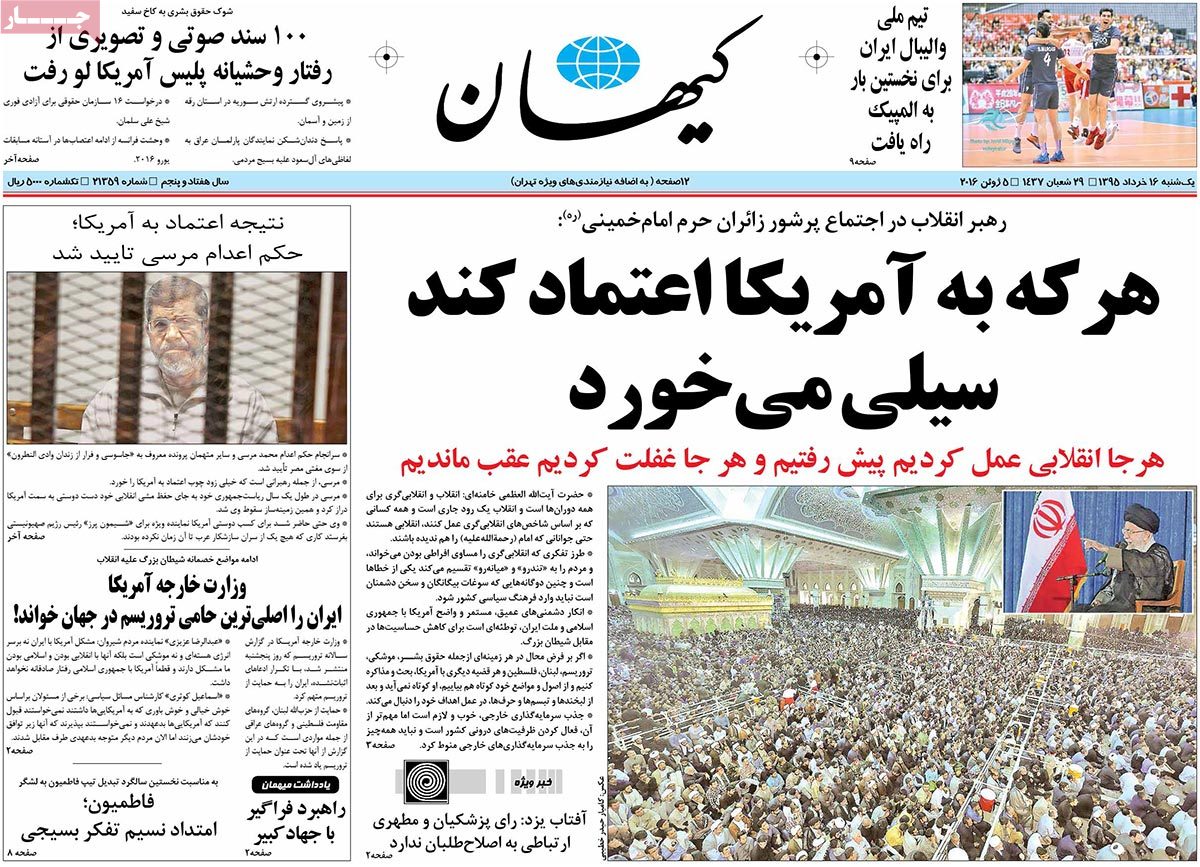 ---
Khorasan:
1- Reasonable Answers to BBC's Documentation
2- 20m Iranians Play Online Games for 144 Minutes/Day
3- Saudi Coalition Is Killing Children in Yemen: UN's Ban
4- When BBC Gets Worried about Iranian Revolution!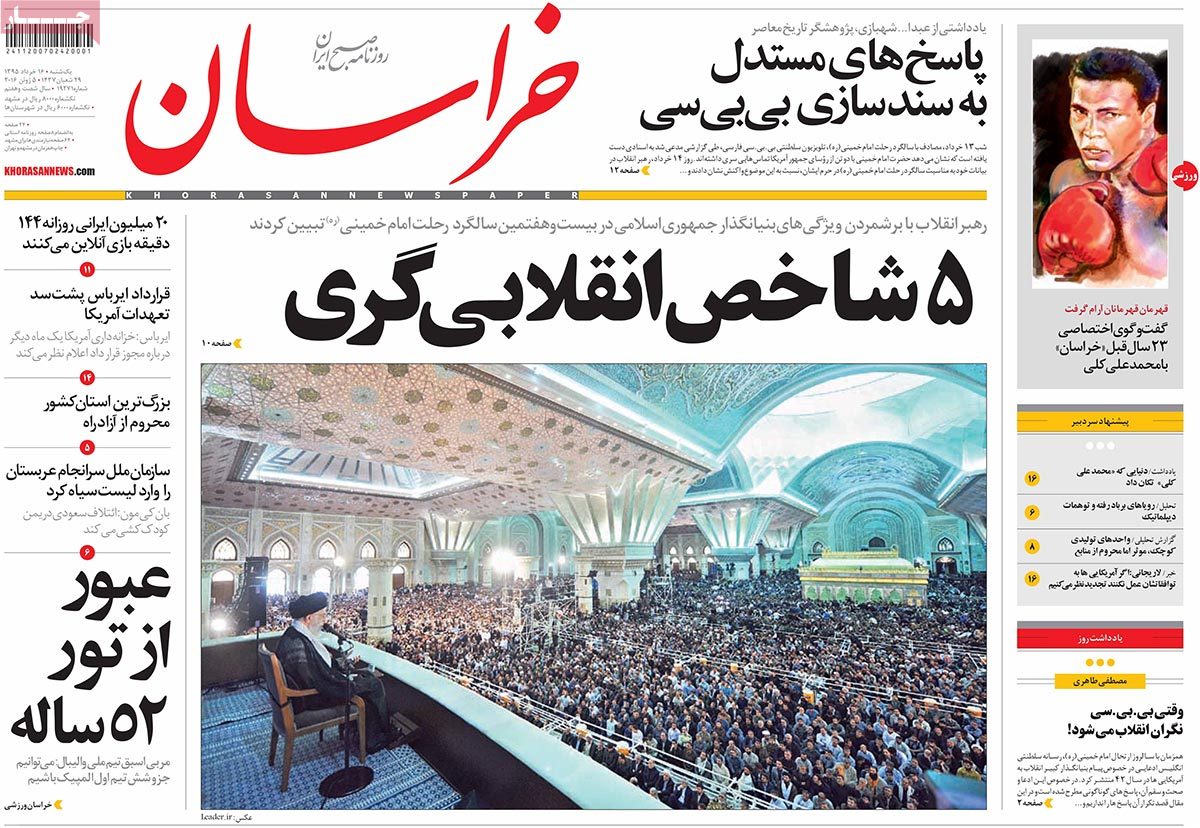 ---
Resalat:
1- We'll Use Military Option against Iran If Necessary: Clinton
2- Iran Ready to Strongly Counter USA's Military Threats: IRGC General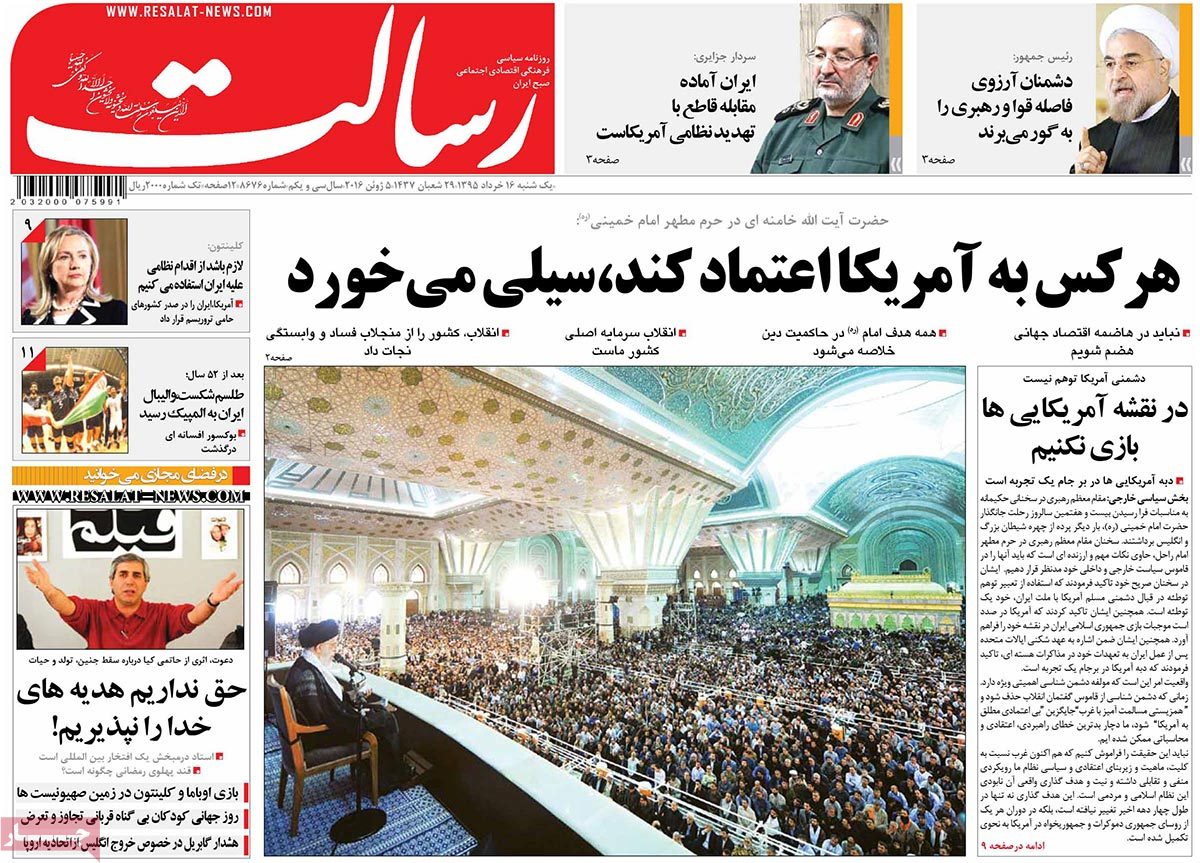 ---
Roozan:
1- 17% of Iranian Girls Get Married before Age of 18
2- Key Victories in Fallujah and Raqqa
3- Ahmadinejad Is Symbol of a Dangerous Discourse
4- US and UK Forgery of Documents against Imam Khomeini Is Continuation of Hostilities: Leader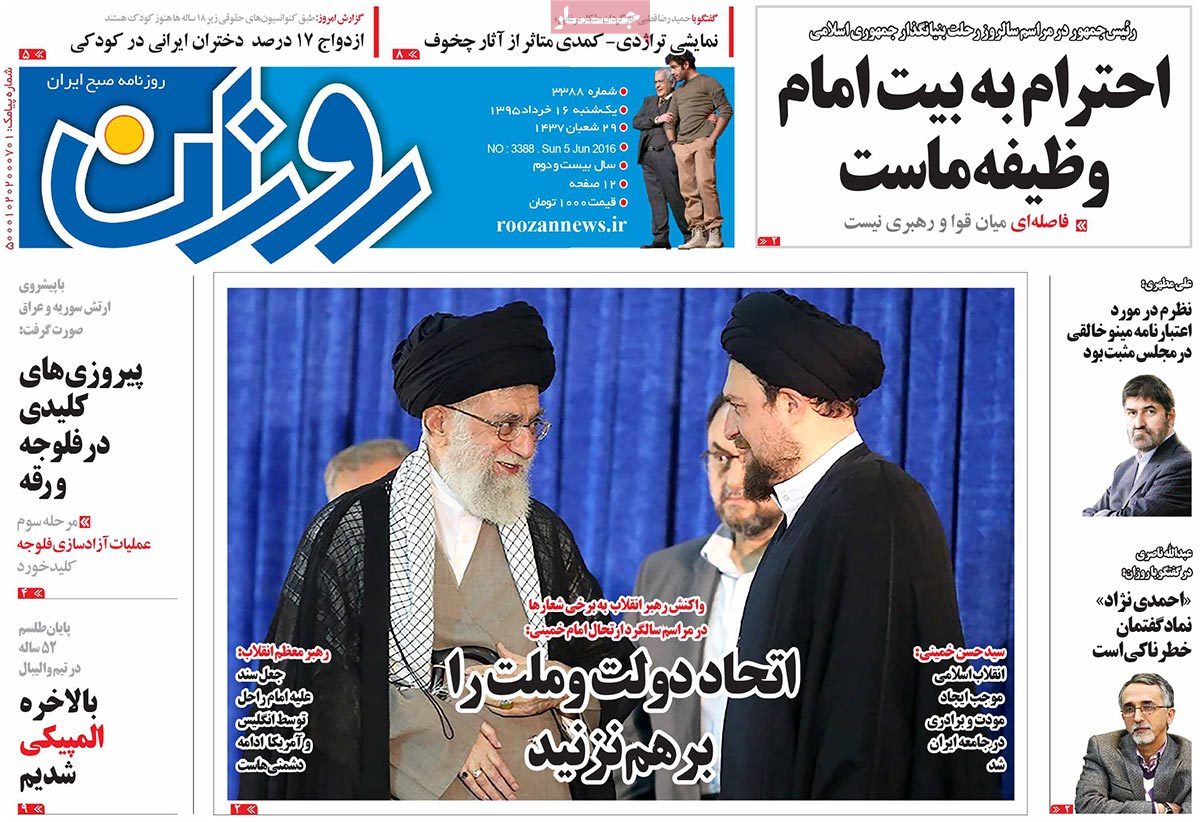 ---
Sayeh:
1- Iran's Nuclear Deal Still Fragile: Amano
2- Olympics Not a Dream Anymore: Volleyball Team Books Place after 52 Years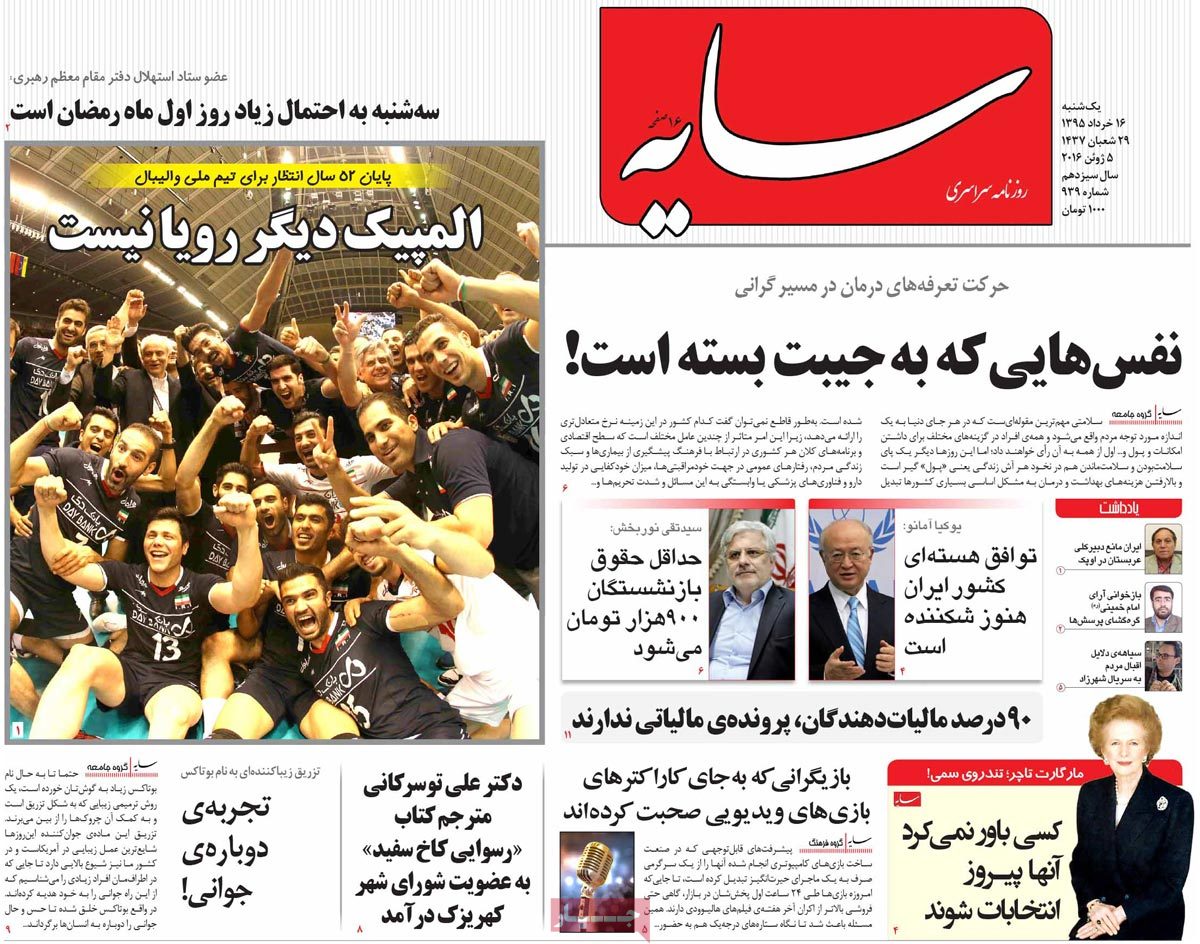 ---
Shargh:
1- Answers to an Accusation: Iranian Politicians Mohajerani and Yazdi Dismiss BBC's Claim
2- Shortage of Serum in Iran Due to Excessive Exports!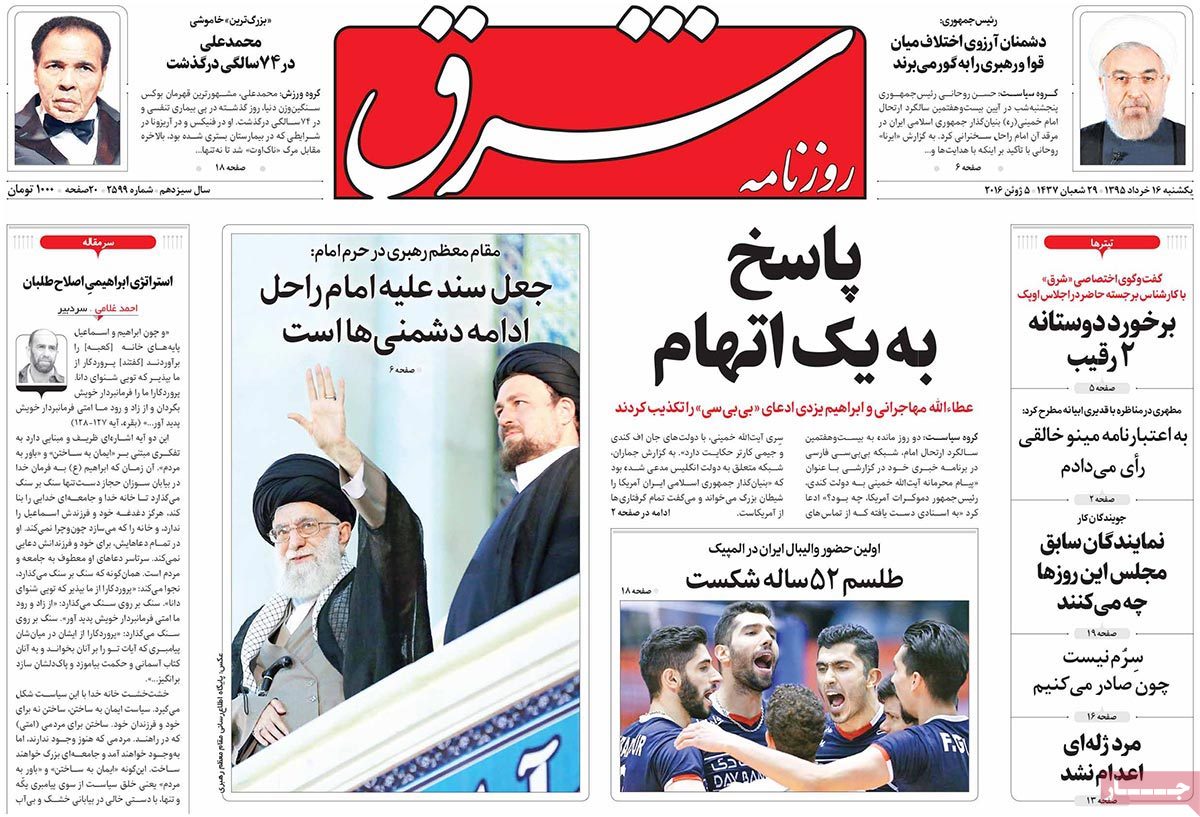 ---
Sobh-e Now:
1- Conspiracy against Imam Khomeini: BBC Persian Starts Project to Distort Imam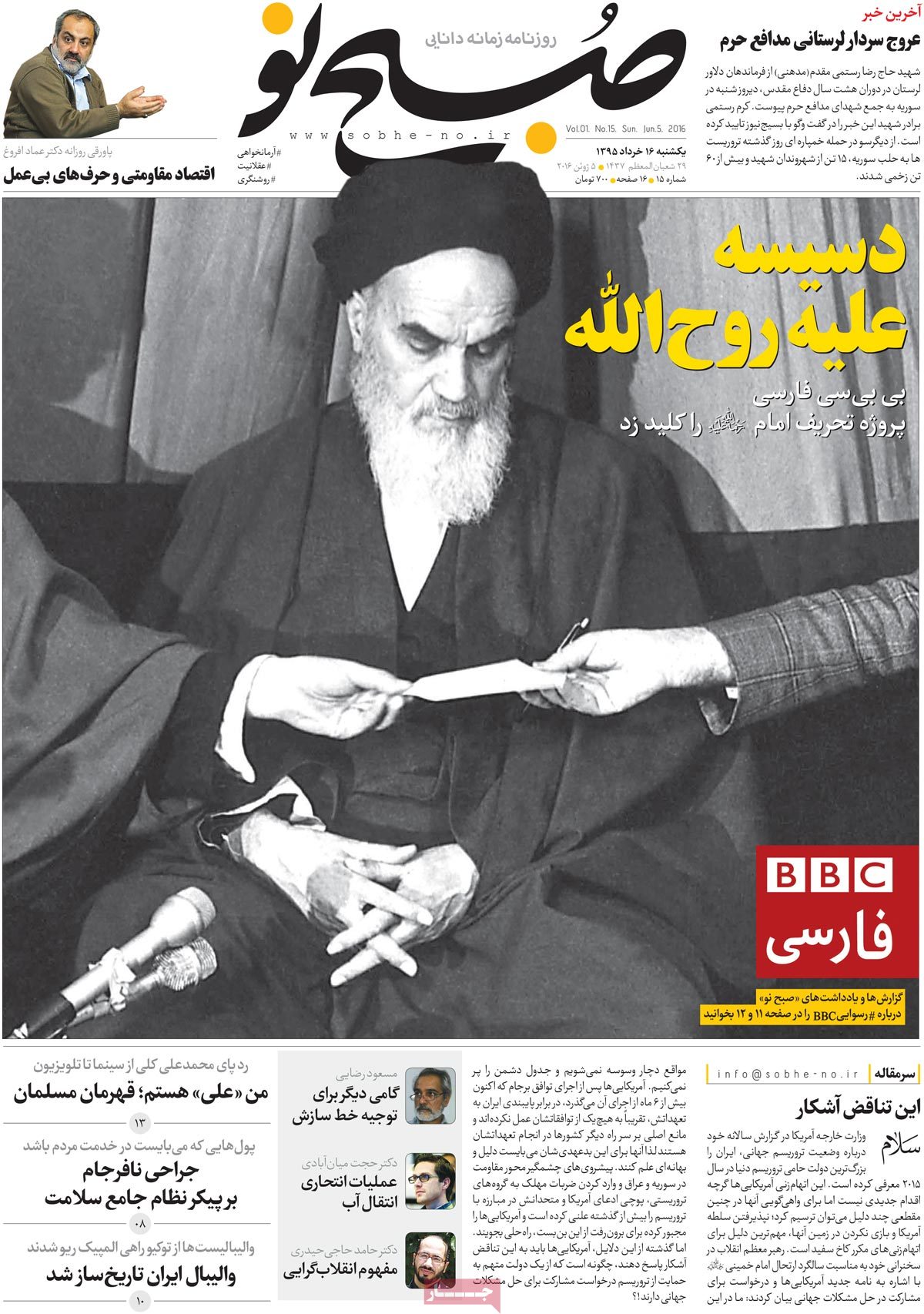 Vatan-e Emrooz:
1- Post-JCPOA Standards: What US Treasury Wants from Iran's Central Bank
2- Saudi Crown Prince Admits to Riyadh's Defeat
3- Airbus Not Allowed to Sell Planes to Iran!