News about the home stretch of nuclear talks between Iran and P5+1 dominated the front pages of Iranian newspapers on Tuesday.
Ettela'at: The biggest mineral find in the country in Khorasan Razavi Province
The deputy industry minister says studies suggest some $2 billion in investment in Sangan will yield 1.2 billion tons of iron ore, 15 million tons of pellets and 17.5 million tons of concentrates.
When fully operational, Sangan, which is described as Iran's second Assaluyeh [a giant gas field Iran shares with Qatar], will bring in between $200-$300 million in hard currency each year.
---
Abrar: The Iran representative of the Islamic Supreme Council of Iraq has said that six of the 10 members of the IS leadership council are Baathists.
Abrar: Obama has sent a secret nuclear message to Iran through a neighboring country.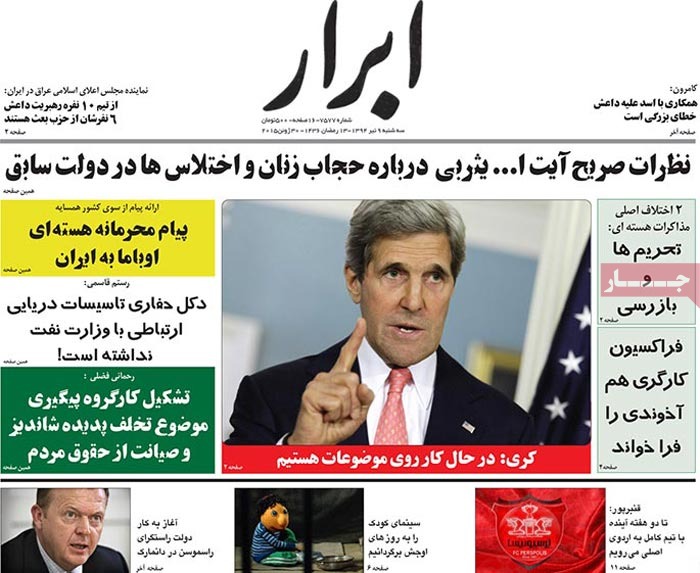 ---
Afarinesh: Ayatollah Akbar Hashemi Rafsanjani has underlined efforts to prevent political division in the country.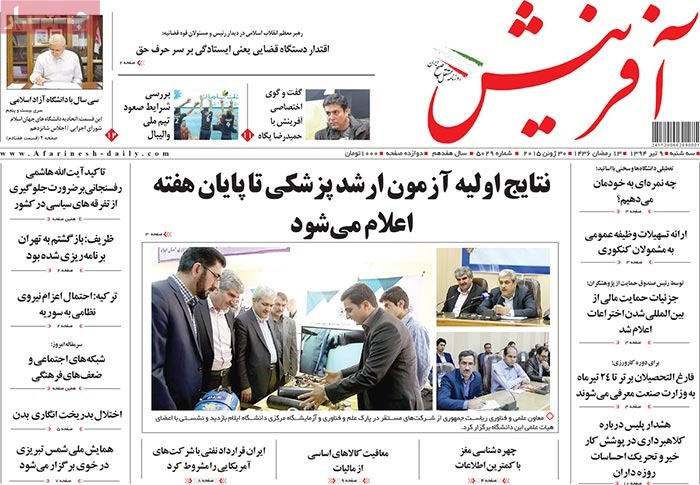 ---
Afkar: Foreign Ministry Spokeswoman Marzieh Afkham has joined Iran's negotiating team in Vienna.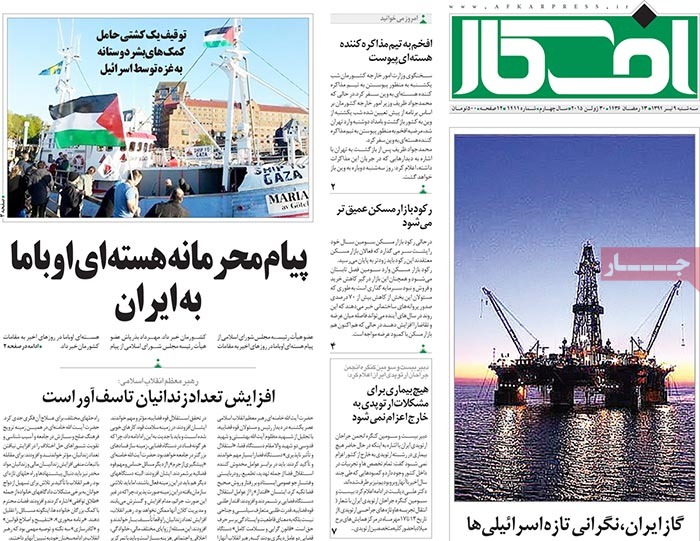 ---
Aftab-e Yazd: "The embezzlements committed when the previous government was in office are a source of shame," said Ayatollah Yasrebi, the head of Kashan Seminary School.
Aftab-e Yazd: A stream of resignations [by public officials] to run for parliament.
[Under Iran's electoral rules, candidates should not hold public office when running for elected office.]
---
Arman-e Emrooz: The chairman of parliament's Energy Committee has said that the case involving the disappearance of an oil derrick [when Ahmadinejad was president] has been referred to the Judiciary.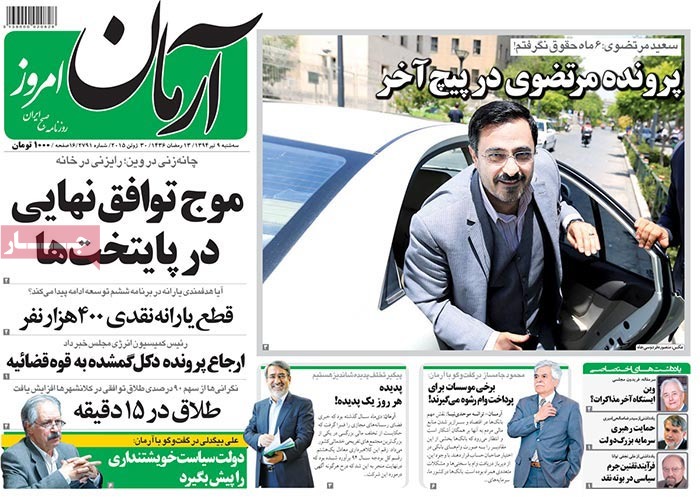 ---
Ebtekar: "What Iran has done in Iraq and Syria has served the cause of security," said the secretary of the Supreme National Security Council.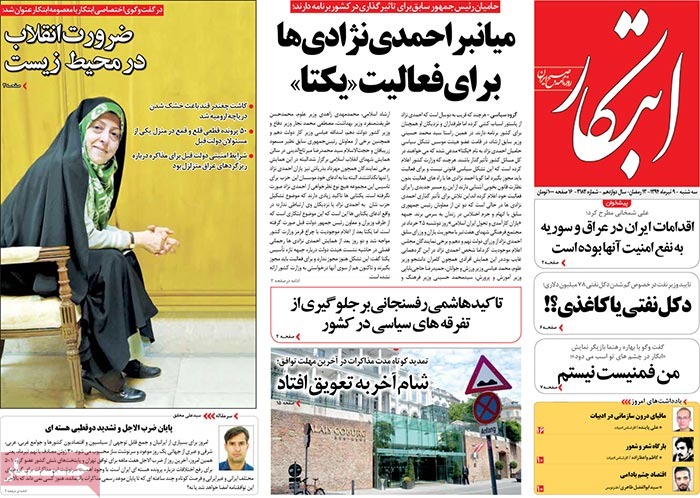 ---
Hemayat: Ahmed Shaheed, the Special Rapporteur on human rights in Iran, is working in cahoots with terrorists to make rights ballyhoo about Iran.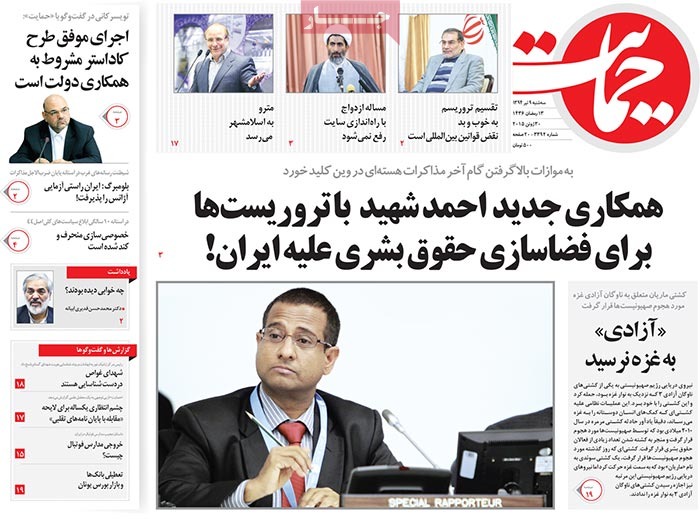 ---
Iran: "We should be careful not to allow some to lead our youth astray in the name of Islam," said President Rouhani.
---
Jomhouri Islami: Iran's foreign trade has registered a 19 percent rise in the first quarter of 2015.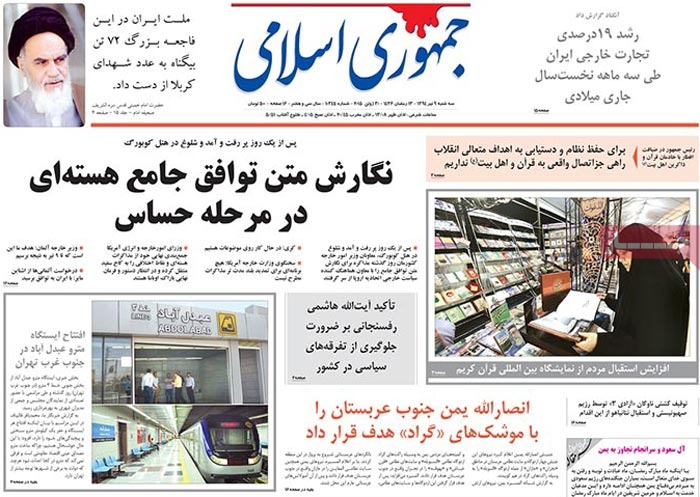 ---
Kaenat: The Iraqi city of Baiji has been liberated; IS is on the run.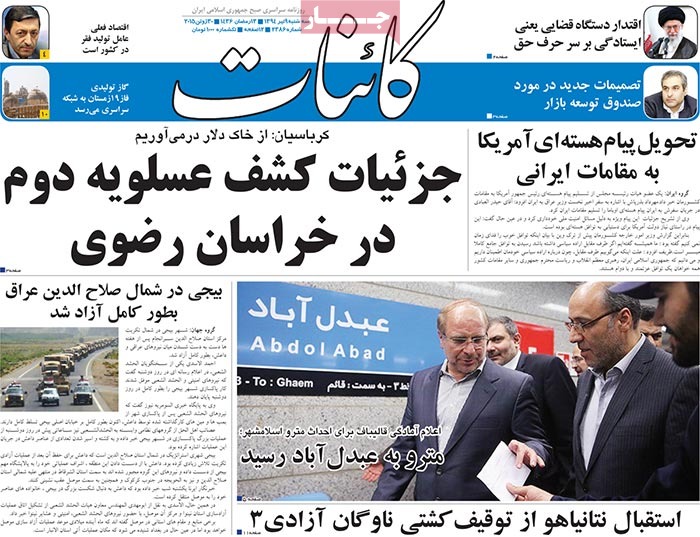 ---
Shahrvand: In a meeting with the president of Médecins Sans Frontières (MSF), the head of Iran's Red Crescent Society has said that the situation of the Yemeni people is alarming.