With the country preparing for a ceremony to mark the 26-year anniversary of the demise of Imam Khomeini, images of the founding father of the Islamic Republic dominated the front pages of Iranian dailies on Tuesday. Comments of the government spokesman about rallies for and against nuclear negotiations also appeared on the front covers of the newspapers.
Afkar: "Our conditions [for a nuclear deal] are clear, final and non-negotiable," said Ali Akbar Velayati, an advisor to the Supreme Leader.
---
Aftab-e Yazd: "The Interior Ministry should crack down on illegal gatherings," Government Spokesman Mohammad Bagher Nobakht said in a news conference.
Aftab-e Yazd: Will Parviz Fattah challenge [incumbent] Hassan Rouhani in 2017 elections?
The daily has gone behind the scenes of principlist preparations for the presidential elections which are almost two years away.
[Fattah served as energy minister under Ahmadinejad and is currently the head of Imam Khomeini Relief Committee.]
---
Amin: Iran's national volleyball team has suffered a second defeat against host USA in the 2015 FIVB Volleyball World League.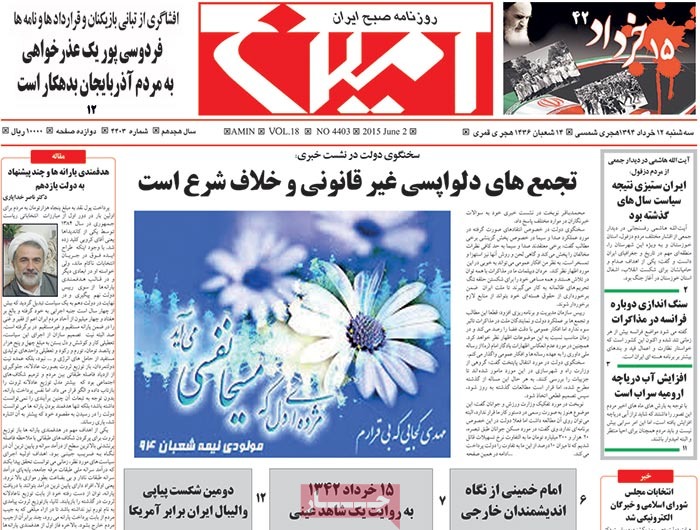 ---
Asr-e Rasaneh: Iranian expatriates are to be offered insurance.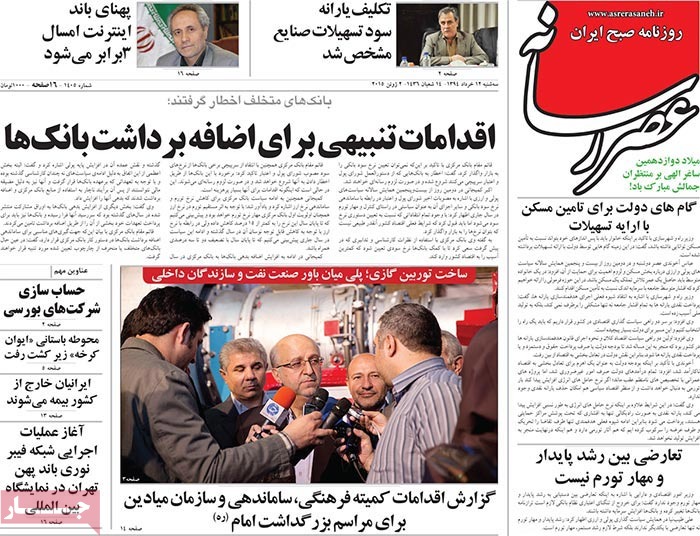 ---
Ebtekar: "There are certain things about Imam [Khomeini] which remain unsaid; I won't make them public for now," said Chairman of the Expediency Council Akbar Hashemi Rafsanjani.
Ebtekar: There are uncertainties about a visit to Iran by the Gypsy Kings.
---
Ettela'at: The Ministry of Cooperatives has been tasked with excluding high-income individuals from the cash subsidies scheme.
Ettela'at: Thousands of Iraqi and Lebanese popular forces have arrived in Syria to take on IS terrorists.
---
Hambastegi: "We need to trust the understanding of the public," said the grandson of the late Imam Khomeini.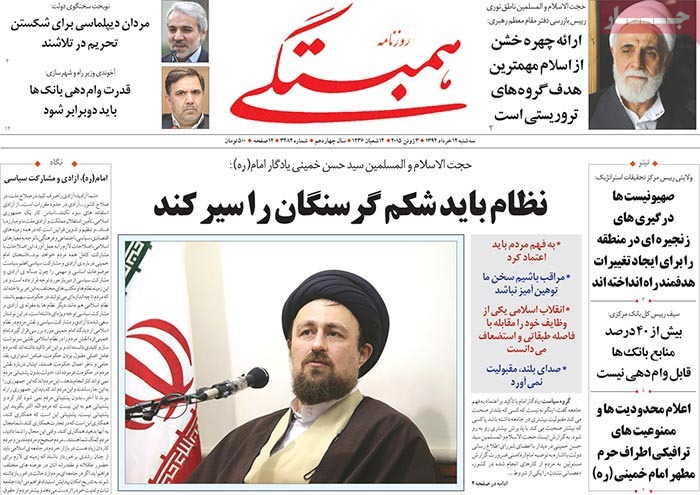 ---
Jomhouri Islami: An agreement has been struck with China on the return of oil sales cash to Iran.
Jomhouri Islami: The aircraft Mahan Air has recently purchased will take to the air as of Wednesday.
---
Mardomsalari: Scholars from 50 countries are in Tehran to attend ceremonies marking the 26th anniversary of the demise of Imam Khomeini.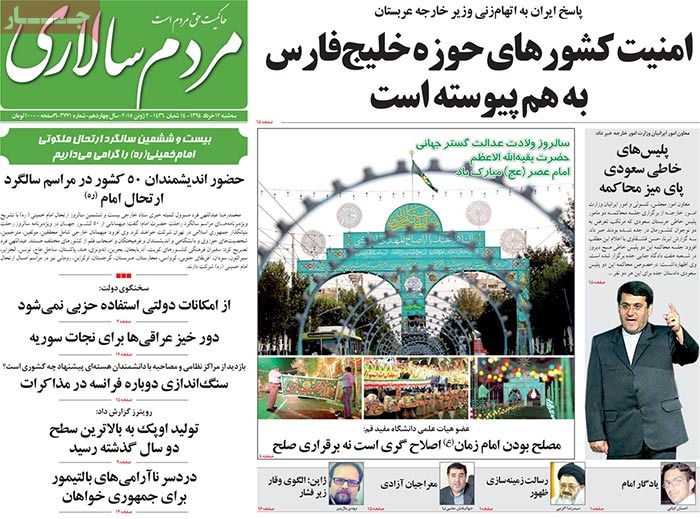 ---
Qods: The rise in gasoline prices has prompted parliament to summon the oil minister for explanation.
---
Rah-e Mardom: "The government does not see diversity of parties and political leanings as being counter to national unity," said Intelligence Minister Seyyed Mahmoud Alavi.