On the 27th demise anniversary of the late founder of the Islamic Republic Ayatollah Ruhollah Khomeini, almost all Iranian newspapers on Thursday extended condolences over the occasion, and published reports about Imam Khomeini's life and struggles.
On the same occasion last night, the state TV, IRIB, invited Imam Khomeini's grandson Hassan Khomeini to a live TV program. Many Iranian media covered his remarks, including his criticism of those who were dogmatic in the past and are now considered as criteria for knowing good and bad.
He also slammed the ban on certain figures [presumably ex-President Mohammad Khatami] and said such moves are ridiculous. However, probably because of the same ban [!], no Iranian newspaper covered the remarks.
The consequences of the Iranian Parliament's governing board elections and the shares of each faction in the new Parliament also remained as top stories on Thursday.
Abrar:
1- Gates Are Open for Building Better Ties with Iran: Saudi FM
2- Iran and Armenia to Ease Visa Restrictions
3- 2 Democrat Senators Propose Plan to Extend Anti-Iran Sanctions
4- Arab Parliament Supports UAE's Claim over Iran's Trio Persian Gulf Islands
5- UNICEF Worried about Conditions of Children in Fallujah
---
Abrar-e Eqtesadi:
1- Oil Market Closely Watching OPEC's Thursday Session
2- Iran's First Oil Tender in Persian Gulf Is Worth €170m
3- Exchange of Electricity between Iran and Russia
4- 170 Swedish Companies Queued Up for Talks with Iranian Businesspeople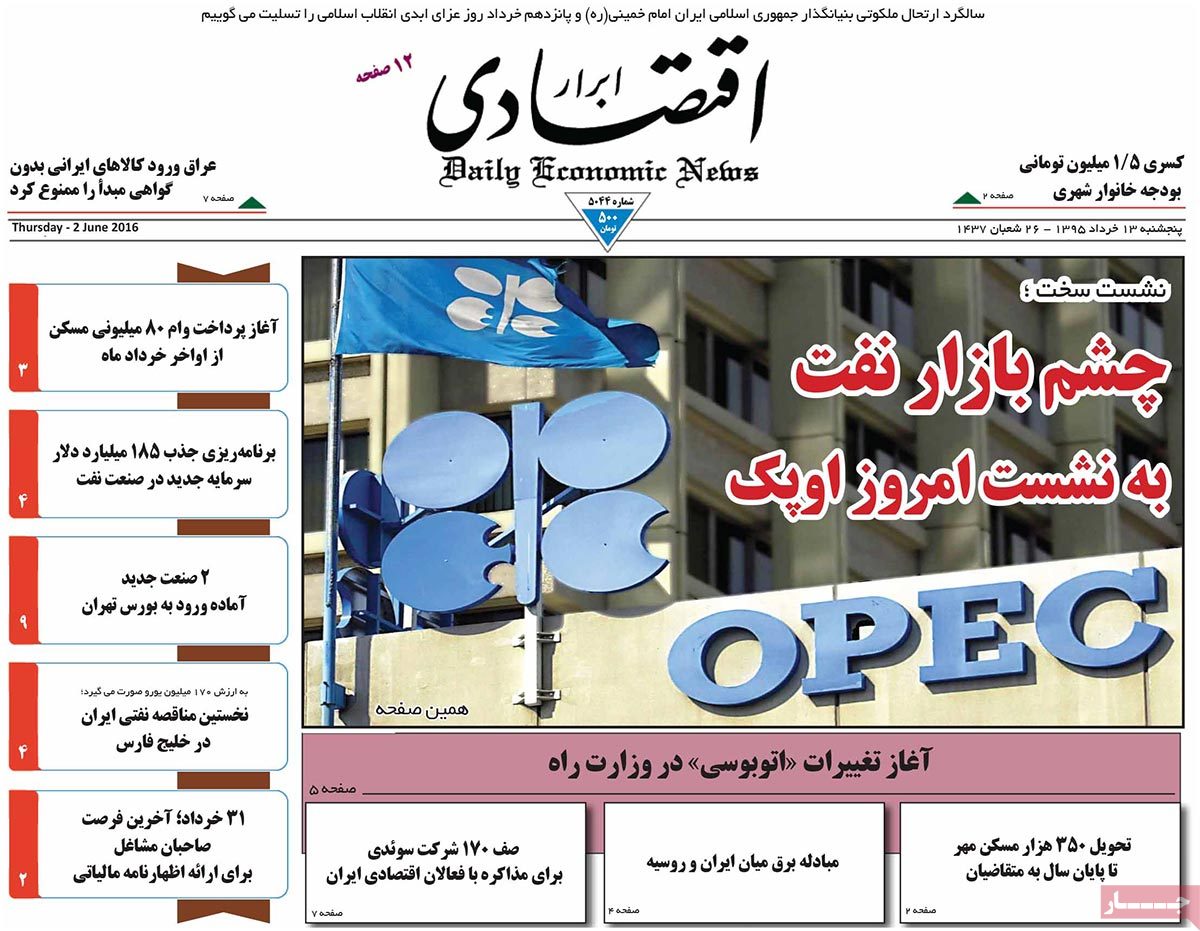 ---
Afkar:
1- Iran to Veto Election of Saudi Arabia as OPEC's Secretary-General
---
Aftab-e Yazd:
1- Hardline Conservative Media Warn against Motahari's Presence in Parliament's Governing Board: Ali Motahari Becomes Scary!
2- Imam Khomeini's Grandson: Those Who Were Dogmatic in the Past Now Introduce Themselves as Pioneers of Thinking
3- MP: People Voted for Jalali and Nemati Because They Were in List of Hope [The two won the elections as members of the reformists' list, but in the Parliament, they joined the Faction of Velayat, mostly dominated by conservatives.]
4- Friday Prayers Imam of Shahr-e Kord: We Should Localize English Language!
5- Certain Overnight Parties Are Controlled [Guided] from Somewhere
6- Iran Can Violate JCPOA If It Sees Violations in Its Implementation: Ayatollah Rafsanjani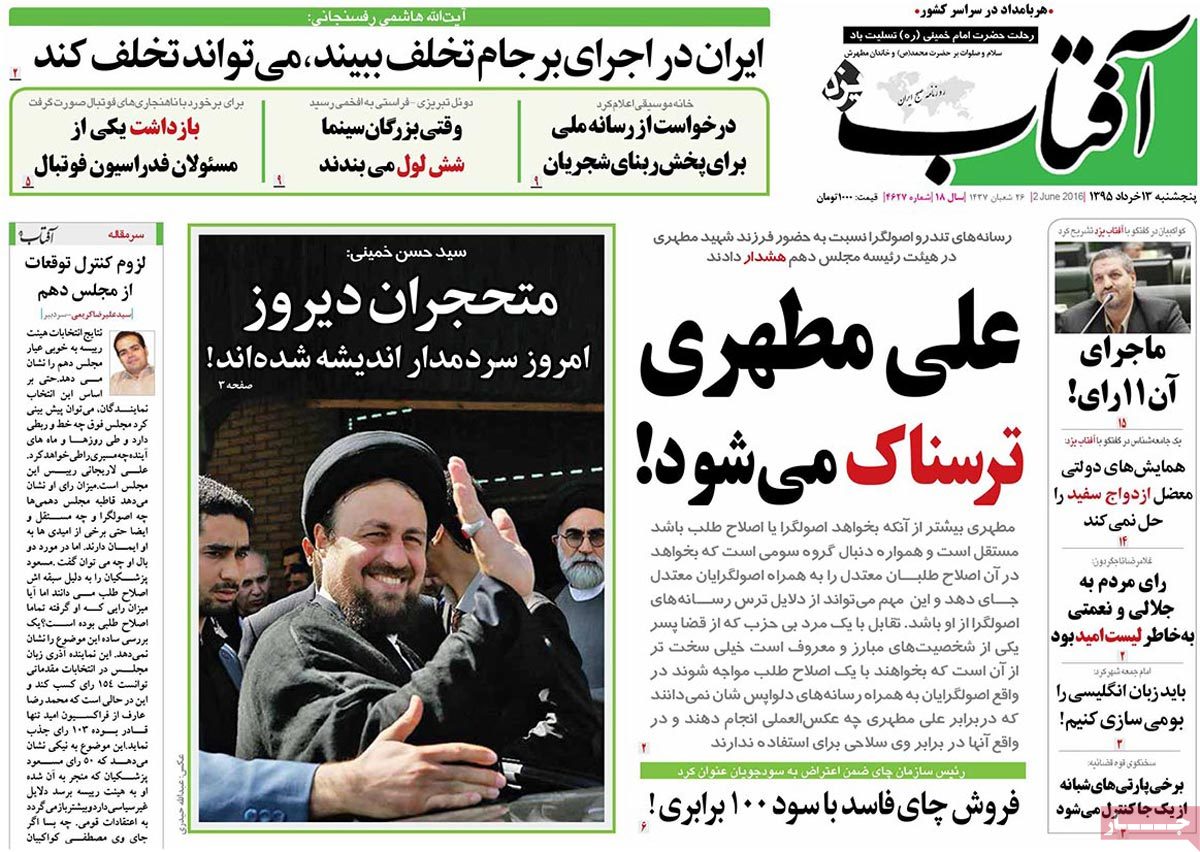 ---
Arman-e Emrooz:
1- Cancellation of Concerts Will Lead to Chaos: Aref Urges Culture Ministry to Be Accountable
2- Case of House Arrests [of opposition figures Mir Hossein Mousavi and Mahdi Karroubi] Is in SNSC: Judiciary Spokesman
3- Change of Results in Tabriz: 2 MPs from "List of Hope" Didn't Make It to Parliament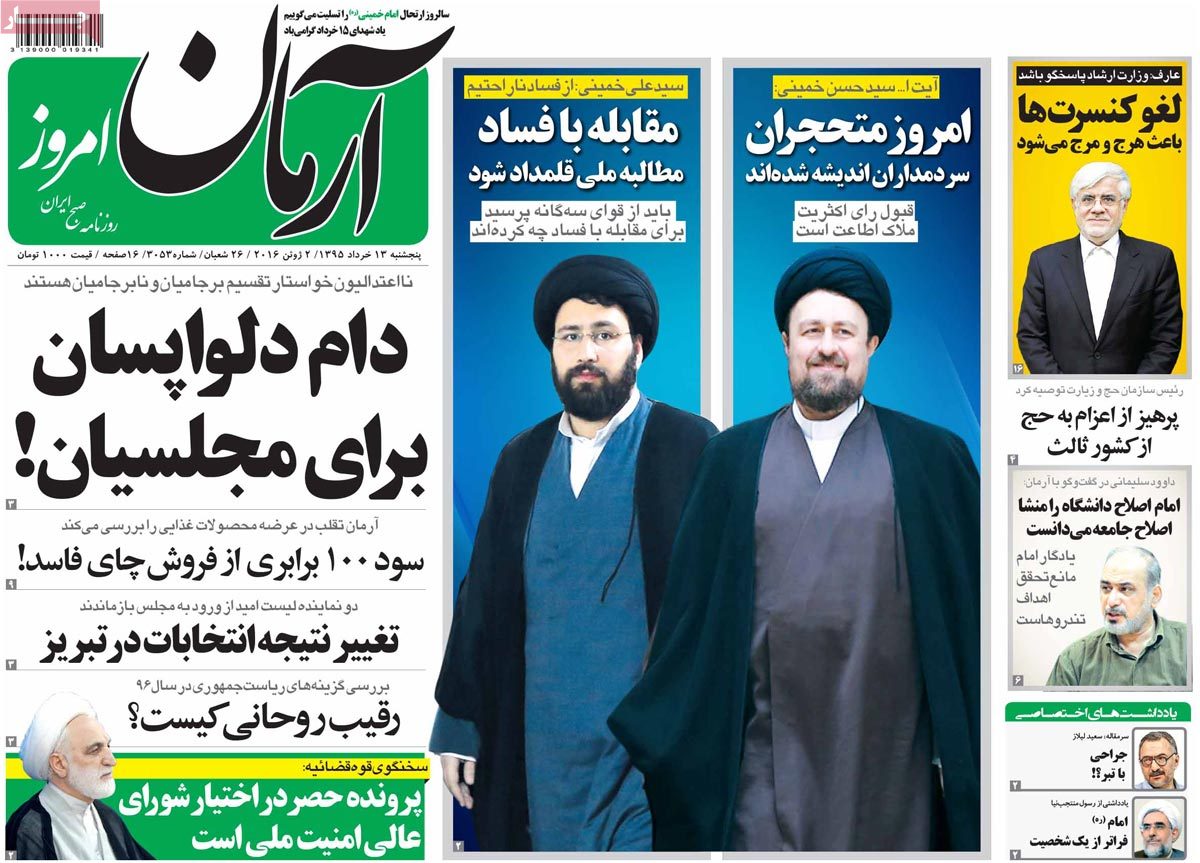 ---
Asrar:
1- Raising the Issues of Missile Program and Human Rights in Iran Merely Political: Rafsanjani
2- Iran's Strong Presence in OPEC Meeting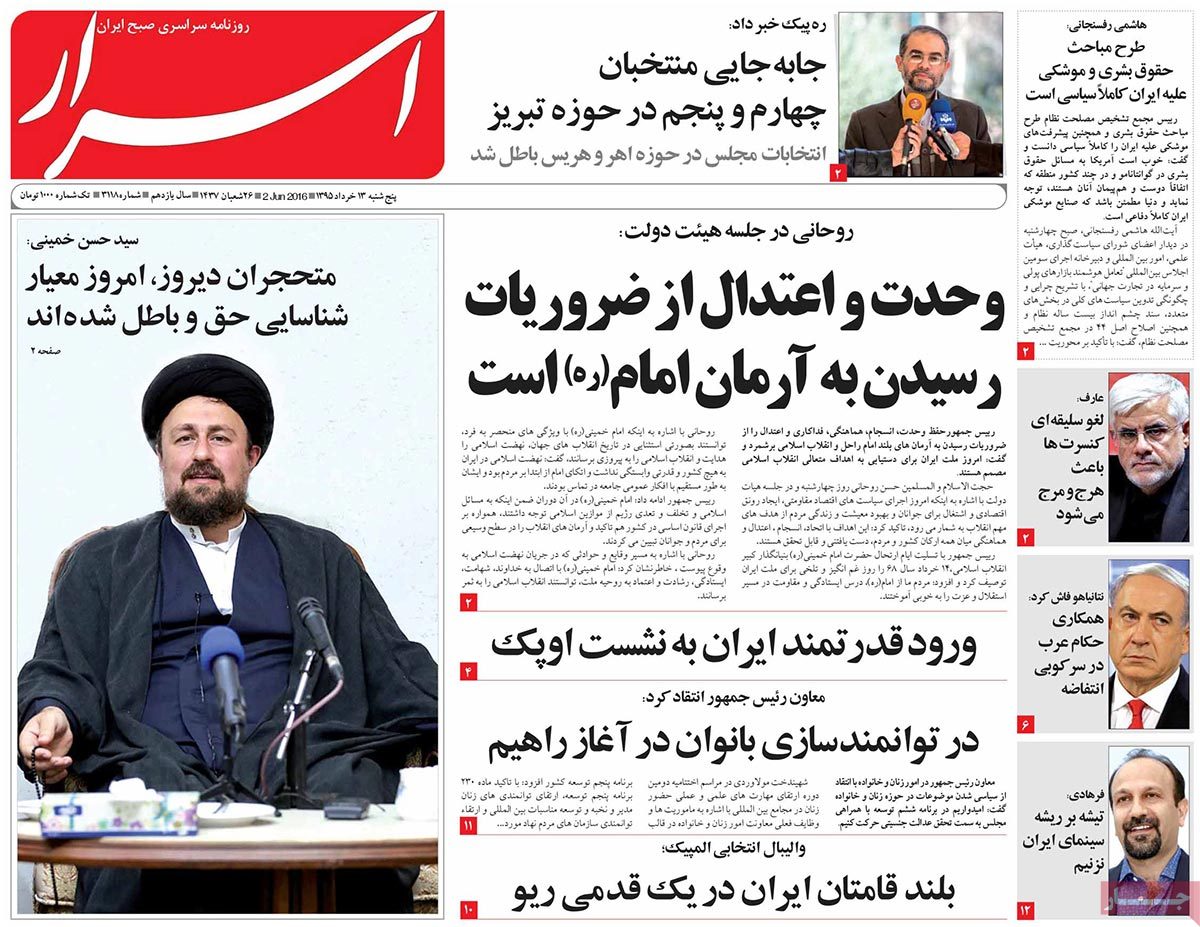 ---
Emtiaz:
1- During Ramadan, Iranian Cinemas Will be Allowed to Receive People until Morning: Police
2- 1,200kg of Illicit Drugs Discovered in Police's Overnight Operation
3- Hotels Ready for Foreign Investment and Partnership
---
Etemad:
1- A Faction on Water: Conservative Faction of Velayat Held "Majority" of Parliament for Just 1 Week; Rumours of Its Dissolution Heard Yesterday
2- Iran's Volleyball on Verge of Booking Ticket of Rio Olympics 2016
3- First Online Concert Held by Alireza Ghorbani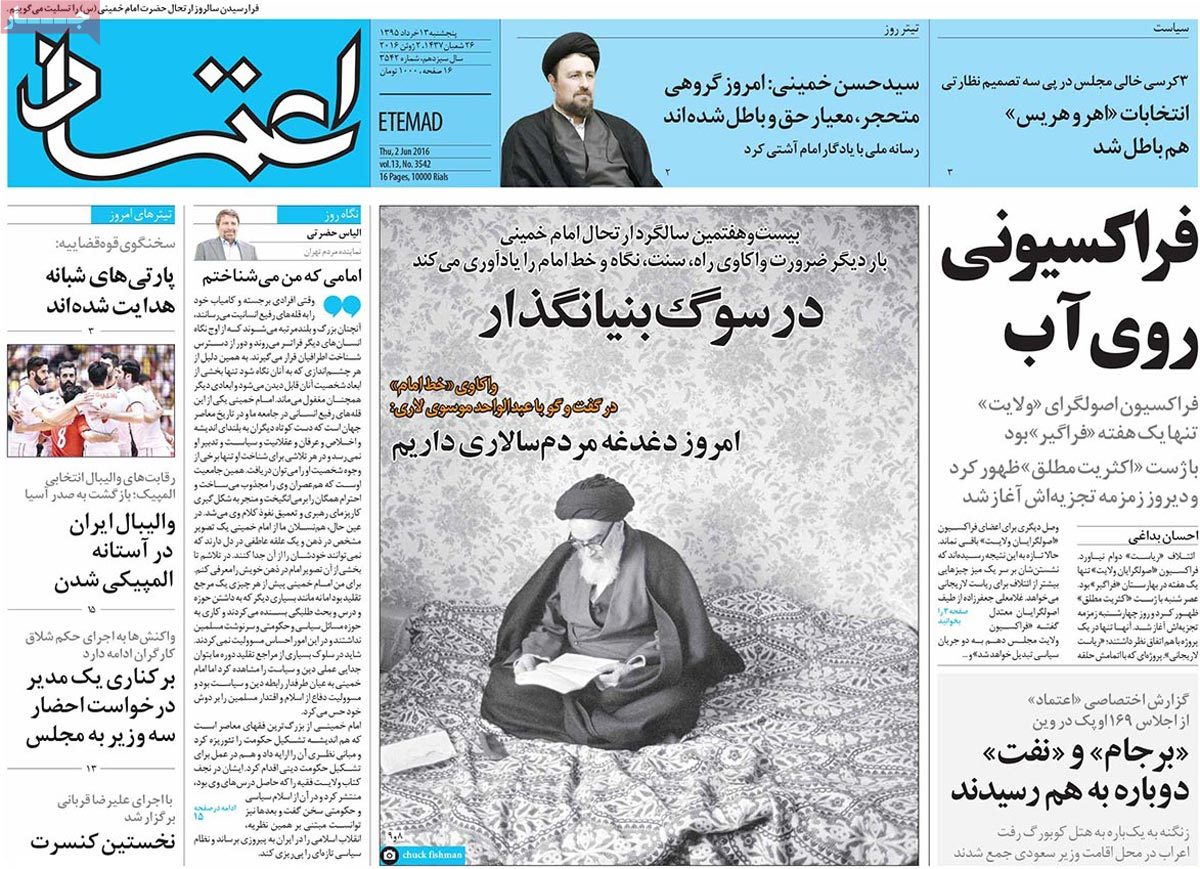 ---
Ettela'at:
1- Iran Supports OPEC's Role in Stabilization of Market: Minister
2- Persian Gulf Arabs to Cooperate with Israel in Suppressing Palestine's Intifada: Netanyahu
3- Iran Is a Safe Place for Investment: Zarif in Sweden
---
Ghanoon:
1- Schoolchildren's Riots! [On recent protests by Iranian students at the difficult final examinations]
2- Untold Stories about Imam Khomeini's Last Trip by Captain Amini, Pilot of Imam's Chopper
3- Security Threat of Illegal Refugees
4- Waiting for Economic Opening as Result of JCPOA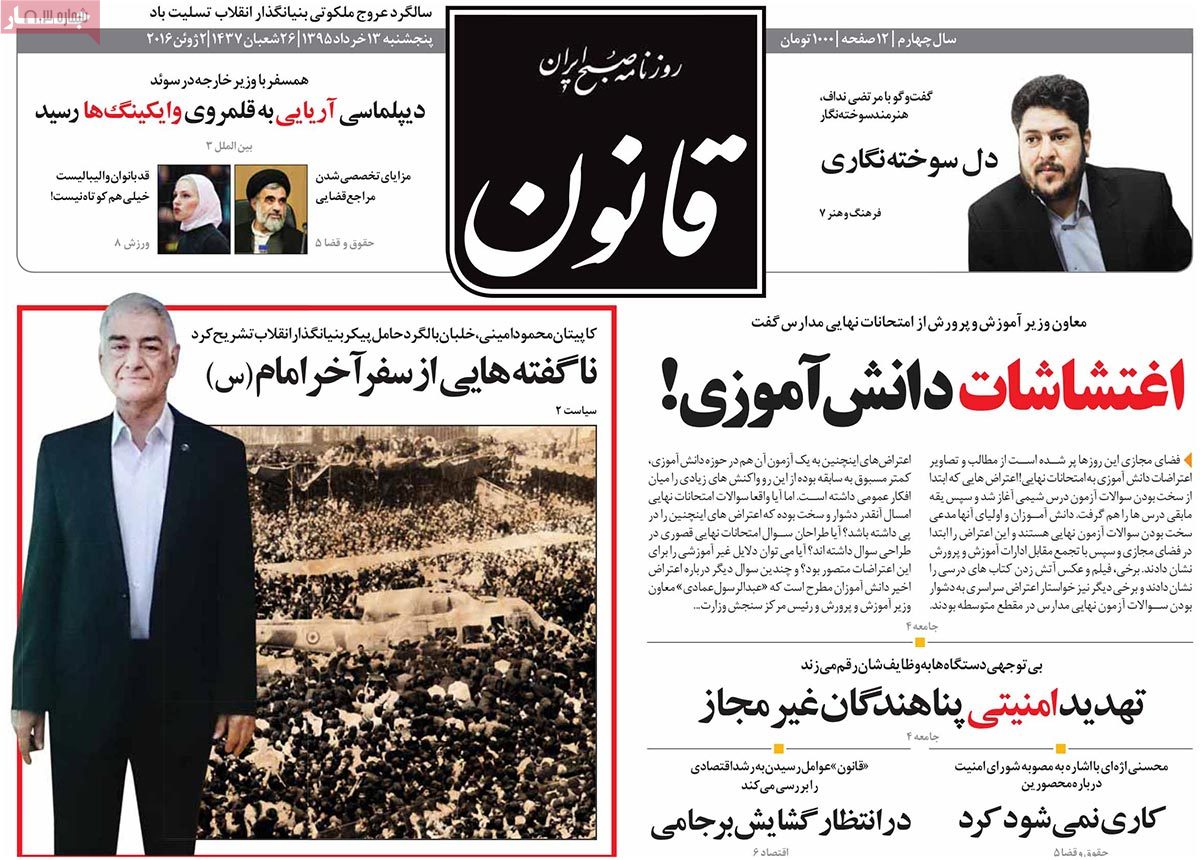 ---
Hamshahri:
1- Imam Khomeini, Symbol of Religiosity and Fight against Tyranny
2- Footprints of Foreign Embassies in Overnight Parties in Iran: Judiciary Spokesman
3- Executions in Saudi Arabia, Incarcerations in Bahrain
4- Diplomats Criticize USA's Bad Intentions in JCPOA
5- Puzzle of General Soleimani and 2017 Presidential Election
---
Iran:
1- Iranian Weightlifter Kianoosh Rostami Breaks World Record
2- $10bn Decrease in Value of Smuggled Goods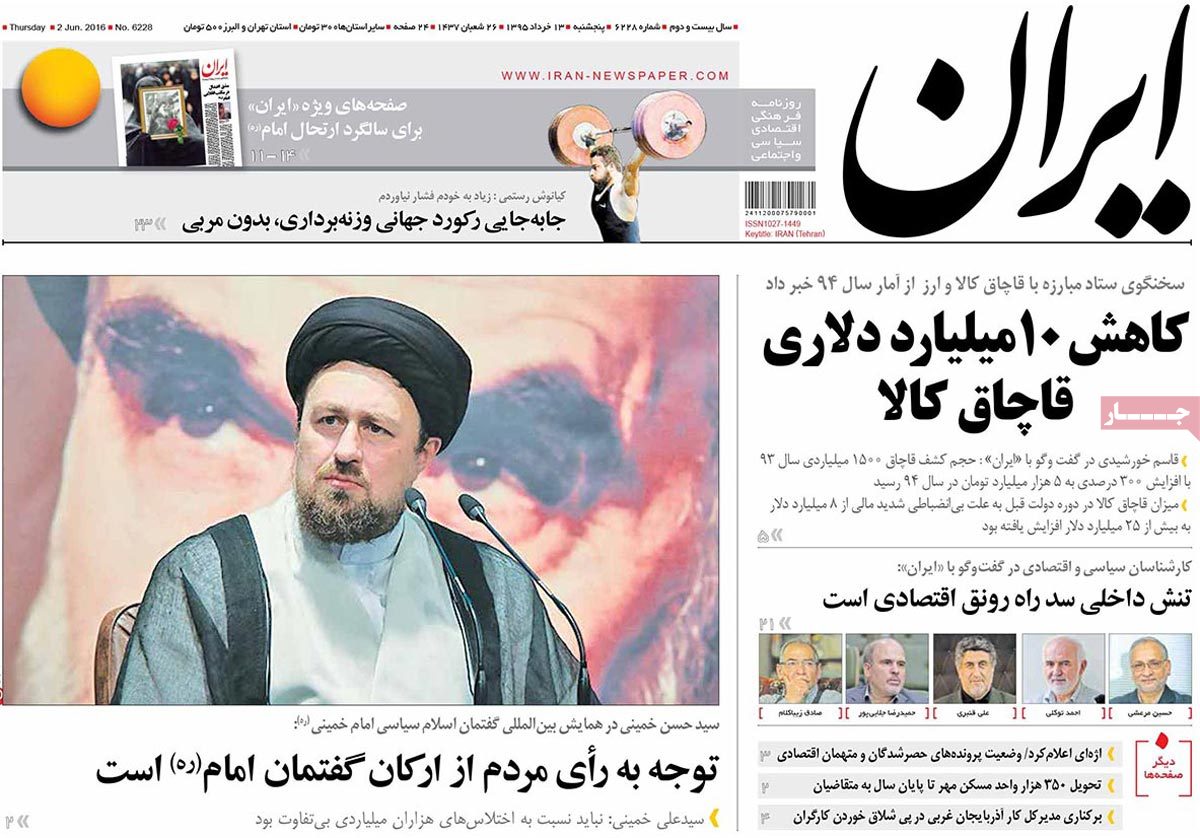 ---
Jame Jam:
1- Architecture of Unity: On Anniversary of Imam Khomeini's Demise
2- Unrests Rage in France: Railway Workers Go on Strike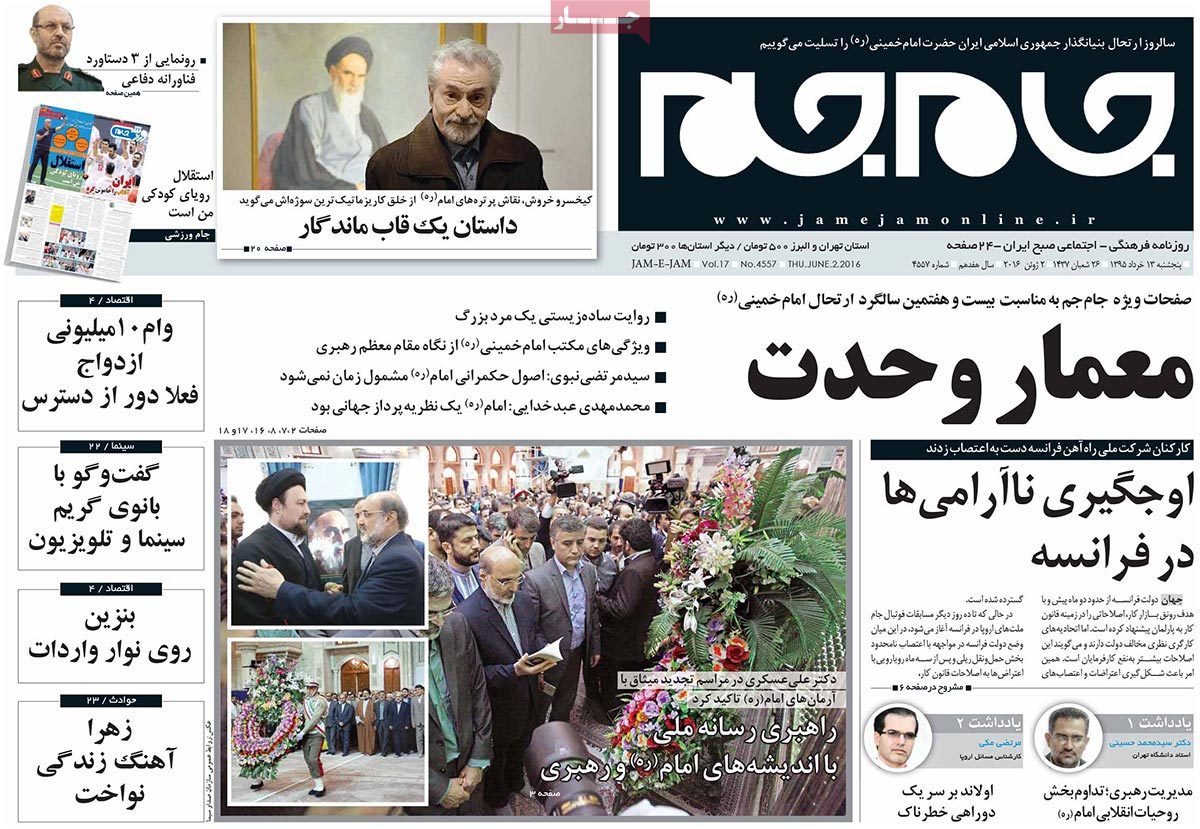 ---
Javan:
1- Sunni Clerics Denounce Al Saud's Sabotage in Hajj Pilgrimage
2- Zarif Still Insists on "US Guarantee": Verbal Promises in White House, Threats in States
3- $10bn Decrease in Value of Smuggled Goods Is a Lie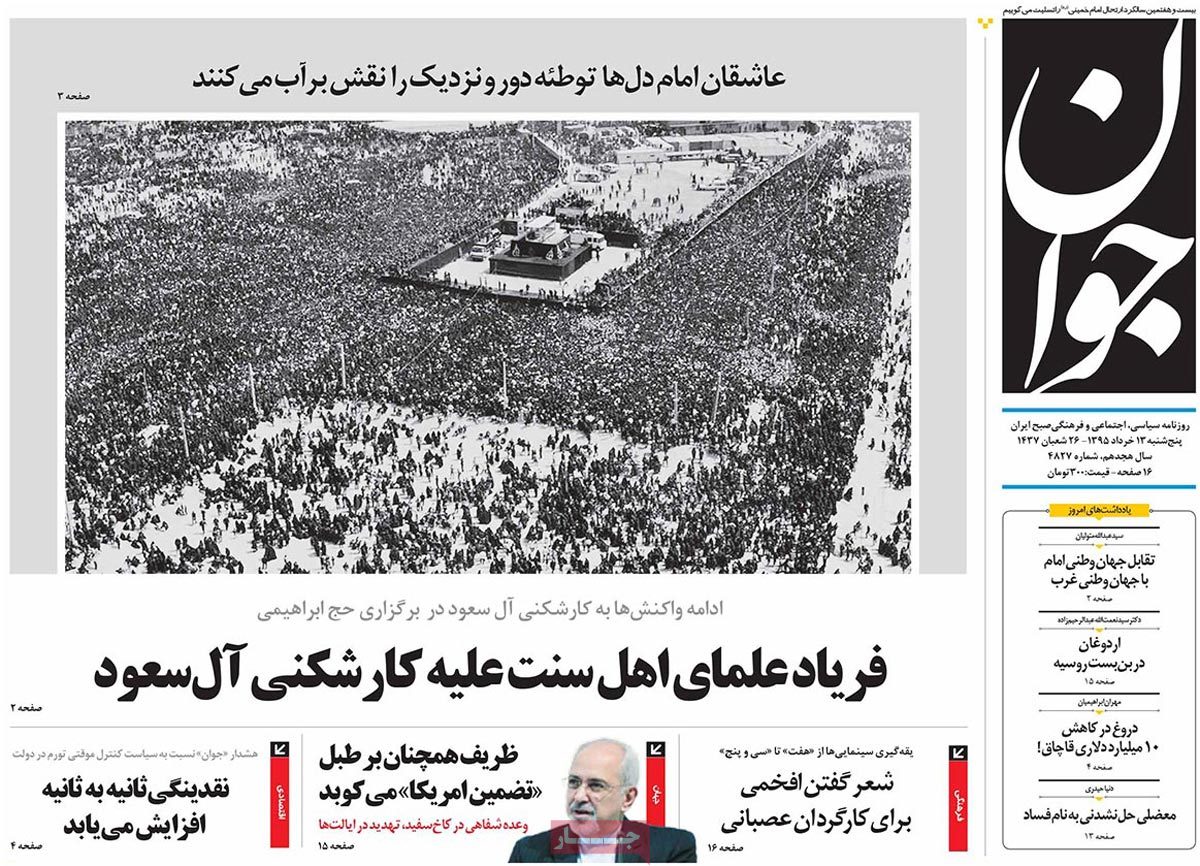 ---
Khorasan:
1- Unfair Reactions to Shahab Hosseini Who Dedicated His Cannes Award to Imam Mahdi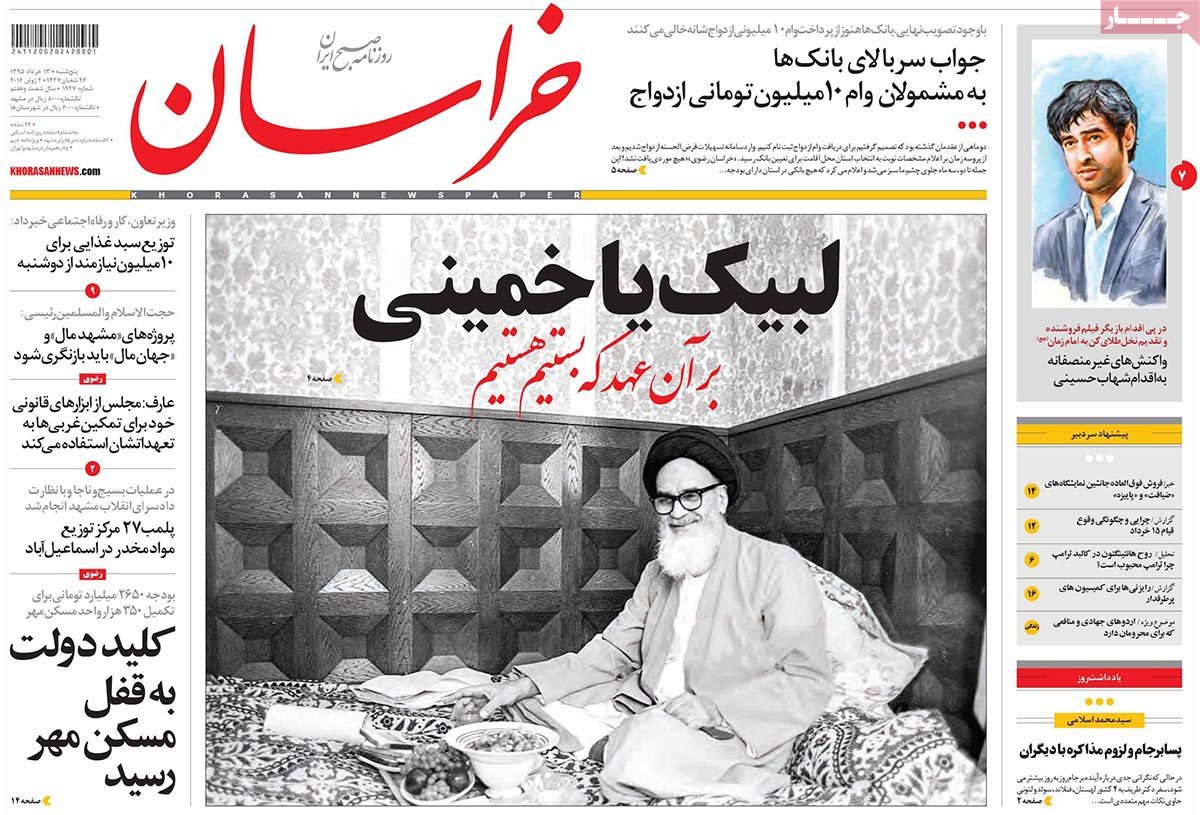 ---
Mardom Salari:
1- Iran Is the Only Country in Region Where Free Elections Are Held: Zarif in Meeting with Swedish PM
2- Iran's Nuclear Industry Not to Be Shut Down: Nuclear Expert
3- 95% Growth in Non-Oil Exports
---
Resalat:
1- Qur'an Is the Option on Our Table: Senior Cleric Javadi Amoli
2- We're Worried about Those Fostered in Britain: IRGC General
3- Europeans Unwilling to Purchase [Iran's Goods] in Cash
---
Shargh:
1- Response to Request for a Trial: We Can't Do Anything until SNSC Bill Is in Place, Judiciary Spokesman Says [on the house arrest of opposition figures]
---
Vaghaye Ettefaghieh:
1- Caracas on Verge of Collapse: Followers of Chavez Ruin Venezuela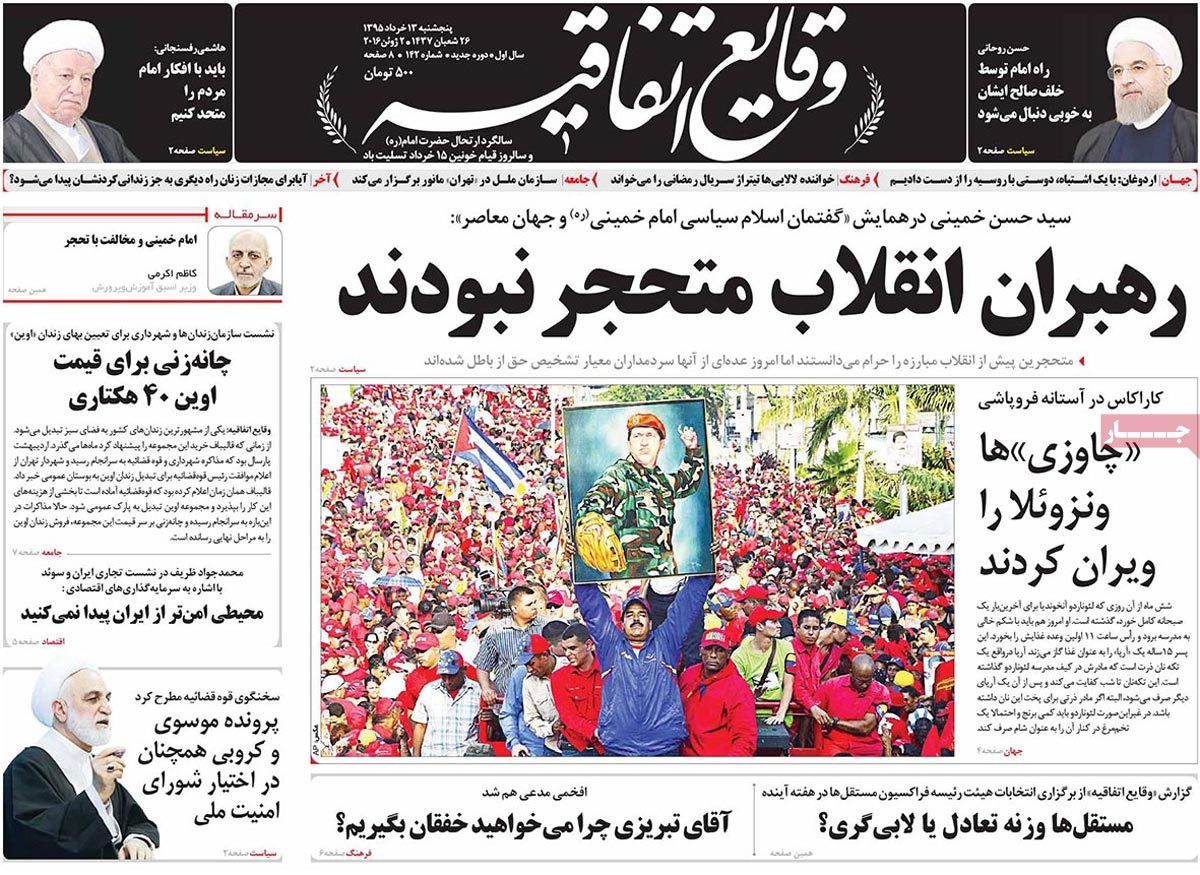 ---
Vatan-e Emrooz:
1- Aristocrats Give Distorted Account of Imam Khomeini