The final elections of the Iranian Parliament's governing board were held on Tuesday, and MPs elected Ali Larijani as the Speaker, Masoud Pezeshkian as the 1st Vice-Speaker, and Ali Motahari as the 2nd Vice-Speaker of the Parliament.
The elections were covered by Iranian newspapers on Wednesday in different ways. While all reformist papers expressed their joy over their victory, almost all conservative media refused to even cover the development. Such newspapers as Hemayat, Resalat, and Vatan-e Emrooz didn't cover the related news, or at most covered Larijani's re-election as Speaker.
Kayhan, however, mentioned the names of Motahari and Pezeshkian in small font, and said that the reformists were deluded in calling the result a victory.
A press conference for Asghar Farhadi's latest film The Salesman was also widely covered in Iranian media.
Abrar:
1- President of Kurdistan Region to Visit Iran Soon: Iranian Ambassador to Iraq
2- Iran Not to Send Heavy Water to US before Receiving Payment: Salehi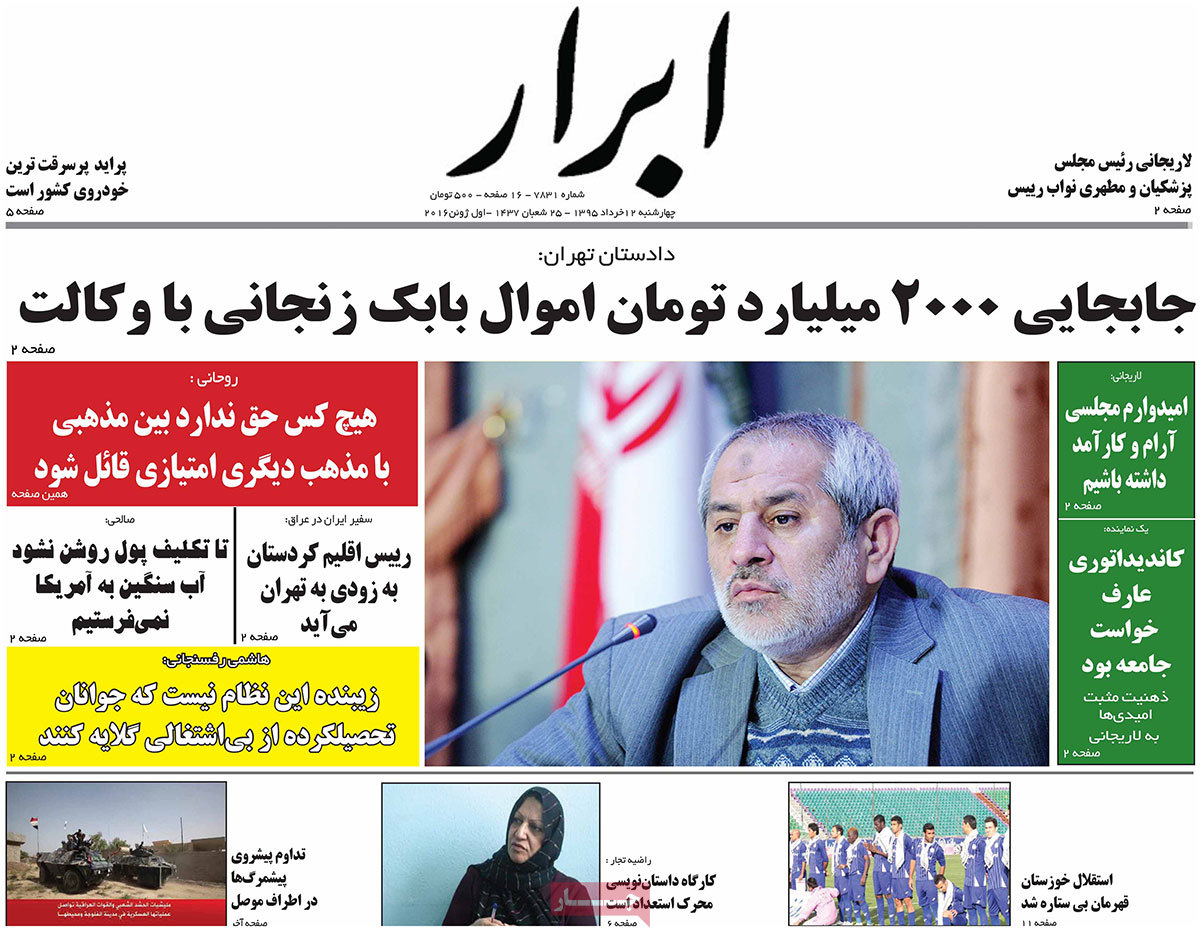 ---
Abrar-e Eqtesadi:
1- Ahmadinejad Decreased National Employment Rate to Zero
2- Iran-Europe Economic Cooperation Centre Opened
3- Chabahar to Turn Iran into Regional Trade Hub
4- BP Keen to Invest in Iran's Oilfields
5- Conditions for Full Resumption of Iran-Europe Banking Ties
6- Iran Exporting 2.3m bpd of Oil to Asia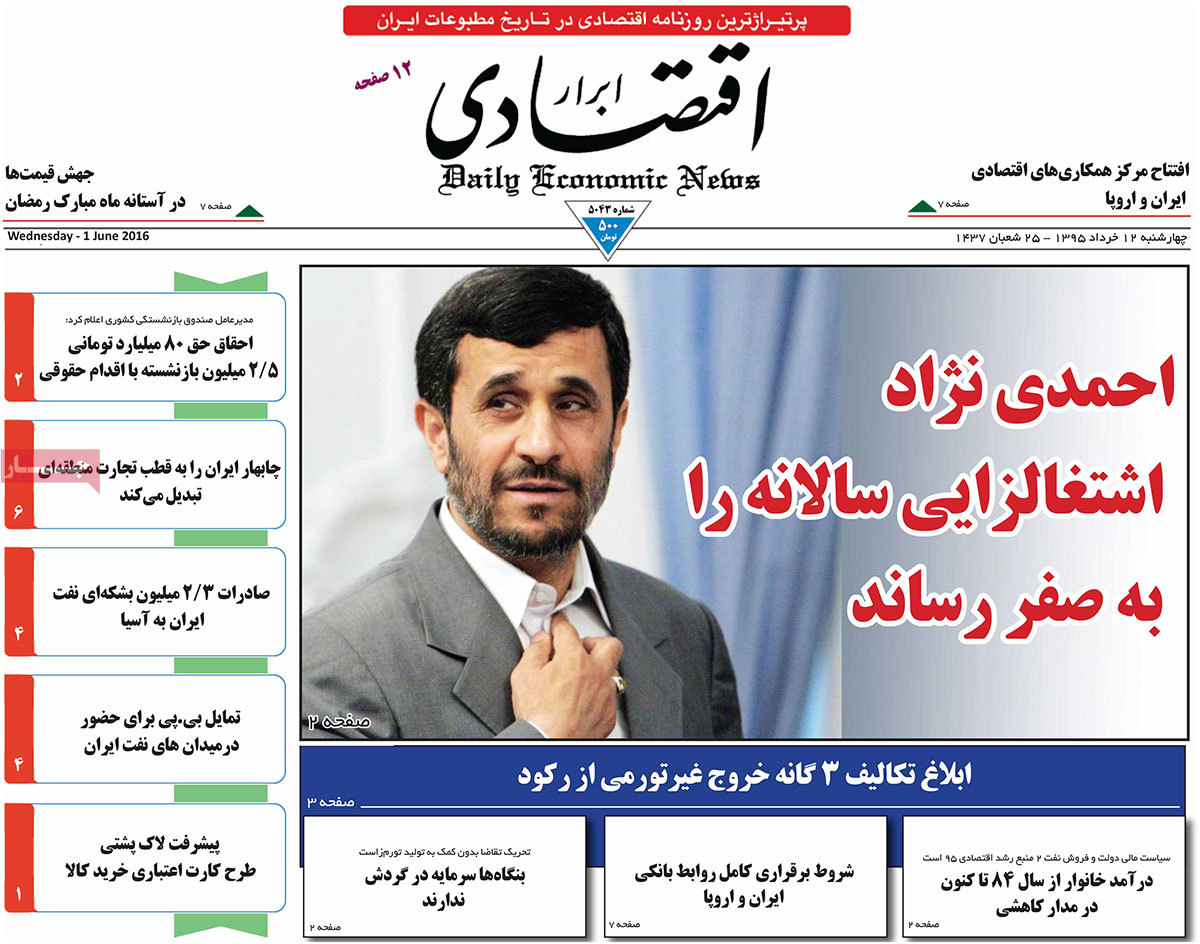 ---
Aftab-e Yazd:
1- Reformists Laughed: Pezeshkian and Motahari Became Vice-Speakers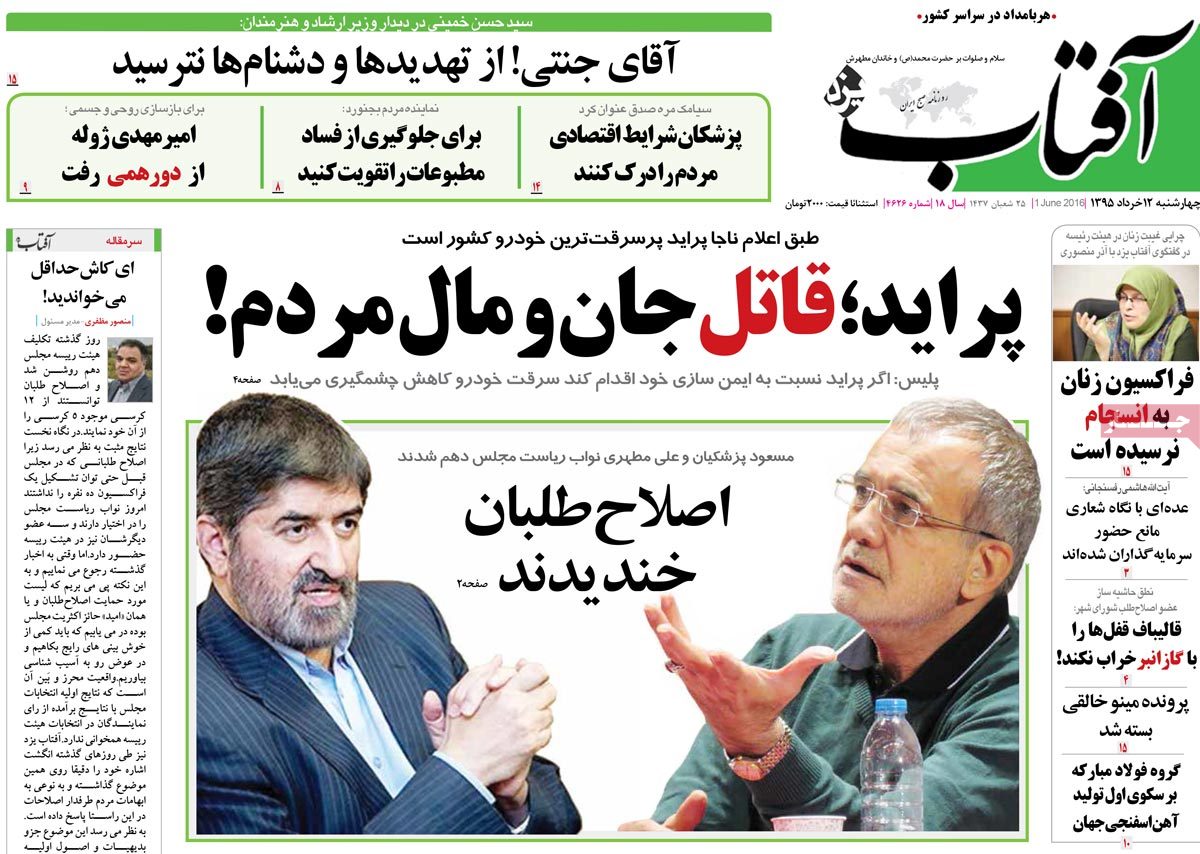 ---
Arman-e Emrooz:
1- Pure Governing Board! Larijani Elected as Speaker, Pezeshkian and Motahari as Vice-Speakers
2- Real Weight of Reformists Revealed: 7 "Hope" Members [reformists and moderates], 4 Conservatives, 1 Independent Elected for Governing Board
3- Minoo Khaleghi's Case Closed
4- Aref: From Presidency to Speakership
5- Russians Ready to Buy Iran's Heavy Water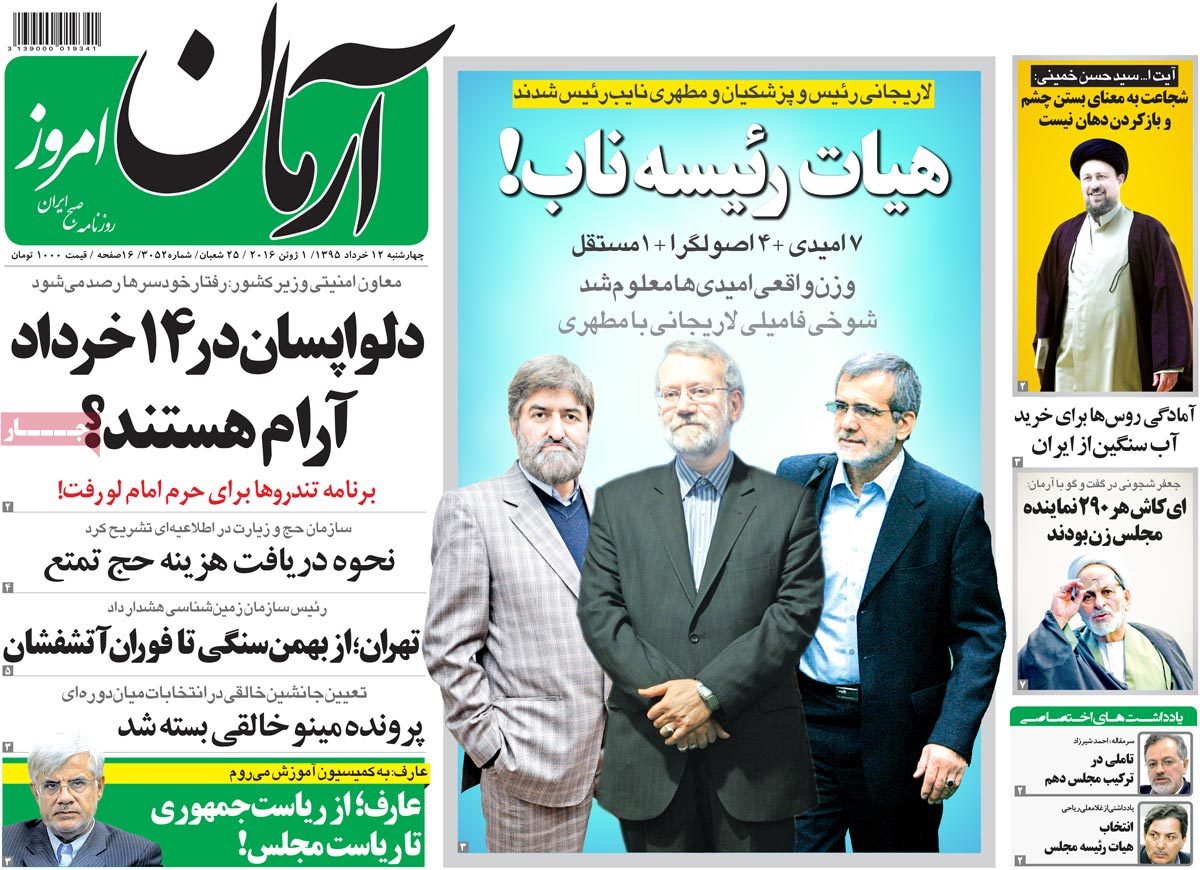 ---
Asia:
1- German Banks Ready to Give Loans to Iranian Companies
---
Asrar:
1- Parliament's Governing Body Coloured with "Hope"
2- 70% of Stolen Cars in Iran Are KIA Pride
3- We're All Obliged to Reduce Pressures on Iran: Rouhani
4- Iran Hajj Organization Warns Iranian Pilgrims [against going on pilgrimage through a third country]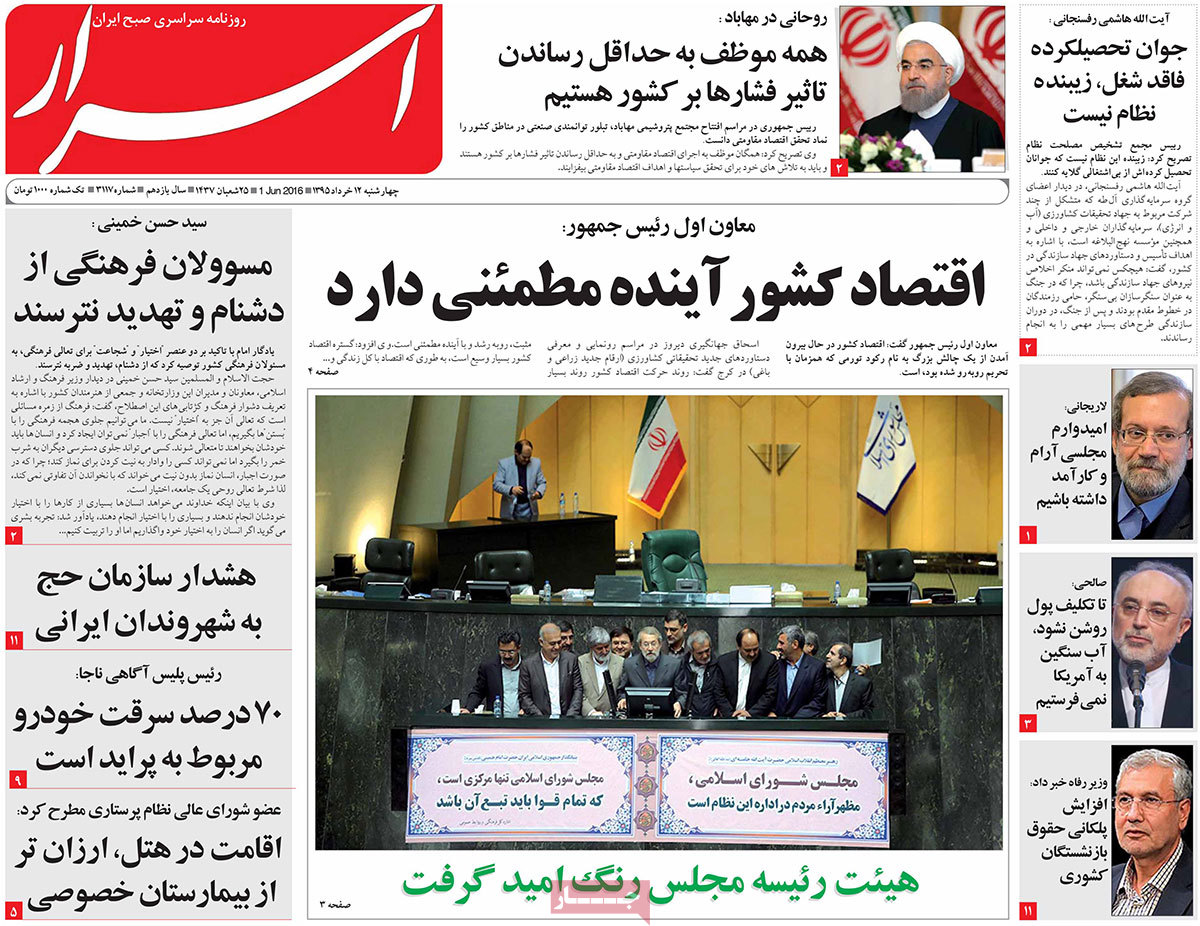 ---
Bani Film:
1- Efforts to Premiere Asghar Farhadi's The Salesman in Iran before Its World Premiere: Official
2- Expansion of Tehran-Seoul Cultural Ties: Korean Ambassador
---
Ebtekar:
1- No One Is Allowed to Discriminate Against Any Religions: Rouhani
2- US Should Take Further Steps for JCPOA Implementation: Zarif in Helsinki
3- Victory of "Hope"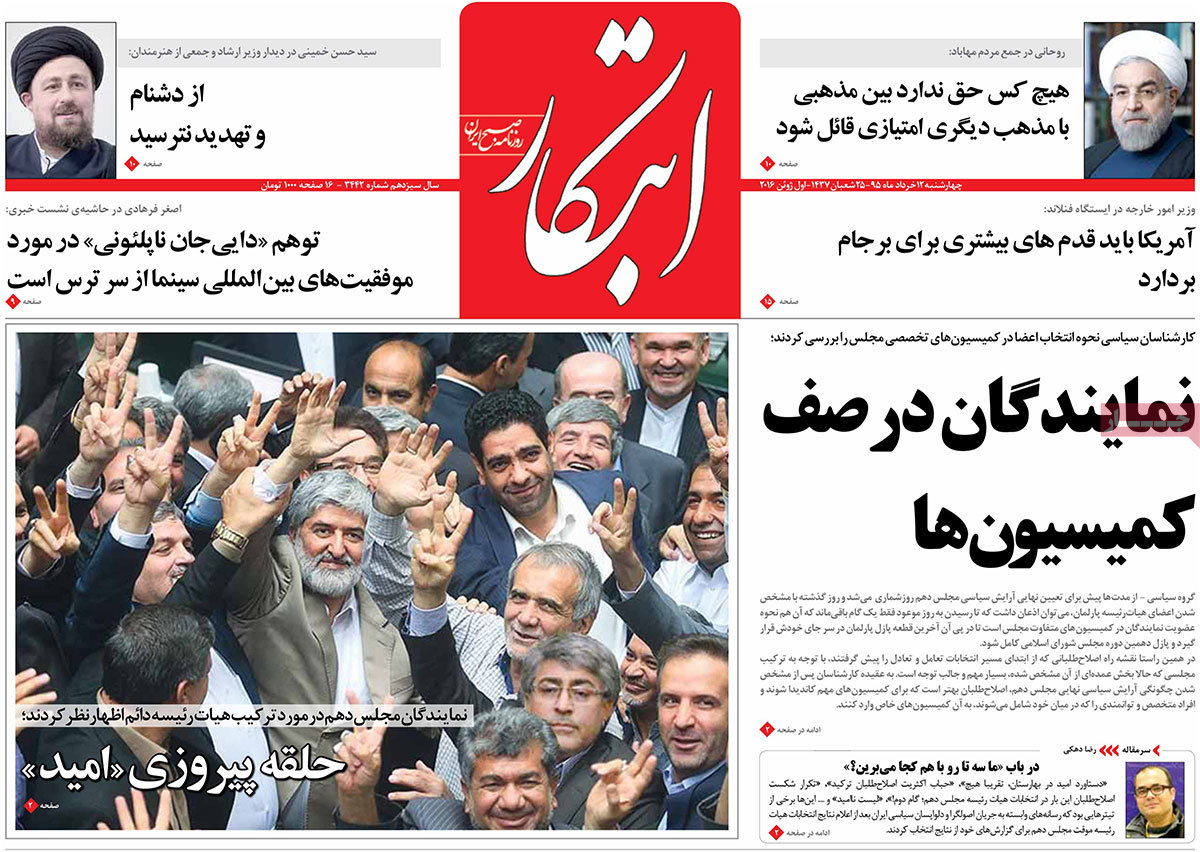 ---
Emtiaz:
1- Plastic Bags to Be Abandoned in 3 Years: Deputy Head of Environment Department
2- Decrease in Number of Criminals Sent to Iranian Prisons
3- Increased Gun Use Influenced by Watching Satellite TV: Police Chief
4- Rumi's Masnavi to Be Registered in UNESCO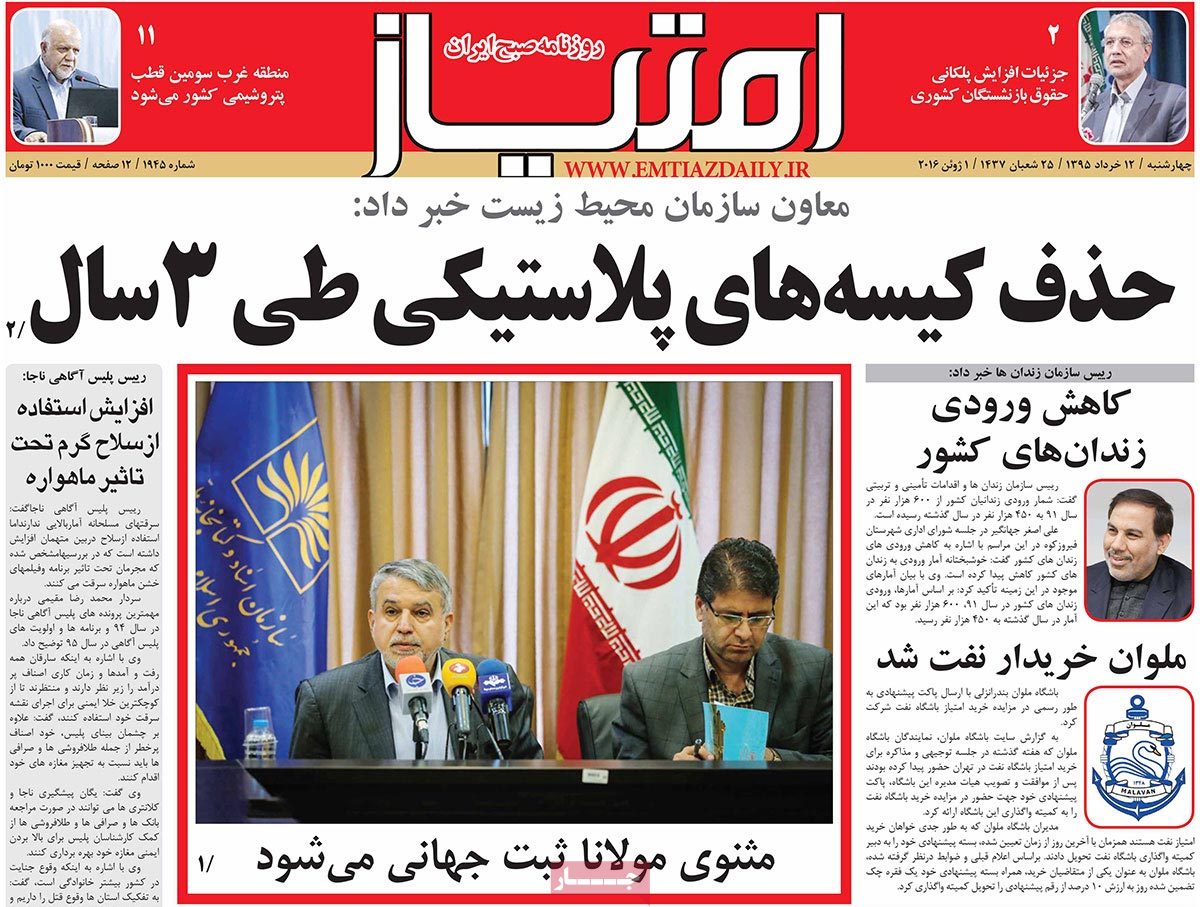 ---
Etemad:
1- Vote for Courage and Frankness
2- Farhadi: I Kept My Head Up in Cannes Because I Was Iranian
3- We Achieved Our Goals in Elections of Parliament's Governing Board: Reformist Figure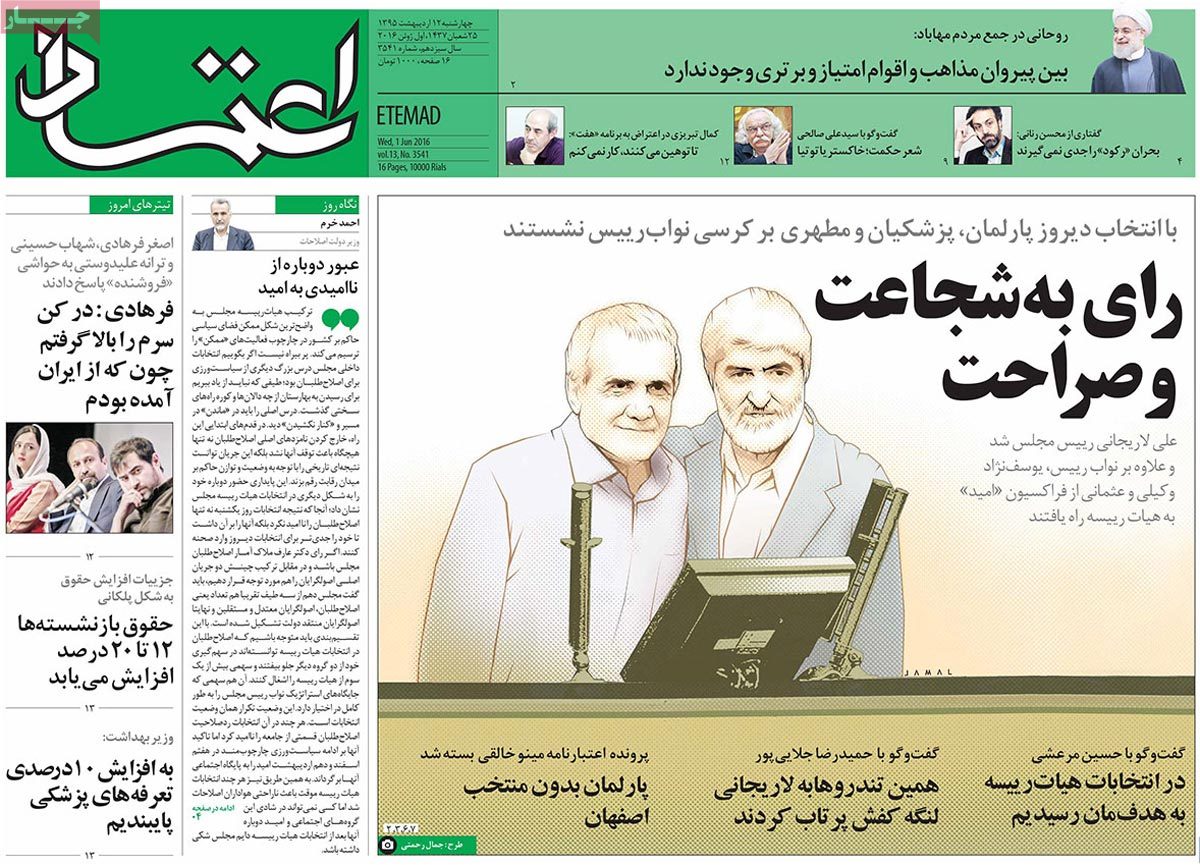 ---
Ettela'at:
1- Followers of Different Religions and Members of Different Ethnicities Have No Privilege over Each Other: Rouhani
2- Europe Keen to Purchase 20 Tons of Iran's Heavy Water: Salehi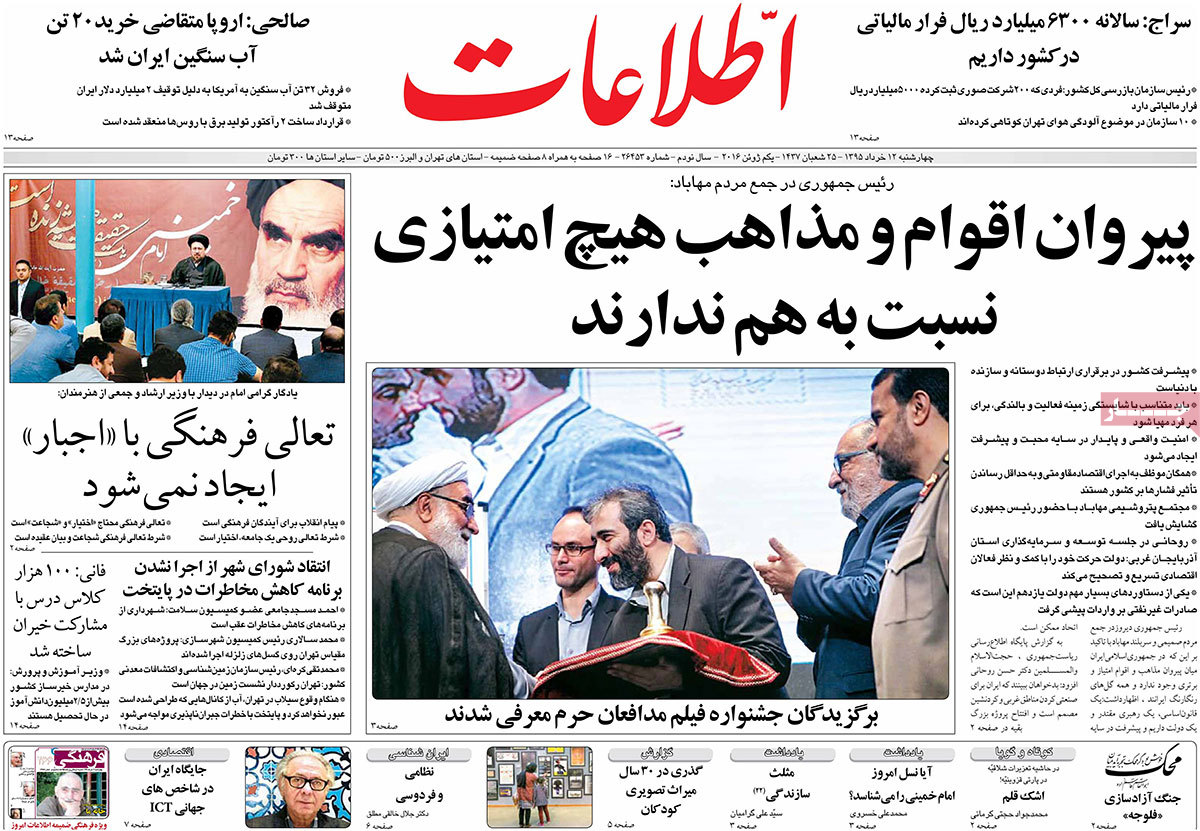 ---
Ghanoon:
1- All Women of Hope: Analysts Discuss Benefits of [Presence of] 17 Female MPs
2- "Rainbow" of Parliament's Governing Board
3- A Report on Rivals on President Rouhani in Next Year's Presidential Elections: 5+1 against Rouhani!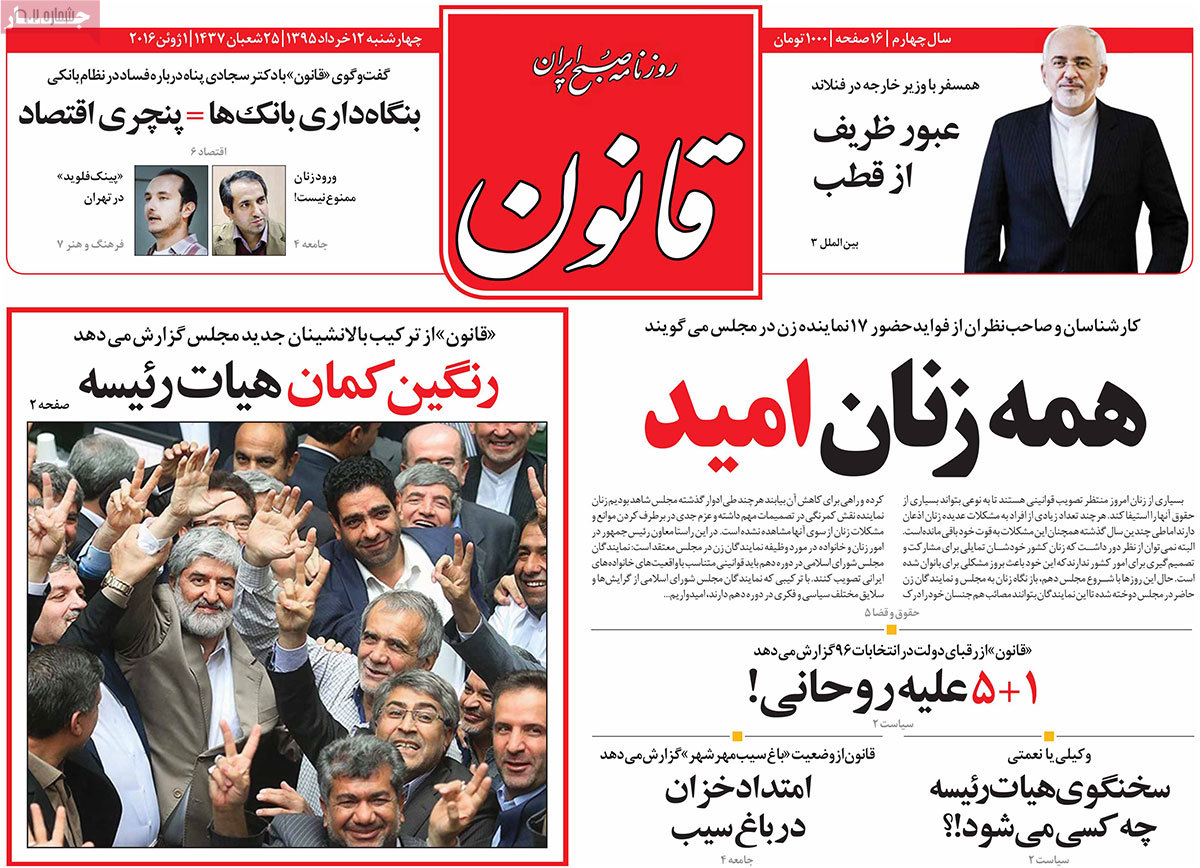 ---
Hamshahri:
1- [Shahab Hosseini's] Crushing Response to Saudis
2- Knife Is Most Common Murder Weapon in Iran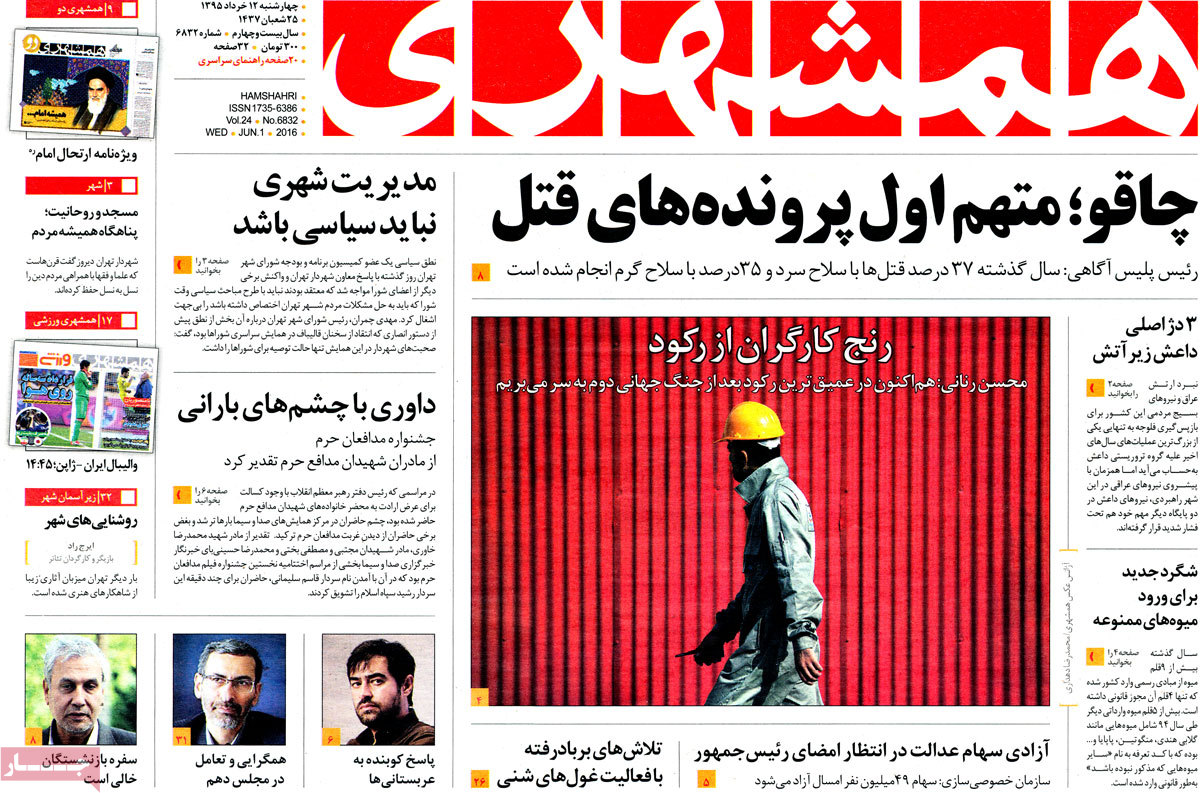 ---
Iran:
1- Kurdish and Turkish Languages to Be Taught in Iranian Schools [in Kurdish- and Azeri-speaking regions]
2- Increased Weight of "Hope Faction" in Presidency of Parliament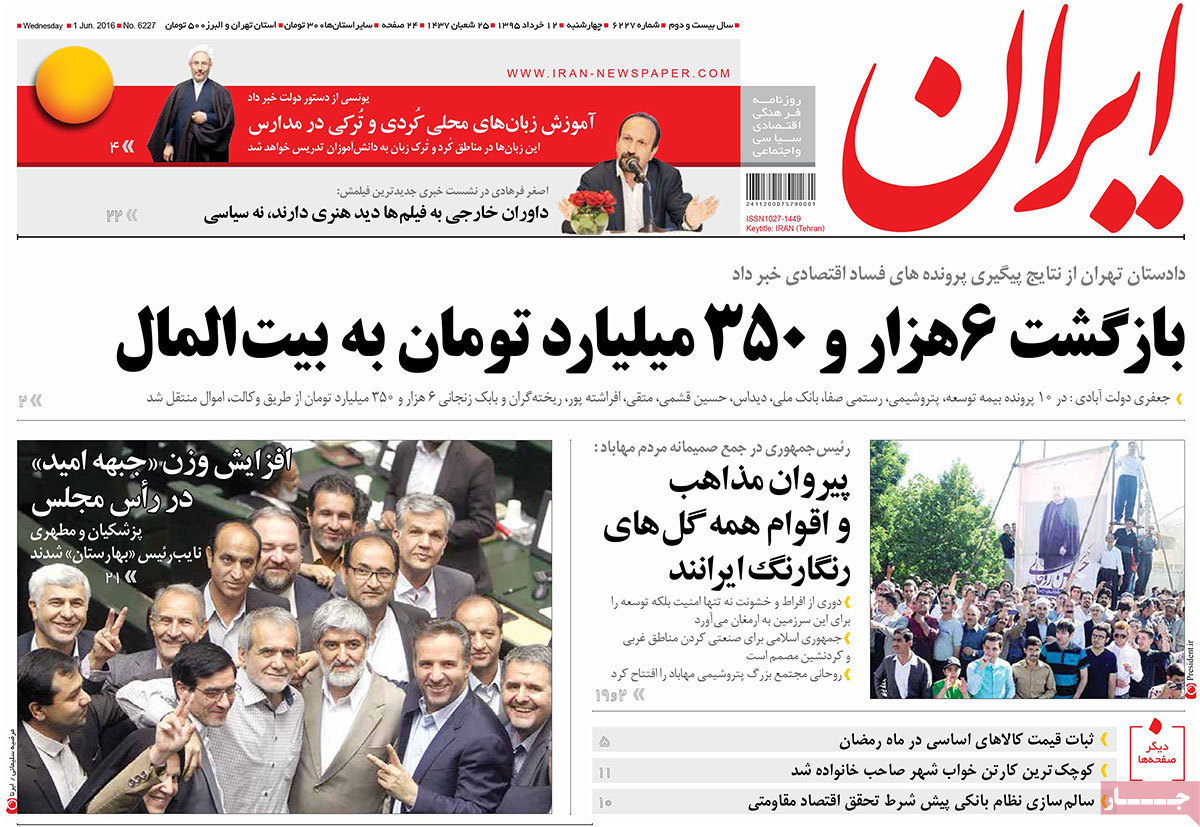 ---
Jame Jam:
1- [Larijani Becomes] Parliament Speaker with 237 Votes
2- Al Saud [Royal Family] Seeking to Misdirect Public Opinion
3- Europe on Verge of Strikes and Protests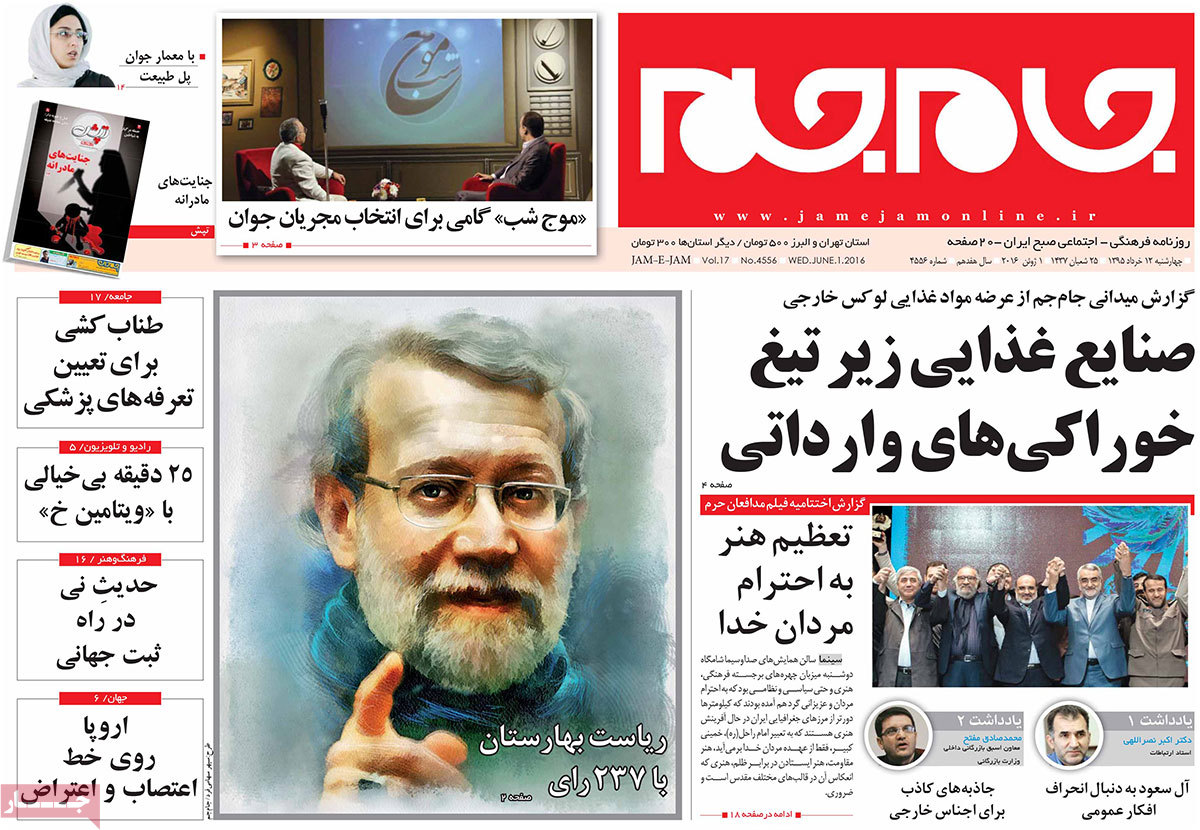 ---
Javan:
1- Changing Application of Fordow When US Is Not Committed to Its Obligations
2- Saudi Arabia's Plan B for Sabotaging JCPOA
3- Reformist MP Defeated by White Votes [in elections for presidency of Parliament]: Kavakebian 11, Blank Votes 28
4- Food for 15m Iranians Wasted Each Year: FAO Reveals 35m Tons of Food Waste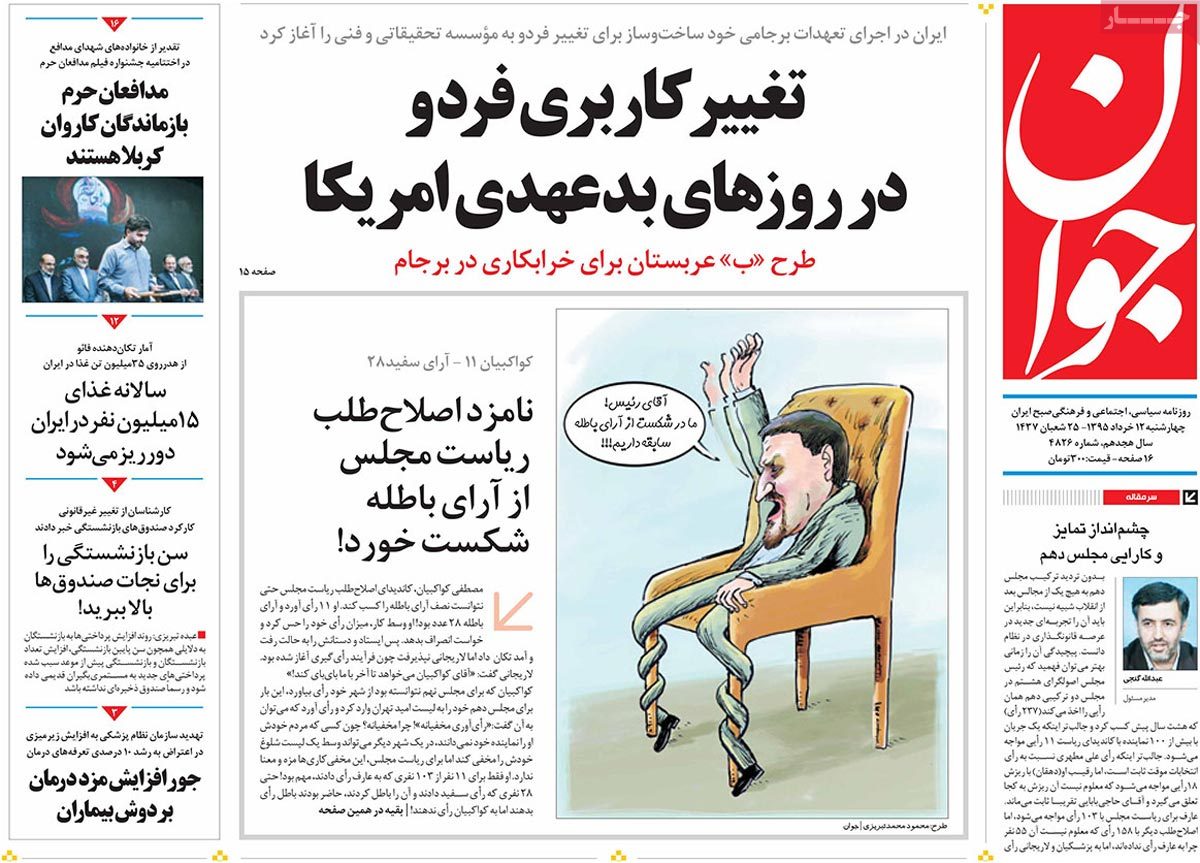 ---
Jomhouri Eslami:
1- Largest Petchem Complex in Western Iran Opened by President in Mahabad
2- Russia's Gazprom to Make Investment in Iran's Natural Gas Industry
3- $3bn Contract Signed with Turkey for Plant Construction in Iran
4- All Iranian People Are Equal in Terms of Civil Rights: Rouhani
---
Kayhan:
1- Words Instead of Practical Measures: Rouhani Says Young People of Iran's Azarbaijan Shouldn't Be Unemployed!
2- Iran Not Only Saved Iraq but Also All Persian Gulf States: Badr Organization
3- 60% of Iranian Industries on Verge of Closure: Deputy Minister
4- Aref Fallen Victim to Reformists' Illusion of Holding Parliamentary Majority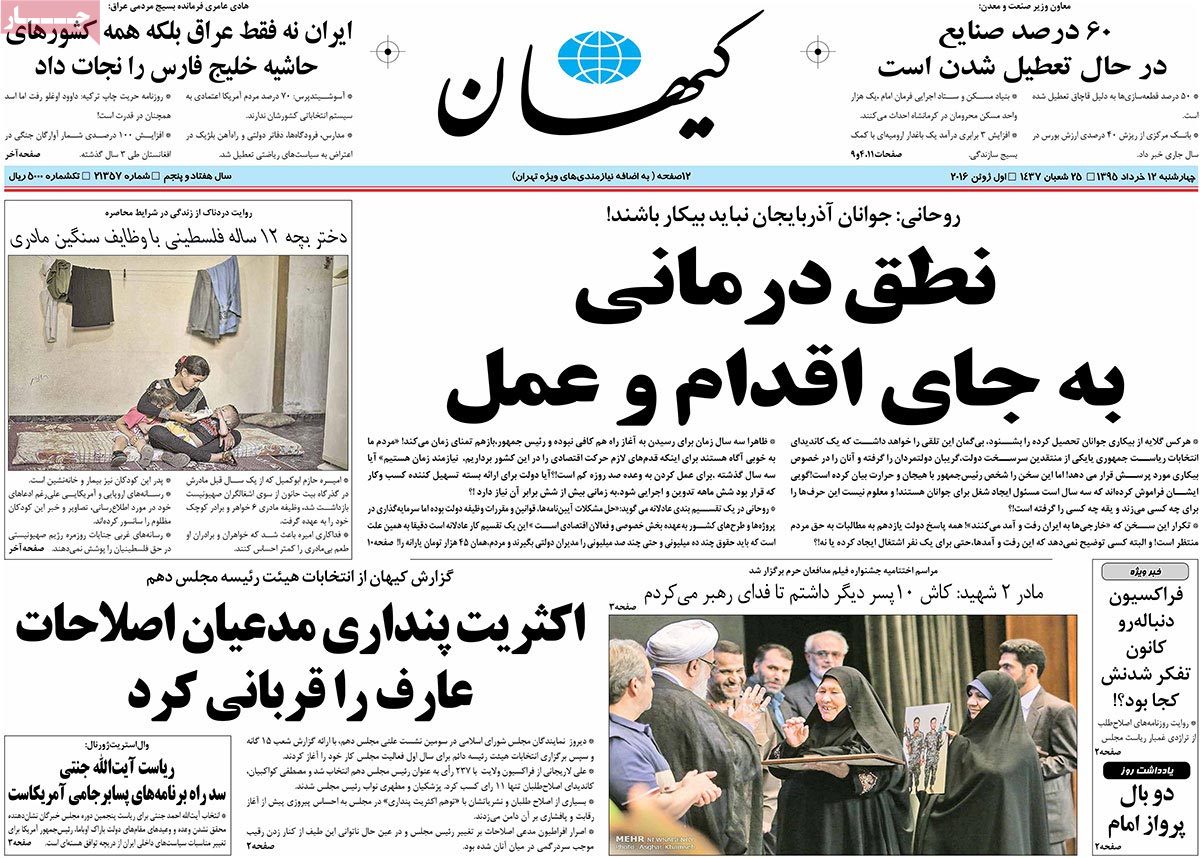 ---
Khorasan:
1- Mahabad Petchem Complex, Government's Largest Investment in Kurdish-Majority Regions
2- Only 3% of Iranian MPs Have Studied Economics [or related majors]
3- Unprecedented Protests in France: Shadow over Euro 2016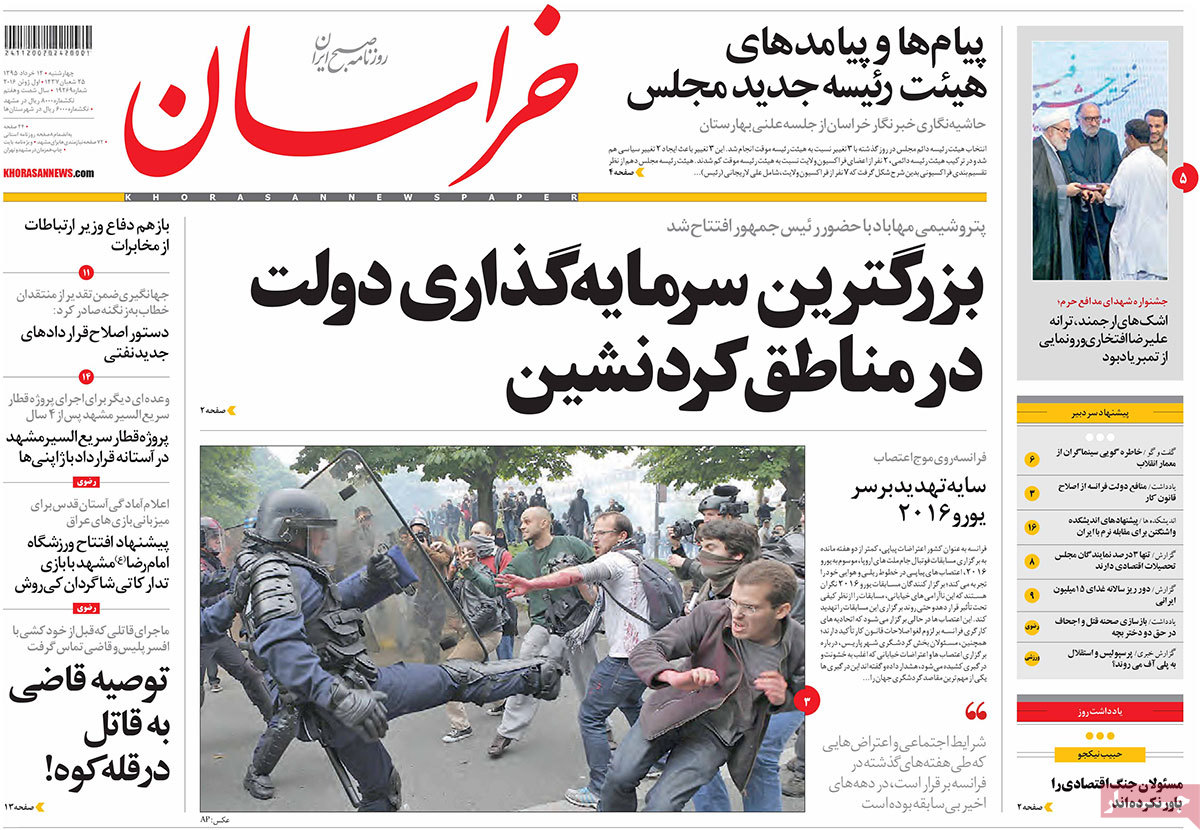 ---
Resalat:
1- Corruption All Across Israel: Zionist Media Admits
2- Increase in Public Mistrust of US Administration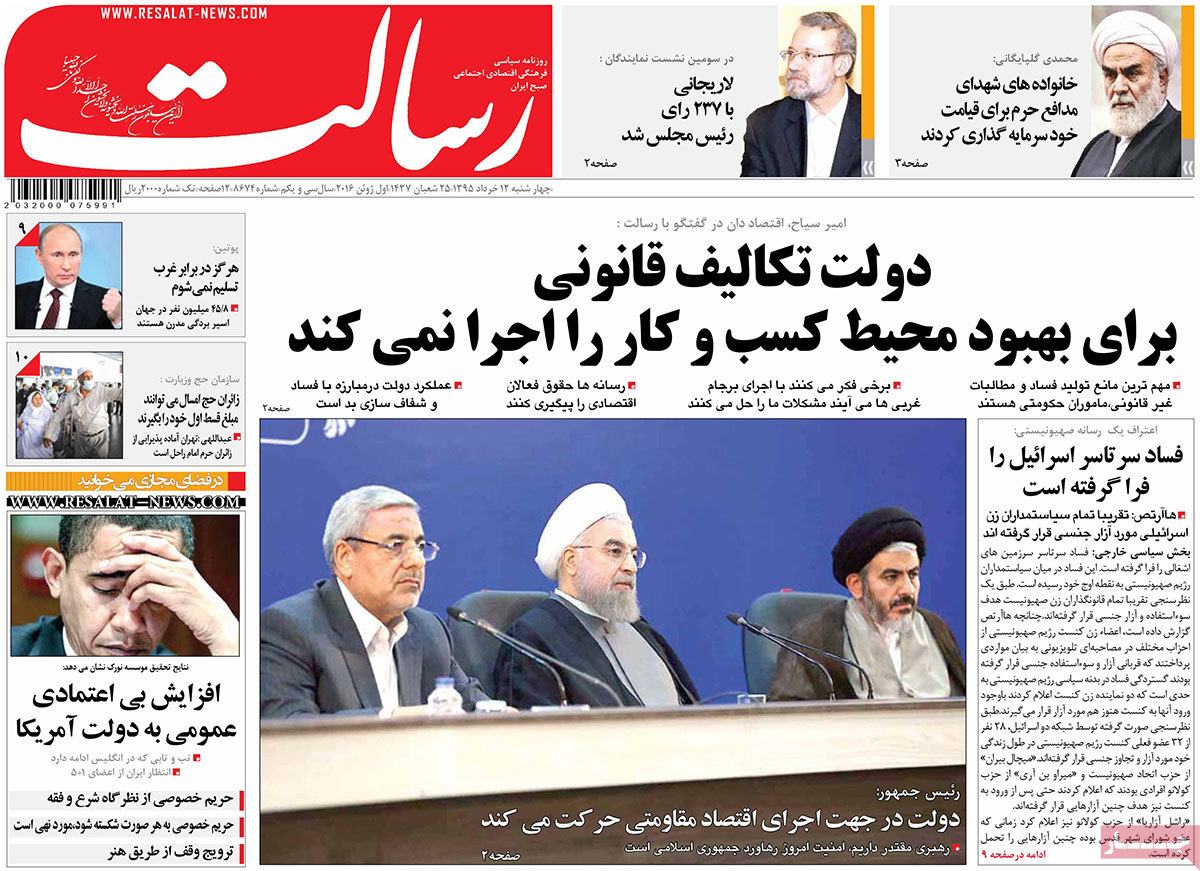 ---
Roozan:
1- "Almost Everything"! Supporter of List of Hope Becomes Speaker; 7 Members of Governing Board Elected from Faction of Hope
2- President Rouhani Denounces Ethnic Discrimination
3- Special Meeting of Iran's Intelligence Minister with President of Kurdistan Region
4- Cultural Excellence Cannot Be Achieved by Force: Hassan Khomeini, Imam's Grandson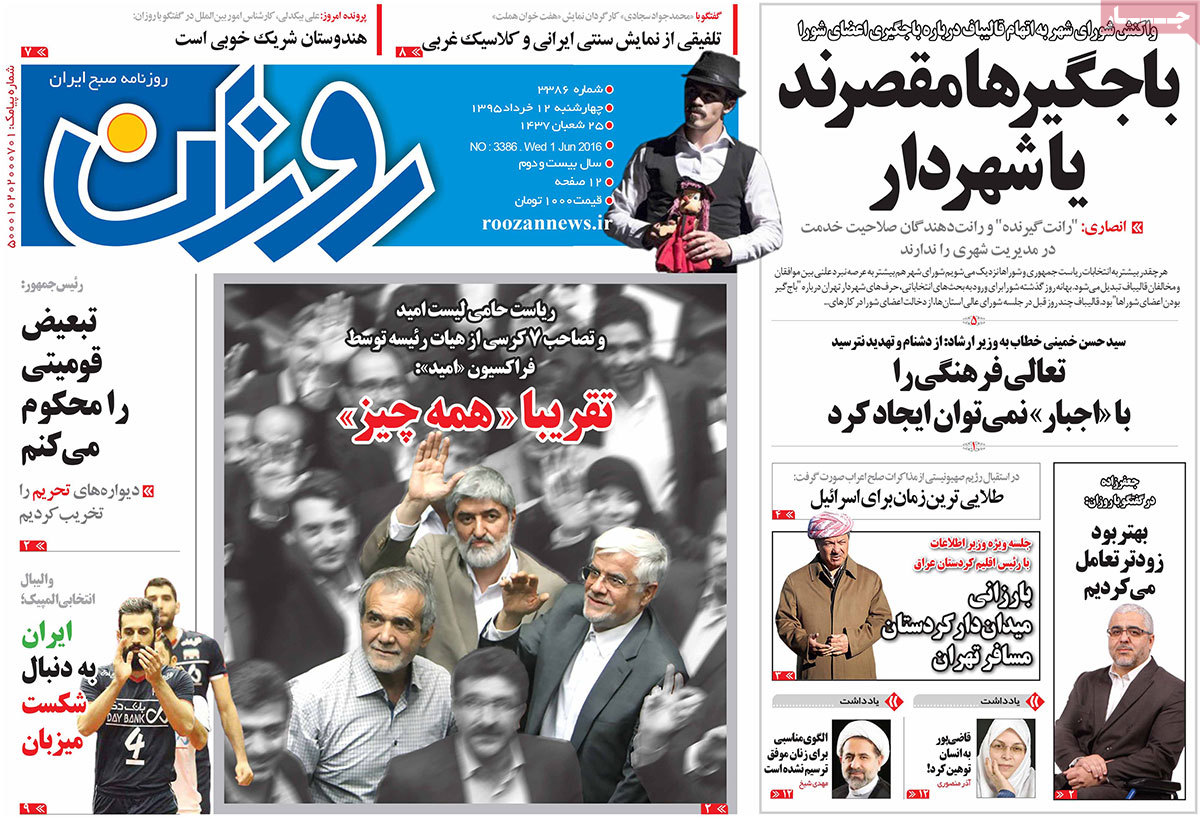 ---
Sayeh:
1- Positive [Trade] Balance Is the Achievement of 11th Government: Rouhani
2- Europe Amazed by Iran's Sustainable Security: Rafsanjani
3- Iran-Finland Parliamentary Friendship Group to Be Formed in Iranian New Parliament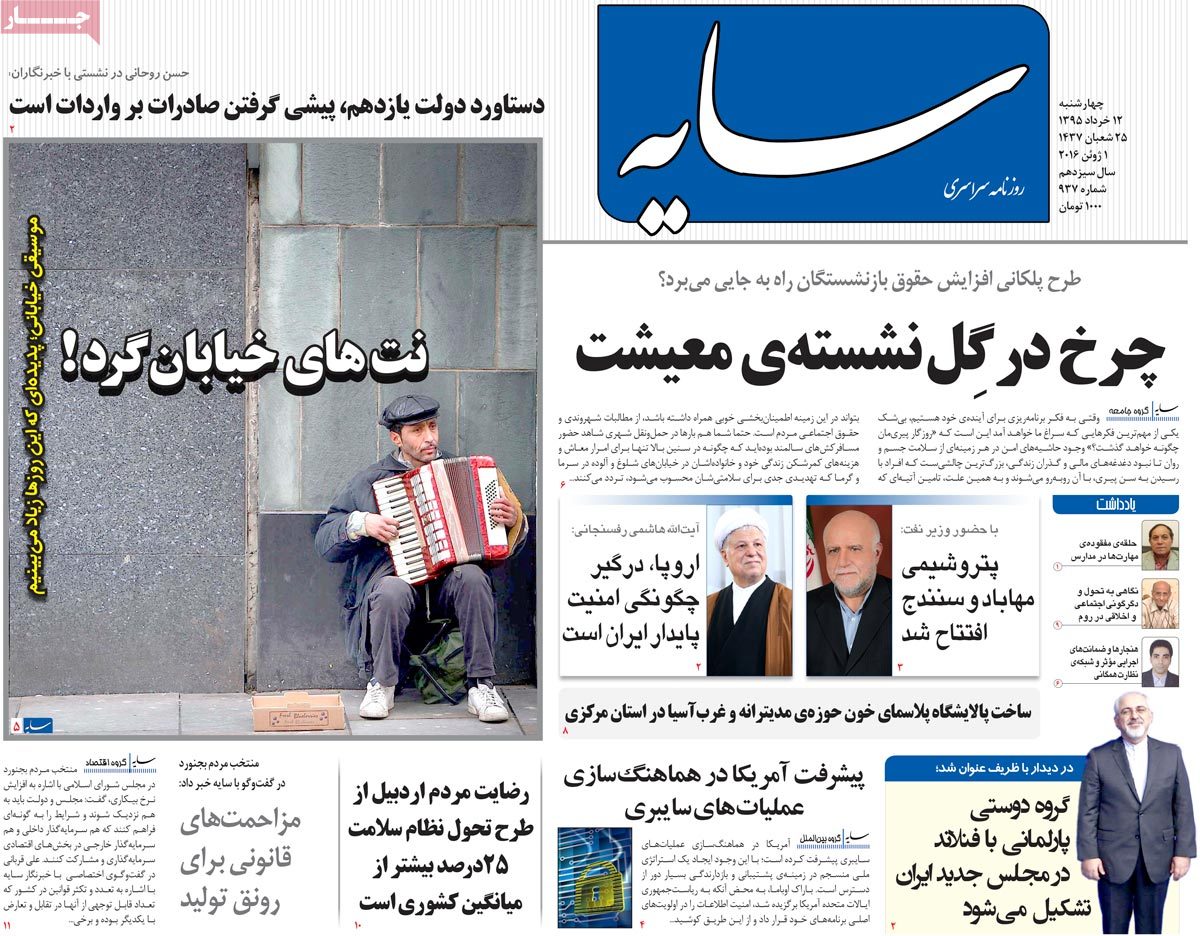 ---
Shahrvand:
1- Middle-Class Not Capable of Saving Money
2- One-Third of Iranian Schools Not Safe Even in Magnitude 5 Quake
3- Larijani Re-Elected, Motahari Elected in Parliament's Governing Board: 7 Members from List of Hope
4- Iran and Turkey to Jointly Register Rumi's Masnavi in UNESCO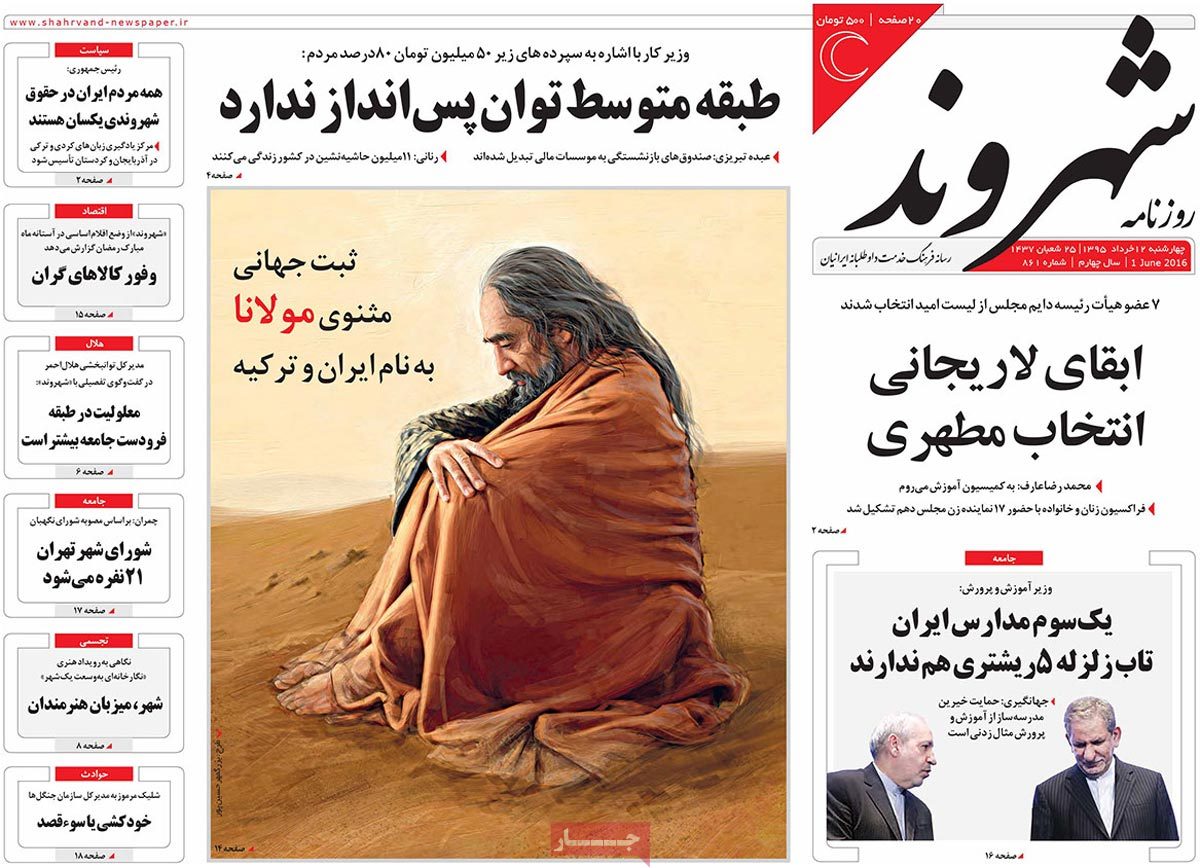 ---
Shargh:
1- Parliament's Governing Board Surrounded by Hope [Reformists and Moderates]
2- Iranians Go to Ballot Boxes Instead of Beheading: Zarif in Iran-Finland Economic Conference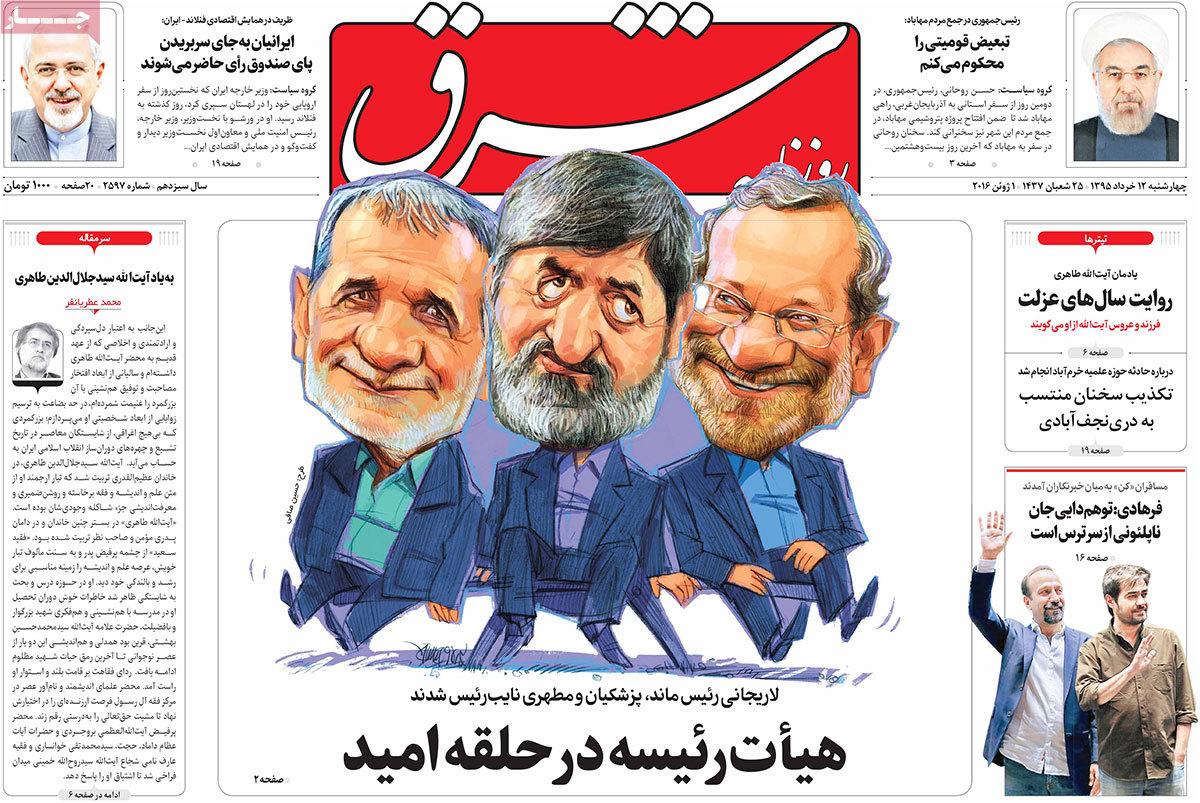 ---
Vaghaye Ettefaghieh:
1- Sometimes Women Beat Up Men: Over 1350 Cases of Domestic Violence against Men in 7 Months
2- Reformists in Parliament's Governing Board after 12 Years
3- Amazon, Google, and Apple All Enemies of Trump
---
Vatan-e Emrooz:
1- They Would Refuse to Pay: Salehi on Cancellation of US Heavy Water Shipment
2- Judiciary Chief Criticizes Gov't for Allocation of Budget $600m Less than What Originally Requested