The top story in all papers today was the Saturday remarks by the Leader of Iran's Islamic Revolution Ayatollah Seyyed Ali Khamenei in a meeting with the Iranian foreign minister and the country's ambassadors.
Also a top story was a vote by the Expediency Council which reaffirmed the religious minorities' right to run for local elections and be elected to city and village councils. The vote allowed Sepanta Niknam, a Zoroastrian politician, to get back to his work in the City Council of Yazd after being suspended by the Guardian Council.
Several papers also covered a terrorist attack by PJAK militants on an Iranian border post in Marivan, western Iran, during which 11 IRGC forces were killed and several others wounded.
The above issues, as well as many more, are highlighted in the following headlines and top stories:
19 Dey:
1- Iran Leader: There's No Point in Holding Talks with US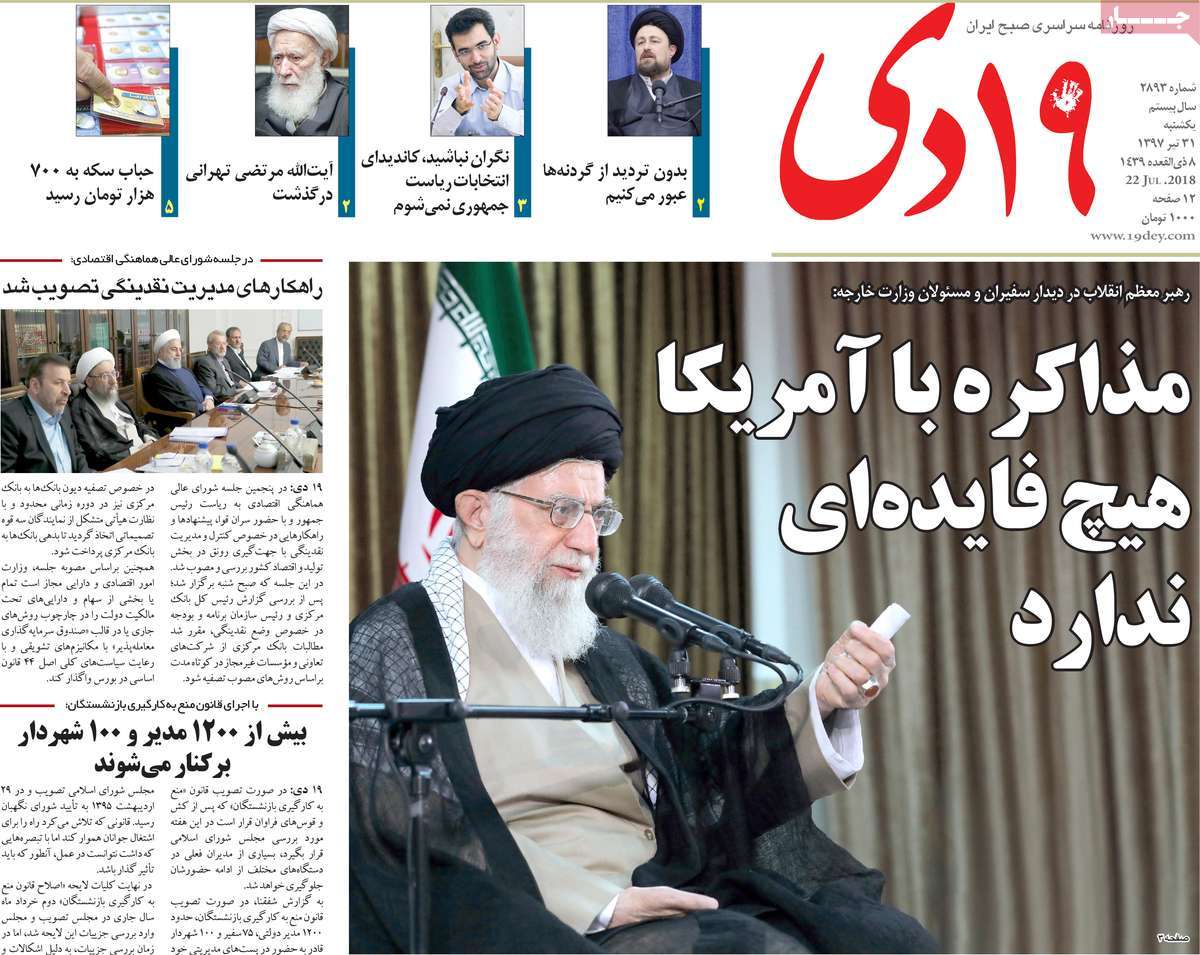 ---
Abrar:
1- FM: Zionists' Iranophobia Project Failed
---
Aftab-e Yazd:
1- We Were All Together Yesterday: Zoroastrian Councillor
Expediency Council's Vote Sends Sepanta Niknam Back to Yazd's City Council
2- Iran Leader: Talks with Europeans Shouldn't Be Halted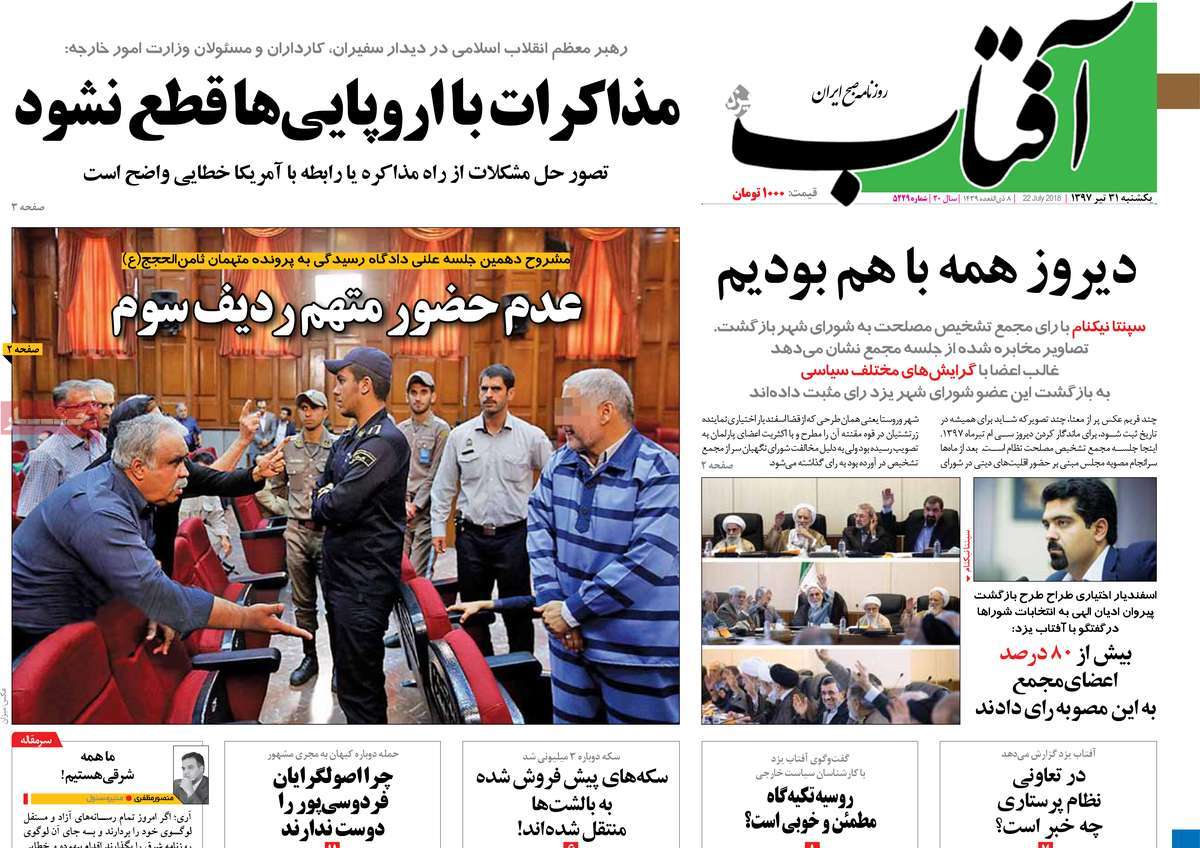 ---
Arman-e Emrooz:
1- Sepanta Niknam Finally Returns to Yazd's City Council
2- Attack on Border Post in Iran's Marivan Leaves 11 Killed
3- Imam Khomeini's Grandson: We'll Undoubtedly Overcome Challenges
---
Donya-ye Eqtesad:
1- Trump Backs Off from His Stances on US Dollar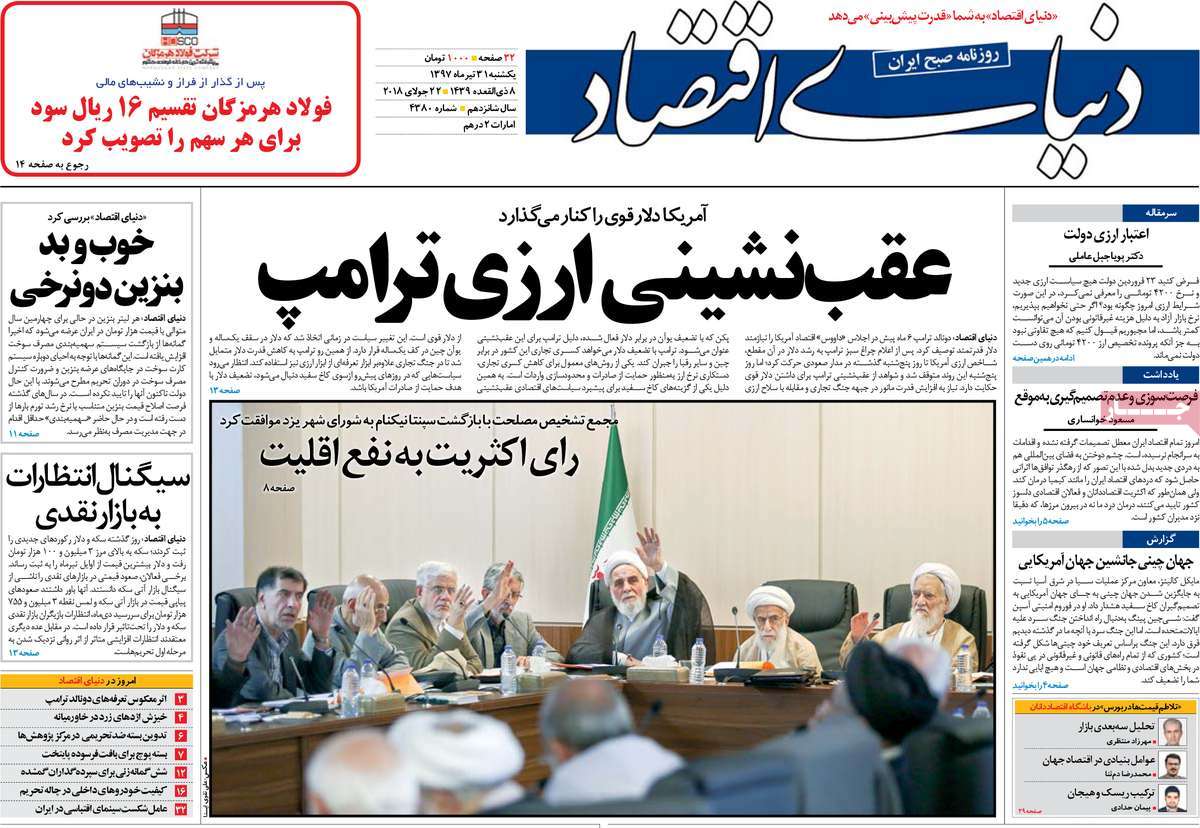 ---
Ebtekar:
1- China Biggest Player of New Cold War: A Review of Xi's Visit to Africa
2- Another Scandal for Trump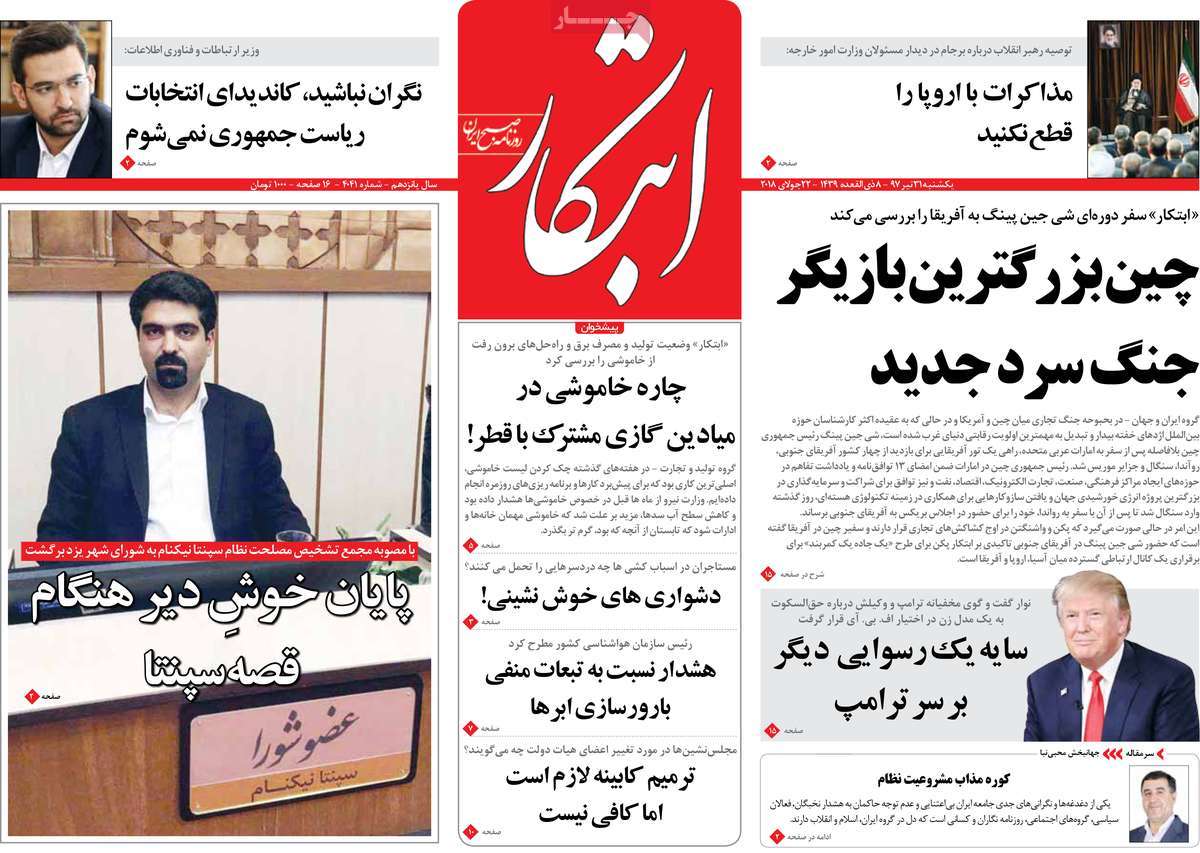 ---
Etemad:
1- Paying Our Debts to Zoroastrian Iranians [Editorial]
2- Reformists' Main Challenge Is Those Who Seek Regime Change in Iran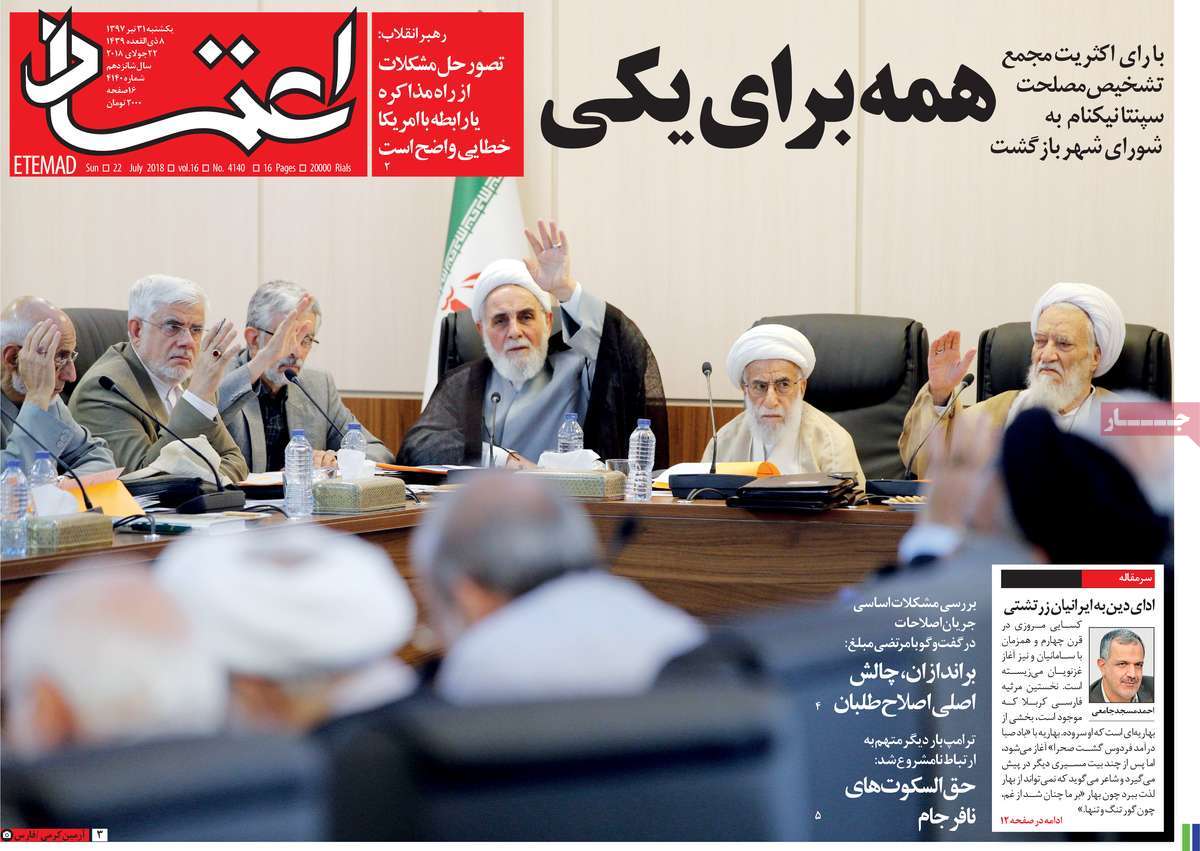 ---
Ettela'at:
1- Israel's Artillery Attack on Resistance Forces' Positions in Gaza Leaves 5 Dead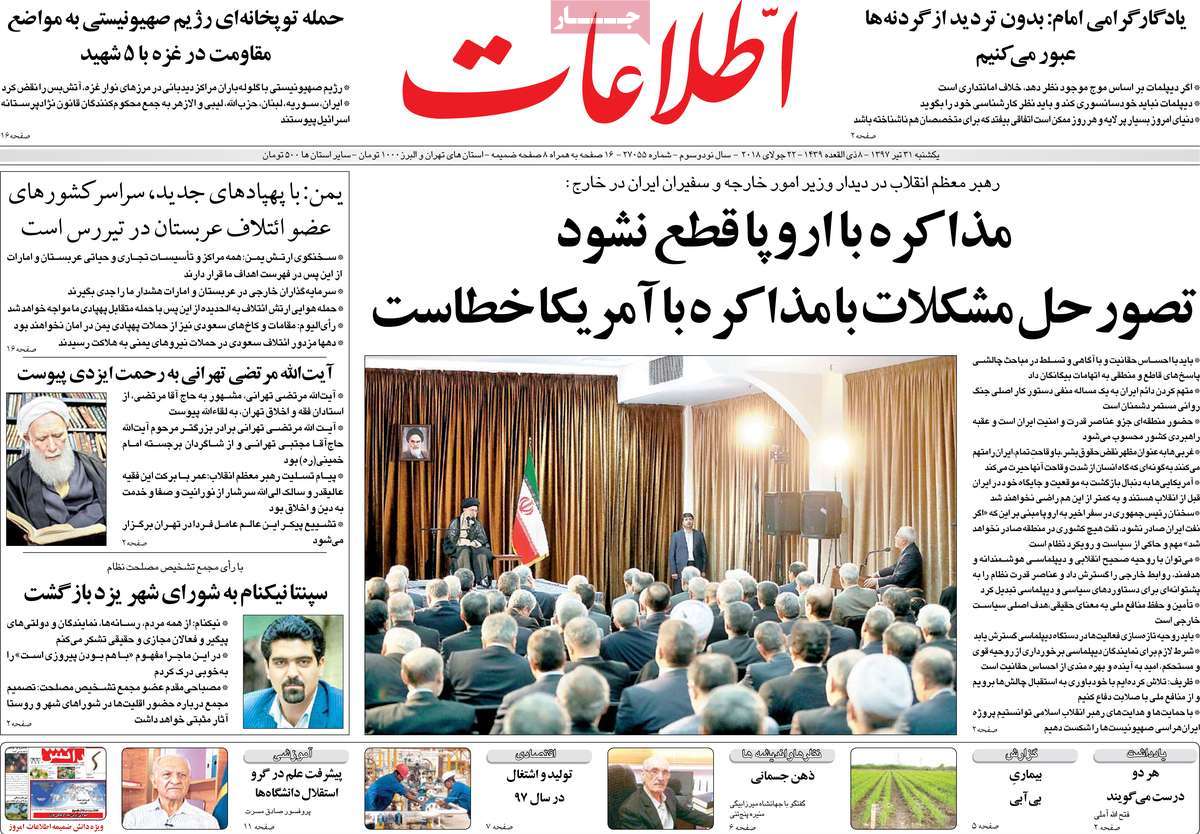 ---
Jame Jam:
1- Iran Leader: Don't Wait for EU's Package
---
Javan:
1- Those Going Abroad for Pleasure Won't Receive Official-Rate Currency Anymore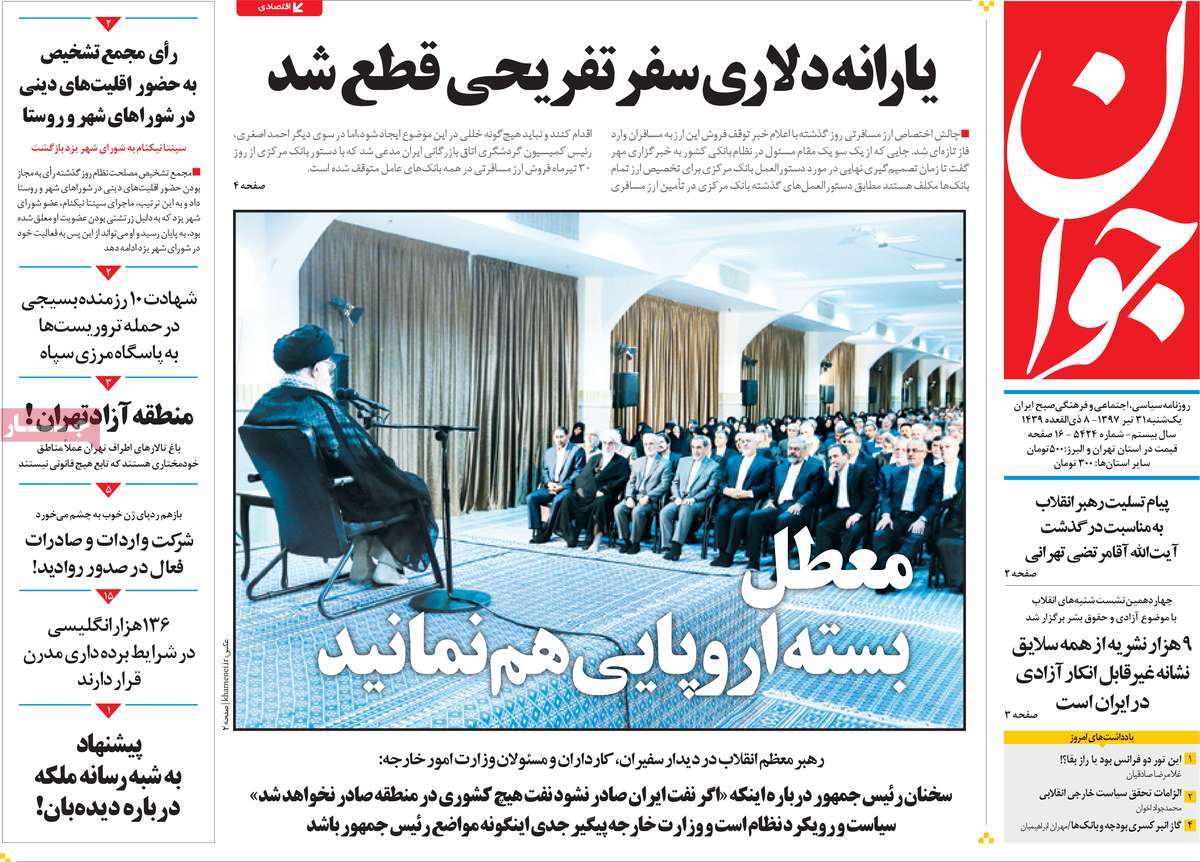 ---
Jomhouri Eslami:
1- Global Opposition to Zionist Regime's Plot to Create "Jewish Nation-State"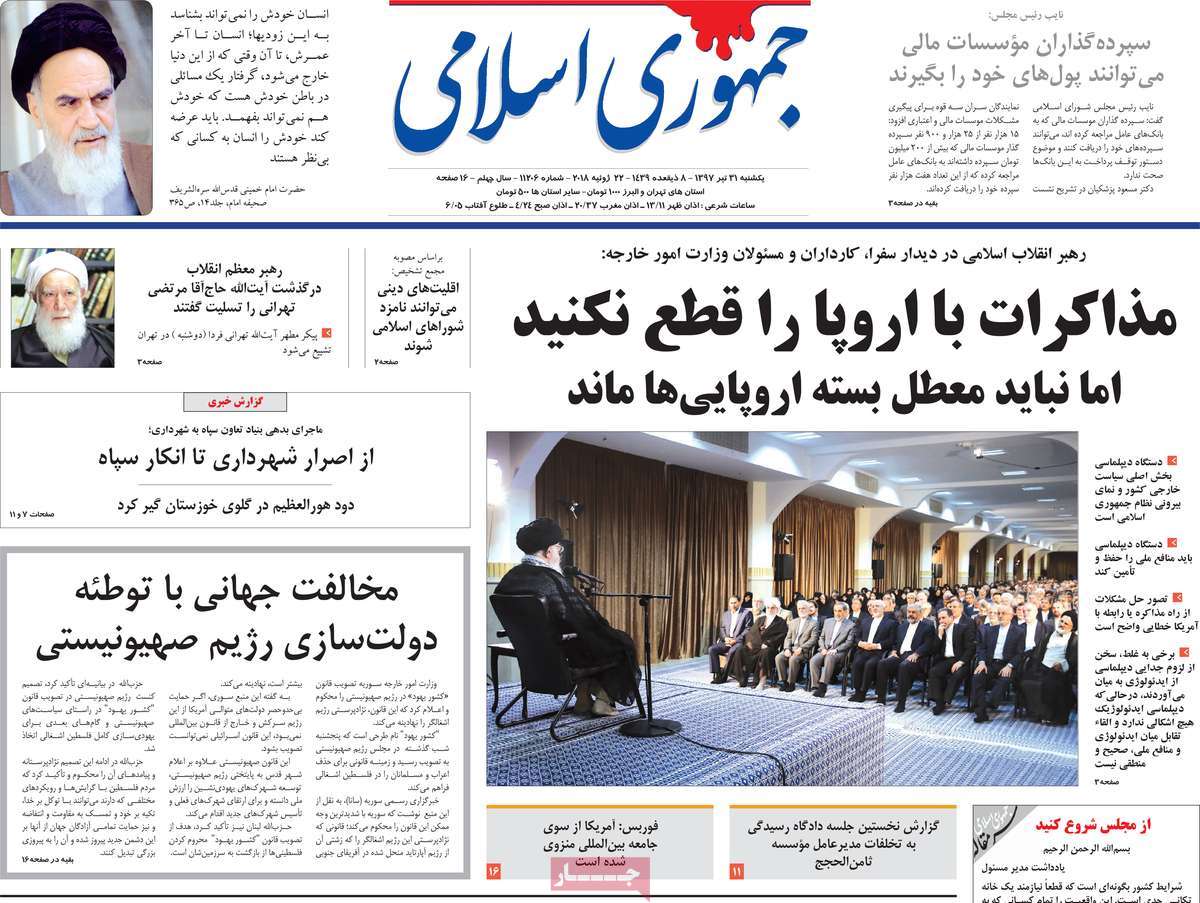 ---
Kayhan:
1- Iran Leader: Rouhani's Oil Threat Based on Policy of Islamic Republic
2- Insane Aerial, Ground Attacks on Gaza Leaves Hundreds of Palestinians Dead, Wounded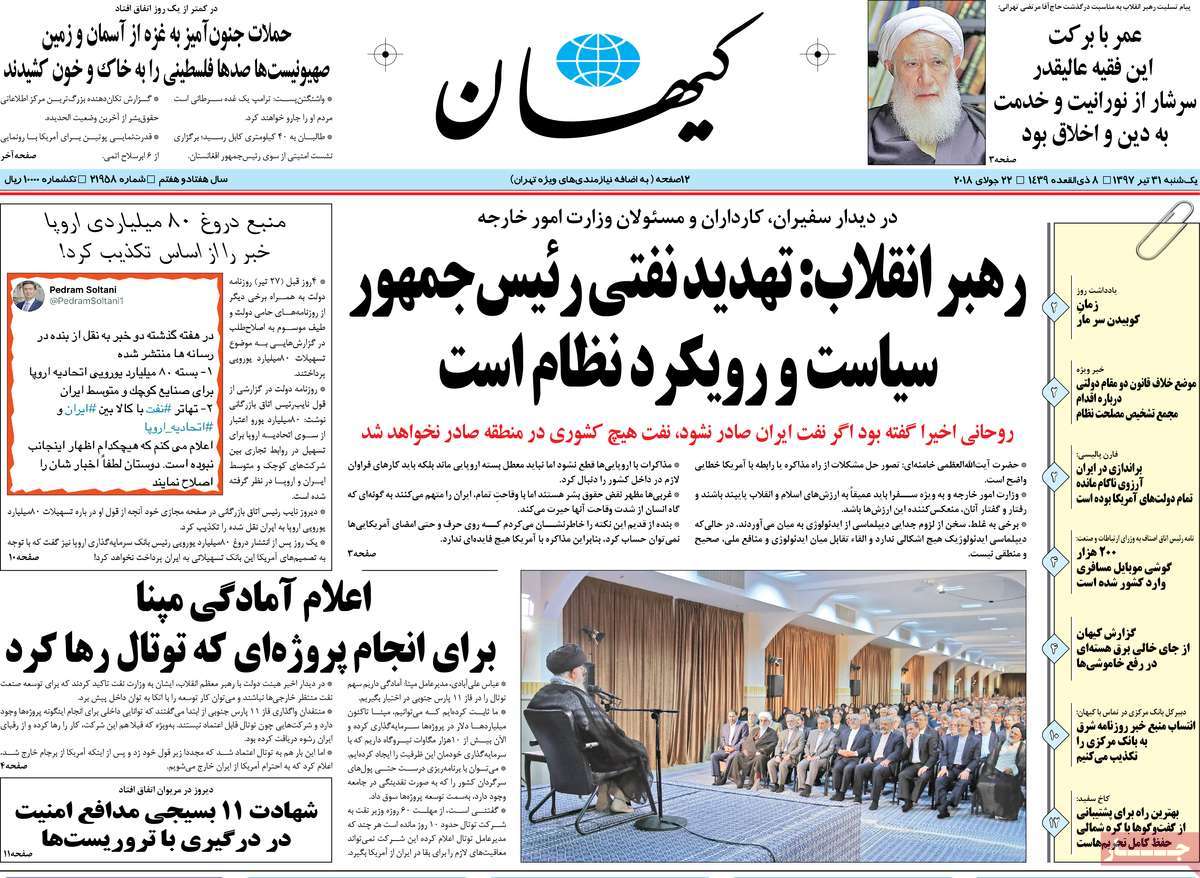 ---
Quds:
1- Iran Leader: Even US' Signature Cannot Be Trusted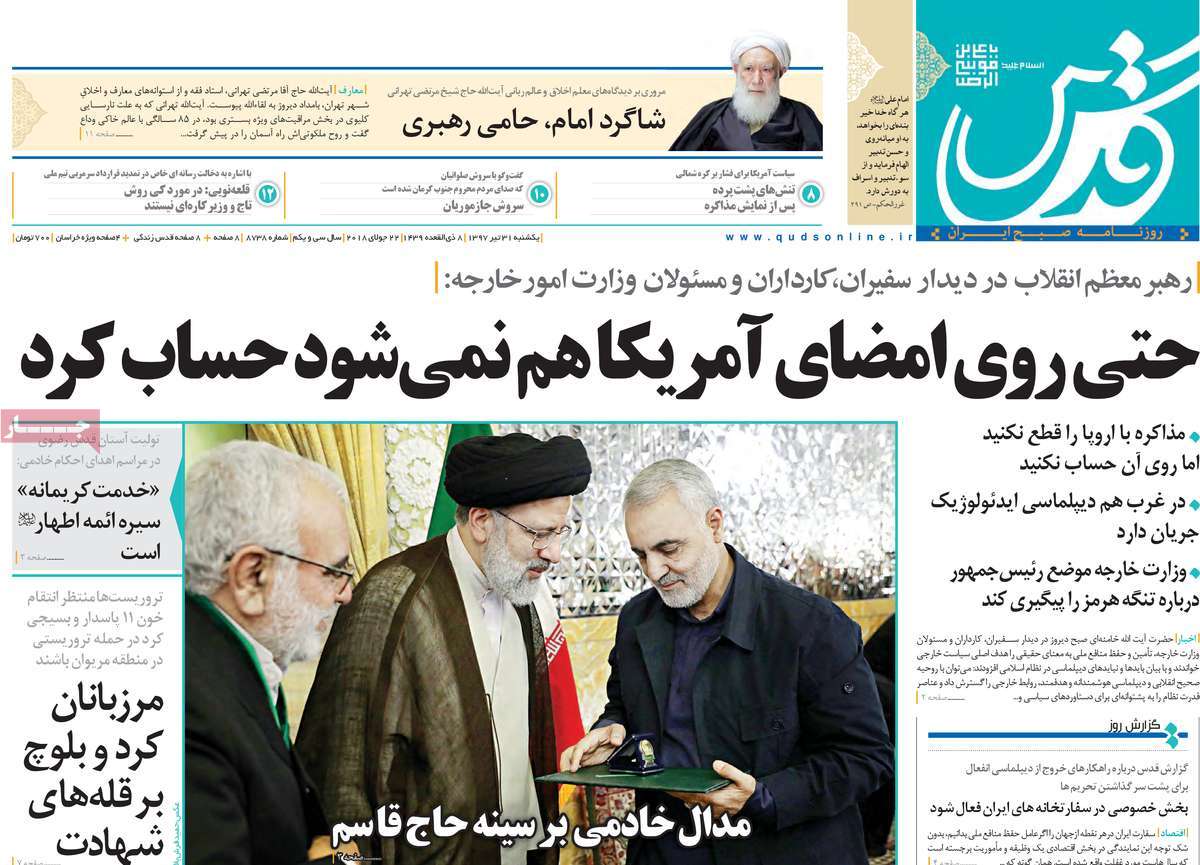 ---
Sazandegi:
1- Iran Leader: Diplomacy Has No Contradiction with Ideology
---
Setareh Sobh:
1- Iran Leader: Main Goal of Diplomacy Is to Protect National Interests
---
Shargh:
1- Turkish Foreign Ministry: We'll Oversee US Sanctions against Iran
2- NIAC: Pompeo Must Apologize