The top story today was the remarks by President Hassan Rouhani's chief of staff Mahmoud Vaezi, who said US President Donald Trump had called his Iranian counterpart for eight times during the latter's visit to New York in 2017, but the Iranian delegation ignored the calls.
The prospect of Tehran's cooperation with the European Union and their efforts to save the Iran nuclear deal also remained a top story. Reformist and pro-government media covered the remarks by an official with Tehran's chamber of commerce on the EU's $80 billion credit for working with Iran, but Kayhan rejected the remarks as a lie, saying that the European Investment Bank (EIB) has clearly announced it will not work with Iran due to its risks.
President Rouhani's decision to reshuffle his cabinet in coming days also received great coverage.
The above issues, as well as many more, are highlighted in the following headlines and top stories:
Abrar:
1- Armed Forces Totally Prepared to Give Crushing Response to Any Ill-Wishing Aggressor: DM
2- ICJ: Iran Has Filed Lawsuit against US over Re-Imposition of Sanctions
3- India Might Be Exempted from US' Iran Sanctions: Indian Paper
4- Europe Shouldn't Just Pay Lip Service: Zarif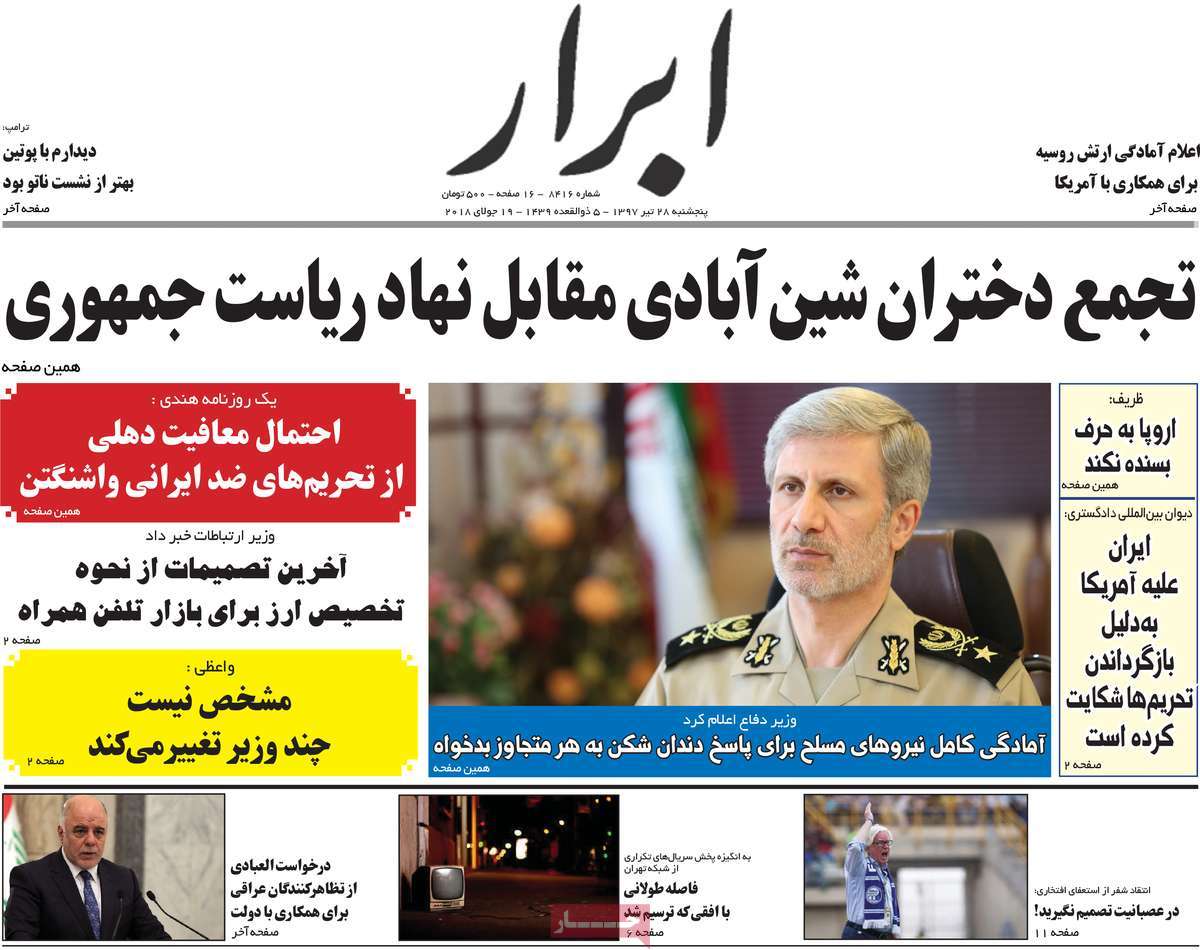 ---
Afkar:
1- Putin Blackmailing Trump: What Secret Does Putin Know?
2- E-Government Best Way to Eradicate Corruption
3- Historic Prosecution of Those Disrupting Gold Coin, Forex Markets
---
Arman-e Emrooz:
1- Talks with US: From Words to Reality
Trump Makes Eight Phone Calls to Meet with Rouhani in New York
2- Trump and Issue of Contacting Iran [Editorial]
3- Prosecutor-General Gives Ultimatum to Chief Banker
Central Bank Must Disclose Names of Those Receiving Official-Rate Currencies in 48 Hours
4- Trump Looking for Iran-US Bilateral Talks without Europe [Editorial]
---
Ebtekar:
1- Two Steps by Europe, One Step by Iran
Iran, Europe's Efforts to Save JCPOA
---
Emtiaz:
1- $80 Billion Credit for Iranian Firms
2- Huge Interest in Summer Vacations
---
Etemad:
1- Judicial Action Not Working on Hijab Issue: Prosecutor General
---
Ettela'at:
1- Iran Ready to Achieve 190,000 SWU Enrichment: AEOI Chief
2- Cabinet to Be Reshuffled
---
Iran:
1- Time for Cabinet Reshuffle
Rouhani Considering New Options for Ministerial Posts
2- Online School for Programming in Mother Tongue
3- Iran and US: Who Would Call First?
Trump Called Rouhani Eight Times during His Visit to New York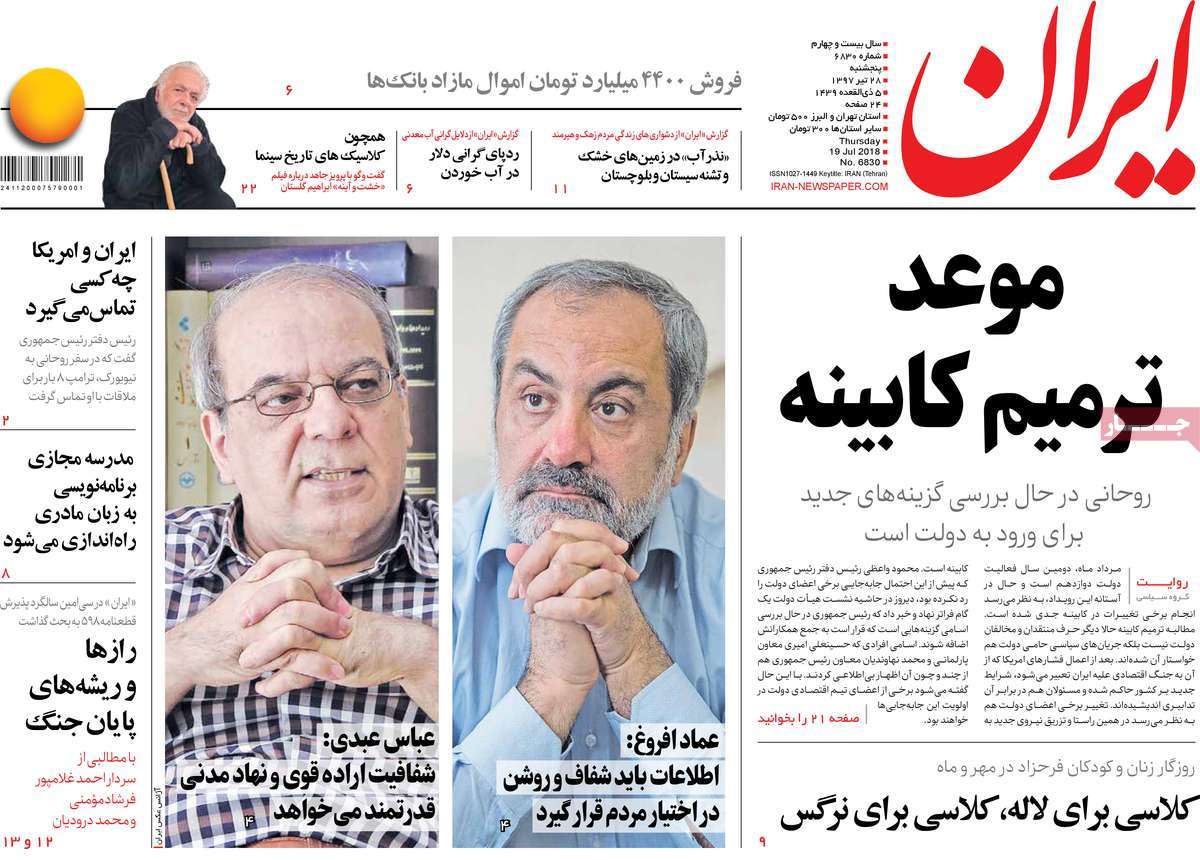 ---
Javan:
1- Gov't to Reinforce Its Members in Economic War: Cabinet Reshuffle in Coming Days
2- Faghani: World Admired Iran
3- Lack of Media Literacy, Achilles' Heel of Celebrities in Cyberspace
4- Trump Accepts Russia Has Interfered in US Elections
Russia Had Intervention, but It Wasn't Effective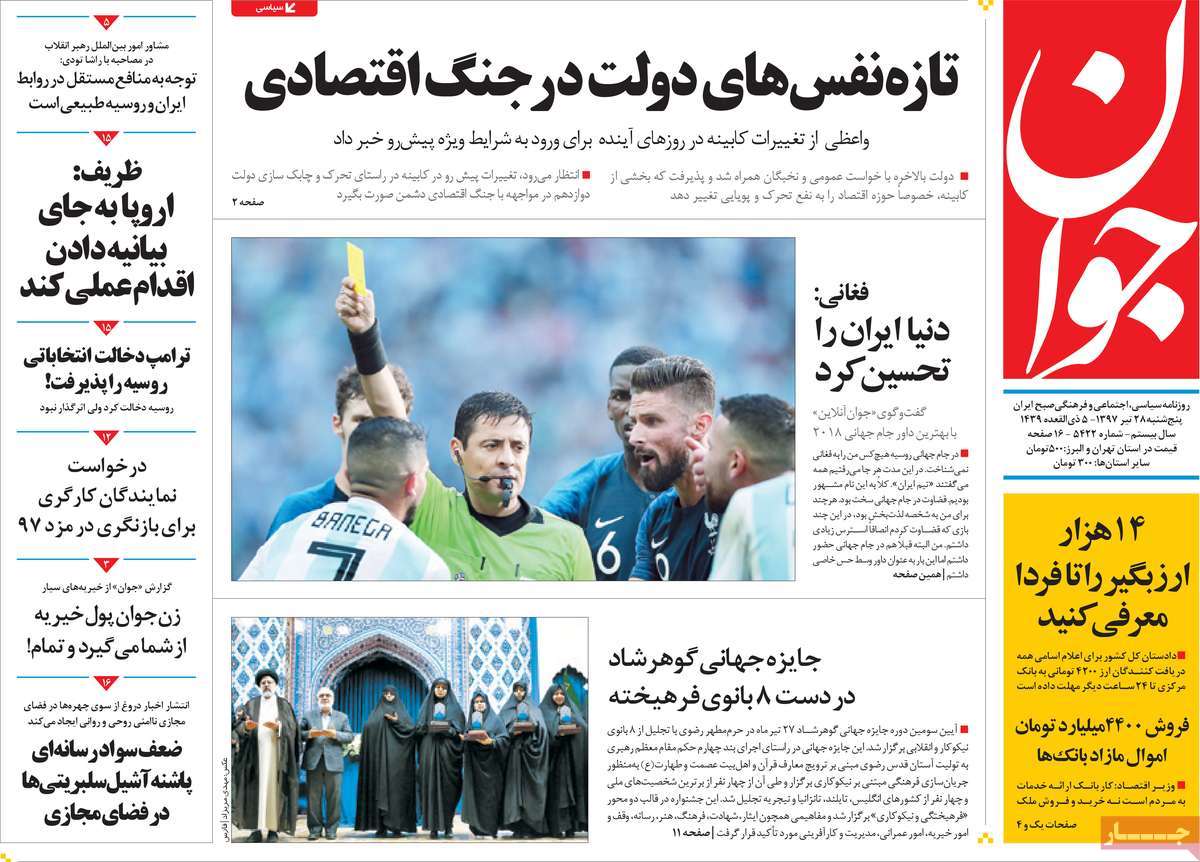 ---
Kayhan:
1- They Lie that Europeans Want to Allocate $80 Billion to Iranian Firms
European Investment Bank: EU Banks Cannot Work with Iran
2- Bodies of 75 Martyrs Repatriated from Iraq to Iran after 3 Decades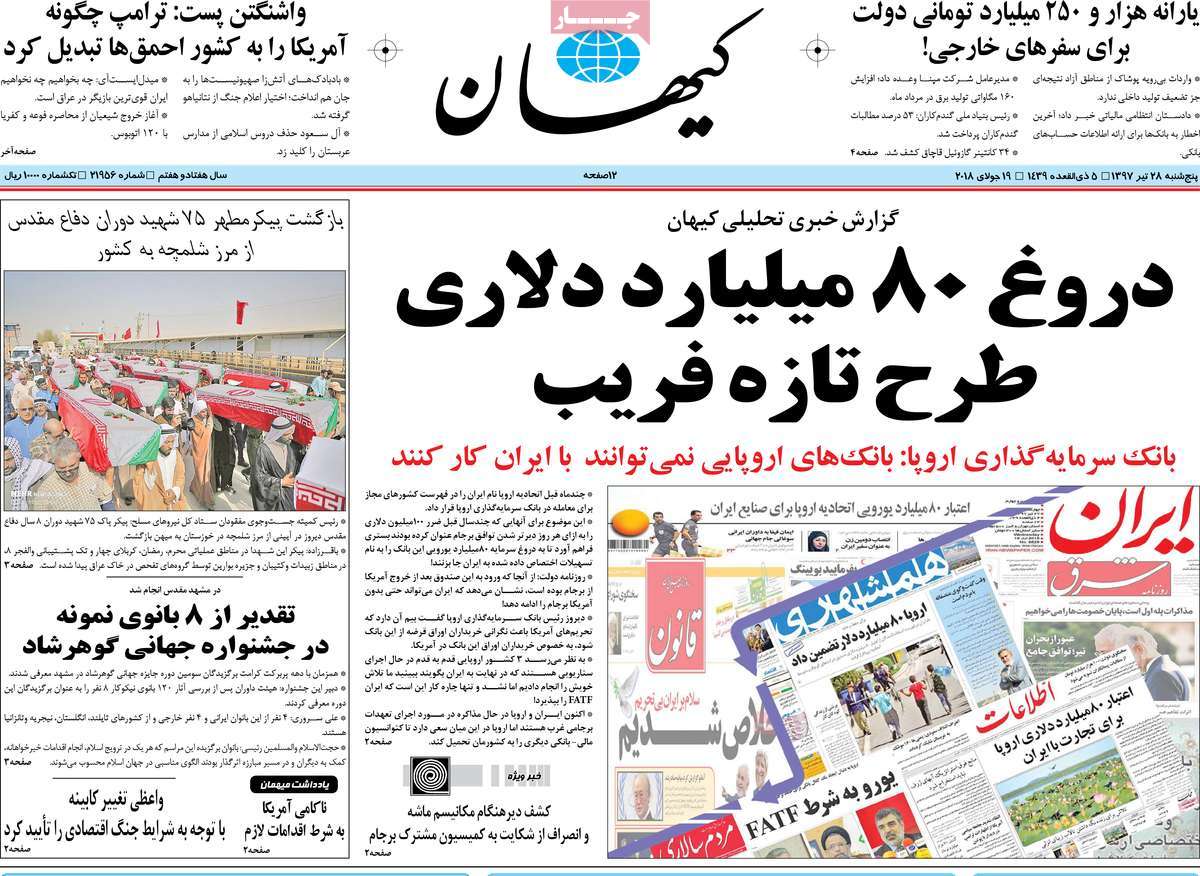 ---
Resalat:
1- Citizens' Rights Violated in Cyberspace
2- Every Single Iranian Has Right to Access Public Information
3- People Are Not Told about Realities of FATF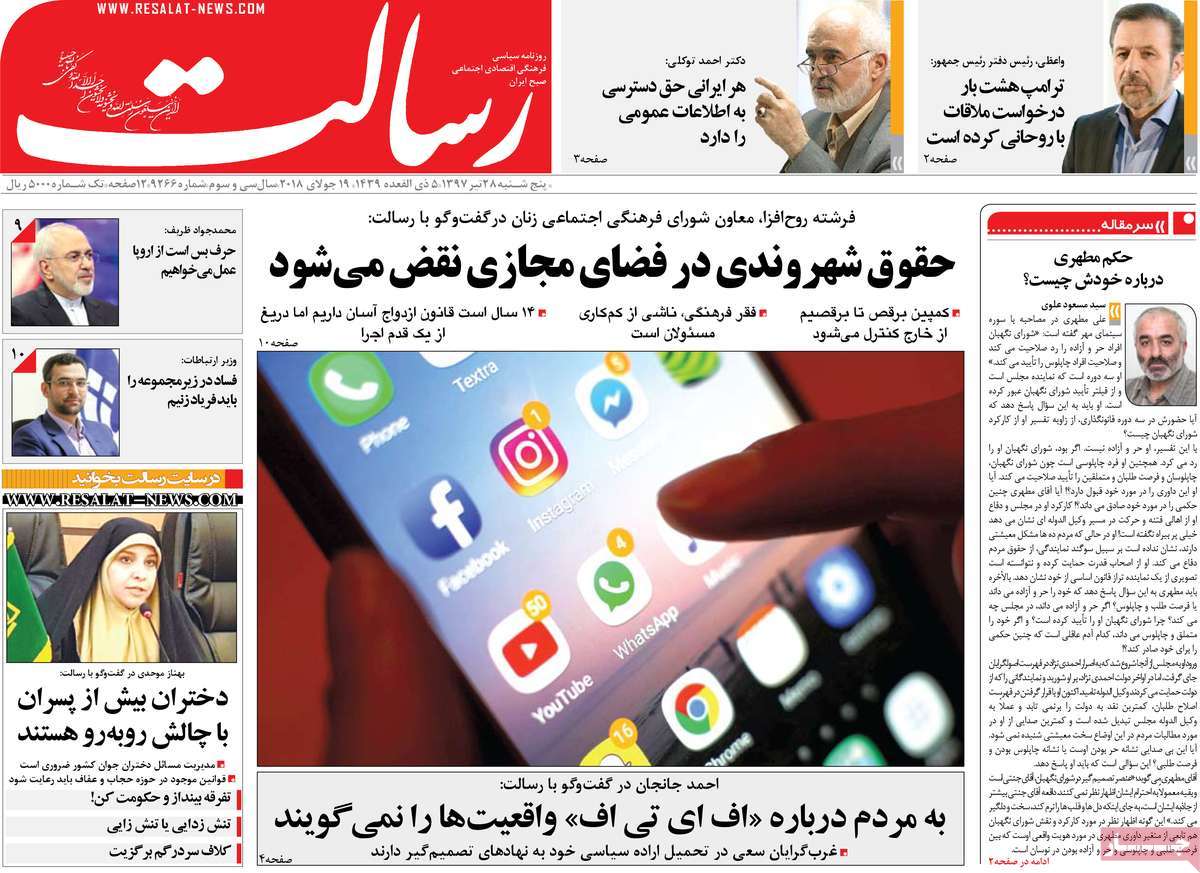 ---
Shargh:
1- Eight Unanswered Calls by Trump for Talking with Rouhani
2- China's Eye on Middle East: Chinese President Visits UAE after 29 Years
3- Velayati: We Have Trust in Moscow