The top story in all papers today was the harsh reactions in the US to a meeting between US President Donald Trump and his Russian counterpart Vladimir Putin in Helsinki. The US Congress and many others in the country are outraged by Trump's stances and talks with Putin.
The cessation of Iran's electricity exports to Iraq over the Arab country's huge debts, and a decision by Iraqi Prime Minister Haider al-Abadi to replace Iran with Saudi Arabia also received great coverage.
Also a top story was the Expediency Council's rejection of a bill passed by the Parliament, which allowed the government to implement the FATF standards.
The above issues, as well as many more, are highlighted in the following headlines and top stories:
19 Dey:
1- Iran's Oil Exports Not to Be Stopped: VP
2- Russia's Position on Iran Nuclear Deal Not Changed
3- Americans Outraged by Trump's Meeting with Putin
4- ISIS Terrorists Arrested in Iran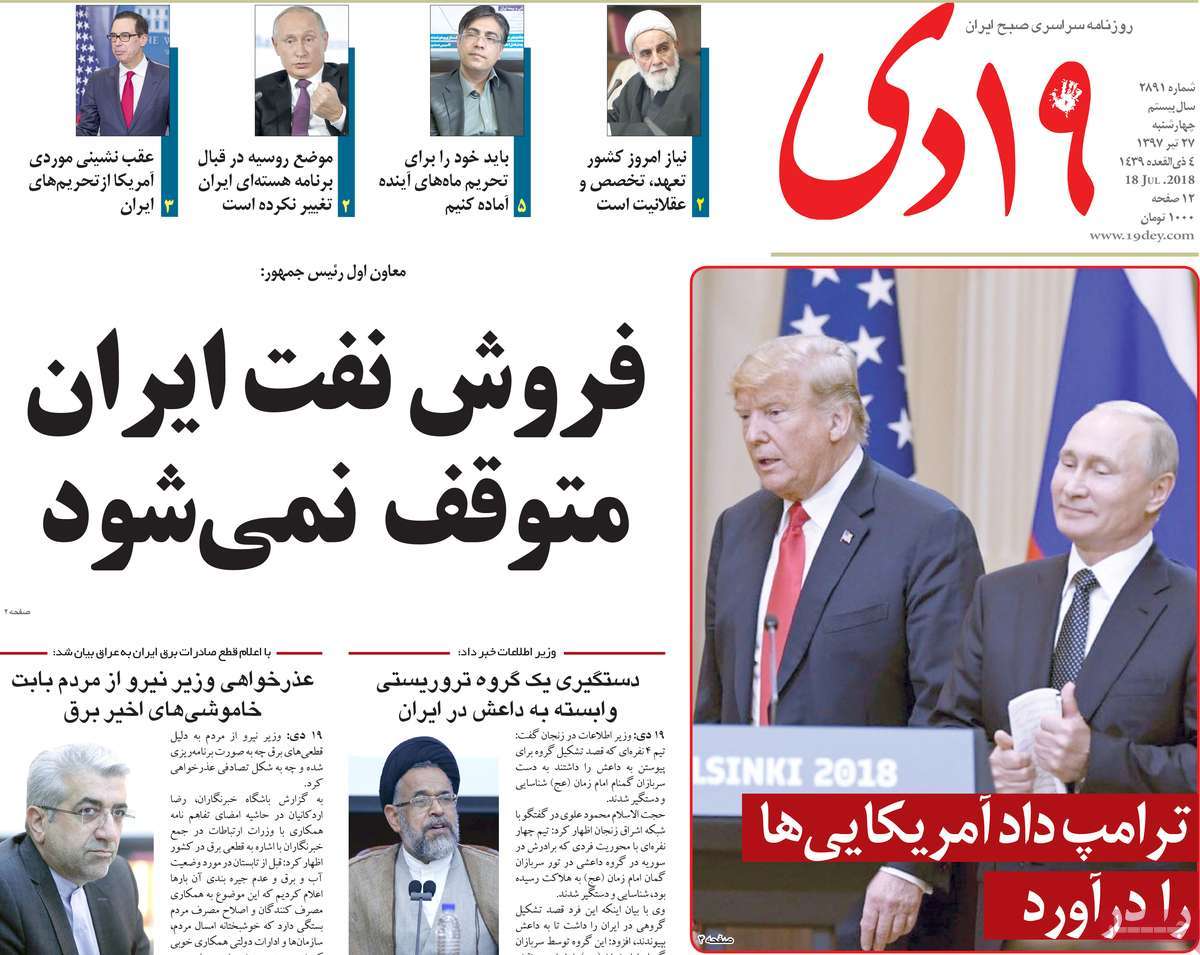 ---
Abrar:
1- Iraq to Use Saudi Arabia's Electricity instead of Importing Iran's Power
2- Trump: Putin Looking for Preserving Iran Nuclear Deal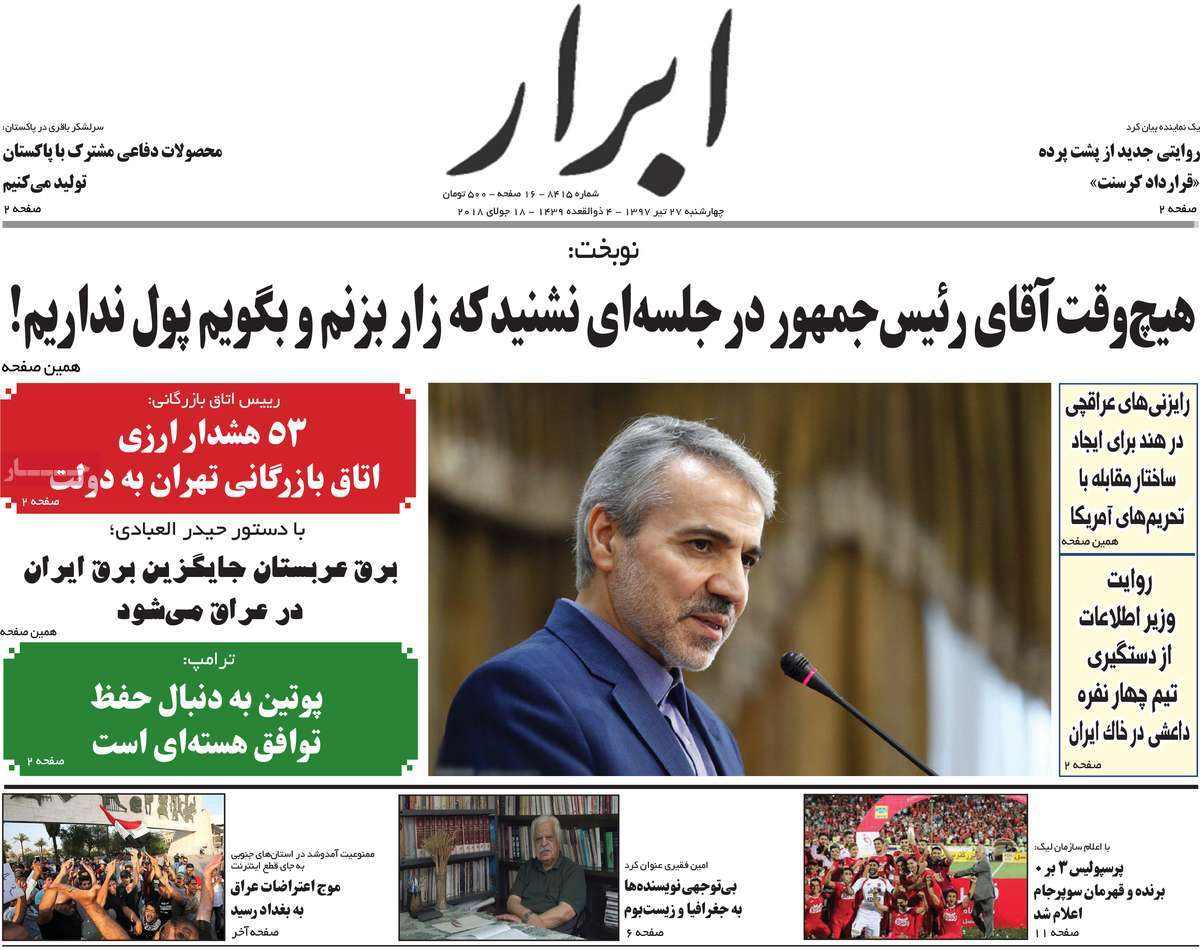 ---
Aftab-e Yazd:
1- Iran Needs to Hold Talks with Anti-Trump Figures in US: Rouhani's Aide
2- Kayhan Criticizes IRIB for Airing Croatian President's Hugs after FIFA World Cup Final
You're Now Free to Even Broadcast American Women's WWE Matches!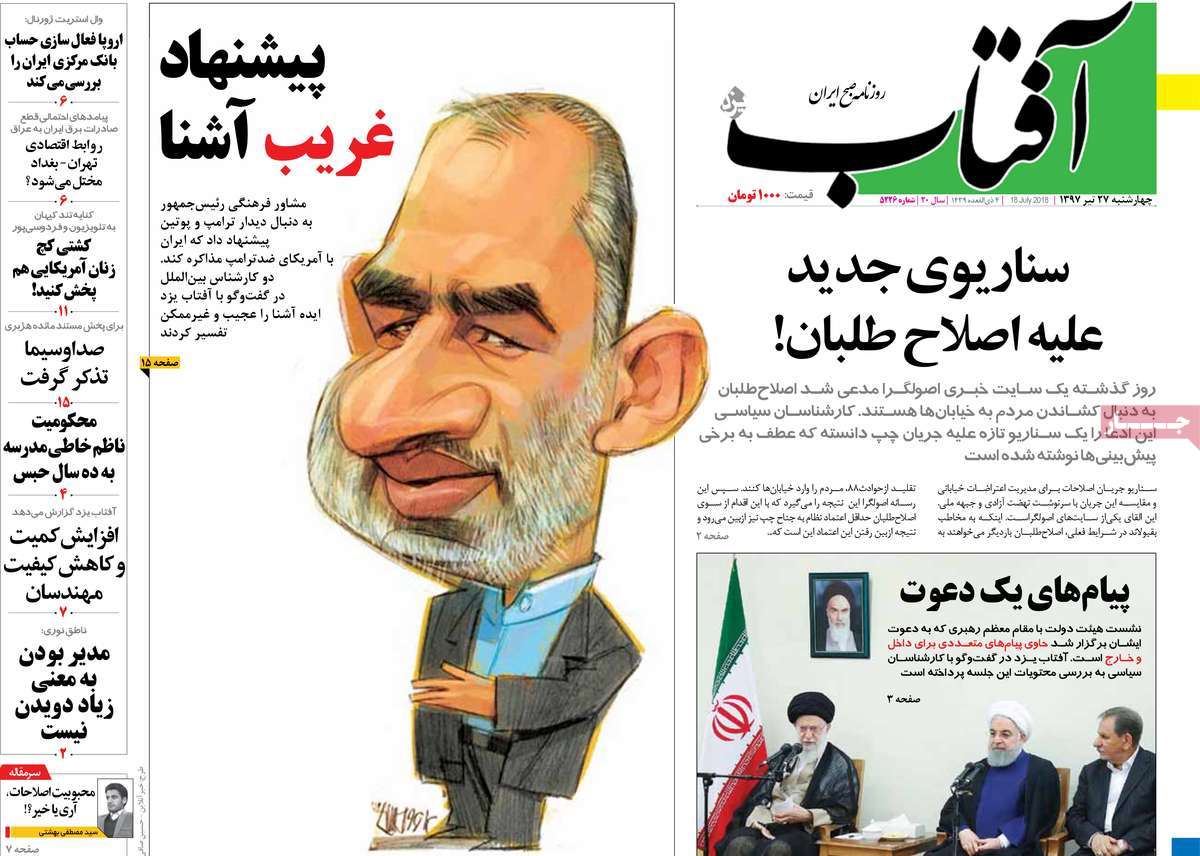 ---
Amin:
1- Mogherini Rejects US' Call for Isolation of Iran
2- Moscow Big Winner of Helsinki Game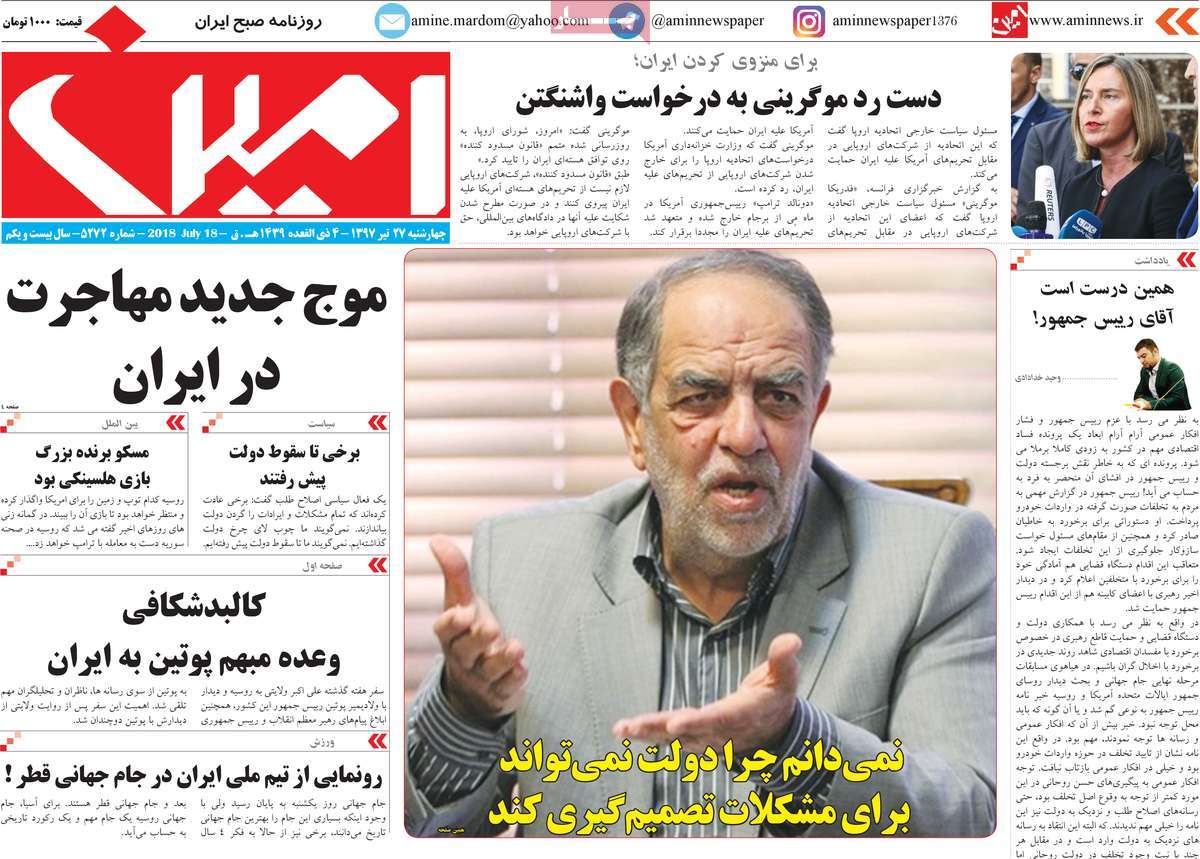 ---
Arman-e Emrooz:
1- Iran's Lawsuit at The Hague to Put Trump in Passive Position
2- Cleric Calls for Giving More Freedom to Foreign Tourists
3- Iran's Electricity Exports to Iraq Stopped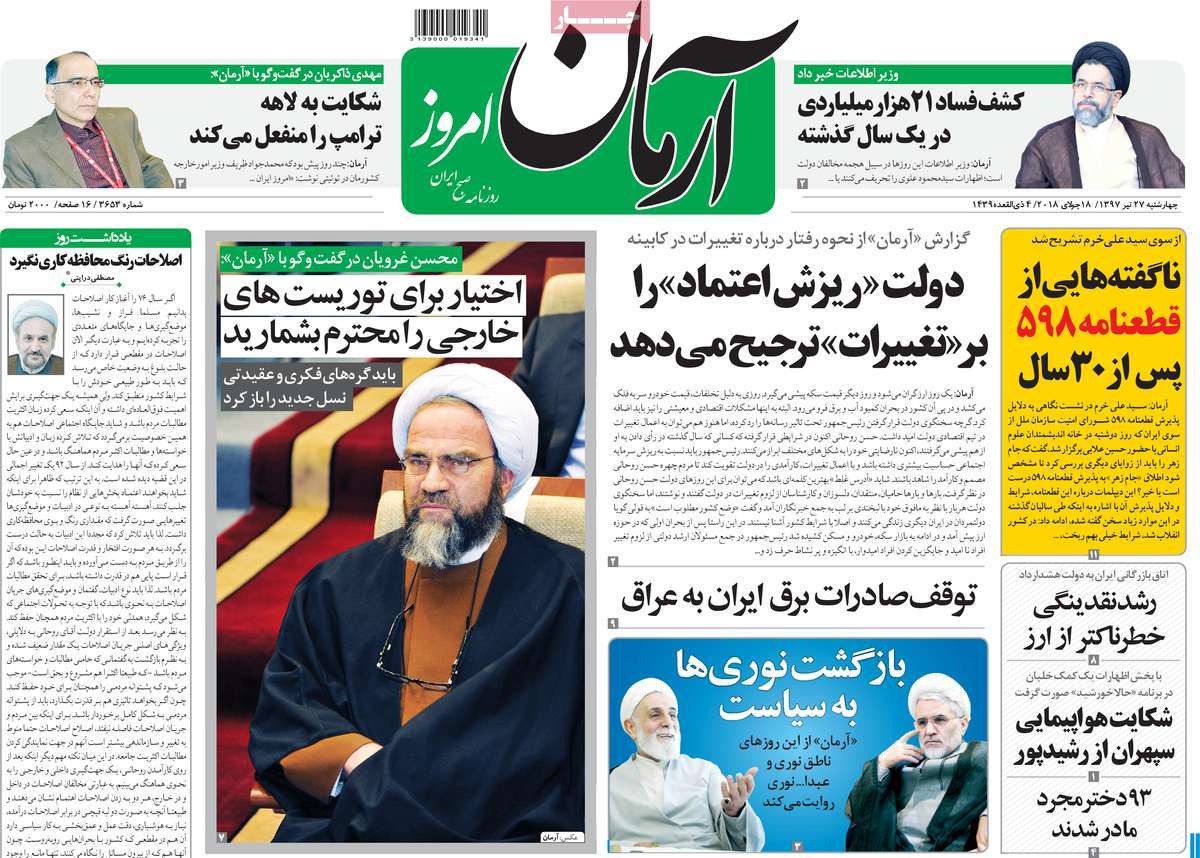 ---
Ebtekar:
1- Putin Once Again Wreaks Havoc on Trump
2- Issue of Women's Presence in Stadiums to Be Raised Soon: VP
3- Taliban's Precondition for Holding Talks with US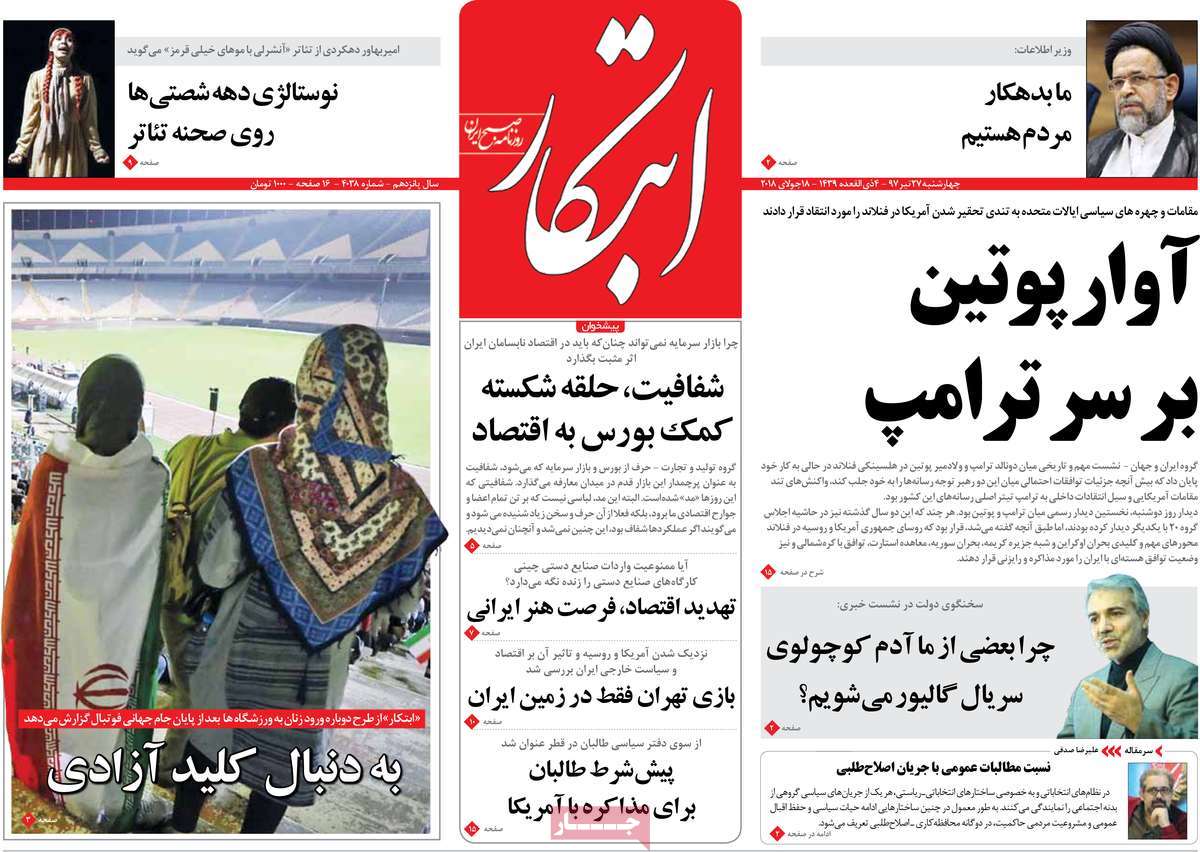 ---
Emrooz:
1- Austrian Ambassador Says Cutting Exports to Iran Will Damage Europe
2- Central Bank Chief Is to Blame for What Happened to Forex Market: Former MP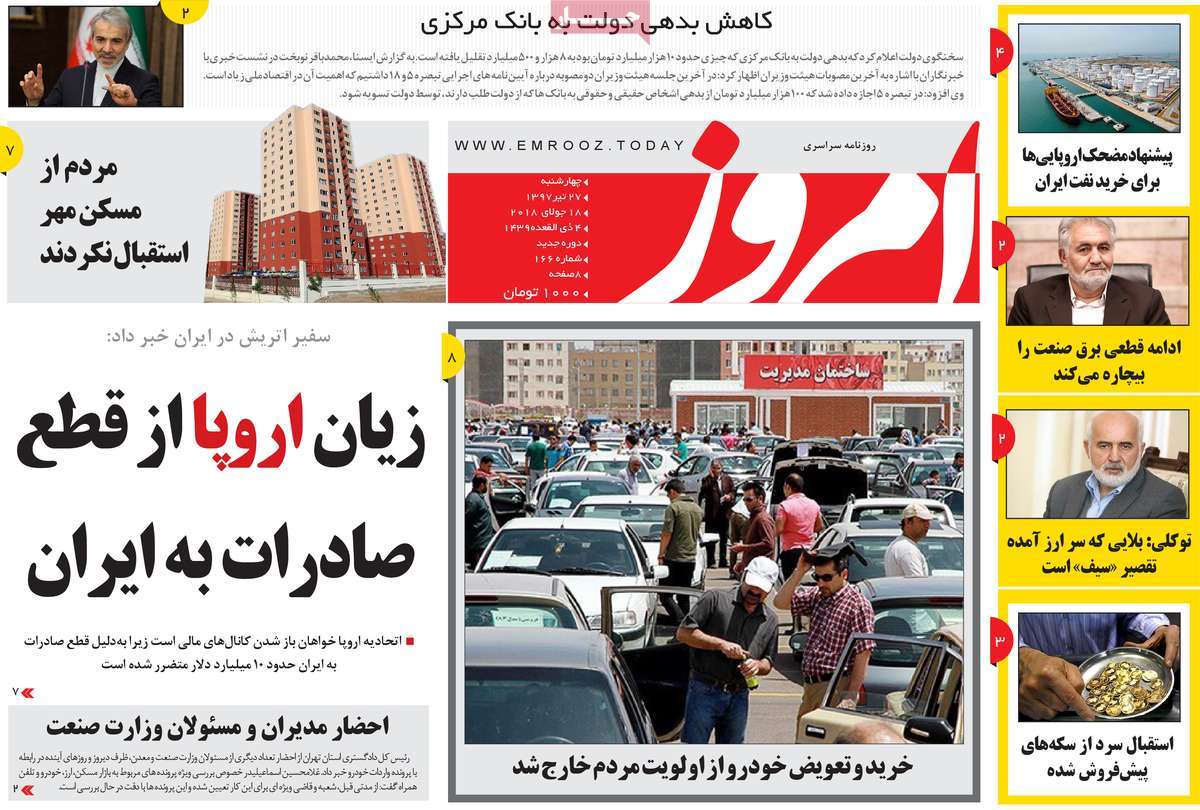 ---
---
Emtiaz:
1- Illicit Drugs Used to Be of 20 Types, Now We Have 700 Types of Them: Interior Minister
2- Iran Ranks among Top 15 Countries in Science Production for First Time in History
---
Ettela'at:
1- Europe Allocates $80 Billion for Doing Business with Iran
2- Saudi Coalition Admits: Yemenis Have Fired 160 Rockets
3- Efforts to Keep Beautiful Anzali Lagoon Alive
4- US' Political Community Strongly Protests Trump's Remarks in Meeting with Putin
---
Haft-e Sobh:
1- Iranian Girl Accidentally Travels to Russia Alone with Her Cheap Car
2- Iran's Expediency Council Totally Opposed to FATF
---
Hemayat:
1- Bill on Iran's Accession to Palermo Convention Rejected
2- Kids Who Got Old: Shocking Report by PBS on Arab Coalition's Genocide in Yemen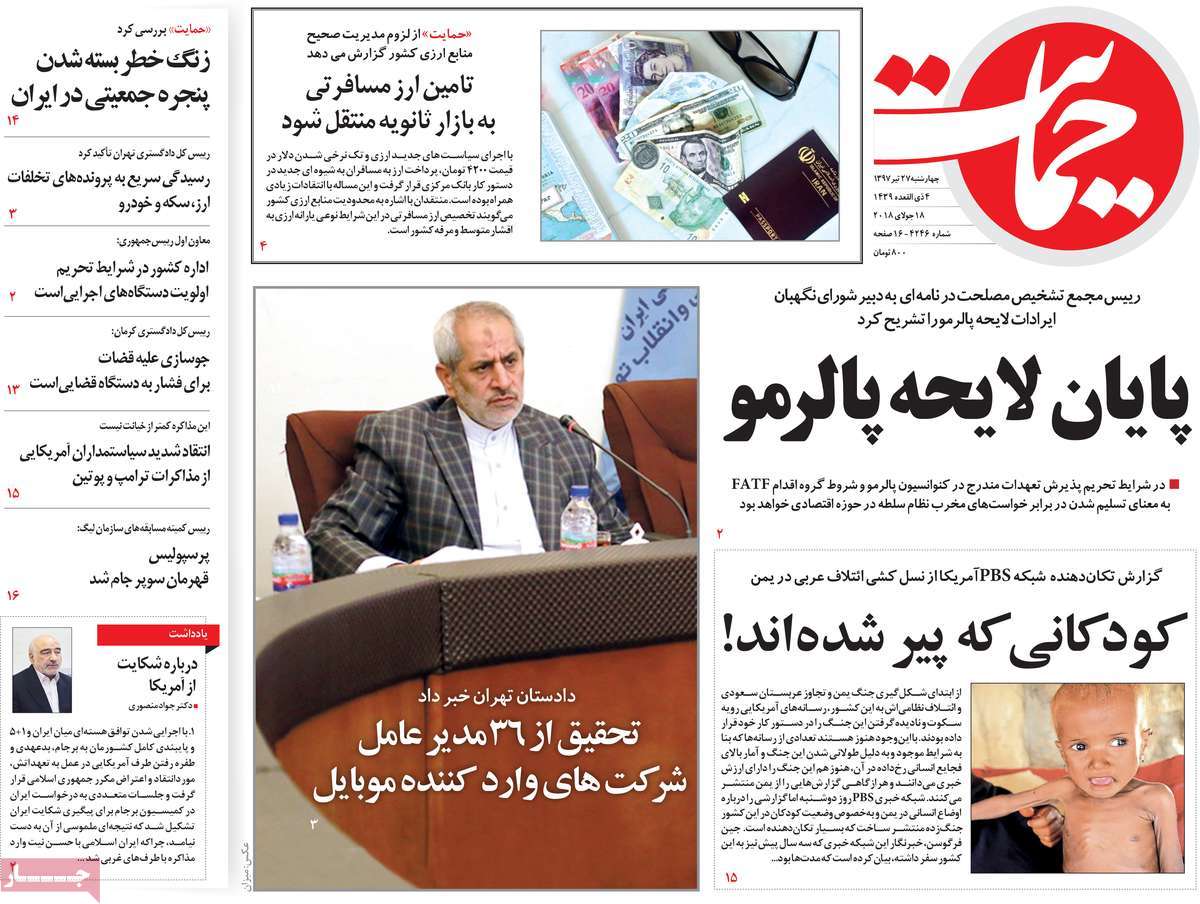 ---
Iran:
1- Draft Bill Prepared for Transparency in Fight against Corruption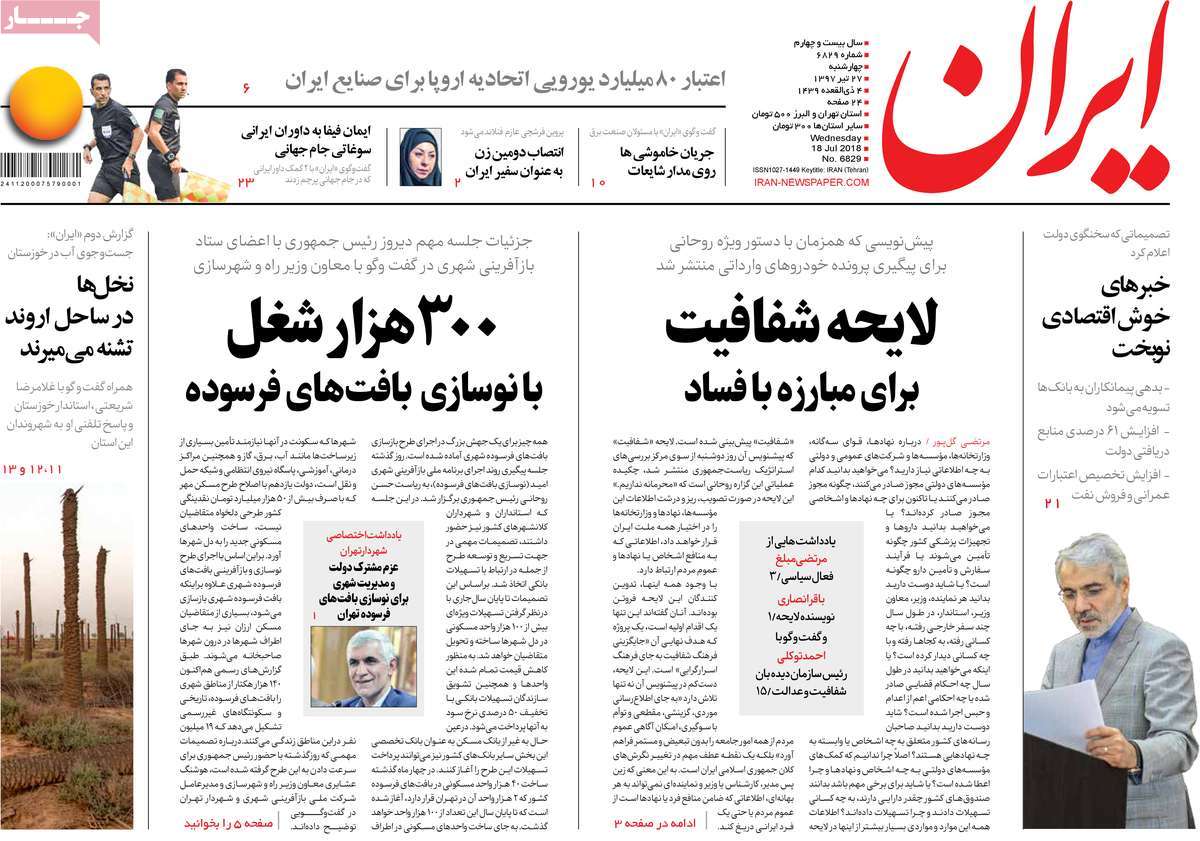 ---
Jame Jam:
1- Why Doesn't Iran File Lawsuit against Total?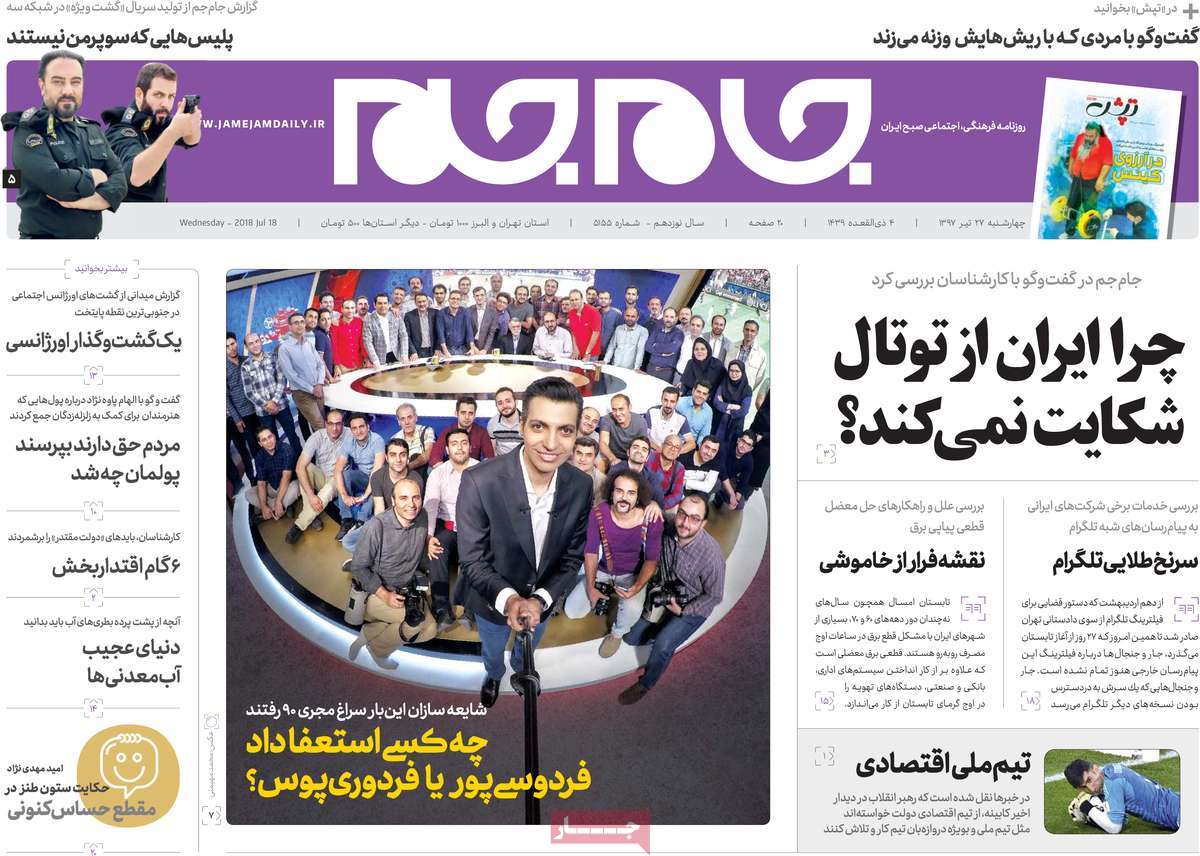 ---
Javan:
1- Government Must Stop Giving Official-Rate Currencies to Those Going Abroad for Pleasure
2- US Has Killed Thousands of Civilians in Syria: Amnesty International
3- Trump-Putin Meeting Did Not Change Syria Equation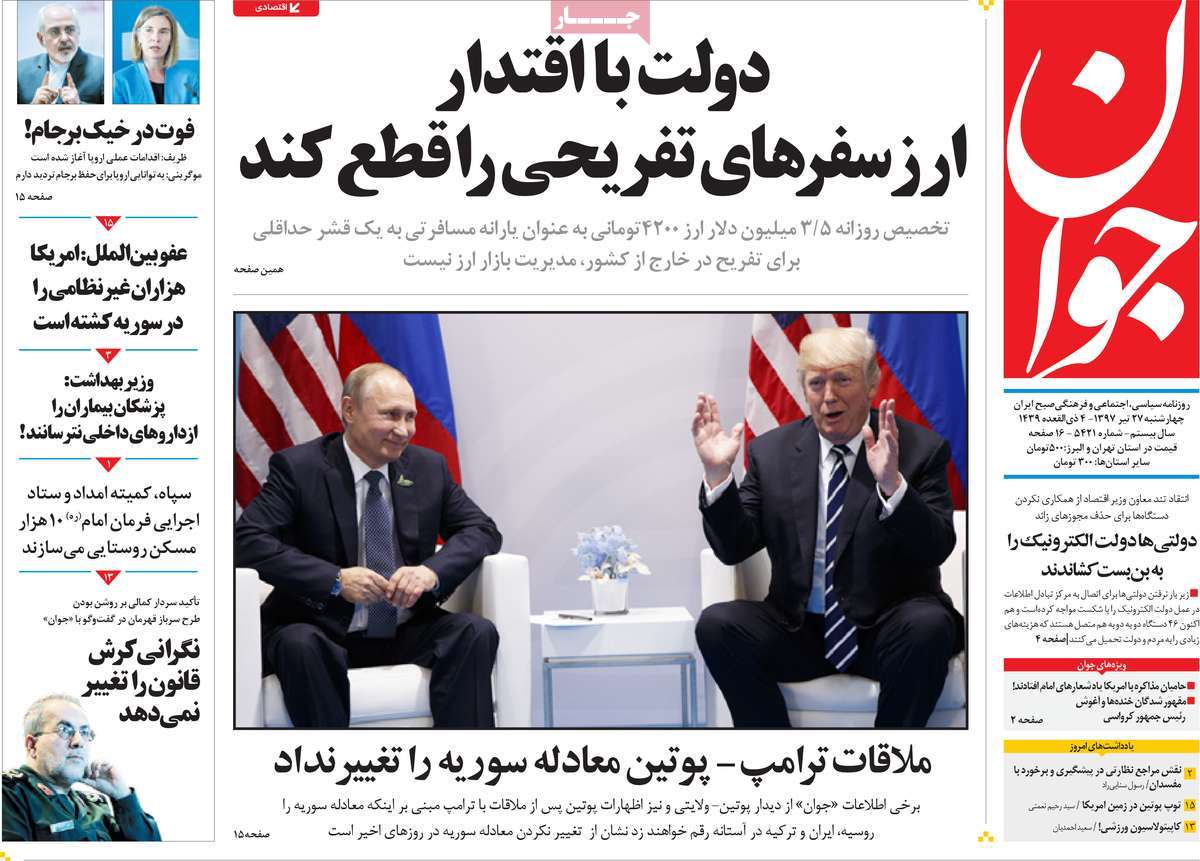 ---
Jomhour:
1- Desperate Effort: How Much Europeans Will Succeed in Keeping JCPOA Alive?
---
Jomhouri Eslami:
1- FM Zarif Says World Resolved to Help Iran Maintain Its Active Role at Int'l Level
2- Trump's Own Goal in Helsinki Leads to US' Defeat against Russia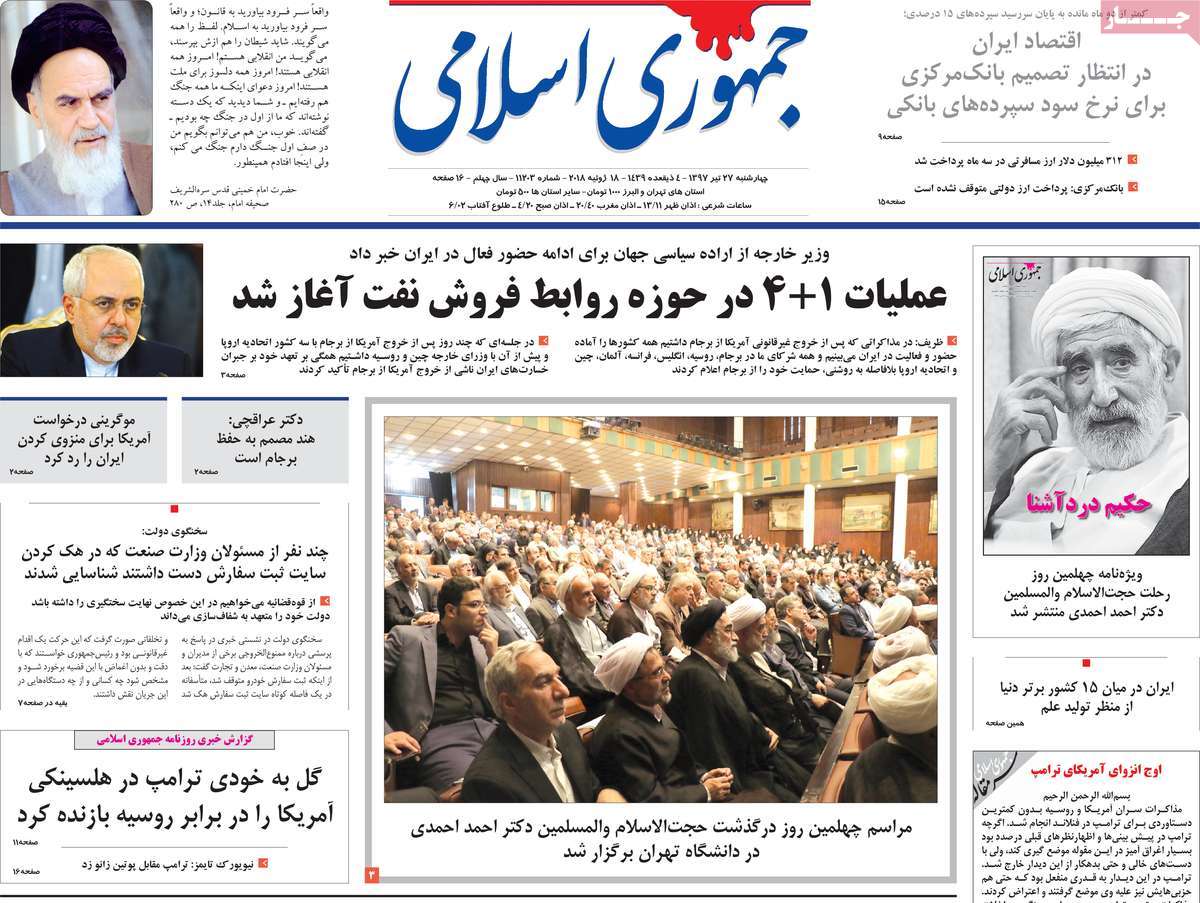 ---
Kayhan:
1- Government Expected to Change Its Behaviour, Reshuffle Cabinet to Resolve Issues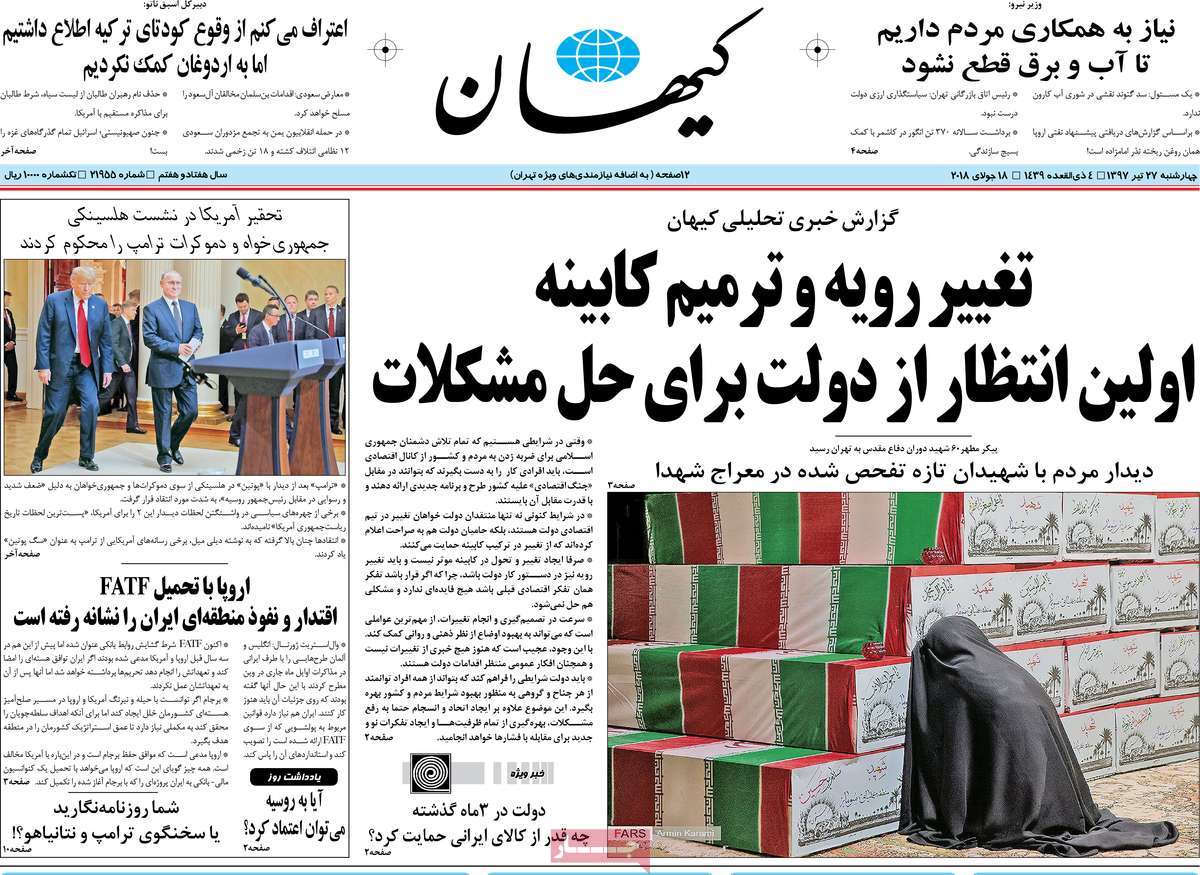 ---
Quds:
1- West Minus Trump: From Dream to Reality
---
Sazandegi:
1- Reformist Figure: It's Fatal for a Country to Have Non-Partisan Parliament
2- Rafsanjani's Son: We Must Think of Iran in 2021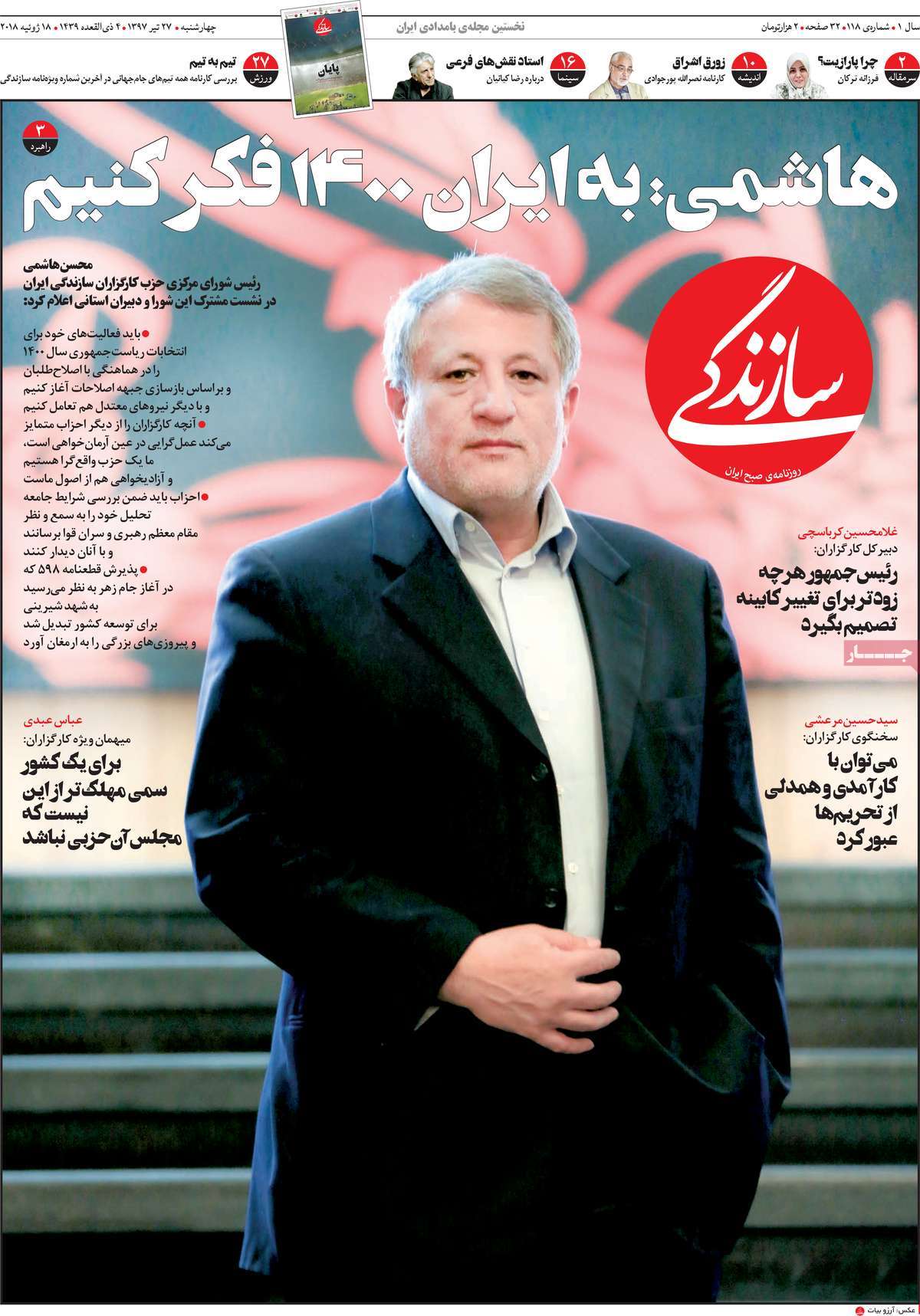 ---
Seda-ye Eslahat:
1- 170 Million Headscarves, Chadors Used Annually
2- Iran Counts on India amid US Sanctions: Araqchi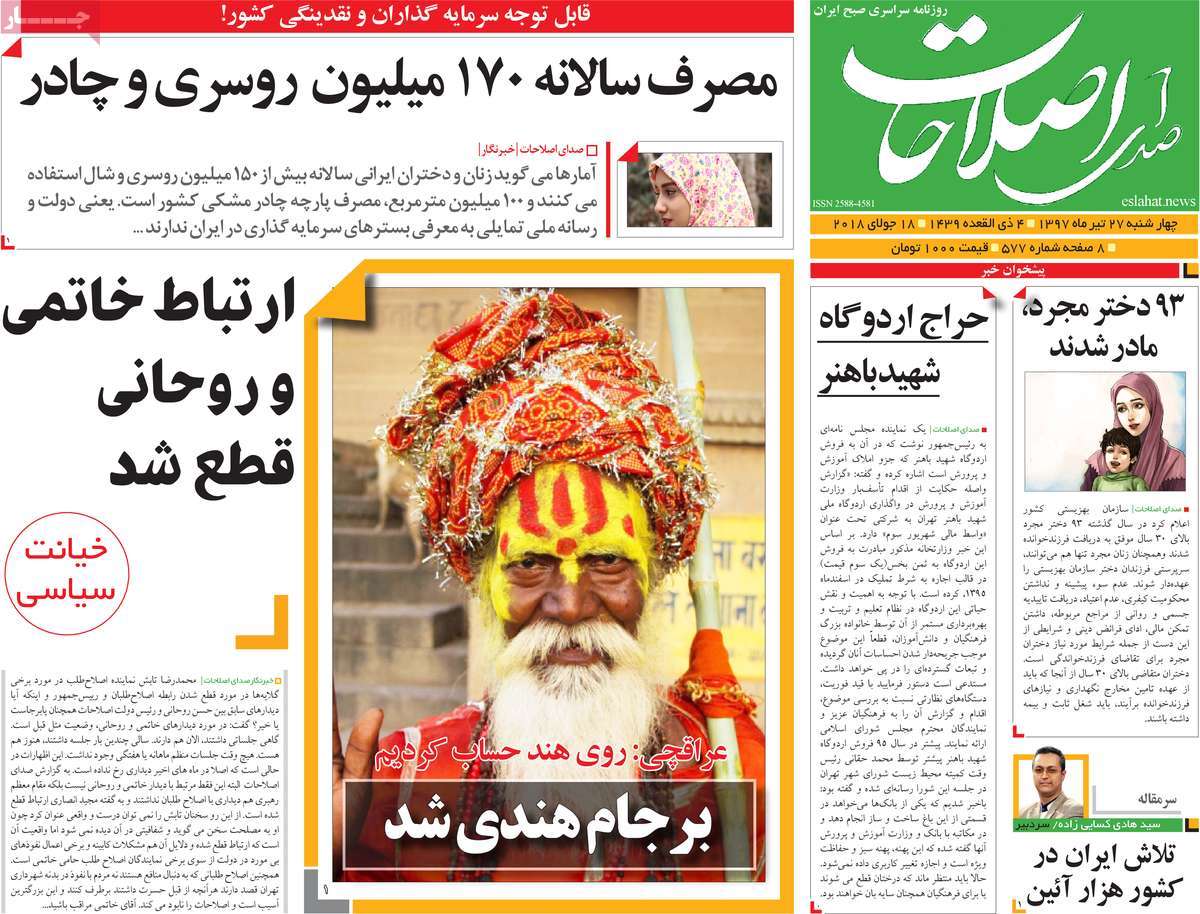 ---
Setareh Sobh:
1- All on One Side, Trump and Putin on the Other Side
---
Siasat-e Rooz:
1- Zionist Regime's Army Afraid of Kites
2- American Bluff: US Treasury Dept. Says Exceptions to Be Made on Iran Oil Sanctions
---
Sokhan-e Rooz:
1- Shameless, Cowardly, Humiliating!
US Congress Outraged by Putin-Trump Talks