Several papers today covered the Guardian Council's rejection of a bill ratified by the Parliament which allowed the government to implement a set of standards introduced by the Financial Action Task Force (FATF).
The final match of FIFA World Cup 2018 between France and Croatia was also a top story in many papers today. Several articles were written today on the end of the one-month tournament, which attracted billions of people around the world.
Remarks by President Hassan Rouhani and Health Minister Hassan Qazizadeh Hashemi about the US sanctions and the country's resistance against them also received great coverage.
The above issues, as well as many more, are highlighted in the following headlines and top stories:
19 Dey:
1- Guardian Council Rejects Iran's Adoption of FATF Standards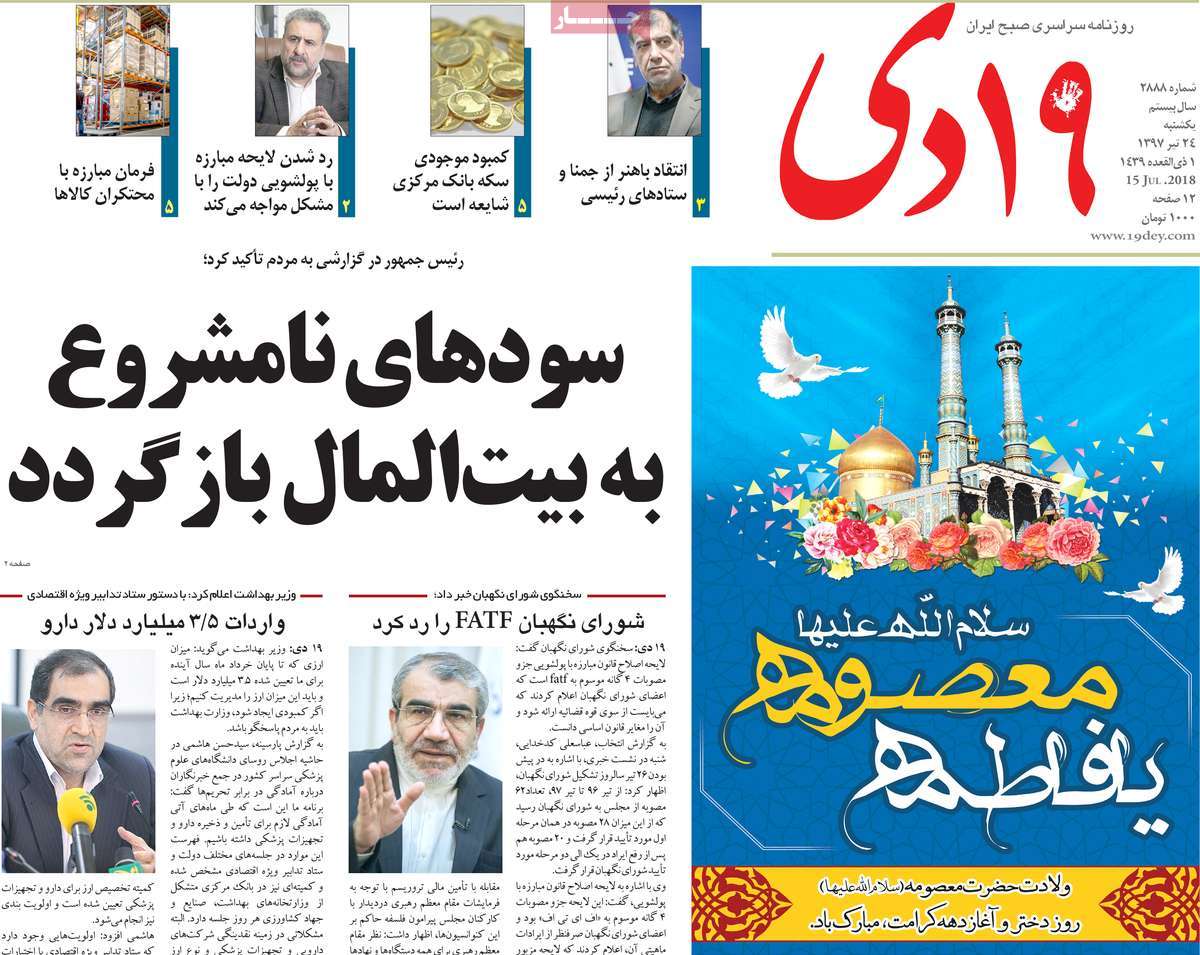 ---
Abrar:
1- Kremlin: Putin, Trump to Discuss Iran's Presence in Syria in Helsinki Summit
2- Rouhani: Iranian People to Stand against US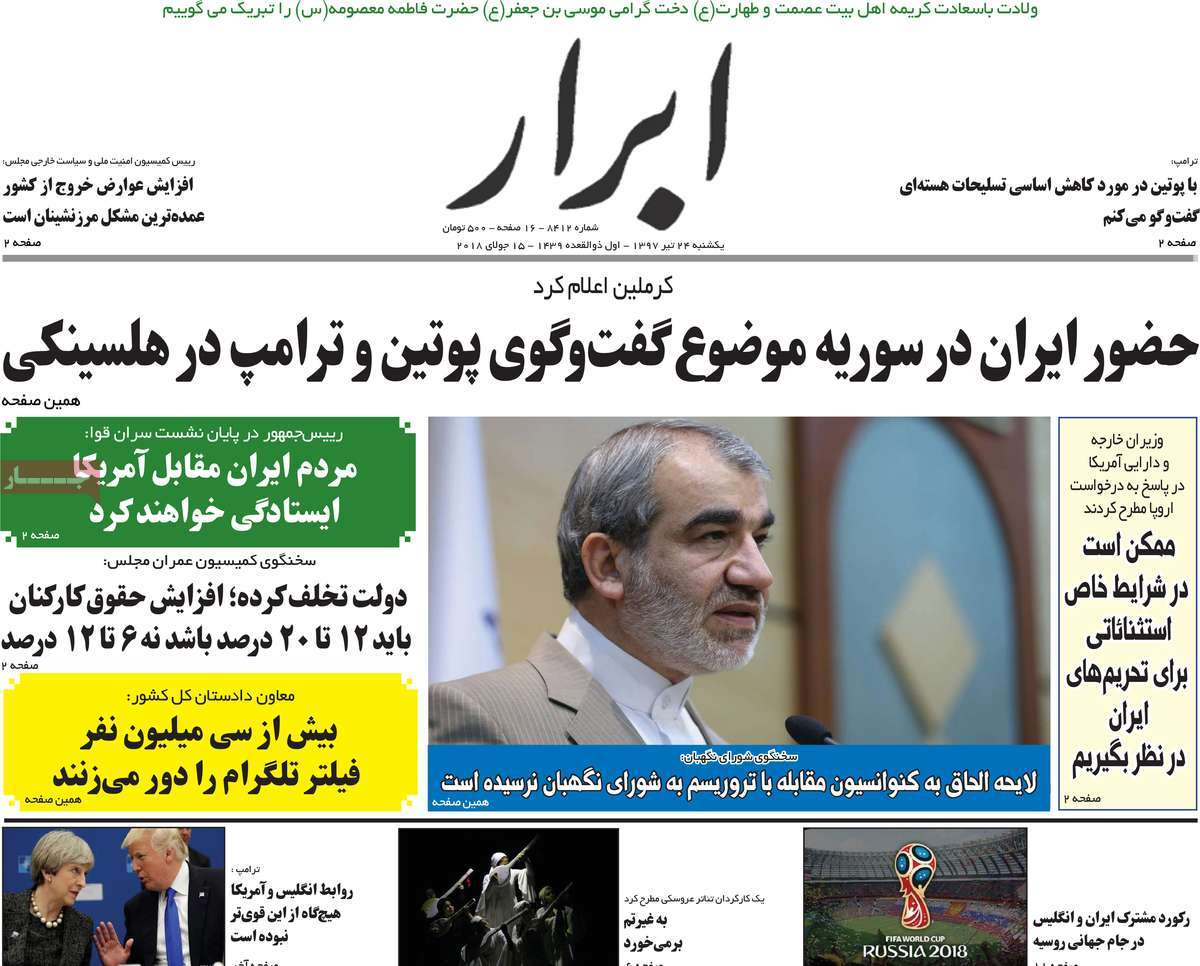 ---
Aftab-e Yazd:
1- Analyst: Trump Looking for Economic Interests in Talks with EU
2- Iranian Hardliners Advise Rouhani to Be Like Trump!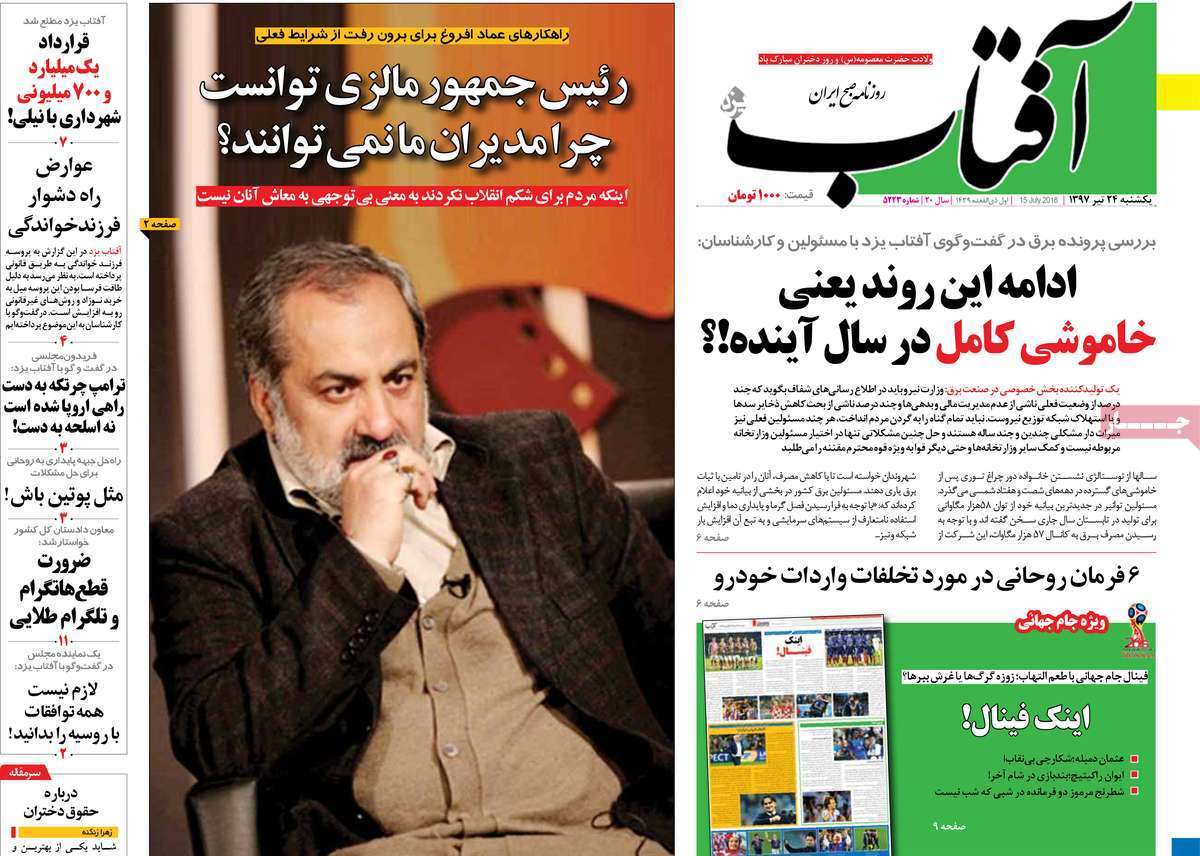 ---
Arman-e Emrooz:
1- Deputy Prosecutor General: Every One Bypassing Filtering
2- Chaos in Basra and Najaf against Central Government
---
Asrar:
1- Rouhani: We Can Manage People's Daily Lives despite Current Pressure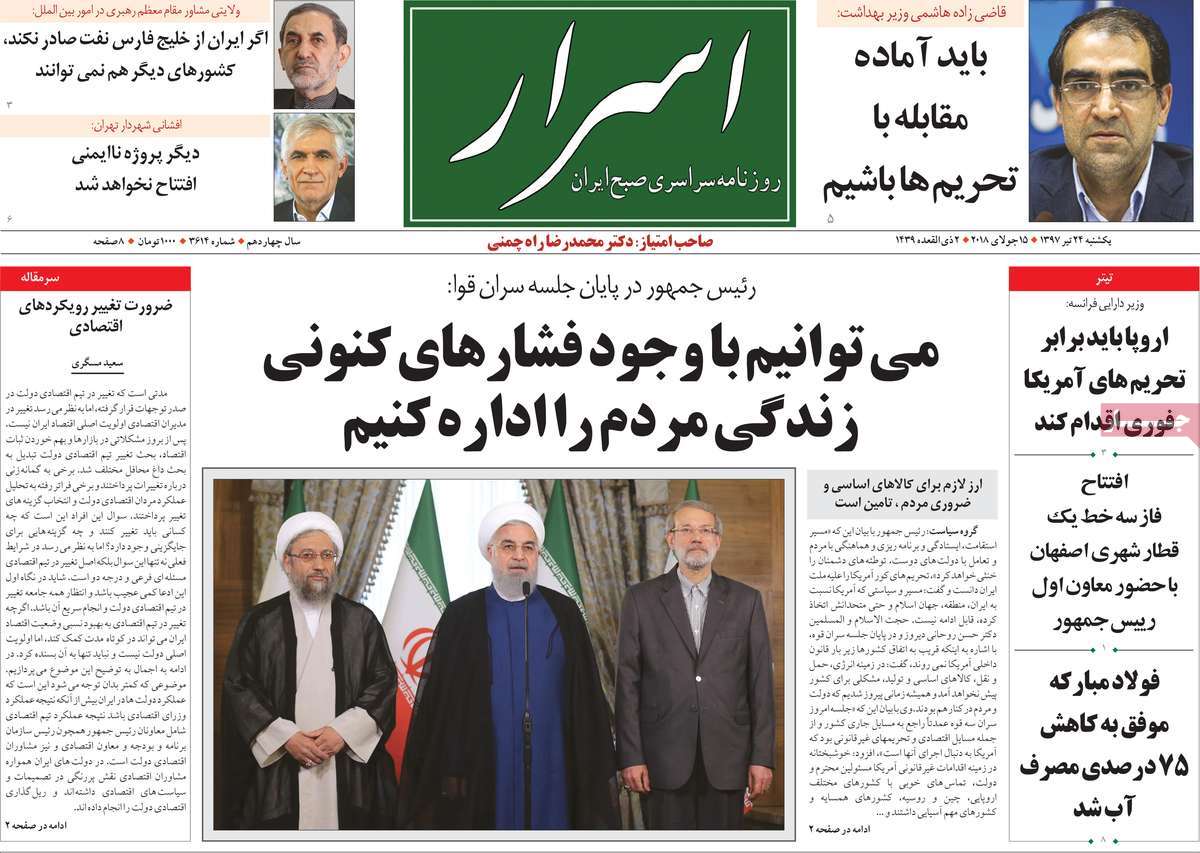 ---
Ebtekar:
1- Rouhani: US Sanctions against Iranian Nation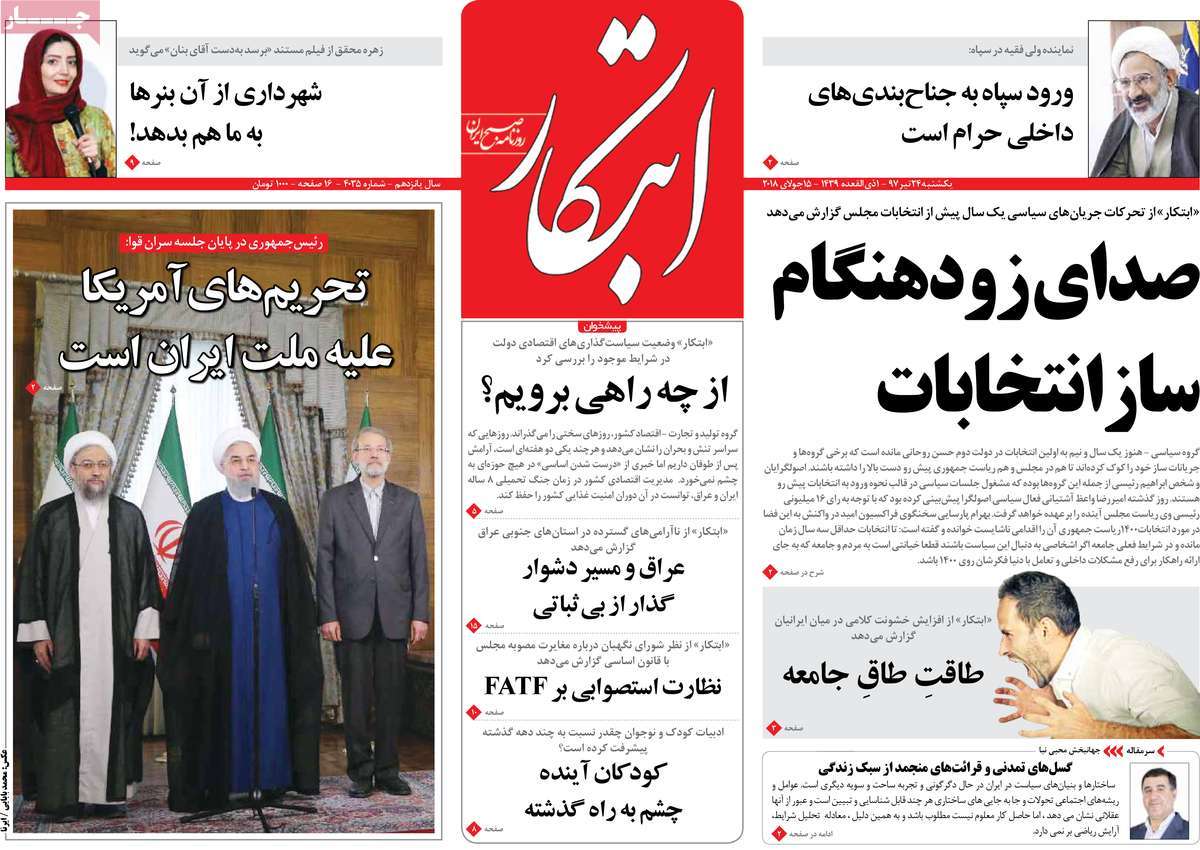 ---
Etemad:
1- Unrest in Iraq over Electricity: People of Basra Pour into Streets to Protest
2- Croatia vs France: Artists, Writers Predict Result of FIFA World Cup Final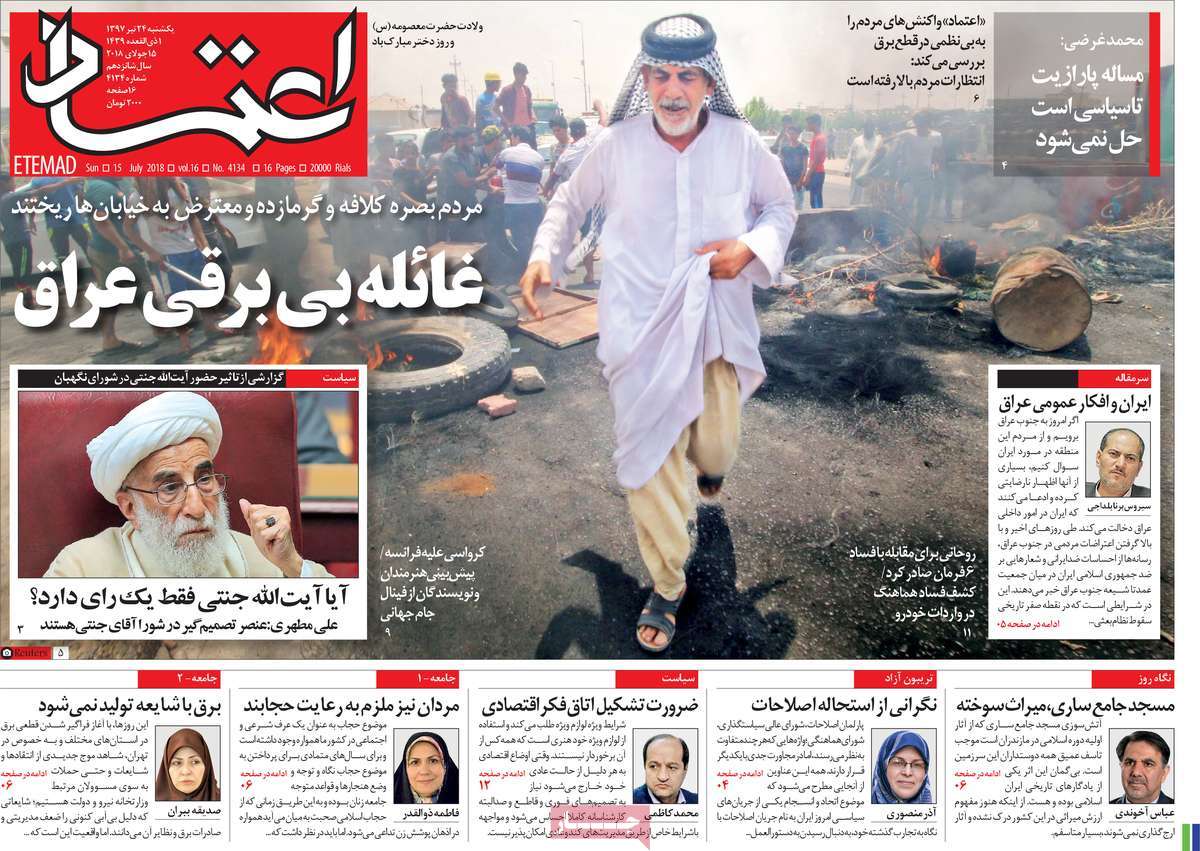 ---
Ettela'at:
1- Rouhani: Resistance, Planning, Cooperation with People to Neutralize Plots
2- Spokesman: Government Has Extensive Plans to Counter Sanctions
3- Curfew in Najaf after Escalation of Anti-Government Protests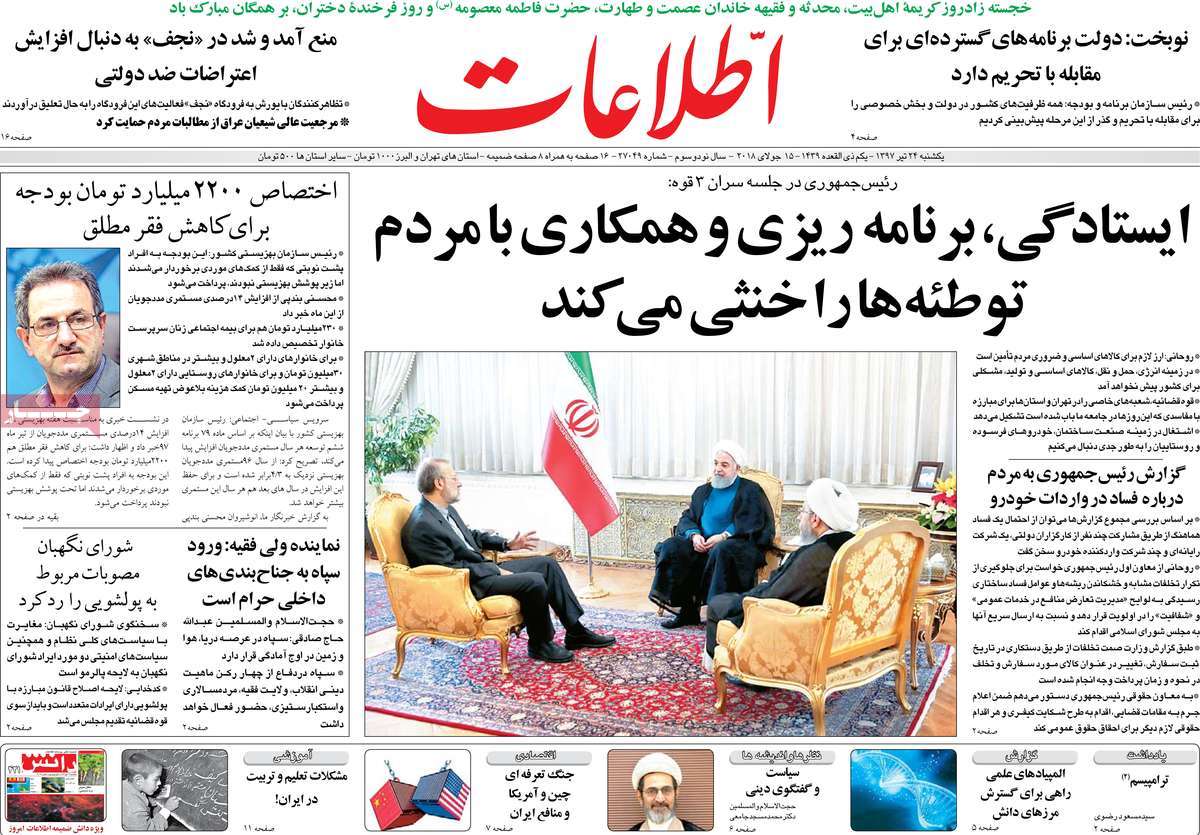 ---
Iran:
1- FIFA World Cup Will End Tonight after One Month of Excitement, Stress, Tears, Smiles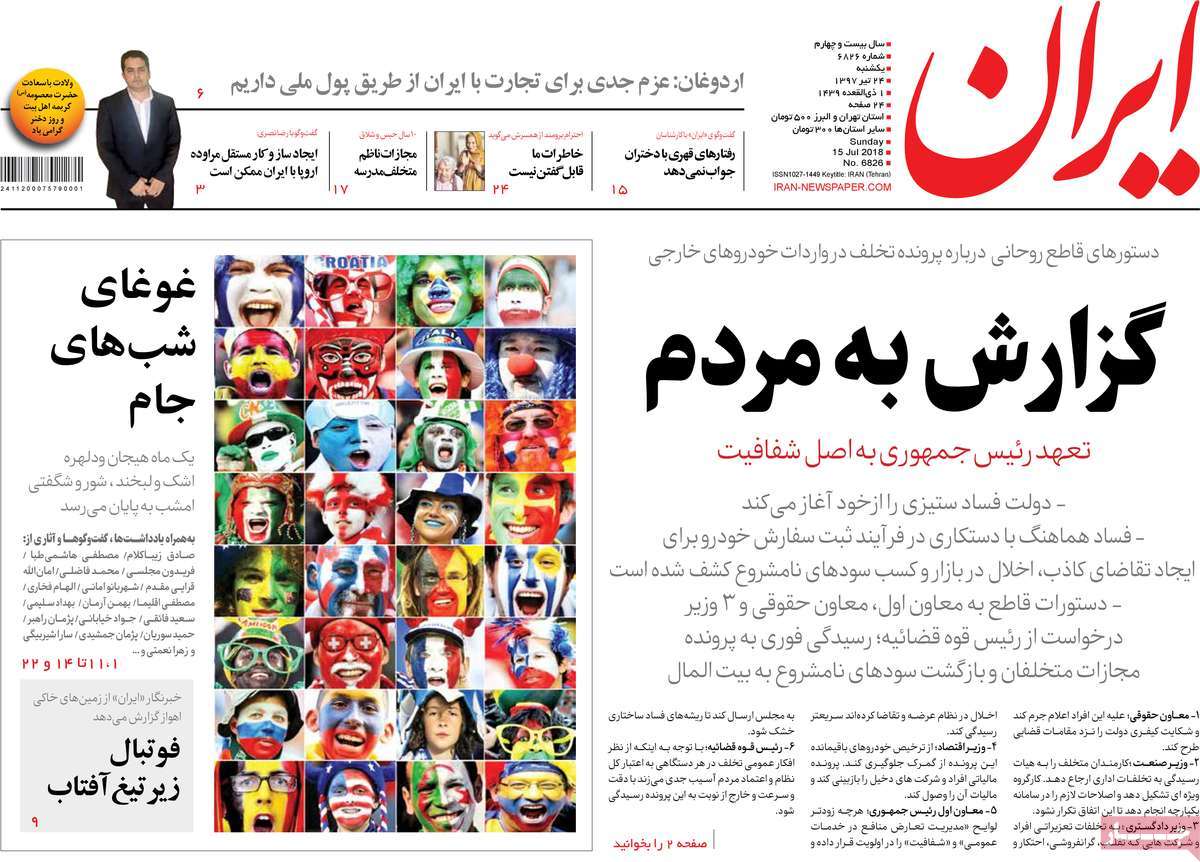 ---
Jame Jam:
1- Last Supper in Moscow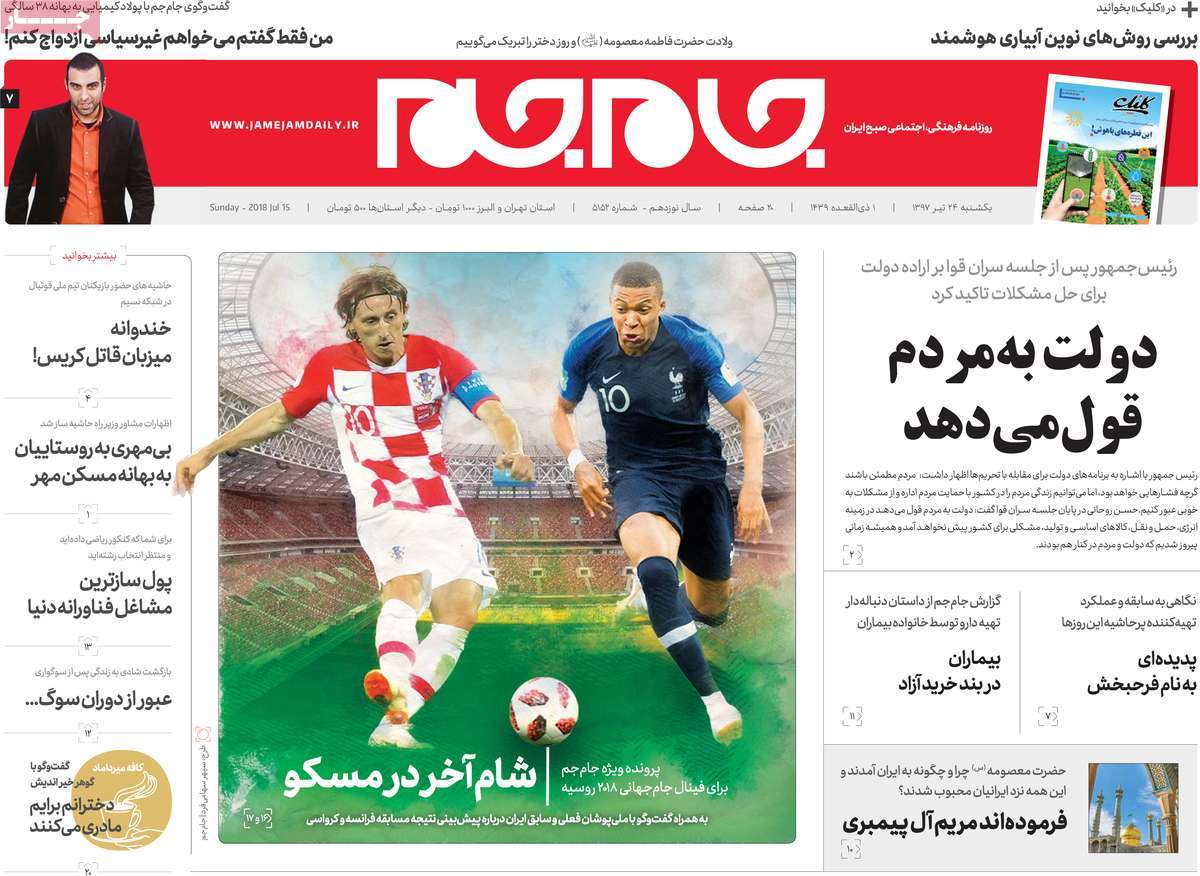 ---
Javan:
1- Rouhani: I Promise US Sanctions Won't Create Any Problem for People
We'll Have No Problem in Energy, Transport, Basic Goods, Production
---
Jomhouri Eslami:
1- Senior MP: Rejection of FATF to Cause Problems for Government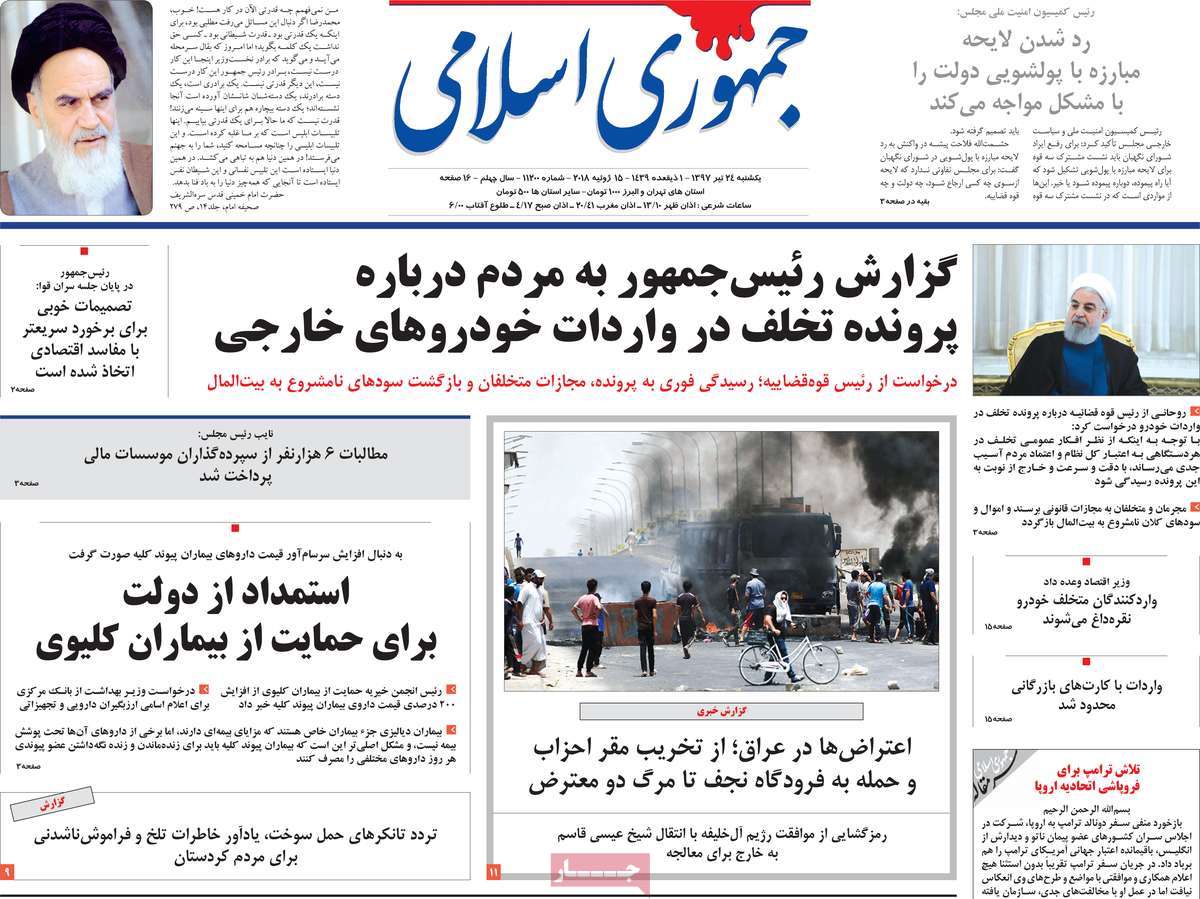 ---
Ka'enat:
1- Iranian End of 'Palermo Convention'
Guardian Council: CFT Law Unconstitutional; It Should Be Proposed by Judiciary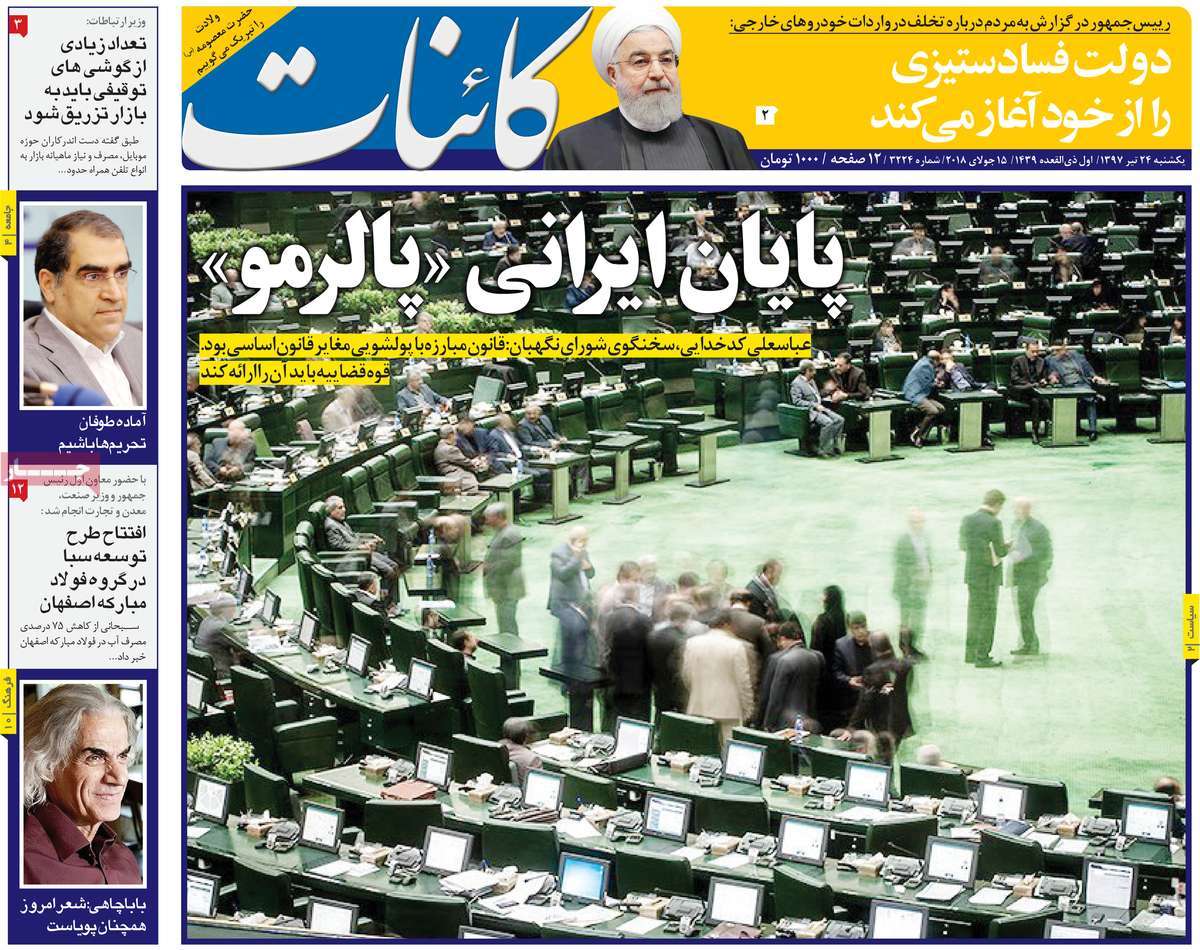 ---
Kayhan:
1- A Fuss Made to Silently Pass Third Anniversary of Iran Nuclear Deal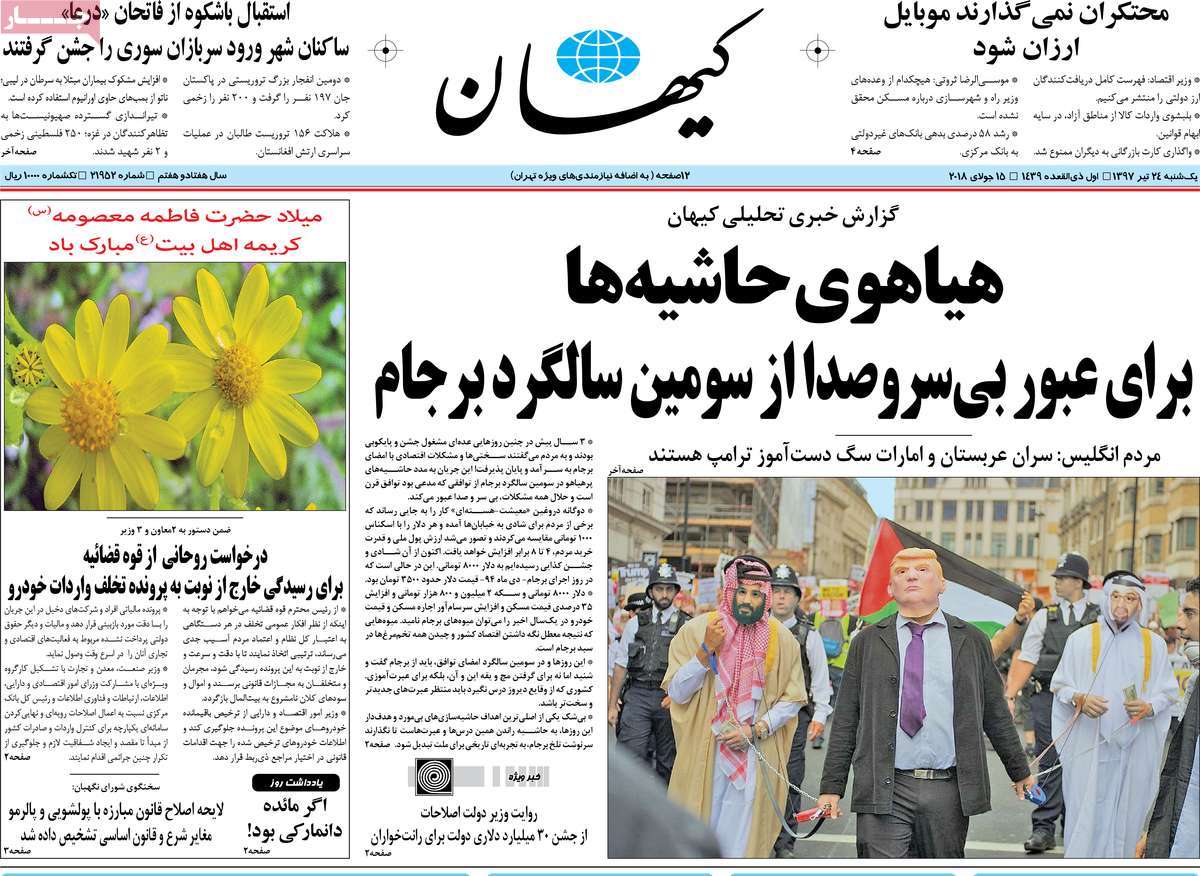 ---
Khorasan:
1- Ongoing Crisis in Iraq May Even Be More Dangerous than ISIS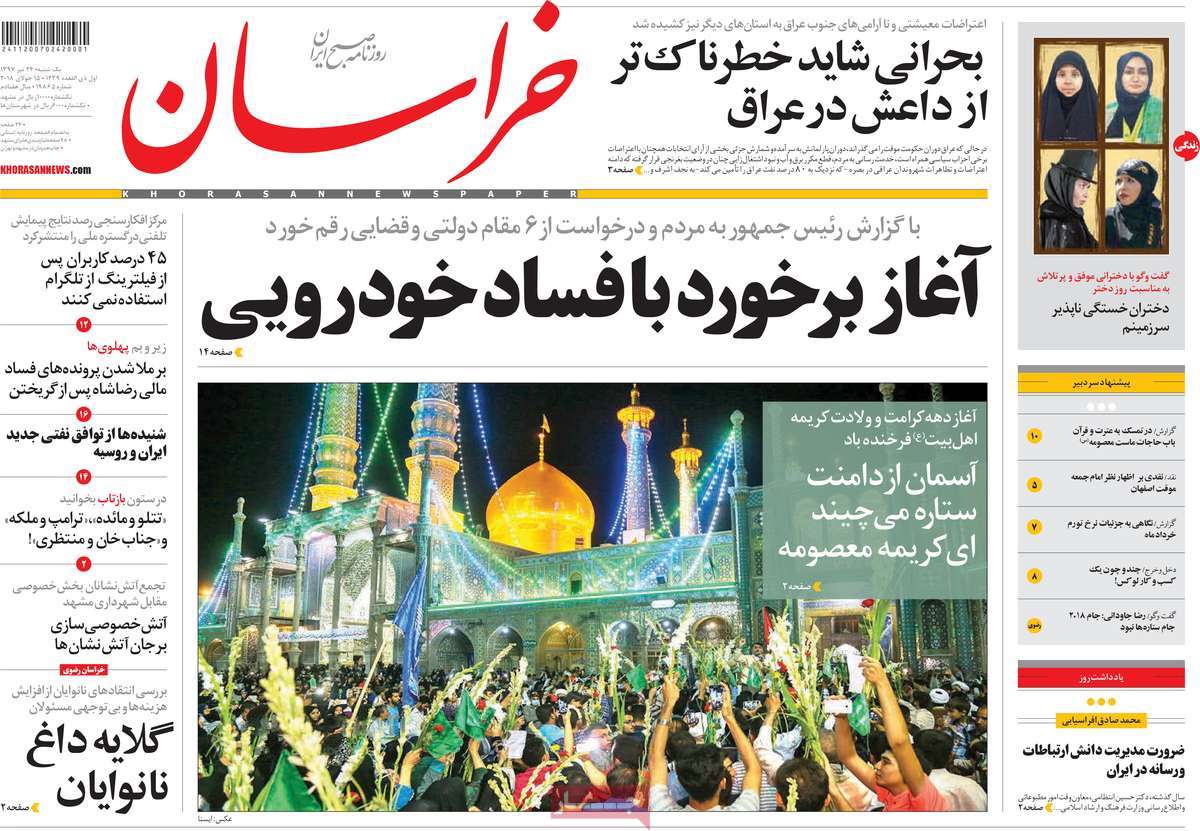 ---
Rooyesh-e Mellat:
1- Erdogan: We're Resolved to Do Trade with Iran Using National Currencies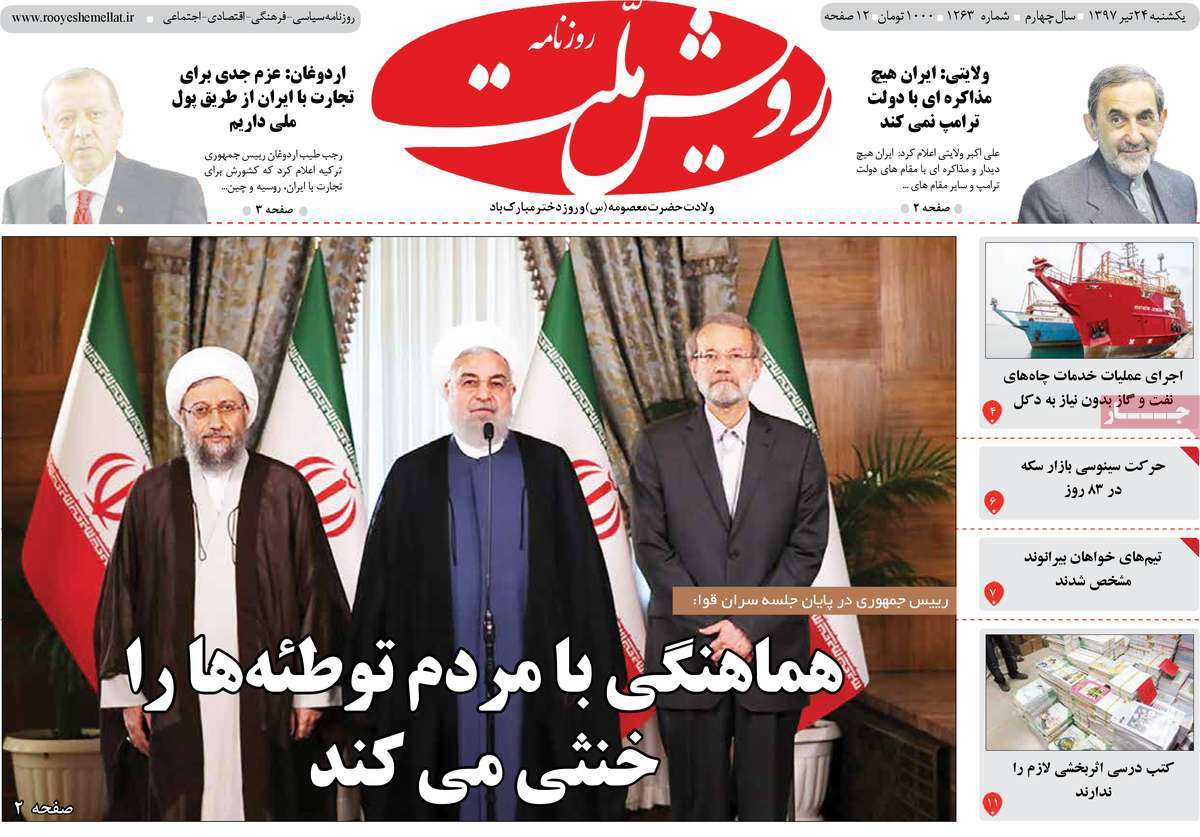 ---
Sazandegi:
1- Rouhani against Mafia of Car Imports: President Urges Serious Action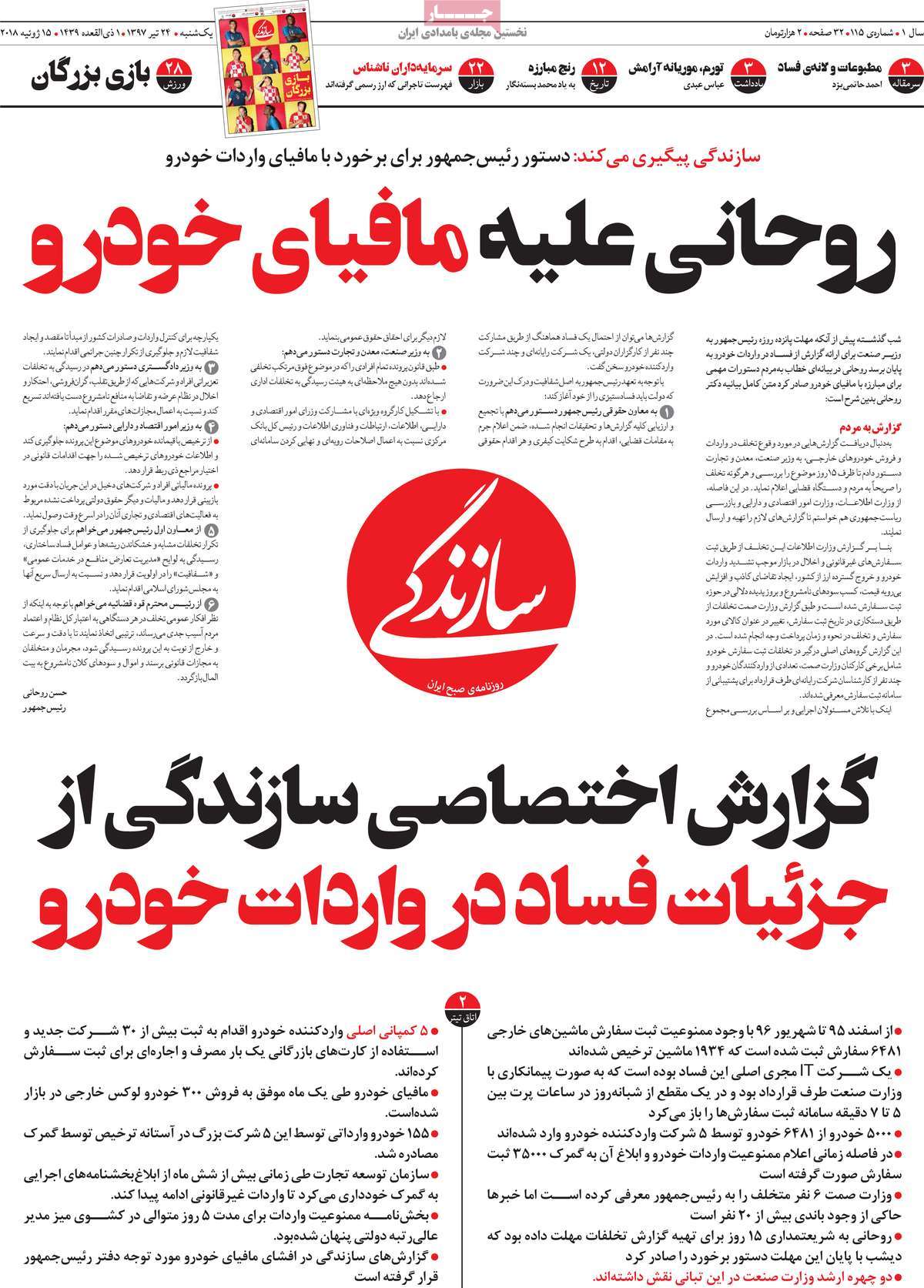 ---
Setareh Sobh:
1- Guardian Council Rejects Two Bills Earlier Approved on Fight against Money Laundering
2- ICT Minister: Leader Has Ordered Us to Study Negative Effects of Signal Jamming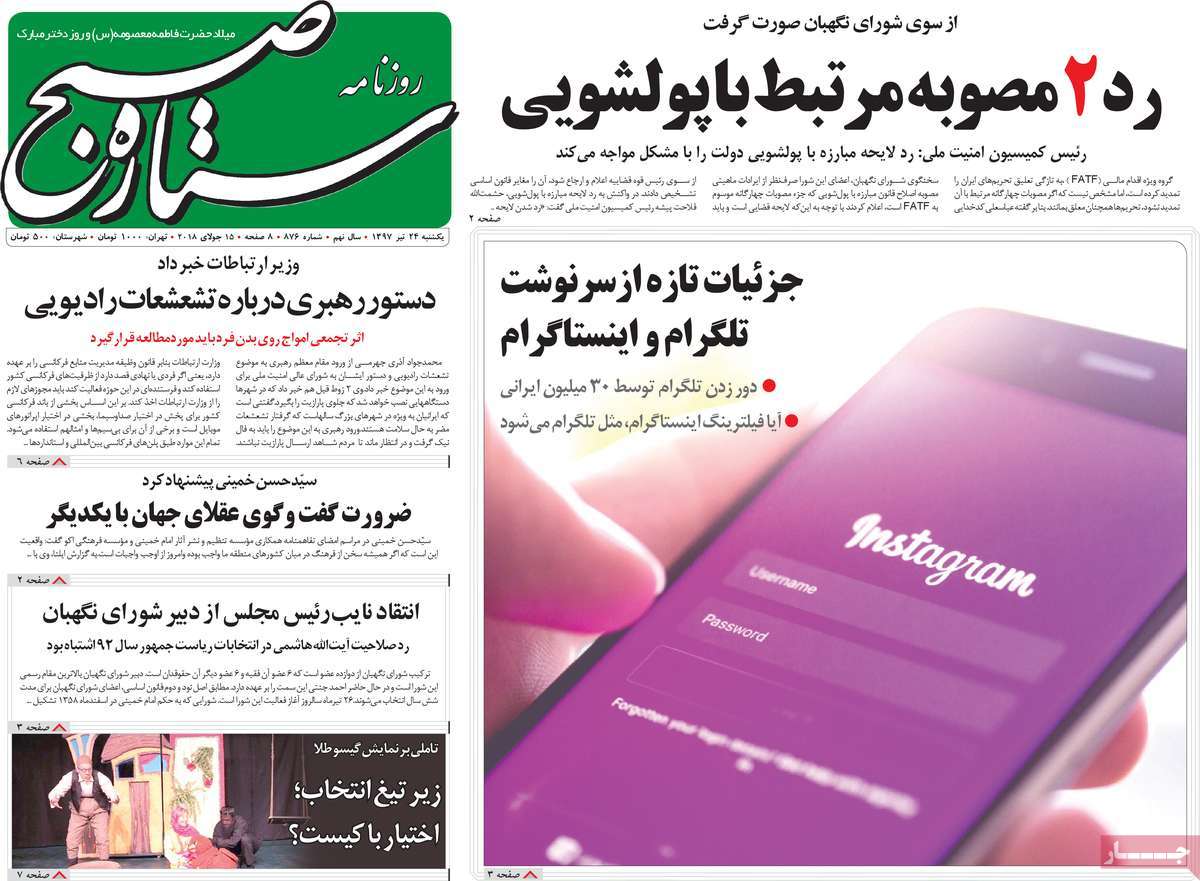 ---
Shahrvand:
1- Silly Behaviours of Trump Make Headlines in UK
US President Makes Fun of Many Royal Formalities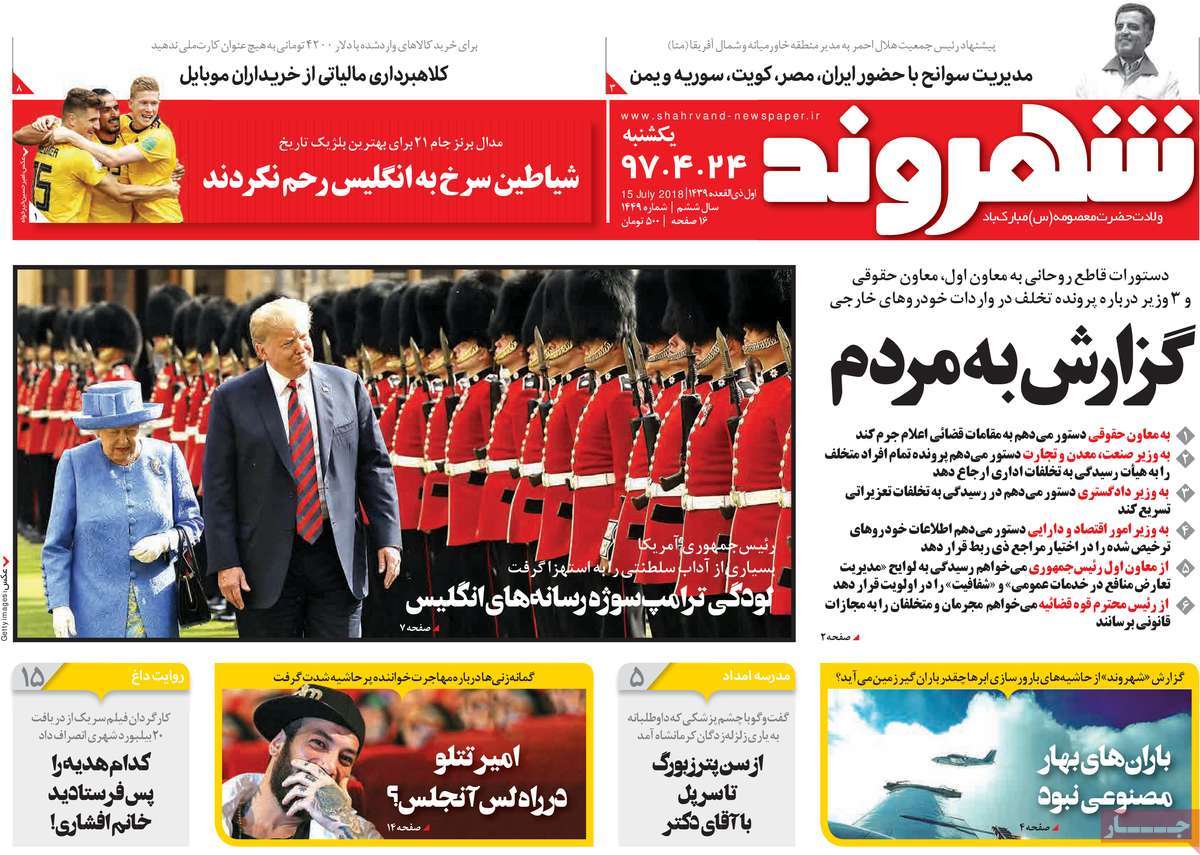 ---
Shargh:
1- Saudi Arabia, Ansarullah Engaged in Secret Talks Mediated by Iran
2- Spokesman: Guardian Council to Interfere If Iran's Talks with US Prove to Be against National Interests
3- $50-Billion Mystery: Will Russia Make Such Investment in Iran? Or Will We Receive Goods for Oil?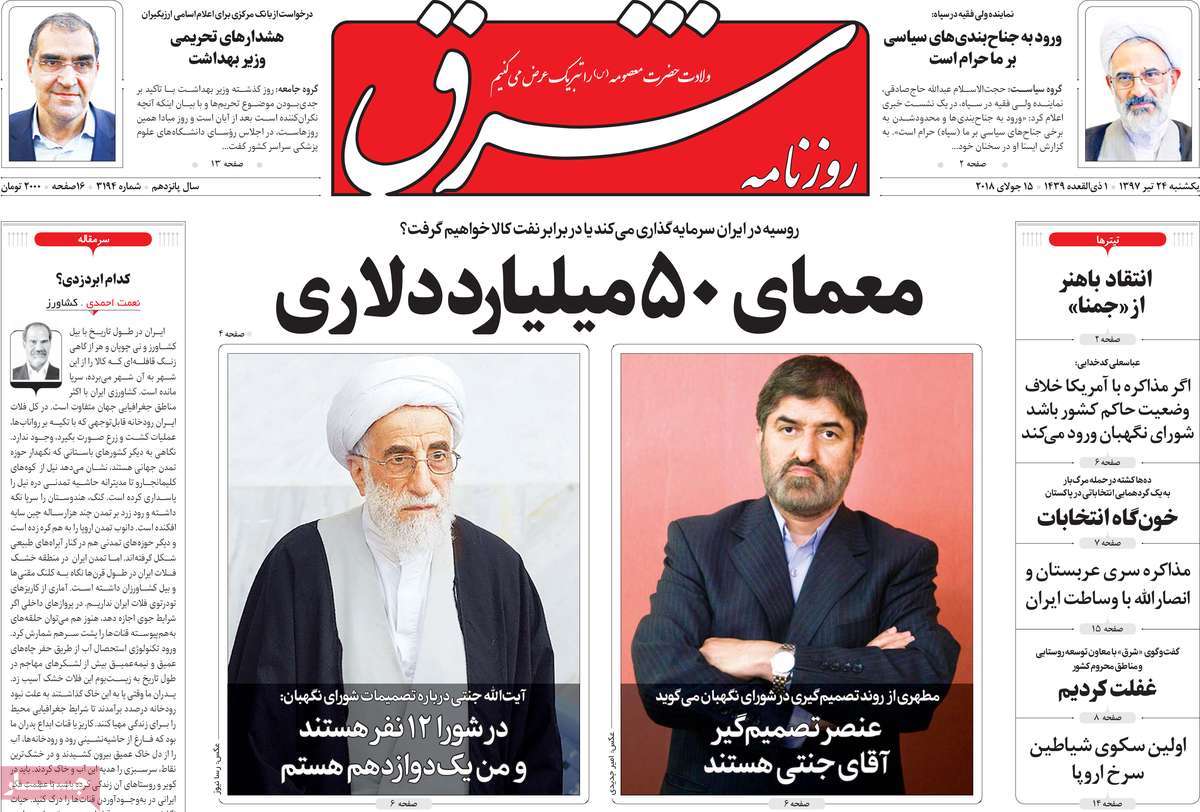 ---
Tejarat:
1- Health Minister: Iran Needs to Brace for Storm of Sanctions on Pharmaceuticals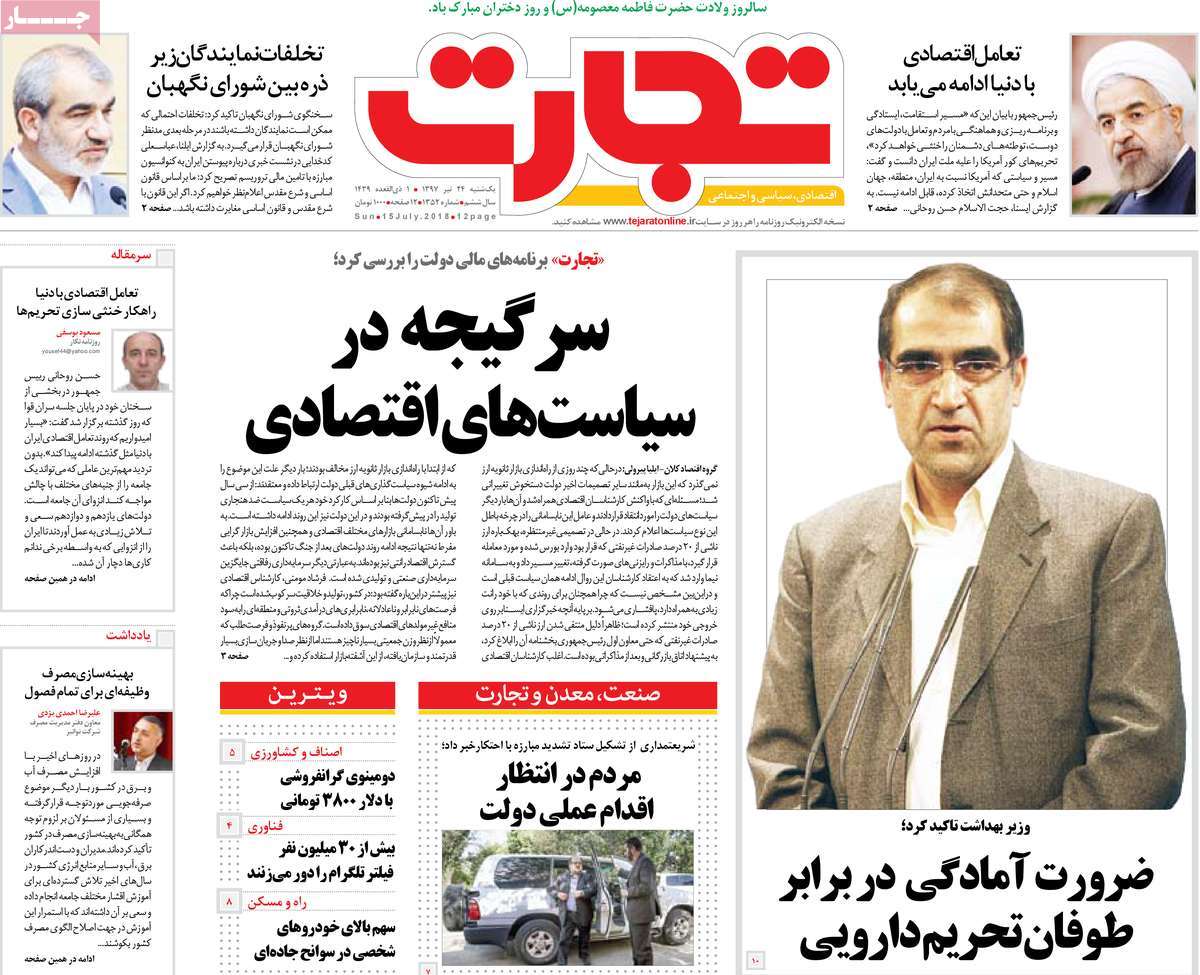 ---
Vatan-e Emrooz:
1- Who Will Win 2018 World Cup? An Exclusive Report from Russia