Almost all papers today covered the remarks about economic issues made by Iranian President Hassan Rouhani in his meeting with cabinet members.
Also a top story was the rejection of Brexit deal by the UK parliament and Prime Minister Theresa May's survival of no-confidence vote.
Several papers also highlighted Europe's failure to provide Iran's access to the Special Vehicle Purpose (SPV), a payment mechanism due to be created for facilitating trade with the Islamic Republic under the US sanctions.
The above issues, as well as many more, are highlighted in the following headlines and top stories:
Abrar:
1- US May Grant Further Waivers for Iran Oil Importers: CNN
2- Reports of Afghan National Security Advisor's Meeting with MKO Denied
3- US Not Set Deadline for Dissolution of Hashd al-Shaabi: Adil Abdul-Mahdi
4- Rouhani's Reaction to Unsuccessful Launch of Payam Satellite into Orbit
5- US Concerned about China's Military Capability to Attack Taiwan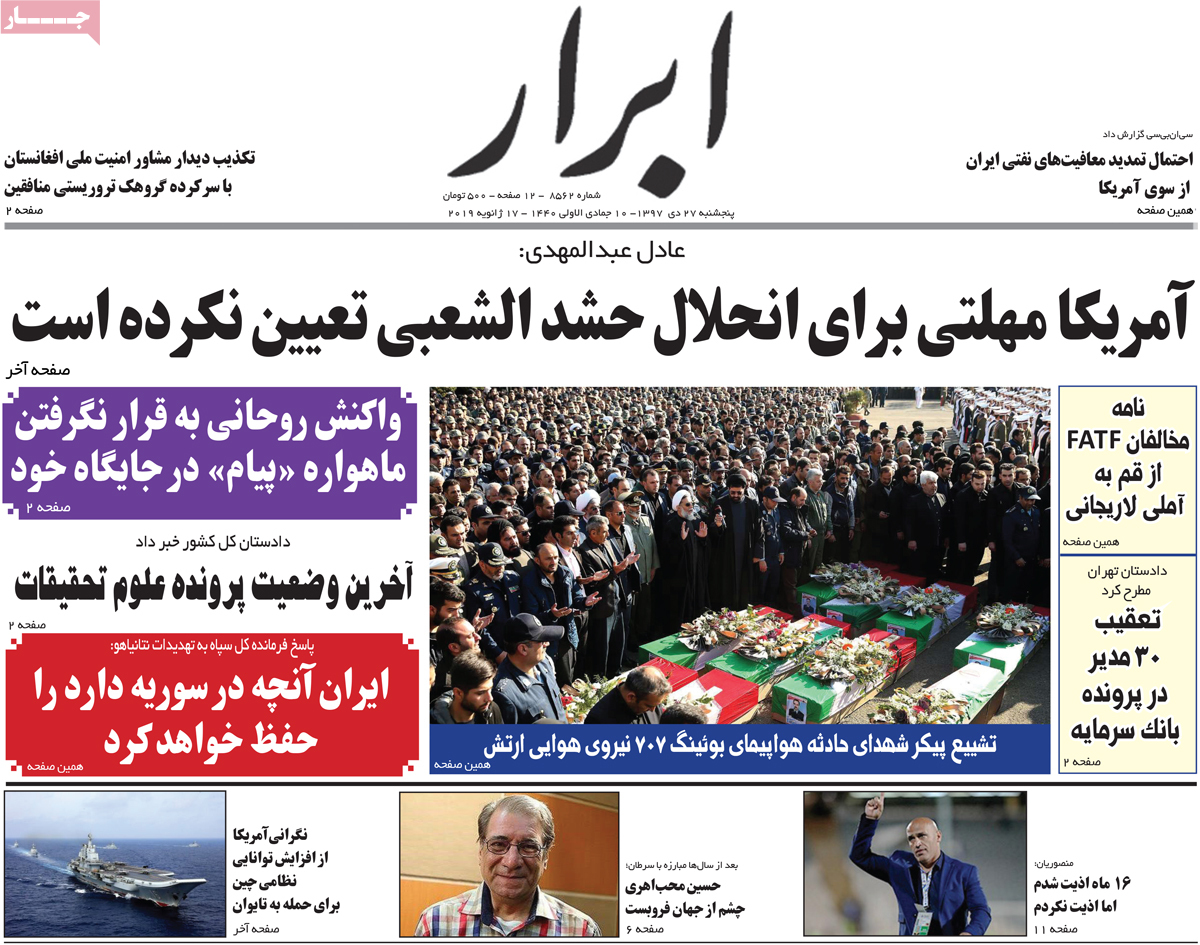 ---
Aftab-e Yazd:
1- Historic Defeat of [UK] Conservatives
Parliament's Rejection of Theresa May's Brexit Deal Predictable
2- Enough Forex Available: CBI Governor
3- It's a Pity Iran Doesn't Have Economic Attache in Syria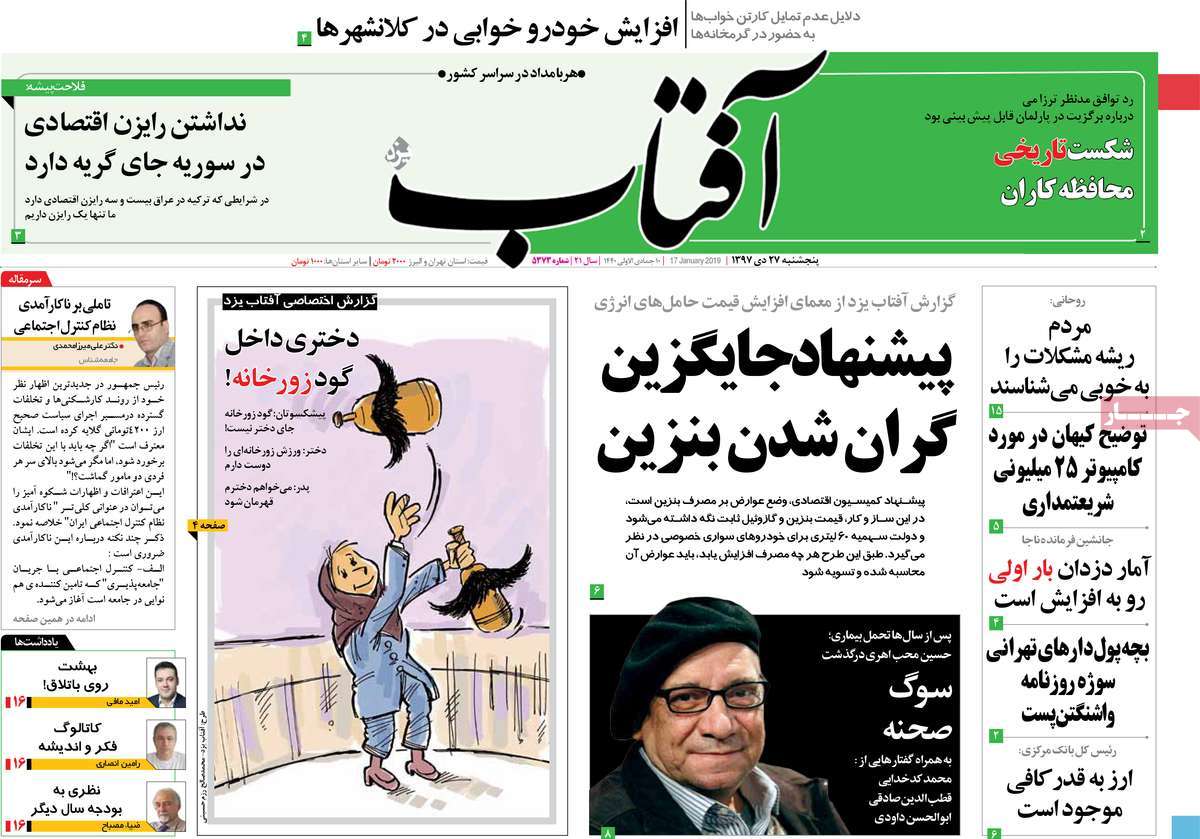 ---
Arman-e Emrooz:
1- Iran to Cut Ties with Europe in Two Major Fields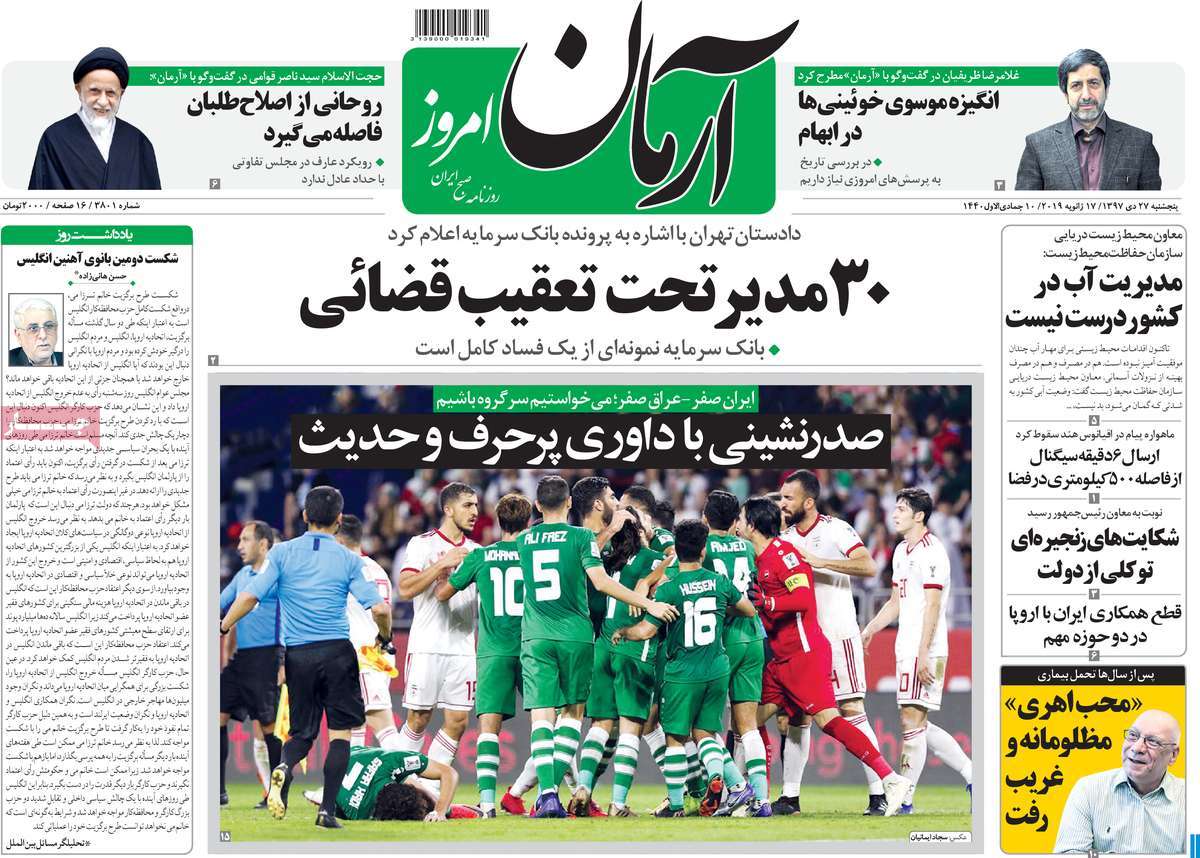 ---
Ebtekar:
1- People Know Problems of Country Well: Rouhani
2- Hopes Must Not Be Pinned on Others in Reconstruction of Iraq: Zarif in Karbala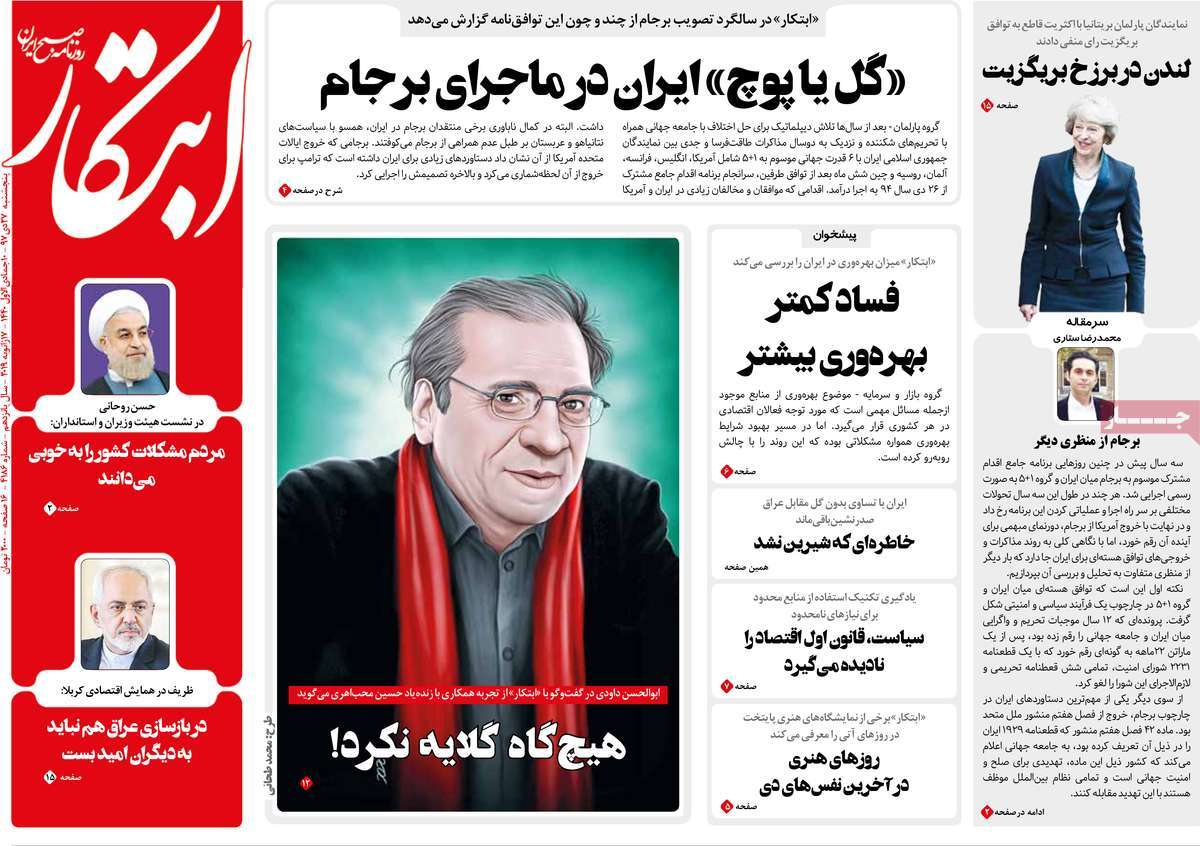 ---
E'temad:
1- Exit from Brexit
British Parliament Does Not Vote for EU Withdrawal Bill
2- Don't Play with Lion's Tail: IRGC Chief Commander Warns Israel
3- Iran Spokesman Warns Netanyahu to Know His Limits; "Iran Cannot Be Threatened"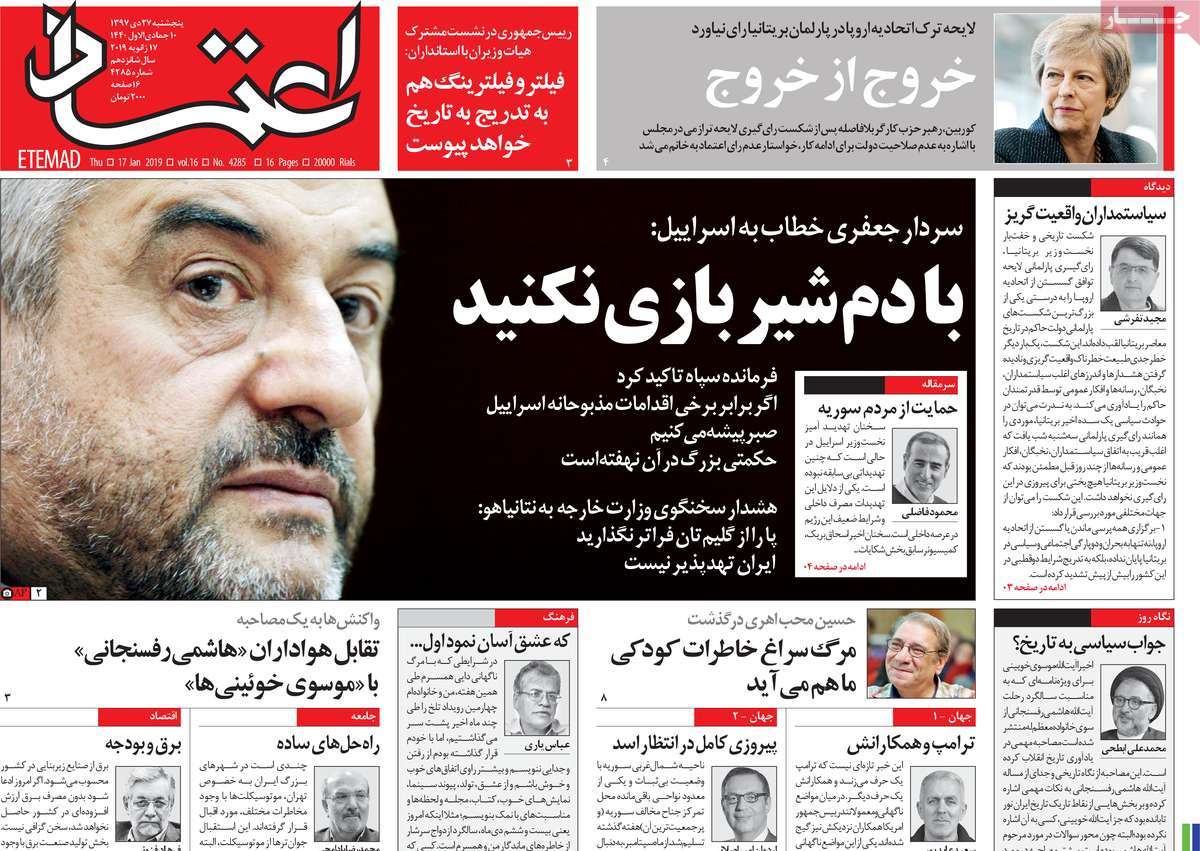 ---
Ettela'at:
1- Iran to Continue Its Military Presence in Syria: IRGC Commander
2- I Support Establishment of Independent Palestinian State: UN Chief
3- Iran Missile Tests Not against International Regulations: Russian Deputy FM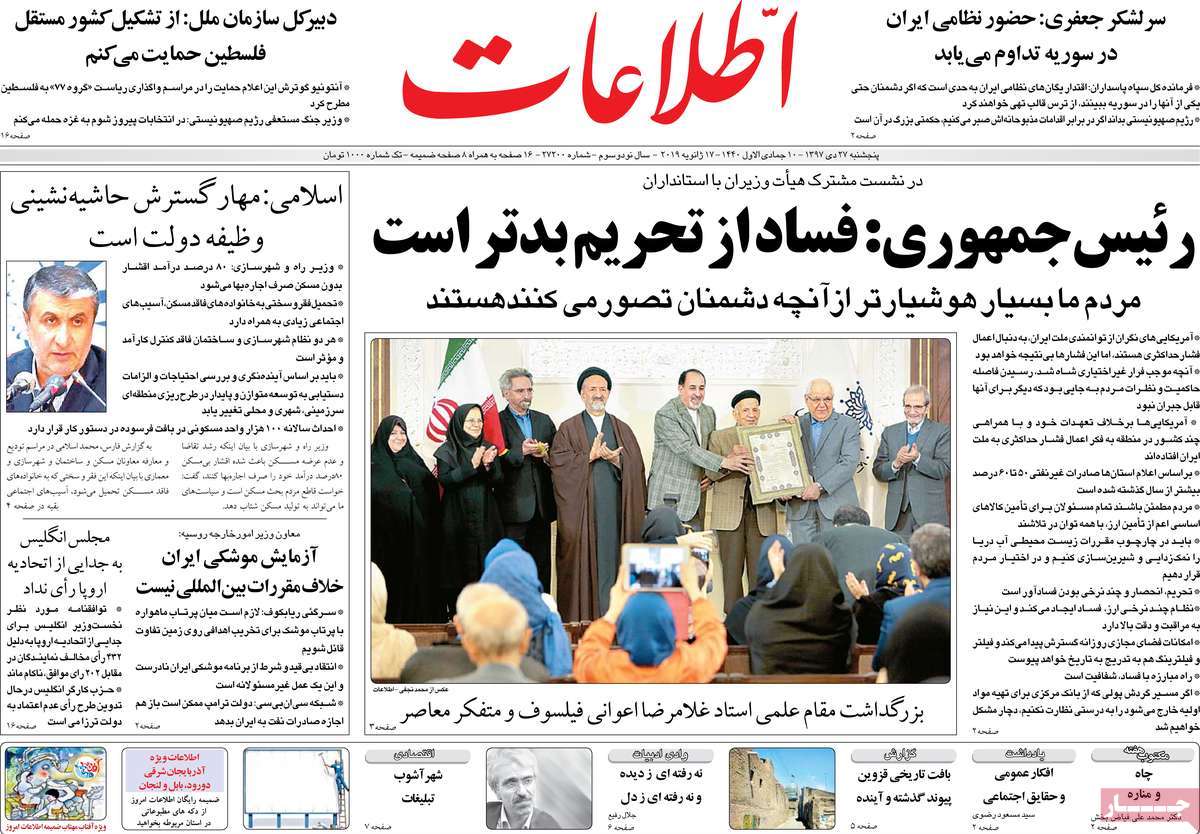 ---
Jam-e Jam:
1- Europe Cannot Make Up for Its Weakness by Making Anti-Iran Claims: Zarif
2- American Revolutionary [Marzieh Hashemi]
Arrest of Press TV Journo by US Police, Her Mistreatment Draws Reactions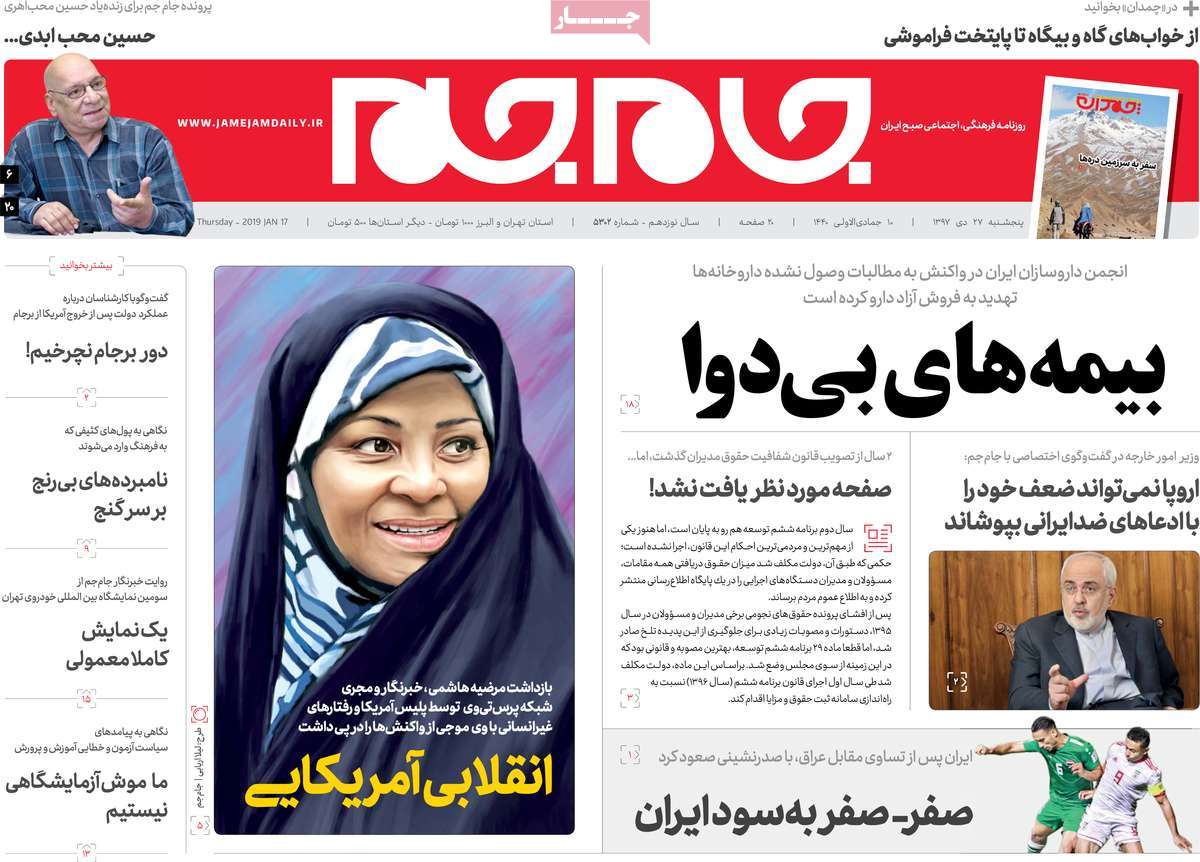 ---
Javan:
1- Be Afraid of Roar of Our Missiles: IRGC
2- US Gov't Responsible for Marzieh Hashemi's Life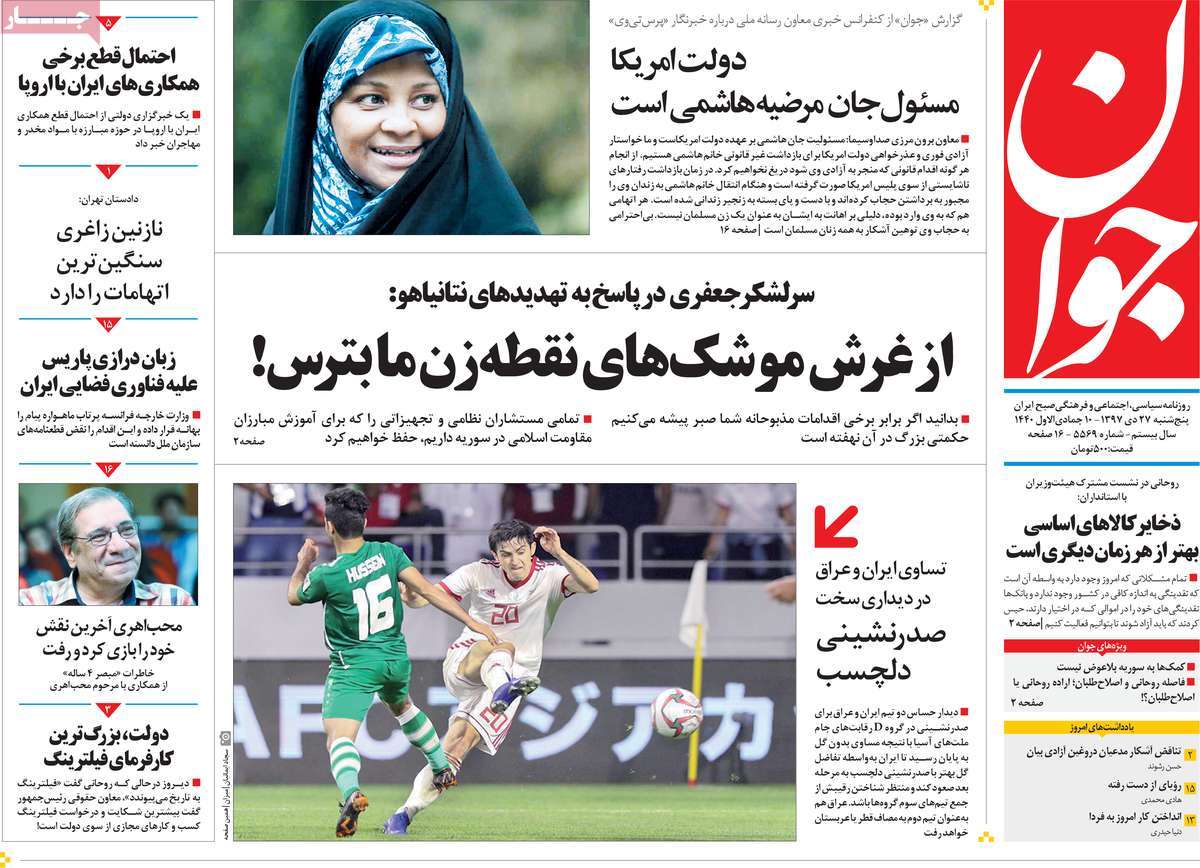 ---
Jomhouri-e-Eslami:
1- People's Opinions Should Be Source for Reform: Rouhani
2- 71 British Lawmakers Call for Second Brexit Referendum
3- Iran-Iraq Trade Volume Reaches $8 Billion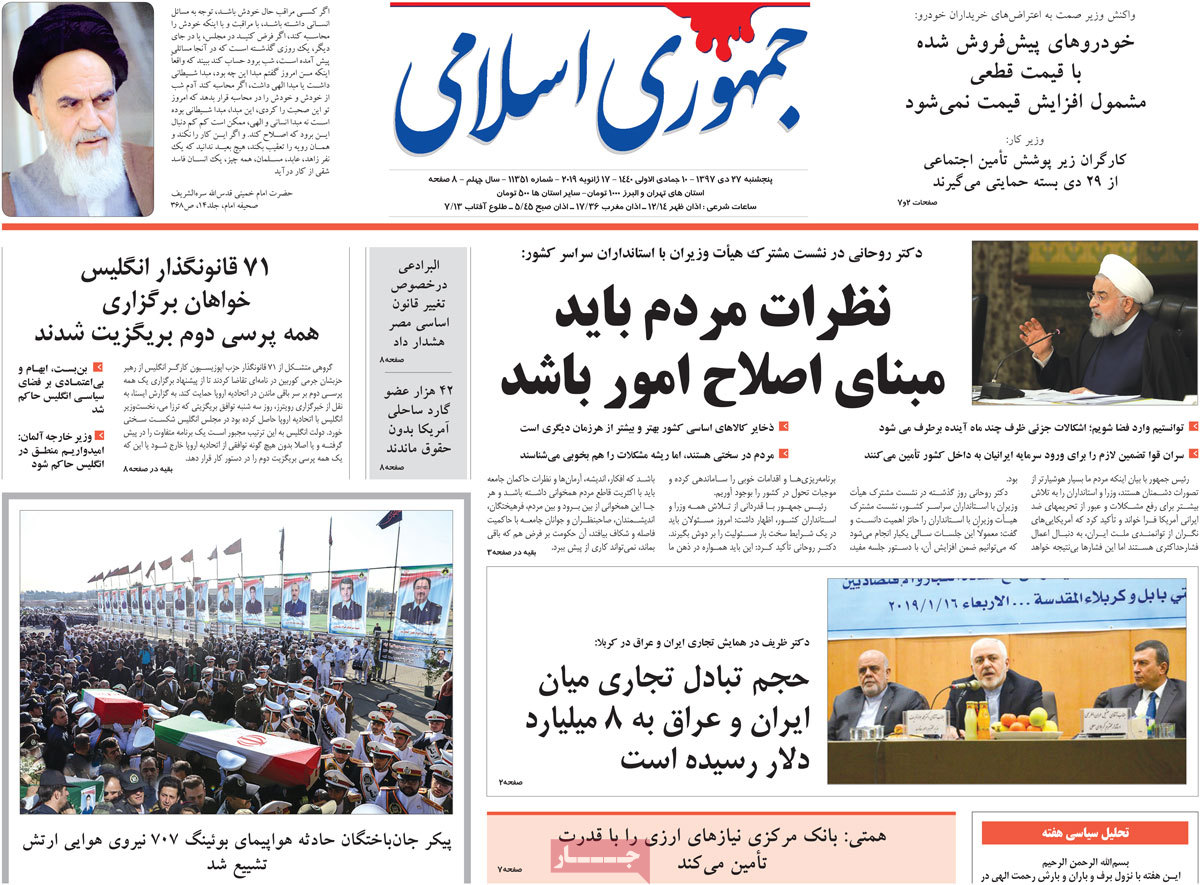 ---
Kayhan:
1- Iran Has Become Great Power after 40 Years: Der Spiegel
2- EU's Empty Package Instead of Fulfiling Commitments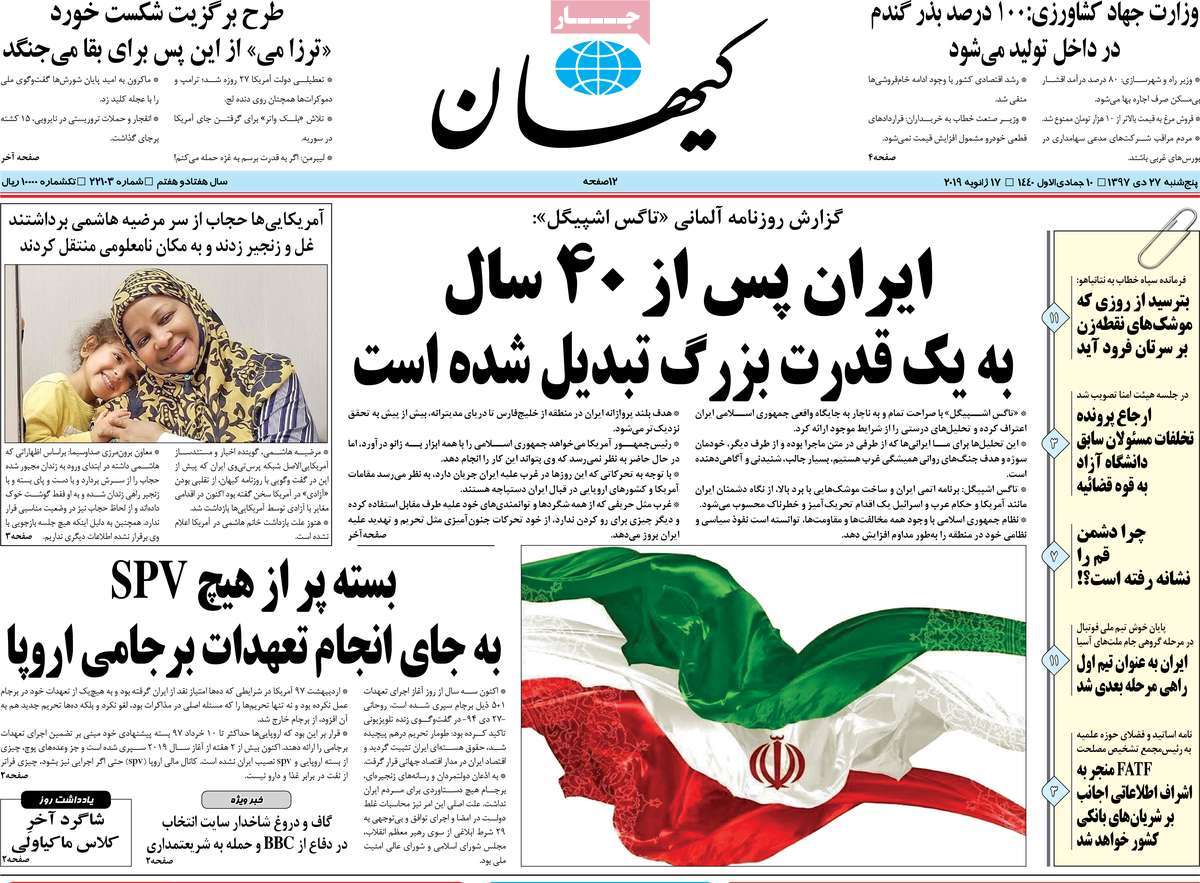 ---
Mardomsalari:
1- Iran to Maintain What It Has in Syria: IRGC Chief
2- Funeral Held for Those Killed in Iranian Army Plane Crash
---
Sharq:
1- People's Resilience Must Be Increased Amid Problems: President Rouhani
2- What Privatization Did to Five Industry Giants of Iran
3- What Will Be Fate of Iran Nuclear Deal?