Iranian President's letter to the Judiciary Chief asking him to hasten investigations regarding the case of Saudi embassy attackers, the screening of parliamentary electoral candidates' qualifications and heated race by the Assembly of Experts' election candidates grabbed most of Iran's newspaper headlines on Thursday, January 7, 2016.
The following are some of the trending stories that appeared on leading Iranian newspapers.
Arman-e Emrouz: Competency of absentees of the Assembly of Experts' entrance exam cannot be ascertained: Spokesman of the Guardian Council
Arman-e Emrouz: Iran President has asked Judiciary Chief with urgently dealing with the case of Saudi Embassy takedown in Tehran.
Arman-e Emrouz: Talks no sign of ties
Zarif said responding to rumors that he has been repeatedly talked with US Secretary of State John Kerry
---
Aftab: Gov't resolved to contain rebels
---
Afkar: Stonewalling will not hinder JCPOA progress: Iranian President
Afkar: Int'l bodies confirm quality of Iran heavy-water: deputy head of the Atomic Energy Organization of Iran (AEOI)
---
Amin: No Political Party leads the 10th parliament, said Mohammad Sadegh Kharazi, one of the moderate reform figures supporting Rouhani's government.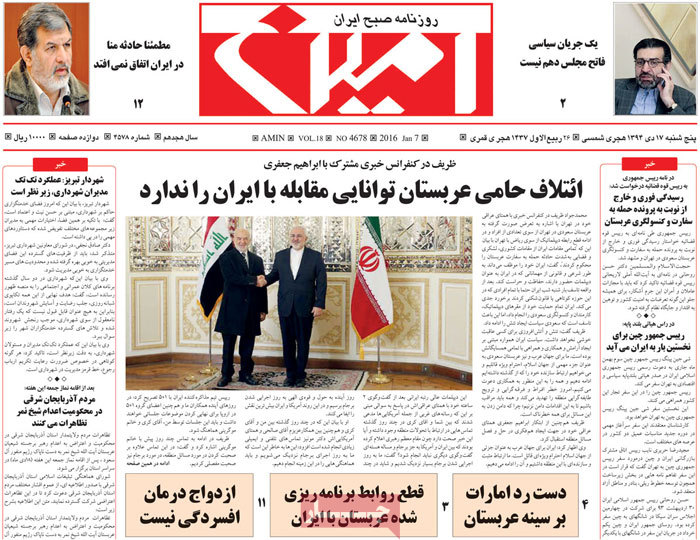 ---
Donyaye Eqtesad:
Saudi Government played into the hands of the Zionist interests by throwing monkey wrenches in the course of Iran's nuclear talks by taking measures like dragging down oil prices, Iran's Foreign Minister Mohammad Javad Zarif told his Iraqi opposite number.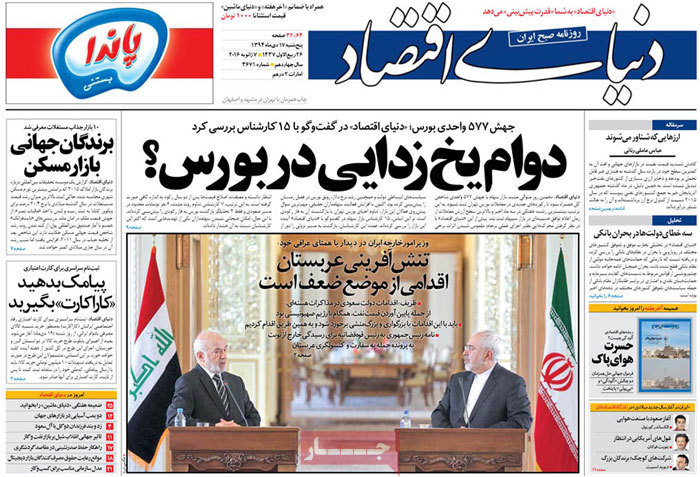 ---
Ettela'at: Strengthening regional countries is the basis of Iran's foreign policy: Iranian President to Iraqi FM
Ettela'at: Negligence dries out thousands of Qanats in Iran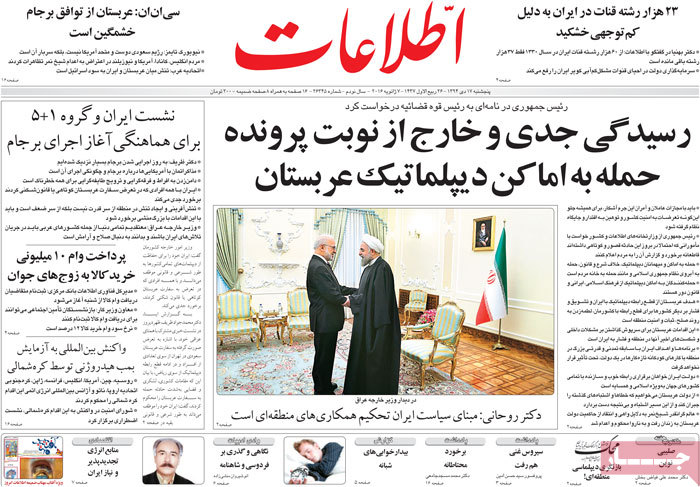 ---
Hemayat: Tehran prosecutor warns celebrities about social media use
The warning comes after a professional Persepolis goalie, Sosha Makani, was jailed in Iran after posting pictures that violated social norms in Iran on his Instagram page.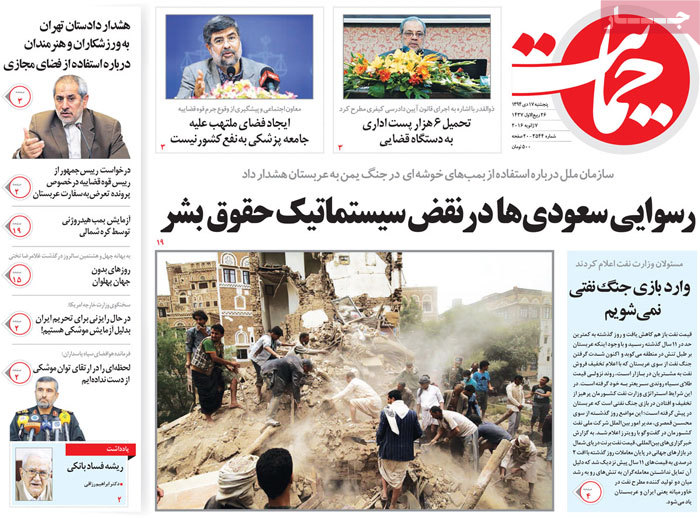 ---
Iran: Germans top Iran trade partners
Iran: 80% of Fajr filmmakers independent
Iran: End of capital punishment for smugglers?
Iran: 15-day deadline for identifying Saudi Embassy attackers: Interior Minister
Iran: Arabia moved against the course of interaction: FM
Iran: The executive boards [affiliated with the Interior Ministry] have given the [initial] go-ahead to 93 percent of electoral candidates.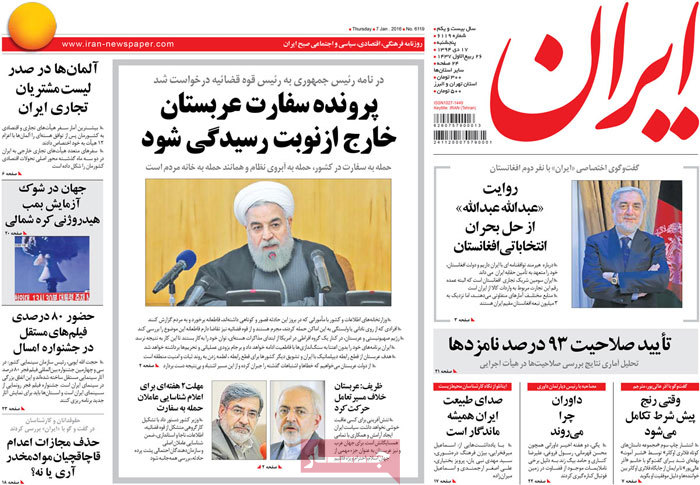 ---
Ta'adol: All NDFI (national development fund of Iran) arrears settled, the fund's managing director said.
Ta'adol: Global community concerned about growing tensions in the Middle East
Ta'adol: 15 strategic instructions to boost auto-making industry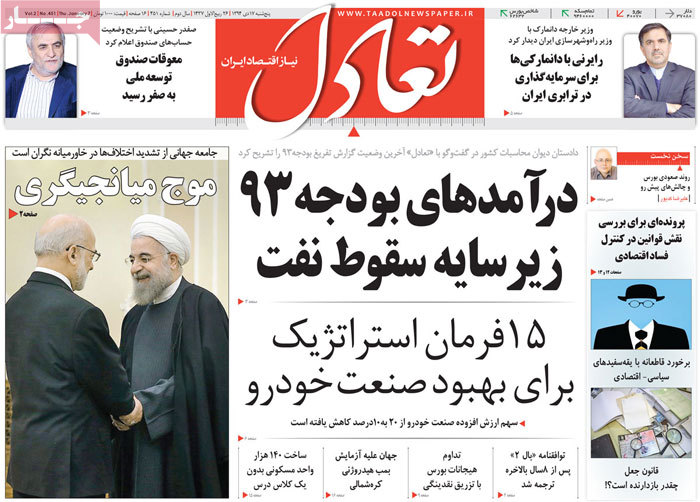 ---
Jahan Eqtesad: Anti-Iran coalitions pointless: Iran FM
Jahan Eqtesad: Excessive supply biggest oil market challenge
Jahan Eqtesad: Impact of Tehran-Riyadh tensions on Market not lasting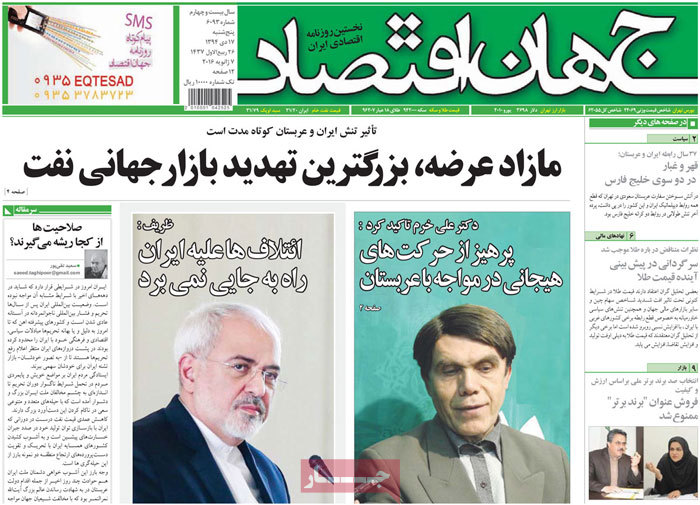 ---
Jame-Jam: Insurance Support under way for families in need of psychotherapeutic services
Iranian Ministry of Health has launched an initiative to offer insurance coverage to Iranian families in search of psychotherapeutic consultation services. Such services are very expensive in Iran and many families cannot afford them.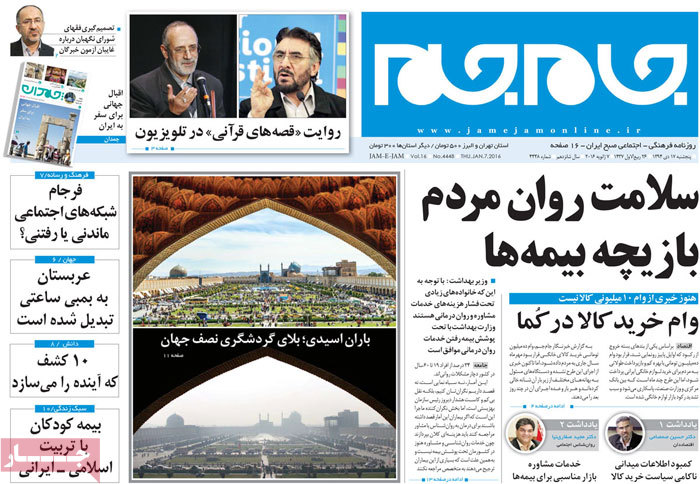 ---
Javan:
The daily has highlighted the "open carry" law in the Republican-dominated Texas Legislature in an article entitled as, "30,000 Murder Cases Prompt US Law to Change for Openly Carrying Guns".
Also in the daily's front page was Pyongyang's H-bomb test story.
The story's title: East Asia Shaken by an Emerging H-bomb from N. Korea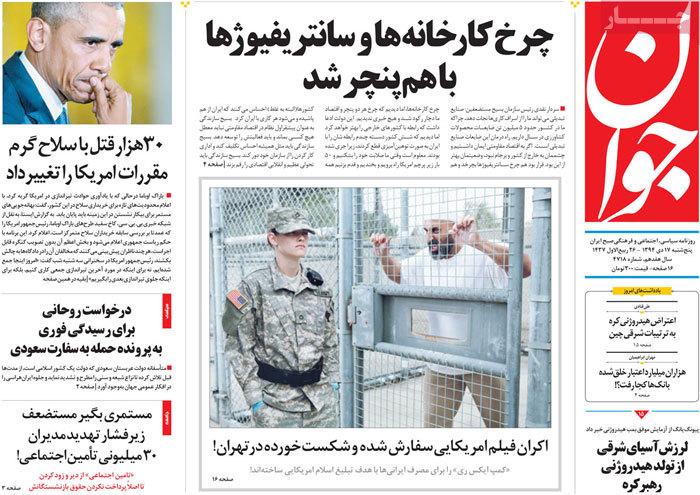 ---
Jomhouri Eslami: Mandeb Strait Open to Iranian Vessels
Bab-el-Mandeb (or Mandeb Strait) is a strait located between Yemen on the Arabian Peninsula, and Djibouti and Eritrea in the Horn of Africa. It connects the Red Sea to the Gulf of Aden. After it was rumored earlier this week that Djibouti severed its ties with Iran, some speculated that the country will close the strait to passing Iranian ships. Iranian foreign ministry authorities have rejected such speculations as being baseless.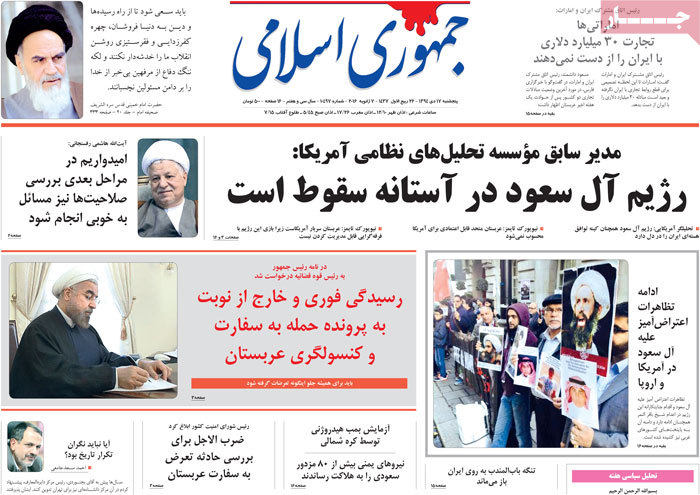 ---
Khorasan: Chabahar; Region's emerging trade hub
Assessing the possibilities of entering partnerships with Iranian projects was one of chief goals of the recent state visit by Afghan Chief Executive Officer Abdullah Abdullah from Iran, possibly in a bid to diversify its trade terminals. Most Afghan trade is done via Pakistan's Karachi port.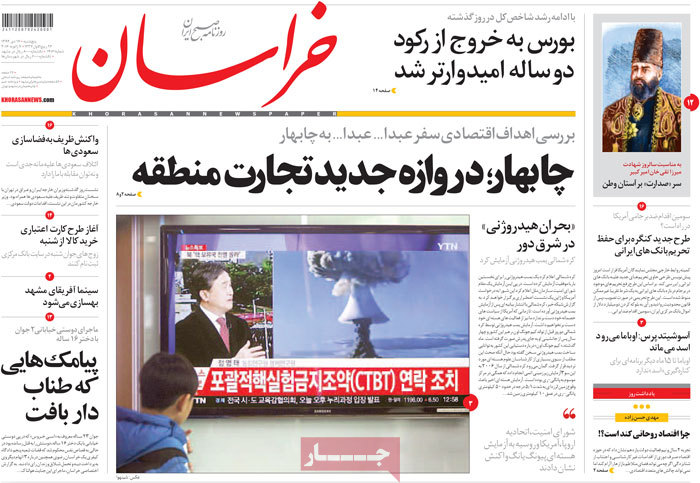 ---
Rah-e Mardom: Saudi entente is out of weakness, Iranian Foreign Minister Mohammad Javad Zarif said during a press conference with his Iraqi counterpart in Tehran.
Rah-e Mardom: Iran bracing for berthing VLCCs
Iran has said it is ready to moor the world's largest crude oil carriers.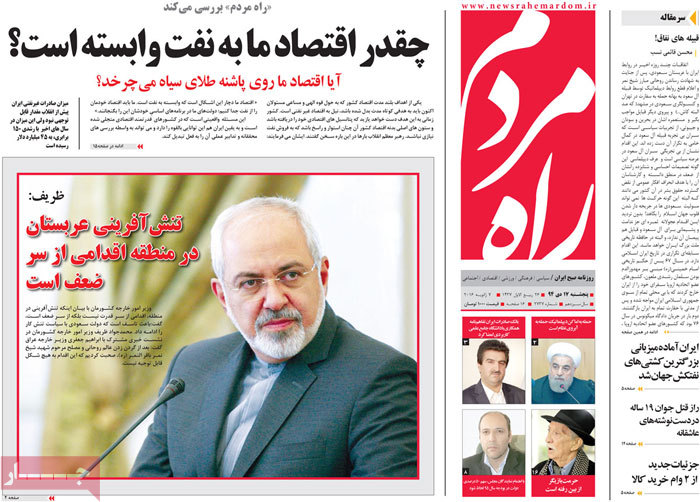 ---
Resalat:
"We spared no single moment to enhance the country's missile capabilities," said Brigadier General Amir-Ali Hajizadeh, the commander of the Aerospace Division of the Islamic Revolution Guards Corps (IRGC), addressing a gathering of Friday prayer leaders from across the country.
Senior Iranian cleric Grand Ayatollah Nasser Makarem Shirazi said countries that cut their ties with Tehran will beg to restore them.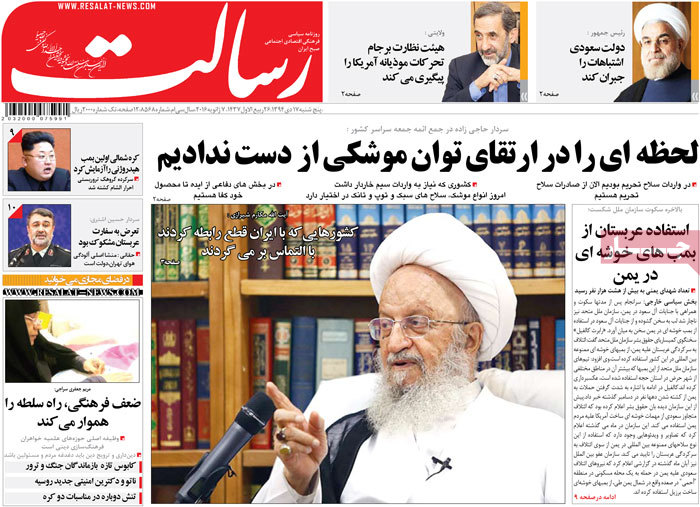 ---
Shargh:
Possibilities high for Hassan Khomeini (the grandson of Imam Khomeini, leader of the 1979 Islamic Revolution)'s progress in the race to make way to the Assembly of Experts