On Thursday, January 21, 2016, most Iranian press were grieved by the anniversary of the martyrdom of Hazrat Fatemeh Masoumeh, the sister of Imam Reza (8th Shia imam) who is buried in the central city of Qom. The Supreme Leader's assertions regarding the upcoming parliamentary elections and readiness of international companies and countries to enter Iran's market in the post-sanctions setting were primarily focused by Iranian press; the following are Thursday's highlights.
ABRAR:
Leader: System's opponents should vote in the election but not be let in Parliament
Iran sends Araqchi to Jeddah
Iran has sent Deputy Foreign Minister Seyyed Abbas Araqchi to Saudi Arabia to attend a meeting of the Organization of Islamic Cooperation in Jeddah, Saudi Arabia. Tensions between Tehran and Riyadh escalated after Saudi authorities executed prominent Shia cleric Sheik Nimr al-Nimr and a number of fervent Iranian individuals attacked the Saudi Embassy in Tehran last month. Since then, numerous countries including China and Pakistan have tried to broker détente between the two OPEC members.
Guardian Council will not give in under pressure: body's head Ahmad Jannati
Guardian Council rules out e-voting
Iran's Guardian Council has rejected a plan for electronic voting ahead of the February elections for the Parliament and the Assembly of Experts.
Unemployment rises by 356,000 all at once
UN peacekeepers concerned over new fighting in Sudan's Darfur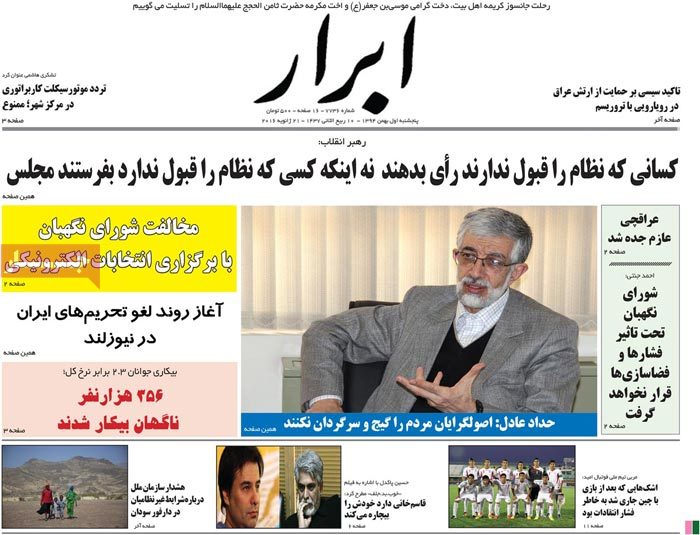 ---
ABRAR EGHTESAADI:
Gov't Spokesman: 35% rise in salaries of state employees next year
Korea calls for $3 discount to buy Iran oil
EU firms ready to build roads in Iran
Pakistan calls for free trade with Iran
Glut immerses global oil market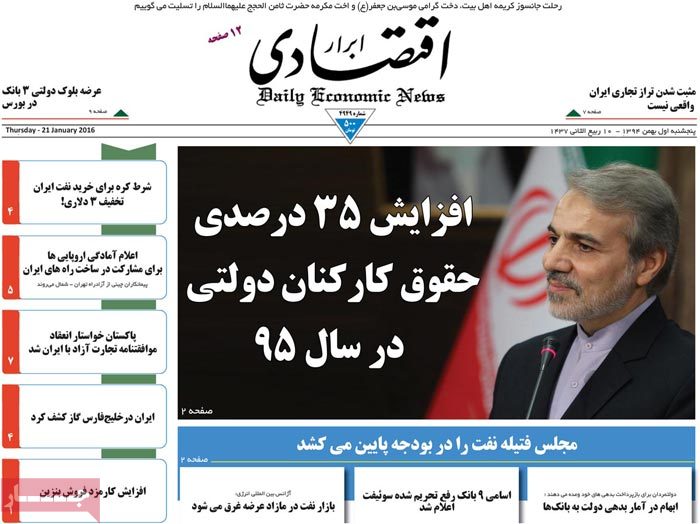 ---
AFKAR:
Japan to lift sanctions on Iran Friday
Petroleum industry first target of sanction: deputy minister
House of Saudi, more aggressive than Zionists
---
AMIN:
Iran, Czech bent on boosting mutual ties
Economy's biggest problem is being state-run: Minister
problems faced by of modern parents in families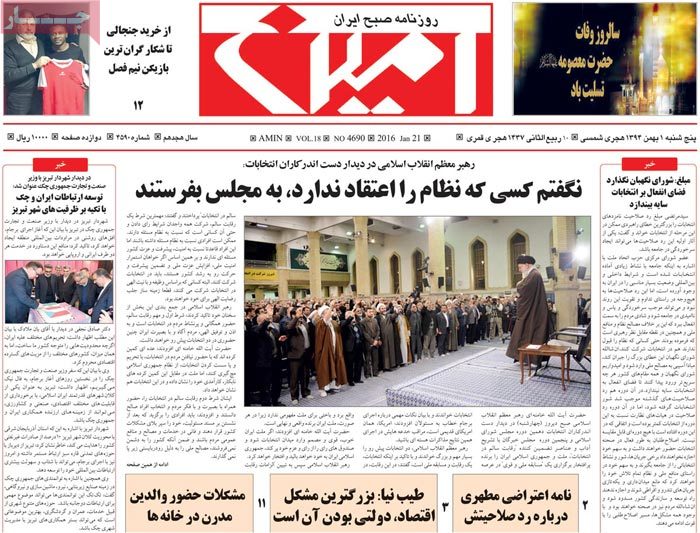 ---
ARMAN-e EMROUZ
Leader decries Saudi Embassy attack in Tehran
Iran President set to visit Italy
Abortion drug sold on Iranian market
30 provincial governors disqualified
Arman quoted a reformist figure, saying the reformist front has no intention of pulling out of parliamentary election campaigns now that the Guardian Council has disqualified a shockingly large number of reformist hopefuls in its screenings.
Zarif: Iran not a single-voiced country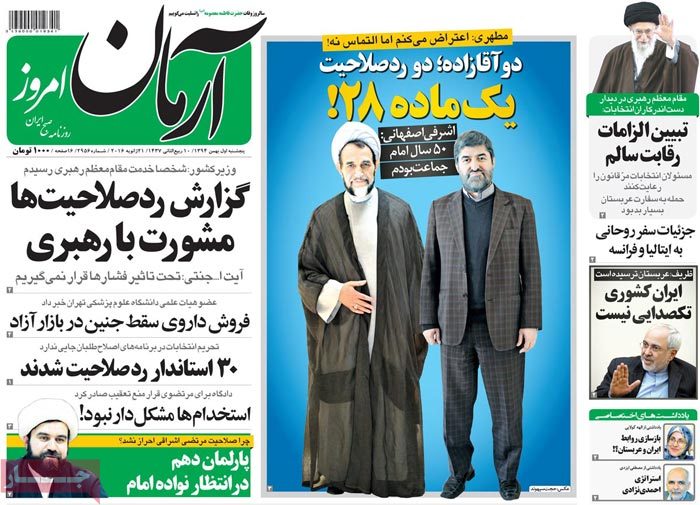 ---
ASRAR:
Zarif in Davos: Saudi Arabia panicked by nuclear deal
Leader: Nation, election's final winner
Leader: Retaliate US breach
Iran's Rouhani to visit Italy, France next week
Islamabad not to join Any anti-Iran coalition: Pakistani Defense Minister
Pakistani Defense Minister Khawaja Asif said Islamabad under no circumstances would join a military alliance against Iran.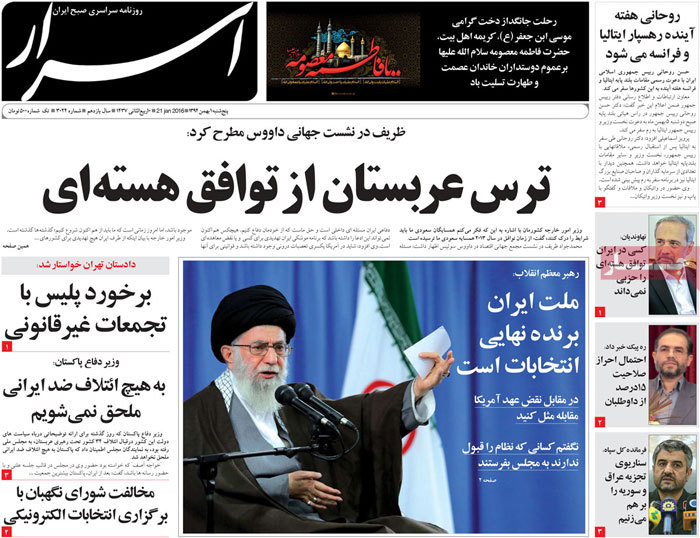 ---
Ebtekar:
Strong turnout will guarantee sound elections: Leader
Tehran-Riyadh military clash not possible: Iran FM
Speaking in Davos, Iranian Minister of Foreign Affairs, Mohammad Javad Zarif said the military confrontation of Iran and Saudi Arabia is not possible and would not benefit anyone.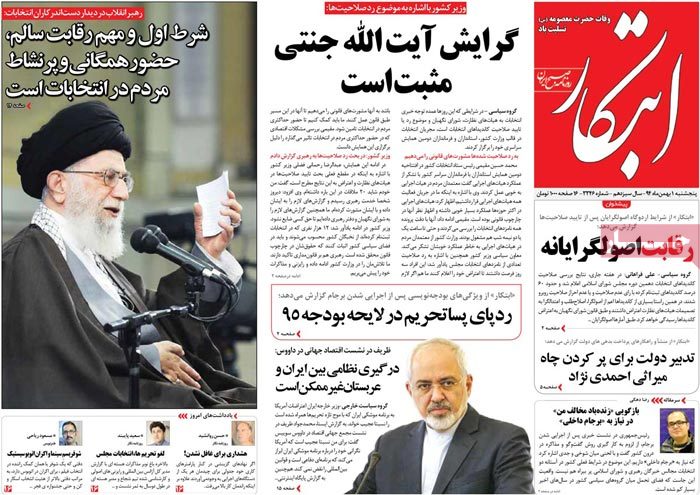 ---
EMTIAZ:
IRR3,000b facilities for exporters of goods to Russia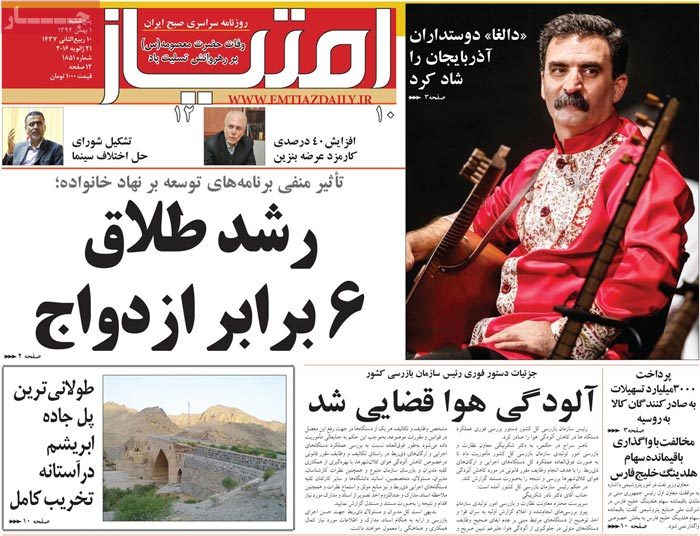 ---
ETEMAD:
Leader: Abide by the very framework of law
Addressing a meeting with members of the Guardian Council, the vetting committee of Iran's February Parliamentary and Assembly of Experts elections, the Supreme Leader of the Islamic Revolution called on adherence to the very framework of law in the elections.
Students' bloodshed in Peshawar; At least 19 killed in attack on Bacha Khan University in Pakistan
Multinational medicine giants poised for Iran return
Health Minister proposed JCPOA II
Dr. Hashemi says JCPOA II will aim at reducing social chasms and boosting national unity and integrity in the country.
---
HEMAYAT:
Ahmed Shaheed's clumsy human rights game on Iran
The U.N.'s special "rapporteur" on human rights in Iran, Ahmed Shaheed, in his latest report has called on getting tougher on Iran parallel with JCPOA implementation.
---
JAMEJAM:
Insurance policy for marriage
15% may be added to the number of qualified candidates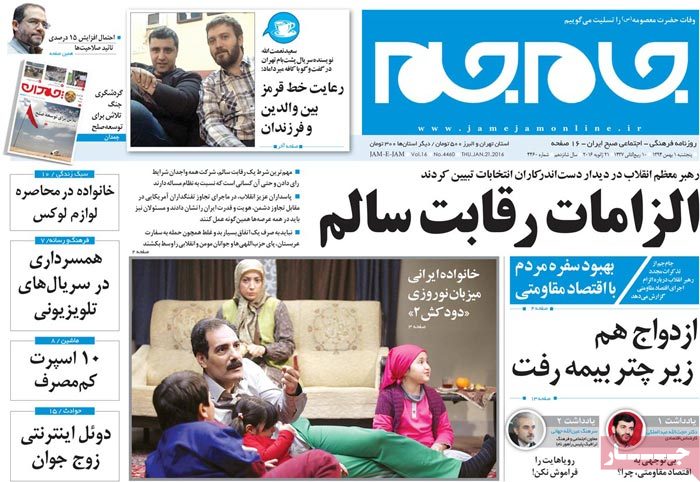 ---
JAVAN:
Leader: Nowhere in the world they let in system's opponents
Zarif: US addicted to coercion
Nuclear game not finished yet; not fair
IRGC Chief: Supporting Gaza  a duty for all Muslim and non-Muslim nations
IRGC Commander: Iran to Foil Zionist Plot to Disintegrate Iraq, Syria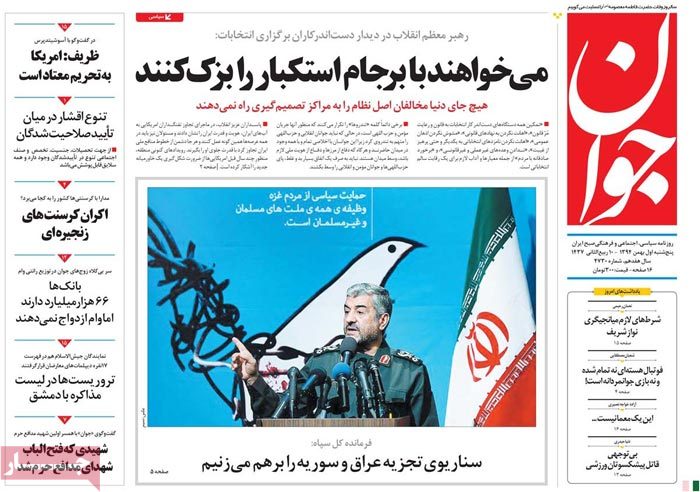 ---
JOMHOURI ESLAMI:
Leader outlines criteria for sound competitive elections
All sanctions on 9 Iranian banks lifted
Zionist plot to form autonomous Kurdistan state between Iran, Turkey
50 Human Rights bodies call for ousting Saudi Arabia from UN Human Rights Council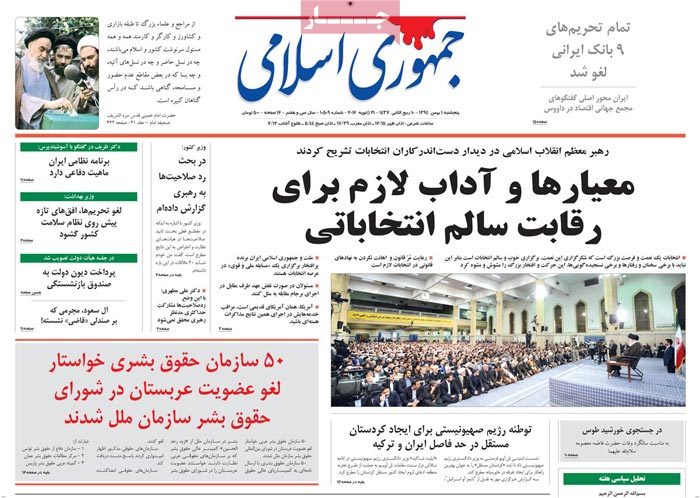 ---
KEYHAN:
Leader urges voters to choose candidates that will not sell the country to enemy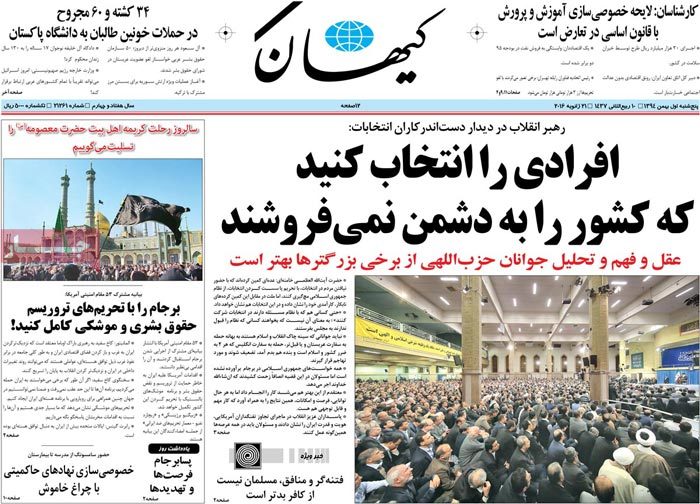 ---
KHORASAN:
Clear stance
A report on Leader's assertions regarding the JCPOA implementation, February Parliamentary and Assembly of Experts elections, honoring capture and freeing of US marines, and condemnation of the mob attack of Saudi embassy in Iran.
Opinion: What China seeks in Middle East
Nawaz Sharif: Iran agreed to meet with Saudis
---
MARDOM SALARI:
Zarif to AP: US missile sanctions illegal
Iran discovers gas reserve in Persian Gulf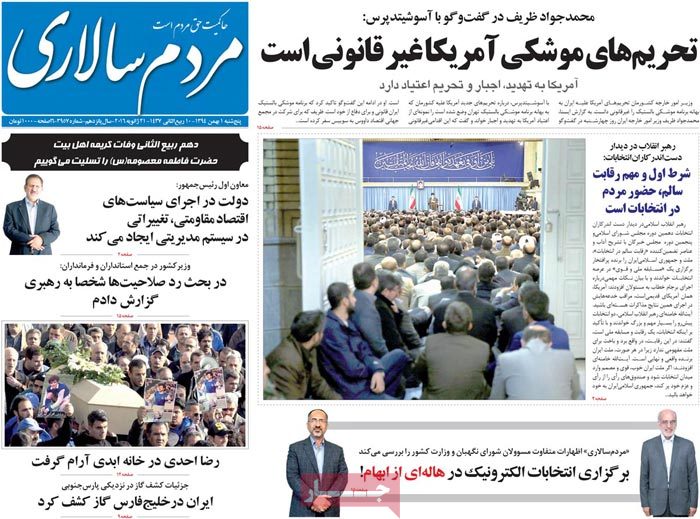 ---
IRAN:
Iran unveils fresh images of Iran in Davos
Foreign Minister Zarif and Presidential Chief of Staff Mohammad Nahavandian outlined Rouhani administration's economic, diplomatic priorities in post-sanctions setting.
Promising outlook of Iran-China ties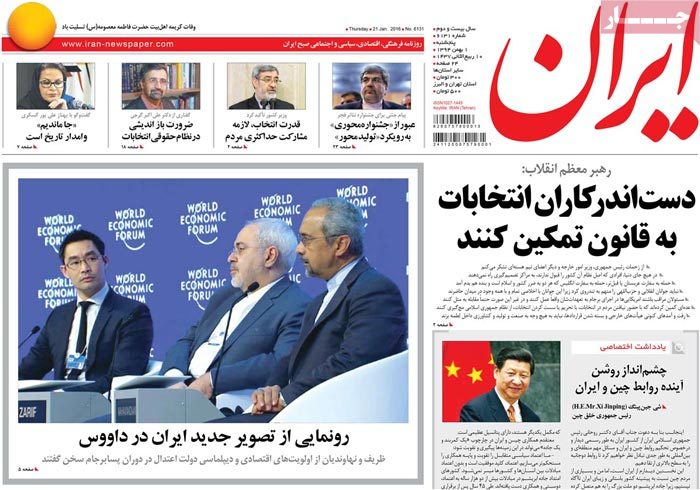 ---
RAH-e MARDOM:
Attack on Saudi, UK embassies detrimental to country, Islam: Leader
Editorial: Post-JCPOA chance for development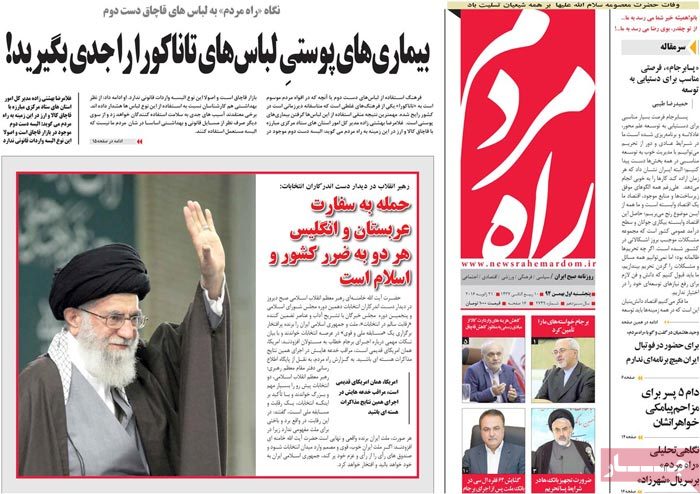 ---
RESALAT:
Israel: Iran more dangerous than ISIL
Violation of laws, women's biggest concern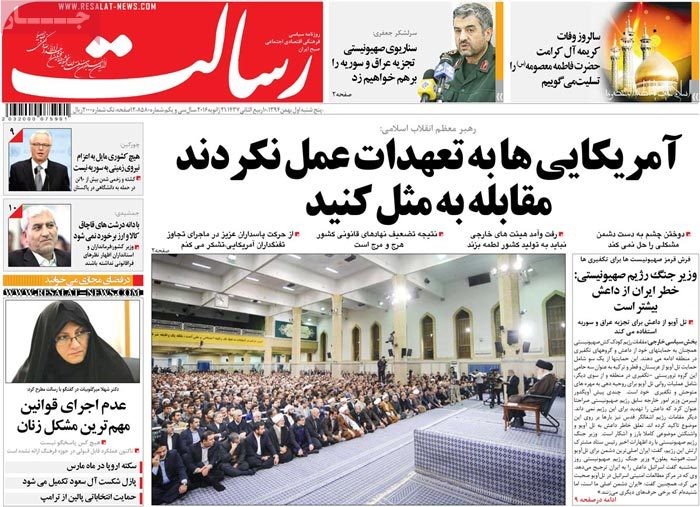 ---
ROOZAN:
Veep: JCPOA victory of logic over force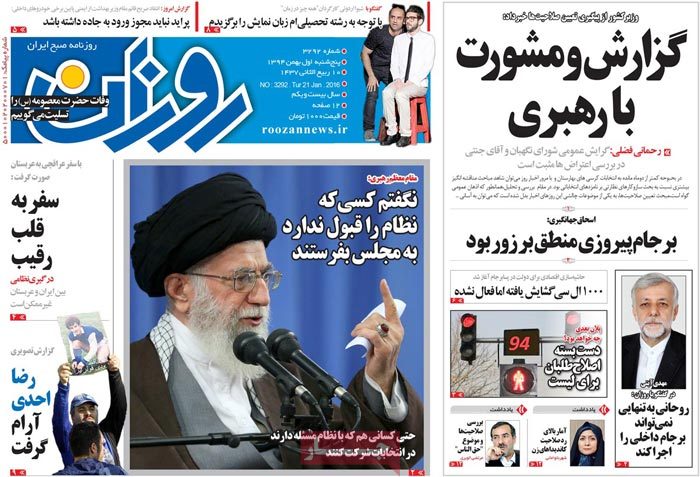 ---
ROOYESH MELLAT:
Obama openly seeks Iran ties
Iran oil industry poised for $200b capitals
Iran President: Iran, EU to bolster ties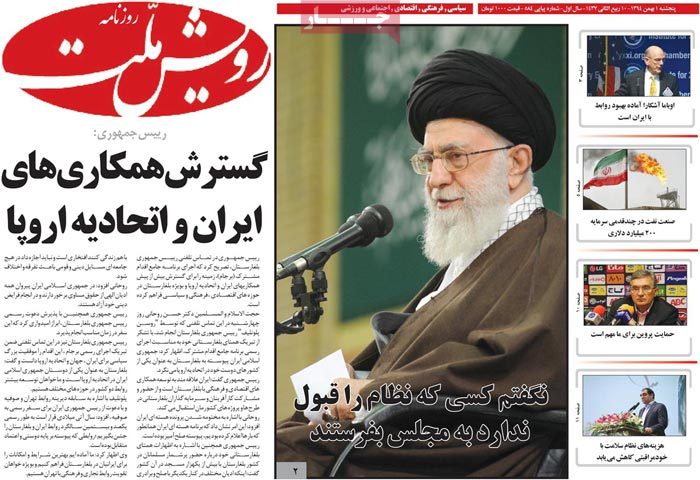 ---
SAYEH:
Report on how 62 tycoons put half of the world population into poverty
Report: How Saudis aim to render Iran oil industry insolvent
---
SOBH-e EGHTESAD:
0.5% share of Iran of global tourism market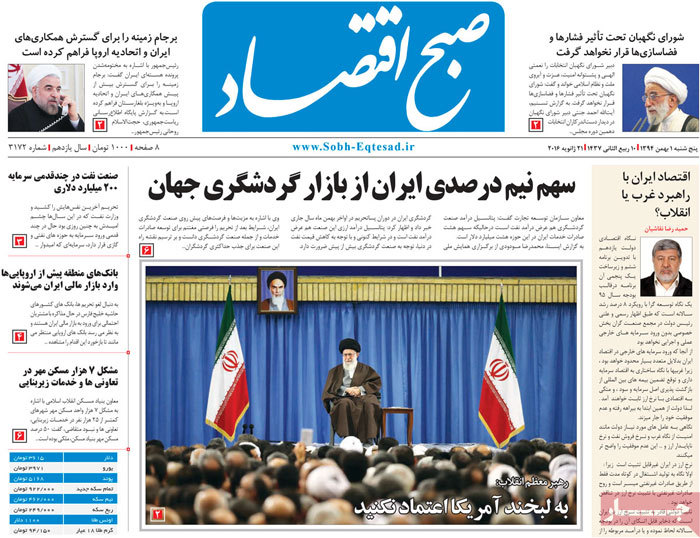 ---
SHARGH:
Judiciary steps in to contain pollution in big cities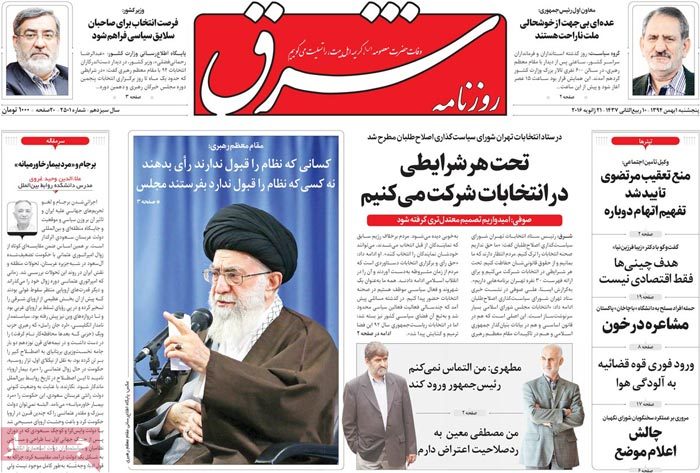 ---
SAHEB GhALAM:
No plans to put LNG projects to tender by Iran
Iran, Pakistan appoint representatives to broker Iran-Saudi détente
---
VATAN EMROUZ:
– The last word
A report on the Leader's statements regarding the upcoming elections in Iran