Newspapers today covered a public session of Tehran's City Council where Mayor of Tehran Mohammad Baqer Qalibaf defended his performance in managing the Plasco incident's crisis, but was faced with councillors' call for his resignation.
US President Donald Trump's clash with the US judiciary over the cancellation of his visa ban also received great coverage.
Another top story was Iranian President Hassan Rouhani's meeting with new Portuguese ambassador where Rouhani said Tehran is ready to expand its cooperation with the European Union in fight against terror.
The above issues, as well as many more, are highlighted in the following headlines:
Aftab-e Yazd:
1- Reformist MP: Rouhani Might Give in to Pressures and Refuse to Run for Presidential Votes
2- Trump's Self-Flagellation to Support Putin: Reporter Said Putin Is a Murderer, Trump Replied US Is Not Innocent Either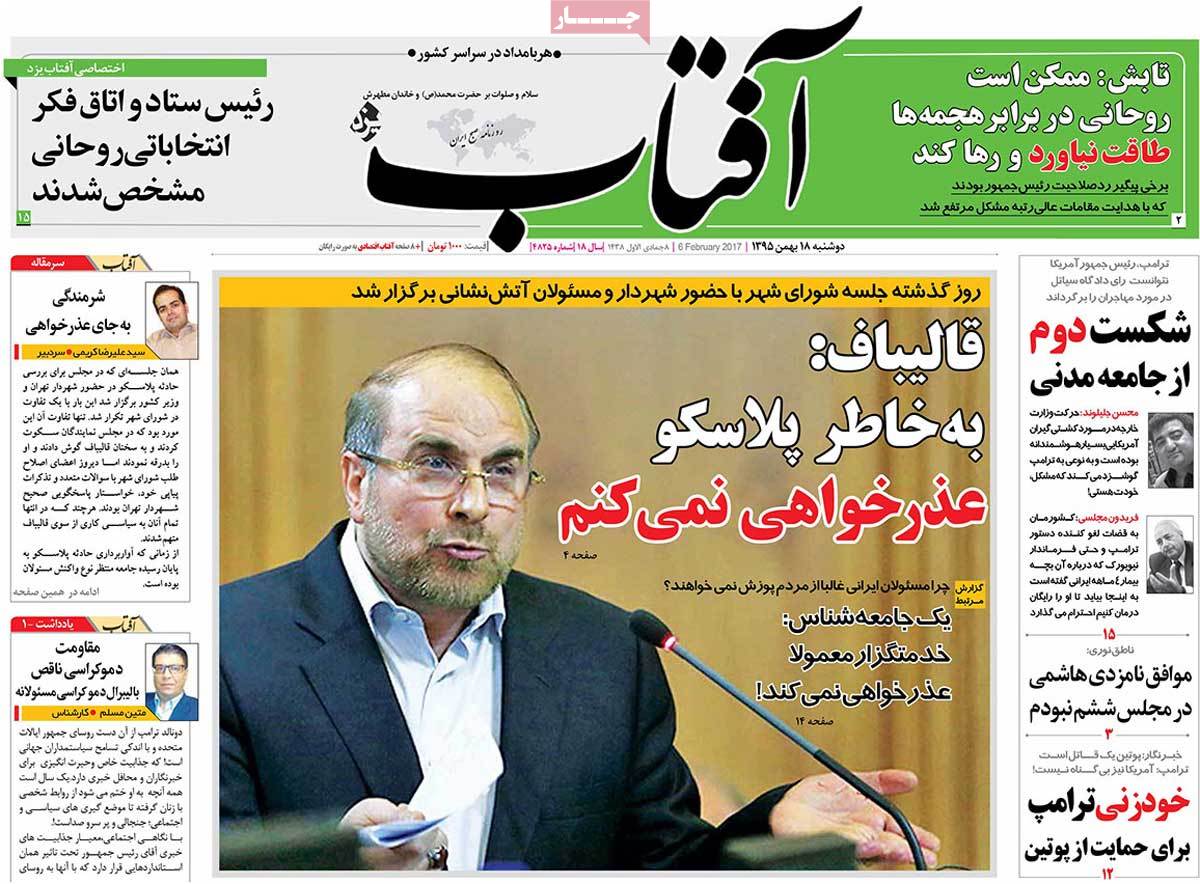 ---
Arman-e Emrooz:
1- Mayor of Tehran: I Apologize Because I Was Present at All Scenes and Sites! [In reaction to City Council members who asked him to apologize for Plasco building collapse]
2- Opponents Trying to Discourage Rouhani from Running for Presidency
3- US Wrestling Team Allowed to Enter Iran for World Cup; Zarif Says Iran's Visa to Be Granted to Wrestlers Given the Federal Judge's Ruling
4- Trump Hurting US Democracy: Analyst
---
Besharat-e Now:
1- Iranian Women Surprise Tour Guides from All over the World: 270 Tour Guides Were So Fascinated by Iran's Tourist Attractions in Their Visits to Yazd, Isfahan, and Shiraz that They Called Iran the Paradise of World Tourism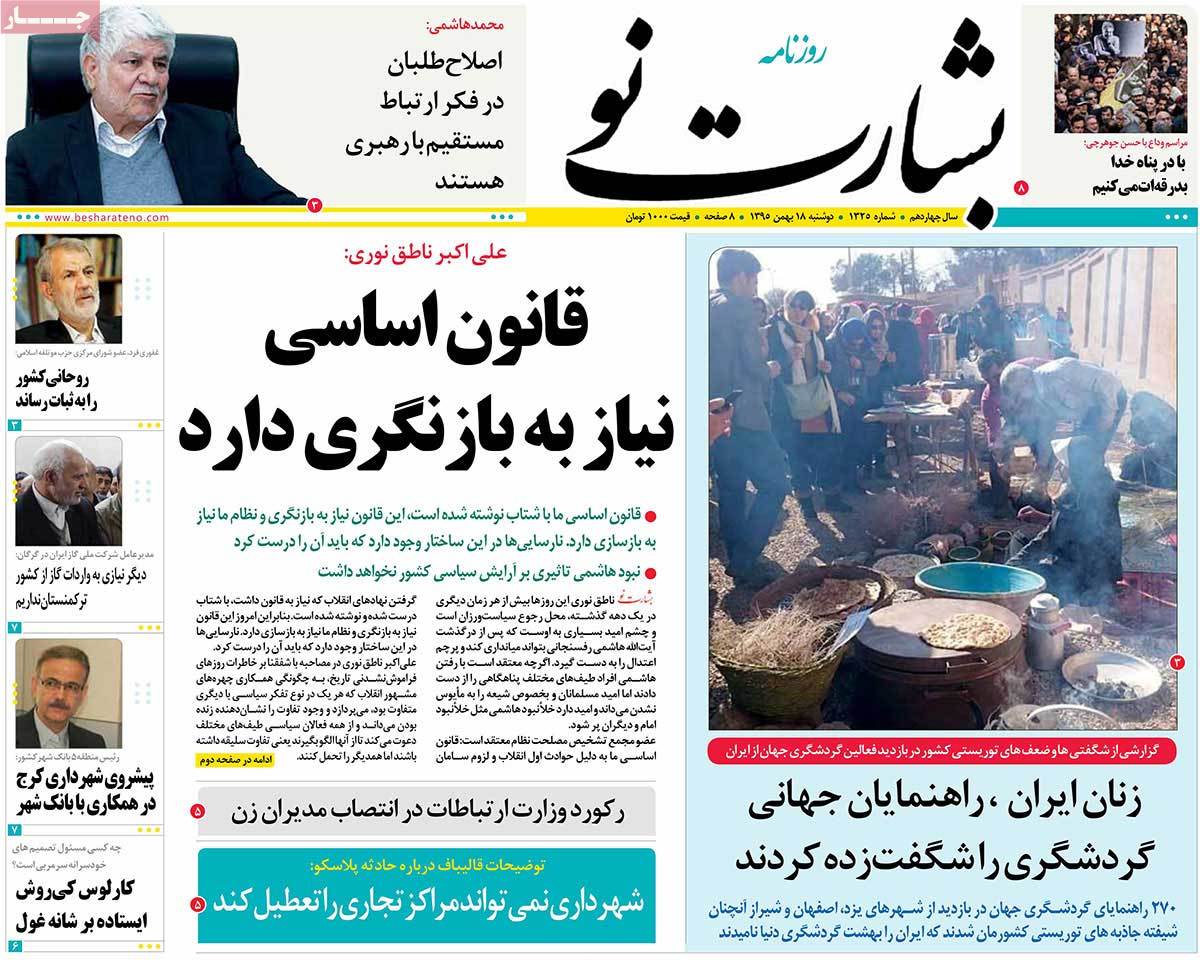 ---
Ebtekar:
1- Mayor of Tehran: Interior, Labour, and Urban Development Ministries Are Responsible for Plasco Incident!
2- Trump Loses: Appeals Court Upholds Federal Judge's Ruling against President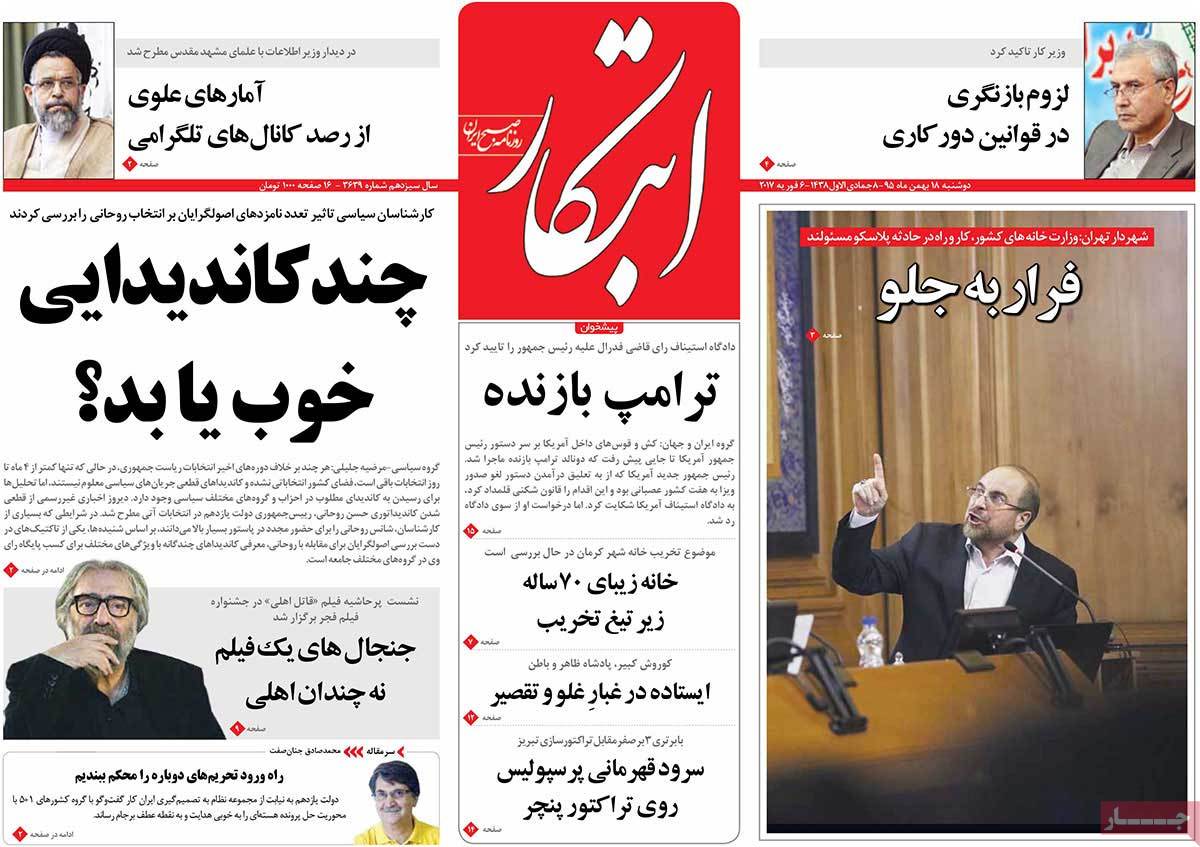 ---
Emtiaz:
1- Mayor of Tehran's Report about Plasco Incident and Relevant Authorities' Negligence
2- Iran Needs 1,000 Hospital Beds: Health Minister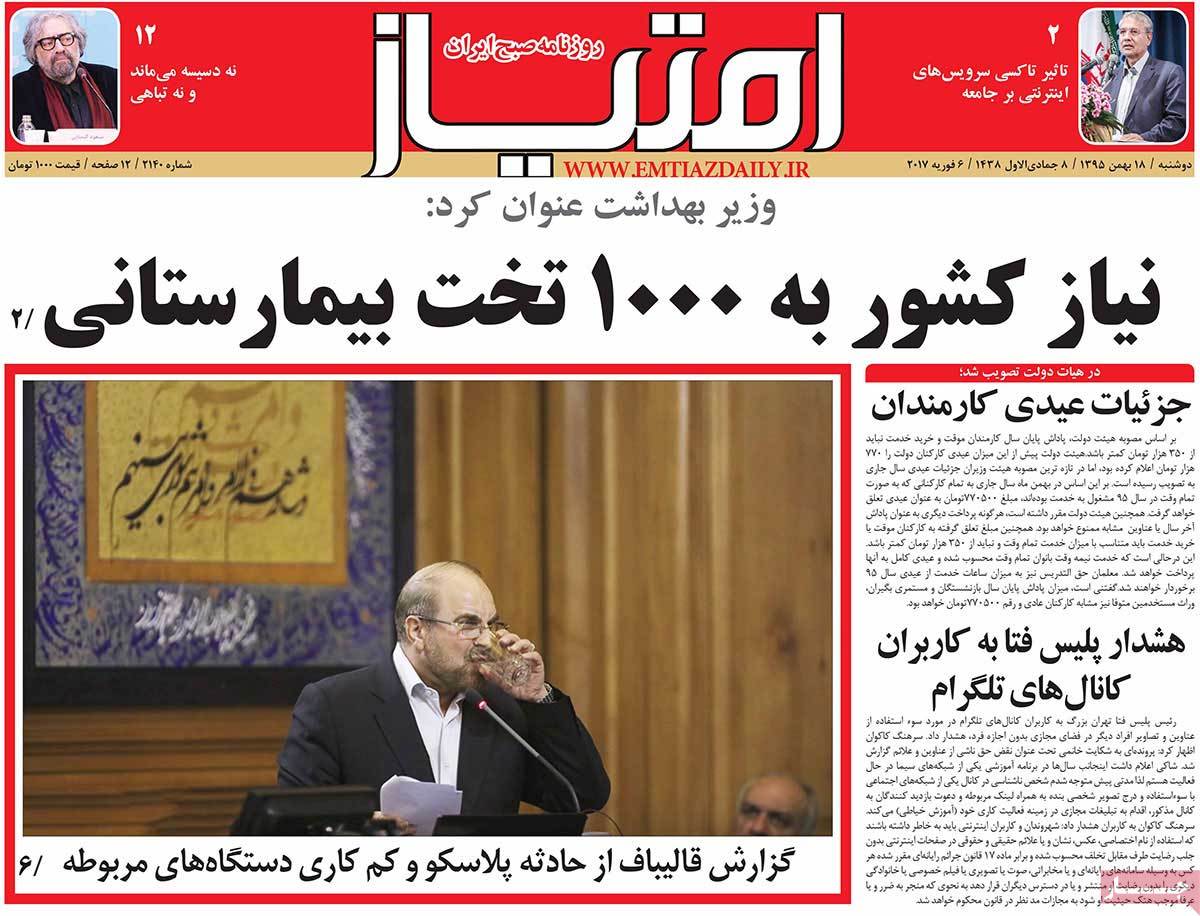 ---
Etemad:
1- Plasco Secret Remains Untold: Reformist Members of City Council Call for Mayor's Resignation
2- US Constitution More Powerful than Trump: Government's Appeal Rejected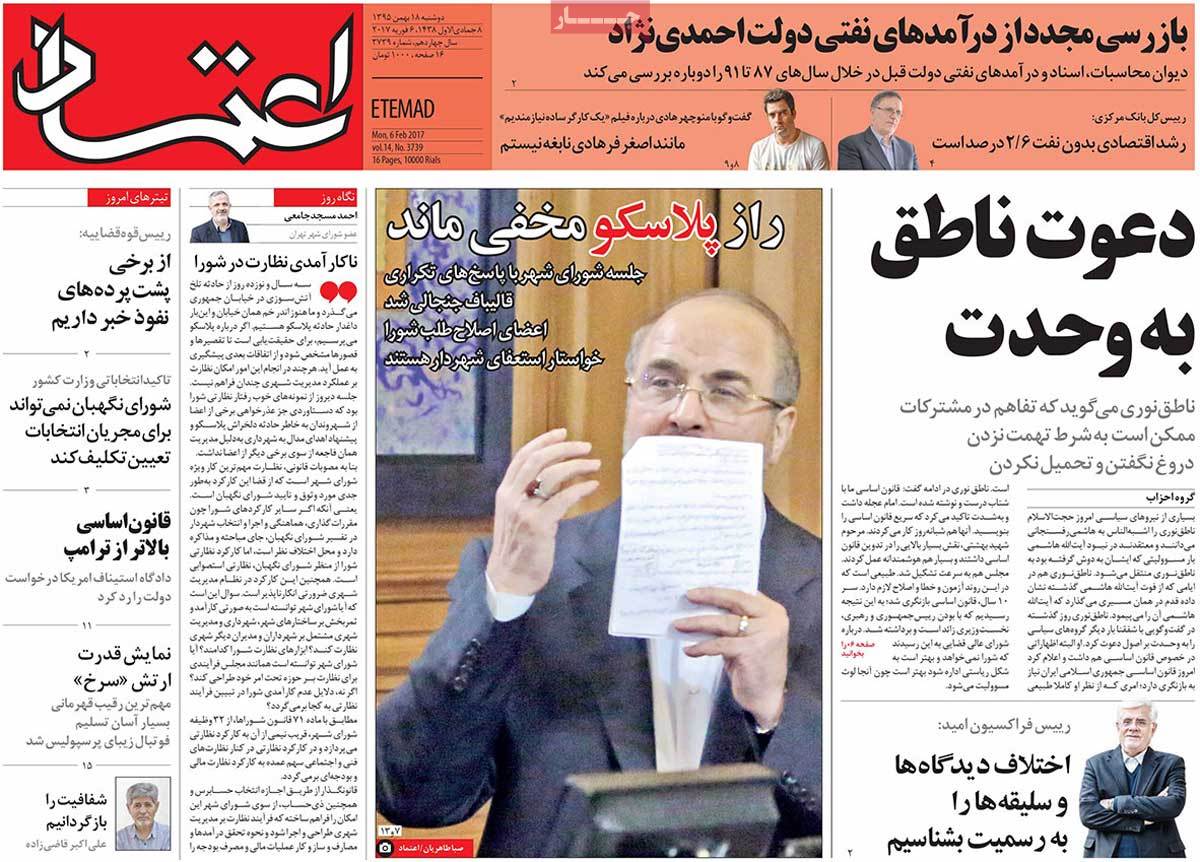 ---
Ettela'at:
1- Iran Welcomes Expansion of Cooperation with EU
2- President Rouhani: Iran Prepared to Develop Cooperation with EU in Fight against Terrorism and Extremism
3- Powerful Iran Can't Be Indifferent to Regional Developments: Former Diplomat
4- People in Paris Hold Massive Demonstrations against Trump's Racist Policies
5- Thousands of Jews in Tel Aviv Hold Rallies against Zionists' Racism
6- People's Merits Should Be Considered, Not Their Gender: Academic
---
Iran:
1- Unfinished Unfolding of Secrets: 8-Hour Controversial Marathon in Tehran's City Council to Discuss Municipality's Role in Management of Plasco Incident
2- Oil Incomes under Scrutiny of Court of Audit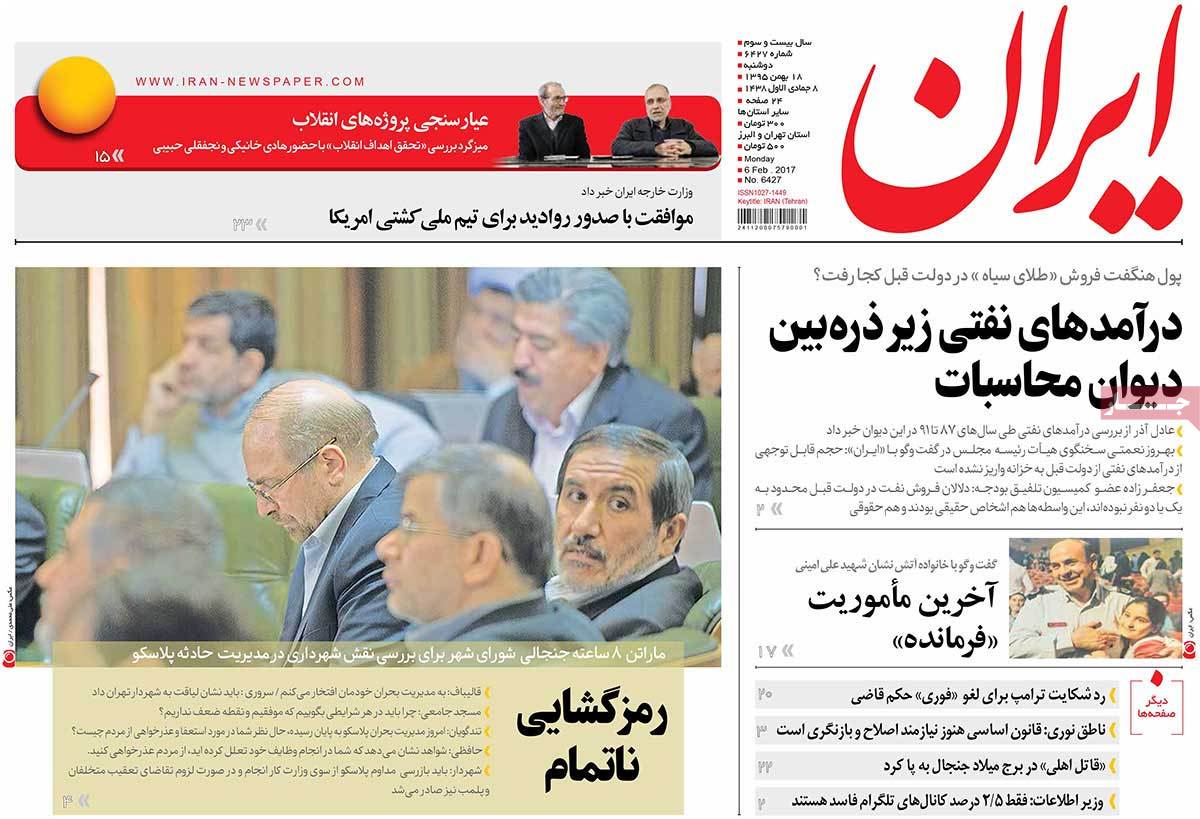 ---
Javan:
1- Trump's Secretaries Thinking about Resignation
2- Mayor of Tehran: I Apologize to Iranian Nation, but I Don't Pay Ransom to Counter-Revolutionary Forces
3- Reformist Member of City Council: Even If Qalibaf Was Not Mayor of Tehran, I Would Have Invited Him to Manage Plasco Crisis
4- Basij Chief: US Enmity Has Not Decrease a Bit; Some Should Not Get Emotional for US Visa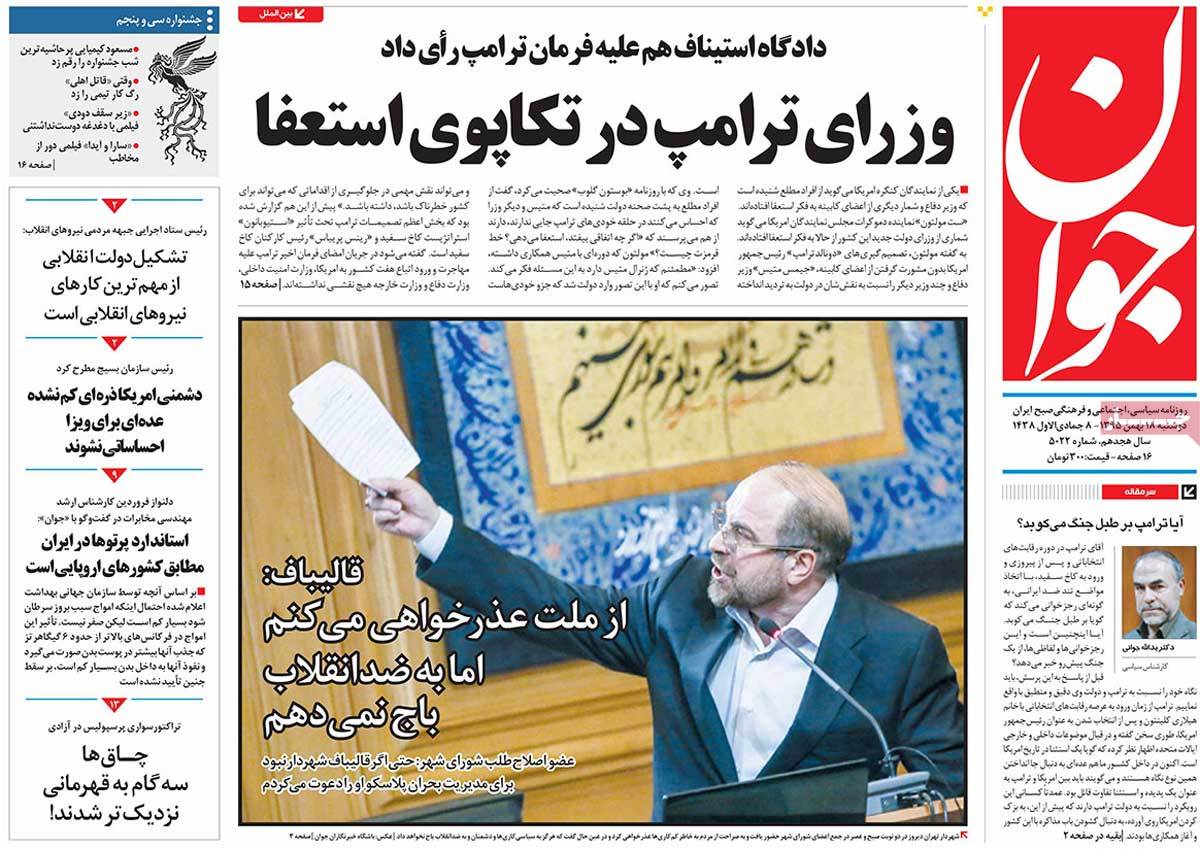 ---
Jomhouri Eslami:
1- You May Have Different Tastes, but Tolerate Each Other: Veteran Conservative to Politicians from Different Factions
2- Why Do You Think US Is Innocent, Trump Tells Fox News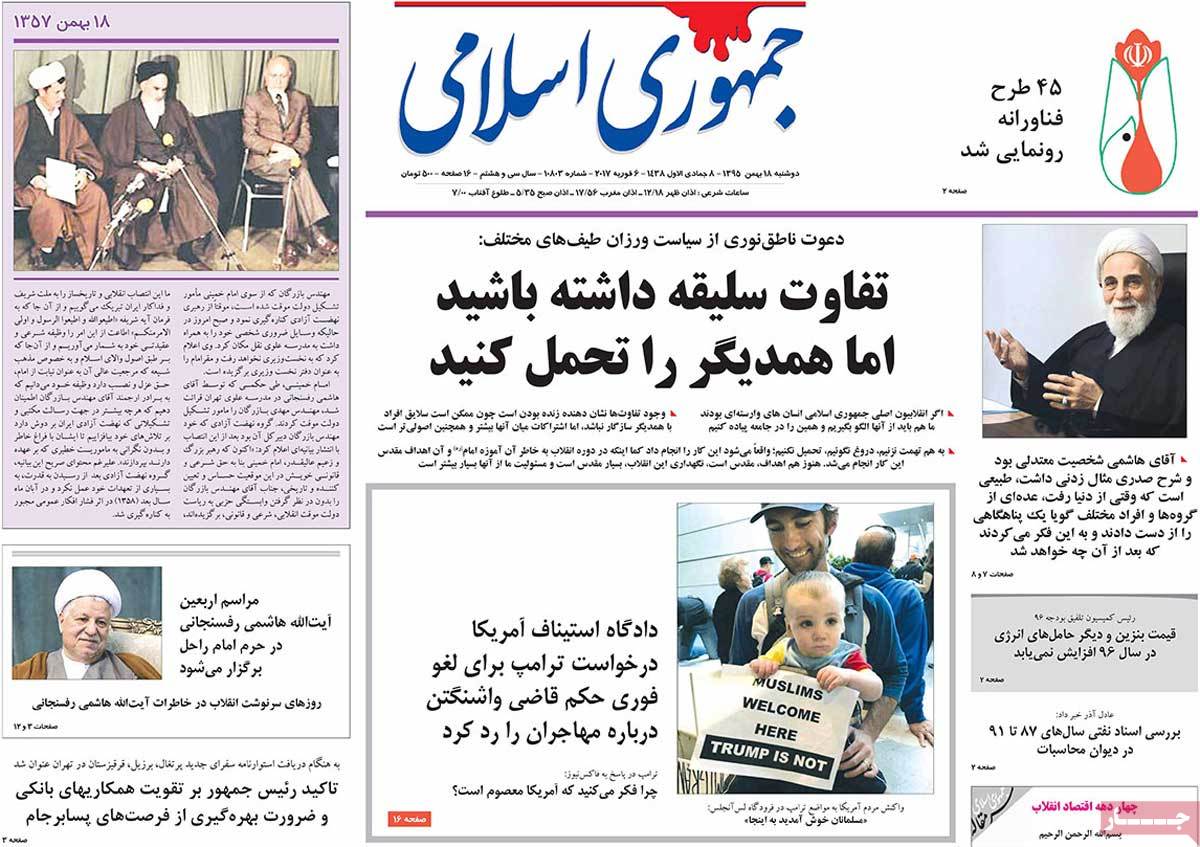 ---
Ka'enat:
1- Moscow's Greenlight to US
2- Constitution Needs Revision: Veteran Iranian Conservative
---
Kayhan:
1- US Frowns, Europe Smiles: Good Cop Bad Cop Game Played Once Again
2- By Threatening Iran, Trump Wants to Steal Saudi Arabia's Money: Saudi Prince
3- Huffington Post: Iran to Respond to Trump's Bluff and Washington Will Be Ashamed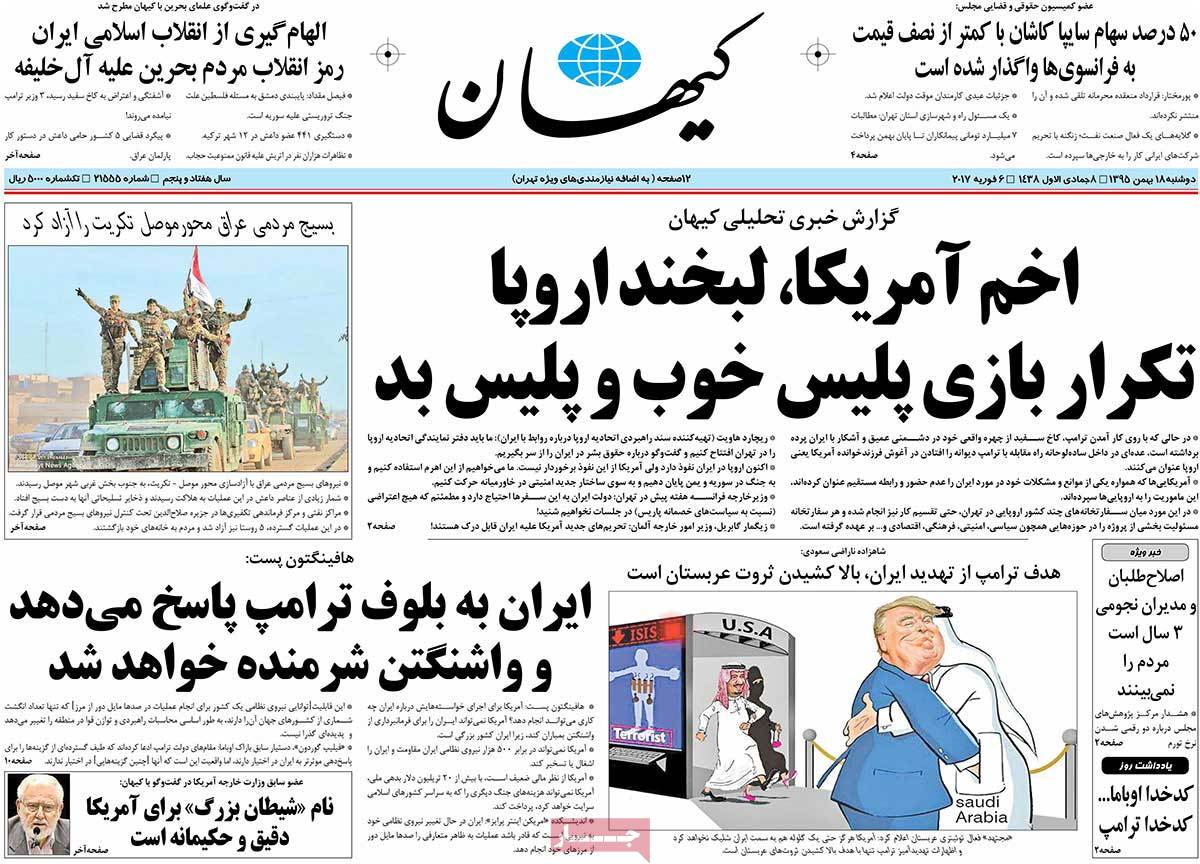 ---
Resalat:
1- Judiciary Chief: Countering Enemy's Infiltration and Aggression Is Jihad
2- Trump: US Is Full of Murderers
3- First Shock to Trump: US President Sues Federal Judge
4- Millions of Americans Call for Trump's Impeachment: Polls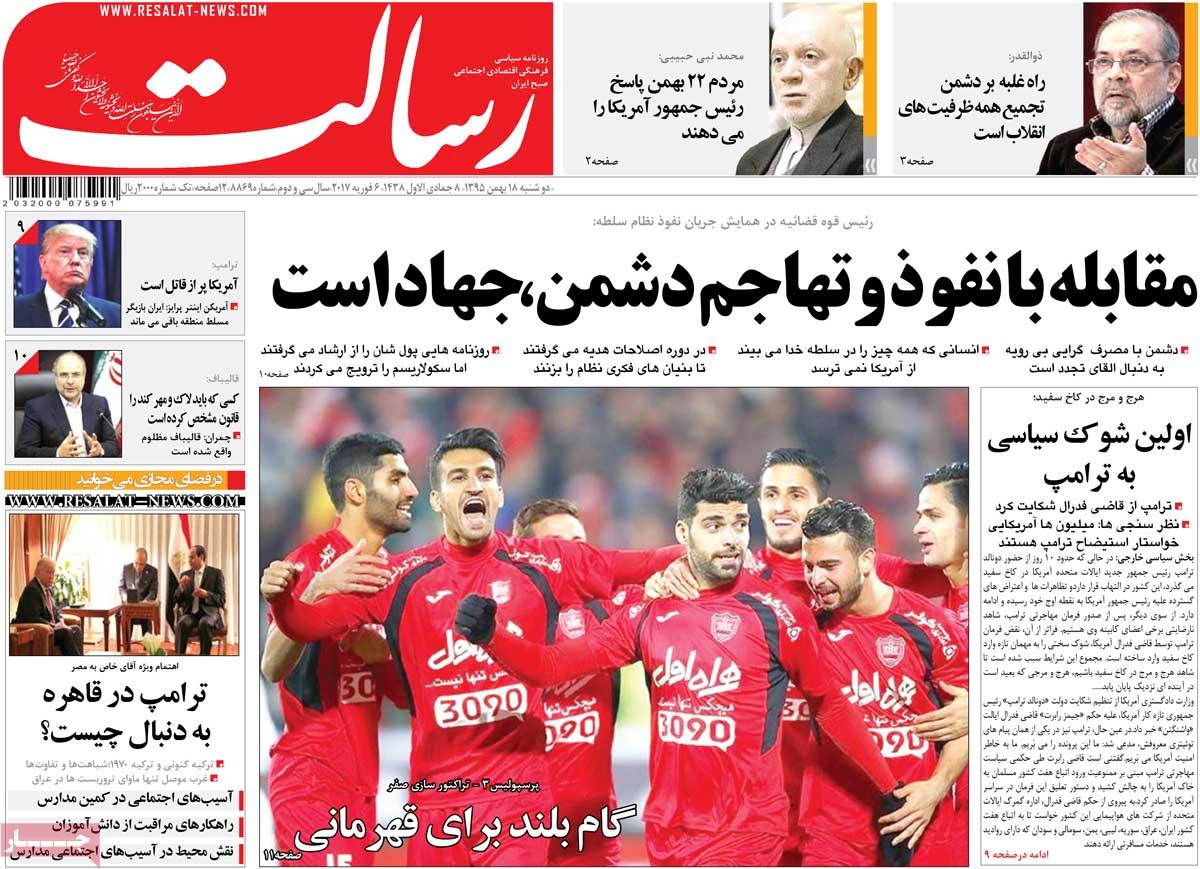 ---
Seda-ye Eslahat:
1- Iran's Doors Open to All Iranian Experts: Official
2- Surprise Is Only Reaction of Officials to Incidents