The top story today was a US court ruling to suspend President Donald Trump's visa ban on citizens of 7 Muslim-majority countries.
The fresh sanctions imposed by Trump's administration on a number of Iranian individuals and companies, and Iran's reaction to the move also received great coverage.
A number of newspapers also covered the remarks by an Iranian energy official about the revival of Iran's controversial Crescent Deal with the United Arab Emirates. Iran is reportedly ready to export its natural gas to the Arab neighbouring country.
The above issues, as well as many more, are highlighted in the following headlines:
19 Dey:
1- First VP: We Don't Care about Americans' Anti-Iran Allegations
2- MP: US Won't Clash with Iran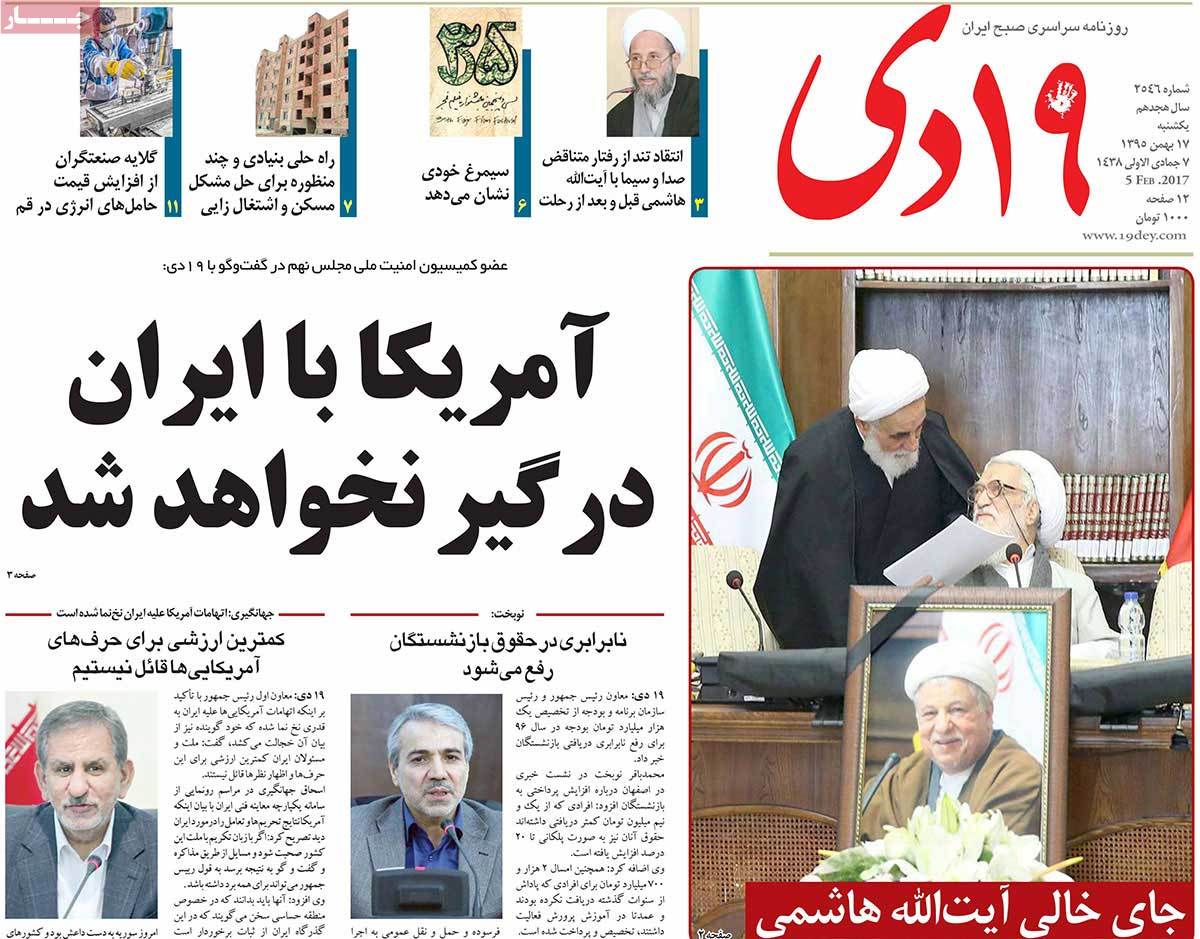 ---
Abrar:
1- White House: Iran's Missile Tests Don't Directly Violate JCPOA
2- Arrest Warrant Issued for Iraqi Minister in 2016 on Charge of Financial Corruption
3- US Defence Secretary: We Won't Increase Number of Our Forces in Middle East to Counter Iran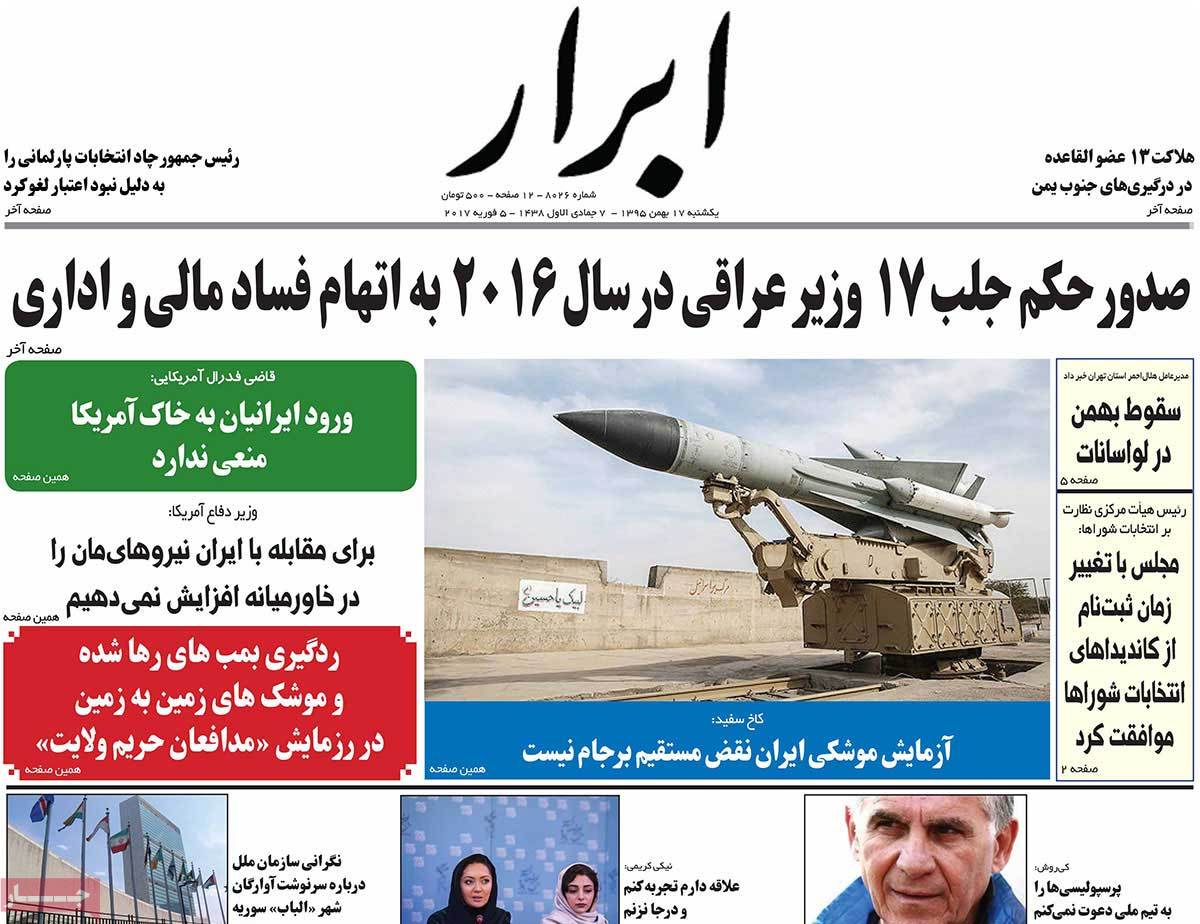 ---
Abrar-e Eqtesadi:
1- Iran Has Not Received €4.5 Million of Its Oil Money
2- Iran's Gas Offer to UAE over 'Crescent' Deal
3- Foreigners Didn't Leave Negotiations with Iran's Petchem in Spite of Fresh US Sanctions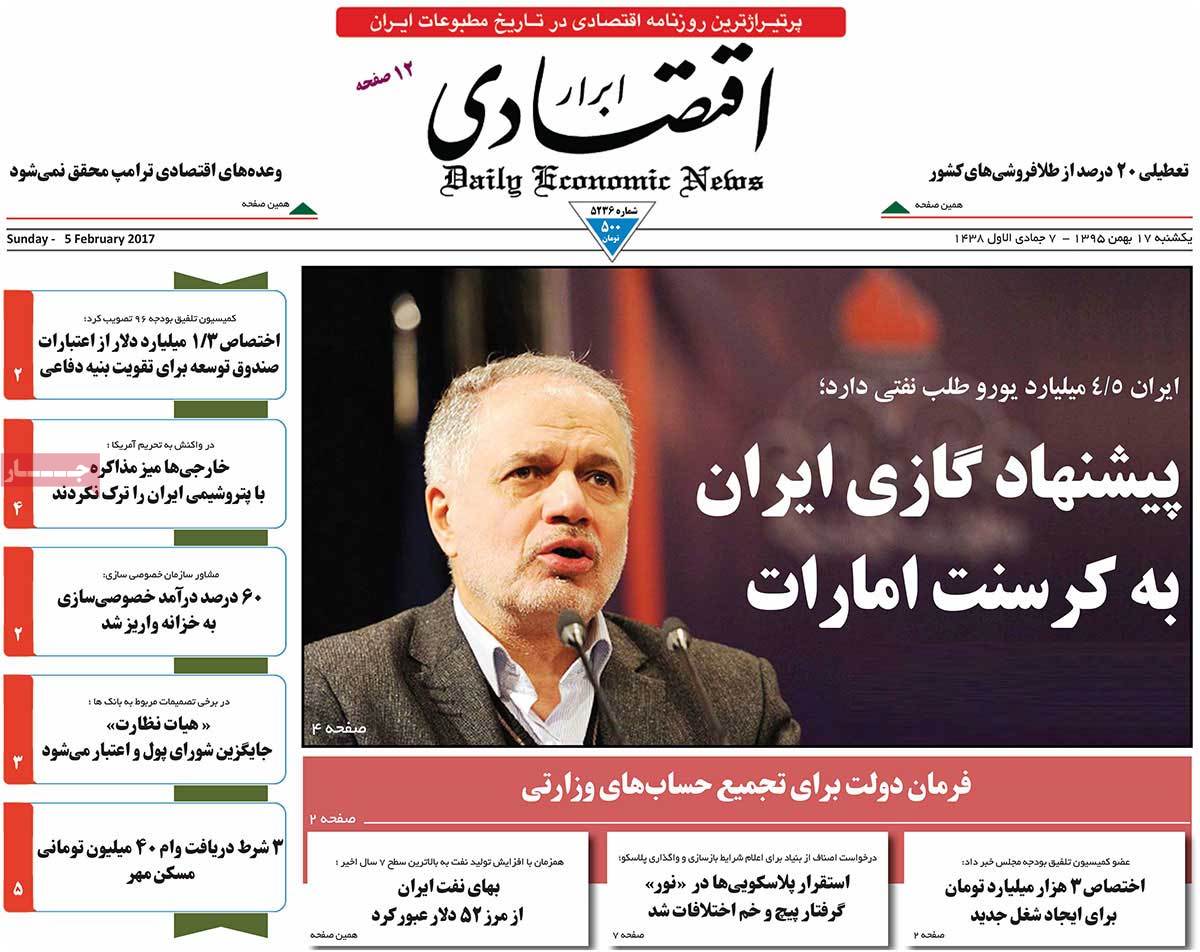 ---
Aftab-e Yazd:
1- American Conflict: Trump Says Federal Judge's Ruling to Temporarily Cancel Visa Ban Is Ridiculous and He'll Have It Annulled
2- Trump Will Win This Political Fight: Analyst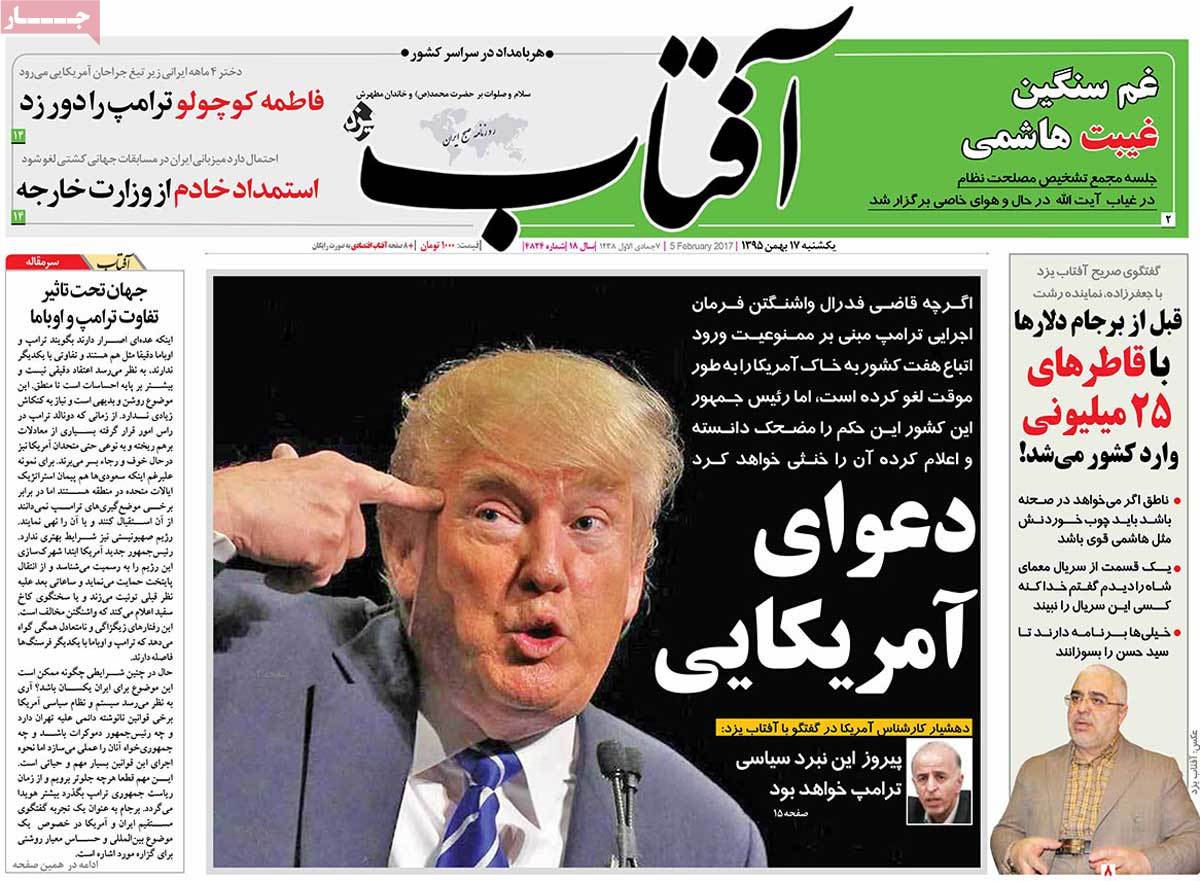 ---
Amin:
1- American Official Threatens US Will Take Actions against Iran in Coming Week
2- Iran's First Comprehensive Centre of Stem Cells Launched in Tabriz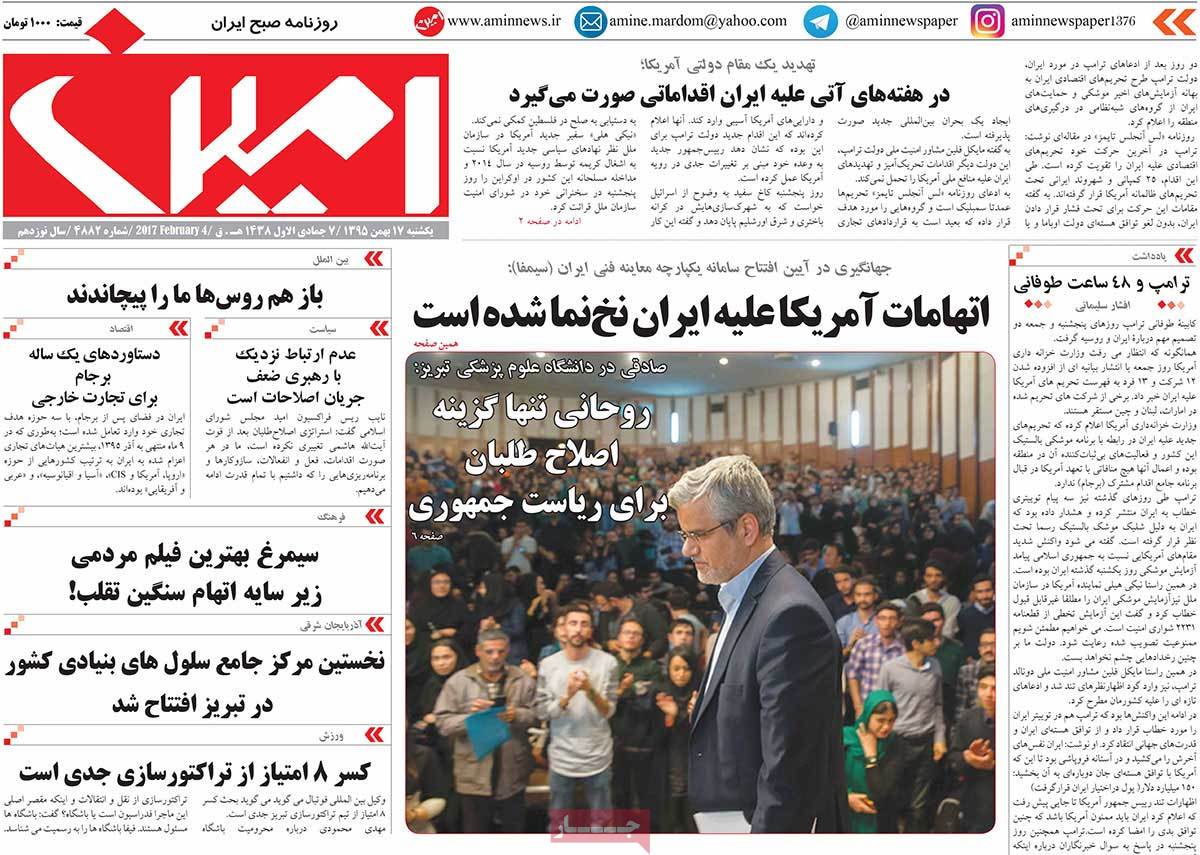 ---
Arman-e Emrooz:
1- US Ignores Trump's Order!
2- Iran Files Lawsuit against US in Int'l Court
3- Advisor to Iran's Interior Minister: Men Lobbying against Women's Employment
4- Saddest Session of Iran's Expediency Council: Ayatollah Movahed Kermani Temporarily Chairs the Sessions
---
Asrar:
1- IRGC General in Reaction to Trump: Be Sure Any Wall that Is Built Will Collapse
2- Deputy Industry Minister: Iran and Peugeot Will Release Three Jointly-Produced Cars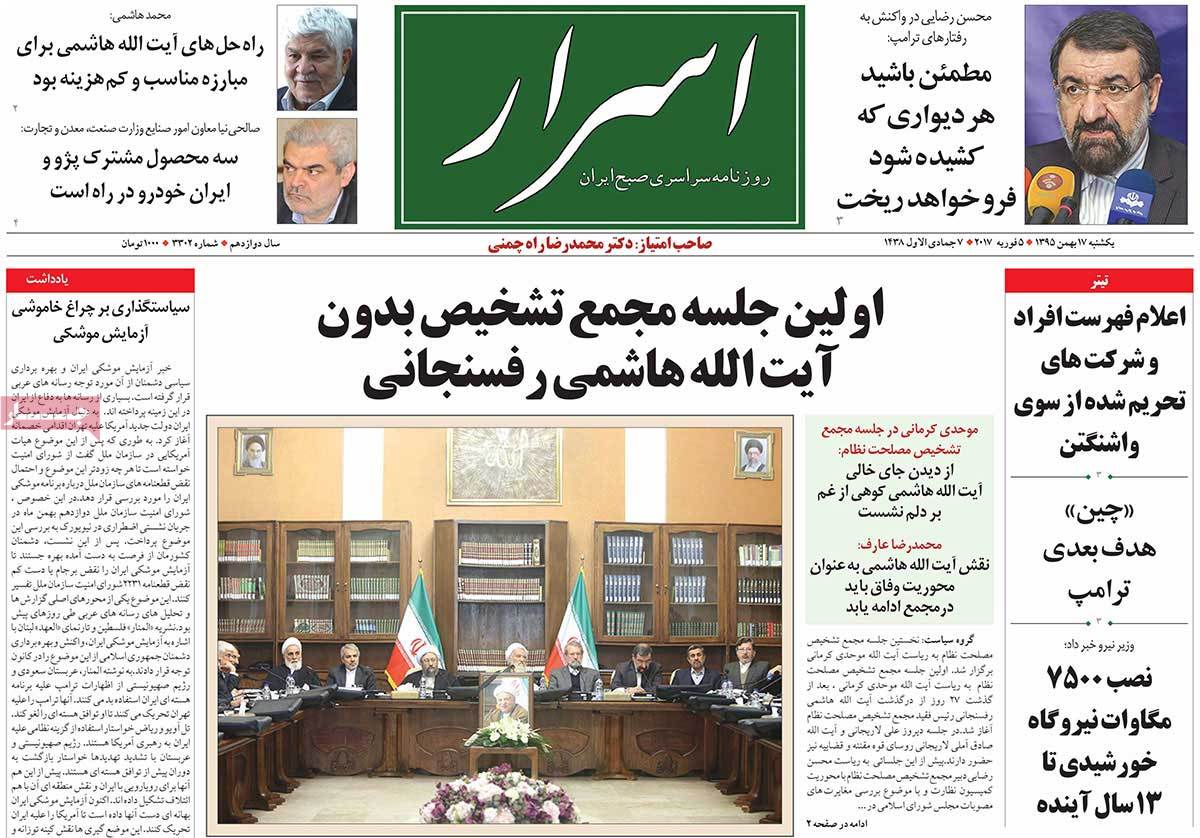 ---
Ettela'at:
1- First VP: Threatening Iranian Nation Will Bear No Fruit; American Statesmen's Impolite Words Are Worthless
2- Iran's Daily Oil Output Increased to 4 Million Barrels
3- UN: Myanmar Army Has Committed Genocide against Muslims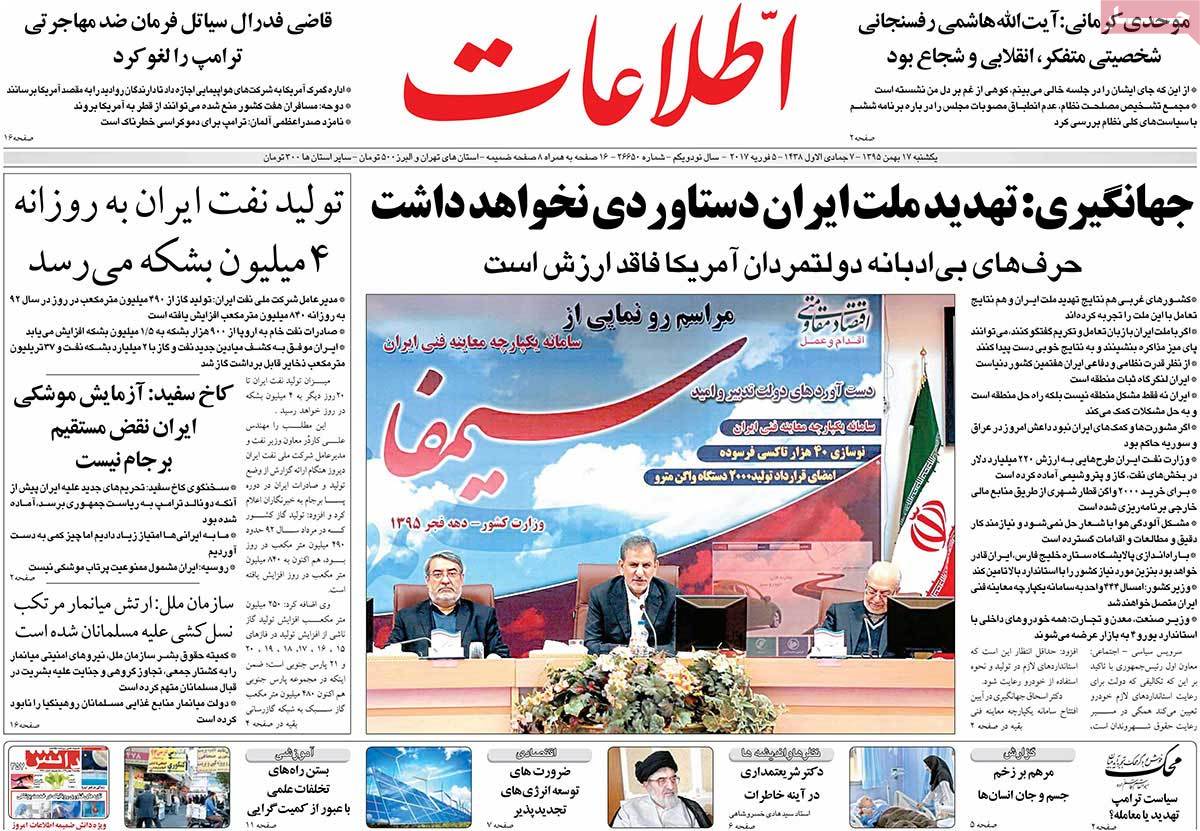 ---
Iran:
1- Iran's 2,000-Page Lawsuit against US Filed at Int'l Court
2- Iran to Impose Legal Restrictions for a Number of American Individuals and Firms in Reaction to Fresh US Sanctions
3- 15 Billions of New Crude Oil Reserves Explored: Officials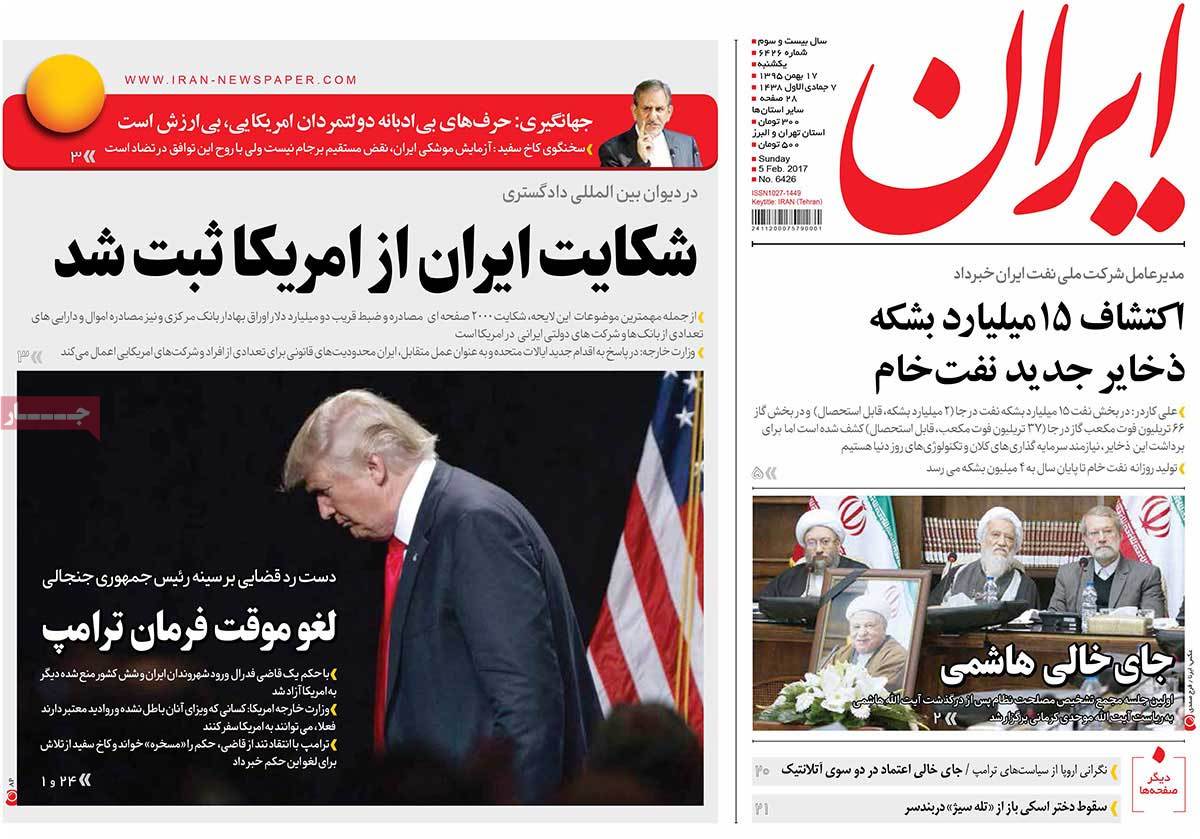 ---
Javan:
1- Humiliating Suspension of Trump: US Customs Let Citizens of 7 Muslim-Majority Countries Enter the US
2- US: We Have Deployed Our Warships in Yemeni Coasts to Defend Saudi Arabia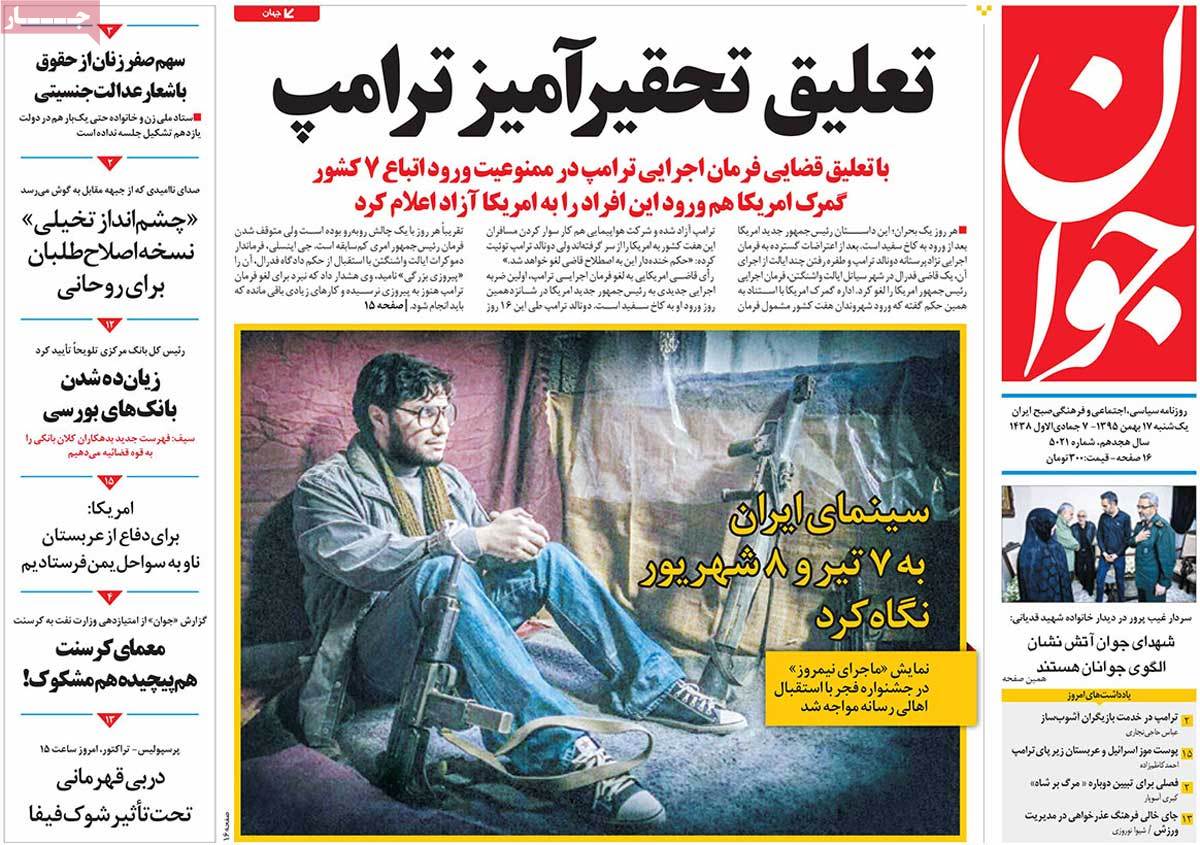 ---
Jomhouri Eslami:
1- Trump's Heavy Defeat against Law
2- German President: Europe Should Stand against US
3- Washington Attorney General: No One is Above Law, Even the President
4- US State Dept.: Whoever Has Valid Visa Can Travel to US
5- Nationwide Demonstrations against Trump in Britain, Australia, Indonesia, and the Philippines
6- Iran's Biggest Solar Power Plant Launched in Hamedan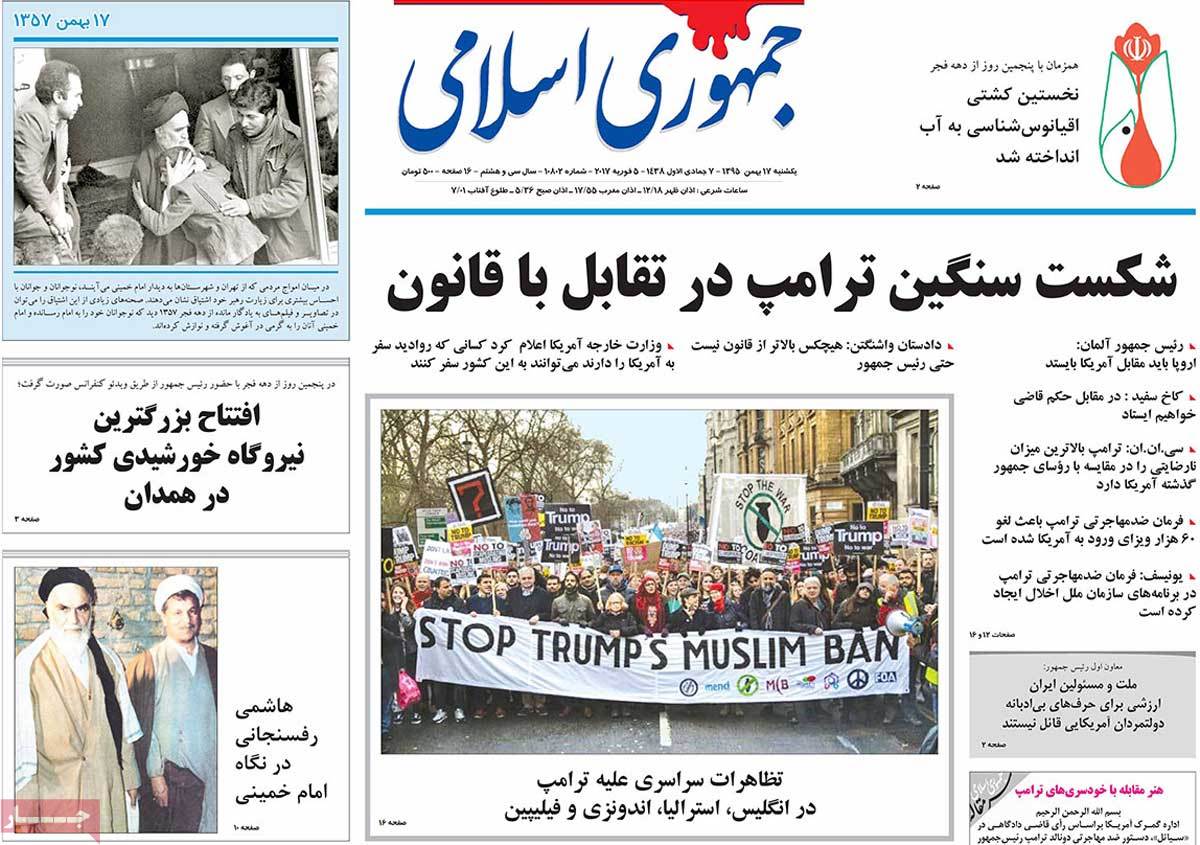 ---
Ka'enat:
1- Sanders: A Populist Needs to Sow Seeds of Hatred for His Success; Trump May Start a War to Attract Public Support
2- Gary Lewis: Iran Can Count on UN's Help to Resolve Dust Pollution
---
Kayhan:
1- Advisor to Former US Secretary of Defence: White House Will Regret Threatening Iran
2- Deputy FM: Major European Banks Not Ready to Work with Iran Yet
3- CNN: New US Sanctions Will Cancel Airbus and Boeing Deals with Iran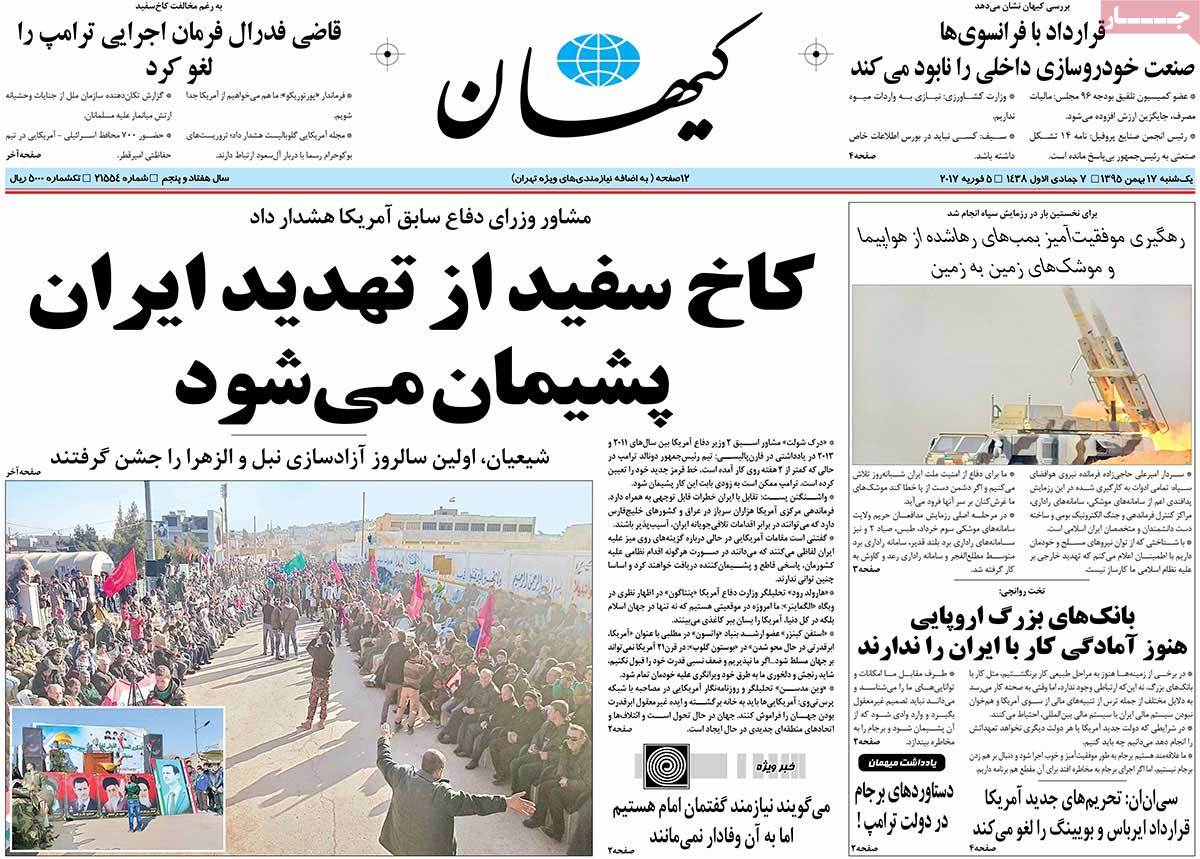 ---
Khorasan:
1- Rumours of Crescent Deal's Revival: Iran Says It Is Ready to Give Gas to UAE
---
Payam-e Zaman:
1- First VP: Iran Is World's Seventh Military and Defensive Power
2- World Laughing at Trump's Controversial Orders
3- Senior MP: New US Sanctions Violate JCPOA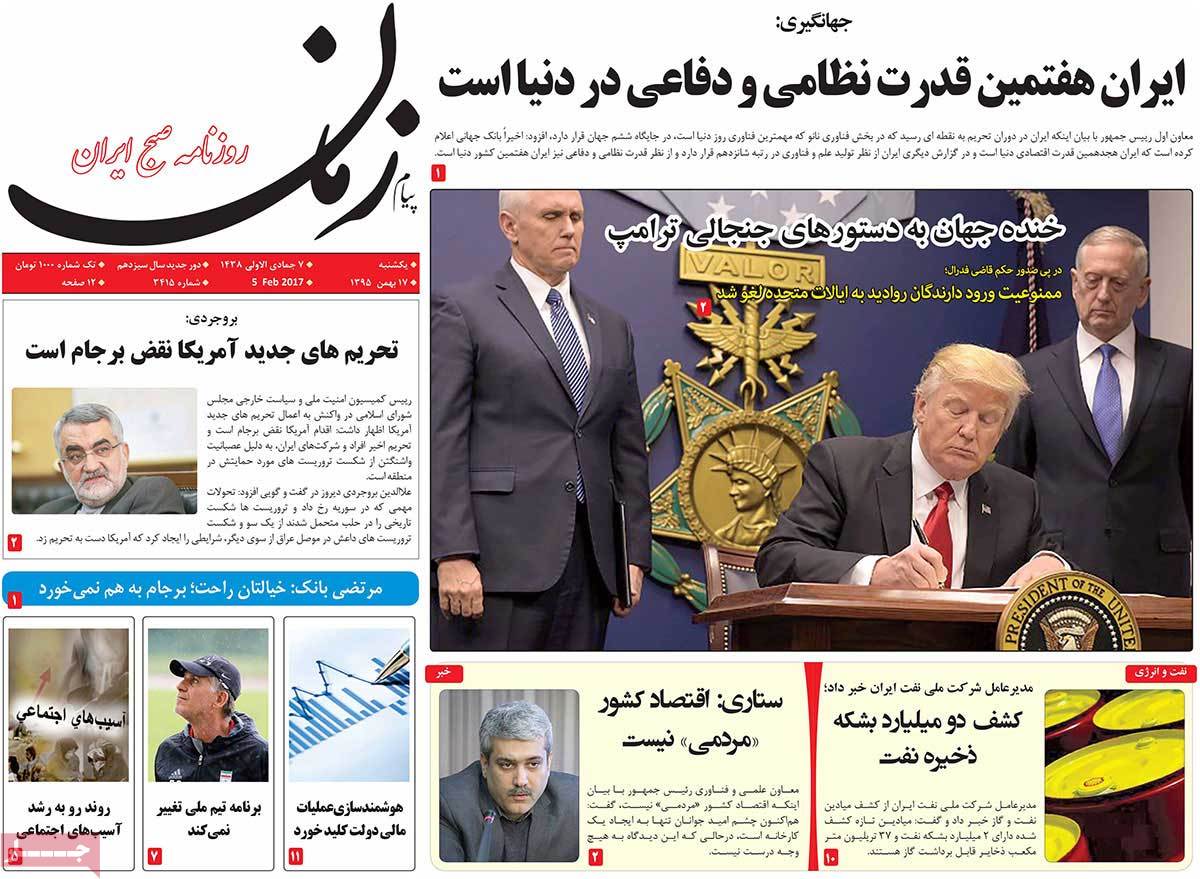 ---
Resalat:
1- Members of Iran's Expediency Council: Iranian Nation Not to Be Intimidated by US Threats
2- IRGC General: Iran's Missiles to Target Enemies If They Make Any Mistake
3- Shiraz Becomes Capital of Muslim World's Youths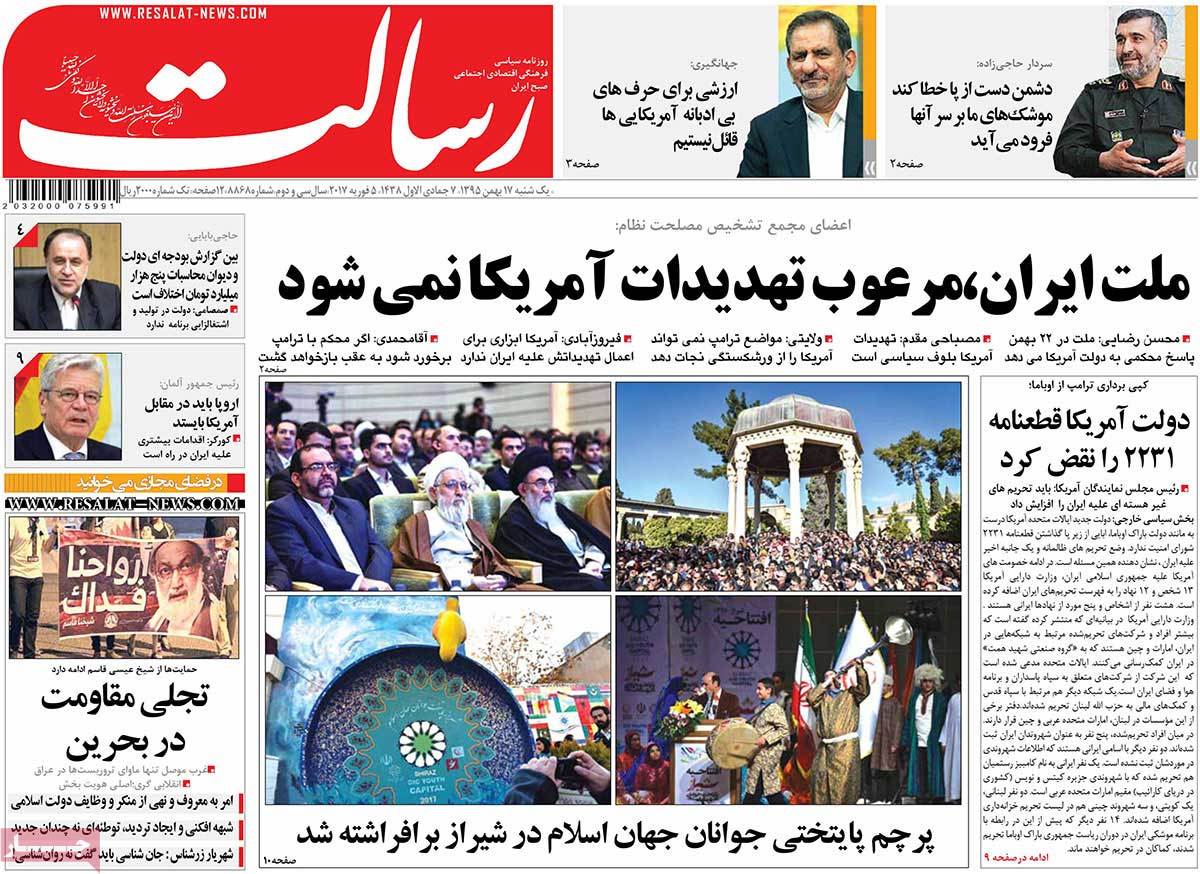 ---
Shahrvand:
1- People in Tabriz Launch Campaign for Iranian Shoes: Popular Campaign Called 'We Proudly Sell Only Iranian Goods'
400 Shoe Shops in Iran's Tabriz Have Joined Hands in Past Month to Only Sell Iranian Products
Shop Owners in Khorasan, Maragheh, Shabestar, Marand, and Azarshahr Have Also Joined the Campaign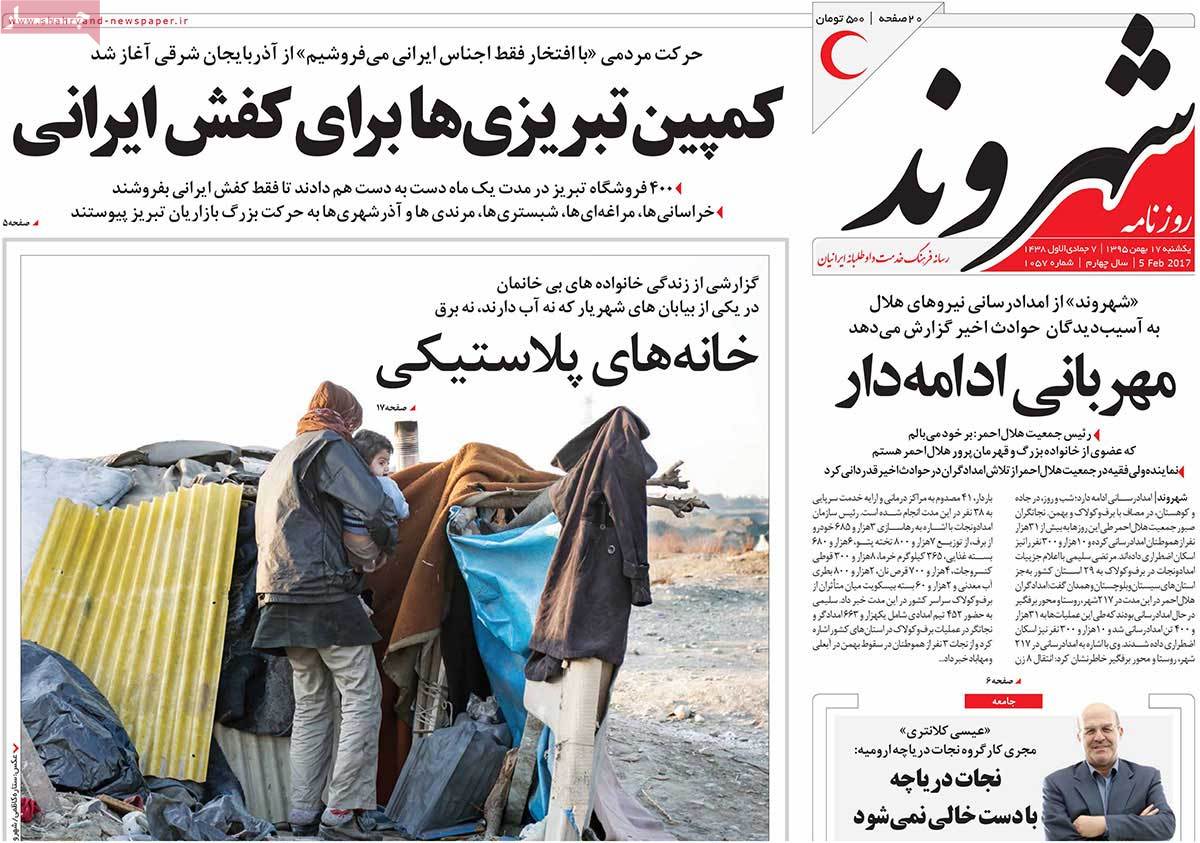 ---
Shargh:
1- Reformist Figure Calls for Closer Ties with Iran's Leader: Many Reformists Are Known and Trusted by Ayatollah Khamenei, Has Meetings with Him, but the Ties Are Not Close. This Lack of Connection Is a Weakness for Reformists
---
Vatan-e Emrooz:
1- Iran's Nuclear Chief: Trump Ruined Everything [by imposing new sanctions]