The ongoing war of words between Iran and the US was the top story today. US President Donald Trump's anti-Iran tweets and the Iranian Foreign Minister's response received great coverage.
The ban on Iranian citizens introduced by Trump and Iran's reciprocal response also remained a top story as Iran's Foreign Ministry barred US wrestlers from attending Iran Wrestling World Cup in reaction to the unfair ban on Iranian nationals.
The extreme cold and deadly avalanche in Iran were also widely covered. Many people have been entrapped under the snow, and three have lost their lives in an avalanche in northern Iran.
The above issues, as well as many more, are highlighted in the following headlines:
Abrar:
1- IRGC General: Iran's Missile Forest Full of Huge Trees
2- White House: Those Who Have Green Card Not Affected by Trump's Order
3- London: May Supports Nuclear Deal in Meeting with Netanyahu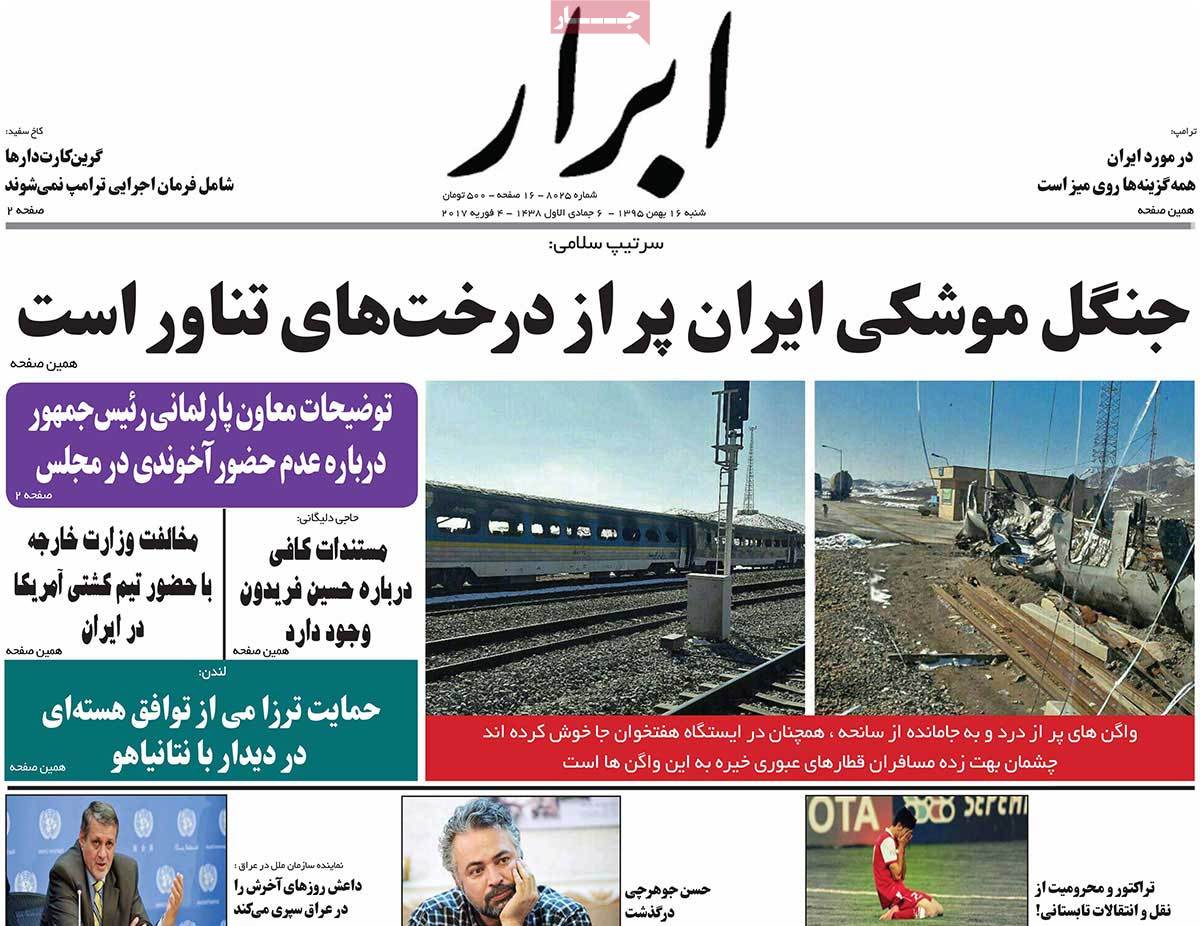 ---
Abrar-e Eqtesadi:
1- Iran-France Negotiations for Cooperation in Upstream Oil Sector
2- Increase in Iran-China Trade Exchanges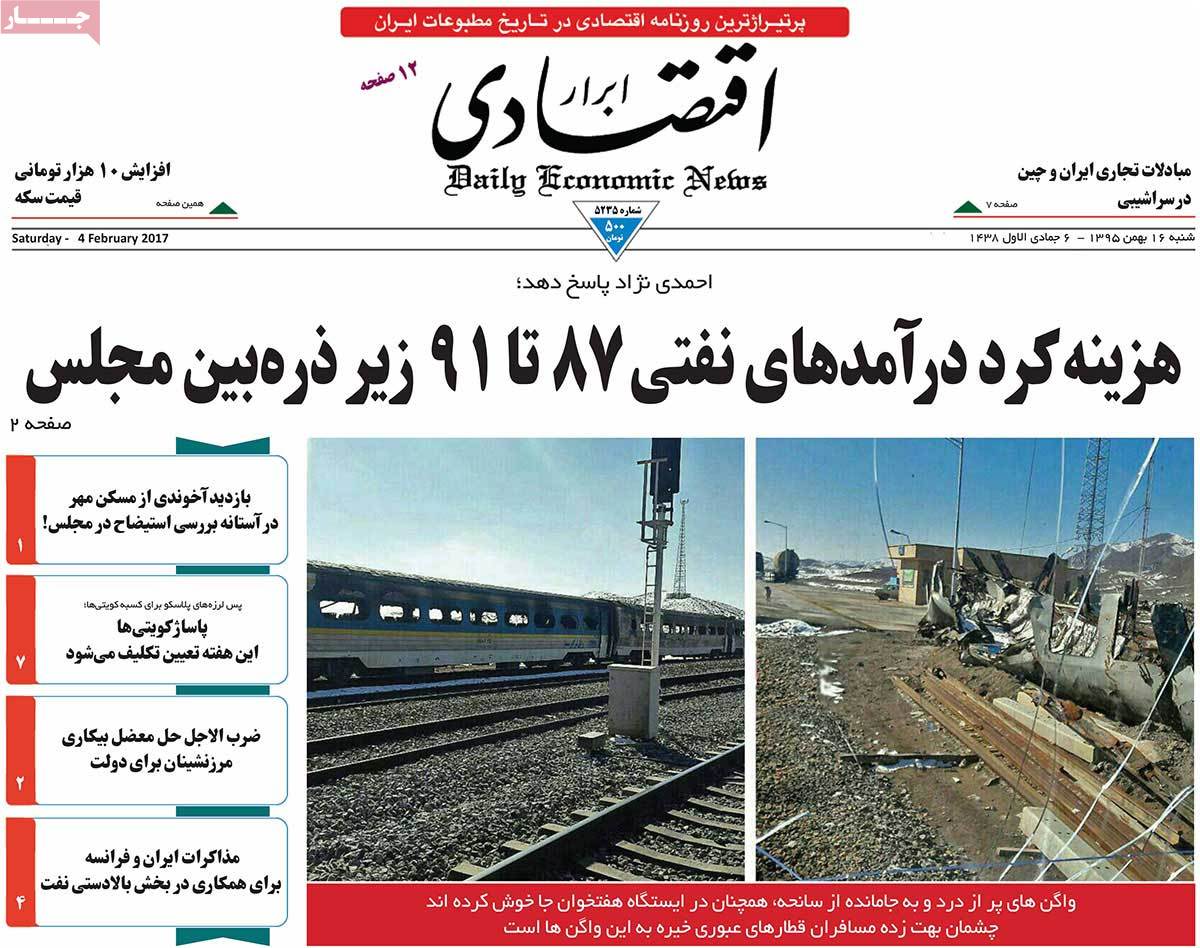 ---
Aftab-e Yazd:
1- Trump after Fresh Anti-Iran Sanctions: I'm Not as Kind as Obama!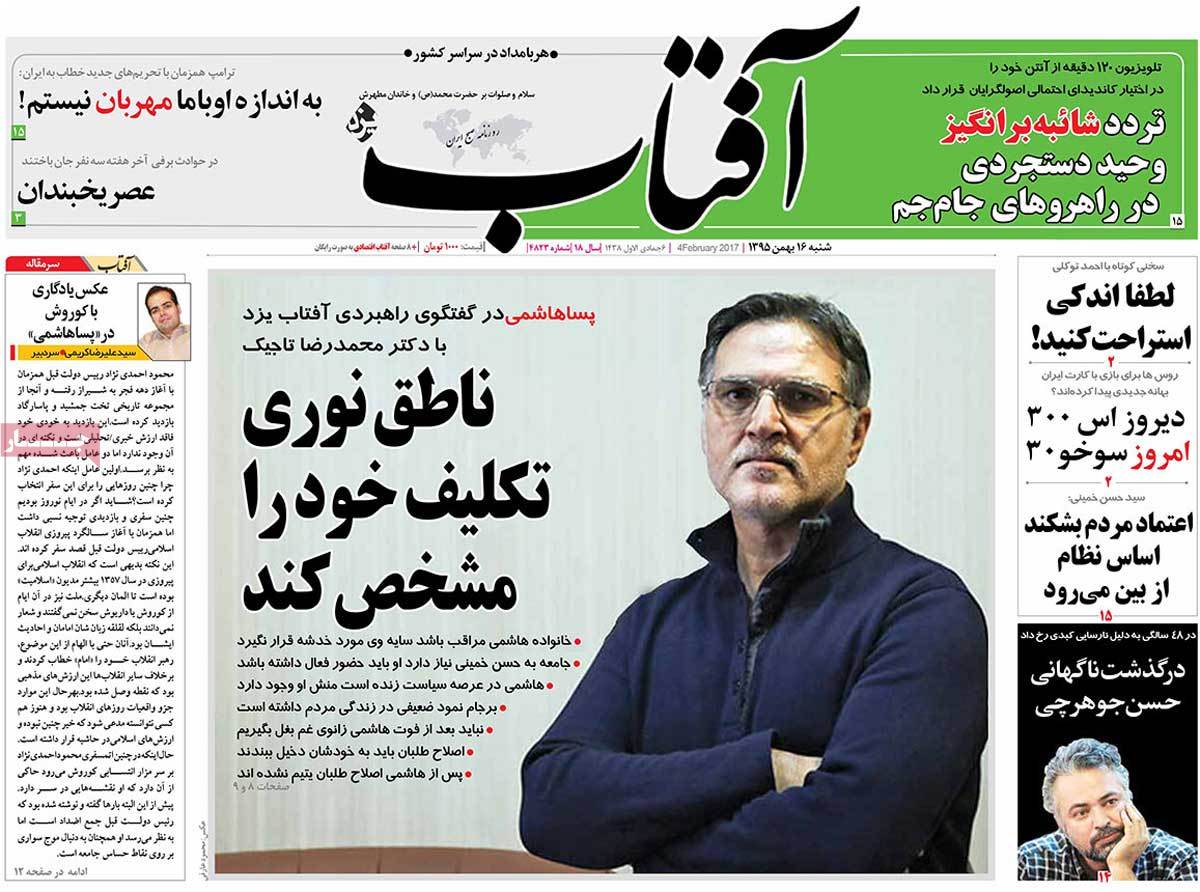 ---
Arman-e Emrooz:
1- US Wrestling Victim of Trump's Imprudence: Iranian Foreign Ministry Won't Let US Wrestling Team Visit Iran
2- Snow Kills People: At Least 3 Lose Their Lives in Avalanche
---
Asr-e Azadi:
1- Power Minister Says Middle East's Largest Solar Plant to Be Inaugurated in Iran
---
Asrar:
1- Parliament Speaker: Iran's Islamic Establishment Is Politically Mature
2- Transport Minister: Boeing Deal Not to Be Cancelled with Trump's Order
---
Bahar:
1- Fresh US Sanctions against 13 Iranian Individuals and 12 Bodies
2- Experts Discuss Iran's Appropriate Reaction to Trump: Iran Should Show Wise and Cold-Blooded Reaction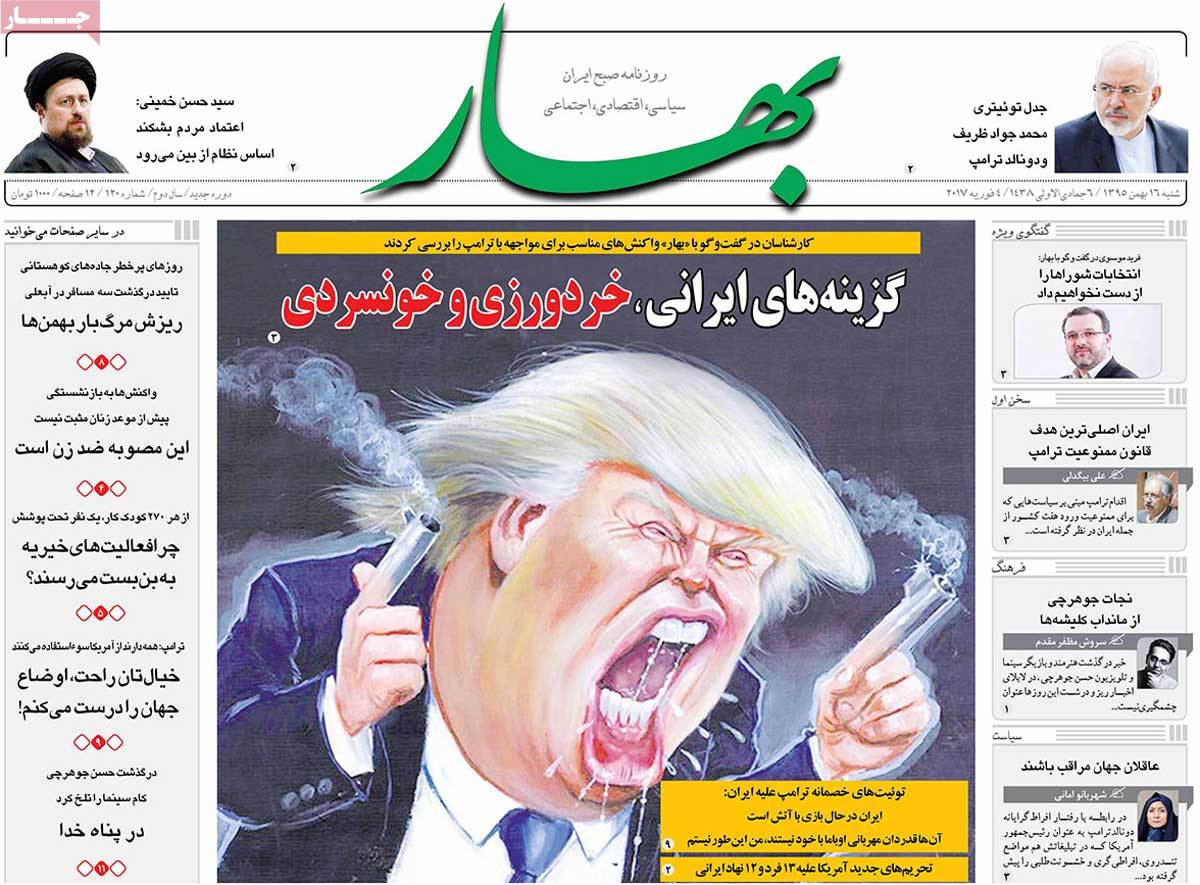 ---
Ebtekar:
1- Return to Era of War of Words: Trump Talks about Options Available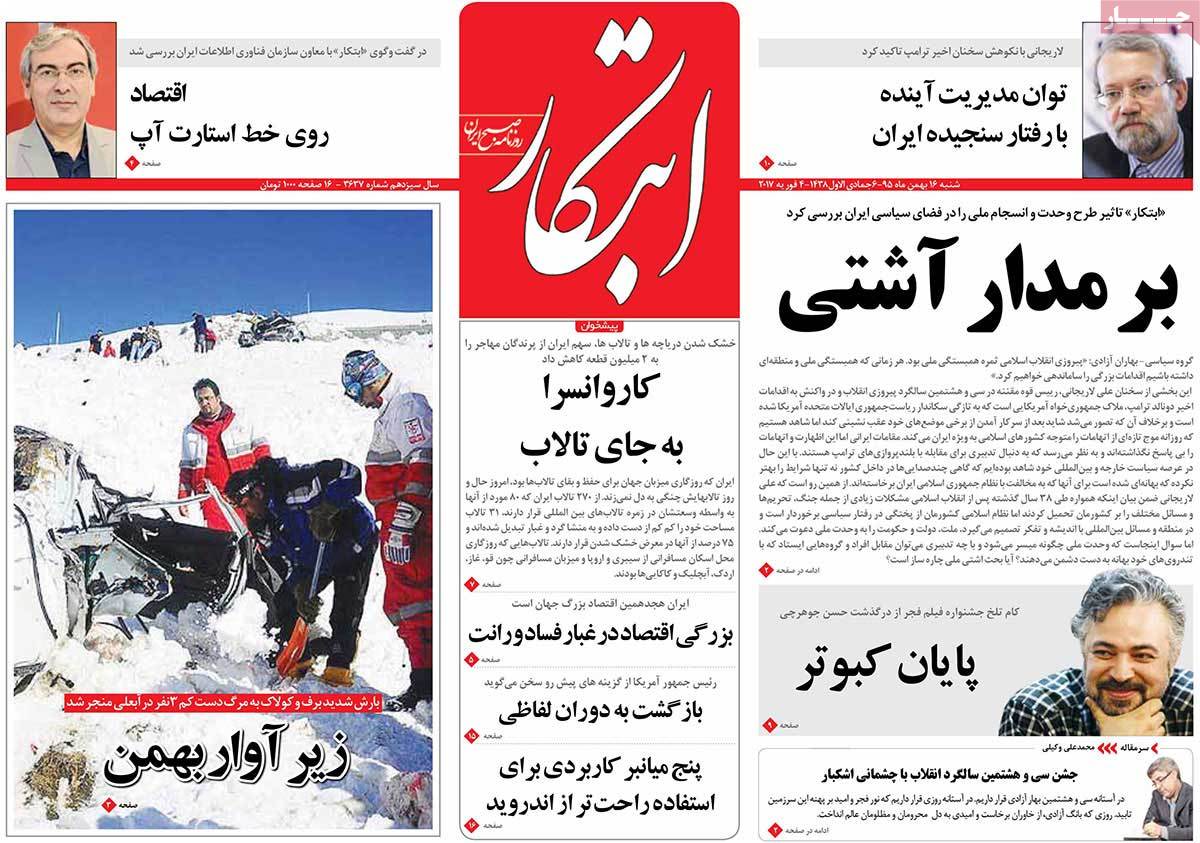 ---
Etemad:
1- Trump Playing with Fire: US President's Controversial Remarks Don't Have an End; from New Sanctions to Series of Messages
2- Iran's Foreign Ministry: Iran's Security Not Open to Compromise or Negotiation
3- Former Iranian Diplomat: US Gave Signal to Europe with New Anti-Iran Sanctions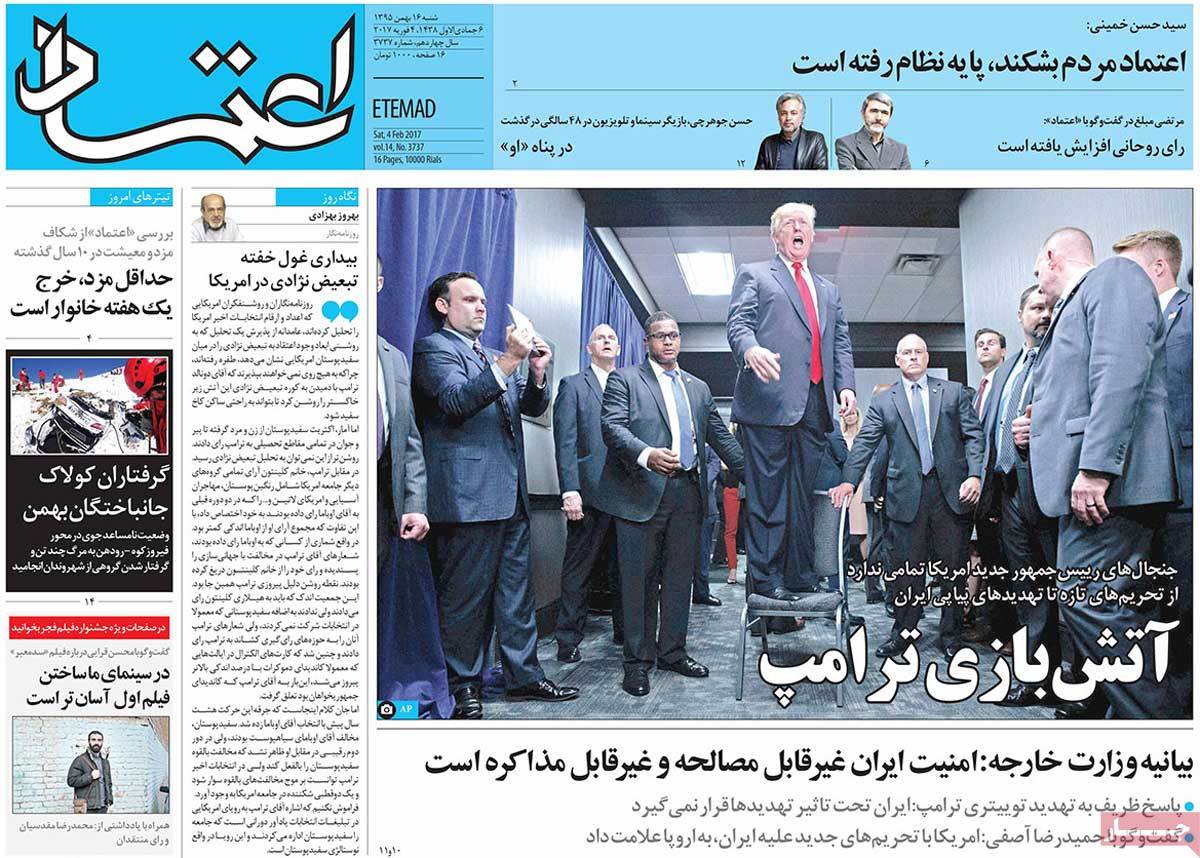 ---
Ettela'at:
1- Iran's FM: We Never Start a War [in reaction to Trump's threats]
2- Trump Backs Off from Plan to Transfer US Embassy to Jerusalem
3- 270 Tour Guides from 40 Countries Arrive in Shiraz
---
Ghanoon:
1- Analyst: Reformists' Approach in Foreign Policy Is Closer to Leader's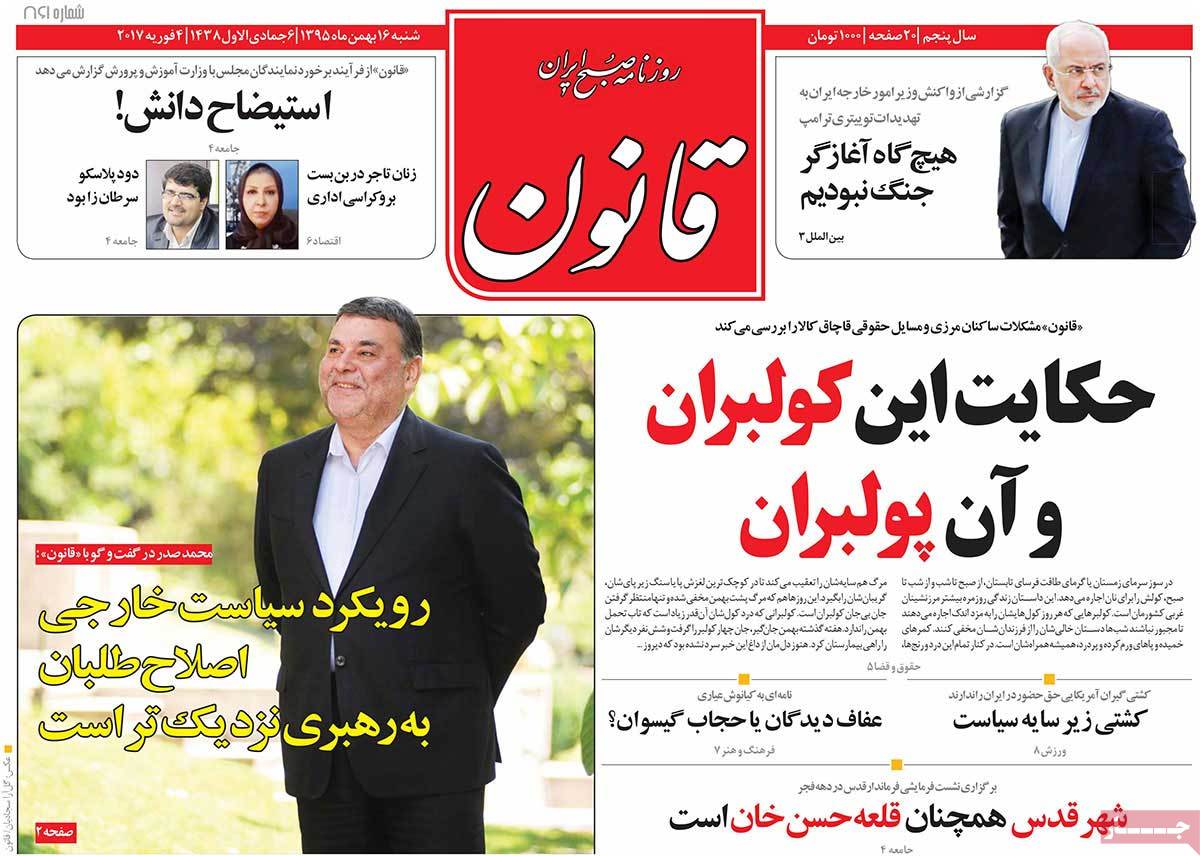 ---
Haft-e Sobh:
1- 12 Hours in Frozen Hell: Hundreds of Passengers Spent Horrific Night under Avalanche and Snowstorm in -15°C Temperature in Haraz and Firouzkooh Roads
2- What Does Trump Want from Us? US President's Fourth Consecutive Tweet against Iran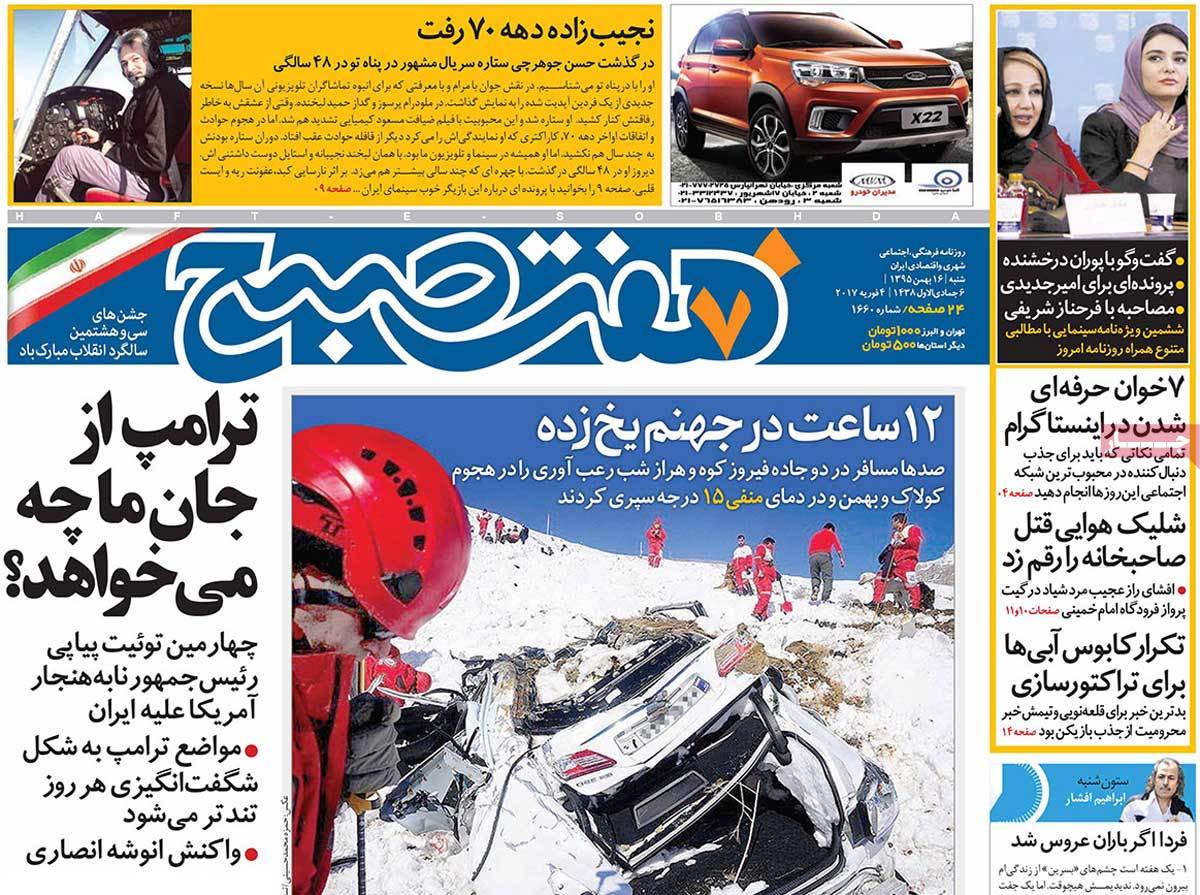 ---
Hemayat:
1- After Two Years of Futile War: Saudi Arabia's Plan to Disintegrate Yemen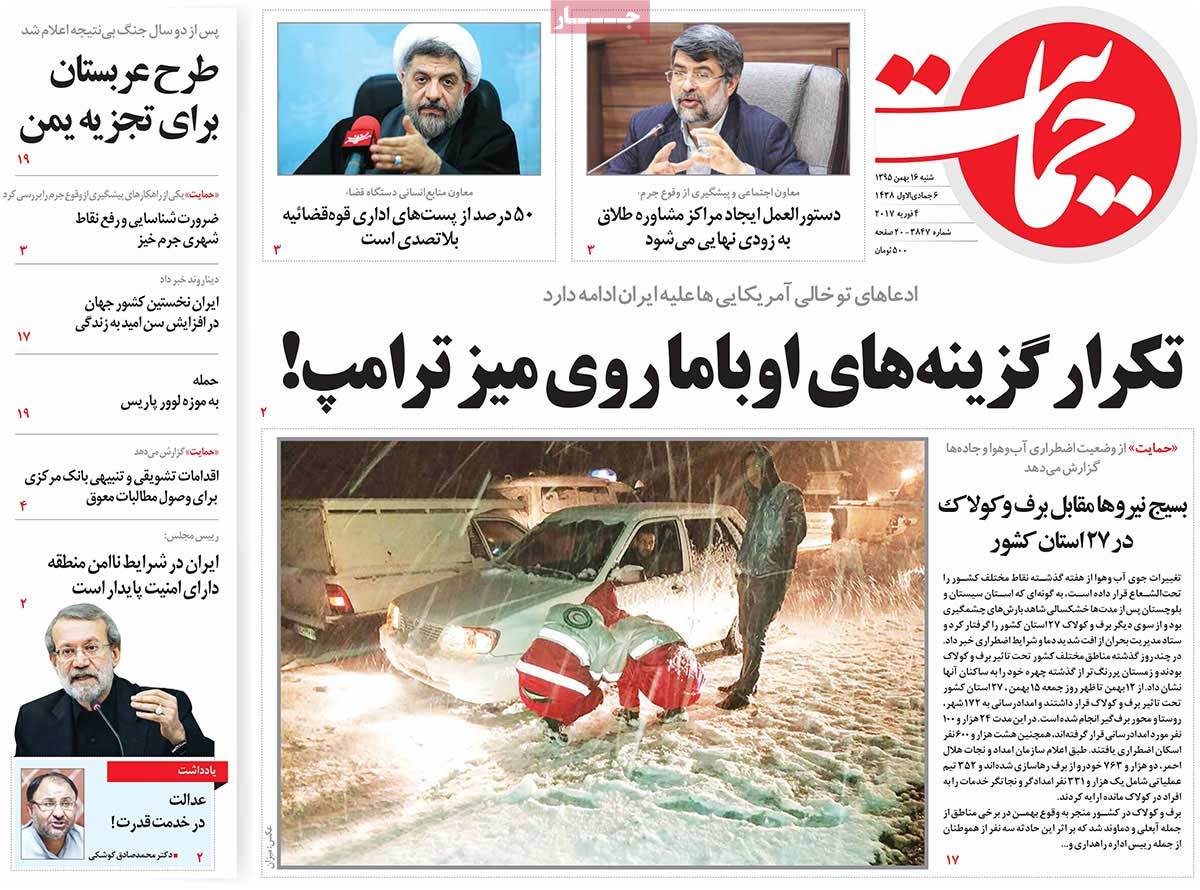 ---
Iran:
1- 2,000 Cars Stranded in Avalanche and Snowstorm: Passengers in Iran's Northern Roads Trapped in Extreme Cold
2- Zarif's Response to Trump's Anti-Iran Tweets: Iran Unmoved by Threats as It Derives Its Security from People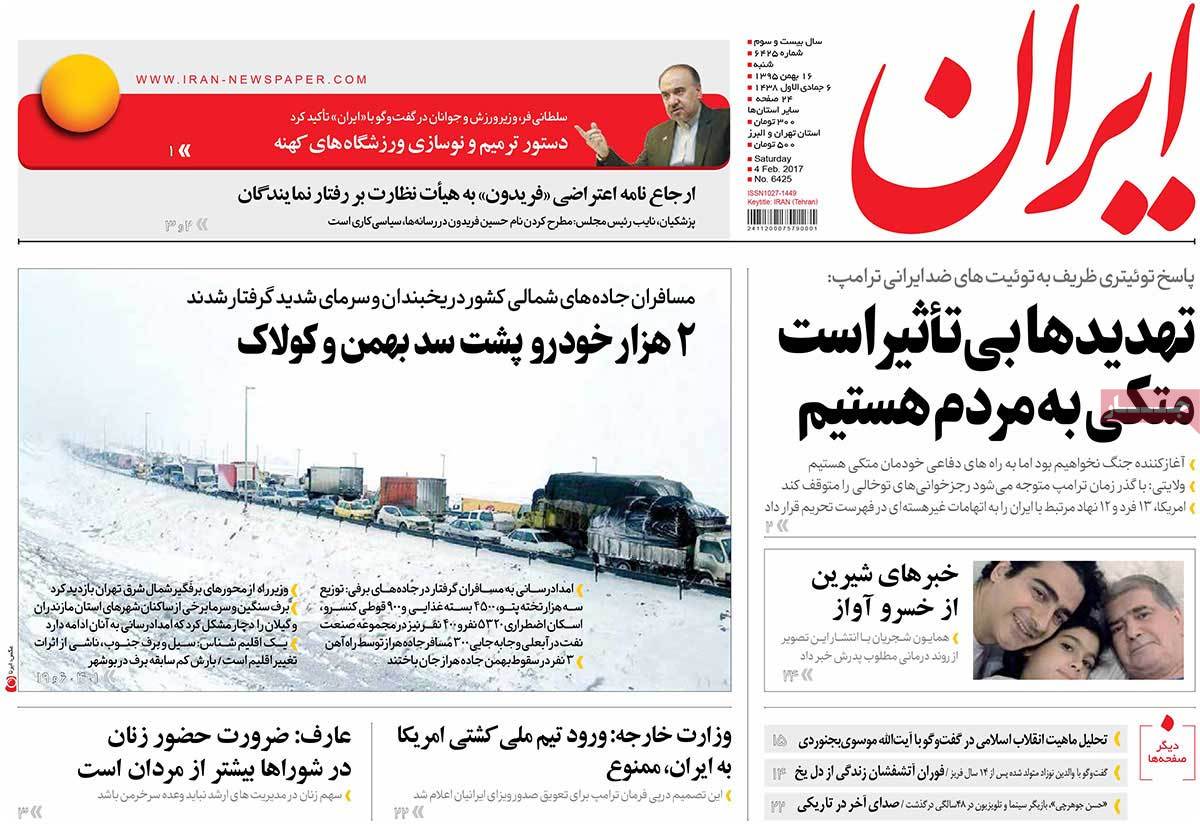 ---
Jame Jam:
1- Trump, the US without Any Makeup: US President's Words Reveal Washington's True Face More than Ever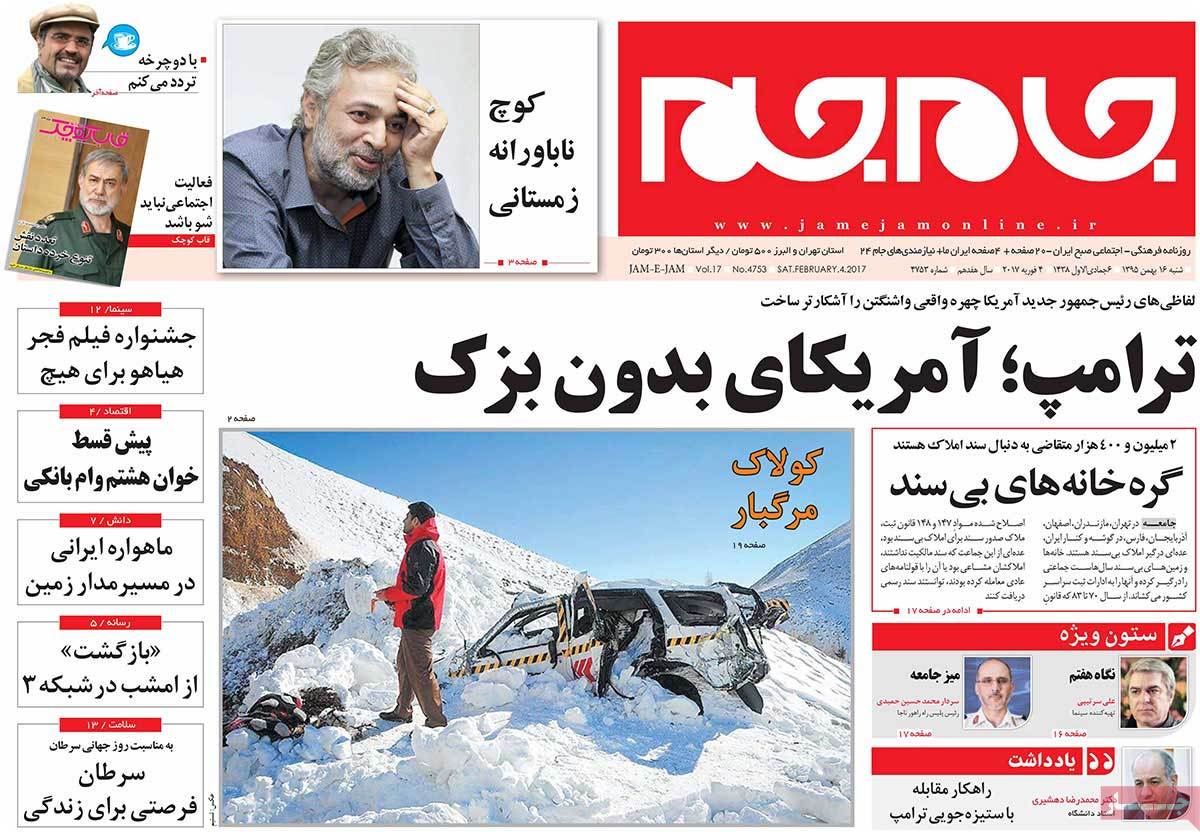 ---
Javan:
1- Pumping Out US Crisis: Trump Was Elected with "America First" Campaign Promise, but Now He's Resorting to 40-Year-Old Anti-Iran Remarks after Unprecedented Domestic Opposition; He Has Nothing to Say More than Obama's Repetitive Remarks: That All Options Are on the Table
2- Advisor to Iran's Leader: Trump Should Ask about Iran from Previous US Administrations
---
Jomhouri Eslami:
1- Iran's Firm Reaction to US President's Hostile Positions; FM: We Never Start a War, but We Can Rely on Our Defensive Positions
2- Parliament Speaker: Immaturity of Certain Country Leaders Creates Problems for Them and Others
3- UN: ISIS Spending Last Days of Its Life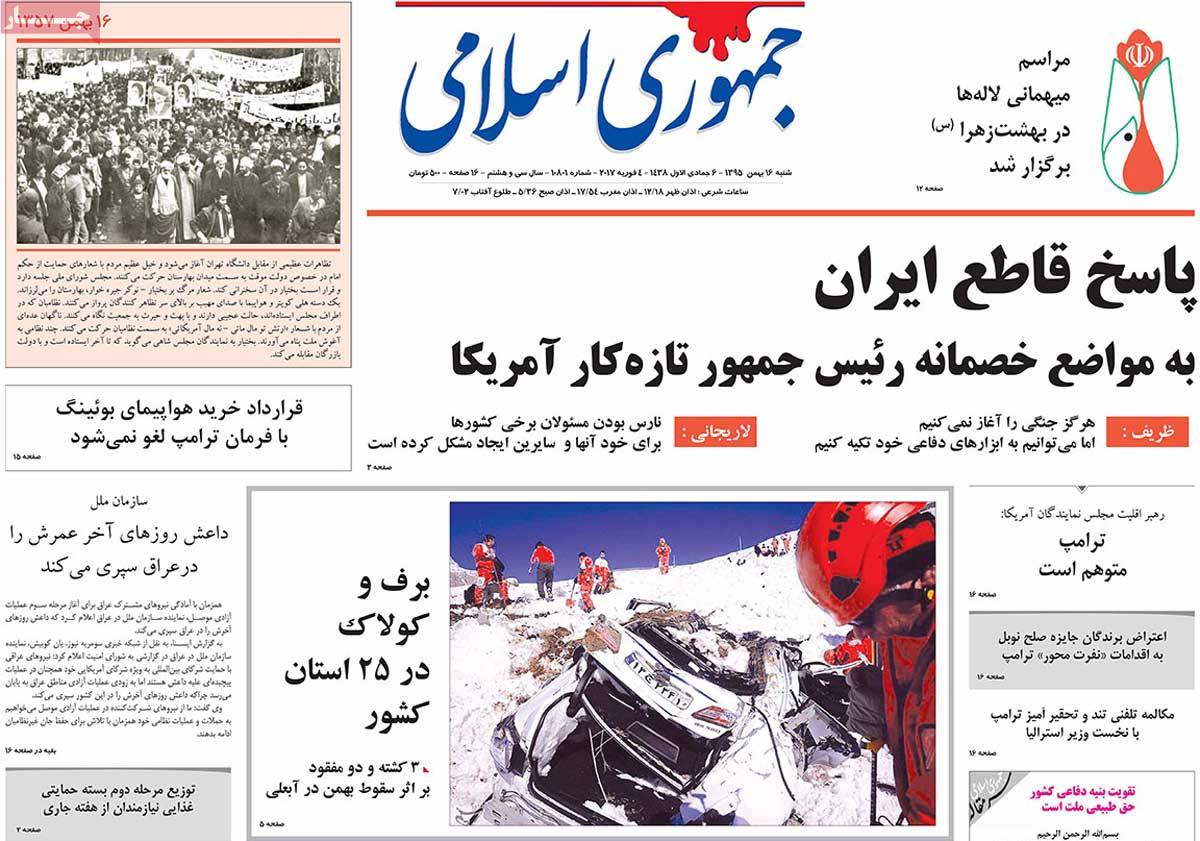 ---
Ka'enat:
1- Symphony of Kuwait, Saudi Arabia, and Trump!
2- Kuwait Denies Allegations of Ban on Iranian Citizens
3- Trump Secretly Gives Assurance to Saudi Arabia
4- We Derive Our Security from Our People
---
Kayhan:
1- Mr Trump! US Can't Do Any Damn Thing!
2- US Rhetoric Increases Oil Price
3- Faculty Member of Ottawa University: Increased Power Is What Iran Needs to Confront West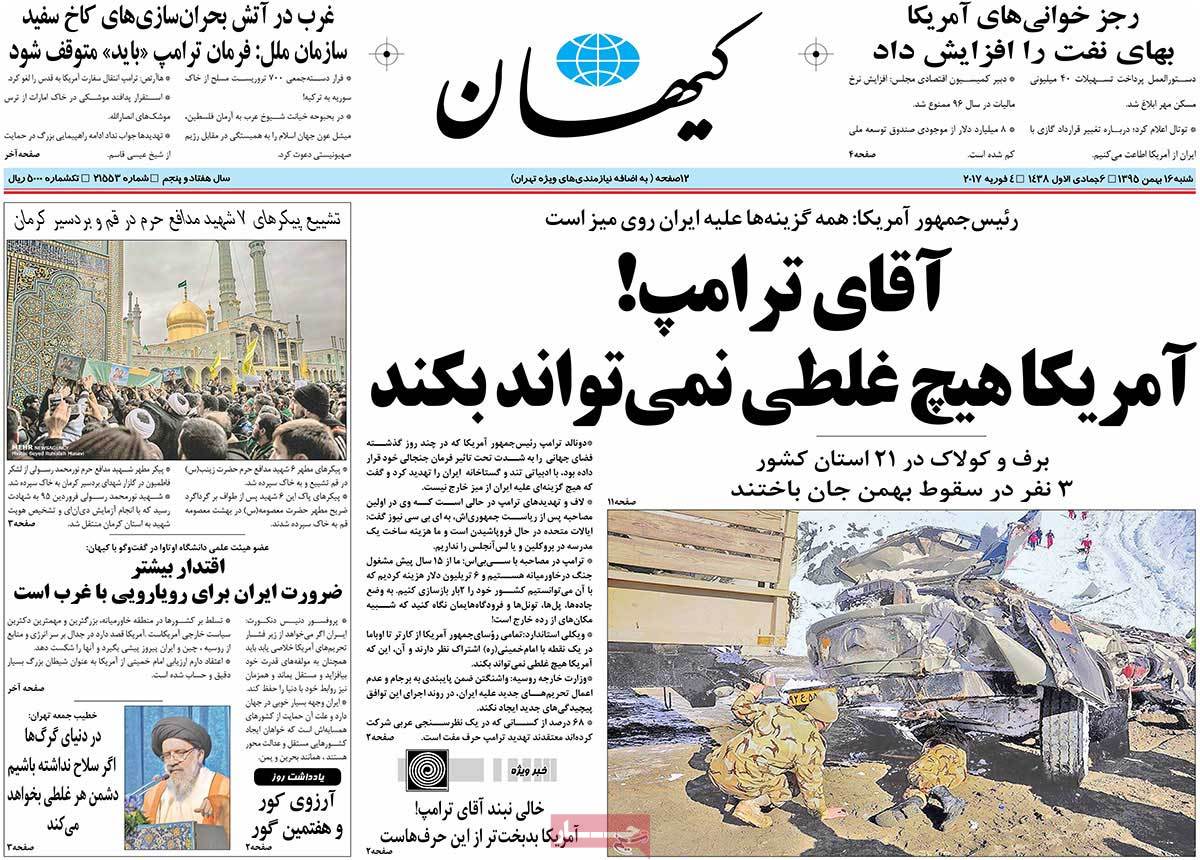 ---
Noavaran:
1- Trump's Threats: From Dream to Reality
---
Resalat:
1- Friday Prayers Leader: Iran's Missile Drills Show Its Power
2- Ayatollah Noori Hamedani: US and Britain Scared of Iran's Power
---
Setareh Sobh:
1- Return to Era of Clash: Consequences of US New Policies
2- Alarming Level of Pollution in Khuzestan Province, Southwest of Iran: Province Ranks First in Iran and the World in Terms of Air Pollution
---
Shahrvand:
1- Blood Donation Is a Popular Democratic Move: Founder of Iran's Blood Transfusion Centre and Father of Iran's Haemophilia Community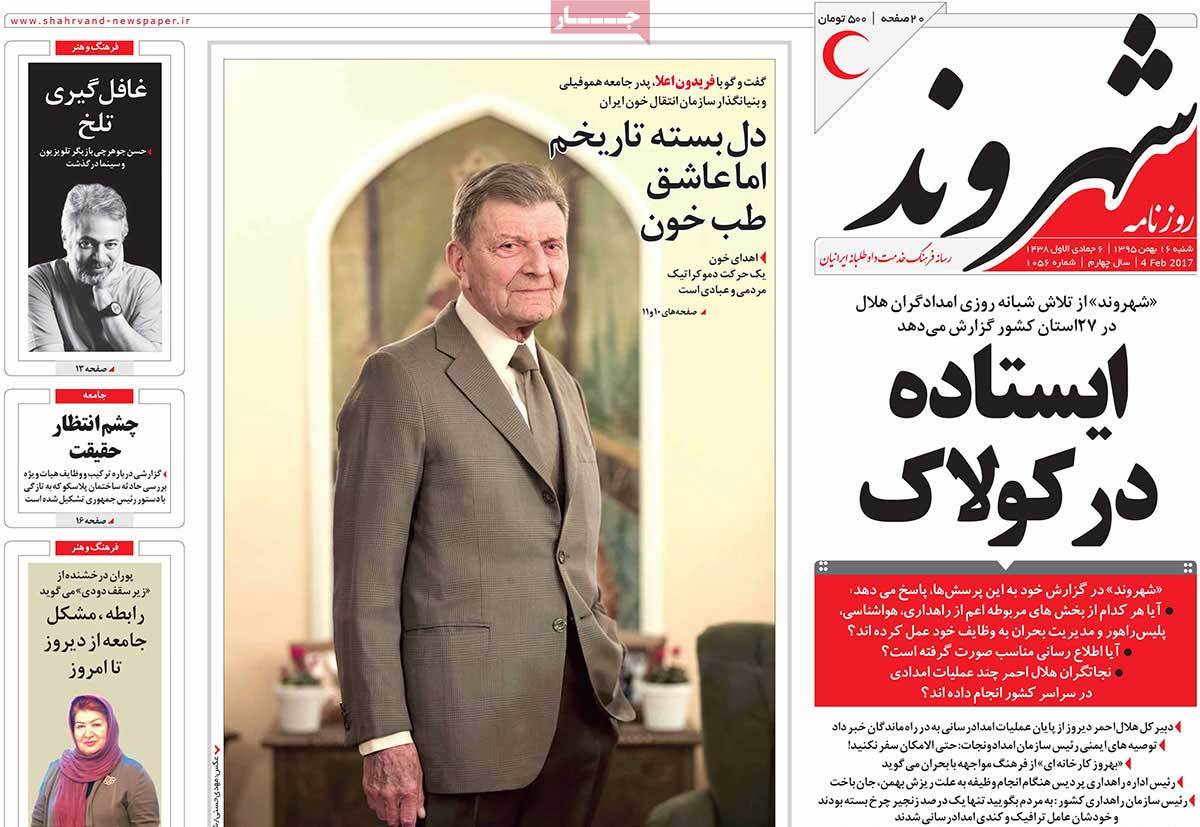 ---
Vaghaye Ettefaghieh:
1- White House Shows Its Teeth: US Administration Officially Unveils Its Racist Positions by Imposing Fresh Anti-Iran Sanctions
2- Trump and Radical Attempts [Editorial]
3- Crisis in Crisis Management: Surprise Is the Repeated Reaction of Iranian Officials to Natural Incidents
3- US Didn't Issue Visa for Iranian Shooters, and Iran Didn't Let US Wrestlers in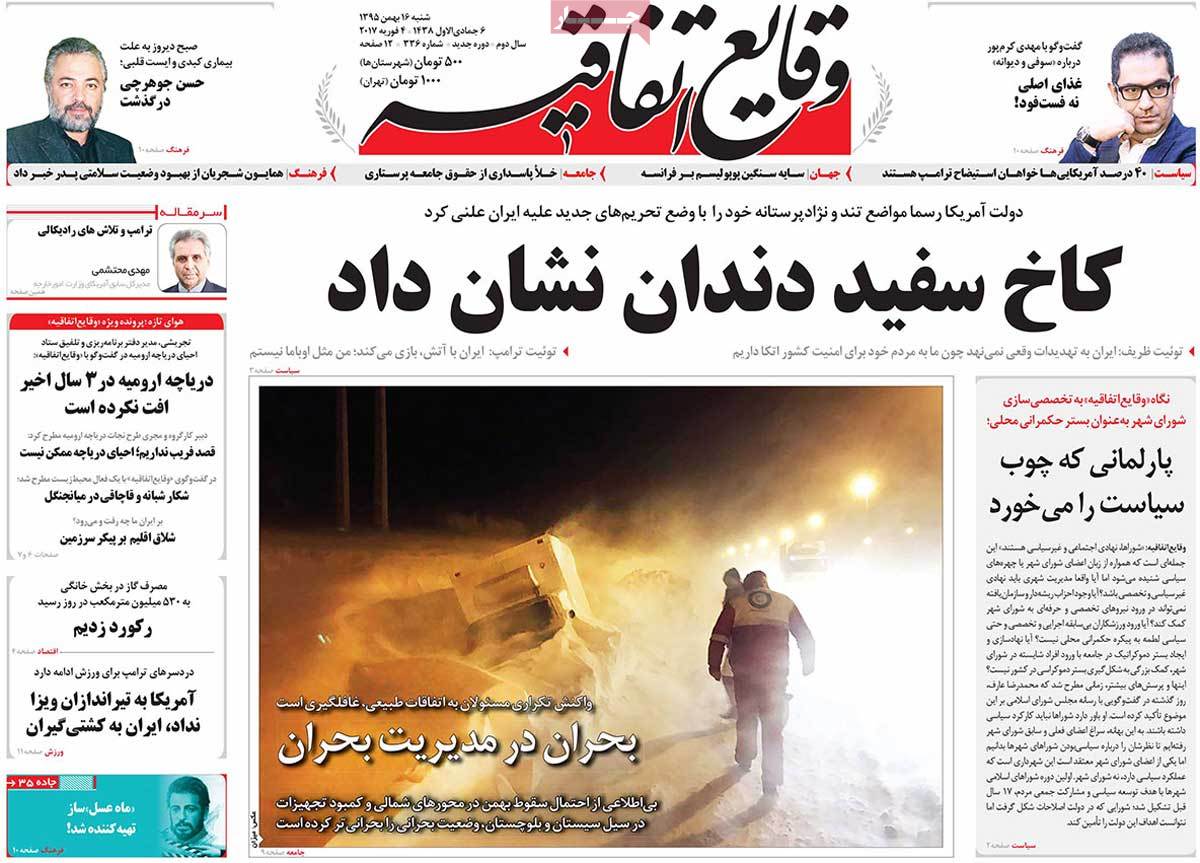 ---
Vatan-e Emrooz:
1- Trump's Controversial Government Intensifies Medical Equipment Sanctions against Iran and Adds 25 Iranian Individuals and Bodies to List of Sanctions in Post-JCPOA Era
2- Trump's Boast and War-Peace Dichotomy [Editorial]