Almost all newspapers today covered the Academy Award for Best Foreign Language Film given to Asghar Farhadi's film The Salesman. Many of them referred to the political atmosphere of this year's Oscars and some even described Farhadi's success as a result of political issues.
Iranian President Hassan Rouhani's remarks about his government's economic achievements and the stability of Iran's market as a result of his administration's measures also received great coverage.
Another top story was the remarks made by Interior Minister Abdolreza Rahmani Fazli about the UN experts on fight against money laundry who are due to visit Iran.
The above issues, as well as many more, are highlighted in the following headlines and top stories:
19 Dey:
1- Returning Calm to Iran's Market, Biggest Achievement of Rouhani's Gov't
2- Judiciary Chief: It's a Crime to Use Anti-Iran Media for Election
---
Abrar:
1- Farhadi's Second Gift to Iranian Cinema
2- Seoul Accuses North Korean Officials of Murdering Their Supreme Leader's Brother
3- Israeli Paper: Assad's Fate in Hands of a Russian General
4- GOP Congressmen Continue Efforts to Impose Anti-Iran Sanctions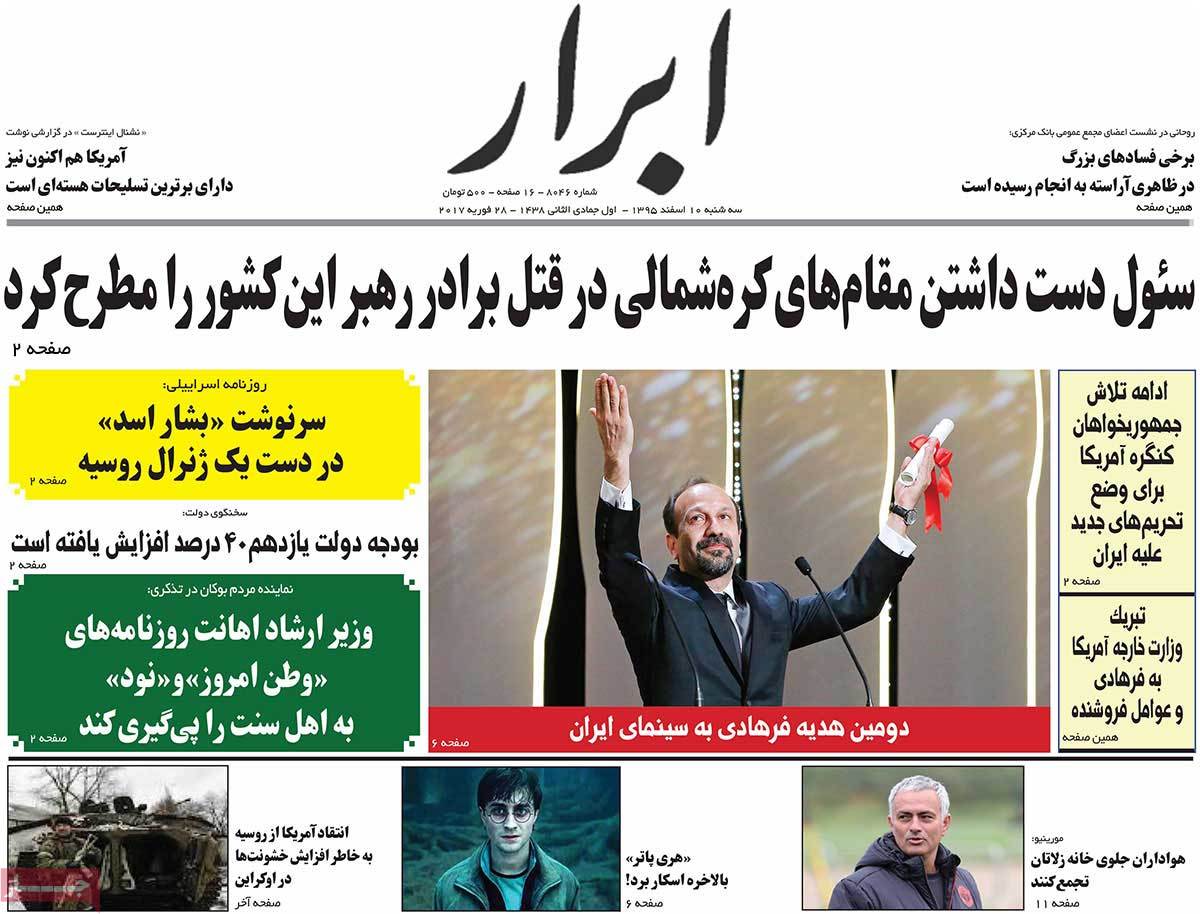 ---
Abrar-e Eqtesadi:
1- Iran's President Declares 5.2% Increase in Dollar Rate This Year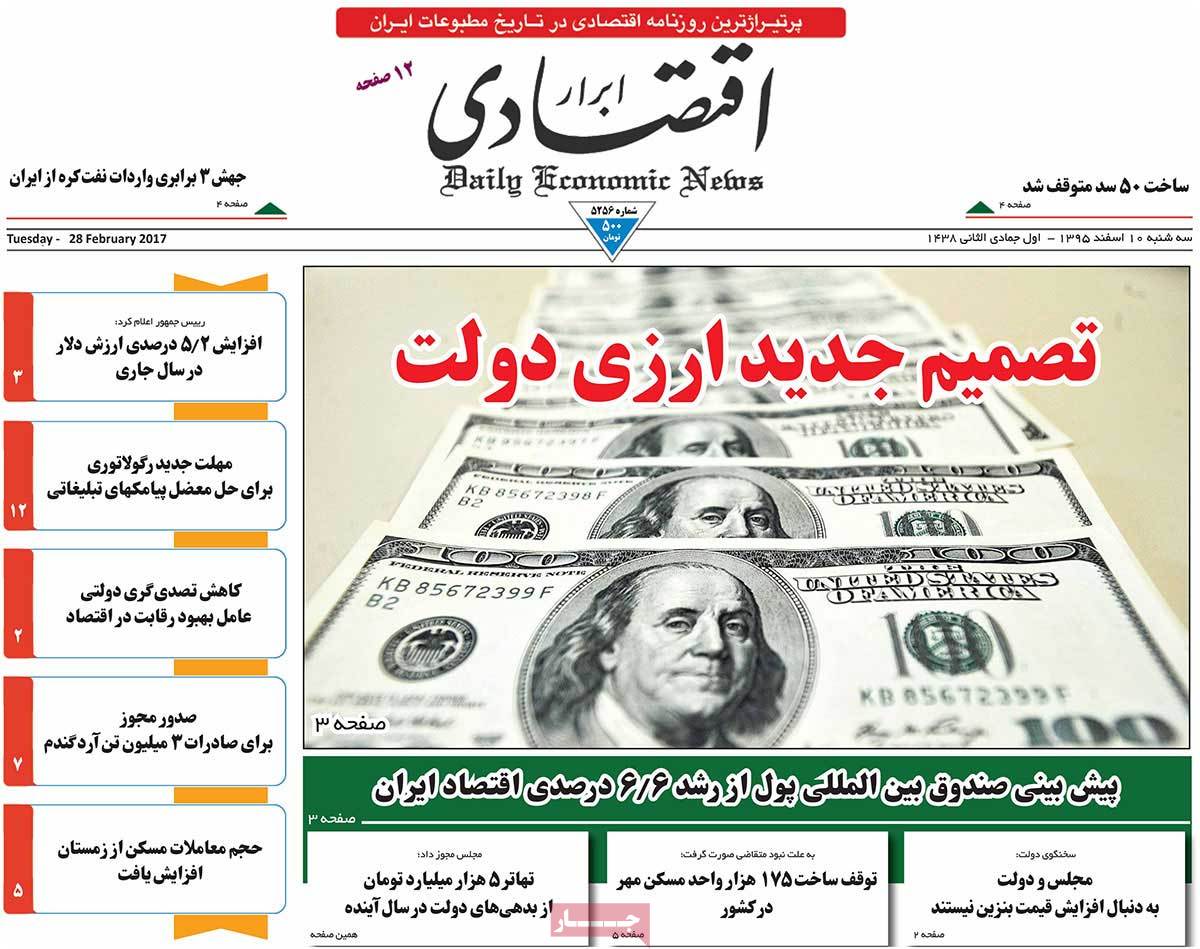 ---
Aftab-e Yazd:
1- Cultural Diplomacy: Farhadi once again won Oscar and conveyed message of Iranian people to the world
2- What's Farhadi's Message [Editorial]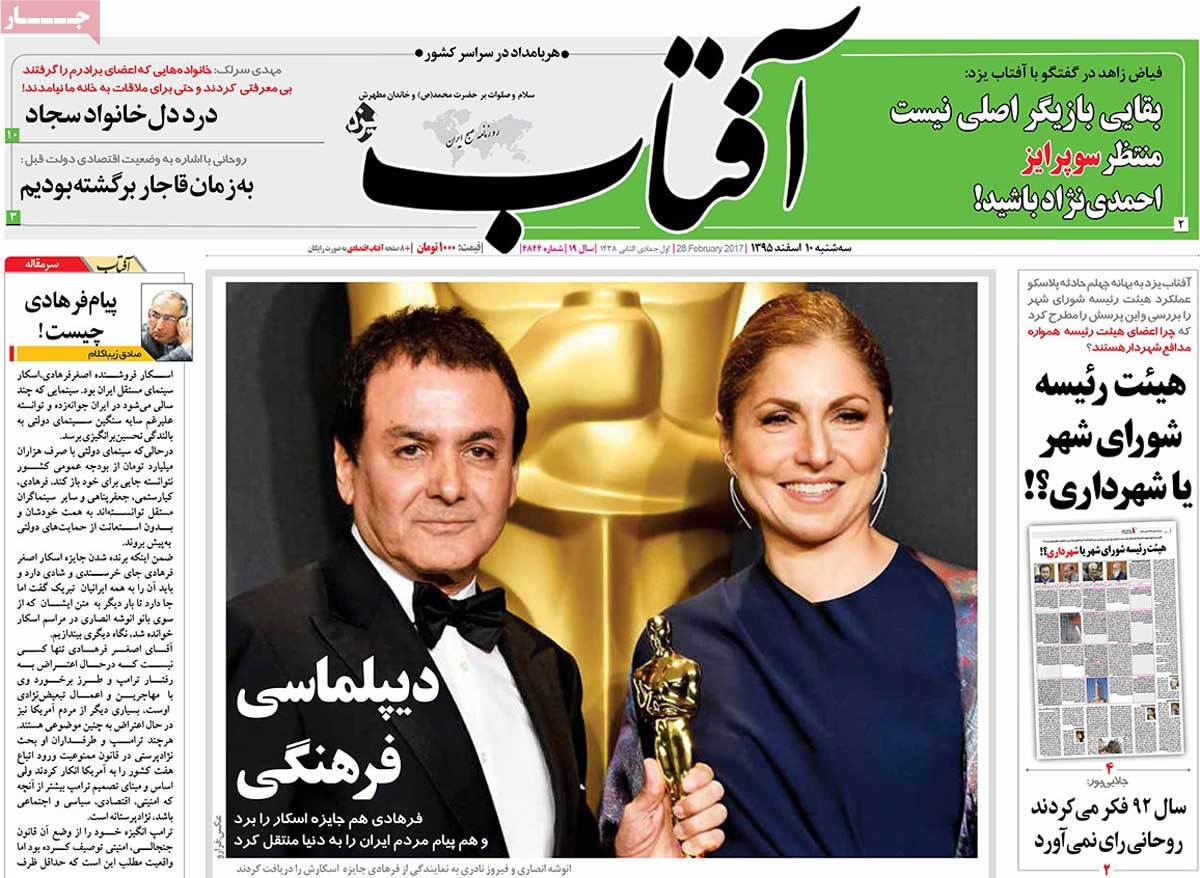 ---
Arman-e Emrooz:
1- World Accompanies Iran in Condemning Trump: Farhadi's Oscar in Ansari's Hands
2- Interior Minister: Int'l Money Laundry Experts to Be Deployed in Iran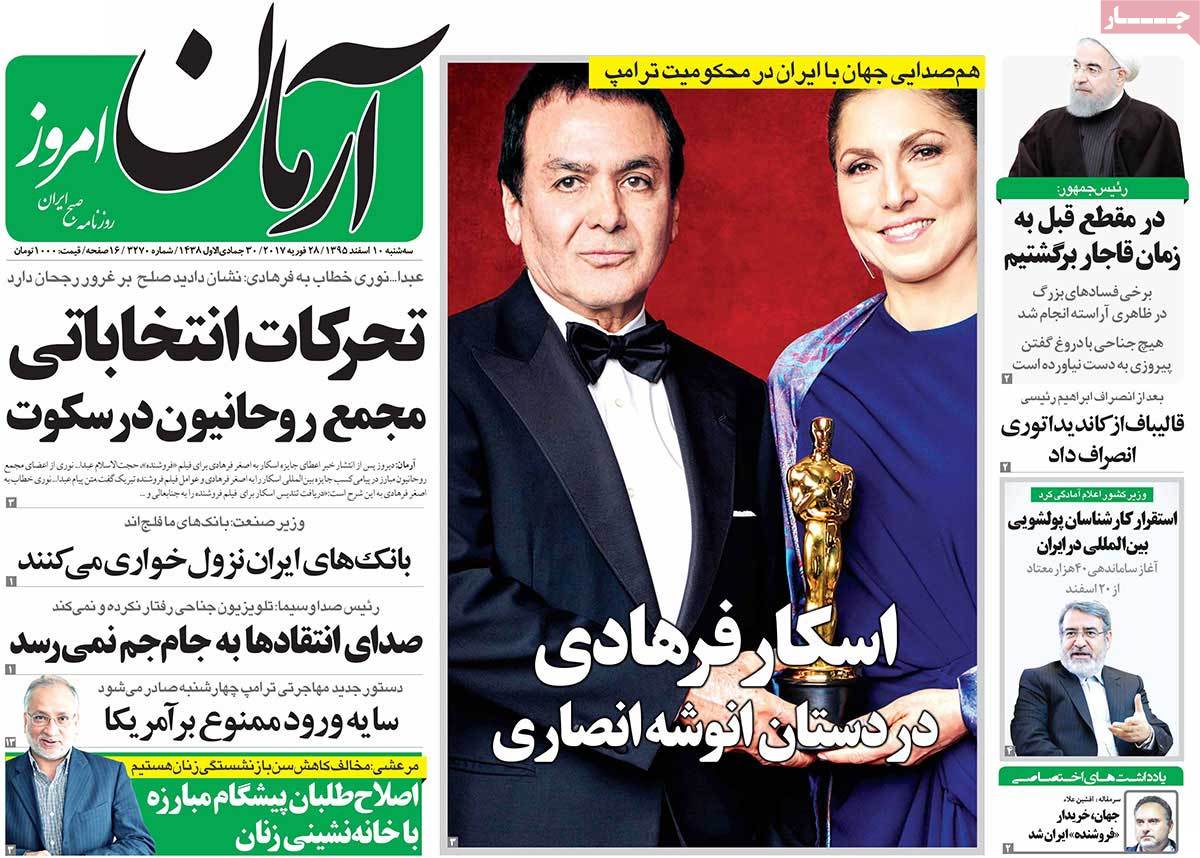 ---
Ebtekar:
1- Art against Politics: Farhadi wins Academy Award for second time with 'The Salesman'
2- Rouhani Still Engaged in Executive Affairs: Government spokesman's reaction to Rouhani's decision to run for presidential votes
---
Etemad:
1- Rise of Peace in Dawn of Oscars
2- Rouhani: Under Sanctions, Iran Returned to Qajar Era
3- UN Experts in Tehran: Iran's growing concern over increased laundry of drug trafficking money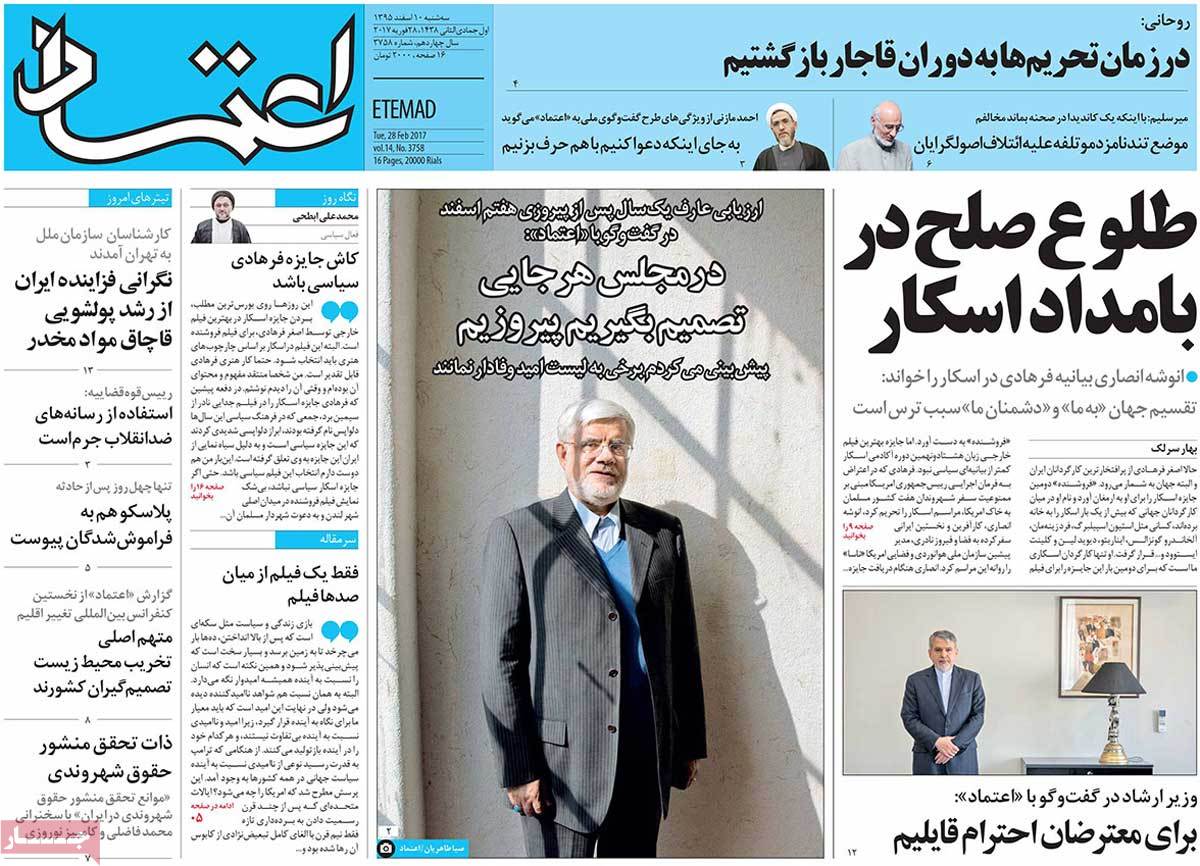 ---
Ettela'at:
1- First VP: Government Supports Production that Observes Consumers' Rights
2- Deputy FM: US to Be in Loss If Trump Scraps Nuclear Deal
3- Rouhani: We Need Powerful Banks for Interaction with World
---
Ghanoon:
1- Oscar, Second Take: Farhadi, Ansari, Naderi shine in Oscars 2017
2- Iran Behaving Magnanimously towards Azerbaijan Republic: Official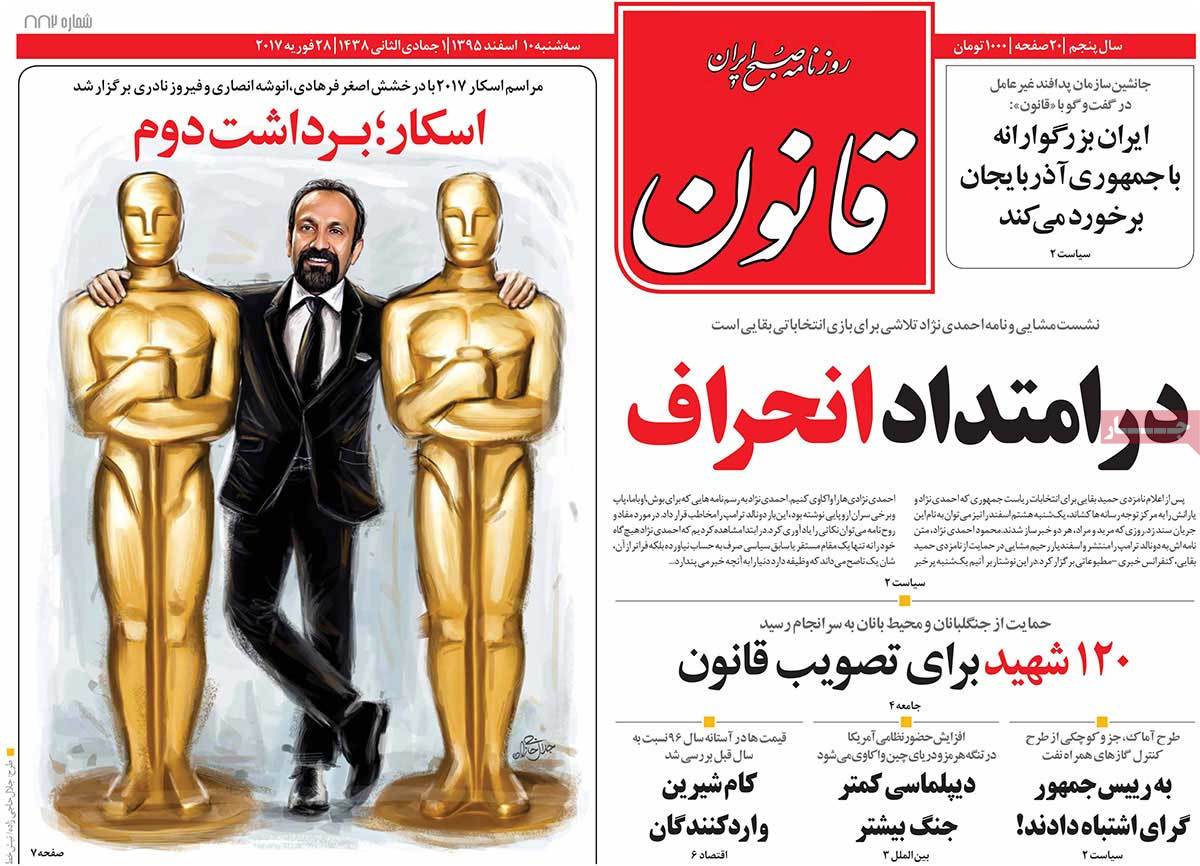 ---
Iran:
1- Oscar without Visa
2- Blue Night of Asia: Iran's Esteghlal Tehran FC and Esteghlal Khuzestan FC defeat Saudi and Emirati rivals in AFC Champions League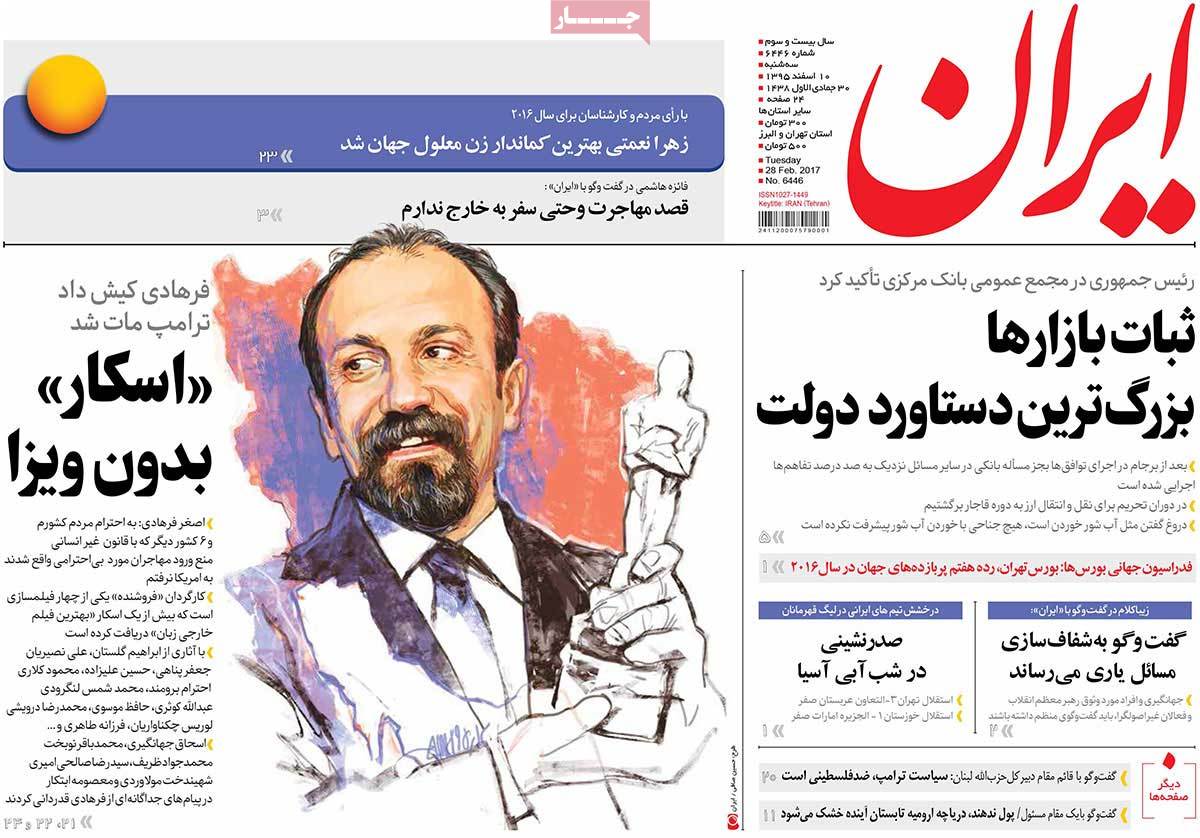 ---
Jame Jam:
1- Trump Is Same as Obama, but More Outspoken: Iranian Adviser
2- Trump's Disgrace at Brilliant Night of Iranian Cinema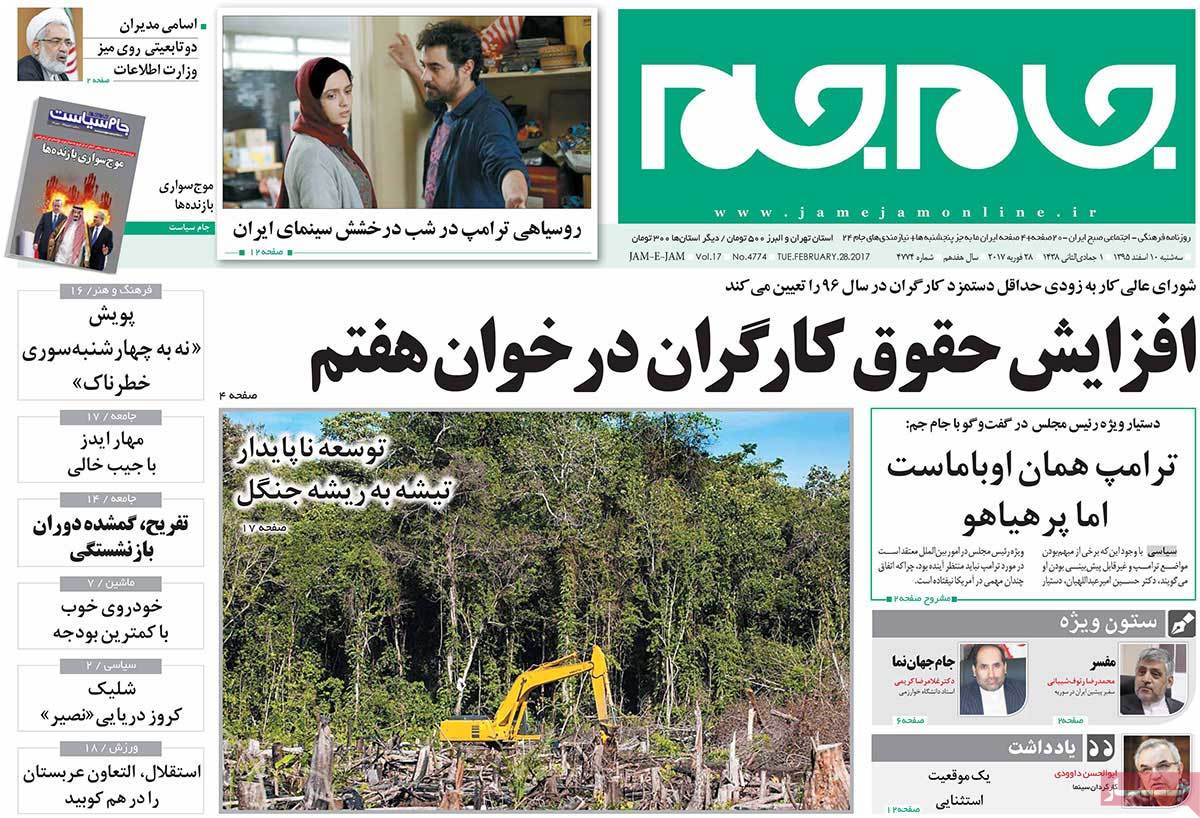 ---
Javan:
1- Rouhani Blames US and Iranian Banks for Continued Banking Sanctions
2- Iran's Nemati Selected as World's Best Female Para Archer in 2016
3- Trump's Political Oscar: Farhadi's The Salesman wins Oscar in anti-Trump atmosphere in US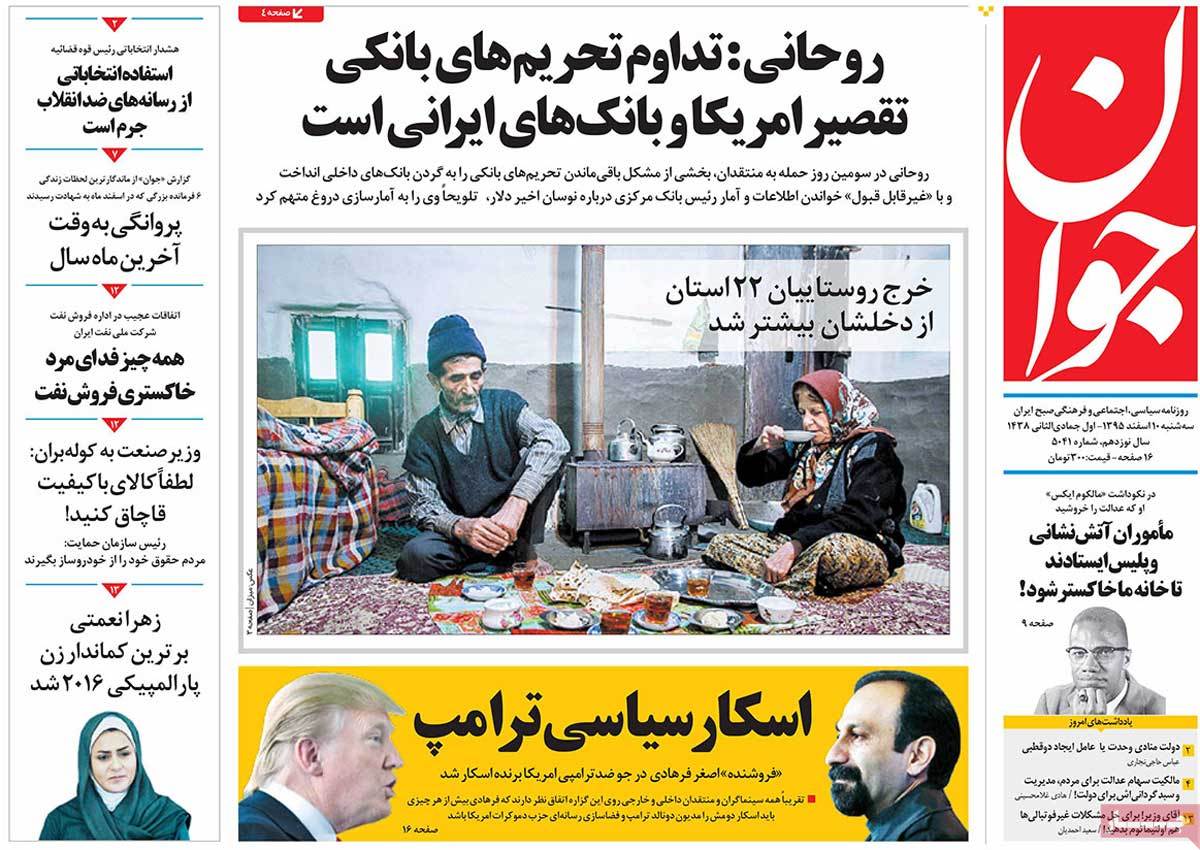 ---
Jomhouri Eslami:
1- Kordestan Turns to Western Iran's Medical Hub after Inauguration of 10 Projects
2- Europe's Message Is Supporting JCPOA: Deputy FM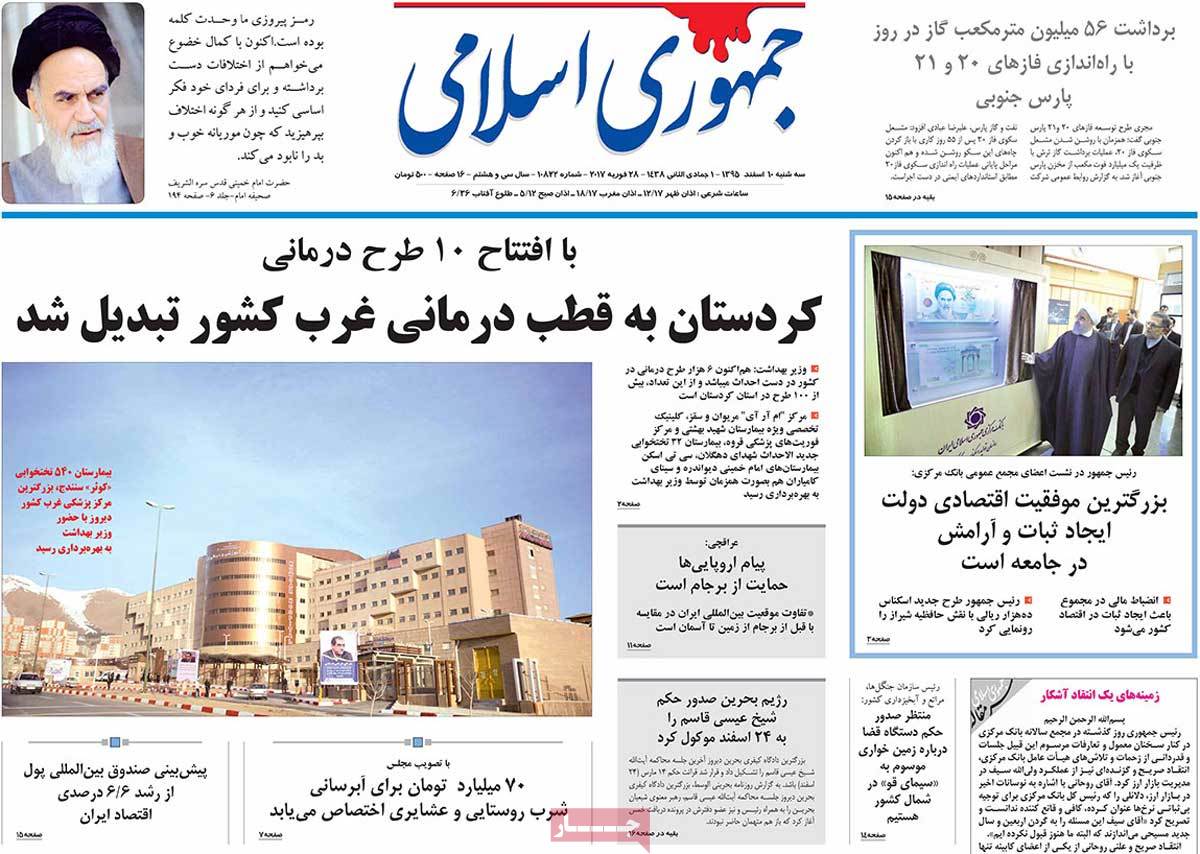 ---
Ka'enat:
1- Return to Freedom: Farhadi's Oscar Is Artists' Final Blow to Trump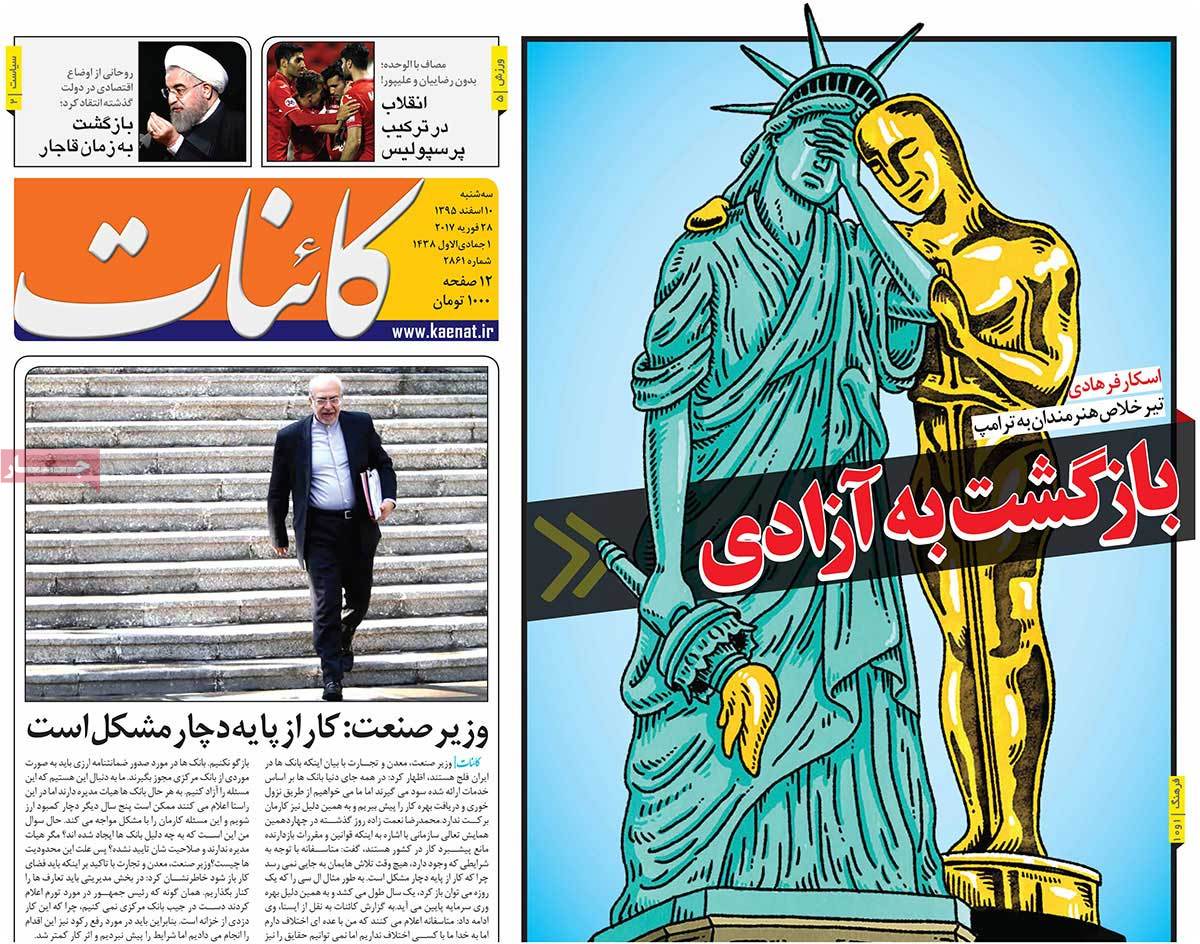 ---
Kayhan:
1- When We Have Cocoa Milk, Why Water? [Kayhan's report of President Rouhani's remarks, alluding to the low quality of water in Khuzestan province]
2- Sheikh Isa Qassim's Trial Session Postponed for Ninth Time
3- Yemeni Sources: Al Saud Has Poured 2m Bombs and Rockets on Yemeni People in Past 2 Years
4- What Did 'The Salesman' Sell to Win Oscar?
---
Khorasan:
1- Rouhani: It's Unprecedented to Have One-Digit Inflation Rate, High Economic Growth at Same Time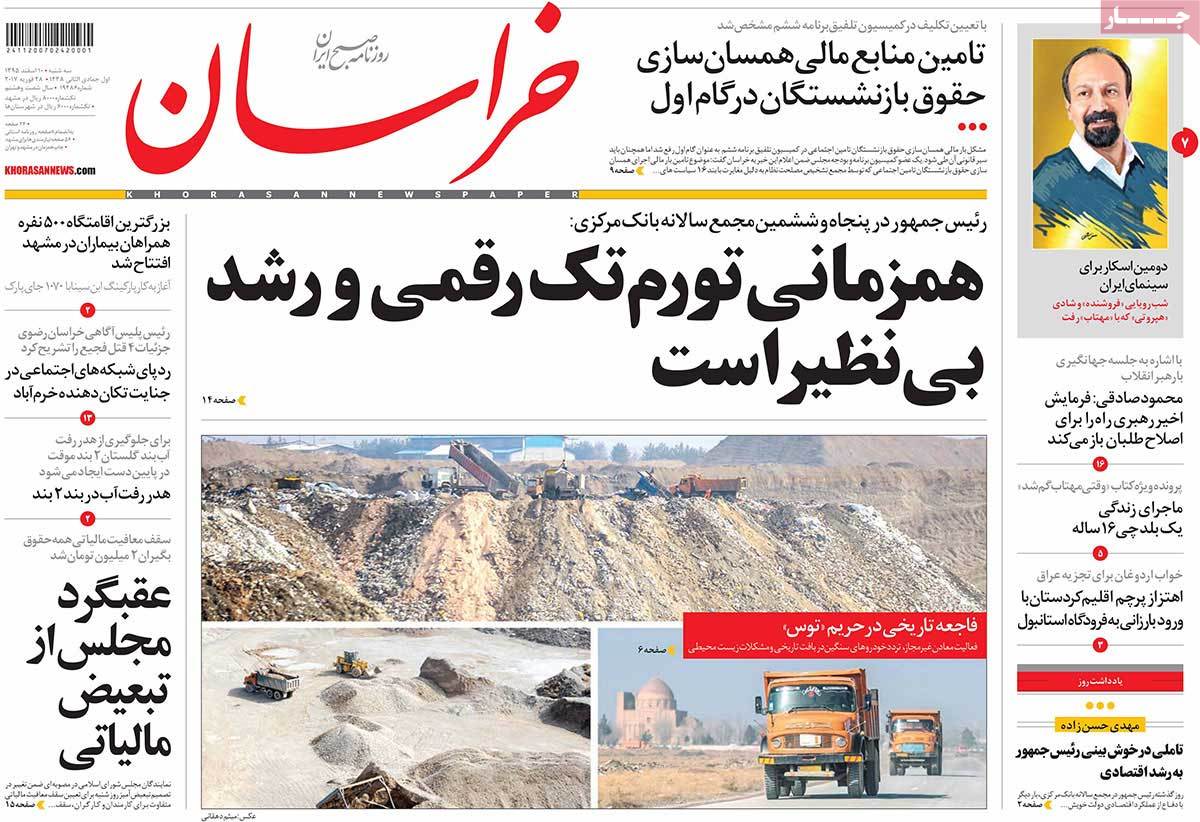 ---
Shahrvand:
1- A Reward against the Wall: Farhadi Wins Iran Second Oscar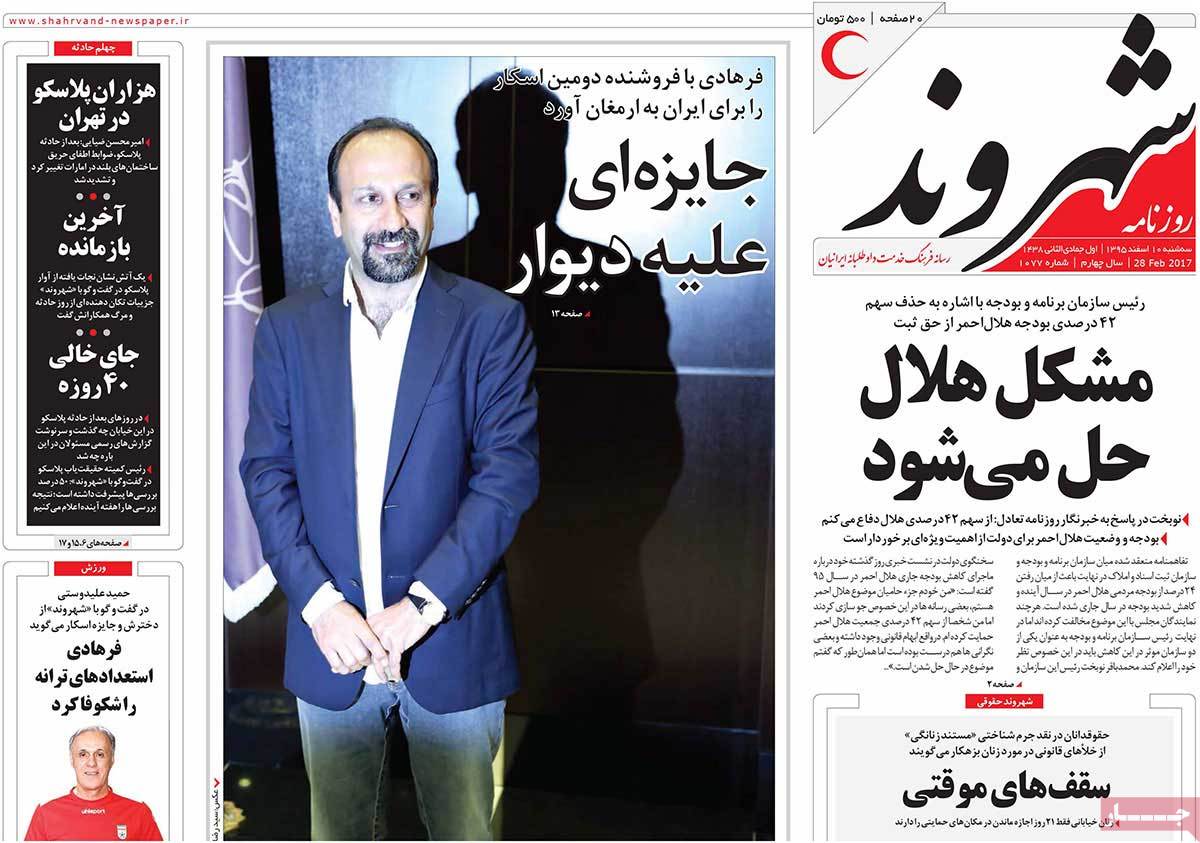 ---
Shargh:
1- An Oscar against Far-Rightists: Farhadi's Second Oscar for Iranian Nation, Cinema
2- President: Major Corruptions Take Place in Polished Way
3- Trump, Are You Awake? [Editorial about Farhadi's Oscar]
---
Vaghaye Ettefaghieh:
1- Trump's Humiliation: Farhadi Wins Iran Second Oscar
2- Trump's War with Europe without Bullets: Economy Is Subject This Time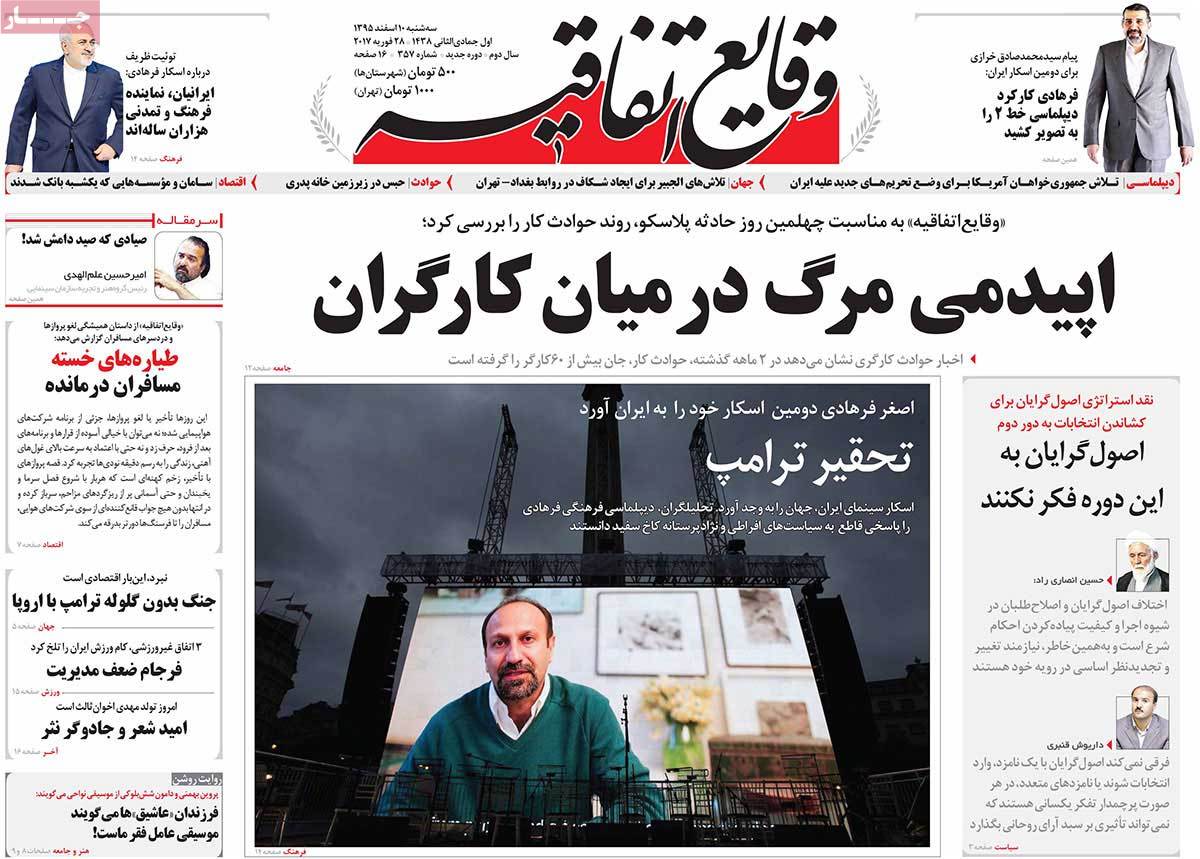 ---
Vatan-e Emrooz:
1- Hollywood against Trump, Trump against Hollywood: Best foreign language film Academy Award given to Farhadi for second time
2- Zionist Rabbi: Al Khalifa Is Symbol of Moderation!