The top story today was the remarks made by Iranian President Hassan Rouhani about the upcoming presidential election and his government's efforts to safeguard people's votes.
Newspapers also covered First Vice-President Es'haq Jahangiri's account of his meeting with Iran's Leader Ayatollah Seyyed Ali Khamenei about reformists and their presence in Iran's politics.
Foreign Minister Mohammad Javad Zarif's support for the Islamic Revolution Guards Corps (IRGC) and his remarks against a possible move by Trump's administration to designate it as a terrorist group also received great coverage.
The above issues, as well as many more, are highlighted in the following headlines and top stories:
19 Dey:
1- Parliament Speaker: People's High Turnout in May Election Very Important for Iran
2- Interior Minister: Rouhani Has Had Shortest Distance from Iran's Leader [he's been very close to Ayatollah Khamenei]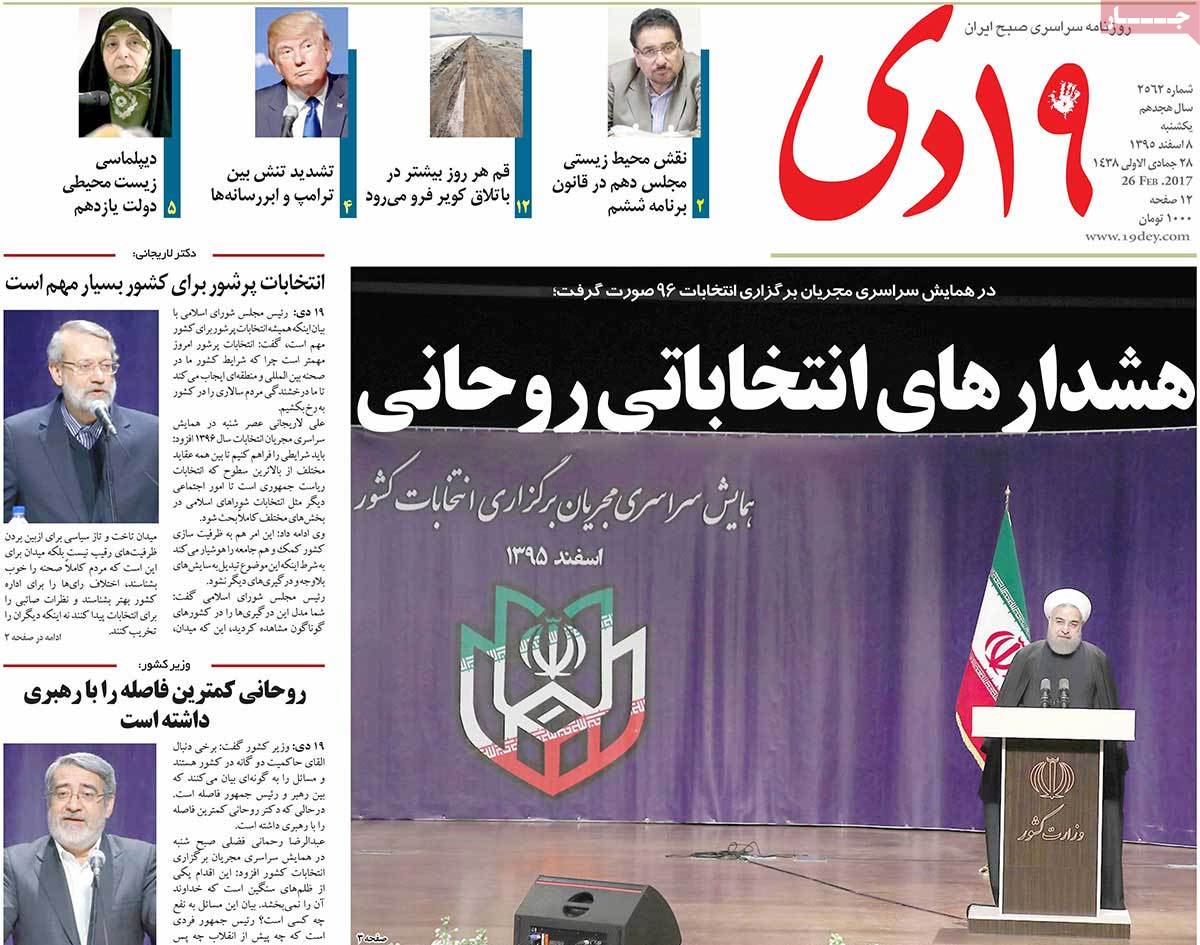 ---
Abrar:
1- Rouhani: Creating conflict and division between ethnic groups, followers of different religions, and speakers of different languages is biggest sin
2- $100 Billion of Iran's Frozen Assets Released
3- May Presidential Election Executives Banned from Foreign Trips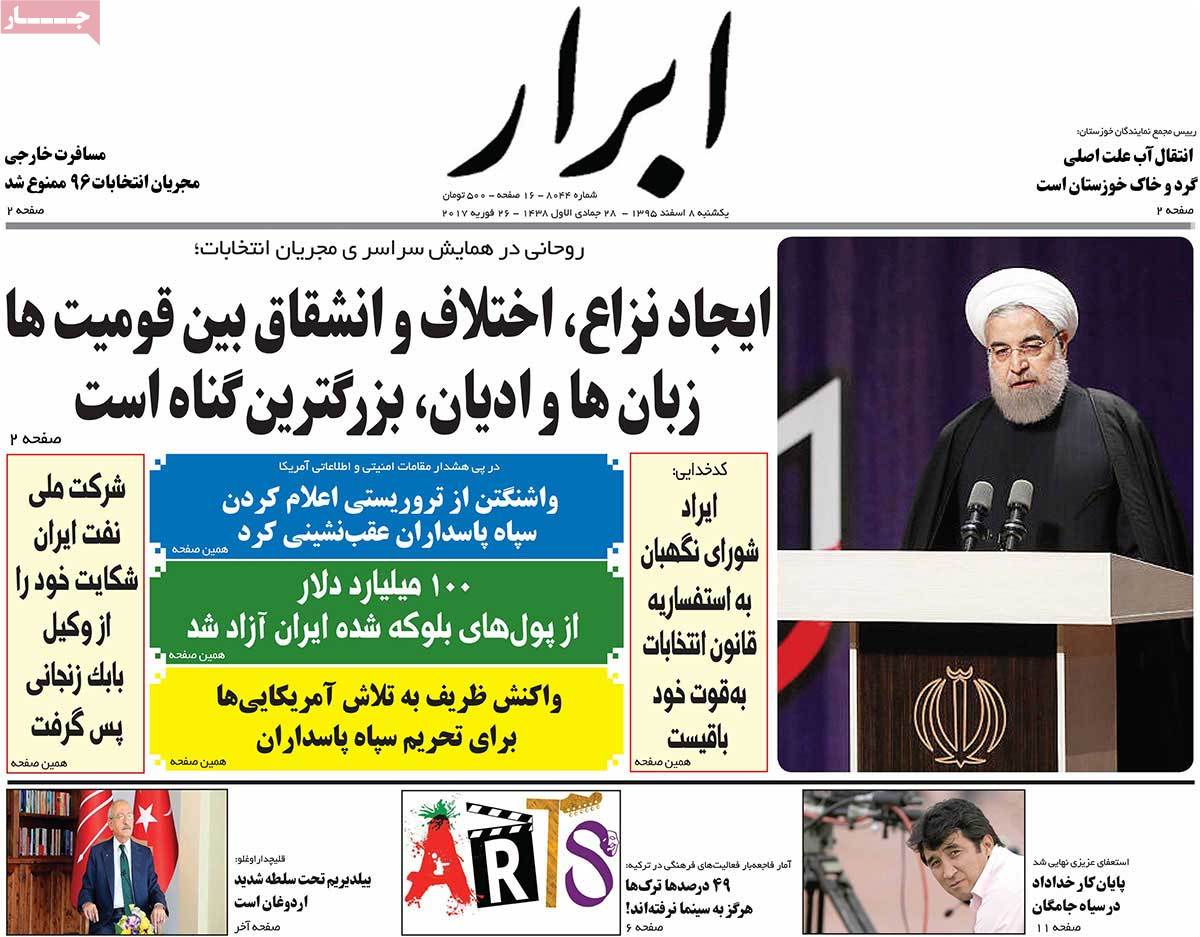 ---
Afarinesh:
1- Larijani: West's Opposition to Iran's Nuclear Program Due to Pro-Palestine Stances
2- President: Election Is Biggest Show of Power to Enemies of Iran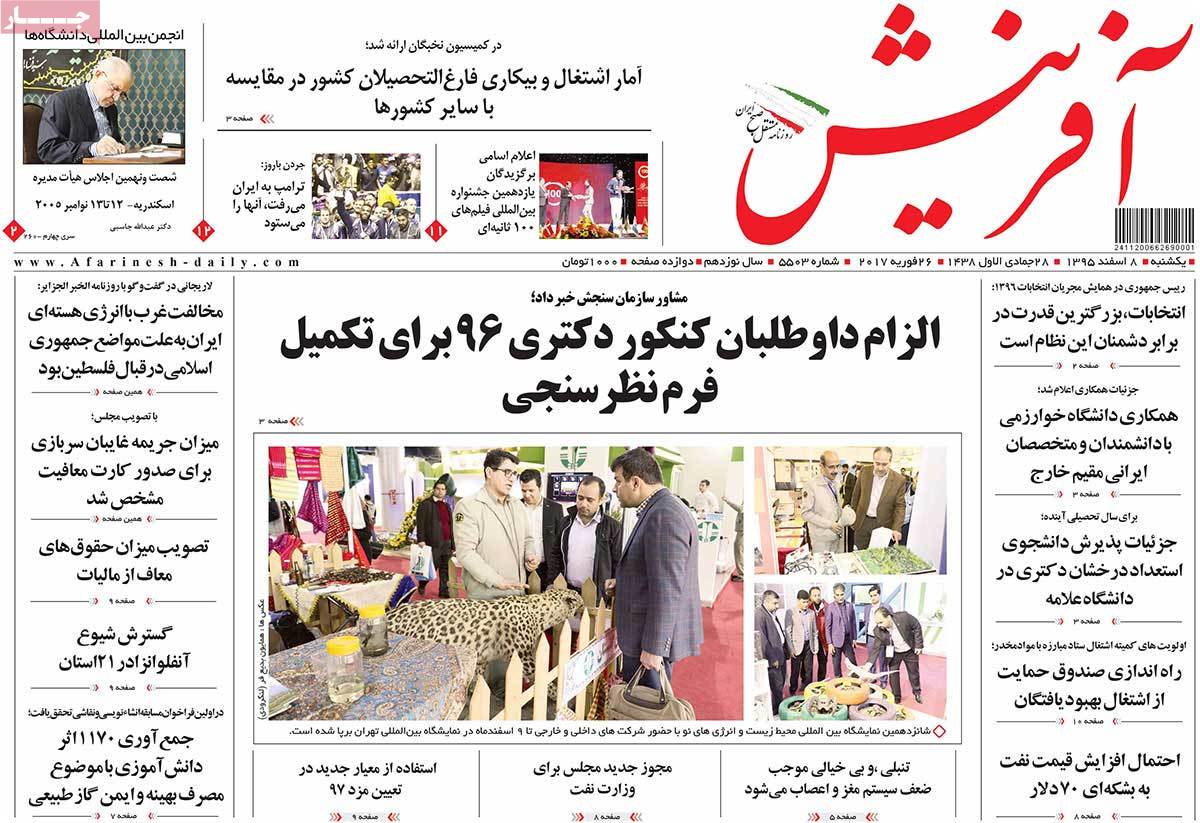 ---
Aftab-e Yazd:
1- Increased Pressures on Relatives of Ayatollah Rafsanjani
What are Rafsanjani's children doing these days?
2- Gov't, Parliament Trying to Change Legal Age for Girls' Marriage
3- Washington Backs Off from Designating IRGC as Terrorist Group
4- President: Chanting Slogans Is Not Only Way to Show Power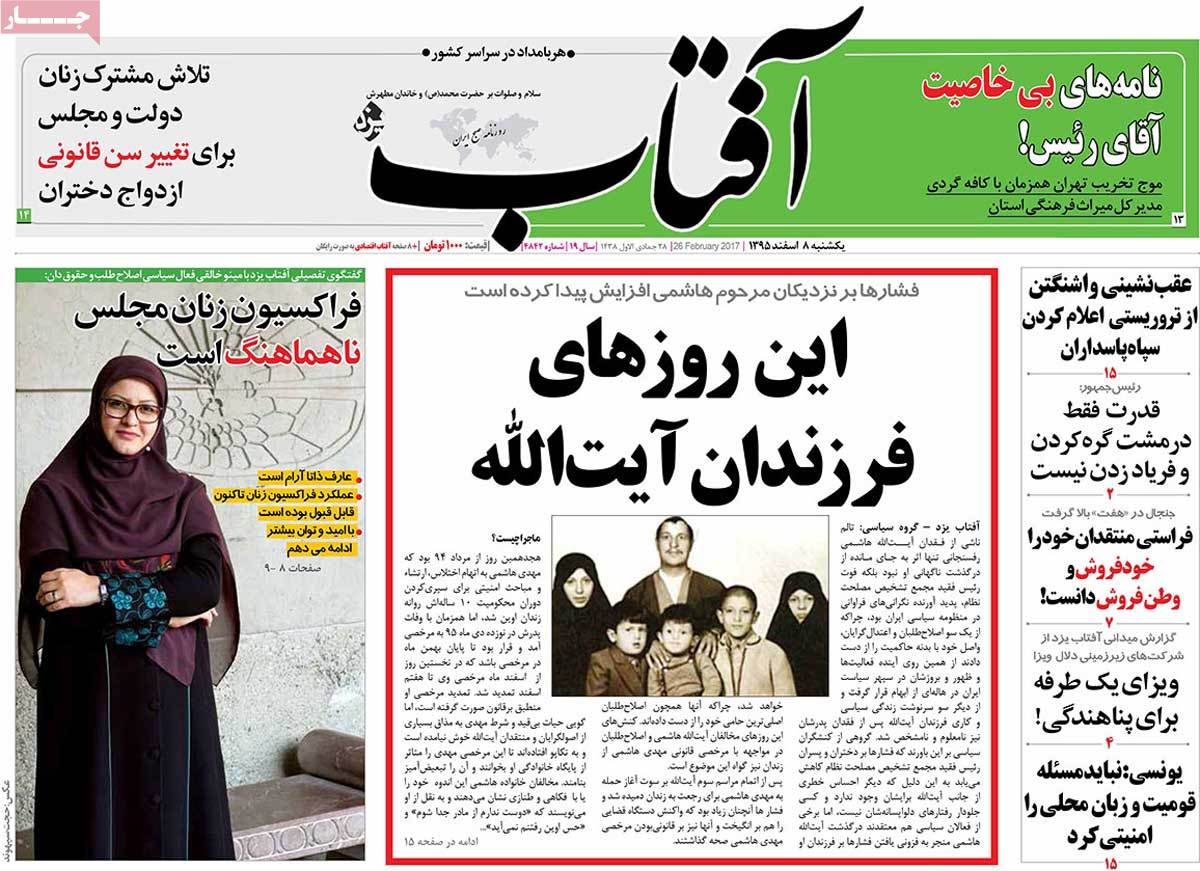 ---
Amin:
1- President: Some [Critics] Destroy People's Trust [in Establishment] in Efforts to Criticise Gov't
2- Saudi Arabia Renounces Kuwait after Talks with Tehran
3- Trump against Iran, 'The Salesman' against Trump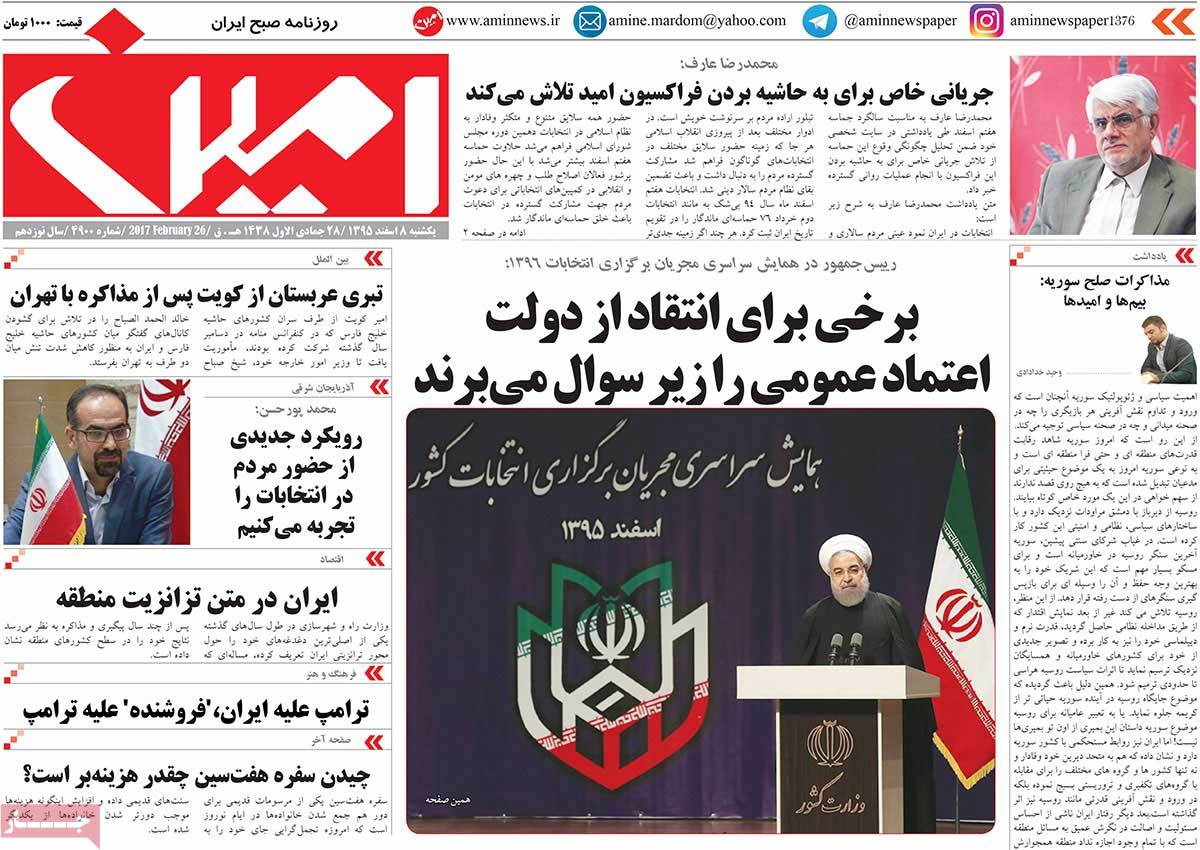 ---
Arman-e Emrooz:
1- Rouhani: It's Not a Sin to Compliment Gov't Just Once!
2- US Wrestler Invited to Visit Iran with His Family
3- Environment Chief: We're Not Worried about Rivals in Election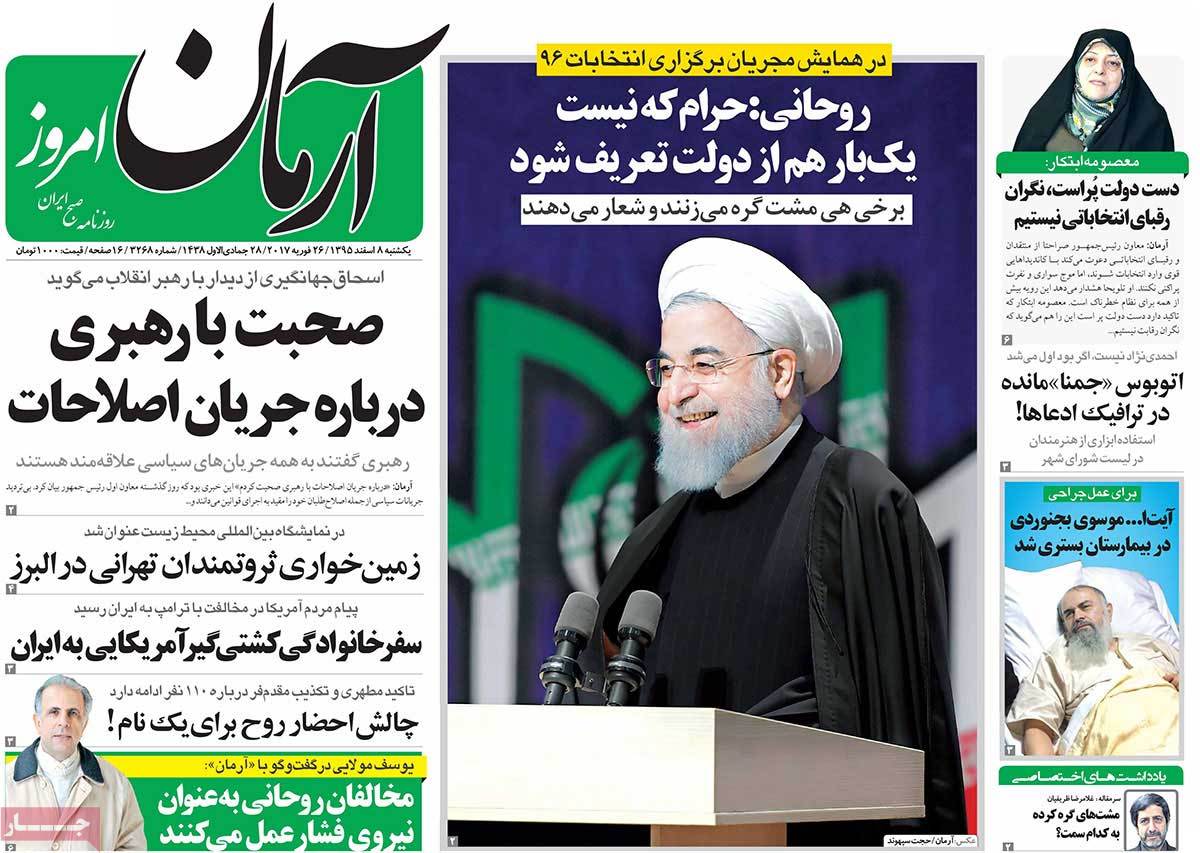 ---
Asrar:
1- Rouhani: We Should Acknowledge Different Opinions
2- Zarif Urges Turkey to Understand Benefits of Interaction
3- Official: Iran to Stop Selling Unprocessed Gas Condensates
4- Culture Minister: We Recognize Social Media
5- Parliament Speaker: Iran Should Show Its Dignity to World in May Election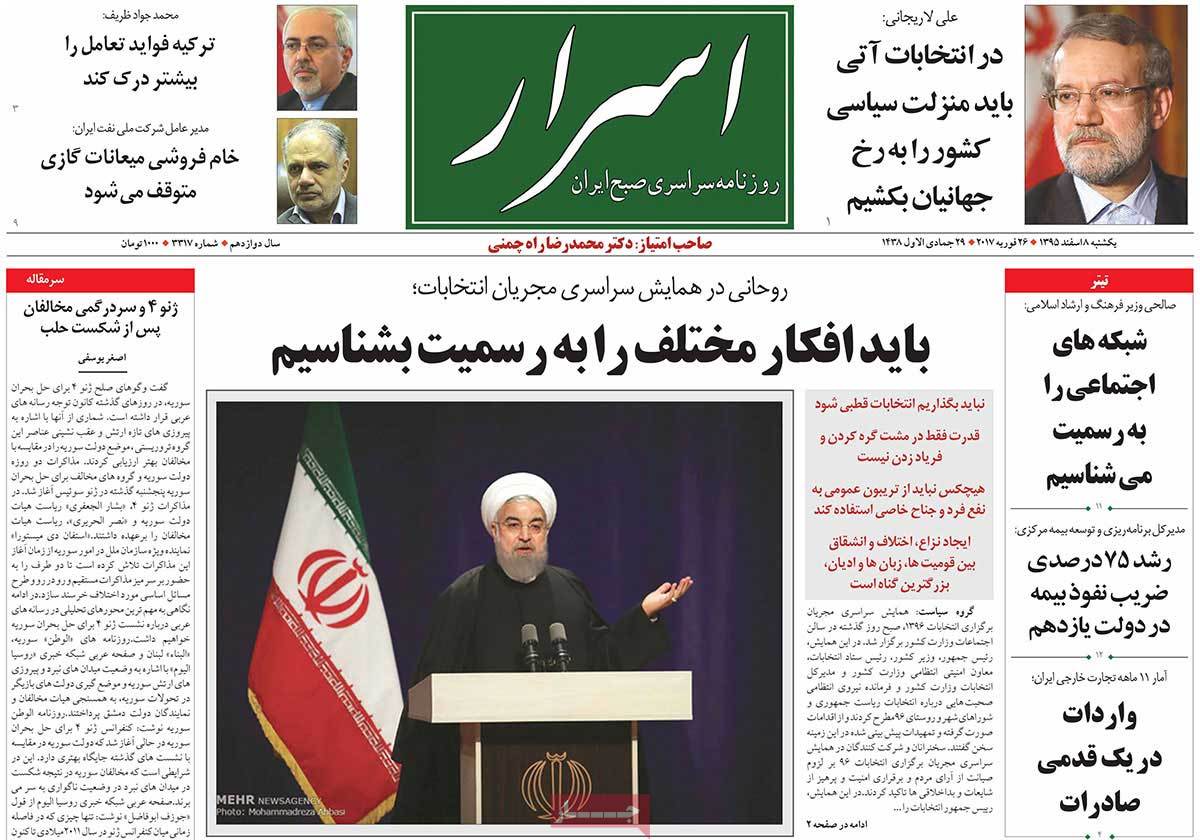 ---
Bahar:
1- First VP Jahangiri after talks with Iran's Leader about reformists: Leader said he's interested in all political movements
2- Pope Francis: Atheism Better than Hypocrisy
3- US VP's Harsh Anti-Iran Threat: We'll Strongly Stand against Iran's Move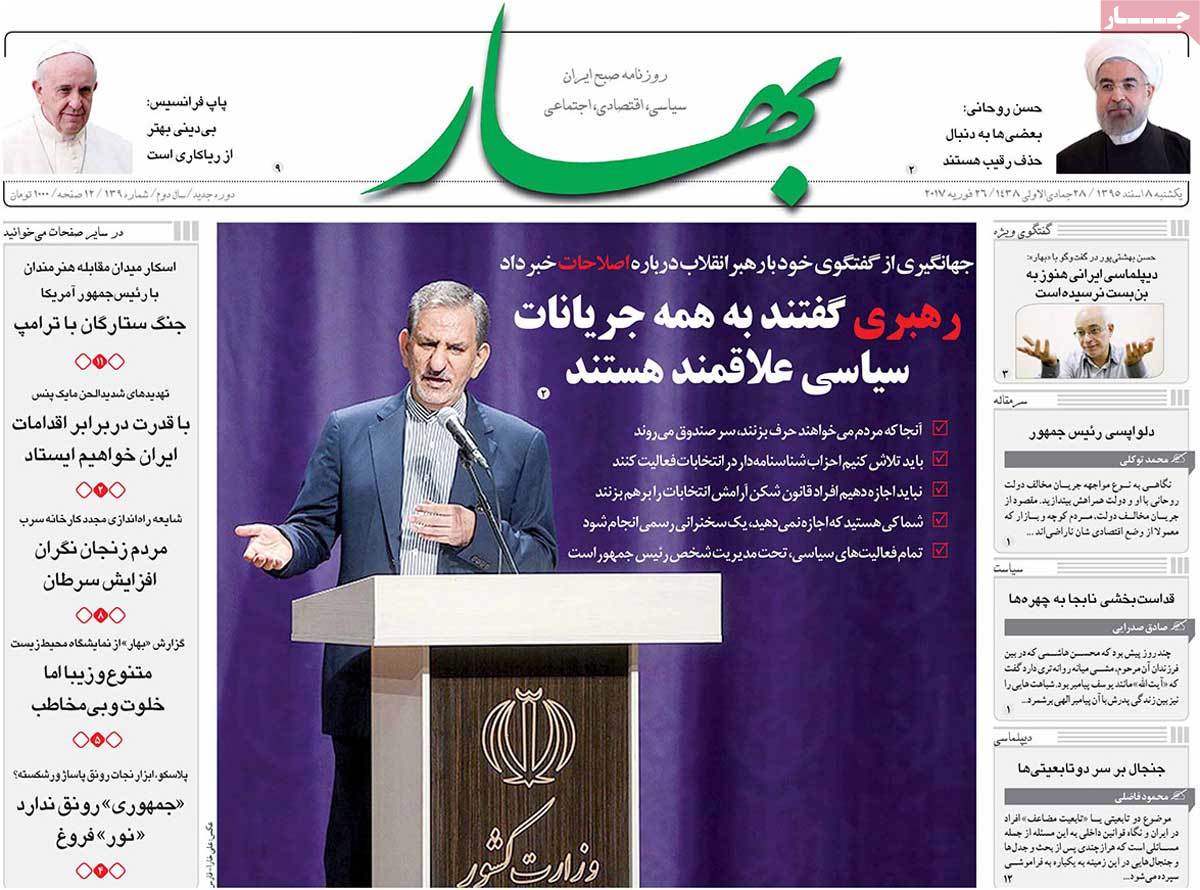 ---
Ebtekar:
1- Senior Reformist: People Looking for Changes within Constitution Framework
2- Jordan Burroughs: Trump Would Appreciate Iranians after Visiting Iran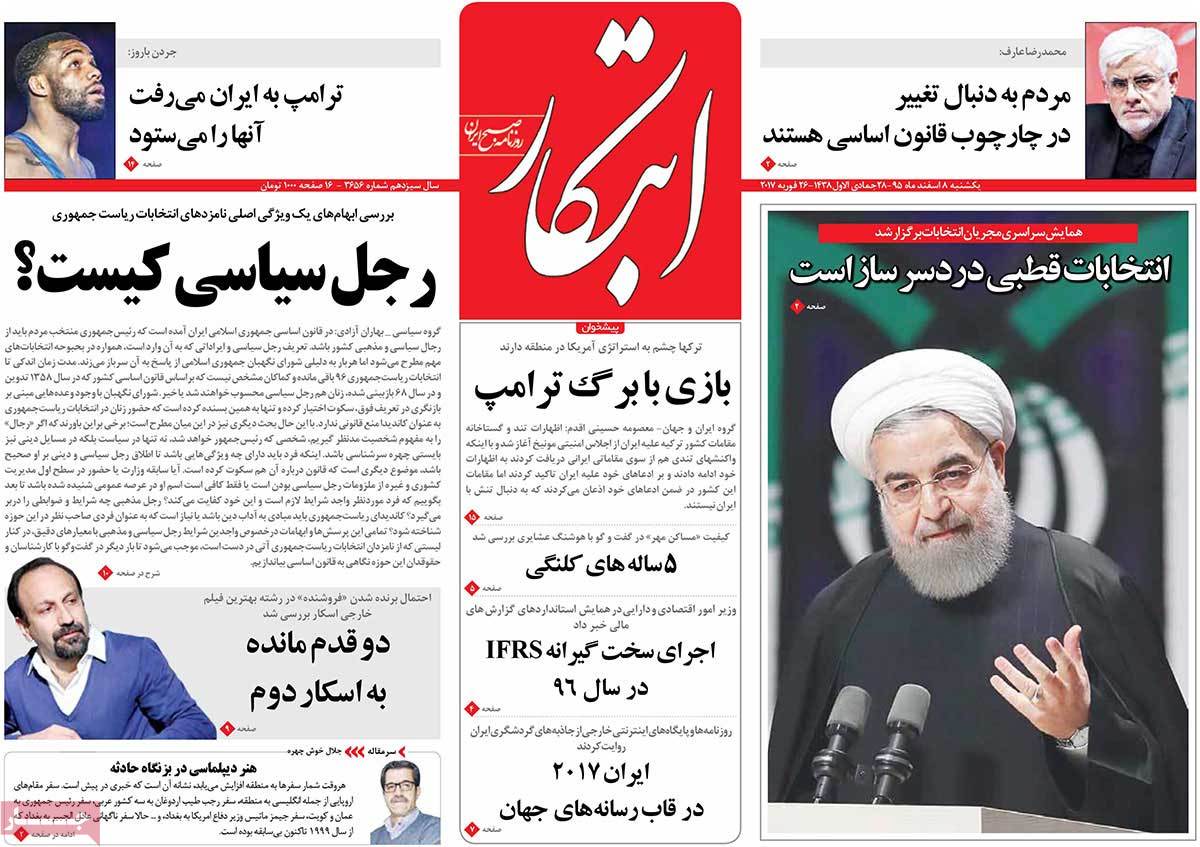 ---
Ettela'at:
1- President: Election Biggest Manoeuvre of Power against Enemies
2- First VP: Private Sector Should Take Lead in Iran's Economy
3- Zarif: Putting IRGC in List of Terrorists Not in Favour of US
4- Trump Calls on His Supporters to Attend Million-Strong Rally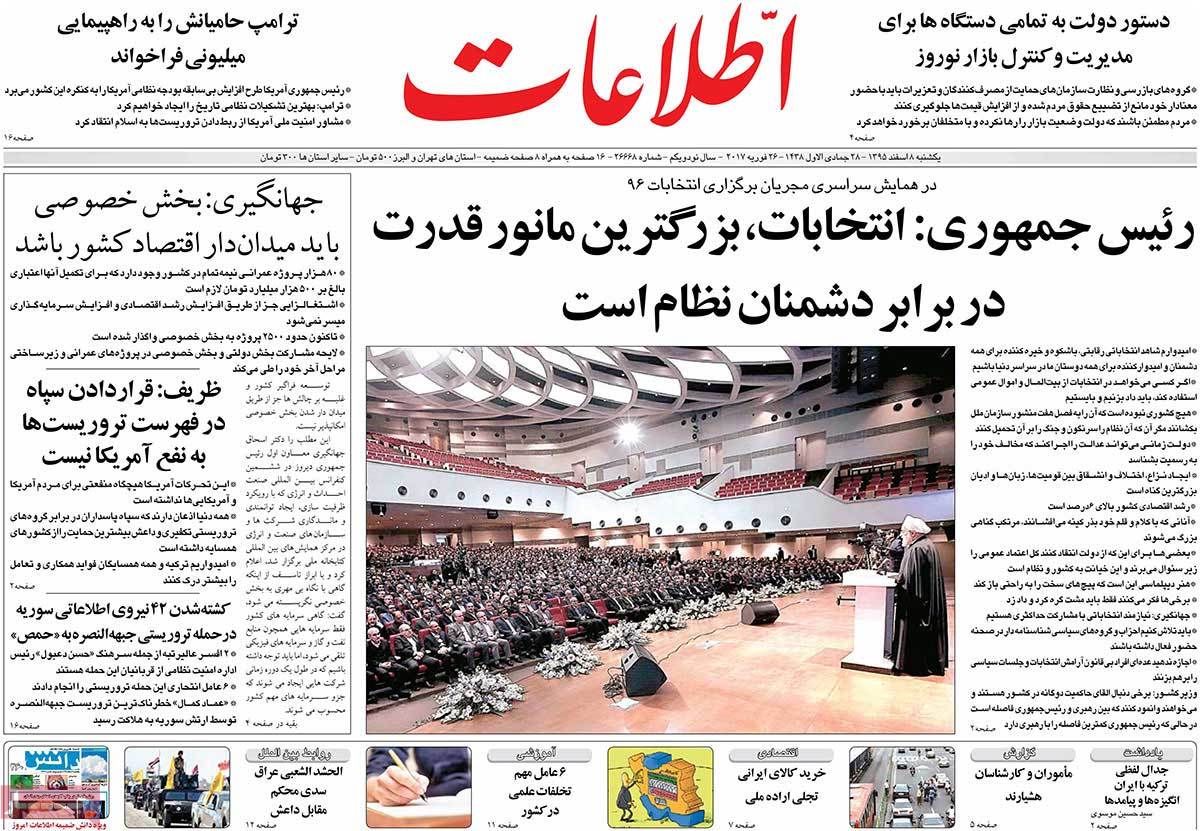 ---
Hemayat:
1- World Admits IRGC's Role in Fight against Terror: Iran's FM
2- Returning to Mother's Arms: Meeting newly-discovered body of Iranian martyr after 33 years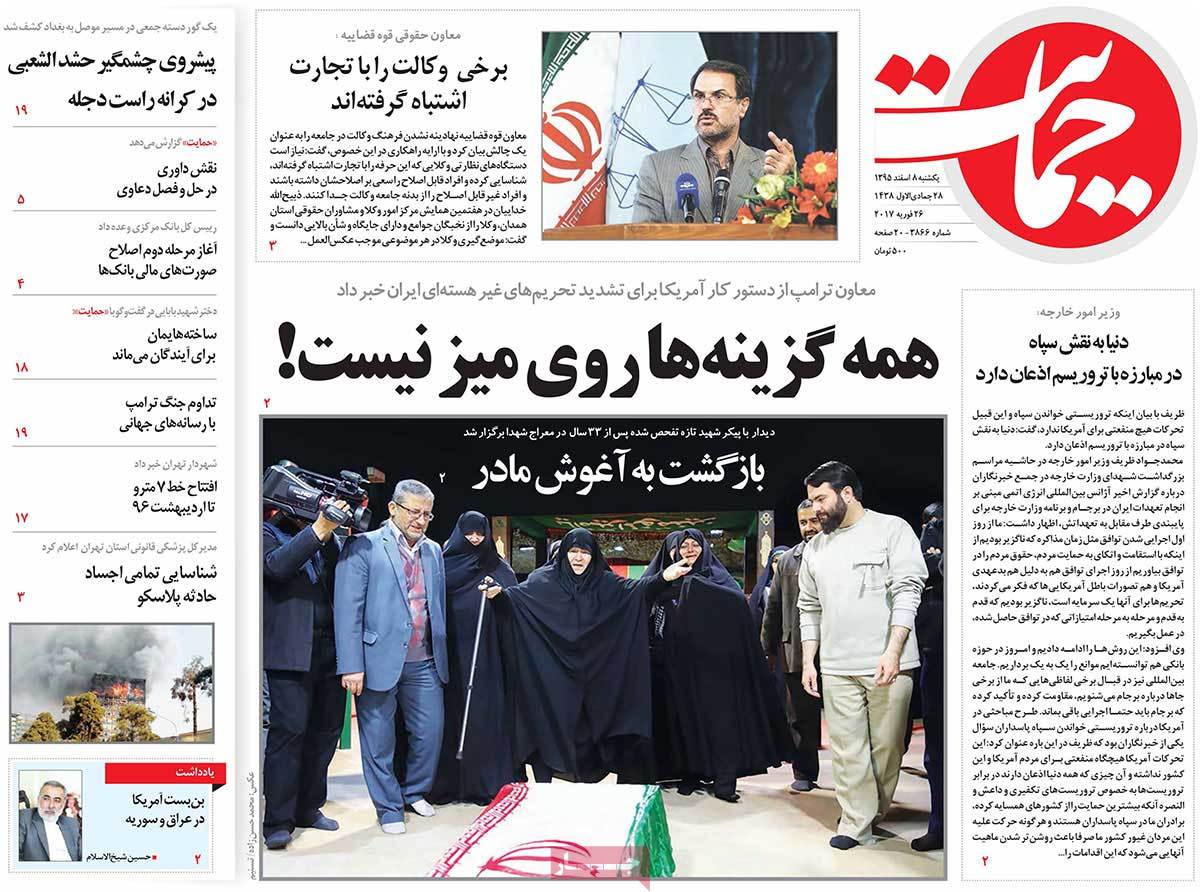 ---
Iran:
1- Oscar against American Nationalism: Farhadi and four rivals issue joint statement
2- President: Everyone Should Protect People's Votes
3- Larijani: We're Not Allowed to Make Any Other Decision for People's Votes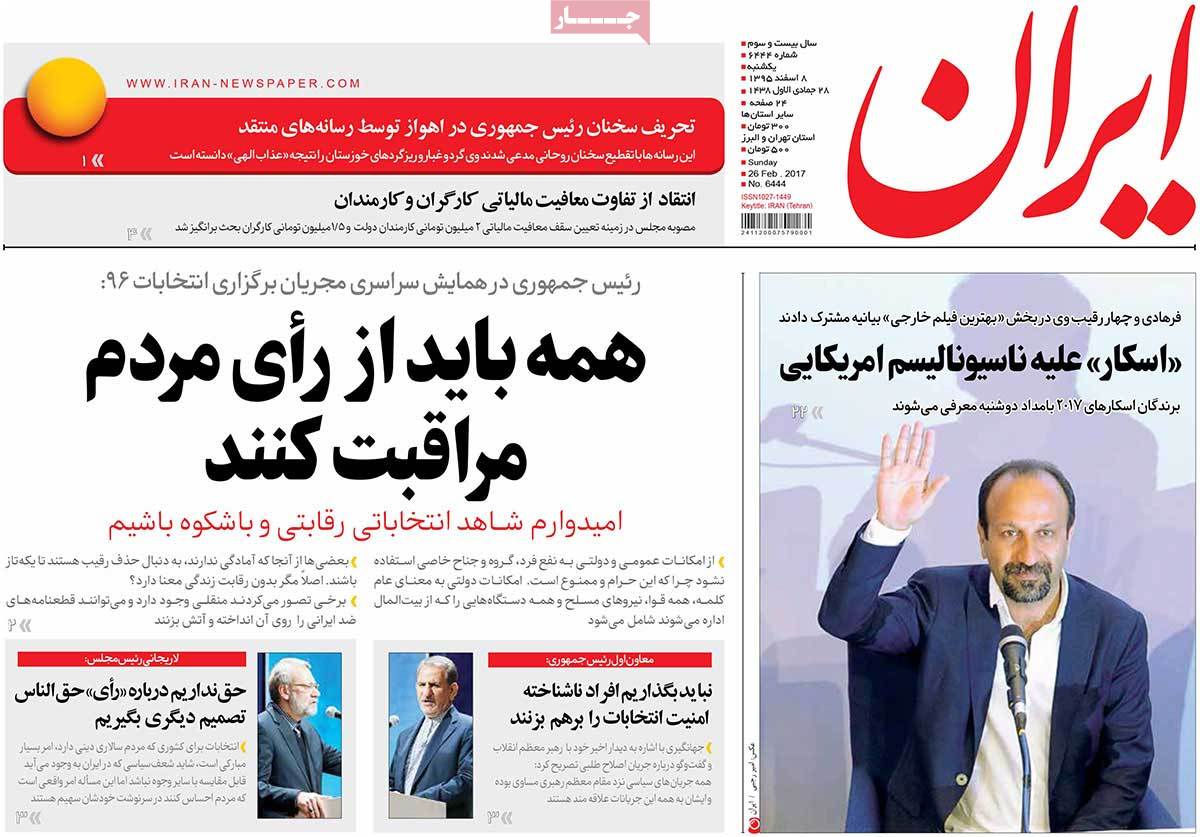 ---
Jame Jam:
1- Soil Smuggling Mafia: Some greedy dealers sell Iran's fertile soil to foreign countries for low prices. Export of agriculture soil to foreign countries is illegal
2- President Rouhani: Abuse of Public Facilities for Election Is Illegal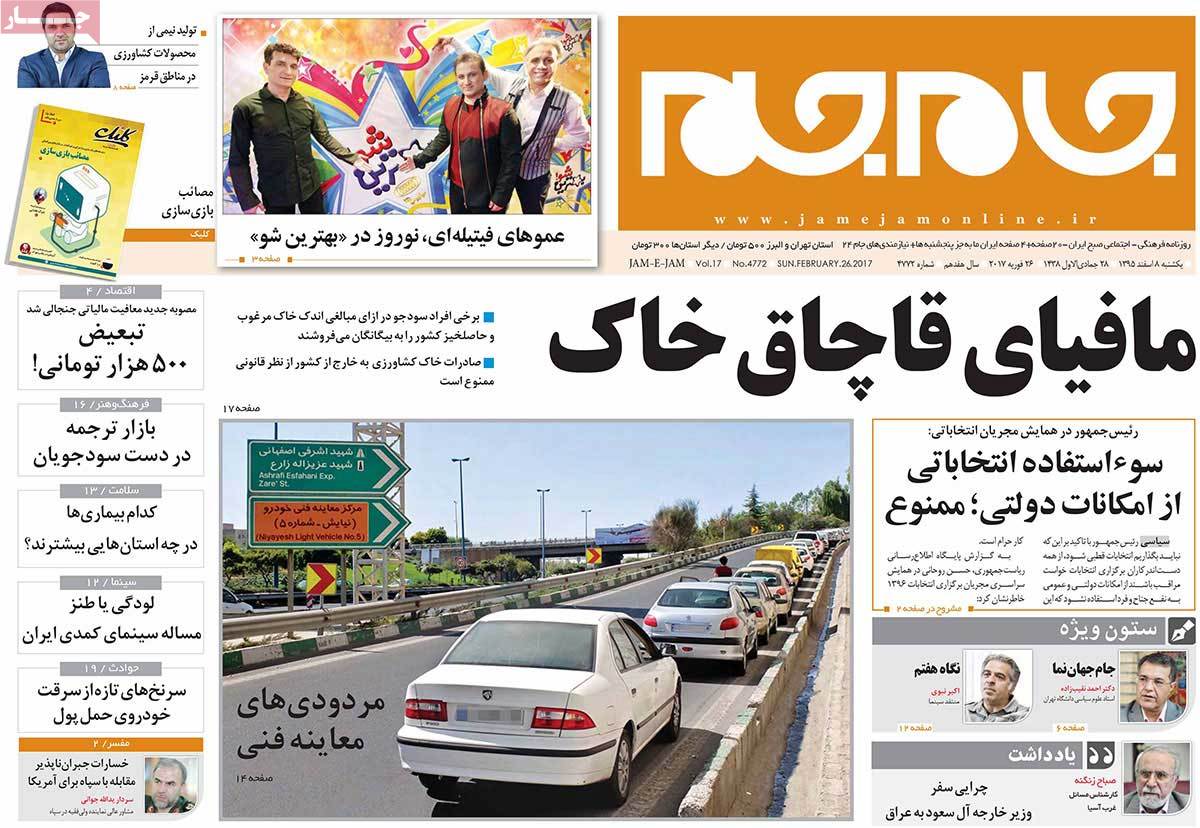 ---
Javan:
1- President: We've Fulfilled Campaign Promises, We're Not Ashamed
2- Reuters: White House Afraid of Making Accusations against IRGC
3- Iranian Cartoonists Respond to Trump's Stances
'Trump from Viewpoint of Iranian Cartoonists' is a cartoon exhibition underway in Tehran
---
Jomhouri Eslami:
1- President: Government Won't Let Anyone Interfere in Election
2- Saudi Warship Hit by Guided Missile in West Yemen
3- ISIS Resorts to Poisonous Gas; Iraqi Forces Continue Progress in West Mosul
---
Kayhan:
1- Rouhani: We're Not Embarrassed as We Fulfilled Our Promises!
2- Saudi FM Rushes to Meet Iraqi Officials after Finalisation of ISIS Eradication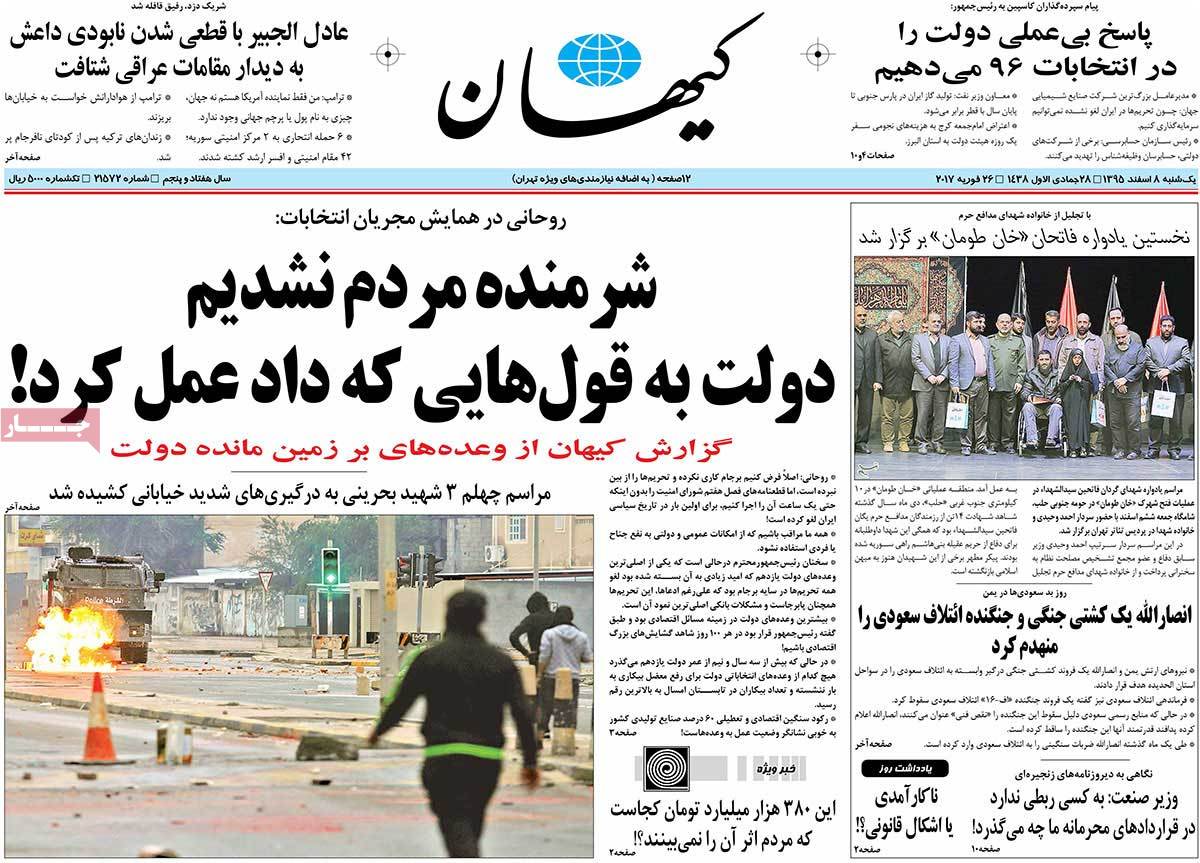 ---
Rah-e Mardom:
1- Rouhani: We Shouldn't Let Election Become Polarised
2- China Eager to Make Investment in Iran Construction
3- Nuclear Chief: Iran's Yellow Cake Reserves to Multiply Next Year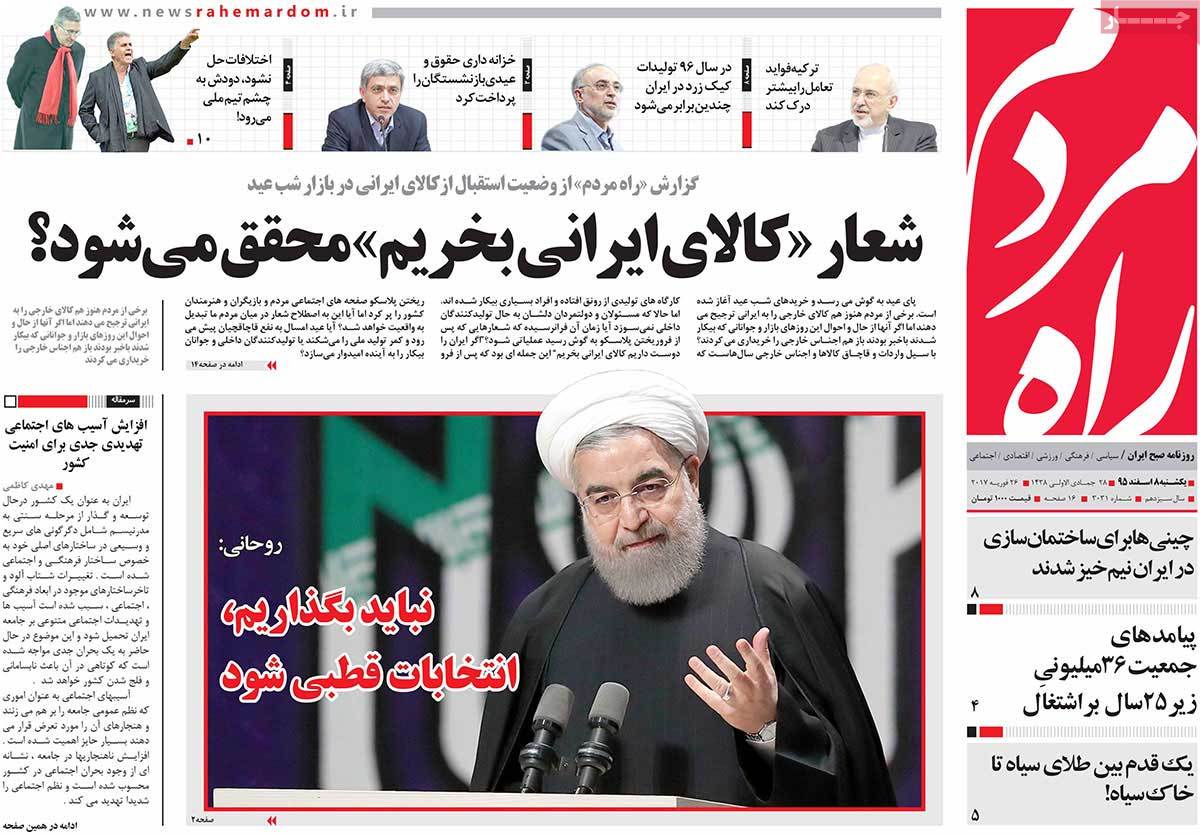 ---
Resalat:
1- Zarif: IRGC Has Supported Neighbours against Terrorists
2- Parliament Speaker: West Wants Iran to Be Consumer of Its Products
3- Health Minister: People Have Problems in Livelihood, Employment, Weather
4- Rouhani Will Definitely Receive Less Votes: Senior Conservative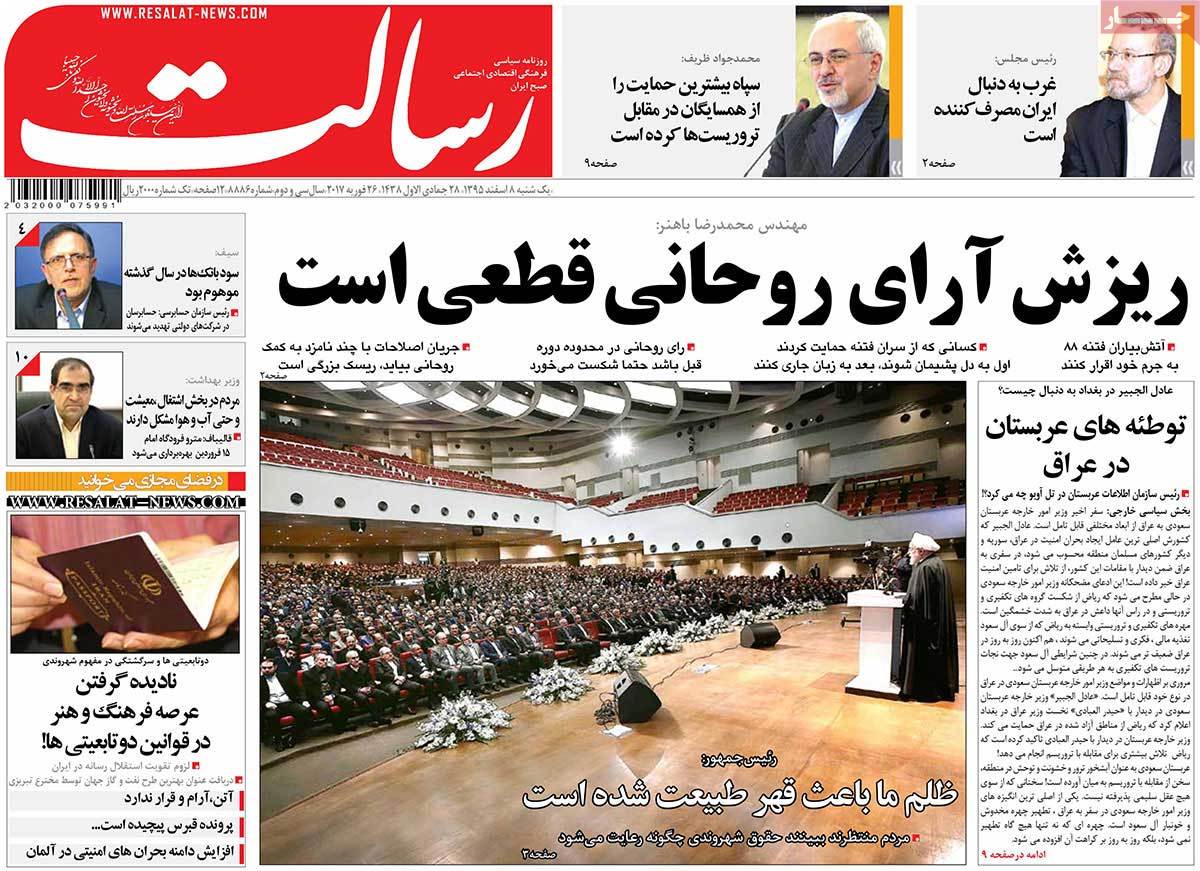 ---
Shahrvand:
1- 7,000 Non-Transparent Charities: Half of Iranian charities don't make financial statements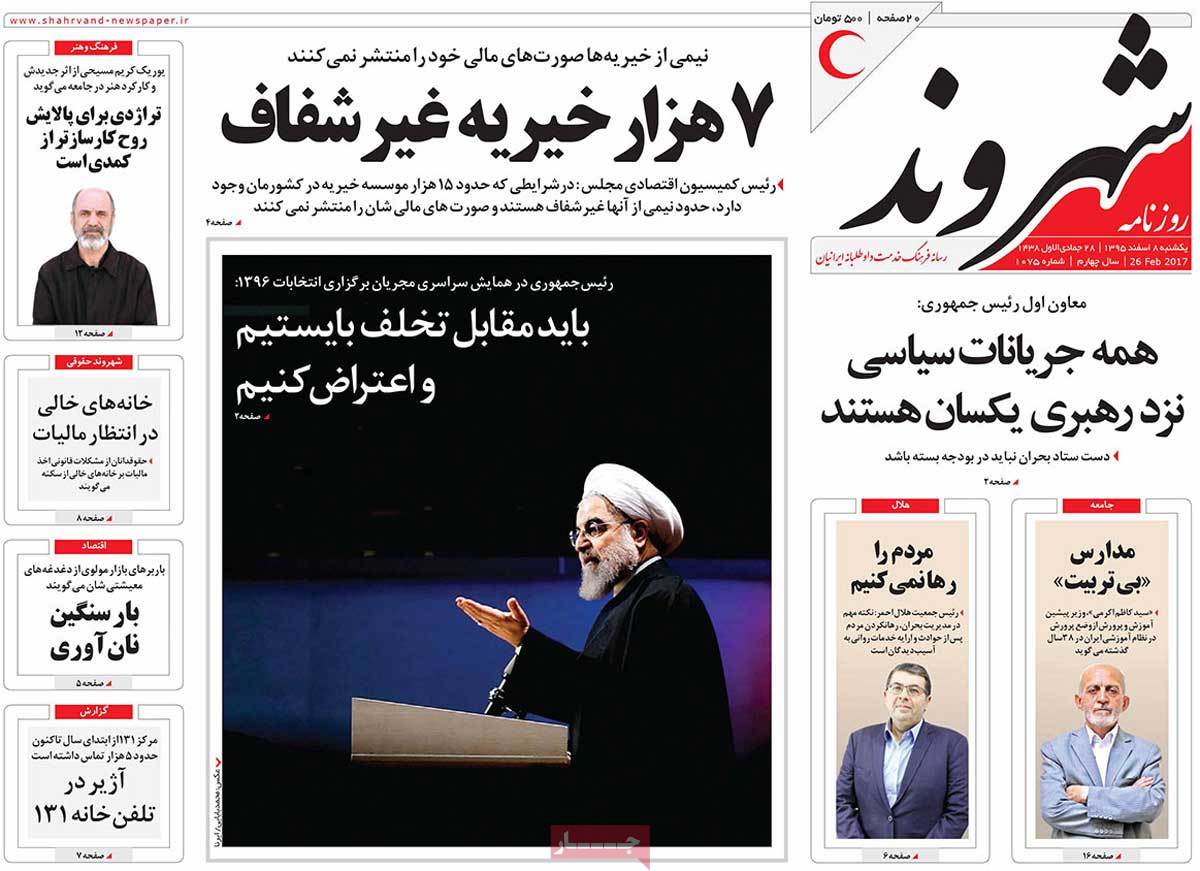 ---
Shargh:
1- Reformists' Relationship with Iran's Leader: Jahangiri's account of his meeting with Ayatollah Khamenei
2- President: We Should Stand against Violation of Law
3- Several Prestigious Media Banned from WH Presser on Trump's Order