Many newspapers covered the remarks made by the Leader of Iran's Islamic Revolution Ayatollah Seyyed Ali Khamenei about the 'heartrending' crisis in south and southwest of Iran. The Leader urged the government to immediately cope with the dust pollution in Khuzestan and help those damaged by the flood in southern provinces.
The anti-Iran stances held by Turkish Foreign Minister in Munich Security Conference and Iran's mild reaction to the remarks also received great coverage.
Newspapers also covered Iranian Foreign Minister Mohammad Javad Zarif's interviews with foreign media outlets on the sidelines of Munich Security Conference.
The above issues, as well as many more, are highlighted in the following headlines:
Abrar:
1- Zarif: Obama Administration Had No Choice Other than Nuclear Deal with Iran
2- South Korea: Murder of North Korean Leader's Brother Shows Pyongyang's Savagery
3- Iraqi President Says Mosul Liberation Is Imminent
4- French FM Warns against Russian Interference in France's Election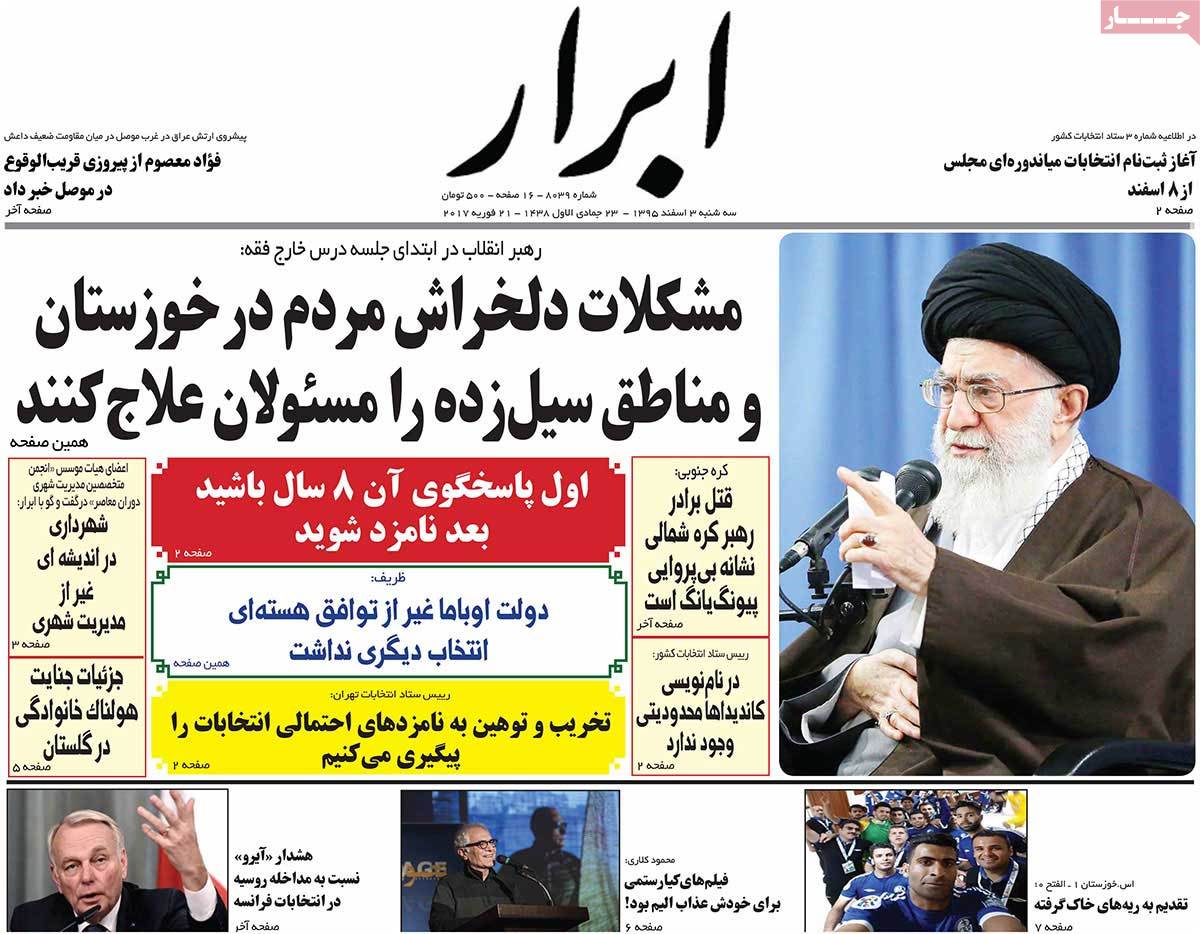 ---
Abrar-e Eqtesadi:
1- No One Will Be Imprisoned for Being Guilty in Car Accidents
2- Iran Has No More Gas Condensate Reserves in China
3- Iran and Europe Have Had €13.7 Billion in Trade in 2016
4- Iran Rejects Claims about Steel Dumping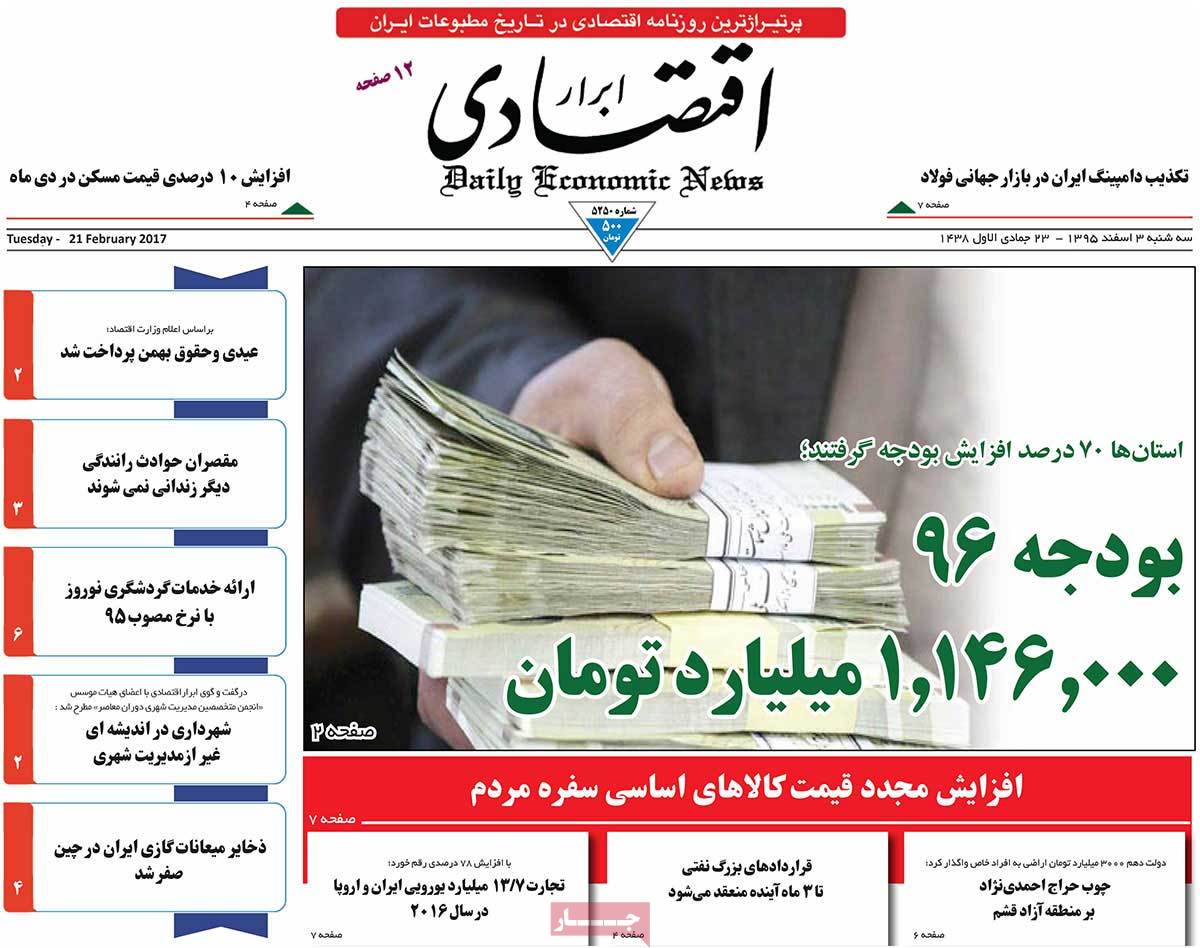 ---
Aftab-e Yazd:
1- Iran's Leader: Recent Incidents in Southern Iran Are Heart-Breaking
2- What Has Rouhani's Gov't Done for Khuzestan?
3- Judiciary Chief: Natural Disasters Shouldn't Be Used as Political Leverage against Government
4- Analysts Discuss Why Turkey Takes Anti-Iran Stances
5- Americans Travelling to Iran in Protest at Trump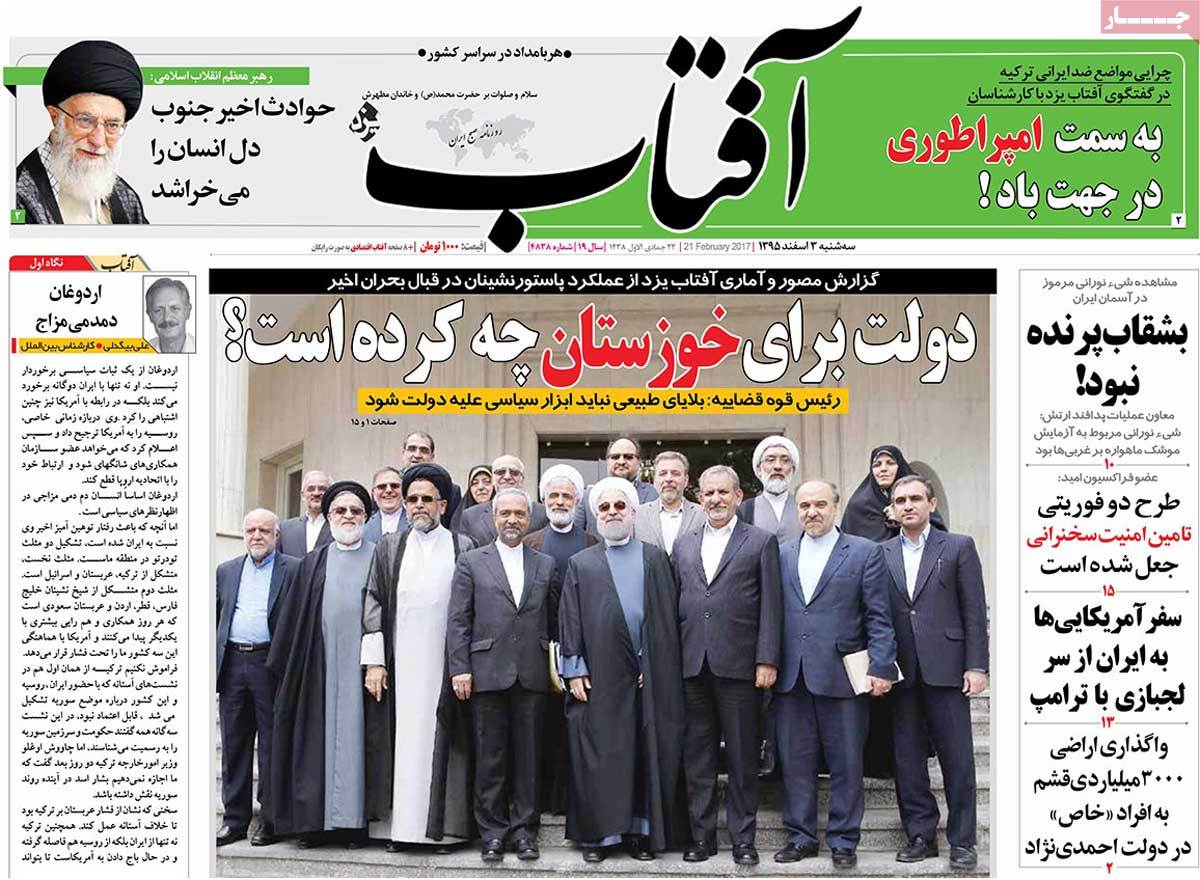 ---
Arman-e Emrooz:
1- Iranian Delegation to Visit Saudi Arabia on February 23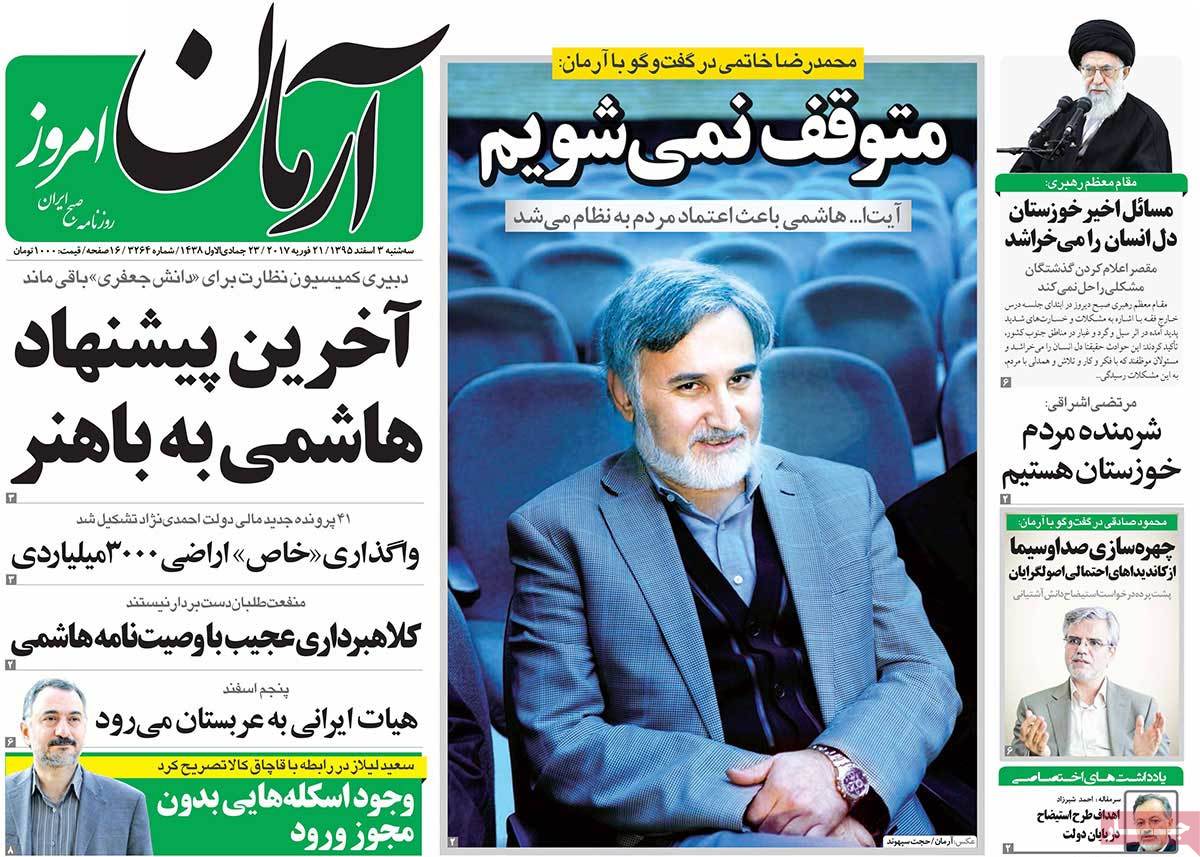 ---
Ebtekar:
1- Iran's Leader: Ruling Systems Obliged to Take Care of People
2- Foreign Ministry Spokesman: Iran's Patience towards Turkey Has Limits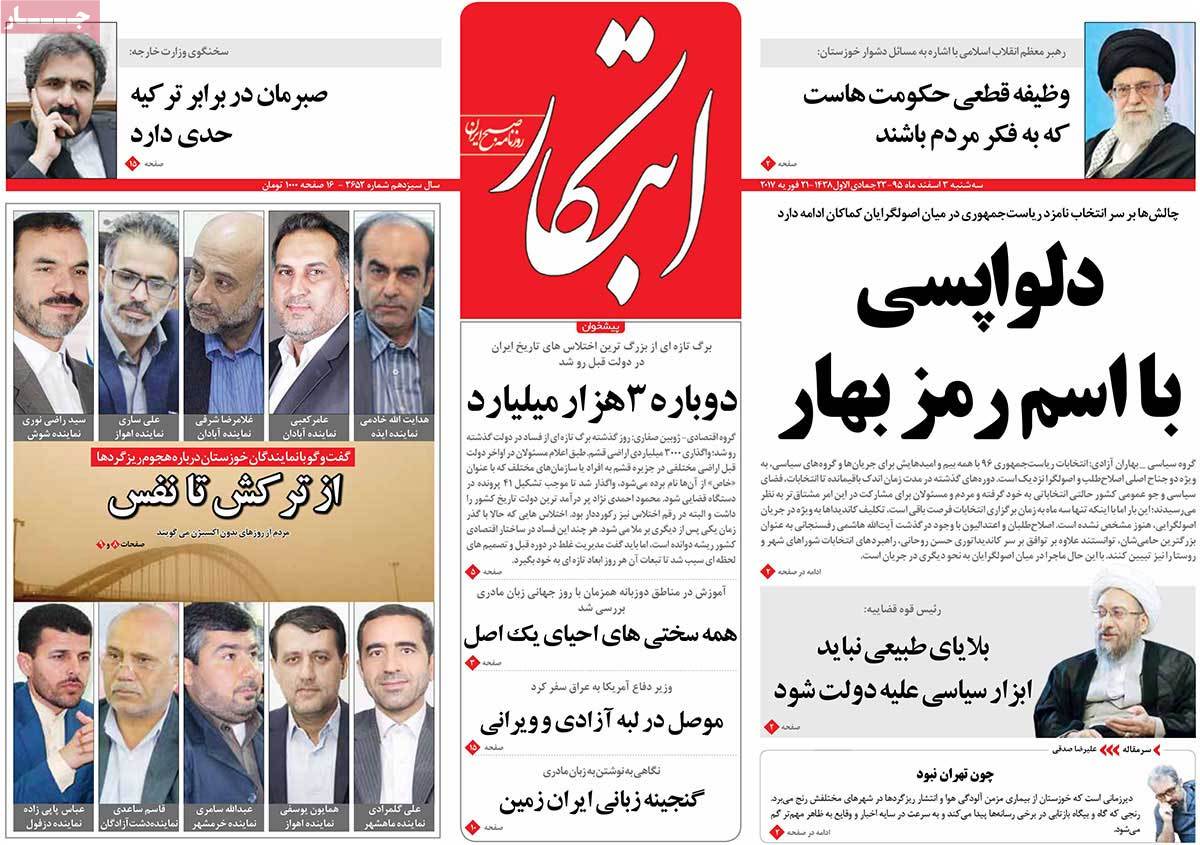 ---
Emtiaz:
1- Labour Minister: Being Employed as Public Servant No More Possible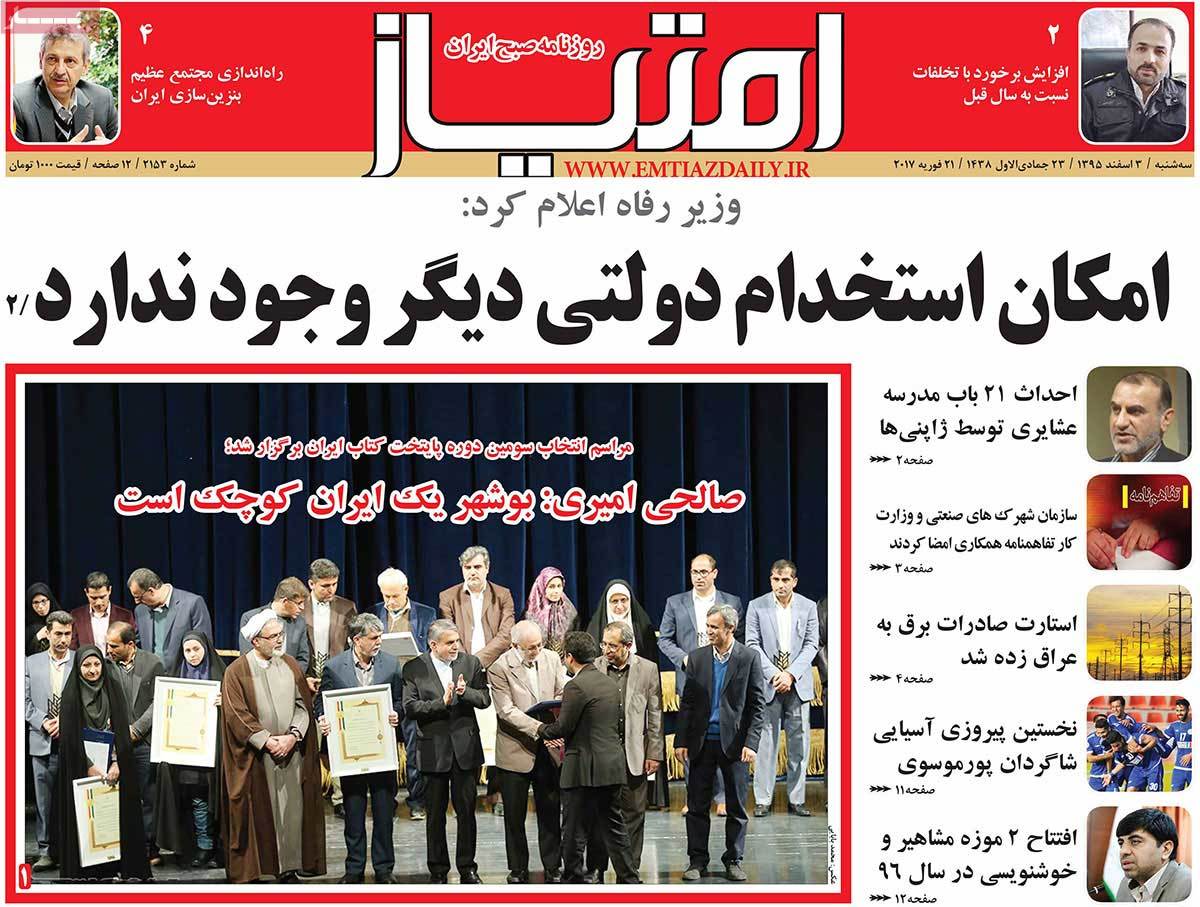 ---
Etemad:
1- Iran's Leader: Situation in Khuzestan Breaks One's Heart
2- Iranian People's Unhealthy Lifestyle:
10m Have High Blood Pressure
15m Smoke Cigarette
Age of Stroke and Heart Attack Has Decreased to Below 40
Every Iranian Uses 46 Grams of Oil Every Day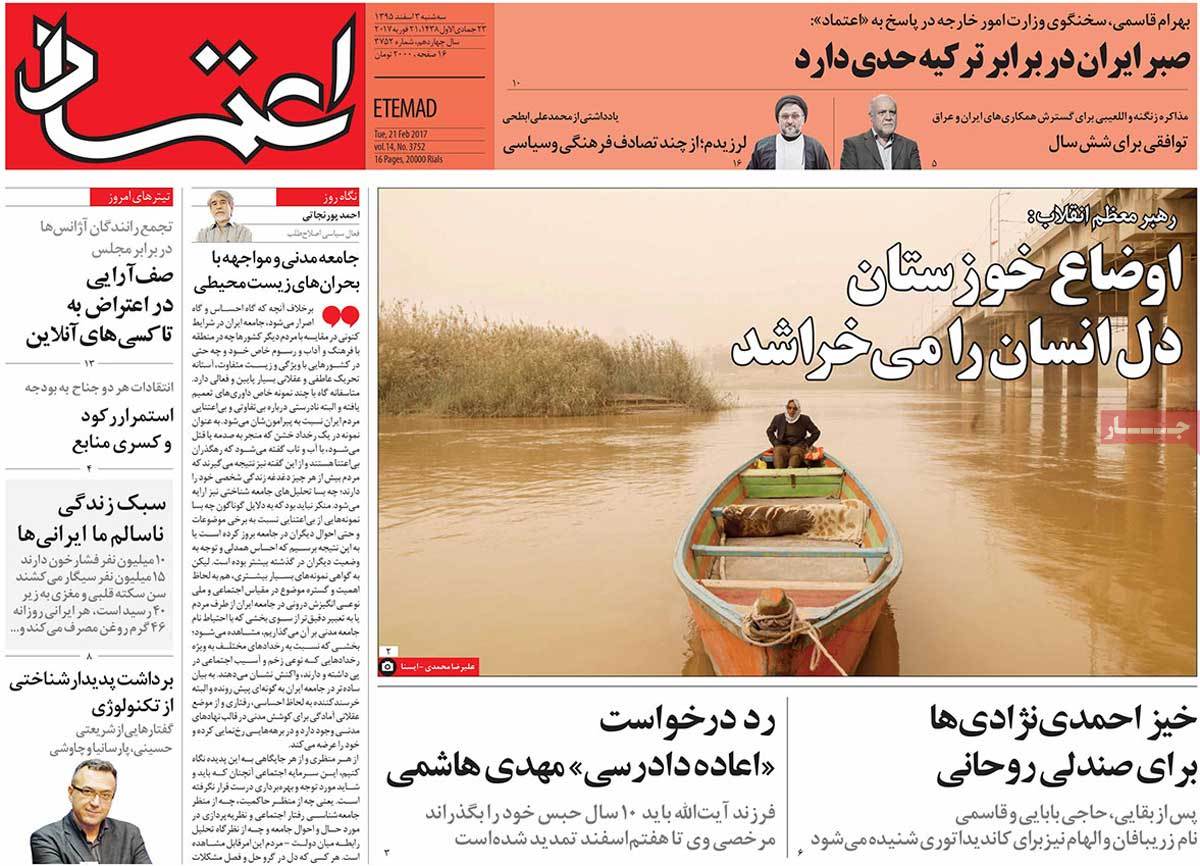 ---
Ettela'at:
1- Environment Dept. Chief: Iran Has Most Appropriate Climate for Building Solar Power Plant
2- Zarif to CNN: Nuclear Deal Cannot Be Renegotiated
3- Yemeni Army: Our Missiles Can Overcome Saudi Arabia's Patriot System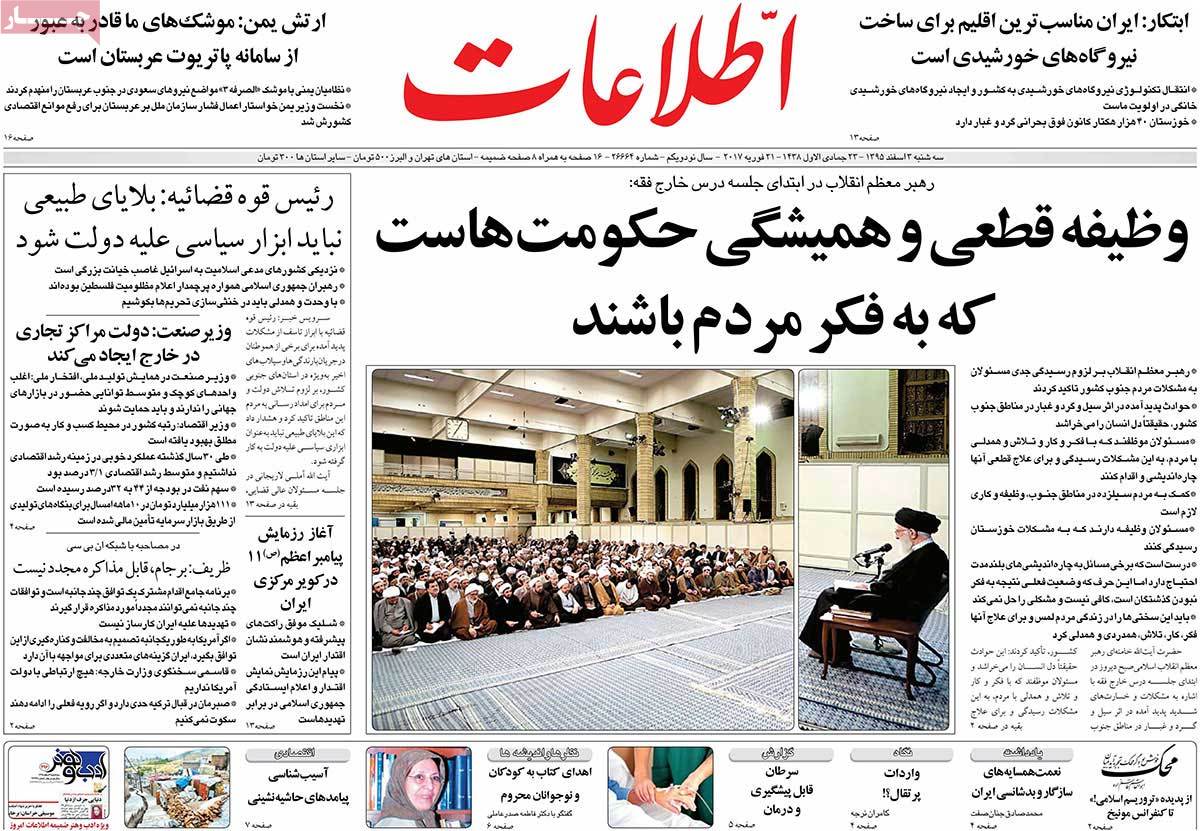 ---
Haft-e Sobh:
1- Gold Price's Relation with Trump's Tweets
---
Iran:
1- Social Worker in Iran's [Southeastern City of] Zahedan Has Dedicated His Life to 28 Kids He Has Adopted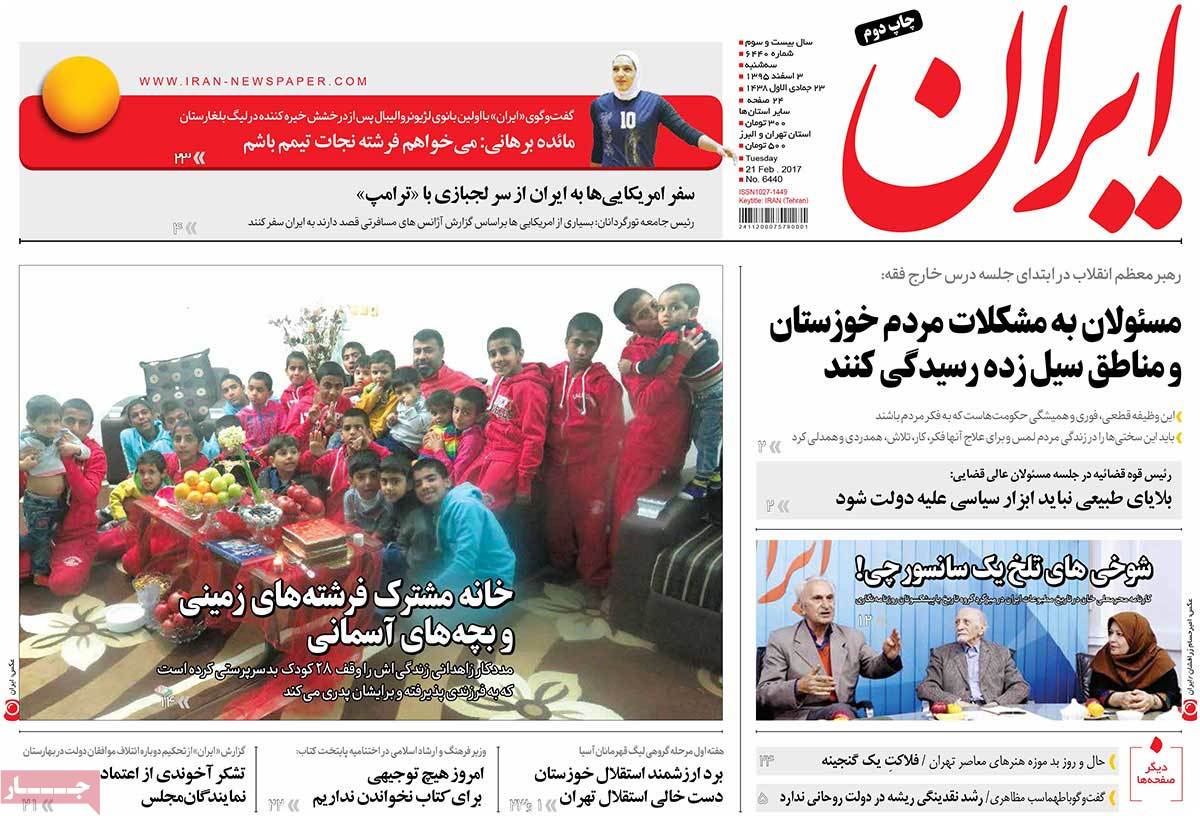 ---
Jame Jam:
1- Iran's Leader Calls for Resolution of Problem in Khuzestan
2- Zarif: Iran Won't Be an Easy Target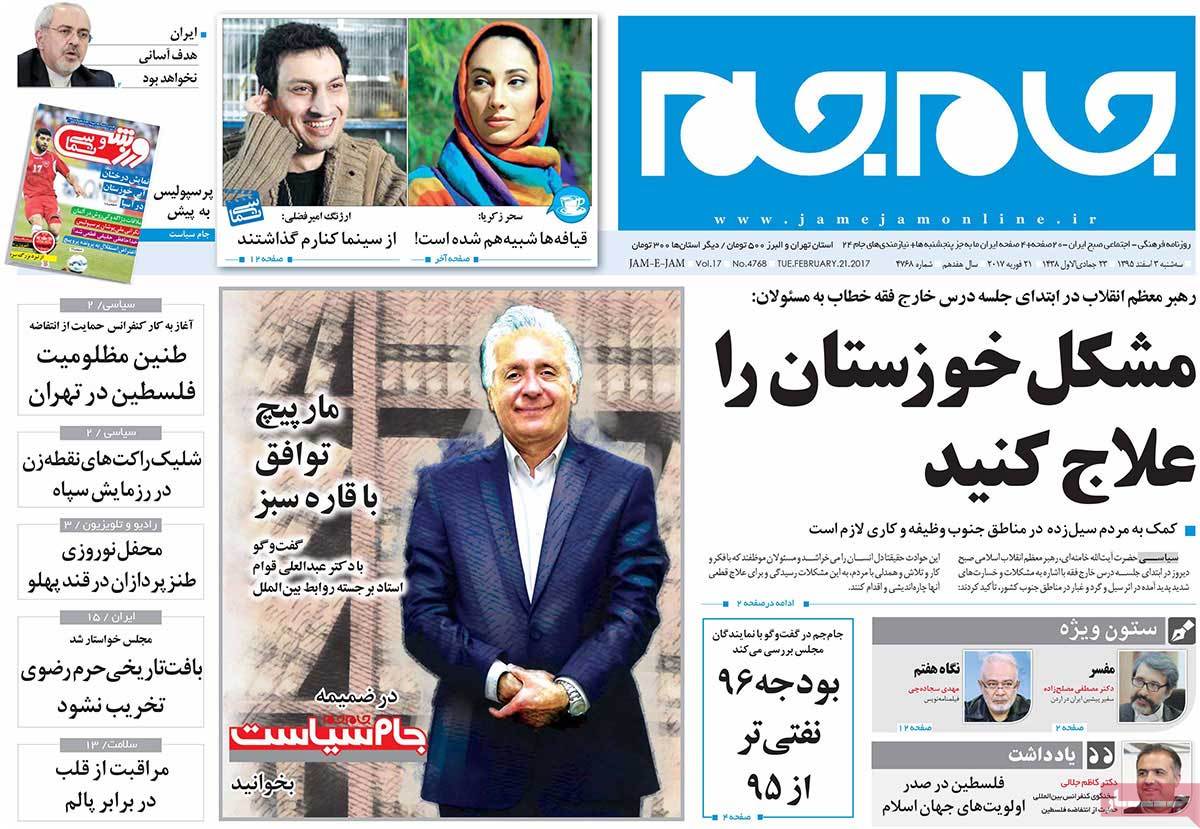 ---
Javan:
1- IRGC Pioneer in Fighting Deprivation in Sistan and Baluchestan Province
2- IRGC Lieutenant Commander: Military Option Will Turn Enemy's Territory into Graveyard
3- Sale of Children's Body Organs through Formal Channels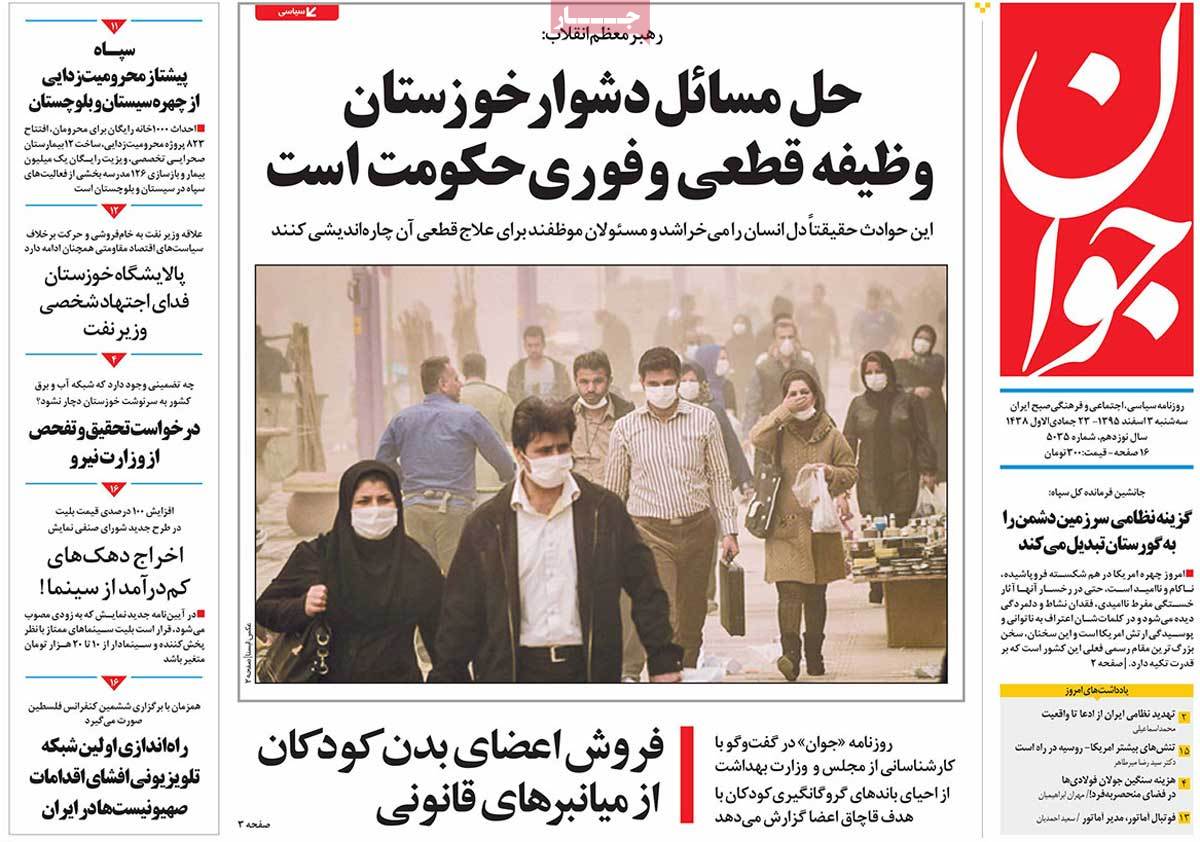 ---
Jomhouri Eslami:
1- New Contracts Signed in Oil Minister's Visit to Baghdad for Expansion of Iran-Iraq Oil and Gas Cooperation
2- Iraqi Army 2km Away from Mosul Airport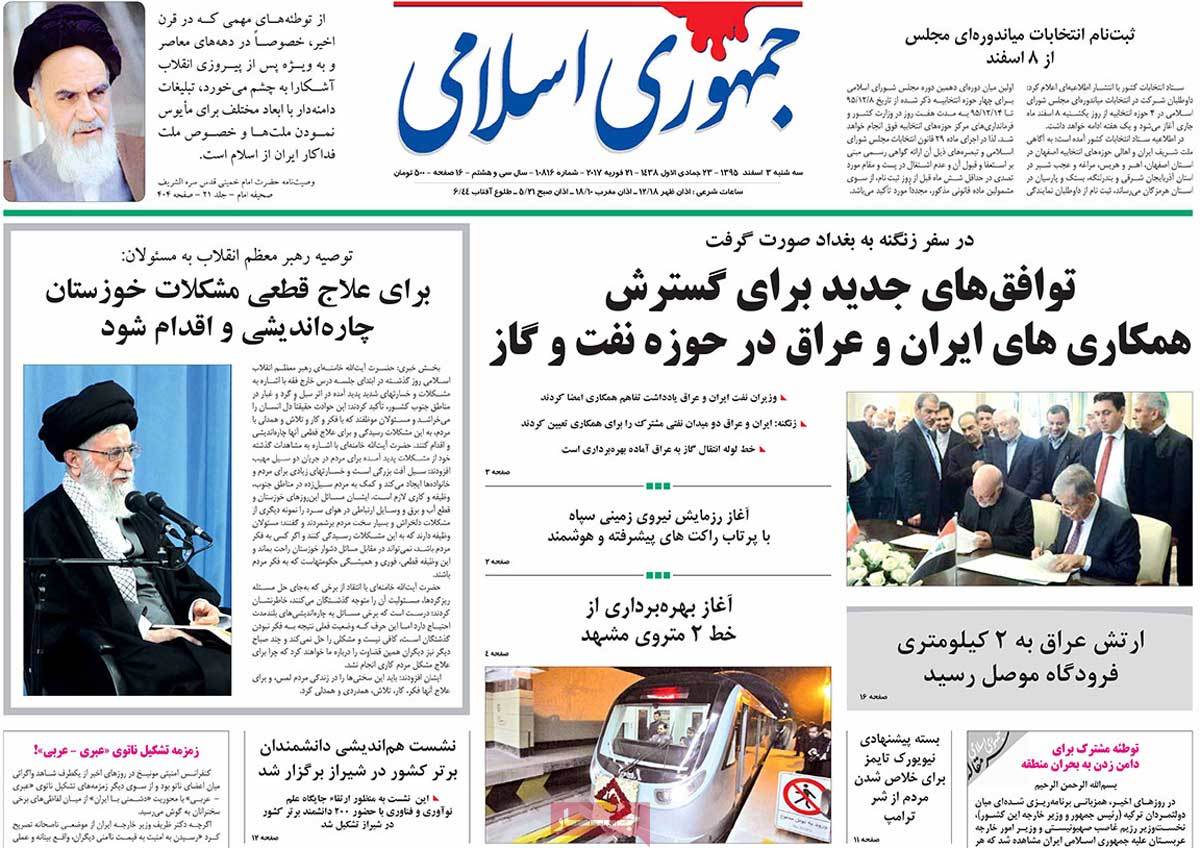 ---
Ka'enat:
1- Silence towards Bright Object [observed in Western Iran]; 80 Types of UFOs Identified in World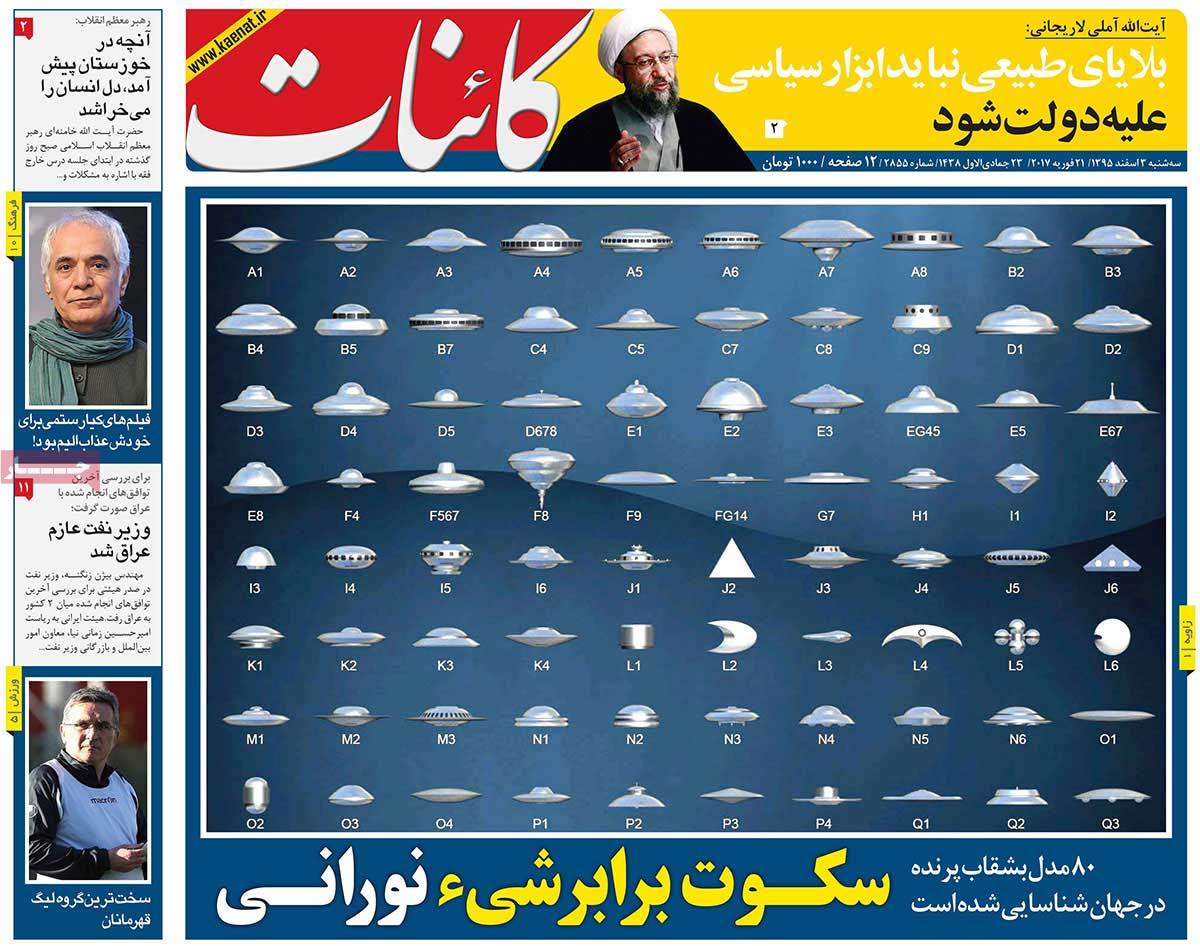 ---
Kayhan:
1- Leader Rebukes Officials for [Failing to Resolve] People's Problems Caused by Flood and Dust Pollution
2- Oil Minister's Late Response to Leakage of Secret Information about Iran's Oilfields: Total Should Pay Compensation If It Gives Our Information to Qataris!
3- US Sixth Fleet in Mediterranean Sea Is within Range of Hezbollah's Powerful Missiles
4- Washington Not Capable of Confronting Iran in Any Part of Middle East: Senior Woodrow Wilson and Carnegie Experts
---
Payam-e Zaman:
1- Zarif: Missile Tests Are Defensive Measures
2- Excessive Imports and Damage to Resistance Economy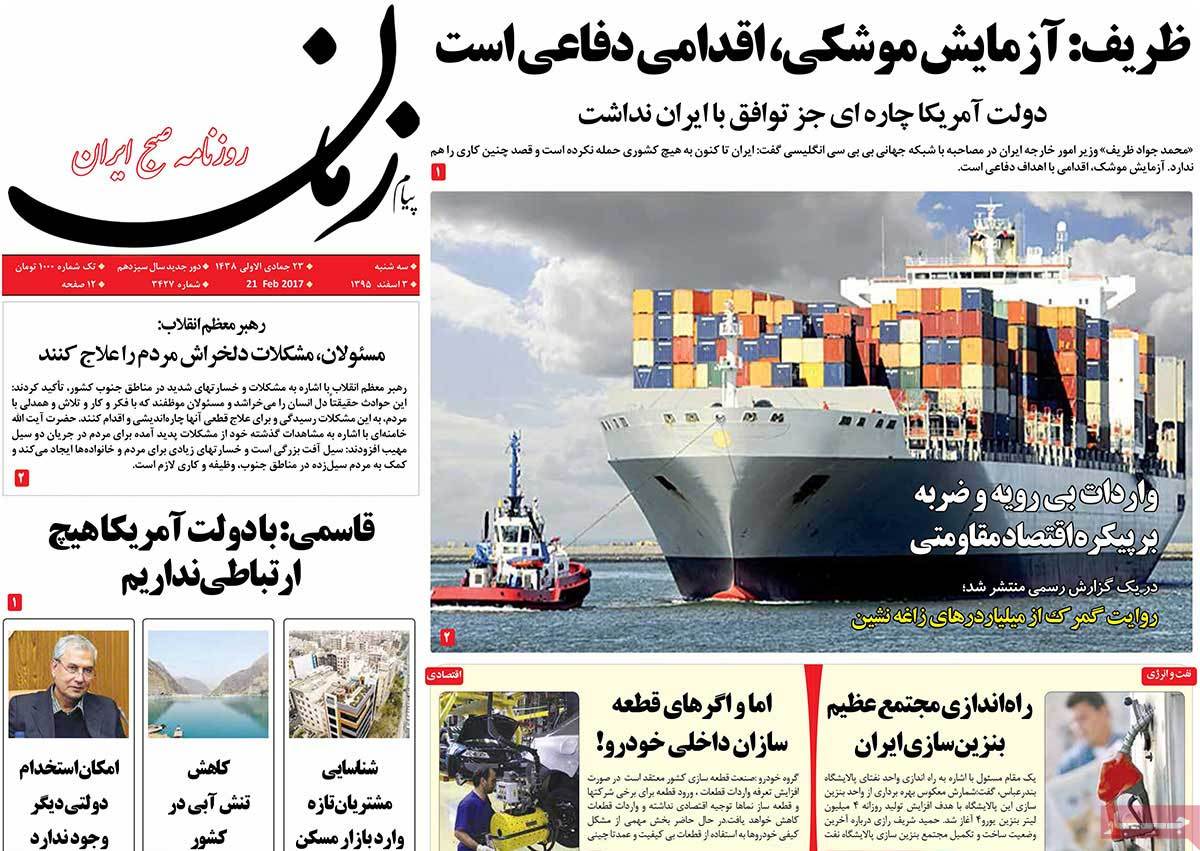 ---
Resalat:
1- Iran's Top Security Official: No More Embellishment of US Face
2- Zarif: We'll Test-Fire Our Missile Whenever Needed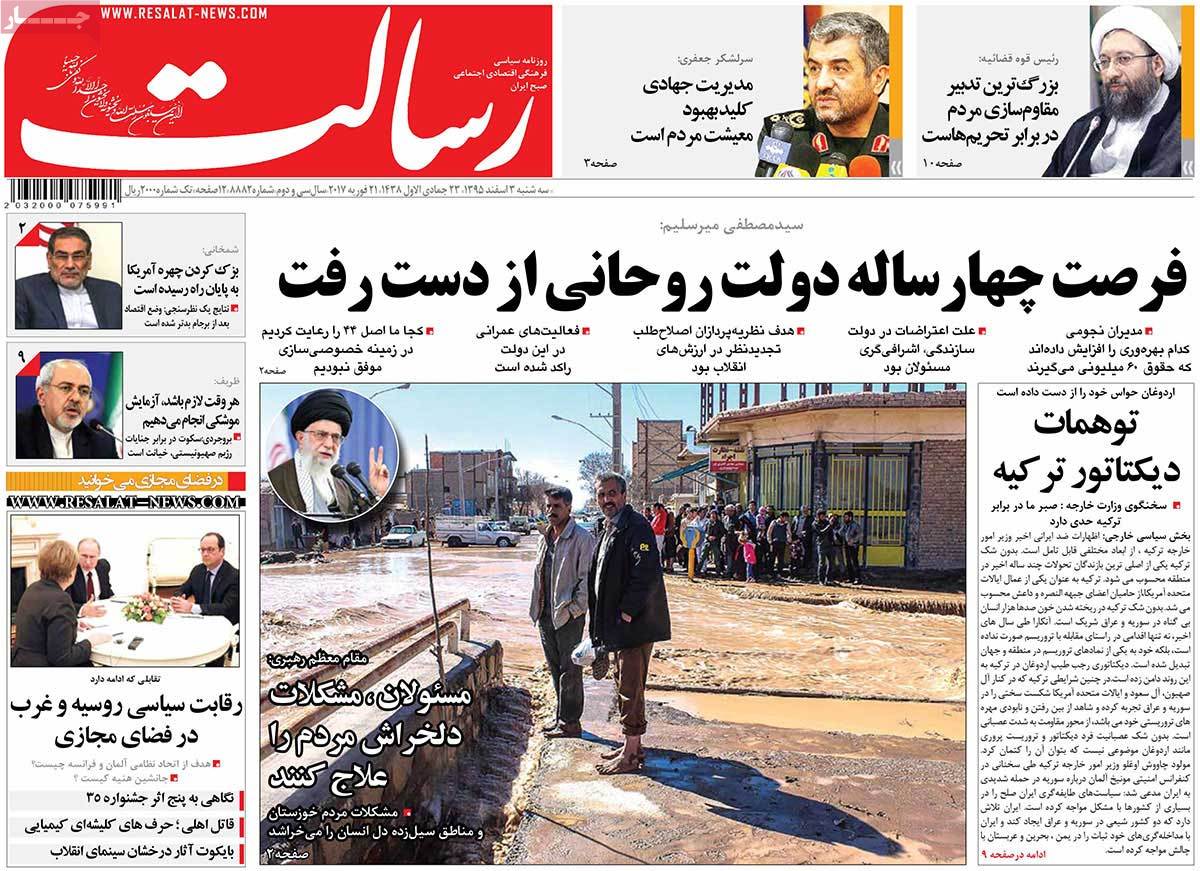 ---
Setareh Sobh:
1- Russia Accused of Interference in French Election
2- Behind Scenes of Mideast Crisis
3- Planting Saplings and Mulching to Fight Dust Pollution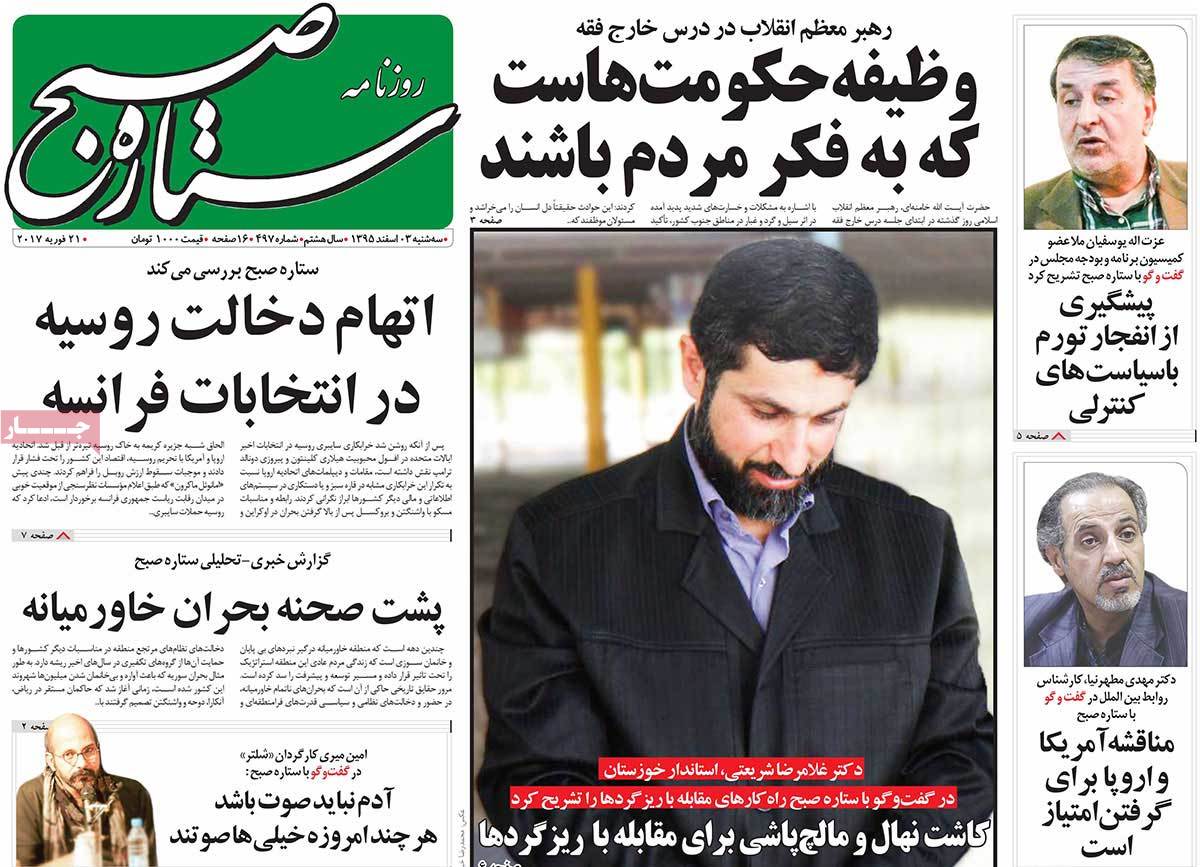 ---
Shahrvand:
1- Neighbourhood of Oil and Copper: A Report on People Living near Chimneys and Oil Burners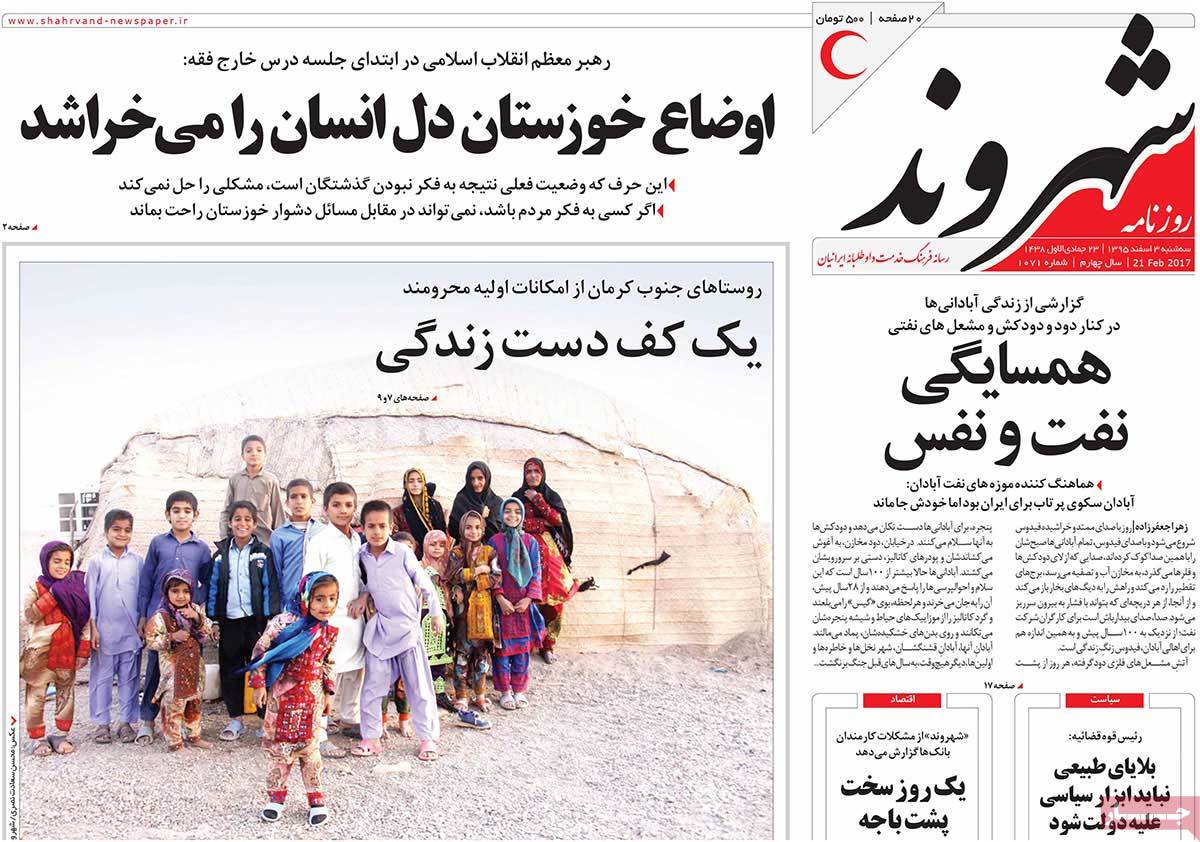 ---
Shargh:
1- Quadcopters Cannot Fly in Tehran without IRGC's Permission
2- Judiciary Chief: Resistance Economy Is Only Way to Confront Sanctions
---
Vaghaye Ettefaghieh:
1- Zarif in Munich: It's Not Impossible to Hold Talks with US
2- Strategic Patience: A Report on Turkey's Recent Anti-Iran Stances and the Way Iran Has Reacted