Newspapers today covered the remarks made by President Hassan Rouhani in the closing ceremony of Farabi Int'l Award about people's role in Islamic Establishment of Iran.
Another top story was the remarks made by Interior Minister Abdolreza Rahmani Fazli about the growth of drug addiction among university students and women.
Tehran Derby, the football match between the two popular giants of Tehran Esteghlal and Perspolis, also received great coverage in Iranian newspapers today. Esteghlal managed to win the match 3-2 on Sunday afternoon.
The above issues, as well as many more, are highlighted in the following headlines:
Abrar:
1- Iran's Leader Criticizes Iranian Correspondents in Other Countries Who Speak Farsi in Foreign Accent: They Talk as If an English Person Is Speaking Farsi
2- Trump: JCPOA Is a Disaster for Israel
3- Steinmeier Elected as German President
4- Venezuelans More than Other Nations Seek Asylum in US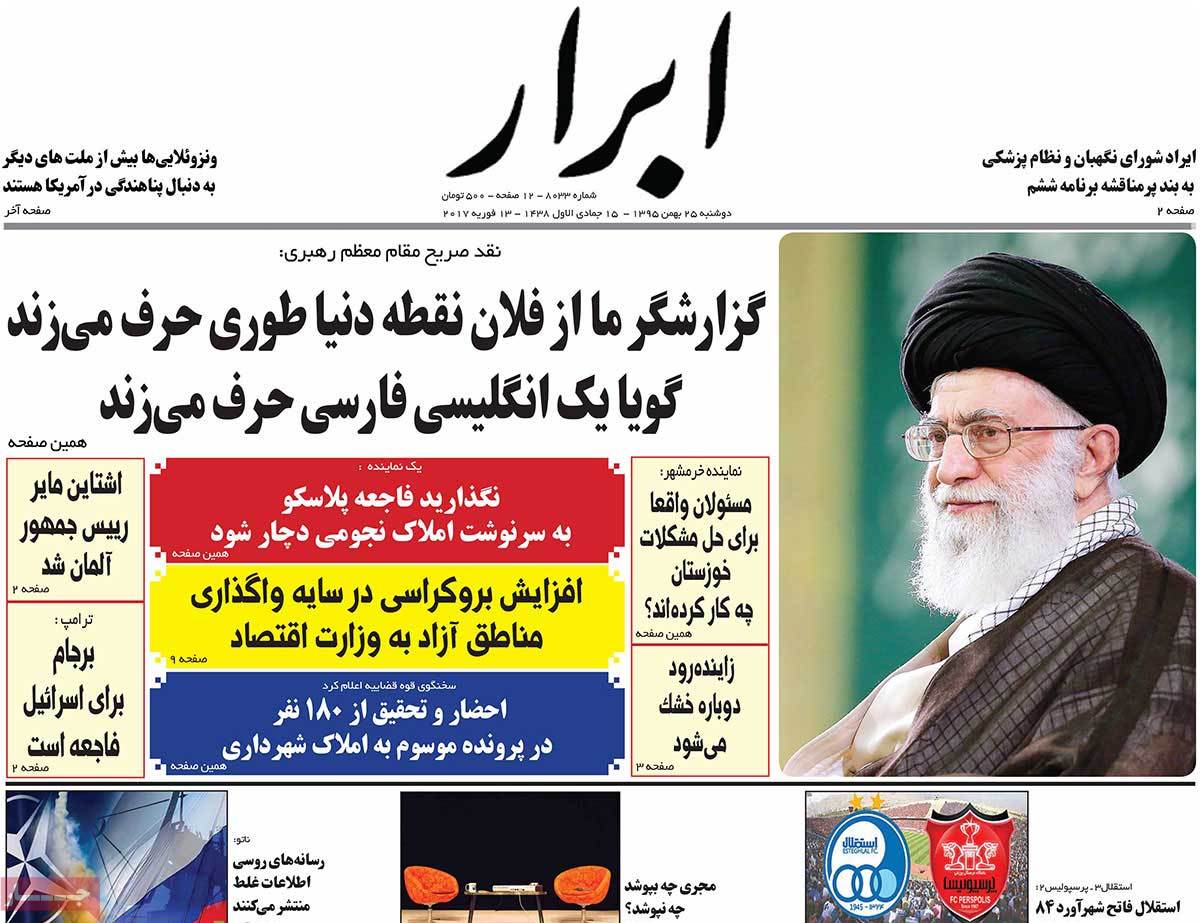 ---
Aftab-e Yazd:
1- Left and Right-Wingers Welcome National Reconciliation: Reformists' Call for Friendship Receives Widespread Reactions; Hardliners Didn't Welcome, but Moderate Conservatives and Reformists Hailed the Move
2- Those Who Carry Illicit Drugs Won't Receive Death Penalty If Iran's Parliament Approves a Motion Proposed by Legal Commission
---
Amin:
1- Zarif: I'll Never Run for Presidential Election
---
Arman-e Emrooz:
1- Zarif's Untold Stories from Death of Ayatollah Hashemi to Disclosure of Confidential Remarks: Sanctions Paved the Ground for Great Corruption
2- Judiciary Spokesman: 2 People Arrested in Plasco Incident
3- Saudi Arabia and Yemen Conflict Not in Interest of Iran: Iranian President's Aide
4- Interior Minister Warns of Growing Drug Addiction among University Students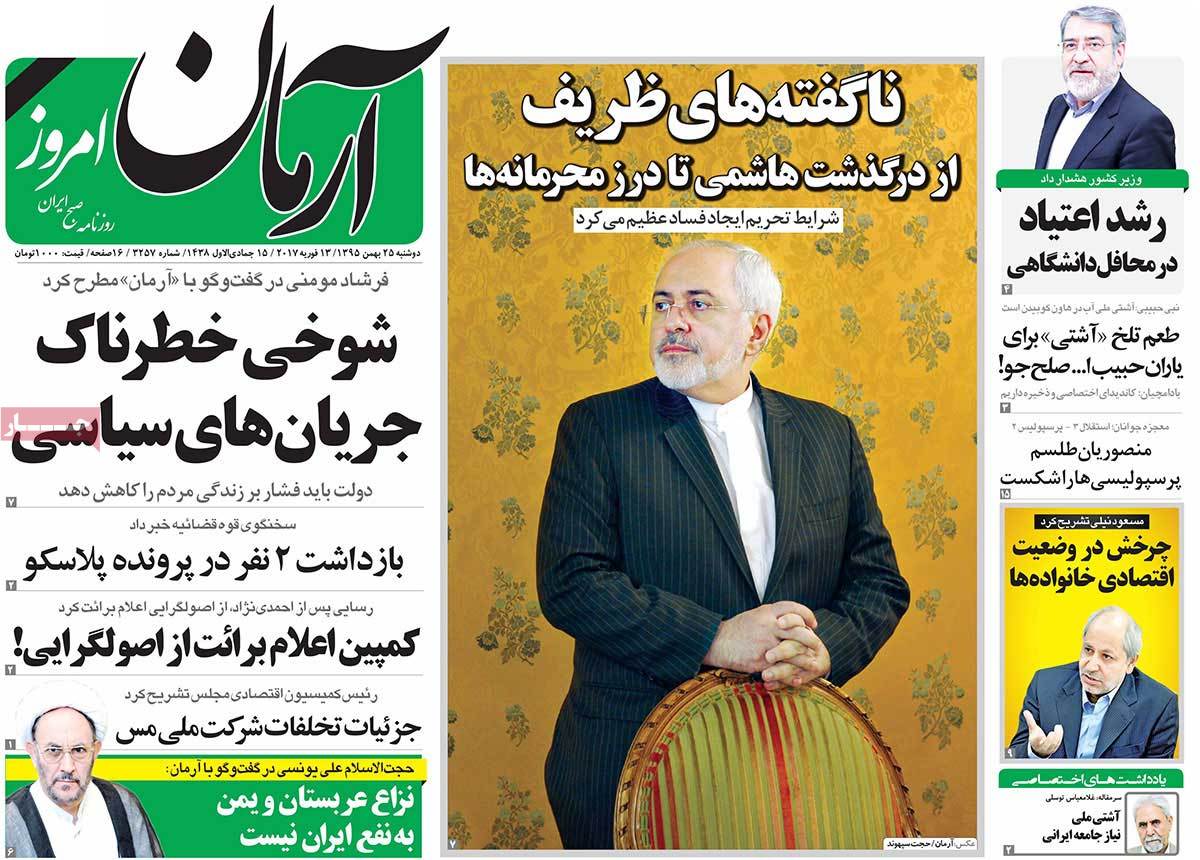 ---
Asr-e Rasaneh:
1- Urban Development Minister: There Is $100 Billion Worth of Empty Houses in Iran
2- Italians Offer to Renovate Masoudieh Palace in Tehran as a Free Gift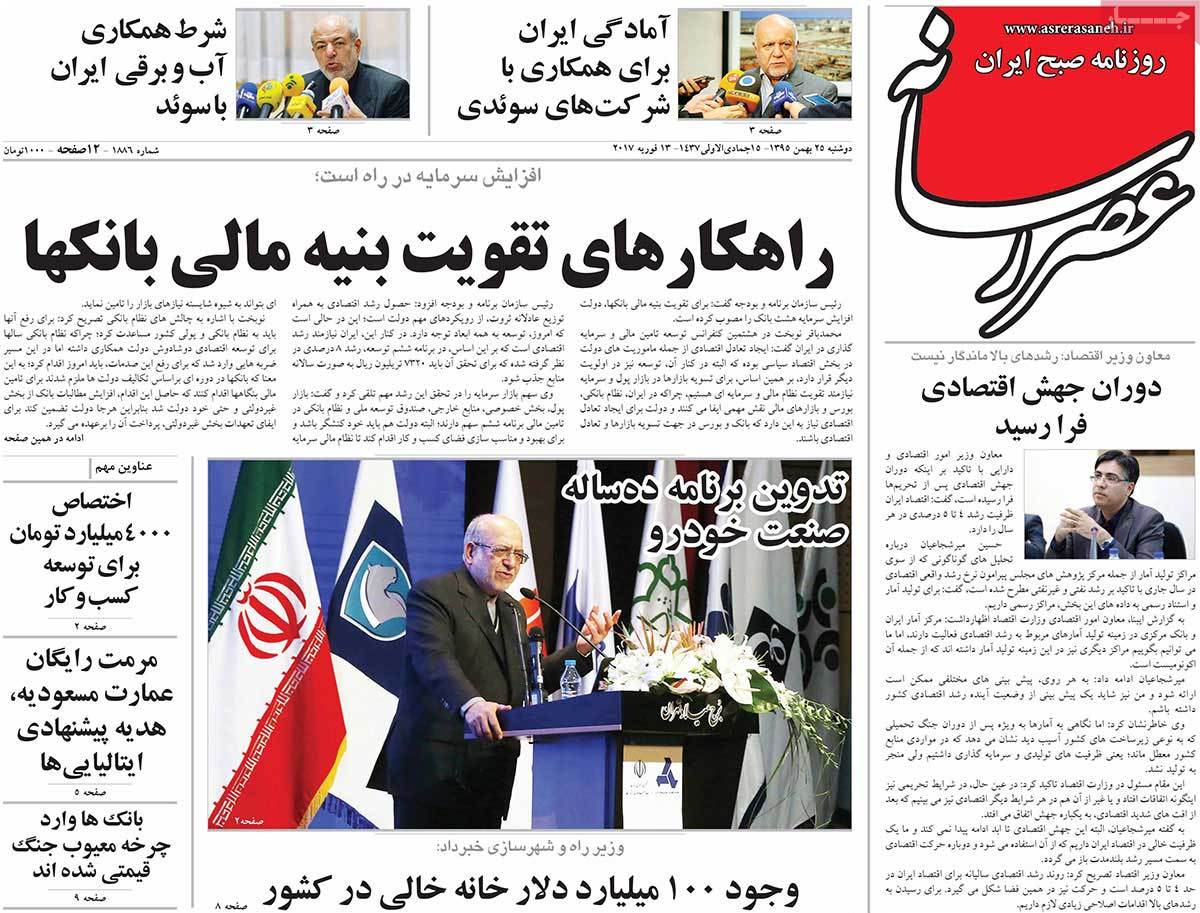 ---
Asrar:
1- Zarif: We Should Pay Expenses of Revolution, Not the Other Way Around
2- President Rouhani: We Should Review Our Islamic Revolution
3- 55 Million Eligible to Vote in Iran's Election
4- Kuwait Supports Formation of Iran-Russia Joint Security System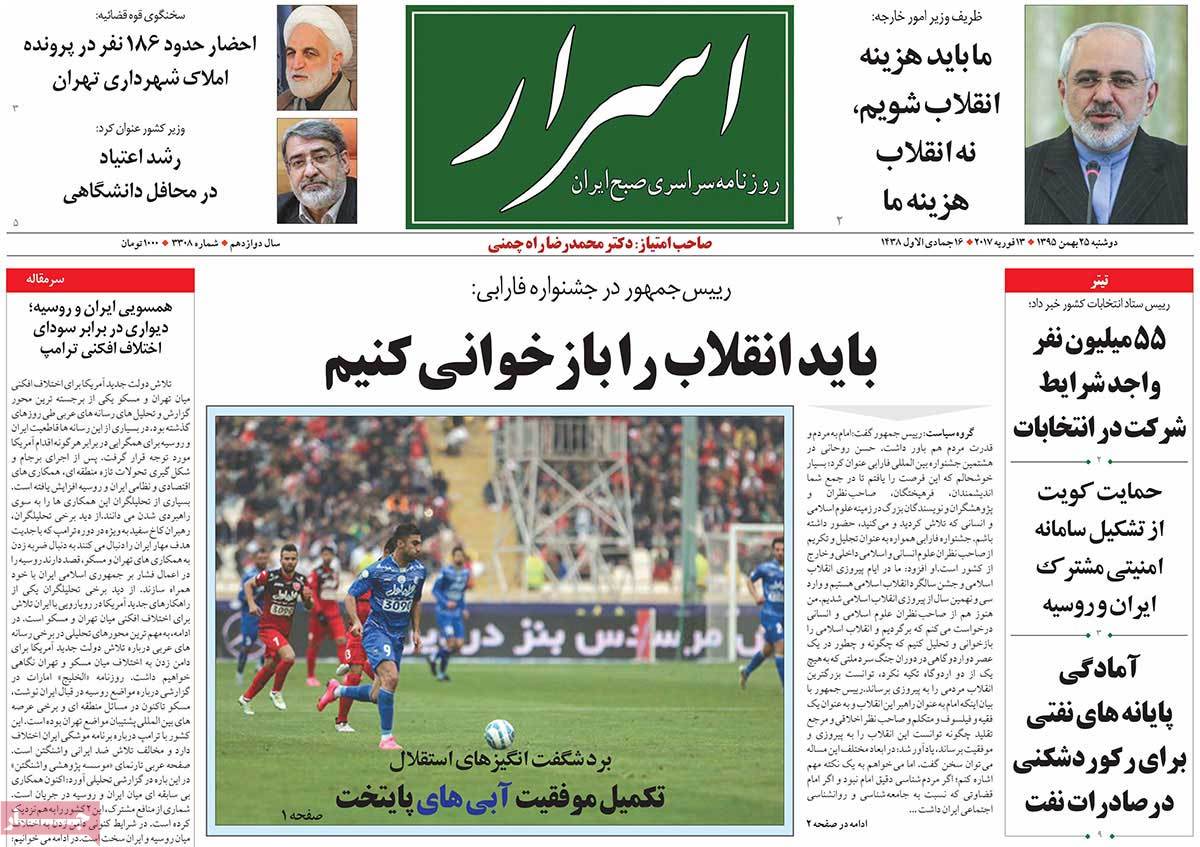 ---
Etemad:
1- President: Without Ethics and Rules of Game, No One Can Go to Ballot Boxes
2- Industry Minister in Last Months of Rouhani's Term: I'll Give My Seat to Younger Ones
---
Ettela'at:
1- President: There's No Wealth More Valuable than Social Capital and Public Trust
2- Moscow: US Should Acknowledge Hezbollah's Presence in Syria
3- Iran to Host Gathering of Navy Commanders of Indian Ocean Littoral States
---
Farhikhtegan:
1- Leader's Advisor: We're Not Concerned about Trump's Remarks; Trump Acting like He Has Problem with Everyone, Even US Friends and Westerns Have Told Us They Don't Know What He Really Wants
---
Iran:
1- Blue Shock: Esteghlal Defeats Perspolis 3-2 in Tehran Derby
2- Rouhani: Islamic Revolution Proud that People Make Decisions about Their Fate in Elections
3- Alarming Growth of Drug Addiction: Interior Minister Says 75,000 Iranians Join Drug Addicts Each Year; Growth of Drug Addiction Has Become Higher among Women; 170 Countries Announced Last Year Their Main Problem Is Drug Addiction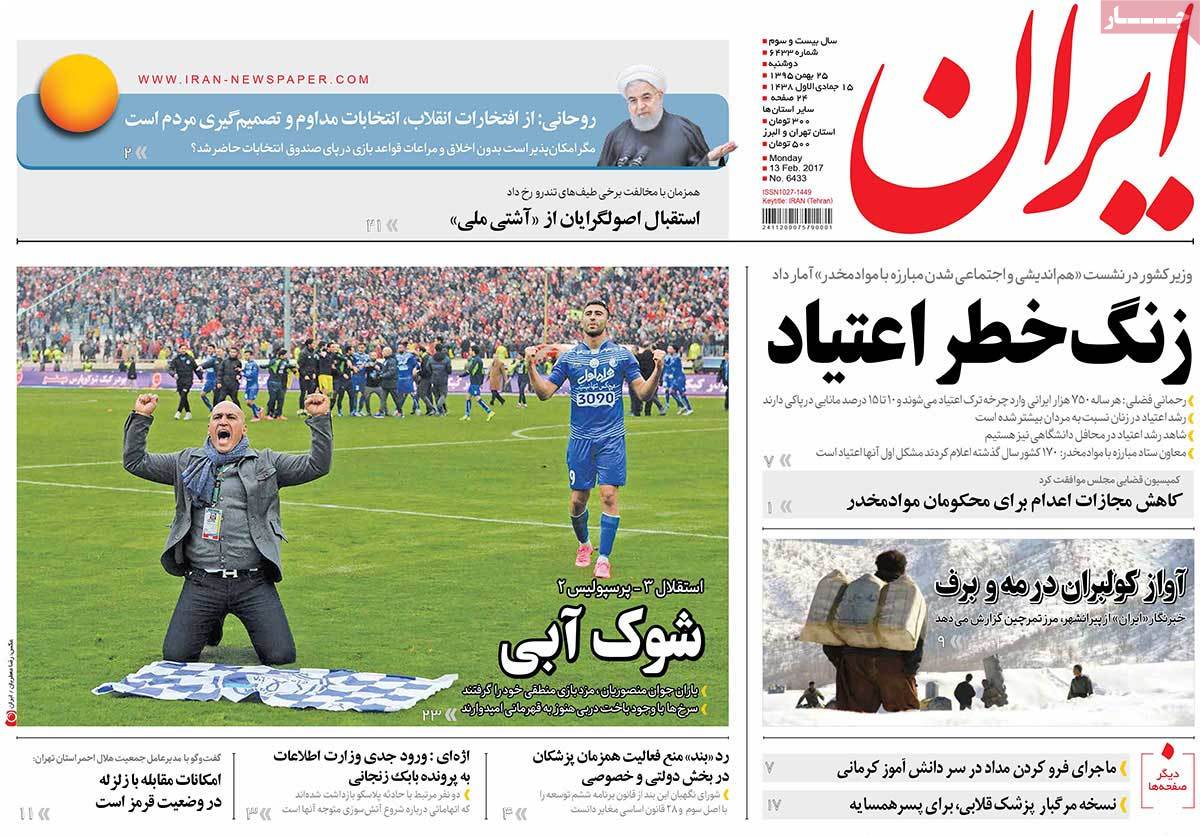 ---
Javan:
1- Men without Action behind Iran's Economic Tribunes: Repetitious and Futile Remarks in Two Economic Conferences Held by Government While Ayatollah Khamenei Repeatedly Called for an End to Ineffective Conferences
---
Jomhouri Eslami:
1- $8 Billion in Foreign Investment en Route to Iran: Trade Minister
2- President: We Should Give Opportunity to Elites to Transfer Correct Thoughts to Society
3- Lavrov: Trump Should Admit Hezbollah Is Main Force Fighting ISIS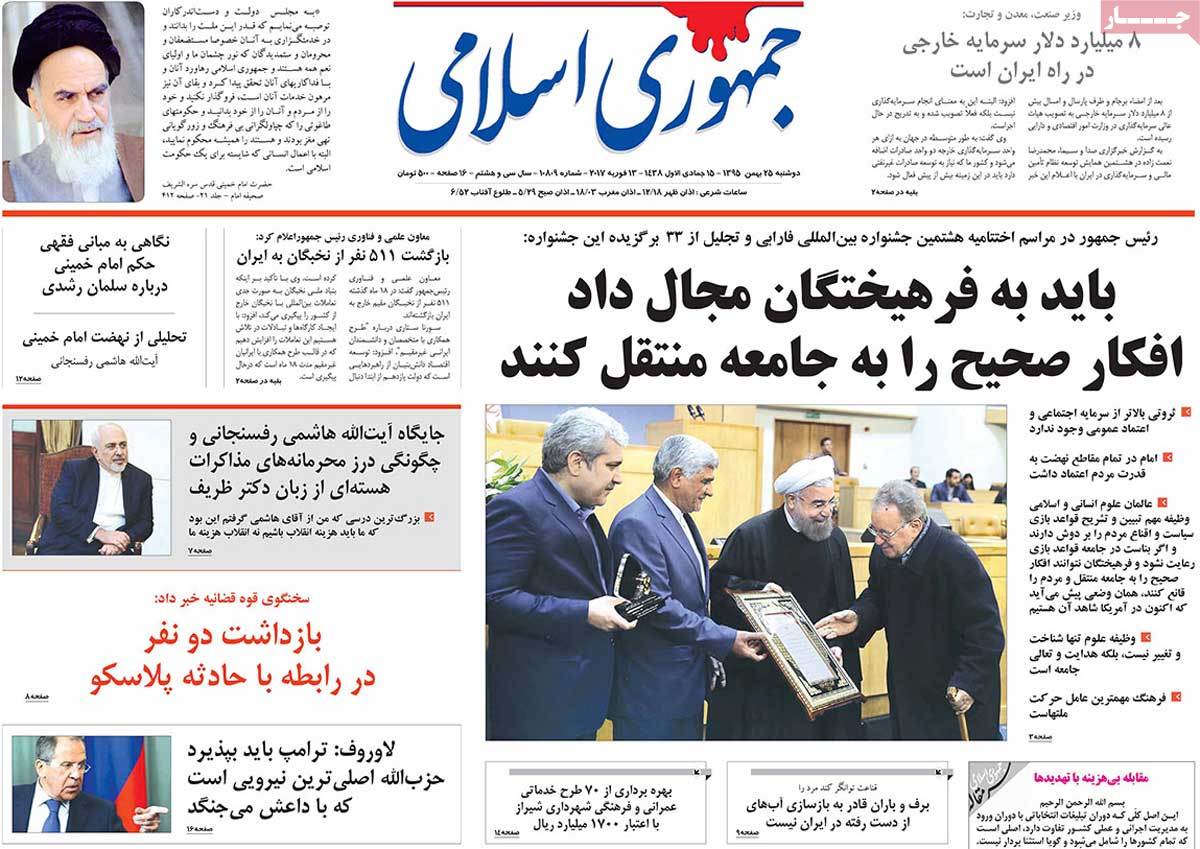 ---
Kayhan:
1- President's Question in Final Months of His Term: Who Should Resolve Iran's Economic Problems!
2- Nasrallah: Obama Committed Crimes with Mask of Hypocrisy, but Trump Is Doing without It
3- Outraged French People Set Paris on Fire in Protest at 4 Cops' Assault on a Black Citizen
---
Khorasan:
1- New Updates from Int'l Cooperation with Iranian Carmakers: Benz, Hyundai, and Volkswagen Arrive in Iran after French Manufacturers
2- Nasrallah: Election of a Stupid Man as US President Is the Beginning of Opening for World's Poor People
---
Resalat:
1- Trump Is Also Looking for Iraq's Disintegration: Copying Obama's Game in Baghdad
2- Interior Minister: Turnover of Illegal Drug Trade Is $1,500 Billion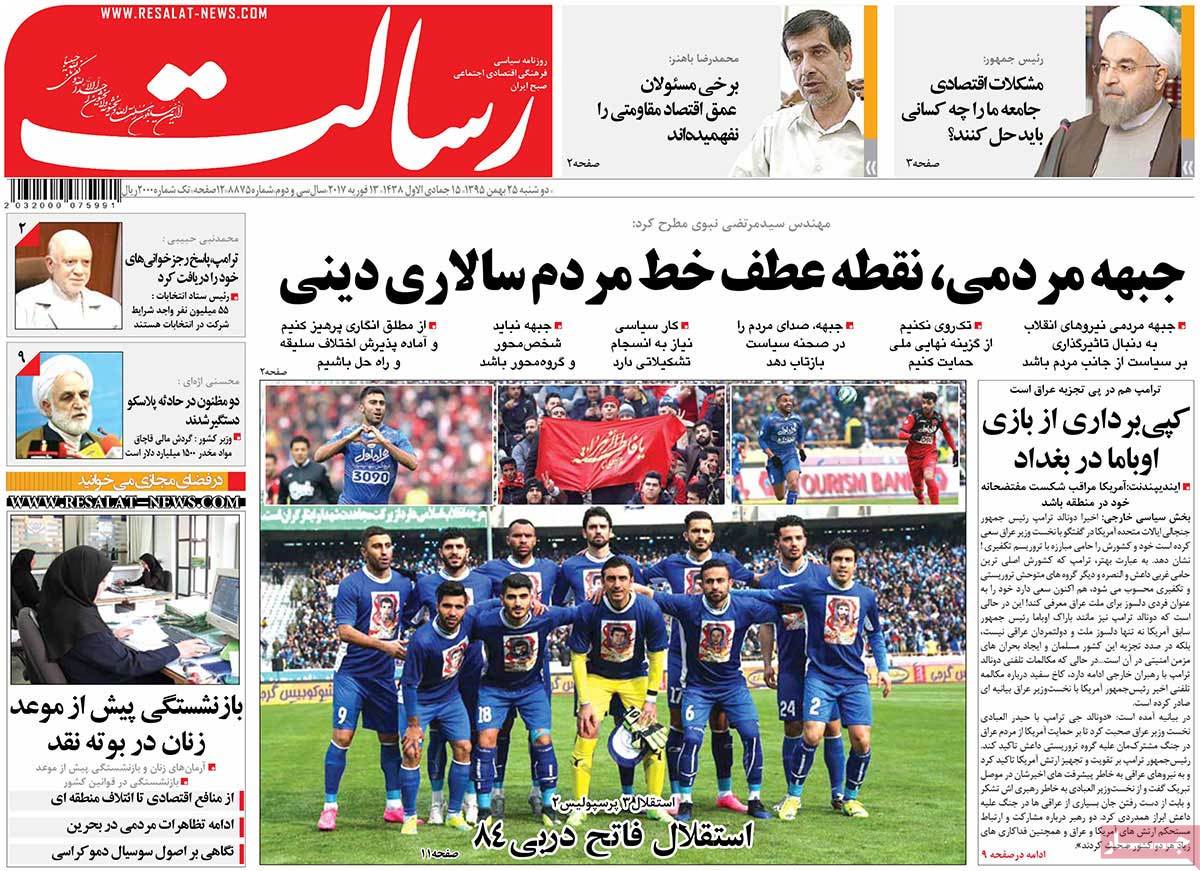 ---
Shahrvand:
1- Turkey Moving toward Dictatorship: Erdogan's Power to Increase after Final Approval of Constitution Amendment
2- A Report on Birth of First Clean Baby in First Residential Centre for Pregnant Women Who Are Addicted to Narcotics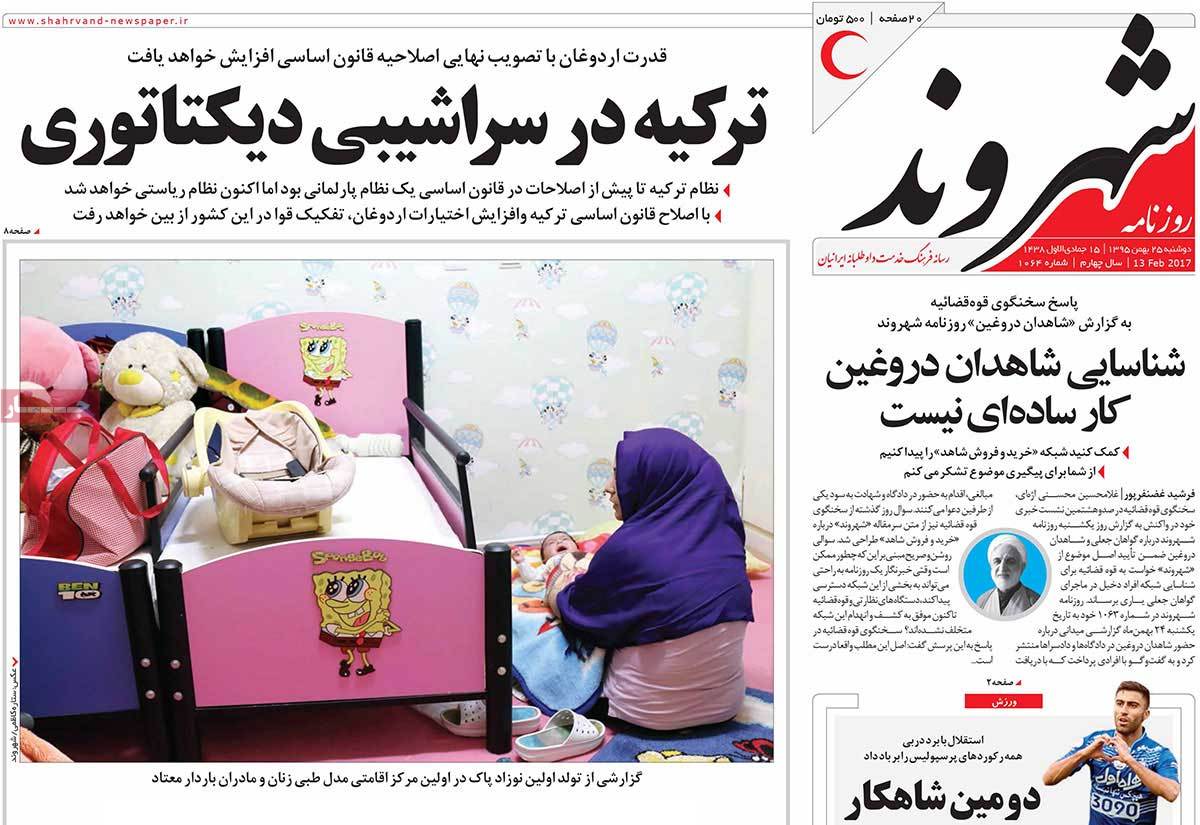 ---
Shargh:
1- Babak Zanjani's Verdict Is in Process: Judiciary Spokesman
2- Mr. Minister's Concerns: Interview with Transport Minister Akhoundi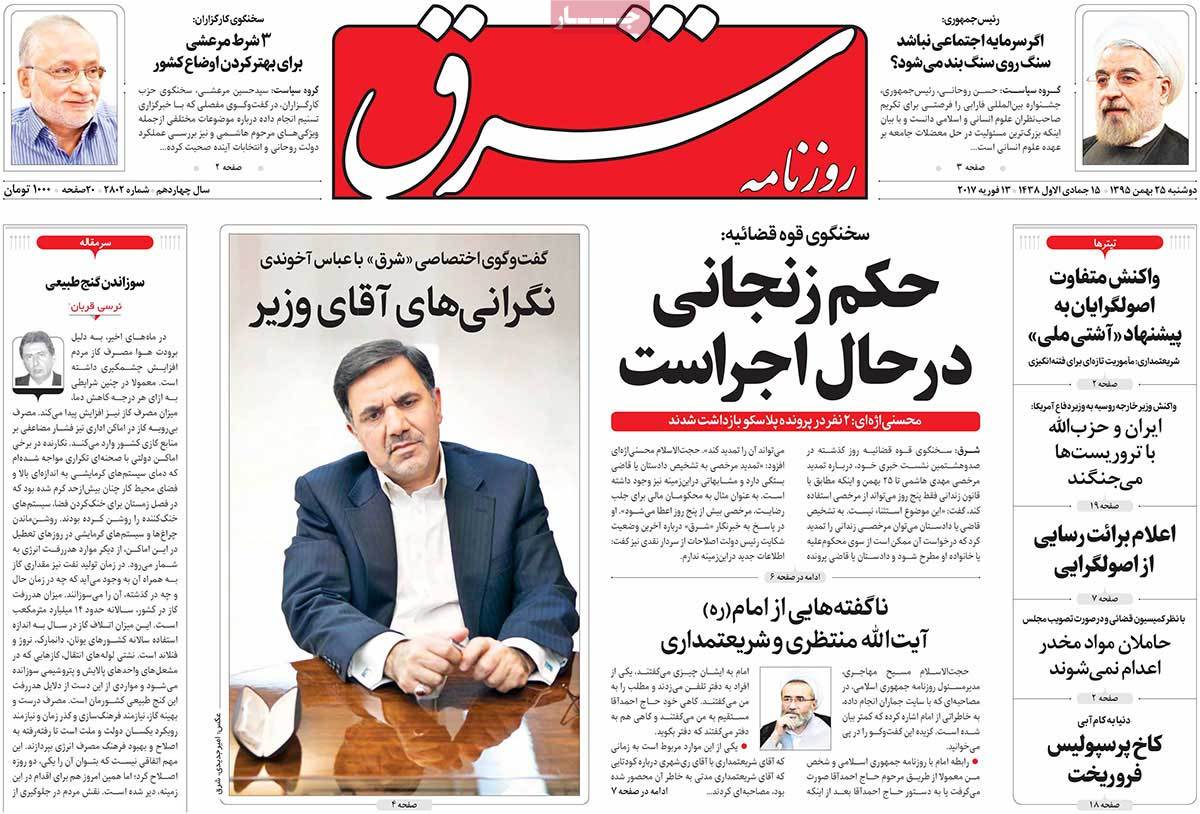 ---
Vaghaye Ettefaghieh:
1- Zarif: General Soleimani and I Are Serving Same Establishment; Achieving National Interests Is on Our Agenda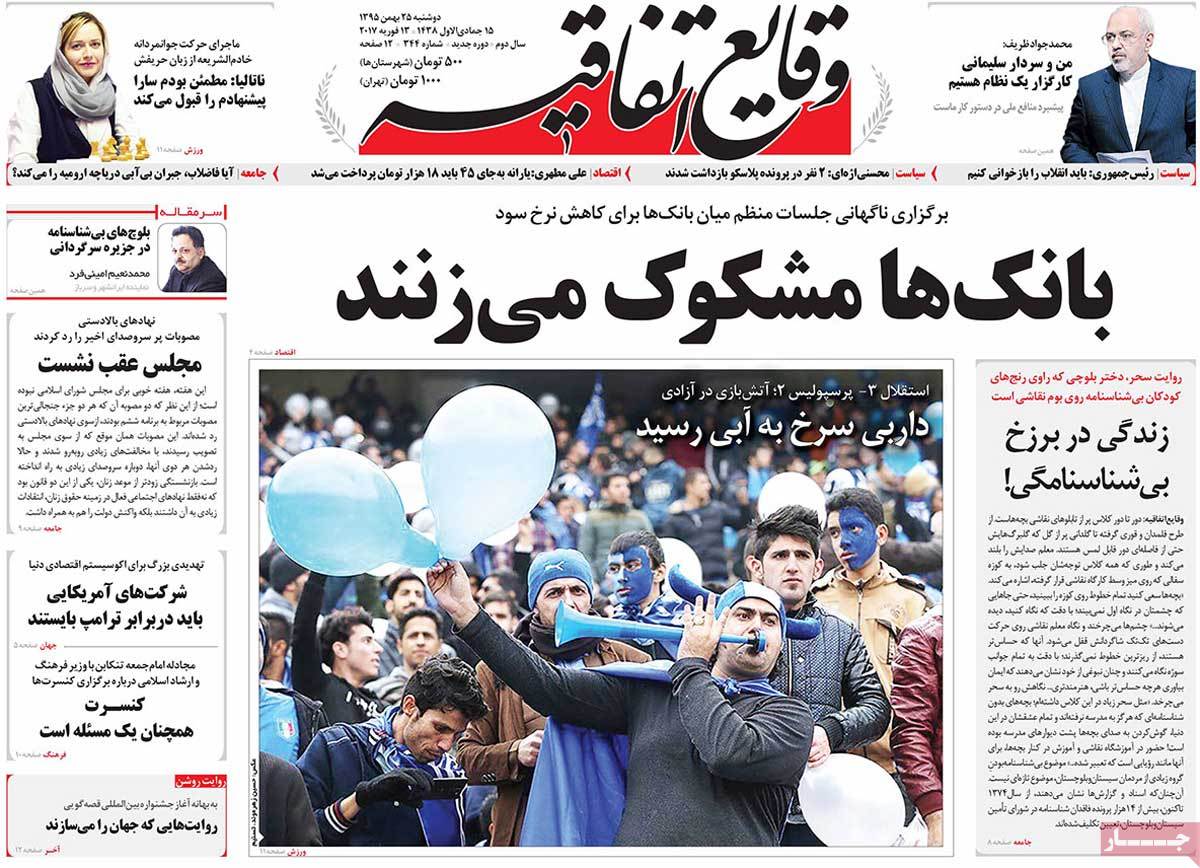 ---
Vatan-e Emrooz:
1- Abnormal Khuzestan; Senior Cleric Says Even during Iraqi Imposed War on Iran in 1980s, Iran's Khuzestan Didn't Experience Such a Situation; MPs Issue Statement in Protest at Mismanagement of Water and Power Cut Crisis in 11 Cities of Khuzestan