It is still less than a month since international sanctions on Iran's nuclear program were lifted prompting a rush of international business delegations to Iran and visits by Iranian officials after nearly a decade of isolation to leading economic centers. During this short span of time Iran is breaking records in international meetings and deals. In the latest of these developments, Minister of Foreign Affairs Mohammad Javad Zarif visited UK at the invitation of London. During the visit he met with his British counterpart Philip Hammond and the two sides agreed to restart issuance of visas in their embassies in Tehran and London in a near future. Many dailies devoted their main headlines to the visit and its outcomes.
Syrian development, killing of an ISIS ringleader in Yemen with his companions, Saudi army's entry into Syrian soil, and the ongoing deliberations over qualities of parliament and Assembly of Experts hopefuls are the major topics Iranian dailies highlighted on Saturday, February 06, 2016.
Here are the top headlines:
Abrar:
1- ISIS ringleader, companions killed in southern Yemen
2- Iraq to build security wall around Baghdad
3- Germany seeks economic interactions with Iran
4- Iran's Zarif meets UN's Sec. Gen.
---
Afkar:
1- FM: Iran ready for economic cooperation with all the world
2- Saudi ground forces enter Syrian soil
3- Australia makes citizenship harder for refugees
---
Arman-e Emrouz:
1- 'Iran, UK to resume issuing visa soon' in their respective embassies
Iranian Foreign Minister Mohammad Javad Zarif says Iran and Britain will resume issuing visas for the two countries' citizens "within the next few weeks."
2- Rafsanjani recounts what war-ending session with Imam had
3- Guardian Council qualifies 25% of objectors
---
Asrar:
1- Iran, UK to restart issuing visas in embassies
2- Unemployment rate to become one-digit figure
3- IRR80m loan earmarked for housing market
4-Japanese business delegation in Iran next week
---
Ebtekar:
1- Fever of festival in Tehran
These days Tehran is hosting the 34thFajr Film Festival.
2- Lack of online lawyers in Iran
3- Three US congressmen ask to visit Iran
---
Emtiaz:
1- Iran exports first carpet shipment to US
2- 70m unused sim cards owned by Iranians
3- Iran renovates over 2 M square meters of healthcare centers
---
Etemad:
1- We are official, legal and legitimate: Zangeneh
Iranian Minister of Petroleum Bijan Zangeneh reacted to organized activities inside the country to undermine the effectiveness of the newly unveiled oil contract model. "We are not thieves or traitors," he said.
---
Ettela'at:
1- Zarif: Iranophobia masonry has fallen
Tehran calls for ceasefire in Syria
2- Putin: Tehran, Moscow ties strategic
3- Seyyed Ali Khomeini: Enemy favors from everything that results in people losing affection to the [Islamic] establishment
---
Iran:
1- Economy Minister confers with representatives of 60 Japanese firms
2- Vice – President launches domestically-built power plant
3- 500 illegal middleman in state organizations identified
---
Payam Zaman:
1. 18.2% liquidity growth in month of Azar
Iran's liquidity rose by 18.2% during the 9th month of the Iranian
calendar year (November 22-December 21).
2. Veep hails revolution's achievements despite problems
3. Health Minister: Non-communicable diseases cause of 70% of deaths in Iran
---
Jamejam
1. Head of IRIB speaks of 'multilayer plot against IRIB'
2. Adolescents in the social mine field
3. Calls for preserving Iran economic borders
4. Peugeot deal indefensible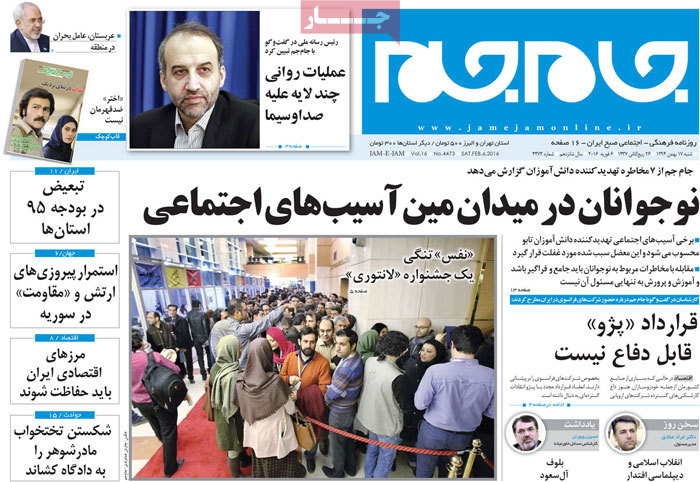 ---
Hosban:
1. Turkey failed to reach objectives in gas dispute with Iran: Zangeneh
2. Prison to become park
---
Hemayat:
1. Assembly of  Experts no place for partisan games
2. ISIS, US's plainclothes soldier: Pros. Gen.
3. Banking system in whirlpool of troubles
4. US after hurting Cmdr Soleimani: Chief of Staff of the Armed Forces
5. US election structure: hopeless, low-level
---
Resalat:
1. Zarif in London: Iran concerned about human rights in West
Saudi Arabia main barrier to region's stability
Ceasefire no recess for terrorist organizations
Not all ceasefires can include recognized terrorist groups
Returning to pre-JCPOA conditions impossible
2. Power Minister: Urmia lake not to dry out
3. Iraqi President: I am assured Iraq will not dissolve
---
Rooyesh Mellat:
– Unfrozen assets spent for imports: CBI head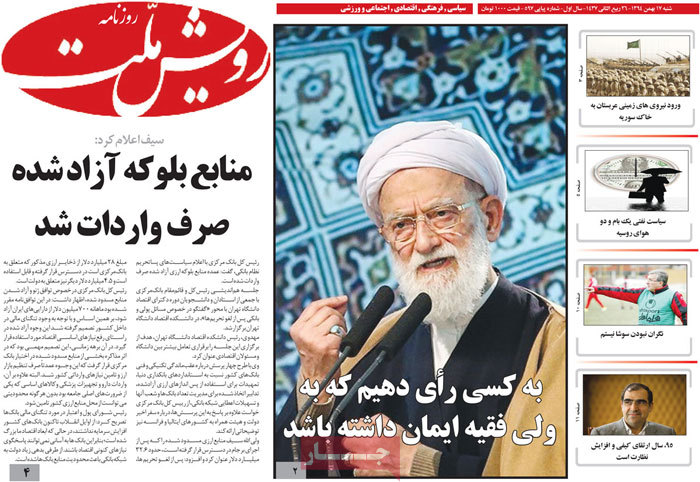 ---
Sayeh:   
– Minister of Telecommunications: Iran to connect 18,000 villages to high-speed internet
---
Sepid:
1. IRR3,000m garnered for injured athlete
2. League for fatties
The league is a proposal for tackling obesity in Iran.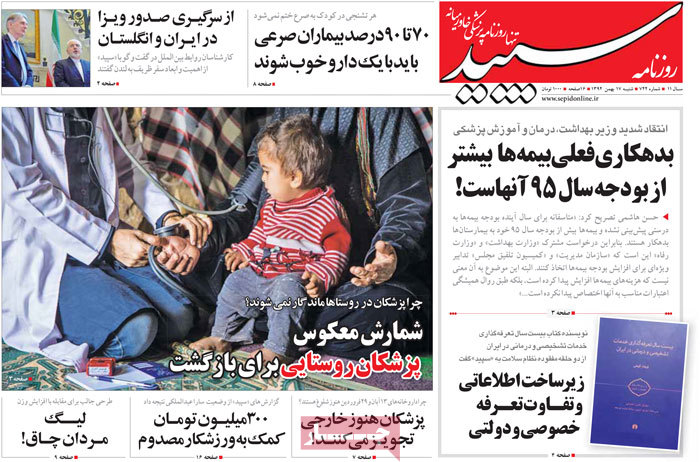 ---
Shahrvand:
1. University examination law alters after one citizen's complaint
2. 18,000 newborns suffer cardiac diseases annually
3. 700% inflation paralyzes Venezuela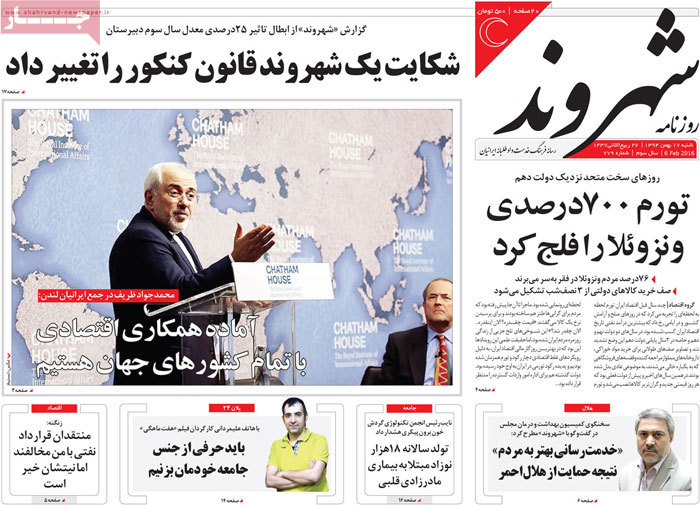 ---
Sahib Ghalam:
– Iran, Oman launch regular shipping lines
– Court of Arbitration fines Iran $2b to Turkey [for overcharging it gas]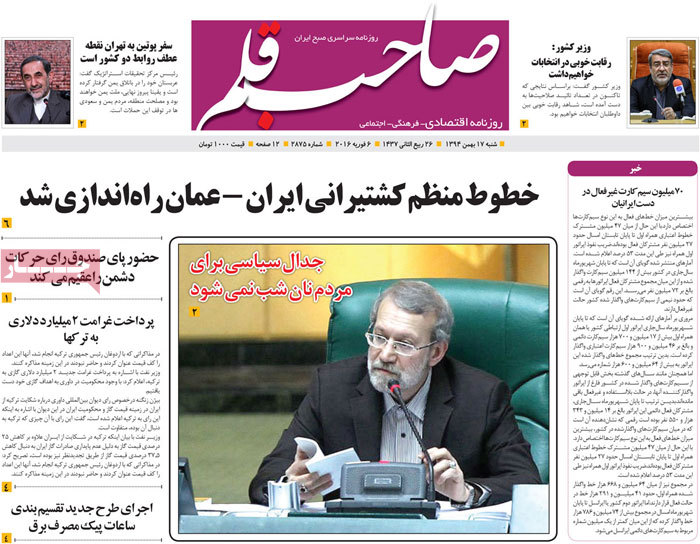 ---
Asr-e Azadi:
– Iran imports first fully electric car
– Details about returning economic criminal to Iran by Tabriz Prosecutor
---
Vatan Emrouz:
1. Iran says amount of fine to Turkey is confidential: The Confidential Administration
2. Outstanding Quran reciter dies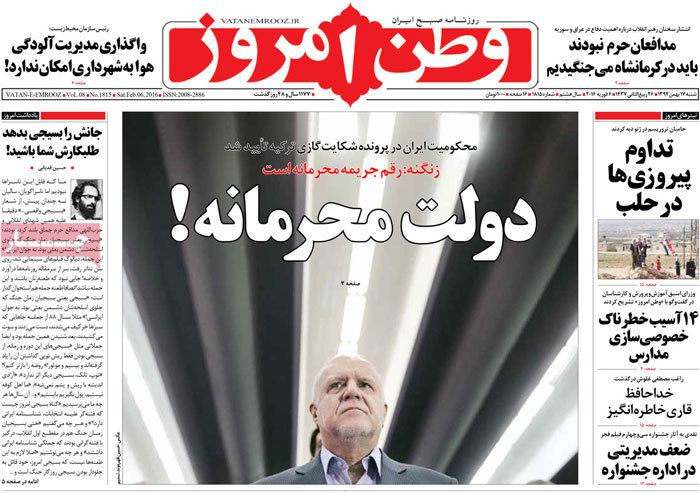 ---
Abrar Eqtesadi:
1. $10b credit line for Iran-Japan trade
2. 0.7% Iran's economic growth in 2015
3. First Iran carpet cargo hits US market
4. Oil price many cross $50/b in 2016