The Iranian nation made February 26 an outstanding day in the history of parliamentary elections, registering a turnout of at least 65%. Iranian President Hassan Rouhani joined the Supreme Leader of the Islamic Revolution, Ayatollah Seyyed Ali Khamenei, as well as many other top Iranian officials, in extending their gratitude to the nation for their attendance at the twin elections which determined the composition of the Iranian Parliament and the Assembly of Experts for at least the next 4 years.
Most Iranian papers displayed lists of the winners in the big cities. This included Tehran, the capital, which was swept by reformist candidates who will make their way to the 10th Parliament.
Apart from the election results, the visit of a high-profile Swiss delegation to Tehran – the epicenter of election campaigning – was the other piece of news which grabbed the most headlines on Monday, February 29.
Here are the top headlines.
Abrar:
1.  President to nation: Your votes have created a whole new atmosphere
2.  UN voices fears on N. Korea-Russia extradition pact
3.  Hundreds of hostages freed from grips of Boko Haram in Nigeria; 100 militia forces killed
4.  Large Russian opposition gathering on anniversary of Nemtsov's murder
5.  Bloomberg: Investors upbeat about moderates' crucial win in Iran elections
6.  Larijani: Iran's primary policy is seeking peace in the region
7.  Mogherini voices EU interests in deepening ties with Iran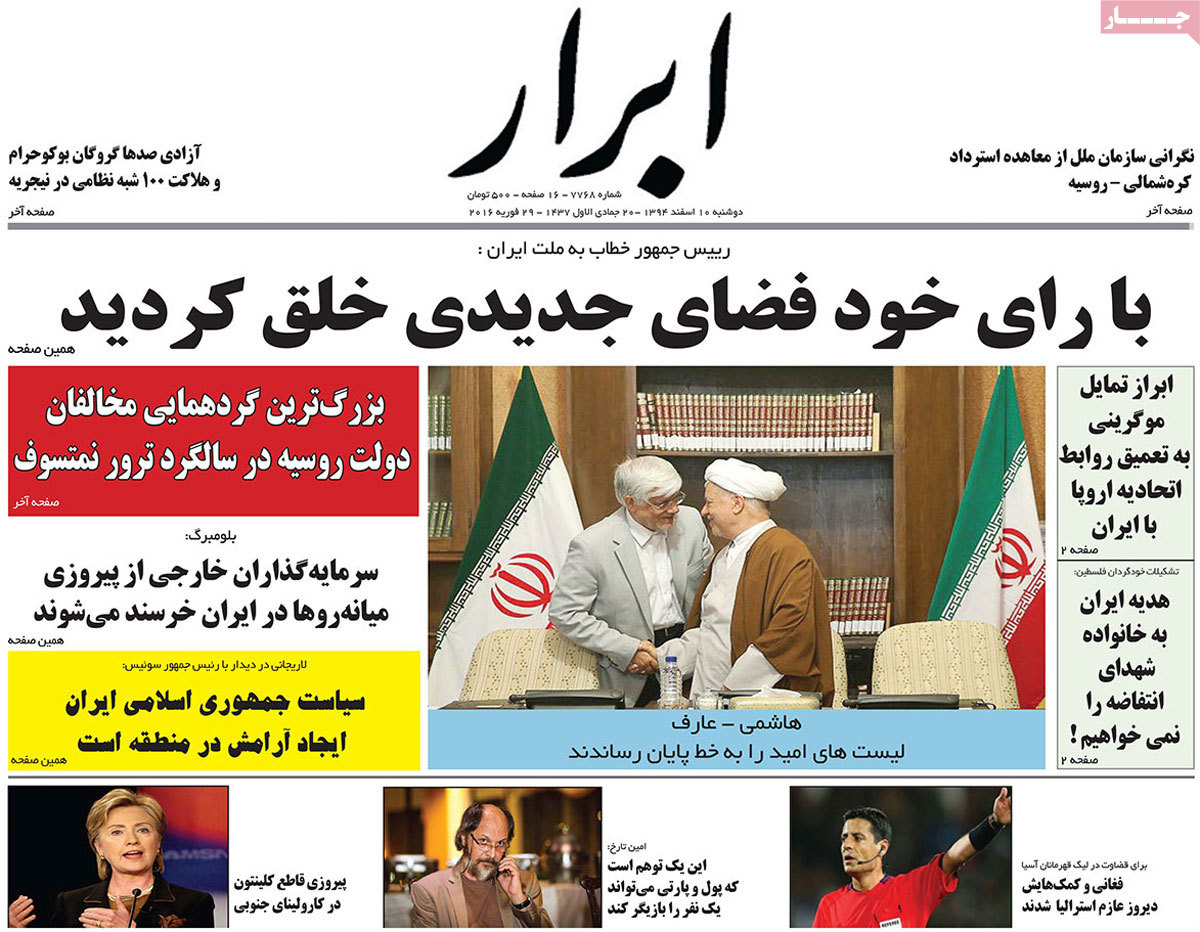 ---
Asrar:
1.  Iran on the launch-pad: Salehi
2.  FM Zarif: No one in the world takes Adel al-Jubeir seriously
3.  List of Hope wins landslide victory [in parliamentary election]
4.  Potential dumping of Chinese cars into Iranian market
5.  Iran: No plans for resuming Umrah
Iran suspended all Umrah pilgrimage travel to Saudi Arabia after tensions soared between the two Muslim states in January.
---
Ebtekar:
1.  Two terrorist plots foiled prior to Election Day: Intelligence minister
2.  Lists succeed in elections
---
Ettela'at:
1.  Iran unveils 8 newly-discovered elements
2.  160 ISIS terrorists killed in major Iraqi army attack on Ramadi
3.  Latest updates about election results
Akbar Hashemi Rafsanjani leads the Assembly of Experts candidates, while reformist leader Mohammad Reza Aref has won the largest number of votes in the parliamentary election.
4.  Economic Minister: We have left the economic crisis behind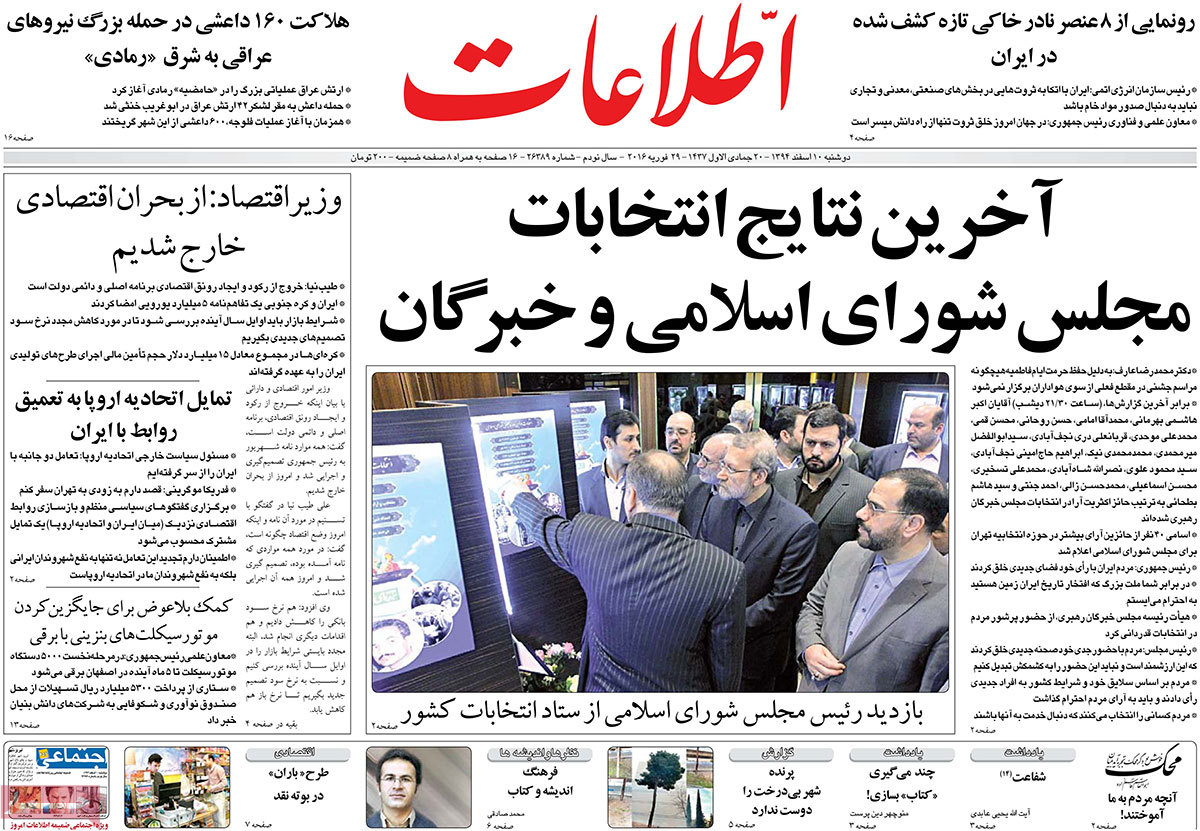 ---
Etemad:
1.  Reformist electoral list wins landslide victory in Tehran; all 30 candidates on the list elected
2.  Leader thanks nation for massive election turnout
3.  Two terrorist plots foiled during election campaigns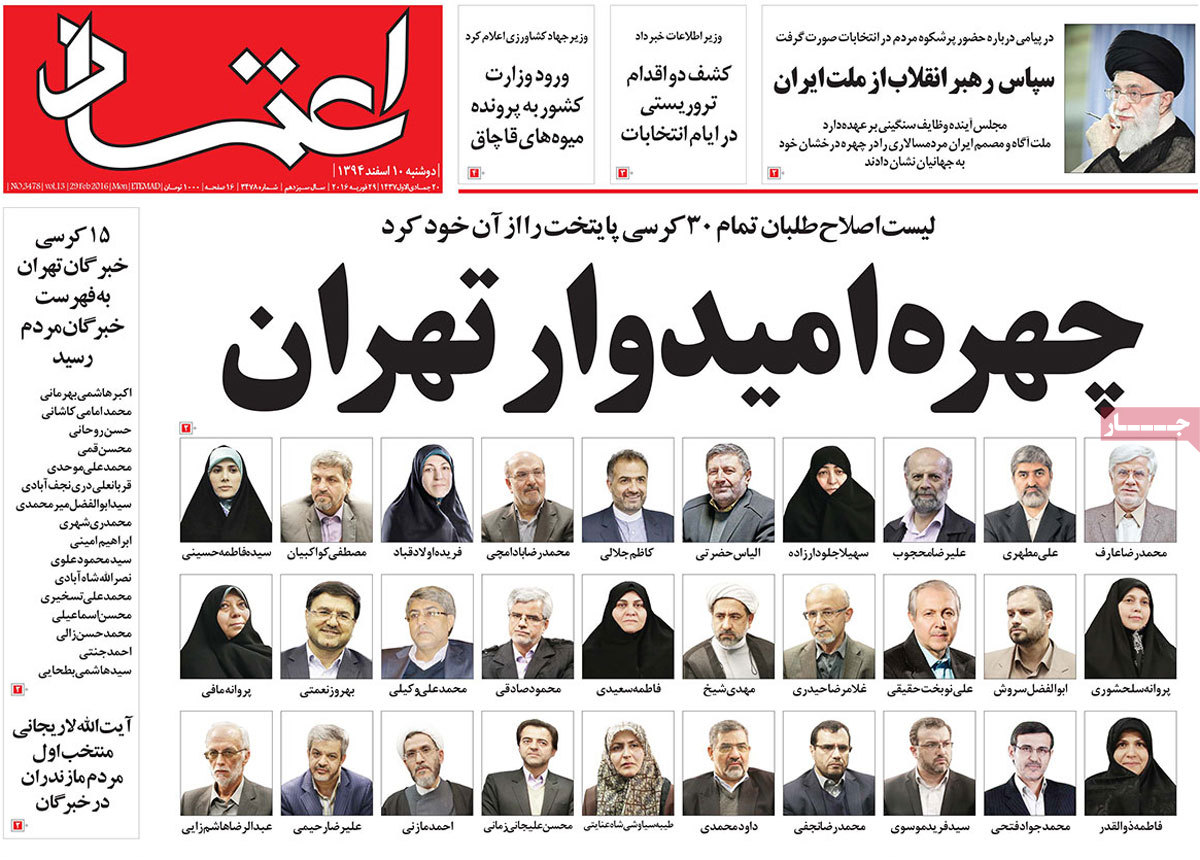 ---
Afkar:
1.  Iran offers facilities to Iranian students in the UK
2.  Iran receiving many offers for nuclear co-operation: Salehi
3.  EU greenlights enhanced ties with Iran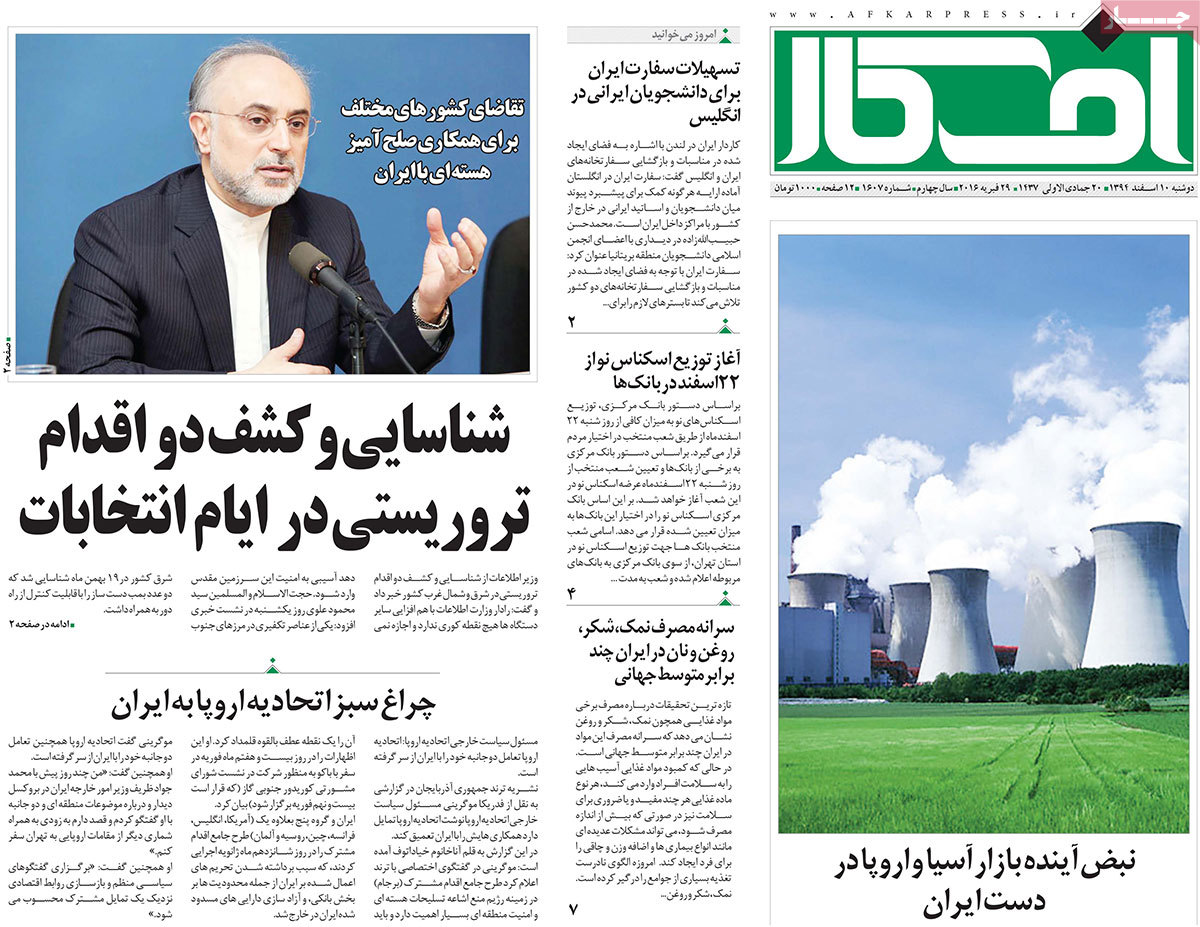 ---
Emtiaz:
1.  Swiss petrol in Iranian gas tanks
2.  Organized smuggling of forbidden fruits to Iran
---
Iran:
1.  Moderate bandwagon rolling towards both assemblies
2.  Leader: Iranian nation shows the world religious democracy, presenting a powerful image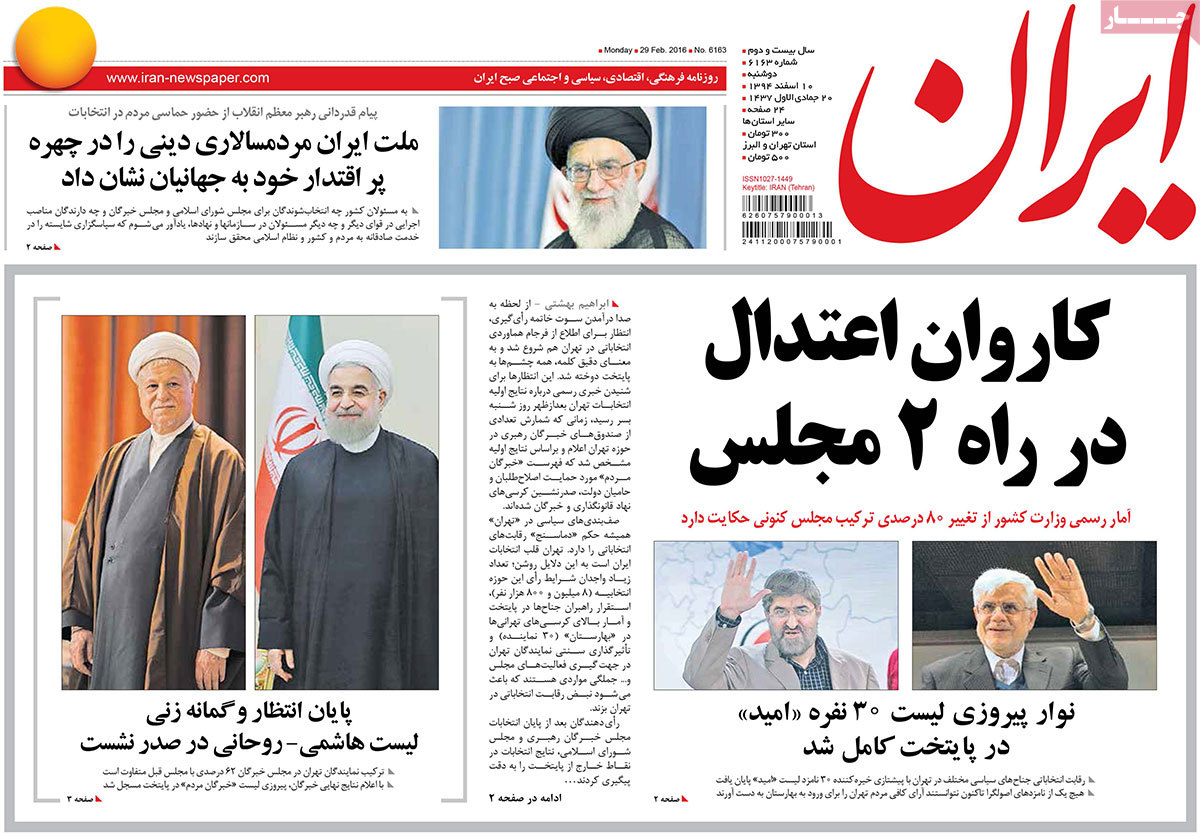 ---
Jomhouri Islami:
1.  Iran receives first batch of blocked Siemens equipment
2.  10th parliament: independent, moderate
3.  Rafsanjani to Swiss president: If EU fails to combat terrorism, its flames will burn them too
4.  Parliamentary speaker: Transition of power welcome in Iran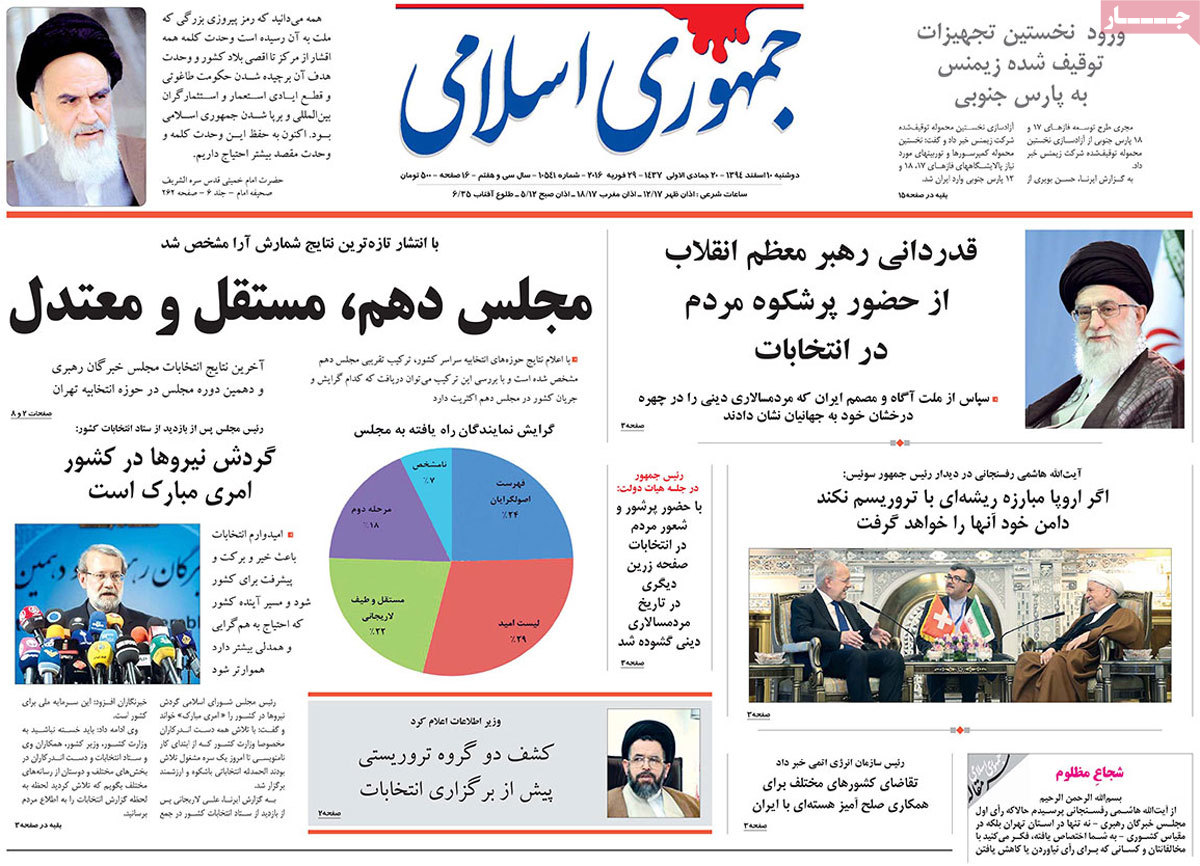 ---
Javan:
1.  Principalists: 55%, Reformists: 29%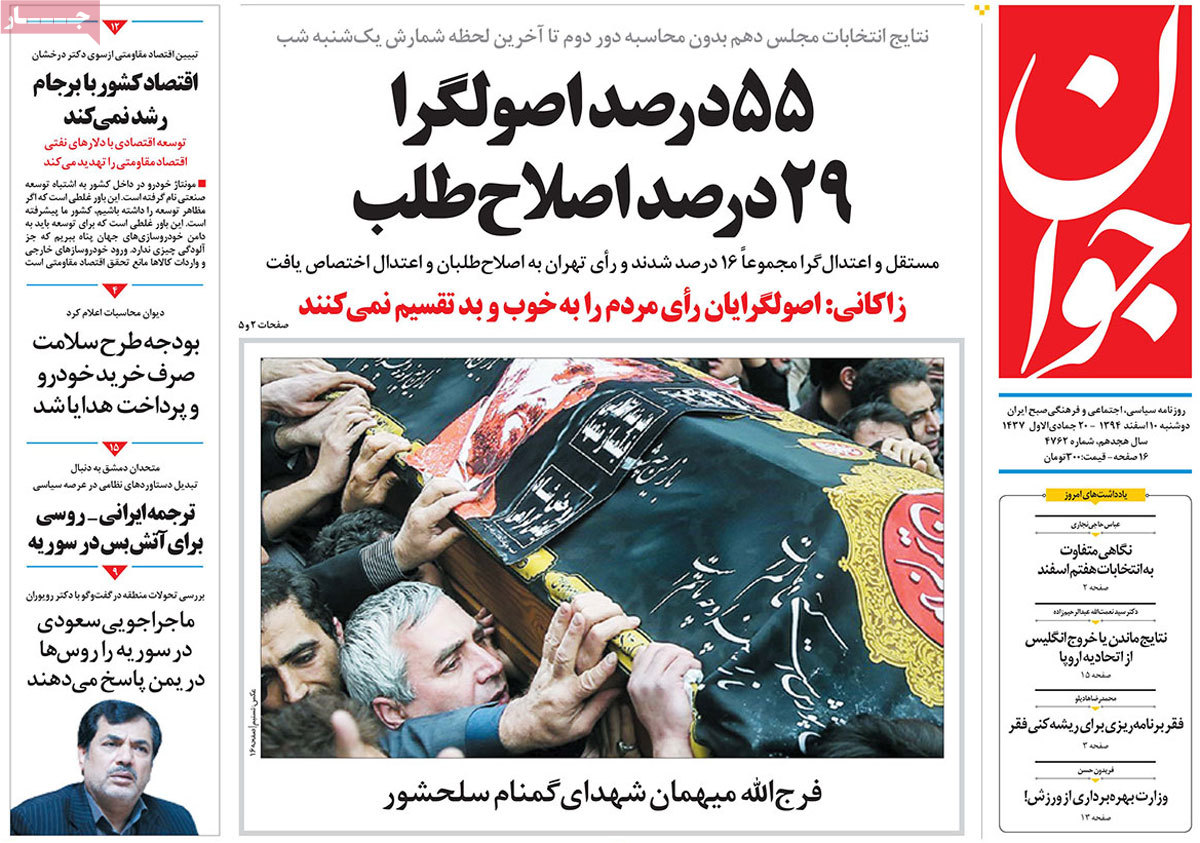 ---
Hosban:
1.  NIOC seeking diverse methods of attracting investment
2.  Feb 26 – Day of no bloody accidents in Iran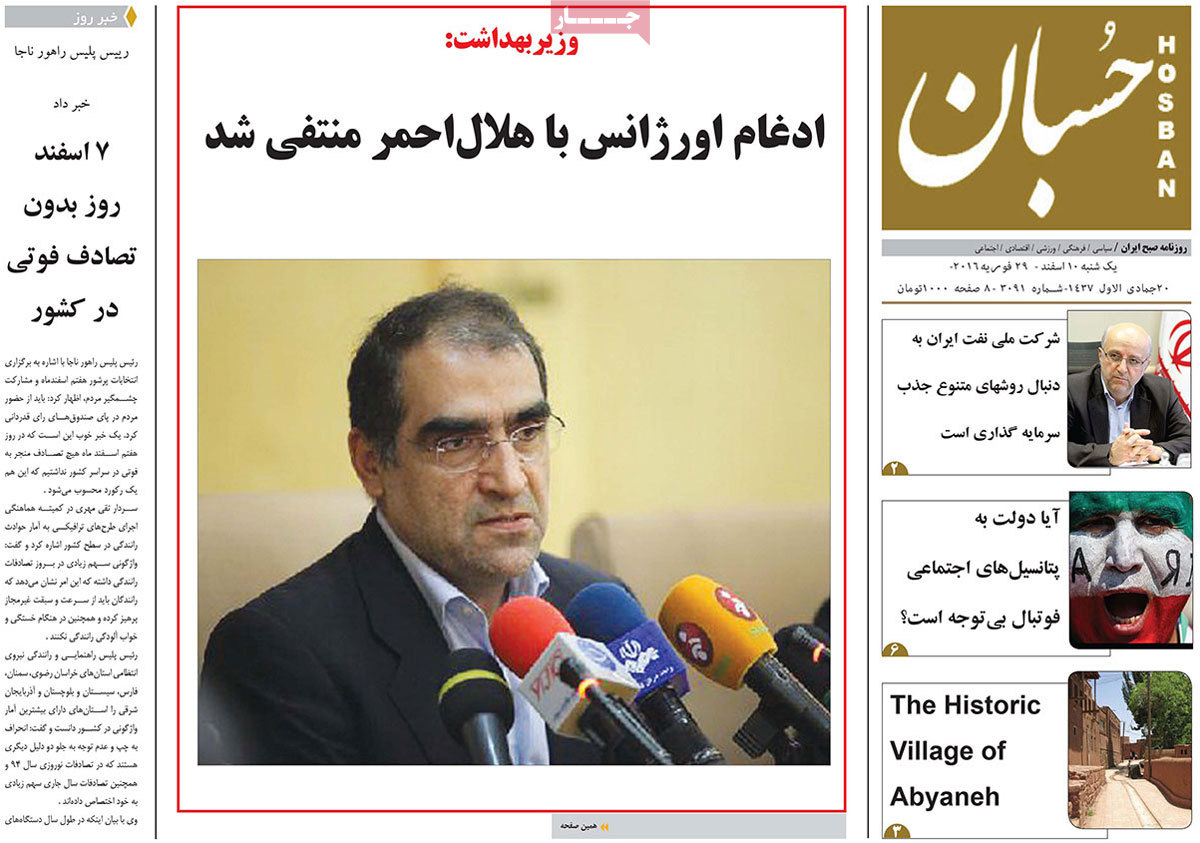 ---
Hemayat:
1.  Ayatollah Larijani leads Mazandaran candidates in the Assembly of Experts election
2.  Iranian nation passes election test
3.  Impressive reduction in voting fraud in parliamentary and Assembly of Experts elections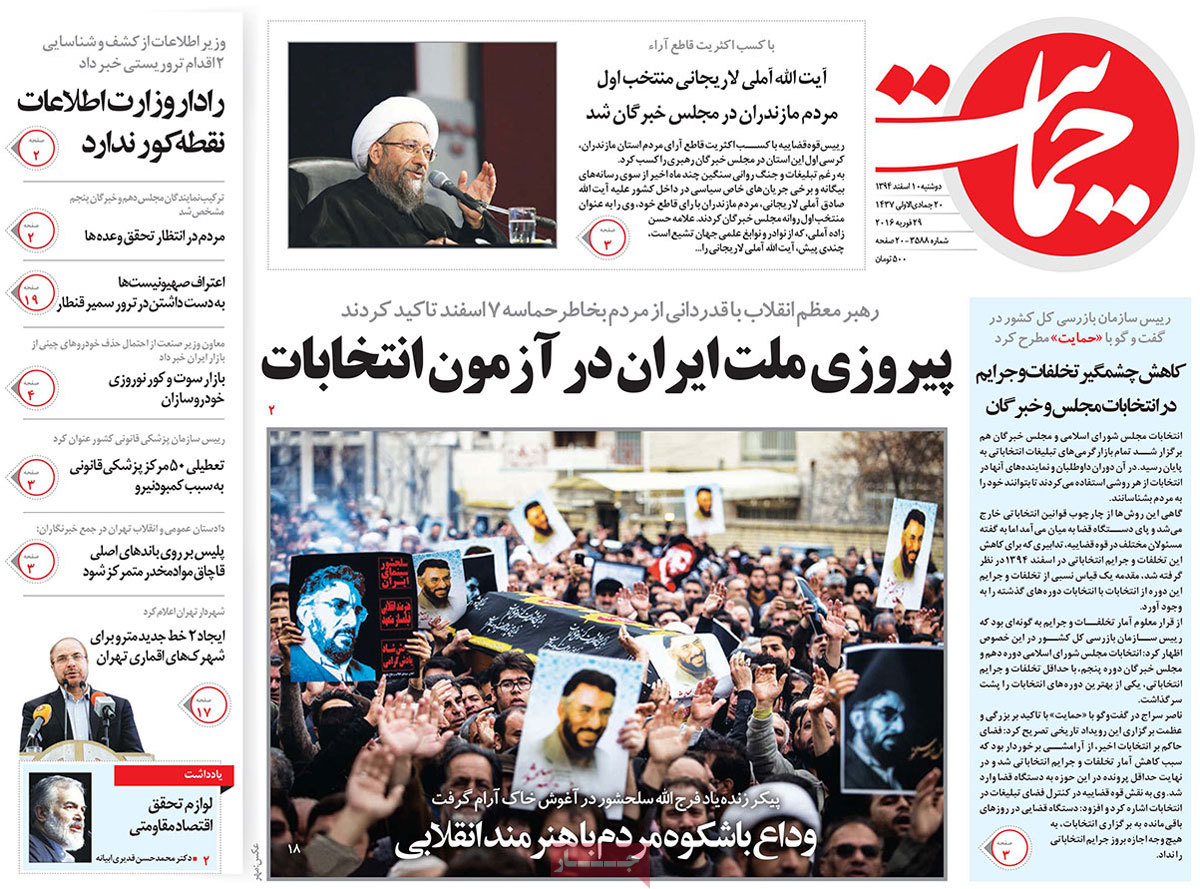 ---
Khorasan:
1.  Leader praises "informed, resolute" nation
2.  FM: Americans must act more seriously in removing psychological hurdles of sanctions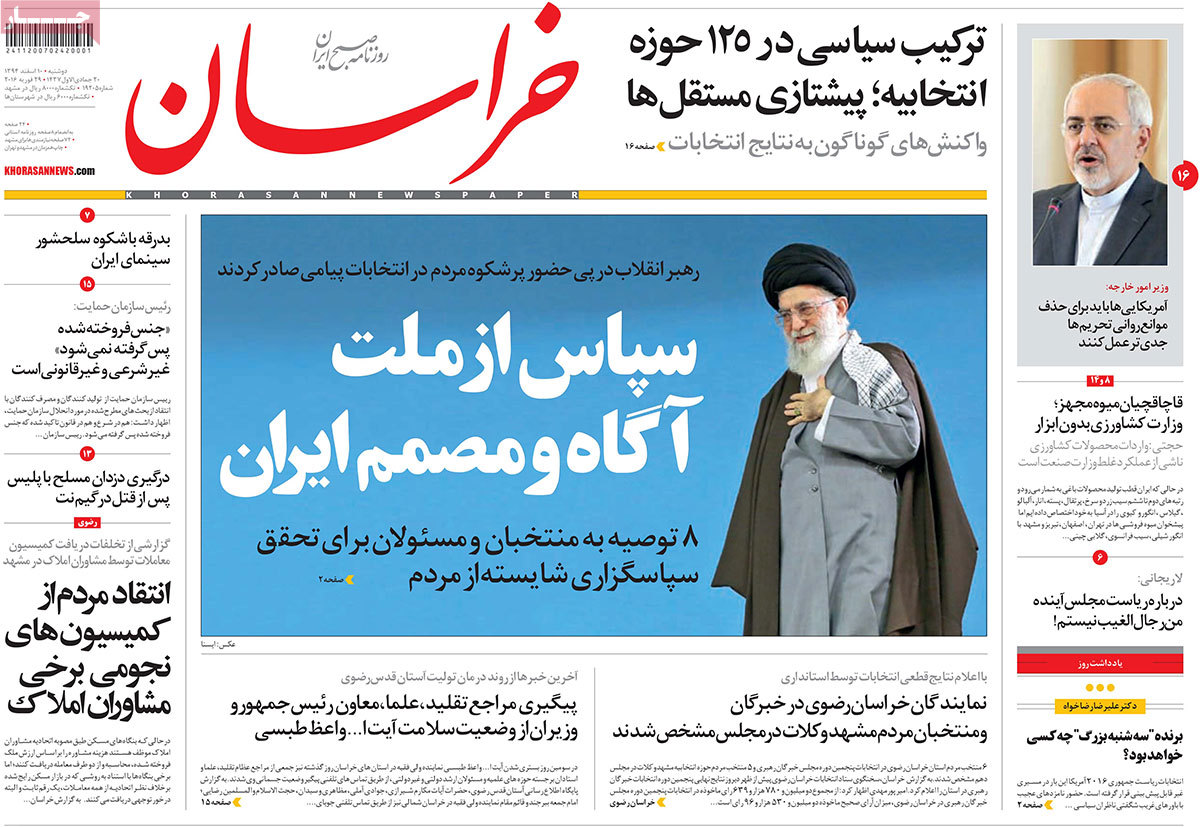 ---
Rah-e Mardom:
1.  Report: Role of Iranian ladies in economy and society
2.  Pakistan resolved to buy Iranian gas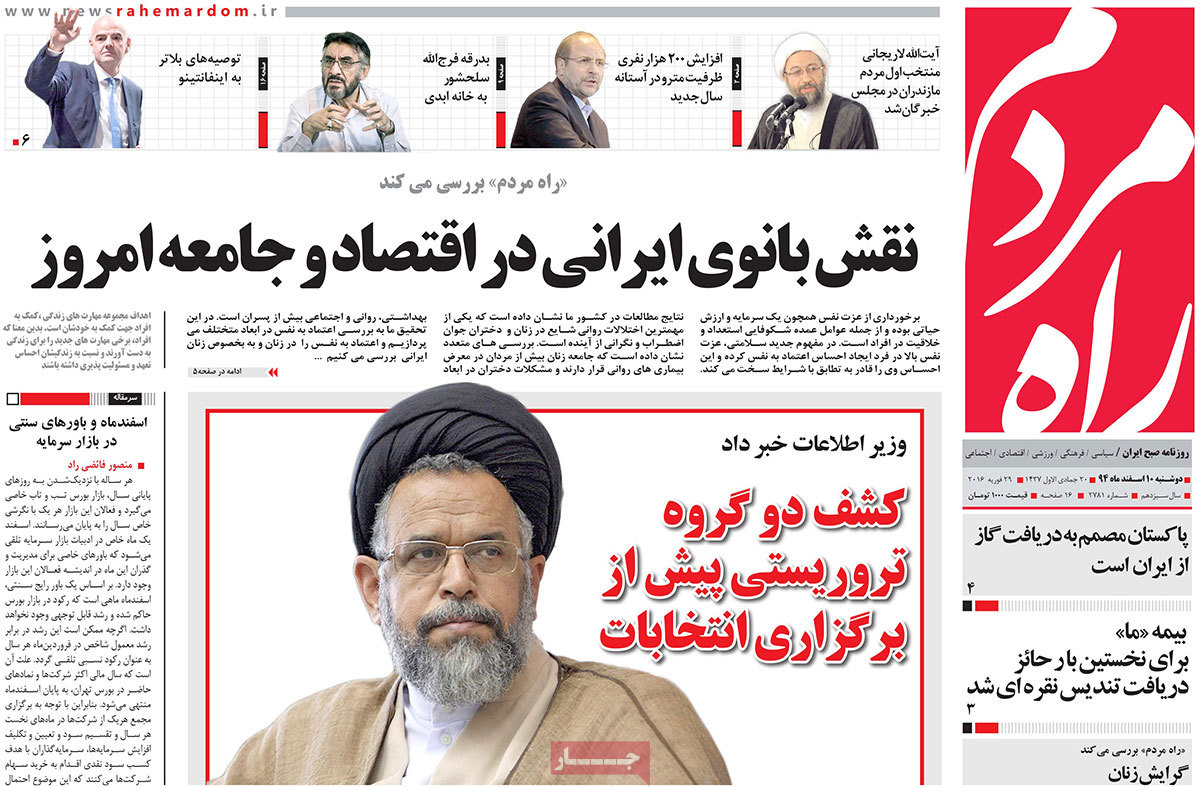 ---
Resalat:
1.  Cameron's big 21st Century gamble
2.  Bibi: Riyadh and Tel Aviv are allies
3. Iran intelligence radar has no blind spots: Minister
4. Principalists do not divide nation's votes to bad, good votes: MP
---
Roozan:
1.  Blue Tehran: Not even one Principalist winner among Tehran's parliamentary election winners
---
Rooyesh Mellat:
1.  Minister: We have no option but to produce and supply items
2.  Syrian truce not fully implemented: Erdogan
---
Shahrvand:
1.  Result of a memorable election
2.  President: I stand honoured by the nation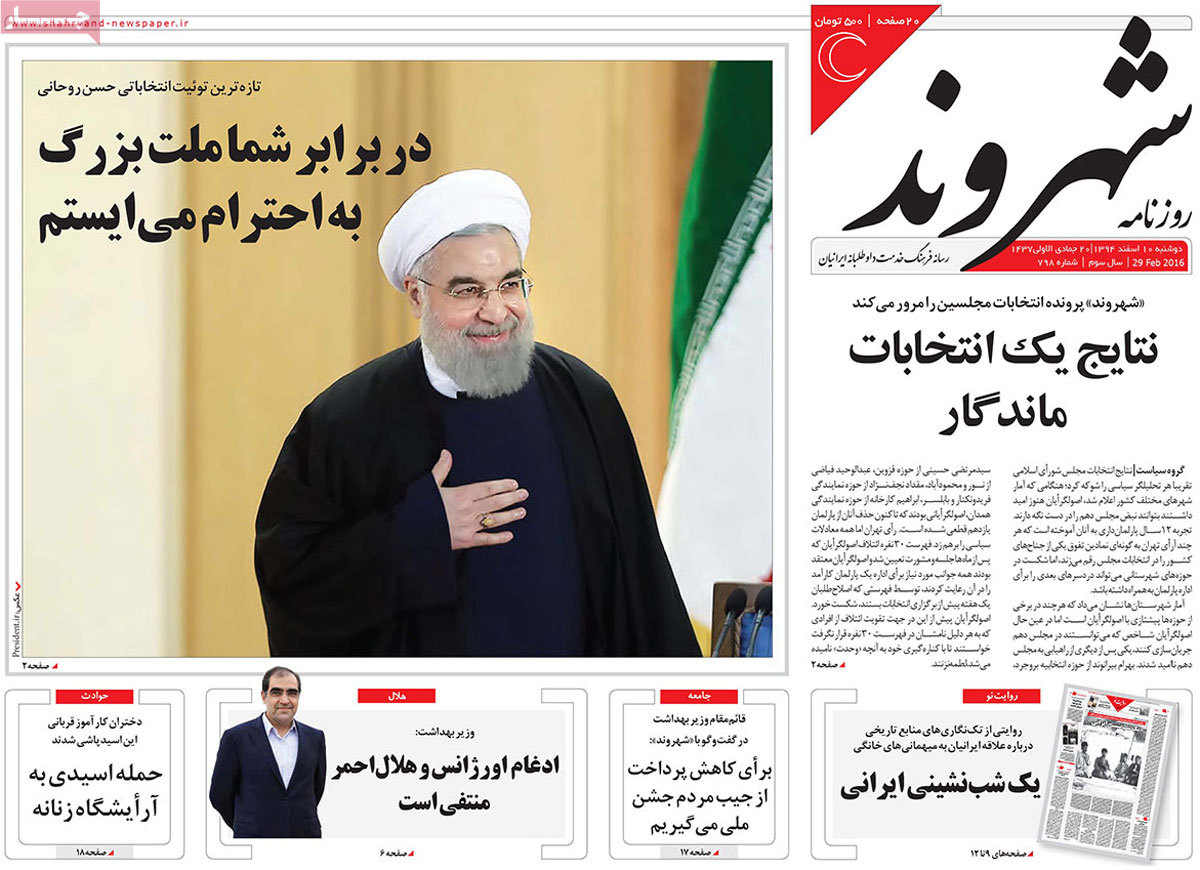 ---
Saheb Ghalam:
1.  First container ship leaves Iran for Europe
2.  Reconsidering the construction of 119 dams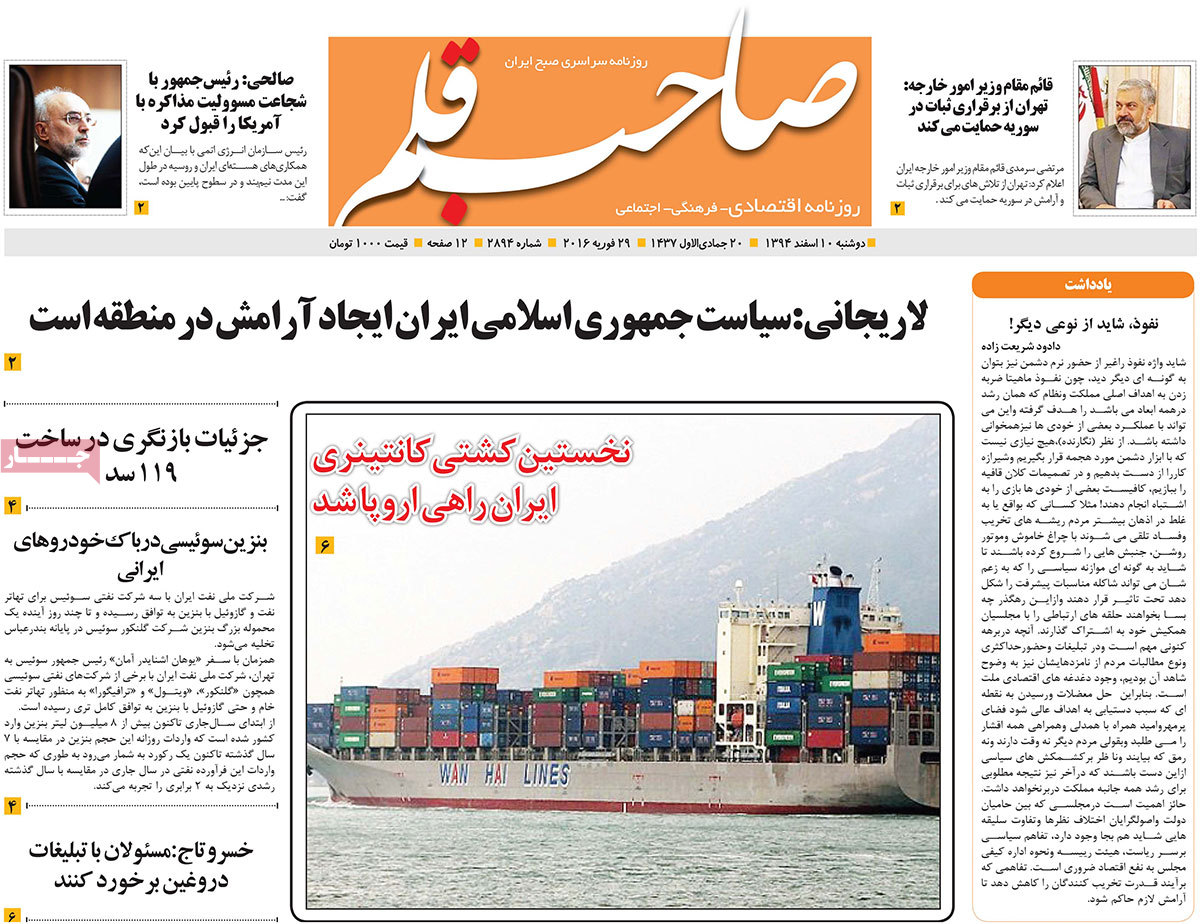 ---
Kayhan:
1.  US negotiator was ordered to assassinate Castro
CIA publishes new details about plots in Cuba.
2.  Foreigners in talks about selling goods to Iran: Minister
---
Asia:
1.  Iran, S. Korea ink MoU worth €5bn
2.  Tehran opens automotive exhibition
3.  Iranian billionaire buys 50% of Everton stock
---
Arman-e Emrouz:
1.  Leader: Future parliament will have heavy responsibilities
2.  Reformists win big on both lists
---
Abrar Eqtesadi:
1.  Brits to join oilfield development in Iran
2.  Iranian and Swiss firms agree on oil, gasoil-for-gasoline barter plan
3.  Alarm triggered by Chinese cars in Iranian market