Abrar:
1. Nation seeks no parliament that is gov't-based or anti-gov't: Leader
2. Rouhani forbids casting wry look at JCPOA
3. UK resumes issuing visas for Iranians in Tehran
4. Kerry says US has 'Plan B' should syrian ceasefire deal fail
5. "I will relate Iranian culture to my friends:" Football Coach Carlos Queiroz
6. Recent dust storms spring from domestic sources
7. Death toll of Syrian crisis crosses 270,000
---
Abrar Eqtesadi:
1. Boeing proposes Iran talks
2. Assets of corporate mogul put to bid
3. Baku resumes oil trade with Iran
4. Tehran-Ashgabat trade on the rise
5. EXIM Bank to provide $8bn credit line in Iran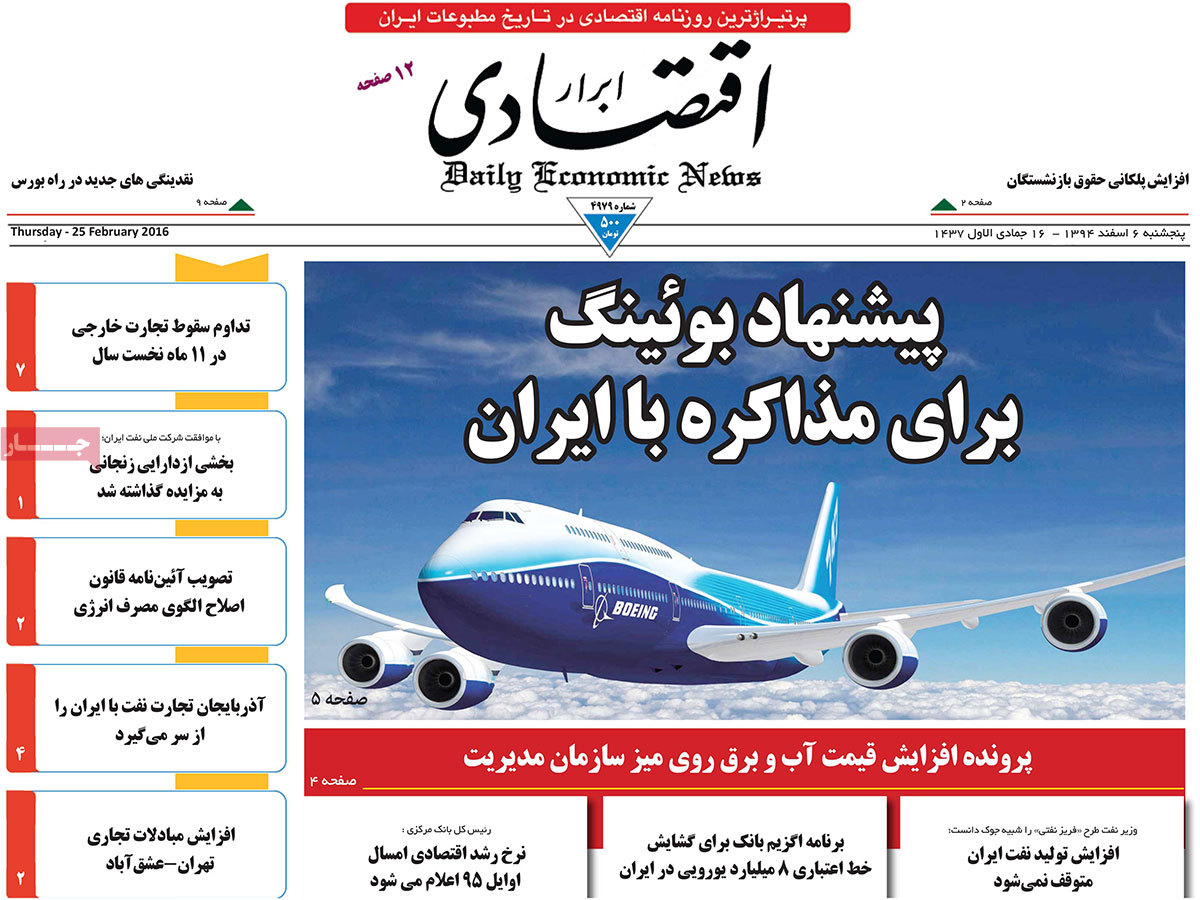 ---
Arman-e Emrouz:
1. Calls for highest election turnout on Friday;
Let's vote finely tomorrow
Last name of Iranian Minister of Foreign Affairs, Zarif, literally means fine. The title used the pub of referring to Zarif, or fine, for calling on people to cast their votes on February 26 elections for the parliament and Assembly of Experts.
2. Leader: Iranian nation wants a parliament that minds dignity and independence
3. President Rouhani: Interior minister guards people's votes
4. London resumes issuing visas in Tehran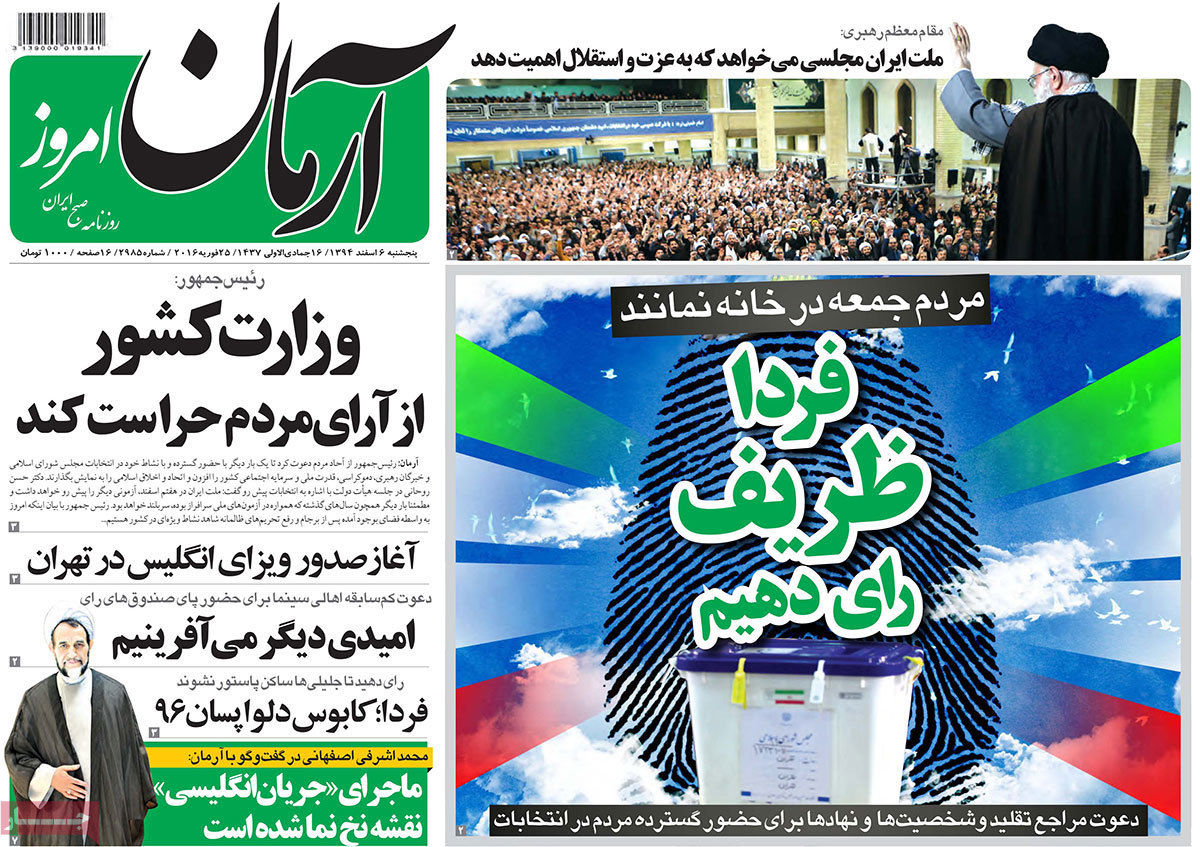 ---
Asrar:
1. Shia clerics call on people to hold passionate elections on Friday
"Feb 26 and creation of new epic"
2. Mogherini warns of impending all-out war between Turkey-Russia
3. Judiciary official calls on admin to pursue UK interference in Iran thru "active diplomacy"
---
Ebtekar:
1. All together heading towards ballot boxes
A lengthy report about the reasons all votes must come to the ballot boxes on Friday.
2. Leader: Passion, vigor, supremacy, inferiority nature of election
3. Rafsanjani urges Iranians not to stay home on Friday
4. Rouhani to Putin: Cessation of hostilities' should not help terrorists to reorganize
5. Potential 65% turnout in Parliament election
---
Ettela'at:
1. Moscow: Washington acceded to Syrian ceasefire plan after defeat
2. Leader: Nation seeks a parliament that knows how to cure their pain
3. Rouhani: Nation pick best candidates
---
Etemad:
1. Iran: Brother of Abdolmalek Rigi captured in a nearby state
2. The storm of people's vote
Iranian nation are preparing for a landmark election day to choose future members of the parliament and the Assembly of Experts.
3. Leader: We must try to make correct selection
4. Veep: People turn wheels of economy thru election
---
Emtiaz:
1. Iran seeks to return stolen assets
2. Petroleum Minister: Iran not to freeze crude oil production growth
3. Rivers in danger of drying out
4. Iran still toddler in world-class art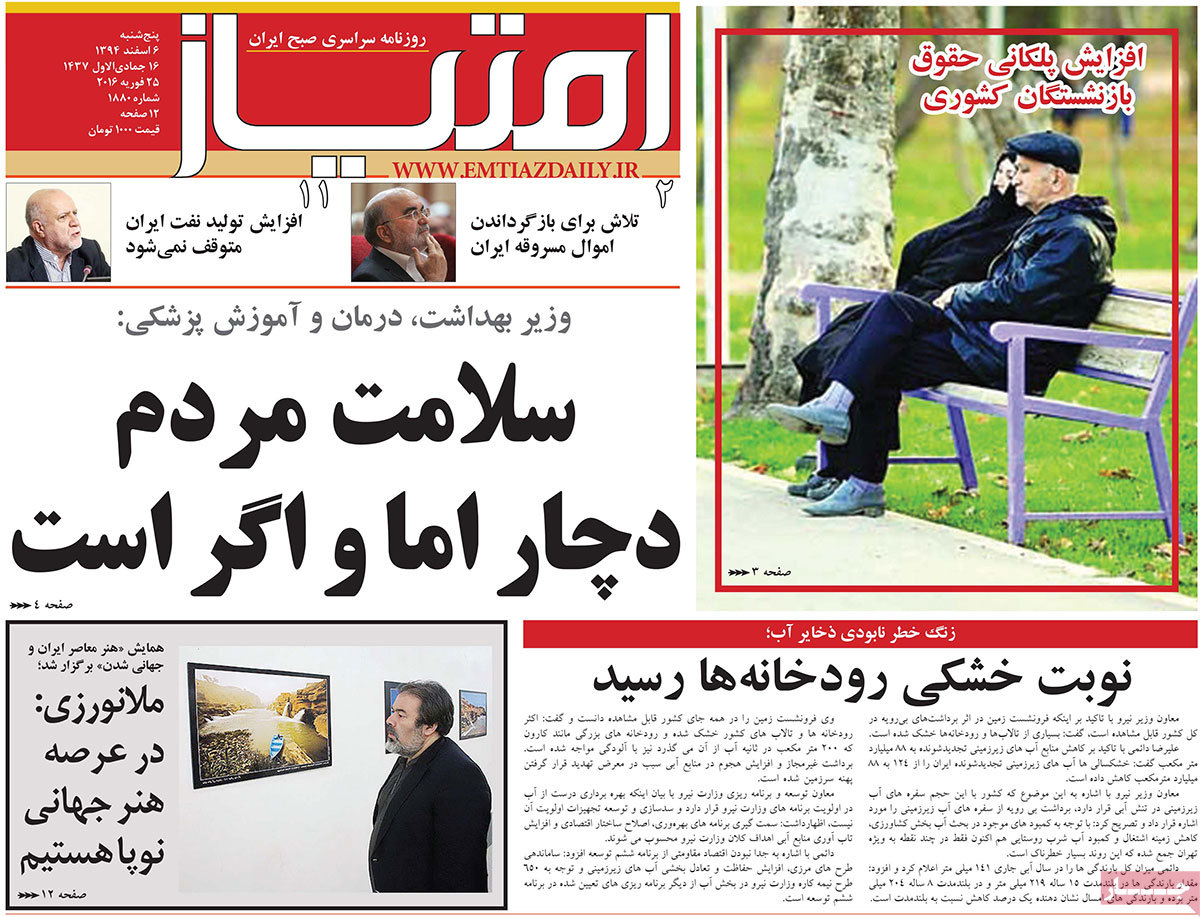 ---
Hosban:
1. Petroleum Minister calls on nation for highest turnout
"Country's development depends on nation for highest turnout in elections," Iranian Minister of Petroleum Bijan Zanganeh said.
2. No bright future of field and track in olympic games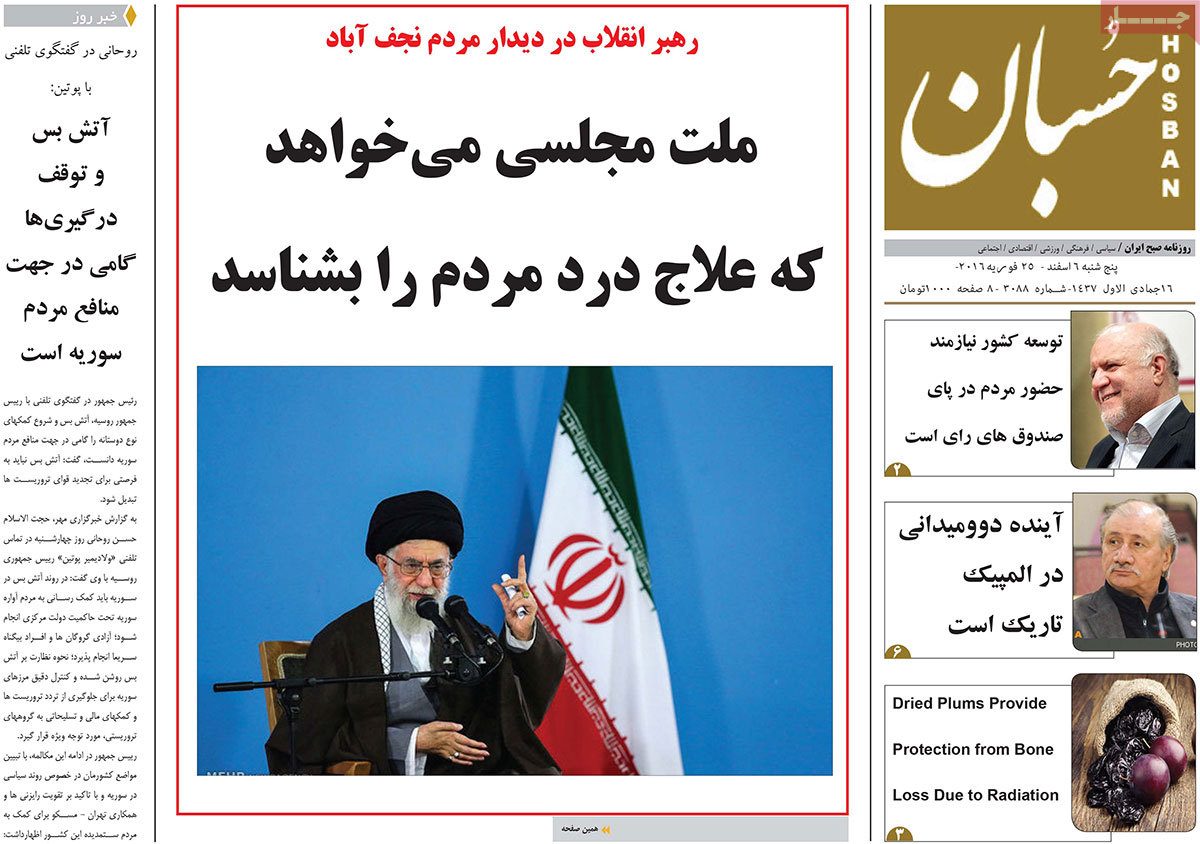 ---
Iran:
1. Electing Iran's future
Elections in a glance: 55 million eligible voters, 120,000 ballot boxes, 3.8 million first-voters
2. Rouhani calls on nation to draw hopeful future for Iran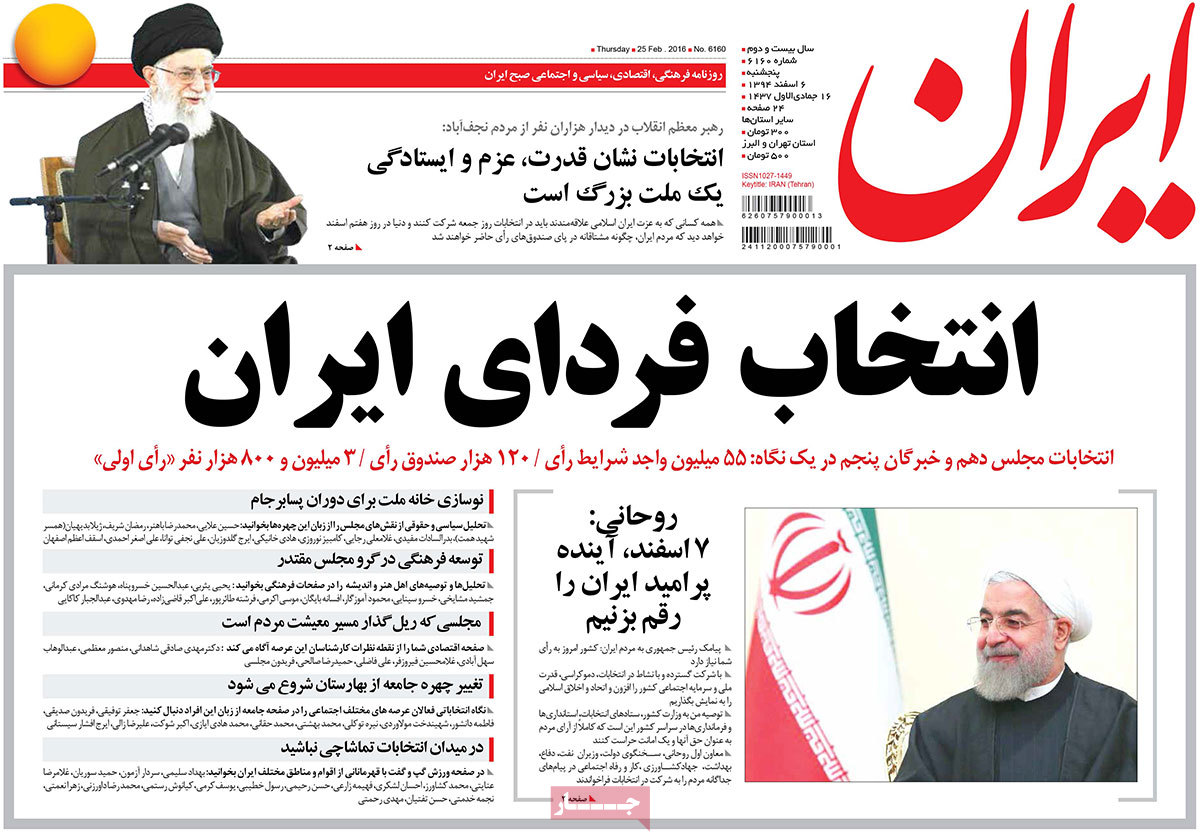 ---
Jomhouri Eslami:
1. Leader urges all Iran lovers to attend elections; "Whatever the result, the country will benefit"
2. EU, US join South Pars customers club
Iran exported over 10 billion tons of gas condensate.
3. Syrian truce saves some face for US
4. Israeli mogul wins UAE security award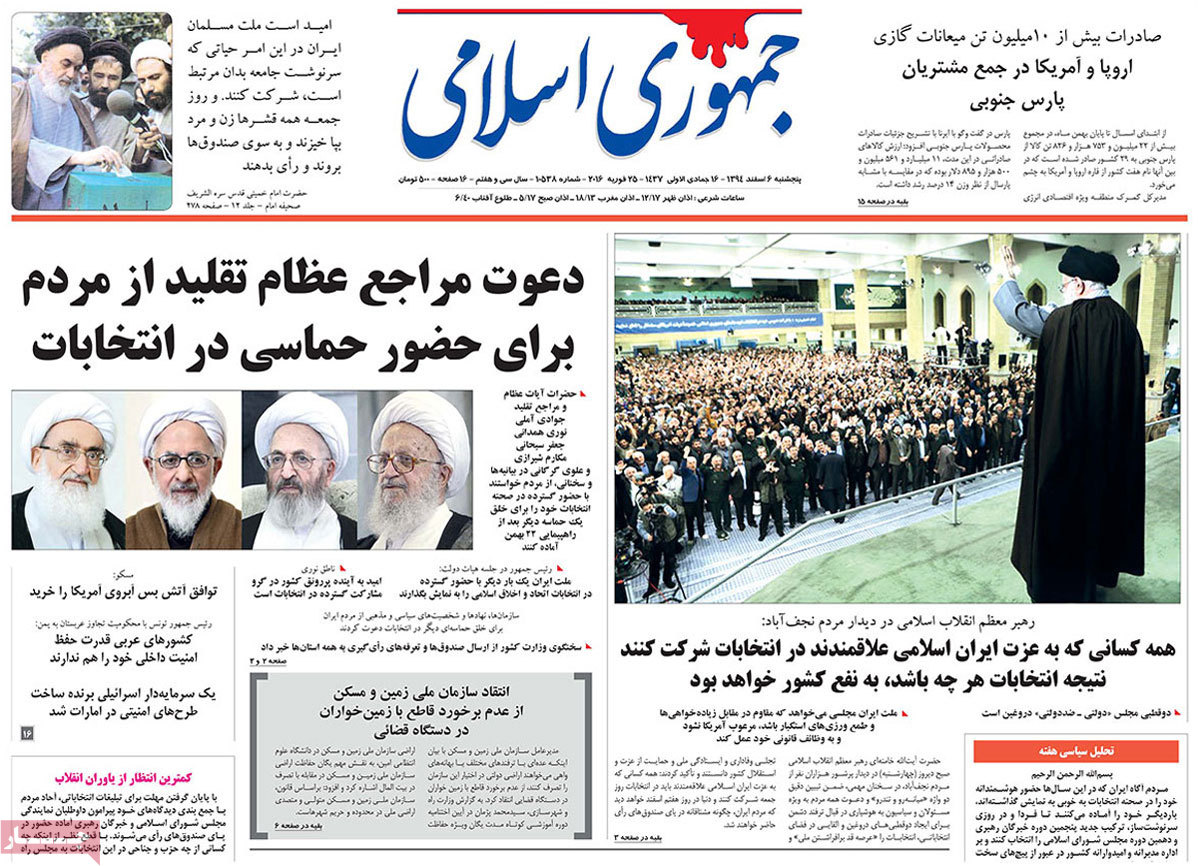 ---
Javan:
1. Nation seeks parliament that believes in endogenic economy: Leader
2. Kerry: Iran nuclear deal raised Tel Aviv security
---
Kayhan:
1. Economists: Parliament must mind people's livelihood
2. Leader: Enemy refers to submissive compromisers as moderates
3. Al-Saud mufti: Iran nation must not vote for Jannati, Mesbah and Yazdi
4. Amnesty: Al-Saud uses British arms to kill people
---
Rah-e Mellat:
1. Report: Parliament election poll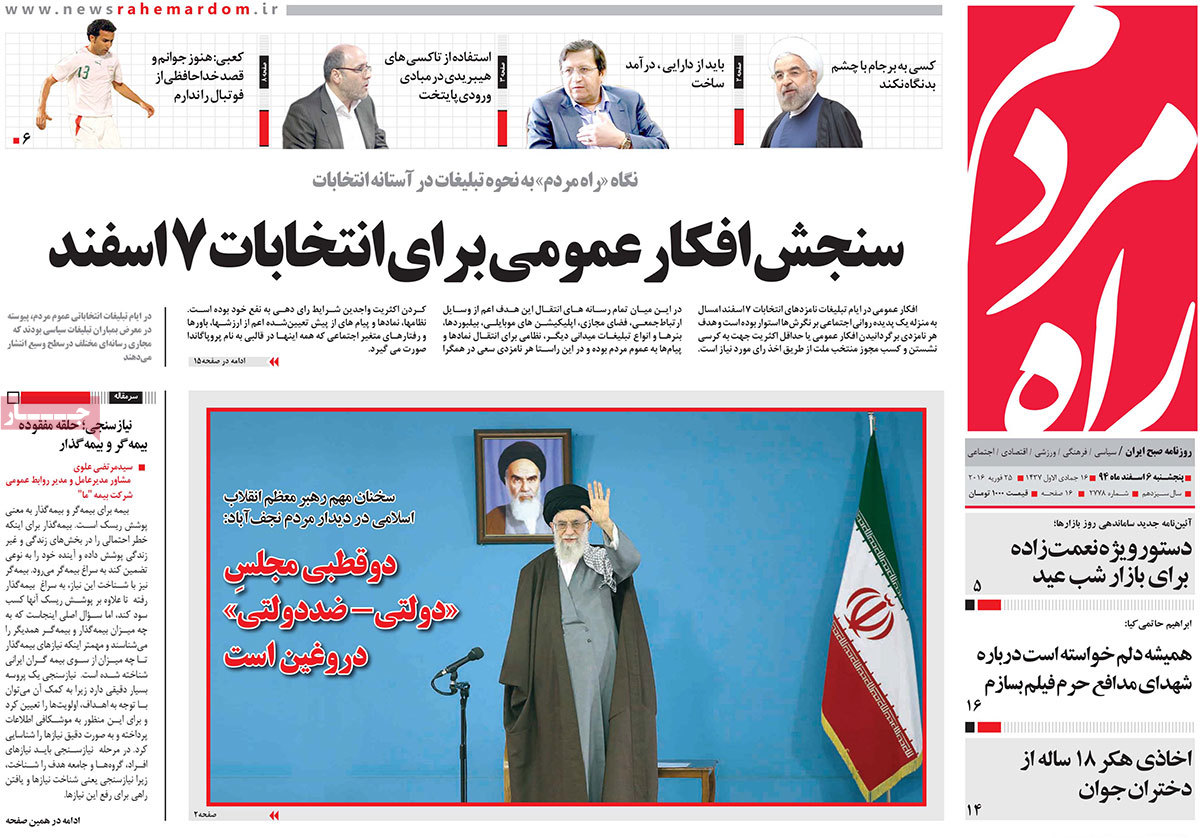 ---
Resalat:
1. Elections guarantee sovereignty of Islamic establishment: President Rouhani
2. Lavrov: US, allies seek war in Syria
---
Rooyesh Mellat:
1. Petroleum Minister: Oil freeze plan a joke
2. 58 rare maladies identified in Iran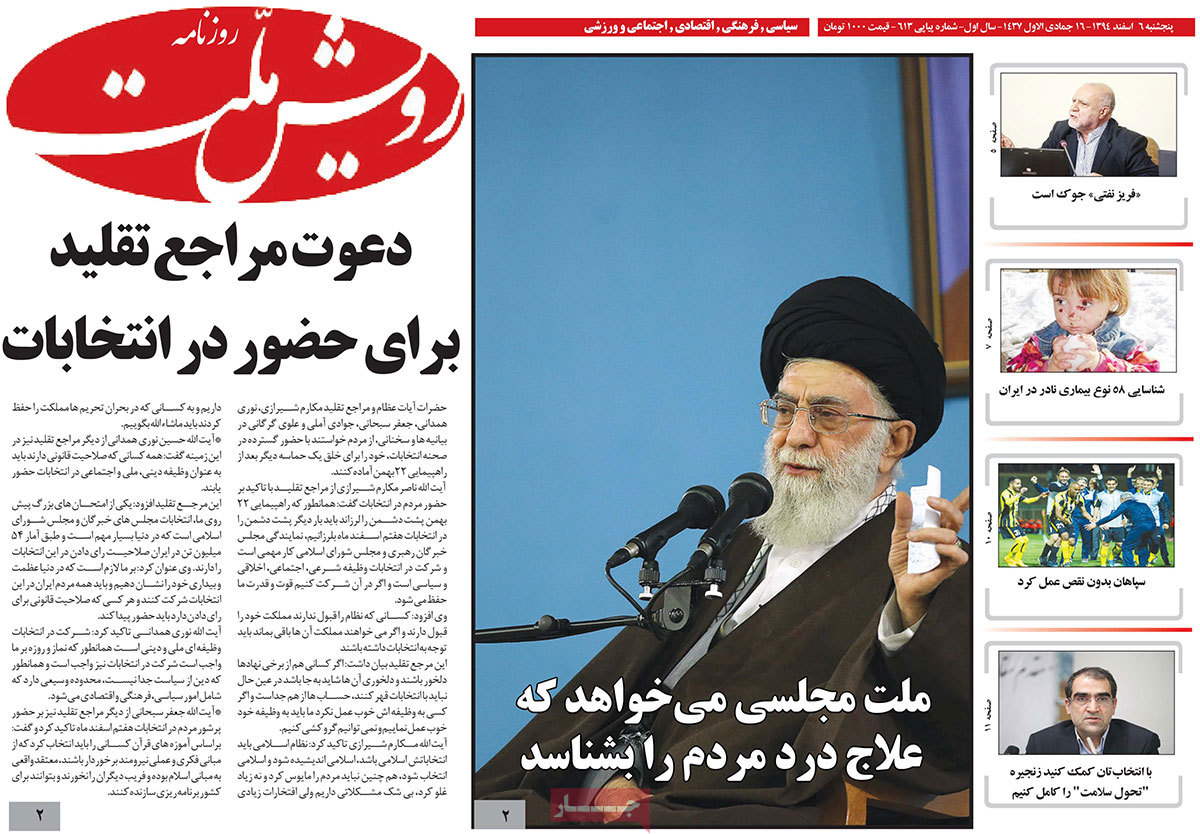 ---
Shahrvand:
1. Rouhani to nation: Iran needs your votes
2. Election turnout may rise by Friday
3. Leader: Result of nation's election turns back to them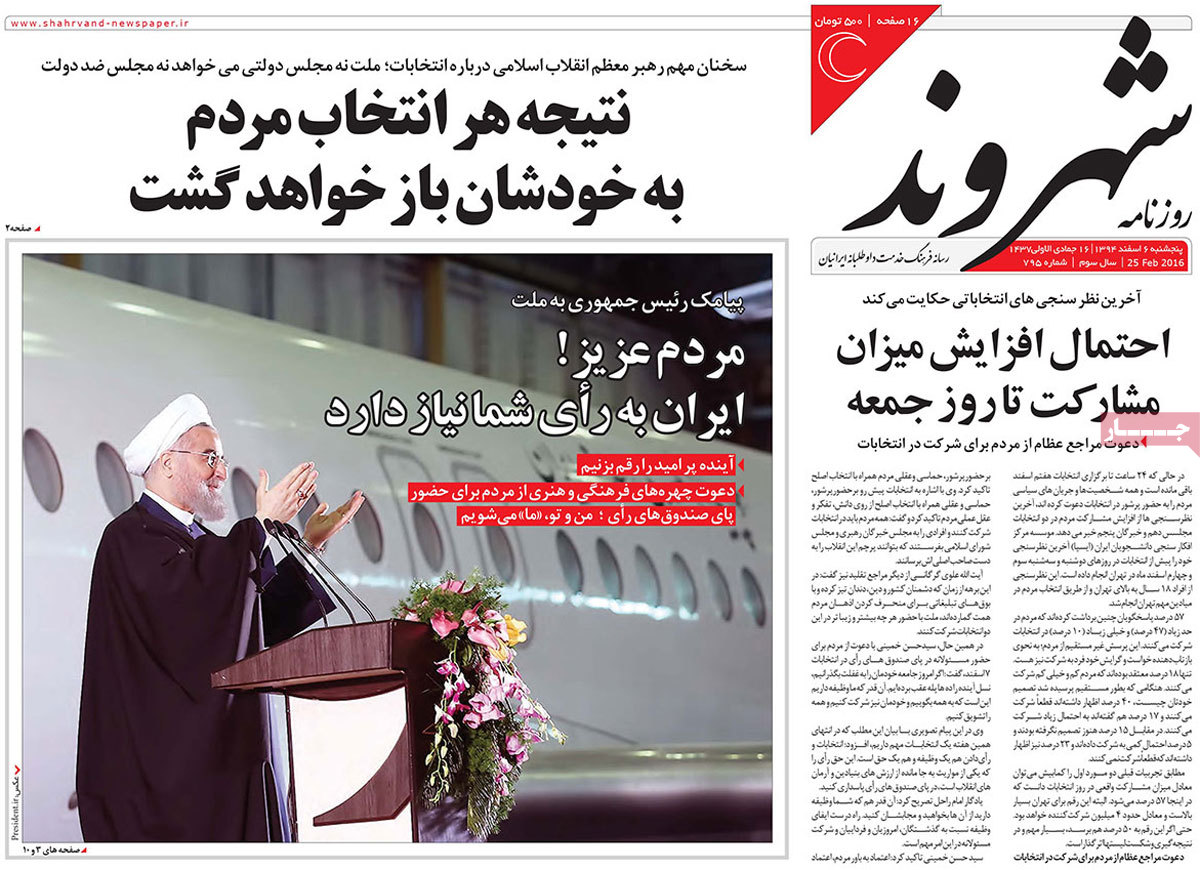 ---
Saheb Ghalam:
1. Iran takes first step to launch smart power grid
2. Industry Minister issues special order to protect prices as New Year approaches