Abrar:
10 nuclear meetings scheduled with Leader: Parliament Speaker
High-profile Azeri delegation arrives in Tehran
France's Hollande warns of risk of Turkey-Russia war
Iranian, Pakistani armed forces co-operate in various areas
UNSC calls for resumption of ceasefire in Yemen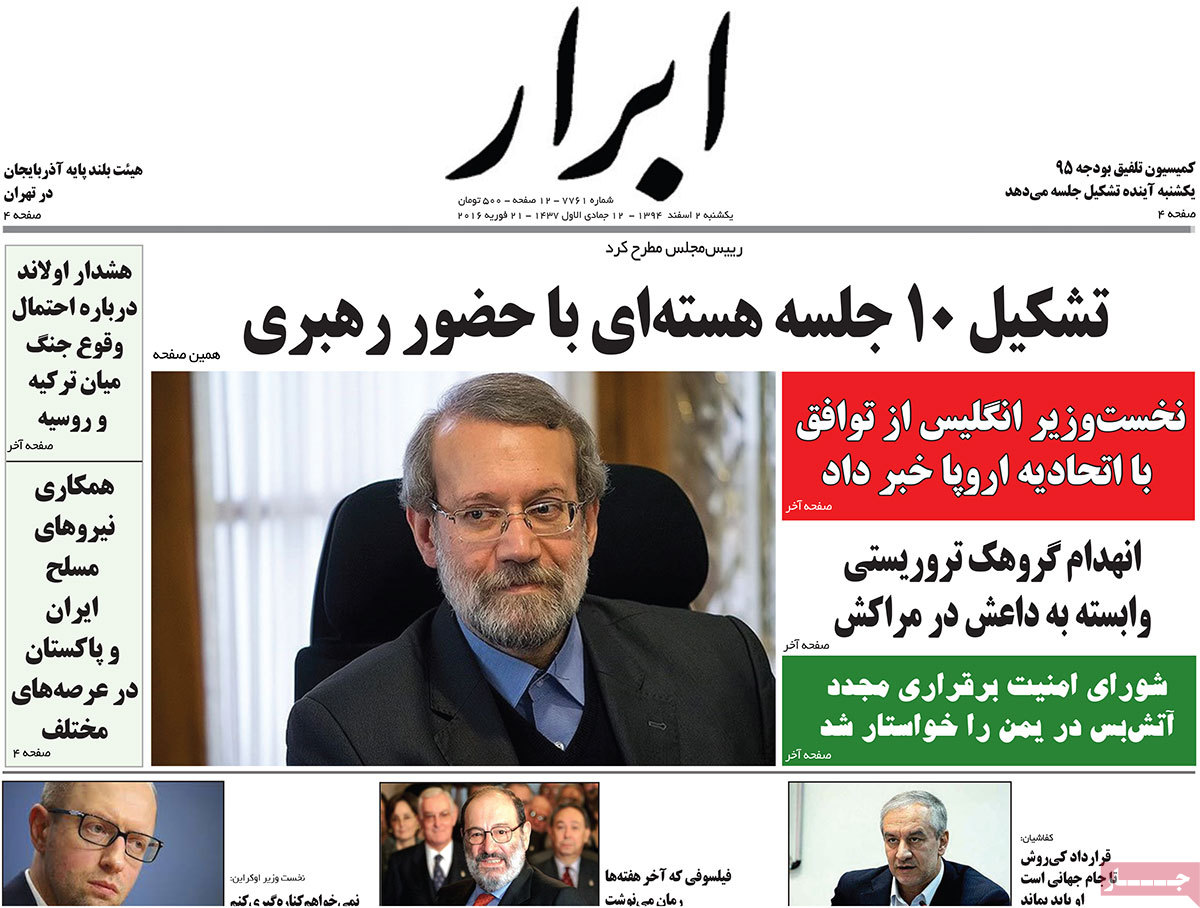 ---
Asrar:
President: Elect candidates based on economic concerns
Iranian President Hassan Rouhani also said: "Our well-informed nation needs no advice from foreigners."
Police will protect all qualified parliamentary hopefuls: Tehran Police Chief
IRR1,100bn/d of public funds wasted on drugs
No limits to Russia's military co-operation with Iran: Russian official
Iran's futsal team eyes 11th championship
Cleric: Guardian Council is the most developed monitoring body in the world
Shamkhani: Certain regional states aggravate crises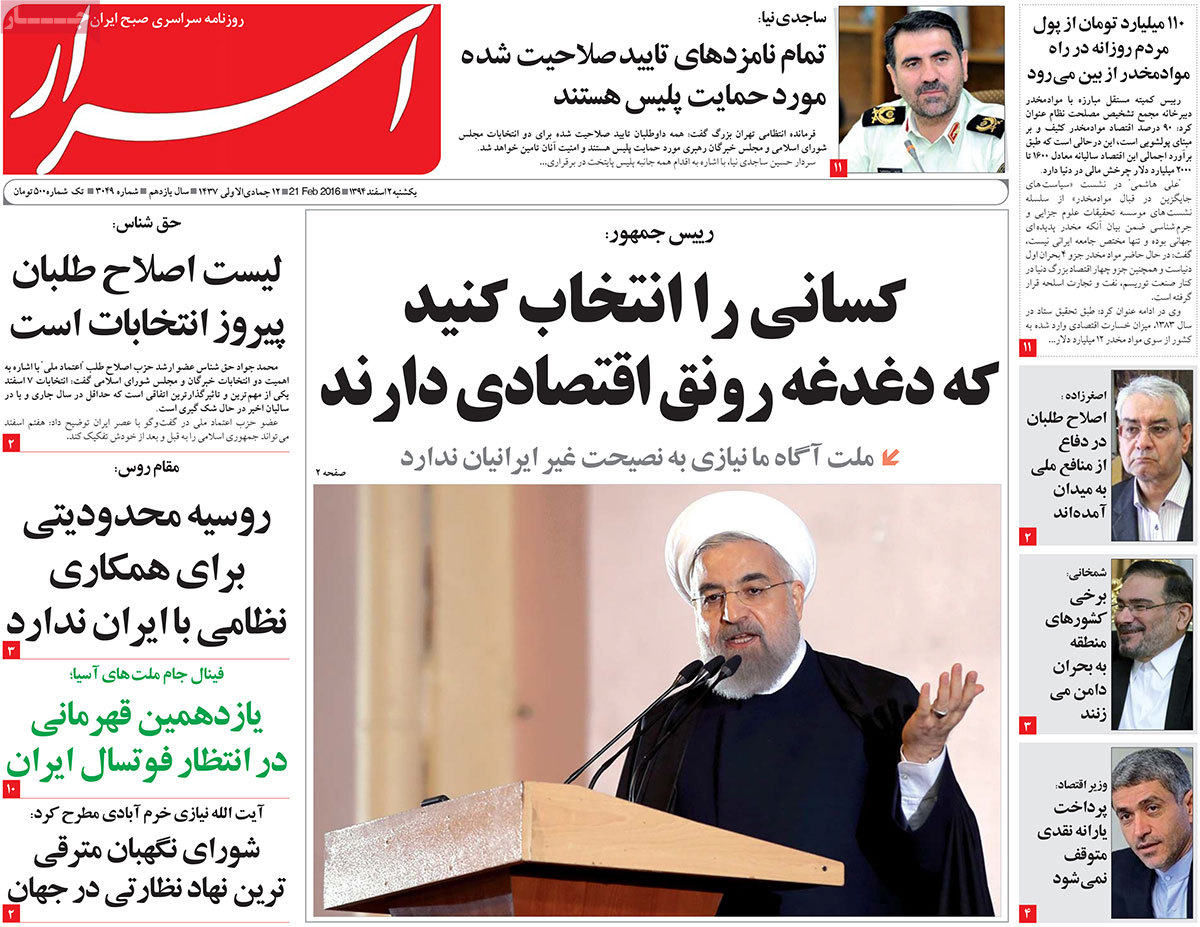 ---
Arman-e Emrouz:
Rafsanjani: Let's make it a historic day
The cleric called for the highest possible election turnout, with less than a week to Election Day in Iran.
President Rouhani: Iran to initiate JCPOA II
"Not even $147 oil could solve problems," said Iranian President Hassan Rouhani.
Pollution blankets 7 provinces: 7 provinces turned grey
Parliament Speaker: People do not vote with their shoes!
Ali Larijani, referring to anti-administration dissenters, said that they must express their opposition through dialogue.
Organized fruit smuggling in Iran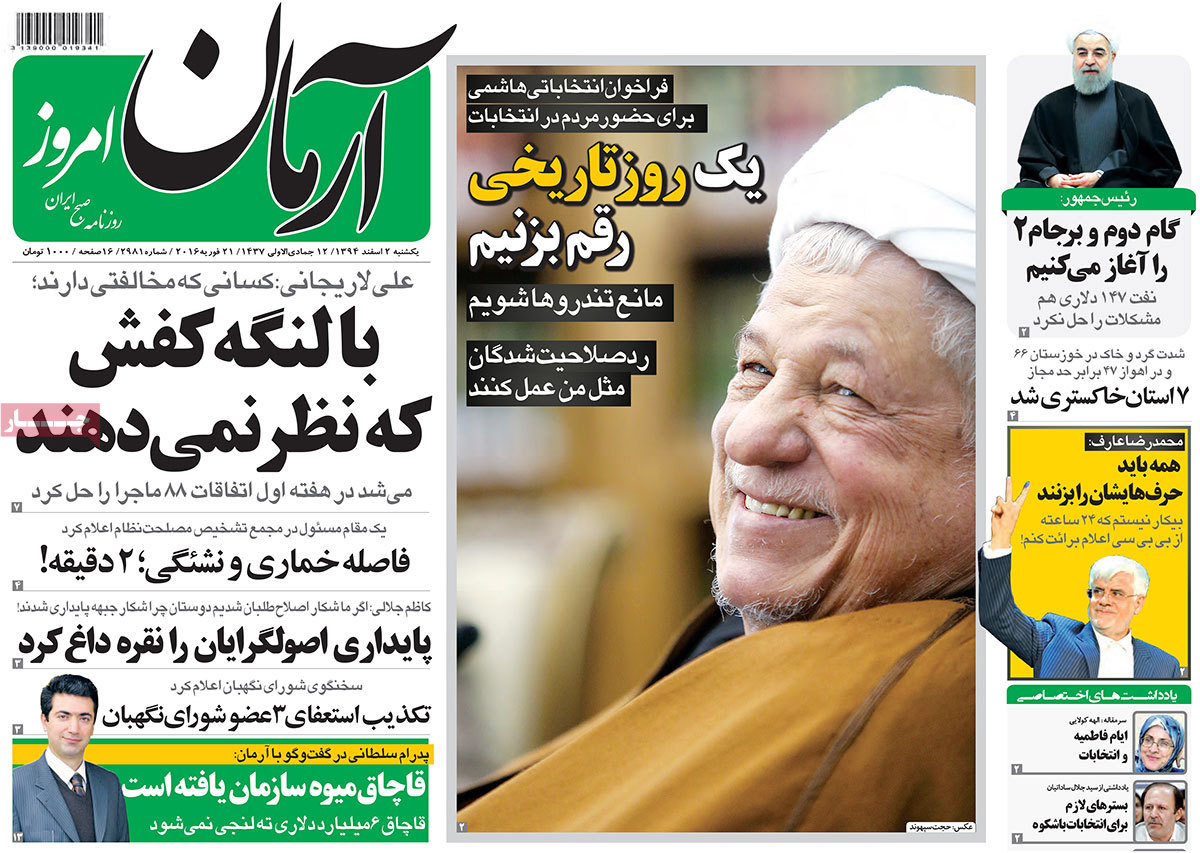 ---
Etemad:
Economy Minister: H1 economic growth positive
First Airbus plane arrives in Iran
Aref: Reformists' priority is the economy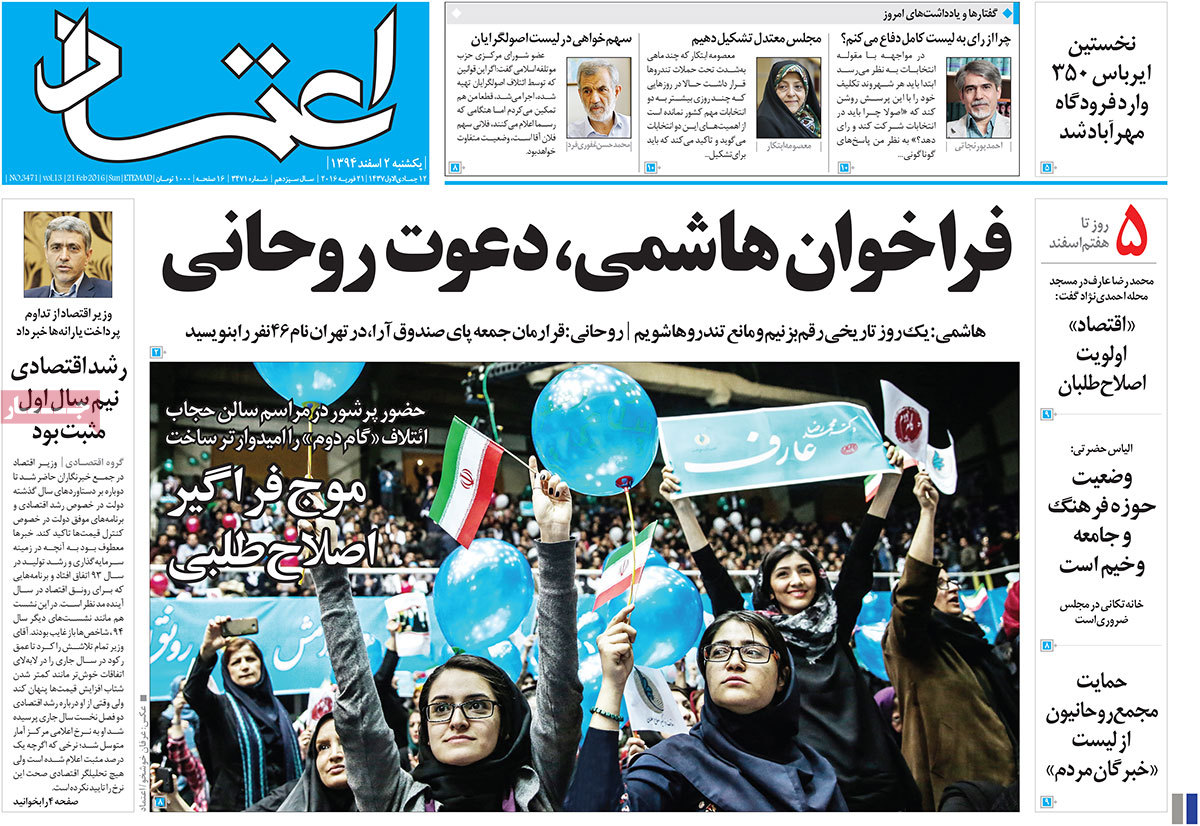 ---
Afkar:
Riyadh threatens Moscow
Iran expects 11.3% inflation for next year
Iran unveils first MS injector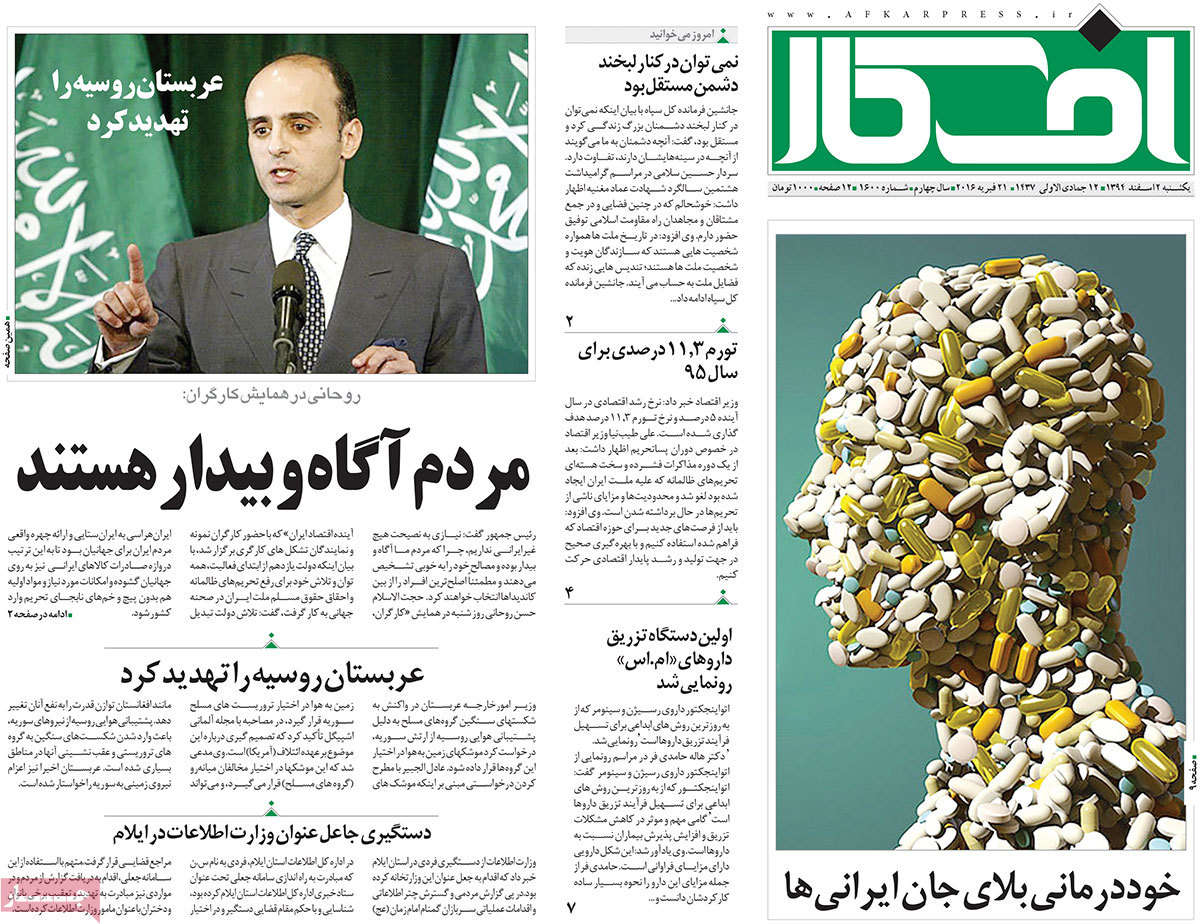 ---
Emtiaz:
Airbus A350 Makes First Landing in Mehrabad
7 major industries moved to suburbs of Tehran
Iran to continue cutting interest rates next year: Minister
Iran, Russia boost medical equipment, drugs co-operation
NIORDC ready to supply Euro 4 and 5 gasoil nationwide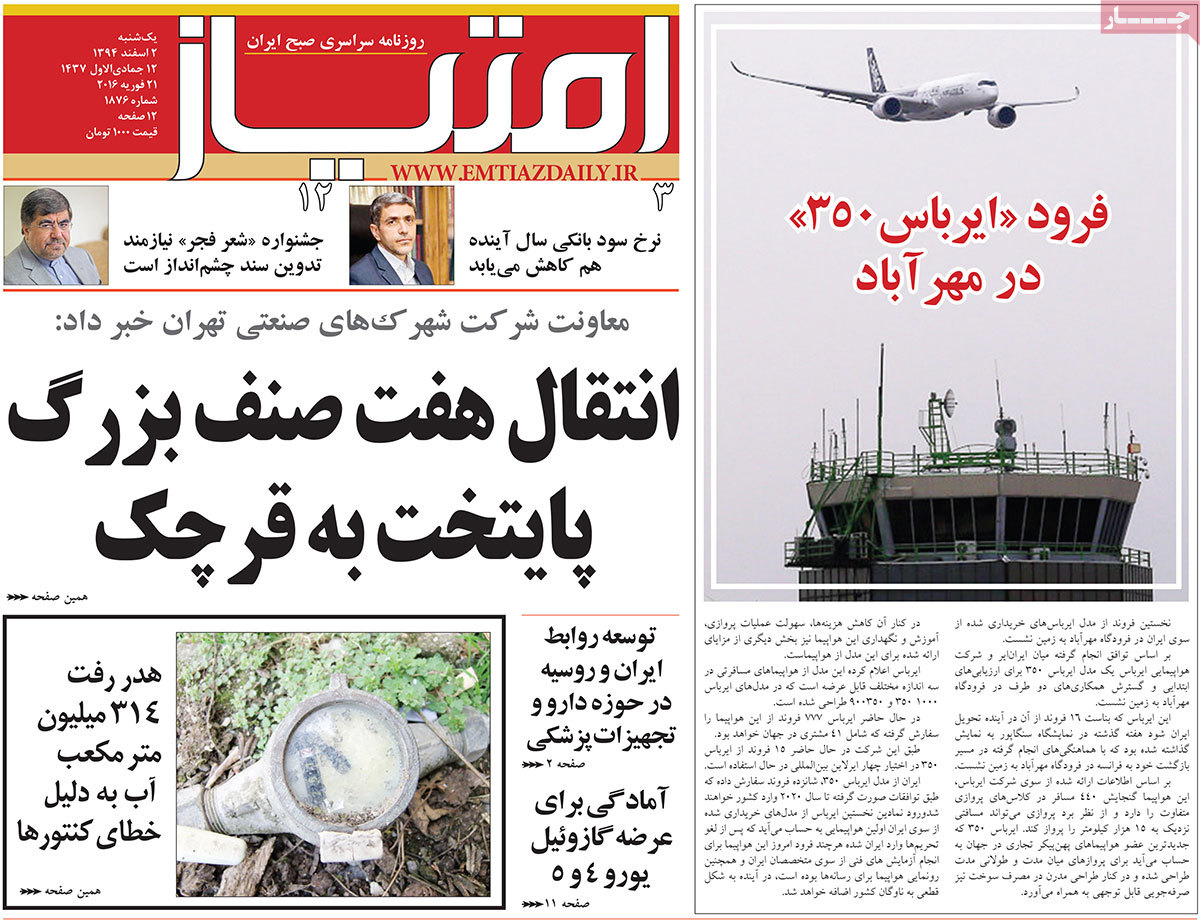 ---
Iran:
Rouhani: We need no election advice from non-Iranians
FM: Iran sees no limits to ties with Oman
Iran forms consortium to build local search engine
Boeing to join Iranian market as Airbus lands in Tehran
---
Payam-e Zaman:
Iran seeks to revive lost oil market share
Data: Iran's water crises serious
Europe finances 85% of Airbus deals with Iran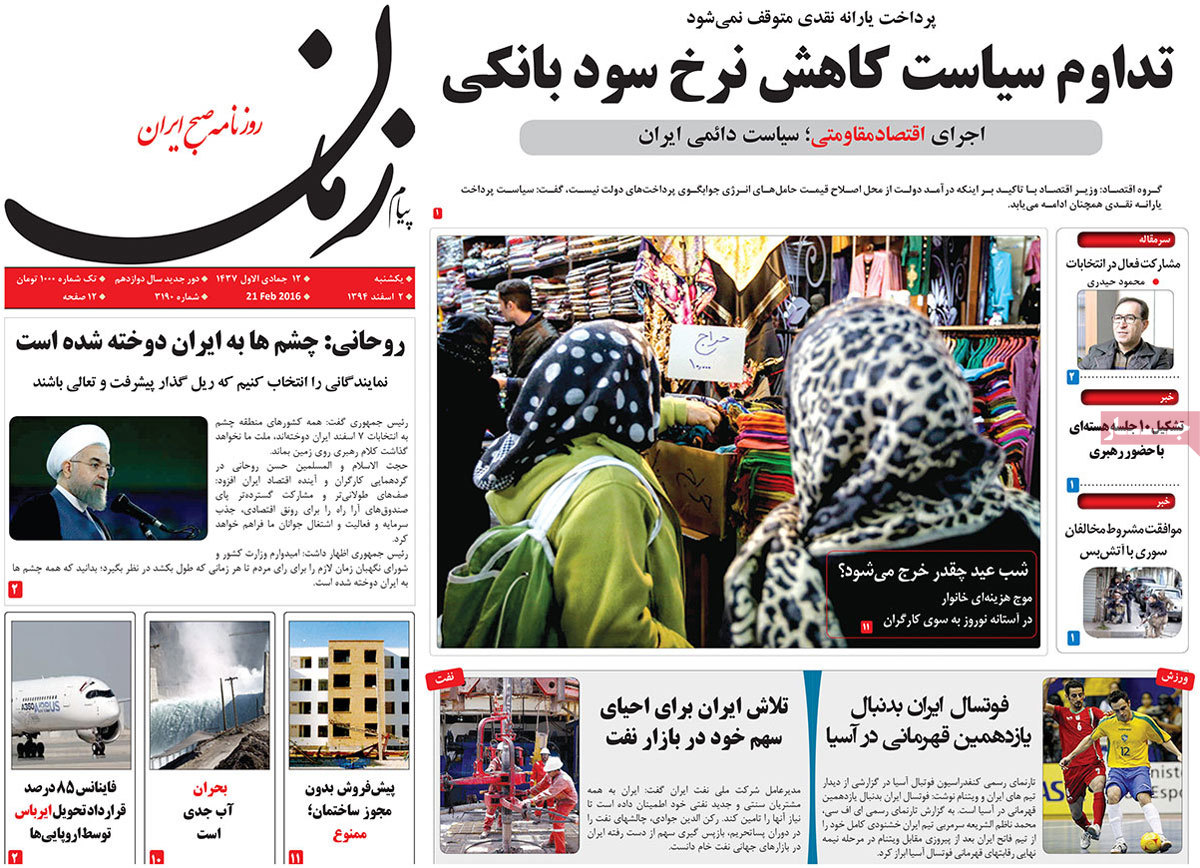 ---
Jomhouri Eslami:
UN warns Turkey over provocations in Syria
5,000 trained terrorists roaming Europe
Administration eyes 5% economic growth, 11.3% inflation next year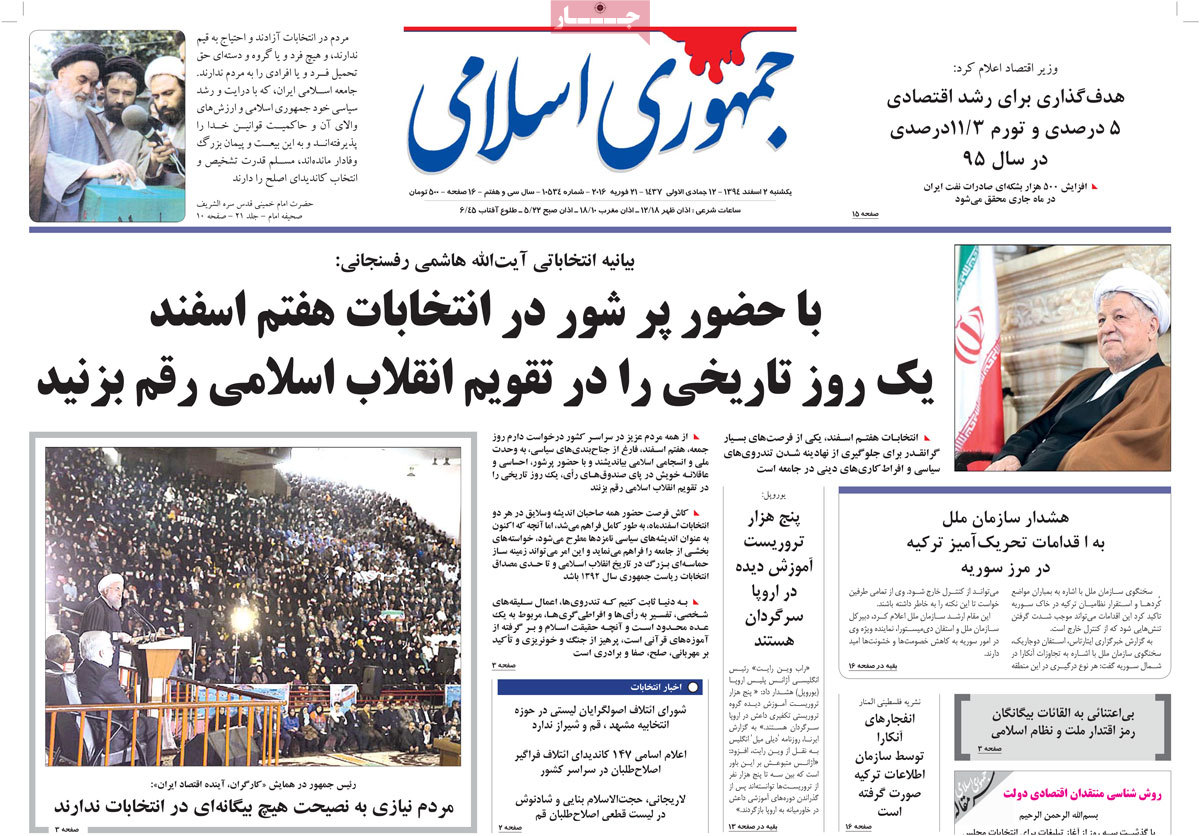 ---
Javan:
NATO halts Turkey support
---
Hemayat:
Washington Post: Place permanent sanctions on Iran!
Judiciary Chief: West's deception regarding women's rights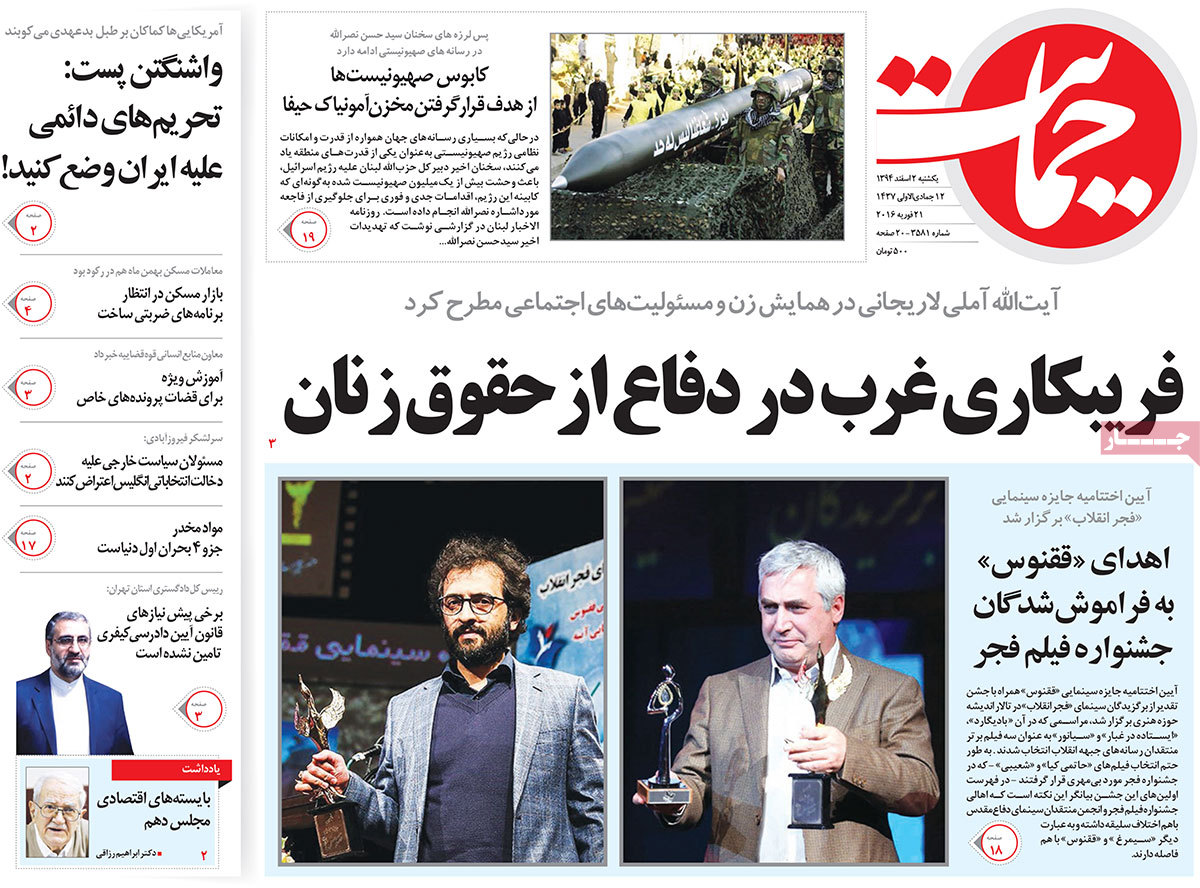 ---
Khorasan:
Iran loses 1 billion barrels of oil in Doroud field
6 economists offer their electoral list of candidates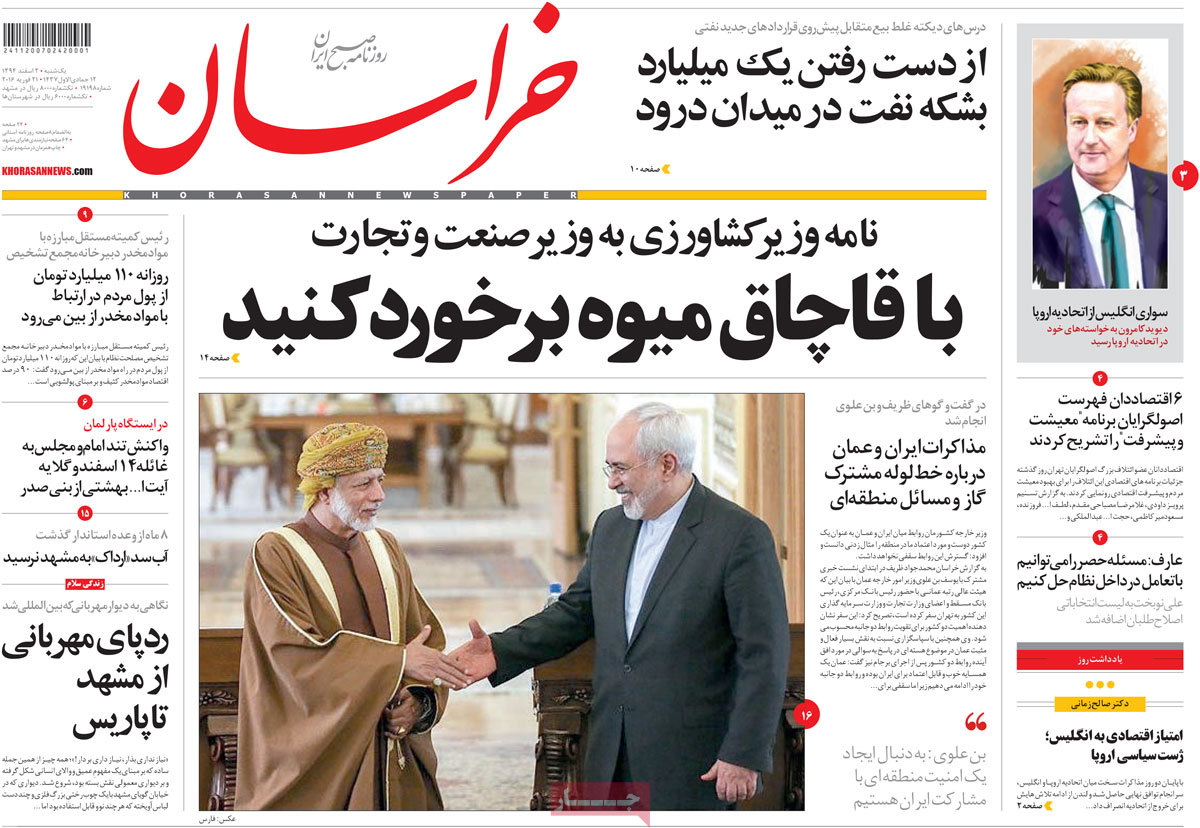 ---
Rah-e Mardom:
Martyrs killed for defending holy shrines, guardians of Iran sovereignty, security
Rouhani: All powers watching Iranian elections
Iran sanctions relief boosts many world economies
Iran unveils model for banks' role in the Resistive Economy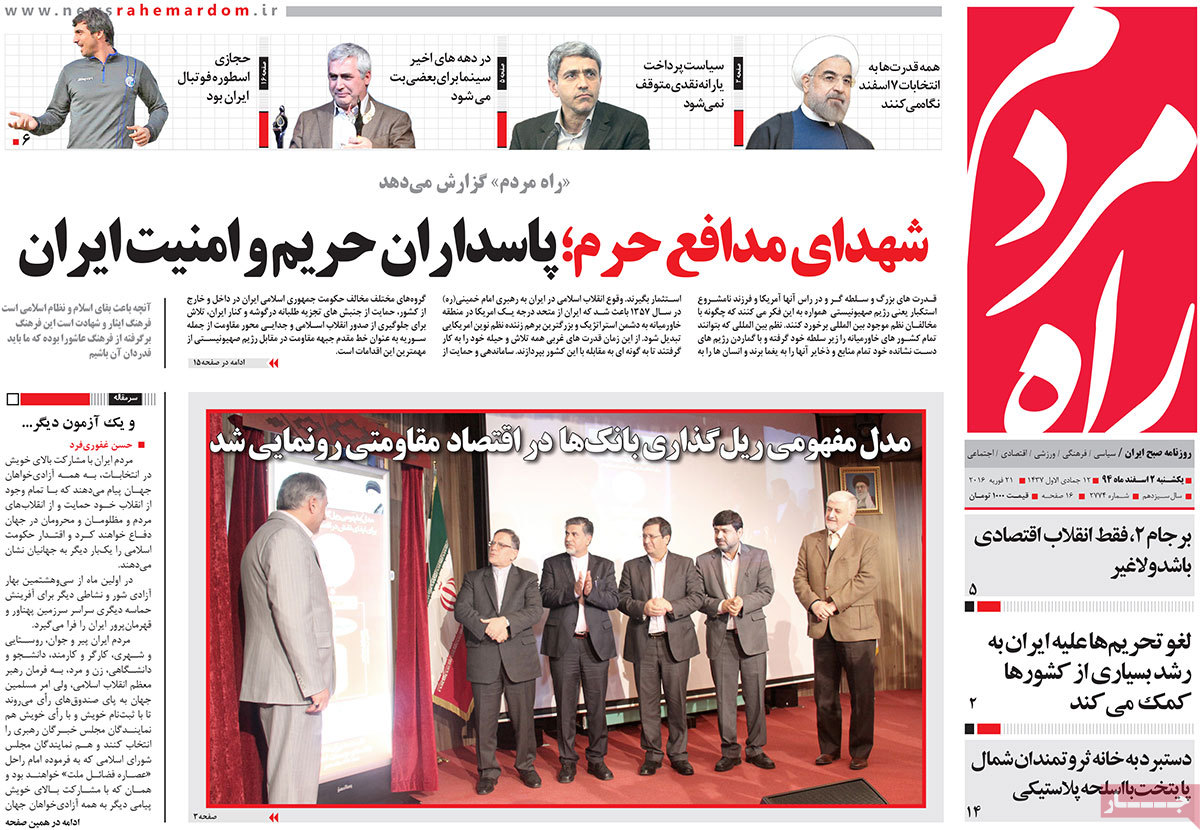 ---
Resalat:
Principalists unveil plans for promotion of people's lives
POW: Meeting with Leader enough reward in life
Plans of principal candidates for promoting life of the nation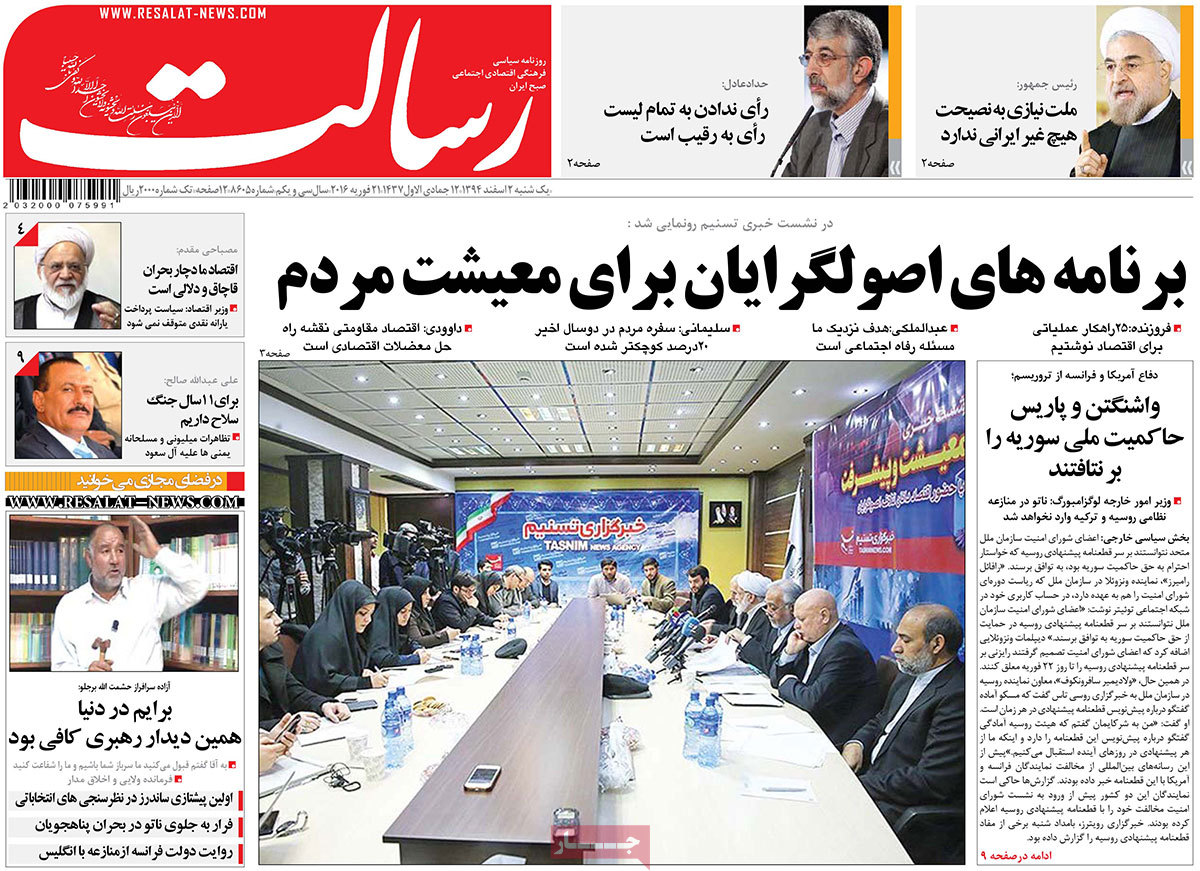 ---
Roozan:
Iranian Freestyle Wrestlers Bag Three Gold Medals at Asian Champioship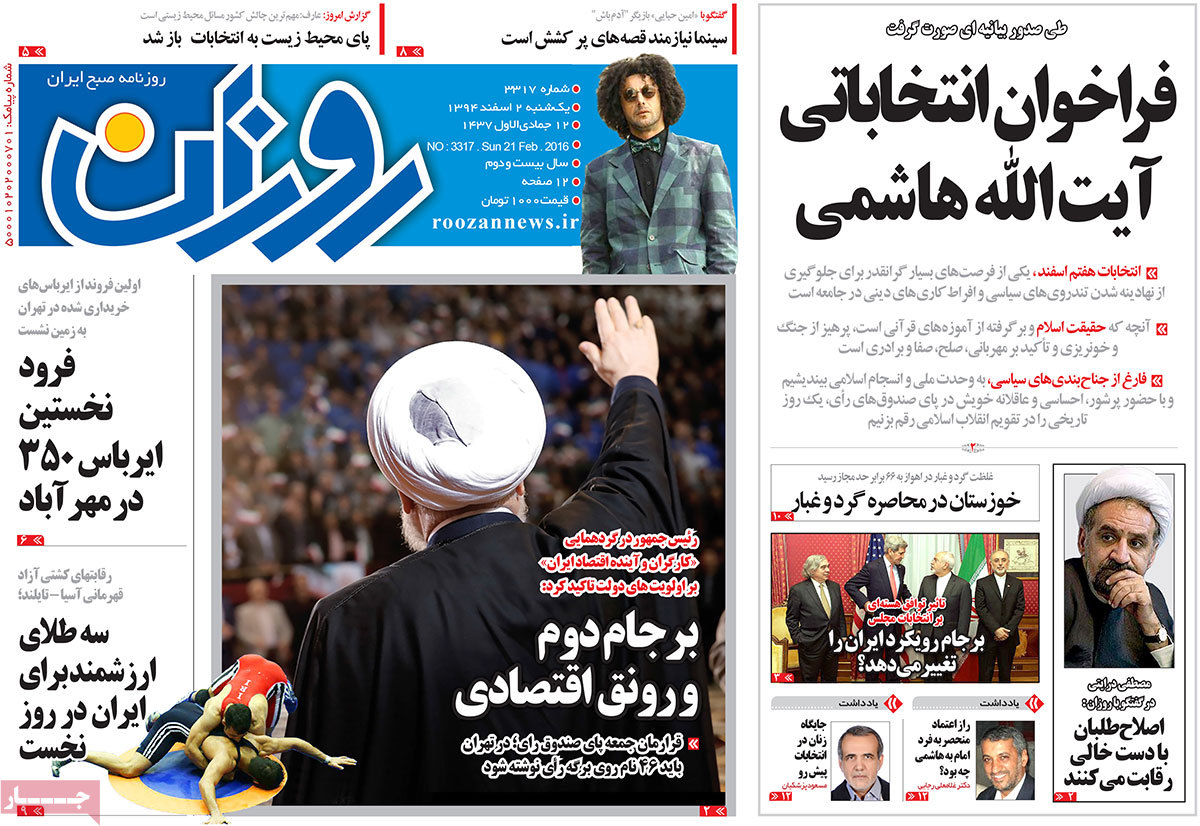 ---
Rooyesh Mellat:
Iran opens doors to foreign goods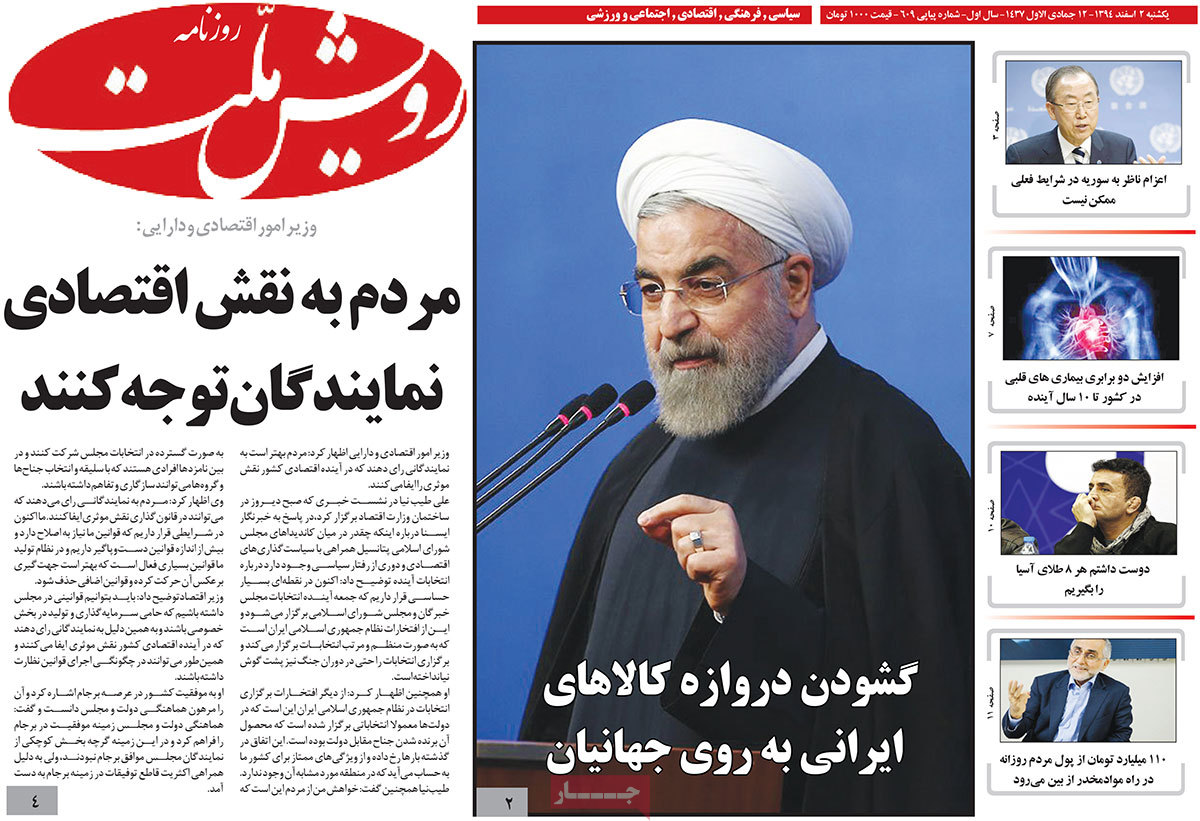 ---
Shargh:
Land of Churches to become Iranian tourist destination
Georgia lifts sanctions on Iran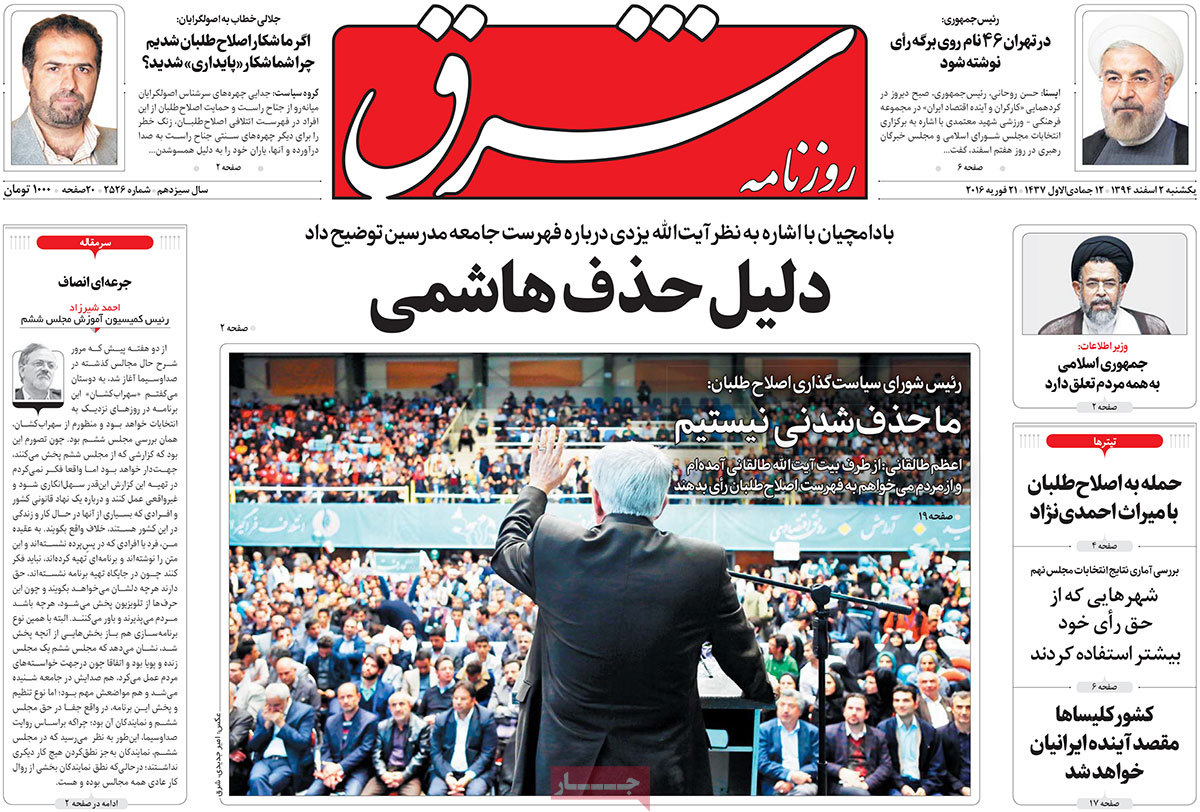 ---
Shorou:
Mathematics used to capture cybercriminals in Iran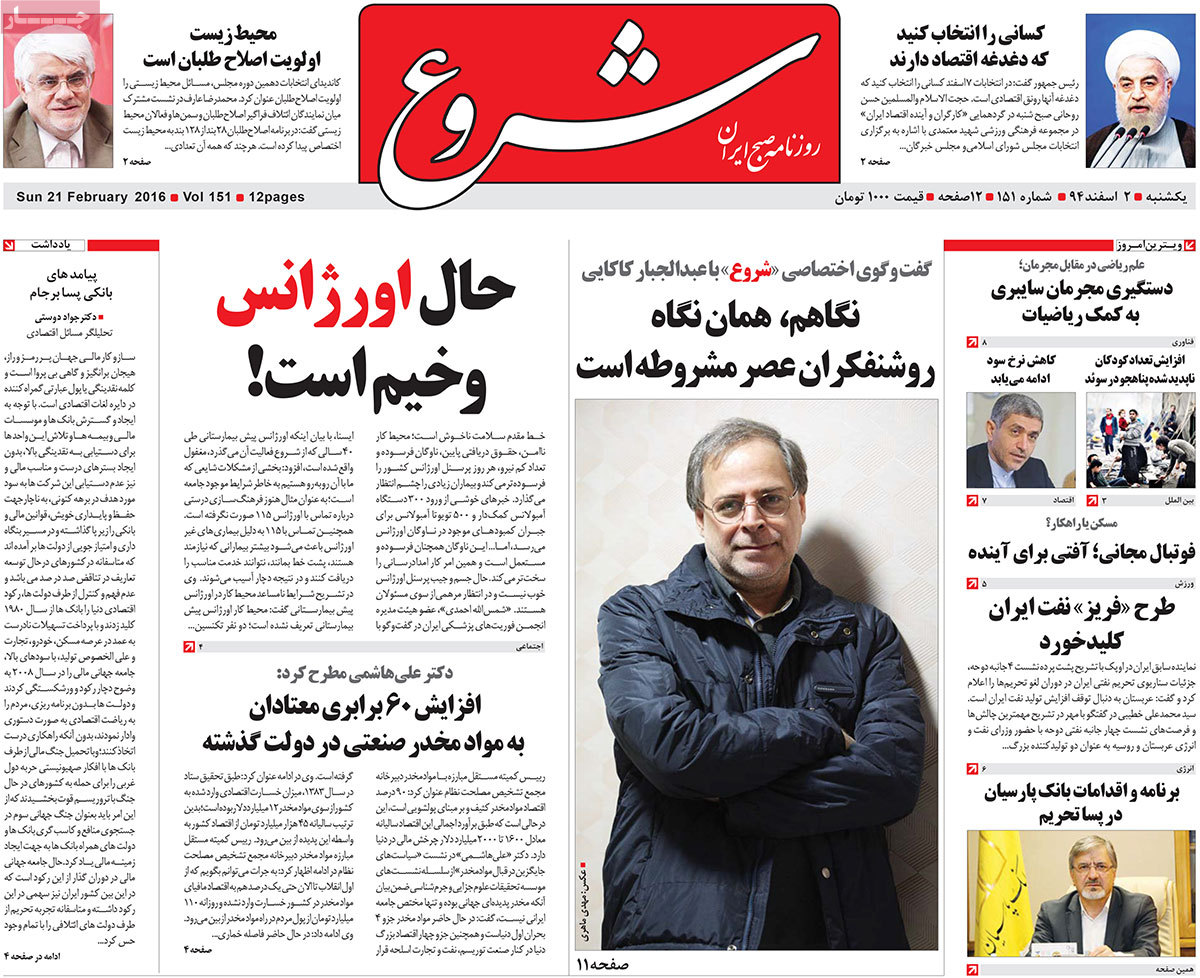 ---
Shahrvand:
Iran to become leading regional economy: Minister
---
Kayhan:
Analysis: Elites thumb nose at ordinary people in election campaigns
ISIS artery severed in eastern Aleppo suburbs
Syrian army arrives within 10km of Turkish border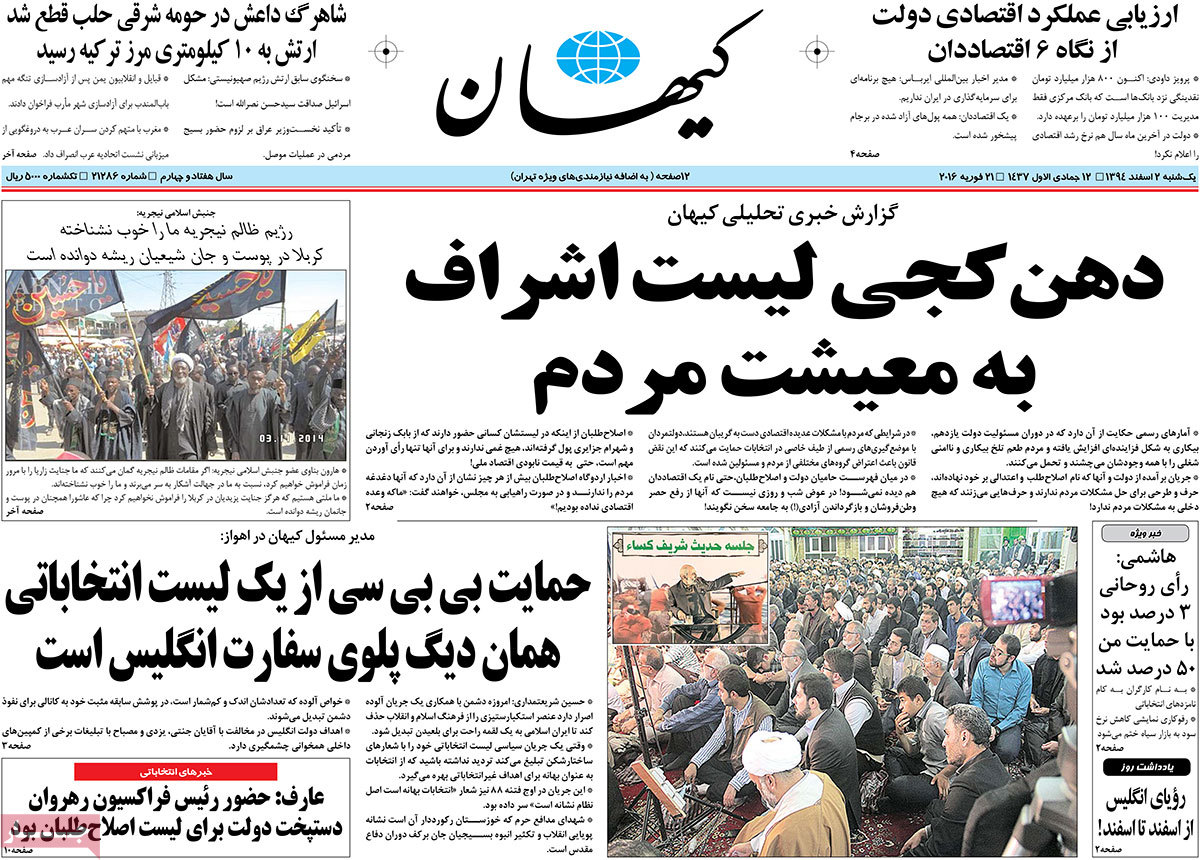 ---
Vatan Emrouz:
Rafsanjani: Rouhani won only 3% of votes
---
Asia:
US firms commence Iran talks
US's HP gains franchise permission in Iran
---
Abrar Eqtesadi:
Iran increases crude oil exports to 1.5mb/d
Iraq is Iran's serious rival in the oil market
CBI Chief: Iran freezes forex rate until March