The downward trend of global crude oil prices has brought them down at least 75% over the past 18 months, putting so much pressure on producers whose economies are deeply dependent on crude oil revenues. To tackle the price slump, major producers including Saudi Arabia, Russia and Iran has decided to take measures to prevent further fall in prices. In the latest move, Tehran and Riyadh hosted meetings of oil and energy officials from major crude oil suppliers to the world market. The Tehran meeting was attended by Iranian Minister of Petroleum Bijan Zangeneh who hosted oil ministers from Venezuela, Qatar and Iraq. The meeting ended with an understanding to freeze crude exports at January levels. Many Iranian papers highlighted the Tehran meeting on their front pages.
In another development, the Supreme Leader of the Islamic Revolution addressing large number of people from East Azerbaijan Province, called for maximum turnout in late February elections. The leader stressed that a parliament fearful of America would lead the nation to misery.
Here are the top headlines:
Abrar:
Nuclear negotiator: CBI, 15 other banks linked to SWIFT
NY Times: US Had Cyber attack Plan if Iran Nuclear Dispute Led to Conflict
Candidates start election campaigns today
North Korea Preparing 5th Nuclear Test: nuclear observers
Jordan calls for industrial partnership with Iran
Iran, Russia to Sign Su-30 Fighter Jet Production Deal: Russian official
Russia to deliver S-300 missile system to Iran Thursday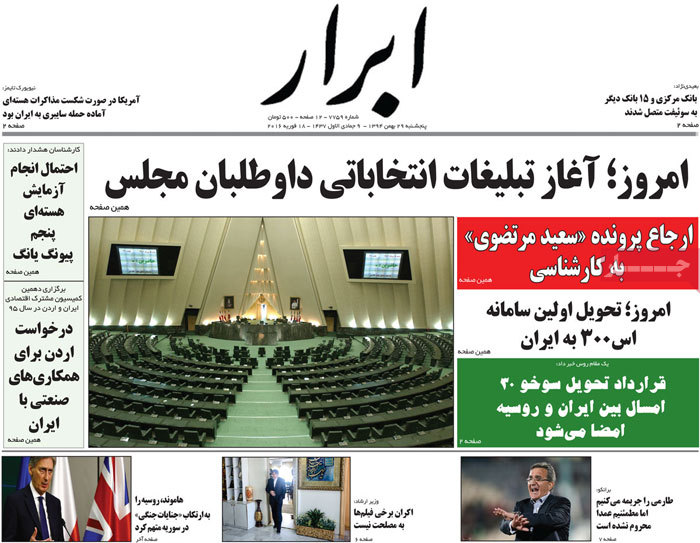 ---
Afkar:
Leader: They seek to influence the election
---
Arman-e Emrouz:
Leader urges nation to act contrary to enemy's will in election
25,000 Iranian burn annually: Deputy Health Minister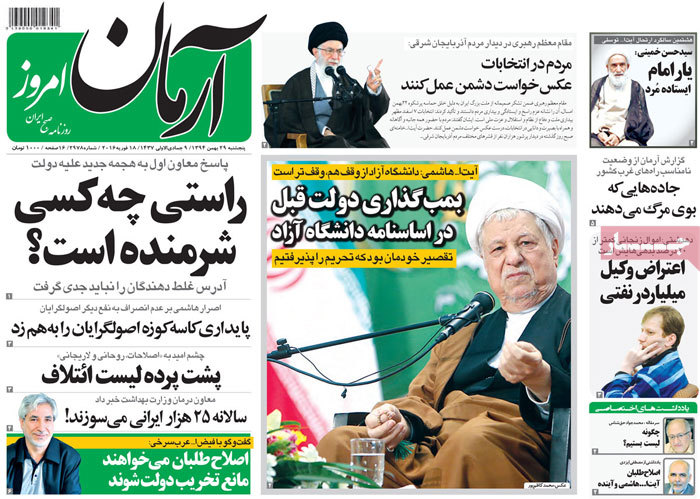 ---
Asrar:
Leader to nation: Act exactly opposite to enemies' will in election
Economic boom before spring
17,000 die in road accidents annually: according to Iranian police
Over 7,000 killed so far in Yemen conflict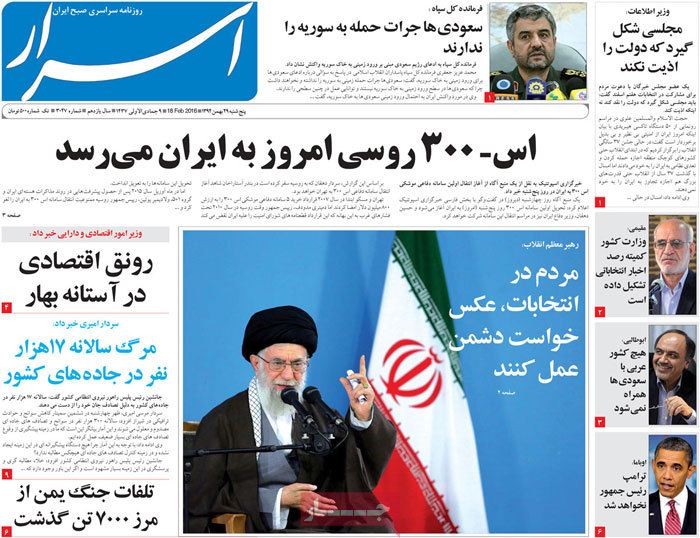 ---
Ettela'at:
Leader: Feb 26 election manifestation of nation's vigilance, defense for national dignity
Iran sets new crude oil export record
Nasrallah: Hezbollah can beat Israel
UN: Riyadh responsible for killing of Yemeni civilians
---
Etemad:
Leader urges high election turnout
"February 26 election will be the manifestation of nation's vigilance and defense for national dignity
Agreement in Riyadh; Understanding in Tehran
Iran hosted a 4-way meeting of oil and energy ministers from Iraq, Venezuela, Iran and Qatar to discuss ways to stop the downward trend in oil prices.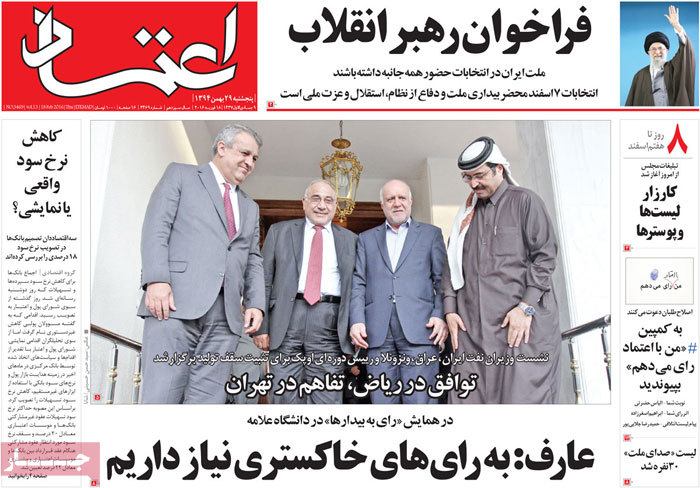 ---
Emtiaz:
IKCO (leading carmaker), Benz start new round of ties
Minister says industries will start flourishing by spring
Iran, Greece eye enhanced tourism ties
Iran supports every measure to promote prices: Petroleum Minister
Justice chief: Iran to step up measures to curb judicial corruption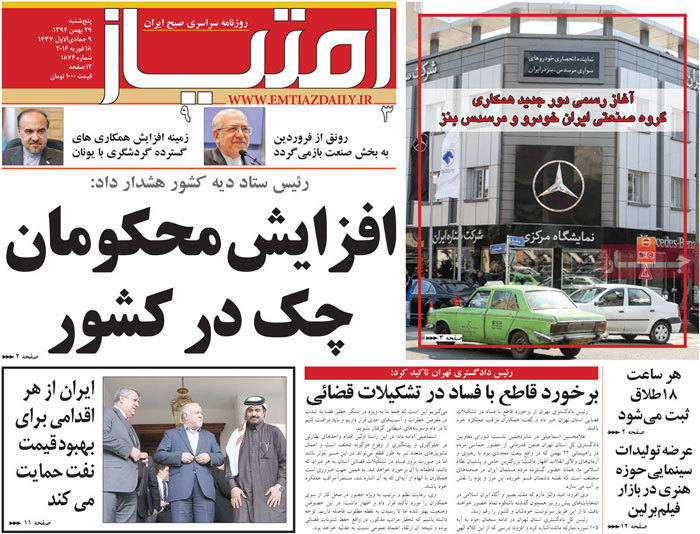 ---
Iran:
No visit, consultation charges for STD patients in Iran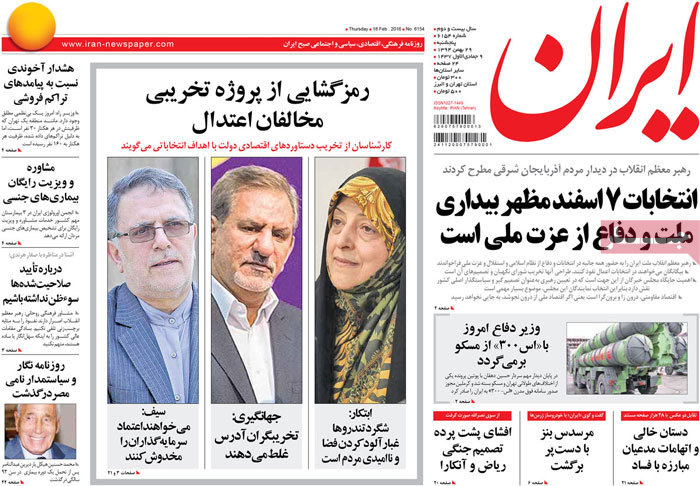 ---
Jamejam:
Leader warns against enemies' election plot
Digital tales for digital kids, international gathering of story tellers
GIO Chief: Serious flaws in new oil contract model
Head of the General Inspection Office of Iran Nasser Seraj says there are serious flaws in the newly-introduced oil contact model, known as Iran petroleum contract or IPC.
Viewpoint: Saudi Arabia in the tunnel of isolation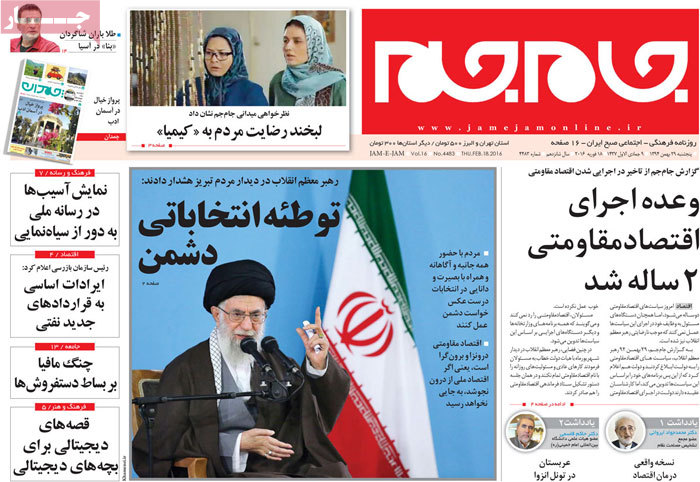 ---
Javan:
Leader: A parliament not seeking economic prosperity heaps misery on country
Iran becomes market of luxuries consumer goods
BBC supports Hashemi's list of candidates relentlessly
Not even one economist in the list of reformist hopefuls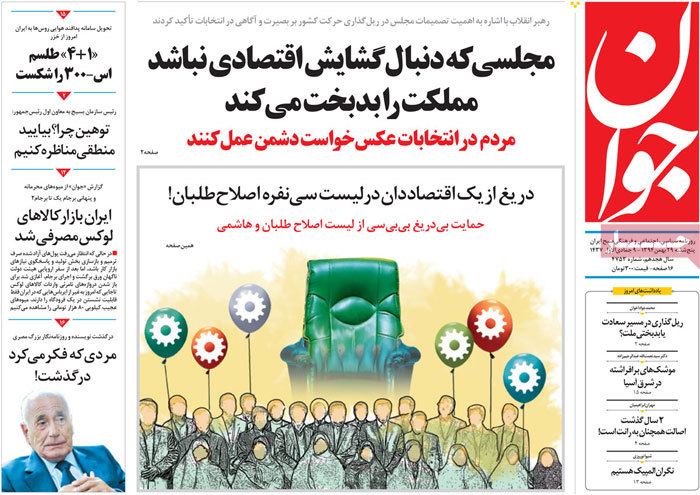 ---
Hemayat:
Judiciary Chief: Our nation easily recognize anti-revolutionaries
Iran to launch court for financial, banking crimes
EU hypocritical in human rights approaches : Iran FM
Egyptian renowned journalist and commentator, Mohamed Hassanein Heikal dies
---
Khorasan:
Leader: US-intimidated parliament heaps misery on nation
Airbus to EU banks: Do not fear investments in Iran
Ankara blast kills 18, injures dozens
---
Rah-e Mardom:
Report: Golden chance for Iran tourism industry in post-sanctions era
Envoy: Iran ready to help France to fight terrorism
15,000t of smuggled fruit seized
Brazil to dump US dollar in trade with Iran
Benz's return to Iran aimed at exporting cars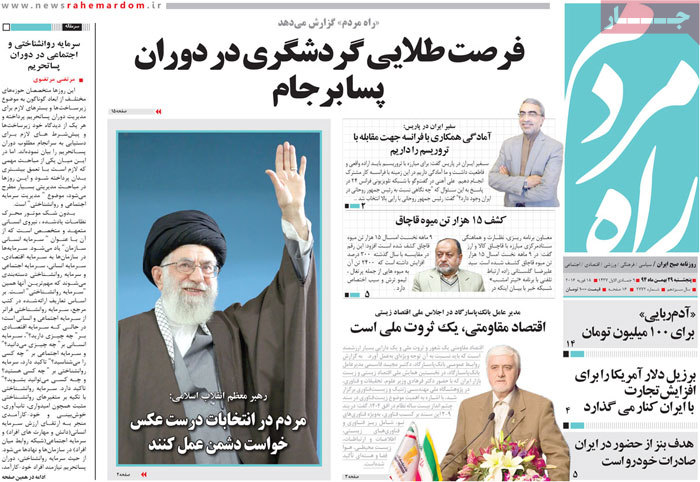 ---
Resalat:
Official: Iran top Middle East country in science production
Cleric: High election turnout sends chill down enemy spine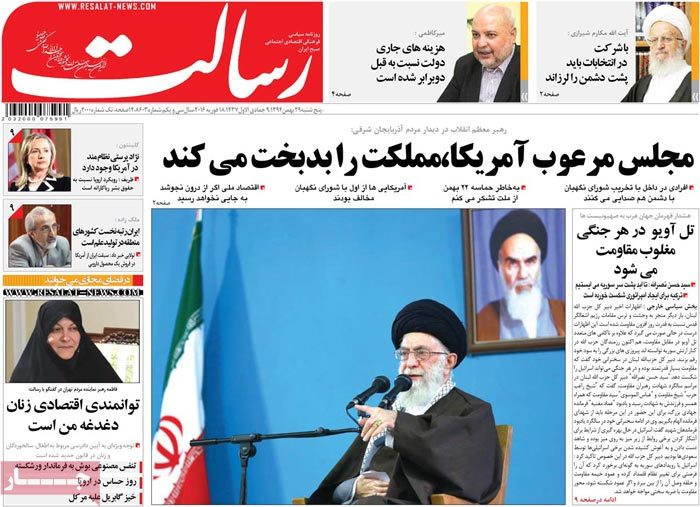 ---
Rooysh Mellat:
Leader: I will never get tired of telling the truth
---
Shahrvand:
Leader: Parliament lays down rails for administration's movement
Urmia basin fully under water
The water surface of Lake Urmia in the extreme north western Iran has risen 51 centimeters as hopes are growing for reviving the lake.
---
Nasl-e Farda:
Interest rates lowered
Iran has lowered interest rates of bank loans by at least 2%.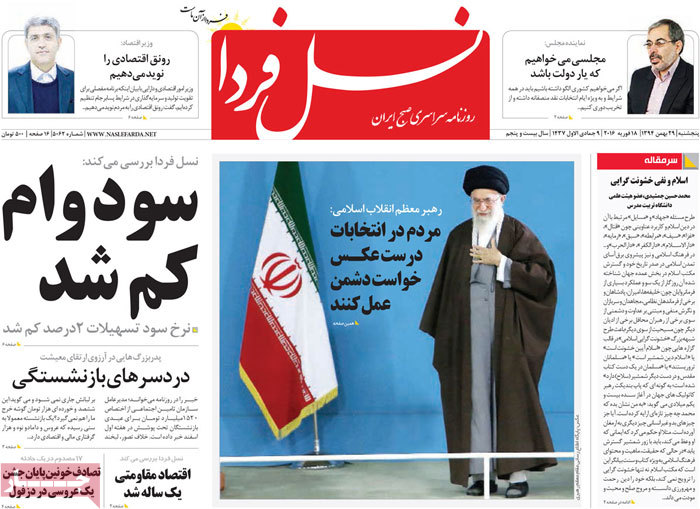 ---
Vatan-e Emrouz:
Leader: Brits miss Iran interference