Several papers today covered Qatar's surprising announcement that it will leave the Organization of Petroleum Exporting Countries (OPEC) as of 2019.
Reactions to Iranian Foreign Minister Mohammad Javad Zarif's comments about "rampant" money laundering in Iran also remained a top story even several weeks after he made the remarks.
The Central Bank of Iran's measures to control the foreign currency market, and the recent decrease in US dollar rates as a result of chief banker Abdolnasser Hemmati's measures also received great coverage, particularly by conservative media.
The above issues, as well as many more, are highlighted in the following headlines and top stories:
Abrar:
1- US Trying to Use Iran's Assets to Pay Compensation to Iraq War Victims
2- Guardian Council to Obey Expediency Council's Vote on CFT: Spokesman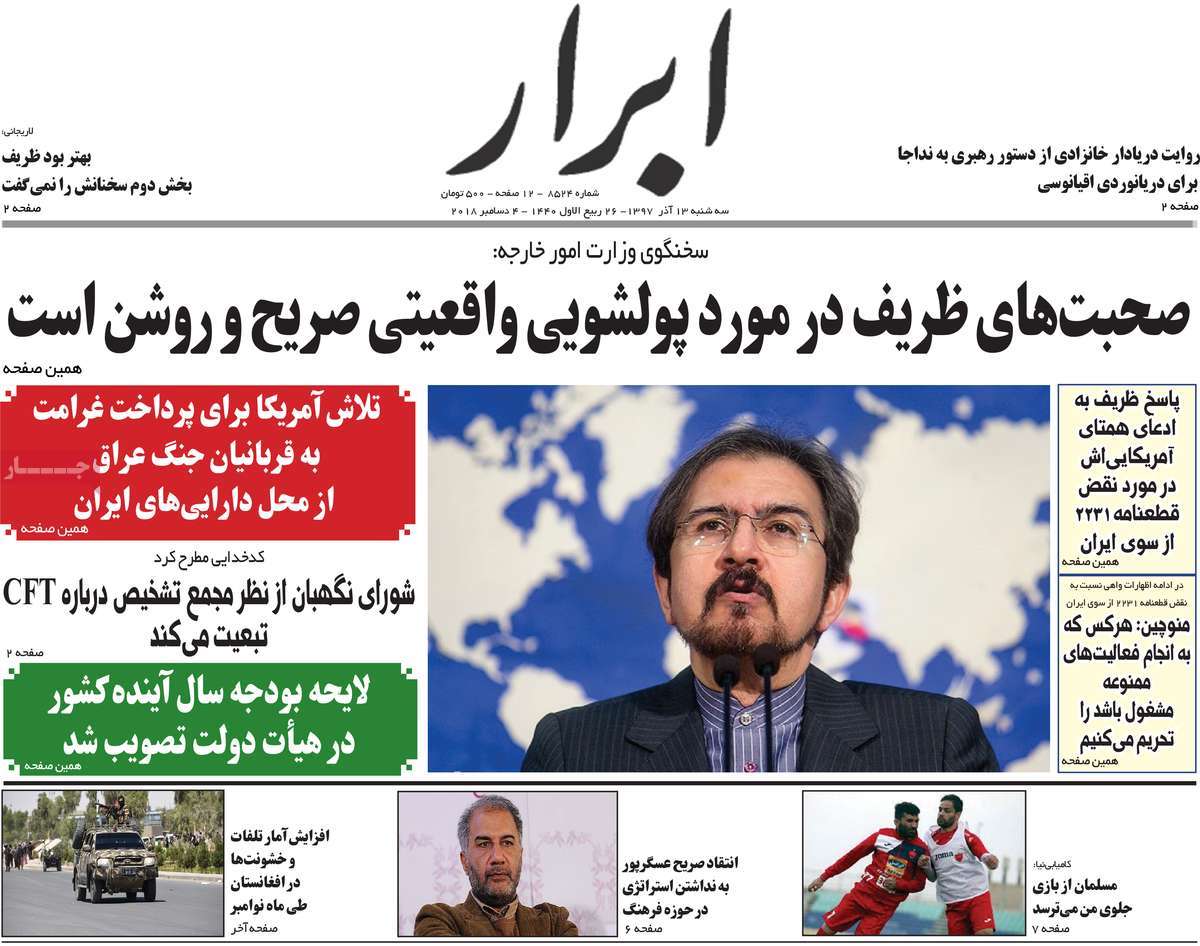 ---
Aftab-e Yazd:
1- Parliamentary Motion against Nepotism: Lawmakers Trying to Prevent
2- Larijani: We're in Final Talks with Europeans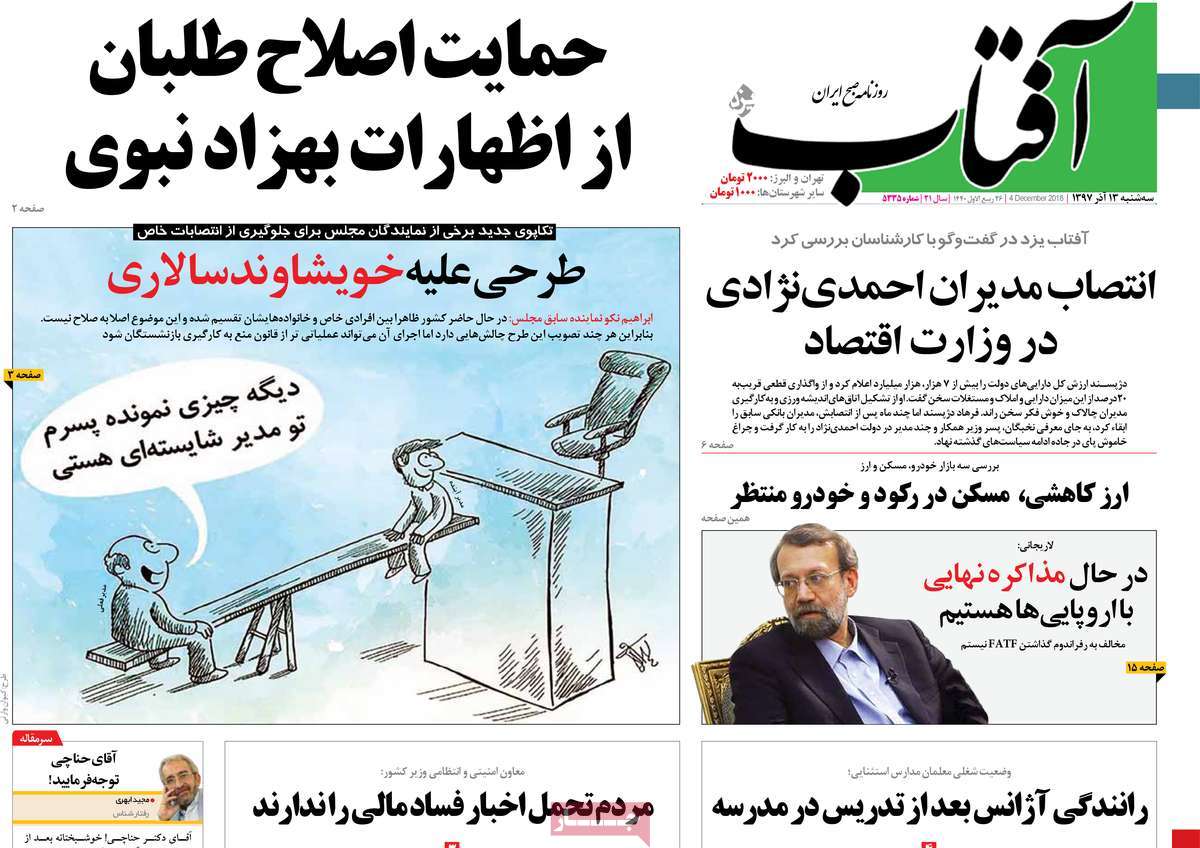 ---
Arman-e Emrooz:
1- Parliament Speaker: We Have Money Laundering in Iran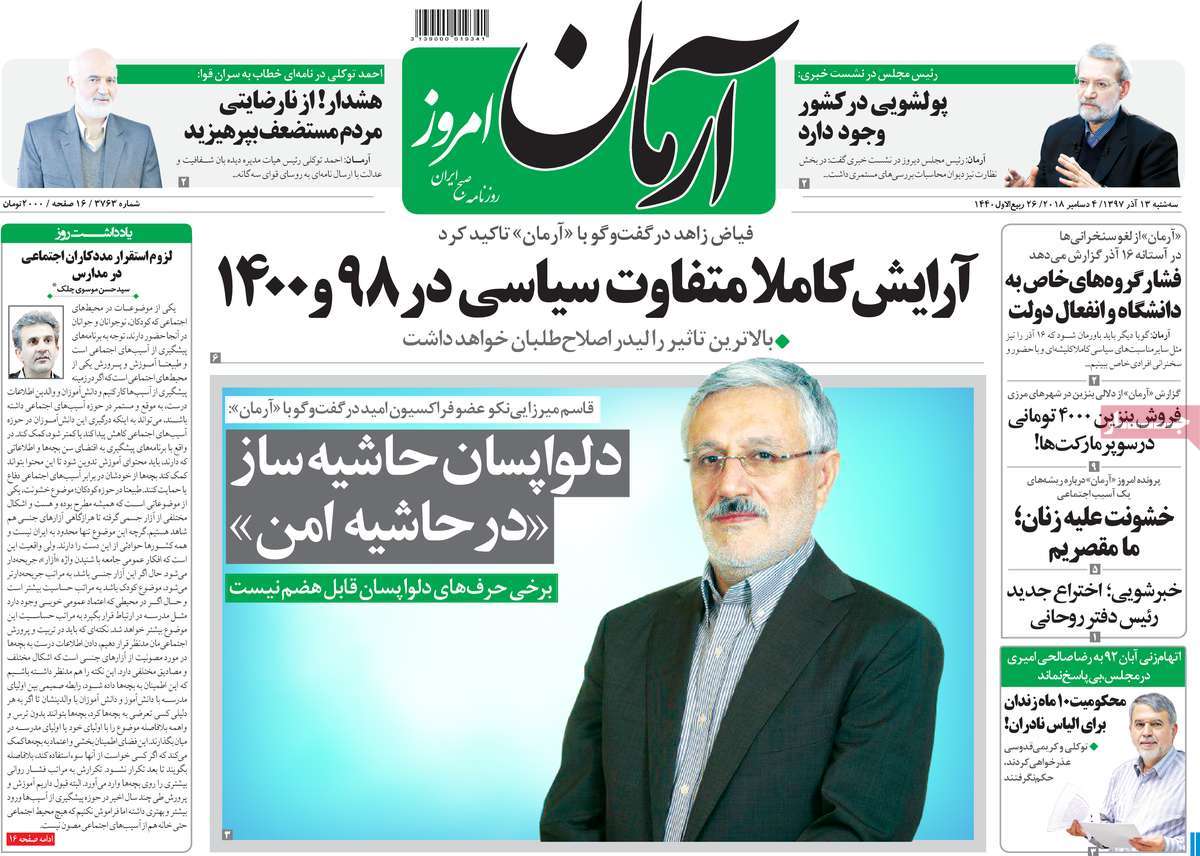 ---
Ebtekar:
1- Zarif's Comments about Money Laundering Clear Fact: Spokesman
---
Etemad:
1- Political Game with Oil, Saudi Arabia: Qatar Says to Leave OPEC
2- Future of OPEC without Qatar [Editorial]
3- Unwritten Agreement between Saudi, Russia to Decrease Oil Price
4- Iran Rejects UK Foreign Secretary's Request for Meeting with Judiciary Officials
---
Ettela'at:
1- Larijani: Today's Priority Is to Resolve People's Problems
2- Fareed Zakaria: US Economy in Decline
3- 270 ISIS Members Killed in Syrian Army's Accurate Attack on Terrorists' Positions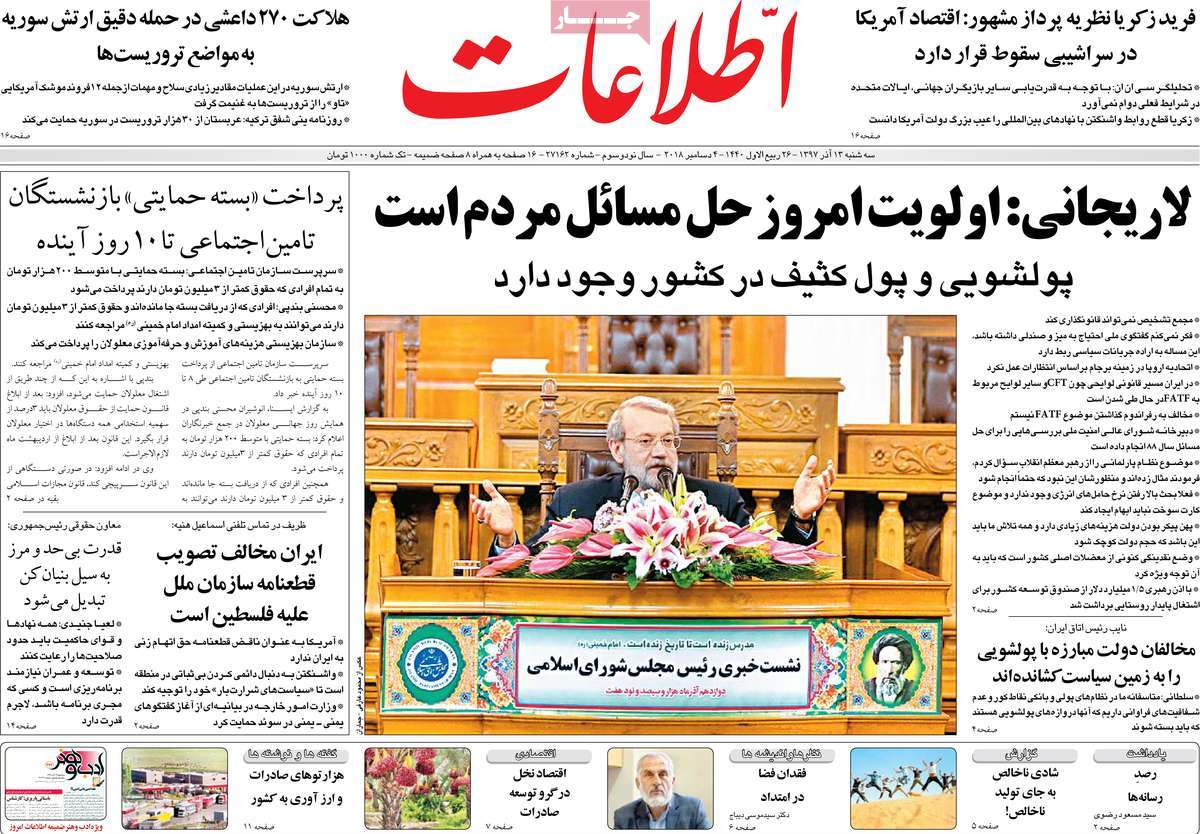 ---
Haft-e Sobh:
1- Chief Banker's Plan to Control Dollar Rate
Central Bank Governor Pays Unannounced Visit to Forex Offices in Tehran
Dollar Rates Going Down
2- Qatar's Strategic Decision
Why Doha Doesn't Want to Sell Oil Anymore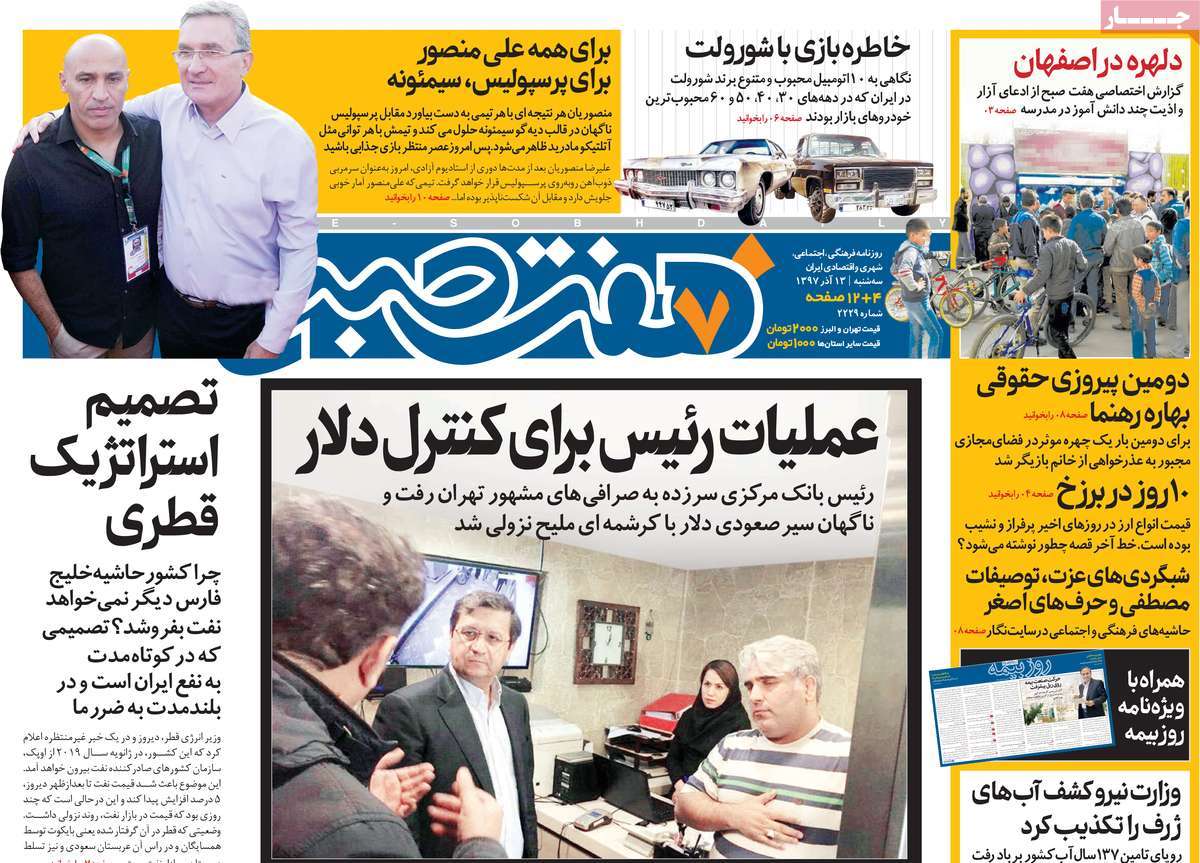 ---
Javan:
1- US Dollar Surprised after Chief Banker's Unannounced Visit
Dollar Rate Down to IRR 113,500
2- Macron's Iron Fist Hits French Protesters
3- First Gathering of Newly-Converted Muslims in Tehran University
---
Jomhouri Eslami:
1- Rouhani Opposed to Increase in Car Prices
2- Iran Unveils Six Homegrown Pharmaceutical Products
3- Health Minister: Take Iranian Medicine and Be Sure about Its Quality
4- Oil Minister: Disclosing Oil Information Means Assisting Enemies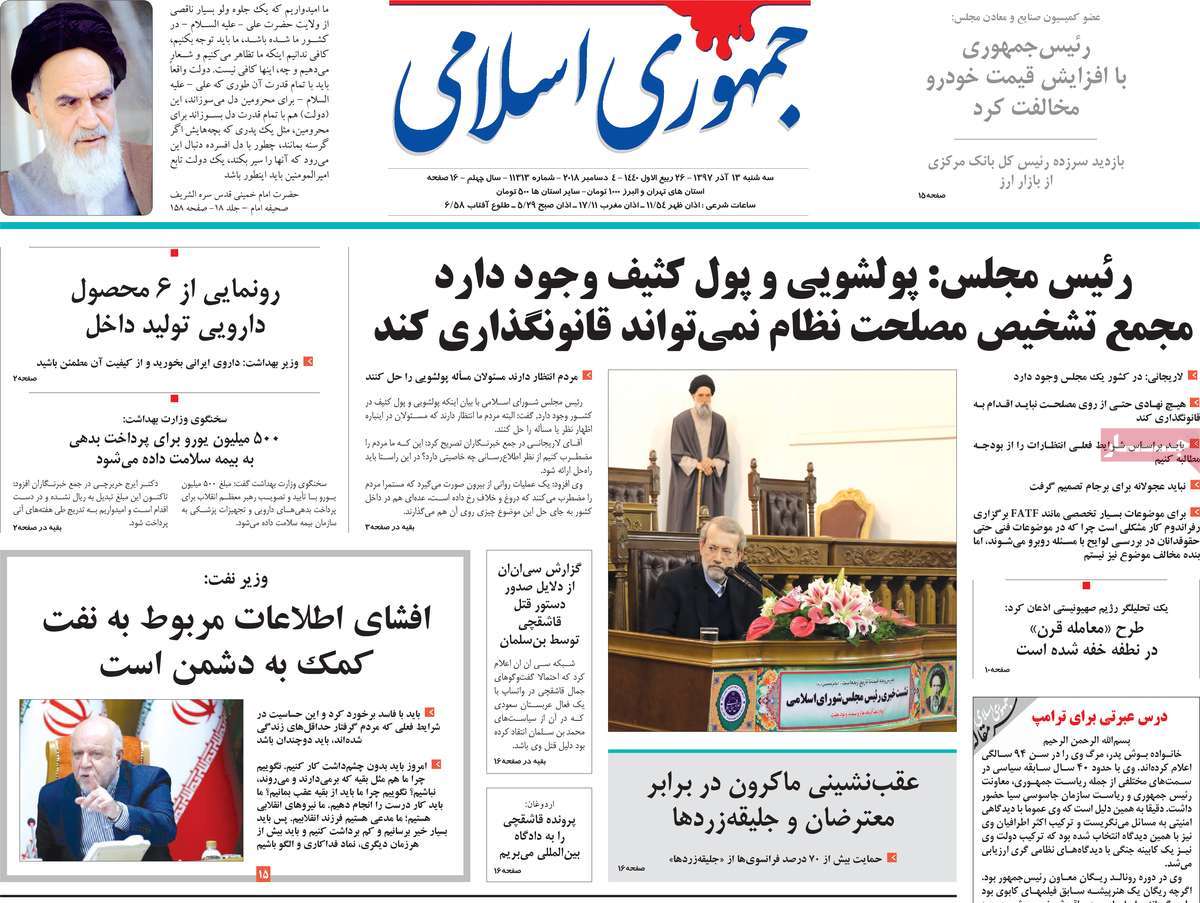 ---
Kayhan:
1- Iran's 80-Million Market Rewarded to South Korea Which Sanctioned Iran
2- Bin Salman Had Tasked Israel with Tracking Khashoggi
3- Germany Joins US, UK in Making Rude Remarks about Iran's Missile Power
4- Larijani Slams Zarif's Comments about Money Laundering
5- Crisis Peaks in France: Macron Says Ready for Talks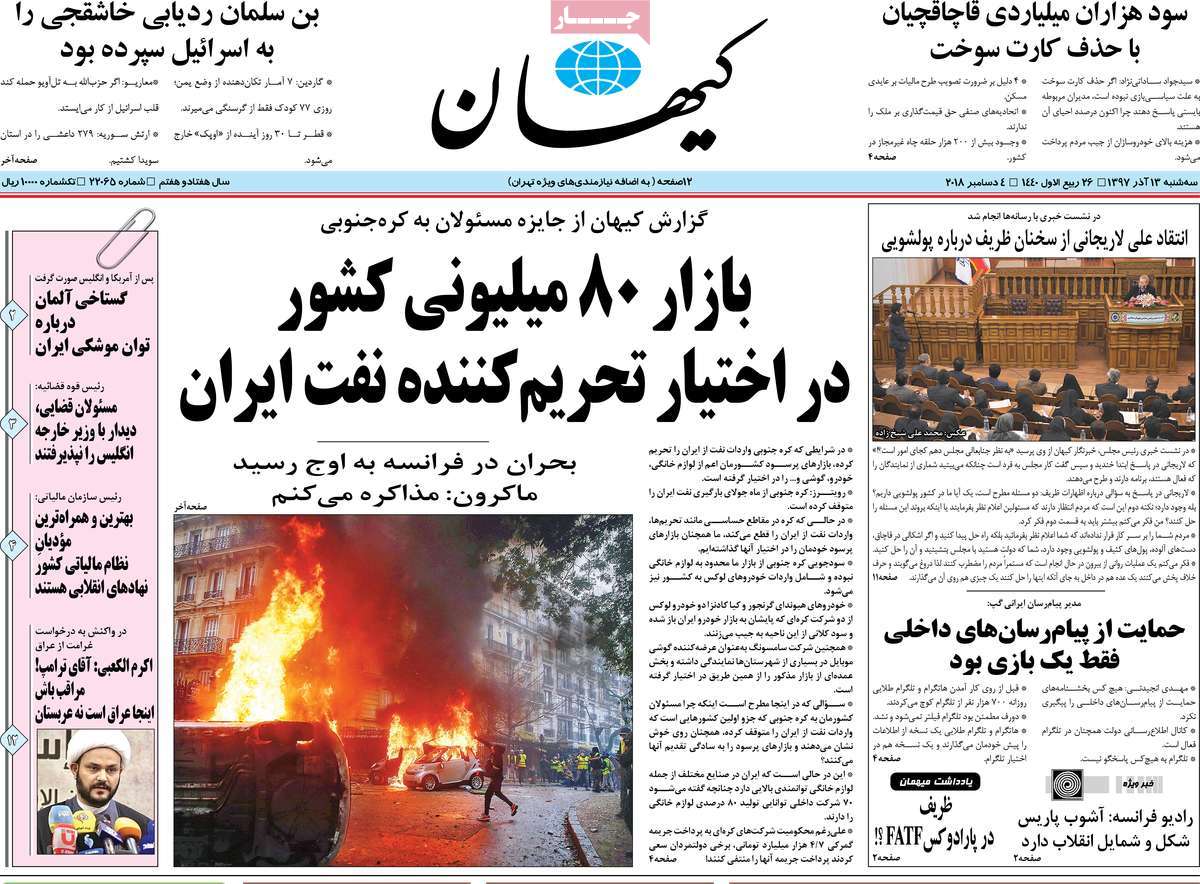 ---
Sazandegi:
1- Cyrus in the Dust
Cyrus the Great Used by Factions for Political Intentions
Is Cyrus the Same Dhul-Qarnayn Mentioned in Holy Quran?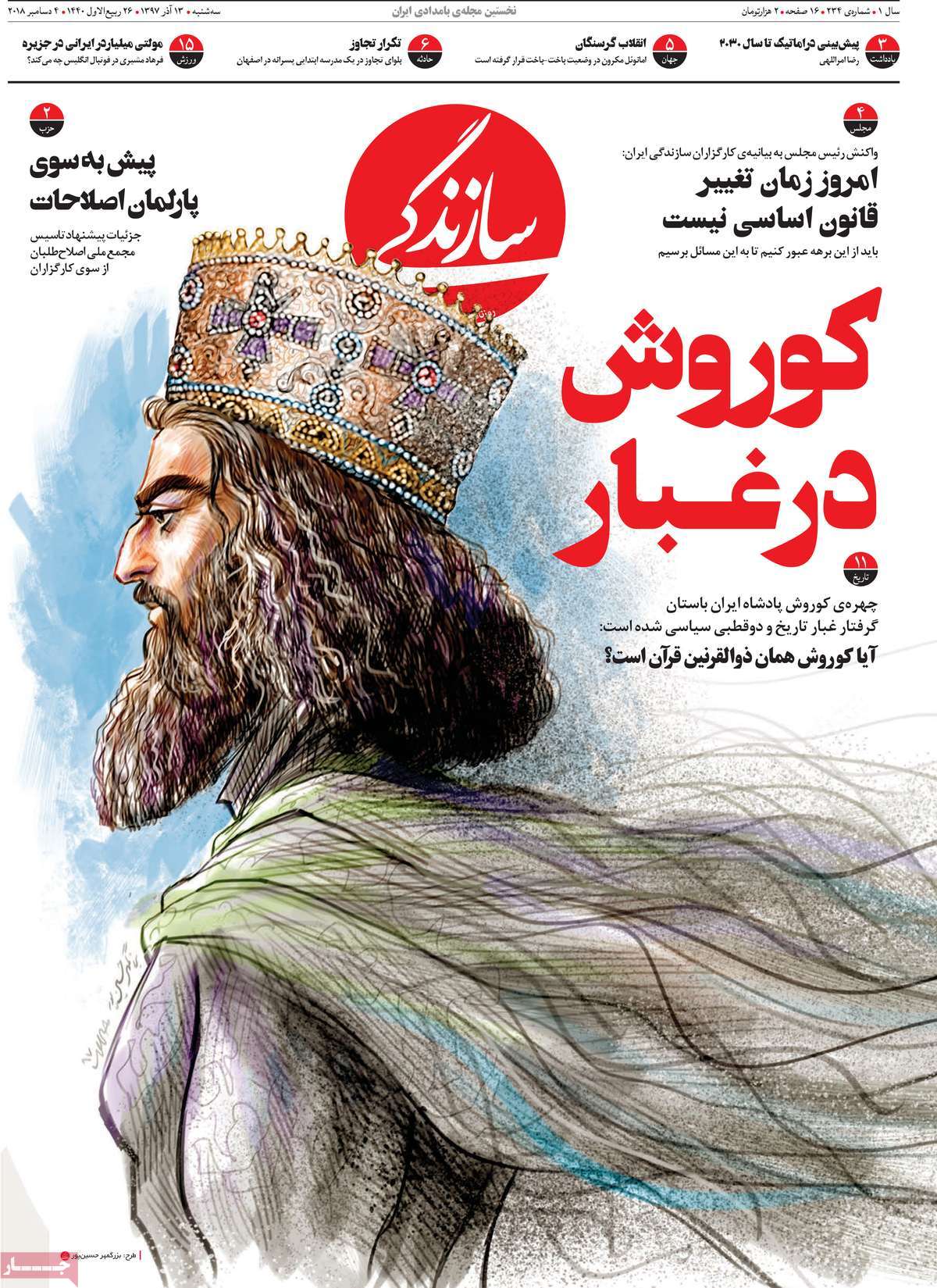 ---
Setareh Sobh:
1- Climate Change Conference Warns People of the World
Earth to Be Destroyed, Civilizations to Collapse
2- Spanish Authors, Journalists Sad to Leave Iran after Being Warmly Received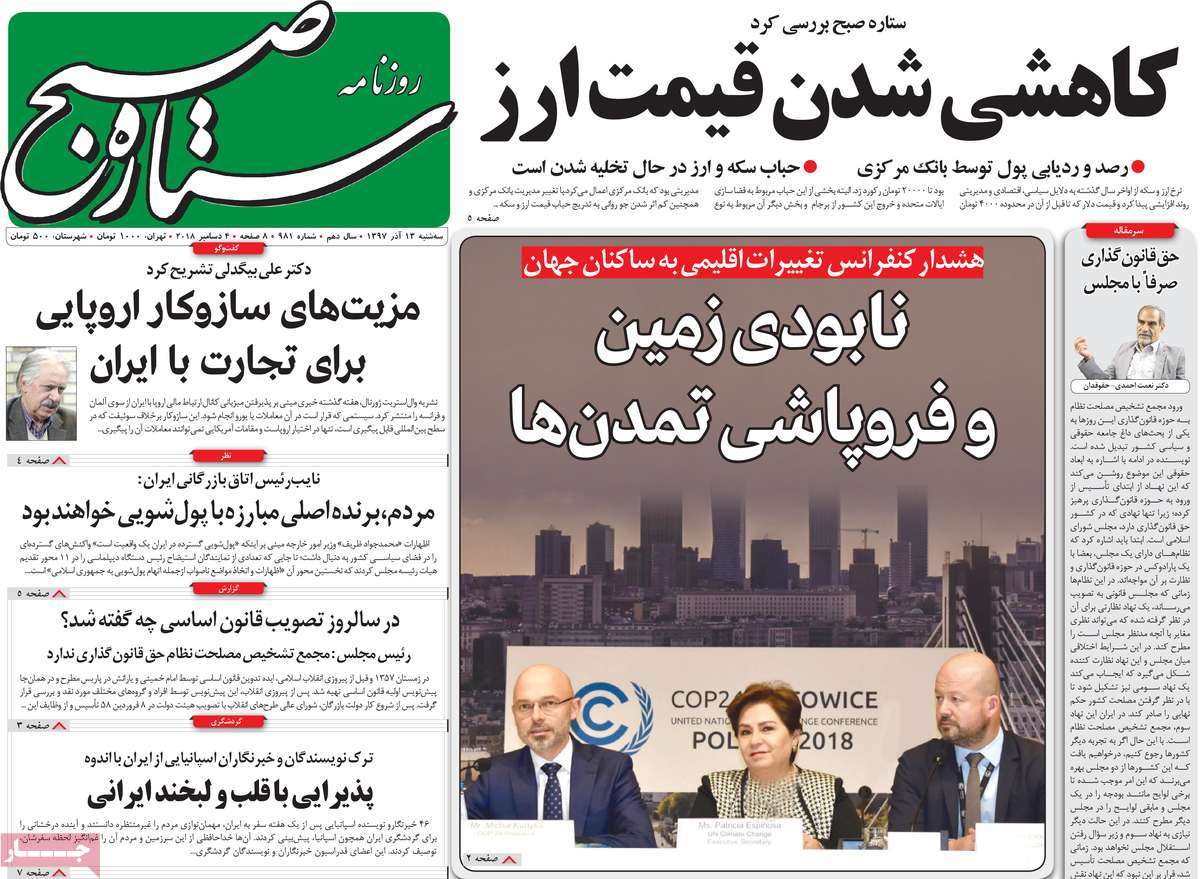 ---
Shahrvand:
1- Is Everybody Knows Weakest Film of Farhadi? 10 Iranian Critics Rate Farhadi's Film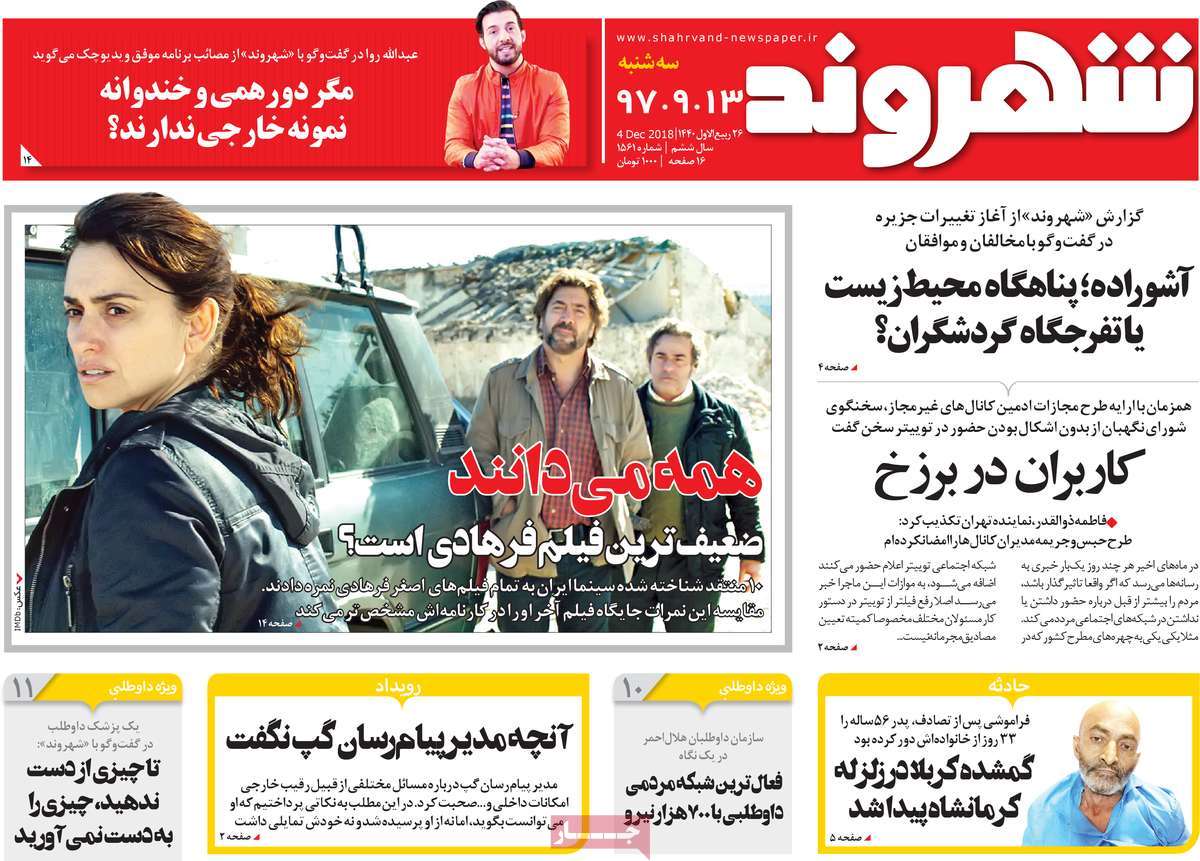 ---
Shargh:
1- VP Ebtekar Denies She Gave Hollande Promise on Climate Agreement
2- Return of Lone Rebel: Sanders to Run for President in 2020
3- Address of Money Launderers [Editorial]