Almost all papers today covered the recent claims made by the US and the UK regarding Iran's missile tests, and Tehran's response to the allegations.
Also a top story was a deal between the US and China over their trade war, based on which the two sides are going to observe a 90-day ceasefire.
The Parliament's bid to impeach Foreign Minister Mohammad Javad Zarif over his comments about 'rampant' money laundering in Iran also remained a top story in Iranian papers today.
The above issues, as well as many more, are highlighted in the following headlines and top stories:
Abrar:
1- UK Foreign Secretary Claims Iran's Missile Test Violated UNSCR 2231
2- Erdogan: I Don't Believe Bin Salman's Account of Khashoggi's Murder
3- Merkel: Russia Shouldn't Block Ukraine's Ports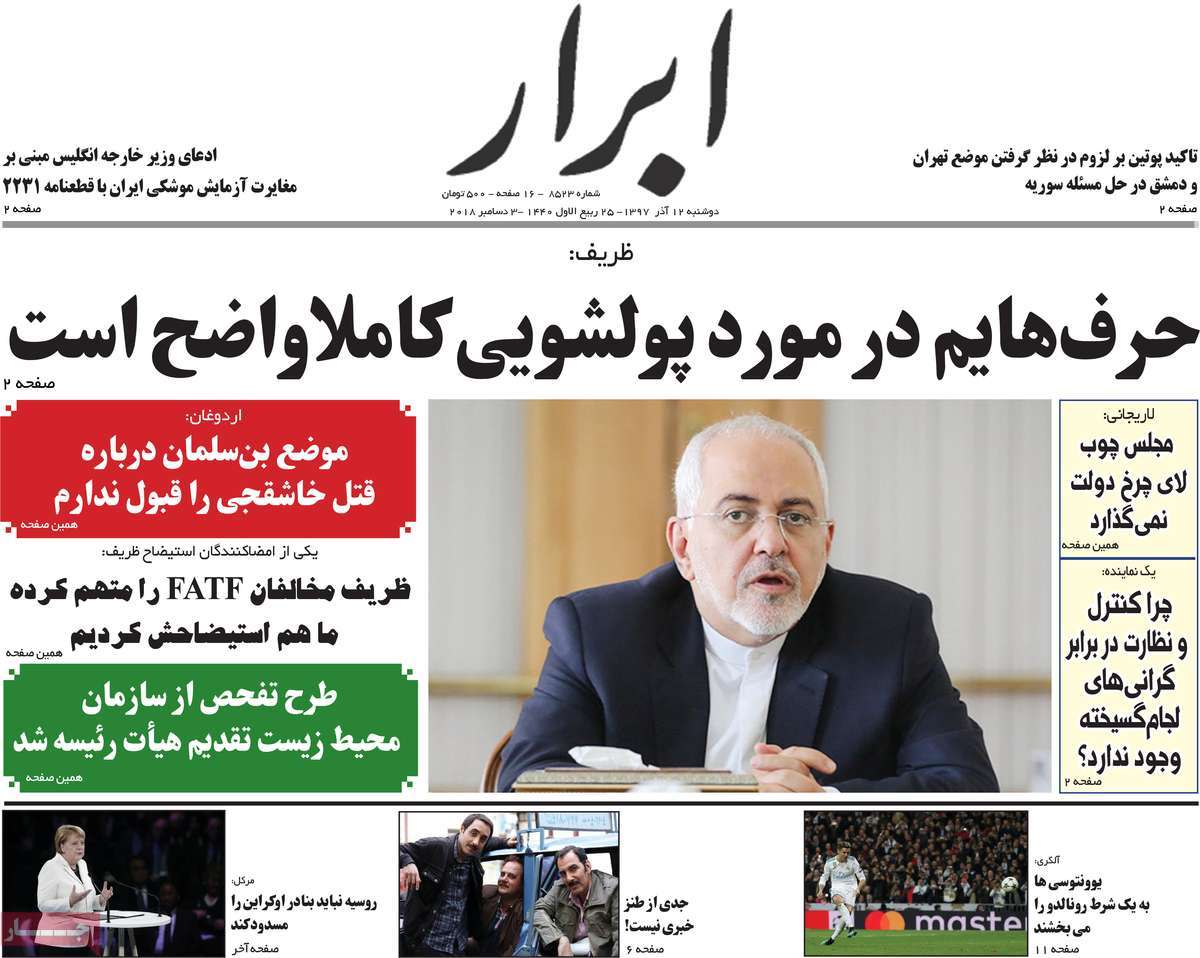 ---
Aftab-e Yazd:
1- On Rallies in France [Editorial]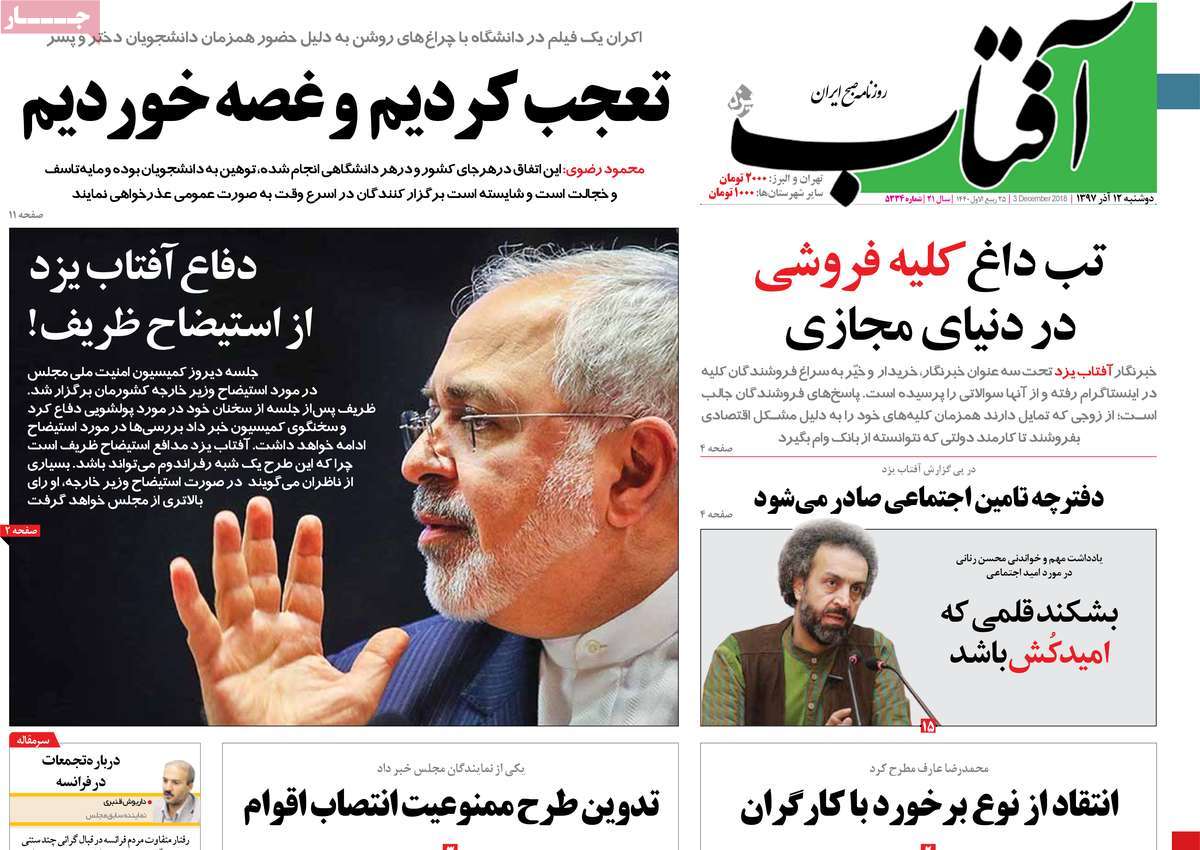 ---
Arman-e Emrooz:
1- Four Lawmakers Back Off from Bid to Impeach Zarif
FM: My Remarks about Money Laundering Totally Clear
2- Tehran Mayor Hanachi Swears to Fight Corruption, Promote Culture in Tehran
---
Donya-ye Eqtesad:
1- Expert Panel Discusses Tehran-Riyadh Relations
2- 90-Day Truce in Trade War
Reaction of Tehran's Stock Exchange Market to US-China Deal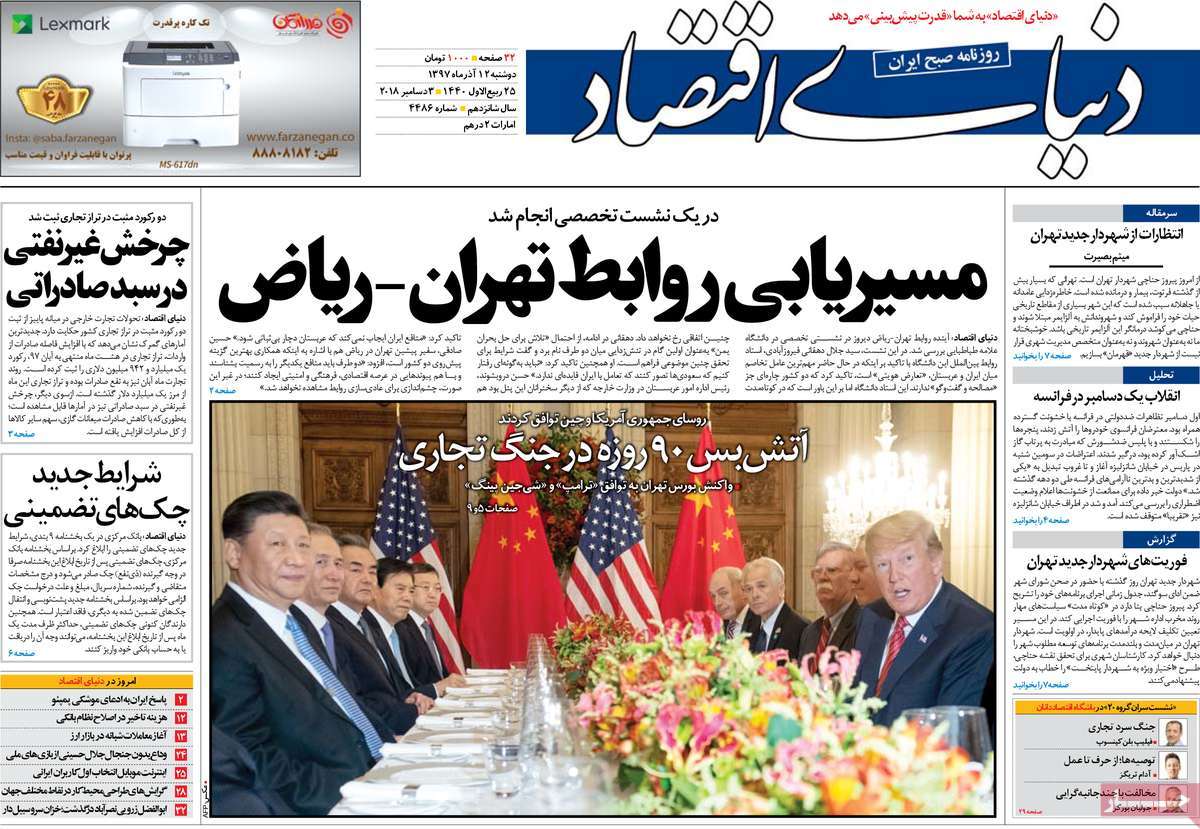 ---
Ebtekar:
1- Fire of Trade War Extinguished for 90 Days
2- Return of Yellow Vests
Alarming Situation for Europe as Protests Dragged to Netherlands, Belgium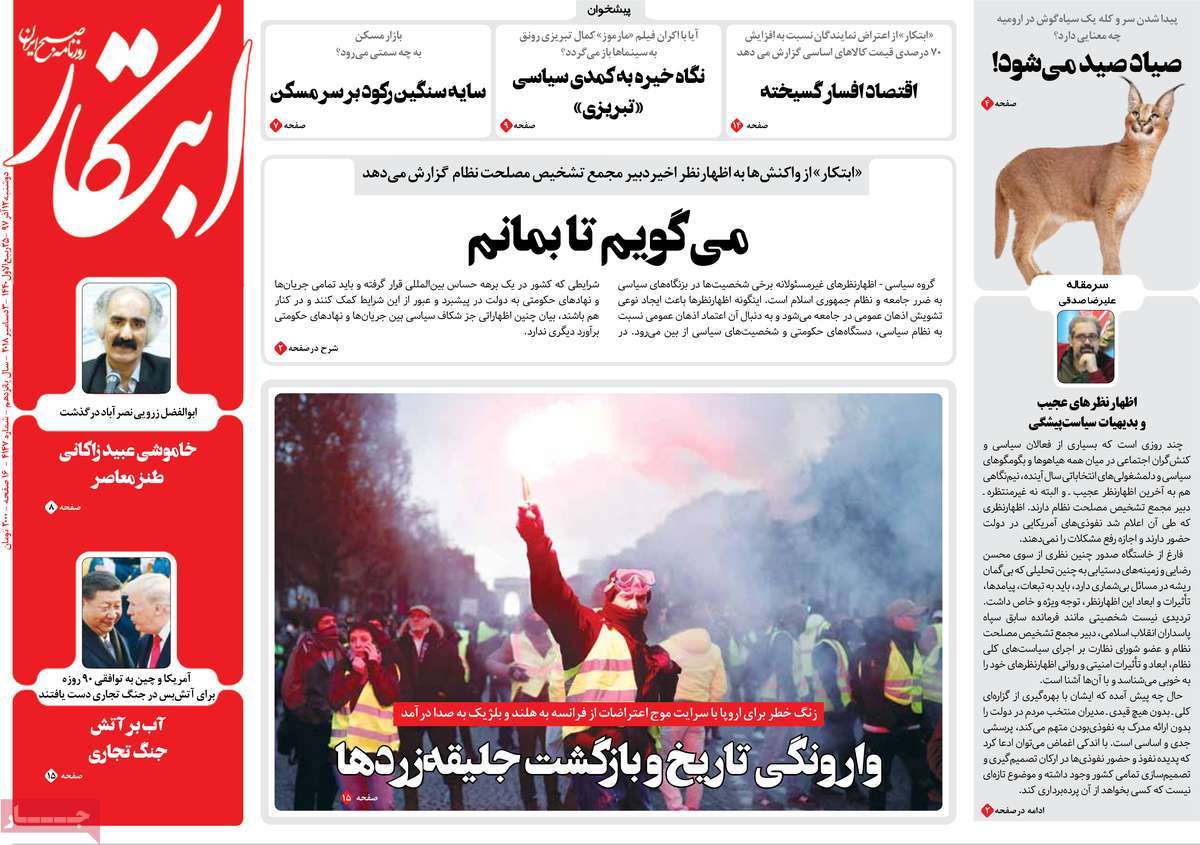 ---
Etemad:
1- How Russia Is Managing Its Ties with Iran, Saudi at Same Time?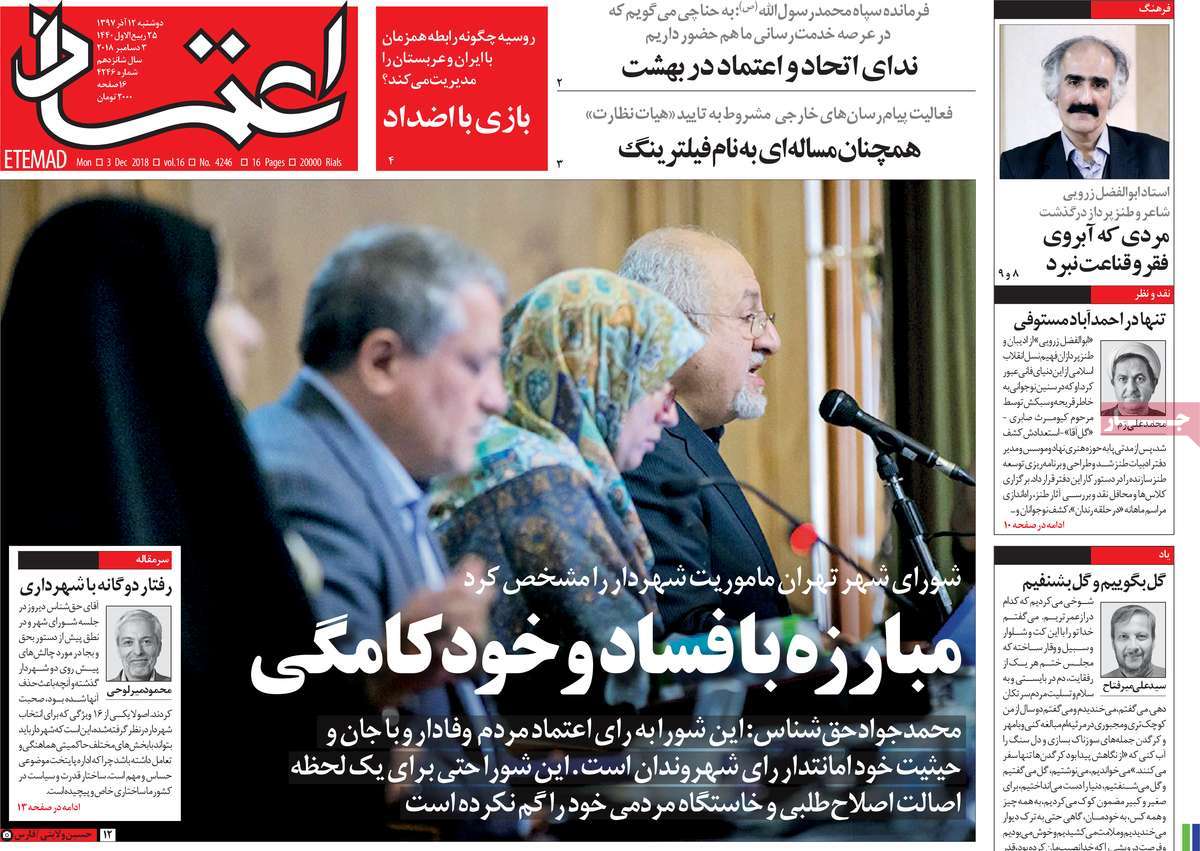 ---
Ettela'at:
1- Paris on Fire
2- Tehran to Host Anti-Terror Conference of Parliament Speakers from Six Countries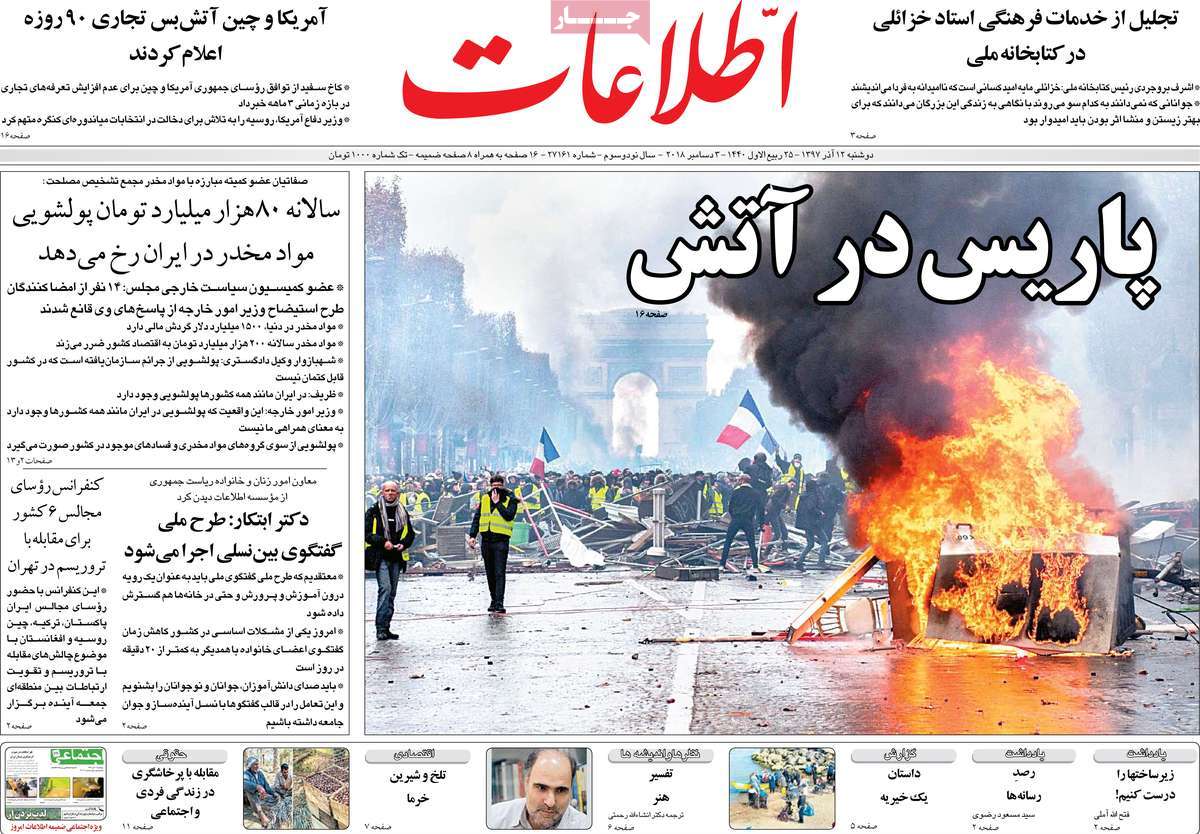 ---
Iran:
1- Iran's Missile Tests Not in Violation of UN Security Council Resolution 2231: MFA
2- Rouhani to Visit Semnan University on Students' Day
3- 1,000 Women Appointed to Executive Position in One Year
---
Jame Jam:
1- Unending Pretexts: US, European Officials Make New Claims against Iran's Missile Program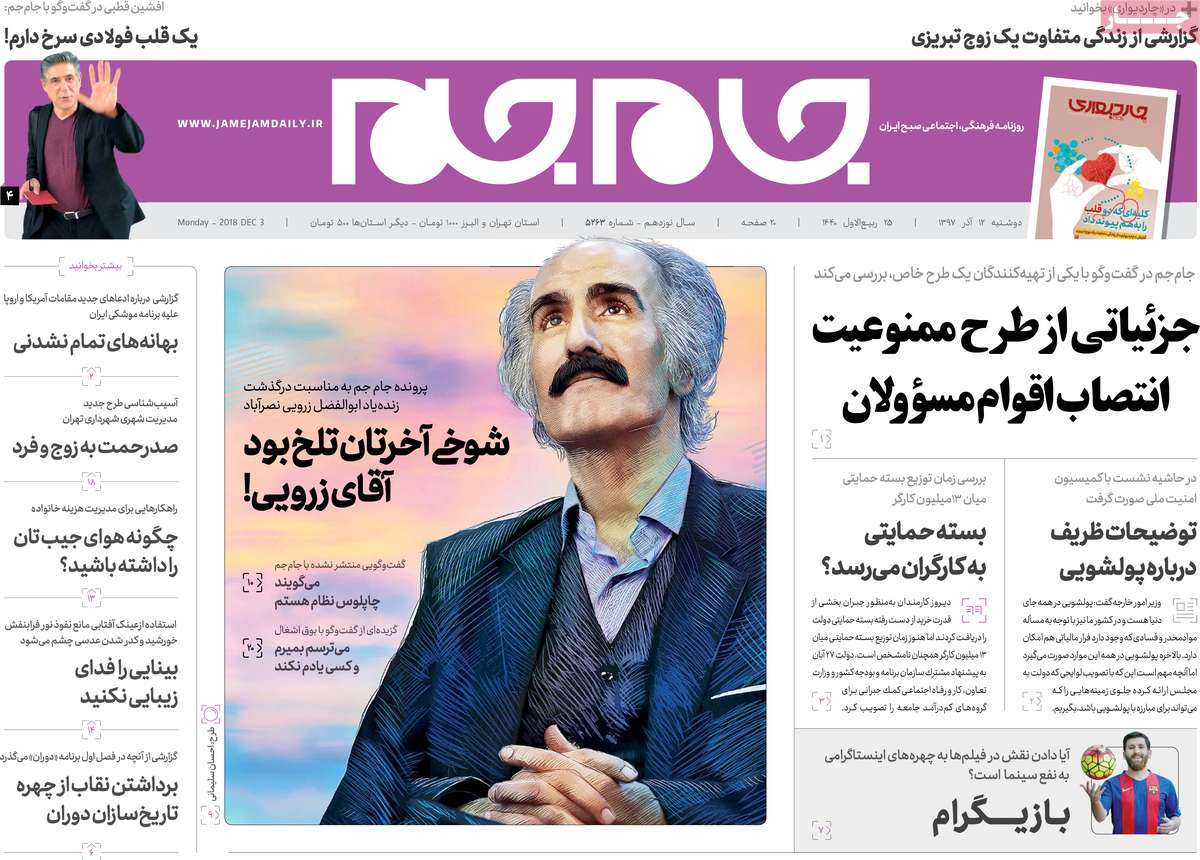 ---
Javan:
1- US Diplomats Had Better Ask Their Generals about Iran's Power
Armed Forces Spokesman: US to Be Dealt a Heavy Blow If It Makes Any Mistake
2- Left, Right-Wingers Set Paris on Fire: France Protests Out of Control of Gov't, Parties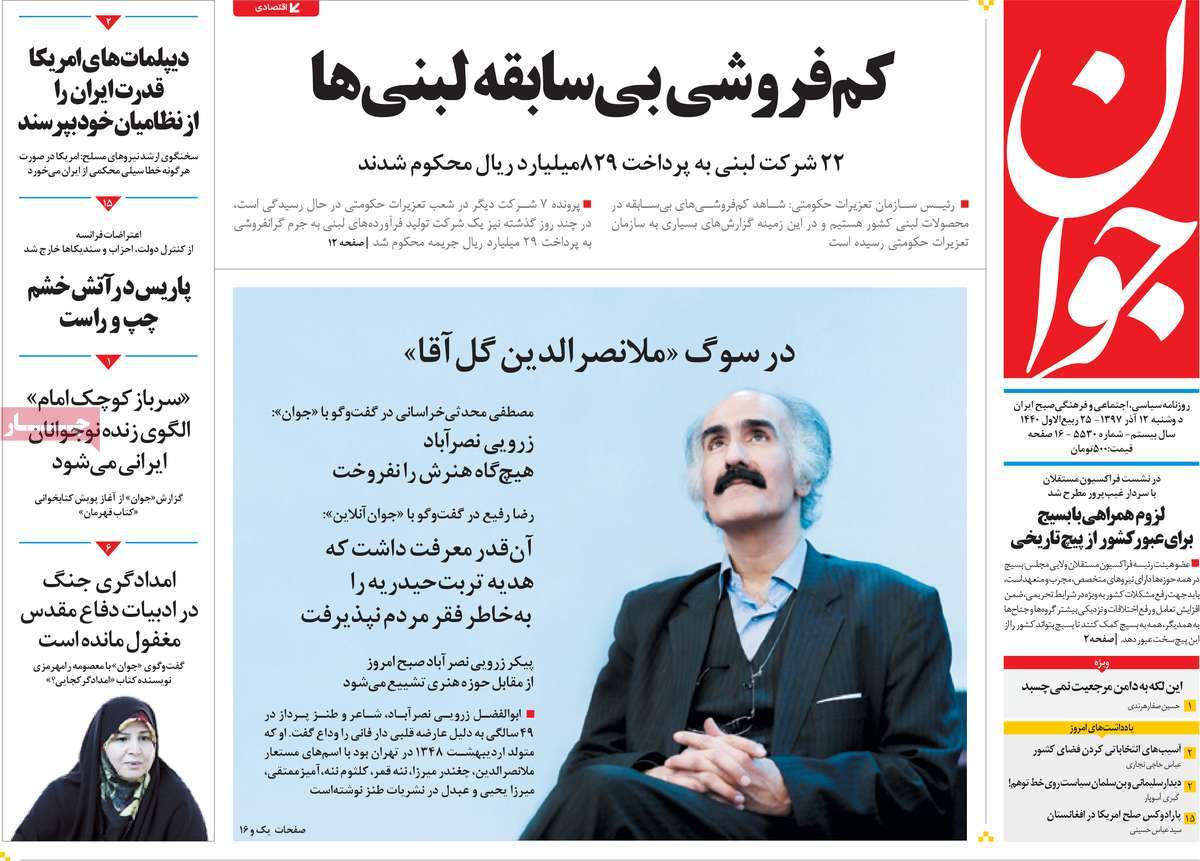 ---
Jomhouri Eslami:
1- Amnesty Int'l Enlists New Aspects of Al Saud's Brutality
2- Belgium, Netherlands Join France 'Yellow Vest' Protests
---
Kayhan:
1- Death of US Navy Admiral in Bahrain; CBS Says It's Suicide
2- Tehran's Response to US, UK's Rude Remarks: We'll Continue Testing Missiles
3- Putin: Stances of Tehran, Damascus Should Also Be Considered in Settling Syria Crisis
4- Adopting FATF Standards to Only Increase Effectiveness, Accuracy of US Sanctions
5- Paris Still on Fire: 300 Yellow Vest Protesters Arrested, 110 Wounded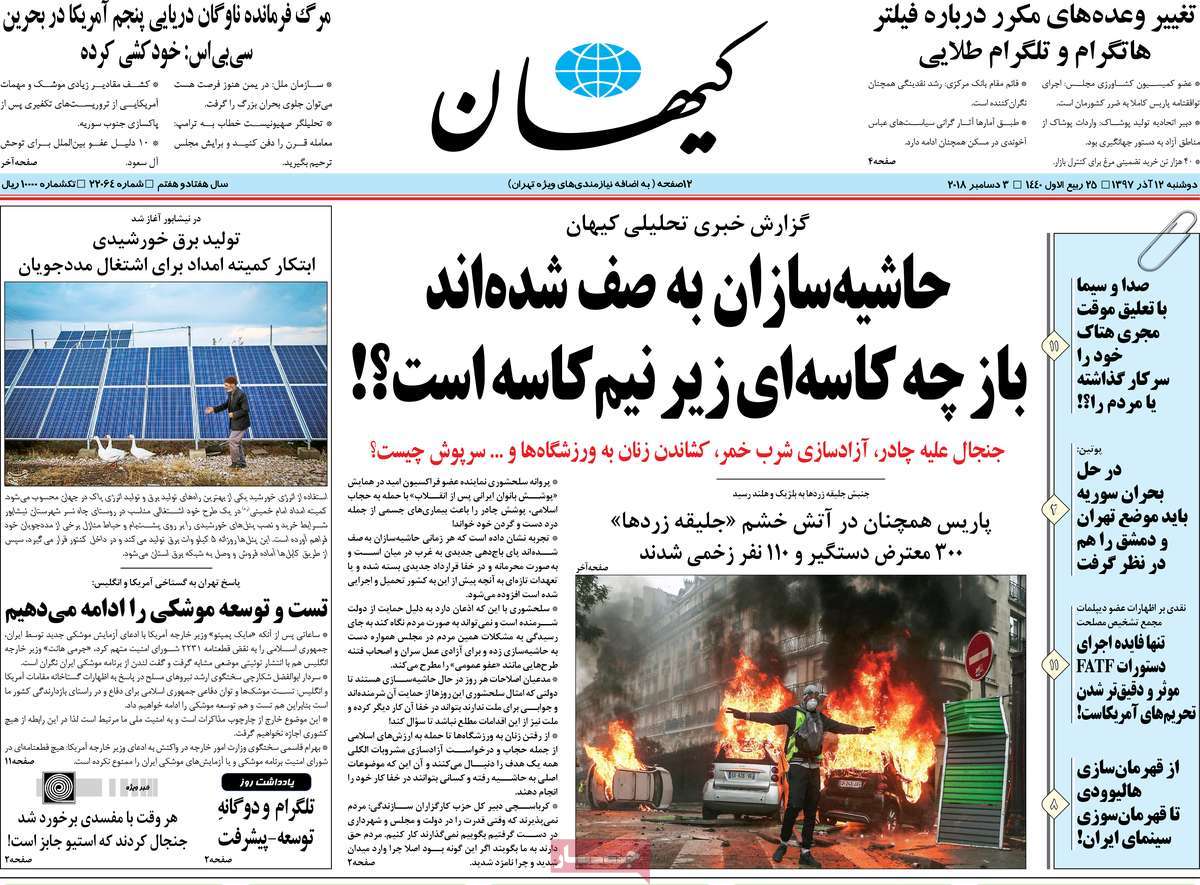 ---
Khorasan:
1- Iranians Being Deported from Georgia without Any Reason
2- The Guardian Reveals Shocking Details of Sexual Exploitation in MKO Camps
---
Setareh Sobh:
1- New Psy-War against Iran: Pompeo Says Iran's Missile Test Violates JCPOA
---
Shahrvand:
1- From North to South with Train: Benefits of Iran's New Railway
---
Shargh:
1- Five Forex Dealers Accused of $150-Million Money Laundering