IFP has taken a look at the front pages of Iranian newspapers on Tuesday, December 25, 2018, and picked headlines from 13 of them. IFP has simply translated the headlines and does not vouch for their accuracy.
The top story in most of the papers today was the death of head of Iran's Expediency Council and former Judiciary Chief, Ayatollah Mahmoud Hashemi Shahroudi.
Abrar:
1- Army Gen.: We Will Not Allow USS Stennis to Approach Our Territorial Waters
2- Israel Army Chief: Iran to Deploy 100,000 Troops to Syria!
---
Aftab-e Yazd:
1- Who is New Head of US Department of Defence?
2- Iranian Poet, Author Rahmandoust: I'm Feeling for Modern Kids Who Cannot Play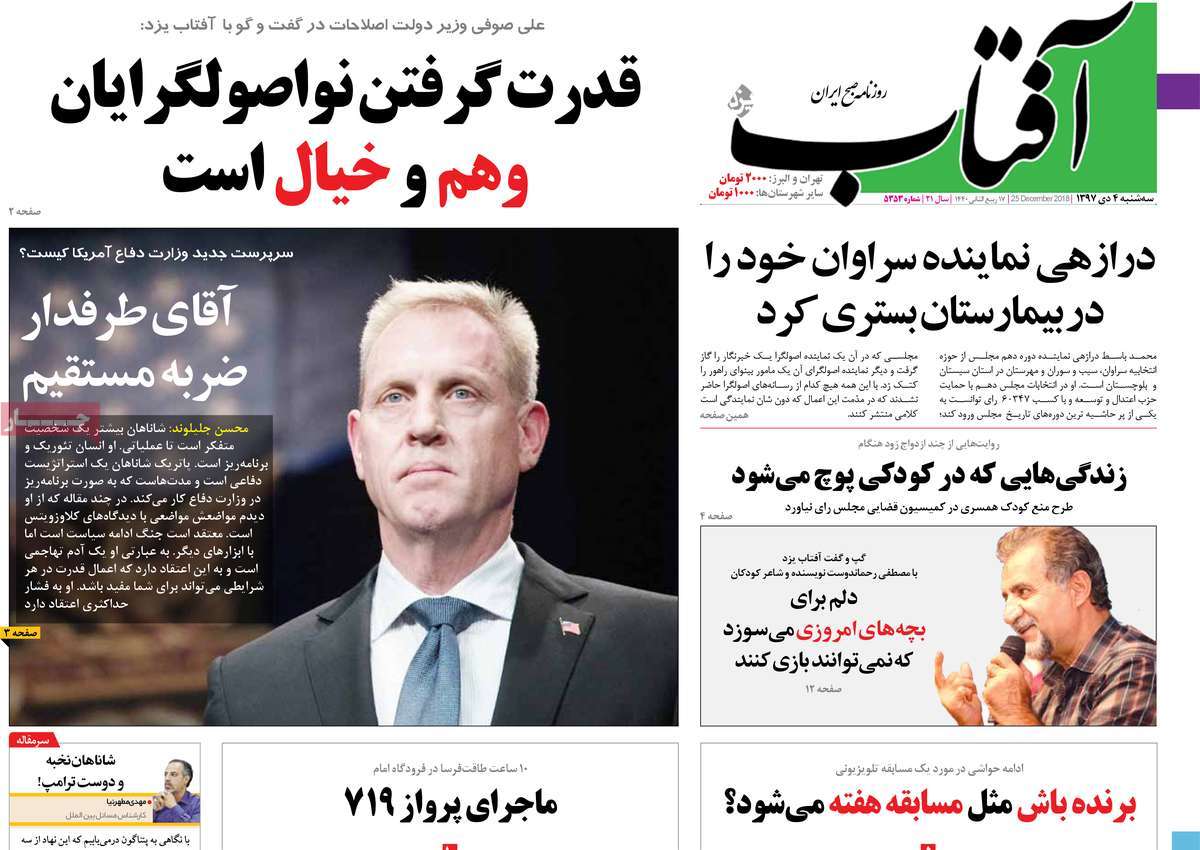 ---
Arman-e Emrouz:
1- Death of Jurisprudent
Head of Iran's Expediency Council Passes Away after Prolonged Illness
2- Startups; Country's Productive Force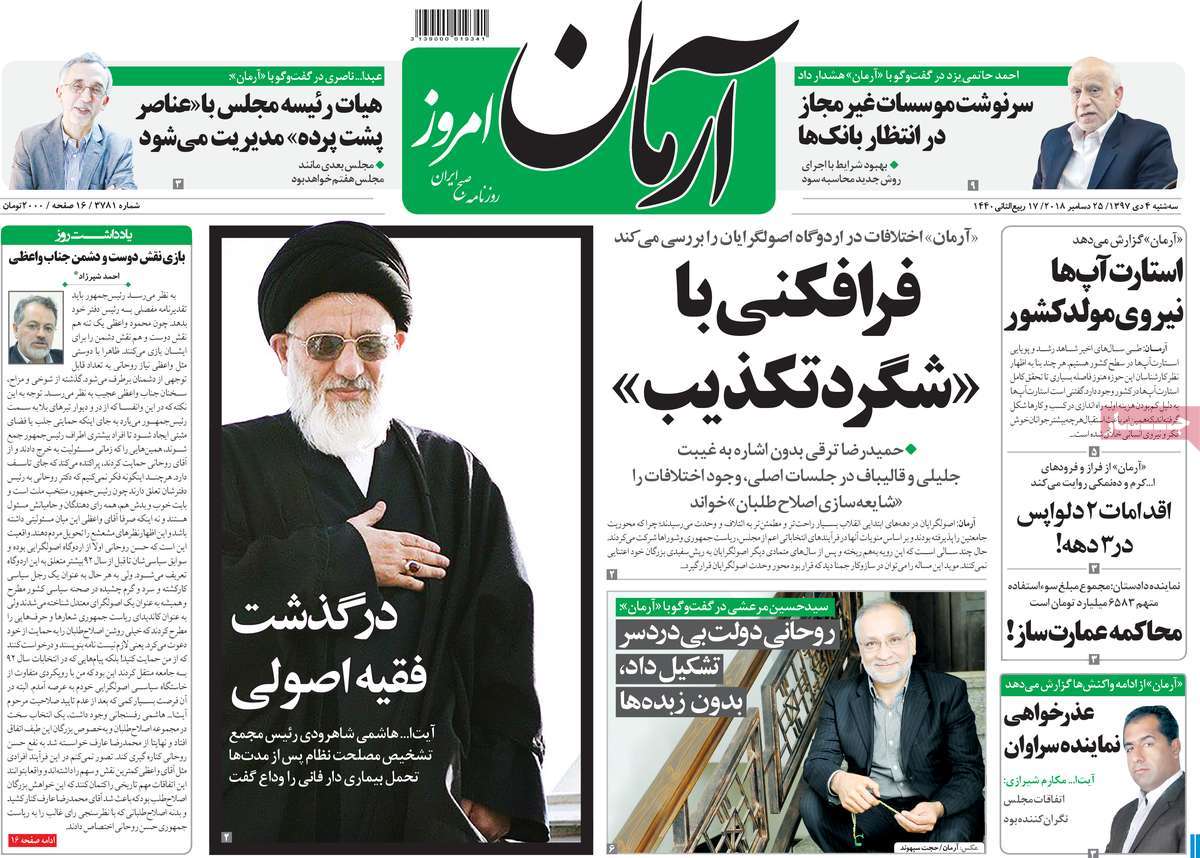 ---
Ebtekar:
1- Burial of Childhood under War Rubbles
2- Shayan Hadji Najaf Honoured at UNICEF Photo of Year Award
3- Zarif Tells Al Mayadeen: We Won't Wait for Europeans to Meet Their Obligations
---
Etemad:
1- Ayatollah Hashemi Shahroudi Dies
A Look at Life of Justice-seeker Reformer
2- US Leaves, Iran Stays
3- Withdrawal of US Troops from Syria Will Change Situation in Region
4- Atlantic: Predictions of Iranian Leader Were Correct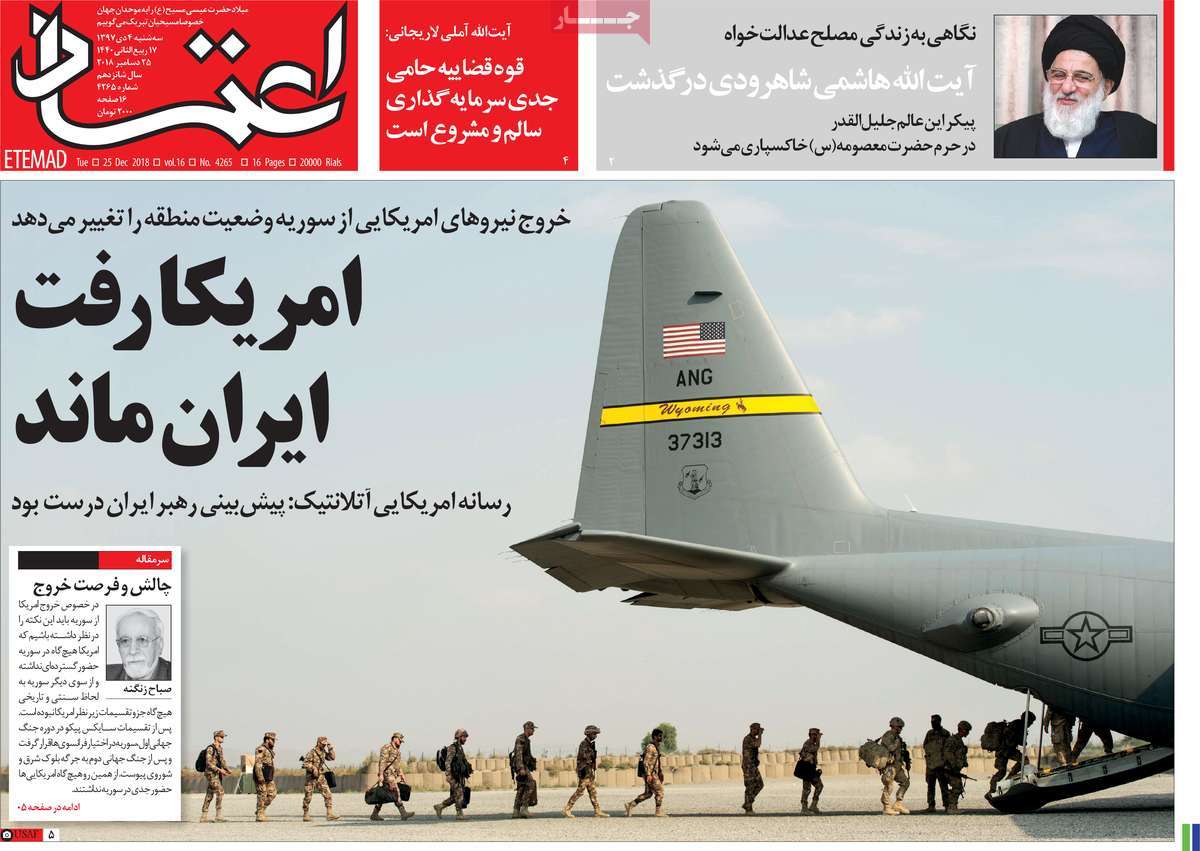 ---
Ettela'at:
1- We Need to Rethink Policies to Protect Environment: Iran Environment Chief
2- Fatah Movement: Iran Most Honest Country in Fight against Arrogance
---
Iran:
1- Demise of Modernist Jurisprudent: Ayatollah Shahroudi Dies
2- Time to Reconcile with Jesus
3- A Note by Loris Tjeknavorian (Composer, Orchestra Conductor) on Christmas
---
Javan:
1- Netanyahu's Coalition Collapses
2- 8 Bags of Abortion Drugs Seized
---
Jomhouri Eslami:
1- $7.5 Billion Allocated to Education, Research in Budget Bill
2- Chairman of Iran's Food, Drug Administration: Iran Self-Sufficient in Production of Radiomedics
3- Zionist Daily: Israel Hailed in Saudi Press at Bin Salman's Order
4- Preferential Trade between Iran, India Finalised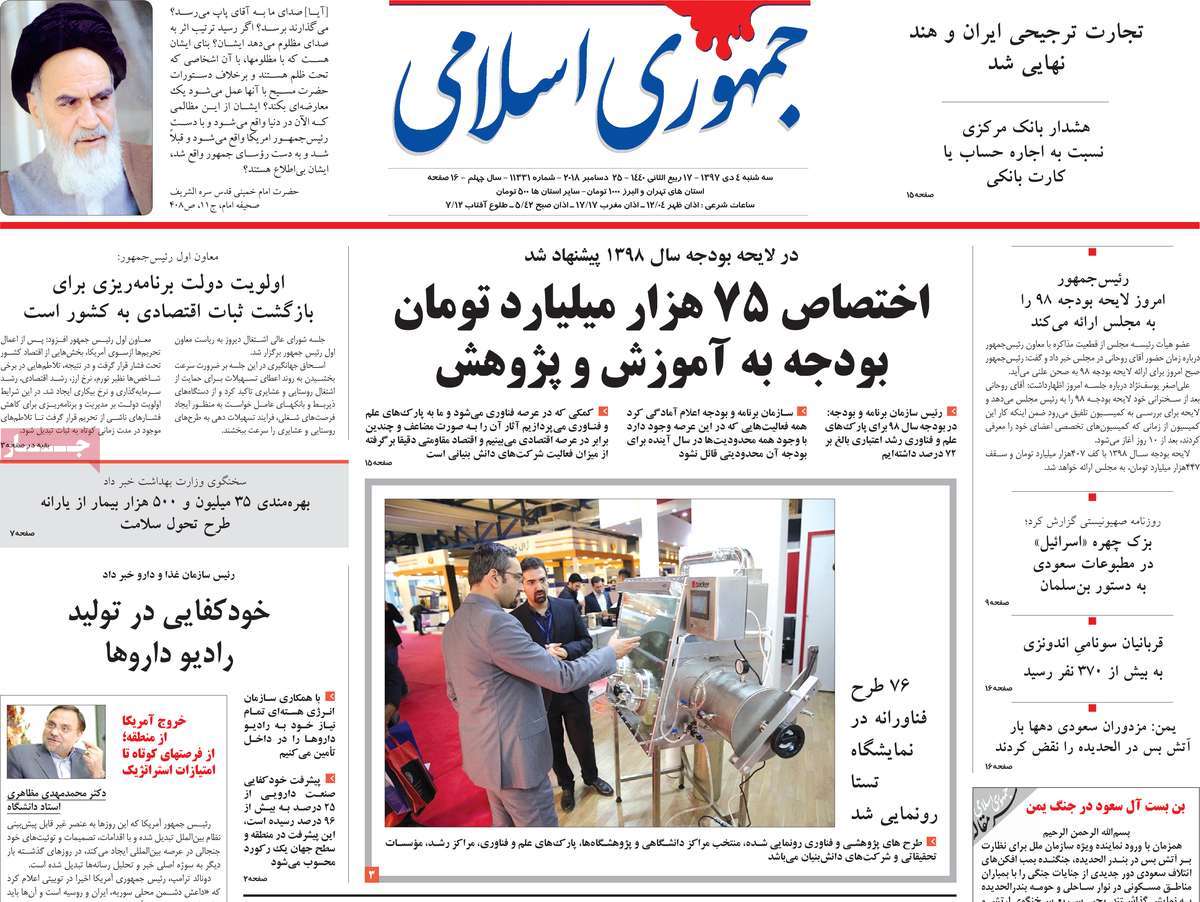 ---
Kayhan:
1- Washington Post to US People: Wake Up! US Army Not Invincible
2- Arab Countries Launch Campaign to Boycotts Saudi Arabia to Support Yemeni People
3- "Steel Production in Iran 10 Times More than before Revolution"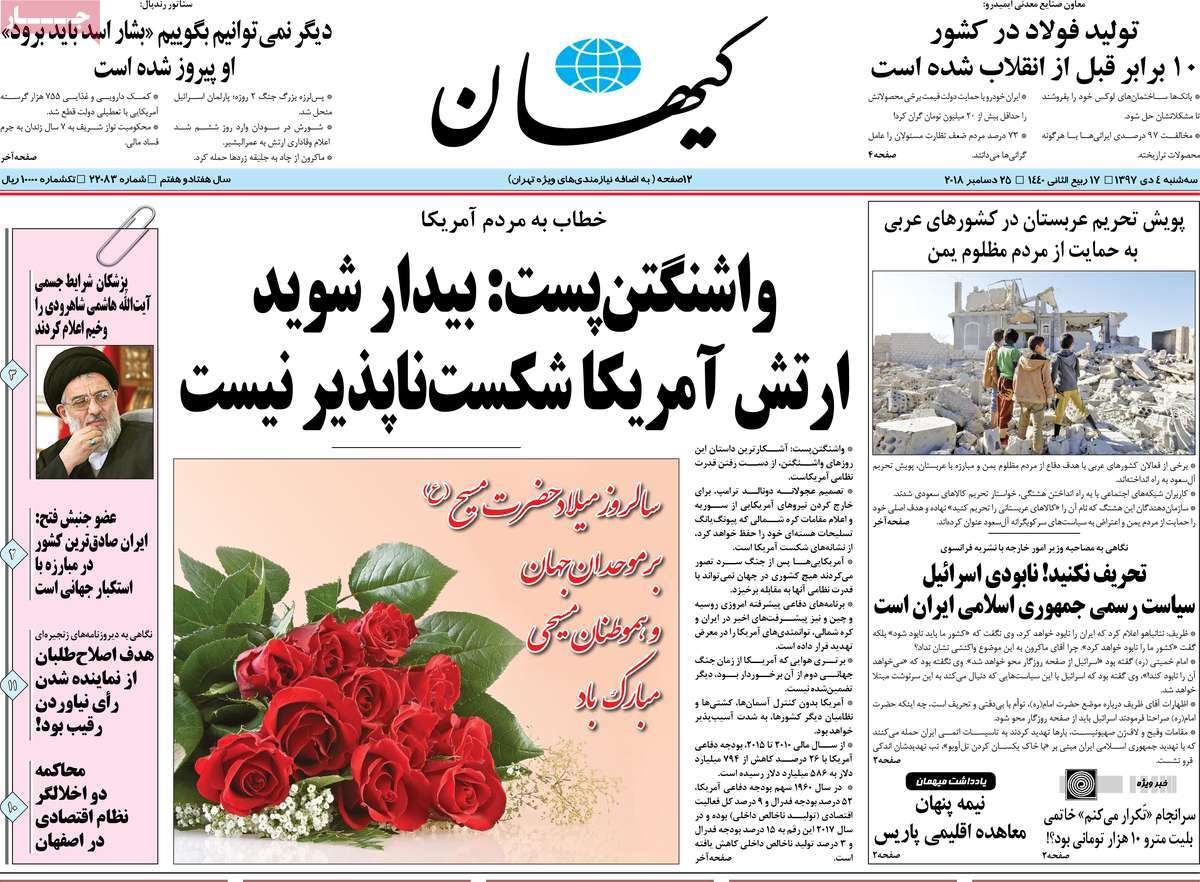 ---
Khorasan:
1- Biggest Wall Street Plunge in Last 10 Years
2- Top Cyberspace Official: We Are Looking for Alternative for Instagram
---
Shahrvand:
1- Santa Clause on Sidewalks of Tehran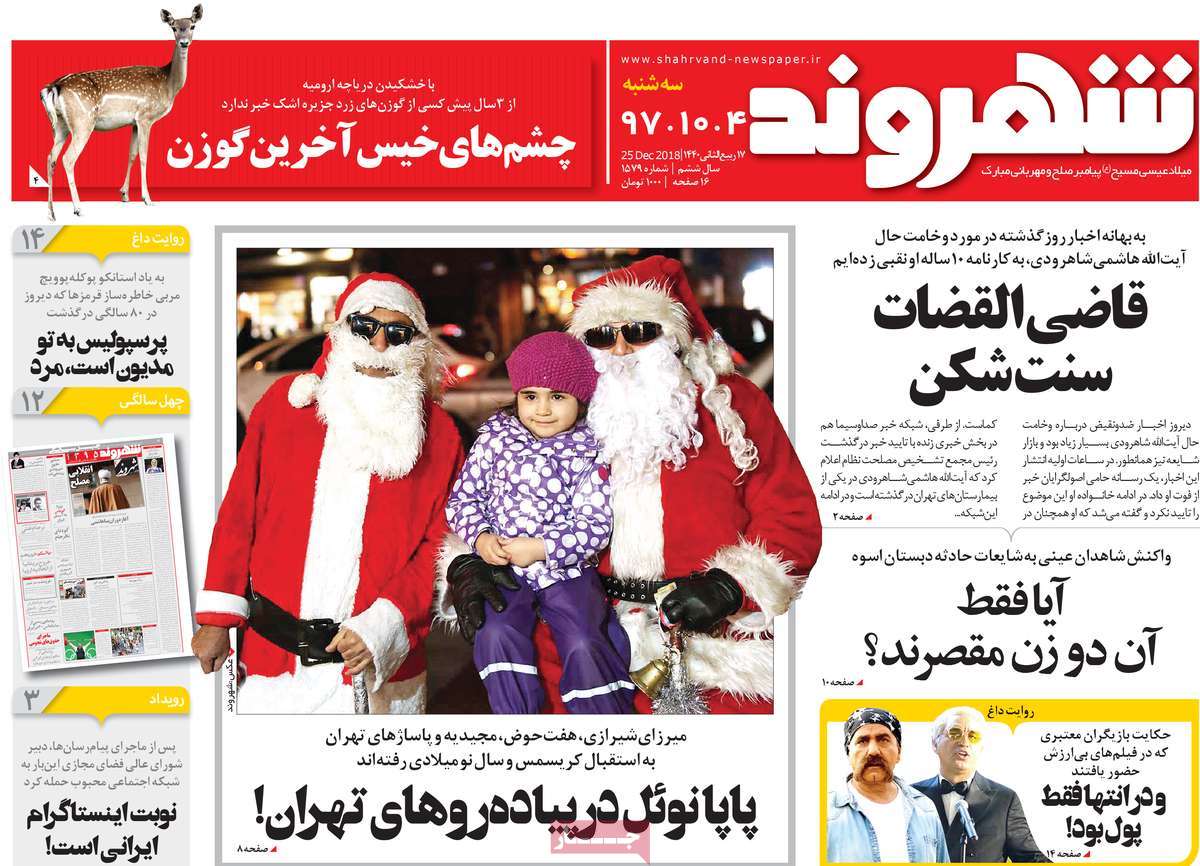 ---
Shargh:
1- Ayatollah Hashemi Shahroudi Dies
2- Foreigners Join Iran to Counter Sanctions
3- New Middle East Dangers for Iran [Editorial]