The top story in Iranian papers today was the remarks made by Iranian President Hassan Rouhani about the heavy costs of Iran's failure to adopt the standards set by global anti-money laundering body, Financial Action Task Force (FATF).
The remarks were widely criticized by conservative media, which argued the previous deal, JCPOA, did not lead to what Rouhani had promised, and his new promises – that FATF will make people's lives less costly – won't be realized either.
The ongoing protests in France also remained a top story, with conservative media blasting the Iranian Foreign Ministry for keeping silent over the violence.
The above issues, as well as many more, are highlighted in the following headlines and top stories:
Aftab-e Yazd:
1- Lawmaker's Strange Proposal: We Should Import Used Cars from Afghanistan!
2- Rouhani: Those Who Chant the Slogans Must Pay the Prices Themselves!
* President Lashes Out at Critics of FATF Adoption
---
Arman-e Emrooz:
1- Increased Rivalry among Iranian Banks
2- Political Future of Iran Belongs to Moderates: Conservative Cleric
3- Don't Travel to Georgia, Iran Warns Citizens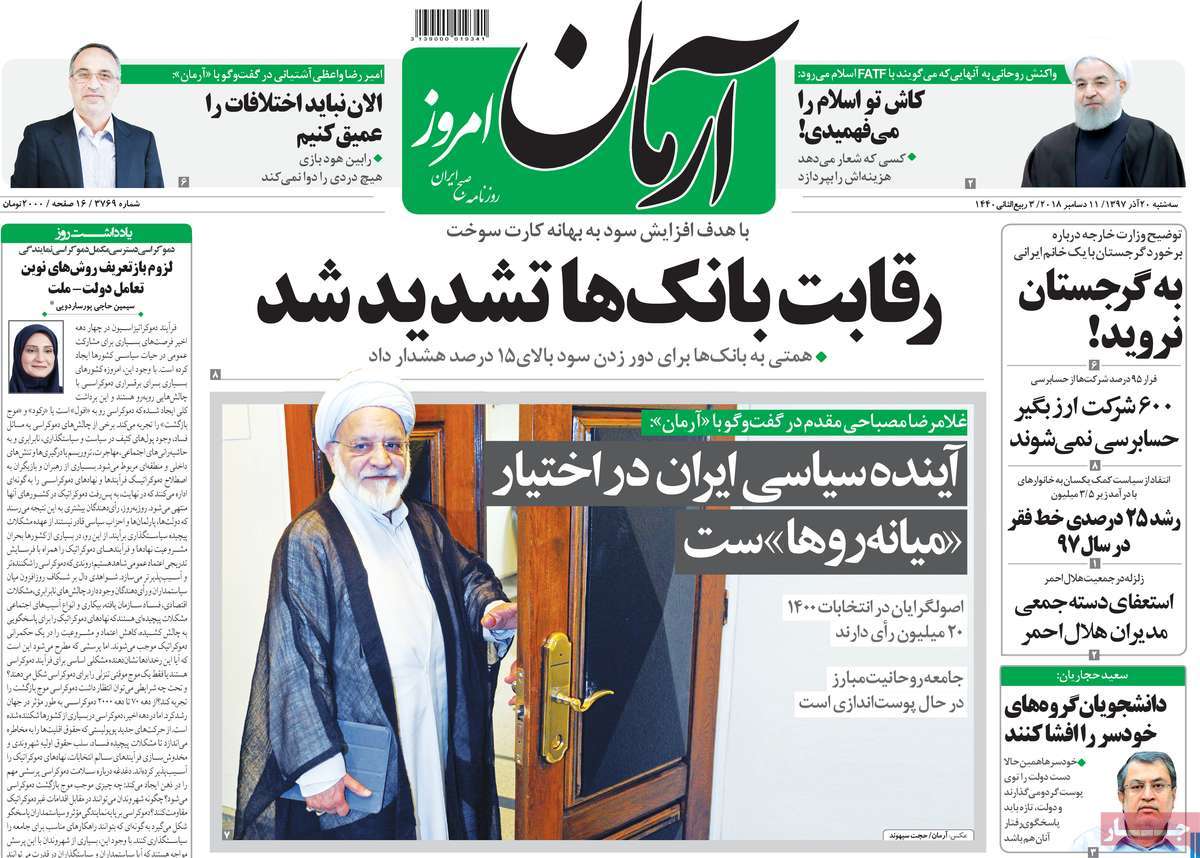 ---
Ebtekar:
1- I Wish You Could Understand True Islam: Rouhani to Critics of FATF Who Call It Un-Islamic
2- Government Resolved to Settle Pensioners: Official
---
Ettela'at:
1- Europe's Iran Trade Mechanism (SPV) to Be Implemented Soon
2- GCC Summit Ends with No Clear Result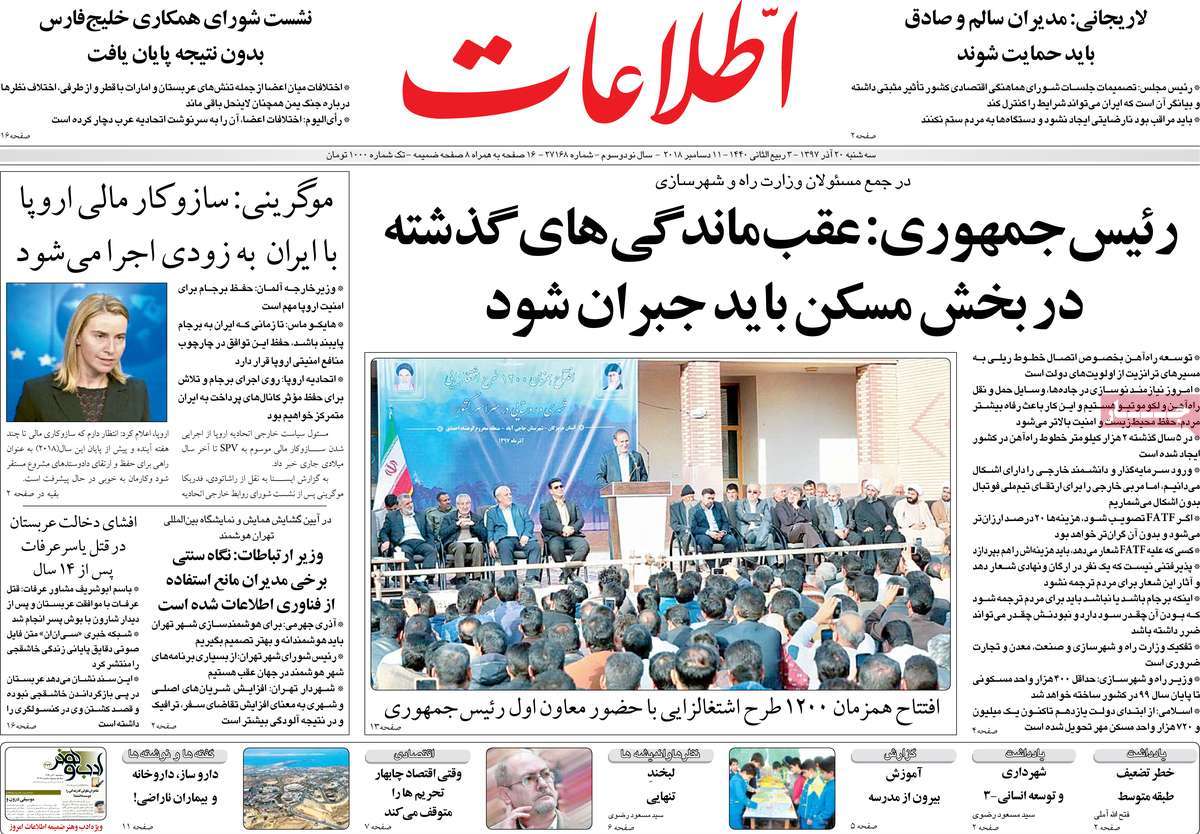 ---
Haft-e Sobh:
1- I Wish I was from Argentina!
* Fantastic Experience of Watching Copa Libertadores Final
2- Iranian Students Bid Farewell to Education in France
* Dream of Free Education in France Turns into Dream for Iranians
---
Hemayat:
1- Murder in Bin Salman's Style
2- West's Claims of Protecting Citizens' Rights Are Sheer Lie: Iran Judiciary Chief
---
Iran:
1- Rouhani Criticizes Opponents of JCPOA, FATF
2- The Great Dal: Prominent Journalist Dalvand Dies
3- Iran's Judiciary Chief Urges European Leaders to Show Self-Restraint in Dealing with Their Peoples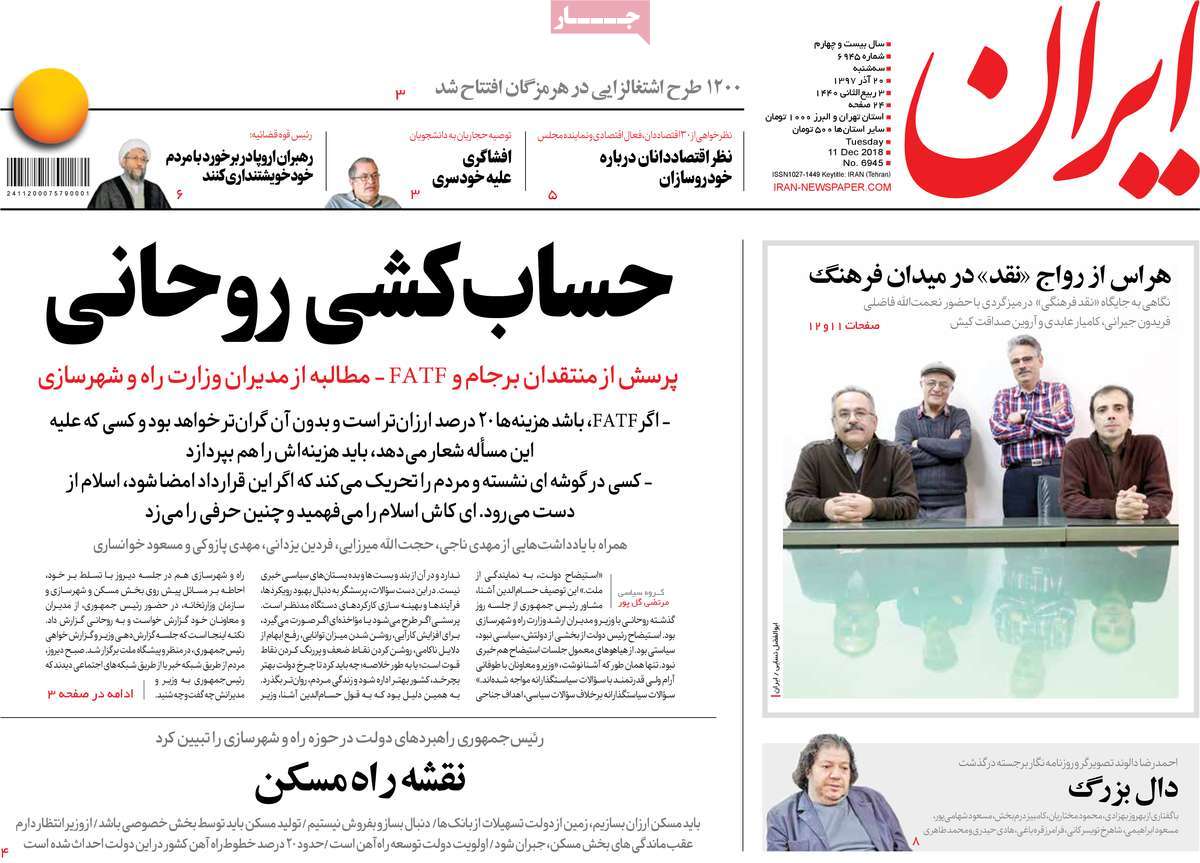 ---
Jame Jam:
1- Under the Saudi Skin
* A Glance at Saudi Arabia's Society
2- Latest Achievements of Iranian Scientists in Producing 3D Printers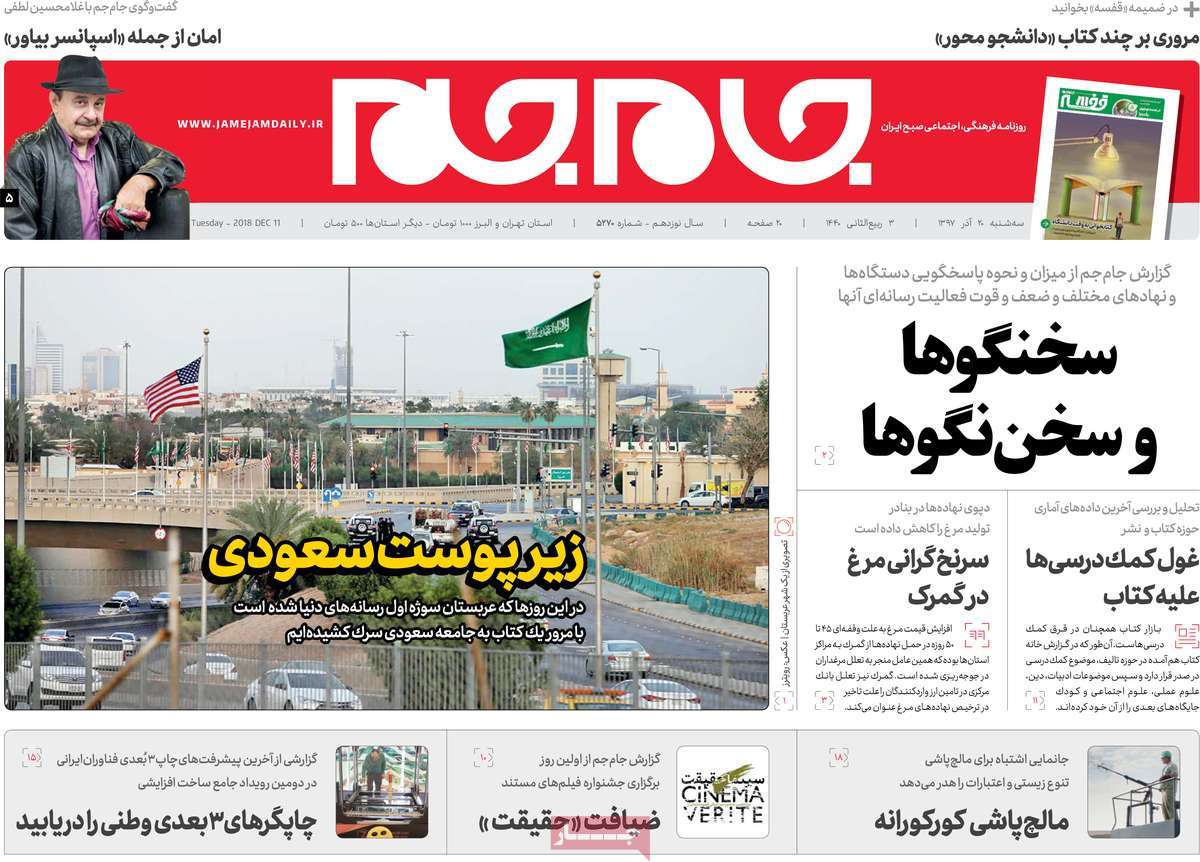 ---
Javan:
1- Rouhani Says FATF Will Decrease Prices by 20%, While JCPOA Increased Them by 200%
2- Iran's Foreign Ministry Avoids Condemning Violence in France
3- Telegram Was Originally Blocked with Rouhani's Order for First Time
---
Jomhouri Eslami:
1- If You're against JCPOA and FATF, at Least Tell People How Much Will It Cost for Them: Rouhani
2- Iran, China Resume Banking Ties
3- Saudis Would Be Speaking Persian If It Wasn't for US: Graham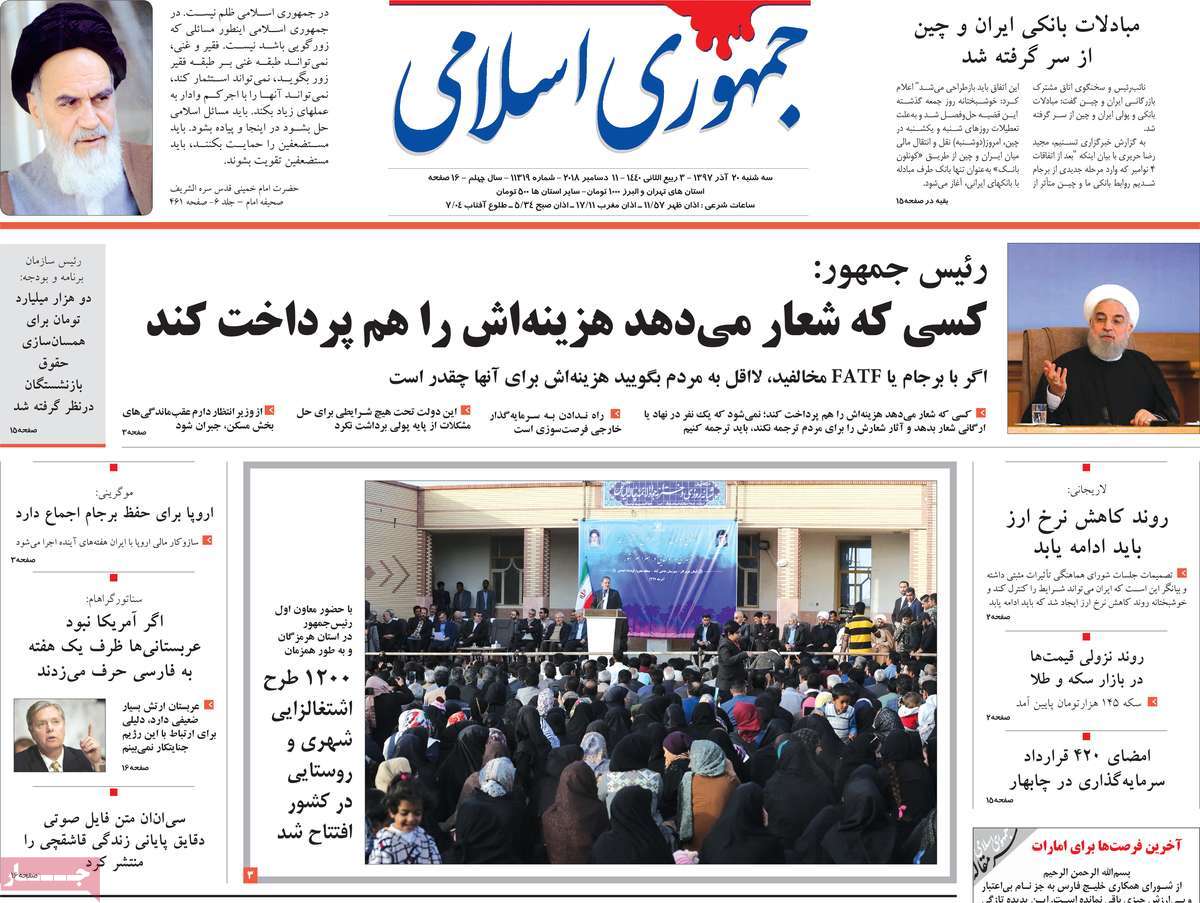 ---
Kayhan:
1- People's Reaction to Rouhani's Claim of Cheaper Life after JCPOA: Mr President Is Joking!
2- Bin Salman Biggest War Criminal in Modern World
---
Resalat:
1- 50,000 Jobs Created with Every $1 Billion of Exports: Minister
2- No Critic Says Islam Threatened with FATF: MP to Rouhani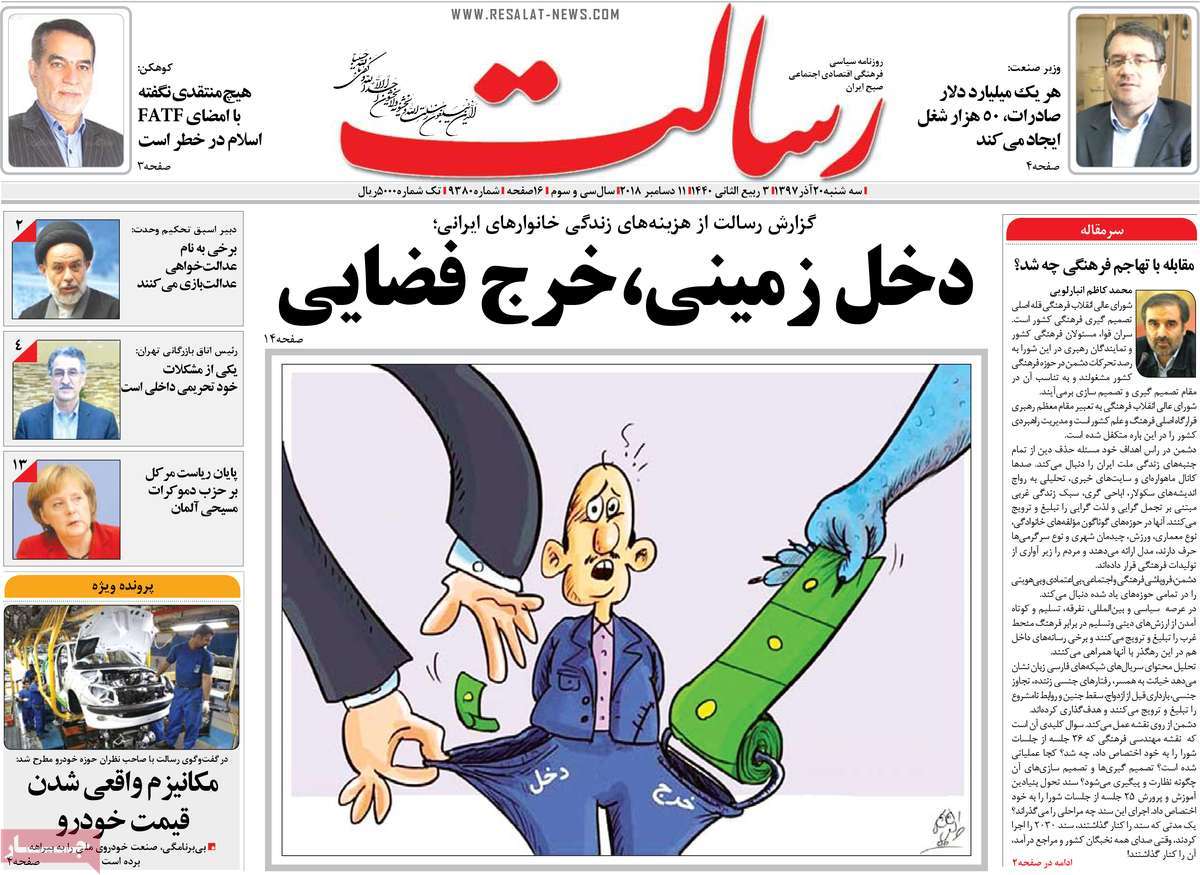 ---
Sazandegi:
1- Goodbye Mr Dali
* Iranian Graphic Designer Ahmadreza Dalvand Dies at 60
---
Setareh Sobh:
1- Cost of Iran's Failure to Join FATF
2- Fifth Republic of France on Verge of Collapse: Analyst
---
Shargh:
1- Rouhani Slams Opposition to FATF at People's Expense
2- Long Live Reformism, Even without Reformists
3- Development of Tehran Can Be a Threat: Mayor
4- Chabahar Terror Attack Aimed at Halting Its Progress: Top Judge
5- UN Security Council and Iran's Missile Test [Editorial]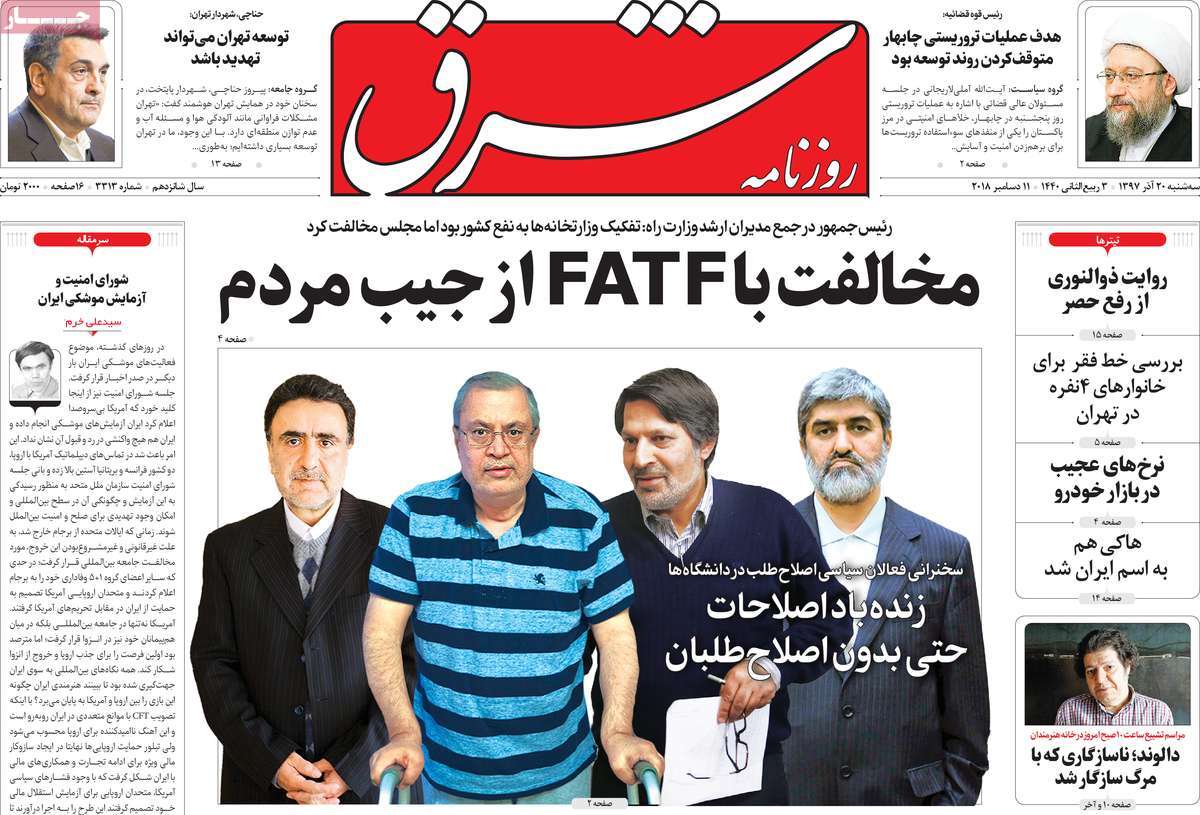 ---
Siasat-e Rooz:
1- Why Iran's Foreign Ministry Keeps Silent as France Arresting Protesters en Masse?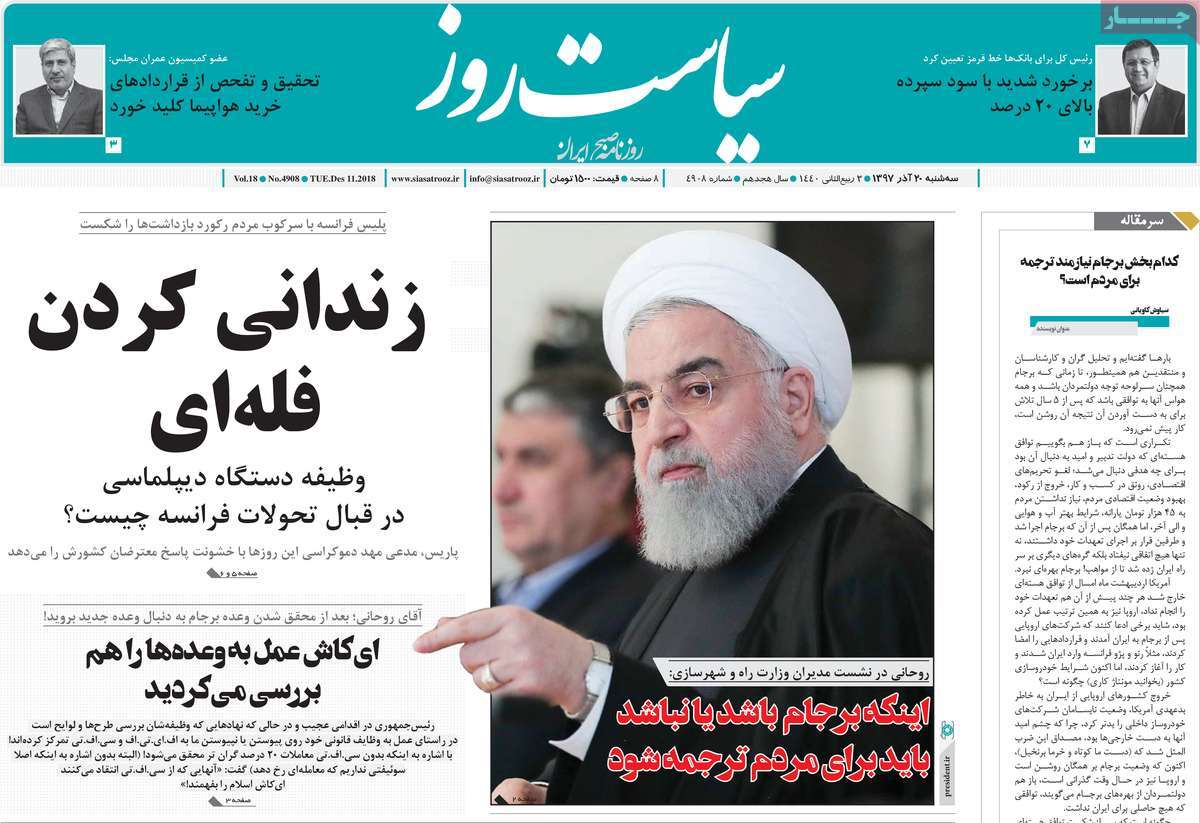 ---
Sobh-e Now:
1- Movement of Poor People in Europe
2- Lower Cost of Living with FATF: Will Rouhani Pay Price for His Slogans?
3- Iran's Role in Iraq's Celebration of Mosul Liberation Victory
4- Reality of Europe [Editorial]