The top story in all papers today was the fresh round of Yellow Vest protests in France and other European countries, which took thousands of protesters to the streets for the fourth consecutive week.
Several papers also covered the remarks by conservative politician Ebrahim Raisi in criticism of the government of his former rival Hassan Rouhani.
The recent deal on output cut clinched by members of Organization of the Petroleum Exporting Countries (OPEC) was also described as a heavy blow to the US administration, which was pressurizing the OPEC to avoid cutting its oil output to keep the prices down.
The above issues, as well as many more, are highlighted in the following headlines and top stories:
Abrar:
1- Police Chief: 10 Arrested in Connection with Chabahar Terror Attack
2- Int'l Warning over Lack of Food Security in Yemen
---
Aftab-e Yazd:
1- Christmas Arrives in Iran before Traditional Yalda Night!
Stores in Iran Full of Christmas Decorations, but No Sign of Yalda Yet
2- Yellow Vests Movement: France Protests Dragged into Other European Countries
---
Arman-e Emrooz:
1- Bicycle Challenge between Two Mayors
Tehran's Ex-Mayor: New Mayor Should Deal with More Important Affairs
Hanachi: Riding Bicycle to Work Doesn't Take Much Time
---
Donya-ye Eqtesad:
1- Yellow Vests Seeking to Conqur Élysée Palace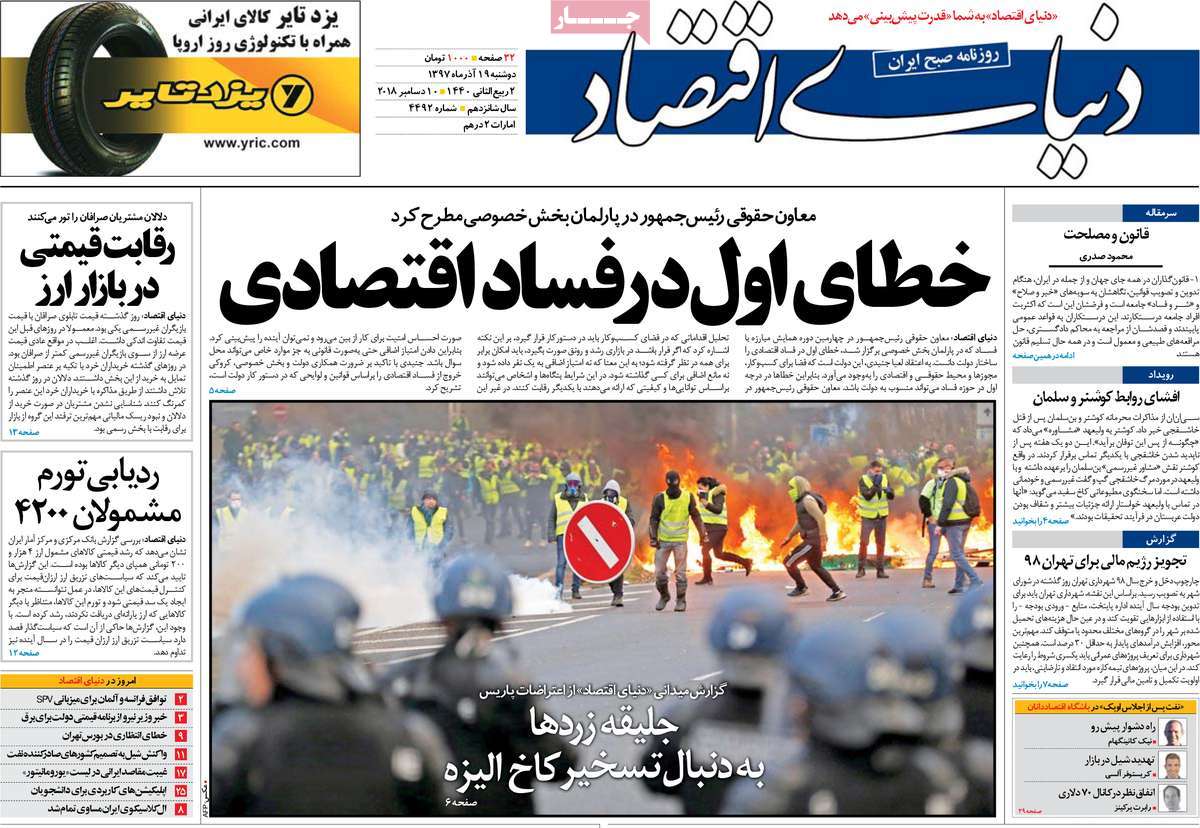 ---
Ebtekar:
1- Germany, France Agree to Host, Chair Iran Trade Channel: Diplomatic Sources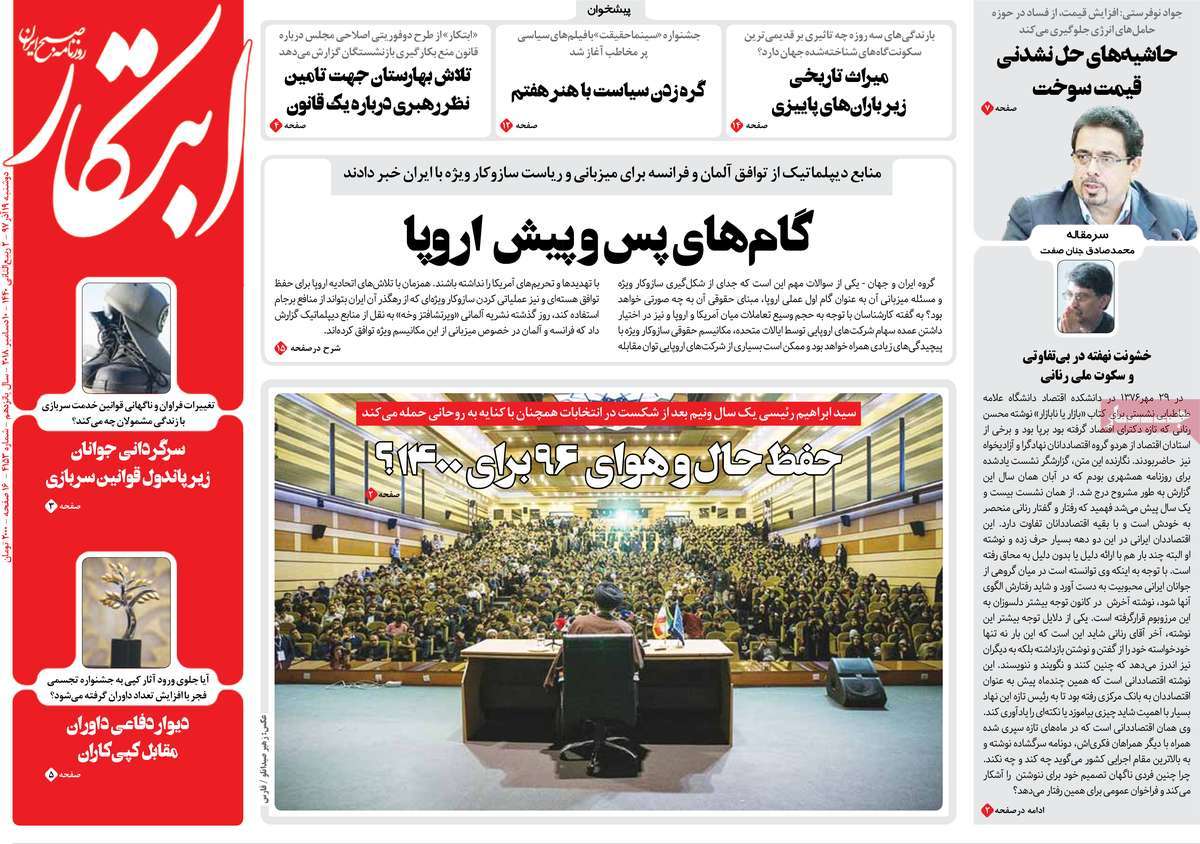 ---
Etemad:
1- Rouhani's Rival Raisi Criticizes His Government's Performance
2- There Is Money Laundering in Iran, but Less than Anywhere Else: Judiciary
3- Decline of Trust in White House: John Kelly Dismissed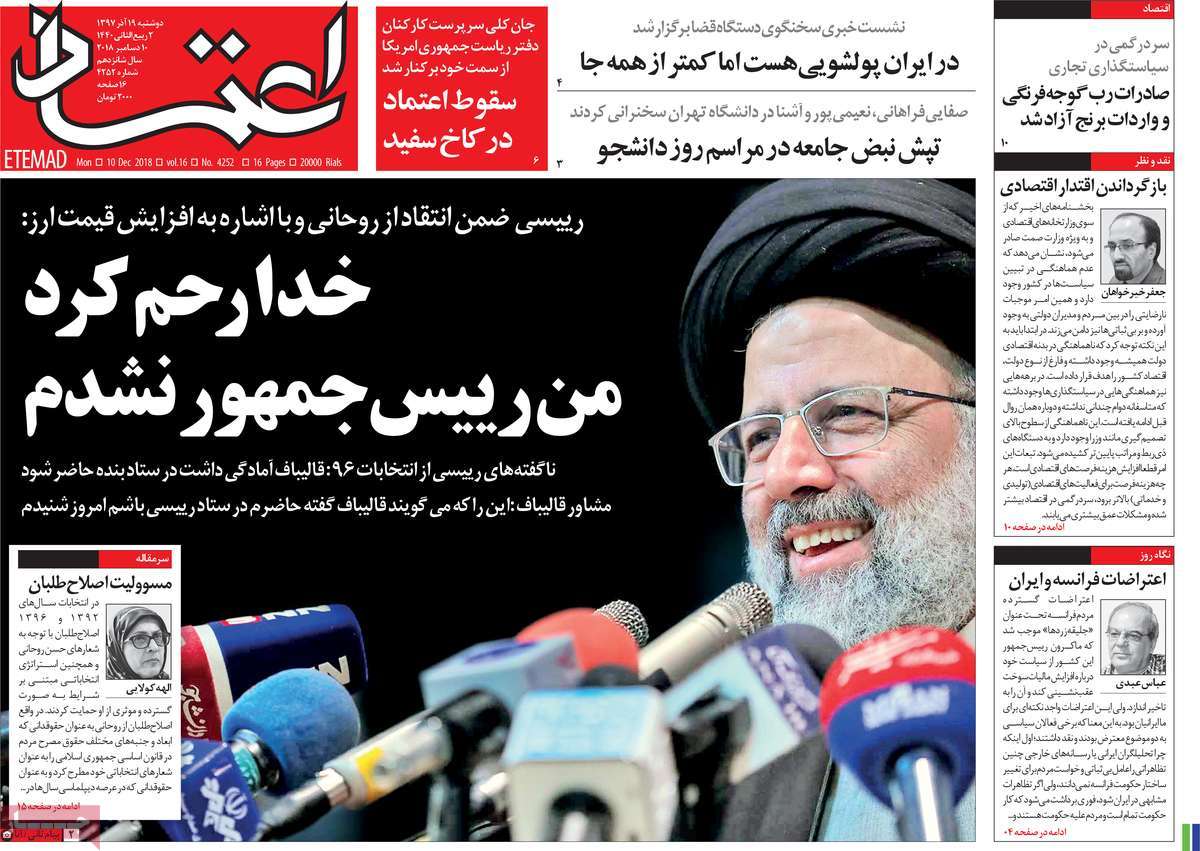 ---
Ettela'at:
1- Five European Countries Gripped by Wave of France Unrest
2- Senator Graham: Saudis Would Be Speaking Persian Now If It Wasn't for US
3- France, Germany Agree on Iran Special Trade Channel
---
Iran:
1- Free Tribune for Rivals
Rouhani's Three Rivals Raisi, Qalibaf, Jalili Deliver Speeches at University of Tehran
2- Best-Selling Author Gifts His Considerable Award to Sunni Teachers in Deprived Province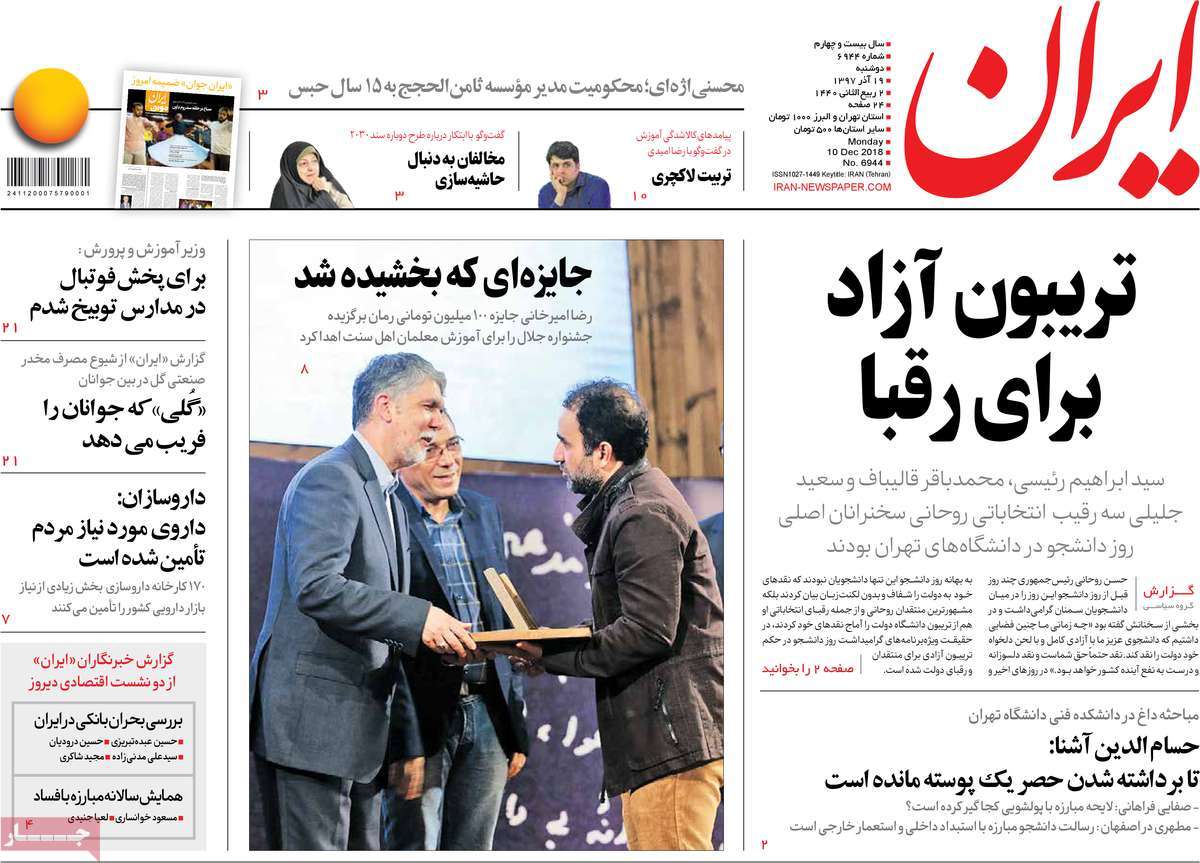 ---
Jame Jam:
1- Plot of Removing Oil Sales from "European Channel"
Experts Concerned over Rumours of Removing Oil Sales from Europe's SPV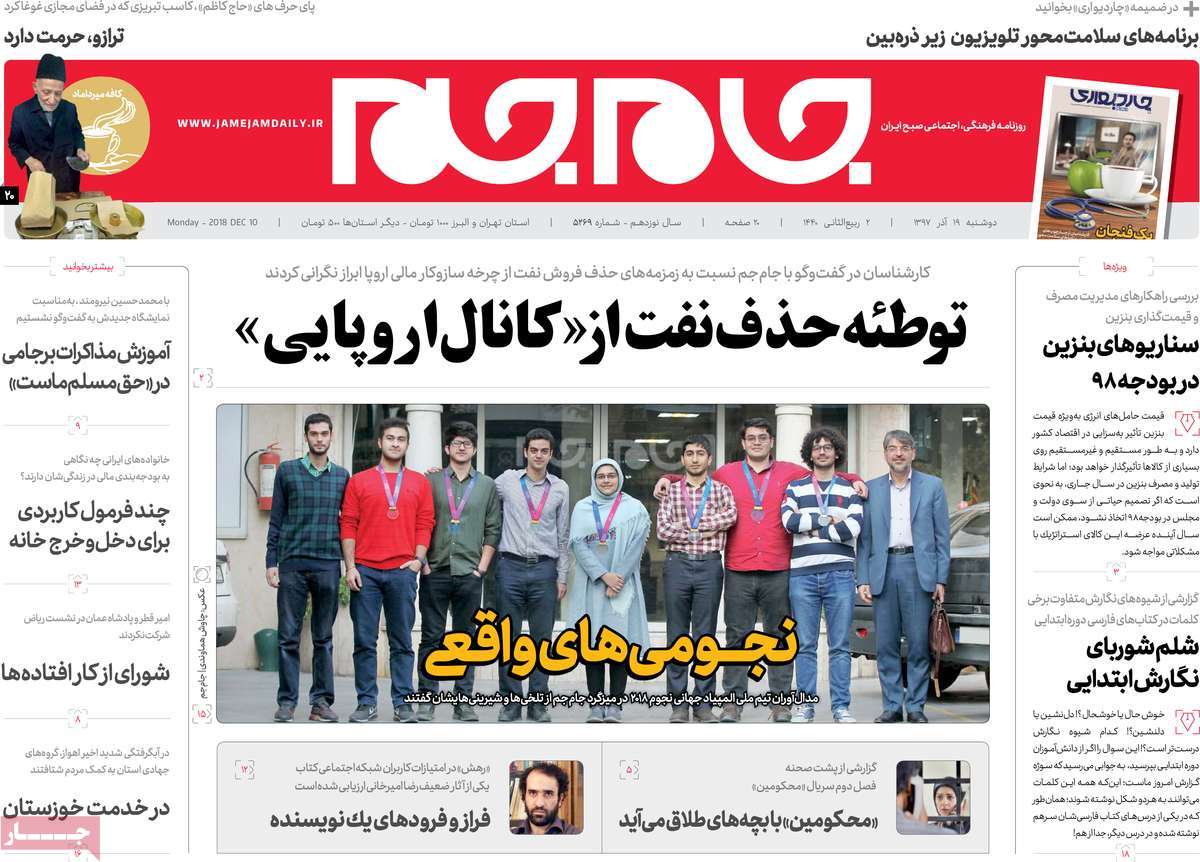 ---
Javan:
1- Trump Defeated by OPEC
US President's Headache after OPEC's Deal to Cut Output by 1.2m Barrels
2- Western World's Double Standards: From Tehran to Paris
How Foreign Interference in Iran Gatherings Violates Rights of People, Gov't?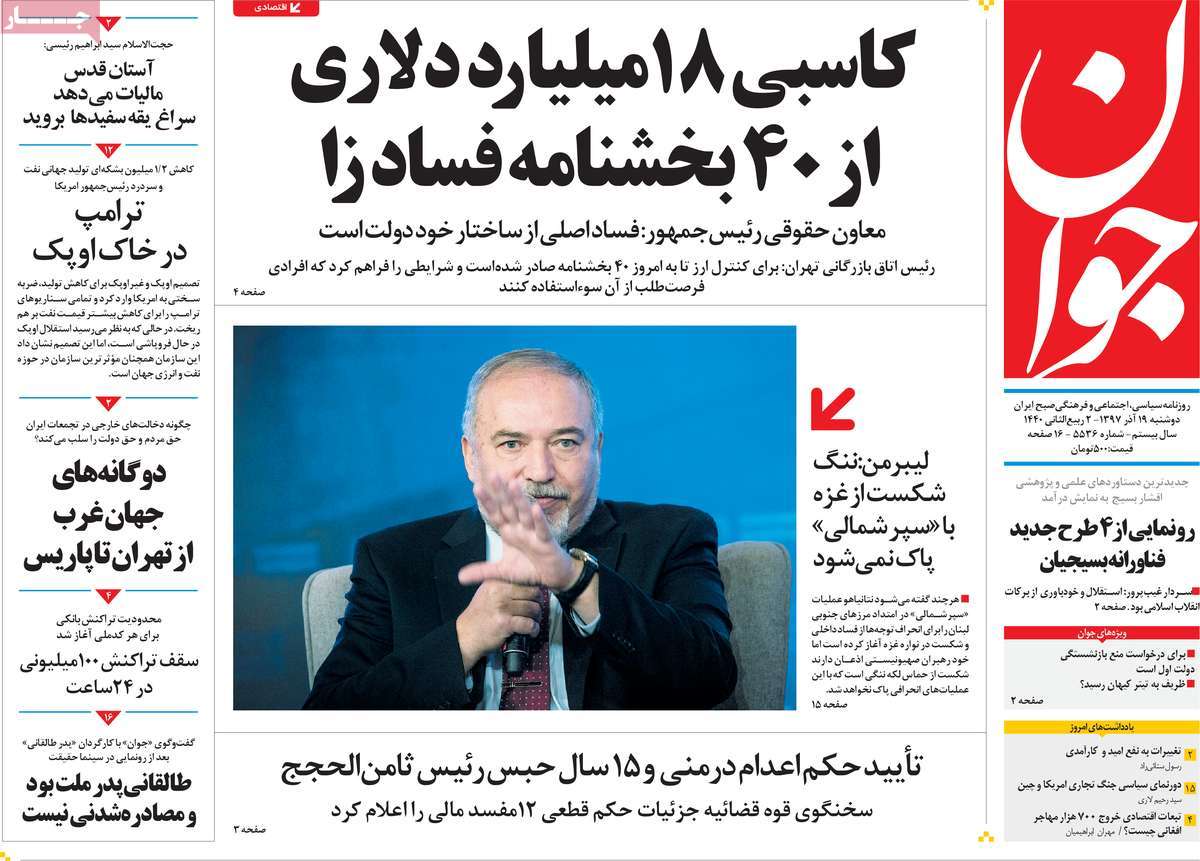 ---
Kayhan:
1- Riot of Republicanism against Aristocracy in France: Iranian Liberals Mourning
2- S. Korea: We'll Keep Iran's Market for Ourselves in Any Way Possible!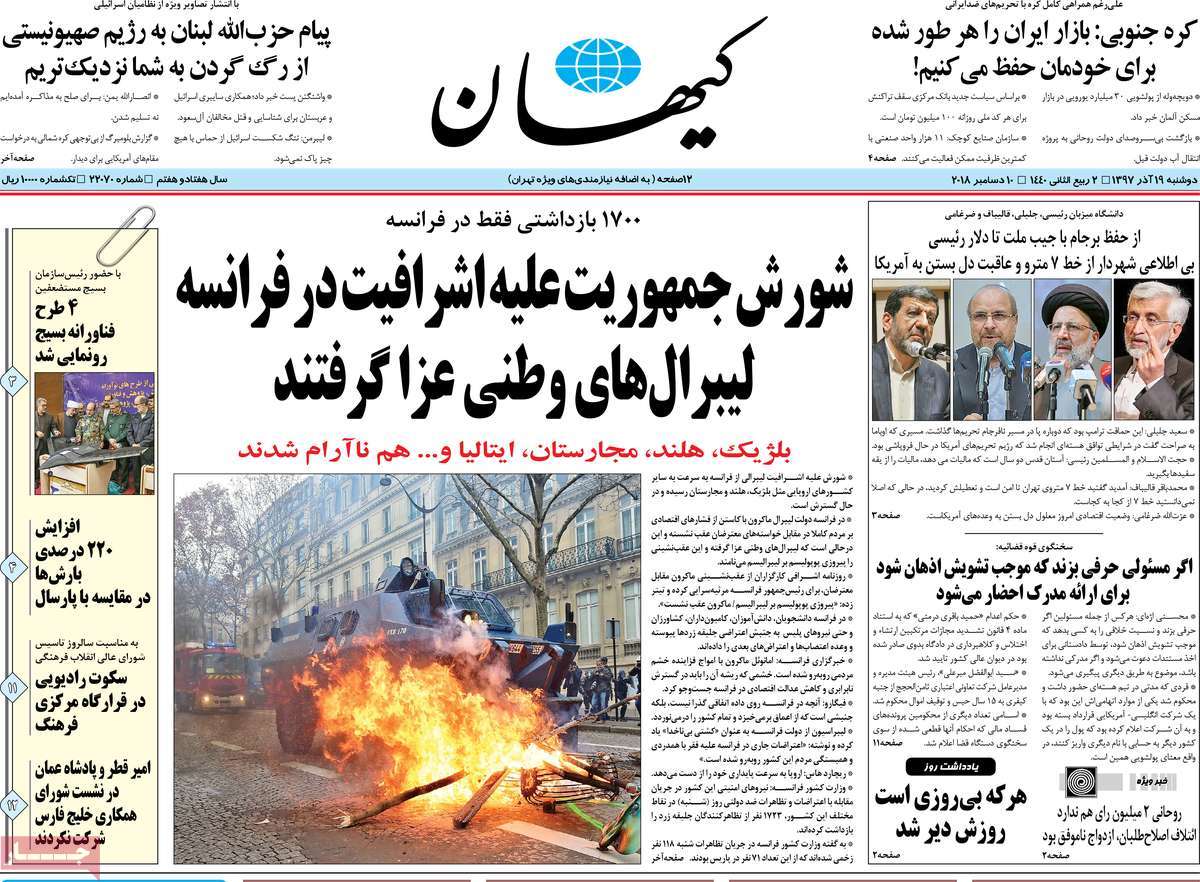 ---
Resalat:
1- Europe's Dormant Volcano Erupts
Increased Protests in Netherlands, Belgium, Italy, France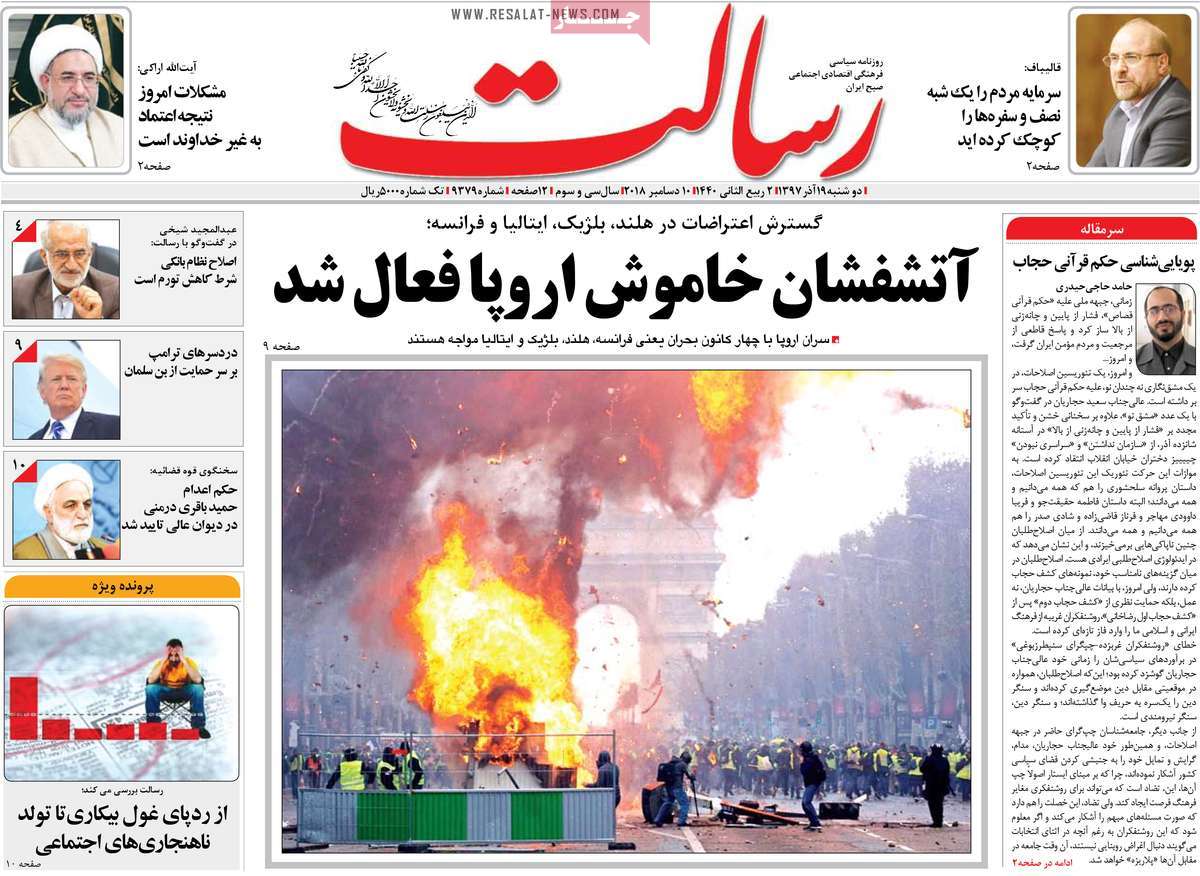 ---
Setareh Sobh:
1- Execution and Removing Highest-Ranking Convicts
Another Man to Be Executed for Economic Corruption
2- Foreign Currency Rates Decreasing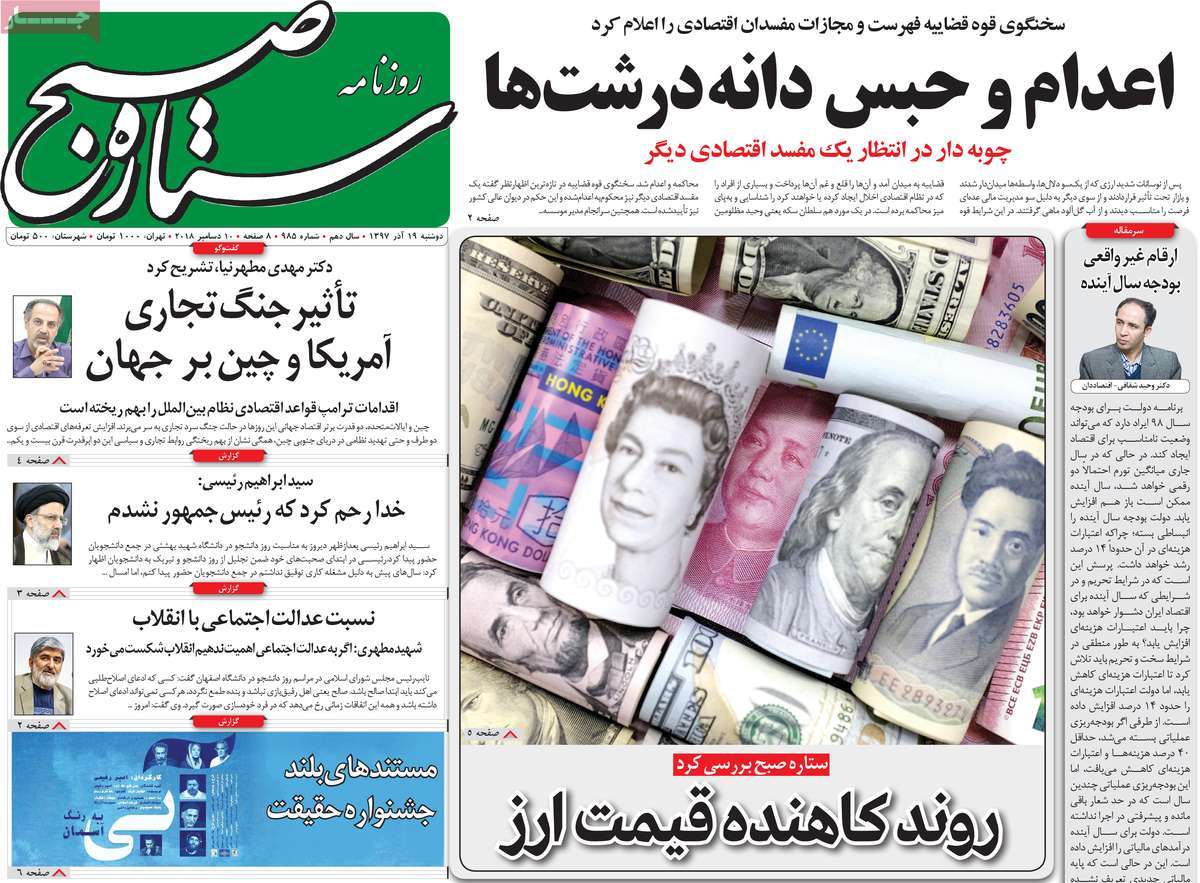 ---
Shargh:
1- Iranian Trouble for China, US: Complicated Story of Huawei CFO's Arrest
2- British Ambassador Vows to Ease Visa Issuance for Iranians
3- Lawmaker Promotes Sectarianism at Parliament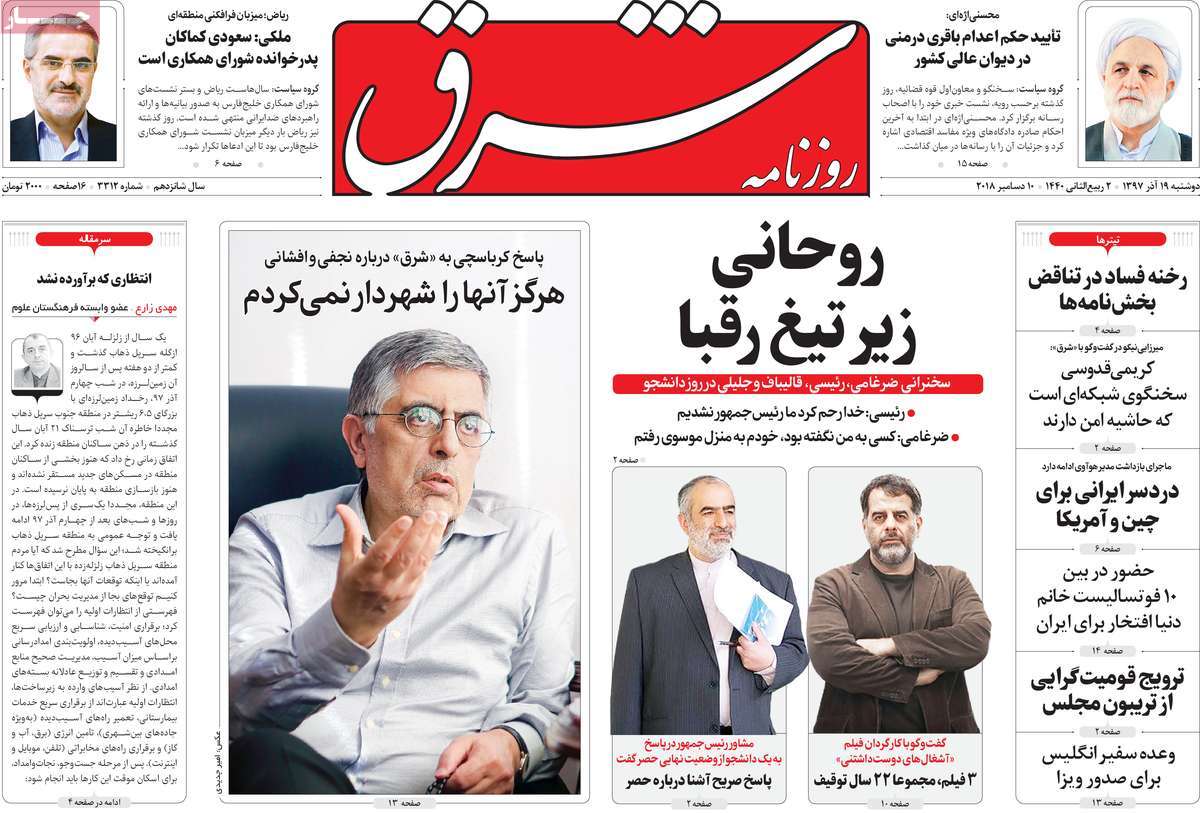 ---
Vatan-e Emrooz:
1- Union of European Protests
2- Qatar on Verge of Leaving Club of Sheikhdoms: GCC Summit Held without Two Leaders