The comments of President Hassan Rouhani in a speech marking Student Day dominated the front pages of Iranian newspapers on Tuesday.
Ettela'at: If not critiqued, authority leads to tyranny, said the president in a speech to mark Student Day.
President Rouhani further said that those to whom personal and factional interests do not come at the expense of national interests should find their way to parliament.
Ettela'at: It is now possible to purchase foreign-made products with credit cards government is expected to issue.
An official with the Central Bank has said the interest rate for local products will stand at 12 percent; as for foreign-made products it will be as high as 21 percent.
Ettela'at: The Guardian: Saudi Arabia poses a serious threat to Britain.
And the Brookings Institution said Saudi Arabia is the biggest provider of human resources for Daesh.
Ettela'at: A rise in social harms has everyone worried, said the first vice-president.
Eshagh Jahangiri said in meetings with the heads of the three branches of government that the Supreme Leader has underlined planning and efforts to spot and eliminate the root causes of social harms.
Ettela'at: The tax exemption ceiling of civil servants will rise to 13,000,000 rials (a little more than $430).
Ettela'at: The cyber-police have arrested 53 Daesh sympathizers in the country.
In the first eight months of the year [started March 21, 2015], 132 websites which supported terrorists including Daesh have been identified and blocked.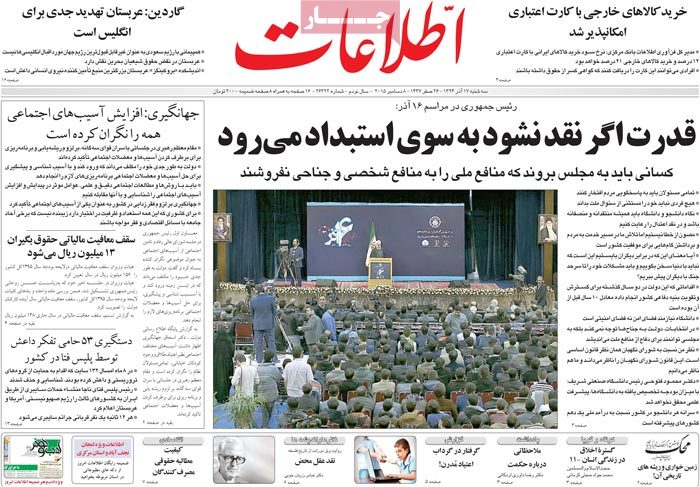 ---
Abrar: MPs have issued a third yellow card to the minister of industries, mines and trade.
Mohammad Reza Nematzadeh, however, said he knows enough about the country's rules and regulations not to commit any offenses.
Abrar: Baghdad has issued a 48-hour deadline for Turkish forces to leave Iraq's territory.
---
Abrar-e Eghtesadi: Germany and Russia are to contribute to development of Iran's gas sector.
Abrar-e Eghtesadi:  Iran's imports of American products are up 85 percent.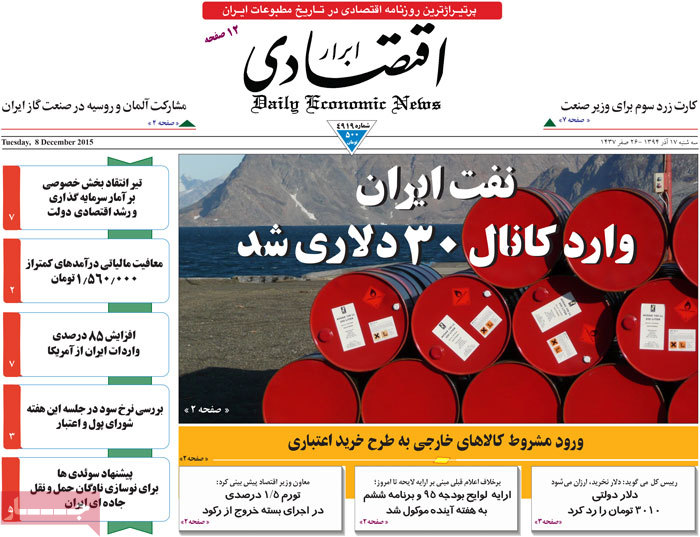 ---
Arman-e Emrooz: In a speech to mark Student Day, President Rouhani said, "We need a safe environment, not a security-laden one."
He further said when it comes to accountability no one is an exception.
Arman-e Emrooz: Influenza prompts school closures.
Thirty-six have so far died and more than 600 hospitalized as a result of the flu.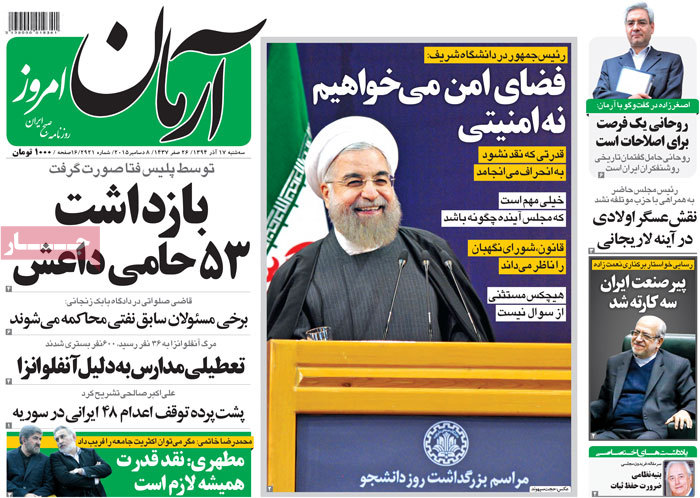 ---
Asr-e Rasaneh: The cyber-police keep a watchful eye on Facebook and Instagram.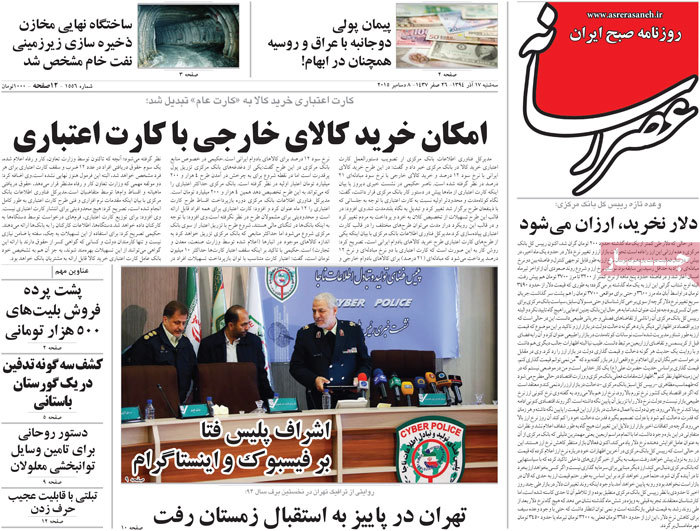 ---
Asrar: The deputy foreign minister has said that talks have been held with P5+1 on how to remove the sanctions.
Asrar: The minister of science has said that those who disrupt speeches at universities will be seriously dealt with.
Asrar: Judge Salavati has said that a number of oil officials of the previous government will be put on trial.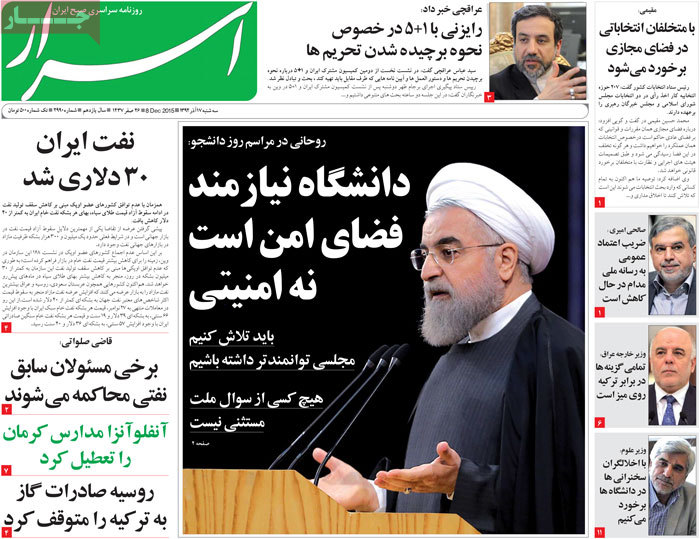 ---
Bahar: Some individuals view everyone as a subversive element, said Tehran MP Ali Motahari in a speech to mark Student Day.
Faezeh Hashemi [daughter of the chairman of the Expediency Council] has said that Iranian society is after reforms.
And former Tehran Mayor Gholamhossein Karbaschi said some individuals reject dialogue with no reason.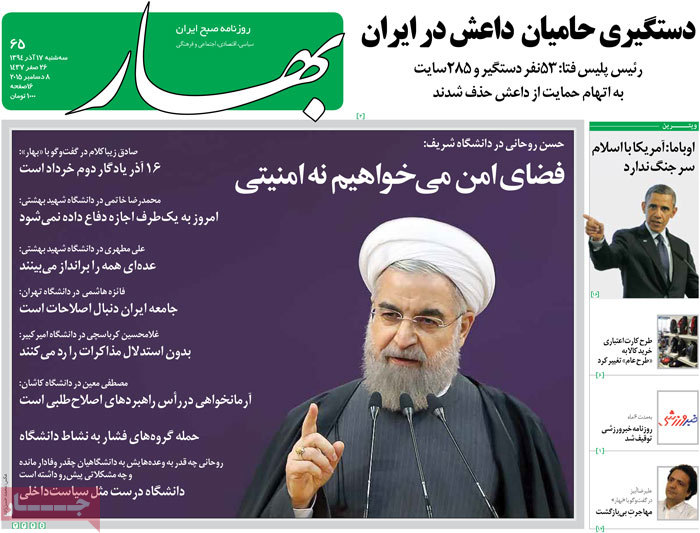 ---
Ebtekar: The number of flu victims in the country is on the rise.
Yellow alert in Kerman has prompted the closure of schools.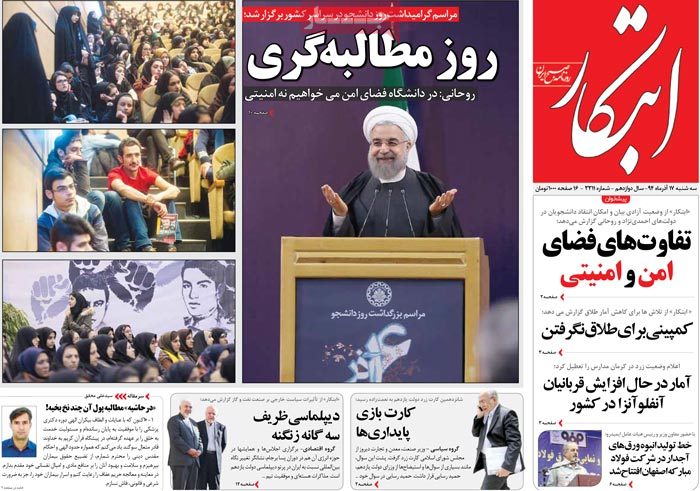 ---
Eghtesad-e Pooya: The credit rating of Iranian banks returns to the pre-sanctions levels.
Eghtesad-e Pooya: The president has hailed economic stability as a factor in nailing down success in nuclear talks.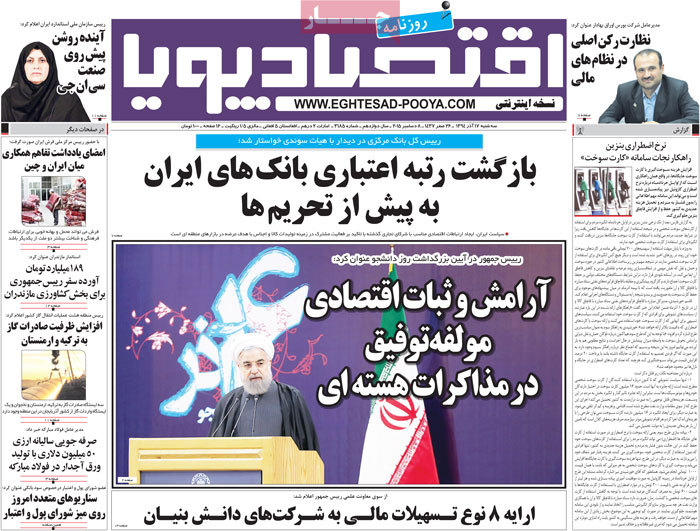 ---
Etemad: President Rouhani has appealed to students to "critique authority".
"Criticizing some institutions is a bit difficult, lead off with the Executive branch and the president," Rouhani told students at a ceremony at Sharif University of Technology.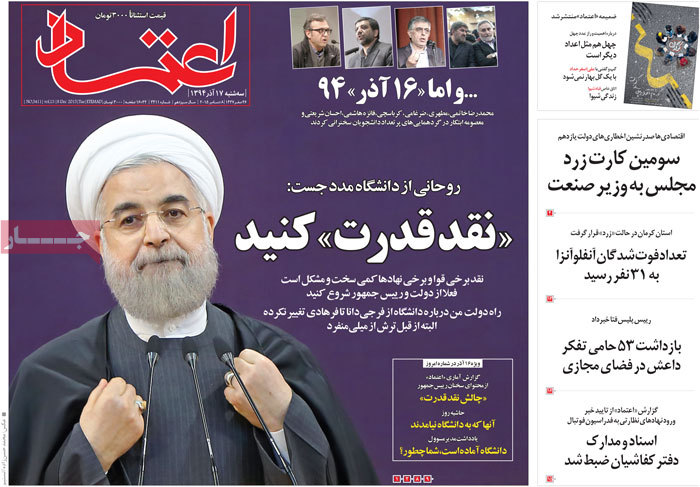 ---
Hambastegi: There remains no reason for the case involving the past issues of Iran's nuclear program to remain open, said the secretary of the Supreme National Security Council.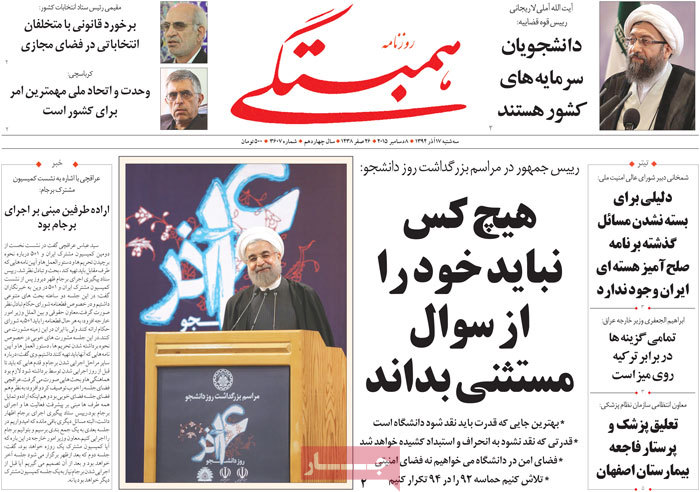 ---
Hemayat: Terrorist groups are being supported by the US, said Judiciary Chief Ayatollah Sadegh Amoli Larijani.
It is impossible for genuine Islam to produce a piece of garbage like Daesh, the top judge said.
---
Iran: The electoral victory of hardliners has sent shockwaves through French society.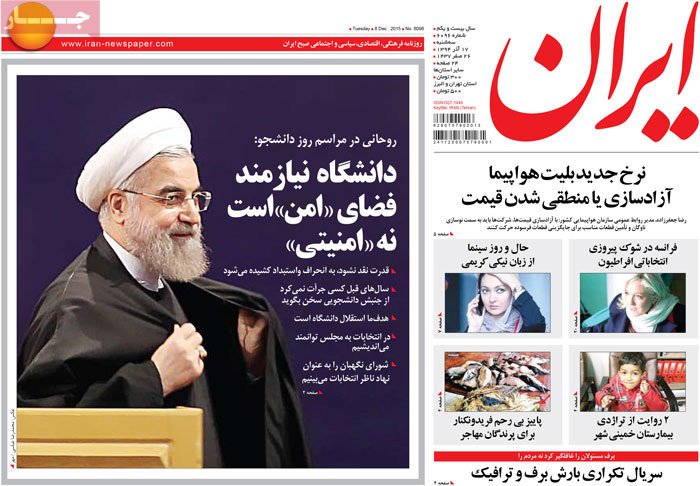 ---
Javan: Intelligence officials have removed documents from the office of Ali Kafashian, the head of the Football Federation of Iran.
Javan: A doctor and a nurse involved in a "suture removal" scandal in Isfahan Province will be put on trial.
[When the doctor found out that the family of a four-year-old patient who needed stitches on his chin could not afford the medical fees, he ordered the nurse to take out the sutures.]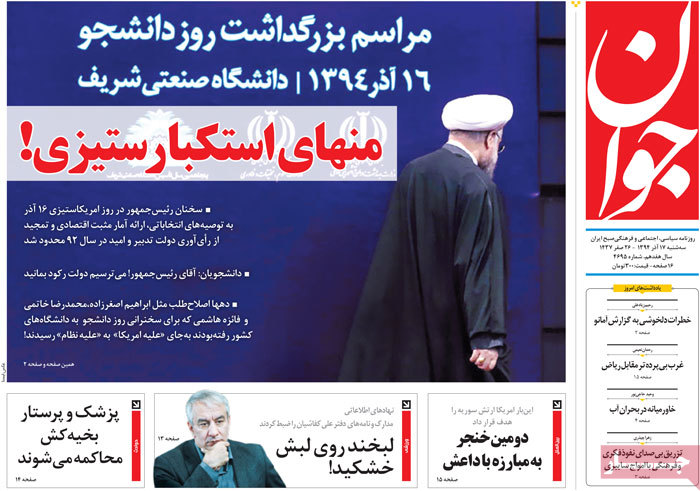 ---
Jomhouri Islami: Turkish officials are begging Russia to lift its sanctions against their country.
---
Kaenat: The head of the Electoral Commission has said that those who commit electoral offenses on the Internet will be dealt with.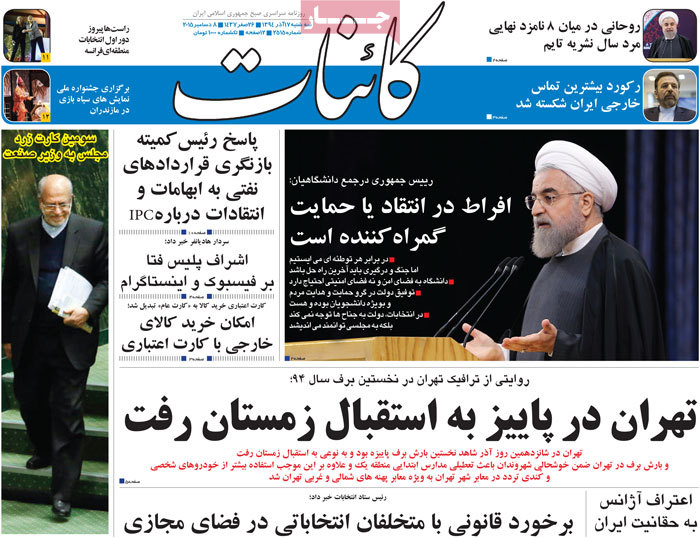 ---
Kayhan: Daesh steals Iraqi and Syrian oil; Turkey acts as a middleman; and Israel purchases the stolen petroleum, says an analysis by the daily.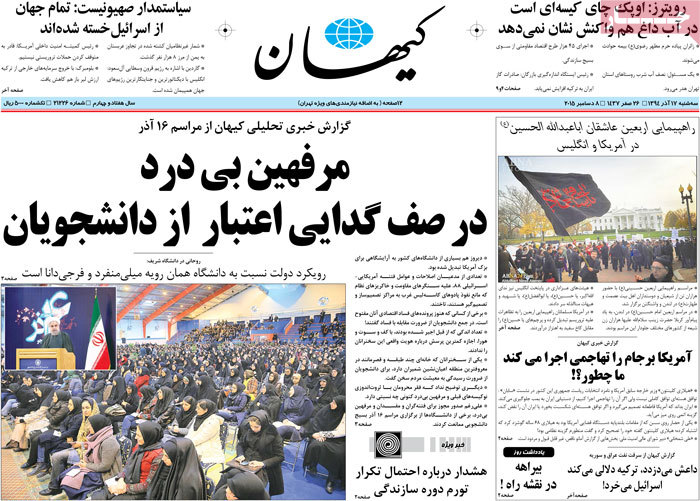 ---
Mardomsalari: Removal of stitches simply because someone cannot afford the hospital bill is regrettable in the history of medical services.
The health minister has said that he won't accept attempts to gloss over what happened at a hospital in Isfahan Province.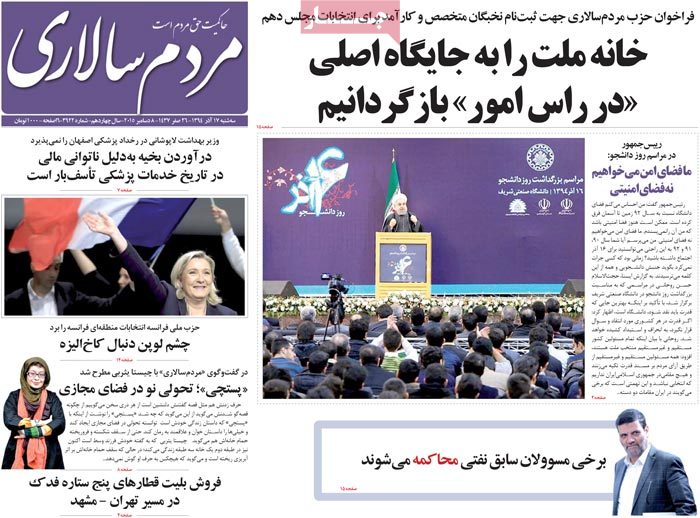 ---
Payam-e Zaman: Iran's taekwondo will have three representatives in the Olympics.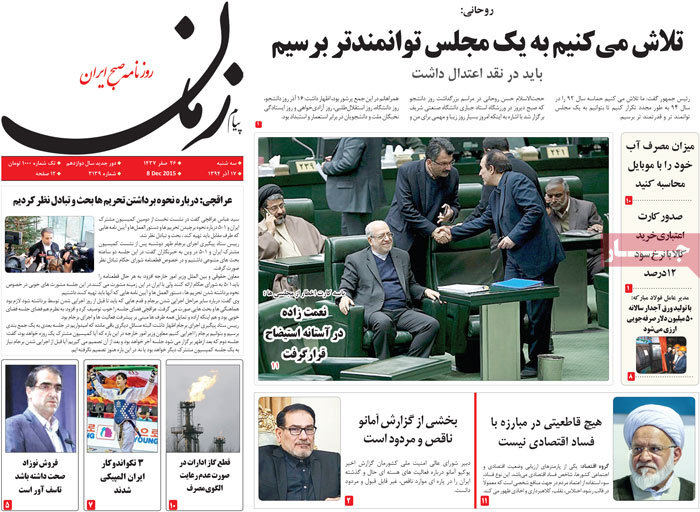 ---
Resalat: We need to be ready for war at all times, said President Rouhani.
War won't break out only when we are 100 percent ready, he further said.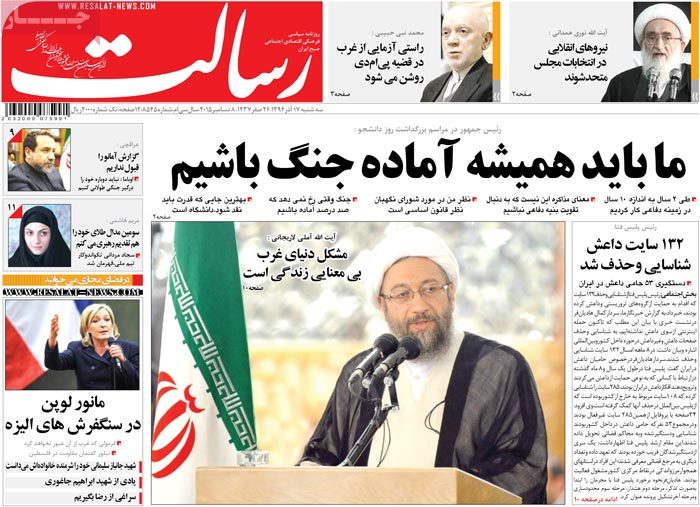 ---
Saheb Ghalam: Iran's hand-woven carpet provides a new platform for Iran-China cooperation.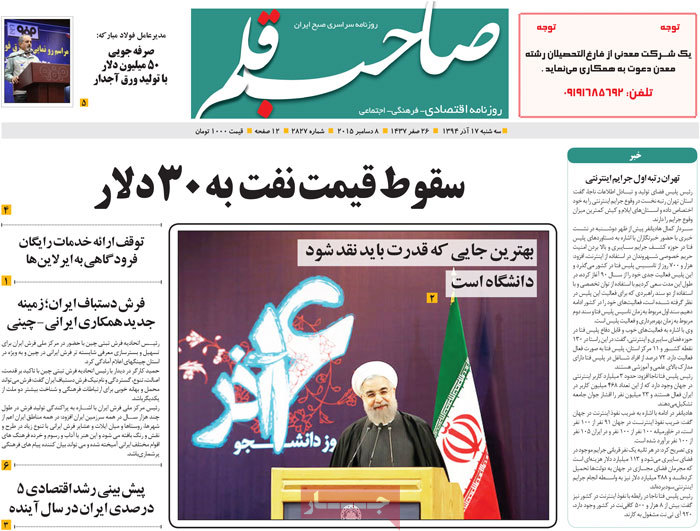 ---
Setareh Sobh: Twenty percent of the country's liquidity is in the hands of credit institutes, said the Central Bank.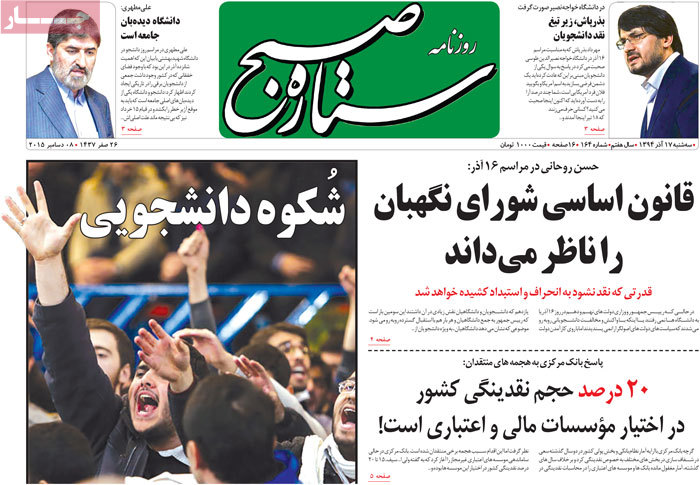 ---
Sharq: President Rouhani and seven others are on Time Magazine's eight-individual shortlist for man of the year.
---
SMT: With an IAEA Board of Governors resolution around the corner, the value of the rial against the greenback is forecast to increase.
---
Sobh-e Eghtesad: The destroyers of the Iranian Navy are equipped with cruise missiles capable of hitting targets 339 km away.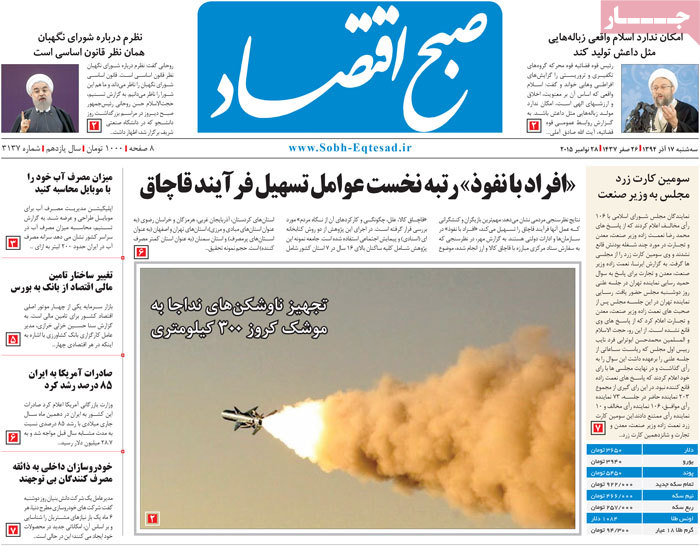 ---
Vaghaye-e Etefaghiyeh: The defeat of populism
Allies of the late Venezuelan president have lost their majority in parliament for the first time in 16 years.
Vaghaye-e Etefaghiyeh: Forty MPs have signed a petition to impeach the education minister.