Images of continuing protests across the United States against police brutality dominated the front pages of Iranian newspapers on Sunday. Comments by Iranian minister of economy that a large-scale case of corruption in the banking sector has been unveiled also made headlines.
---
Abrar: The US ambassador to Iraq has said that Iran has played a key role in the fight against IS.
Abrar: Former US Secretary of State Hillary Clinton has thrown her weight behind President Obama's decision to extend nuclear talks with Iran.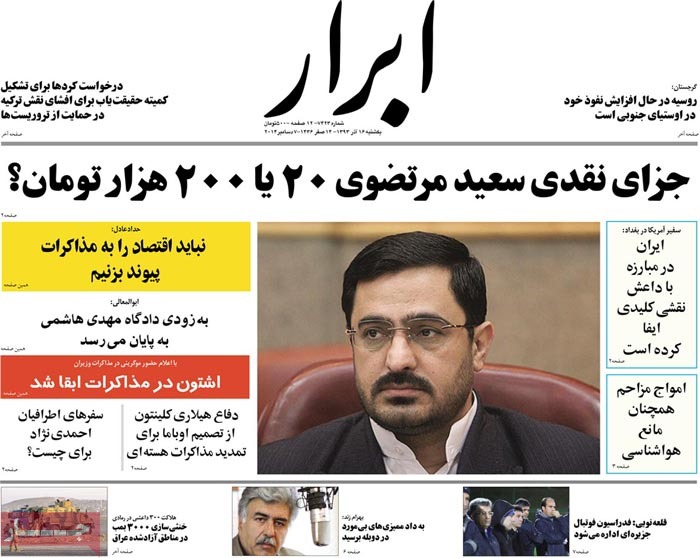 ---
Abrar-e Eghtesadi: Mismanagement and unfinished projects have resulted in the minister of roads and urban development to be summoned to parliament to answer questions by MPs.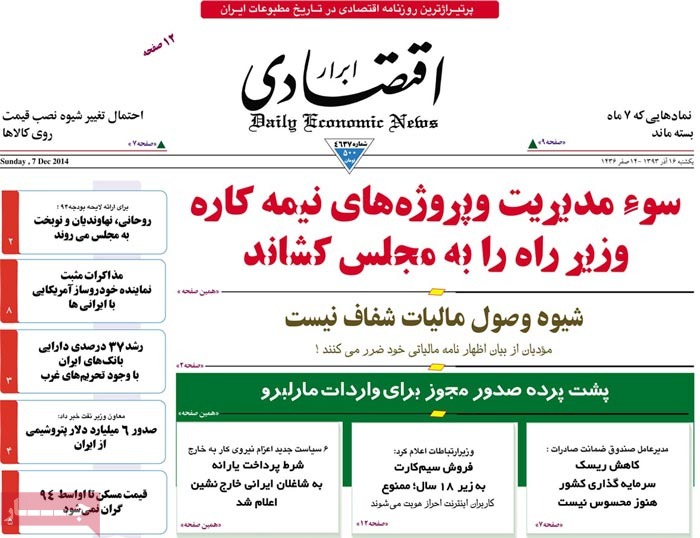 ---
Afarinesh: The Expediency Council has voted for "effective punishment" for those who pollute the environment.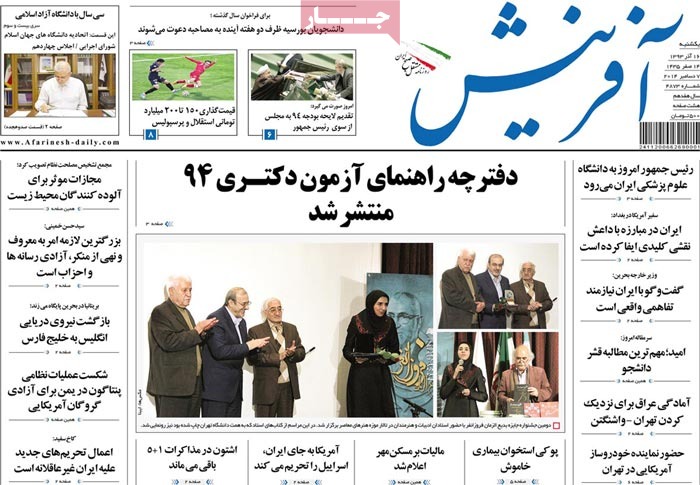 ---
Afkar: "Exports of petrochemicals have brought in some $6 billion in revenues this year [started March 21, 2014]," said the deputy oil minister.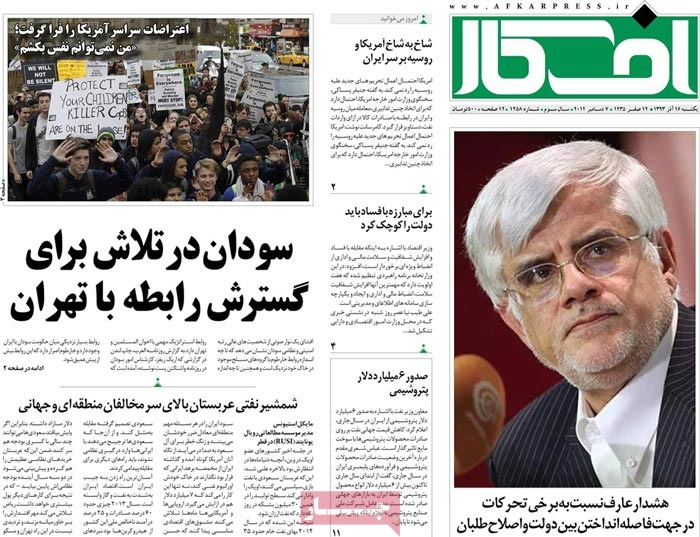 ---
Aftab-e Yazd: The US auto industry has returned to Iran without drawing much attention.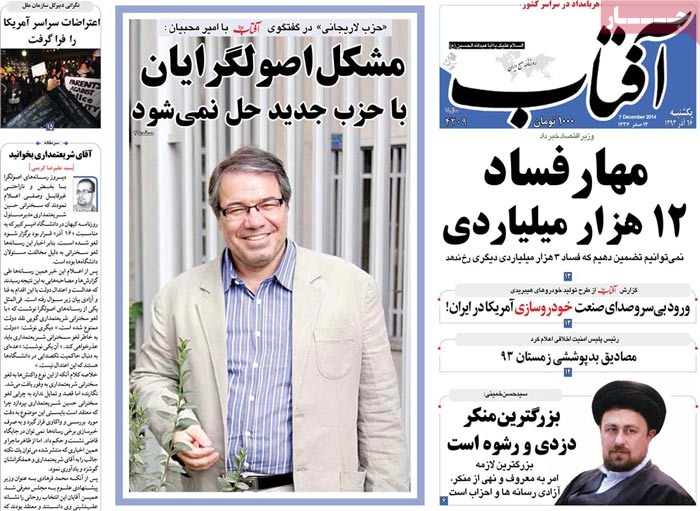 ---
Arman-e Emrooz: "Freedom of press and parties is the most important requirement for the promotion of virtue," said Seyyed Hassan Khomeini, the grandson of the architect of the Islamic Republic.
Arman-e Emrooz: The new managing director of the capital's Persepolis Football Club has been arrested [apparently after sponsors filed a suit against the Reds].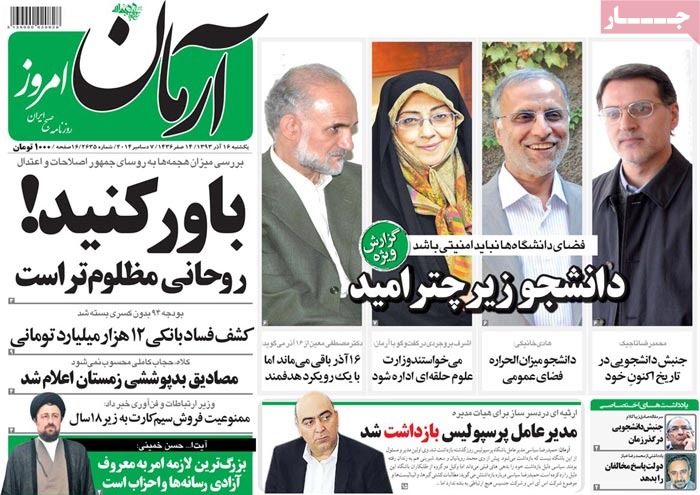 ---
Asr-e Rasaneh: As much as 70 percent of the Oil Ministry's budget will go to South Pars Gas Field.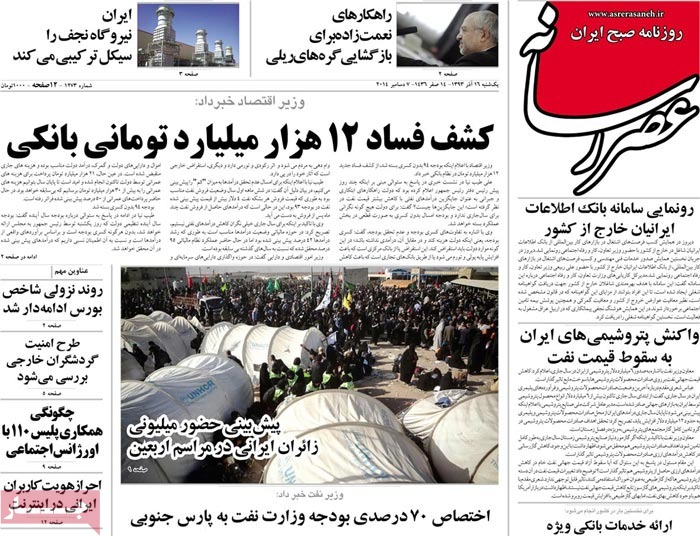 ---
Asrar: I-can't-breathe protests sweep the United States from coast to coast.
Asrar: "Some want to drive a wedge between reformists and the government," warned Mohammad Reza Aref, a former vice-president under reformist President Mohammad Khatami.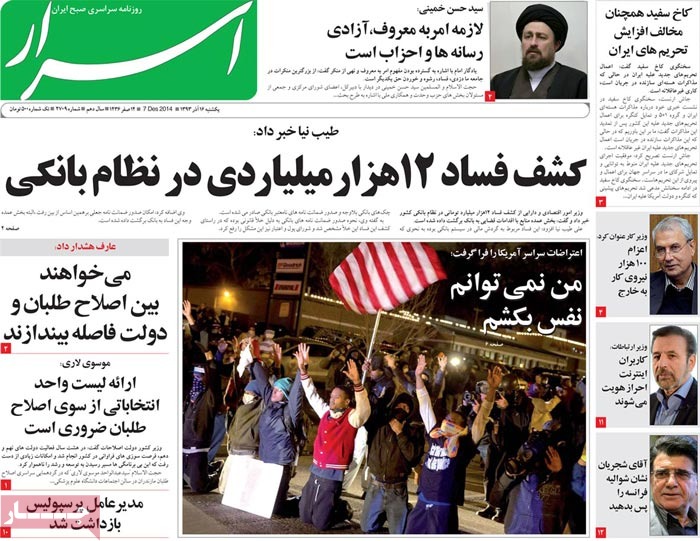 ---
Ebtekar: Catherine Ashton will remain on board the train of negotiations [between Iran and P5+1].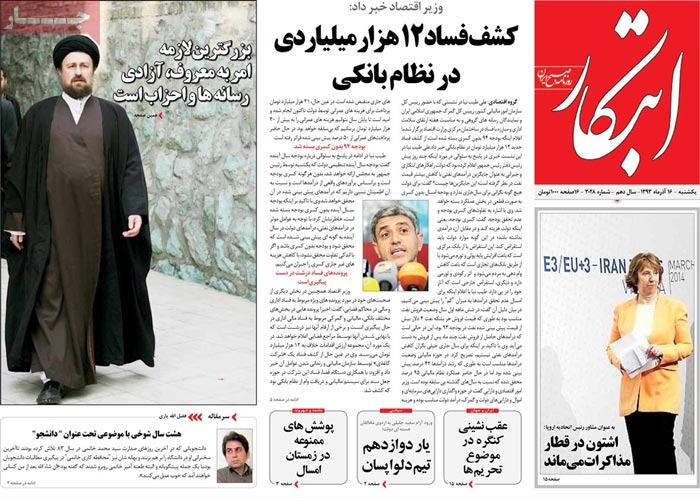 ---
Emtiaz: Iran is the seventh largest consumer of cosmetics in the world.
---
Etemad: President Rouhani is to present next year's spending package to parliament on Sunday. The proposed budget has been worked out on assumptions that oil prices will hover around $70 a barrel. The package also enshrines a 17 percent pay rise for civil servants.
---
Ettela'at: British Foreign Secretary Philip Hammond said that the role of Iran in the region cannot be ignored.
Ettela'at: "In bid to counter corruption, all economic laws are to be reviewed," said Minister of Economy and Financial Affairs Ali Tayyebnia.
Ettela'at: An international poster expo dubbed "Nelson Mandela; the Bird of Freedom" has opened in Tehran.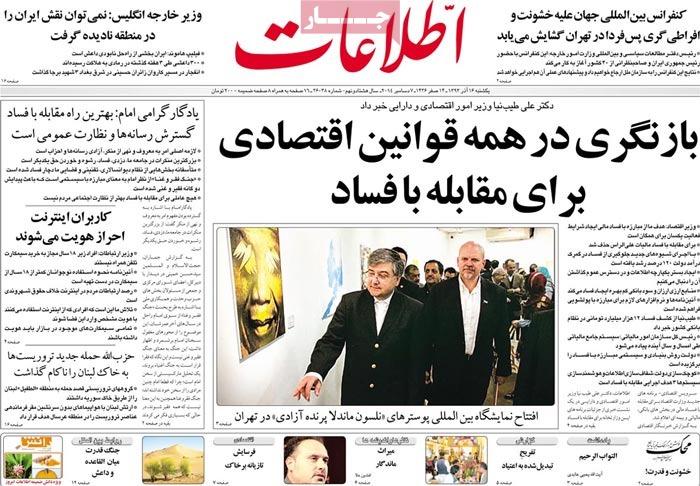 ---
Hambastegi: "Individuals under 18 years of age cannot buy SIM cards," said the minister of communications and information technology.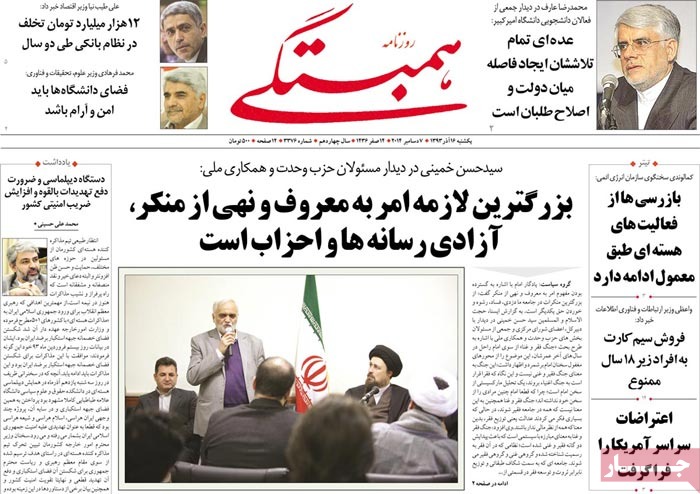 ---
Hemayat: "Tying the country's economy to [nuclear] talks is wrong," said Gholamali Haddad Adel, a onetime speaker of the Islamic Consultative Assembly.
Hemayat: "Three Iranian satellites are set to be launched," said the vice president of the Iranian Space Agency.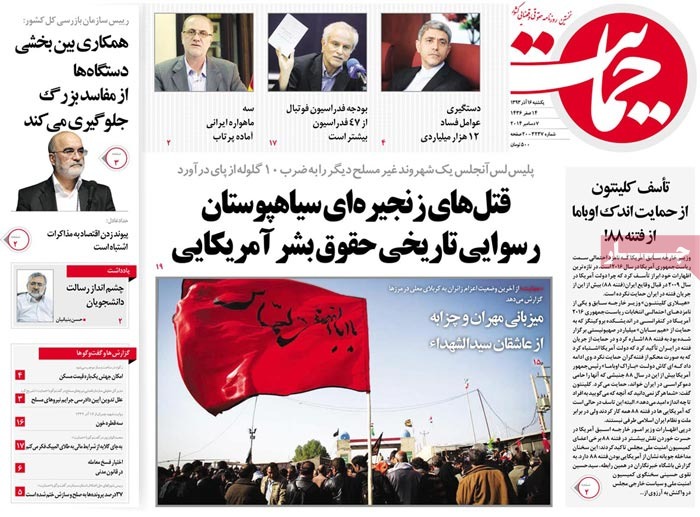 ---
Iran: The Ministry of Economy and Financial Affairs has unveiled a banking corruption case involving billions.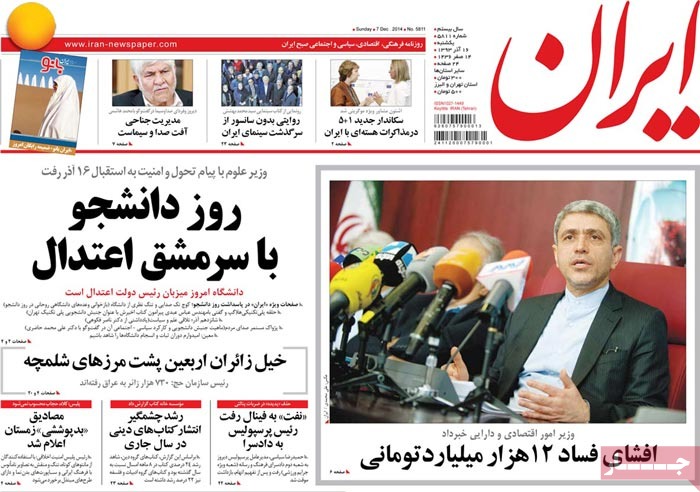 ---
Iran Daily: Peugeot shows green light to joint venture.
Iran Daily: Tehran to host international conference on WAVE [World against Violence and Extremism on Tuesday]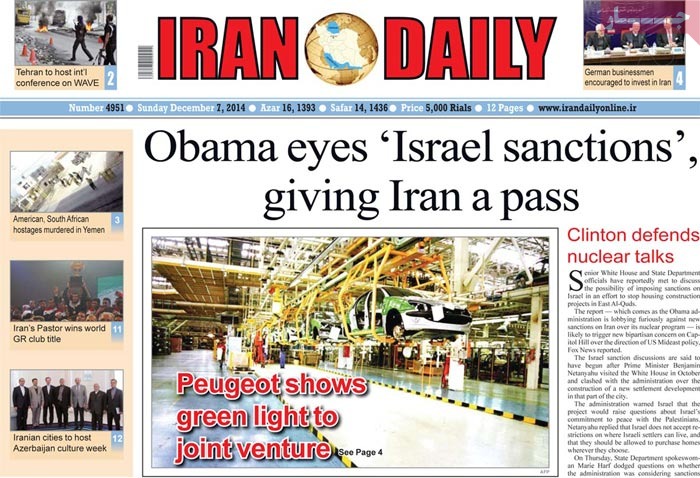 ---
Kaenat: More than a million Iranians are predicted to take part in ceremonies in Iraq to mark Arba'een [a Shiite Muslim religious observance that occurs 40 days after Ashura, which marks the martyrdom of the grandson of Prophet Muhammad] on December 13.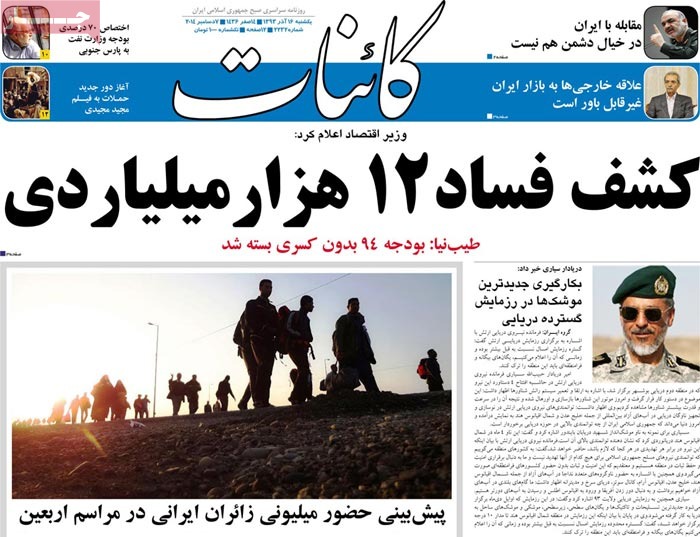 ---
Kayhan: Making comments that are not in line with the viewpoints of the executive branch seems to be forbidden! Amir Kabir University has cancelled the speech of the managing editor of Kayhan.
---
Kayhan International: "Testing new centrifuges to continue," a source close to Iran's nuclear negotiating team said.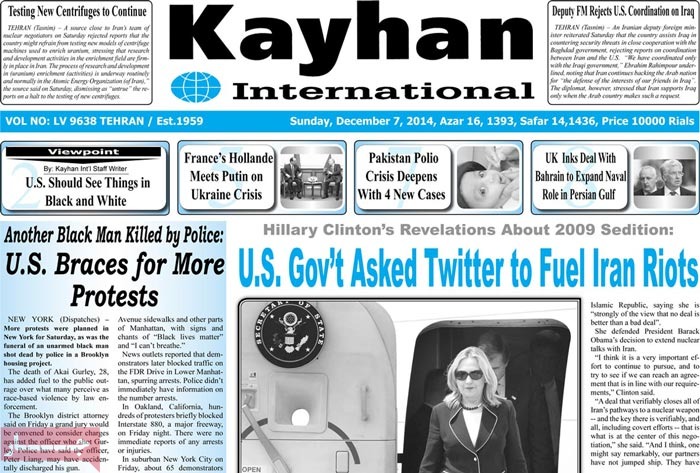 ---
Rah-e Mardom: "Pressures exerted by US allies prevented the conclusion of a deal," said the spokesman of parliament's National Security and Foreign Policy Committee.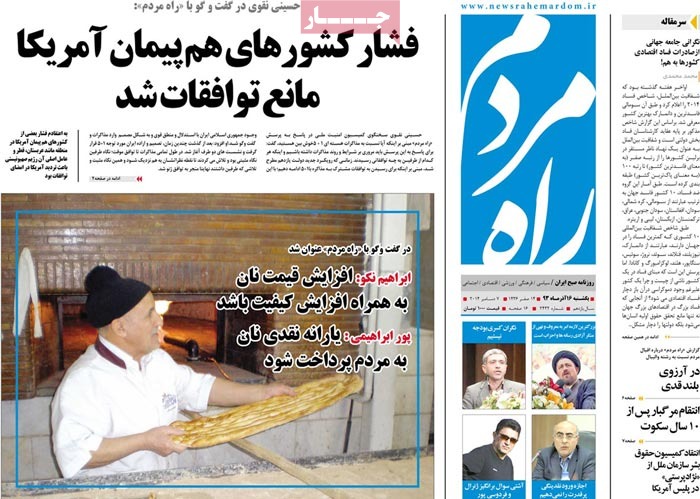 ---
Resalat: "Symbolic nuclear energy is neither strategic nor economical," said Kamran Daneshju, science minister under President Ahmadinejad.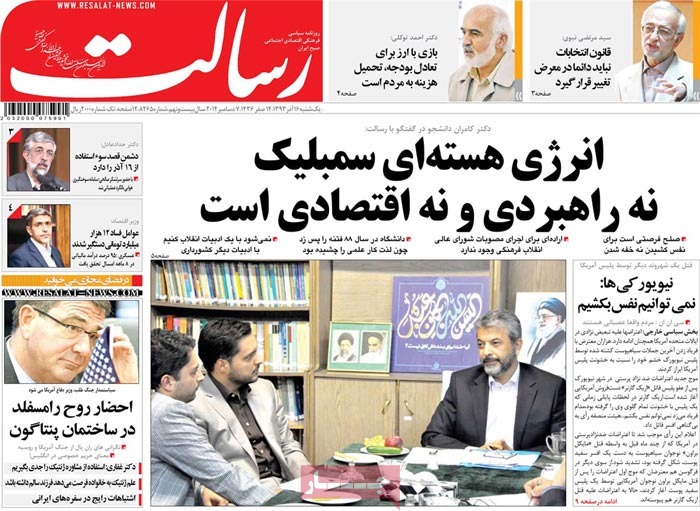 ---
Sayeh: The minister of labor and social welfare has said some 100,000 Iranians will have been sent abroad as workforce by late September 2015.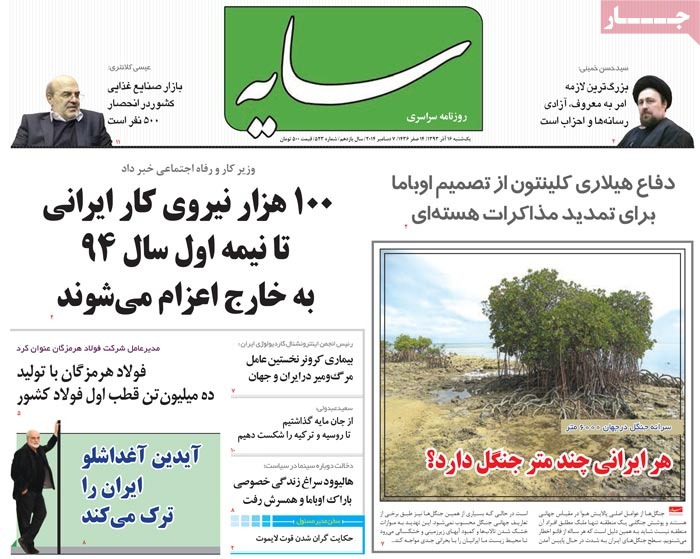 ---
Shahrvand: An exhibition on equipment used in the oil industry has opened in Khuzestan Province, southwestern Iran.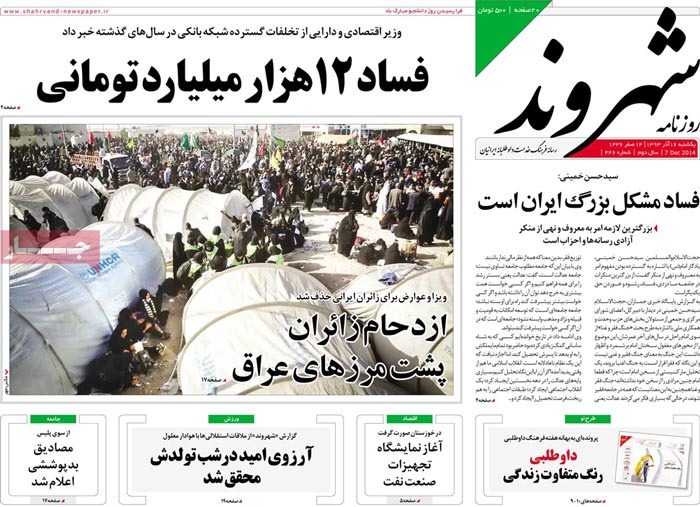 ---
Sharq: Police have revealed what they would view as failure to comply with the Hijab (the Islamic Dress Code) in the cold months of the year.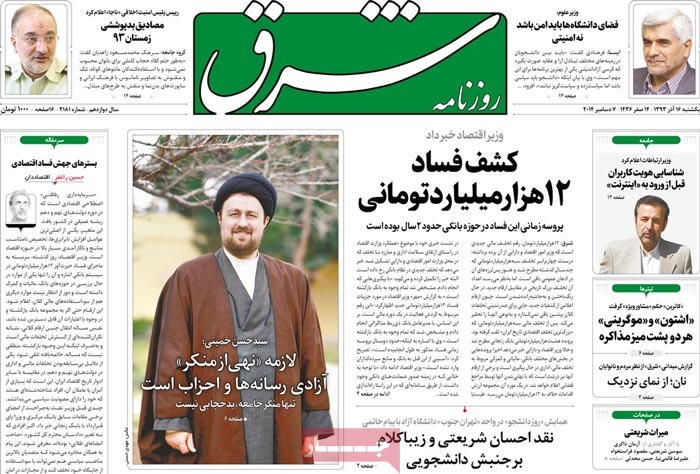 ---
Tafahom: As many as 10,000 Iranian households are using solar electricity.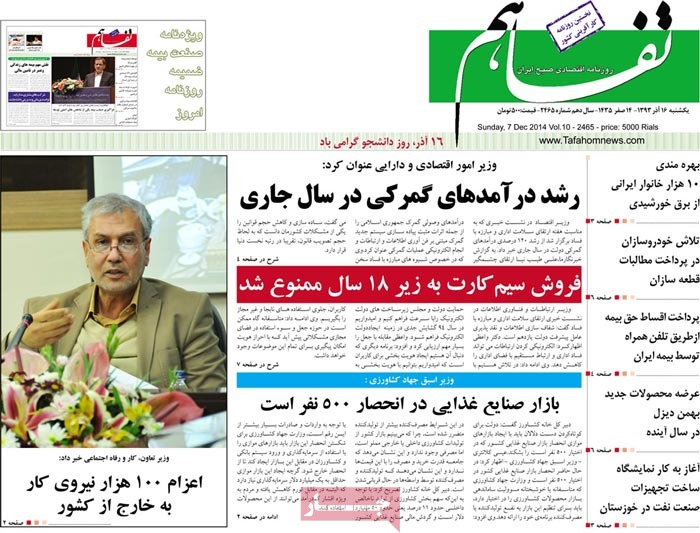 ---
Vatan-e Emrooz: Parliament deputies are worried about privatization of schools.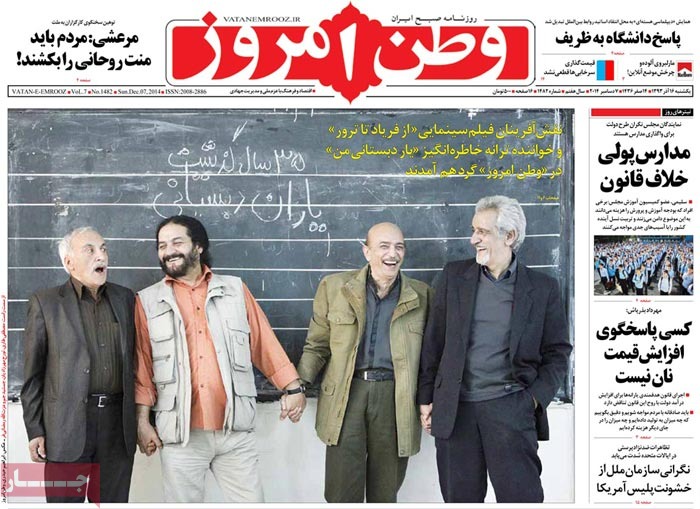 ---