The fresh round of US sanctions on Iran and Baghdad's surprising support for them received great coverage today. Many papers blasted Iraqi Prime Minister Haider Al-Abadi's comments regarding the issue, calling it a betrayal.
Also a top story was the Iranian Parliament's vote to impeach Labour Minister Ali Rabiee as the first minister to be sacked from President Hassan Rouhani's cabinet since his re-election in 2017.
The above issues, as well as many more, are highlighted in the following headlines and top stories:
Aftab-e Yazd:
1- Iranian Parliament Sacks Labour Minister
2- Al-Abadi Betrays Iran: Iraq to Implement US Sanctions on Iran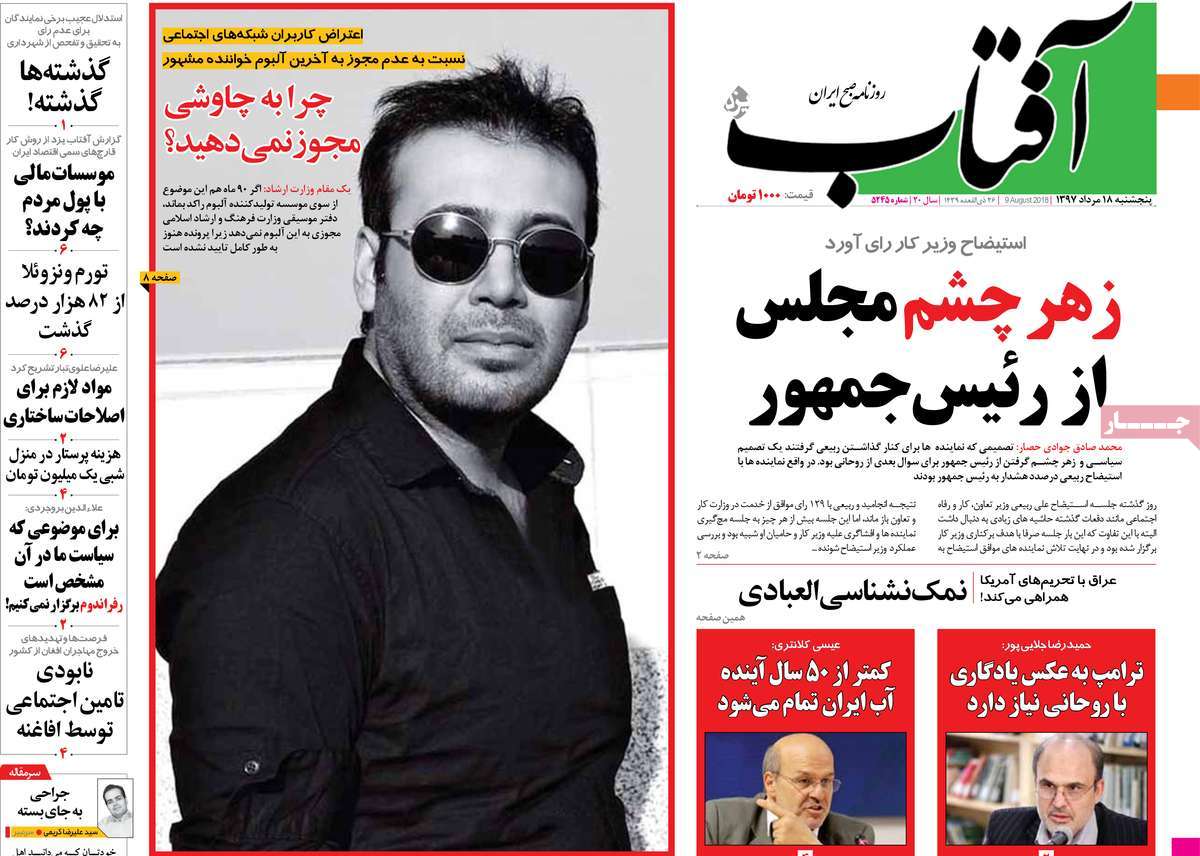 ---
Ebtekar:
1- Unemployed Minister
2- Rouhani Warns North Korea: US Unreliable, Untrustworthy, Doesn't Do Any of Its Commitments
3- Europe Gives Ultimatum to Firms Boycotting Iran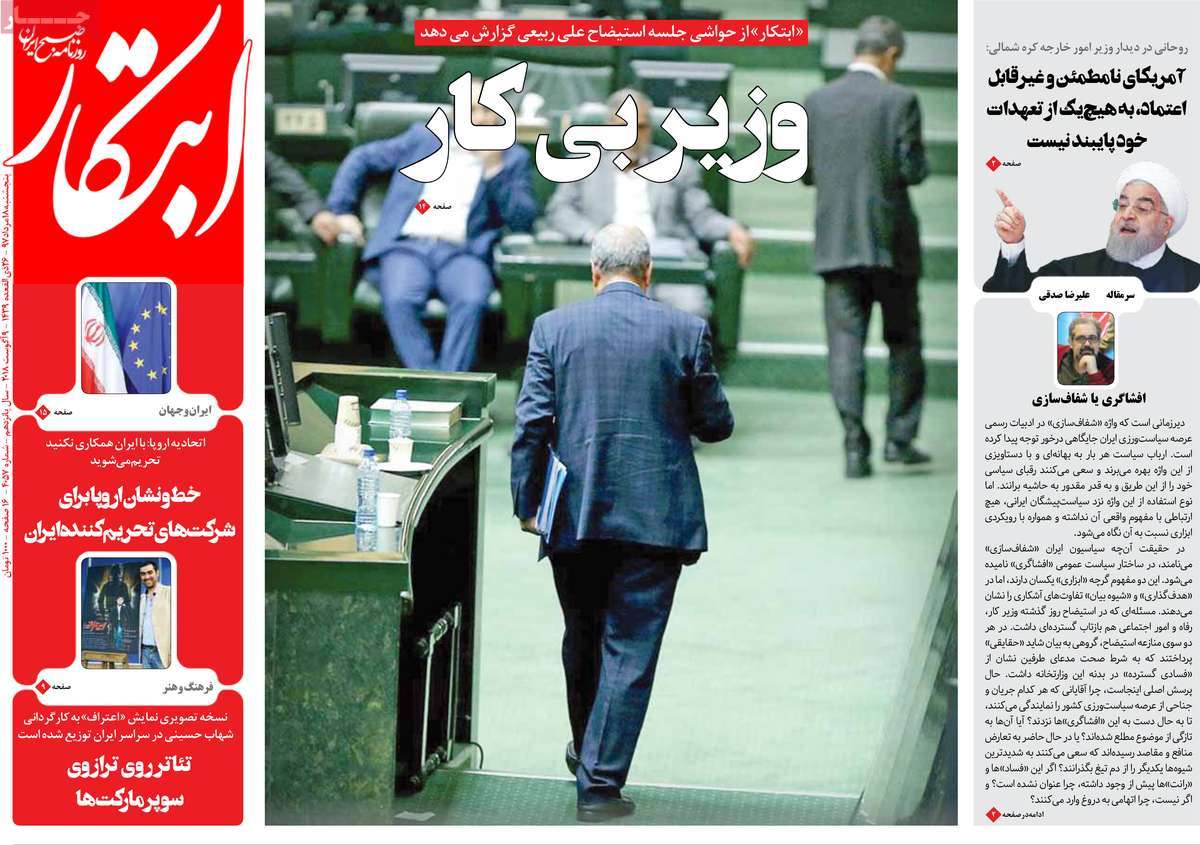 ---
Emtiaz:
1- Iran to Run Out of Water in Less than 50 Years: Environment Chief
---
Etemad:
1- 170,000 Tonnes of Paper Hoarded
2- More Bitter than Impeachment
---
Ettela'at:
1- EU: Firms that Stop Doing Business with Iran to Be Put under Sanctions
2- Ammar Hakim: We'll Stand by Iran against US Pressures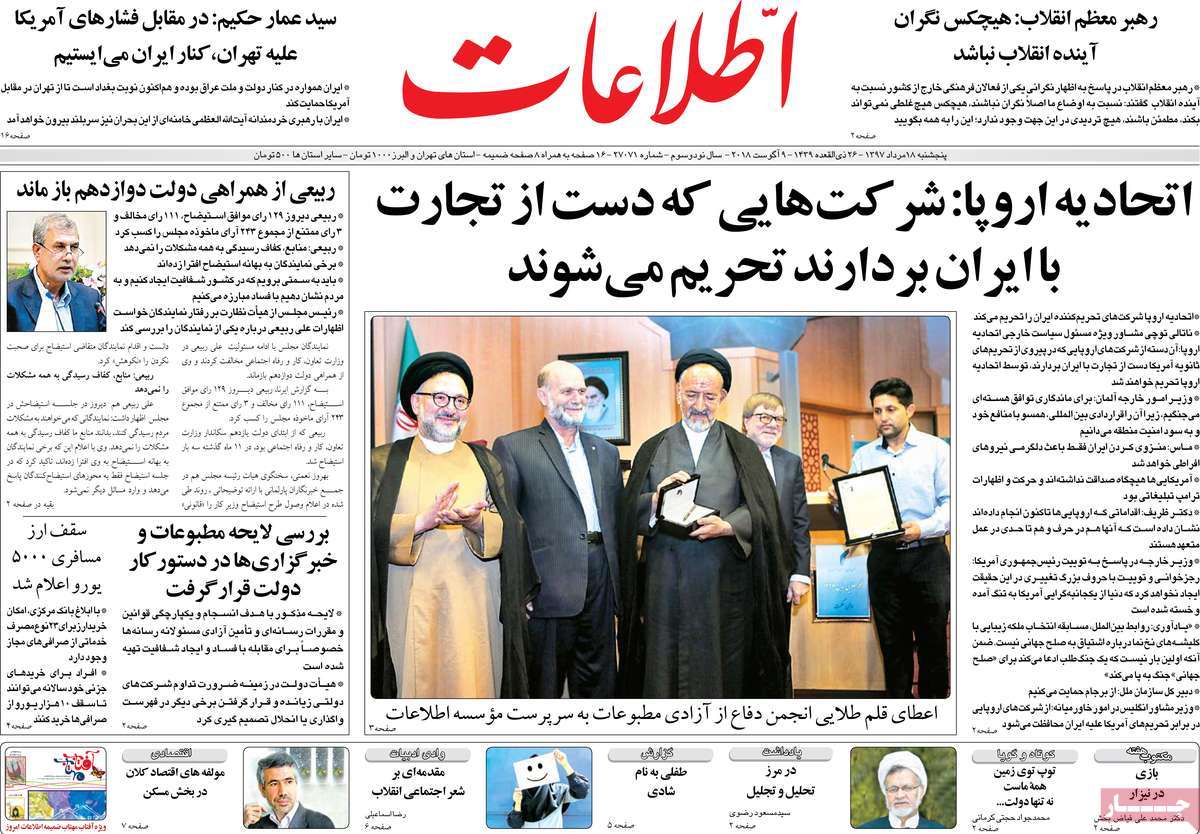 ---
Haft-e Sobh:
1- Forget about Visiting Istanbul and Dubai
Some Airlines Have Doubled, Tripled Flight Rates
---
Hemayat:
1- Judiciary Must Prosecute Those Disrupting Iran's Economy Immediately, Accurately, Decisively
2- Bin Salman Imitating Trump
Saudi Arabia's Hard Line on Canada
---
Iran:
1- Iran Starts Privatizing Business Firms Run by Military Organizations: Official
2- German FM: We'll Fight to Keep JCPOA Alive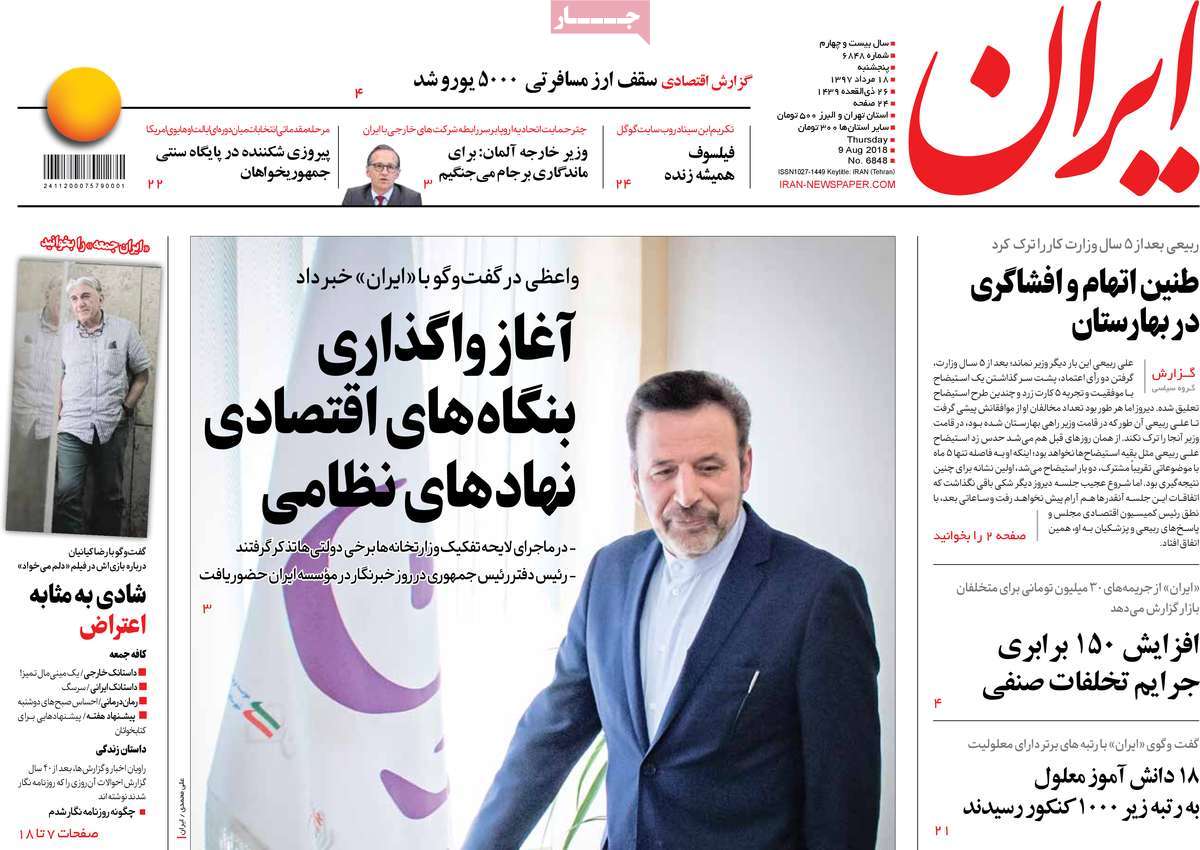 ---
Jame Jam:
1- Iran Leader: Tell the World They Can't Do Any Damn Thing [on regime change]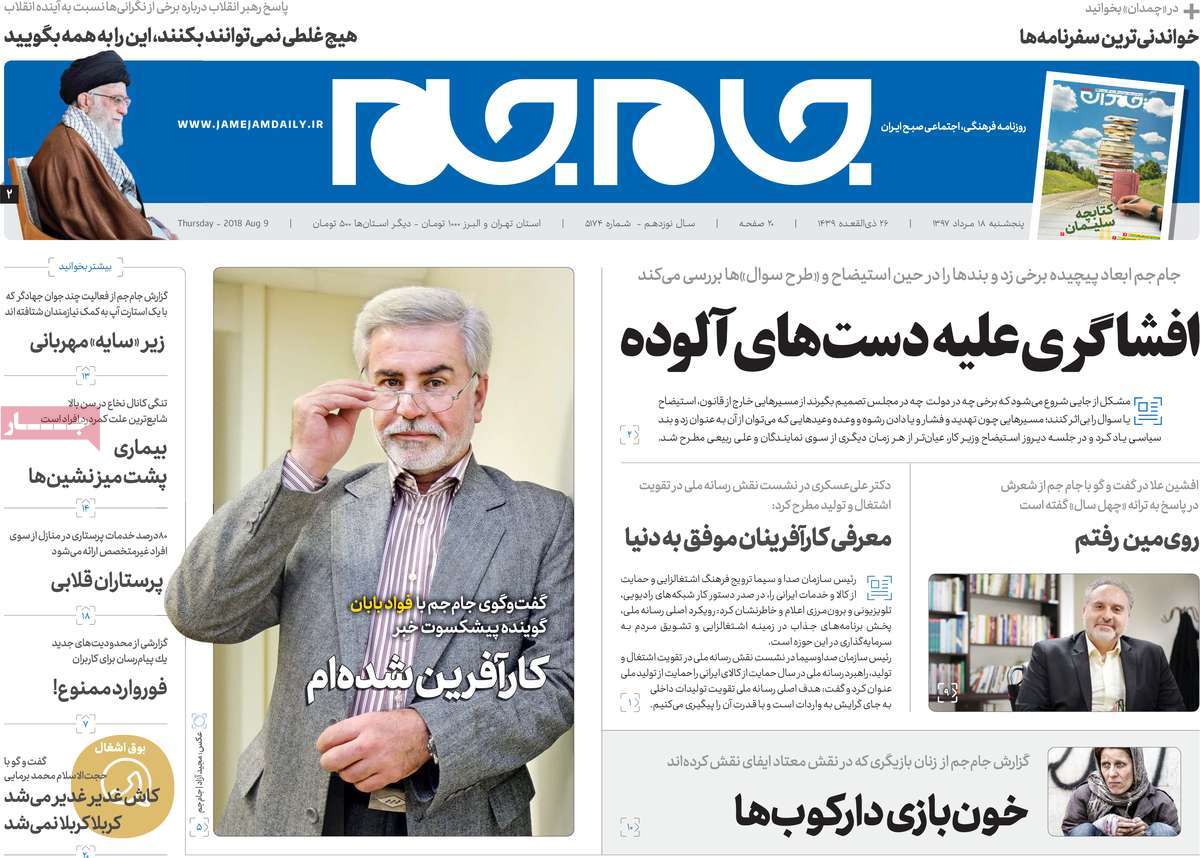 ---
Javan:
1- Those Selling Goods at Higher Prices Will Be Fined, Imprisoned, Executed: Prosecutor
2- Iraqi PM Endorses US Sanctions on Iran to Remain Premier
What Iraqi Analysts Say about Abadi's Support for US Sanctions
3- Basij Forces across Iran Tasked with Finding Hoarded Goods
---
Kayhan:
1- Current Situation Created by So-Called Advocates of Reformism!
They Shouldn't Evade Accountability!
2- Israeli Paper: Hezbollah Warehouses Full of Missiles; Option of War Ruled Out
3- Iraq Duty-Bound to Support Iran against US Sanctions: Hakim
---
Sayeh:
1- Prosecutor: Those Disrupting Economy to Be Jailed for 5 to 20 Years
2- One-Trillion-Dollar Apple!
---
Sazandegi:
1- Labour Minister Fired
2- We Shouldn't Be Deceived by US' Domestic Conflicts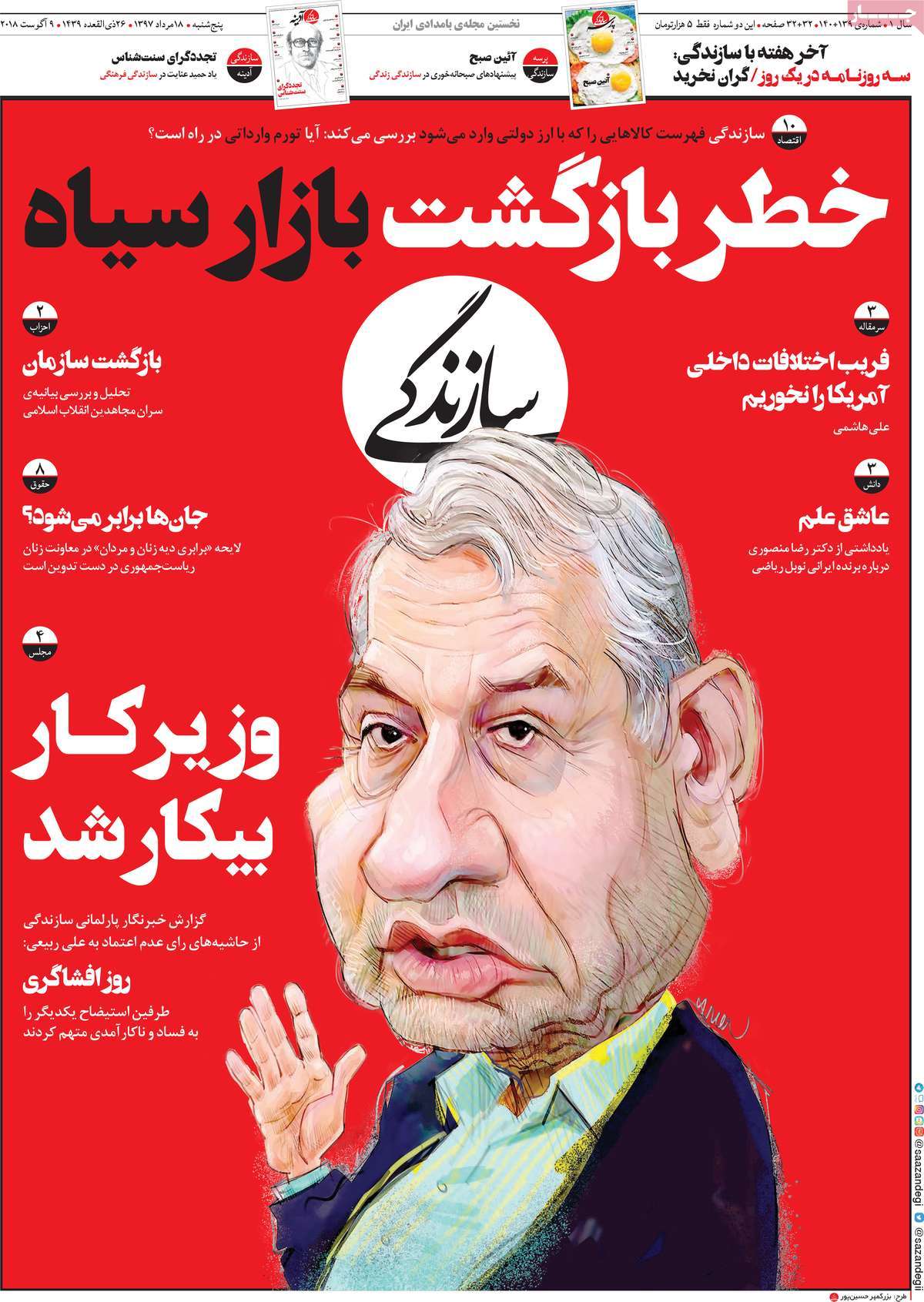 ---
Shargh:
1- Oil Tankers Call for Increased Rates to Cover Their Risk at Time of Sanctions
2- First Minister Sacked from Rouhani's Second Cabinet