Iranian papers today widely covered the delivery of five ATR passenger planes to Iran one day before the US re-imposes the first series of its sanctions on the Islamic Republic.
Also a top story was the ongoing economic problems, including price hikes and high inflation, in Iran and the protest rallies held across the country, some of which have turned violent.
The issue of Iran-US negotiation and various viewpoints expressed about it also remained a top story today.
The above issues, as well as many more, are highlighted in the following headlines and top stories:
19 Dey:
1- Imam Khomeini's Grandson: If We Have Any Deficiencies, We Must Accept It
2- Rouhani's New Order for Countering Forex Offenders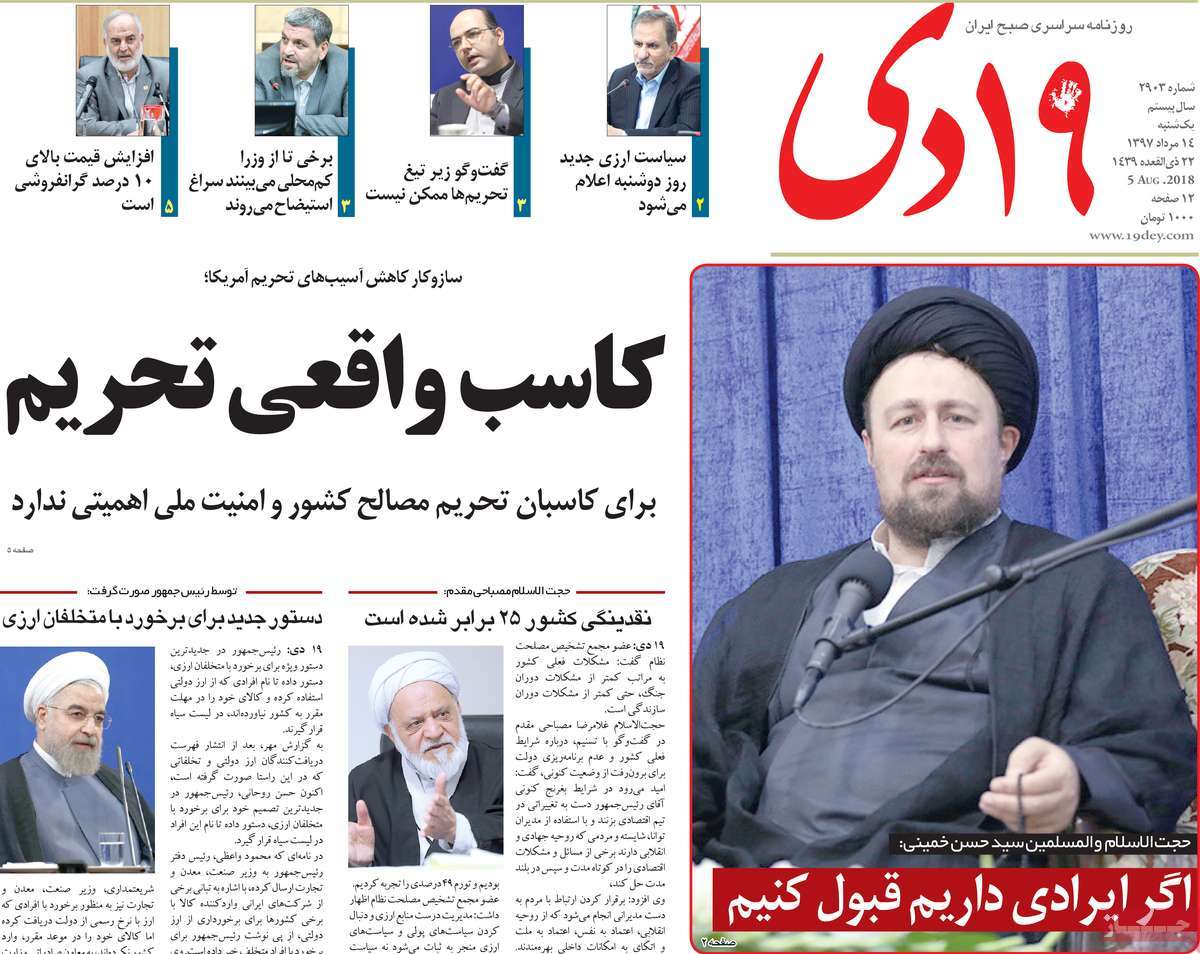 ---
Afkar:
1- Zero Toleration in US Congress, White House
Disagreement between US Congress, Government Growing
US Congress Elections to Clearly Show This Rift
2- Government Must Get Engaged in Economic War with Revolutionary Approach: Basij Chief
---
Etemad:
1- Why Is Rouhani Silent?
Rouhani Must Make Up for His Delay in Talking to People ASAP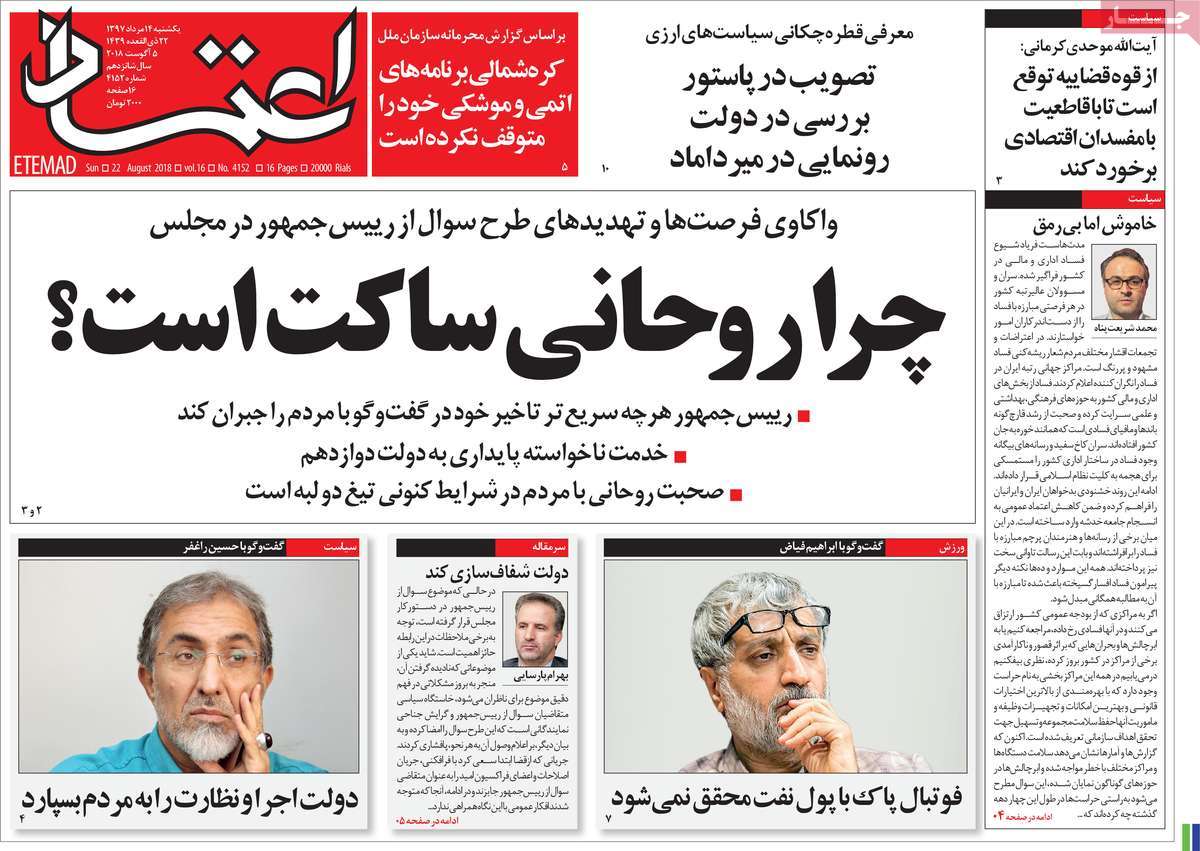 ---
Ettela'at:
1- Those Who Abuse Official-Rate Foreign Currencies to Be Blacklisted
2- Yemeni Forces Fire Missiles at Three Saudi Provinces in Retaliation for Hudaydah Crime
3- Yemeni People Hold Massive Protest Rallies to Protest at Al Saud's War Crimes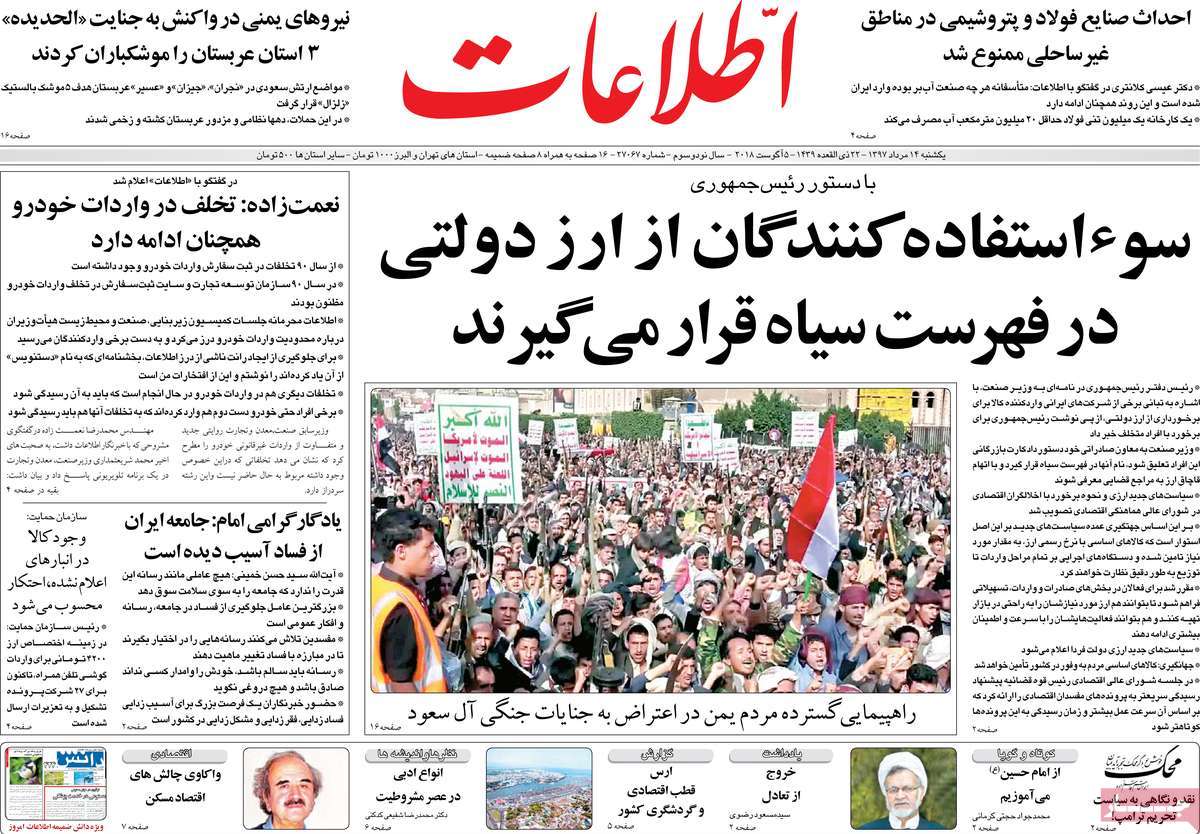 ---
Haft-e Sobh:
1- Value of Turkish Lira Plunges in All Parts of the World, Except Iran!
Iranian Tourists Not Going to Stop Visiting Turkey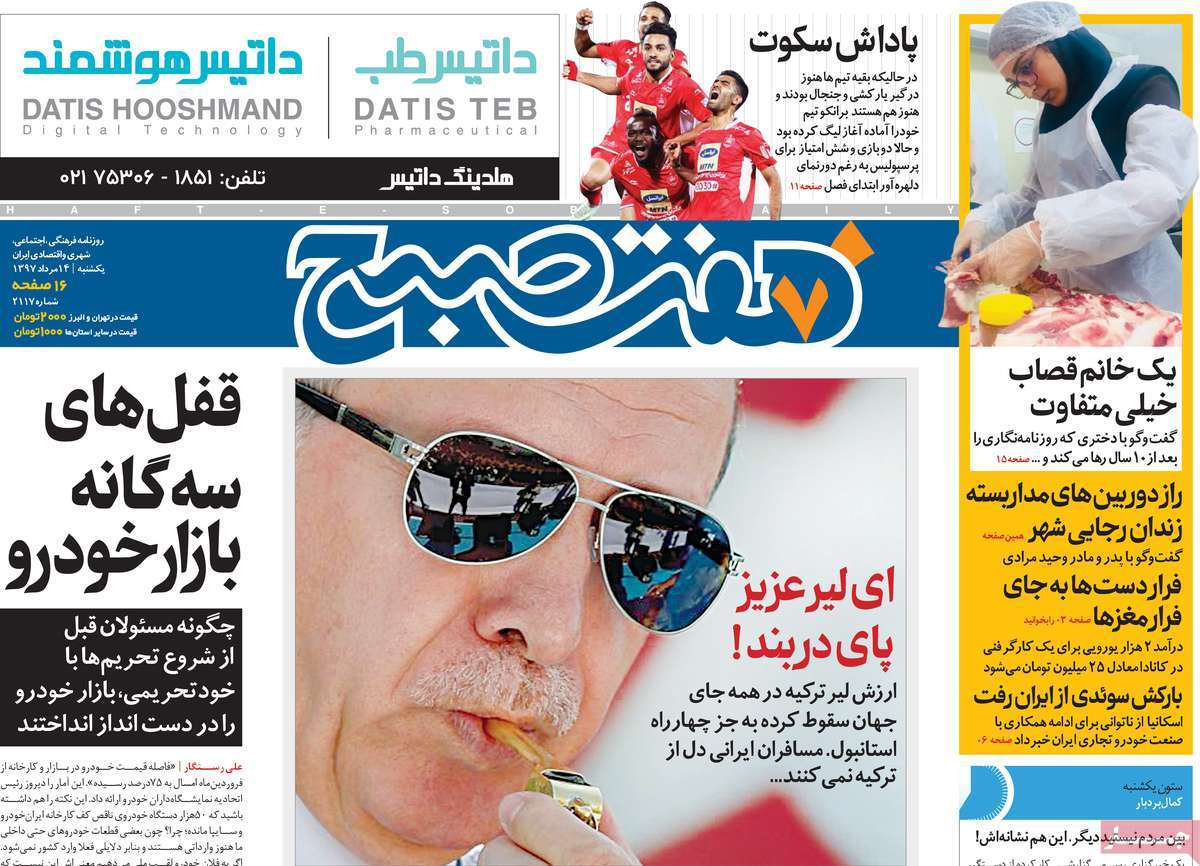 ---
Hemayat:
1- Iranian DM Says Enemies Spend $137 Billion to Slide Chaos into Iran
---
Iran:
1- New "JCPOA Planes" Arrive in Iran
2- Facilitating Trade with Iran Is Europe's Concern: British Deputy Foreign Secretary
3- Media Should Not Tell Any Lie: Imam Khomeini's Grandson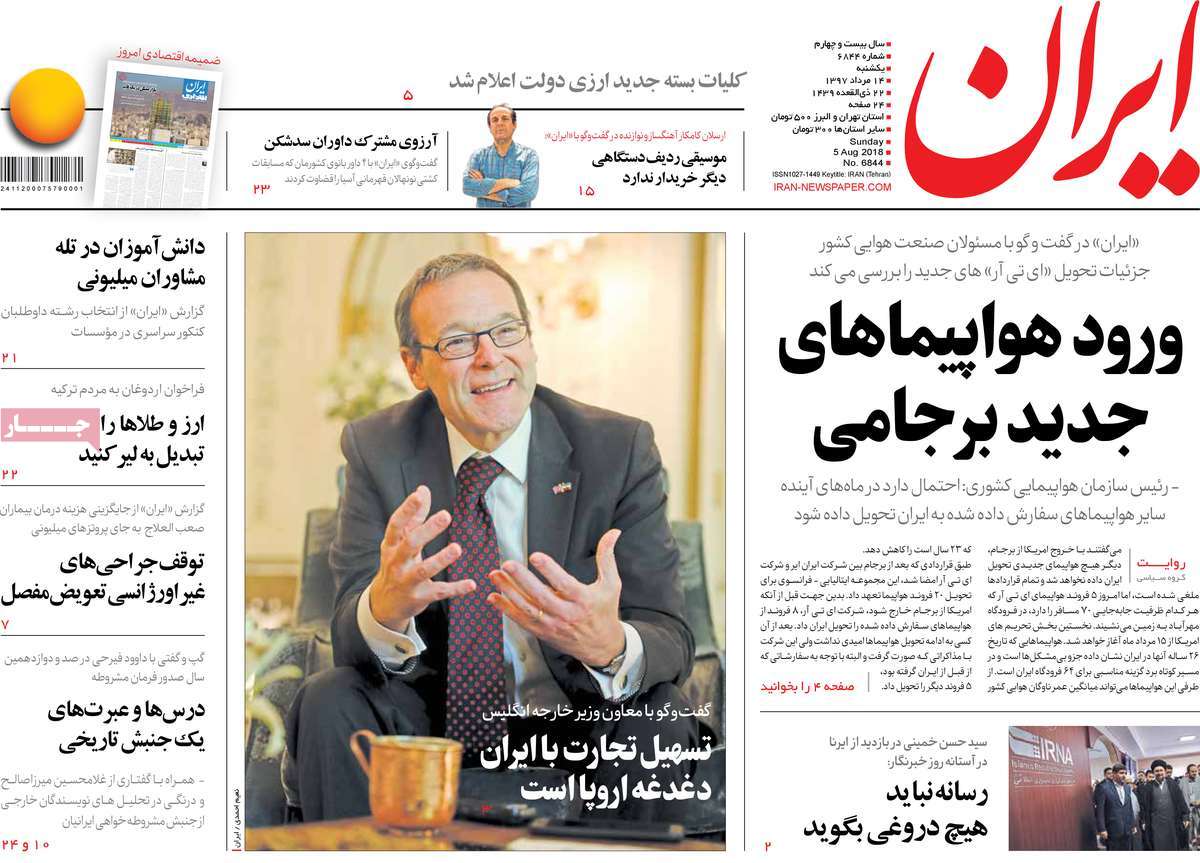 ---
Javan:
1- Iran Ranks Fourth Worldwide in Nanotechnology
In Latest ISI Ranking, Iran Outranks Germany, UK, France, Korea, Japan
2- Erdogan: We're Moving towards East
3- US Supports Riots in Iran: Other Side of the Coin of Trump's Offer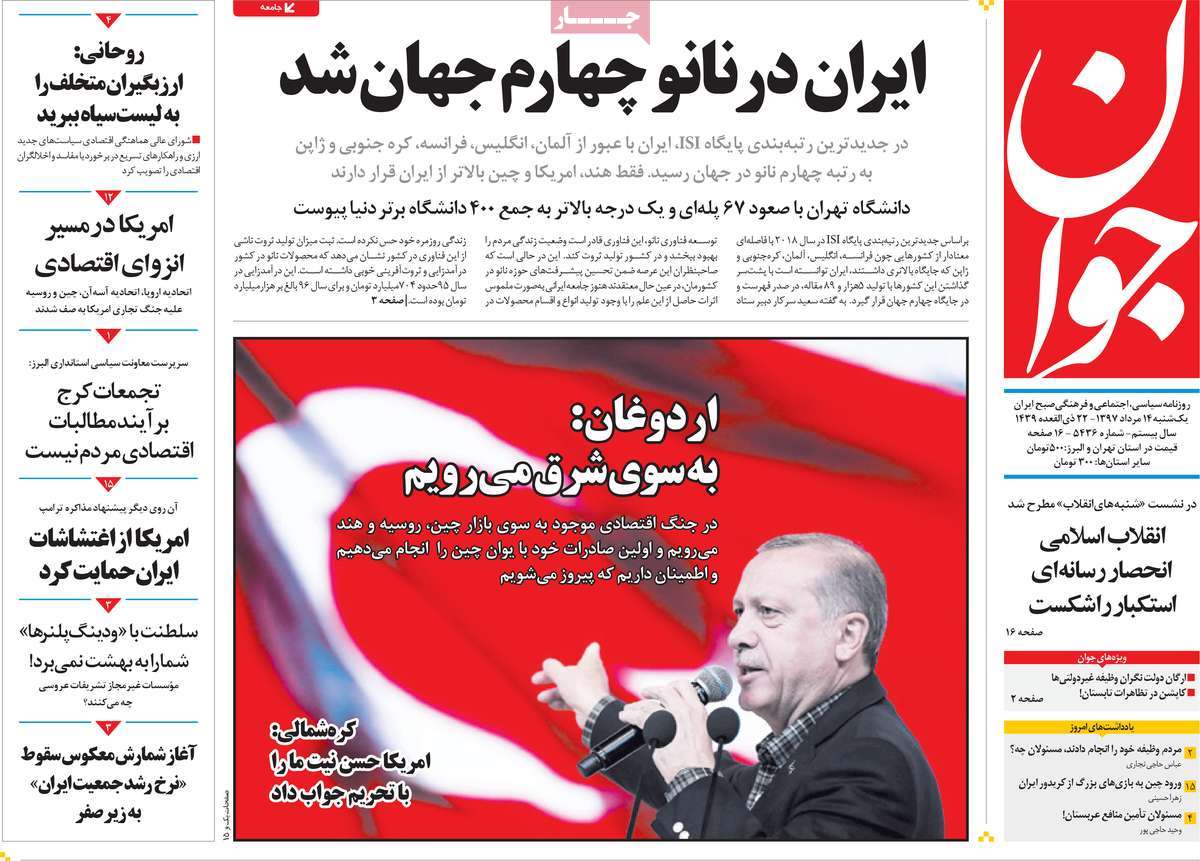 ---
Jomhouri Eslami:
1- People, Officials Want Judiciary to Take Rapid, Decisive Action against Those Disrupting Economy
2- Five New ATR Passenger Planes in Tehran
3- UN, Several Countries Condemn Recent Slaughters in Yemen's Hudaydah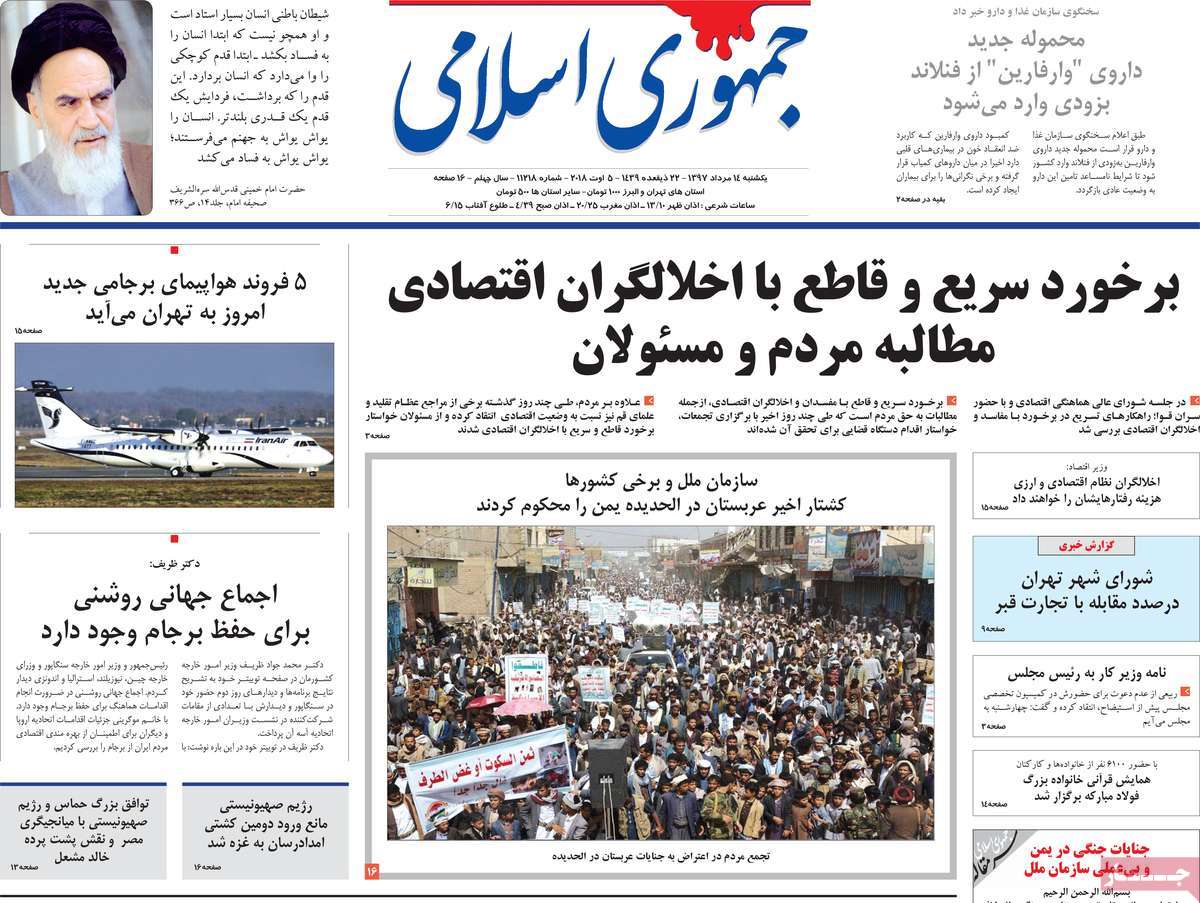 ---
Kayhan:
1- Negotiation with Trump, Joint Plan by US and Disruptors of Iranian Economy
---
Sazandegi:
1- A Report on Economic Woes, Demands of People of Isfahan
We Just Chant Slogans about Price Hikes, Economic Conditions: Protester
We Staged Protest Rallies on Tuesday, but Those Protesting on Thursday Were New People