The ongoing war of words between Iranian and US officials, and the Iranian officials' stances on holding talks with the Trump administration were among the top stories today.
Several papers also highlighted the ongoing economic crisis in Iran and the protest gatherings underway in a number of Iranian cities over the issue.
The above issues, as well as many more, are highlighted in the following headlines and top stories:
19 Dey:
1- Dollar Rate to Be Decreased: Senior MP
Legal Foreign Exchange Offices to Return to Forex Market
2- Zarif: US' Allies Don't Trust US with Fulfilling Its Commitments
3- IRGC Must Obey Top Officials' Decisions on Talks with US: Vice-Speaker
---
Abrar:
1- US Starts Working on 'Sanctions Bill from Hell' against Russia
2- Zarif, Mogherini Discuss How to Guarantee Iran's Benefits under JCPOA
3- Zarif: US Navy Cannot Find Its Way in Persian Gulf Waters!
4- Army Ground Force Commander: No Danger Threatening Iran's Borders
---
Afkar:
1- Tehran Friday Prayers Leader: Corruption Must Be Dealt with Seriously
2- US' Ruling System Afraid of Costs of War with Iran: Senior Lawmaker
3- US to Be Totally Disgraced If Its Sanctions Fail to Bear Fruit
---
Aftab-e Yazd:
1- Doomed ATR Plane's Pilot Had Suffered Heart Attack!
Tehran-Yasuj Plane's Case Opened Again
2- Facts on Comparing Iranian Rial, Syrian Lira
---
Arman-e Emrooz:
1- Trump-Zarif: Negotiation through Twitter!
2- Pakistan Not Playing in Saudi Arabia's Court Anymore
3- Iran-US Talks under Equal Conditions: Analyst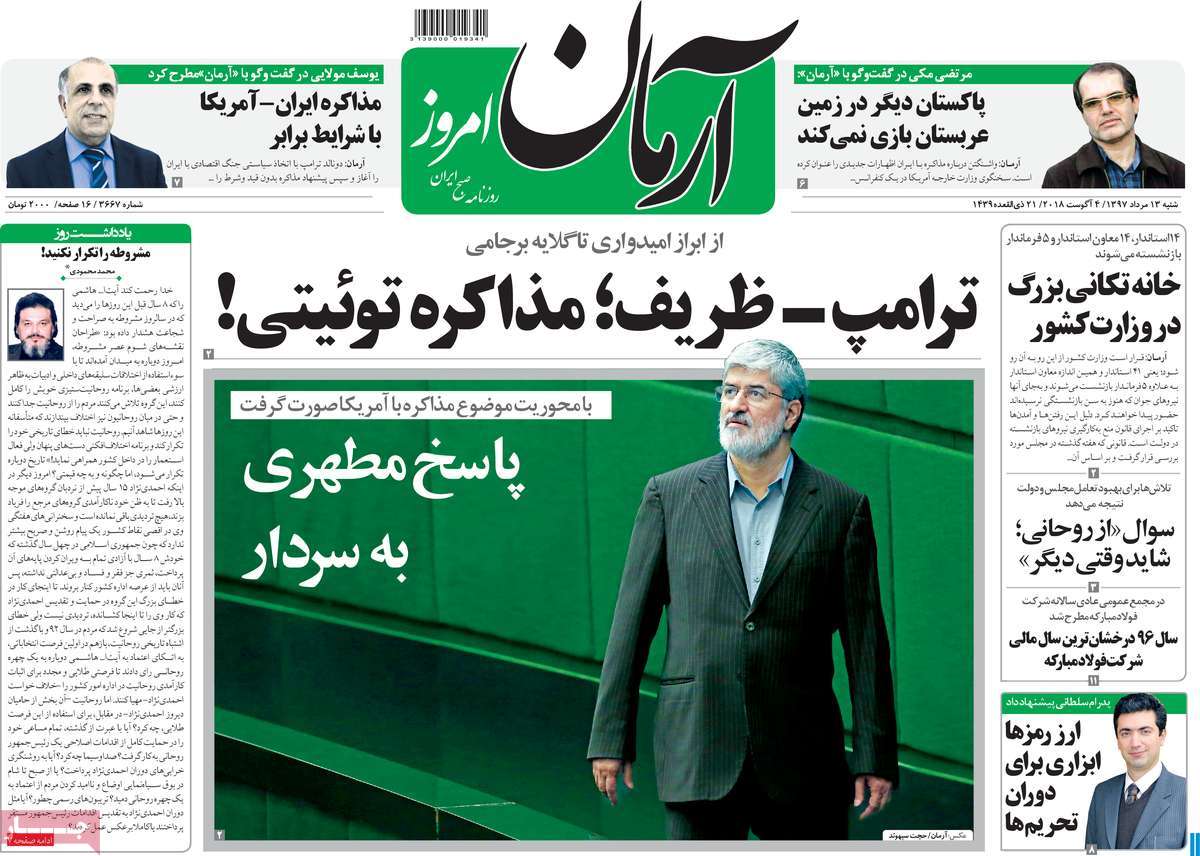 ---
Asrar:
1- Judiciary Must Immediately Deal with Cases of Those Involved in Economic Corruption: Cleric
2- Zarif: Distrust of US Existing in All Parts of the World
---
Ebtekar:
1- Protest Gatherings to Criticize Economic Problems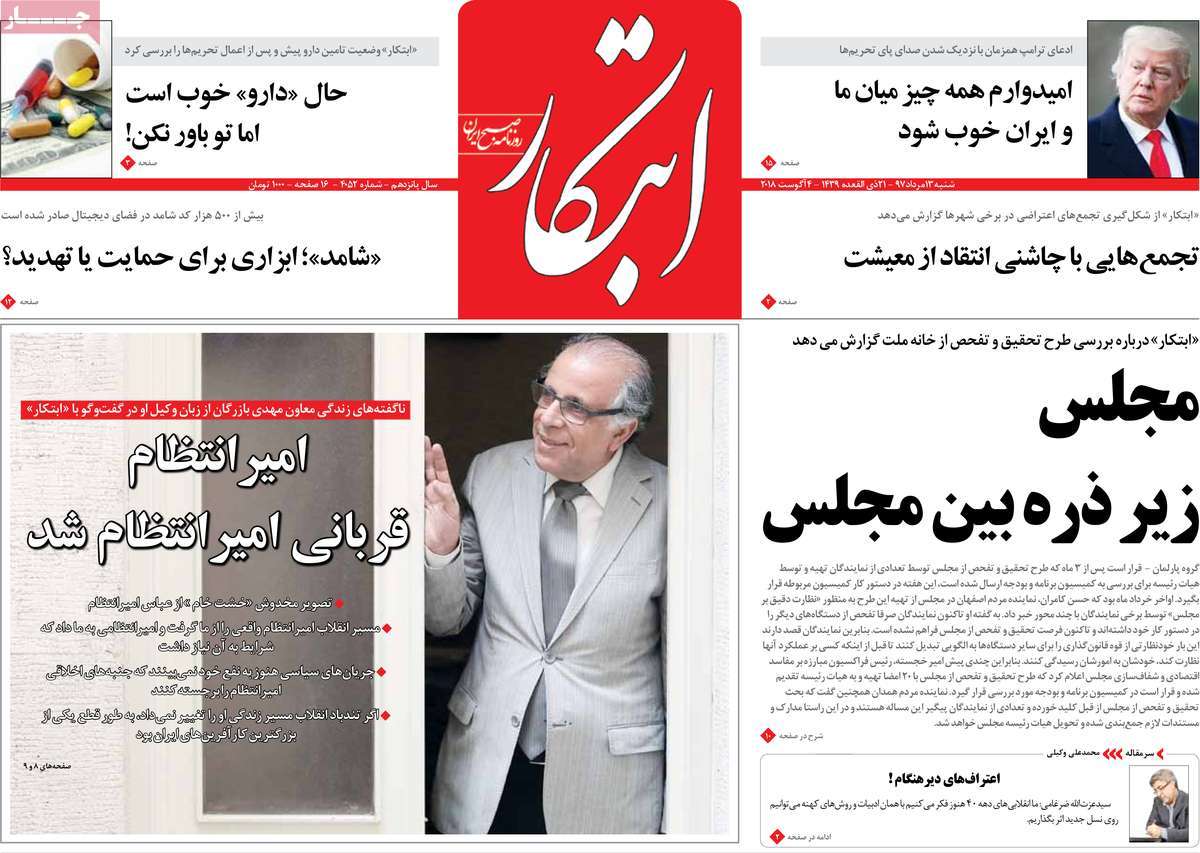 ---
Emtiaz:
1- Unprecedented Increase in Iran's Petroleum Production
Good News ahead of US' Re-Imposition of Its Illegal Sanctions on Iran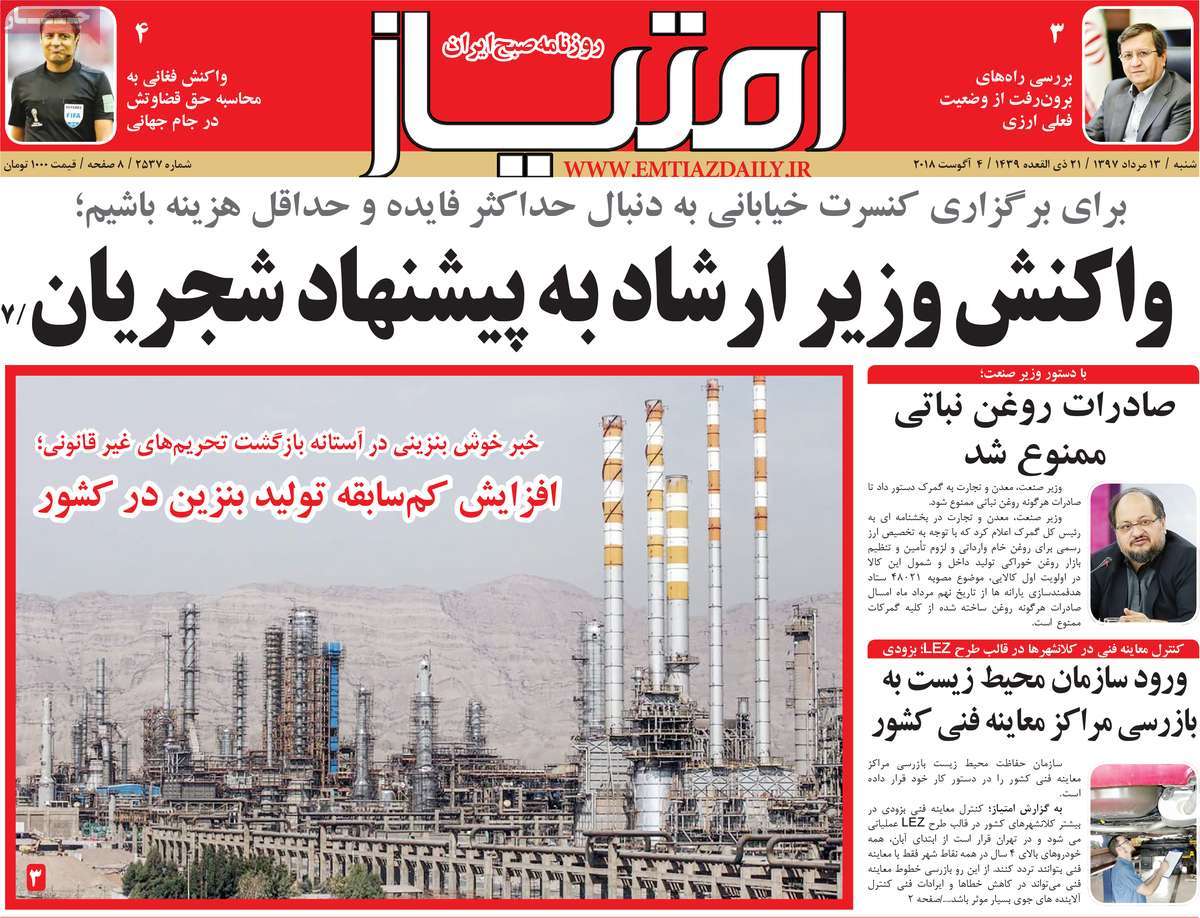 ---
Ettela'at:
1- Iran Joins ASEAN's Treaty of Amity and Cooperation (TAC)
2- China, India Refuse to Cooperate with US on Cutting Oil Imports from Iran
3- Syrian Army Downs 2 Israeli Spy Drones
---
Farhikhtegan:
1- General Soleimani Punished an Impolite Boy: American Soldier Justin King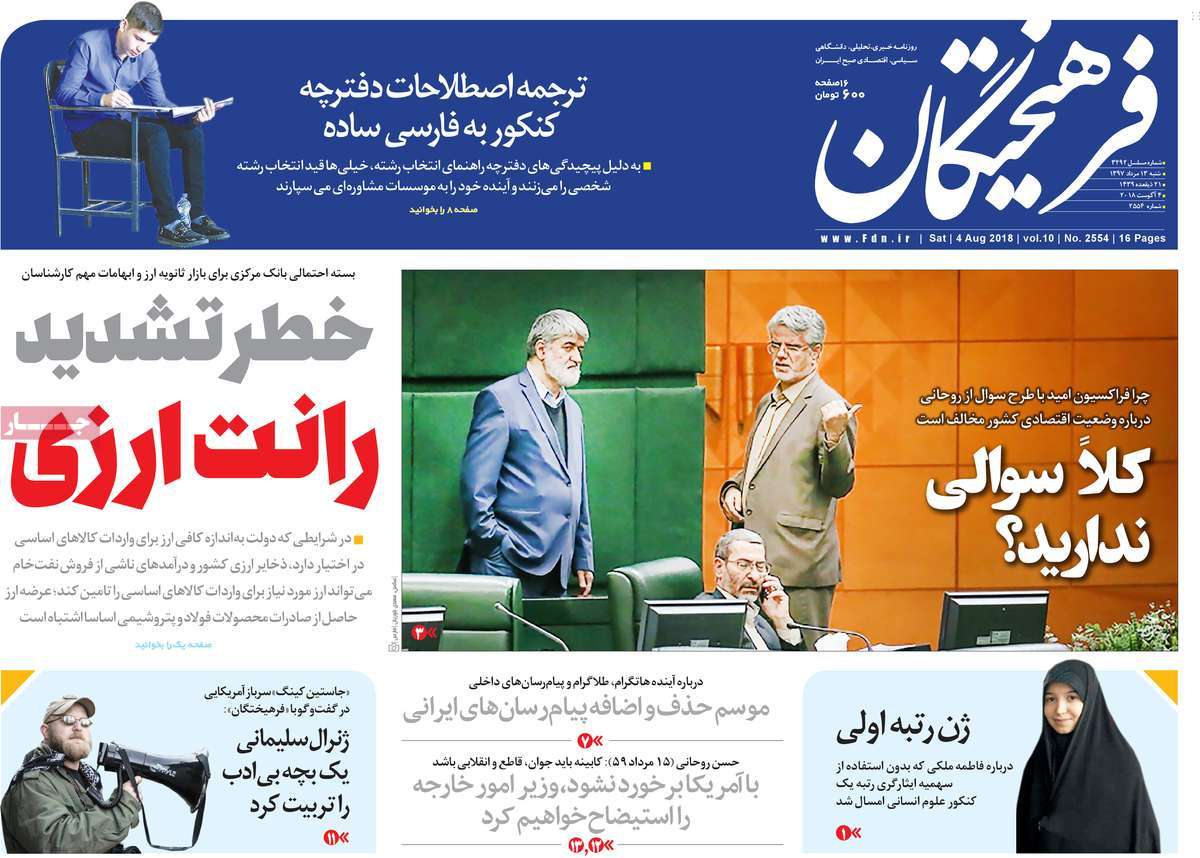 ---
Hemayat:
1- Trump Desperate on Iran Sanctions
China Joins India, Turkey in Rejecting White House's Request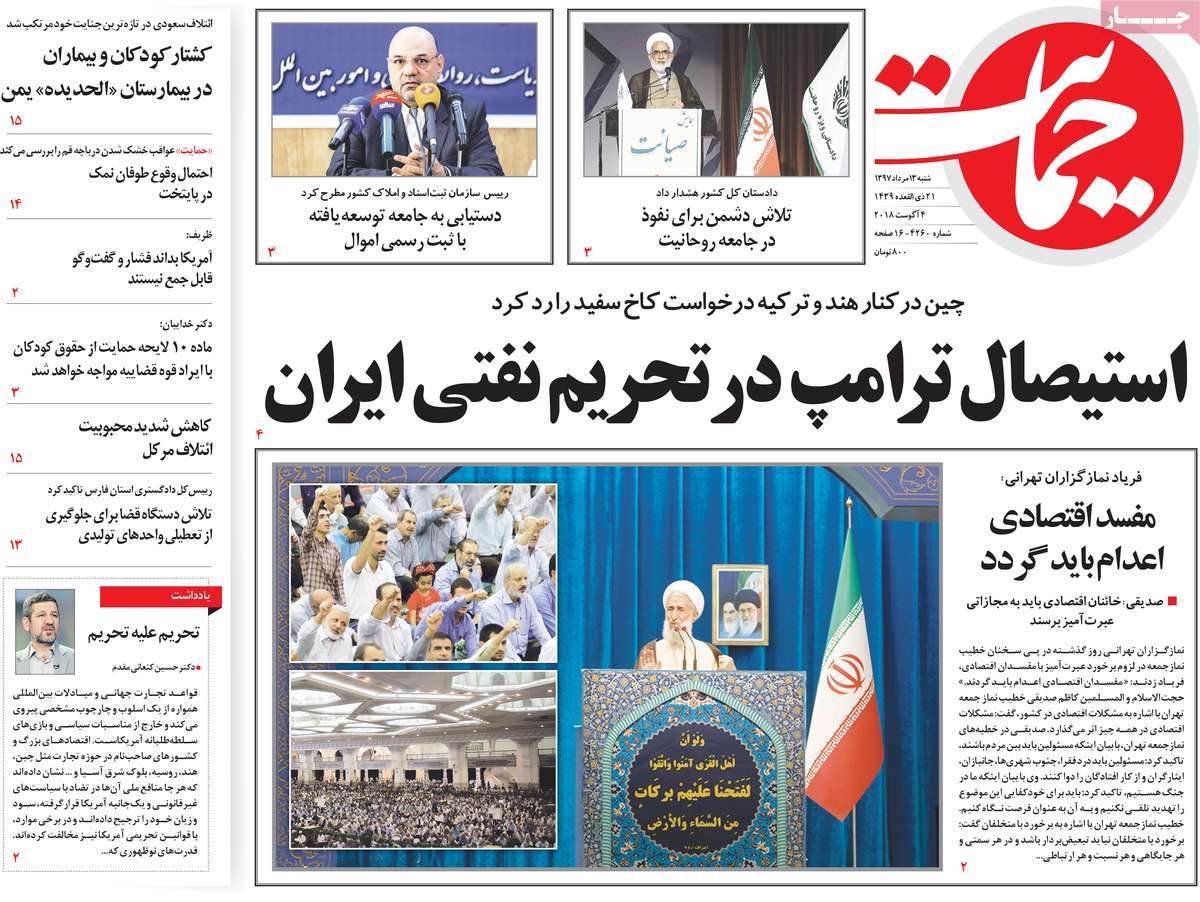 ---
Hosban:
1- It's Not Possible to Hold Talks with This US Administration: Cleric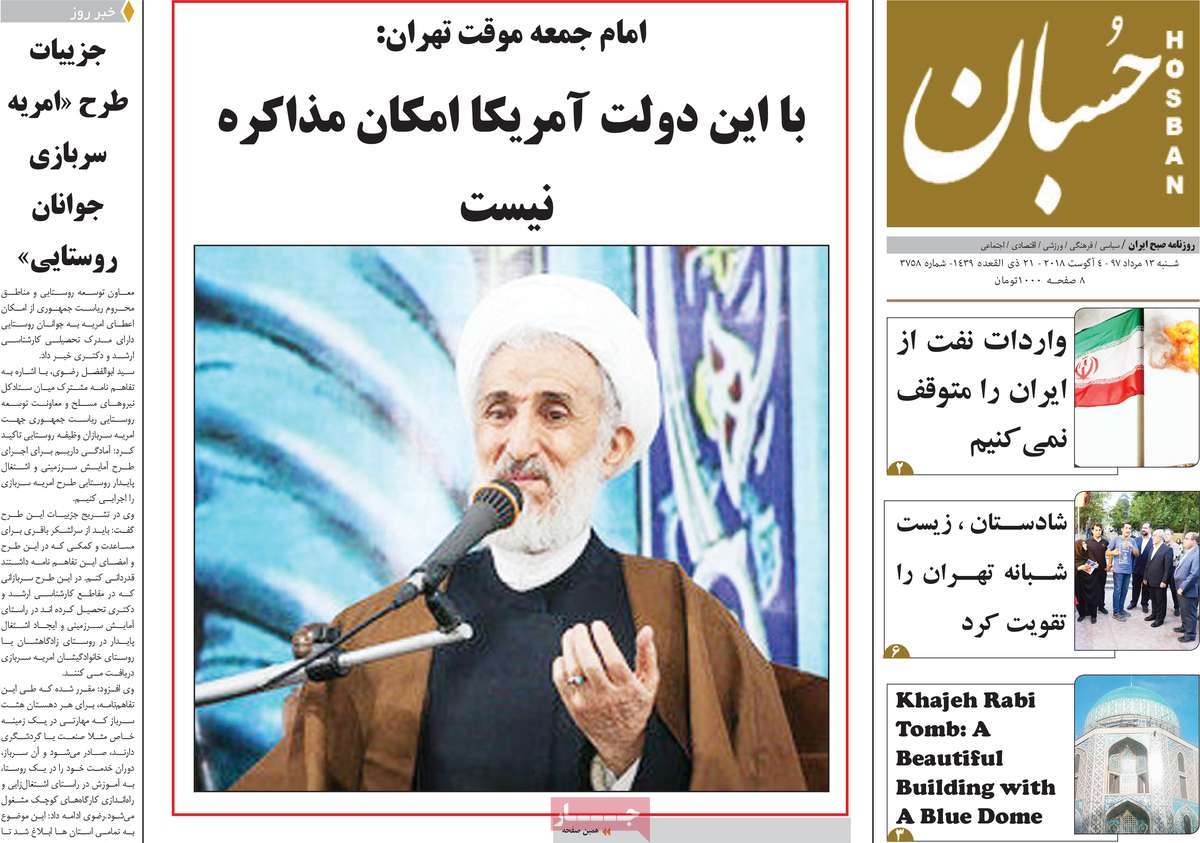 ---
Jame Jam:
1- Robbery in Broad Daylight: Iran's Dollars Blocked in Western Countries
2- Zionists against Celebrities
Zionist Officials Prevent TV Host from Entering Occupied Territories
---
Javan:
1- China: We'll Continue Buying Iran's Oil
Sputnik: China's Decision another Defeat for Trump
2- Saudi Arabia's Massacre in Hudaydah Hospital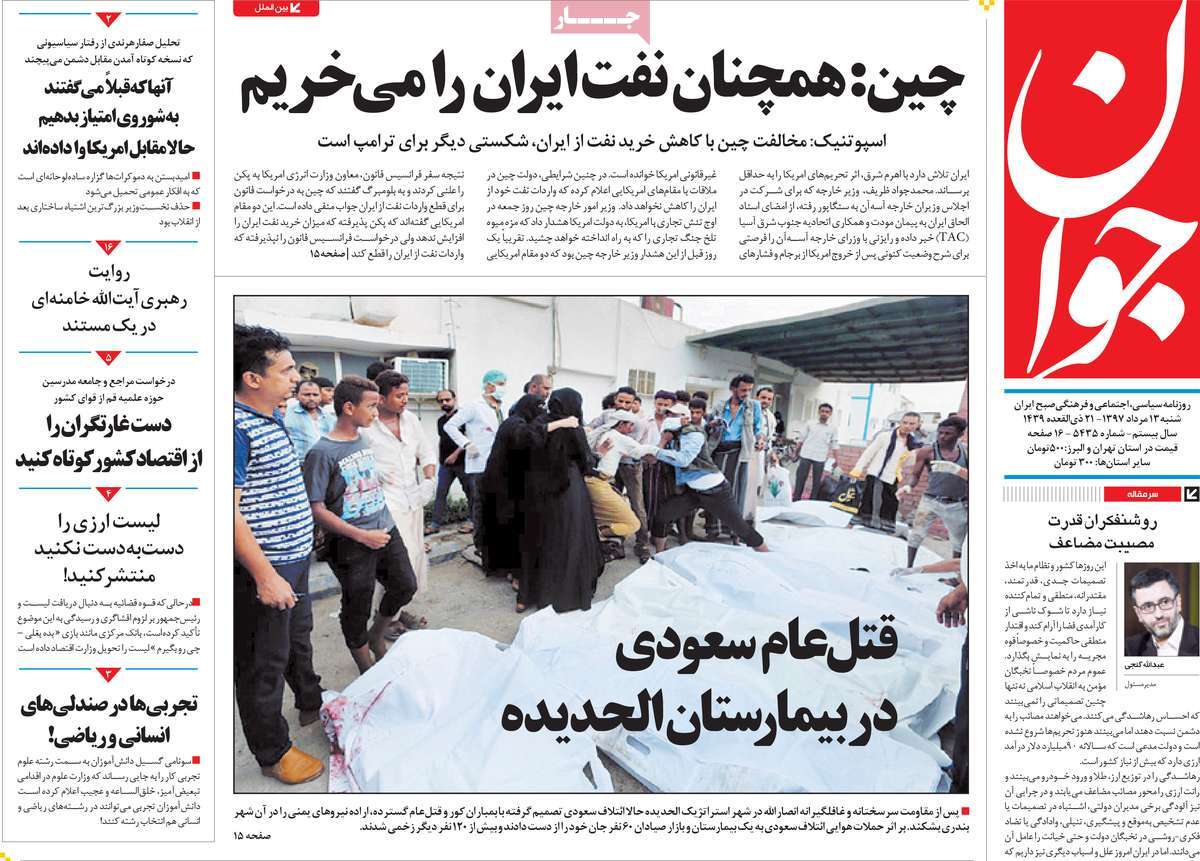 ---
Jomhouri Eslami:
1- Early Failure of US' Bid to Cut Iran's Oil Exports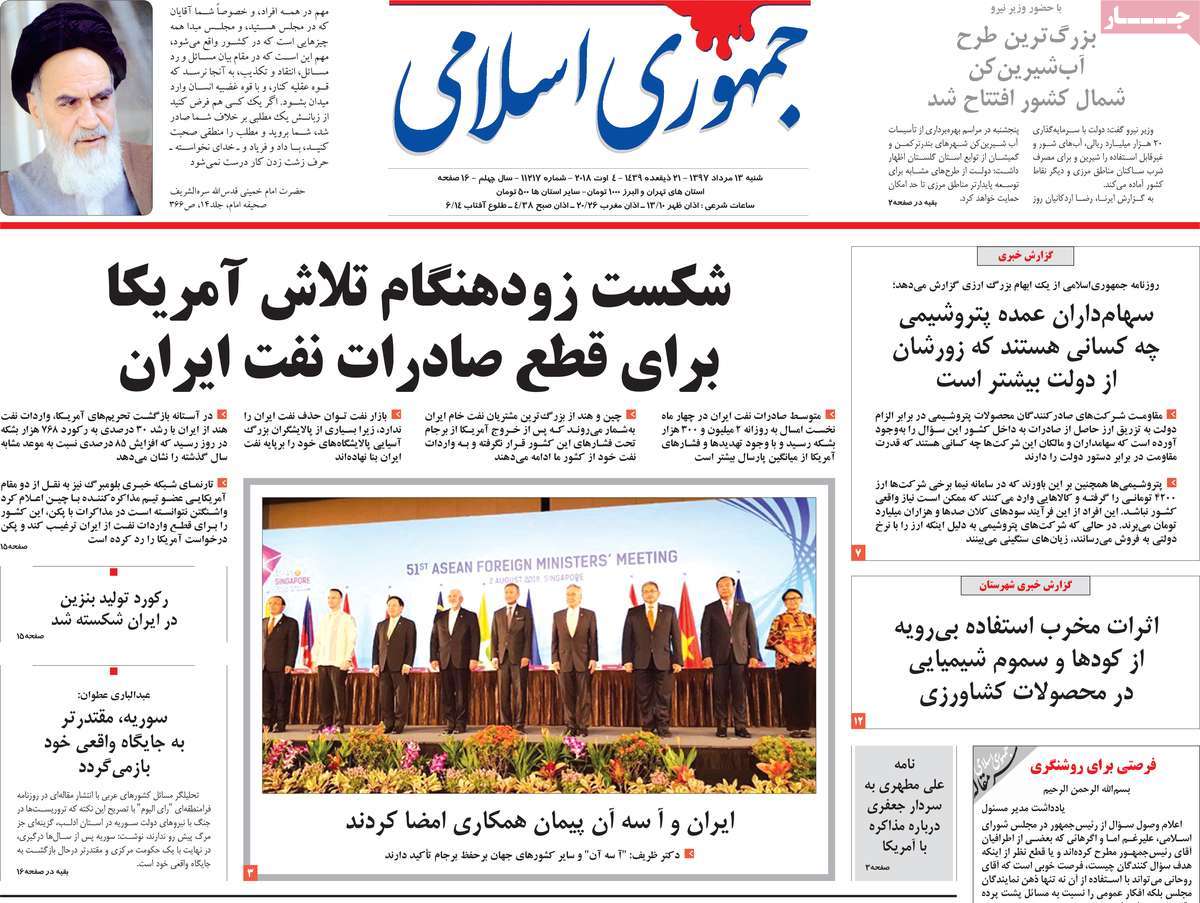 ---
Kayhan:
1- Those Disrupting Iran's Economy While We're at War Must Be Executed: Cleric
2- Lebanese Hezbollah Unveils New Drones, Rockets
3- North Korean Leader's Words, Behaviours on Disarmament Contradictory: Pompeo
4- US, Al Saud's Brutal Crimes in Yemen
Hudaydah's Hospital, Market Bombed by Saudi-led Coalition
---
Khorasan:
1- Al Saud's Brutality
60 Martyred, 130 Wounded in Bombardment of Yemeni Hospital, Market
---
Rah-e Mardom:
1- Trust Didn't Work: North Korea Sanctioned Once Again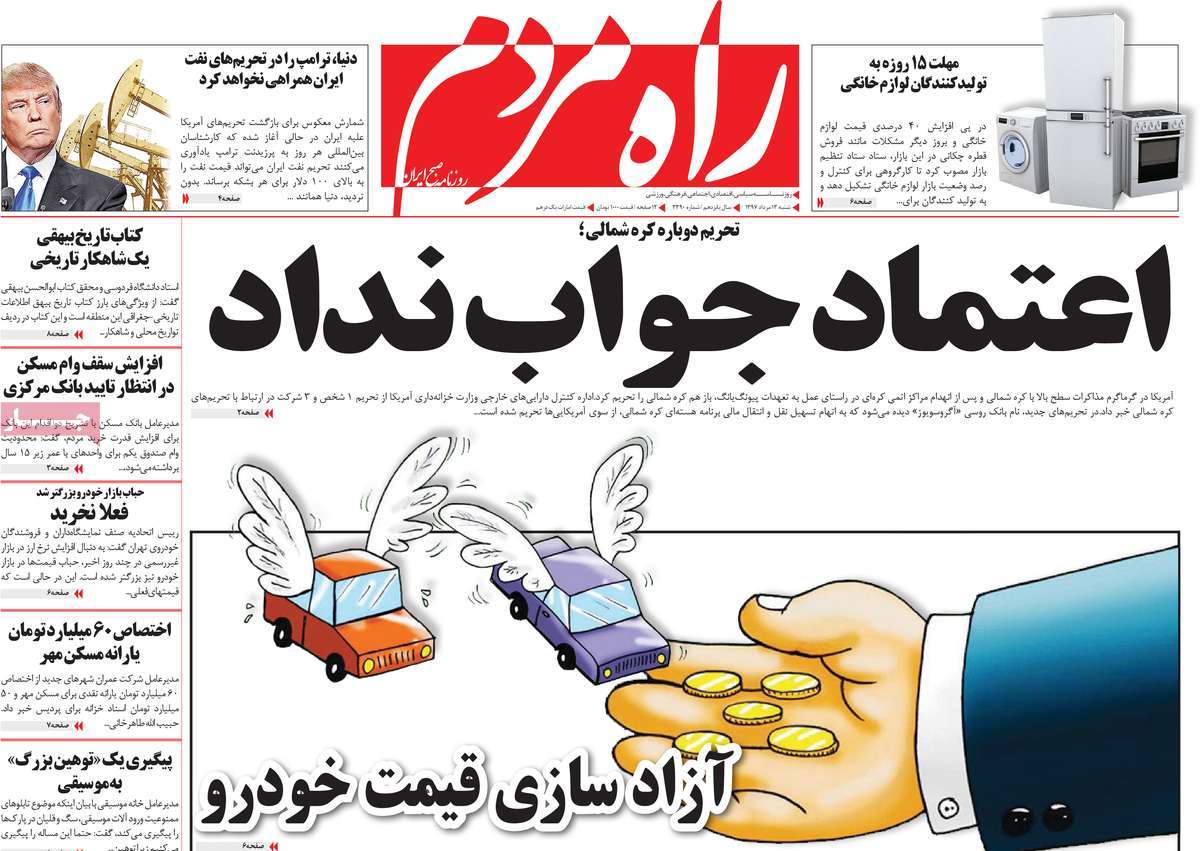 ---
Resalat:
1- Government of Negotiation Must Turn into Government of Work: Qalibaf
2- Ayatollah Makarem Shirazi Blasts Government for Its 'Weak' Economic Team
---
Sazandegi:
1- Mr Rouhani! Talk to People!
Government under Fire for Its Silence
Rouhani Must Take Pre-Emptive Measure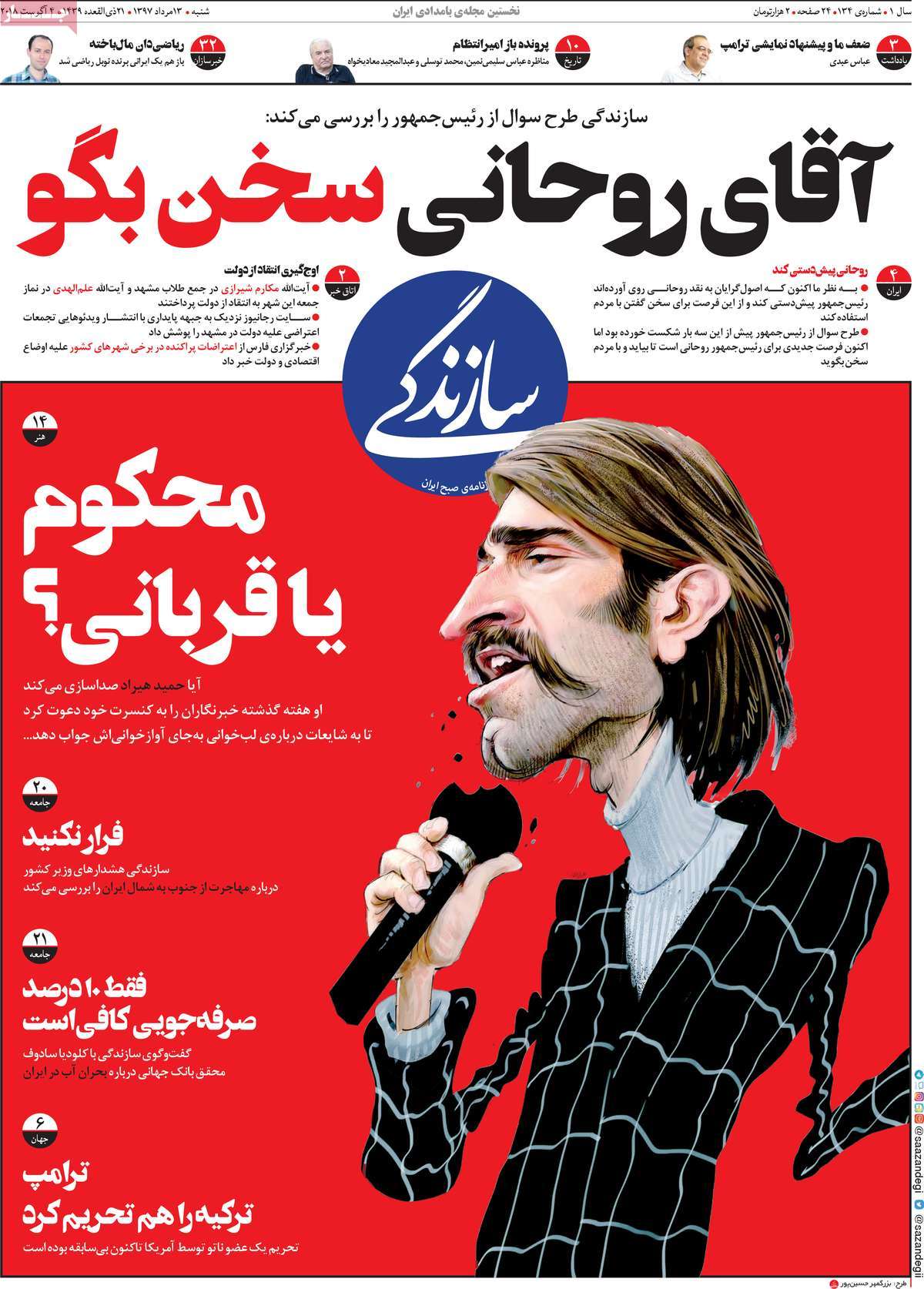 ---
Shahrvand:
1- More and More Singers Express Preparedness to Hold Free Concerts
---
Shargh:
1- Diplomats in Eastern Front: Zarif's Busy Days ahead of First Round of US Sanctions