Several papers today covered the impeachment and dismissal of Economy Minister Masoud Karbasian, who failed to gain a vote of confidence from the lawmakers.
The death of US Senator John McCain at the age of 81 also received great coverage. Many papers slammed his political approaches, particularly his support for anti-Iran terrorists and call for an atomic bombardment of the country.
Also a top story was the latest earthquake in western Iran, which once again hit Kermanshah province and killed and wounded hundreds of people.
The above issues, as well as many more, are highlighted in the following headlines and top stories:
Abrar:
1- Saudi Coalition Blames Iran for Ansarullah's Missile Attack on Najran
2- Baghdad: No Airplane Cooperation Protocol between Iran, Iraq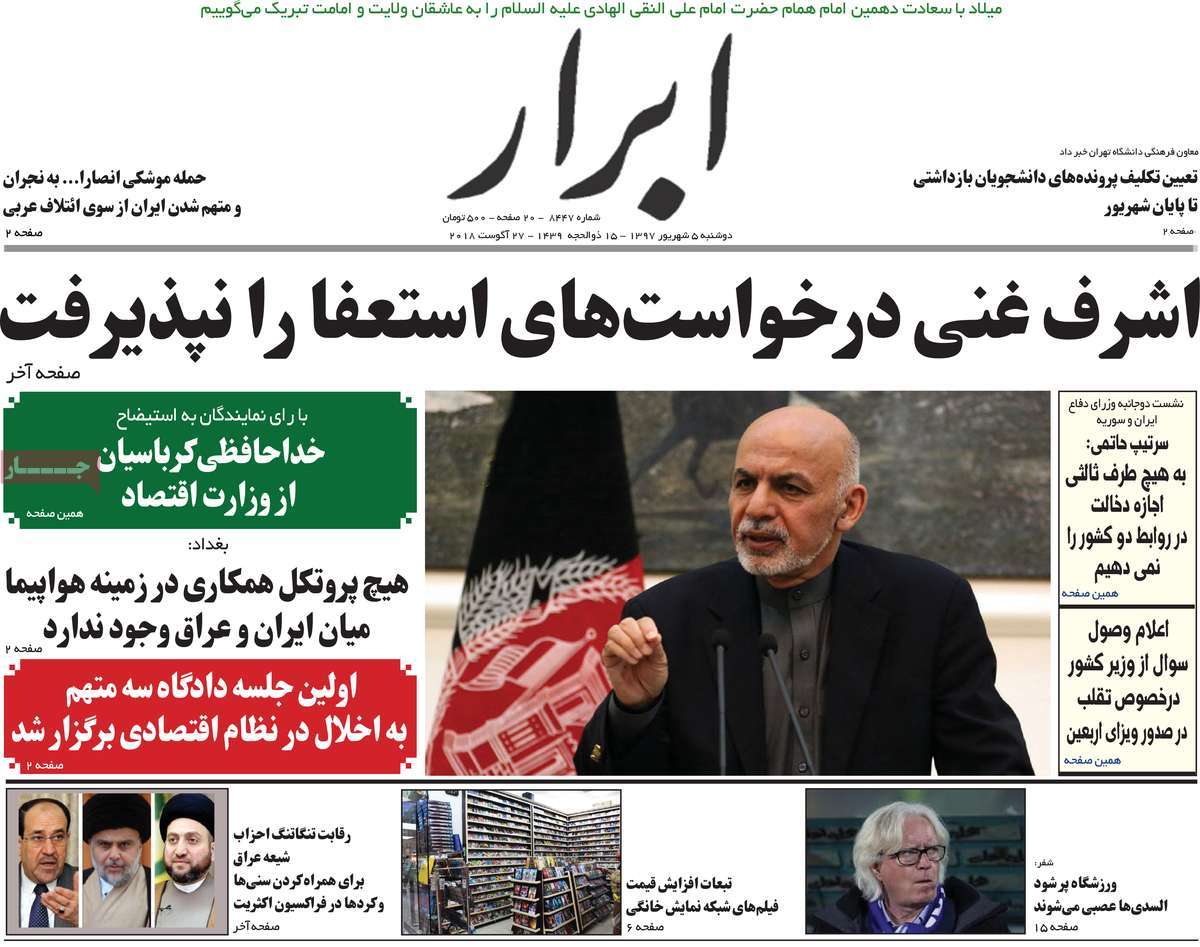 ---
Aftab-e Yazd:
1- Major Cell Phone Dealers Appear in Court
2- Rouhani, Next Victim?! Economy Minister Sacked by Parliament
3- Zarif: People Tired of Our Double-Standard Approach to US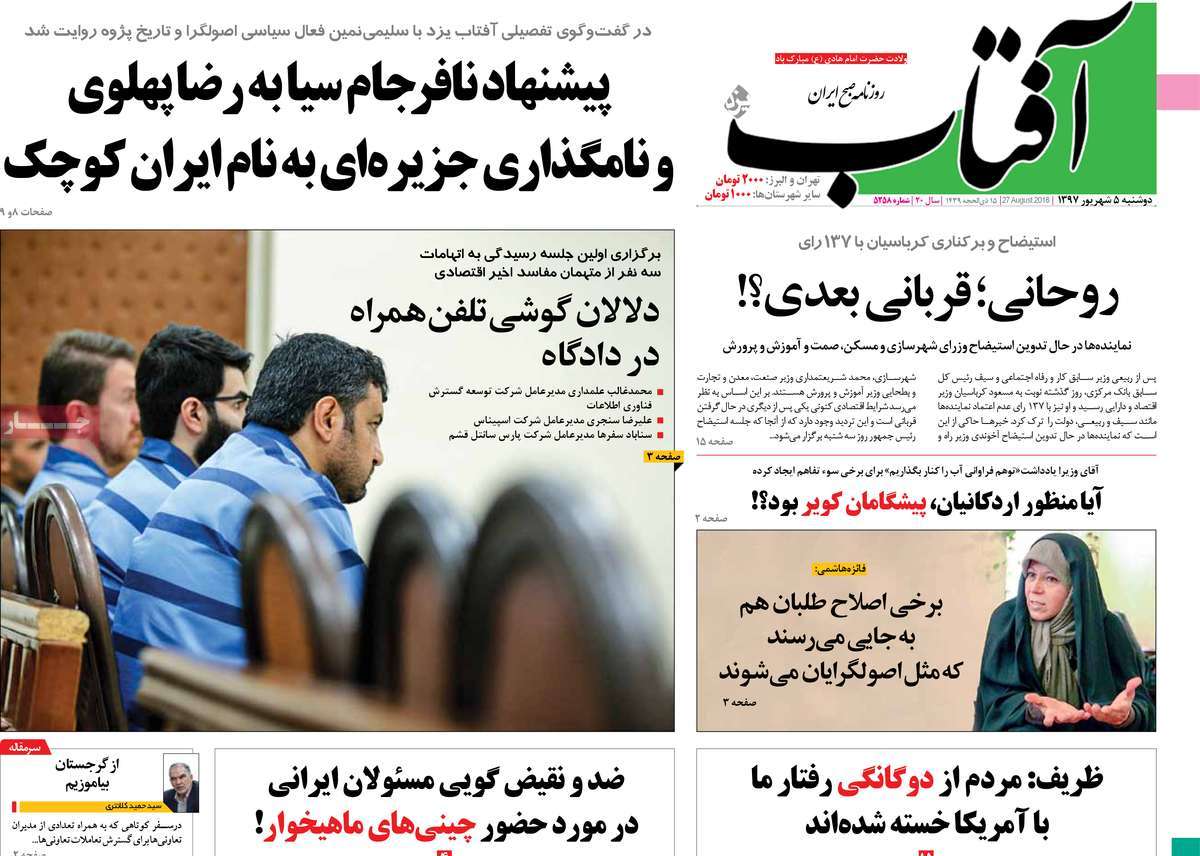 ---
Arman-e Emrooz:
1- World's Open Trade, Our Closed Trade
2- Another Earthquake in Kermanshah: Homelessness Again
9-Magnitude Quake Leaves 3 Dead, 243 Wounded
---
Ebtekar:
1- Parliament Resolved to Change Rouhani's Cabinet
2- Crisis in Afghanistan's National Unity Government
---
Etemad:
1- In Praise of Parliament: MPs Vote for Dismissal of Economy Minister
2- Bubble of Saudis: Bin Salman's Economic Dreams Destroyed after Aramco's Flop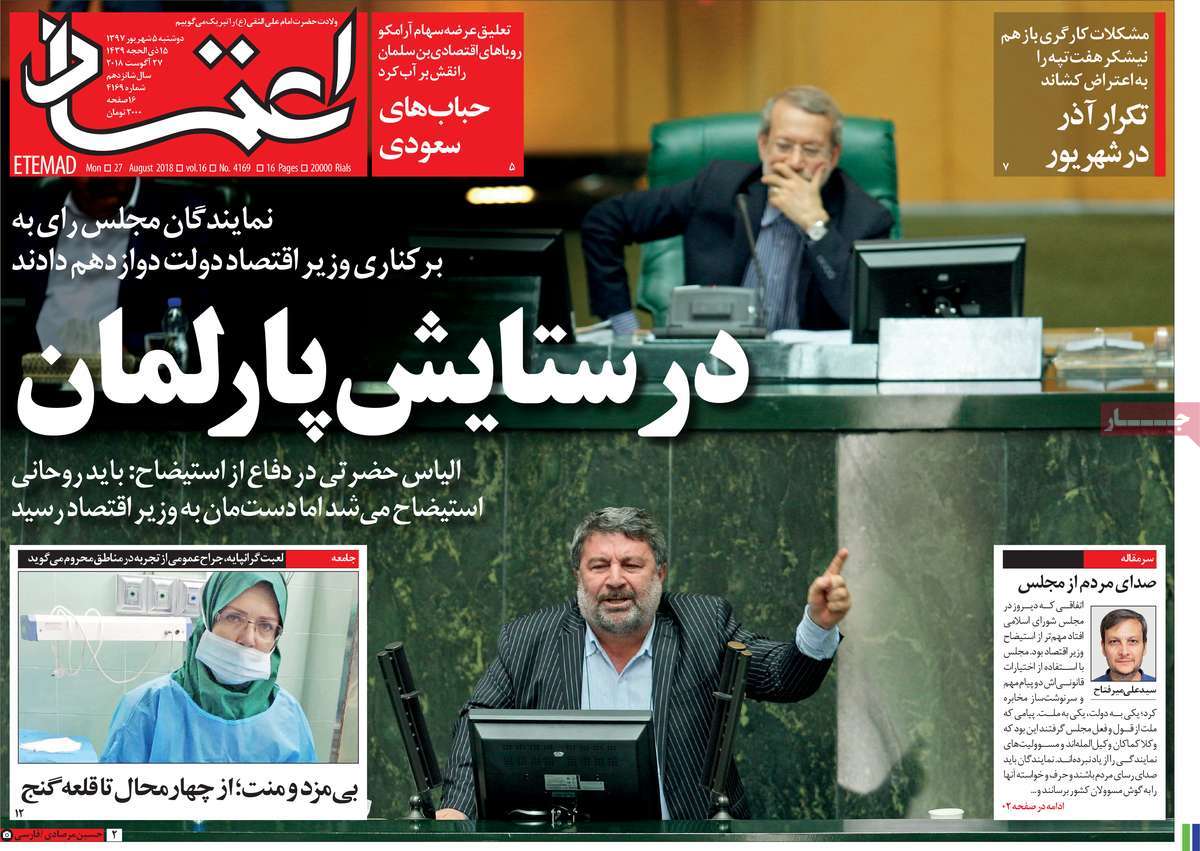 ---
Ettela'at:
1- Rouhani to Emir of Qatar: Int'l Support for JCPOA Must Be in Practice
2- Russia Deploys Two Warships in Mediterranean Sea to Counter Western Attack on Syria
---
Jame Jam:
1- McCain Dies before Seeing His Anti-Iran Dreams Coming True
Death of Hawkish Senator Who Longed to Overthrow Islamic Republic
2- New Earthquake in Kermanshah
---
Javan:
1- Judiciary Spokesman: 311 Sentenced to Prison, Death for Economic Corruption
2- Mr Rouhani! Open the Way, You're Not Alone: Basij Chief
3- The Man Who Longed to Nuke Iran Is Dead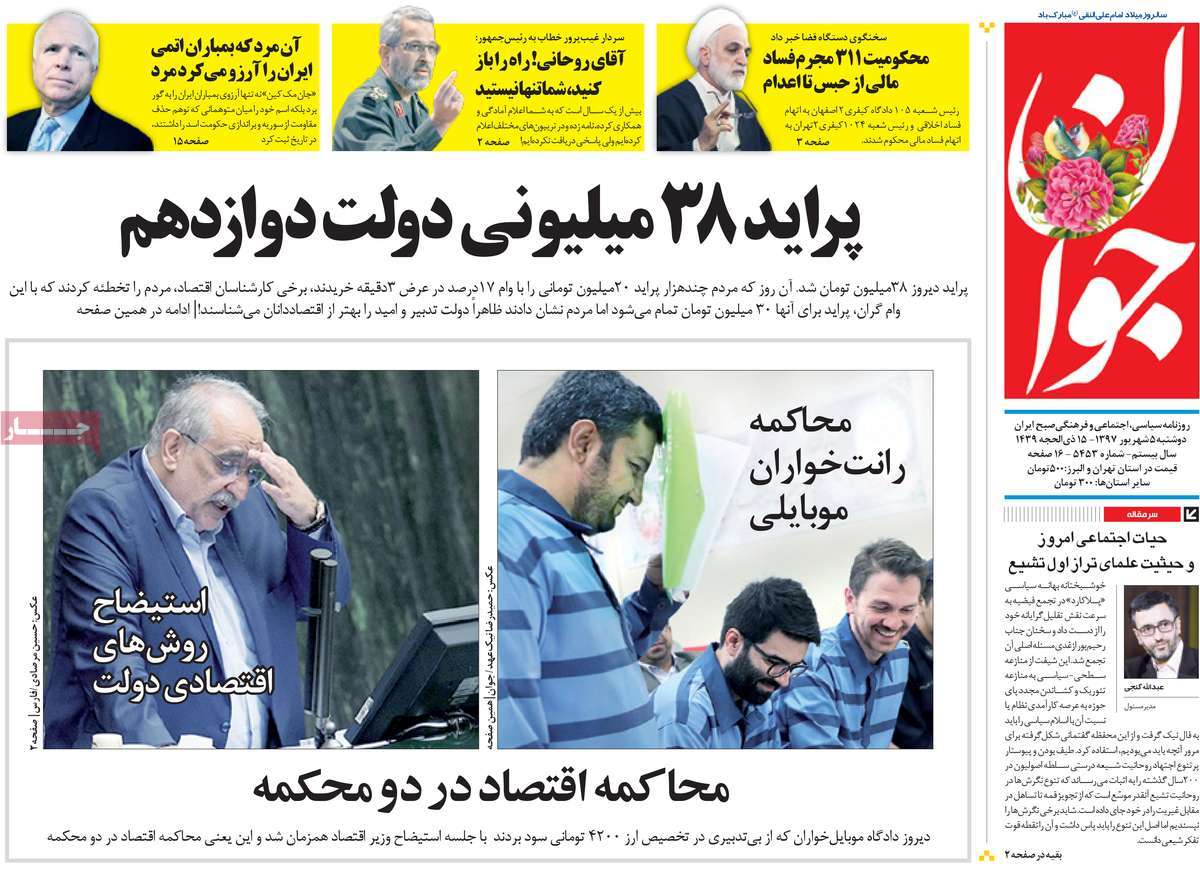 ---
Jomhouri Eslami:
1- Zarif: Iranian Political Parties Should Serve Interests of US' War Chamber
2- Former CIA Chief: Trump's Presidency Third Biggest Crisis in US History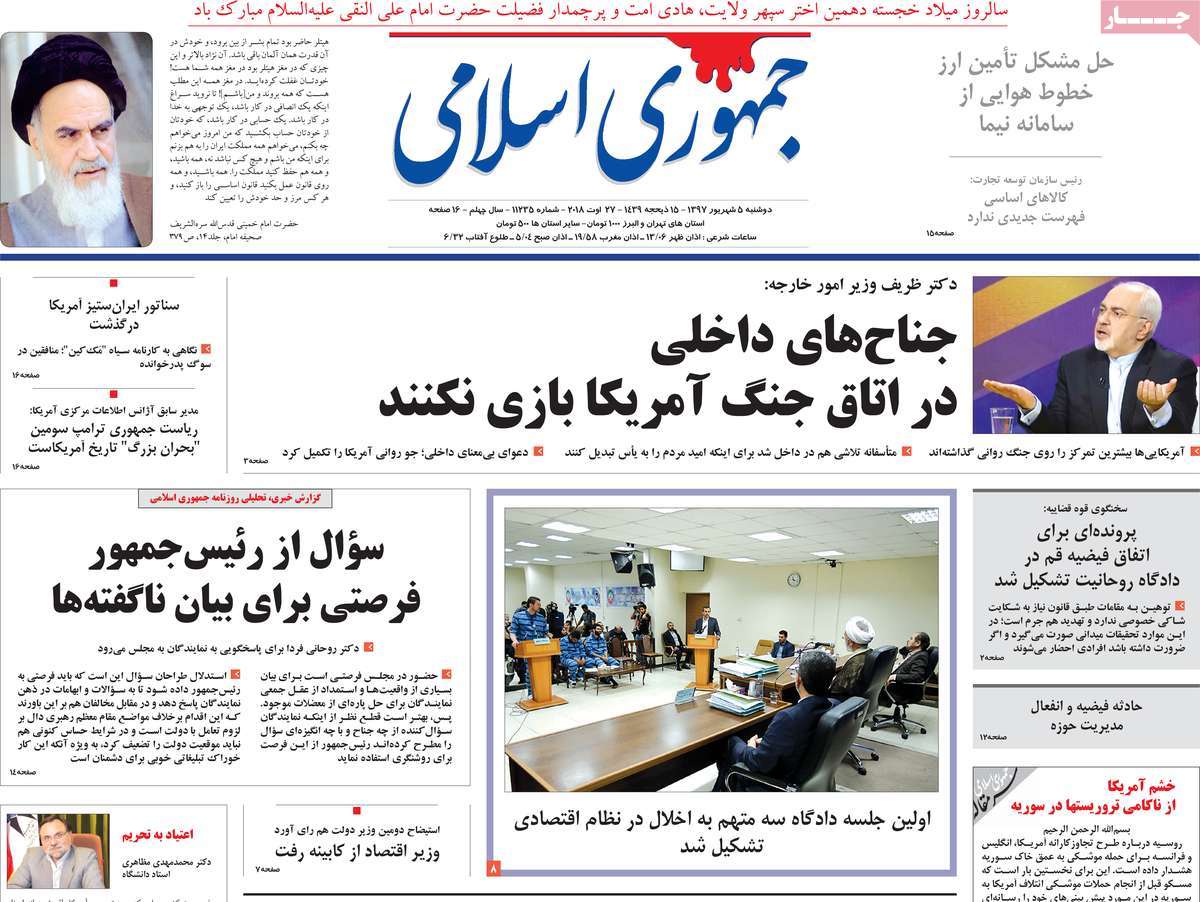 ---
Kayhan:
1- Economy Minister Gone, Economic Approaches Still in Place
2- Russia DM Warns: White Helmets May Launch Chemical Attack on Idlib Tomorrow!
---
Sazandegi:
1- Democrats' Mission Impossible: Reclaiming US Senate from Trump Very Difficult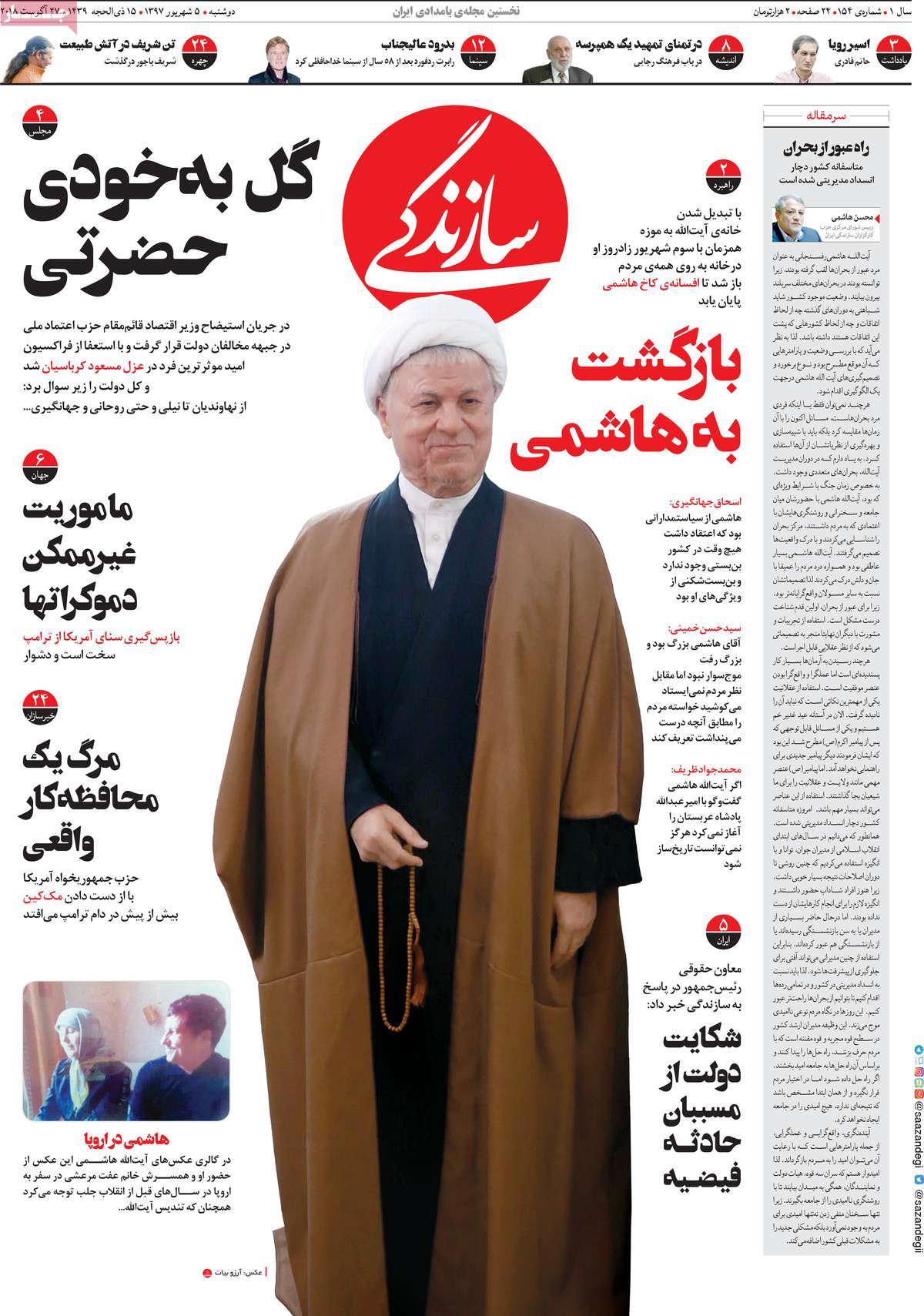 ---
Shargh:
1- Death of Warmonger: John McCain, US Rep. Senator, Dies at 81
2- Red Card Given to Rouhani Government's Economic Performance