Almost all papers today covered a letter by the Leader of Iran's Islamic Revolution Ayatollah Seyyed Ali Khamenei to this year's Hajj pilgrims, in which the Leader called on all Muslims to unite against the enemies of Islam, particularly the US which wants to pit Muslims against each other.
Also a top story was a recent controversial anti-government protest gathering held in the holy city of Qom, during which threatening placards were held. In one of those controversial placards, it was written that Rouhani would ultimately die just like former president Akbar Hashemi Rafsanjani in a swimming pool if he insists on negotiating with the US.
The gathering and the placards were widely condemned by top religious authorities in Qom, who even criticized the IRGC for letting its commanders attend and address the protest gathering.
Remarks made by Iranian Foreign Minister Mohammad Javad Zarif in a recent interview with CNN also received great coverage.
The above issues, as well as many more, are highlighted in the following headlines and top stories:
Abrar:
1- Oil Minister: Total Officially Left Iran!
2- Zarif: Americans Must Wake Up and Smell the Coffee
3- Iraqi President: Some US Sanctions on Iran Binding for Iraq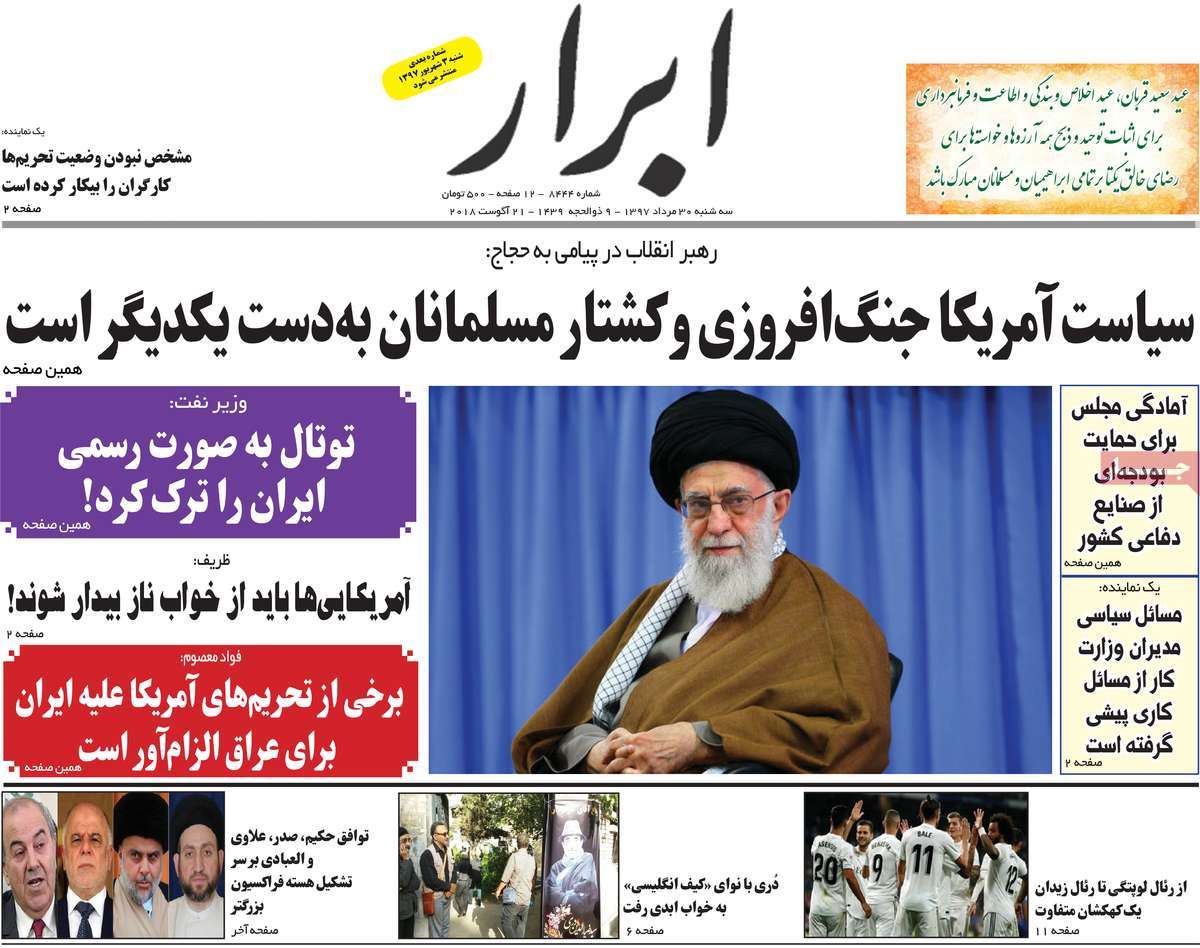 ---
Aftab-e Yazd:
1- IRGC Condemns Anti-Government Gathering in Qom
2- MPs Working on Plan to Reduce Number of Husbands Jailed for Failure to Pay Mahr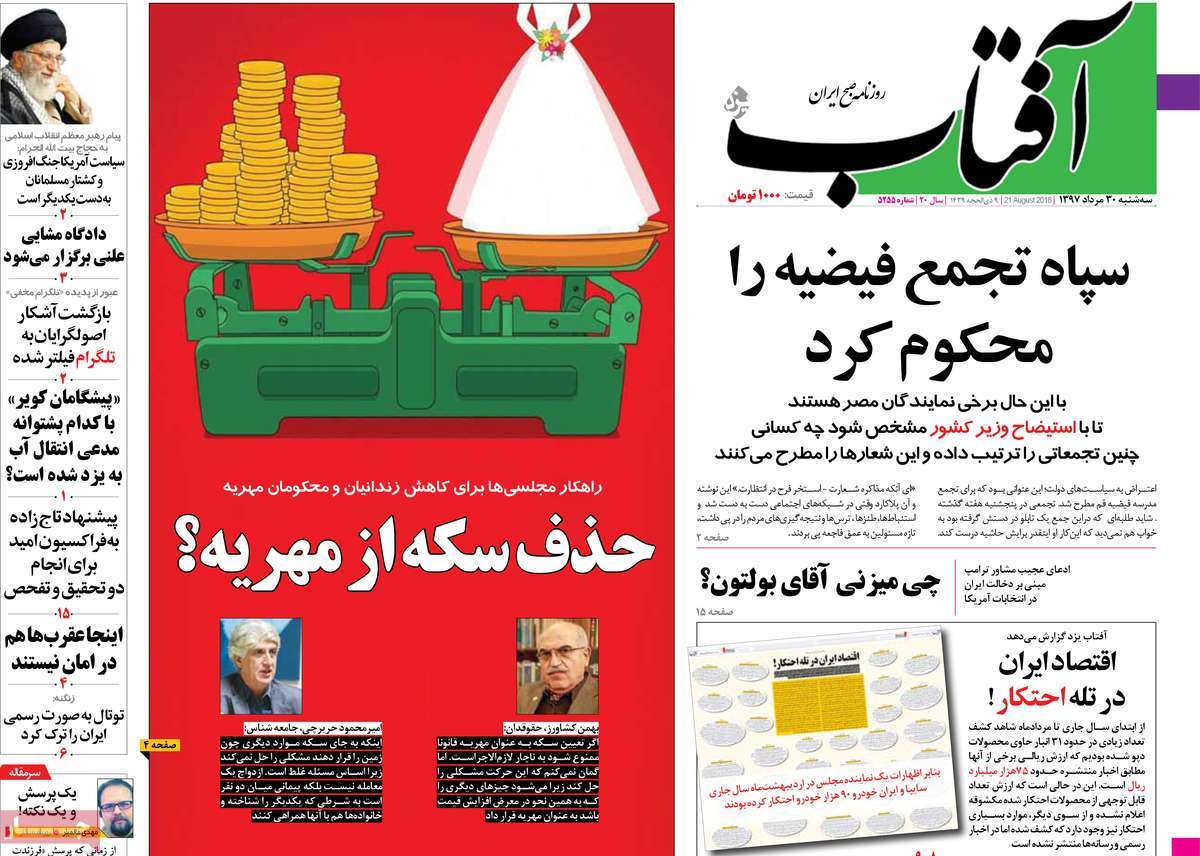 ---
Arman-e Emrooz:
1- Unanimous Condemnation of Qom Disaster
New Aspects of Qom Gathering Where Rouhani Was Threatened to Death
2- Analyst: Corruption in Forex, Gold Coin Markets Started in Ahmadinejad's Tenure
---
Ebtekar:
1- No One Claims Responsibility for Strange Placards Held in Qom Protest Gathering
2- Iran Leader to Hajj Pilgrims: US Policy Is Warmongering, Having Muslims Kill Each Other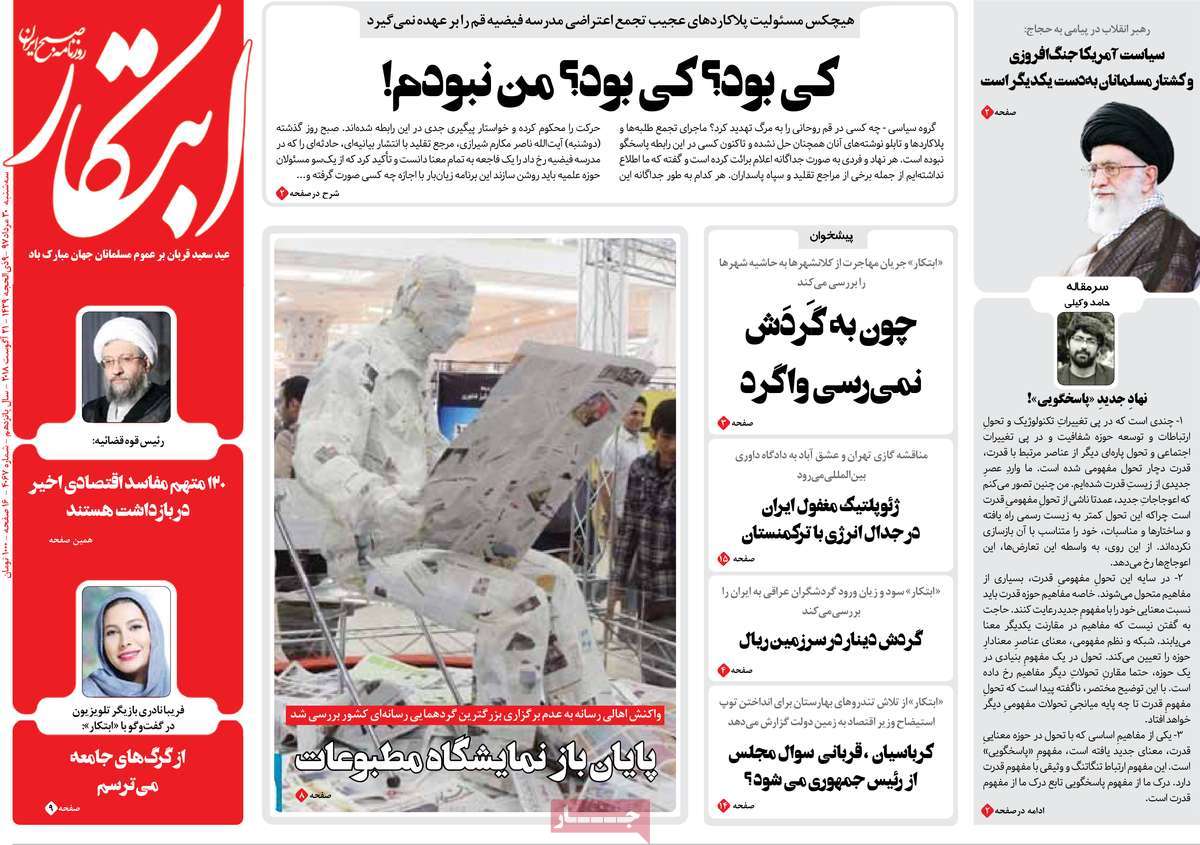 ---
Etemad:
1- Where Are Hardliners Linked to?
Top Clerics Call for Prosecution of Those behind Qom Gathering
2- Zarif: US Not Learning Lesson from Its Failures
3- Judiciary Chief: 120 People Detained for Economic Corruption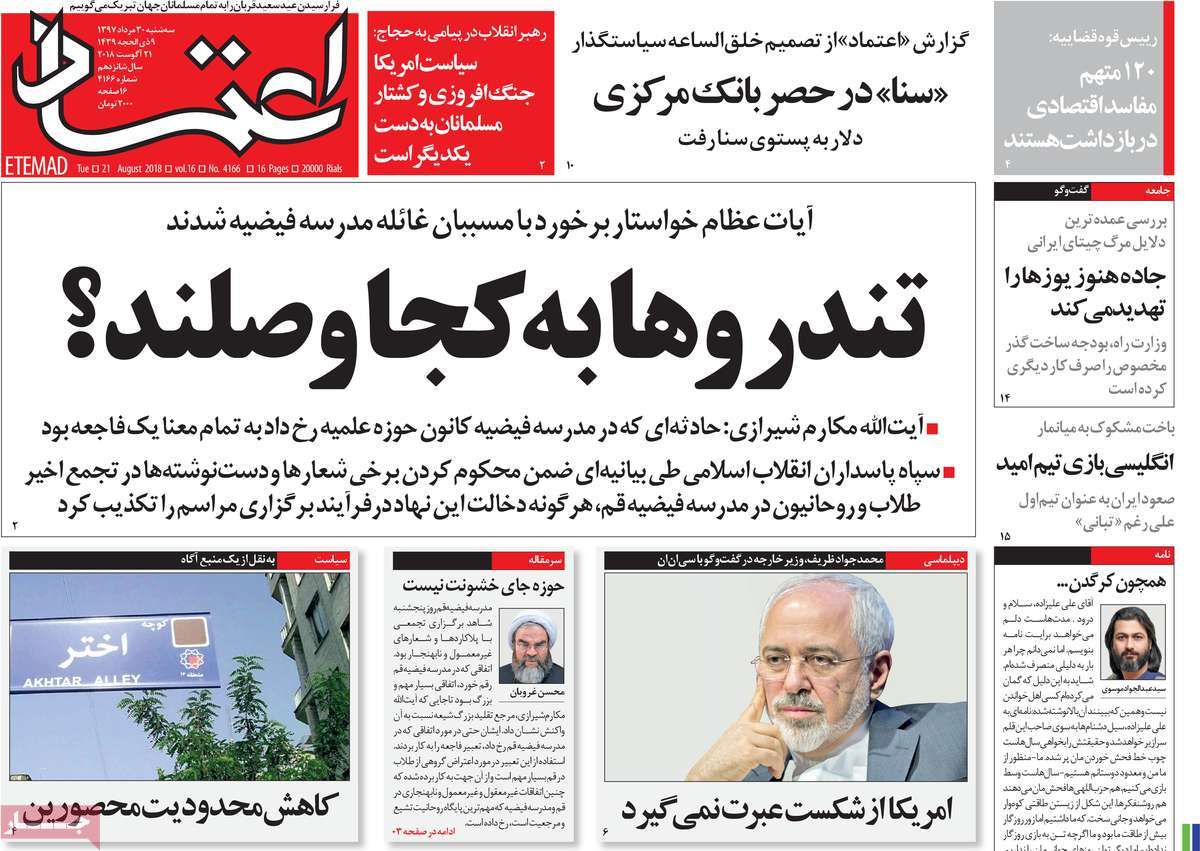 ---
Ettela'at:
1- Iran Leader: Hajj Calls on All Muslims to Unite against Enemies
2- Zarif: Implementation of JCPOA Meaningless If Sanctions Not Lifted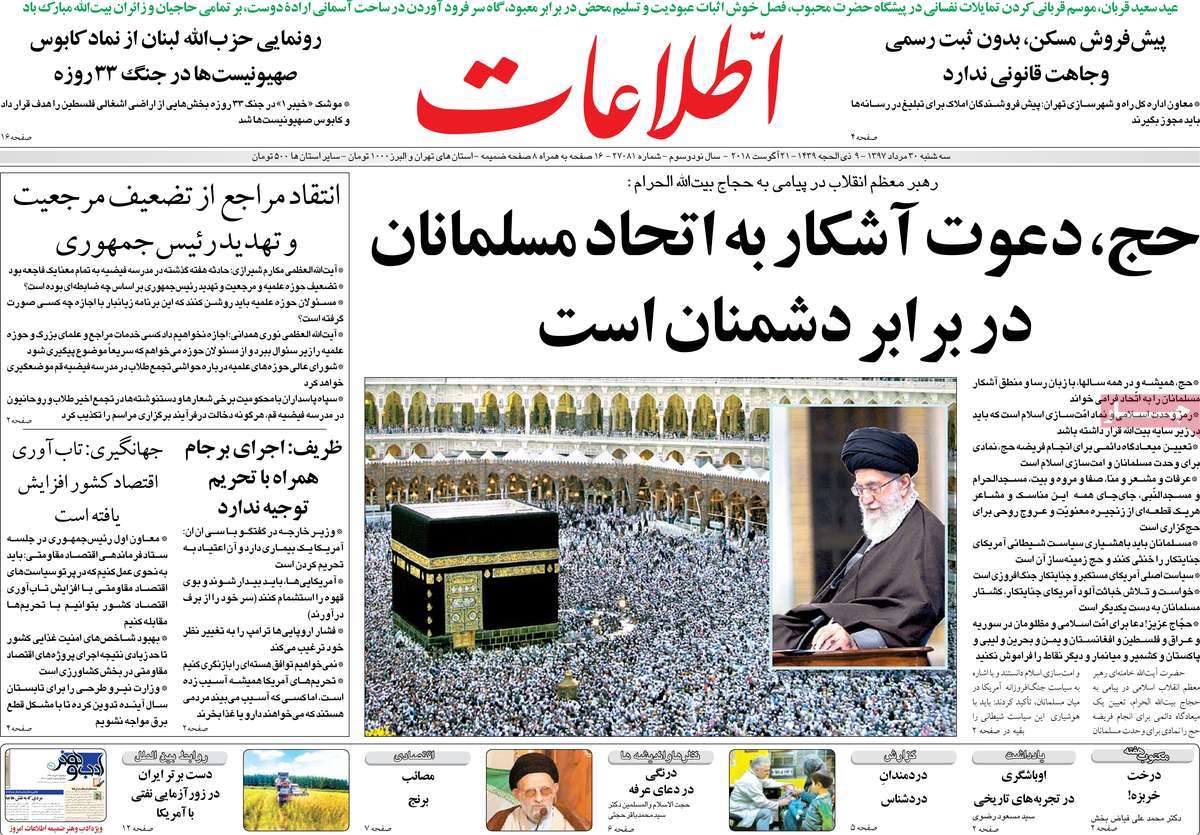 ---
Iran:
1- Betrayal, Main Reason for Divorce in Wealthy Regions
A Sad Account of Decreased Number of Marriage, Increased Divorce Rates in Tehran
---
Javan:
1- Zarif: I'm Sorry, I Was Wrong about US
2- Trump Worried about Elimination of Israel through Demographic Changes
If Israel, Palestine Have One Government, Next Israeli PM Would Be 'Muhammad'!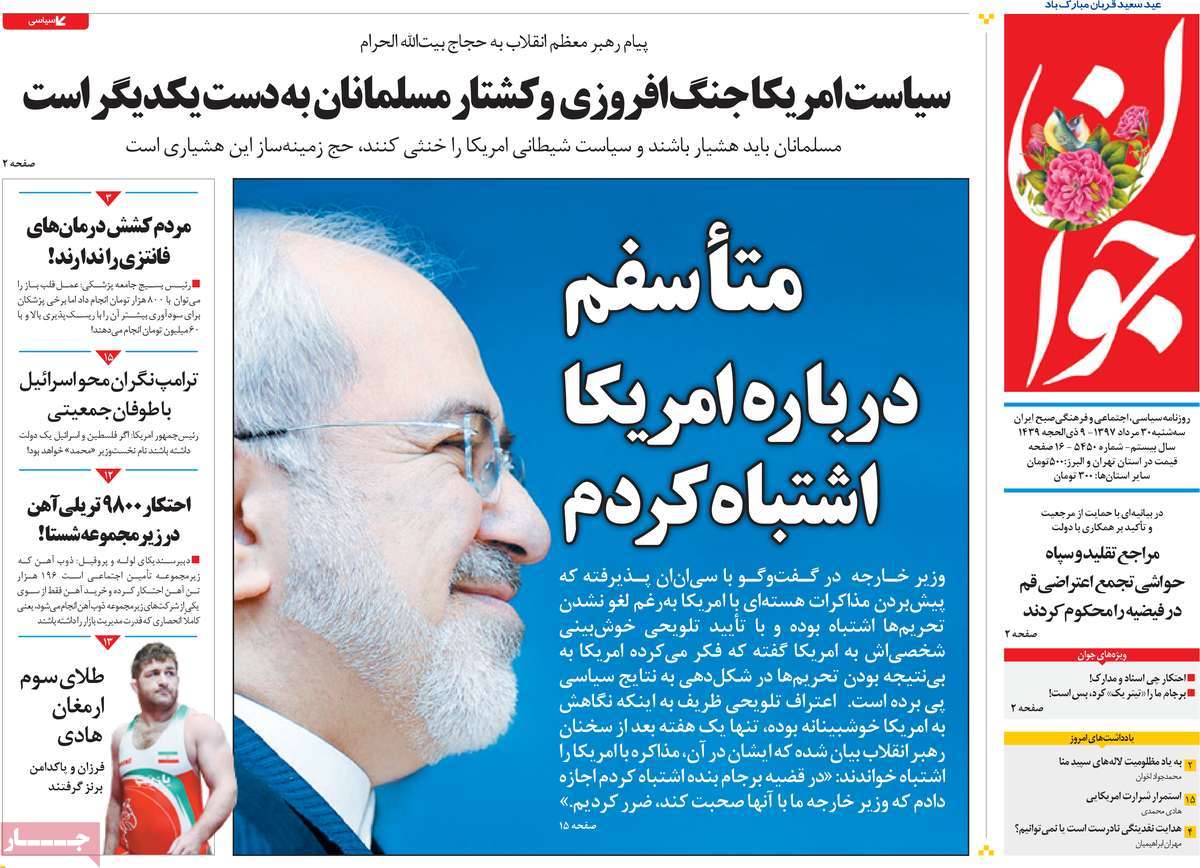 ---
Kayhan:
1- Turkish People Set Fire on US-Made Cell Phones
2- Here's London's Long Queues for Receiving Free Food
Independent's Report on Poverty in UK
---
Sazandegi:
1- Top Clerics Protest at Disaster in Qom's Feyziyeh School
Ayatollah Makarem Shirazi: What Happened in Protest Gathering Was a Disaster
IRGC: We Feel Duty-Bound to Help Respected Gov't Resolve Economic Woes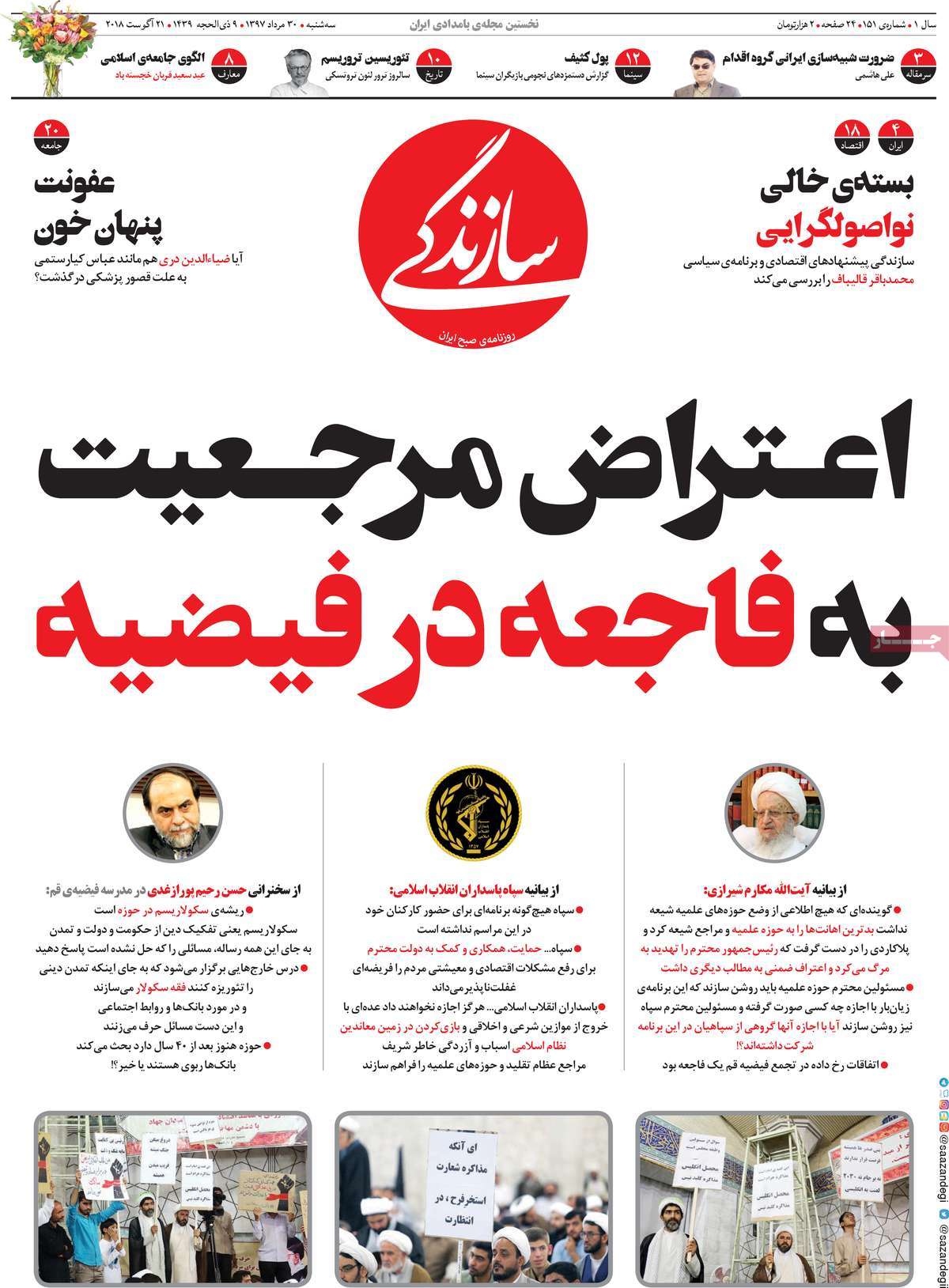 ---
Shahrvand:
1- Iranian Genius Wrestler Yazdani Once Again Wins Gold Medal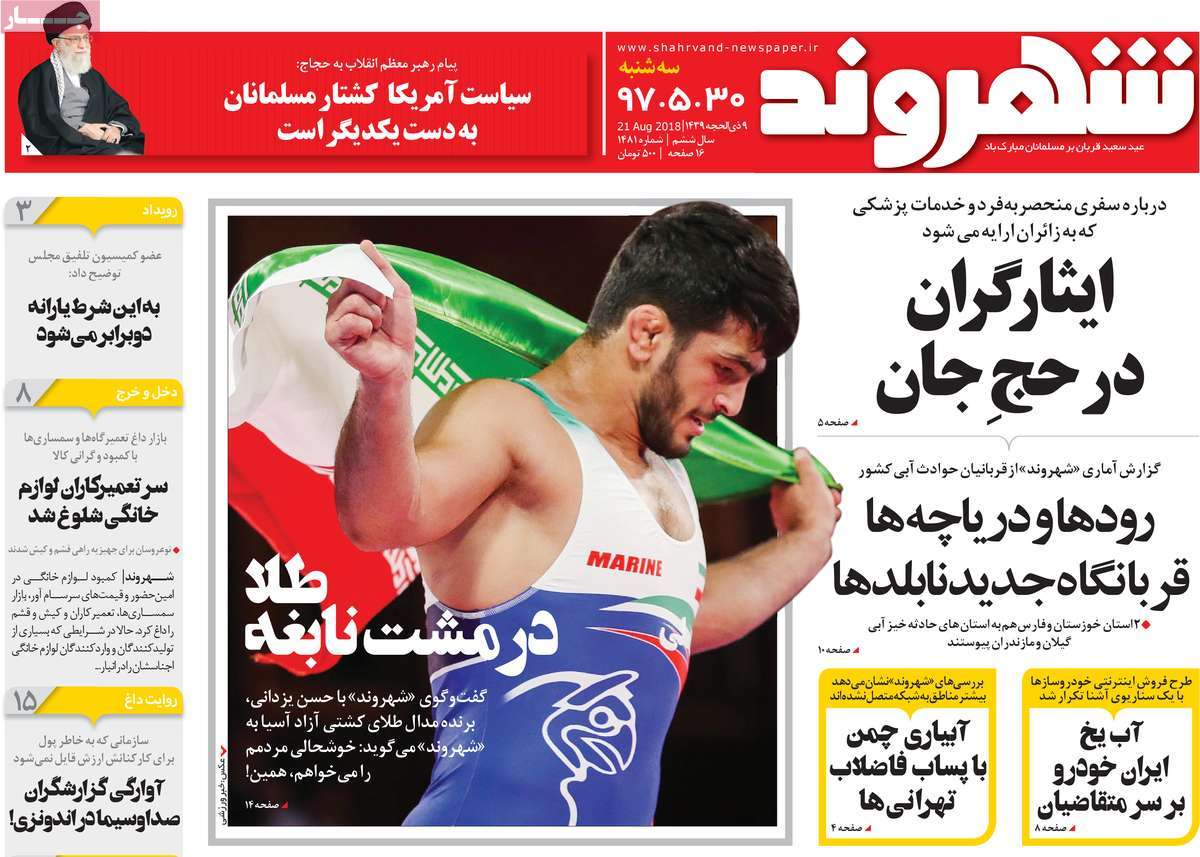 ---
Shargh:
1- Mayor Calls on Elites to Help Run the City
2- Ayatollah Makarem Shirazi: Protest Gathering in Qom Was Insult to Seminary
3- IRGC Denies Any Involvement in Organizing Qom Gathering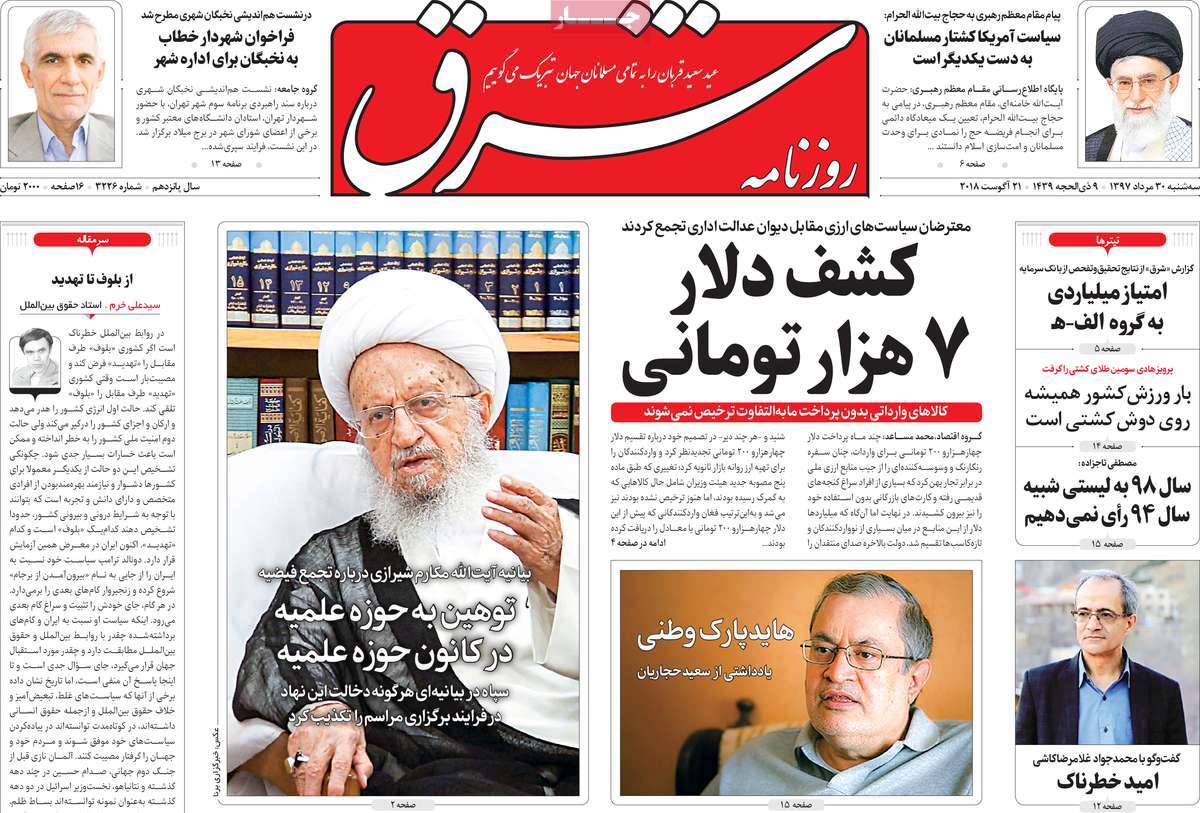 ---
Tejarat:
1- 80% Increase in Iran's Carpet Exports to US