All papers today covered the remarks made by Iranian President Hassan Rouhani about the US' call for dialogue with Tehran. Rouhani said the US was the one that burned the bridges for talks, and if it's honest, it must fix those bridges.
The recent convention on the Caspian Sea's legal regime and the controversies regarding Iran's share of the huge lake also received great coverage.
A number of papers also highlighted a statement by the office of the Leader of Iran's Islamic Revolution, in which it clarifies that Ayatollah Khamenei believes giving the green light to Iran-US direct talks was a mistake, not letting the Rouhani administration sign the nuclear deal [as reported by some].
The above issues, as well as many more, are highlighted in the following headlines and top stories:
Aftab-e Yazd:
1- Mousavian Outlines Three Realities about New US Sanctions
2- Seven Rounds of Secret Talks Held by Iran in Past 40 Years
* Rouhani Reveals Iran Had Secret Talks with Iraq's Saddam after 1980s War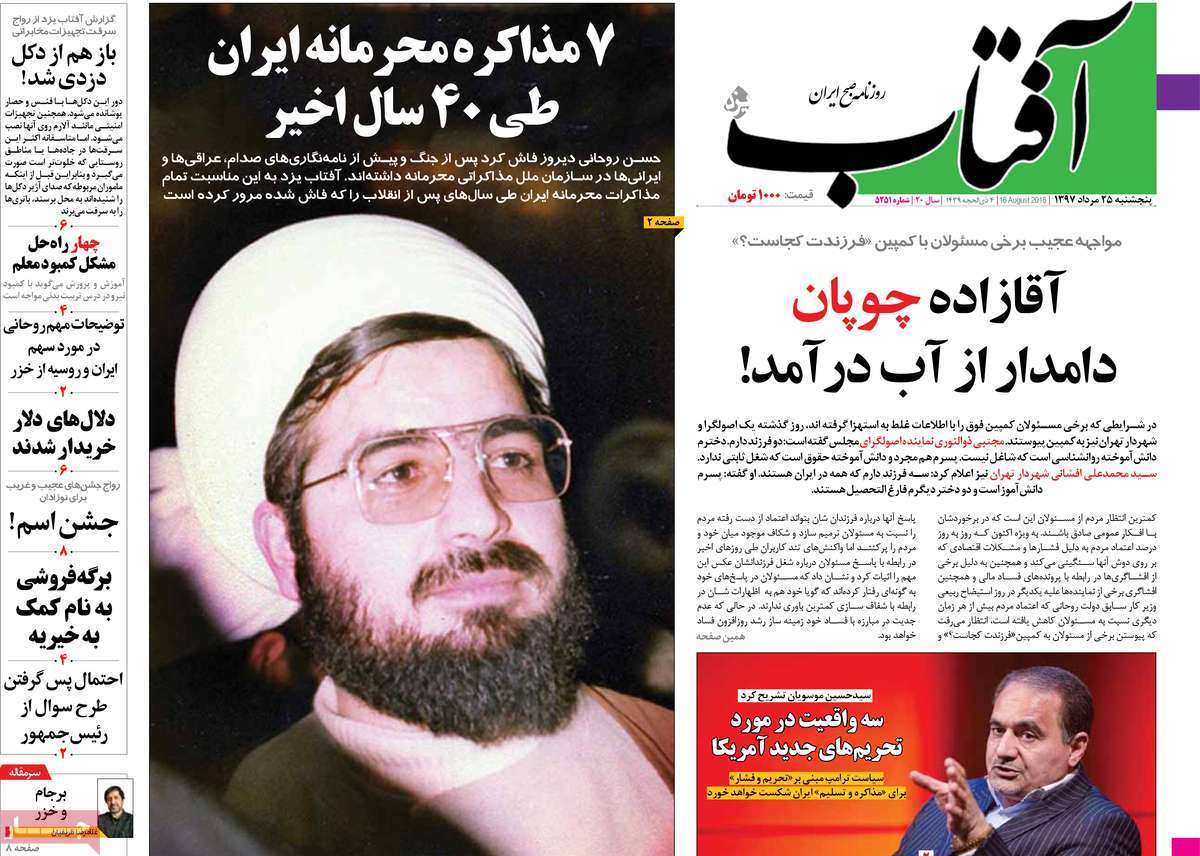 ---
Arman-e Emrooz:
1- US Can Fix Bridges It Burned: Rouhani on Iran-US Talks
2- Former Mayor of Tehran Karbaschi Sentenced to One Year in Jail
---
Ebtekar:
1- Turkey, New Front of Economic War with US
---
Etemad:
1- Pride and Prejudice: Turkish People Respond to Erdogan's Call
2- Controversies Regarding Caspian Sea Convention
* Official Media Had Passive Performance
3- Rouhani to Trump: Why Did You Burn the Bridge?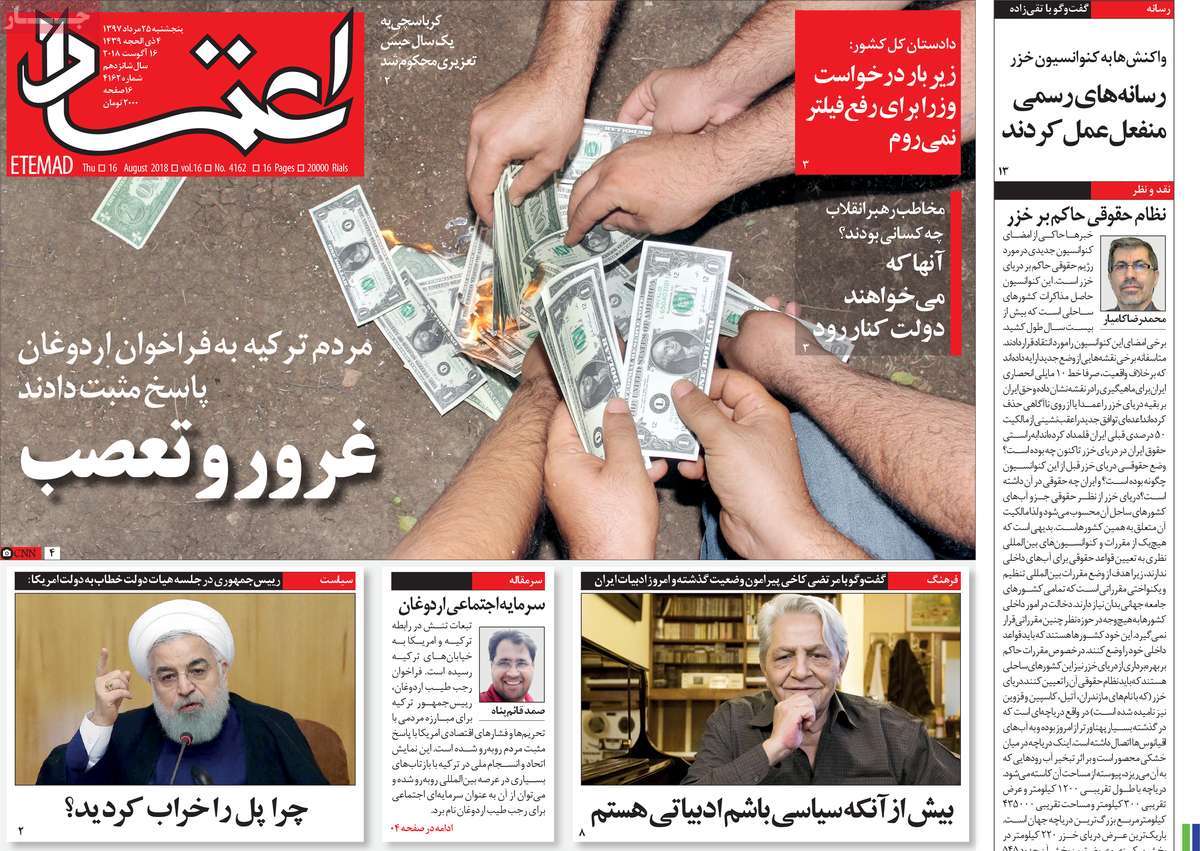 ---
Ettela'at:
1- Economic Woes Can't Be Resolved by Making Arrests
2- 13 Iranian Universities among World's Top 1,000
3- UK Rejects US' Call for Boycotting Iran
4- Hezbollah Secretary General: US Hasn't Understood Iranians' Power
---
Ghanoon:
1- Rouhani Gives Responses to Iraq, US, Critics of Caspian Sea Convention
2- Challenge of Accountability: Many Officials Join #Where_Is_Your-Child Campaign
---
Iran:
1- Forex Rates in Iran Determined by Dubai-Iraq-Afghanistan Triangle
2- Iran Received Special Concessions in Caspian Sea Convention: Rouhani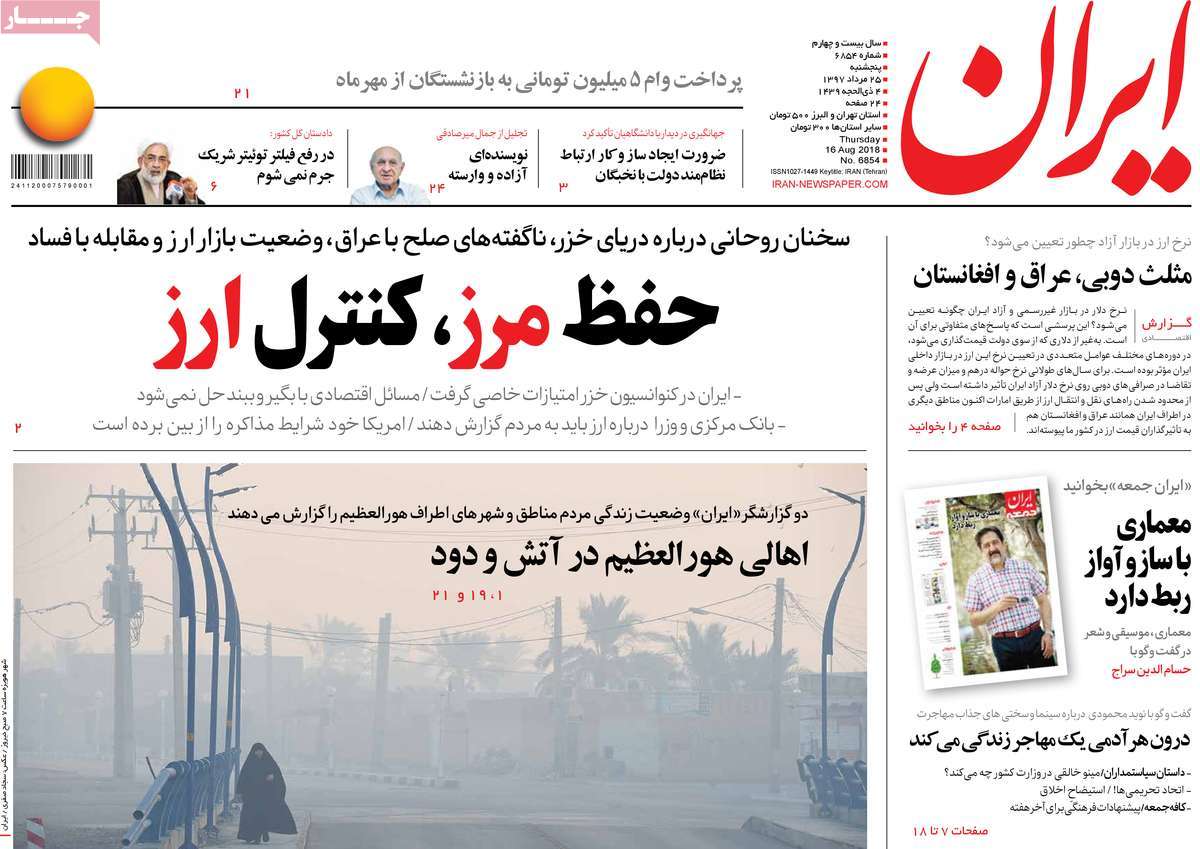 ---
Jame Jam:
1- Rouhani: Forex Rates Will Definitely Go Down
2- Economists Warn about Liberal Thoughts of Certain Gov't Officials
---
Javan:
1- Rouhani: I Told Them to Sell Forex in Lower Rates
2- Iran Leader: I Made a Mistake by Allowing Our FM to Hold Talks with Them [US]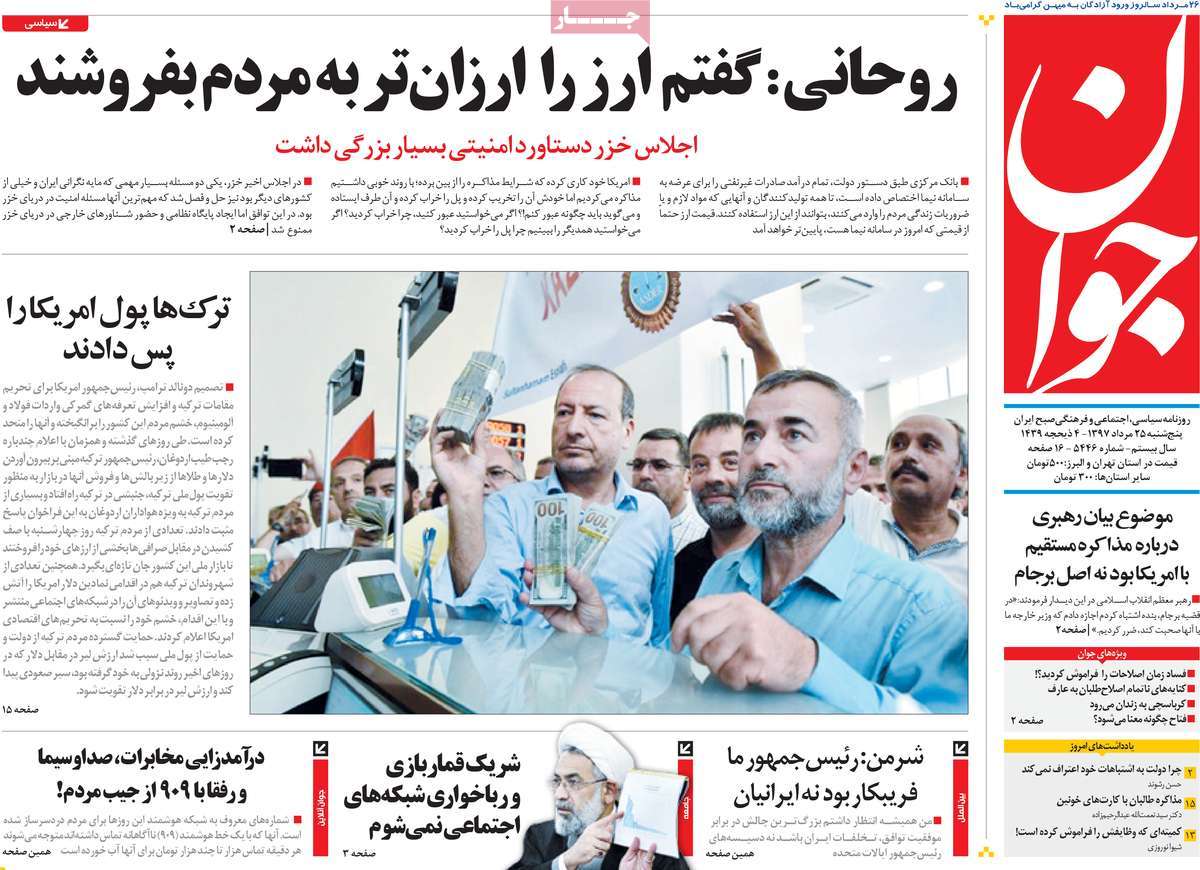 ---
Kayhan:
1- Iran More Powerful than Ever; Sanctions Futile: Hezbollah Chief
2- Mossad's Elements in Social Media Fail in Attempt to Distort Iran Leader's Comments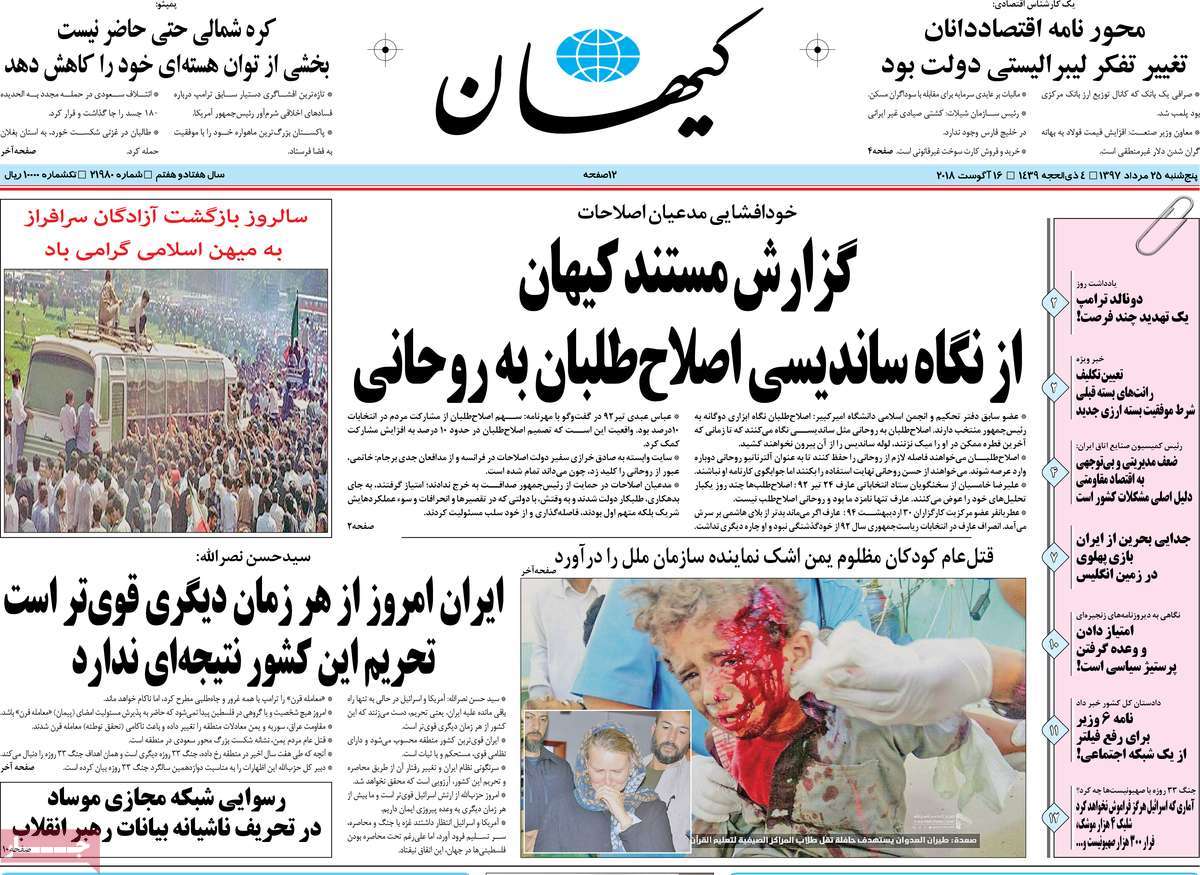 ---
Khorasan:
1- Iranian War Veteran Dies in Afghanistan after Being Mistaken with Afghan, Sent Out of Iran
2- MP Says Iranian Women Harassed in Tbilisi Airport
3- 48 Killed in Suicide Attack in Kabul
---
Shahrvand:
1- Wrong Deportation Sparks Controversy: Iranian Man Dies in Afghanistan for a Mistake
1- Shortage of Warfarin in Iran Creating Trouble for Patients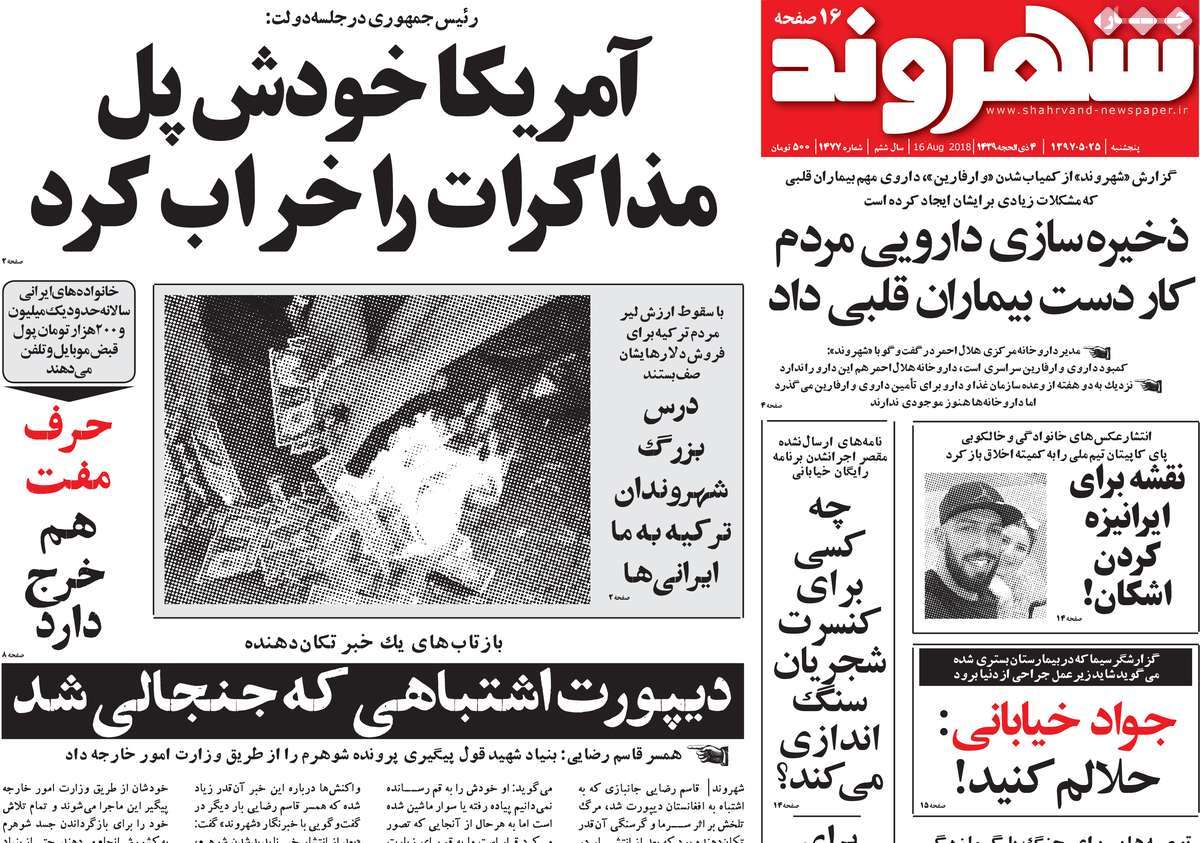 ---
Shargh:
1- Bridge of Negotiation
* Rouhani: What US Did Destroyed Path for Talks
2- Prosecutor-General Strongly Opposed to Unblocking Twitter
3- Iran's Share of Caspian Sea Wasn't 50% in Past, Isn't 11% Now: Zarif