Newspapers today widely covered the Sunday summit of the heads of Caspian Sea littoral states in Kazakhstan, during which a convention on the sea's legal regime is to be signed by the five countries.
Also a top story was an order by the Leader of Iran's Islamic Revolution Ayatollah Seyyed Ali Khamenei to swiftly and justly prosecute those involved in financial corruption.
Several papers also highlighted a decision by Iran's Guardian Council to approve amendments to the country's Counter-Terrorist Financing (CTF) law, earlier ratified by the Parliament. The law is part of the FATF standards that need to be implemented by the Islamic Republic.
The above issues, as well as many more, are highlighted in the following headlines and top stories:
Abrar:
1- Iraq President: Common Interests with Iran Make It Difficult to Obey US Sanctions
2- Macron, Trump Hold Talks on Iran
3- Iraq Central Bank: Don't Do Business with Iran Using US Dollar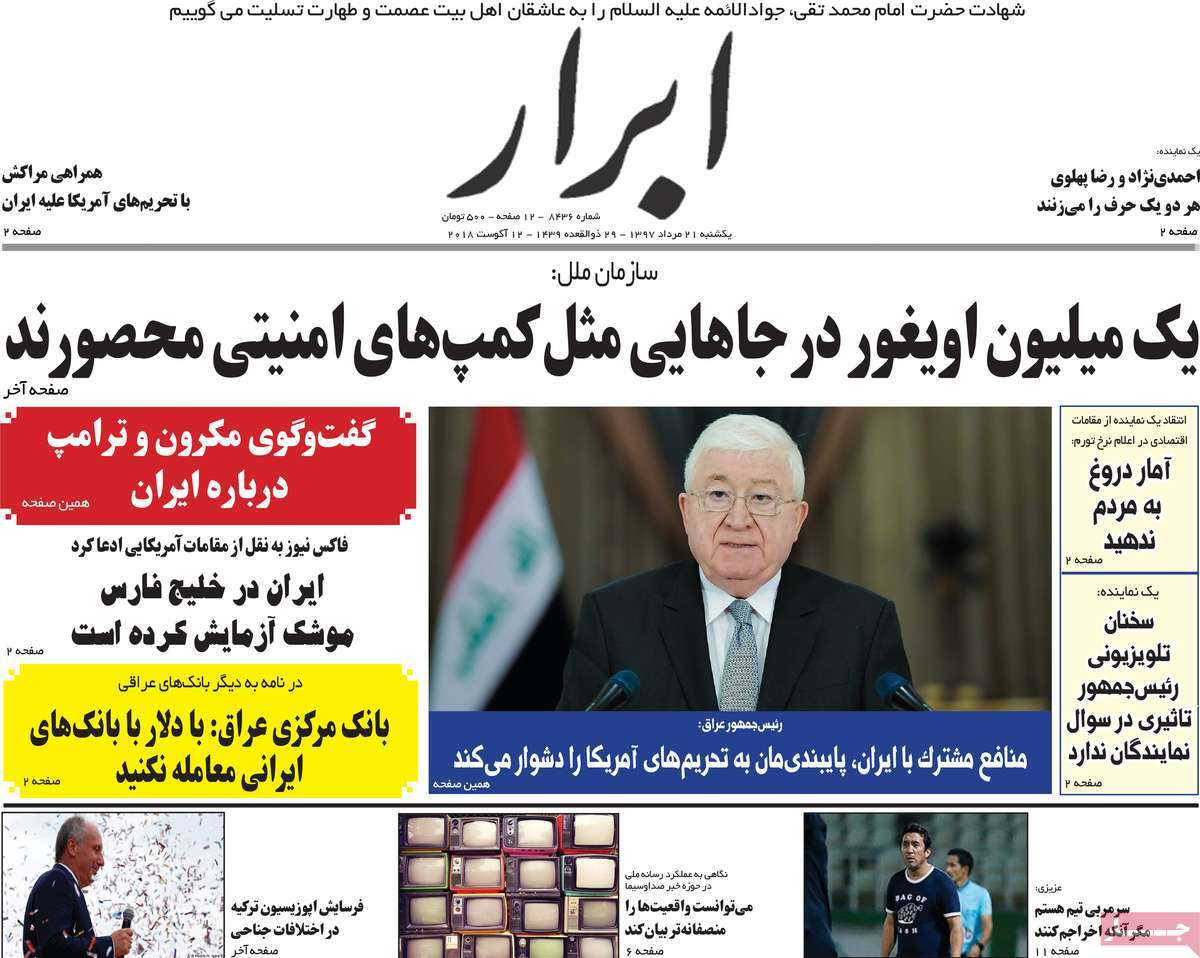 ---
Aftab-e Yazd:
1- Iran Leader Urges Swift, Just Action against Financial Corruption
2- Coalition against Sanction: Can Russia, Iran, Turkey Resolve Each Other's Problems?
3- Iranian Ministries of Economy, Justice Finally Ordered to Implement FATF
---
Arman-e Emrooz:
1- Guardian Council Gives Green Light for Settling Crisis
CTF Law Finally Approved by GC
---
Asrar:
1- Energy Minister: Adaptability to Water Crisis Understood with a Decade of Delay
---
Donya-ye Eqtesad:
1- Hidden Duel between Trump, Obama
US Congress Elections to Show How Much They're Popular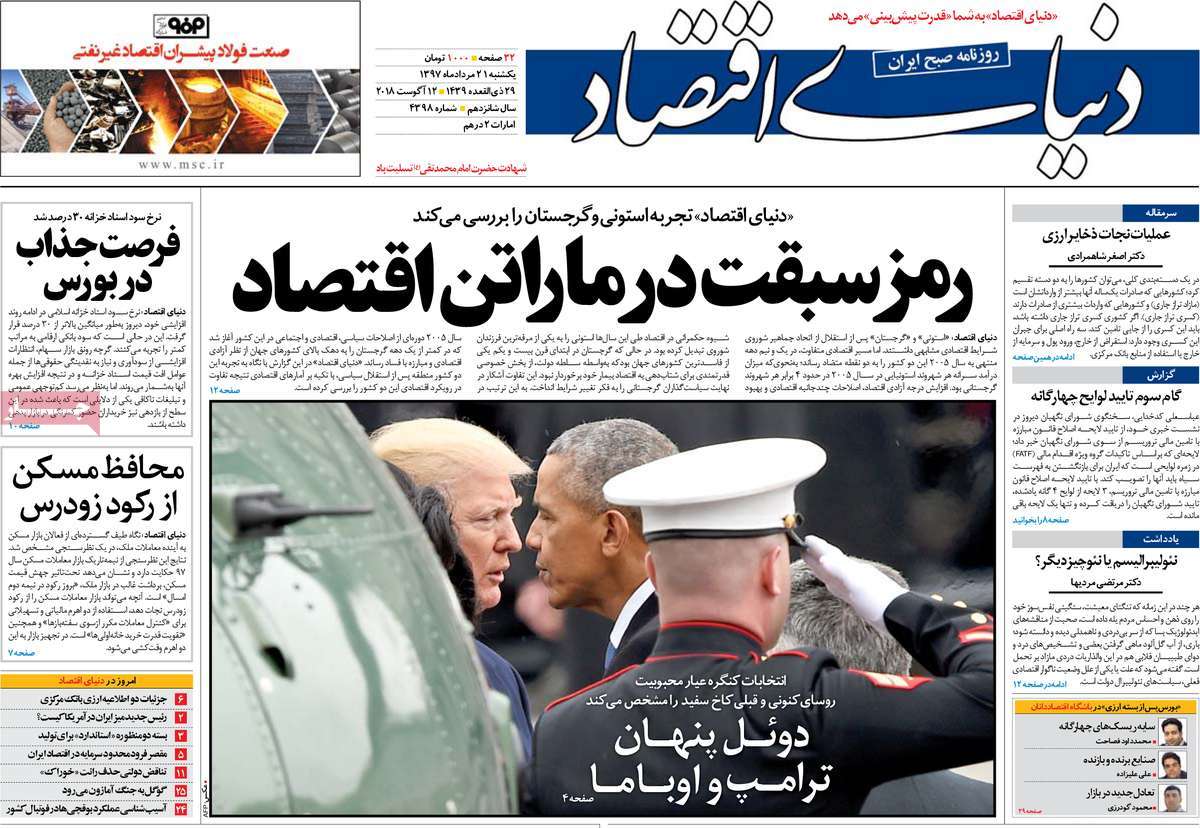 ---
Ebtekar:
1- Erdogan Sending Messages of Reconciliation While Threatening US
Escalation of Tension between US, Turkey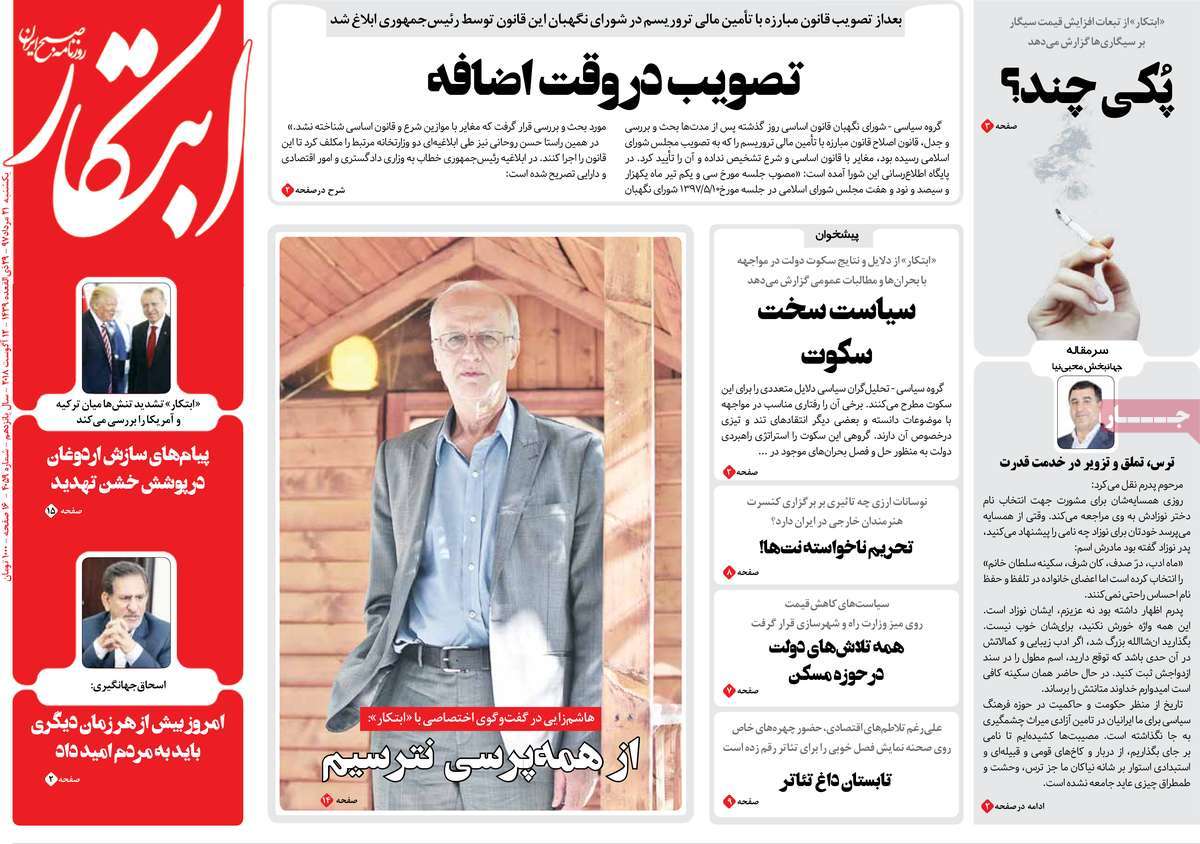 ---
Etemad:
1- US' Addiction to Sanctions
Erdogan Calls Trump's Move Declaration of Economic War
2- Iran Standing by Its Neighbours: Zarif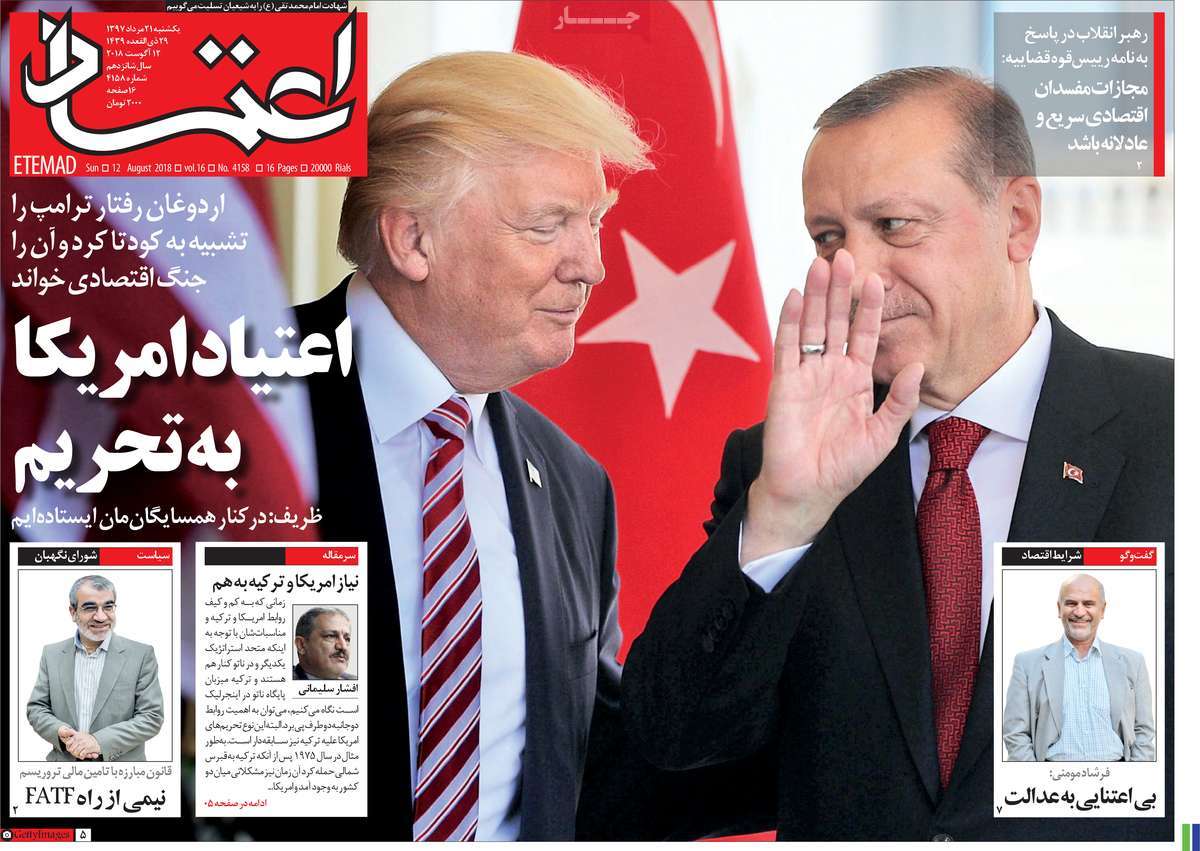 ---
Emtiaz:
1- Iraqis Travelling to Iran after Devaluation of Iranian Rial
Iraqi Dinar, Afghanistan's Afghani More Valuable than Iran's Currency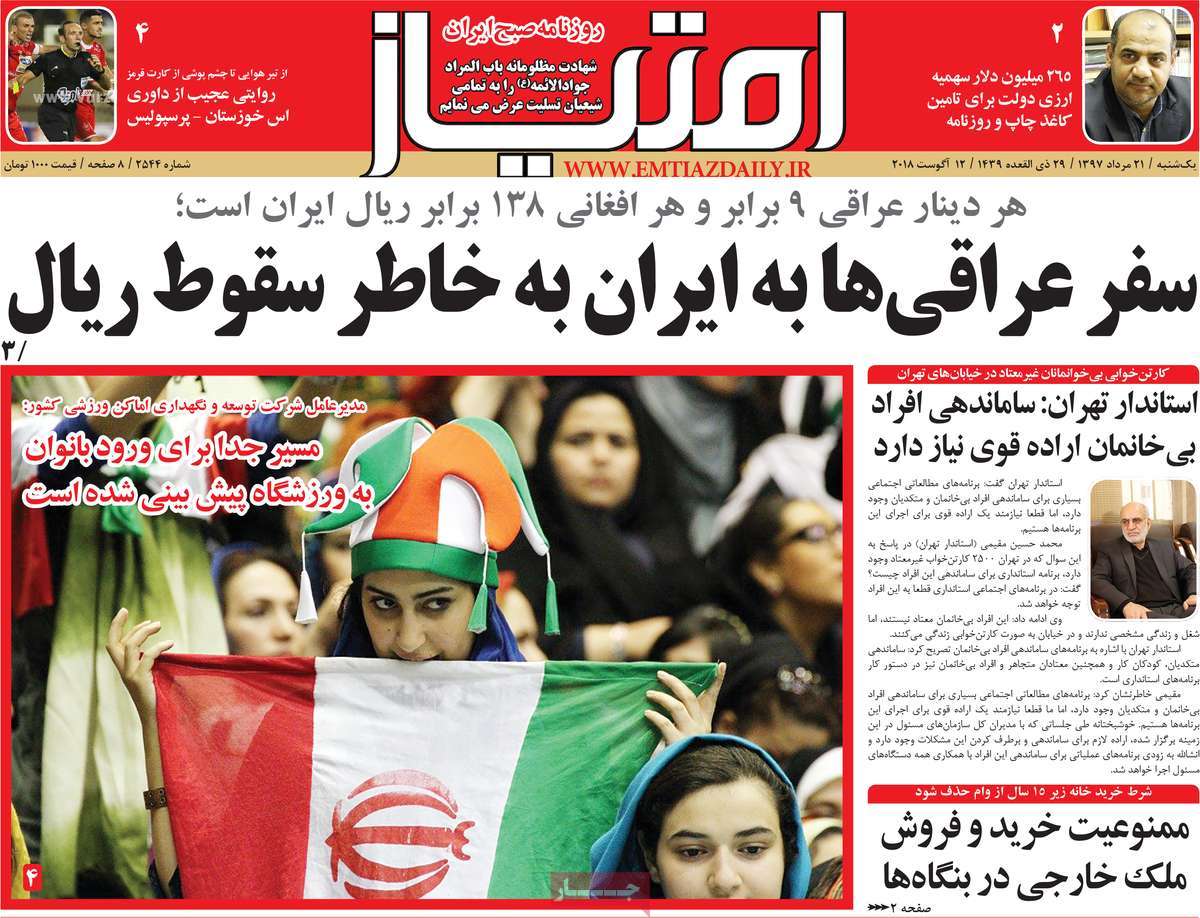 ---
Ettela'at:
1- Convention on Legal Regime of Caspian Sea to Be Signed in Kazakhstan Today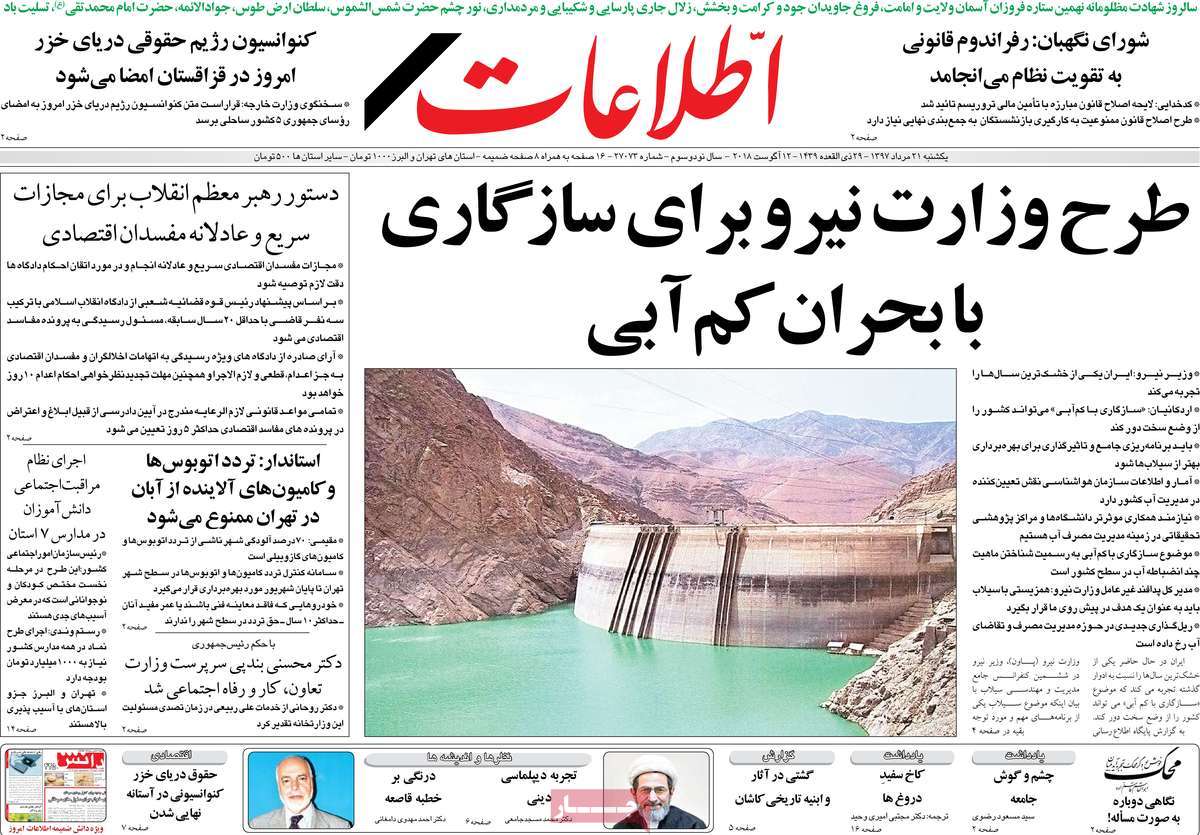 ---
Hamshahri:
1- First Step to Get Out of Banking Siege
Iran Takes First Step to Get Its Name Out of FATF Blacklist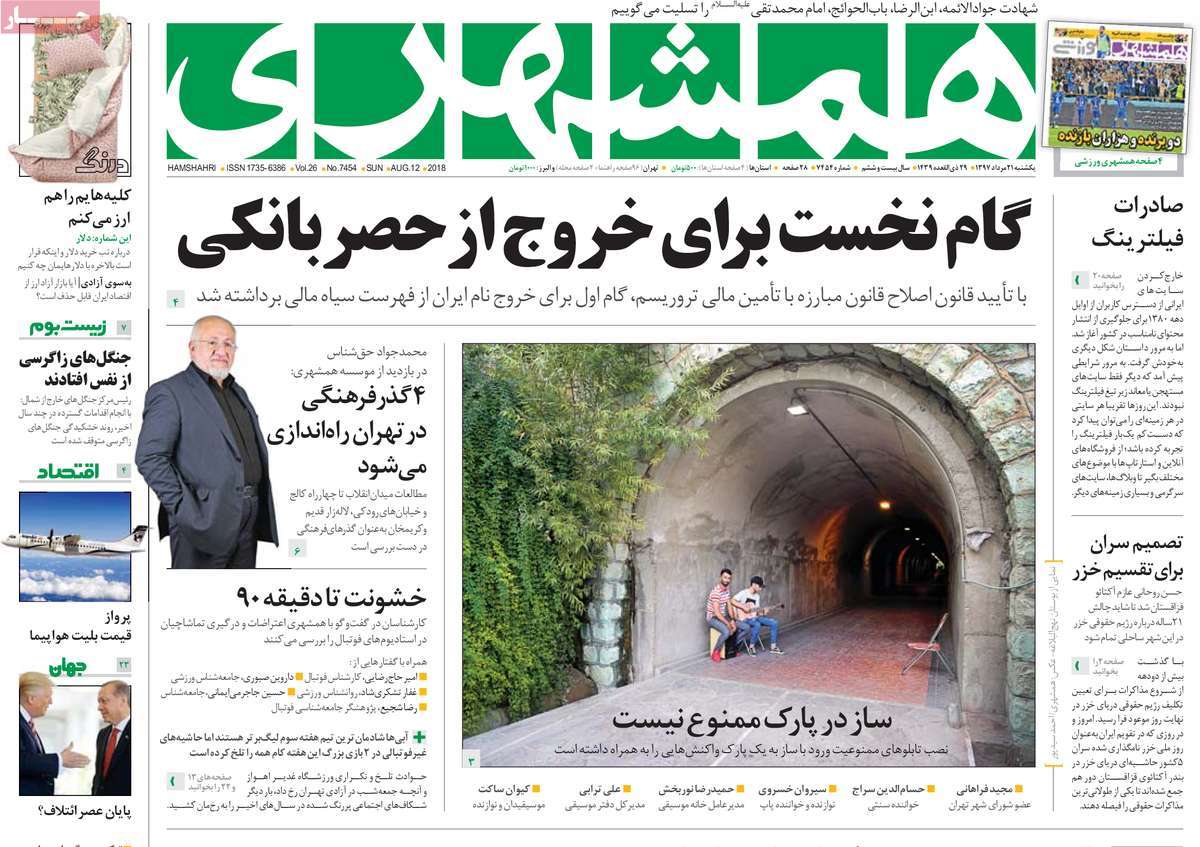 ---
Hemayat:
1- US' Blatant Support for Child-Killers
Washington Tasks Riyadh with Probing into Recent Crime in Yemen!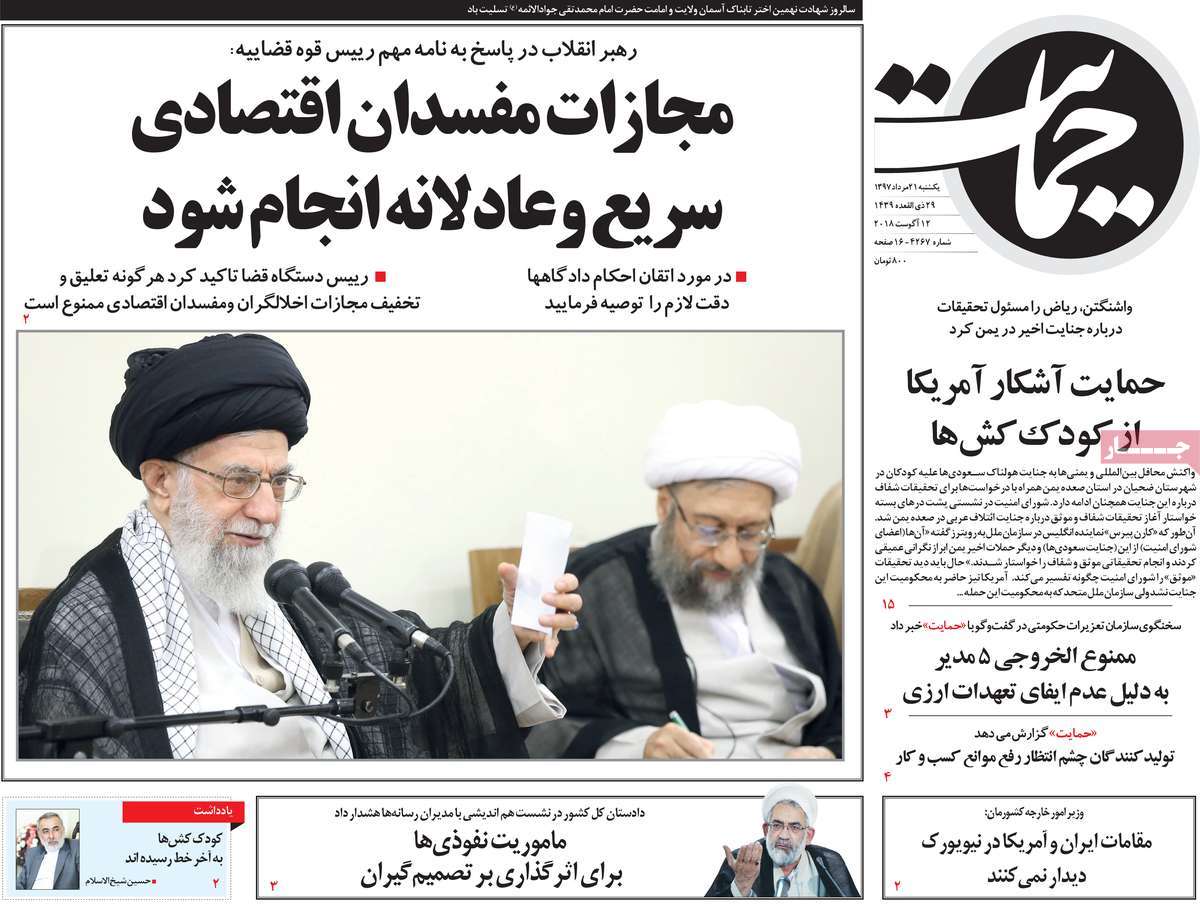 ---
Iran:
1- No Difference between Coup, Sanctions
Erdogan Confirms US Sanctions Beginning of Trade War
2- Official: Iranian Businessmen Shouldn't Be Worried about Ties with Iraq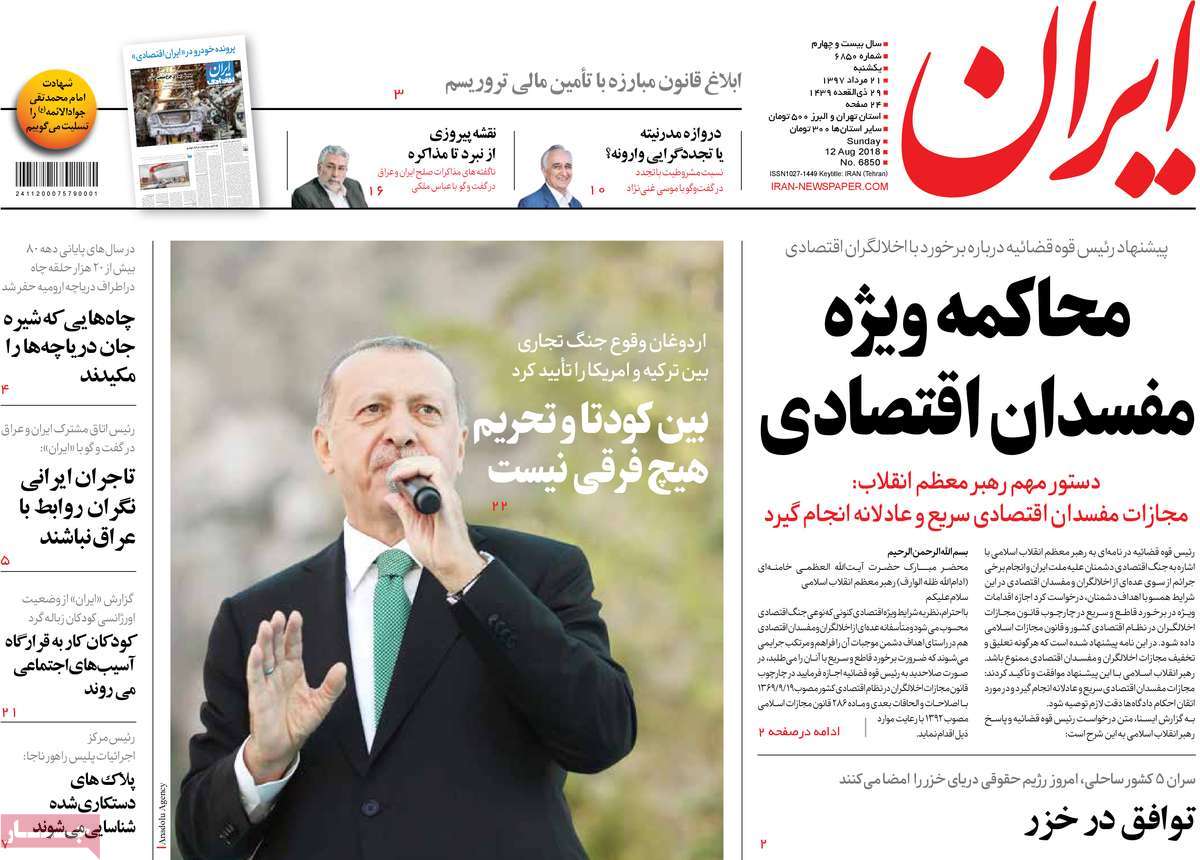 ---
Javan:
1- Two US Statesmen: It's Not Possible to Cut Down Iran's Oil Exports to Zero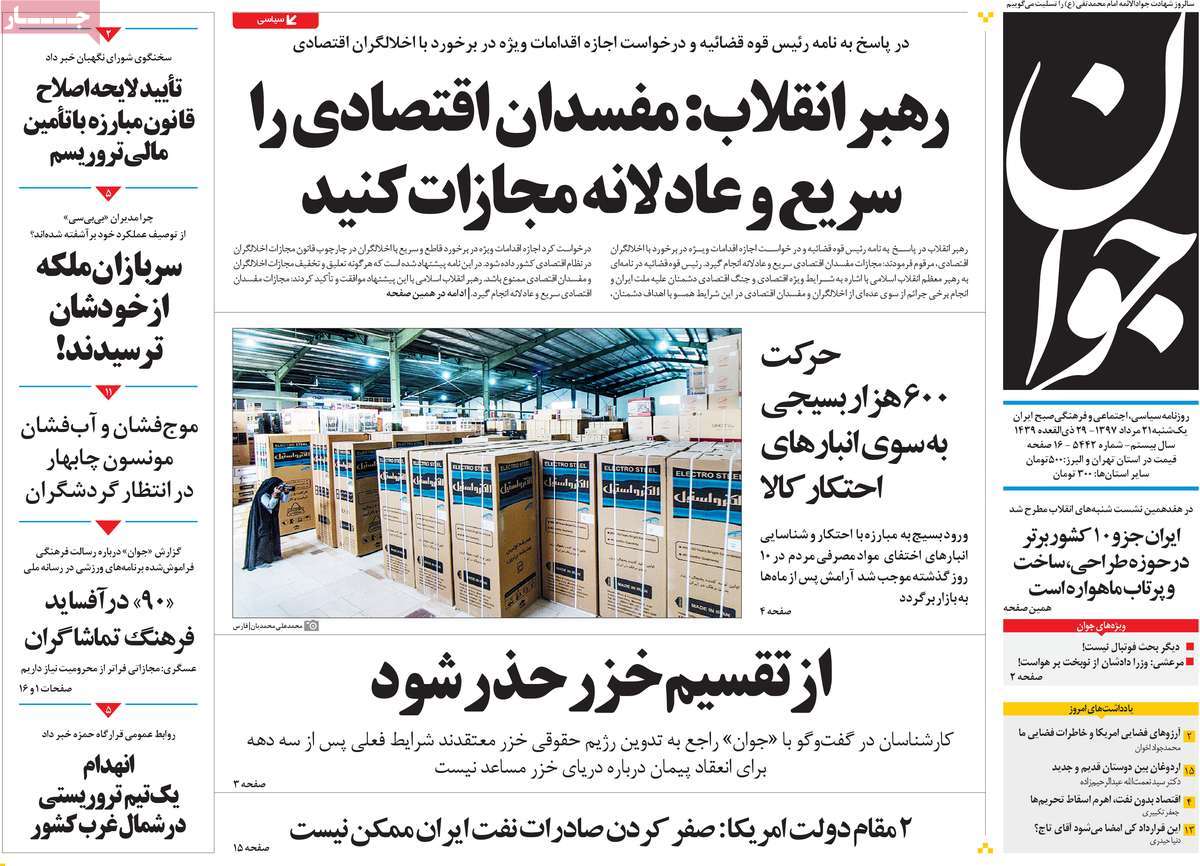 ---
Jomhouri Eslami:
1- IEA Warns US: Bans on Iran Oil Exports to Create Storm in Global Markets
2- Austria Envoy: Europe Seeks to Keep Its Financial Channels with Iran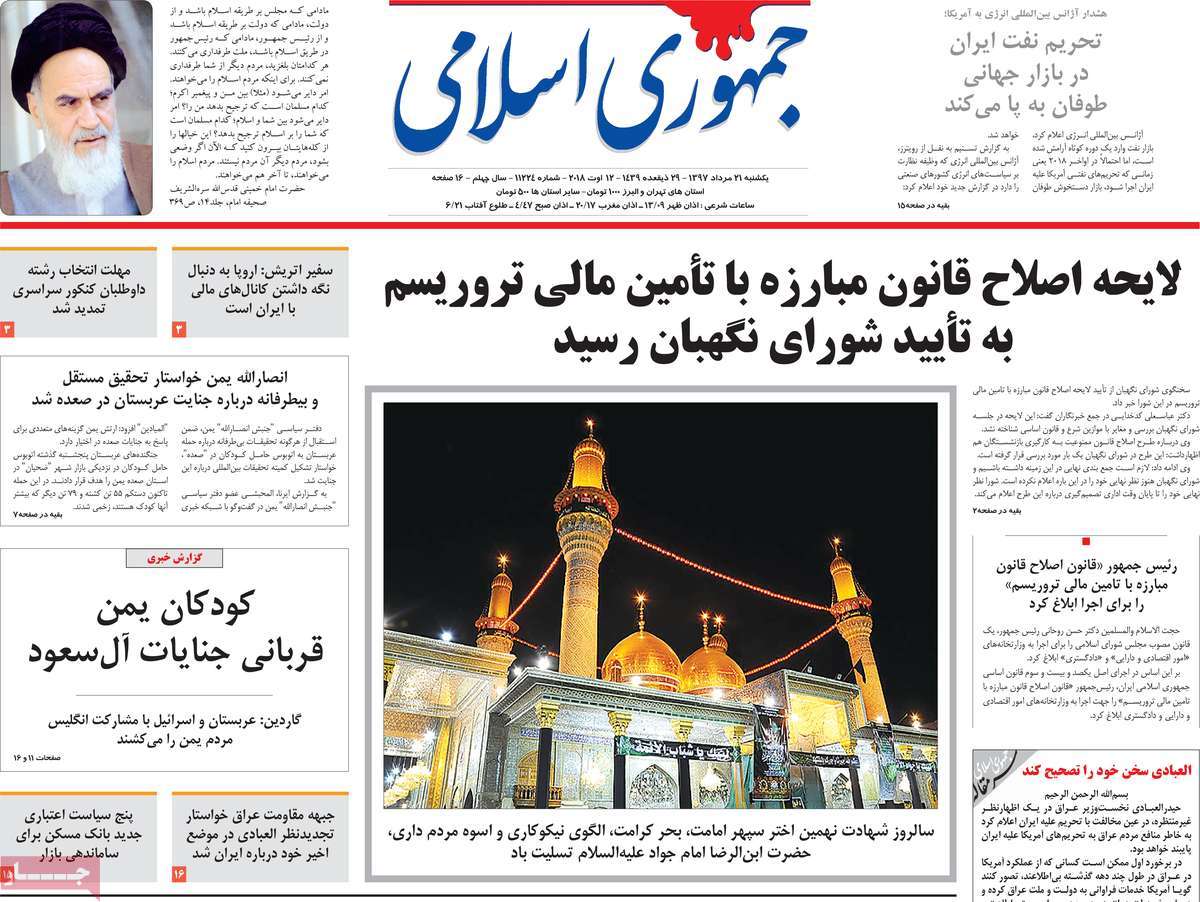 ---
Kayhan:
1- Western Governments Only 'Express Regret' over Slaughter of Yemeni Children!
---
Setareh Sobh:
1- Each of Five Caspian Sea Littoral States to Know Their Shares Today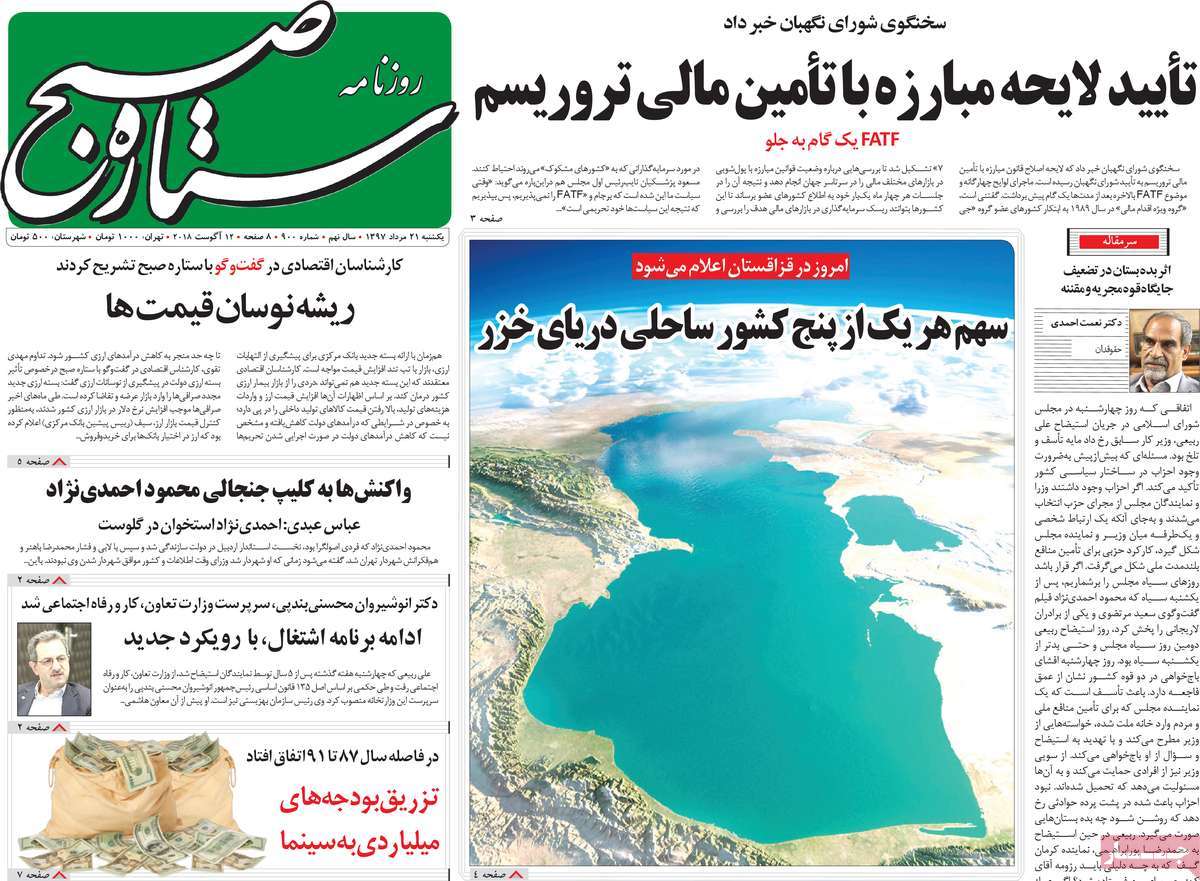 ---
Shargh:
1- Aref Warns about Possible Collapse of Reformists' Solidarity
2- Americans Holding Less Negative View on Iran