IFP has taken a look at the front pages of Iranian newspapers on Saturday, August 11, 2018, and picked headlines from 19 of them. IFP has simply translated the headlines and does not vouch for their accuracy.
Several papers today covered the remarks made by the Leader of Iran's Islamic Revolution Ayatollah Seyyed Ali Khamenei about the future of the country's Islamic Revolution. The Leader has stressed that the enemies cannot do a damn thing, and people should not be worried.
Also a top story was Tehran's reaction to Iraqi Prime Minister Haider al-Abadi's announcement that his country will have to follows US sanctions on Iran. Iranian people and officials, within the past couple of days, have strongly blasted the Iraqi government for the decision, noting that Iraq is making such anti-Iran moves despite the fact that it owes billions of dollars to the Islamic Republic over war compensation, as per the UN Security Council Resolution 598.
The above issues, as well as many more, are highlighted in the following headlines and top stories:
Abrar:
1- Iran Leader in Reaction to Concerns about Future of Revolution: No One Can Do a Damn Thing
2- Erdogan Underlines Expansion of Iran-Turkey Relations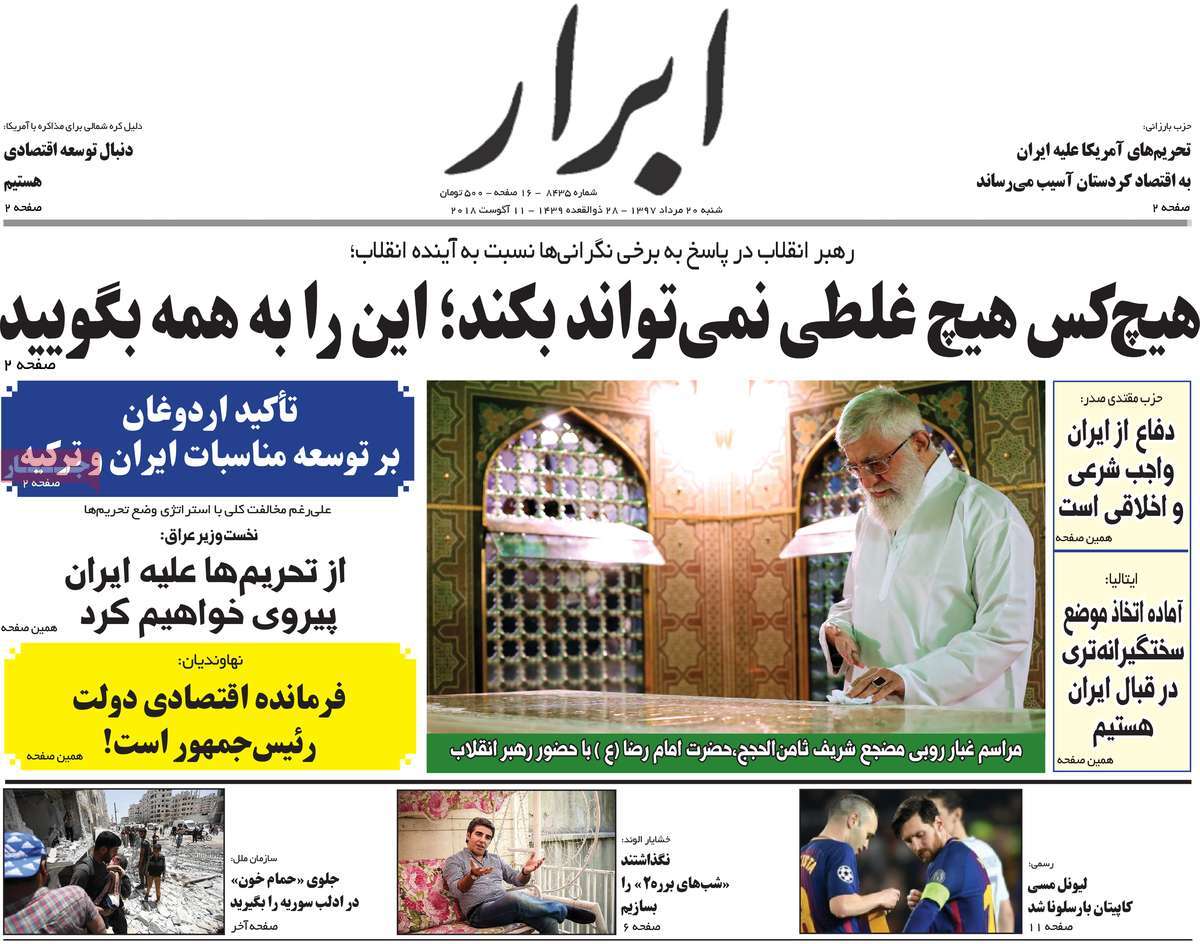 ---
Afkar:
1- Tehran Friday Prayers Leader: We Won't Hold Talks with US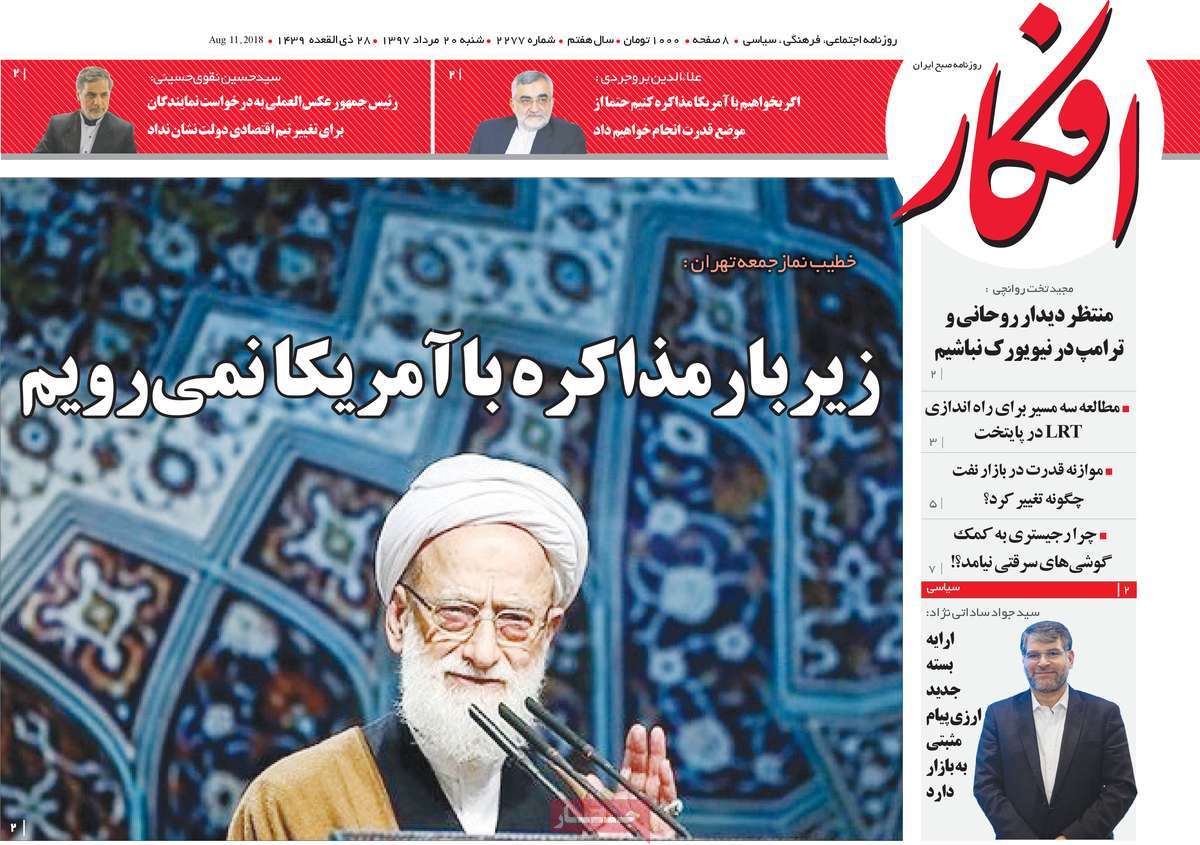 ---
Aftab-e Yazd:
1- We Must Receive Compensation from Iraq
Observes Urge Iran Gov't to React to Baghdad's Support for US Sanctions
---
Asrar:
1- Rouhani's Chief of Staff: Iran, Turkey Eye $30 Billion Trade
2- IAE Warns: Iran Sanctions to Disrupt Global Oil Market
---
Besharat-e Now:
1- Iran Alone in the Region: Iran's Neighbours Cautiously Obeying US Sanctions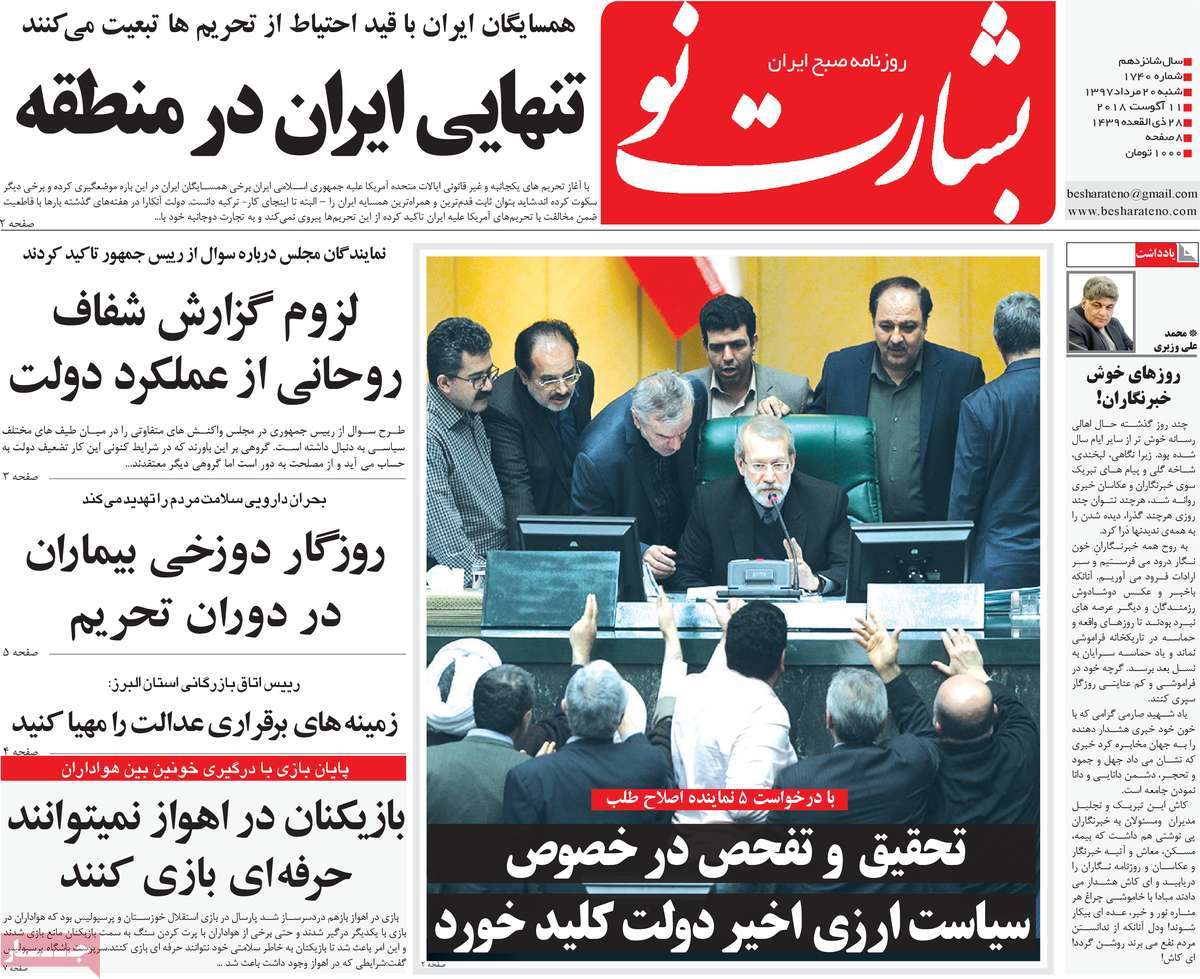 ---
Donya-ye Eqtesad:
1- Historic Devaluation of Turkish Lira: 50% Decrease in One Year
---
Ebtekar:
1- Don't Be Waiting for Rouhani-Trump Meeting in New York: Official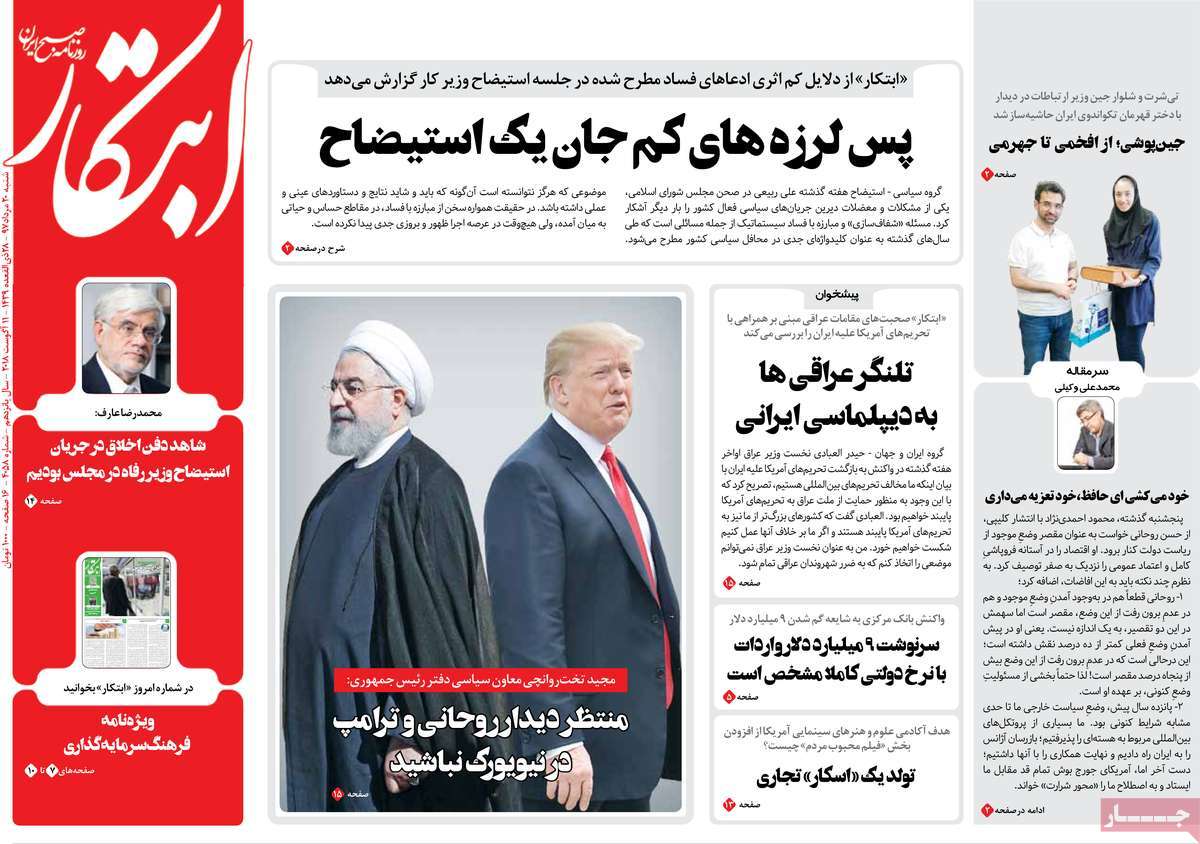 ---
Etemad:
1- Madness, Revenge and Yemeni Children [Editorial]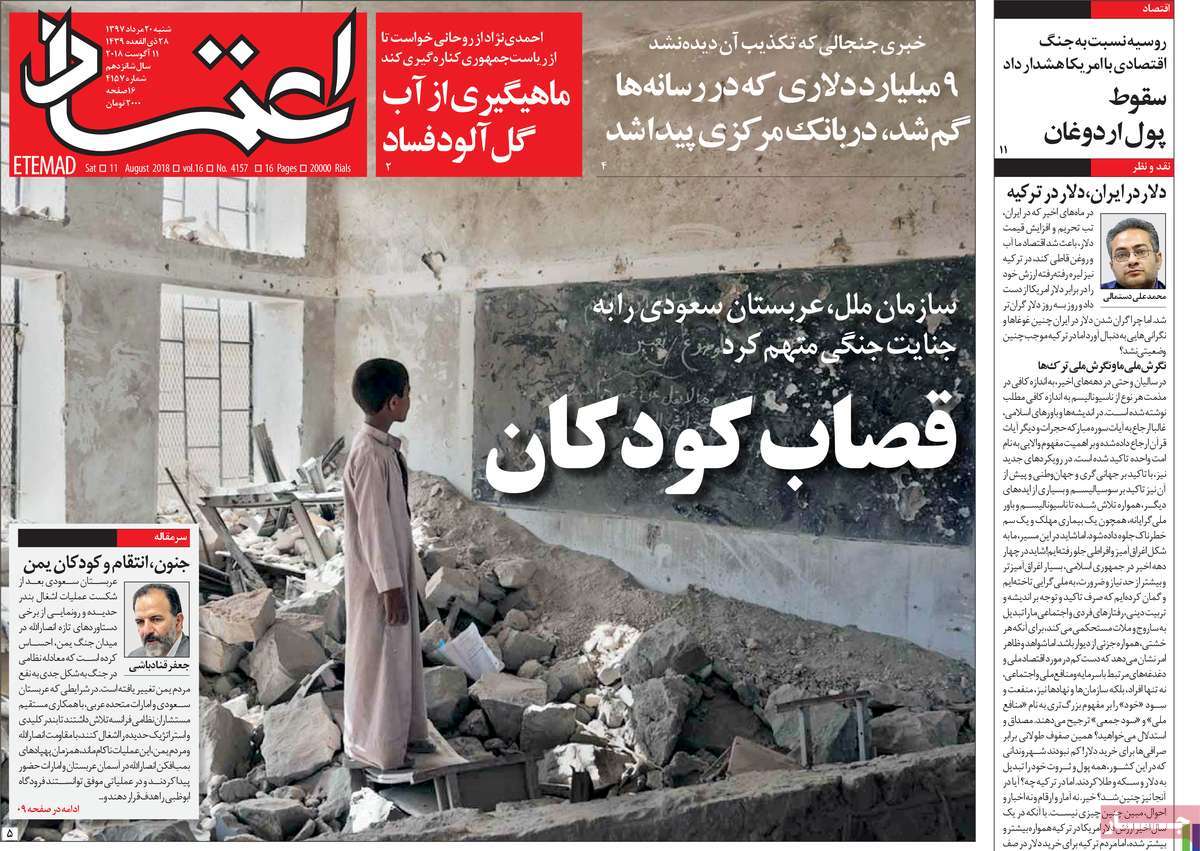 ---
Ettela'at:
1- Switzerland, Germany, Japan, Turkey Oppose US Sanctions on Iran
2- Saudi Attack on Bus Carrying Yemeni Children Leaves 50 Dead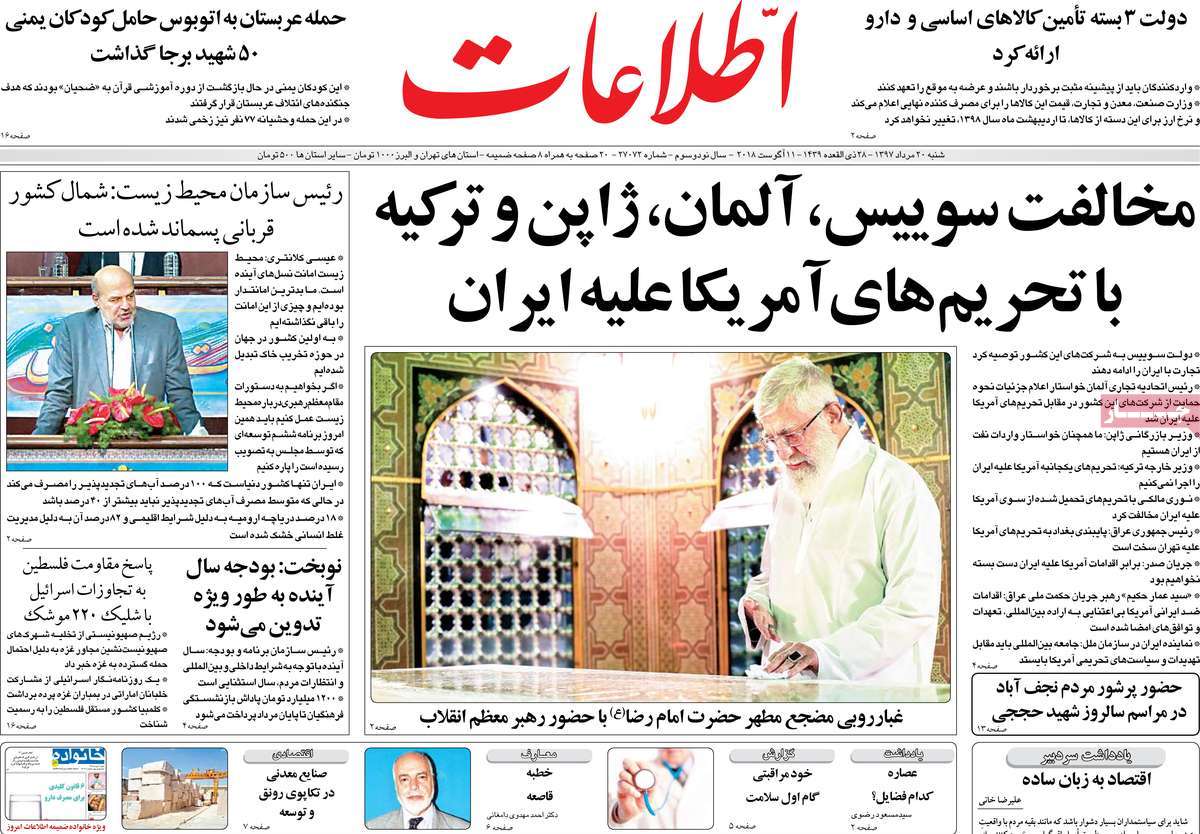 ---
Javan:
1- Entire Iraq against Mr Prime Minister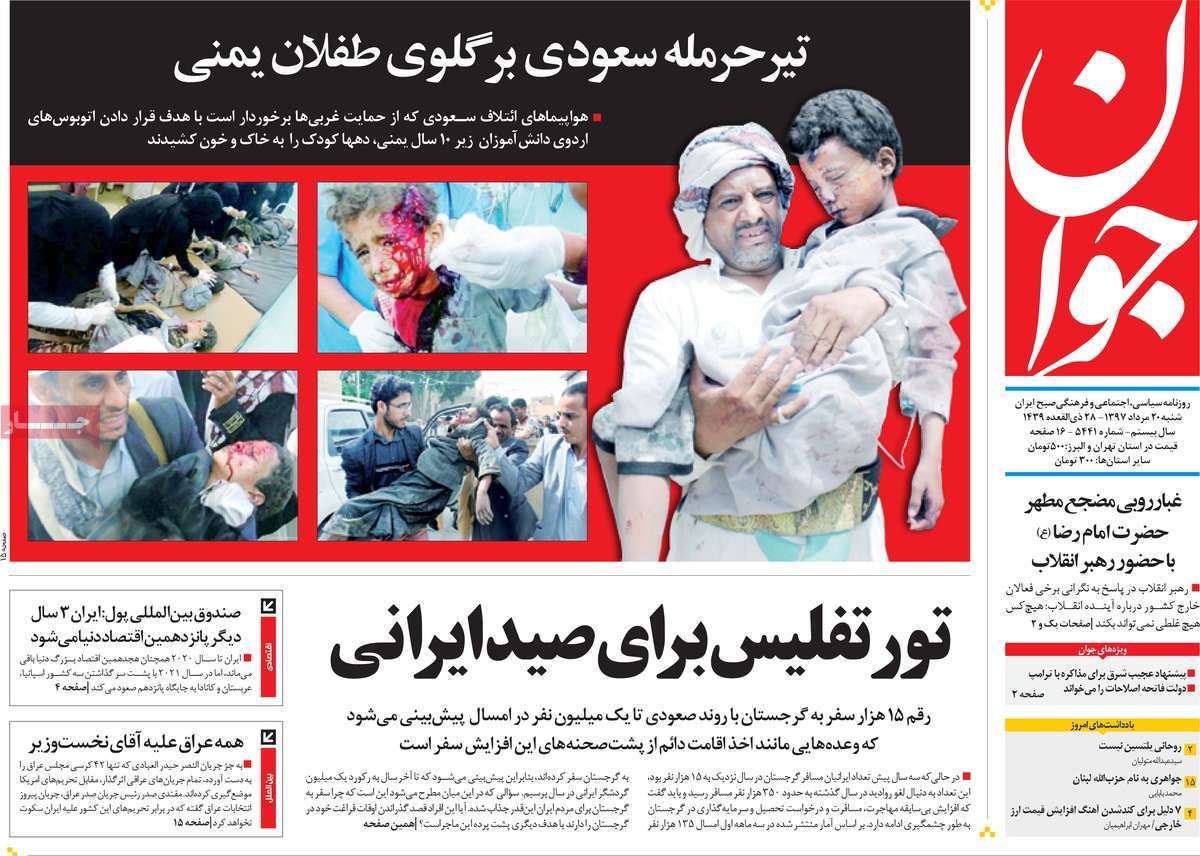 ---
Ka'enat:
1- Interior Minister: US Must Officially Apologize to Iran Nation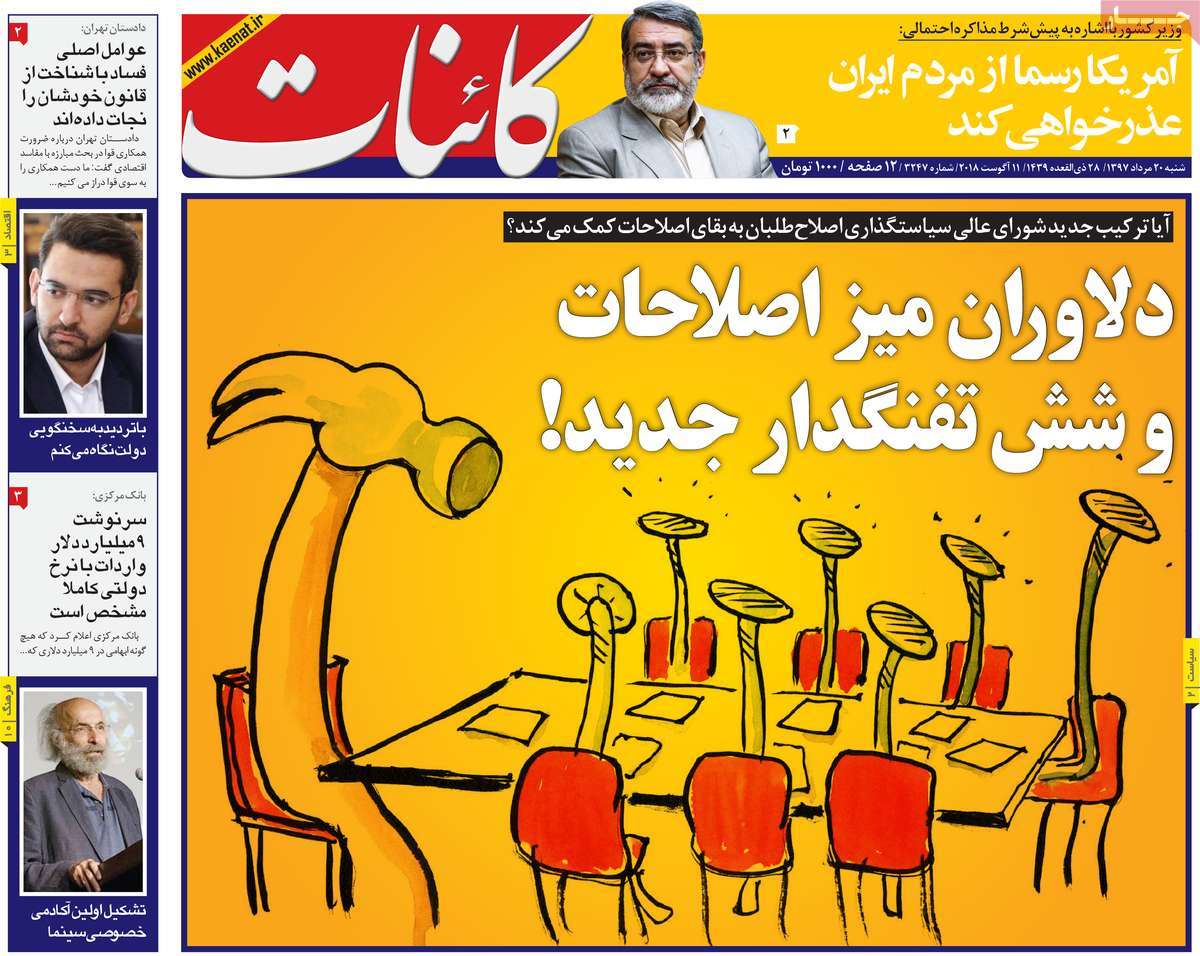 ---
Kayhan:
1- Hamas Fires 220 Rockets at 50 Zionist Towns in Decisive Response to Israel Attacks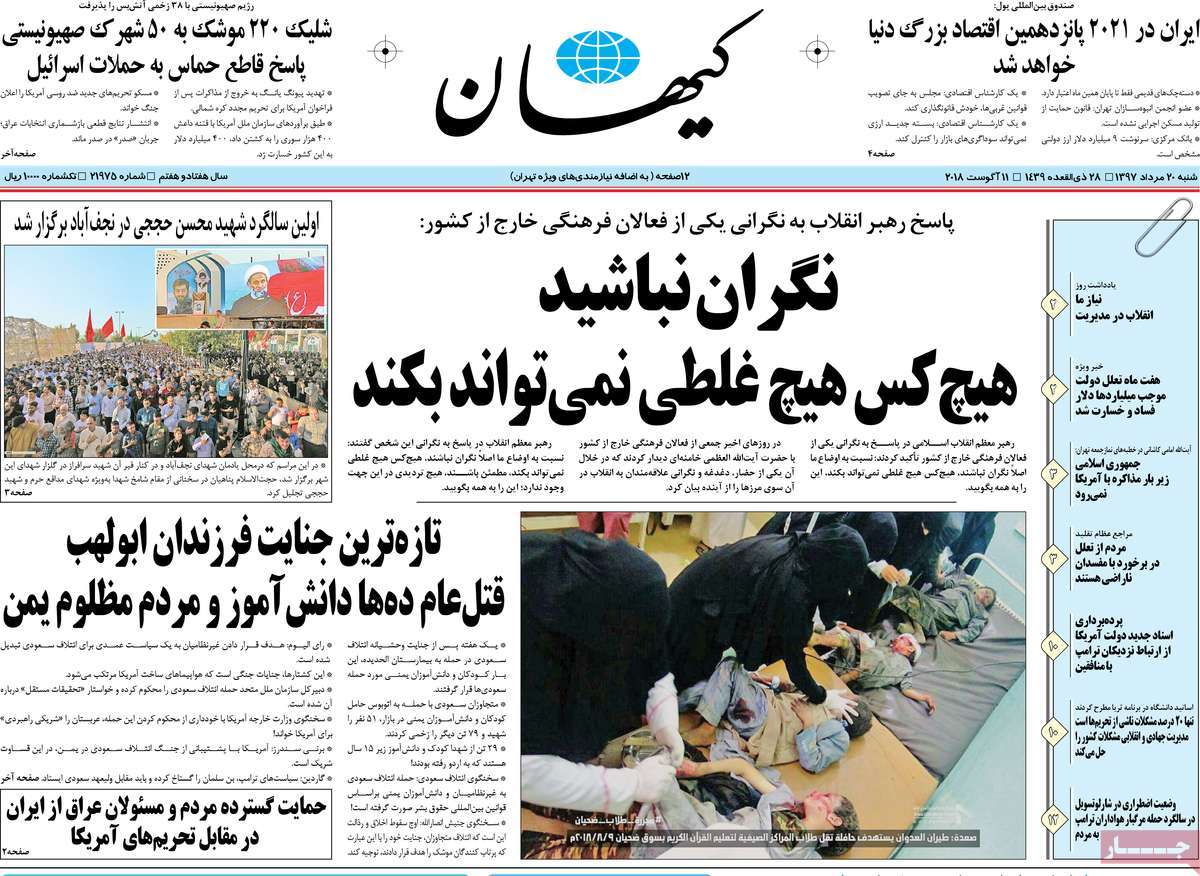 ---
Khorasan:
1- Several Companies, Banks Belonging to Military Organizations to Be Privatized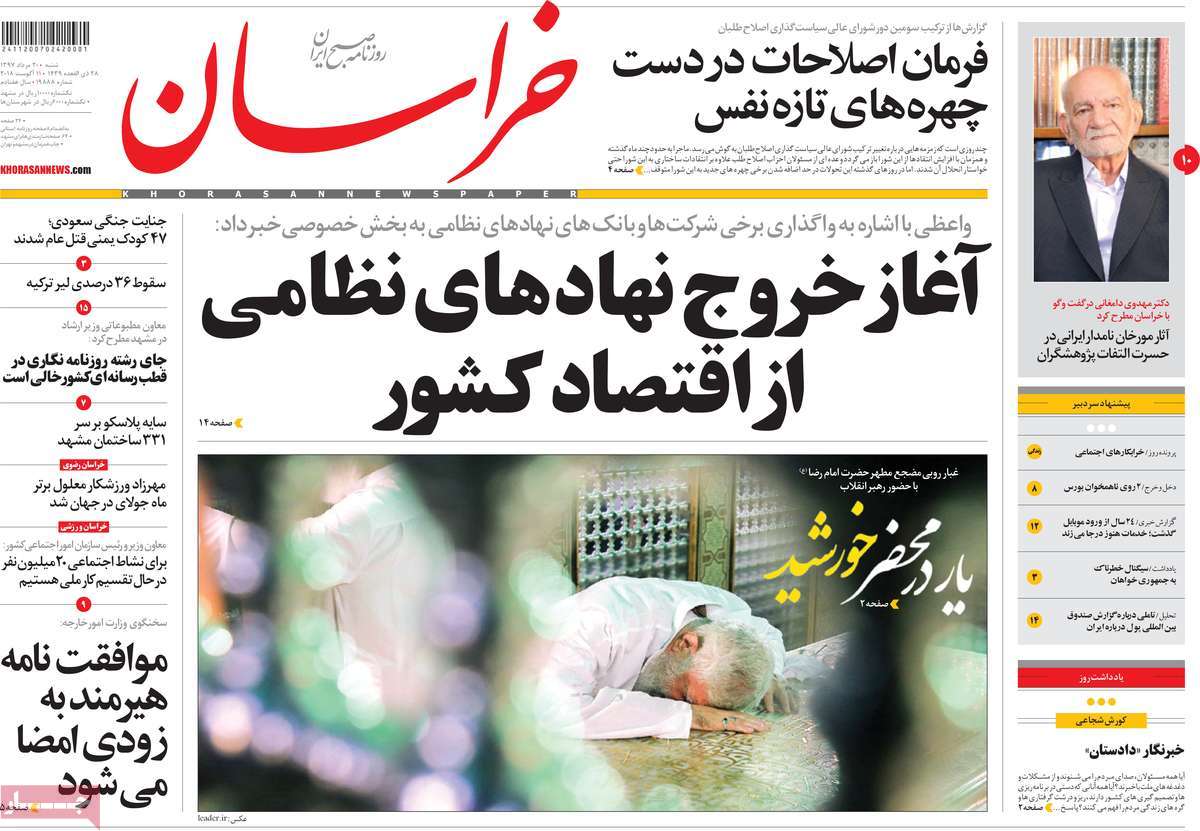 ---
Payam-e Zaman:
1- Iran's Oil Has No Alternative; Oil Discount for Asian, European Clients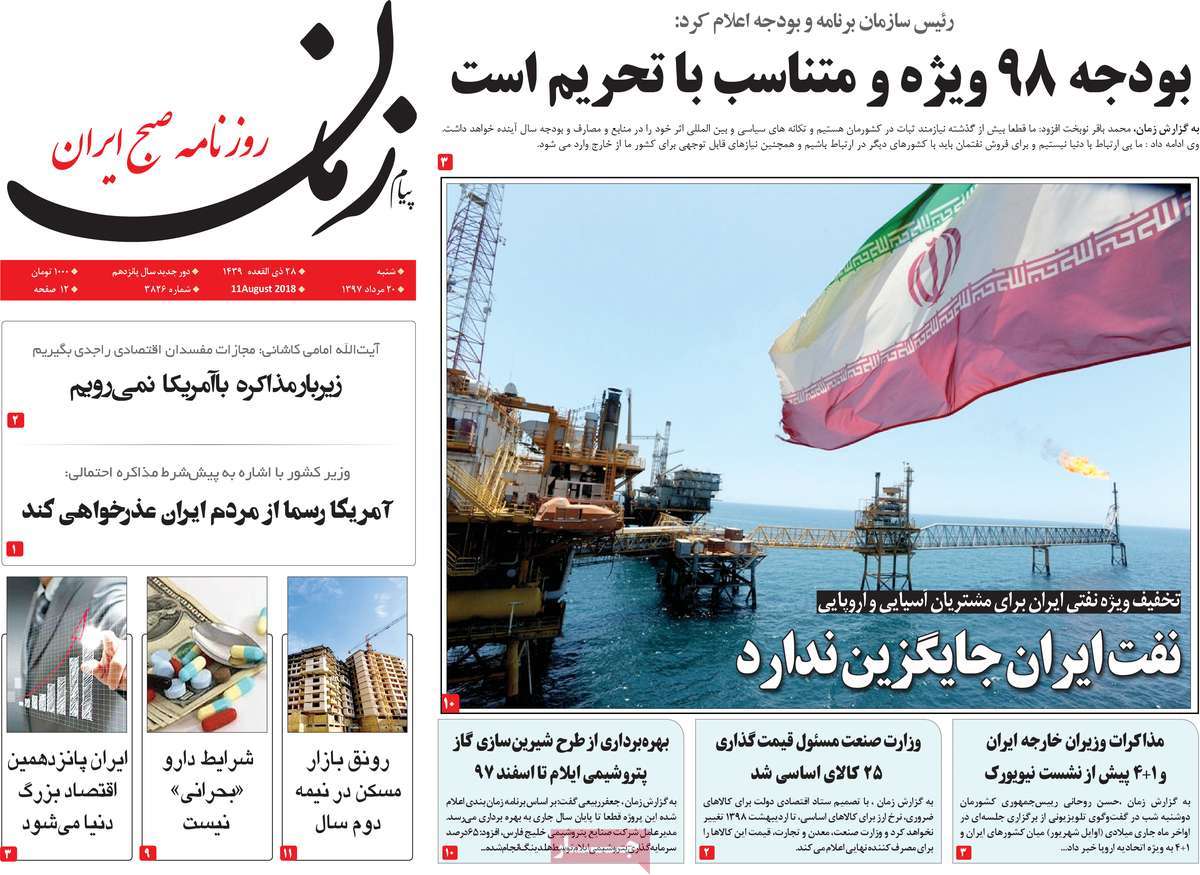 ---
Quds:
1- Iran to Become World's 15th Biggest Economy in 2021 despite Sanctions: IMF
---
Resalat:
1- Senior Lawmaker: Iran, US Have No Strategy for Talks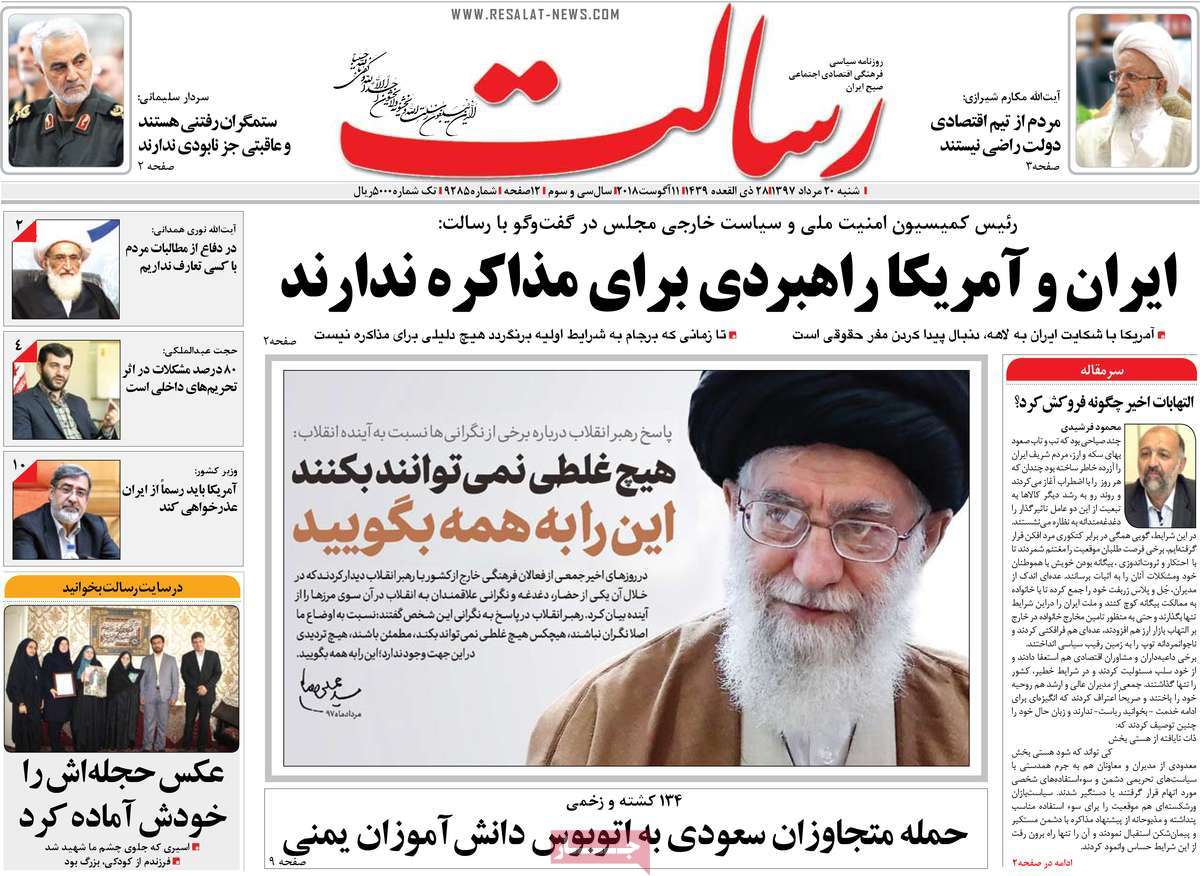 ---
Sazandegi:
1- Mystery of Ahmadinejad's Immunity
Former President Urges Rouhani to Resign
---
Shargh:
1- Reactions to Iraq's Support for US Sanctions on Iran
---
Sobh-e Now:
1- Killing Saudi Children in Yemen
UN Calls Saudi Bombing of Yemen 'War Crime'