On Thursday, most Iranian papers highlighted Supreme Leader's meeting with the Islamic Republic officials. In the meeting the leader underscored his support for any measure that would help solve the nation's problems. Also, the US mischief regarding implementation of the nuclear deal took many headlines on the day.
Here are the top headlines:
Abrar:
US, Russia nuclear scientists maintain cooperation
FM Zarif heads to Baku
Afghanistan not willing to settle water money to Sistan Province: MP
US denies any access to financial system by Iran
IRGC to stick to missile program: Commander
NATO urges Azerbaijan, Armenia to respect cease-fire
Spanish delegation meets Iran nuclear officials
---
Abrar Eghtesadi:
Iran plans to boost oil recovery from joint fields by 1mbd
Iran doubles imports from US
---
 Afkar:
Iran launches Octogen modern explosives factory
Salehi: Some view JCPOA only politically
Obama warns of canceling Iran deal
Countdown starts for full liberation of Iraqi city Hit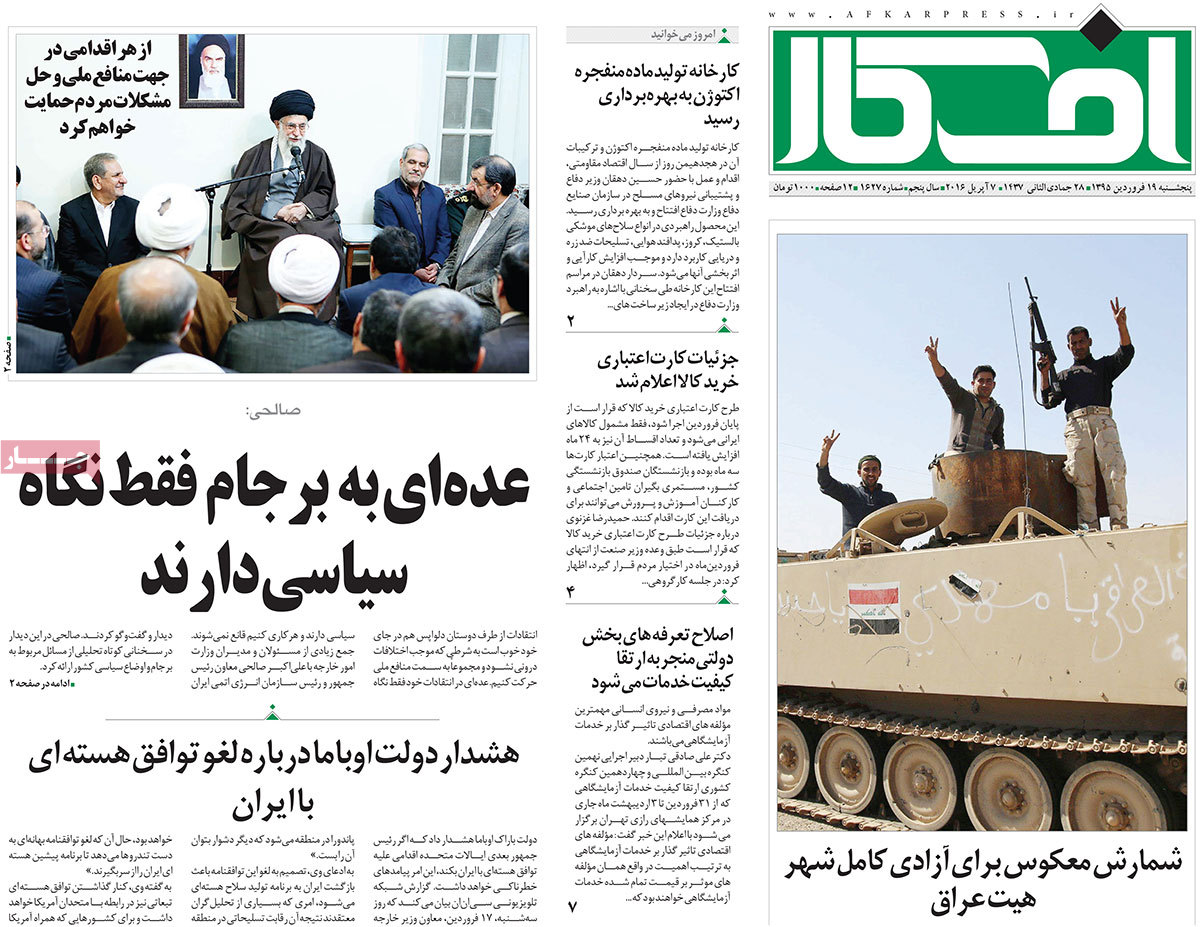 ---
Asrar:
VEEP says banking system to overhaul in new year
Iran, Europe ink fresh crude oil deal
Salehi: Some worriers (gov't critics) cannot be persuaded
MP forbids extension of election tensions to society
Iran devises masterplan to support women socially
Reza Attaran: Iran's most expensive, lucrative actor
2.72 million jobless persons in Iran: data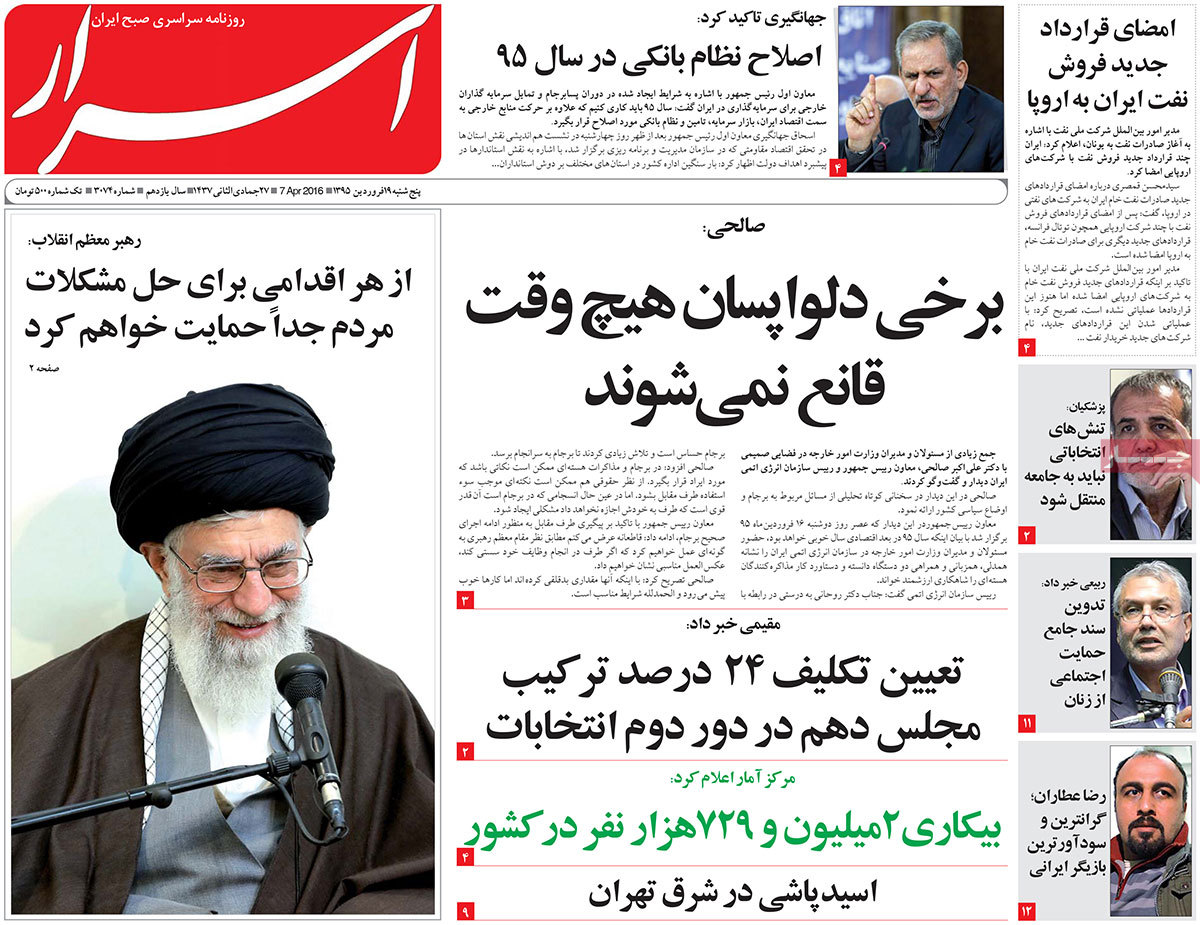 ---
Arman-e Emrouz:
Hashemi calls on nation's sages [to address internal disputes]
Iran exports to US grow 6-fold
Principalists take U-turn for Ahmadinejad
Expert says political conditions bring Ahmadinejad back to power
Leader says supports any measure to solve nation's problems
The story behind IRR2,500k subsidy handout promise
---
Ebtekar:
Leader: Officials unanimously agree on revolution's chief goals
Tehran seeks restoration of peace, stability in region: Rouhani
Ambitions of a waste collector
Let world not suspect our integrity: Rafsanjani
First women candidates vie for UN secretary general post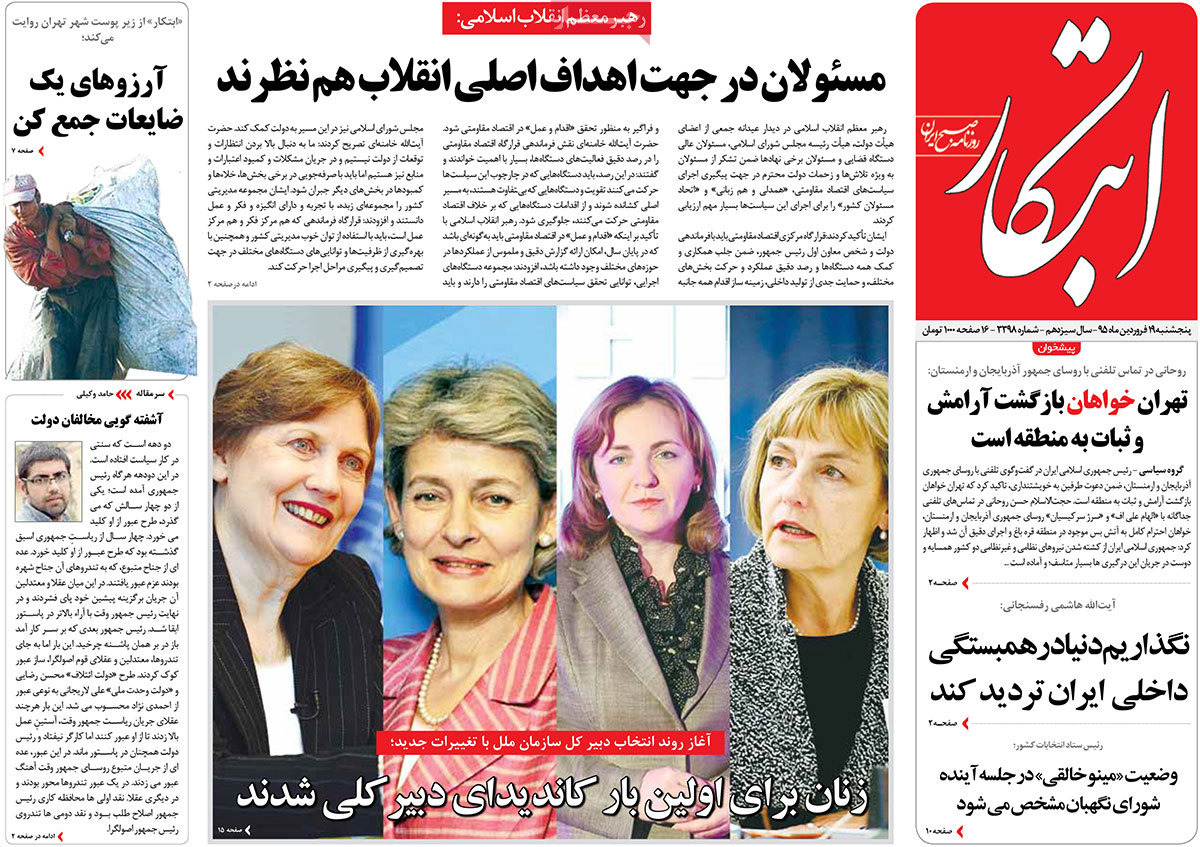 ---
Ettela'at:
Iran unemployment rate at %11 for previous calendar year [ended March 19]
Disrupters of development must be responsive to future generations: VEEP
Yemeni missile kills 70 Saudi mercenaries
Deputy interior minister calls for revision to election law
Ruling issued to destroy hotel built near Jajroud river
The building of the hotel was in a land that trespassed the river's territory
Viewpoint: Russian market, opportunity that must be missed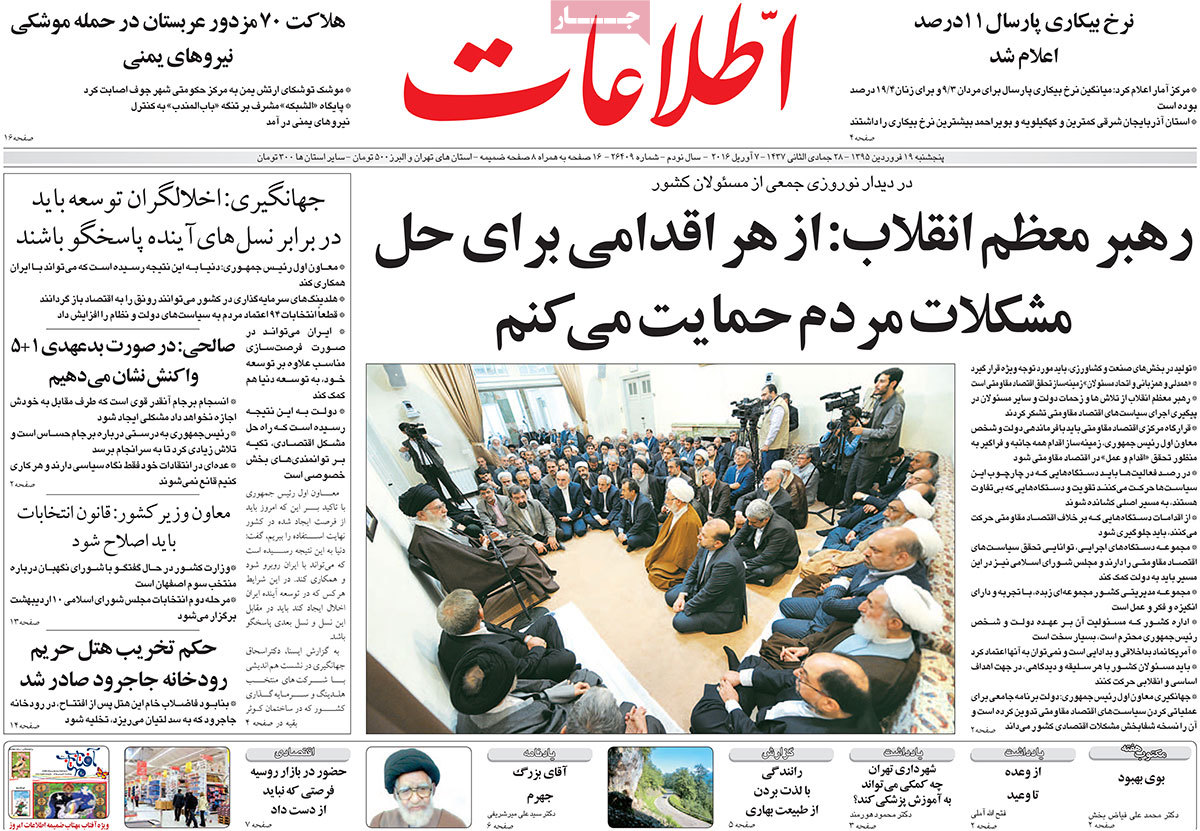 ---
Etemad:
Zarif attends strategic meeting in Baku
I have never been and will never be a man of factions: Rafsanjani
No reason for my disqualification: Ahmadinejad
Employment data
The rate of unemployment was 11% for the previous Iranian calendar year which ended on March 19, statistics data showed. 667,000 jobs were created during the year and 214,000 new job seekers were added to the population.
---
Emtiaz:
Illegal drug trade online
30% of Tehran mines idle
---
Hemayat:
Leader calls on officials to move in line with Revolution's goals
309 projects to curb corruption in Iran
Liver-eating terrorist killed in Syria
French youth hold big demo to protest labor law reforms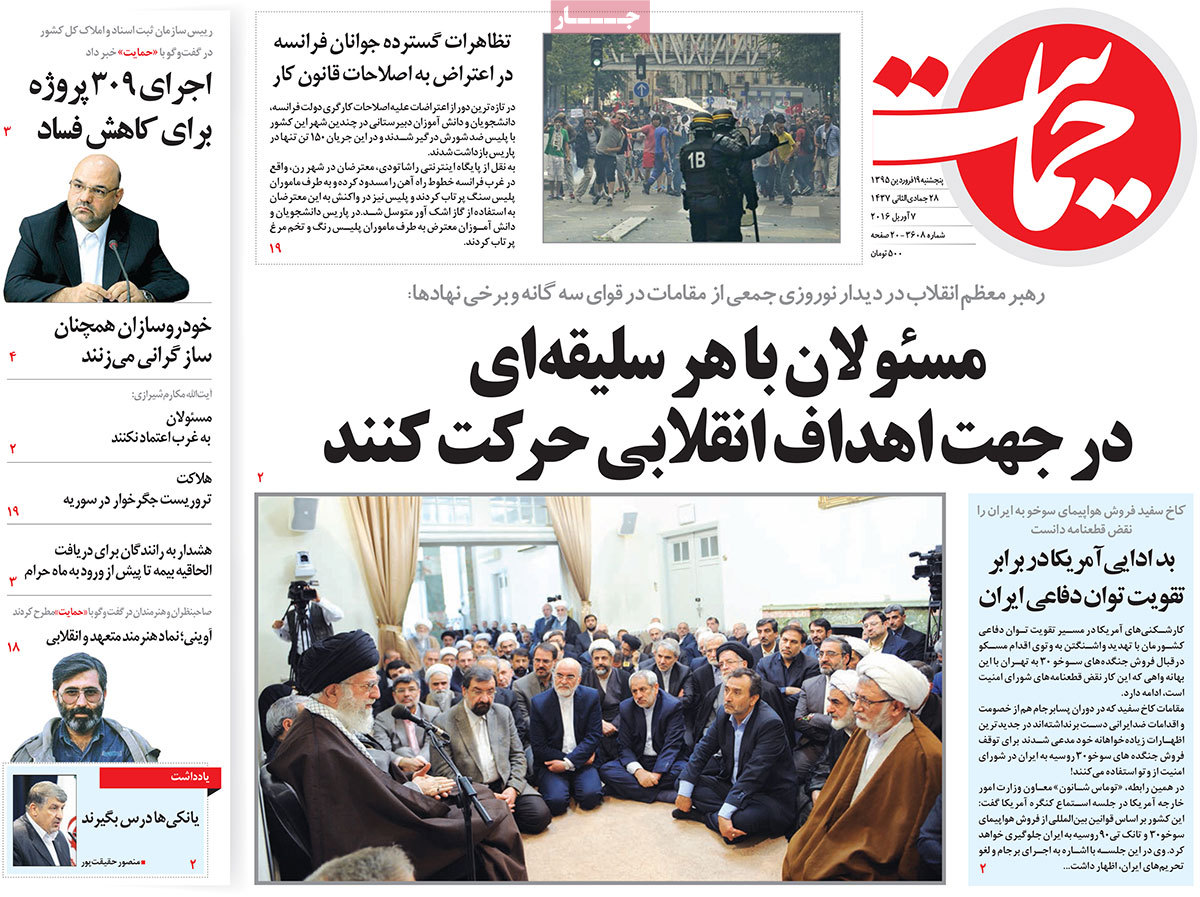 ---
Iran:
Iran can become East's cinema hub: actor
Iran curbs agricultural imports
Talks with Saudi Arabia for ending pilgrimage suspension
Interview with two Iranian women athletes who are heading to Olympic games
Dream of shooting Rio Olympic medal
Iran gives private sector much ground to operate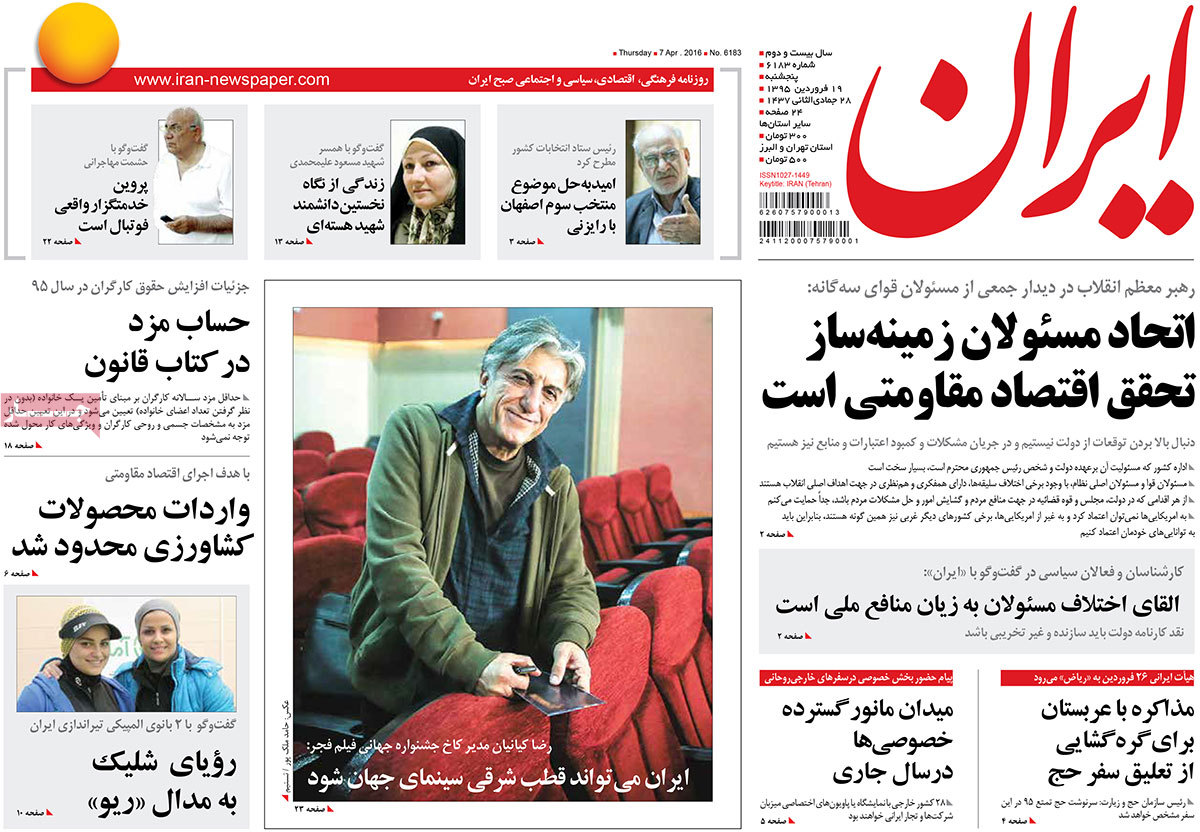 ---
 Jamejam:
Deal on paper; dishonoring promises in action
Solving nation's problems: Leader stresses
Unemployment grows
Iran to snapback nuclear activities in case of JCPOA violation: Viewpoint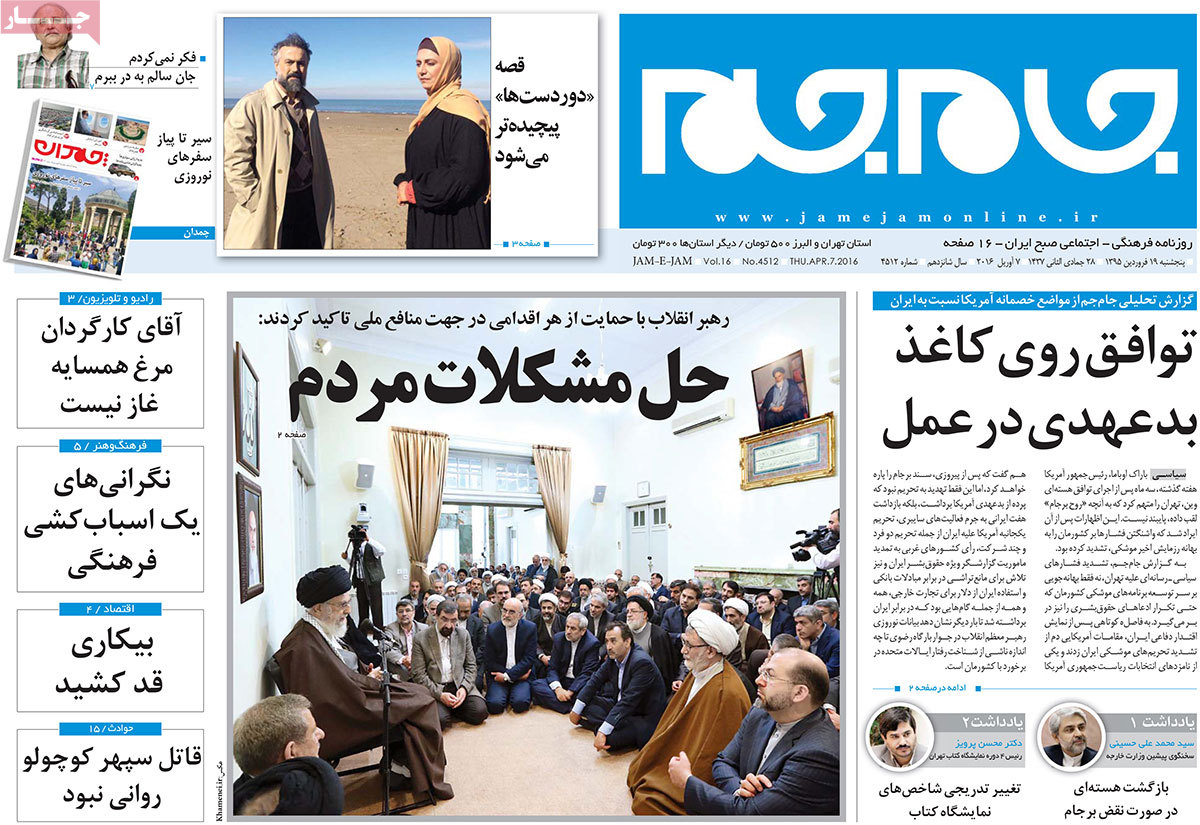 ---
Jomhouri Islami:
I will support any move to solve people's problems: Leader said in a meeting of officials
Arabs can never solve Palestinian issue: Arab League Secretary General
Disclosed: Saudi plot to curb Iran oil exports
Housing market no more bearish by March 2017
---
Javan:
Compromise of shaky Saudi Arabi with Ansarallah
English thread renders Iranian workers jobless
No "yellow cake" in Nuclear Iran celebration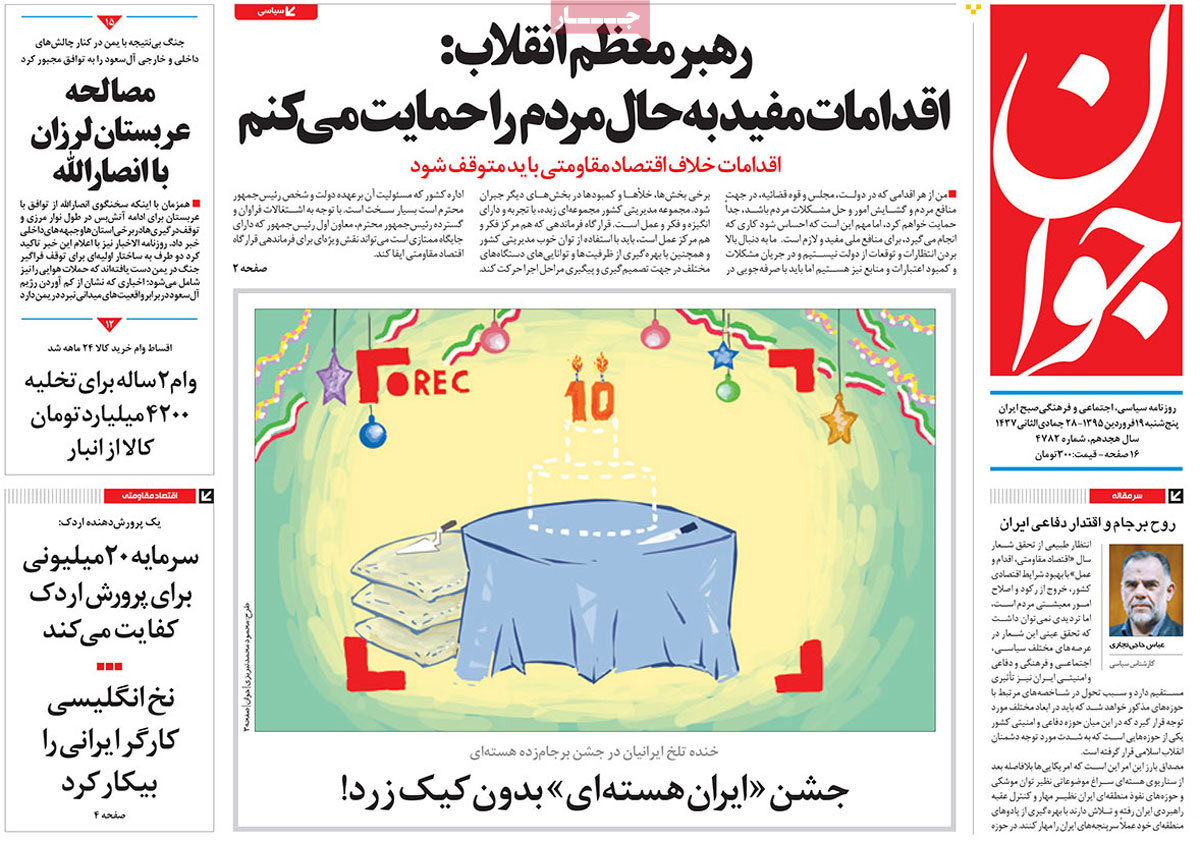 ---
Kaenat:
Admin resolved to revive idle production units
Iran, Total in talks for erecting petchem plant
Iran to remove 30% of population from list of subsidy receivers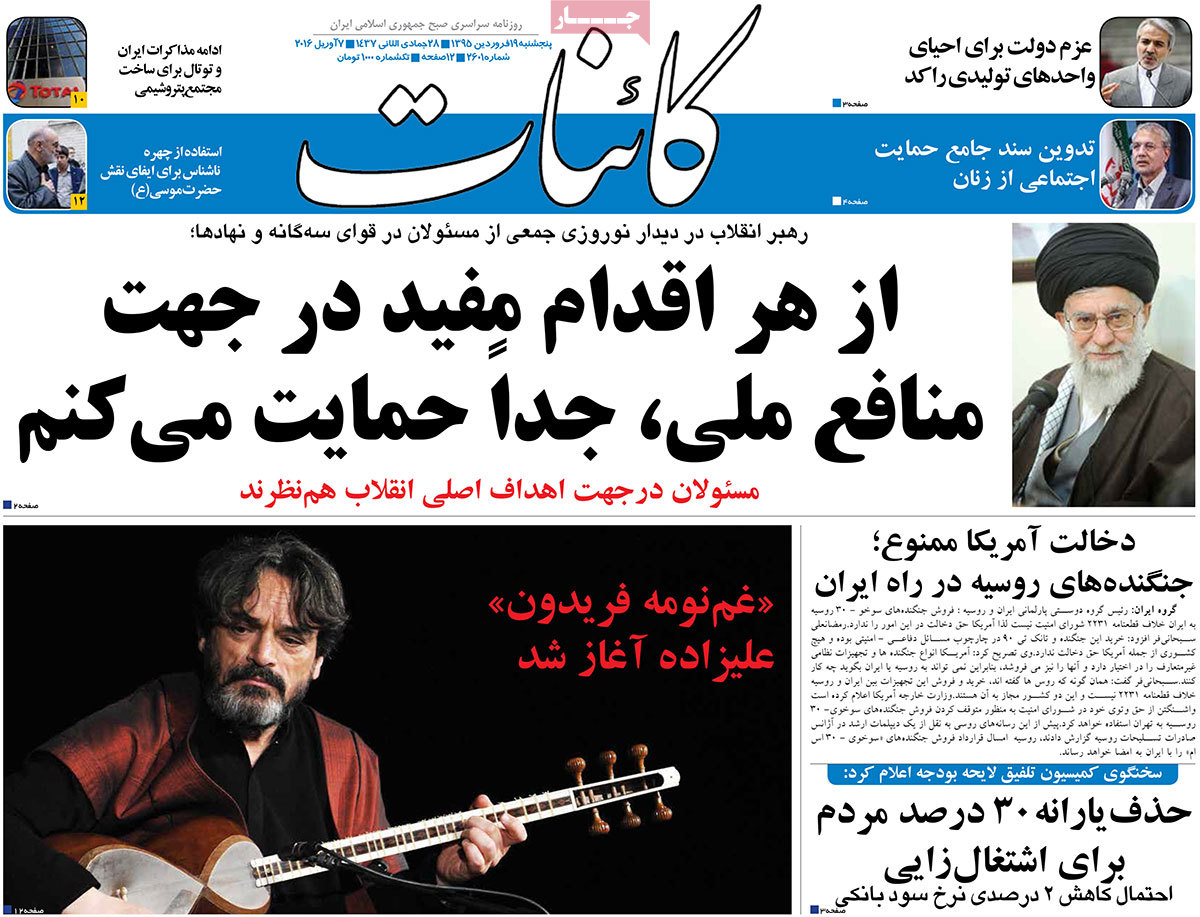 ---
 Kayhan:
Leader to officials: Rely on domestic capabilities instead of trusting US
Suicide attack kills 30 ISIL members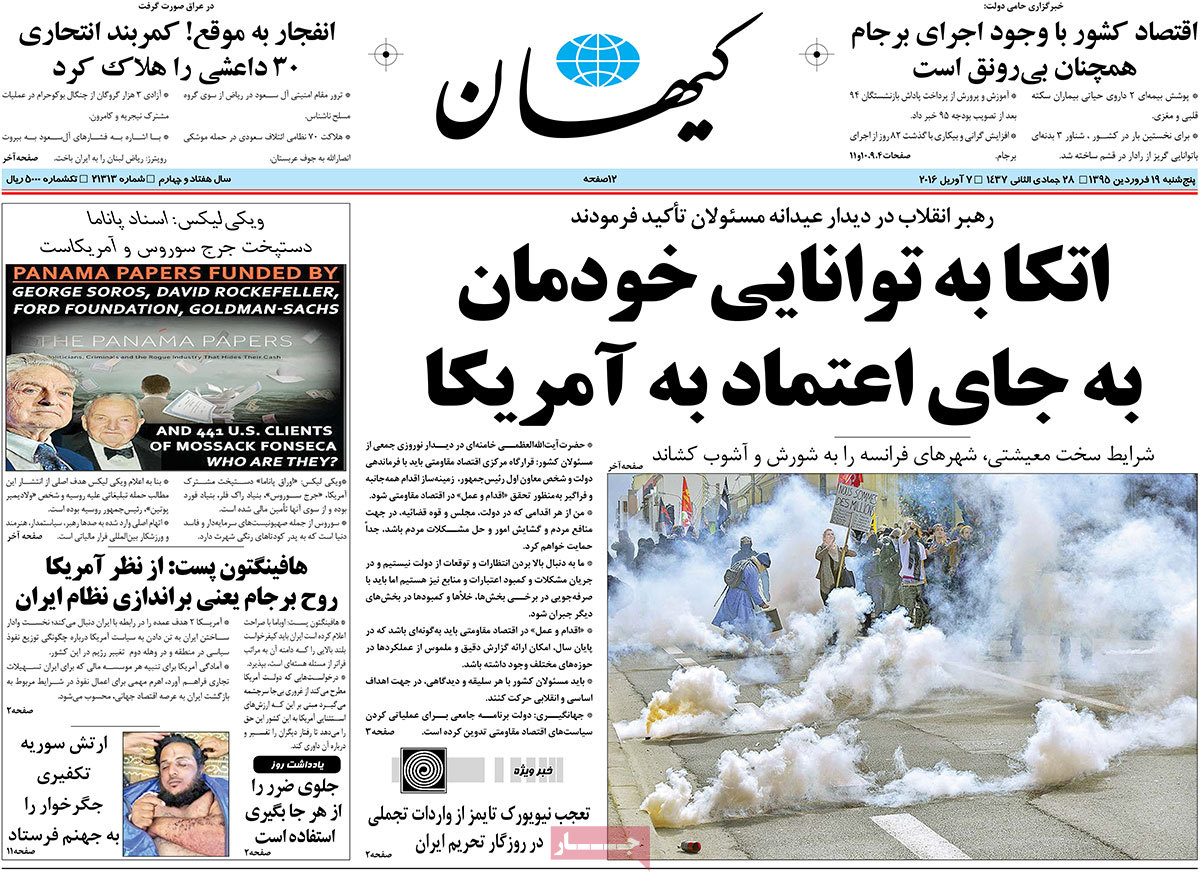 ---
Khorasan:
US says will veto sale of Su-30 jets to Iran
---
Rah-e Mardom:
Report reviews national TV's Nowruz performance
Salehi: Criticism is good if does not lead to internal disputes
30% of citizens use metro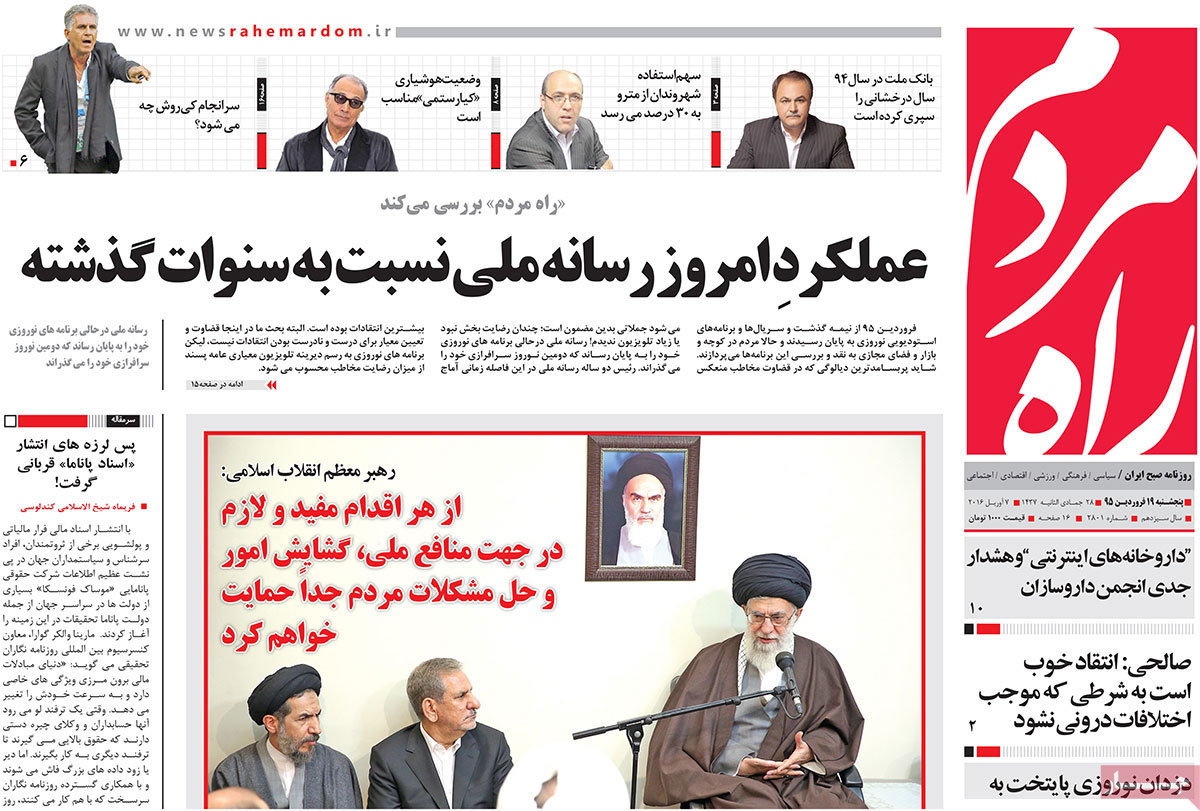 ---
Resalat:
US to maintain anti-Iran pressure
Salehi: Our mistakes will involve the whole nation
Women's role in resistive economy
House of Saud in shock
Grip of economic crisis on Italy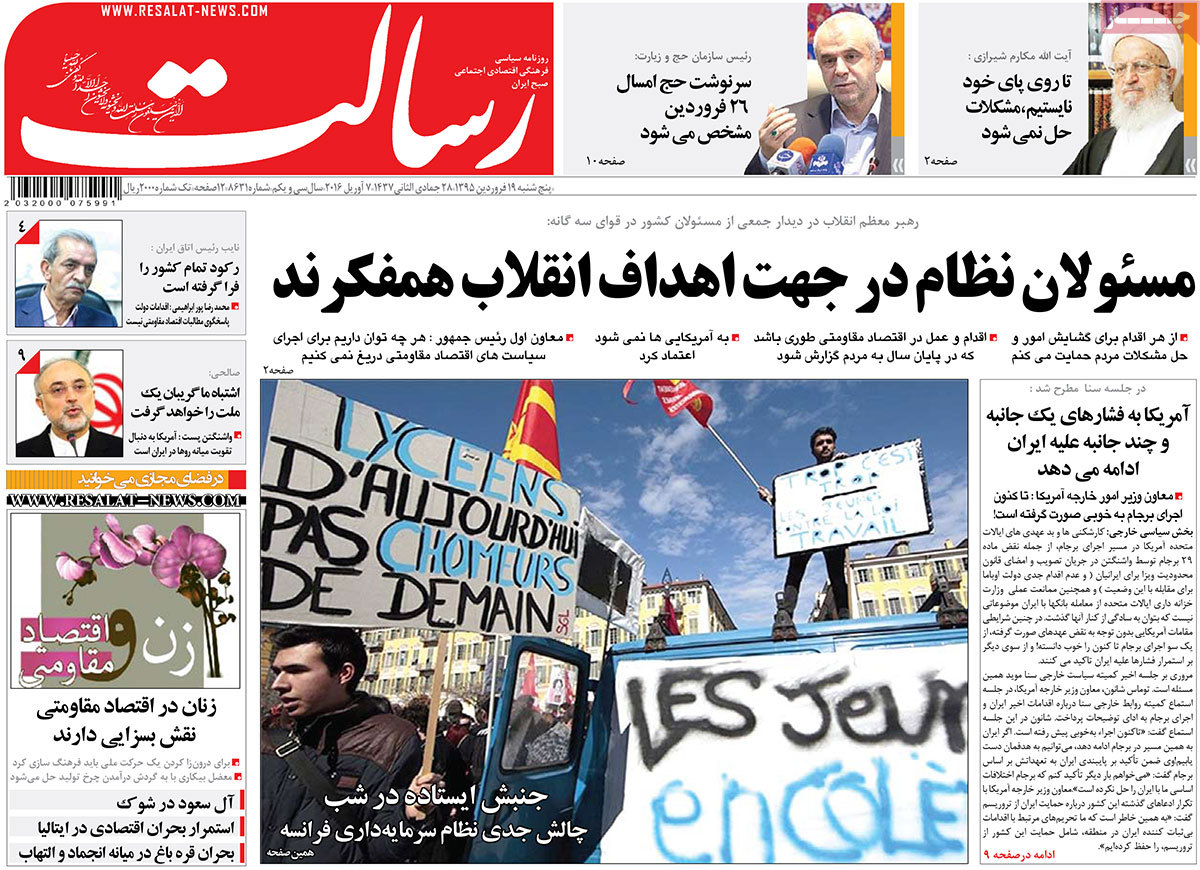 ---
Rooyesh Mellat:
Kerry: Assad must go
Kerry's remarks come only a few days to Syrian peace talks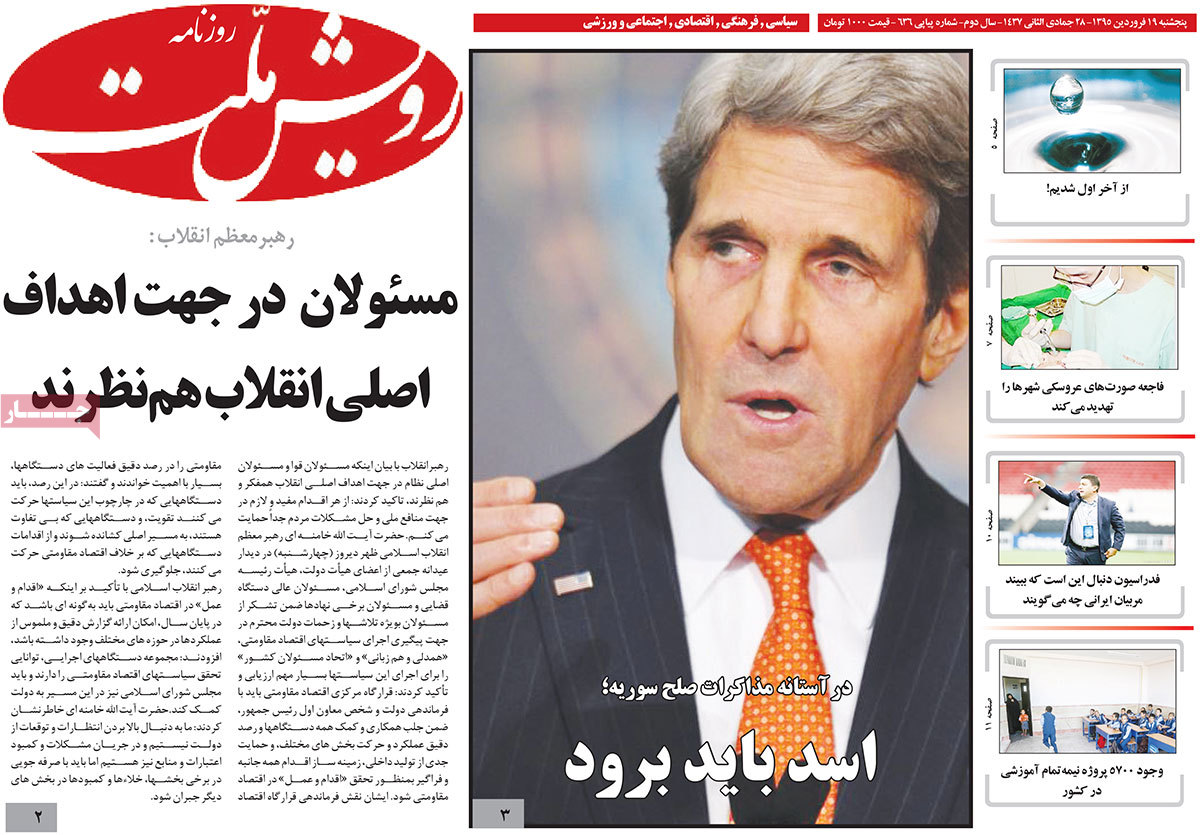 ---
Shargh:
Economy of resistance dependent on ethics, culture, empathy: Rouhani
Heave diplomatic traffic in Tehran
Saudi raid on oil market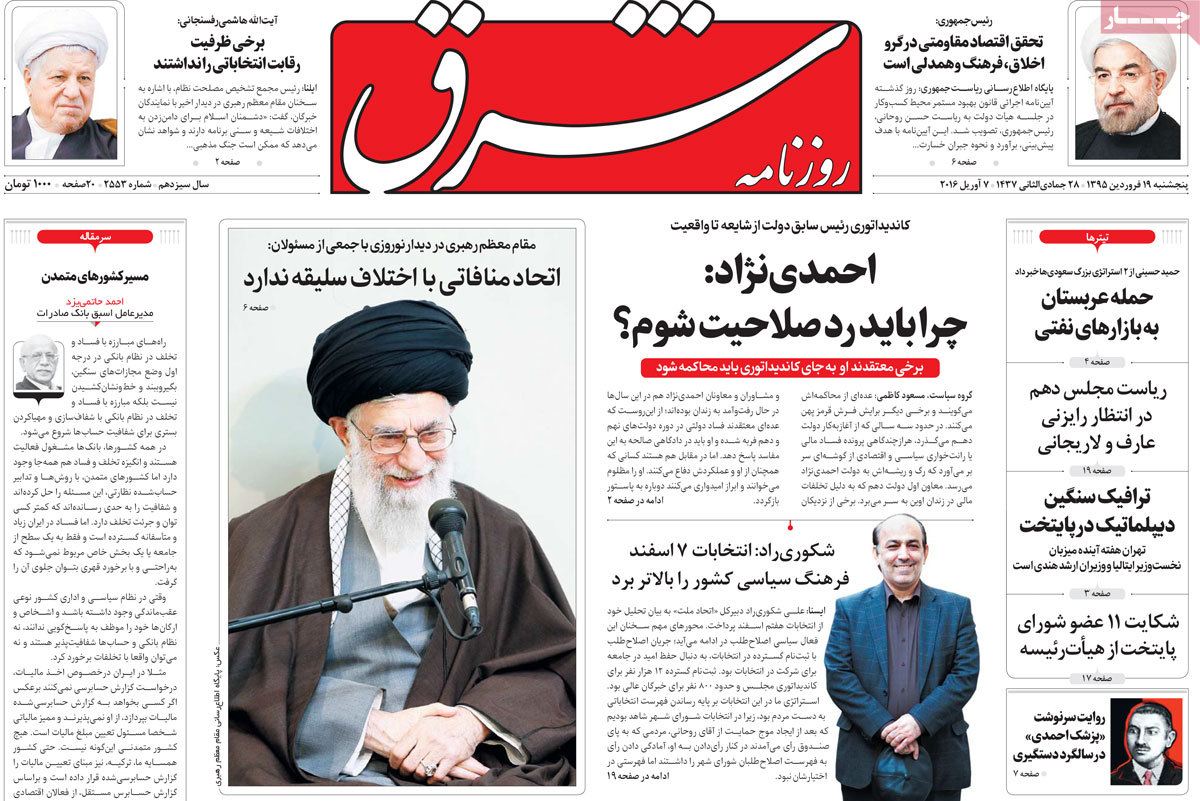 ---
Shahrvand:
India shirks repaying oil debts to Iran
Warning against online sale of drugs
600 heart attacks in Iran every day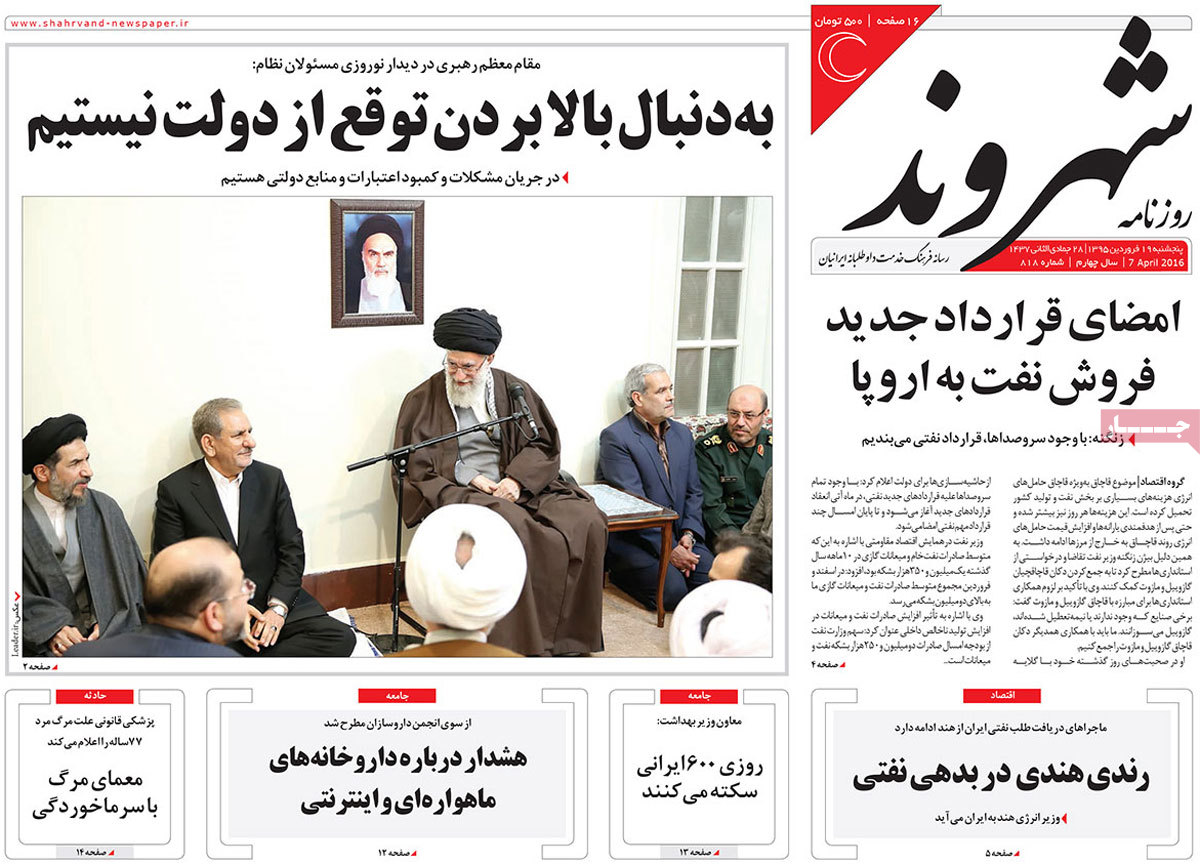 ---
Saheb Ghalam:
Iran will surprise enemies: Defense minister
Iran to fully stick to missile program: commander
No oil exports to South Africa
Iran eyes 1.3 million cars in current year