Abrar:
US not to let Iran banks access US financial system
Zarif meets Lavrov in Baku
Azerbaijan threatens to target central Karabakh
Russia says will deliver first S-300 missile system to Iran
Rouhani honours self-sacrificing teacher
Iran says ready to help solve Karabakh conflict
---
Afkar:
Iran unveils 12 nuclear achievements
Government spokesman: Some sanctions not related to nuclear deal
White House reacts to seized Iranian vessel
Kerry: Iran has met nuclear commitments
---
Asrar:
Intelligence Minister criticizes domestic downplaying of JCPOA
Gen. Jafari: IRGC ready to counter any Saudi misbehaviour
Gov't spokesman: It appears admin's achievements will not be acknowledged
Rafsanjani calls for fair criticism instead of unscrupulous accusations
Mogherini: Yemen ceasefire by Sunday
Iran's state-run, oil-based economic challenges: Minister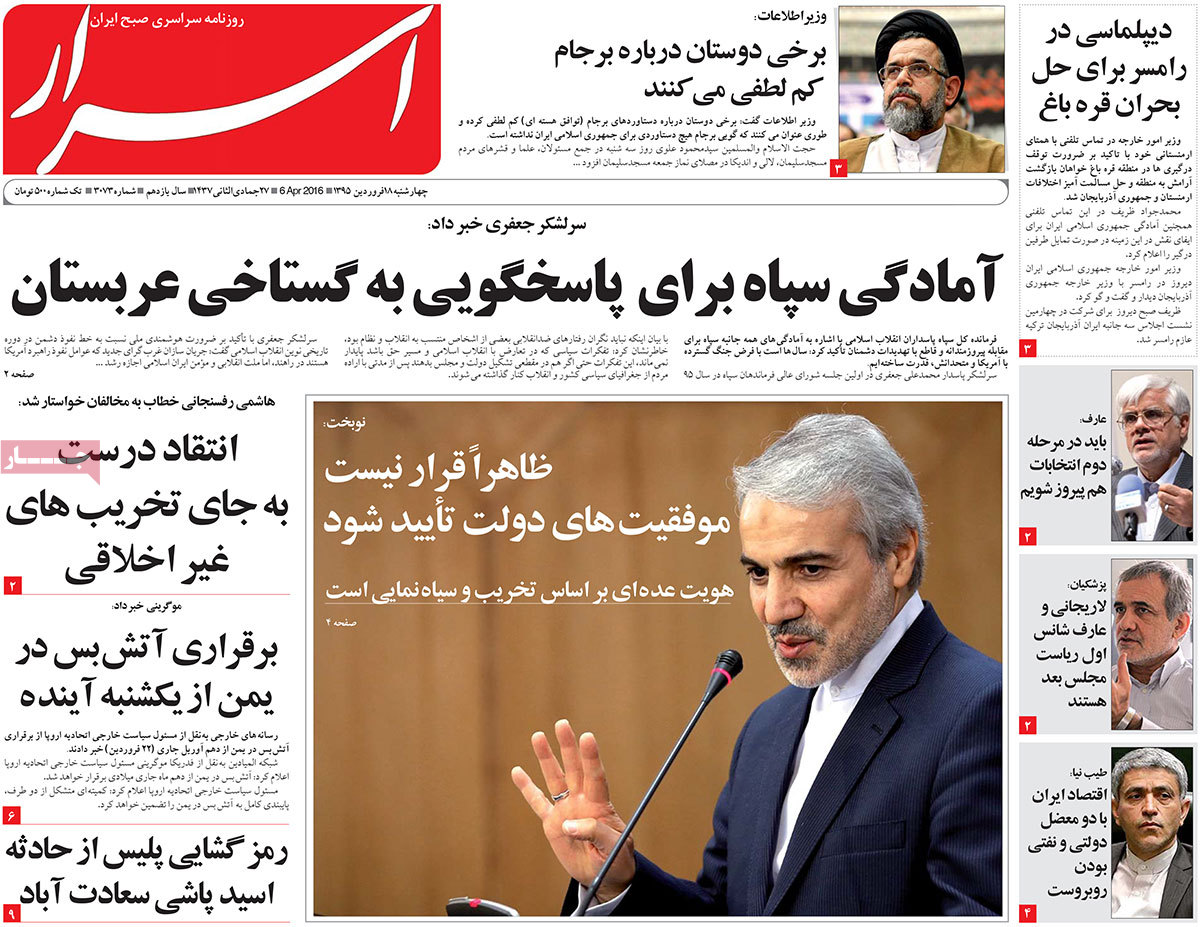 ---
Arman-e Emruz:
Squandering in recent years regrettable
60 divorce files for every 100 marriages
IRGC Cmdr.: JCPOA never an honourable document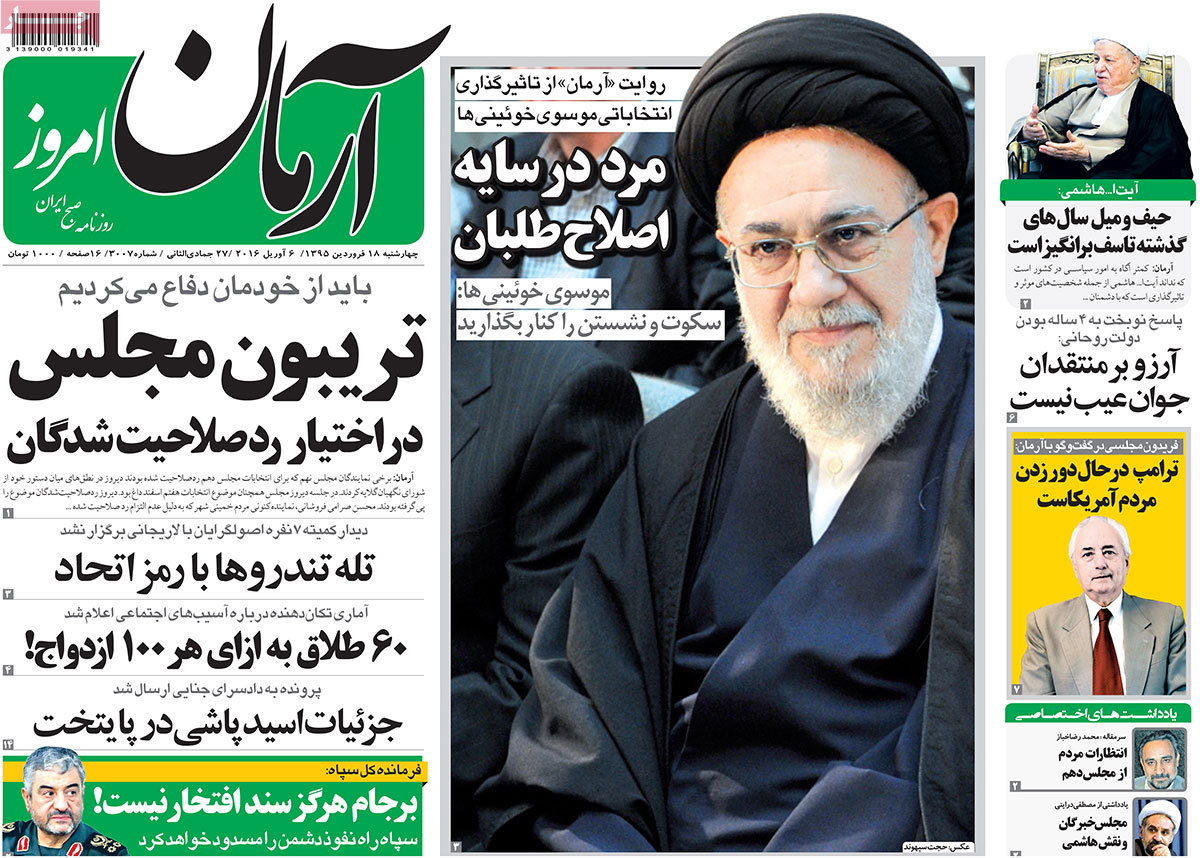 ---
Ebtekar:
Anti-Rouhani attacks use slogan "4-year government"
A report reviews efforts to insinuate that the Rouhani administration will be the only one-term administration since the 1979 Islamic Revolution.
Political tug-of-war in runoff elections
Shaky truce in Karabakh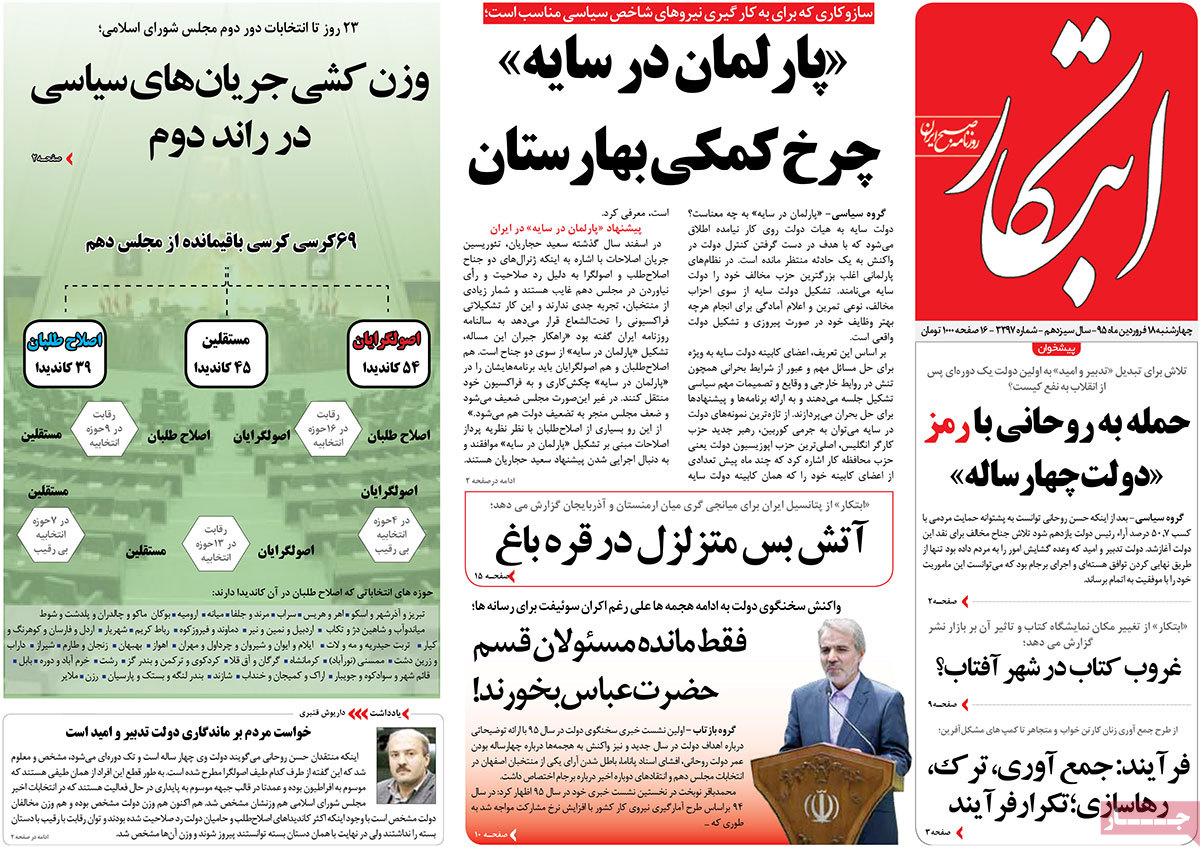 ---
Ettela'at:
Pensioner purchasing power reduced by 67% under Ahmadinejad
Aftermath of major global corruption revelations
Nobakht: 667,000 jobs created last year (ended March 19)
Tehran, Ankara, Baku agree to counter regional terrorism, separatism, conflicts
Judiciary receives 15m cases annually
Iran stiffens penalties for violators of goods and services standards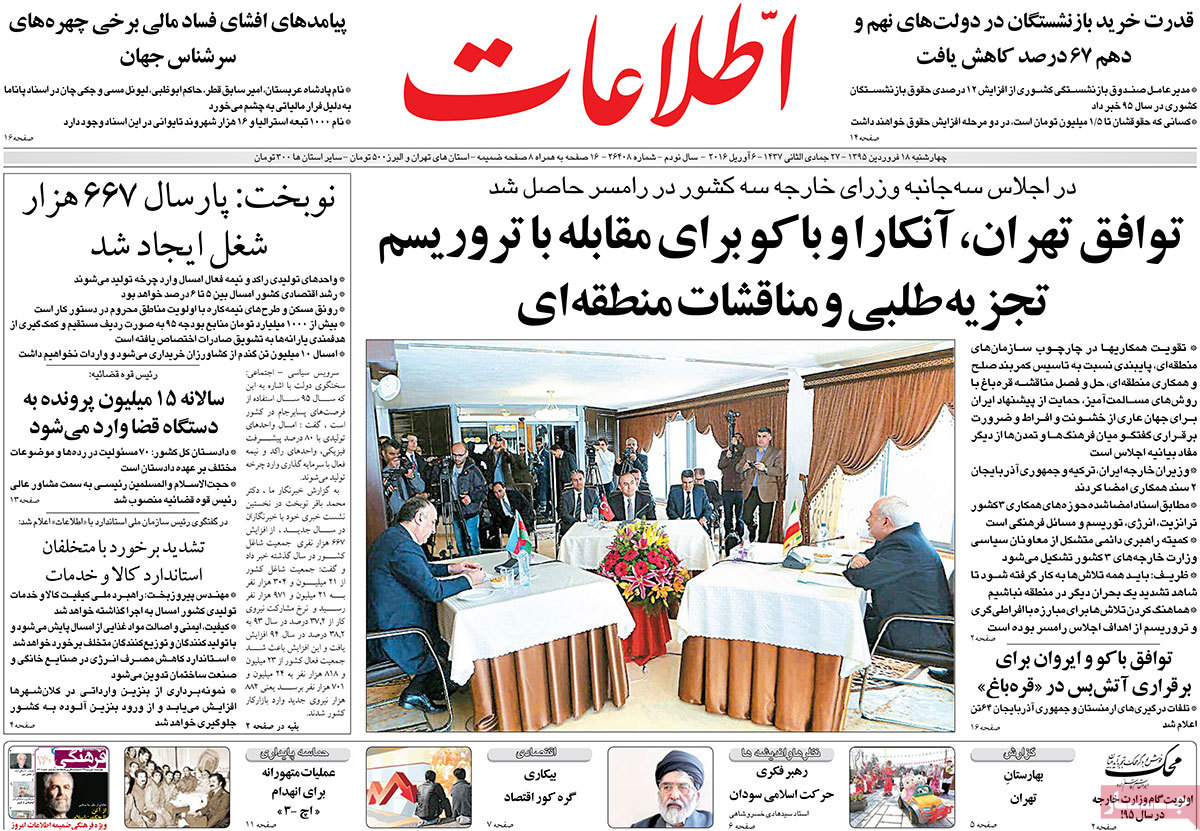 ---
Etemad:
Administration considers Isfahan election case
Minou Khaleghi, a parliamentary candidate in Isfahan constituency, was disqualified to run in the election even after she won enough votes to make her way to the assembly.
Aref: Reformists must win at least 40 seats in runoff parliamentary elections
JCPOA has and will never be regarded as an honourable document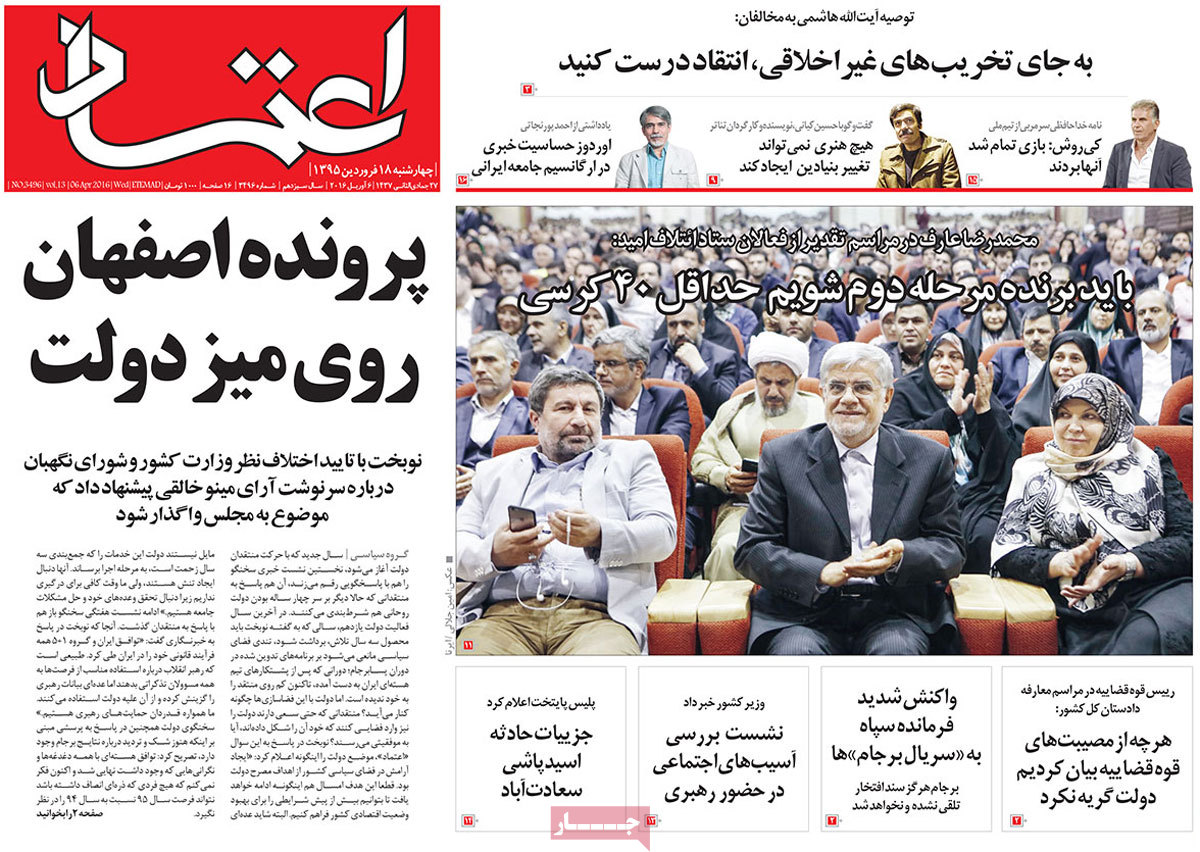 ---
Emtiaz:
Cities with 60% divorce rate
2m tourists visit attractions in northern Tehran
Queiroz bids fans farewell for good
1,000 cities without theatres [in Iran]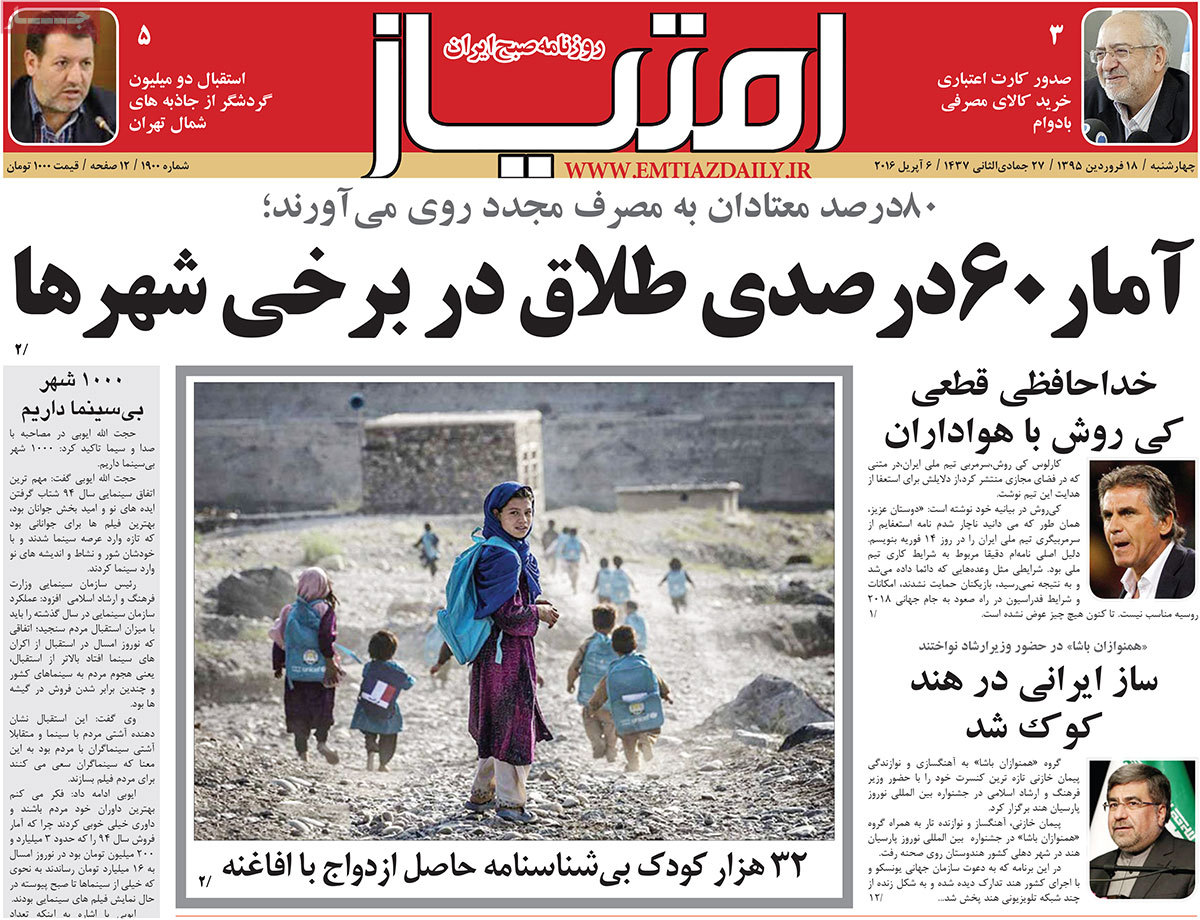 ---
Iran:
Nuclear deal a national decision: MP
Mediation in Ramsar for Karabakh Conflict
Presser unveiled 4 production-boosting plans
---
Payam Zaman:
Nobakht: 92% of Iran budget plan realized
Iran maintains 6mt of wheat in stocks
Iran, Airbus deal finalized in May
Iran's focus on pharmaceutical development in line with resistive economy
VP: Economic progress hinges on hopeful atmosphere
IRGC Chief: JCPOA minimized version of Iranian nation's rightful demands
---
Jamejam:
Dollar surfing post-sanction waves in Iran
Who will be top Iranian revolutionary artist?
The paper has selected three top cinematic figures as nominees for being awarded the title of top Islamic Revolution artists in the country during the previous calendar year which ended March 19.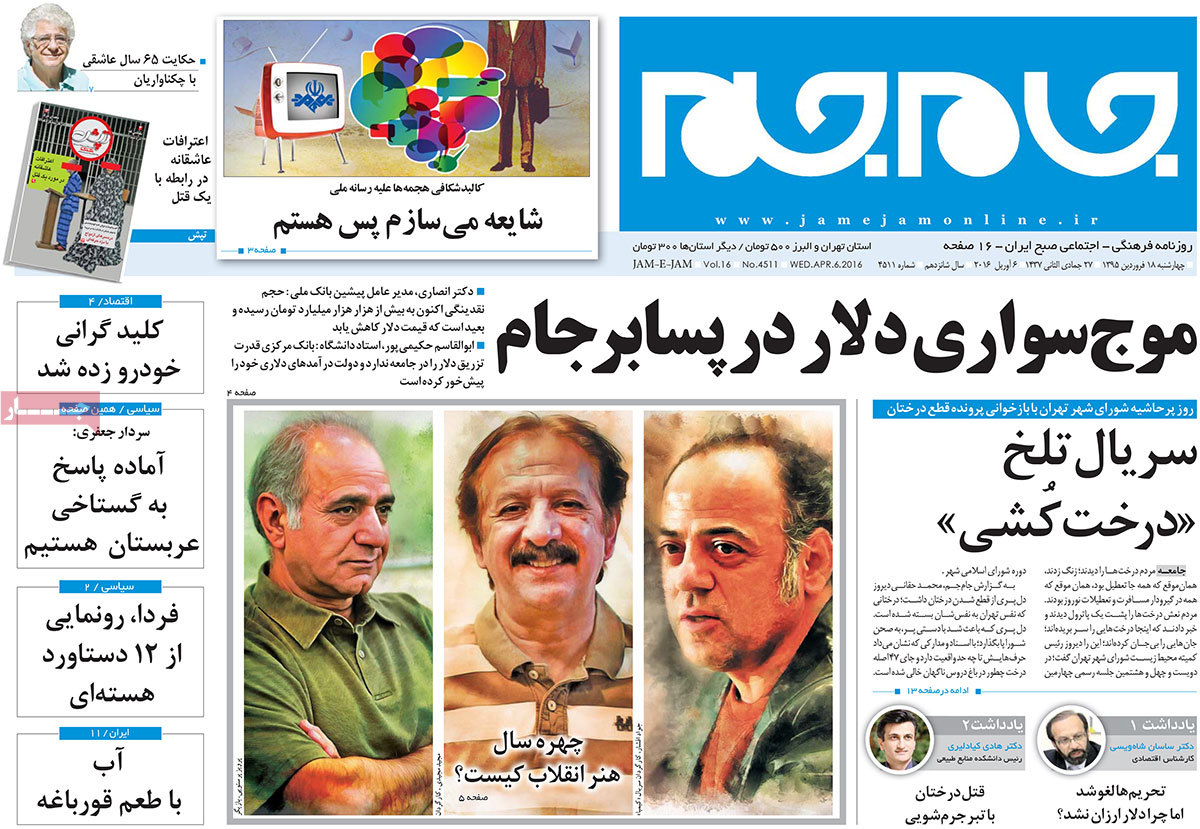 ---
Jomhouri Islami:
Boeing talks more serious
Iran signs deal with Renault
US, Israel and Arab reactionaries close ranks against Palestine
JCPOA reduced pressure on Islamic Republic
Saudi Arabia has 3rd biggest military expenditure
Iran to unveil 12 nuclear achievements
Iran, Turkey, Azerbaijan to form strategic committee
---
Javan:
7,000 production firms inactive in Iran: Government spokesman
JCPOA neither honourable, nor extendable: IRGC chief
Anti-Russia proxy war of Turkey in Karabakh
---
Hemayat:
Iranian missiles stronger, more destructive: Gen. Jafari
White House Spokesman: US to confront Iran
Karabakh conflict ends after 4 days
7,000 idle production firms in Iran
Inspector: 13 glitches in IPC deals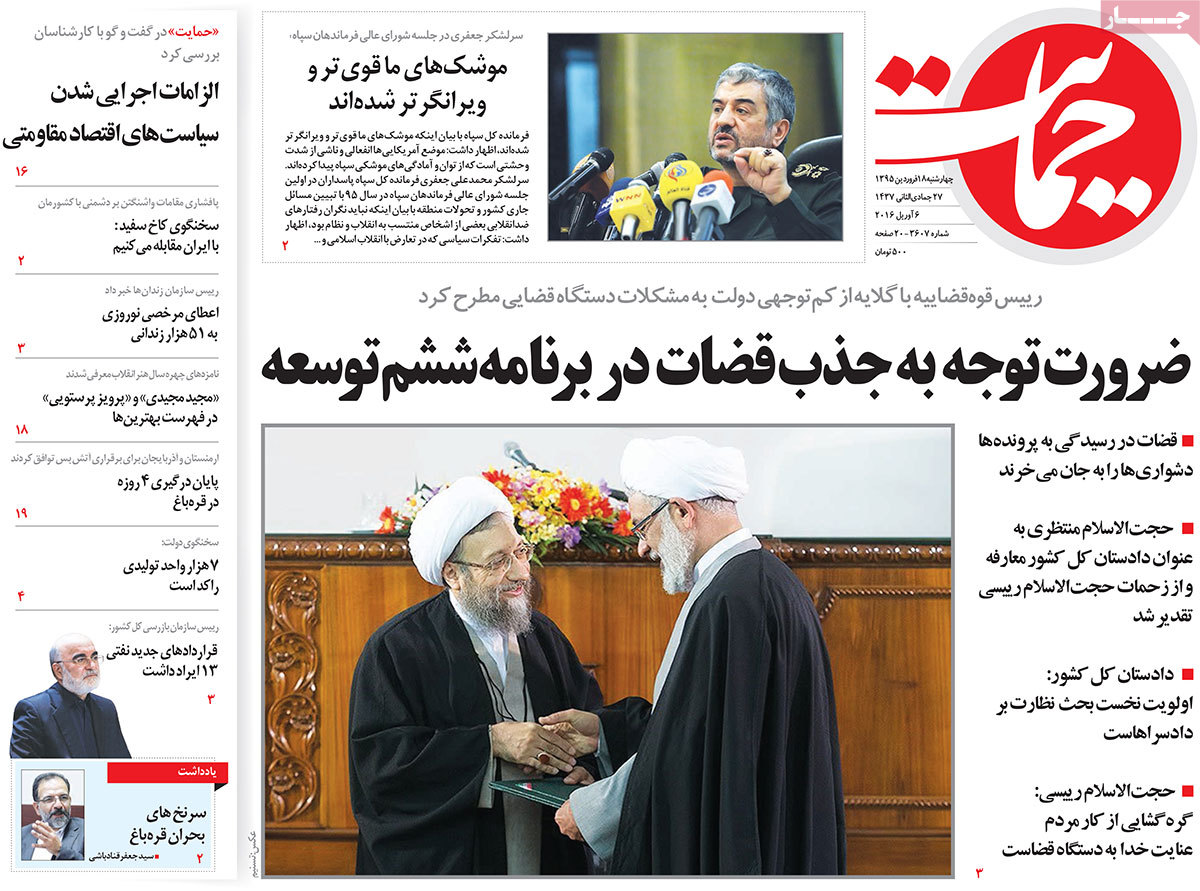 ---
Rah-e Mardom:
Report: Will housing market move out of recession in 1395?
Tehran to overhaul southern sectors over 10 years
Enemies used sanctions target Iran oil exports: Intelligence Minister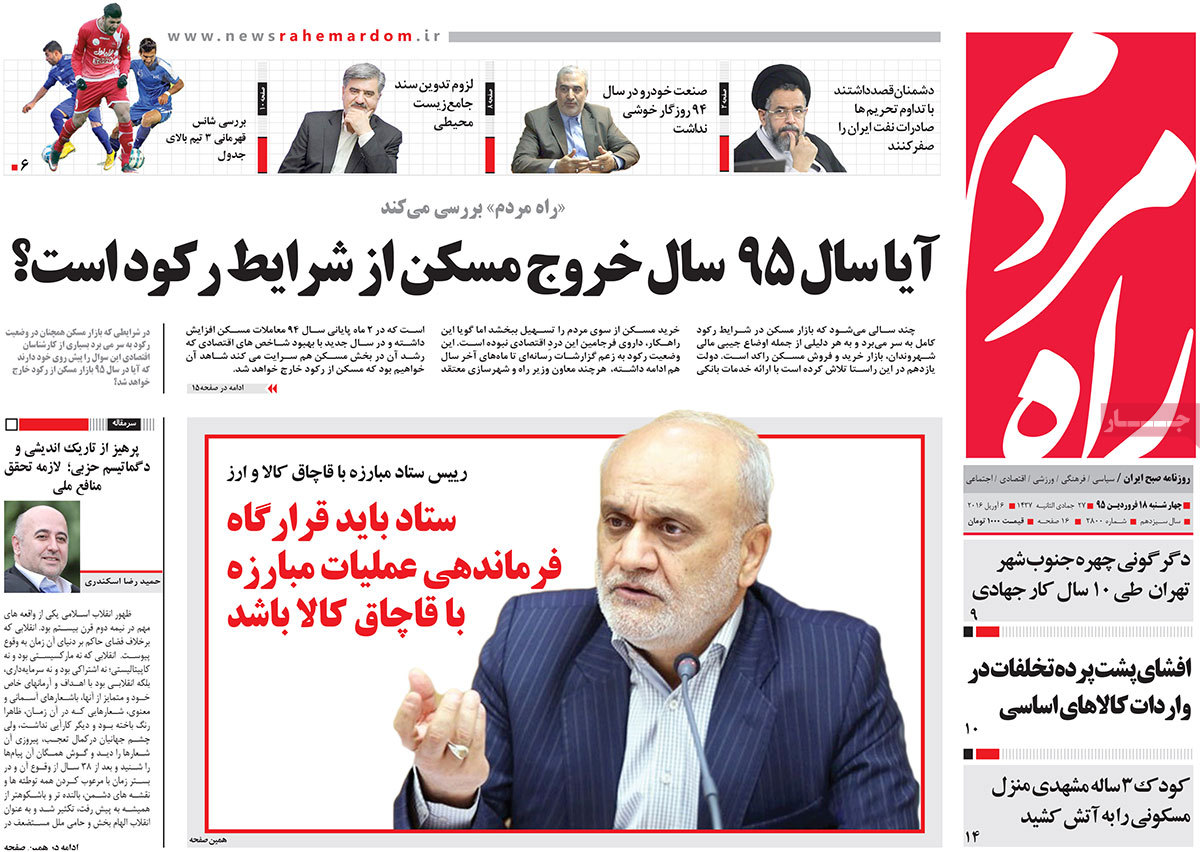 ---
Resalat:
Saleh: Negotiators anxious themselves
Javad Larijani: Involving western economics is no solution for saving Iran
Iran must be focused on domestic nuclear capabilities
US seeking to destroy Iran's missile might, alter its foreign policy preferences, and topple the Islamic Republic
Israel has killed 27,000 Palestinian children
---
Shargh:
Nation reluctantly endorsed JCPOA: IRGC chief
Veteran director opens eyes
Iran and US in talks over dollar
---
Shahrvand:
Chief: IRGC does not welcome confrontation
World shocked by big revelations
---
Sahib Ghalam:
First Iran oil tanker calls at African port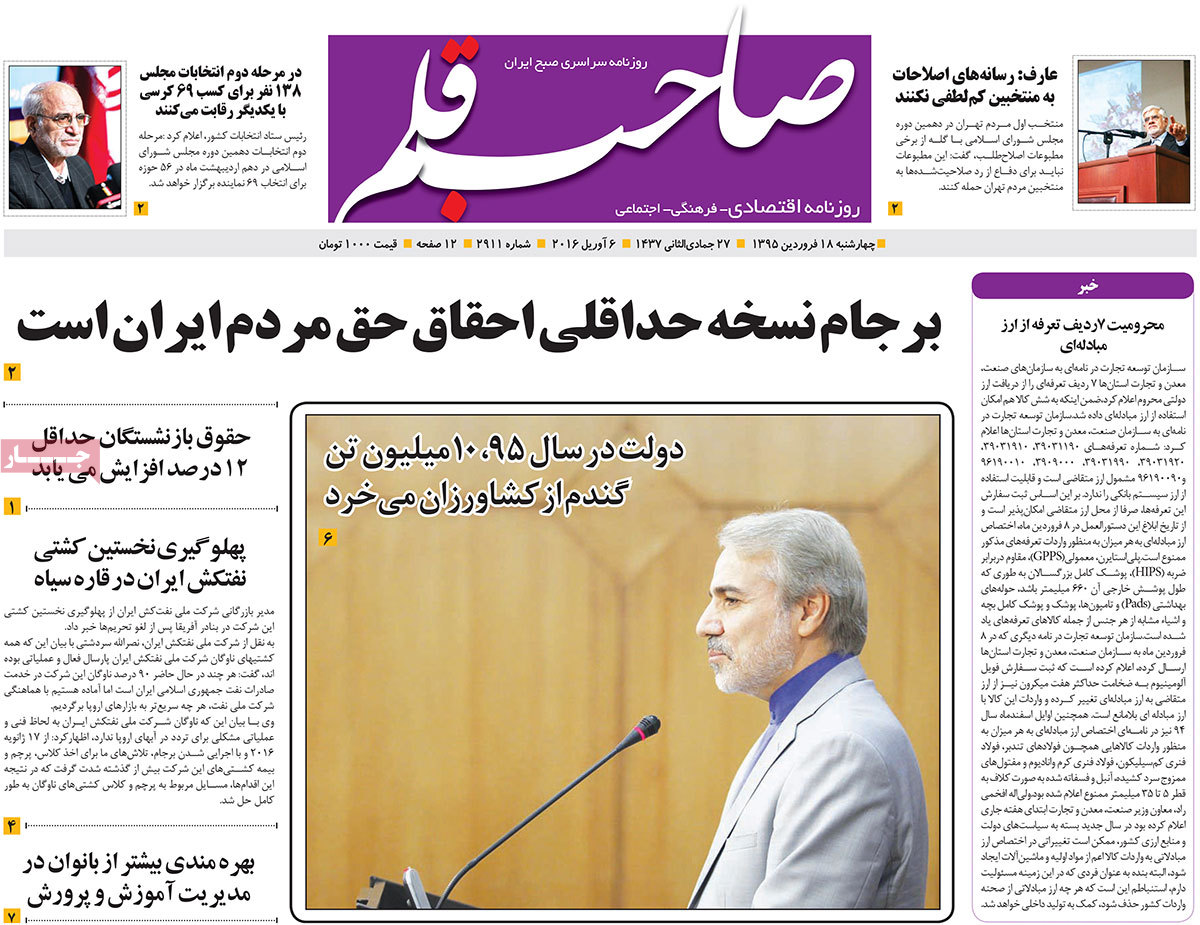 ---
Keyhan:
Baku and Yerevan agree to ceasefire
Oil $120/b without JCPOA
Nuclear sanctions being removed: Nobakht
---
Vatan Emruz:
Youngest hacker arrested
Iran missiles more destructive and precise than ever: IRGC
---
Abrar Eqtesadi:
US hints at dollar transactions with Iranian banks
Iran sets conditions for building refineries in foreign countries
Boeing officials coming to Tehran to sell planes