Abrar:
1- Zarif departs for New York on Monday
2- Mogherini: Missile tests by Iran do not violate JCPOA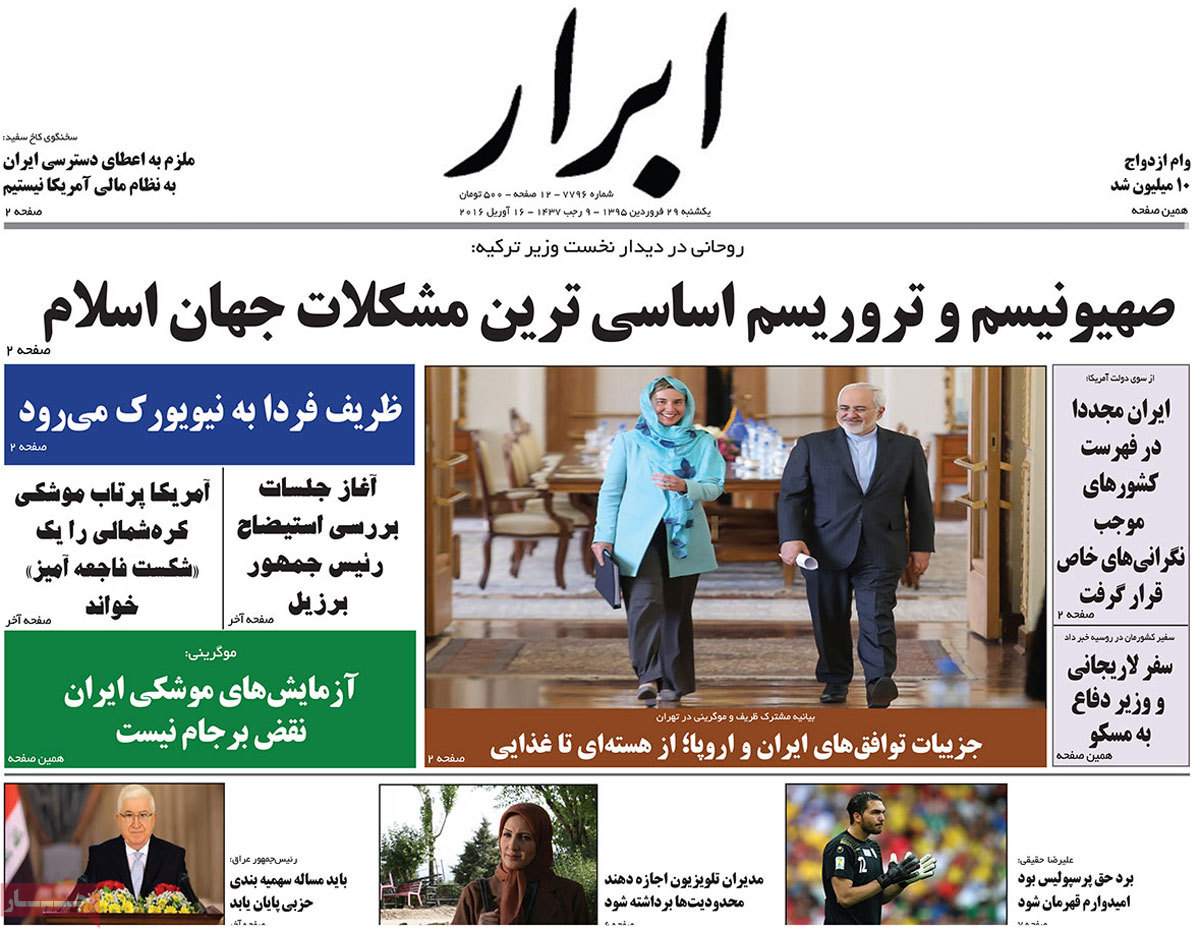 ---
Asrar:
1- Shamkhani on JCPOA: US approach unnecessary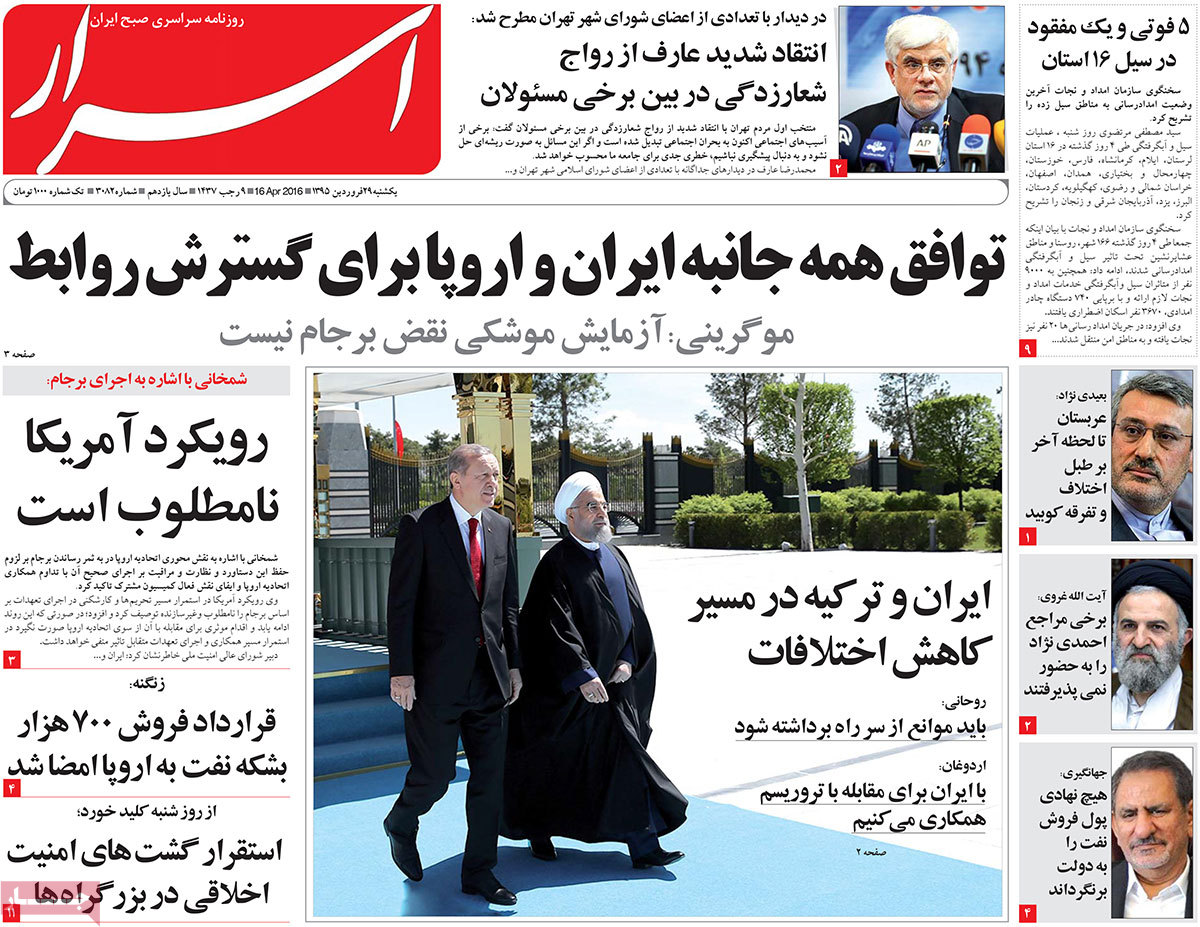 ---
Arman:
1- Parliament approves marriage loan increase to IRR100m.
2- Rouhani: Islamophobia is a plot hatched by Israeli regime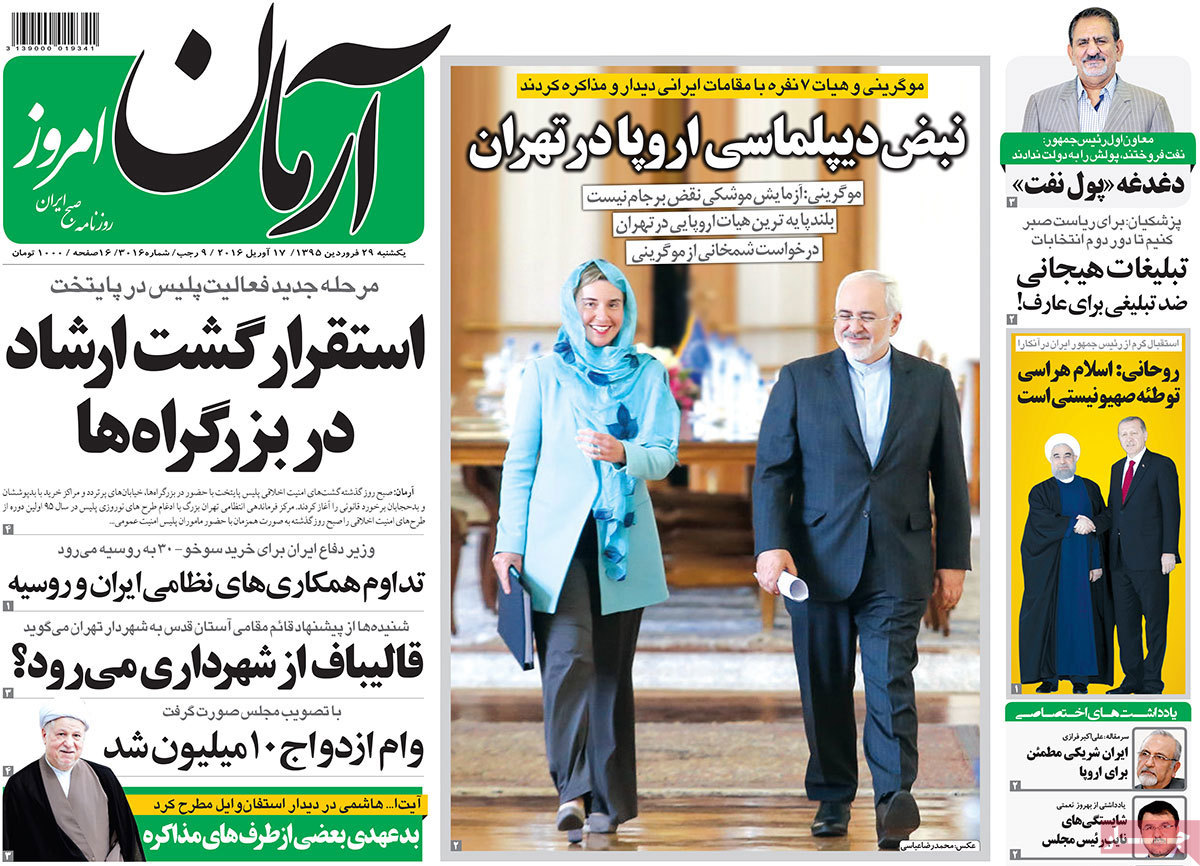 ---
Ebtekar:
1- Highest level talks between Iran and EU in past decade
– Zarif: Iranian people must sense the results of the nuclear agreement as soon as possible
---
Ettela'at:
1- Crisis Management Organization chief:  Timely flood warning helped reduce casualties and damage
2- Iran and Turkey sign 8 cooperation agreements
3-Supreme Leader in meeting officials: Today economy is first priority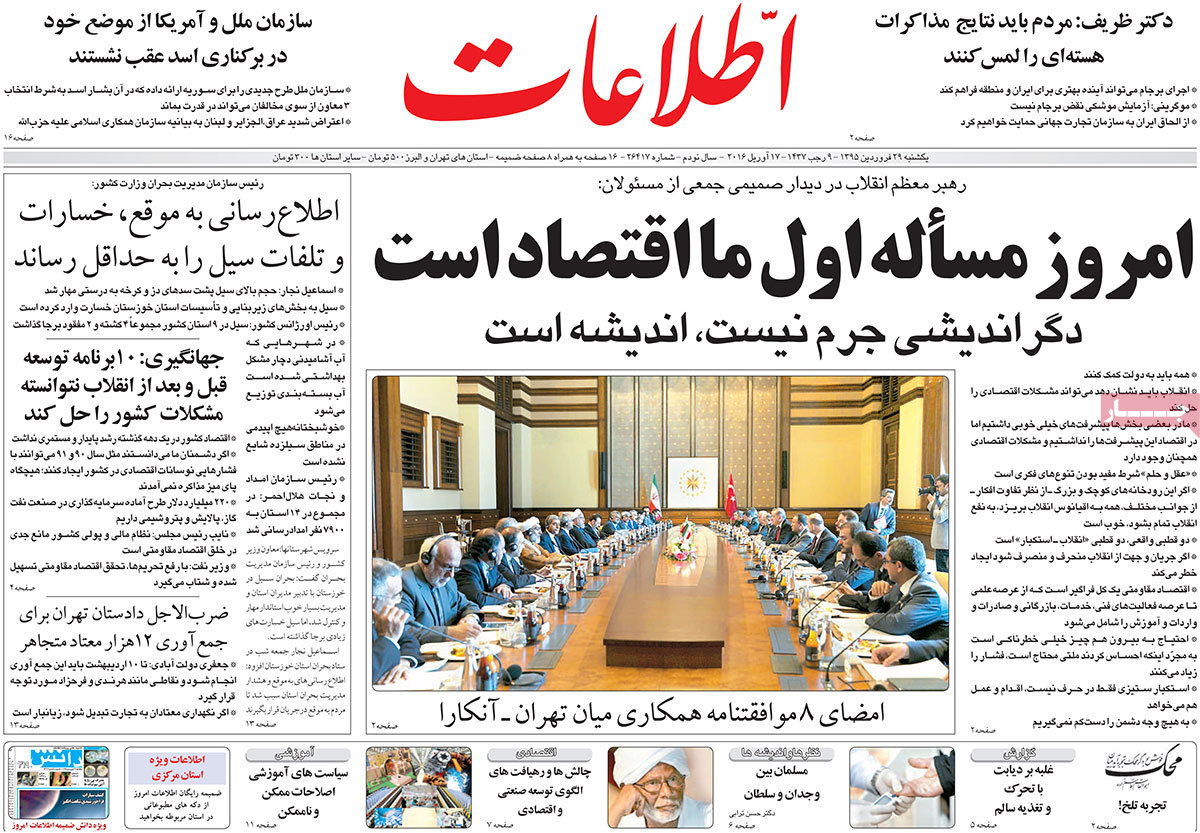 ---
Etemad:
1- Voice of 500m Europeans in Tehran:
– Mogherini, as the representative of 500 million Europeans, wants to promote cooperation with Iran
2- Zarif: Human rights talks with Europe should not be one-sided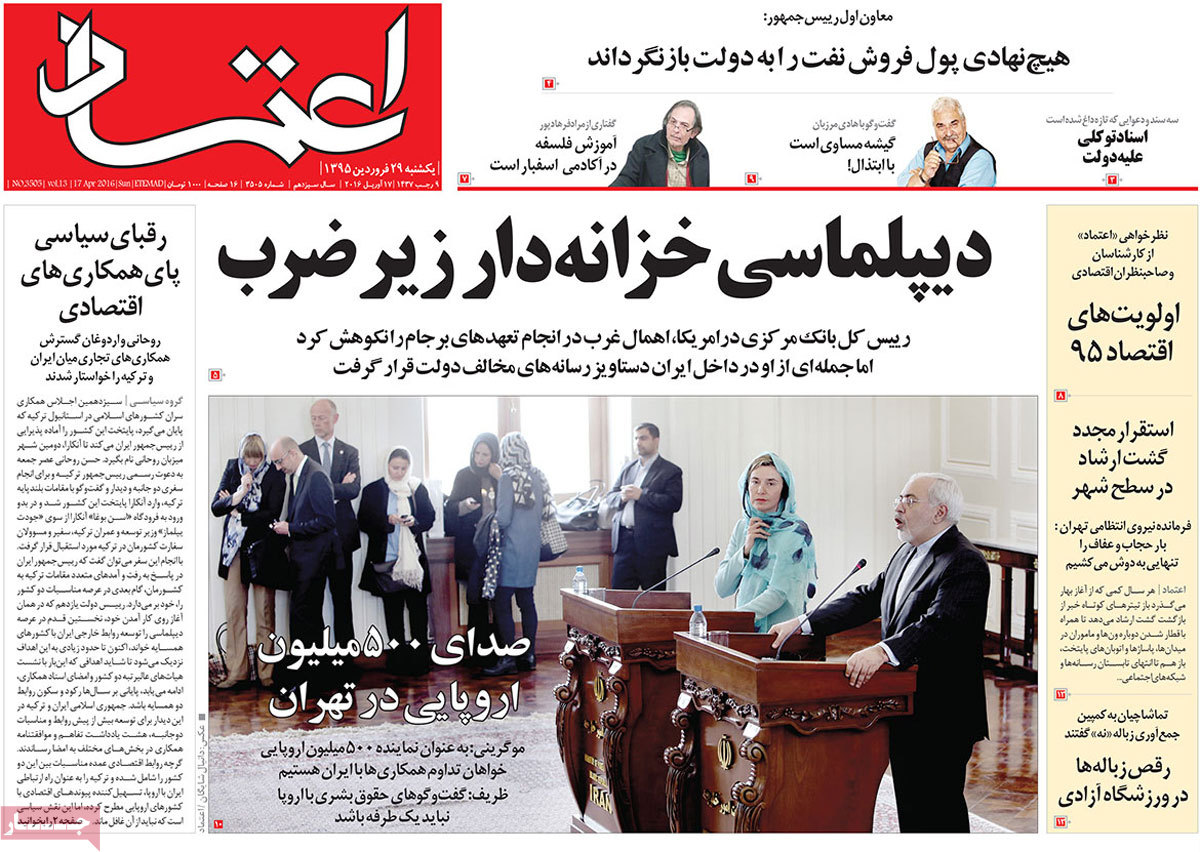 ---
Afkar:
1- Saudi Arabia warns Iran: No rallies during Hajj Rituals
2- Cloud seeding will start from October
---
Emtiaz:
Tehran Prosecutor says drug addicts using in public will be arrested in coming weeks.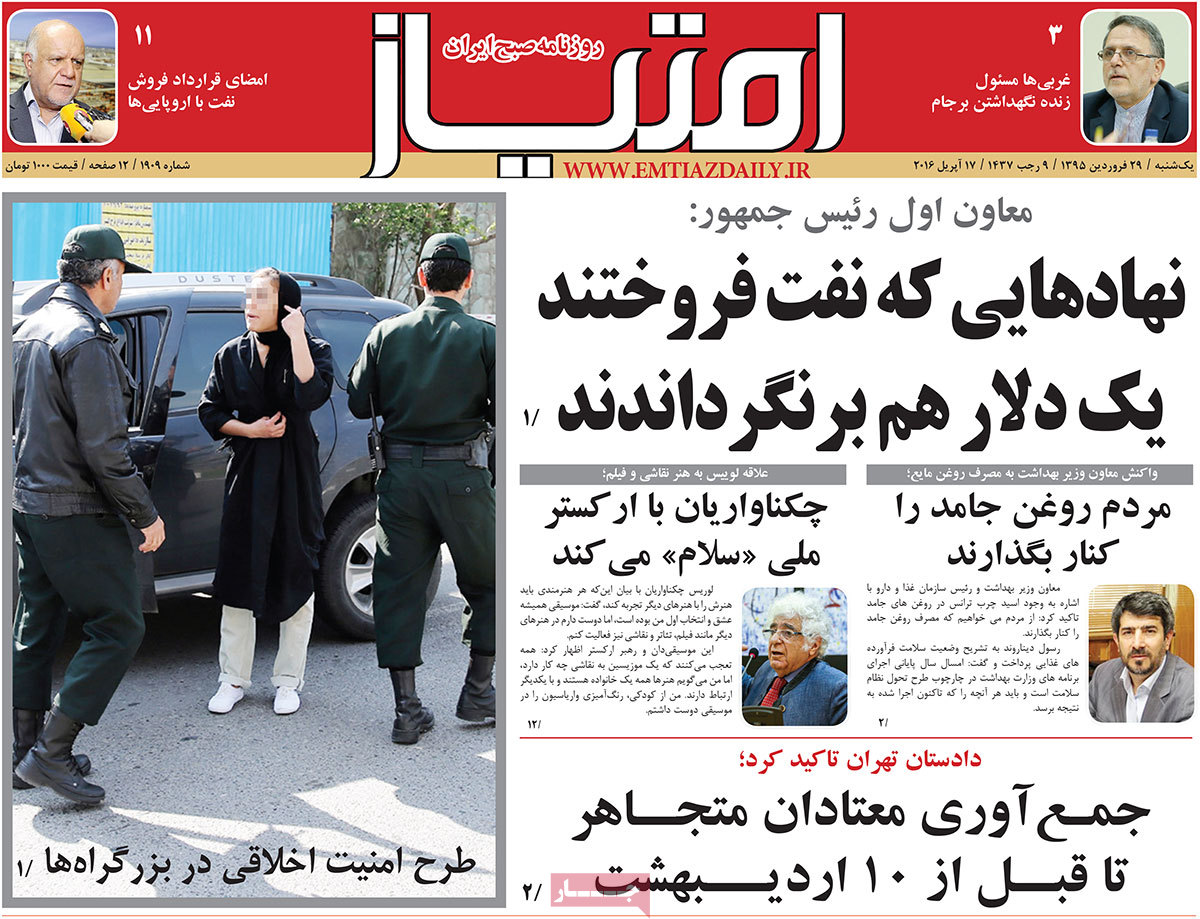 ---
Iran:
1- First Vice President: Only Ministry of Petroleum should sell oil.
–  In the past none of those who sold oil have given a single dollar of their earnings to the government
---
Keyhan:
1- The glowing sun of JCPOA has not risen:
– Governor of Central Bank says JCPOA has had almost no benefits
2- Exclusive interview with writer of a book titled: America is like Daesh
---
Payam Zaman:
1- Oil export up by 10%
2- Iranian and Pakistani navies to hold joint war games
---
Jomhouri Eslami:
1- Great step taken by EU for boosting ties with Iran in US absence
2- US has delivered millions of tons of military hardware to terrorist groups in Syria
---
Javan:
1- Almost nothing, says Iran Central Bank governor of results of his talks with US officials in Washington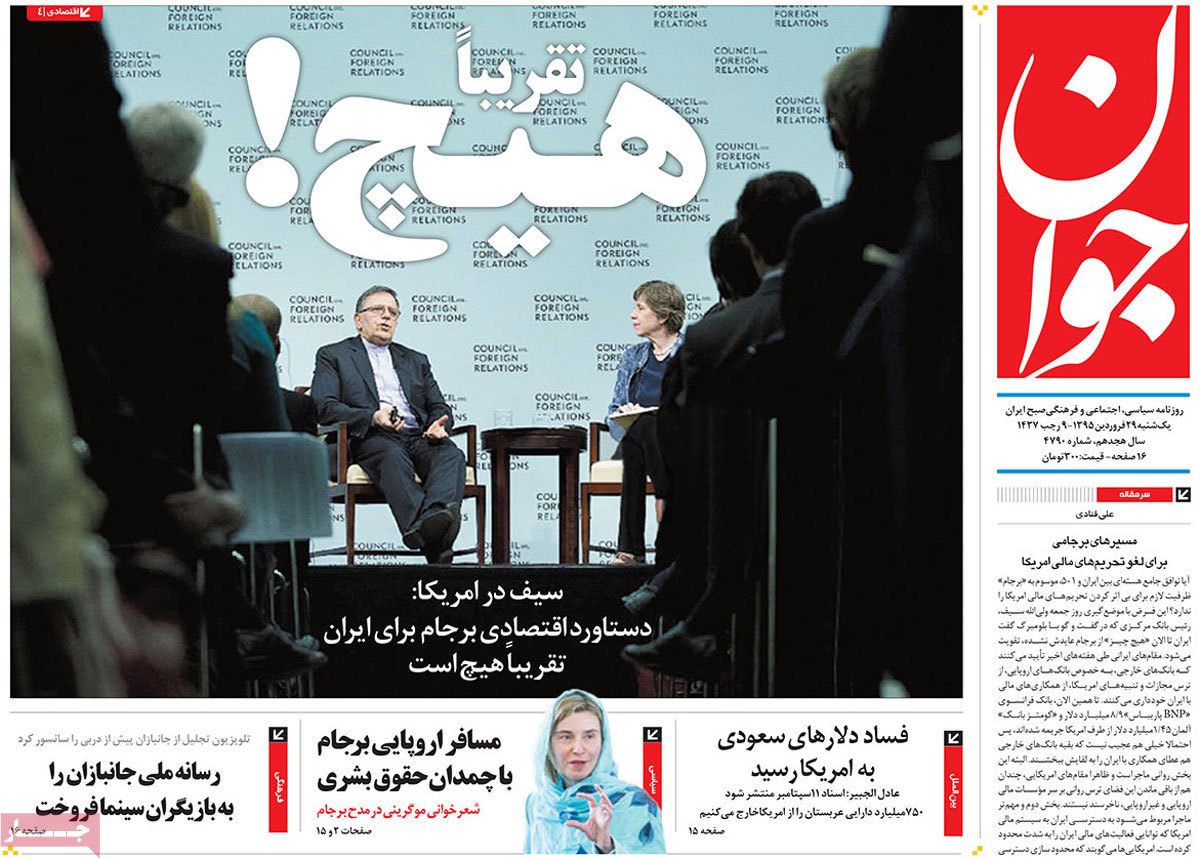 ---
Hemayat:
1- Large anti-Saudi demonstration in Yemeni capital Sanaa
2- Drinking water shortage in flood-stricken provinces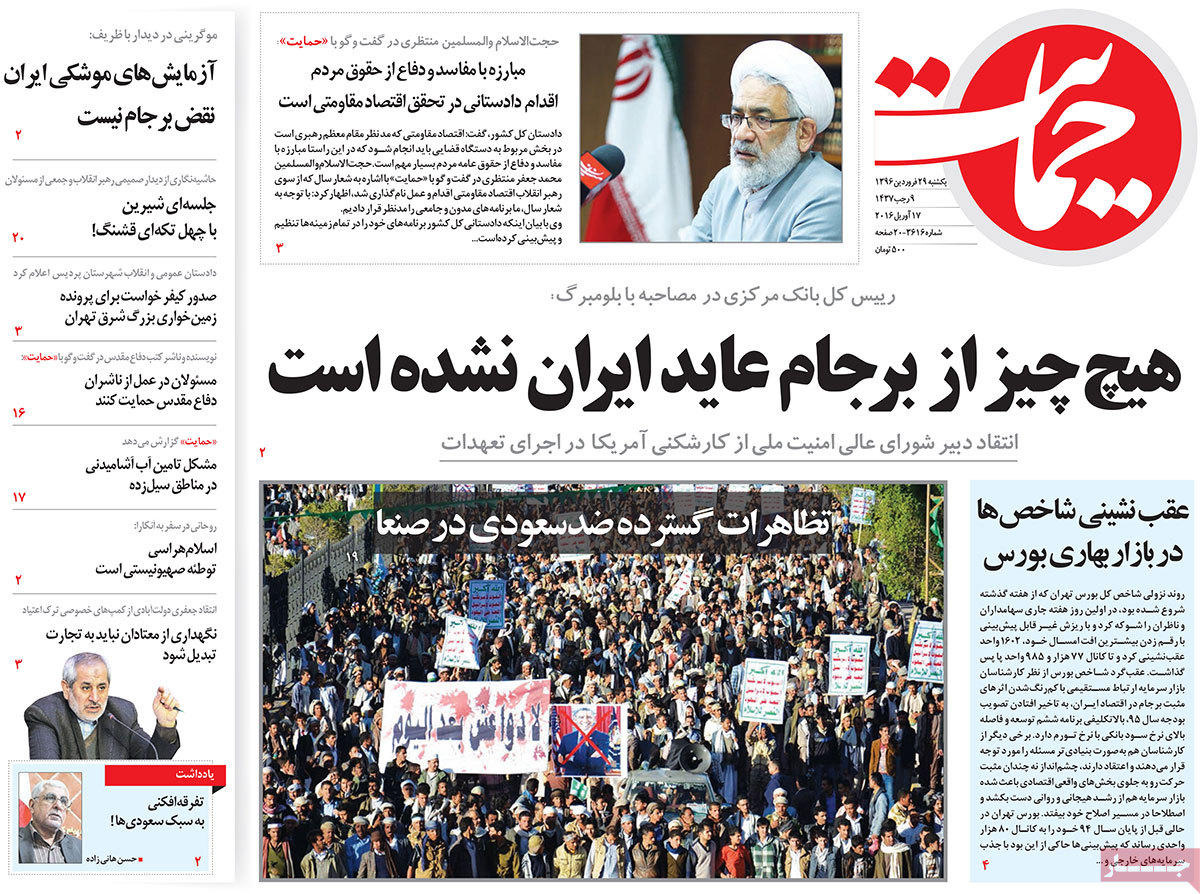 ---
Khorasan:
1- Zarif's warning, Mogherini's promise:
– Zarif: US should comply with its commitment in practice and not just on paper
2- Post-JCPOA won't be a miracle, it is time for hard work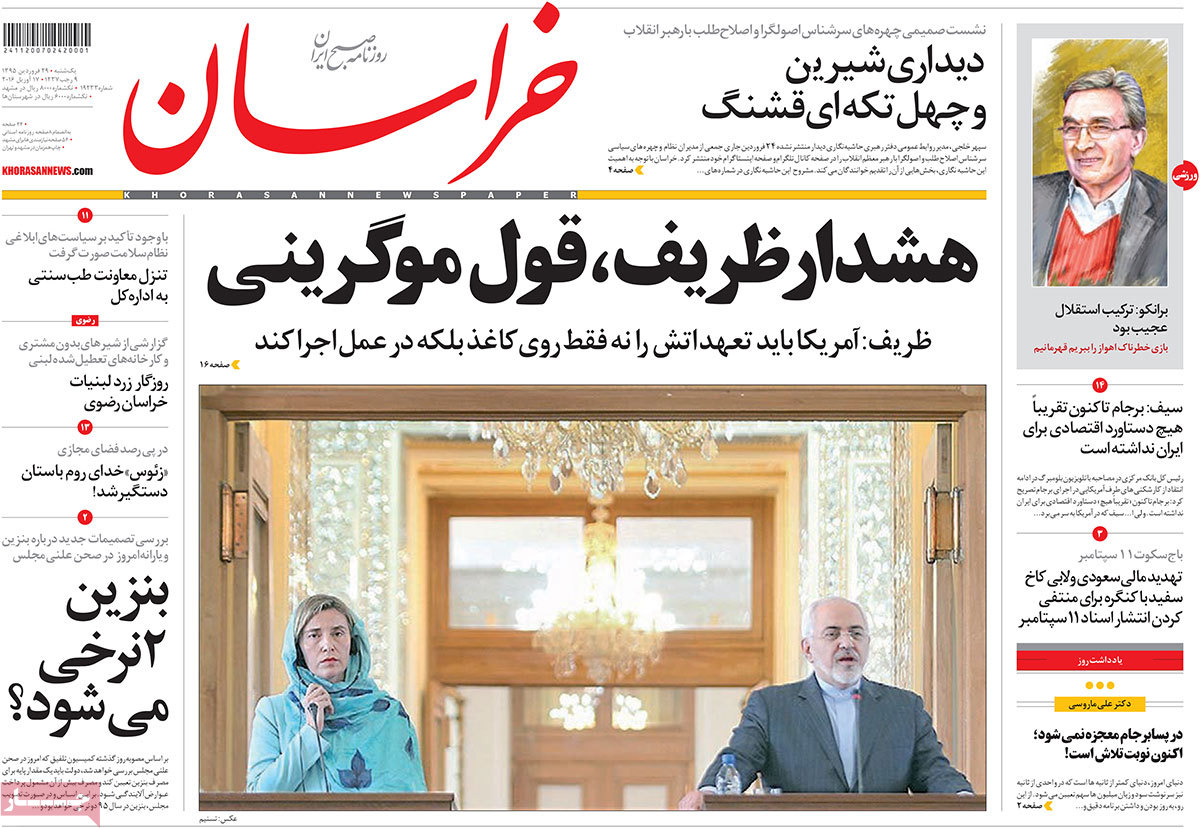 ---
 Rahe Mardom:
1- Mogherini: Regional conflicts cannot be settled without Iranian help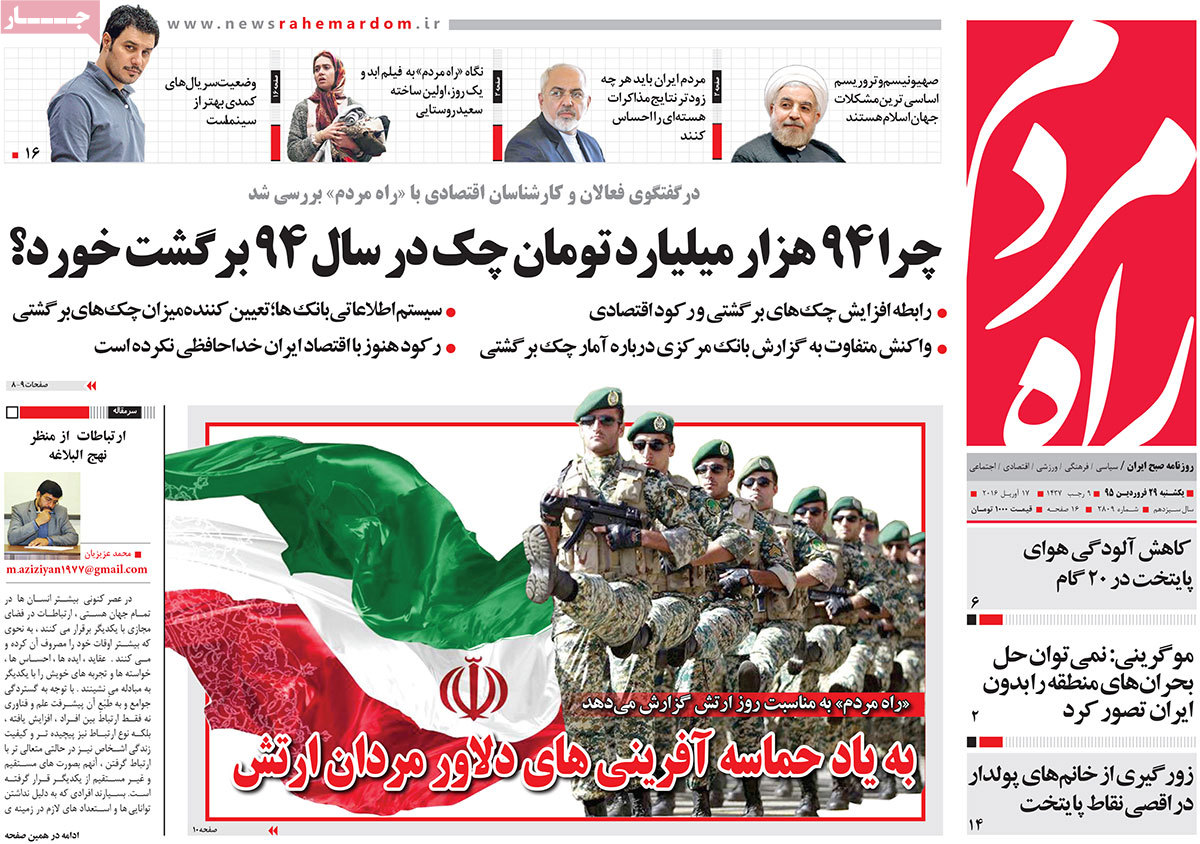 ---
Resalat:
1- Zarif: US should remove practical obstacles preventing banking cooperation
2- Where are regional politicians heading for?
---
Shargh:
1- Supreme Leader: Revolution should demonstrate ability to tackle economic problems
2- Michael Jackson also involved in oil scandal
---
Shahrvand:
1- Analysis of unprecedented presence of Iranians on social media:
– 45 million Iranians are on Telegram
2- Floods show benefits too: 246 towns saved from water shortages
3-    Governor of Iranian Central Bank warns westerners while in US
"If you don't adhere to your commitments then JCPOA will be gone."
---
 Asre Resaneh:
1- IRR1,300 million housing loan
2- Steps taken for resumption of pilgrimage by Iranians to Syria
---
Ghanoon:
1- General Hassan Nami: Getting involved in economic activities will undermine Armed forces' main mission.
Iranian Armed forces are ready for asymmetrical war