Almost all newspapers today covered the remarks made by the Leader of Iran's Islamic Revolution Ayatollah Seyyed Ali Khamenei about the need for the government and the Judiciary to respect people's privacy and security in domestic messaging apps.
The top story, however, was the fluctuations in the country's forex market, and the decision by the government to unify the dollar rate in official and open markets.
The above issues, as well as many more, are highlighted in the following headlines and top stories:
19 Dey:
Rouhani: Iran's Nuclear Program Faster than Ever
Iran First VP: We Won't Allow Our Economic Stability to Be Damaged
---
Abrar:
DM: Turkey Must Respect Syria's Territorial Integrity, National Sovereignty
---
Abrar-e Eqtesadi:
Trade Minister: Value of Iran's Business with World Hits $200 Billion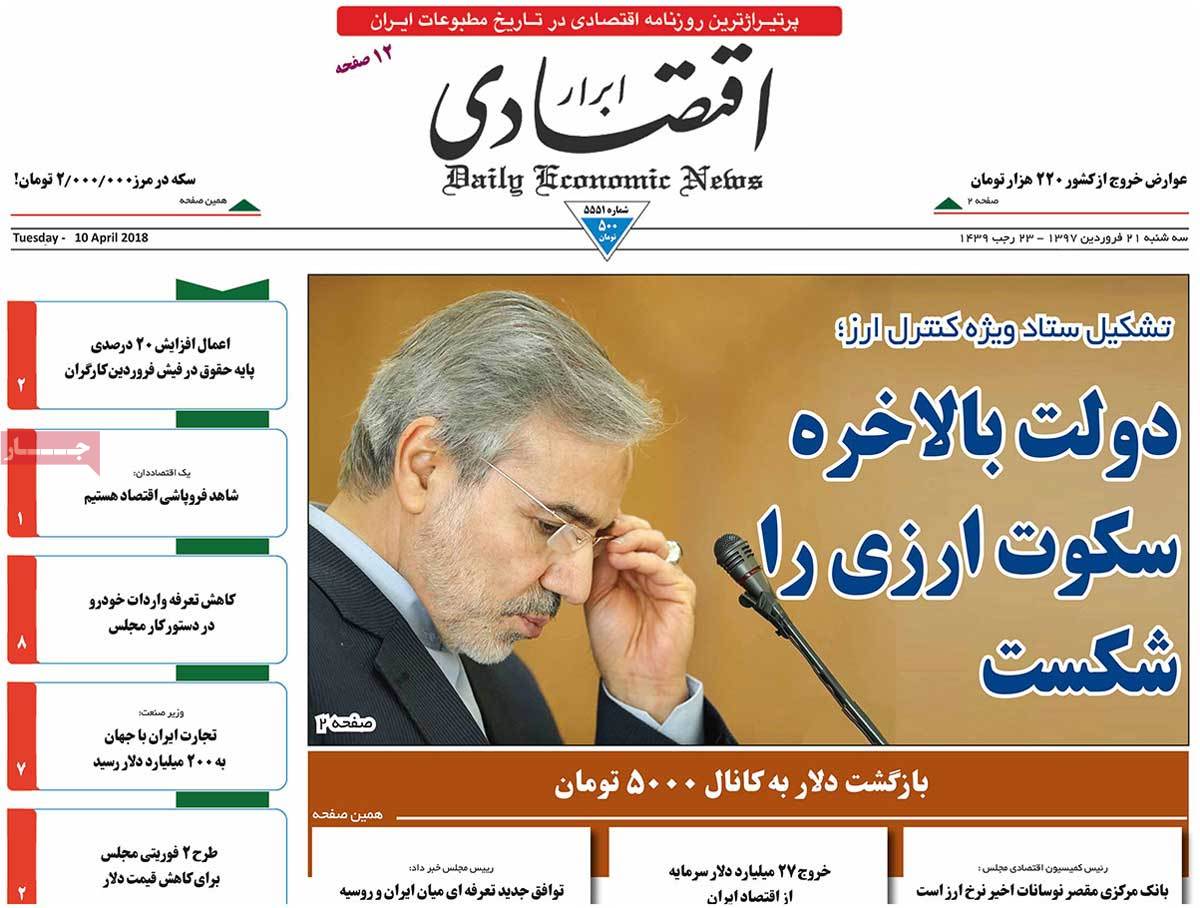 ---
Aftab-e Yazd:
Iran Leader: Invading People's Privacy, Security in Domestic Messengers 'Haram'
Foreign Ministry Spokesman: Macron Will Visit Tehran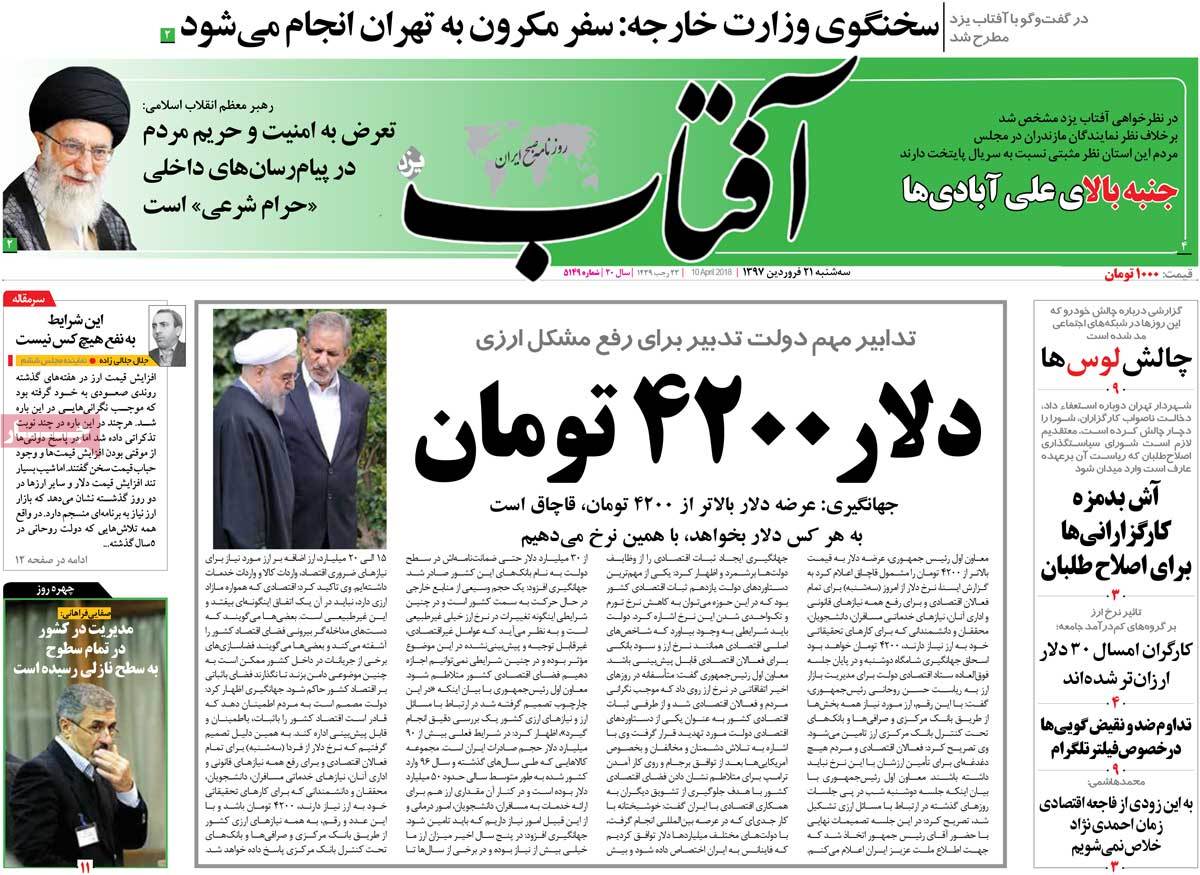 ---
Arman-e Emrooz:
Mr Rouhani! Disclose Secrets behind the Scenes
A Report on Role of Hidden Factors in Forex Market
---
Asrar:
Rouhani: Those Who Violate Iran Nuclear Deal Will Be Regretful
---
Ebtekar
Free Fall of Iran's Economy
Farhadi Still on Top: A Report on Why His Presence at Cannes Matters
Spokesman Confesses to Government's Failure in Forex Market
Current Situation in Forex Market against What We Want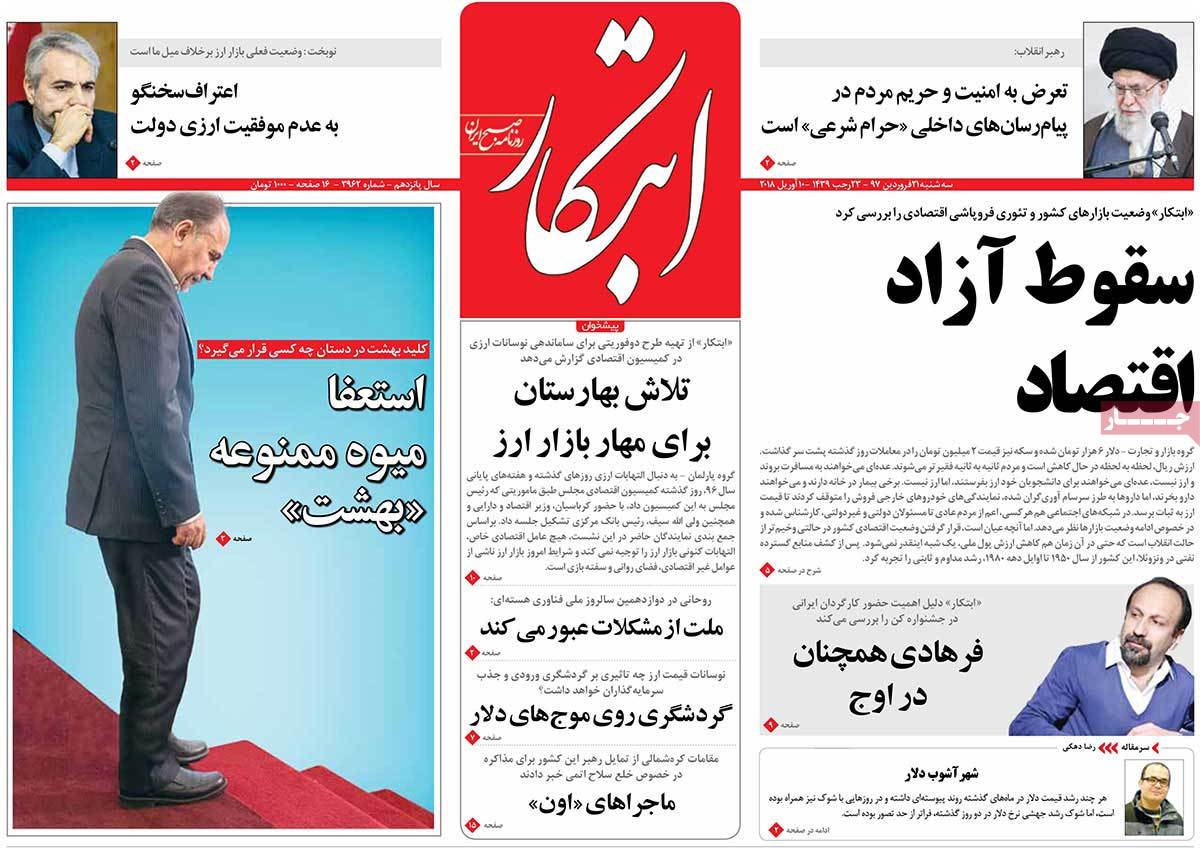 ---
Etemad:
Why US Dollar Breaks Records? A Report on Forex Market
People's Privacy [Editorial]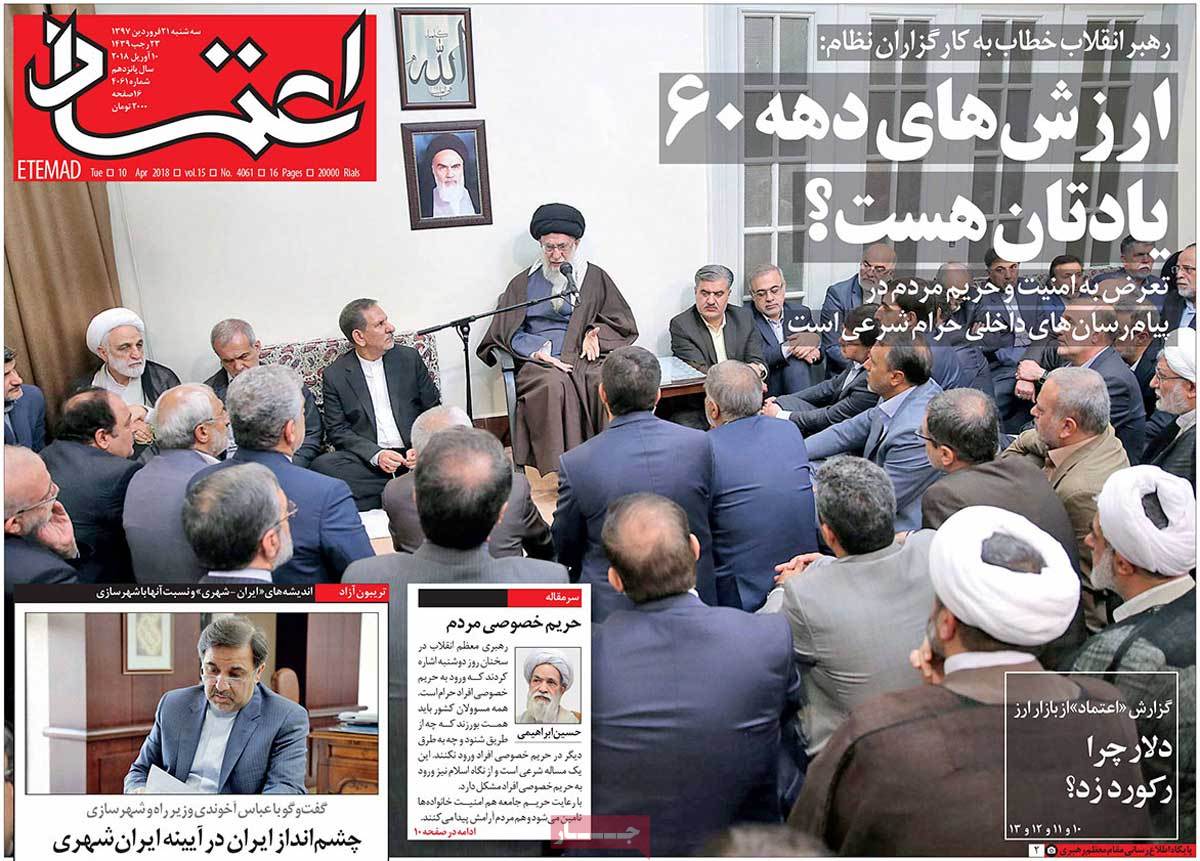 ---
Ettela'at:
Spokesman: Gov't to Use All Capacities to Reform Forex Market
Zionist Regime's Missile Attack on Syria: Moscow Asks for Tel Aviv's Explanation
---
Ghanoon:
Terrified of Cancer, Eyeing Dollar Rates!
People with Hard to Treat Diseases Worried about Possible Increase in Drug Prices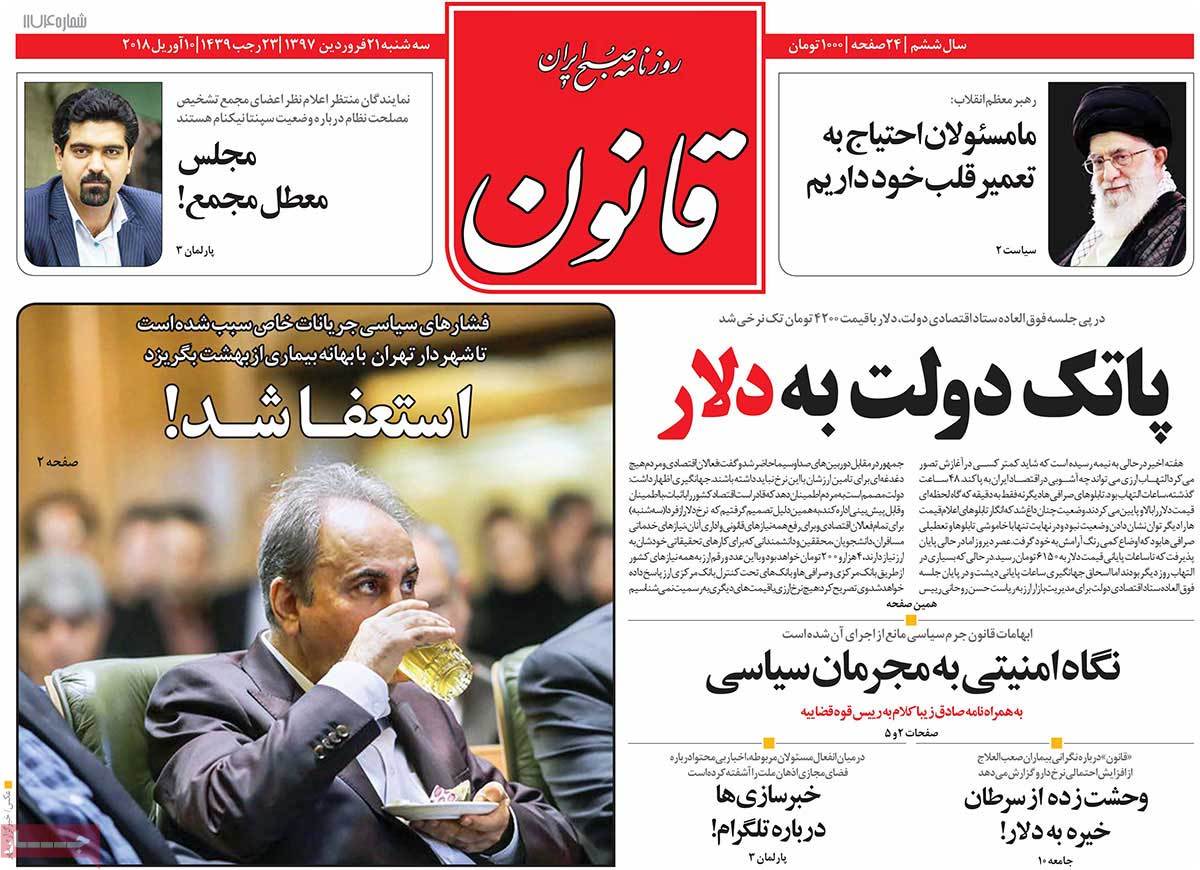 ---
Iran:
Minister: Gov't Achievement Is Development of Digital Technology, Not Telegram
---
Javan:
ICT Minister: Domestic Messaging Apps Protected
Government's Strategy Based on Voluntary Switch from Telegram
Government's Concerns about US Dollar
Spokesman: Critics Are Right, Situation Not Acceptable
Central Bank Chief: Balance to Return to Forex Market
Police Must Be Held Accountable: Economy Minister
President Has Nothing to Say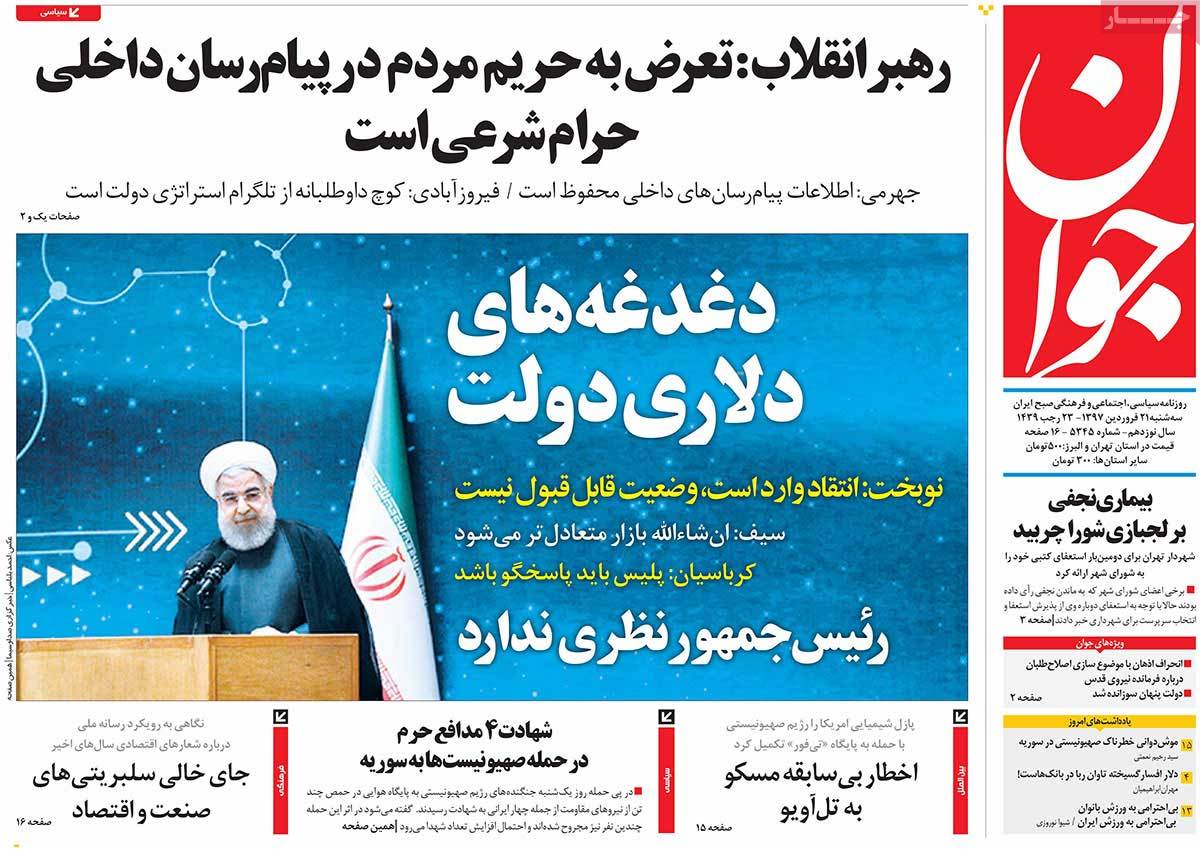 ---
Jomhouri Eslami:
Rouhani Unveils 83 Nuclear Achievements on Day of Nuclear Technology
Saudi Regime's Devastating Attack on Yemen's Sa'dah
Karzai: Americans Deceived Everyone in Fight against Terror
---
Kayhan:
Leader Asks Officials: What's the Problem?
Central Bank: $32 Billion in Assets Taken Out of Iran in Post-JCPOA Era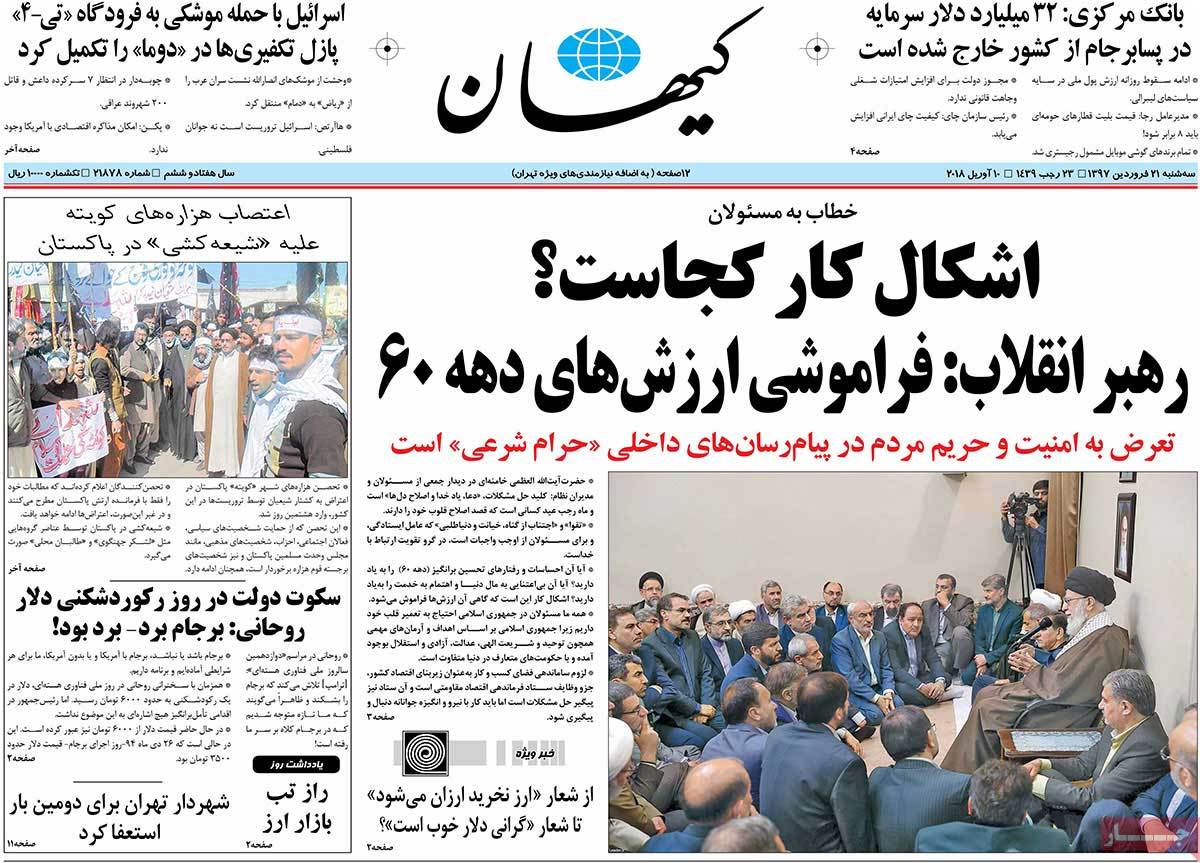 ---
Khorasan:
Four Iranian Defenders of Shrine Killed in Israeli Attack on Syria
---
Noavaran:
Rouhani: We Need Soft, Hard Power for National Might
---
Rah-e Mardom:
---
Resalat:
Syria Shows Off Its Missile Power to US: Washington's Attack on Damascus Foiled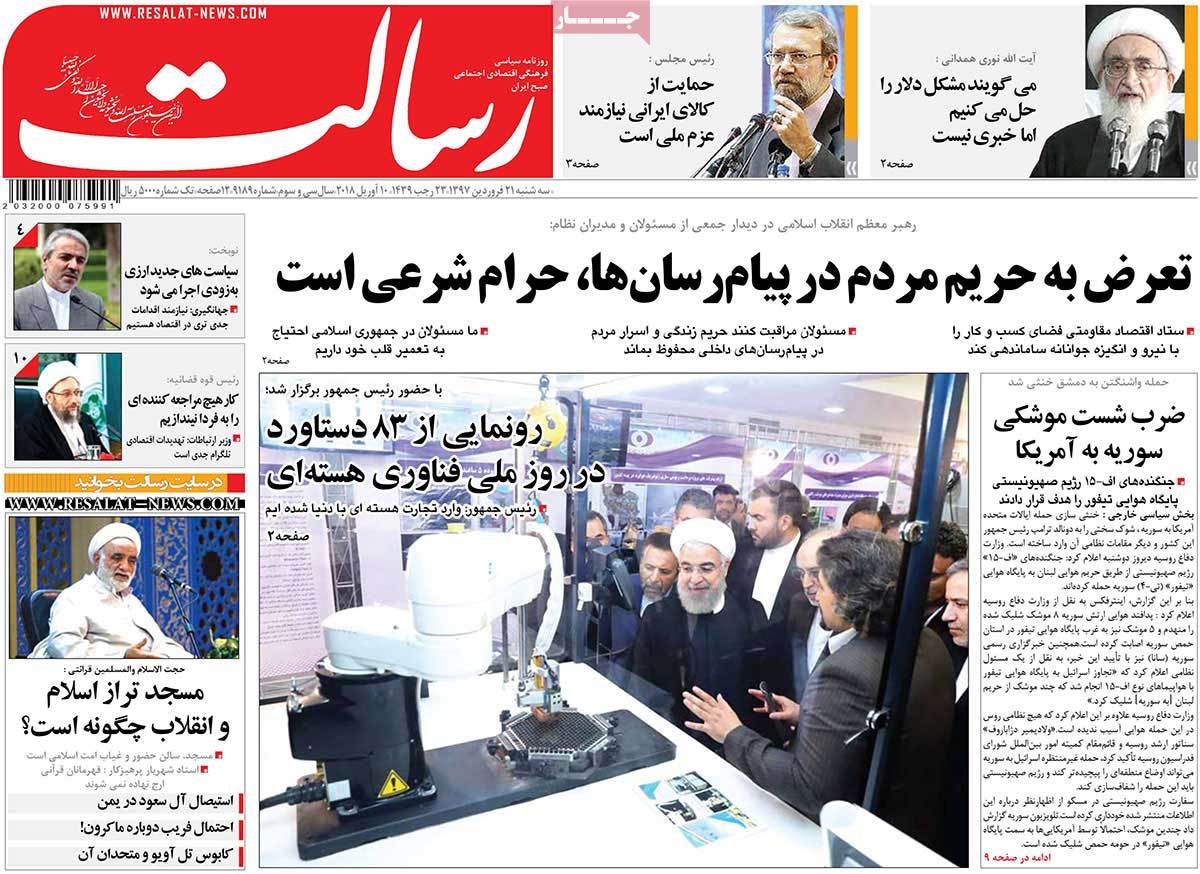 ---
Sayeh:
Is Iranian Rial Most Worthless Currency in 2018?
---
Sazandegi:
Sound of WWIII's Footsteps: Syria Turning into Field of Battle among Big Powers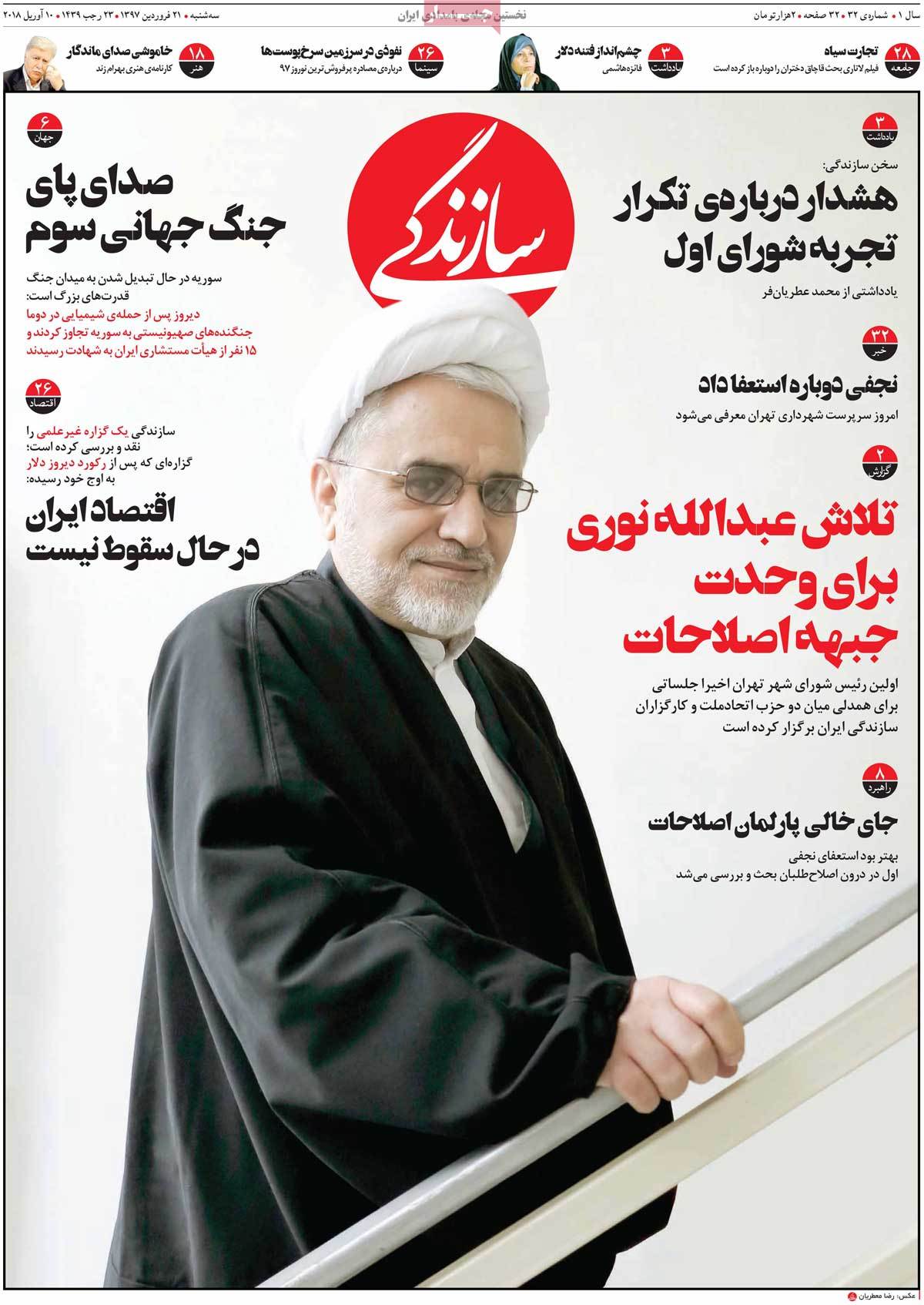 ---
Shahrvand:
Tehran Confused
Tehran Mayor Once Again Resigns after City Council Didn't Accept First Resignation
---
Shargh:
Gov't Unifies Dollar Rate in Official, Open Markets
Extraordinary Decision of Government's Economic Dept. to Be Implemented Tuesday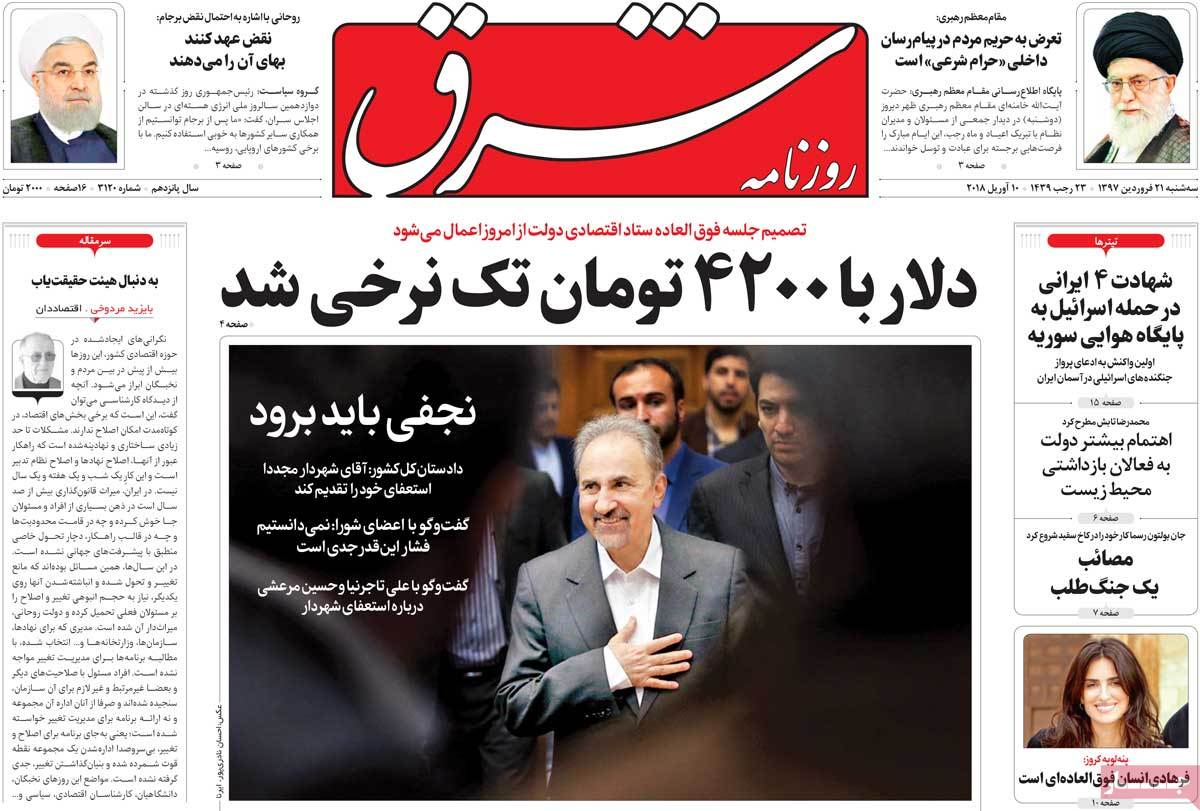 ---
Vatan-e Emrooz:
ICT Minister: Telegram's Economic Threats Serious