One day after the second round of Iran's parliamentary elections held on Friday, most Iranian newspapers covered the high turnout of people in the polls.
President Hassan Rouhani's recent remarks also received great coverage. Some sources focused on his continued criticisms against the former government's alleged mistakes which allowed the US to seize Iranian assets, while others highlighted his comments on civil rights.
Abrar:
1- Rouhani: Who Put the $2bn in a Place Accessible to US?
2- Visa Requirements of 42 Countries Cancelled or Eased for Iranian Nationals: Deputy FM
3- Russia Ready to Manufacture T90 Tanks
4- US Defence Minister Sees Iran as a Growing Strategic Challenge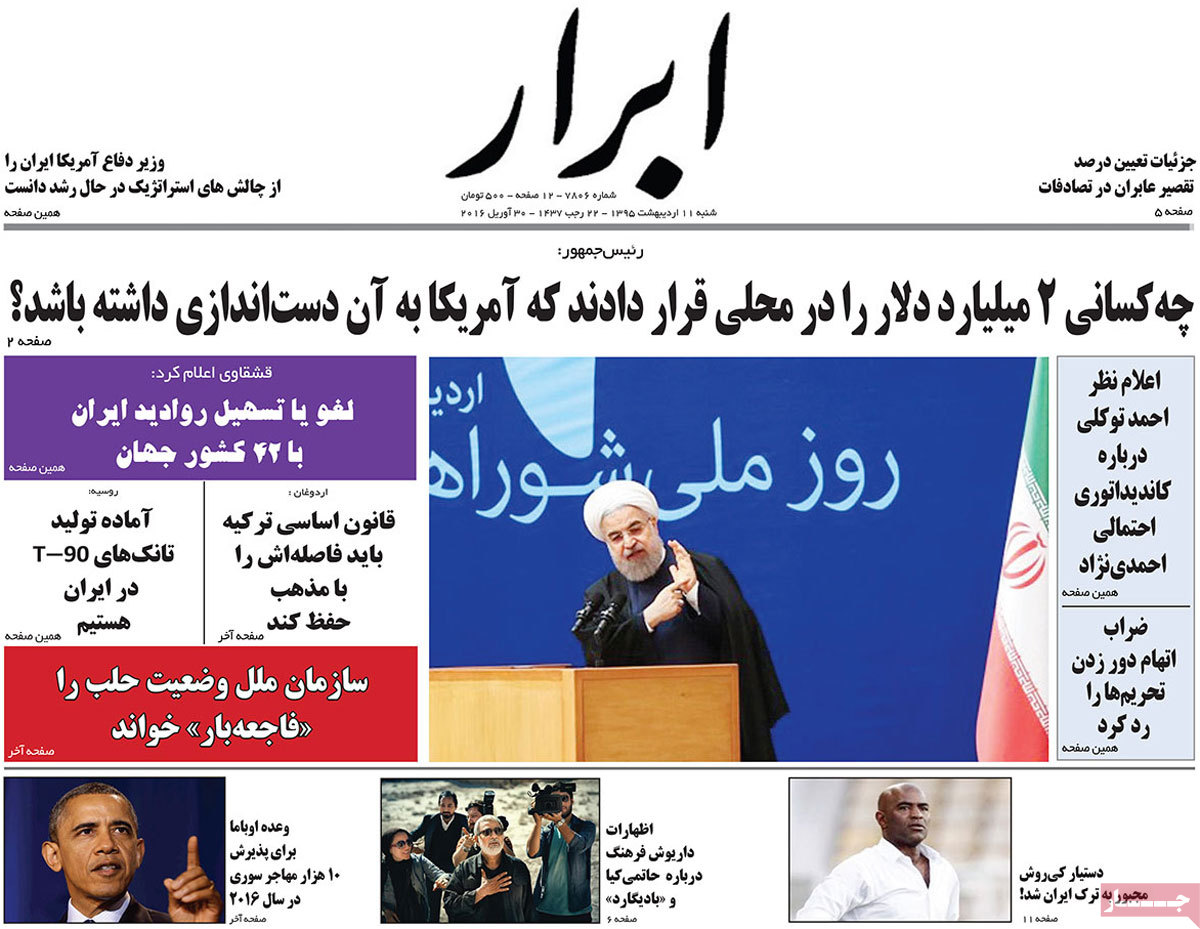 ---
Abrar-e Eqtesadi:
1- Tehran and Paris to Sign New Oil MoUs
2- Germany Optimistic about Trade with Iran
---
Afkar:
1- Iran Has Options in Dealing with US Violations of Its Commitments: Larijani
2- Terrorism is Common Concern of CICA Member States
3- Iran Becomes World's Biggest Exporter of Mazut Fuel Oil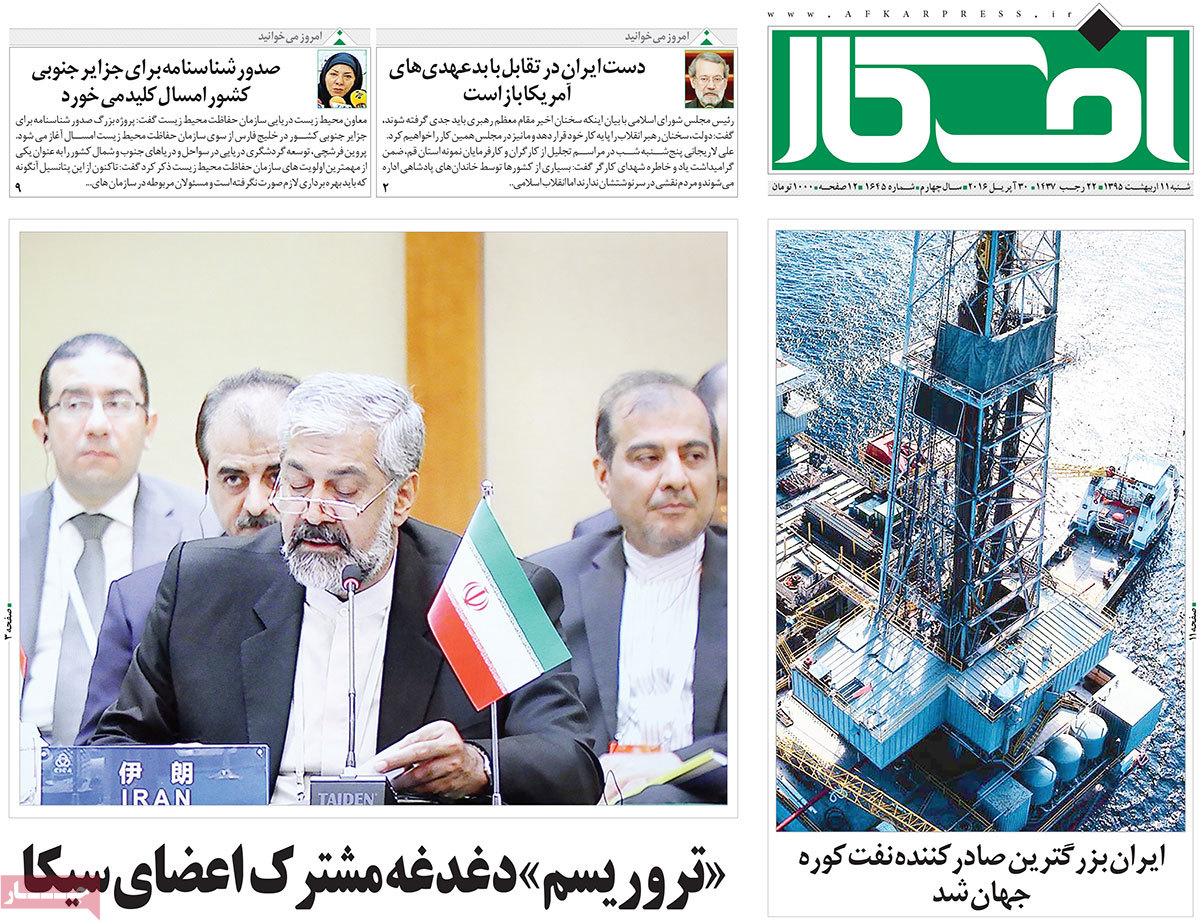 ---
Aftab-e Yazd:
1- Sufficient Reasons to Disqualify Ahmadinejad from Running for Presidency: MP
2- Imam Khomeini's Grandson Urges Afghan Refugees Not to Be Satisfied with Poor Jobs
---
Amin:
1- President Rouhani Urges Officials to Apologize to People for Potential Mistakes
2- Differences between Two Exceptional Countries: Iran and US
3- "Plainclothes Morality Police" is Resistance against Rouhani's Policies
---
Arman-e Emrooz:
1- Top Iranian Clerics Slam Opponents of JCPOA
2- Zarif Writes Letter to UN Chief: US Should Pay Compensation to Iran
---
Asia:
1- US Contractor SAS Sends Employees to Tehran to Help Secure Iran's Electronic Transactions
2- Iranian Refugees Can Return Home without Any Problem: Deputy FM
---
Asr-e Rasaneh:
1- Joint Production of Home Appliances with Reputable Brands
2- Behind the Curtains of American Car Imports: Trade Minister Vows to Revoke Licence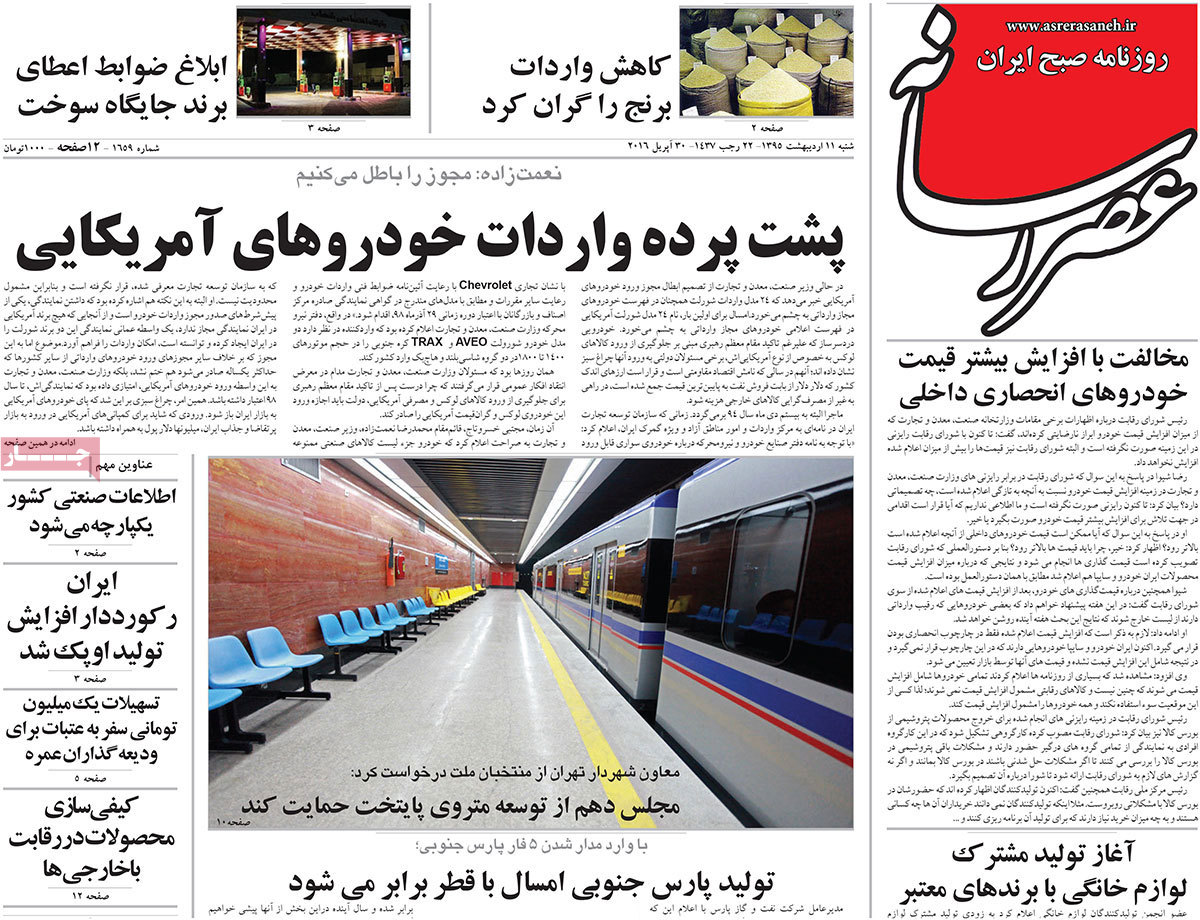 ---
Ebtekar:
1- Female Leadership: Will the Number of High-Ranking Women Rise?
---
Emtiaz:
1- Distribution of Foreign "Forbidden Fruits" Continues in Iran
2- Heat Wave in India Kills More Than 300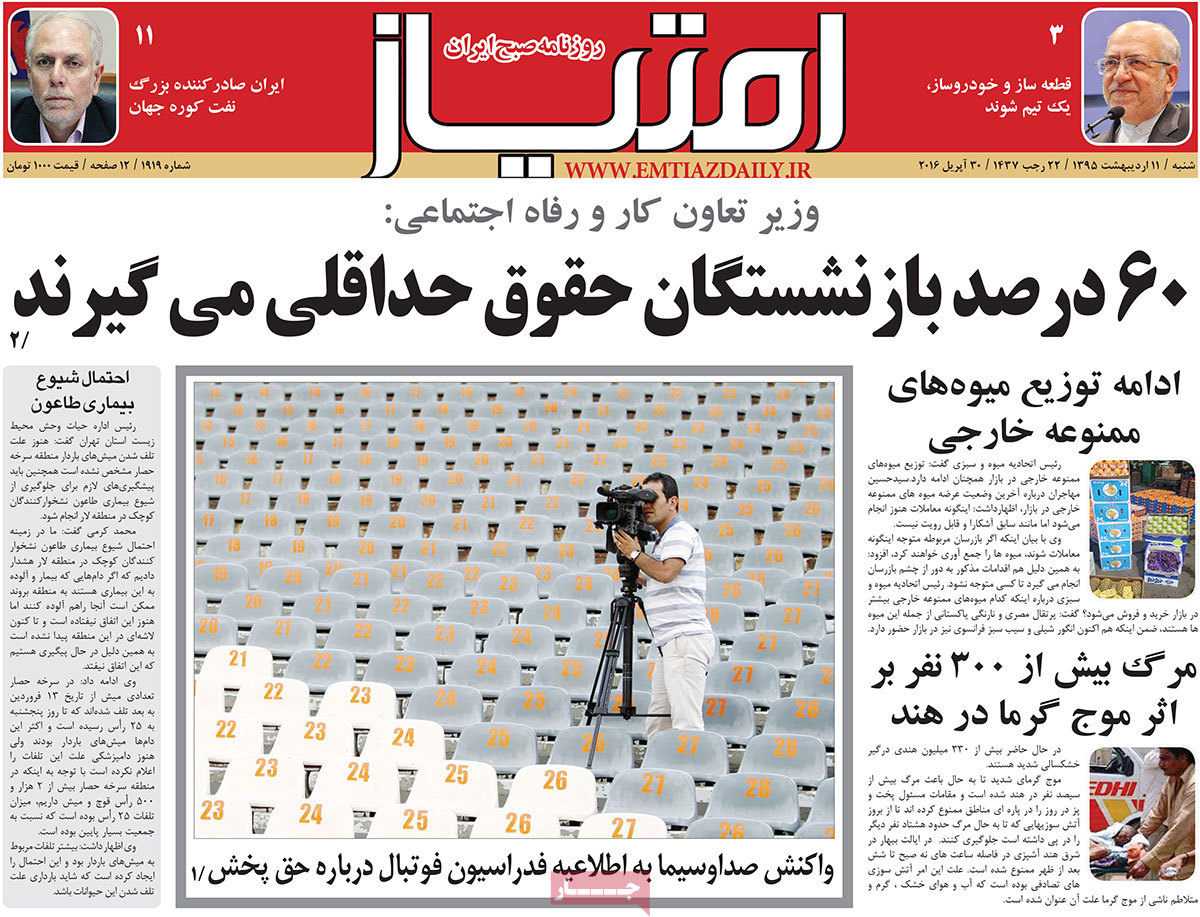 ---
Ettela'at:
1- Iran's South Pars Gas Field to Produce as Much as Qatar This Year
2- Run-Off Parliamentary Elections Held across Iran: Results to Be Announced
3- $2bn of Clothes Annually Smuggled into Iran: Trade Minister
4- Minister: Licence for Import of American Cars Should Be Revoked
---
Ghanoon:
1- Iranian Jurists in War of Laws with US
2- Ambiguities in Iran's Laws Present It as Human Rights Violator: Academic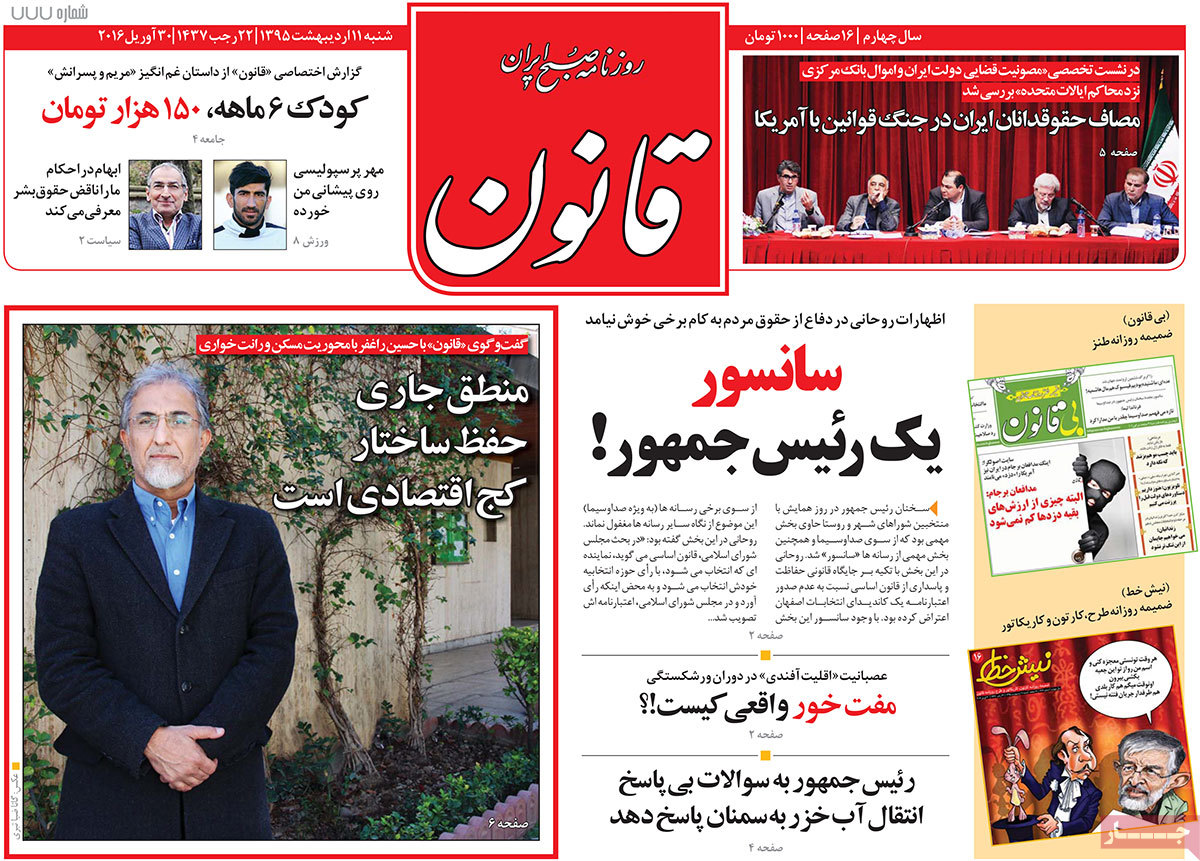 ---
Hamshahri:
1- Iranian Refugee Dies in Australia
2- Conflict in US over Heavy Water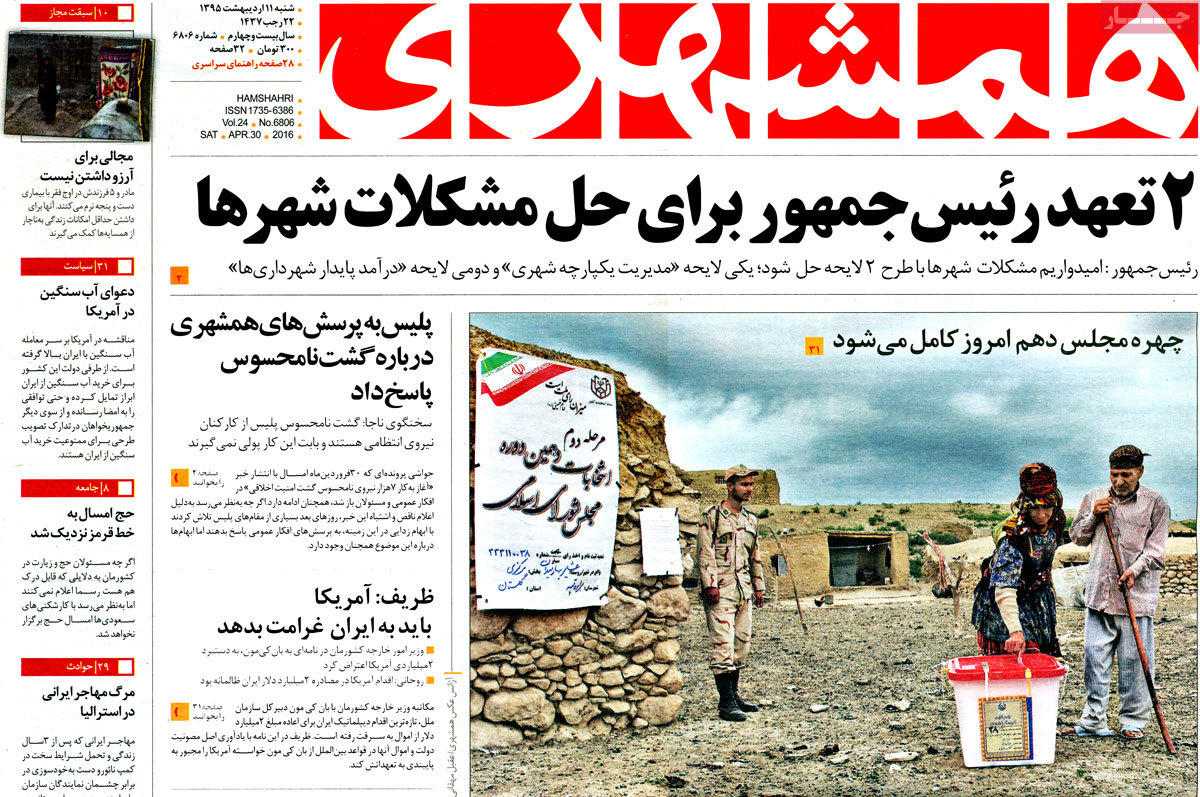 ---
Hemayat:
1- New Phase of Iranophobia on US Agenda
2- Elections HQ: High Turnout in Run-Off Parliamentary Polls
3- Al Saud Has No Serious Desire to Receive Iranian Hajj Pilgrims: Official
4- French Crackdown on Labour Protests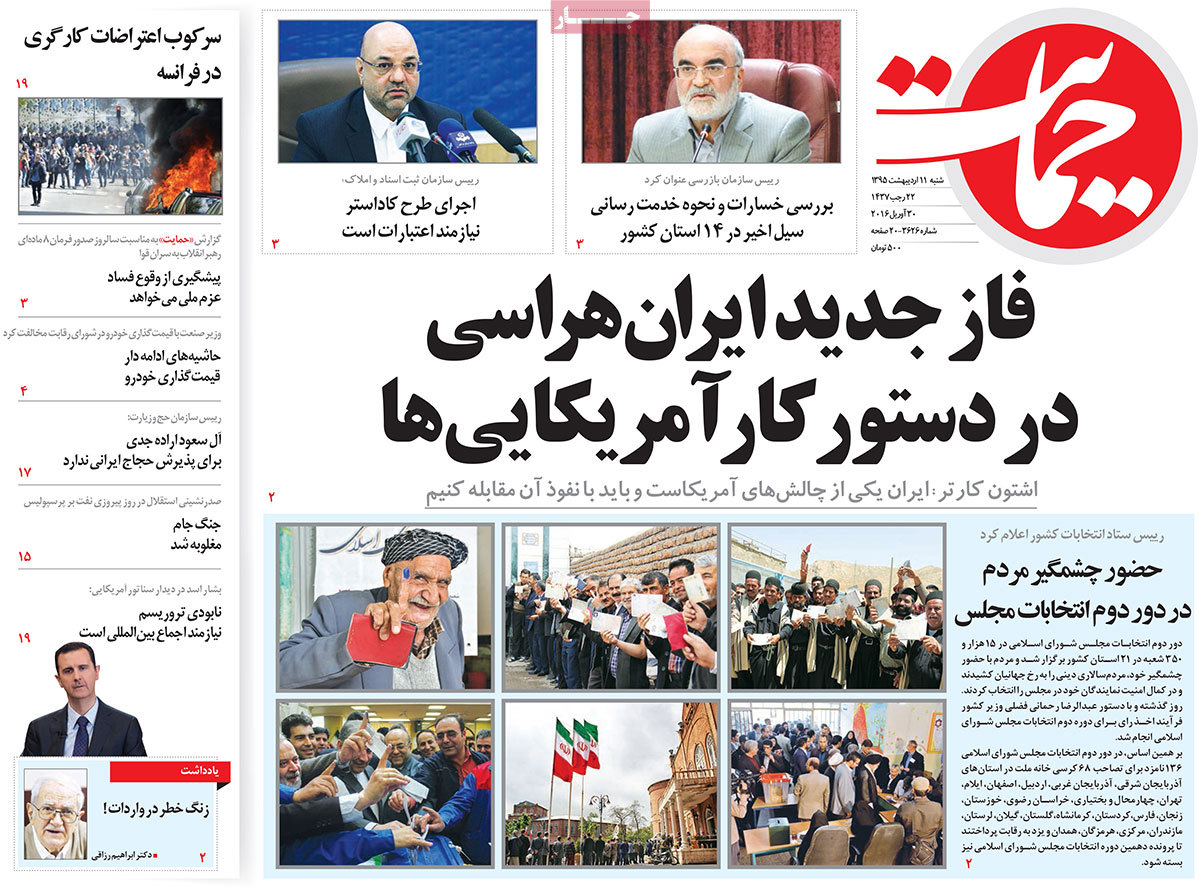 ---
Keyhan:
1- Central Bank's Questionable Contract Gives Iran's Key Banking Information to US
2- Wherever Slaughter is Reported, Saudi Arabia is There: Cleric
---
Jomhouri Eslami:
1- British Banks Form Committee to Examine Termination of Anti-Iran Sanctions
2- Iran Accelerates Oil Exports to Europe
3- Let's Make an Opportunity Out of This Threat (US Seizure of Iranian Assets) – Editorial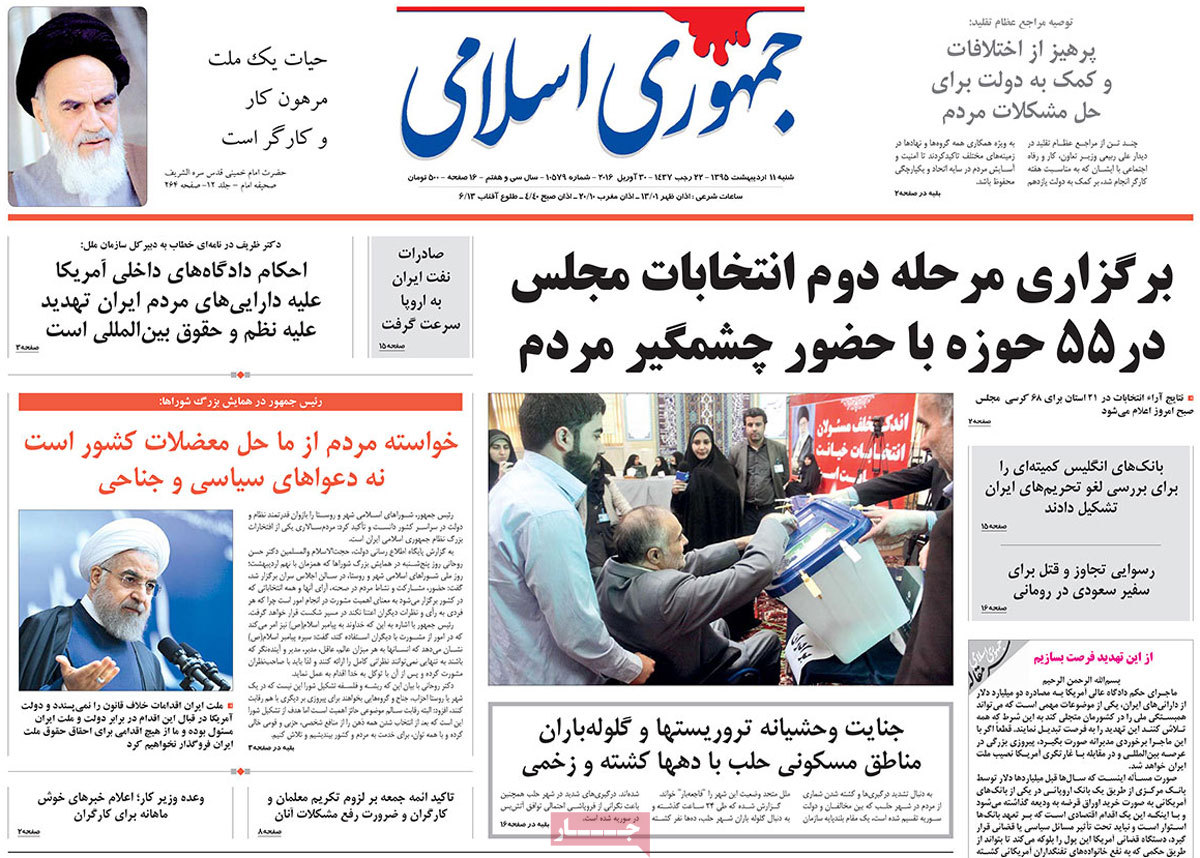 ---
Khorasan:
1- Iran to Boycott Hajj If Saudi Arabia Does Not Accept Its Conditions: Minister
2- Objectives behind Washington's Deployment of New Forces to Syria
---
Resalat:
1- Public Hatred of US Stirred Up: When Everyone Calls US a "Thief"
2- US Has Maintained Its Hegemonic Habits: President Rouhani
---
Sayeh:
1- Competition between Dates and Oil in Global Markets to Increase Iran's Income
2- Concerns over Shutdown of 100 Oilfields: Major Oil Firms Do Not Trust North Sea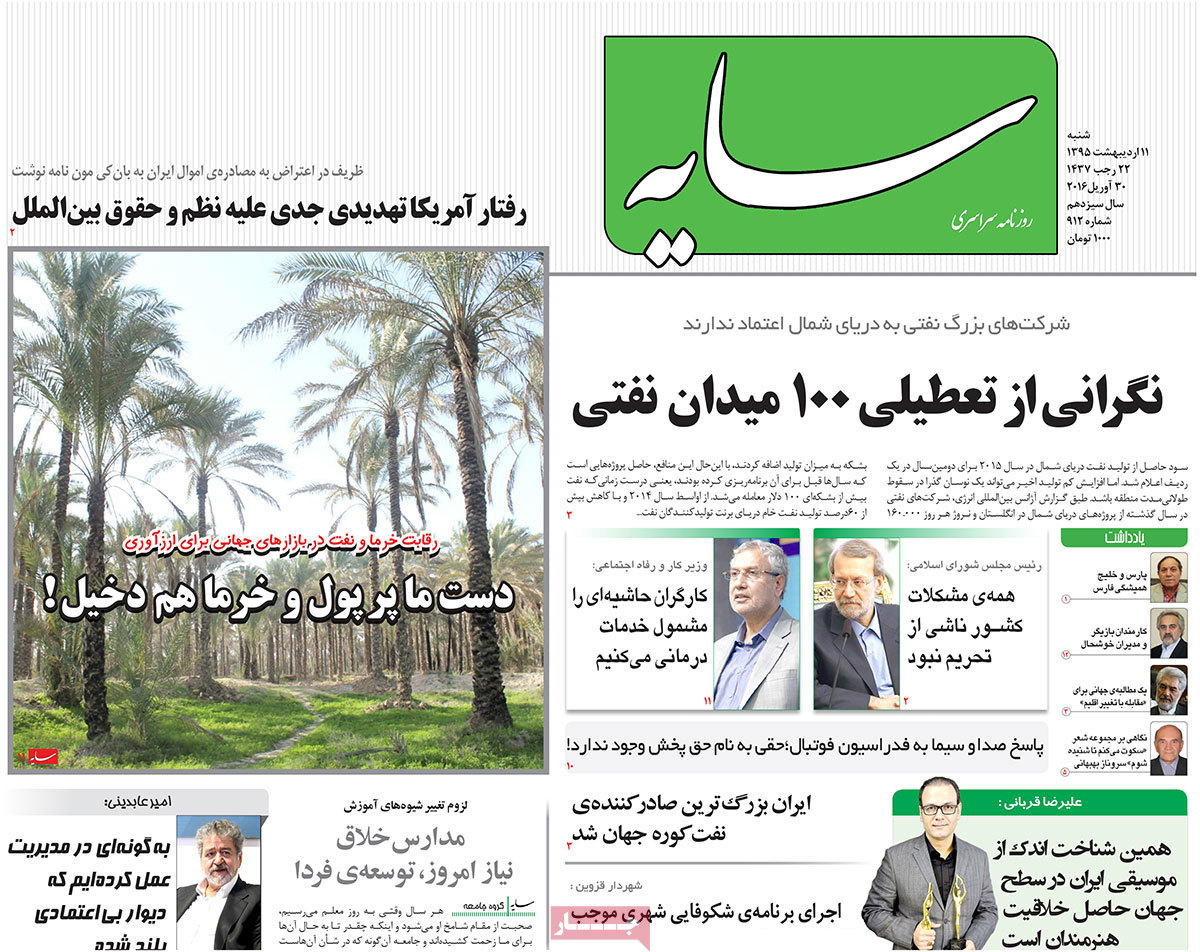 ---
Shahrvand:
1- Heavenly Hands in the Subway: 800 Medical Students Treat 65,000 Citizens for Free
2- One-Eighth of Iranians in Danger from Old Architecture
---
Sharq:
1- Imam Khomeini's Grandson Meets Father of Setayesh [Afghan Girl Brutally Killed in Iran]
2- Flounders Accidentally Caught by Deadly Nets [in Persian Gulf Island of Qeshm]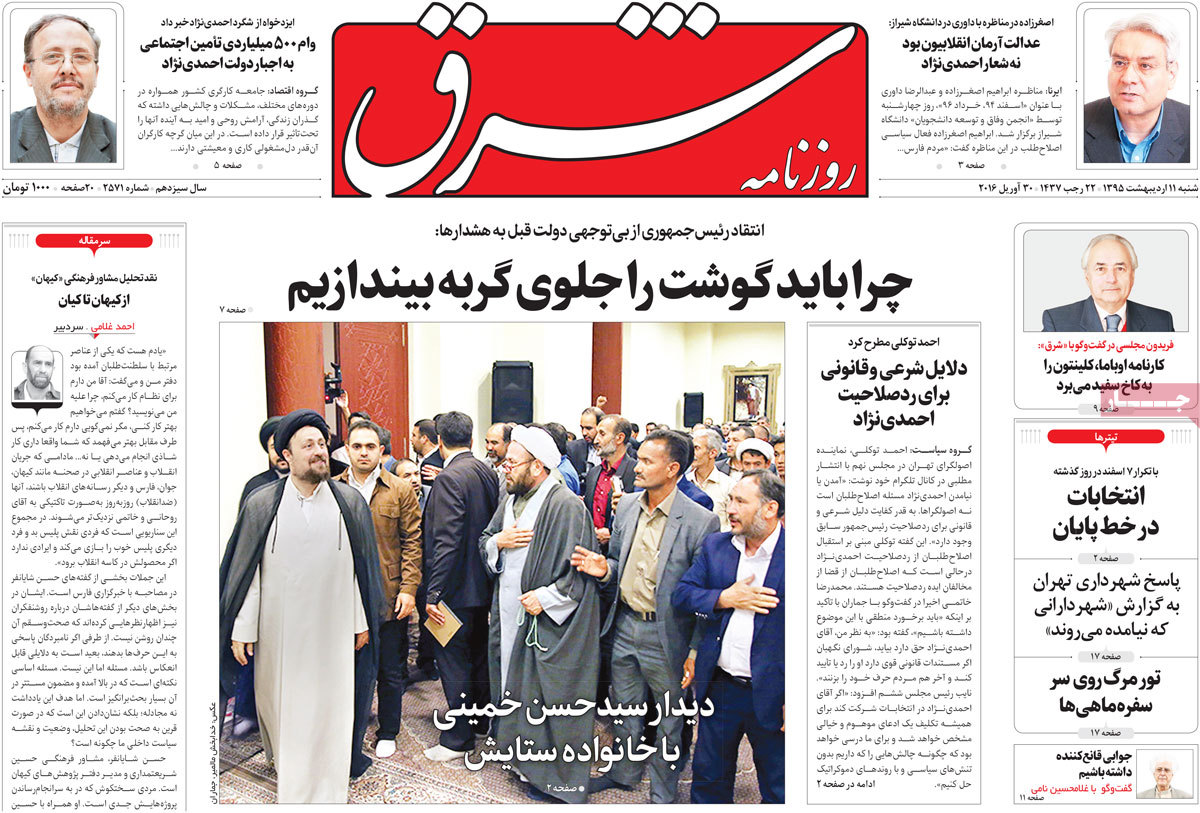 ---
Vatan-e Emrooz:
1- Top Cleric Warns against JCPOA Becoming Form of Slavery
2- Any Persian Gulf Conflict Would Engage Entire World: Ayatollah Mohammad Khamenei