Iranian newspapers on Thursday covered the remarks made by the Leader of the Islamic Revolution, Ayatollah Seyed Ali Khamenei, against the US Iranophobia project and its efforts to hinder global trade with Tehran. The Leader's call for Iranian people's high turnout in Friday run-off parliamentary elections was also reflected.
Iranian President Hassan Rouhani's harsh criticism of the US seizure of Iran's assets was also covered by Iranian press.
Many front pages also paid attention to former president Mahmoud Ahmadinejad's reaction to accusations over his government's role in the US seizure of Iran's assets.
Abrar:
1- Iran and Uruguay Resolved to Fight Any Form of Terrorism
2- White House Emphasizes Having Permission to Purchase Heavy Water from Iran
3- Iran's Judiciary Chief to Visit Iraq
4- Parliament Speaker Larijani Holds Talks with Belgian Counterpart on Promotion of Economic Ties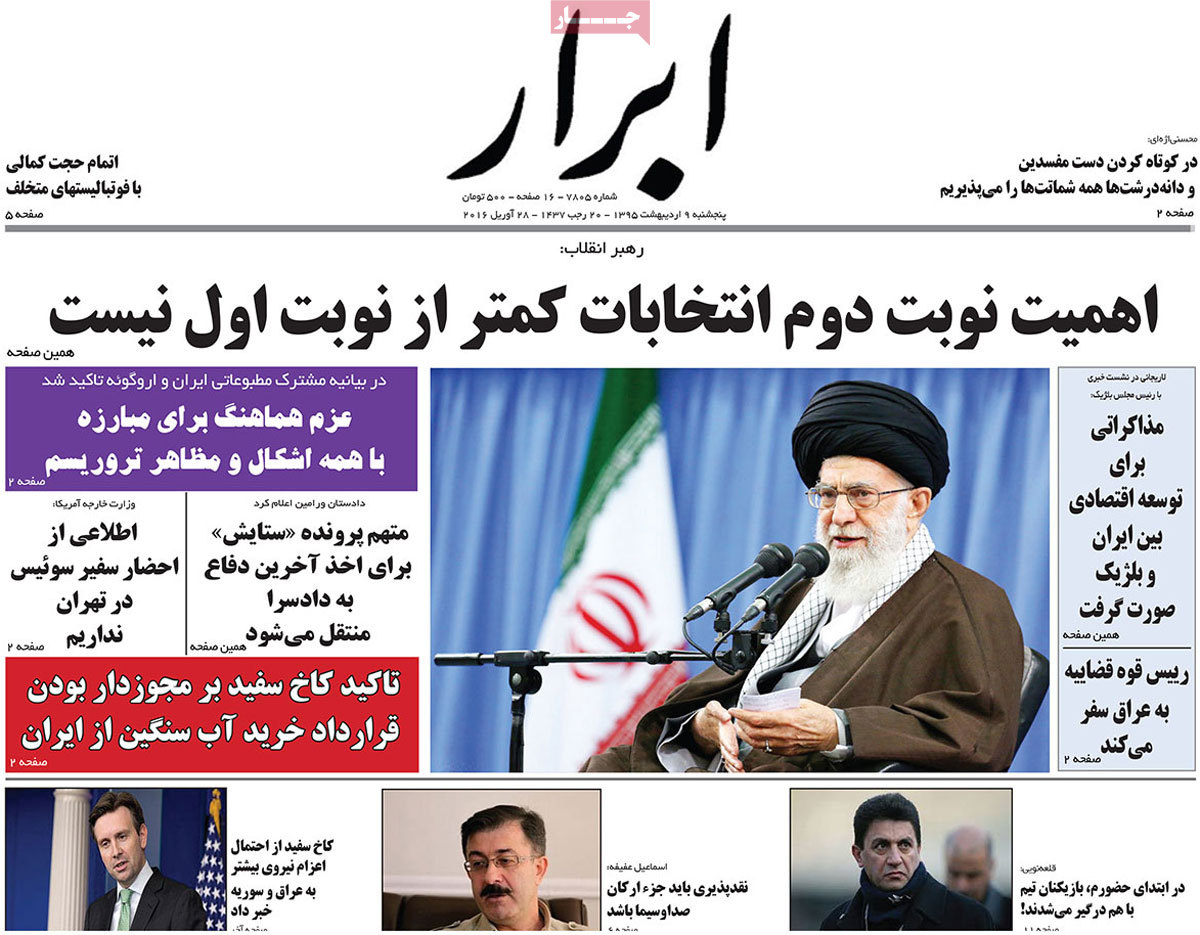 ---
Abrar-e Eqtesadi:
1- 35 Tons of Decrease in Iran's Gold Reserves Due to Sanctions
2- Opening of Iran-Europe Trade Promotion Centre
3- UK Vows to Release Iran's Frozen Natural Gas Dollars
4- Range of Iran's Oil Customers: From Mongolia to Italy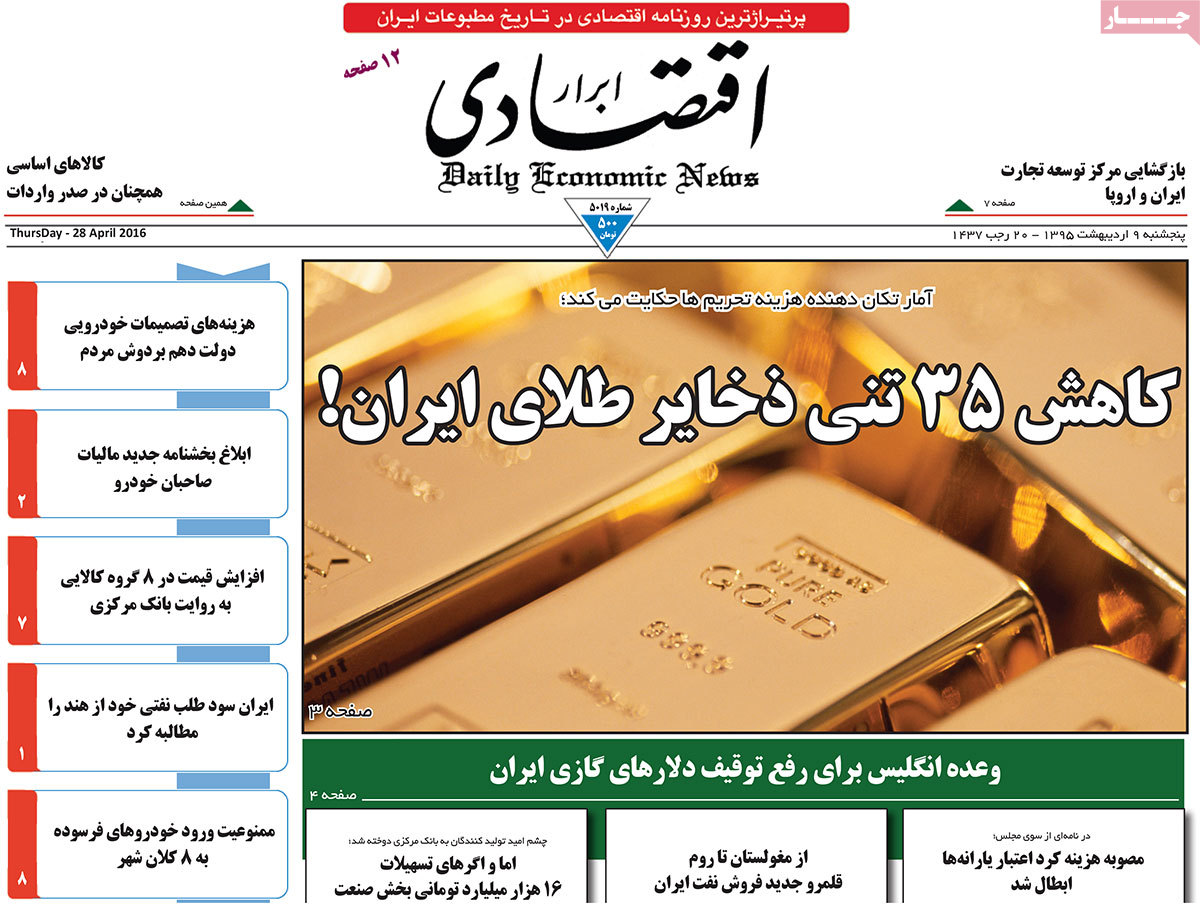 ---
Aftab-e Yazd:
1- US Adventurer: I Wasn't Fingerprinted, Tehran is Safe
2- On Ahmadinejad's Statement about US Seizure of Iran's Assets: Escape Instead of Apology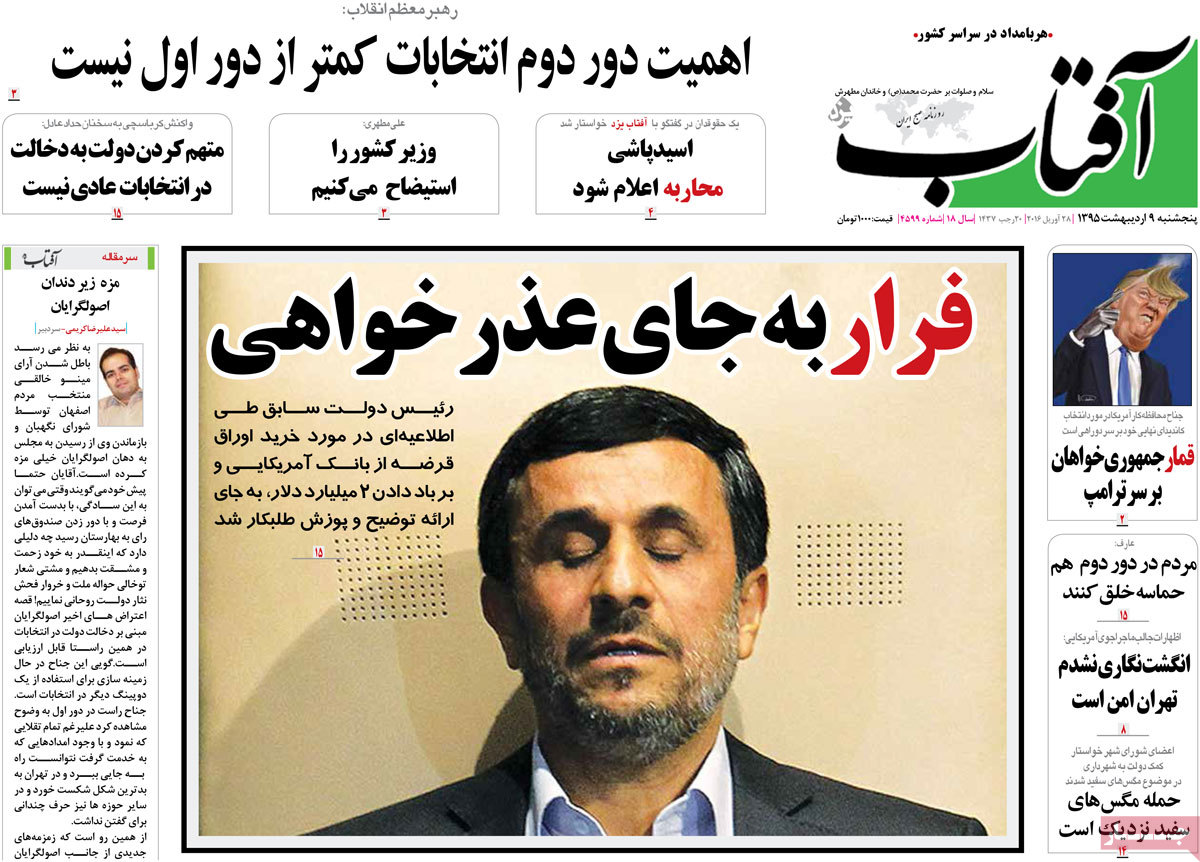 ---
Arman-e Emrooz:
1- Duel Continues between First VP Jahangiri and Ex-President Ahmadinejad
(Pinning the Blame on Each Other's Governments over US Seizure of Iranian Assets)
2- Rouhani's Cabinet on Special Mission to Reclaim Iranian Property
3- Parliament to Impeach Interior Minister: MP
4- Huge Benefits Make Smugglers Creative: Drug Trafficking Using Catapult!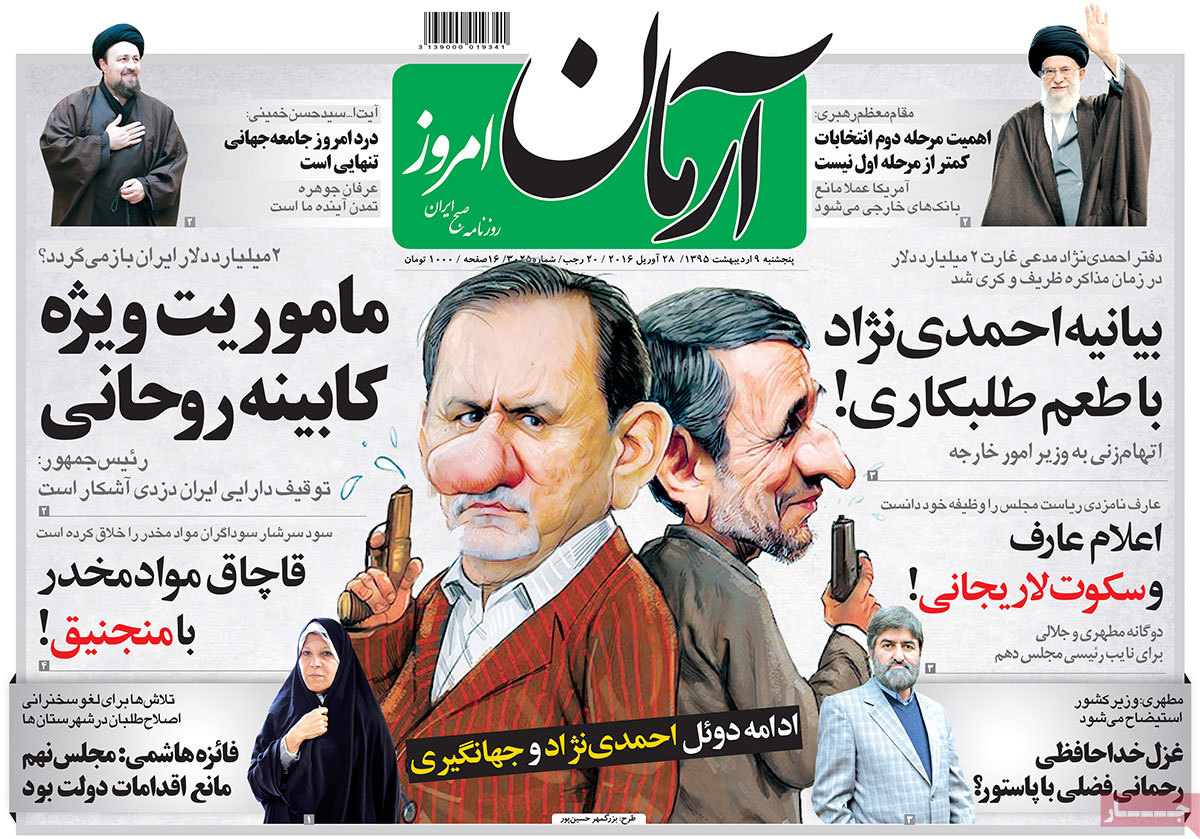 ---
Emtiaz:
1- Illicit Drugs Being Sold in Some Grocery Stores
2- Lake Urmia Out of Coma: Official
3- Iran's Gasoline Exports up by %100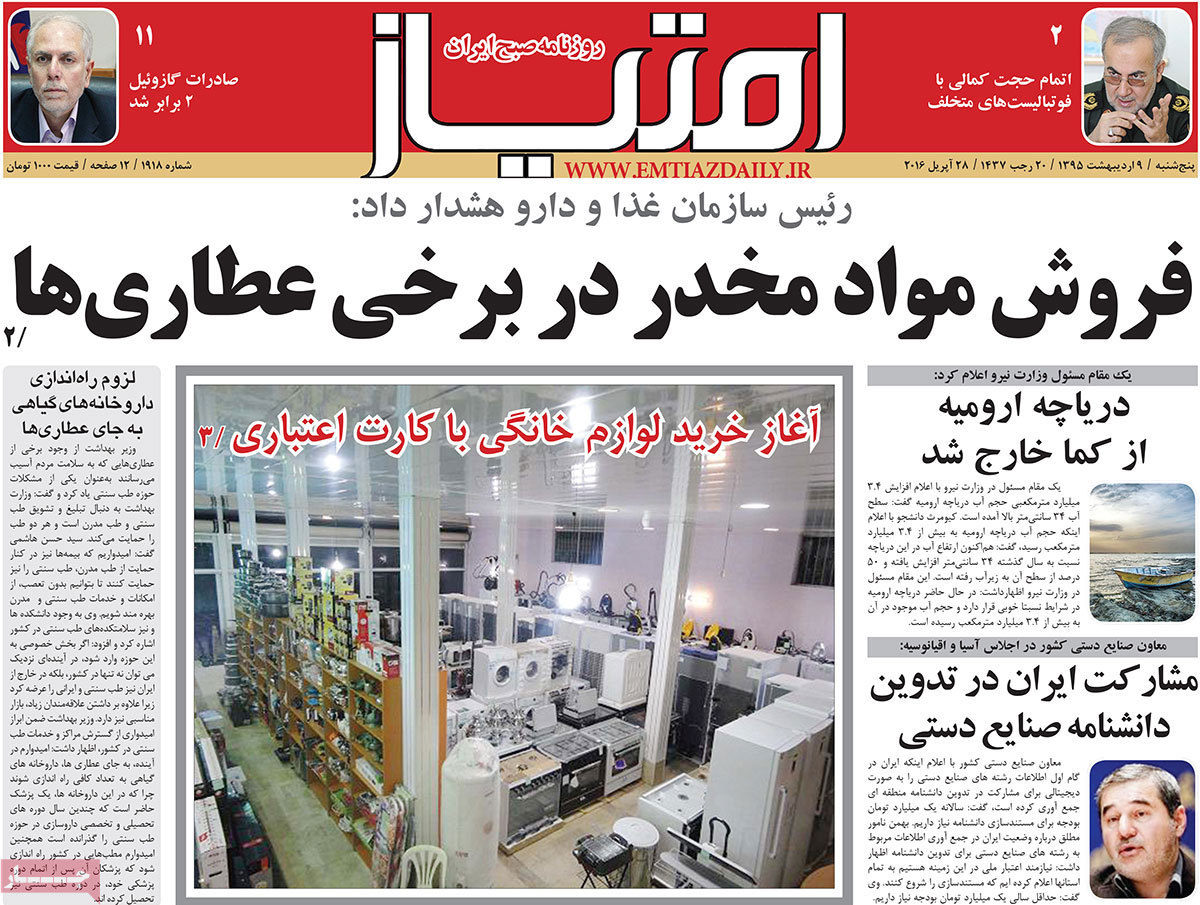 ---
Etemad:
1- Iran Not to Support Syria's Assad as a President for Life: Deputy FM
2- Leader: US Deception Preventing Foreign Investors from Making Deal with Iran
3- $17bn of Contracts Ready to Be Signed in South Korean President's Visit to Iran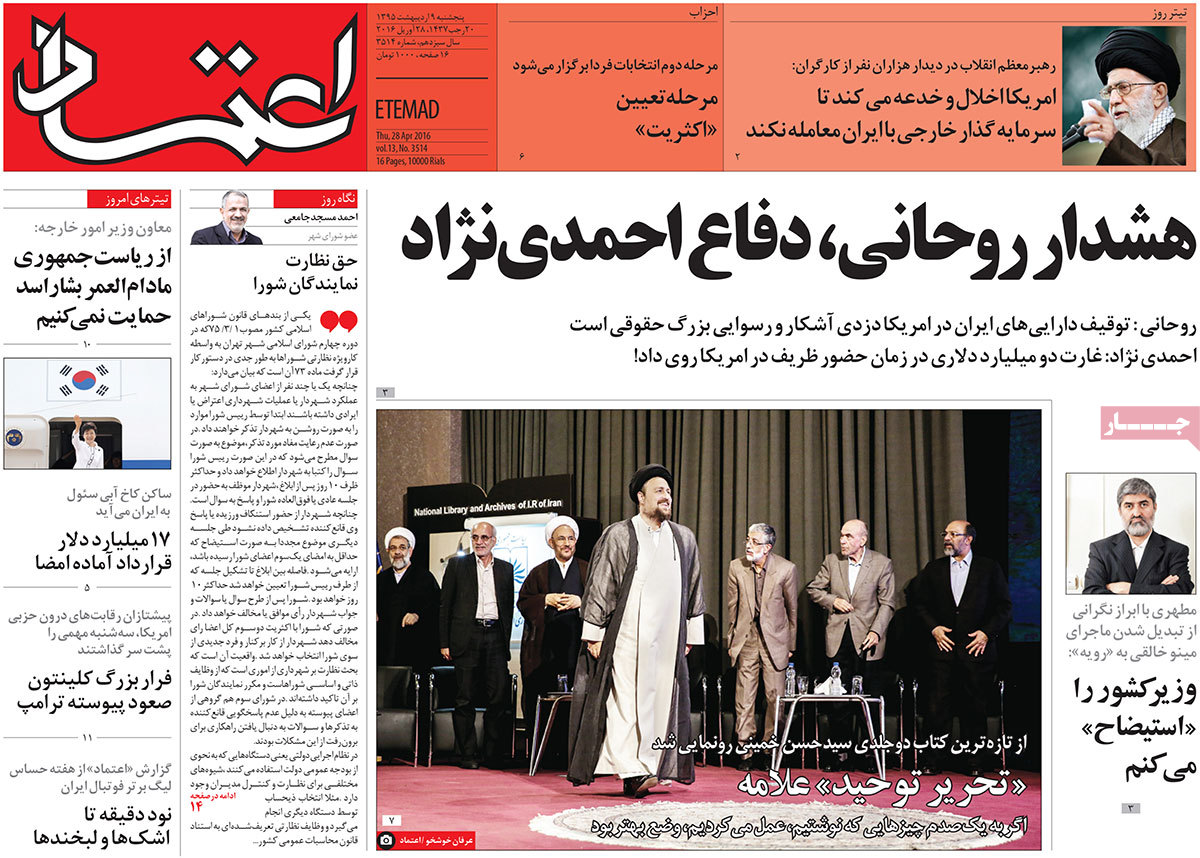 ---
Ettela'at:
1- Saudi Arabia Ready to Open Embassy in Israel
2- Leader Urges Strong Fight against Organized Smuggling of Goods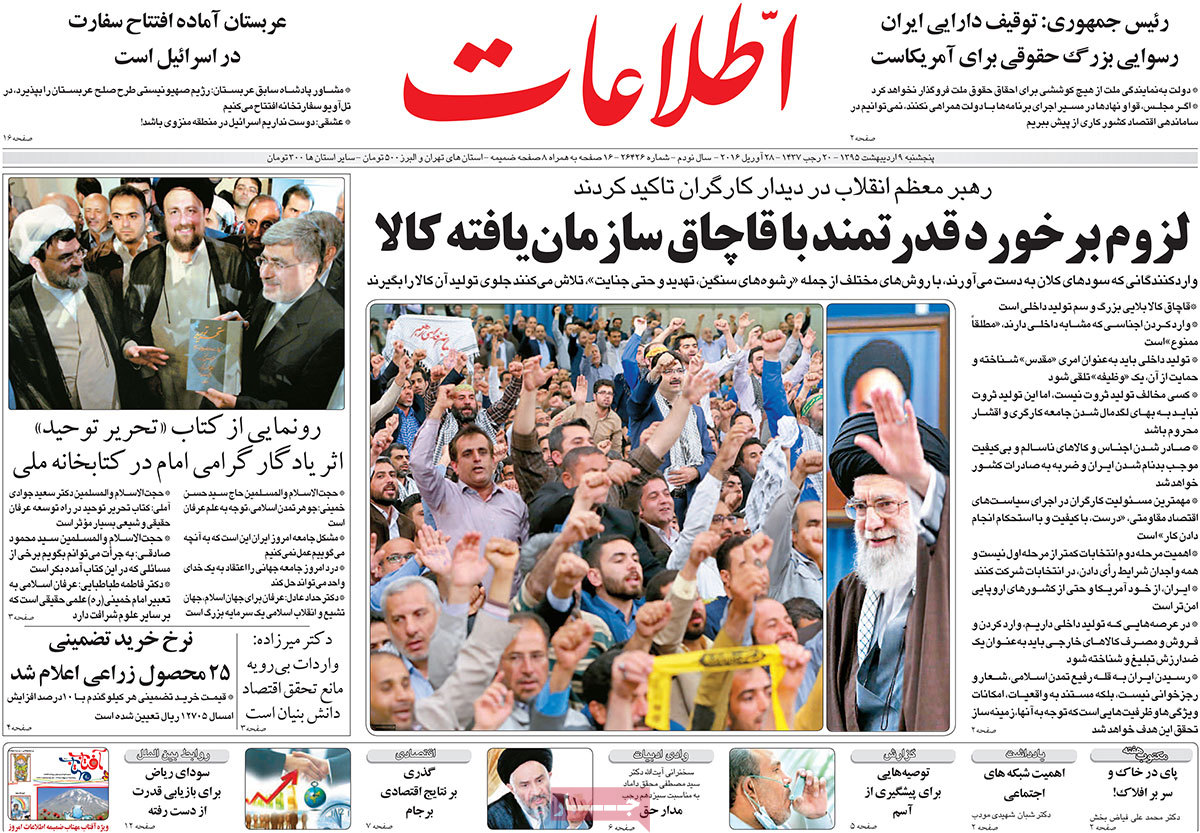 ---
Hemayat:
1- Terrorists Create Crises Thanks to US and Israel's Support: DM Dehqan
2- Healthy Water Shortage Cause of 10% of Diseases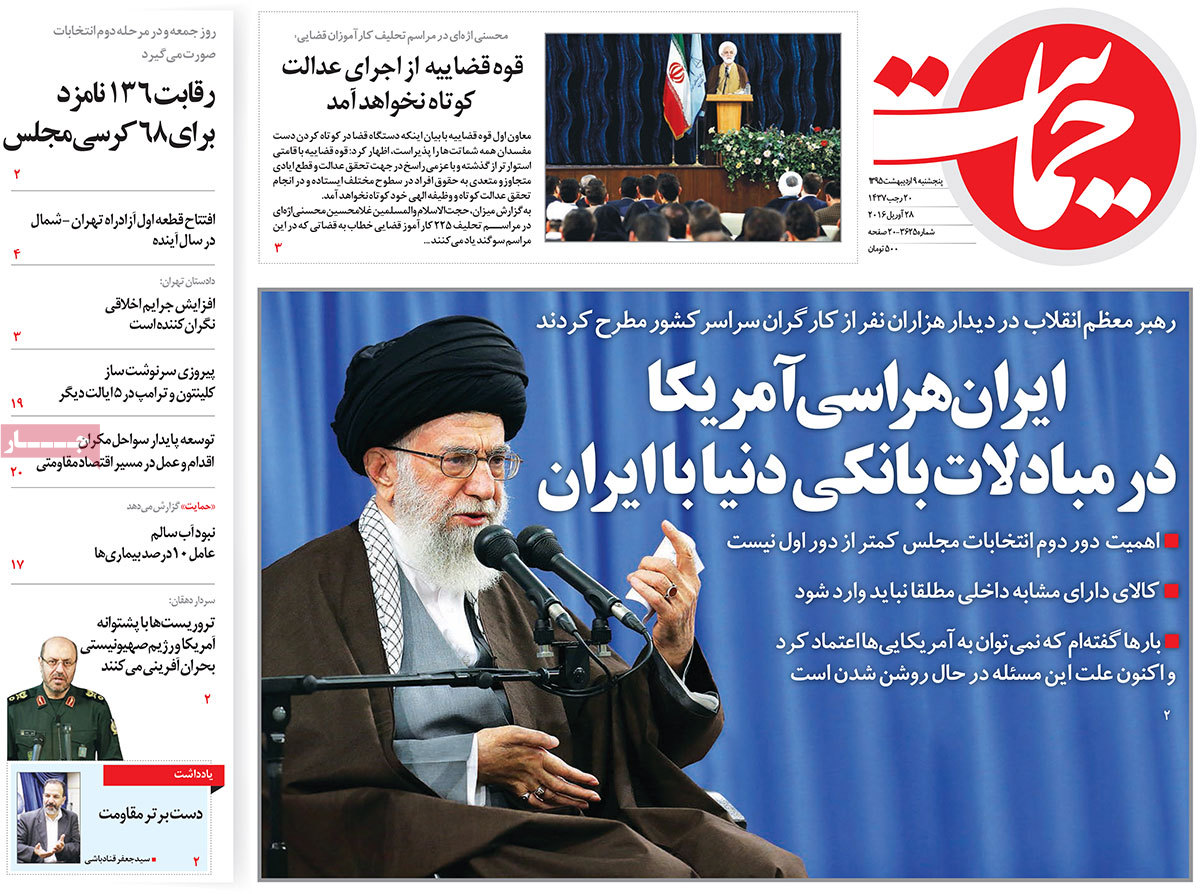 ---
Iran:
1- Leader: Importance of Run-Off Elections Not Any Less than First Round's
2- People to Decide on Friday Which Faction Will Have Parliament's Majority
3- Afghan Man Takes Children's Guns, Gives Books to Them
4- South Korean Envoy: Impossible to Ignore Iran in Int'l Relations
5- Honest Postman Returns 34 Missing Cheques to Owner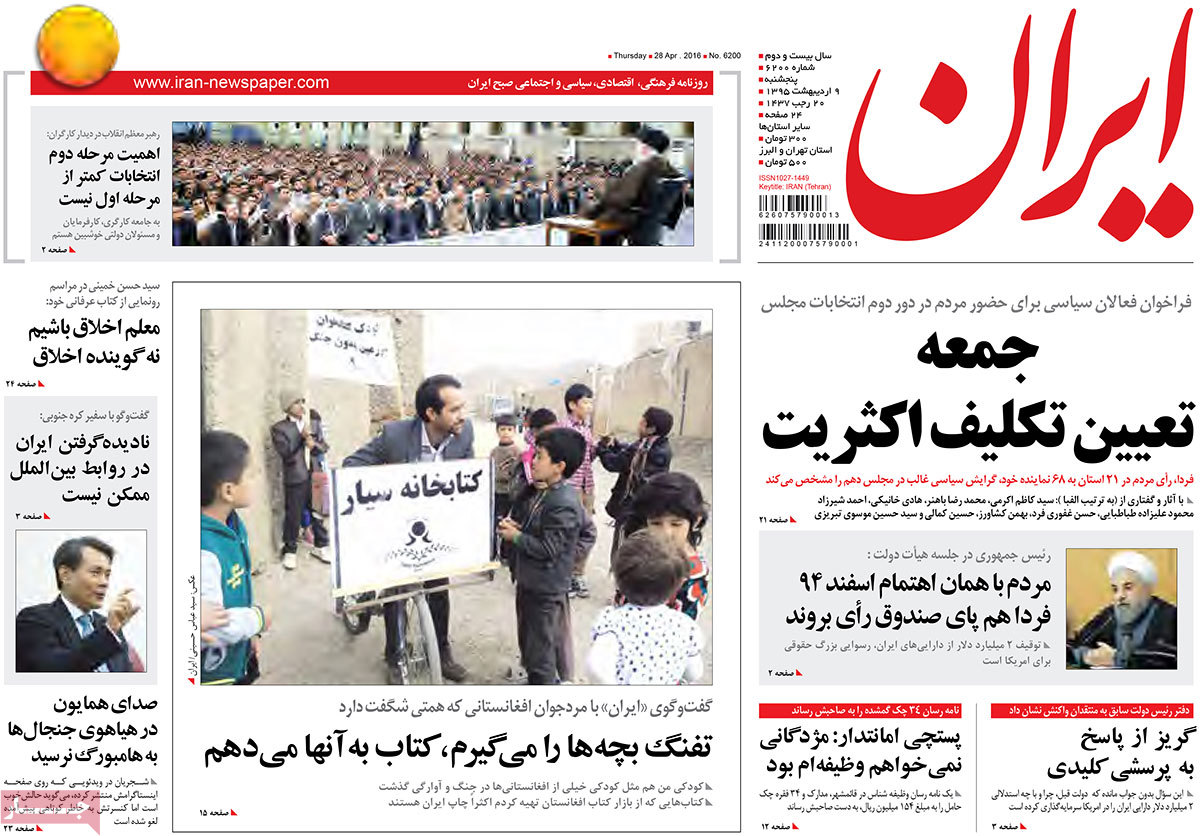 ---
Javan:
1- US Makes Deals on Paper, Spreads Iranophobia in Practice: Leader
2- National Might and Failure of US Post-JCPOA Illusions (Editorial)
---
Jomhouri Eslami:
1- Germany's Offer for Serious Presence in Iran's Petchem Industry
2- Georgetown University Professor: US is Israel's Lackey
3- Leader Urges All Eligible Iranians to Vote in Friday's Run-Off Elections
---
Keyhan:
1- Import of Goods with Iranian Counterparts Totally Prohibited: Leader
2- Leader's Advisor: Saudis Should Know They Can't Topple Syrian Gov't by Reinforcing Terrorists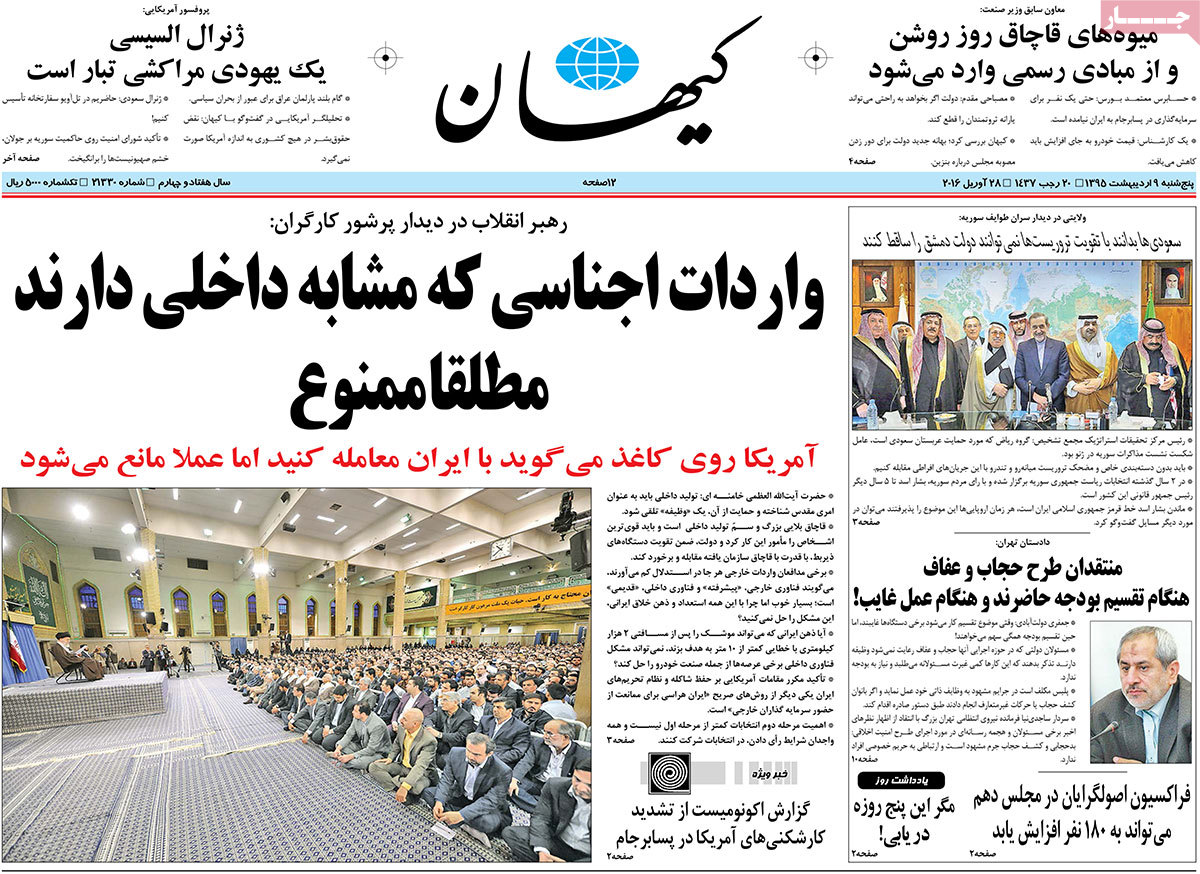 ---
Sayeh:
1- Iran, Africa Looking for Expansion of Ties
2- Report on Lives of Female Vendors in Tehran's Subway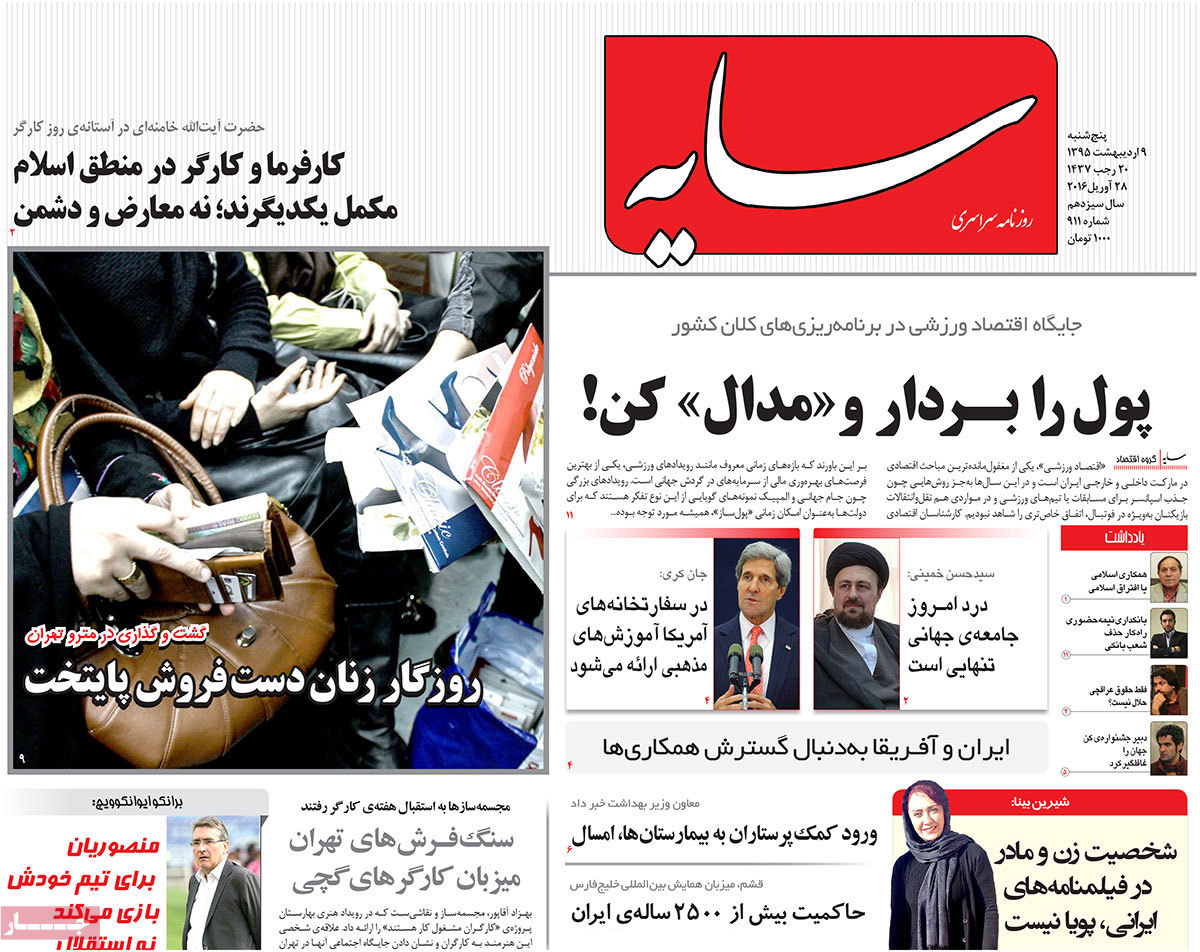 ---
Shahrvand:
1- Iranians Buy €5bn of Branded Clothes: Italian Fashion Official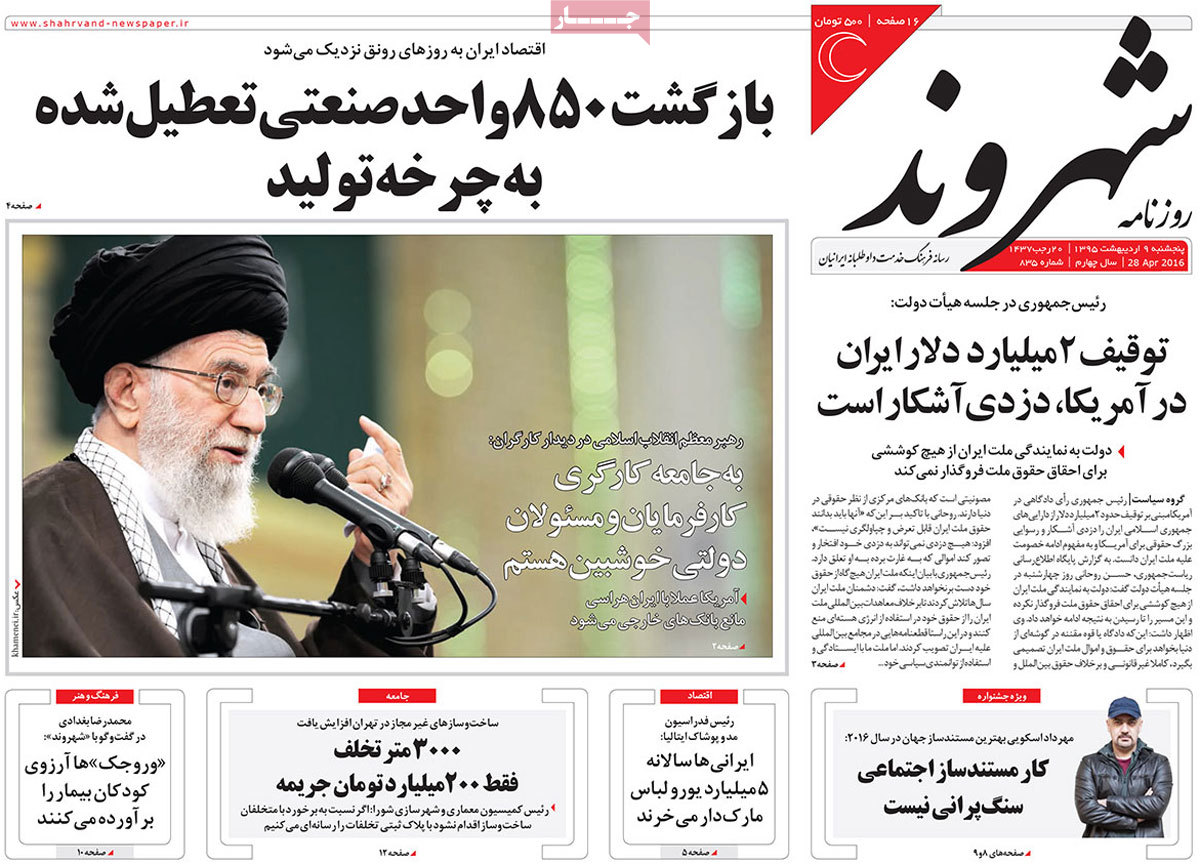 ---
Sharq:
1- Iranian Refugee Sets Himself on Fire in Australian Camp
2- We Gave the Money Away, But Current Nuclear Negotiating Team is to Blame: Ahmadinejad's Reaction to US Seizure of Iran's Assets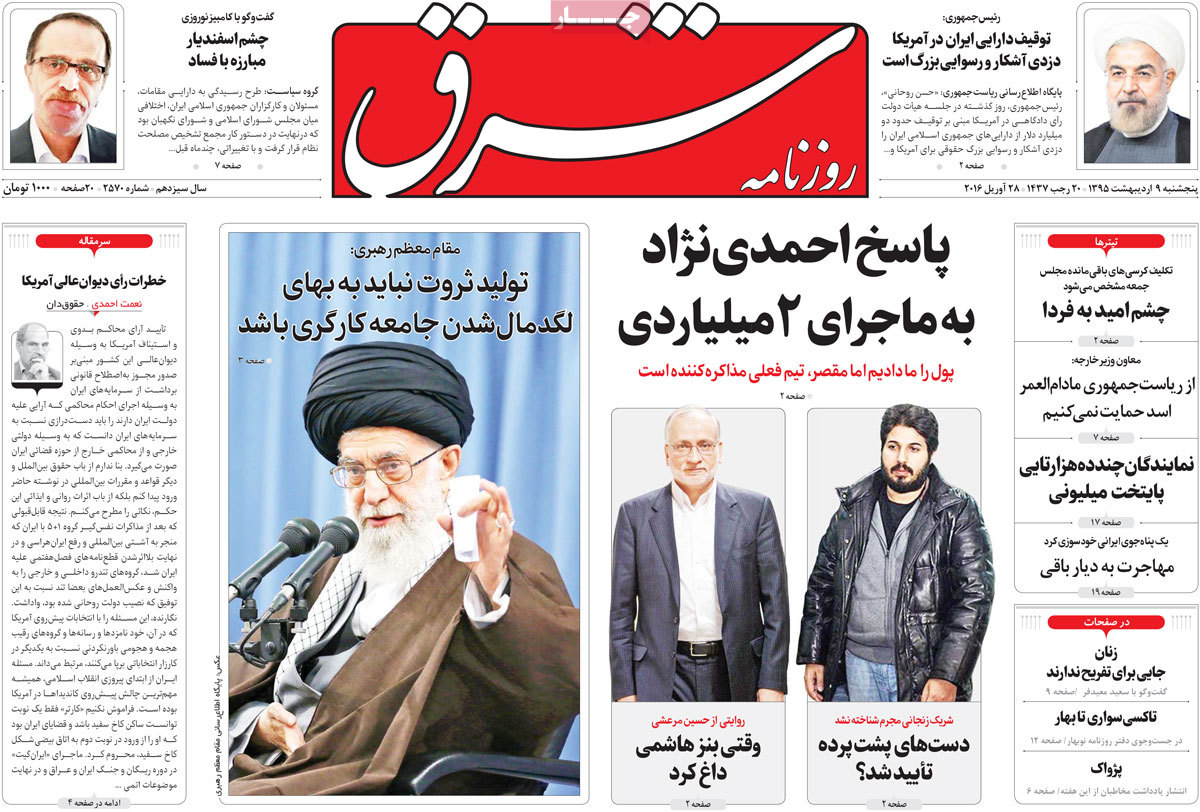 ---
Shorou:
1- US is International Bandit: President Rouhani