The recent US Supreme Court decision to seize $2bn of Iranian assets remained a top story today, continuing to receive plenty of commentary as to the legality of the decision, as well as opinions regarding who in Iran is to blame for allowing this to happen.
Foreign Minister Mohammad Javad Zarif, in particular, has made his views on the matter very clear internationally, with a much-reprinted New Yorker interview drawing a lot of attention. In addition, the Swiss envoy to Tehran was summoned to accept an official complaint from the Iranian government over the asset seizure, as Switzerland has been representing US diplomatic interests in Tehran since the embassy siege in 1979.
In other news, renowned and much-loved filmmaker Abbas Kiarostami has been discharged from hospital after a recent illness scare, saying he felt hopeful about his future health.
Both oil and gas have been showing marked improvement, year-on-year, as well as attracting new customers. Several dailies chose to draw attention to the fact that Canada and the US are set to strike new deals in the sector.
Abrar:
 Is Russia's S-300 Delivery to Iran Underway?
White House: GCC Stands by US in Supporting JCPOA
Resignation of Iran Football Coach Carlos Queiroz Officially Rejected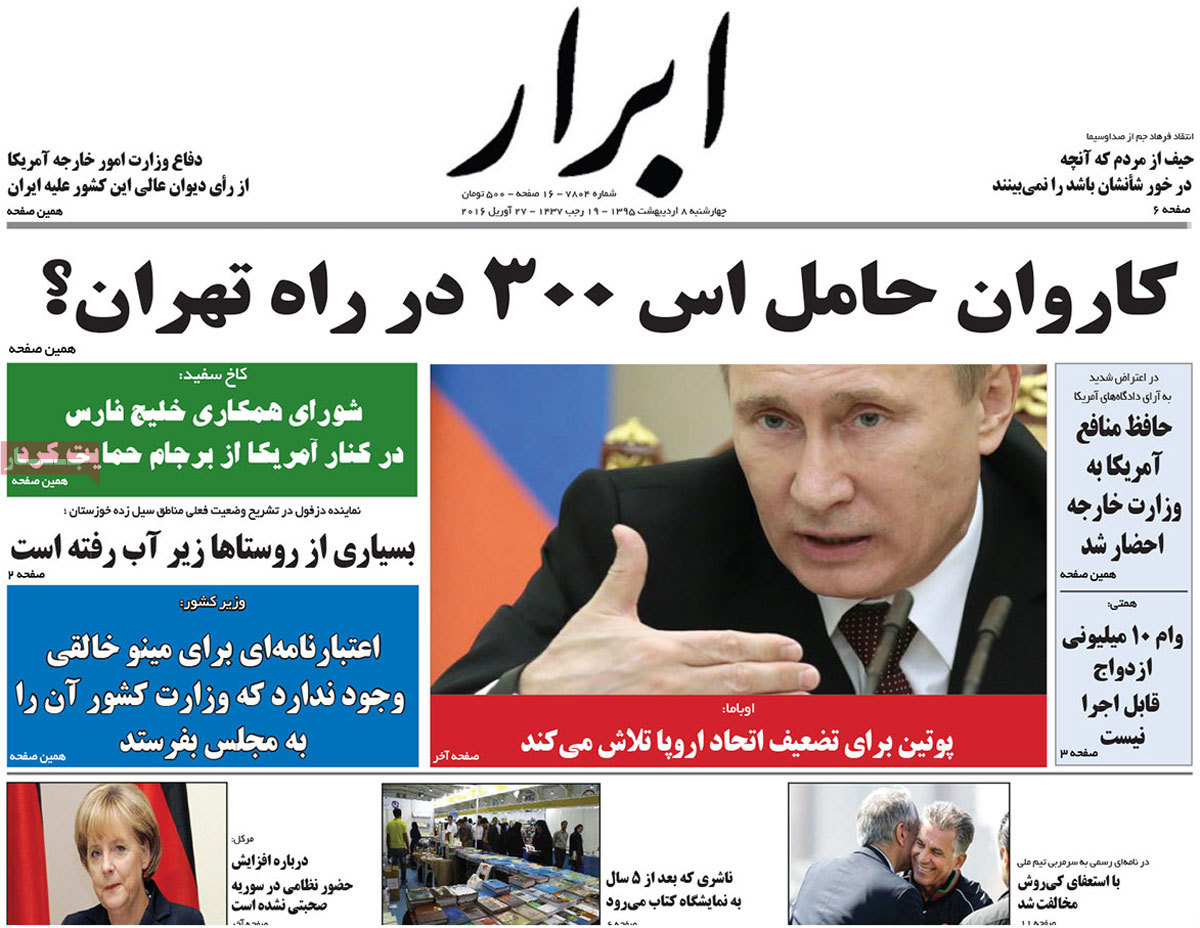 ---
Abrar-e Eqtesadi:
The US and Canada – Iran's New Oil Customers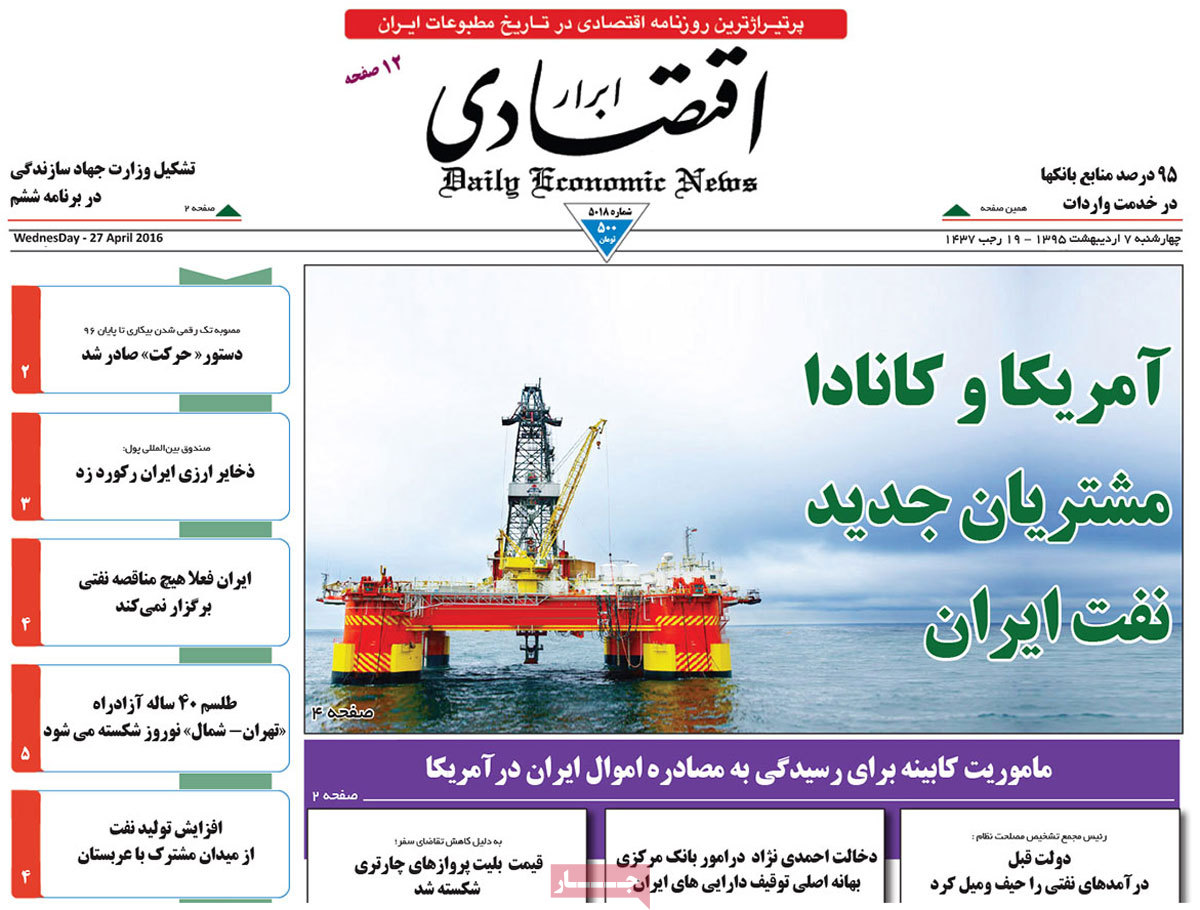 ---
Arman-e Emrooz:
US Court Ruling Is "Highway Robbery": FM Zarif
Swiss Envoy Summoned to Foreign Ministry over US Seizure of Iranian Assets
Supreme National Security Council to Study "Plainclothes Morality Police" Plan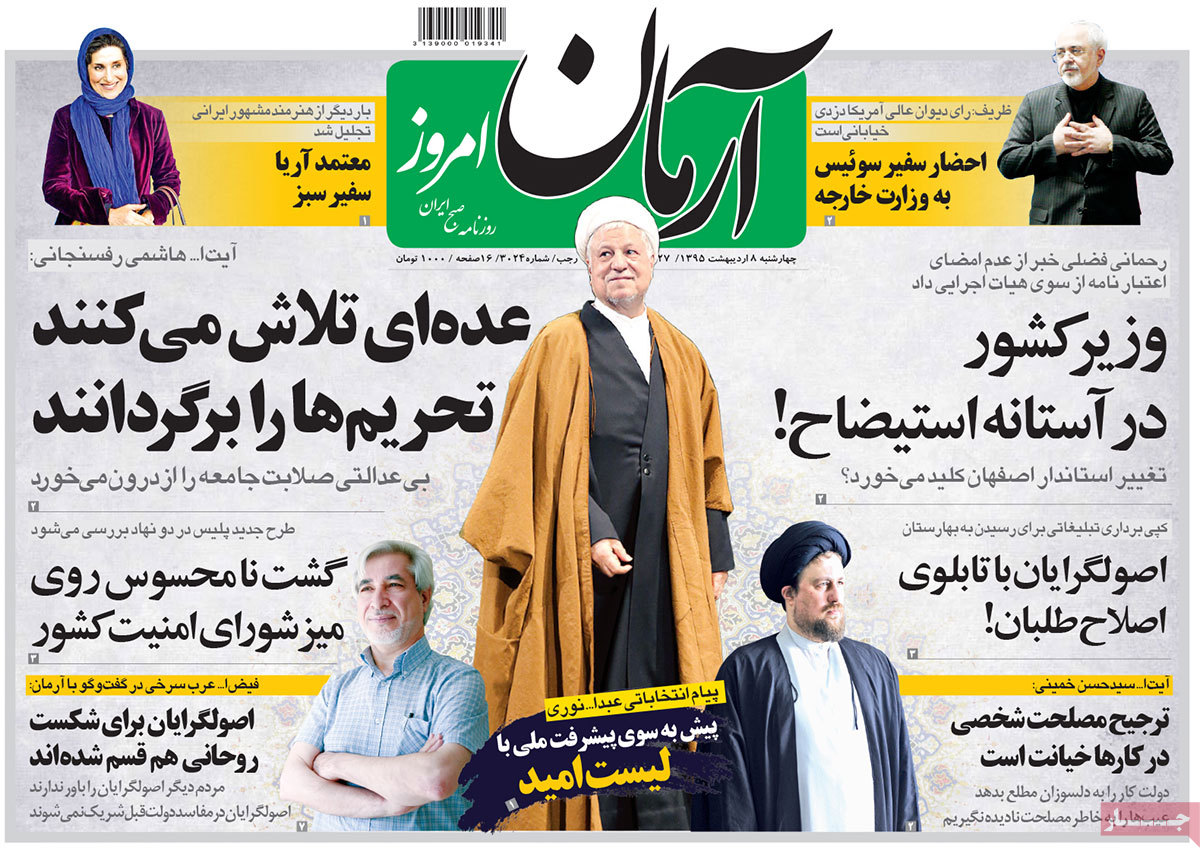 ---
Asia:
Tehran-Washington Oil Talks: US Return to Iran
Jaguar, Land Rover, Bentley Ready for Presence in Iran
---
Emtiaz:
Ali Daei, One of the World's 32 Best Goal Scorers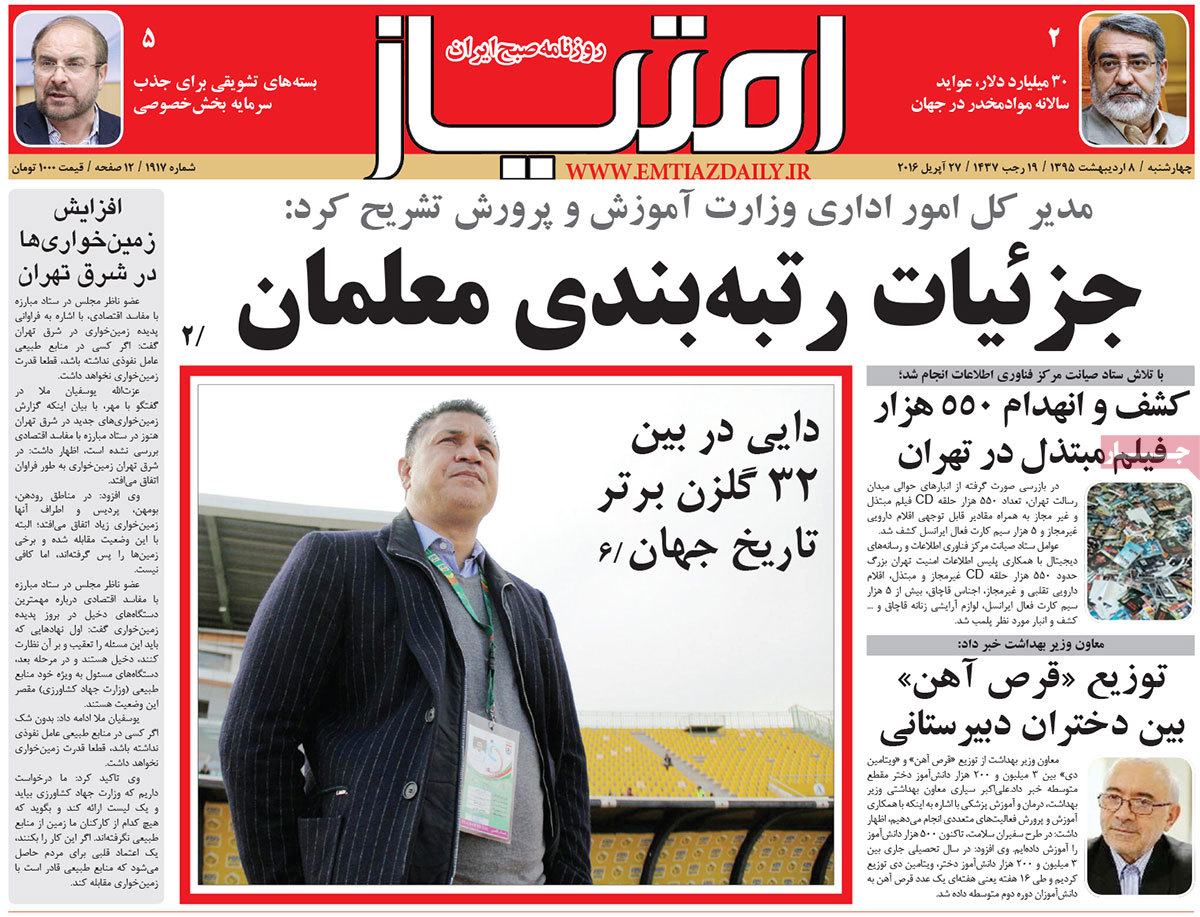 ---
Ettela'at:
Saudi Prince's Wife Financially Supported 9/11 Attacks: Independent
Putin: Hezbollah Has Final Decision in Lebanese Presidential Elections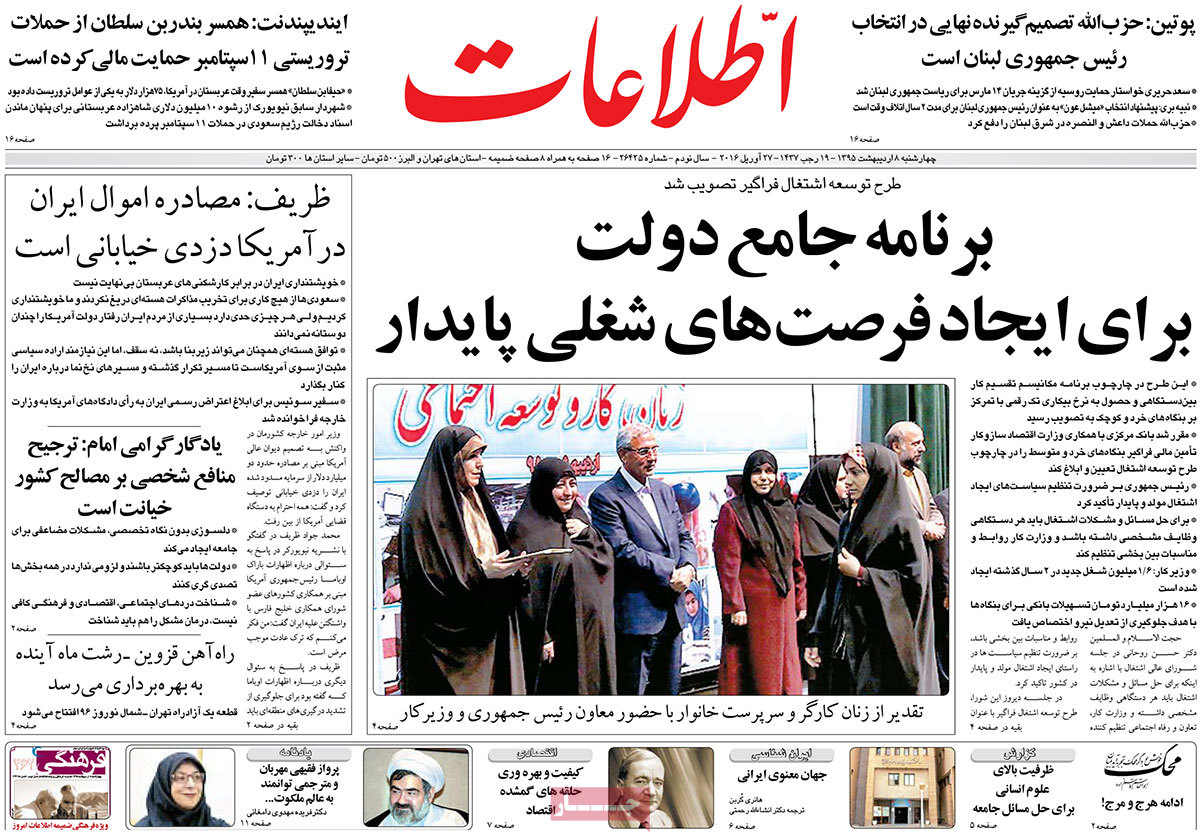 ---
Ghanoon:
Supreme Court vs. Supreme Court: Analysis of US Court Ruling's Legal Aspects
Democrats and Republicans Not Different in Int'l Relations: Analyst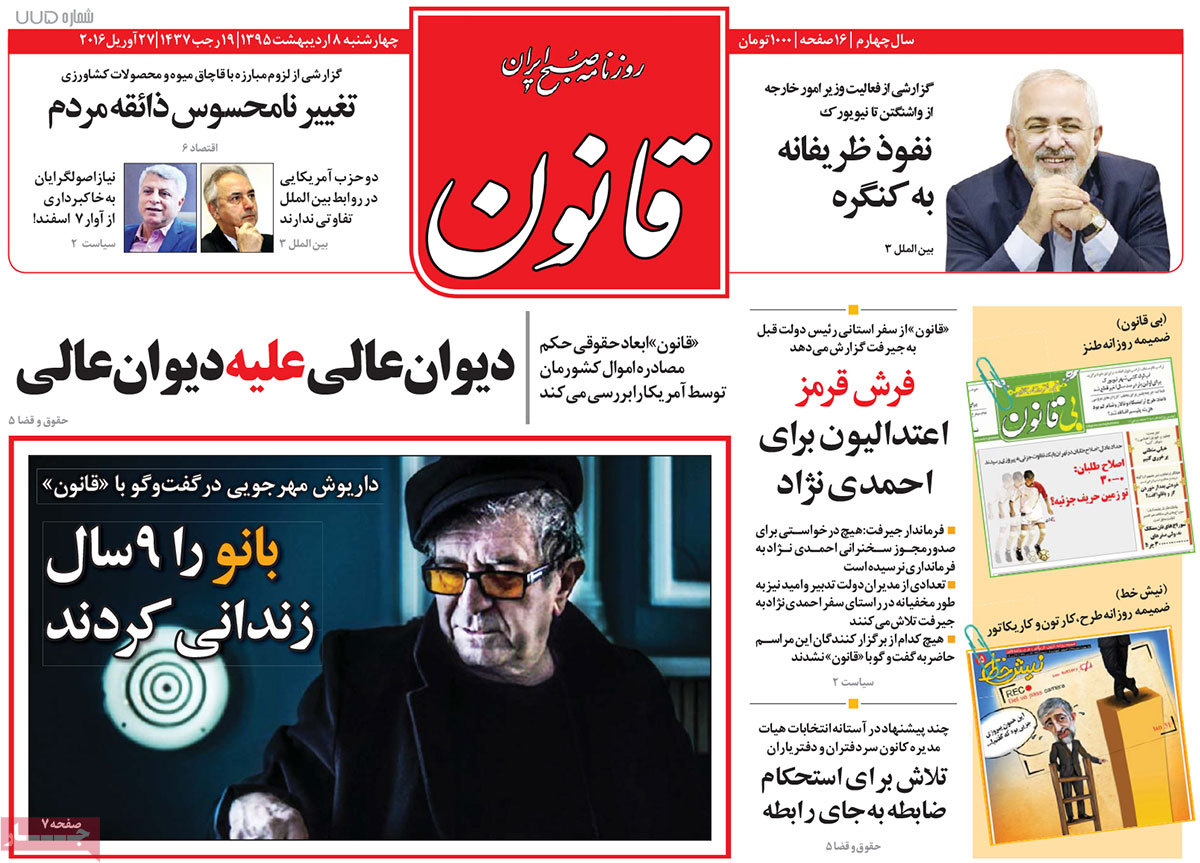 ---
Samt:
Visitors Coming Thick and Fast for Economic Talks in Tehran
Australia Keen to Cooperate in Iranian Mining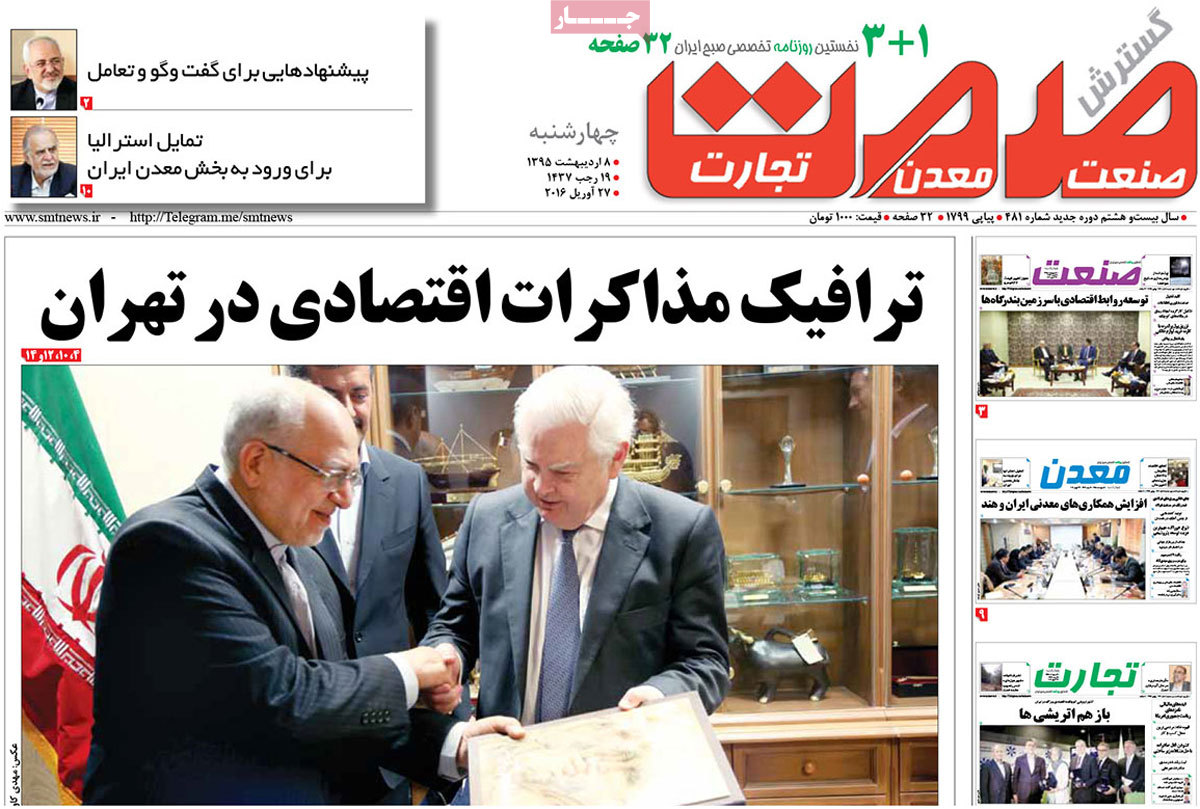 ---
Haft-e Sobh:
Record-Breaking $14bn Increase of Iran's Foreign Exchange Reserves: IMF
Flags of Macau, Tibet, Taiwan Removed from Tehran Int'l Congress after China's Anger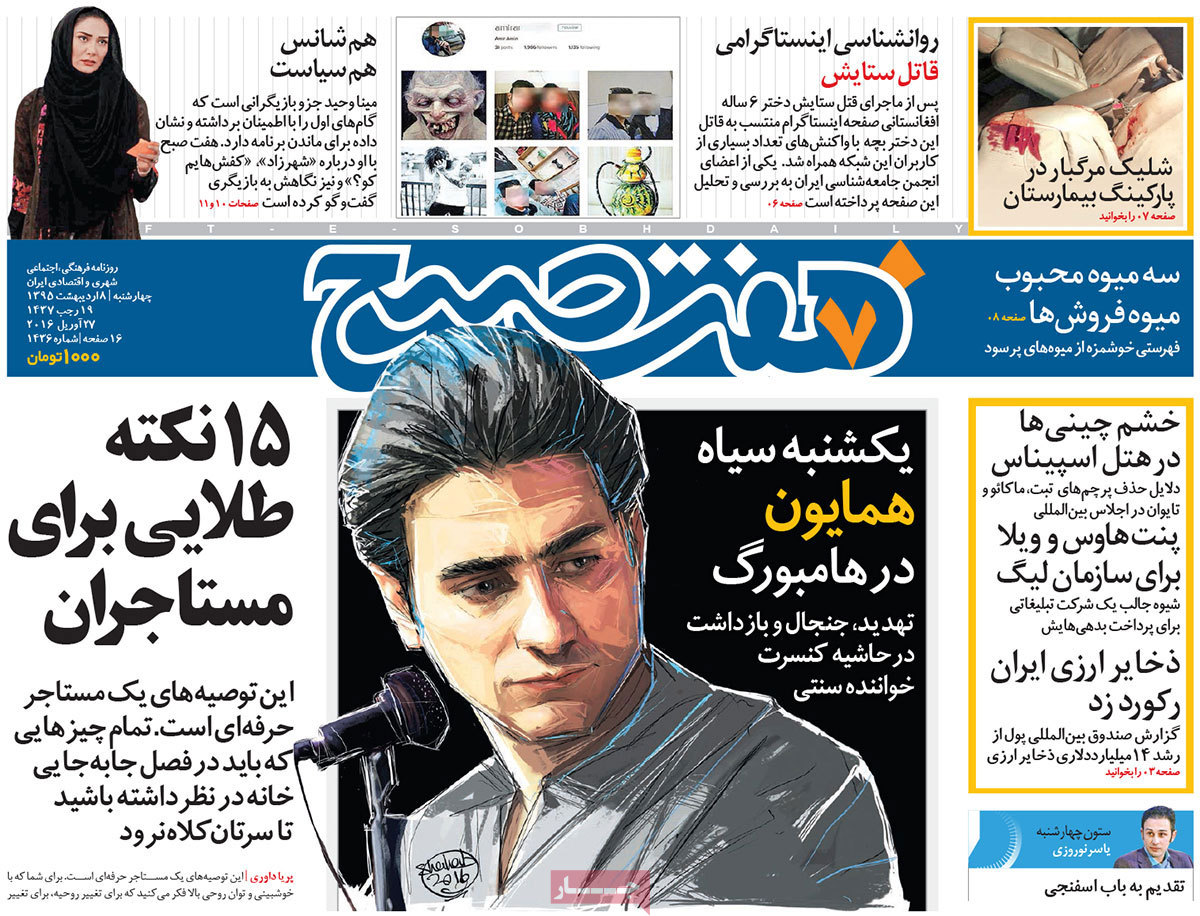 ---
Hemayat:
300 Iranian Inventions Waiting to Be Registered Internationally
Expansion of Ties with Latin American Countries Is Iran's Policy: Rouhani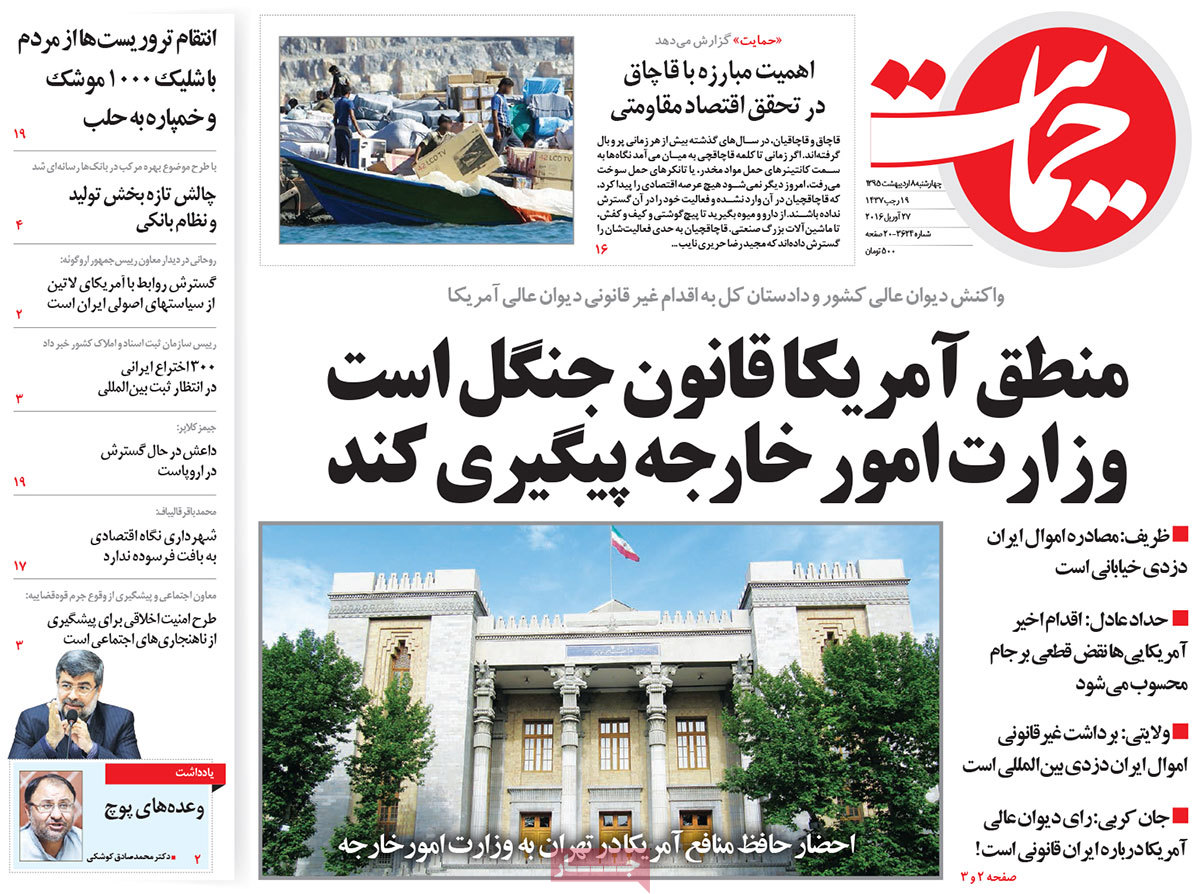 ---
Iran:
Gov't Unveils New Plan to Reduce Unemployment Rate
Abbas Kiarostami after Release from Hospital: I Am Hopeful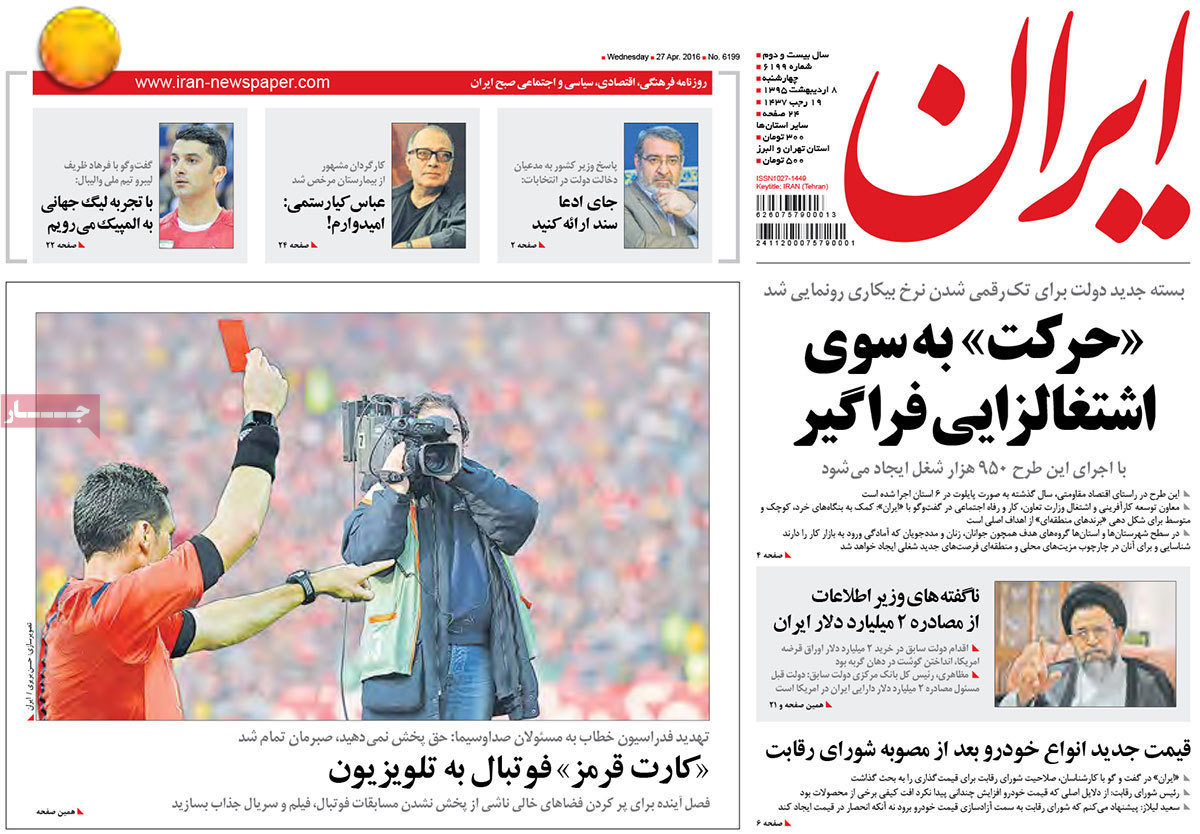 ---
Jame Jam:
Trade Minister Insists on Importing Marlboro Cigarettes despite Parliament's Opposition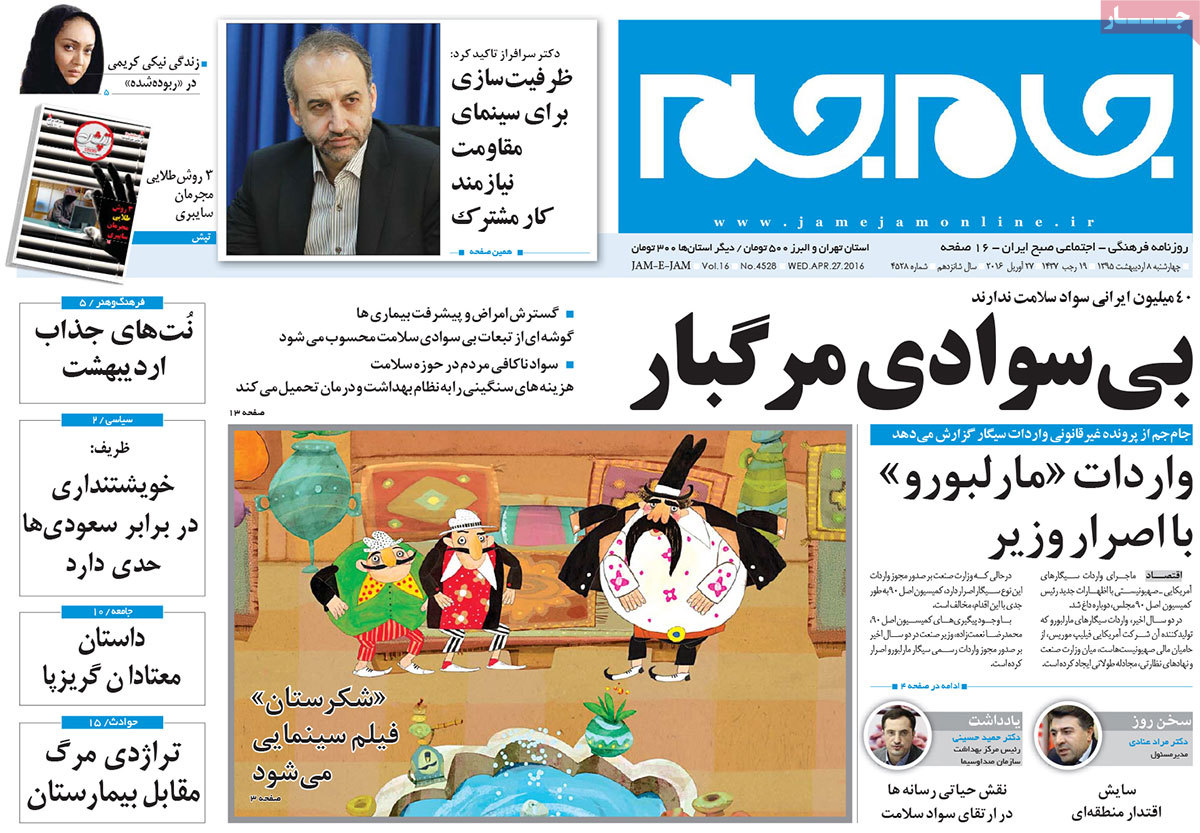 ---
Javan:
 JCPOA in Danger: Zarif Alarmed at Nuclear Deal
---
Kayhan:
How Can the US Further Demonstrate Its Untrustworthiness?
CIA and Ukraine's Orange Gov't Shot Down Malaysia Airliner: Daily Express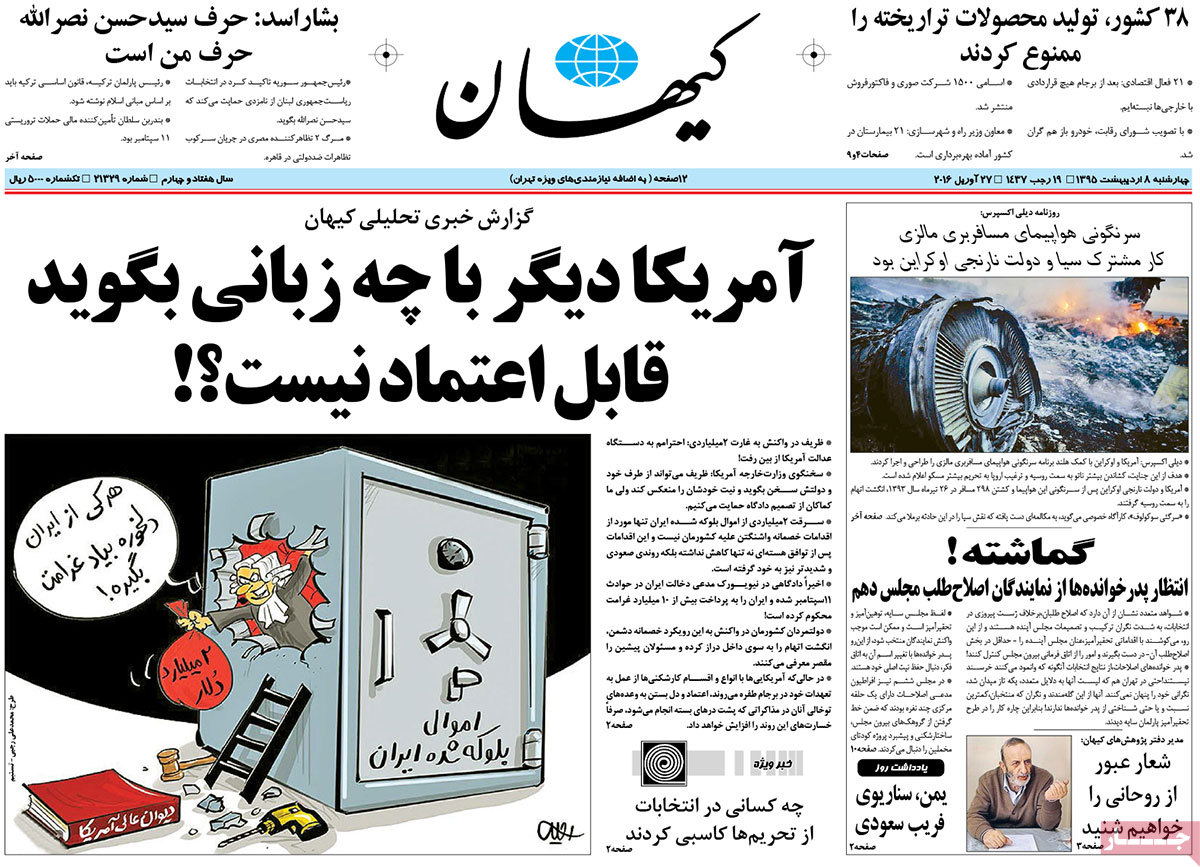 ---
Khorasan:
Iran's Political Foundations Can Be Shaken by Religious War: Condoleezza Rice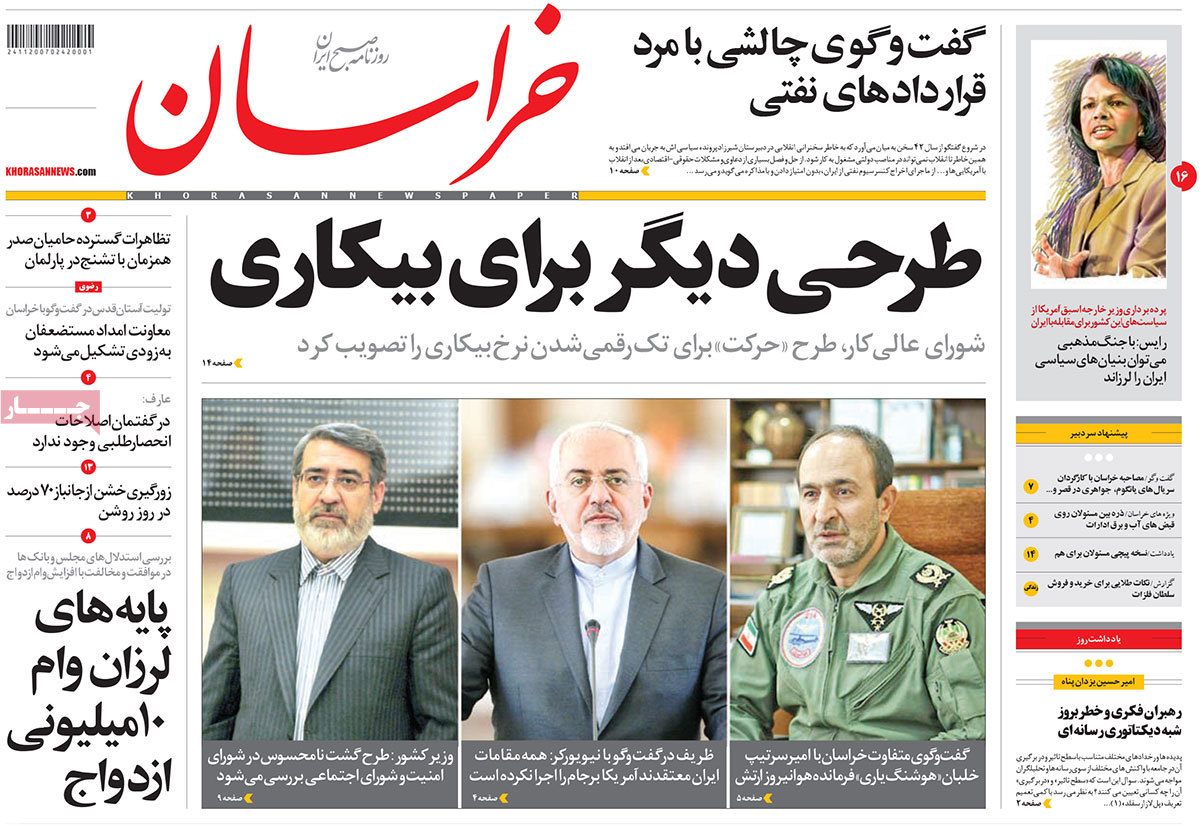 ---
Jomhouri Eslami:
South Korea to Double Crude Oil Imports from Iran
2 Killed, Several Arrested in Egypt Protests against Saudi Island Transfer
US to Offer Israel Largest Aid Package in History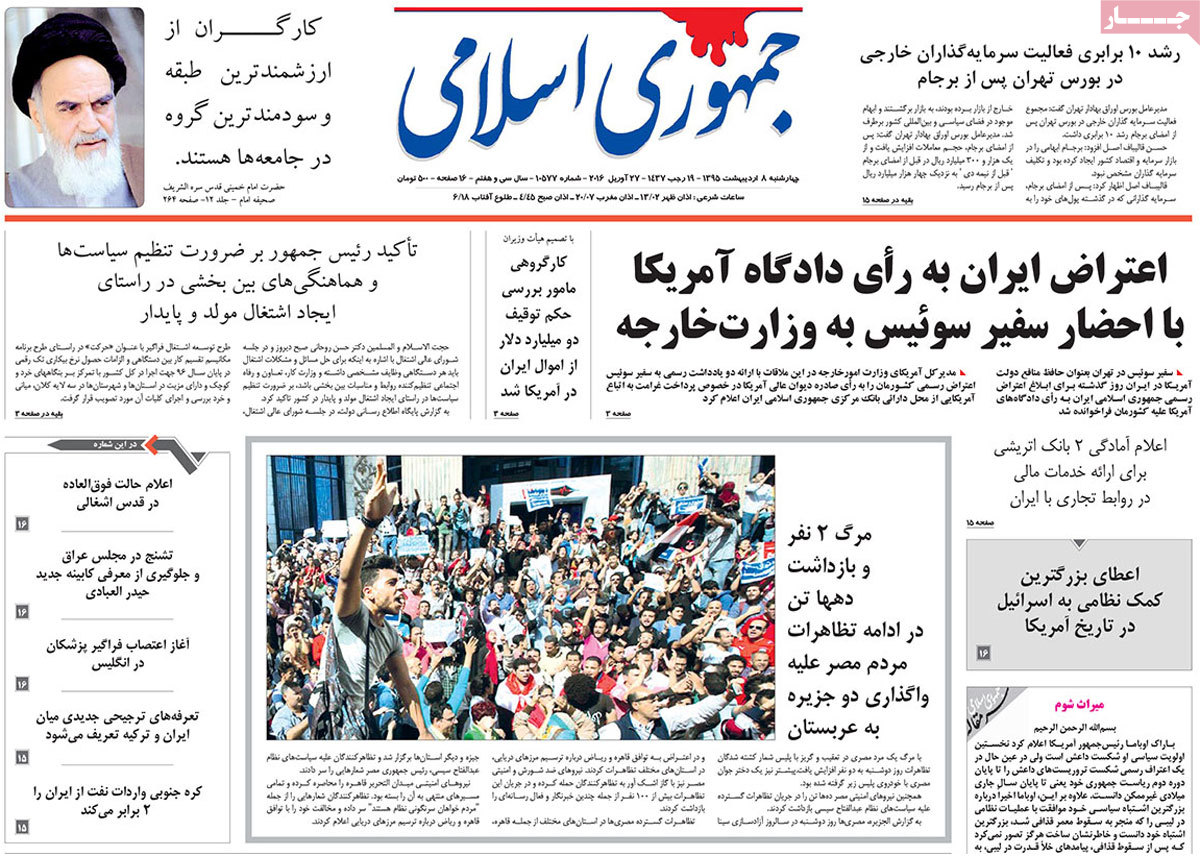 ---
Resalat:
US Has Not Implemented JCPOA: Zarif
All Islamic Society Miseries Rooted in Western Human Sciences: Cleric
---
Roozan:
Iran Should Reconsider Attending Hajj Pilgrimage: Analyst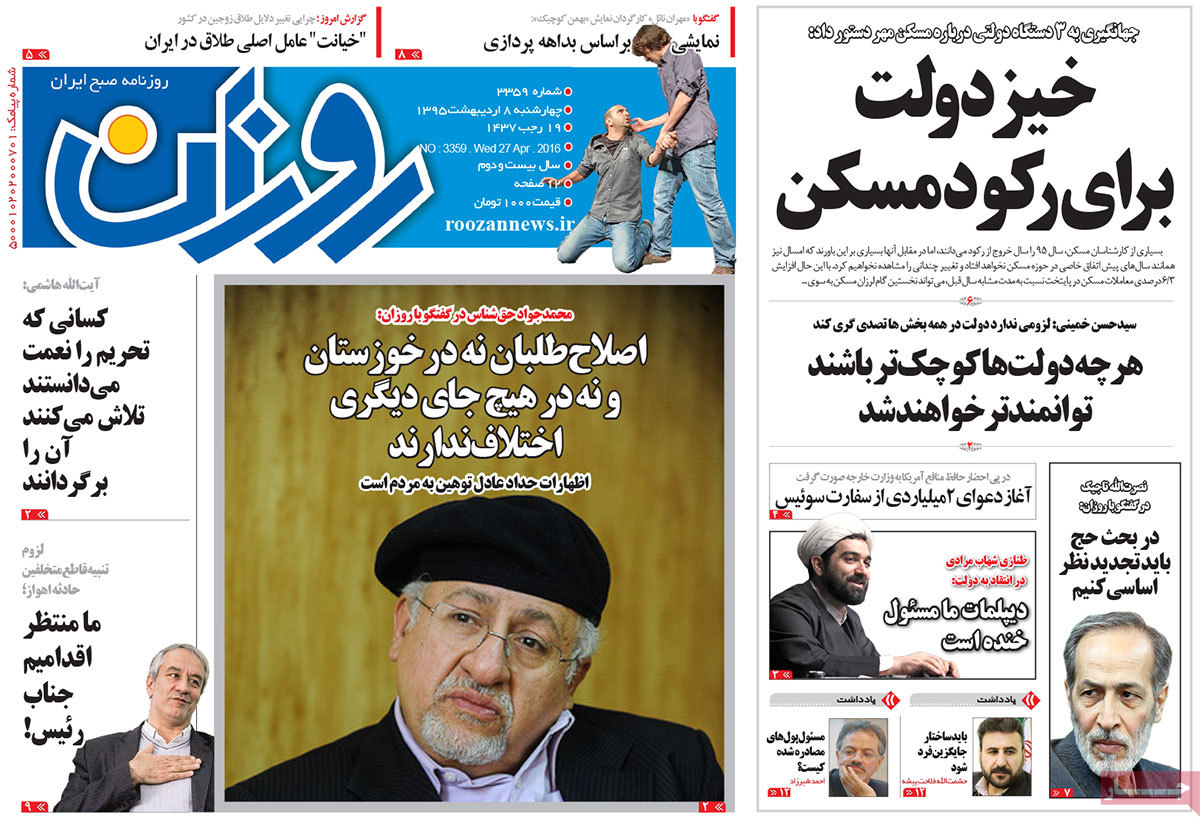 ---
Sayeh:
How to Save Iran from a Water Crisis in 2040?
Iran Increases Oil Production in Joint Oilfield with Saudi Arabia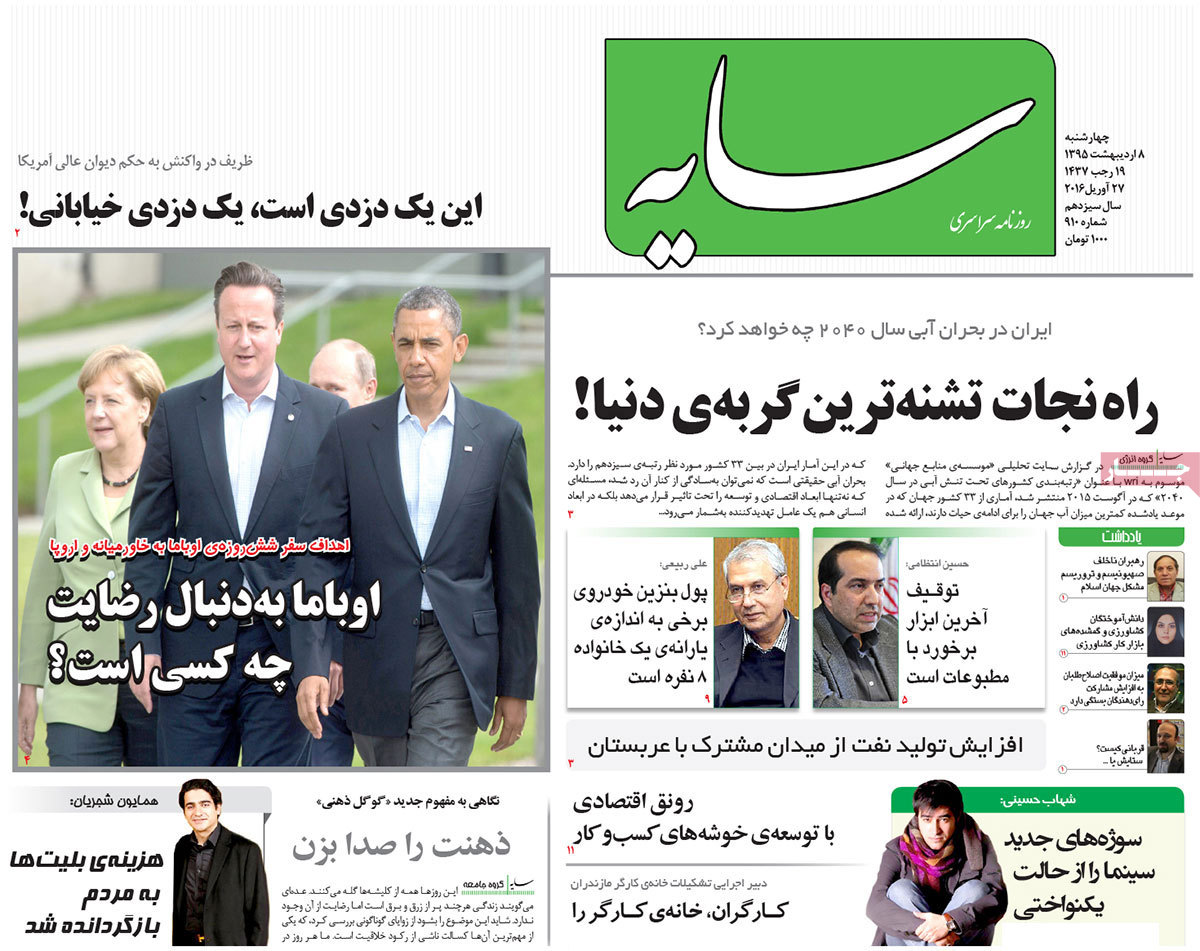 ---
Sepid:
Deadly Shootout in Famous Hospital in Tehran
---
Shahrvand:
73% of Iran's 2016 Hajj Quota Still Available: Drop in Number of Applications
Refugees Trapped by 10 Big Lies: EU Fabricating Pretexts to Deport Refugees
Zarif Warns Saudis: Iran's Self-Restraint Has a Limit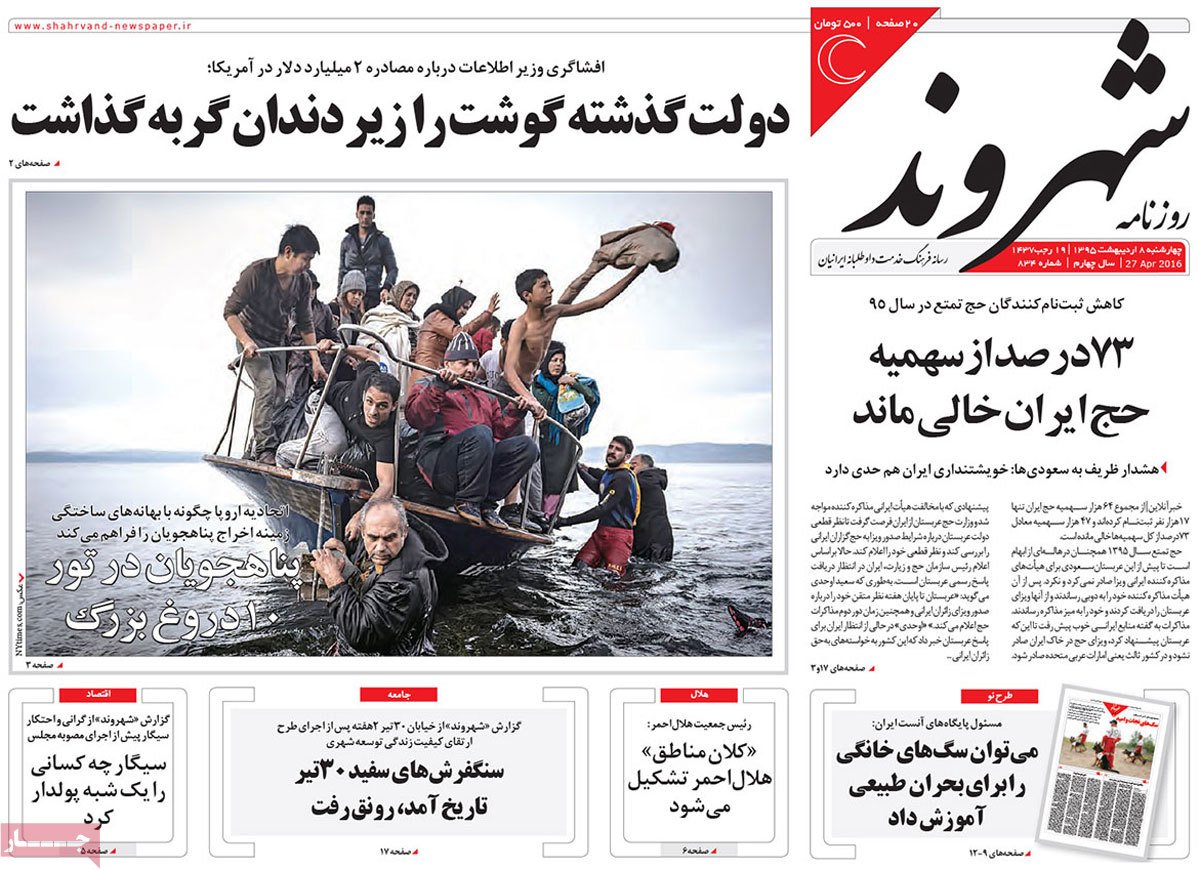 ---
Sharq:
Arrested Journalists in Iran Sentenced to Jail
Seminary Students' Twitter Activity
---
Vatan-e Emrooz
Saudi Mirage: Will King Salman's Development Plan Backfire for Saudi Arabia?